If you're in Guatemala, I would highly recommend visiting Lake Atitlan. If you decide to visit Lake Atitlan and need somewhere to stay, check out La Iguana Perdida Hostel. It's a beautiful and charming hostel right by the lake in the beautiful Mayan village of Santa Cruz.
I stayed in La Iguana Perdida for a total of a week and spent New Year's Eve there. I initially booked 4 nights with my friend Julia but ended up extending my stay to a total of 7 nights. Its peaceful environment offered a perfect recovery haven from my eventful Christmas and New Year's Eve celebrations. I was able to relax, unwind and fully recharge before hitting the road again.
La Iguana Perdida Hostel Review
Where is La Iguana Perdida Hostel?
La Iguana Perdida is only a ten-minute boat ride away from Panajachel, which is the main town in the area around Lake Atitlan, and where most boats leave from. Panajachel is ideal for shopping, restaurants, bars, much and more. However, if you want a calmer experience during your stay around Lake Atitlan, Santa Cruz is an excellent option.
If you want to party, head to San Pedro. If you're looking for something spiritual, then San Marcos, on the western shore of the lake, is your best bet. I personally only wanted to chill out and be someplace without a lot of tourists, which is why I chose Santa Cruz.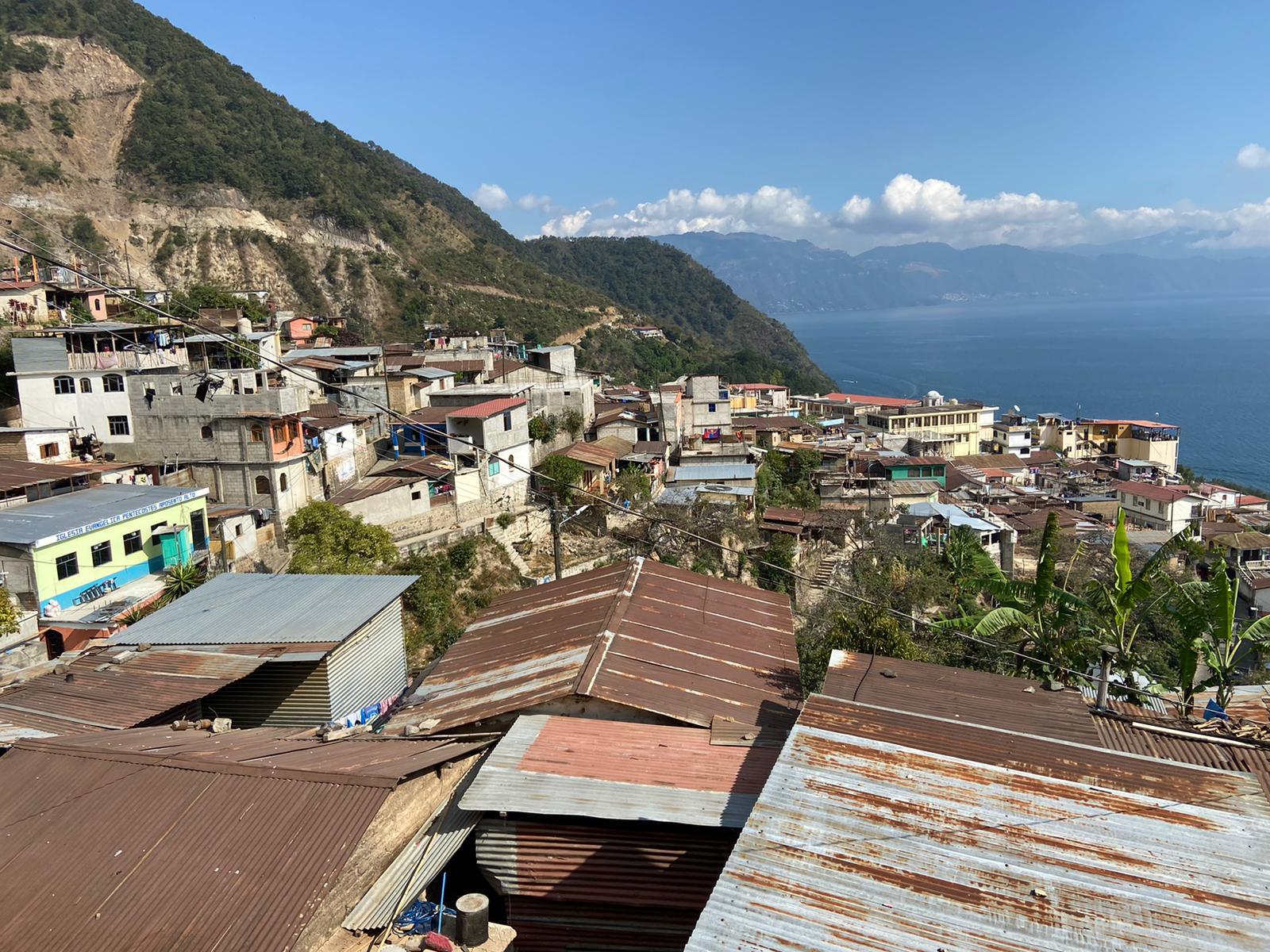 Arrival and first impression of La Iguana Perdida Hostel
Our arrival to Santa Cruz was not smooth, but it was tons of fun. Our starting point was a flight from Cancun, Mexico, direct to Guatemala City Airport. We landed in Guatemala City in the afternoon and met 3 other travellers on the plane from Cancun who were also going to Lake Atitlan. One of them was what you'd call a hyperactive mind with brilliant ideas and decided to book a small Toyota for the 5 of us. Being the tiniest one (one of the many pleasures of being just over 5 feet), I spent the 5-hour drive on my friend's lap in the front seat. Luckily enough, I am a yogi and managed to fold myself in the most ridiculous positions for my legs to survive the trip. The beers and local radio helped too.
Upon arrival in Panajachel around 7 PM, we were told that there were no more boats leaving the dock. This would mean sleeping in Panajachel. Everything was fully booked as it was close to NYE, so we took the only bedroom on offer that consisted of three beds. We were a group of five. It was rather uncomfortable. By then though, we had basically become BFFs so it felt like a pajama party.
The next day, we took the boat to Santa Cruz nice and early. The views from the boat on our way there were breathtaking. The large blue lake is surrounded by three volcanoes: Volcano San Pedro, Volcano Toliman and Volcano Atitlan. It took us no more than ten minutes to reach Santa Cruz, and we were able to spot La Iguana Perdida from the boat. My friend and I had suitcases and were delighted to see that the accommodation was within walking distance.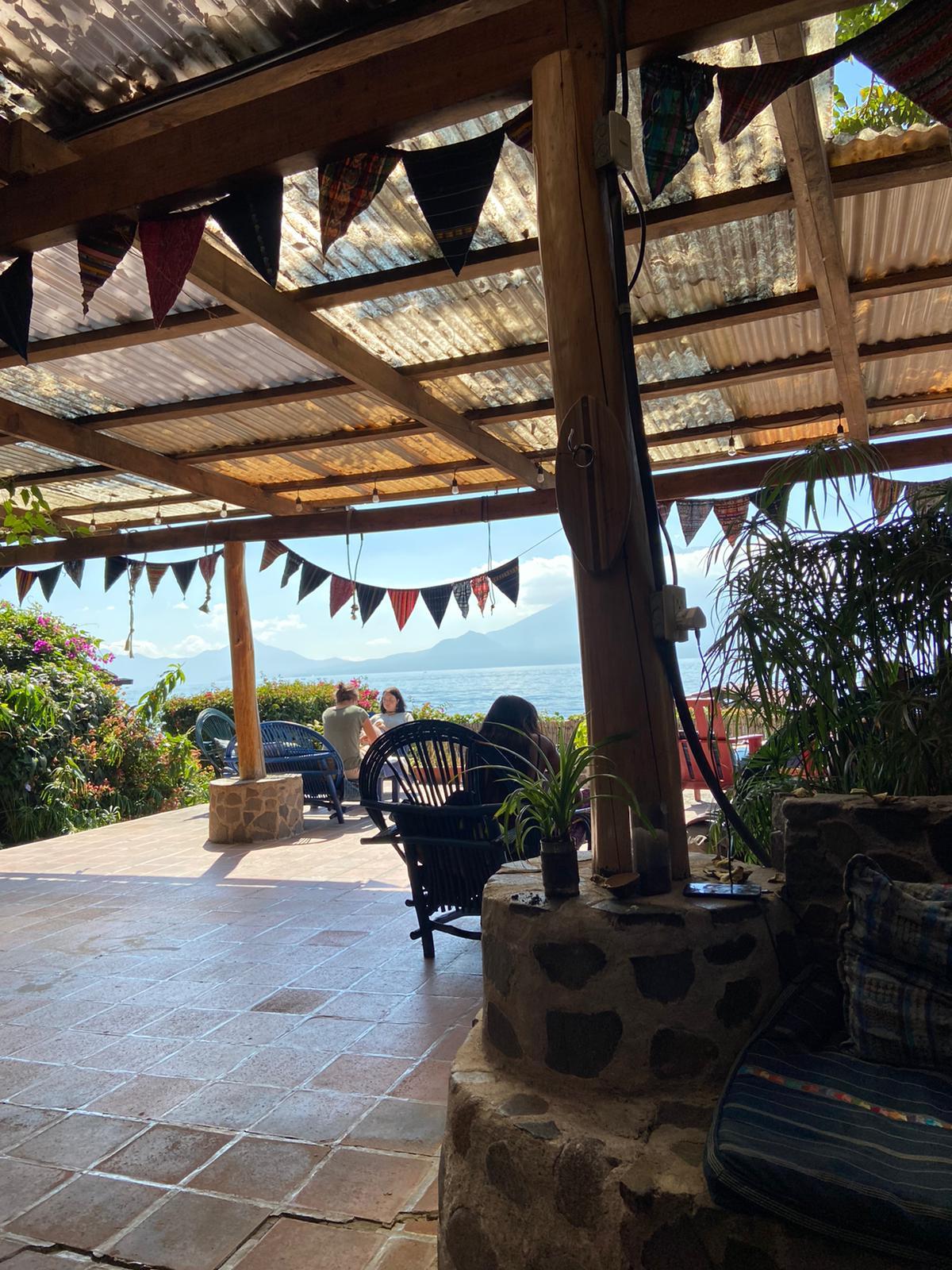 The facilities at La Iguana Perdida Hostel
Common areas
The facilities in La Iguana Perdida are excellent. The property is spacious, clean, has a funky decor and is surrounded by lush vegetation. It's a great choice for backpackers in Guatemala.
The bar/reception is very cosy and includes a TV section, a dining area and a terrace where guests can nibble on some yummy food (more on this later). People gather there in the morning for breakfast, as well as for lunchtime and dinner, making it a social place to mingle and meet other travellers.
The outdoor common area is literally right in front of the lake, overlooking the volcanoes and offering amazing sunsets. We would lie down on one of the hammocks and enjoy the vistas right in front of our eyes. Each morning, I did my yoga practice on the rooftop in front of that view – it was pure bliss. The outdoor common area is also where the best WIFI connection is.
The restaurant has a wide range of healthy food, including both vegetarian and non-vegetarian options. Guests can order breakfast or lunch until 3 PM and snacks after 3 PM. Dinner is at 7 PM and costs less than $10. The three-course dinner takes place in the dining area around a large table decorated with candles. It was the perfect opportunity to meet new people or just have a romantic meal with strangers.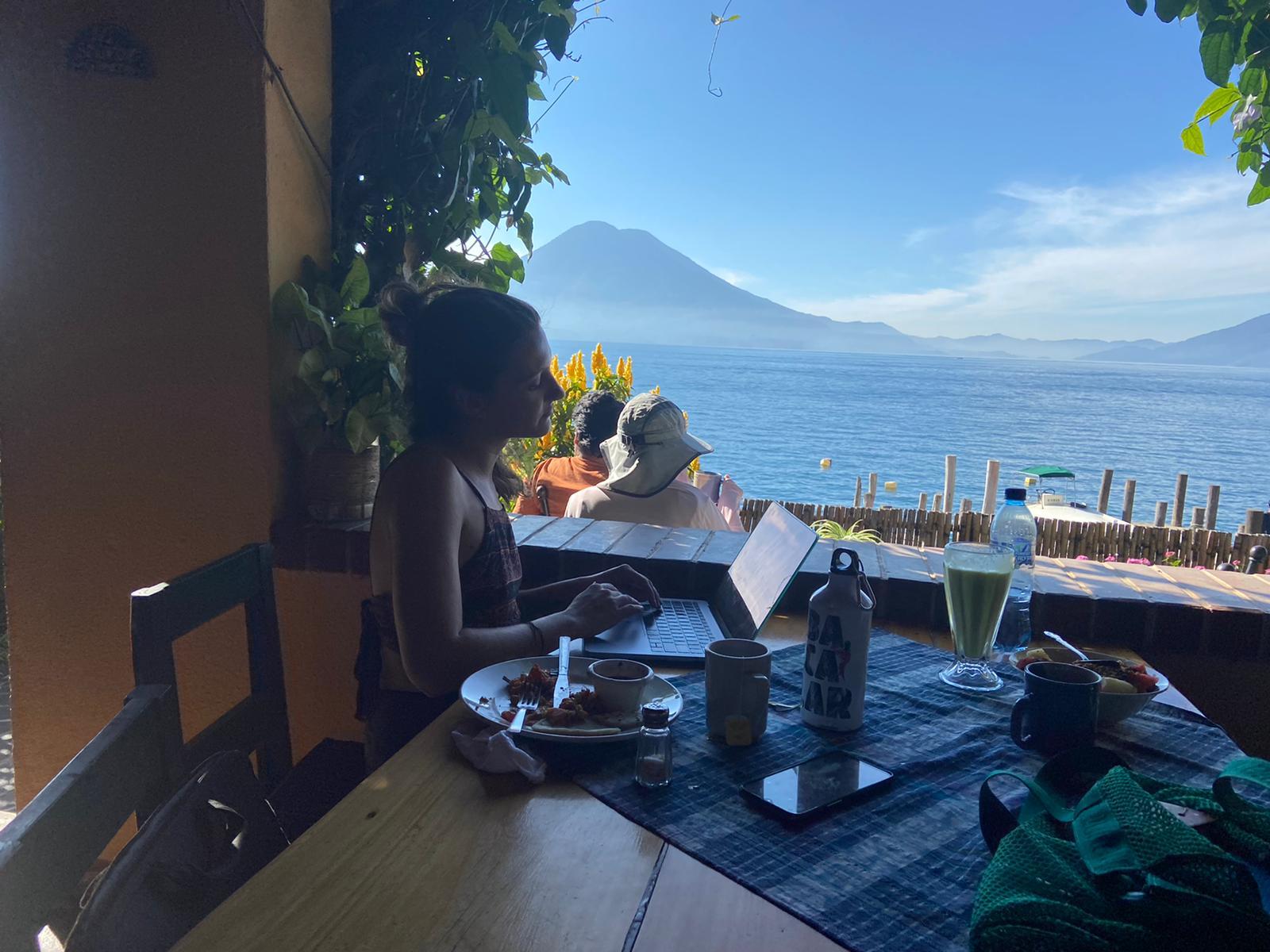 Bedrooms and bathrooms
The bedrooms are comfortable and I particularly loved the Mayan themed decoration and the rustic feel. All of them are scattered throughout the hostel's property in the surrounding jungle foliage. I stayed in a private room with my friend, but there's literally something to fit anyone's budget from shared dorms to basic and luxurious bedrooms. Depending on the room selected, the bathroom may be shared. My only comment here is that if you have allergies (like me), make sure that you take your pills with you. The rooms are clean but there were allergens in mine making me sneeze ten times a minute. It didn't affect my sleep, though.
The shared bathrooms have everything needed – even hot water, which isn't a given in Central America. I like that they were standalone bathrooms, which meant that I could enjoy some privacy.
The vibe in La Iguana Perdida Hostel
There's a super relaxing and homey vibe at La Iguana Perdida. When we arrived, a team of friendly staff showed us around. A lot of guests were already having breakfast and other people were playing the guitar, napping, playing pool, reading a book/watching a movie or exercising in the common area.
Some of the facilities are shared with many other like-minded backpackers and others are secluded. This is ideal for those like me who are social introverts (I love being with people but need to be on my own every now and then to recharge). I'd hang in the main room and chat with people, and whenever I felt like staying alone, I'd go back to my room and listen to the sounds of the jungle around me.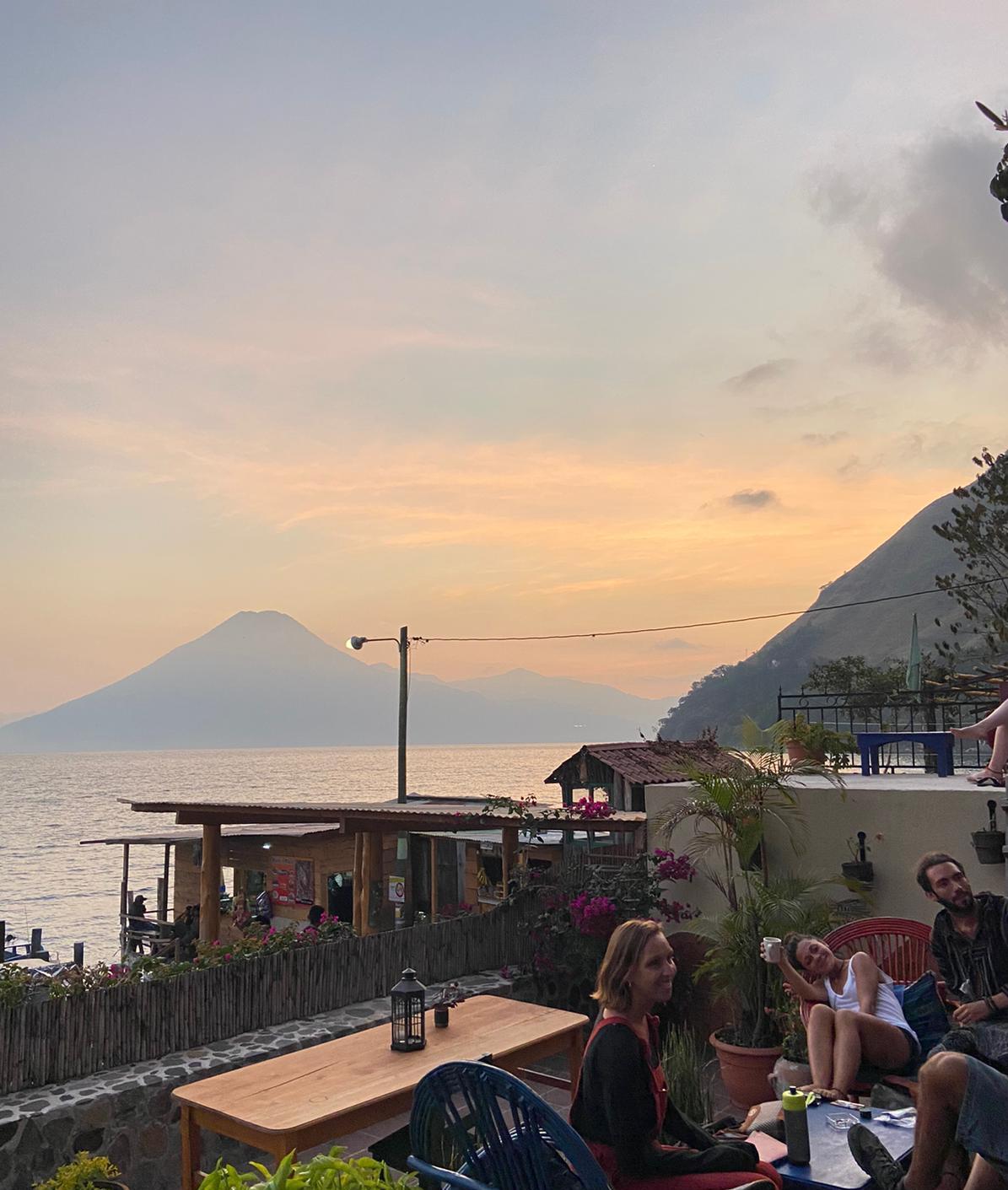 The guests at La Iguana Perdida Hostel
There were very different types of guests, which I thought was really cool. Being on the road for 9 months now, I usually meet the same kind of profiles in hostels. There's usually one ukulele player, a spiritual traveller (okay you got me, that's me), a partier who does shots at 2 PM when everyone else is chilling out, a digital nomad (yep, me again) and a couple who can't afford a romantic boogie bedroom and default to a hostel room.
However, I was pleasantly surprised with the guests at La Iguana Perdida. There were families, groups of retired friends, long-term guests, solo travellers, and lots of other characters on top of all the ones I've stated above. What's more is that everyone was mingling despite those differences.
What to do in and around La Iguana Perdida Hostel
La Iguana Perdida offers a myriad of activities ranging from salsa, yoga, scuba diving – it's the only place on the lake where you'll find it – to paddling and hiking. Being in such a beautiful and open space makes the area an amazing place to connect with nature, enjoy incredible vistas and unwind.
The local village is also well worth visiting. The trek up to get there is challenging but worth the effort. For those who are lazy or hungover, there are three-wheel tuk-tuks lined up by the dock ready to drive tourists all the way up for less than a dollar.
The secluded Mayan village of Santa Cruz, built on the steep mountainside, is less touristy than what I expected. It offers breathtaking and dramatic sceneries of the lake, the mountains and volcanoes. My friend and I explored it on our first day and didn't see any tourists – just friendly, kind local villagers and charming houses. It's an absolute pleasure to wander around this traditional village, and you'll be surprised by what you find there! We were invited into a traditional church ceremony which was a very interesting experience. Locals were clapping their hands to loud religious music and we joined the party, feeling a little out of the loop but thrilled to be part of it.
New Year's Eve at La Iguana Perdida Hostel
Spending New Year's Eve in La Iguana Perdida was quite an experience! Our day started with a cooking class at CECAP, an NGO restaurant in the village. All profits are distributed to the surrounding communities and I personally love encouraging such initiatives. It was such a great experience, even though our food didn't quite taste like the delicious delicacies they served us the day before (sigh).
We then went back to La Iguana Perdida and just hung out in the hammocks and treated ourselves to a traditional Mayan sauna, which they have onsite at the hostel. The sauna was made of clay and rocks and lit with candles. It was a beautiful and detoxifying experience, and perfect way to purify our bodies before the NYE damage. It only costs a couple of dollars to cover the cost of the wood.
The sauna was followed by a delicious three-course dinner with sangria and a live band in the dining room. Everyone (the youngest and the oldest) was dancing until the midnight fireworks. The fireworks were quite spectacular, and the open space around the lake was ideal for watching fireworks at the other lake towns.
After the fireworks, the hostel's manager DJ'ed and played some old school goodies that were perfect to boogie through the night. Being the old soul that I am, I went to bed pretty early (2 AM, honest effort). My friends, however, stayed up all night and told me that the rest of the night consisted of a group of people gathering, chatting and singing acapella. And, drunk Julia (friend 1) doing her entire Californian skincare routine on our other drunk friend Alan (friend 2).
One last thing…
Before you go ahead and close this window to book a stay with La Iguana Perdida, there's one last thing worth mentioning. La Iguana Perdida encourages zero-waste behaviour. The bin in the bedroom is a plastic bottle where guests can stuff their rubbish into. All waste gets recycled and all products are organic. Moreover, La Iguana Perdida partners with the NGO Amigos de Santa Cruz to help education, health and economic development in the neighbouring villages.
Final thoughts on La Iguana Perdida Hostel
La Iguana Perdida is an excellent pick for those who want to chill out and socialize without going crazy. With its laid back vibe, excellent facilities and amazing view, you're guaranteed to have a good time. The hostel is ideal for all types of travellers and on any budget. Also, Santa Cruz is a very good compromise between the two other popular points on Lake Atitlan – the party-hub San Pedro and the spiritual-hub San Marcos.
Whilst it's a bit off the beaten path, I honestly think that Lake Atitlan is worth adding to any Guatemala itinerary. As for me, I know that I will visit La Iguana Perdida on my next visit to Lake Atitlan!
Side note: If you want to properly prepare for your trip, be sure to check out our insider guide about the 7 Things Nobody Told Me About Travelling in Guatemala!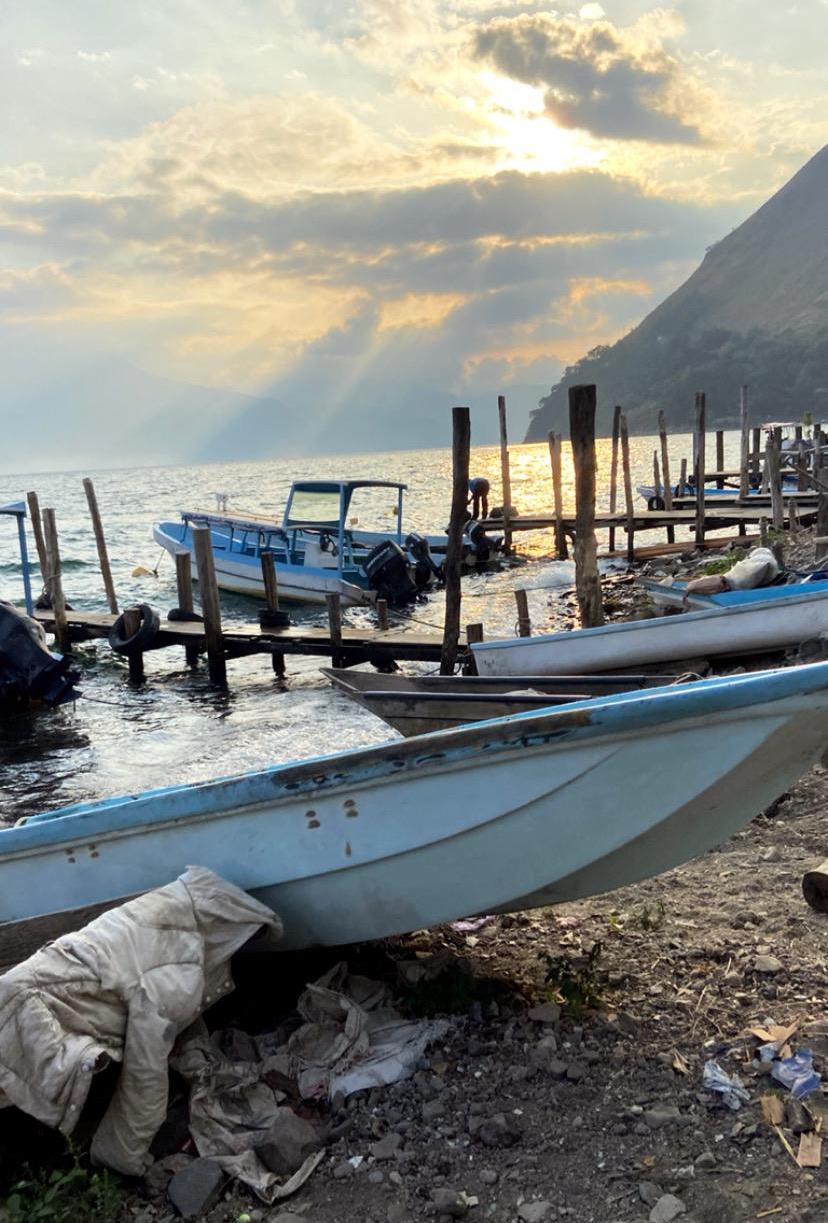 ---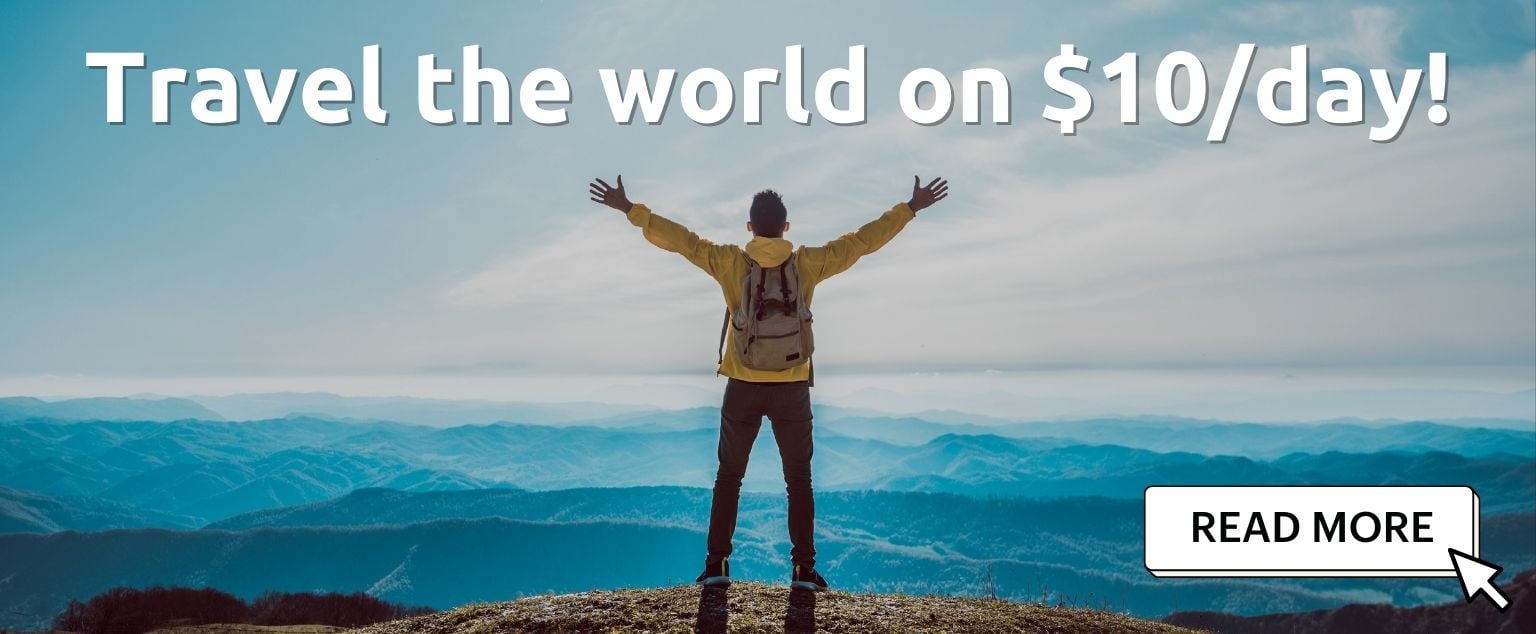 And for transparency's sake, please know that some of the links in our content are affiliate links. That means that if you book your accommodation, buy your gear, or sort your insurance through our link, we earn a small commission (at no extra cost to you). That said, we only link to the gear we trust and never recommend services we don't believe are up to scratch. Again, thank you!