Cincinnati isn't the first destination people think of when they think of American cities, but it's an awesome place! Tons of history and different cultural heritage make this a cool place to explore.
Firmly on the US tourist trail for years, there are a ton of things to do in Cincinnati that mean most visitors won't have trouble finding stuff to fill their days with. When it comes to more off the beaten track, non-touristy activities, however, it can be a little more tricky.
That's where we come in! We have created this epic list to the very best unusual things to do in Cincinnati to make life easy when you're looking for the weird and wonderful in Ohio's biggest city. If you're on a budget or not, you'll definitely find something for you!
1. Head up the Carew Tower for awesome views
One of the best ways to first get acquainted with a new city is to see it from above. It's also pretty cool to do and a great excuse to post pictures on Facebook or whatever to get everyone jealous of what you're doing. For Cincinnati, the best spot to do this is the Carew Tower. Easily one of the best things to do in Cincinnati, going up this super cool building for views is also highly recommended if you're into your architecture.
It's a 1930s, Art Deco skyscraper, Cincinnati's second-tallest. You'll be snapping pics of it from below for ages before you even walk in the door.
2. Clap eyes on the John A. Roebling Suspension Bridge
Spanning the Ohio River between Cincinnati, Ohio and Covington, Kentucky, the John A. Roebling Suspension Bridge is more than just an impressive sight. It's also a slice of Cincinnati history dating back to 1866. We'd suggest heading on over to this early modern marvel after dark – being all lit up, it's one of our favourite things to do in Cincinnati at night. Plus you get some skyline views from the bridge itself. And if you feel like crossing the State Line, walking across the bridge will put you in Kentucky. Fun.
3. Stroll around the village-in-a-city of Mt. Adams
Cincinnati might seem like a city that's all skyscrapers at first, but this place has a lot of history hidden in its streets. With that in mind, one of the best things to do in Cincinnati would be to explore Mt. Adams. This is basically a 19th-century village, one of the oldest neighborhoods in the city, that's located just a few kilometers from Downtown Cincinnati.
Making your way to this charming little area will make you feel like you're not even in a city anymore. Visit the Immaculata Church, take pictures of the winding lanes, and top it off with a refreshment at the oldest Irish pub in the city, the 19th-century Crowley's Highland House Café.
4. Educate yourself at the National Underground Railroad Freedom Museum
A museum of conscience that everybody should visit, the National Underground Railroad Freedom Museum is one of the most educational and interesting things to do in Cincinnati. What is it about? It's basically one big tribute to how Ohio (and Cincinnati in particular) became a temporary city of refuge for escaped slaves from the Southern States, before travelling onwards to Canada.
There are some moving exhibits at the museum, such as a slave pen – a real one. This is the sort of place you'll come to, learn stories of trauma and triumph, and leave wondering why the heck slavery had to happen in the first place – and feeling glad you went. An important place.
5. Get your beer on
Cincinnati is very famous for its beer. In fact, it's so famous that this city never had oil barons, it has "Beer Barons". That's probably down to the German immigrant population who found their home here way back in the early to mid-1800s. So naturally one of the most essential things to do in Cincinnati is to sample the brewing history of the city.
Head on down to Moerlein Lager House, which was established in 1829, to sample some of their award-winning beers with views of the Ohio River. Alternatively, there are a selection of historic pre-prohibition brewhouses located along McMicken Avenue for a veritable tasting adventure.
6. And eat all the food in Over-the-Rhine
More German heritage can be found in Cincinnati's famous Over-the-Rhine district. We mean, it's in the name, right? But it's not necessarily just the place to chow down on a bratwurst or two. Here in this foodie-centric area, you'll find food from all over the world.
One particularly good place to figure it all out is at Findlay Market. This 19th-century market hall is the oldest in Ohio and today is home to a bunch of different tasty treasures to seek out. Stop off for artisan cheese at The Rind, grab a pastry (or three) at Brown Bear Bakery, and get waffles at Taste of Belgium. It doesn't have to be expensive (unless you eat loads), so it's a top thing to do in Cincinnati on a budget.
7. Explore subterranean Cincinnati
Not many people know this, but Cincinnati is home to the largest subway system not in use in the world. That's right, over a century ago the city thought it would be a good idea to build an underground rail network, but for some reason or another, it never took off and was left unfinished.
One of the most unusual things to do in Cincinnati would be to go underground, obviously. And there's more than just old subway tunnels: there are hidden crypts of early 1800s residents and recently discovered old breweries hidden away in tunnels. If you're strapped for stuff to do in Cincinnati when it's raining, you now know what to do.
8. Marvel at an awesome collection of neon signs
One of the coolest (maybe hipster) things to do in Cincinnati, the American Sign Museum is less a museum and more of a shrine to that great American tradition of signs. No, really. Think about it: every business has to have had a sign at one point or another. And the added bonus is that a lot of the signs here are that classic neon glow that fills you with nostalgia.
All lined up along a mocked-up "Main Street", there are over 500 signs for a whole load of businesses, from drugstores to pizza joints, and from a sign depicting a proto-Ronald McDonald to a 3D spaceship-like sign for a now-defunct strip mall. Bring your camera and delve into a world of gaudy marketing goodness.
9. Shop at Jungle Jim's
We wouldn't usually suggest going to a supermarket as one of the best things to do in Cincinnati, but Jungle Jim's is a supermarket with a difference. Seriously: it's mad. It's been described as a "theme park of food" and, well, that's basically it. With strange animatronics and themed zones, Jungle Jim's was founded 1971 and is so big (and so bizarre) that you can even take a guided tour of it. Off the beaten track things to do don't get much weirder than Jungle Jim's.
You can literally spend the day here exploring, and most of it's inside, making for an awesome thing to do when it's raining in Cincinnati.
Like most cities in the US, you're going to have to pay attention to your surroundings and your belongings. Common sense stuff definitely applies when visiting most American urban centres.
Cincinnati, however, is a pretty safe city to visit. Some say that Downtown can be unsafe, but it depends on where you come from and what time of day it is, etc. All in all, we'd say it's generally safe.
You may want to invest in a money belt, to be on the extra-safe side, but most parts of the city (that you'll be visiting, anyway) wouldn't be considered dangerous at all! Read our tips for traveling safely before you fly and always get travel insurance. Check out our roundup of the best travel insurance.
10. Catch an opera at the opulent Aronoff Center for the Arts
Cincinnati certainly isn't short of historic buildings, some of the coolest of which happen to be beautiful old theatres. The best way to soak up the architecture of a theatre, of course, isn't just to gawp at the facade from outside but to actually buy yourself a ticket to a show and actually see what it looks like inside. The best atmosphere is always after dark, so one of the best things to do in Cincinnati at night is to spend an evening at the opera (or if it's a musical or a classical show, that's cool too).
There's a few good'uns to choose from, but we would say go for the Aronoff Center for the Arts. Though not as historic as others, you can catch Broadway shows here. Awesome.
11. Go for a drink at a secret speakeasy
Though there are tons of bars in Cincinnati (that history of brewing beer has obviously left its mark), some of the cooler places to drink are pretty off the beaten track. And that's always cooler. When it comes to stuff to do in Cincinnati at night, finding your way to The Video Archive is worth the effort. Behind a hidden door inside an old video rental store, The Video Archive is a Quentin Tarantino-themed bar that serves aptly named cocktails – Mr. Pink (Reservoir Dogs) and Shoshanna's Revenge (Inglorious Basterds) for example.
One of the more unusual things to do in Cincinnati and a perfect way to spend an evening – especially if you like to find weird secret bars. Because this is one of them.
There are quite a few options when it comes to where to stay in Cincinnati. The city might not be the biggest, but there are many different neighborhoods that offer great accommodations. To make it a bit easier for you, we've listed out absolute favorite places below.
With a lack of a hostel scene, backpacker-friendly budget accommodation in Cincinnati comes in the form of value-for-money hotels like this one. Quality Inn Downtown Cincinnati isn't just cheap though: there's plenty of perks here, including a pool and a gym, and even an on-site eatery. The rooms are pretty standard, traditional hotel rooms, but they're clean and looked after.
The clue is in the name: this top Airbnb in Cincinnati is a stylish loft that's cool and clean. Think exposed brick, wooden floors and antique furnishings. Staying here means having Over-the-Rhine is just on your doorstep as well as basically being in Downtown, since it's just off Main Street – a good hunting ground for cafe lovers and crate diggers alike.
A great option for a mid-range place to stay in Cincinnati, The Westin is right in the heart of the skyscraper district. You'll be utterly surrounded by places to eat and drink on the doorstep. The bonus is having somewhere so nice to use as a base: modern rooms, big plush beds and floor to ceiling windows so you can lap up those views. And there's even a swimming pool (and a restaurant).
12. Go for a picnic… in a cemetery
Ok, this doesn't really sound much like a romantic thing to do in Cincinnati, but don't worry: this particular graveyard isn't your spooky Halloween style affair. Spring Grove Cemetery is actually a beautiful spot. Incorporated in 1845, this is actually a cemetery and arboretum developed after a cholera epidemic (ok, still not sounding good), but it was designed to be a peaceful public park.
That part of the bargain definitely worked out. Spanning 733 acres, the park encompasses a ton of beautiful trees from around the world, lakes, lawns, footbridges, winding paths and scenic hills. So pack some snacks and join the locals for an honestly-not-spooky picnic beneath the trees.
13.Count the stars at Cincinnati Observatory
More for Cincinnati's historical credentials now as we move on to Cincinnati Observatory. Founded in 1873, it's not just the oldest observatory in the US, but it's also home to the oldest telescope in the world still in public use. Situated on the aptly named Mount Lookout, coming here for one of their night openings and doing a spot of stargazing with your partner is one of the most romantic things you could do in Cincinnati. Their once-monthly Late Night Date Night (10:30 pm till midnight) is the best time to go for couples.
14. Visit one of the oldest art museums in the United States
The history just keeps coming, doesn't it? Cincinnati is not just home to the oldest observatory in the US, but also one of the oldest art museums in the country. It's a pretty prestigious title to have, but it's more than just the history that's cool about the Cincinnati Art Museum: it costs nothing to visit! It houses over 67,000 works of art spanning 6,000 years to the present day, and boasts best hits from the likes of artistic heavyweights such as Van Gogh, Monet and Picasso, to name just a few.
If you're on a budget and you're scratching your head for free things to do in Cincinnati, this has got to be one of the best.
15. Walk around the Hyde Park neighborhood (on a Sunday)
You might be able to tell, but a pleasant stroll around the beautiful Hyde Park neighborhood – with its leafy streets, green spaces and stunning Victorian mansions – is one of the best things to do in Cincinnati on a Sunday. This is a genuine charmer of an area. Why Sunday? Because the Hyde Park Farmers' Market goes on, which is always a pretty good bet for fresh produce, good food and a great local atmosphere.
If you're not here on a Sunday, don't worry: romantic stuff to do in Cincinnati doesn't get much better than simply strolling around Hyde Park, soaking up the architecture, taking pics of each other in front of beautiful architecture, and dipping in and out of cool coffee shops.
Books to Read while Visiting Cincinnati
To Have and To Have Not – A family man gets involved with the drug smuggling business in the Key West and ends up in a strange affair. Written by the great Ernest Hemingway.
16. Go for a fun day out at Kings Island
When it comes to the best things to do in Cincinnati with kids in tow, it honestly doesn't get much better than the awesome Kings Island. We mean, if you're into roller coasters (15 of them – including an old-school timber one!) plus a whole load of other stuff, then you're going to love it – possibly as much as your kids.
If your children are too young for all that, never fear: there's the cute Planet Snoopy Kids Area to hang out in. There's even a water park here, which should pretty much have your itinerary for things to do in Cincinnati in summer sorted, we'd say.
17. Eat ice cream at a classic ice cream parlor
Kids love ice cream. There's no getting around that. You probably do too. And one thing Cincinnati does well is ice cream parlors. The ones you're going to find in this city are super cool with all their old-school, retro decor. One of the most famous is now a citywide chain, Aglamesis Bro's – for the optimal experience, check out the original store, dating back to 1908!
For more amazing ice cream and even better decor, head to Rookwood Ice Cream Parlor, complete with its wall of recycled train station tiles. It may sound like it's for you and your Instagram following, but we promise: visiting an ice cream parlor is one of the best things to do in Cincinnati with kids.
Whilst Cincinnati is a surprisingly fun and historic city to wander about and explore, there's always more waiting to be discovered outside the city limits. So to give you an idea of the sorts of things you should expect, we're sharing with you our two favourite day trips from Cincinnati. Here they are!
Soak up another cityscape at Dayton
It's the 6th largest city in Ohio, but that sort of thing probably means nothing to you. What we can say is that it's one of the smaller cities of the USA, but that just makes for a compact place to explore – and it's only around an hour's drive from Cincinnati. The biggest draw of Dayton, however, isn't how easy it is to walk around, but it's aeronautical ties.
We're talking the National Museum of the US Air Force, with planes from the 1900s and even a space shuttle to gawp up. Dayton was also the place where Orville Wright was born; if you don't know, he was one of the Wright Brothers. You know, who pioneered, um, flying? You can actually see one of their planes at the 65-acre Carillon Historical Park. Soak it all up and be back in Cincinnati for dinner – easy.
Explore the trails in Daniel Boone National Forest
Lakes, trees, and rivers galore – this is a day out for nature-lovers, that's for sure. Daniel Boone National Forest, just a two hour and a half-hour drive from the center of Cincinnati, across the state border between Ohio and Kentucky, it isn't just about greenery here: there are some incredible natural bridges and rock formations to marvel at in this slice of wilderness.
So wear your best walking shoes, pack yourself some lunch (don't forget water), and get yourself over to the forest. It's beautiful in any season, from swimming in the lakes and ponds in spring and summer to admiring the fall foliage in autumn and seeing plenty of icicles in winter. You can guarantee that you'll find some suitable trails for you among the 708,000 acres of this wonderland.
Now that you've got a couple of day trips to think about, and some pretty cool things to do in Cincinnati too, the next part is… fitting it all into your schedule. This can be a headache (we know). So we've decided to help you out with a 3 day Cincinnati itinerary, so you can get the most out of your trip without spending 3 hours every morning panicking and planning.
Day 1
Get out of the skyscraper-clad center of Cincinnati and firstly make your way to the neighborhood of Mt. Adams. It's around a 20-minute stroll from Downtown and before you know it you'll be in amongst a village-like atmosphere, with plenty of charming streets and cafes to enjoy. There's even Eden Park to stroll around. Stop off for a coffee and something to eat at The Bow Tie Cafe.
It's just an 11 minute walk from the cafe to the Cincinnati Art Museum. Opening at 11am this baby is absolutely free! No entrance fees whatsoever. Which is made even more cool by the amazing collection they have here, what with the Van Goghs and Monets (amongst others) that you can clap eyes on. If you missed out on Eden Park before now, go back now: the walking paths along the river are lovely.
Thanks to Cincinnati's German heritage, there are a lot of breweries to choose from in the city – especially along McMicken Avenue. A half an hour walk from Eden Park, you'll find Christian Moerlein Brewing Co., for tastings and snacks. Further along the avenue is Reinegeist Brewery for yet more beer. Open till late. For more there's Taft's Ale House, a 19th-century church turned brewpub.
Day 2
Join the Ohio River Trail, after taking a look at the John A. Roebling Suspension Bridge (in fact, we'd say walk across it right into the state of Kentucky). Amble along the river trail, past the Great American Ball Park and other buildings, and spot the monuments along the way. Walk towards Yeatman's Cove: there's often performers and food stalls (if you're getting hungry) here. Stop and chill.
It's just a 20-minute walk to the Carew Tower. Here take the elevator to the 49th floor and you'll be greeted with the Observation Deck. Here you can see for miles and miles. If you're a fan of 360-degree city views, then you'll love this one – it's one of our favourite things to do in Cincinnati. As evening falls walk half an hour (or catch the 78 bus) to Over-the-Rhine for nocturnal fun.
The 1850s Findlay Market is a must-see in this once working-class, German area. Today you'll find a load of places to eat and drink around this area, including classic American fare at Tucker's Restaurant (since 1946) or Goose & Elder for German cuisine. And for drinks, hop on the number 4 bus to The Video Archive – a hidden Quentin Tarantino-themed bar hidden in an old video rental store.
Day 3
The National Underground Railroad Freedom Museum is a sobering place to learn all about slavery and how people were ferried to freedom via Cincinnati from the Southern States. It opens at 10 am. Before you go and educate yourself at this important museum, however, you should grab some breakfast at the nearby Sleepy Bee Cafe, just 5 minutes away on foot.
After your morning of insight, take a moment to reflect at Spring Grove Cemetery. Half an hour away from the museum on the number 20 bus, this may be a cemetery but it's laid out like a beautiful public park. Stop off at nearby Kroger grocery store for some provisions to have yourself a picnic whilst you're there. Or fill up beforehand at Ruth's Parkside Cafe.
As night falls, it's a 15-minute taxi ride from Spring Grove Cemetery to Cincinnati Observatory. If you're a fan of the night sky, and looking at it, then being able to do so through an actual telescope is going to be pretty awesome. Set in the Hyde Park neighborhood, you can then scour this leafy area for somewhere to eat and drink; Arthur's is nice, but Cloud 9 Sushi has it wrapped up till 4am!
Don't forget your travel insurance for Cincinnati
World Nomads' mission is to support and encourage travellers to explore their boundaries. They offer simple & flexible travel insurance, and safety advice to help you travel confidently.
They've been doing it since 2002 – protecting, connecting, and inspiring independent travellers just like you.
Get a quote below or read our in-depth review!
World Nomads provides travel insurance for travelers in over 100 countries. As an affiliate, we receive a fee when you get a quote from World Nomads using this link. We do not represent World Nomads. This is information only and not a recommendation to buy travel insurance.
Here are some quick answers to common questions about what to do and see in Cincinnati.
Cincinnati isn't the most visited place by international tourists – but that just means there's even more to uncover and discover in this centre of urban America. And as you can see: there's a lot! Forget about being bored or spending all morning looking for things to do in Cincinnati in your hotel room, we made sure you'll be able to fill your days with plenty of off the beaten track stuff that'll have you wondering why you never came to explore this slice of the USA earlier. Underground, overground, and in the city's skyscrapers, you'll find a ton of things to keep you entertained!
---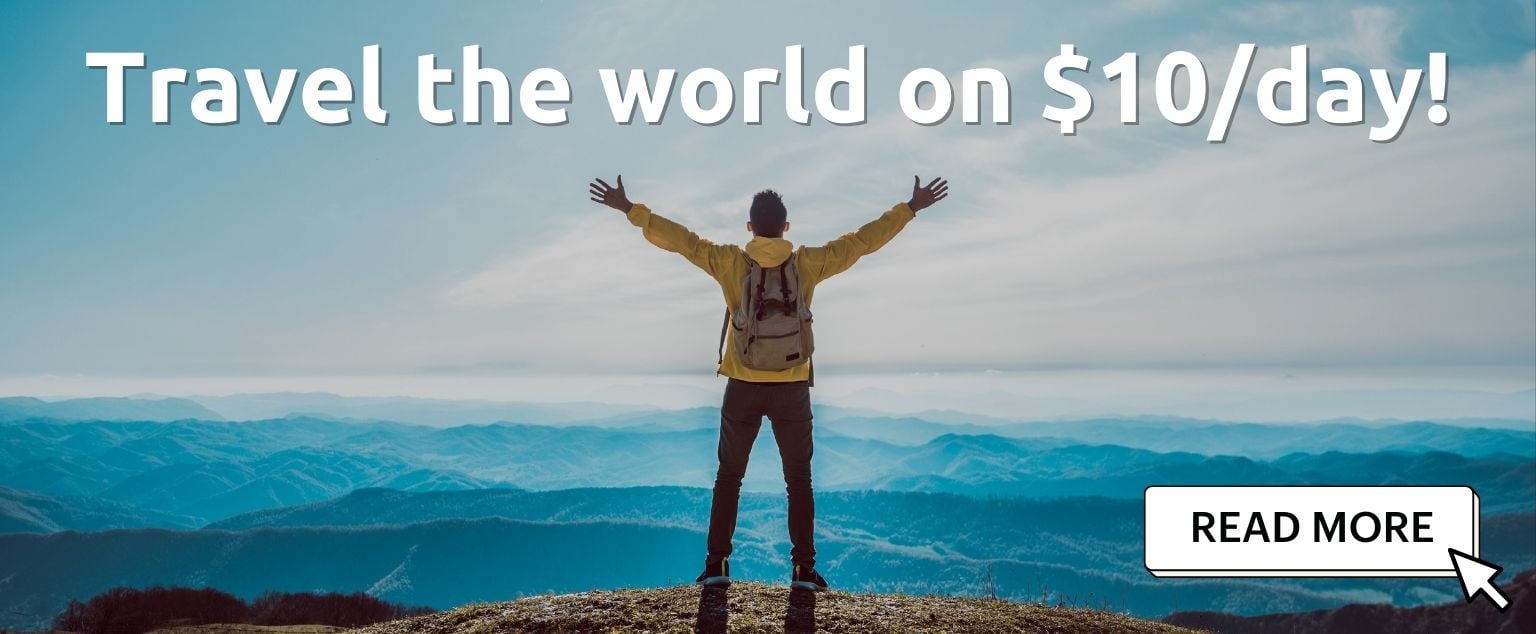 And for transparency's sake, please know that some of the links in our content are affiliate links. That means that if you book your accommodation, buy your gear, or sort your insurance through our link, we earn a small commission (at no extra cost to you). That said, we only link to the gear we trust and never recommend services we don't believe are up to scratch. Again, thank you!