Have you put on your blue suede shoes and boarded a plane to Memphis yet? If you're thinking of heading to this exciting Tennessee city, you wouldn't be wrong to do so.
Nestled on the lush shores of the mighty Mississippi River, Memphis is a quirky urban metropolis bursting with culture, history, and action-packed adventures in nature.
After all, this is the home of many blues and rock legends, where do you think they got their inspiration from?
I'm sure I've convinced you that it's a city worth visiting, but you might be wondering what are the best things to do in Memphis? Fortunately for you, there are quite a lot of attractions in Memphis. Some are quirky, some are exciting, some are completely free and some you might need to book in advance so as not to miss out.
To make matters easier for you, I've prepared this list of all the best things to do in Memphis so you can make planning your itinerary much easier. Let's get started!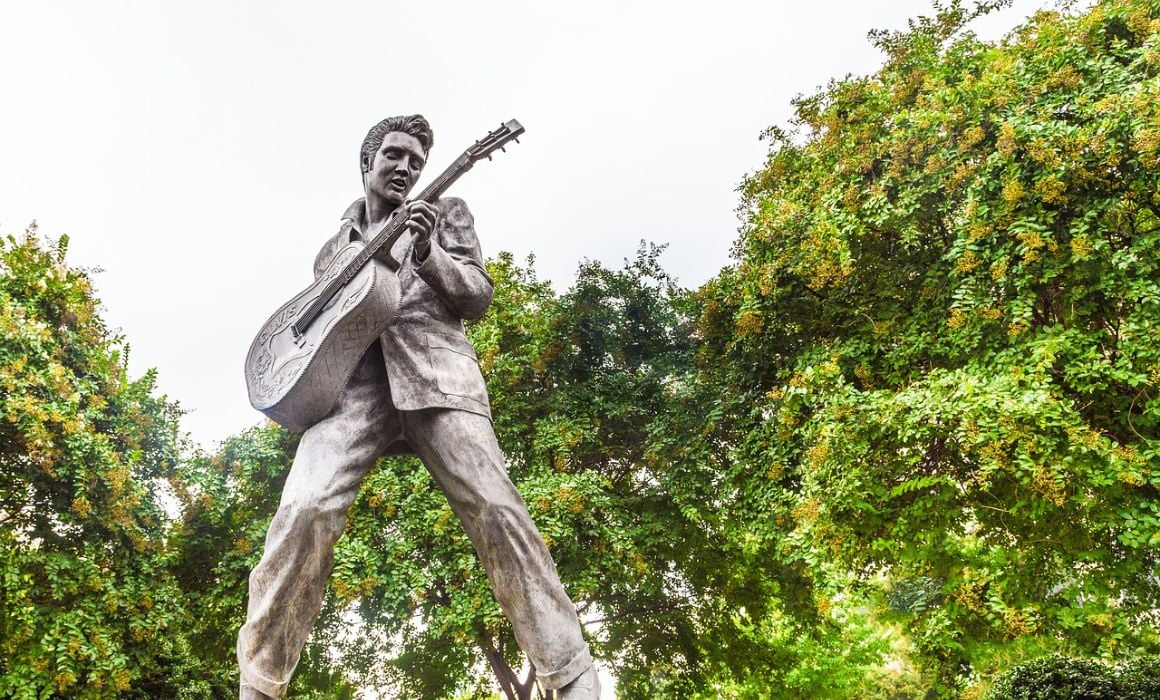 Unlock Our GREATEST Travel Secrets!
Sign up for our newsletter and get the best travel tips delivered right to your inbox.
Landed in Memphis and need a quick idea of how to spend your time? Let's not waste time and get stuck in! In my opinion, these are the spots that you can't afford to miss, especially if you want to experience the very best of Memphis.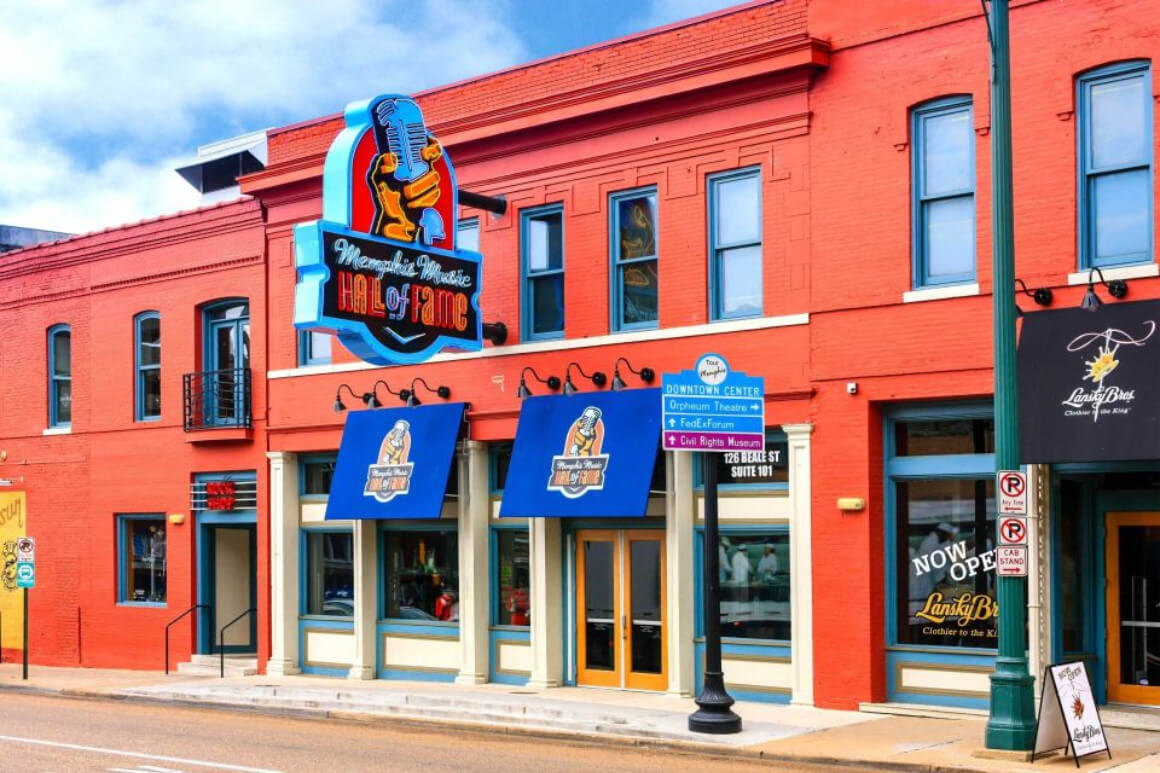 If you're looking for things to do in Memphis on a rainy day, you really can't go wrong with a visit to the Music Hall of Fame! Dedicated to the city's rich musical past, this interactive museum offers ever-changing exhibits as well as an extensive assortment of memorabilia and videos dedicated to featured inductees.
What makes this place even more special is the fact that it houses Isaac Hayes' music organ as well as Jerry Lee Lewis' vintage Cadillac. Some of the Hall of Fame's most eminent members include Jerry King Lewis, Johnny Cash, Aretha Franklin, and of course, Elvis Presley.
Entrance fee: $8
Hours: 10 a.m. to 5 p.m.
Address: 126 S 2nd St
Memphis is known for it's countryside surroundings, so not trip to Memphis would be complete without experiencing that small-town living at its best.
Located in the serene Memphis suburb of Olive Branch, this working farm is the perfect escape from the hustle of the city. Rest assured that you won't be completely cut off though since Memphis' city center is a mere 10 minutes away.
Ideal for two guests, this quaint Airbnb in Memphis features an open-plan layout, complete with a furnished patio and a modern, well-equipped kitchen. The property boasts ponds and plenty of friendly animals like horses, dogs, and cats.
A quick drive from the farm takes you to popular attractions like Greenbelt Park, Memphis Botanical Garden, and of course, the highly-coveted Graceland.
Entrance fee: $100
Hours: N/A
Address: Olive Branch, Mississippi
As far as attractions in Memphis go, this one should be right up there on top of your list!
We've all seen the many Graceland pictures floating about online but believe me when I say that this place is quite a sight to behold in real life. Not only is this among the most historically charged places in the city, but the spectacular architecture makes for some pretty terrific photo ops!
If you're not watching those purse strings, you can even book a private tour of Memphis with skip-the-line tickets to this iconic attraction. Do remember to allocate at least 4 hours so you can properly take in everything Graceland has to offer.
Entrance fee: $430
Hours: 9 a.m. to 5 p.m.
Address: 119 Riverside Dr, Memphis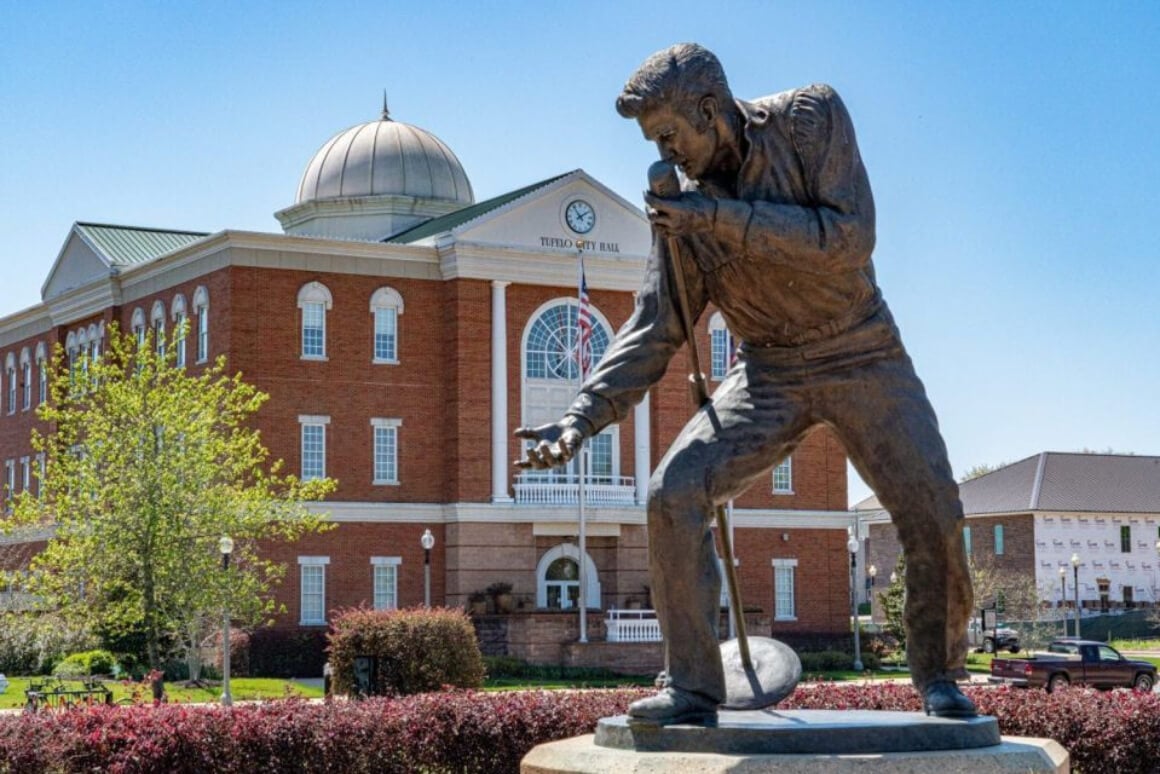 According to the local fandom, it would be borderline blasphemous to leave the city without a customary tour of everything related to the legendary Elvis Presley. Now, while most tourists usually stick to Graceland, one of the best day trips from Memphis is no doubt to the King's birth city of Tupelo.
In fact, you can even book a tour that will take you across various landmarks like the house where Elvis grew up or even the music store where his mother bought him the first guitar that started it all.
Whether you're into Elvis Presley or not, I can assure you that a trip to Tupelo is certainly worth it since this is one of the most charming Southern provinces.
Entrance fee: $99
Hours: 8.30 a.m. to 2.30 p.m.
Address: 3600 Elvis Presley Blvd
5. Check out Elmwood Cemetery
Yes, weird place to visit on vacation, I know. But Elmwood Cemetery is easily one of the most history-laden places in the city and if you ask me, it's well worth a visit.
Fans of John Grisham will easily recognize this place since it appeared in The Firm, one of the writer's most popular thrillers. The cemetery is also known for its architectural marvels such as the Carpenter-Gothic Office Cottage and the Entry Bridge.
Elmwood also happens to be an official Bird Arboretum and Sanctuary so keep your eyes peeled for rare bird species! With plenty of lush flora, the cemetery serves as a final resting place for governors, and generals from virtually every American conflict, including the notorious Revolutionary War.
Entrance fee: Free
Hours: 8 a.m. to 4.30 p.m.
Address: 824 S Dudley St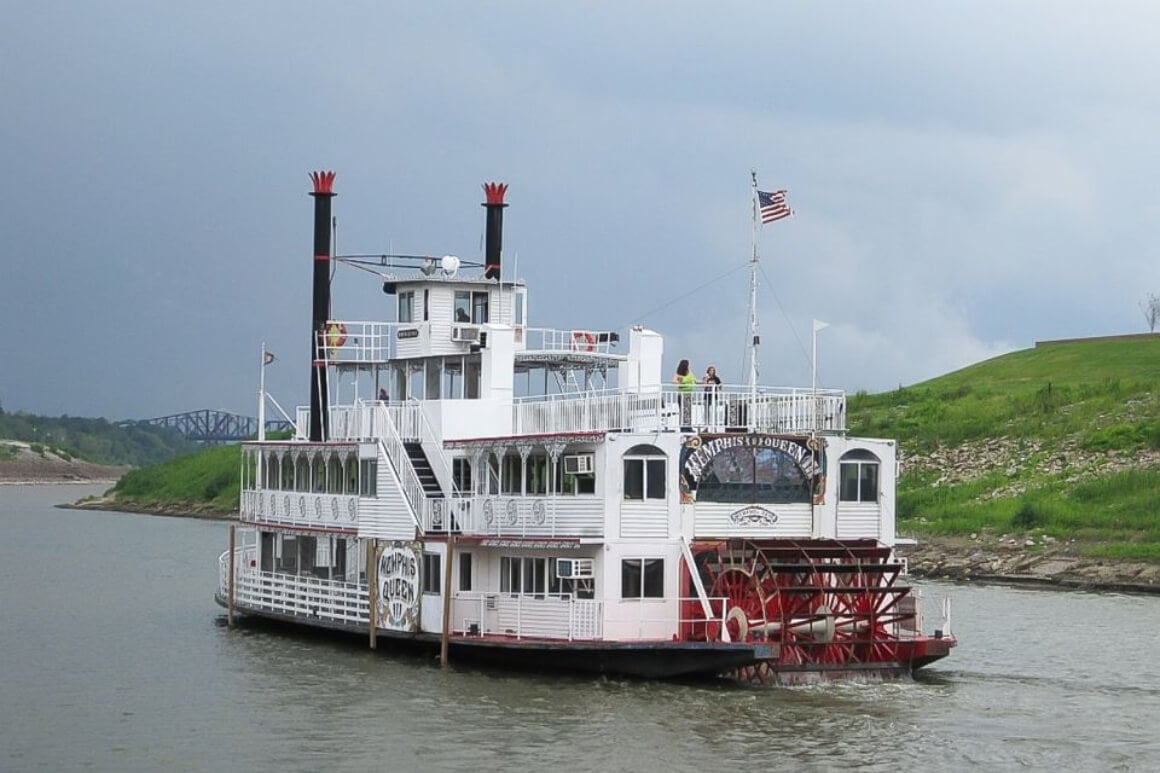 You just can't leave the city without taking a cruise on one of those iconic Paddlewheel boats. In fact, locals will tell you that this is one of the most essential things to do in Memphis.
From your vantage point on the Mississippi River, you'll be able to view Memphis in all its glory. A word of advice? Try to book your Paddleboat cruise late in the afternoon so you can watch the sun set over the azure waters.
Travelers who are short on time may wish to book an activity that combines a tour of the city's landmarks with a Paddleboat cruise. These activities usually include stops at locations such as the National Civil Rights Museum.
Entrance fee: $37
Hours: 9.30 a.m. to 4.30 p.m.
Address: Pickup from Downtown Memphis
Small Pack Problems? 😉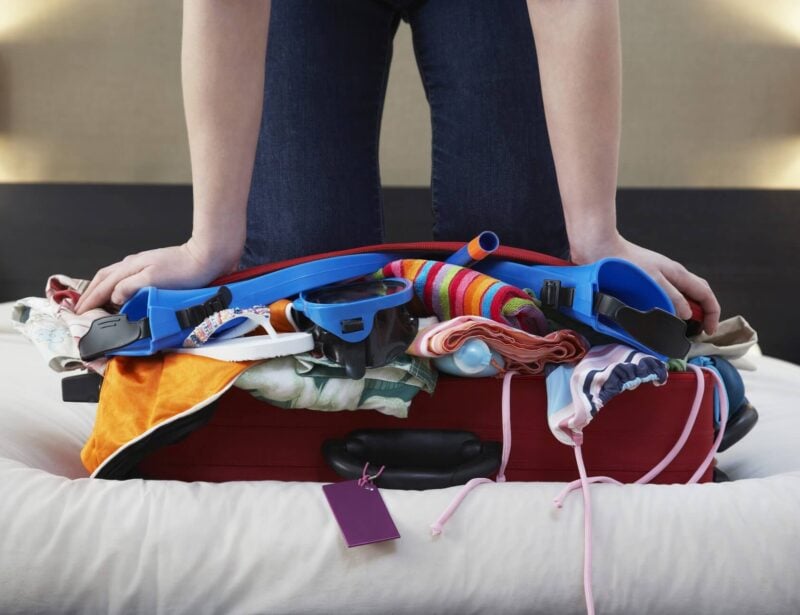 My missus travels with all her clothes in ziplock bags: don't be like my missus. UP YOUR PACKING GAME!
Packing cubes for the globetrotters and compression sacks for the real adventurers – these babies are a traveller's best kept secret. They organise yo' packing and minimise its volume too so you can pack MORE.
Or, y'know… you can stick to ziplock bags.
View Our Fave Cubes
Or Check Out the Sacks!
7. See Century-Old Whisky being Brewed at the Old Dominick Distillery
Anyone who's ever been to Tennessee will tell you there's nothing quite like the local whisky which is probably why touring the Old Dominick Distillery is among the most popular things to do in Memphis.
One of the oldest distilleries in the city, Old Dominick employs an exclusive reverse-engineering technique to maintain an authentic taste. The distillery also offers 45-minutes guided tours so you can watch them in full action before ordering some of their best products at the bar.
Get yourself a Memphis Toddy which just so happens to be the best drink in the city and enjoy it from the rooftop while enjoying spectacular views of the Mississippi River and the city skyline.
Entrance fee: $15
Hours: 12 p.m. to 9 p.m., Wednesday to Saturday
Address: 305 S Front St
8. Party on Beale Street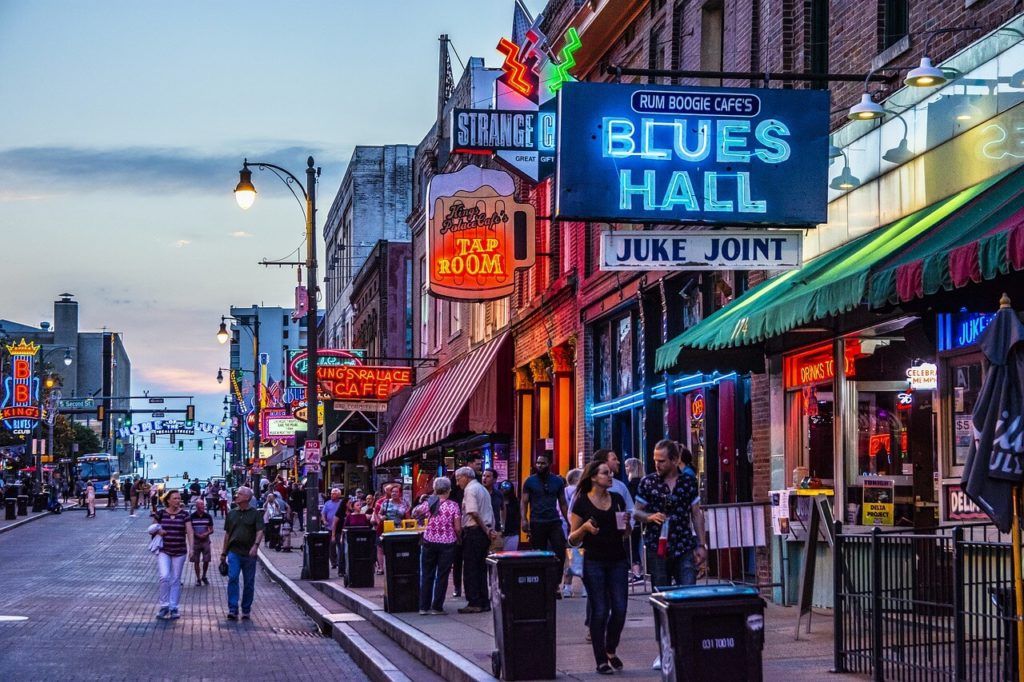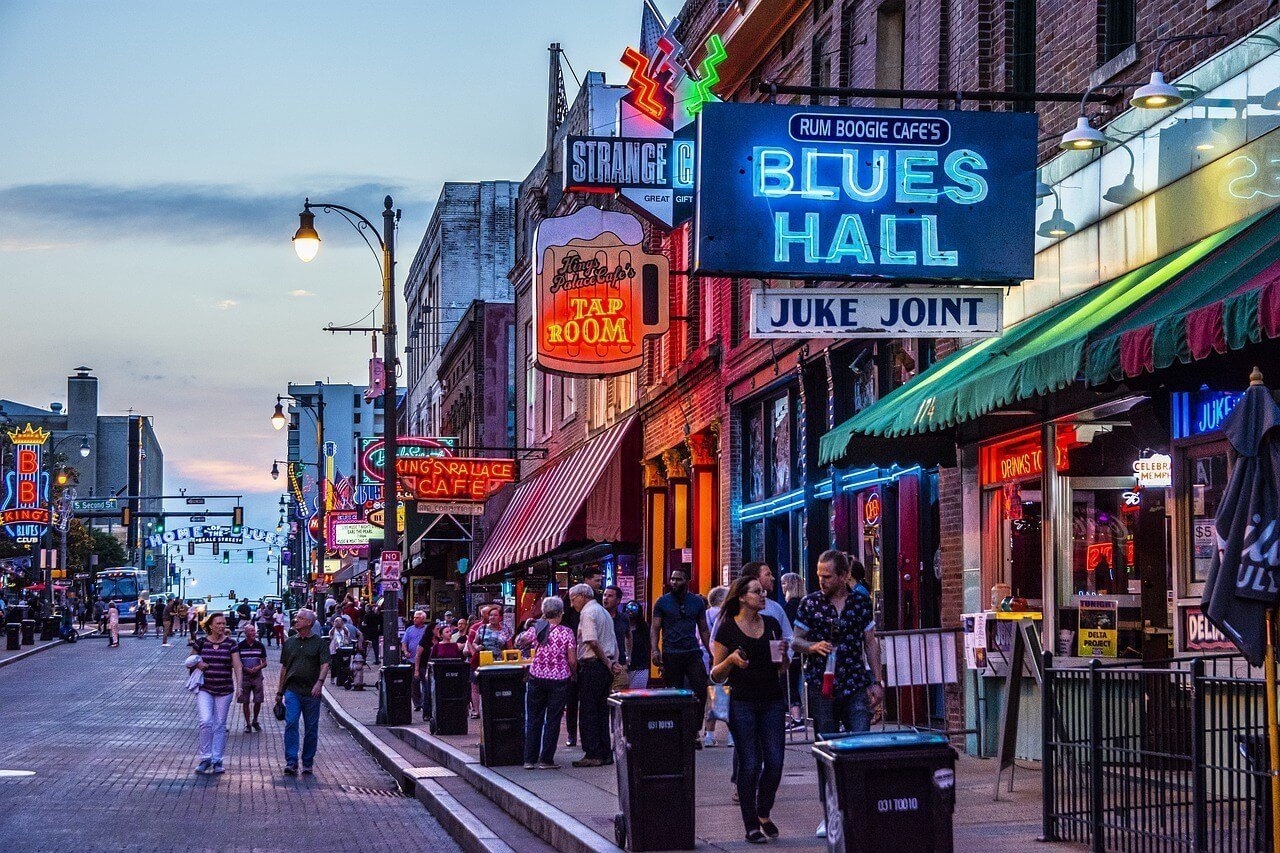 If you're backpacking the USA and you love to party, then you had better head to the most iconic street in Memphis. The local version of the Vegas Strip, Beale Street literally has everything you need for a fun-filled evening: eccentric bars, and a party on just about every corner.
The thing about Beale Street is that all the clubs and bars tend to intermingle in an array of lights and music. It's not unsurprising to see patrons spilling out of their respective bars to mingle with people from other establishments as the entire street turns into a huge party.
For the best rum in Memphis, be sure to check out the Rum Boogie Café which is hailed as the most happening place on Beale Street.
Entrance fee: Free
Hours: 11 a.m. to 2 a.m.
Address: Rum Boogie Café, 182 Beale St
9. Spend a Day at Shelby Park Farms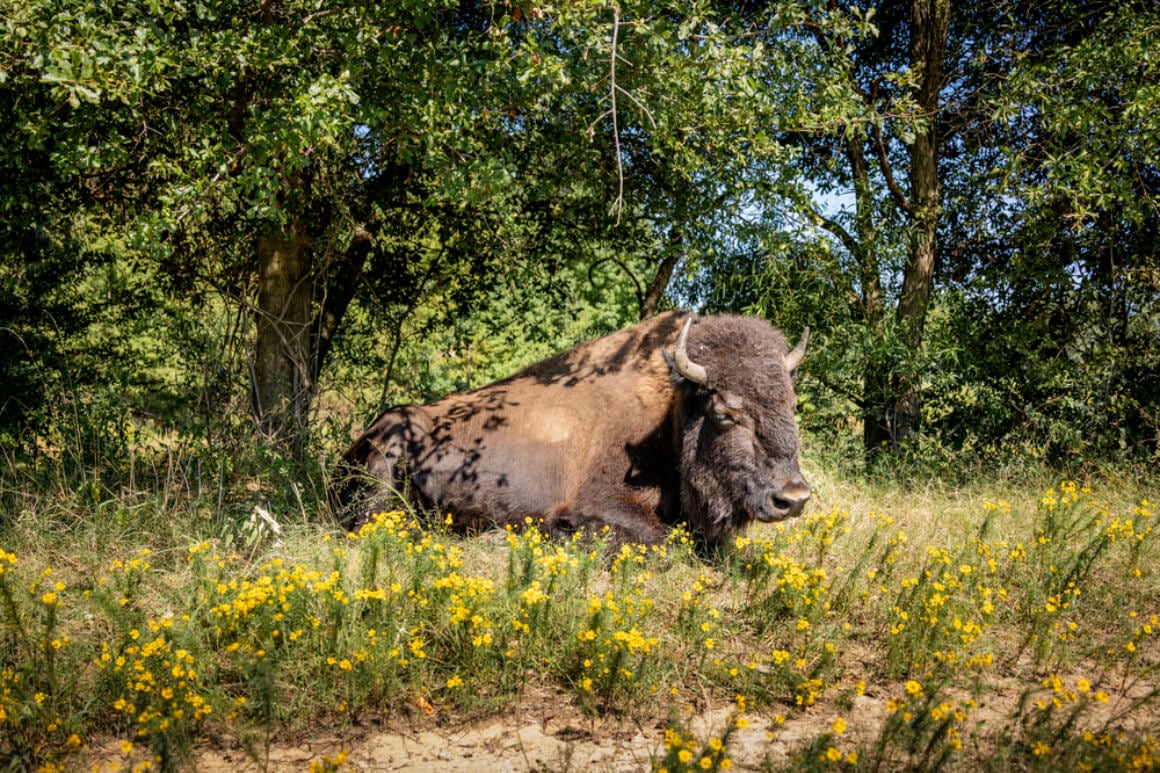 Wondering what to do in Memphis on a sun-soaked day? Well, you may wish to check out Shelby Farms which is located smack in the center of Shelby County.
Boasting over 4,500 acres of vibrant green land – that's five times the size of NYC's Central Park by the way – this ranch is also perfect for a day out with your family. Kids and adults will no doubt be thrilled by the various activities such as hiking, horseback riding, pedal boating, and even fishing.
After working up an appetite, head over to the food truck to chomp down on classic park fare. This park is also known for hosting events such as Starry Nights as well as Canoes and Cocktails evenings.
Entrance fee: Free
Hours: 5.50 a.m. to 8 p.m. every day excluding Wednesdays
Address: 6903 Great View Dr N
Contrary to popular belief, Memphis isn't just about excellent food and music: Cars and car racing actually lie at the very core of the city's culture which is why it's home to the Mid-South's best Raceway.
Car lovers looking for unique things to do in Memphis will undoubtedly revel in a visit to the Edge Motor Museum, located just a short drive from the downtown area. With plenty of interactive exhibits, this museum is especially reputed for its American Speed piece which is entirely dedicated to the evolution of sports cars in America.
You'll also get to learn more about how politics, technology, and economics influenced the automobile industry in the South.
Entrance fee: $10
Hours: 10.30 a.m. to 5 p.m.
Address: 645 Marshall Ave
Is This the Best Daypack EVER???
11. Marvel at the Pink Palace Mansion
The Pink Palace Mansion is found at the Museum of Science & History in Memphis. In my opinion, it's worth visiting this place just to admire its spectacular architecture – or take a selfie in front of it for that matter!
When you're done taking pictures, however, you may wish to check out the museum's lavish interior which houses both an IMAX theatre and a planetarium.
If you're worried that this is going to be yet another boring museum tour, well let me assure you that this place is packed with exciting exhibits and audio-visuals. It also happens to be one of the largest facilities of its kind in Southeast U.S and offers different types of tours throughout the year.
Entrance fee: $15 for adults, $10 for children, and $14 for seniors
Hours: 10.30 a.m. to 5 p.m.
Address: 3050 Central Ave
12. Learn about the Memphis Music Story at the Rock 'n' Soul Museum
If you want to get up close and personal with the musical legends who put Memphis on the map, look no further than the Rock 'n' Soul Museum!
This legendary venue is brimming with relics and artifacts related to musical pioneers who overcame numerous barriers to create the kind of music that completely revolutionized the industry. You'll also get to learn more about the birth of soul and rock music in the city.
Along with its permanent displays, this place regularly offers temporary pop-up exhibits that delve deeper into certain topics such as Elvis' movie career, or how the Sun Records studio used to open its doors to musicians who couldn't afford expensive places.
Entrance fee: $13 (adults), $9 (youth aged 5-17)
Hours: 10 a.m. to 5 p.m.
Address: 191 Beale St, Memphis
13. Enjoy a Unique Retail Experience at the Pyramid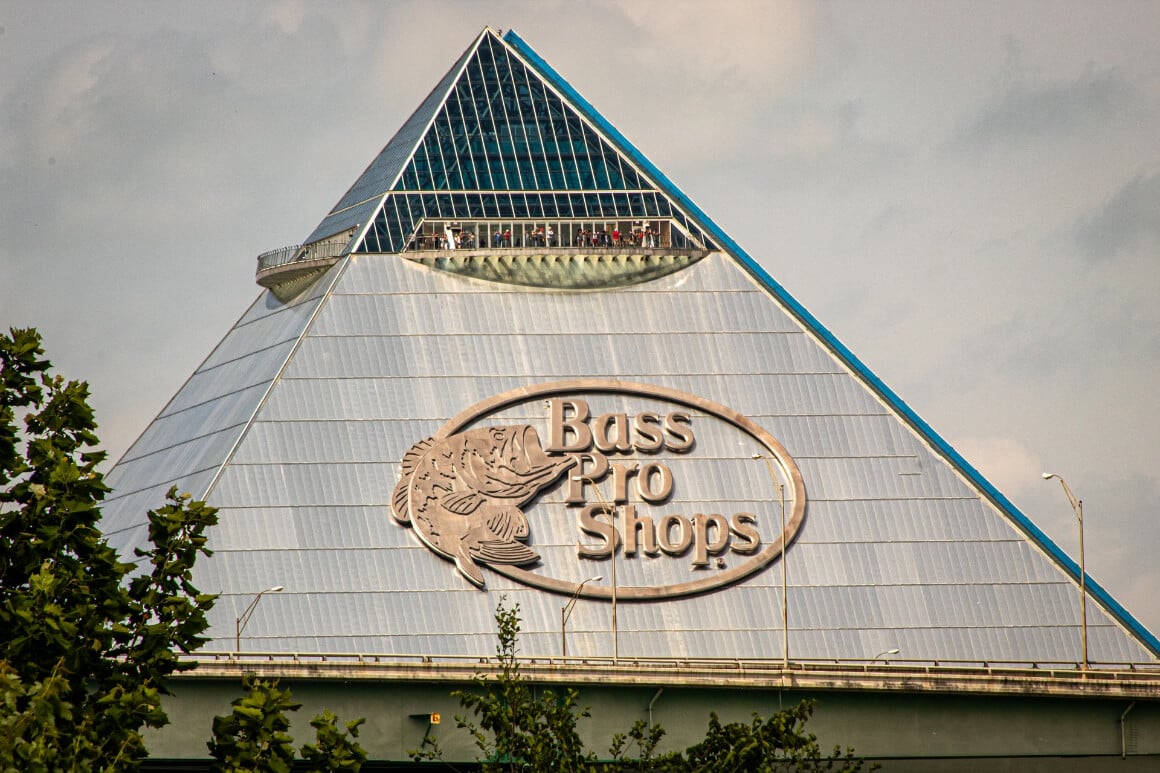 One of the best hipster things to do in Memphis, the Bass Pro Shop Pyramid draws plenty of tourists and locals from all over Tennessee thanks to its ultra-lavish amenities. Fair warning though: one look at the colossal pyramid-shaped building and you'll feel like you're in Egypt instead of Memphis!
The pyramid houses just about everything you can think of from food outlets to a hotel or even an ocean-themed bowling alley, cypress swamp, alligator water habitat, as well as an ecosystem aquarium.
Be sure to check out the freestanding glass elevator which is apparently the tallest in the country. Of course, it goes without saying that this is the place to be if you'd like to capture some spectacular pictures!
Entrance fee: Free
Hours: 9 a.m. to 9 p.m.
Address: 1 Bass Pro Dr
14. Catch a Show at the Historic Memphis Orpheum Theater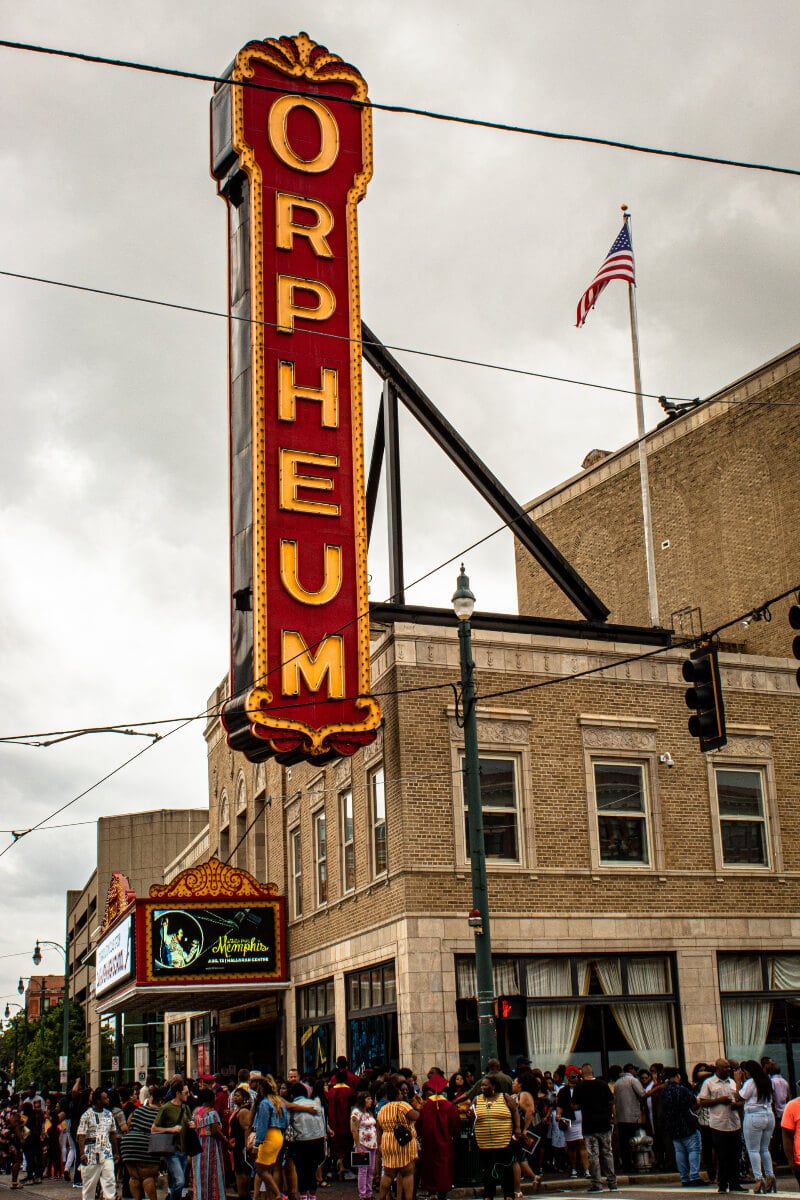 Catching a show at the exquisite Orpheum Theatre should absolutely feature on top of your list of things to do in downtown Memphis. Because of its rich past, this 2,308-seat venue even features on the National Register of Historic Places.
An absolute landmark in the local arts scene, this building still maintains its beautifully preserved fixtures, gliding, and artisan millwork – an architectural marvel indeed! There's even an original Mighty Wurlitzer organ worth over a million dollars. Talk about a whopper, huh?
Featuring Broadway shows, ballets, concerts, and even events like Golf for Education, the Orpheum Theatre is also said to be haunted by a 12-year-old girl, something that amateur sleuths and ghostbusters will no doubt appreciate.
Entrance fee: Varies
Hours: N/A
Address: 203 S Main St
Travel with peace of mind. Travel WITH a security belt.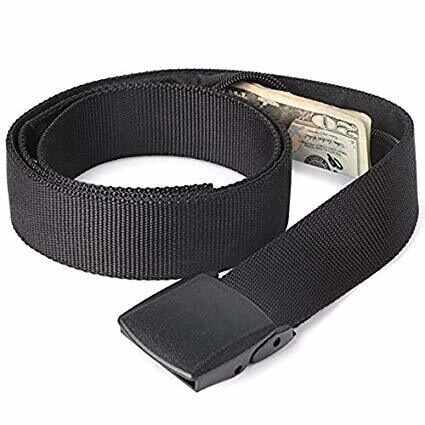 Get your cash stashed with this awesome Pacsafe money belt. It will keep your valuables safe no matter where you go.
It looks exactly like a normal belt except for a SECRET interior pocket perfectly designed to hide a wad of cash or a passport copy. Never get caught with your pants down again! (Unless you want to.)
Hide Yo' Money!
15. Try Your Hand at Axe Throwing
Yup – believe it or not, Axe Throwing is an actual legit hobby in the city. Think the local (and more dangerous) version of darts. So, don't be surprised if you step into a bar to see an axe whizzing by.
Don't worry though: locals are usually super careful. You'll find plenty of classes offering introductory lessons throughout the city. In fact, some centers like Civil Axe Throwing also offer separate lanes so you can spend a fun soiree throwing axes around with friends or family.
Because sessions are quite affordable, this is easily one of the best things to do in Memphis on a budget. Do keep in mind that axe throwing is only suited to ages 10 and older.
Entrance fee: $26
Hours: 5 p.m. to 11 p.m.
Address: Civil Axe Throwing, 3020 Broad Ave #1
16. Relax at the Memphis Botanic Garden
If you ask me, the Botanic Garden is one of those Memphis attractions that you just can't miss. Spanning over 96 acres, this garden often hosts fun-filled community events that you can attend if you happen to be in the city at the right time!
For instance, each month the venue hosts 'Alice's Adventures at the Garden', during which you'll get to check out massive themed sculptures and tea parties. If you get peckish after your tour, you can always grab a quick bite at the on-site Fratelli's Café.
The Memphis Botanic Garden also has an Amphitheatre for plays and concerts. If you don't mind getting your hands dirty, you can even sign up to volunteer alongside the Garden's horticulture staff.
Entrance fee: $12 for adults, $7 for kids (activities charged separately)
Hours: 9 a.m. to 6 p.m.
Address: 750 Cherry Rd
Forget boring accommodation… book yourself an EPIC STAY!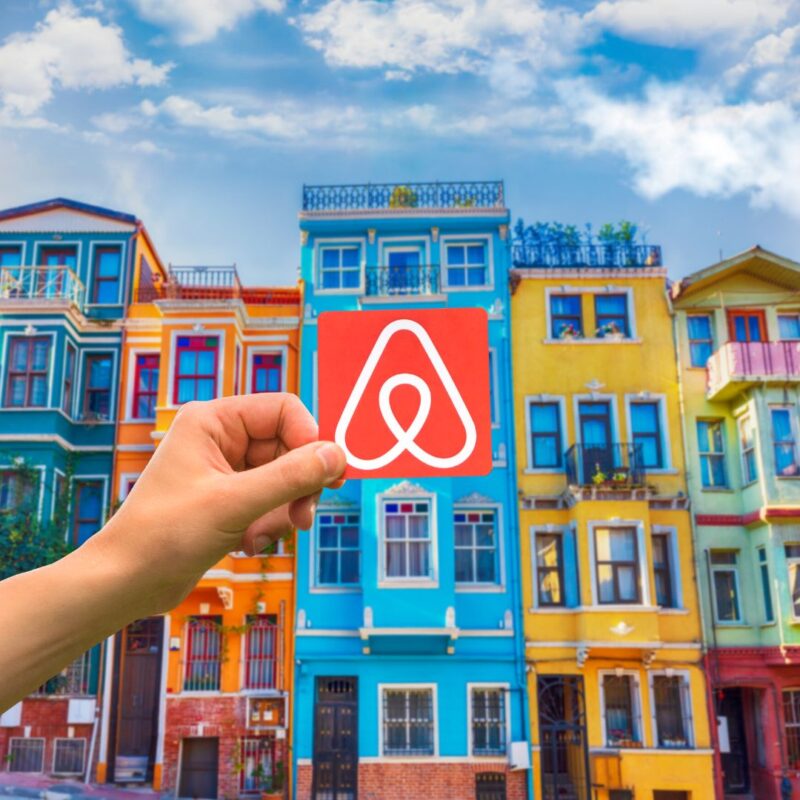 Why stay in a naff hotel when you can stay in a cosy, stylish local house instead? And for half the money too!
Stay somewhere EPIC and save your hard-earned dollars — from houses to barns to castles and caves, there is an Airbnb for every occasion!
Book an EPIC Stay
17. Tuck into a Southern Feast at Gus' World Famous Fried Chicken
There's no denying that Memphis is peppered with some amazing places to eat but if there's one place you absolutely need to check out, it's Gus' World Famous Fried Chicken Restaurant in Downtown.
Steeped in history, this place is practically an institution in the city. As such, eating there is definitely among the top things to do in Memphis, and trust me when I say that you'll be going back for more!
There's nothing and I do mean nothing quite like their exceptionally juicy fried chicken served with generous lashings of gravy swimming in a mound of ultra-fluffy mashed potatoes. Be sure to conclude your meal with a hearty slice of their homemade Pecan Pie!
Entrance fee: Free
Hours: 11 a.m. to 9 p.m.
Address: 310 S Front St
18. Stroll by Mud Island River Park
While the city draws thousands of travelers from all over the world, there are still plenty of non-touristy things to do in Memphis. Just a short walk from the downtown area, this peninsula is perfect for enjoying a refreshing afternoon stroll by the Mississippi River while mingling with the locals.
Mud Island River Park is easy to reach, thanks to the bridge that connects it to the Civic Center Plaza. Perfect for families, this park features various activities such as pedal boating, swimming in the river, or hiking the dedicated trails.
Depending on when you're visiting, you can even catch an outdoor concert at the Amphitheatre. The park also houses a small museum that's exclusively dedicated to the Mississippi River.
Entrance fee: Free
Hours: 6 a.m. to 7 p.m.
Address: 101 N. Island Dr.
19. Feel the Memphis Gong Chamber's Vibrations
Take it from me: this is definitely one of the most unique attractions in Memphis.
The Gong Chamber can produce a stunning cacophony of sounds that range from soothing hums to intensely loud screeches – all with just a massive sheet of metal that stands at nearly seven-foot tall. You can even feel the vibrations of each sound reverberating across the chamber.
In fact, the whole concept was created to deliver an almost tactile sensory experience, so you'll be able to feel the gong's vibrational impact. Additionally, those otherworldly noises have been known to produce a visual impact in some listeners.
The Memphis Gong Chamber also houses other incredible objects such as a Zero-Gravity chair and various types of Singing Bowls.
Entrance fee: $35
Hours: 10 a.m. to 5 p.m. (Monday through Saturday)
Address: 878 Cooper St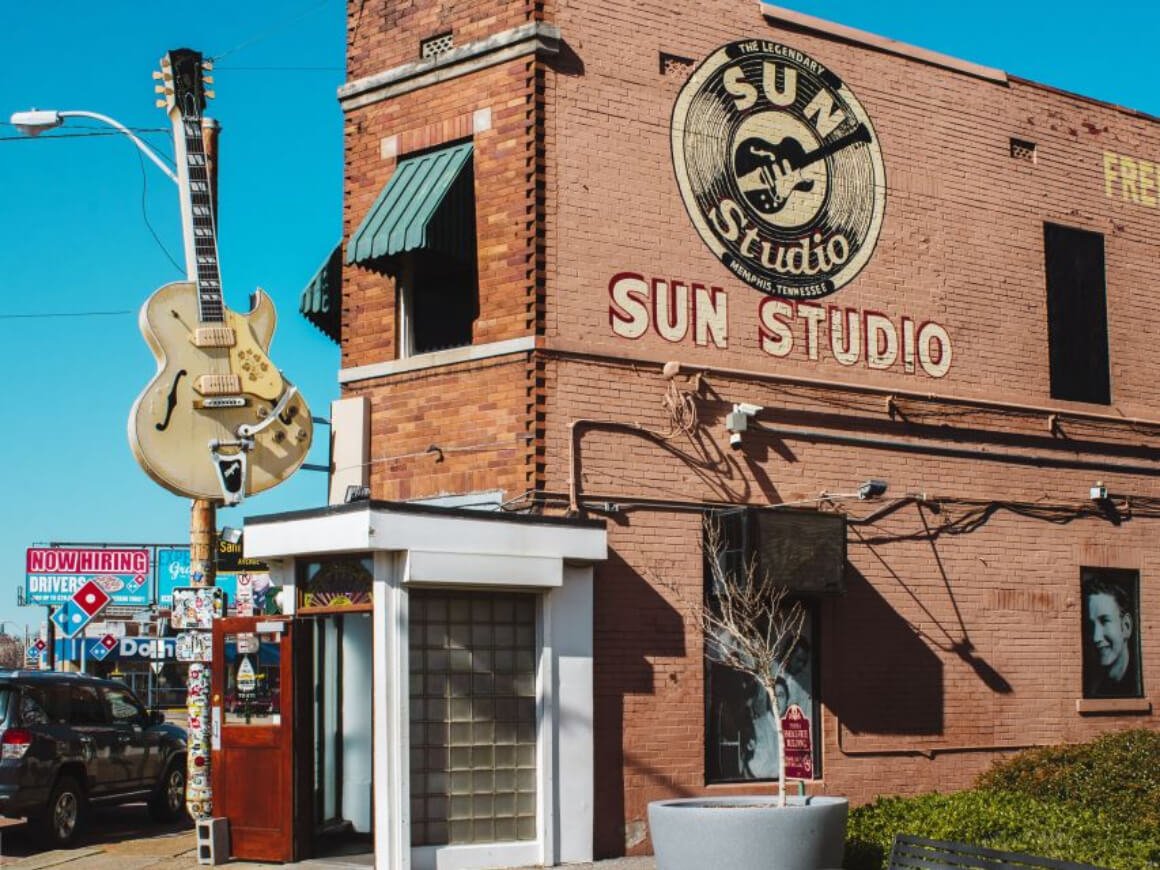 No trip to Memphis would be considered complete without checking out Beale Street's Sun Studio. This place is usually referred to as 'the birthplace of Rock 'n' Roll' because this is where the world's very first rock song was recorded back in the 1950s.
This is also where newcomers would venture in to record their first album before they became the biggest names in the industry. While it's no longer a functional recording studio, this place does offer guided tours.
Because the studio draws plenty of people from all over the world, it operates on a first-come, first-served basis. Therefore, I would strongly urge you to head there early in the morning to avoid the endless lines.
Entrance fee: $15 (adults), $10 (children)
Hours: 10.30 a.m. to 4.30 p.m. (Monday through Saturday)
Address: 706 Union Avenue
21. Attend Memphis in May
Travelers who visit the city in May will be privy to the very best social events of the season. Indeed, this already-lively city takes it up a notch during summer and offers a staggering assortment of activities such as outdoor concerts and barbecue championships.
Featuring various festivities to celebrate the local cuisine, art scene, music, and culture, Memphis in May lasts for the entire month. Souvenirs and food booths pop up across town with plenty of vendors offering free samples.
This festival also hosts the Great American River Run, a 5k marathon that spans alongside the Mississippi River in the downtown area.
Entrance fee: $55 (Single Day Admission Tickets)
Hours: N/A
Address: 56 S. Front St
If there's one thing you can be sure of, it's that you'll never run out of places to stay in Memphis. After all, the city is a prime tourist destination, so you bet there are plenty of Airbnbs, hostels, hotels and even cabins to choose from!
Here are some top recommendations for places to stay.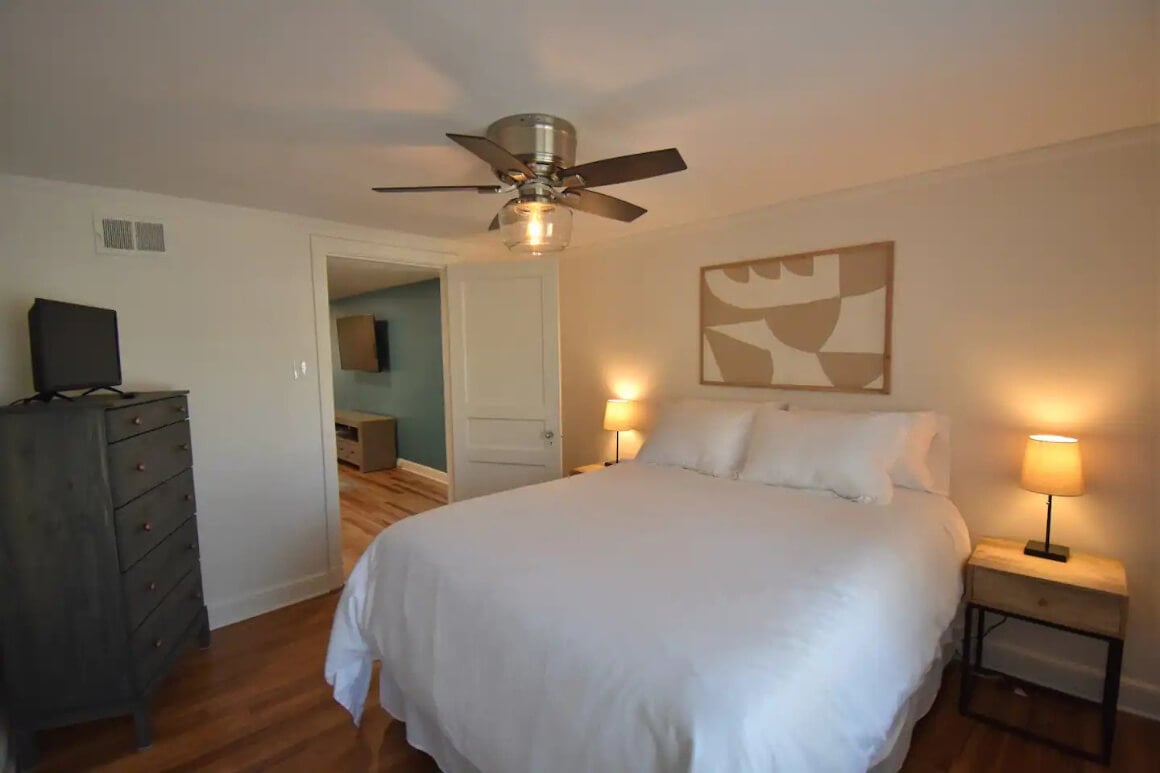 A cozy retreat that comfortably accommodates four guests, this two-bedroom place commands an excellent location in the historic Evergreen district.
This Airbnb has classic home comforts, including a contemporary kitchen. There's even a Keurig coffee machine as well as complimentary coffees and teas that you can enjoy in the spacious living room.
With a stay in this Airbnb, you will be close to Rhodes College. You'll also enjoy proximity to top Memphis attractions like Overton Park and the Mallory-Neely House.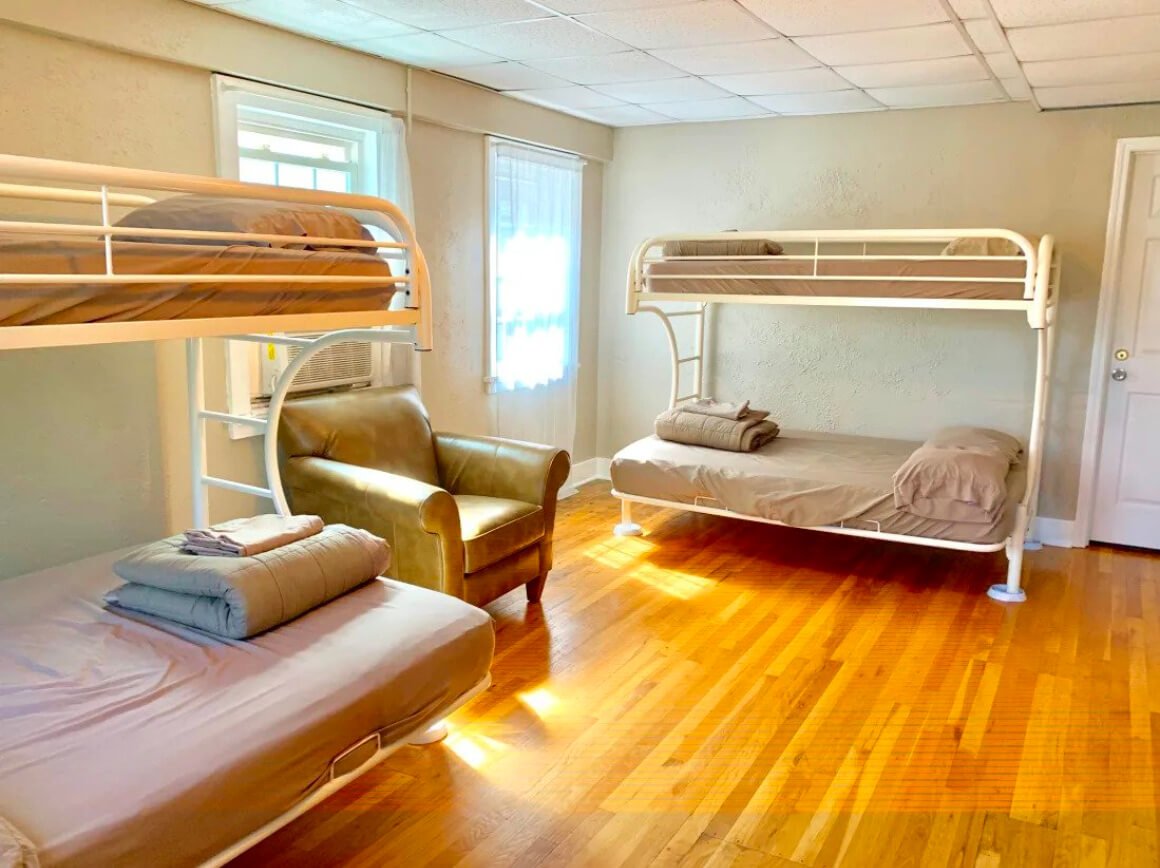 A vibrant and hip hostel located in the artsy Midtown area, Hostel Memphis lies within walking distance of plenty of retail and entertainment options.
The great thing about this hostel is that guests have a choice between shared dorms or private rooms- perfect for those who need some personal space. Amenities include generously-sized common areas, a well-equipped kitchen, free coffee, and a daily complimentary breakfast.
This hostel lies close to Overton Square which is known for its many clubs, bars, and theatres. Nearby, you can also check out the Brooks Museum and Sun Studio.
Not only does this pet-friendly hotel lie within walking distance of Graceland, but each room comes with a small fridge and microwave- perfect for putting a quick snack together whenever you want!
Free Elvis movies are available 24 hours a day and there's even a guitar-shaped pool where you can cool off after a full day of sightseeing.
This hotel is found close to both Graceland and Brown Park. You'll also be within driving distance of the Liberty Bowl Memorial Stadium.
Here are a few things to remember when exploring Memphis' many points of interest!
Invest in travel insurance! You never know what may happen on the road.
Take Public Transportation: Yes, you could technically just get an Uber. But then again, this might deprive you of the chance to ride in Memphis' ultra-cool vintage trolleys. Not only are they reasonably priced – most tickets only cost $1 – but these adorable trolleys also make for excellent photo ops!
Don't Skip the Local History: Given the sheer number of hip things to do in Memphis, you may feel tempted to skip the city's historic venues. However, Memphis is literally one of the most historically charged places in the United States. As such, travelers often want to pay homage to the city's rich albeit painful past that completely revolutionized cultural diversity in the country.
Bring a good water bottle with you and avoid buying single-use plastic ones!
Wear Comfy Shoes: Memphis is a super walkable city and there are plenty of (often free) neighborhood walks so be sure to shoe up adequately. If you're visiting in December, you may wish to opt for waterproof shoes and carry an umbrella with you since this is the rainiest month.
Find cheap flights. Every once in a while, a killer deal pops up.
Keep your Eyes Peeled for Free Venues and Activities: This sunny southern city is an absolute dream for budget travelers! You'll find plenty of affordable things to do in Memphis in summer, such as outdoor concerts in Overton Park's Levitt Shell. Some museums also have free days. Best of all, there's a complimentary shuttle that will take you to popular spots like the Rock 'n' Soul Museum, the Sun Studio, and Graceland.
Don't forget your travel insurance for Memphis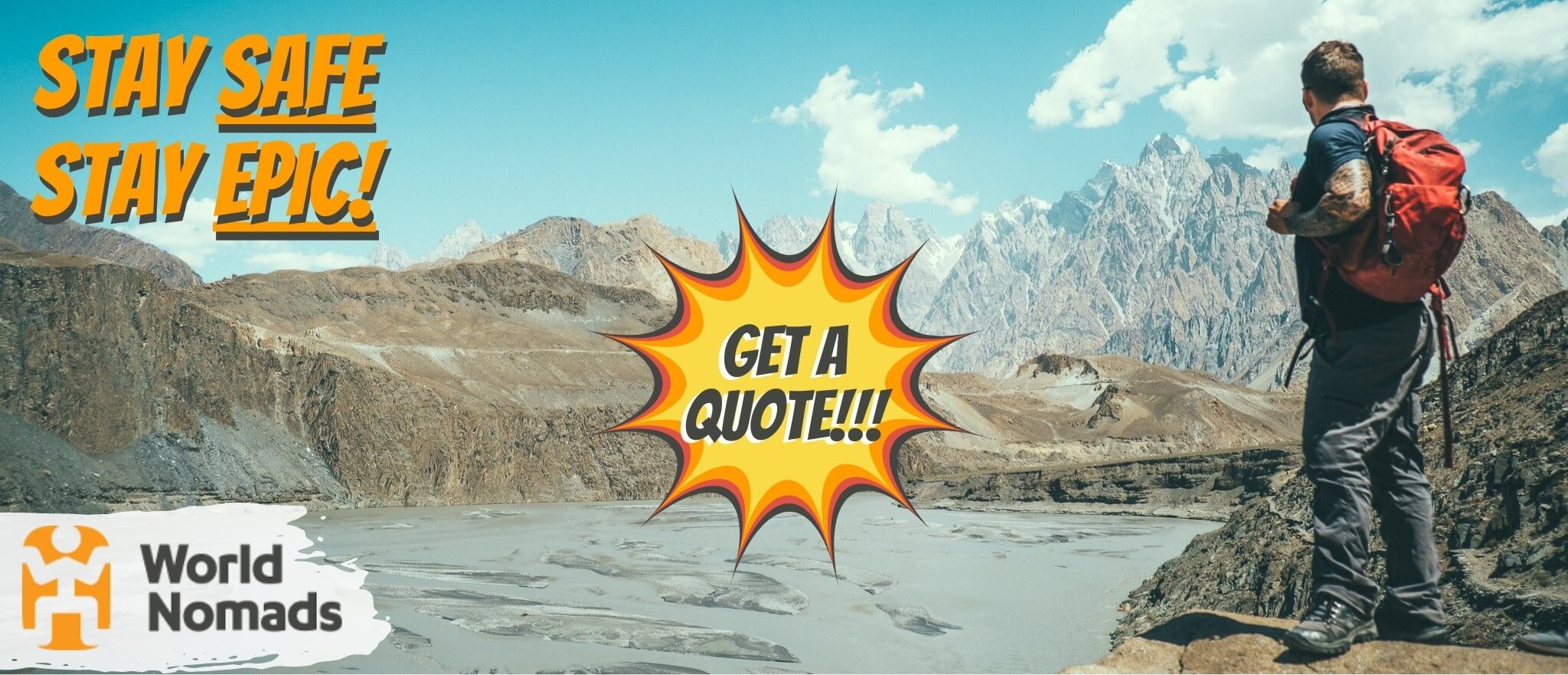 World Nomads' mission is to support and encourage travellers to explore their boundaries. They offer simple & flexible travel insurance, and safety advice to help you travel confidently.
They've been doing it since 2002 – protecting, connecting, and inspiring independent travellers just like you.
Get a quote below or read our in-depth review!
World Nomads provides travel insurance for travelers in over 100 countries. As an affiliate, we receive a fee when you get a quote from World Nomads using this link. We do not represent World Nomads. This is information only and not a recommendation to buy travel insurance.
Final Thoughts on Things to Do in Memphis
While it's among the most visited places in Southern US, you'll certainly find plenty of unusual things to do in Memphis – perfect if you want to avoid the crowds and tourist traps!
Bursting with cultural and musical events all year long, Memphis also has the advantage of being quite budget-friendly, with a plethora of attractions to keep you busy.
From historically-charged museums to free open-air concerts, dreamy paddleboat rides, and some of the most delicious dishes in the country, this is one city that certainly has it all!
---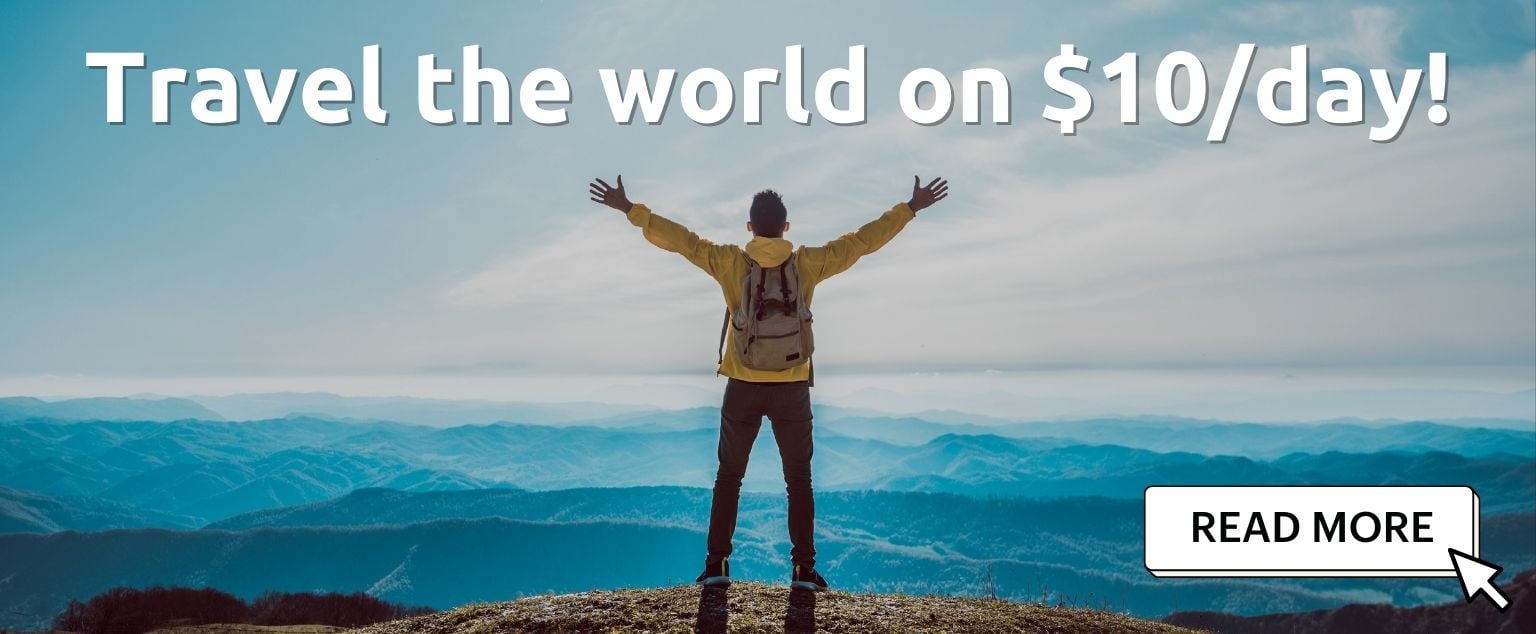 And for transparency's sake, please know that some of the links in our content are affiliate links. That means that if you book your accommodation, buy your gear, or sort your insurance through our link, we earn a small commission (at no extra cost to you). That said, we only link to the gear we trust and never recommend services we don't believe are up to scratch. Again, thank you!