Perched on the shores of Lake Michigan, Milwaukee is one of the most popular cities in Wisconsin for a summer vacation. It's famous for its brewing culture and natural scenery, as well as being the largest city in the state, but the city offers much more.
The city has a rich history, dating back to the fur traders of 1795. As such, you'll find plenty of museums and historical landmarks throughout the city. There's also several art galleries, such as the architectural triumph that is the Milwaukee Art Museum, home to original paintings by Andy Warhol, Pablo Picasso and Salvador Dali.
If you prefer to relax in nature, there's more than 150 parks and outdoor spaces to enjoy. Families are well catered to with loads of great attractions in Milwaukee such as theme parks and beaches.
With so much on offer, it can be easy to feel overwhelmed when mapping out things to do in Milwaukee to add to your itinerary, so I've gathered this list of the top attractions in the city and some of the rarer hidden gems that you don't want to miss.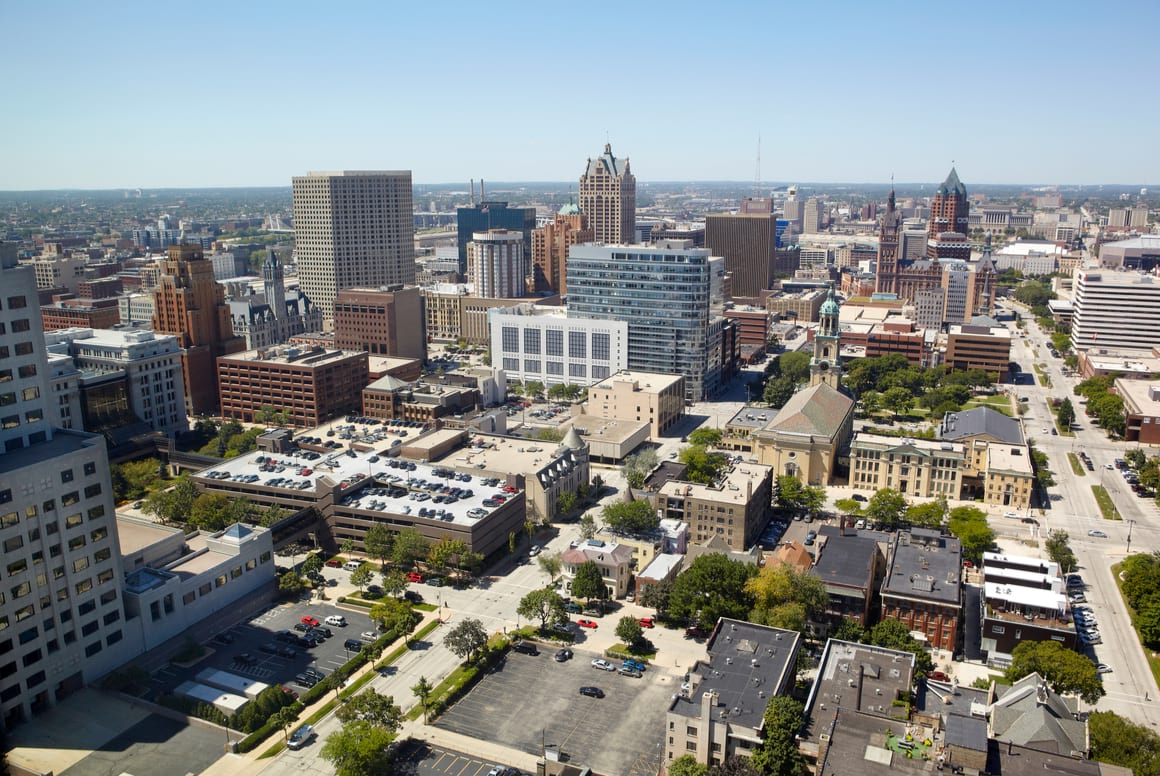 The Top Things to Do in Milwaukee
Milwaukee is one of the best places to visit in the USA, but if you're only visiting for a short while, you'll want to make the most of your trip.
If you only have time for just a few Milwaukee attractions, don't worry, these are the five most unmissable things to do in Milwaukee that I recommend you add to your itinerary.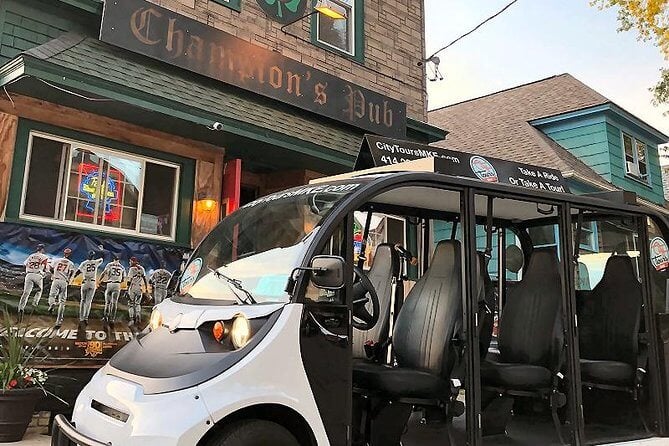 Take in the cream-of-the-crop of top Milwaukee attractions on a city tour. Stop at popular breweries, art galleries, markets, museums, and historic districts to see the very best of what this vibrant city has to offer.
Trade in the crowded tour bus with the whistle-stop schedule. Instead, set off in a custom 5-seater open-air electric vehicle with your knowledgeable guide. In addition, this far more personal experience can be enjoyed on a tour length that best fits your schedule. 
I always say that the best way to see a city is to take a guided tour of the sites. This is definitely the best thing to do in Milwaukee if you're backpacking the USA and only around for a short visit.
Entrance: $60
Hours: Tour times vary
Address: Depart from 1130 N 9th St, Milwaukee
2. Tour the Fascinating Pabst Mansion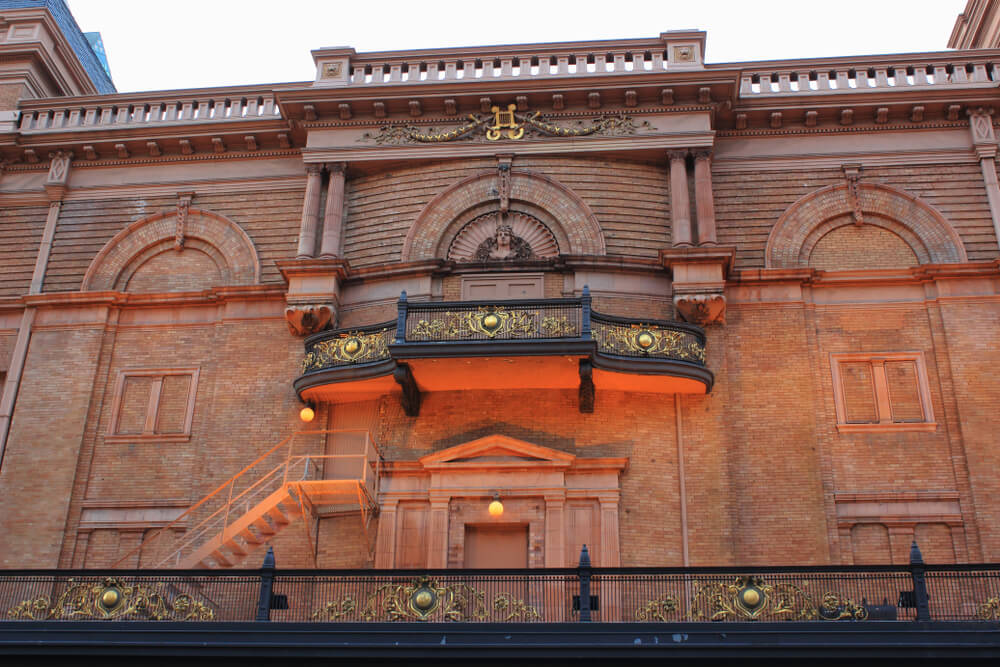 Milwaukee has a rich German heritage, which led to the city becoming known for its brewing industry. One prominent brewery was the Pabst Brewing Company which was run by the Pabst family.
The family built the mansion in 1890 and filled it with priceless treasures and art. Whether you explore the three floors of the mansion on your own or as part of a guided tour, you'll enjoy beautiful architecture and furnishings and learn more about the Pabst family and their life here. 
Entrance: $15
Hours: 10:00 to 16:00 (Monday to Saturday), 11:00 to 16:00 (Sunday)
Address: 2000 W. Wisconsin Ave, Milwaukee
They say the best way to know a city is to eat it. So one of the top things to do in Milwaukee is to sample its finest cuisines and drink its local craft beers. Milwaukee in particular is well known for its beer and cheese, which were influenced by its German ancestors.
A food tour will allow you to have your sampling of the very best that the city has to offer. Once the heart of the German community, Old World Third Street offers a traditional and thoroughly enjoyable vibe. 
Entrance: $98
Hours: Tour times vary
Address: Depart from Milwaukee Public Market, 400 N Water St, Milwaukee
What is the One Item Every Traveller NEEDS???
There is one item every traveller NEEDS. Some travellers don't even know they need it, but those travellers need it more than anyone.
What is this forgotten essential of the backpacker-life? SPOILERS! Guess you'll just have to click the button to find out. 😉
Find Out What It Is!
4. Feast Your Eyes at the Milwaukee Art Museum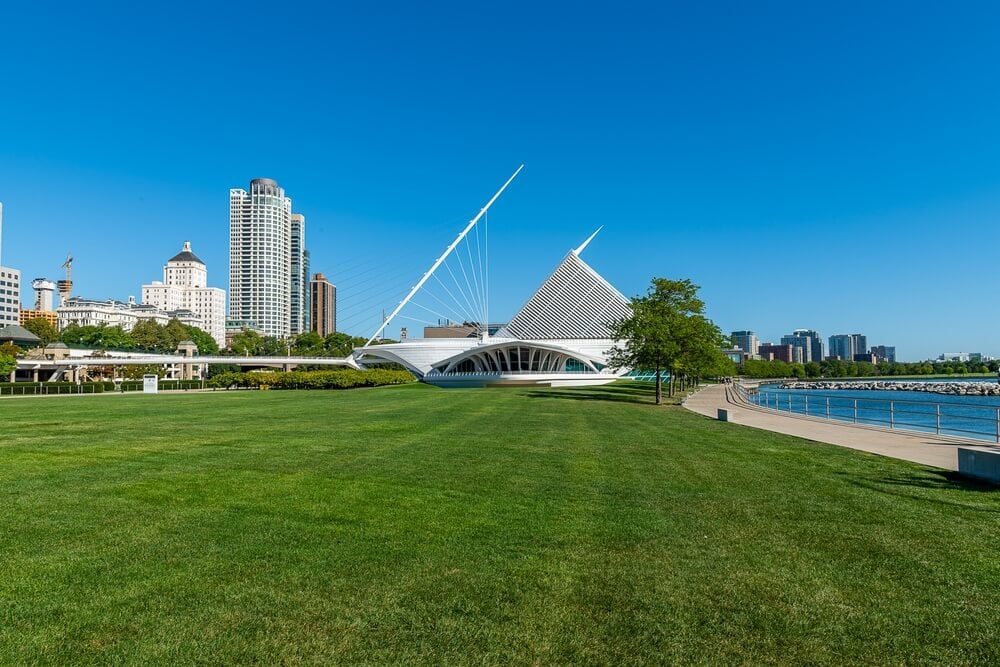 The Milwaukee Art Museum houses 30,000 works of art and is one of the most visited art museums in the city. The iconic buildings of the museum, designed by various architects over the years, are located on the lakefront of Lake Michigan. 
As one of the largest museums in the United States, the Milwaukee Art Museum has an impressive collection of paintings, sculptures, prints, drawings, decorative arts, and photographs.
Fans of artist Georgia O'Keefe flock here to see the largest collection of her works. Other top artists on display include Pablo Picasso, Auguste Rodin, Claude Monet, Mark Rothko, and Andy Warhol. 
Entrance: $22
Hours: 10:00 to 17:00 (Tuesday, Wednesday, Friday, Saturday, and Sunday), 10:00 to 20:00 (Thursday)
Address: 700 N. Art Museum Drive, Milwaukee
5. Experience the Harley-Davidson Museum
Explore the history and heritage of the legendary Harley-Davidson motorcycle brand. You'll uncover the passion and culture behind these motorcycles through interactive exhibits and stories.  
See bikes dating from 1903 to the present, custom bikes, and even get to throw a leg over the very latest models. Harley-Davidson is more than just a motorcycle; it's a lifestyle.
Explore the camaraderie and competitive spirit that has fueled motorcycle culture over the years. There's even a section dedicated to children, with puzzles, books, and games to entertain the little H-D fans. 
Entrance: $22
Hours: 10:00 to 17:00 daily
Address: 400 West Canal Street, Milwaukee
6. Relax in the Peaceful Surroundings of Lakeshore State Park
Milwuakee is home to 150 parks and natural sites, so you'll want to make sure you get out in nature while visiting. One of Milwaukee's most beautiful parks is the Lakeshore State Park, a 22 acre park located just outside the city center on the shores of Lake Michigan.
Here you can go boating, kayaking, fishing, or just job along the nature trails. It's also a great spot for bird watching in the winter.
Alternatively, you could just pack up a picnic and enjoy the peaceful surroundings by the lake.
Entrance: Free (only pay for parking)
Hours: 6 a.m. to 10 p.m.
Address: 500 N Harbor Dr, Milwaukee
Small Pack Problems? 😉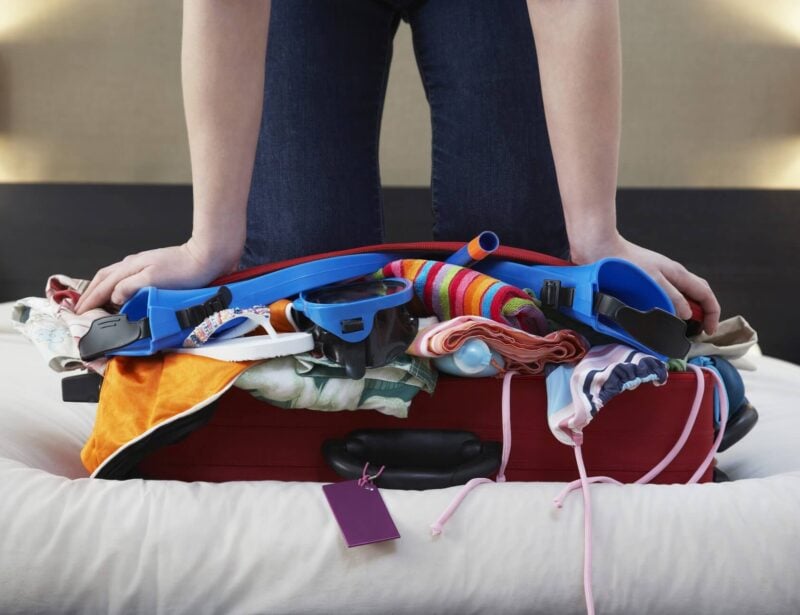 My missus travels with all her clothes in ziplock bags: don't be like my missus. UP YOUR PACKING GAME!
Packing cubes for the globetrotters and compression sacks for the real adventurers – these babies are a traveller's best kept secret. They organise yo' packing and minimise its volume too so you can pack MORE.
Or, y'know… you can stick to ziplock bags.
View Our Fave Cubes
Or Check Out the Sacks!
7. Grab a Beer at Lakefront Brewery
If there's one thing that's taken super seriously in Milwaukee, it's brewing. Tasting beer is arguably one of the top things to do in Milwaukee. 
A visit to the Lakefront Brewery will have you touring the brewery, sampling the variety of brews, and enjoying the beer hall's vibe and food. After tasting their ales, IPAs, lagers, and stouts (there's even a gluten-free line-up) pick your favorite and purchase some to take home. 
They've also got a fun line-up of events, like trivia nights, movie nights, and drag queen bingo. 
Entrance: Free
Hours: 15:00 to 21:00 (Monday to Thursday), 11:00 to 21:00 (Friday and Saturday), 11:00 to 17:00 (Sunday)
Address: 1872 North Commerce Street, Milwaukee
8. Get Your Science and Tech Fix at Discovery World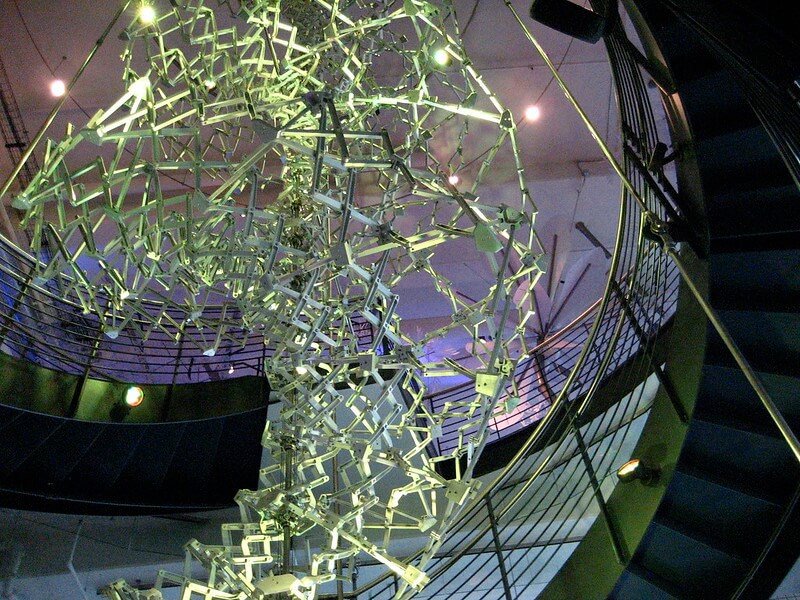 Of the many things to do in Milwaukee with kids, Discovery World is undoubtedly one of the most popular. Hands-on educational exhibits and interactive experiences make learning about things like physics and engineering super fun and engaging. 
There's something for all ages at Discovery World, making this a great day out for the entire family. Make sure not to miss the Virtual Explorer exhibit for a virtual reality experience you won't soon forget. For a unique musical experience, spend some time at the Les Paul House of Sound.
Entrance: $20, Children $16
Hours: 9:00 to 16:00 (Wednesday to Sunday), 
Address: 500 N Harbor Dr, Milwaukee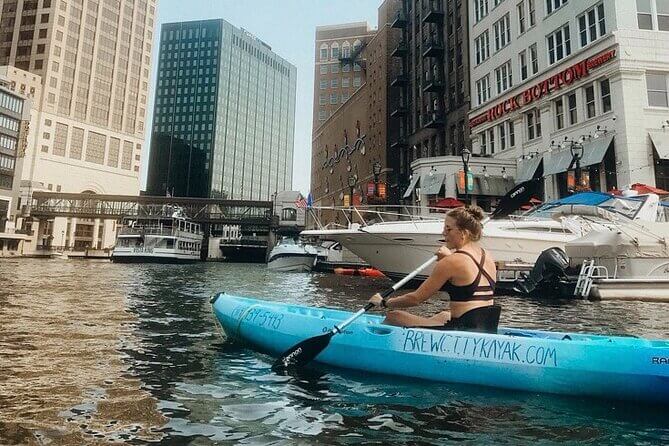 Explore the Milwaukee River in a kayak at your own pace. Choose to head out on your own for some solitude or as part of a small group. The riverfront is packed with many restaurants and breweries, so you'll be able to stop along the way for some refreshments. 
If you'd prefer to soak up the outdoors as much as possible, bring along your own food and drink – the kayaks can easily hold a cooler. Enjoy your picnic out on the water or at a spot of your choice.
Entrance: $55
Hours: NA
Address: Depart from 820 S Water St, Milwaukee
10. See Blooming Great Displays at The Mitchell Park Domes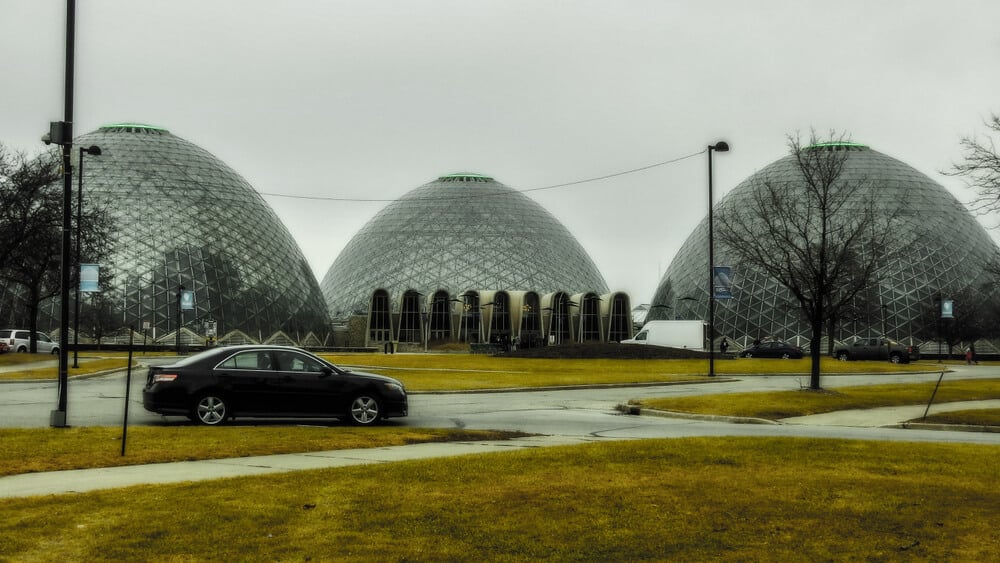 The three huge glass domes of the Mitchell Park Horticultural Observatory are home to various flowers and plants from around the world. Each Dome is almost half a football field wide and seven stories tall and features a distinct theme.
There's the arid dome, the tropical dome, and the show dome, where you can enjoy seasonal floral displays. Enjoy a leisurely morning or afternoon strolling among the fascinating plants in these impressive domes and enjoying this lush oasis in the city. 
Entrance: $8 
Hours: 9:00 to 17:00 (Wednesday to Friday), 9:00 to 16:00 (Saturday to Sunday)
Address: 524 S. Layton Blvd. Milwaukee
Is This the Best Daypack EVER???
11. Taste Your Way through the Milwaukee Public Market
Be sure to visit this vibrant food market in the heart of downtown Milwaukee. On offer, you'll find unique, high-quality food freshly prepared by artisans and independent merchants. 
Bring your appetite because you're sure to find something to satisfy even the largest appetite. Try Mexican or Middle Eastern dishes, ribs and pizza, and fish. There's wine and coffee and baked delights to round it all off. Let's just say pants with an elastic waistband would be a smart plan.  
If you've always wanted to learn to cook, there are various classes and demonstrations here too.
Entrance: Free
Hours: 10:00 to 20:00 (Monday to Friday), 10:00 to 20:00 (Saturday), 10:00 to 18:00 (Sunday)
Address:  400 N. Water Street, Milwaukee
12. Hit the Beach at Bradford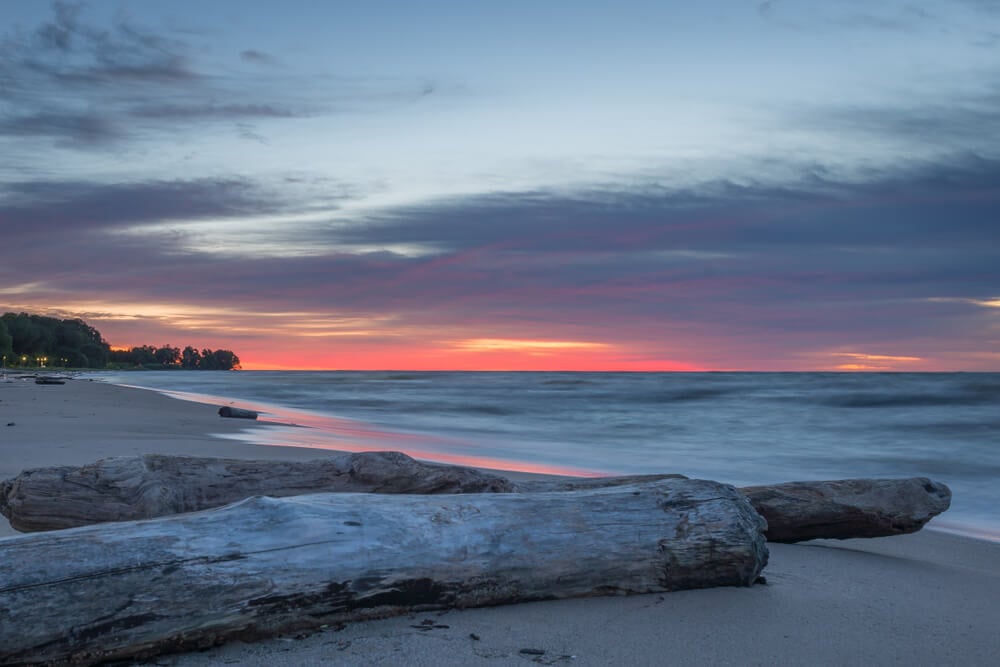 When the weather's good in Milwaukee, visitors, and locals flock to soak up the sunshine at Bradford Beach. This top urban beach on Lake Michigan offers a sandy shore and great swimming.
There's plenty of space to spread out, catch some sun, and enjoy the view. In addition, there's a vibey tiki bar, beach volleyball, and cabanas to rent for the day. If you're feeling energetic, why not join a yoga or a CrossFit class.
Entrance: Free
Hours: 6:00 to 21:00 (daily) 
Address:  2400 N Lincoln Memorial Dr, Milwaukee
13. Fly a Kite at Veterans Park
One of the more romantic things to do in Milwaukee is to enjoy the company of your loved one in a serene and romantic setting – Veterans Park.
At the park, you will find a kite store where you can rent a kite to fly and a large open grassy area where you can sit and have a picnic. There's also a paved Oak Leaf Trail for jogging and skating, and a long lagoon where you can rent a paddle boat, kayak, or stand up paddle board (SUP).
Entrance: Milwaukee, WI
Hours: 24 Hours
Address: Depart from 2333 S 6th St, Milwaukee
14. Taste the Spirit of Wisconsin at Great Lakes Distillery
Visit the first distillery to open in Wisconsin since Prohibition to sample the very spirit of the state. Using locally grown ingredients like grain, honey, cherries, and ginseng, Great Lakes Distillery produces gin, vodka, bourbon, whiskey, rye, and liqueur. 
Book a distillery tour to go behind the scenes to see how their world-class spirits are produced. Sample innovative cocktails made with Great Lakes Distillery's produce and enjoy a great vibe and food to round it all off. 
Entrance: No fee for tasting room visits. $12 per tour for drinkers, $6 for non-drinkers.
Hours: 12:00 to 21:00 (Monday to Thursday), 12:00 to 00:00 (Saturday), 11:00 to 19:00 (Sunday). Tour times vary.
Address: 616 W. Virginia St., Milwaukee
Travel with peace of mind. Travel WITH a security belt.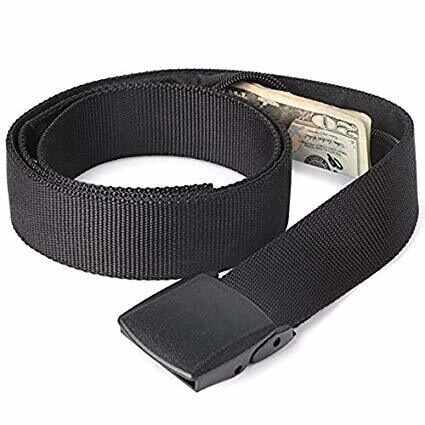 Get your cash stashed with this awesome Pacsafe money belt. It will keep your valuables safe no matter where you go.
It looks exactly like a normal belt except for a SECRET interior pocket perfectly designed to hide a wad of cash or a passport copy. Never get caught with your pants down again! (Unless you want to.)
View on REI!
15. Learn through Play at Betty Brinn Children's Museum
One of the best things to do in Milwaukee with kids is to visit the Betty Brinn Children's Museum for an afternoon of play. Engaging and interactive exhibits will keep the little ones more than entertained.
Firm favorites include the Home Town exhibit, where children can role-play in a kid-sized world. Also, check out the Be a Maker exhibit featuring hands-on maker activities. 
A visit to Betty Brinn is the ideal thing to do in Milwaukee on a rainy day. 
Entrance: Adults and children – $12, Children aged 1 and under – free
Hours: 9:30 to 15:00 (Wednesday), 9:30 to 16:30 (Thursday to Monday) 
Address: 929 E. Wisconsin Avenue, Milwaukee
Head to Racine, a forty-minute drive from Milwaukee, for this fantastic experience. Take to the waters of Lake Michigan in a private sailing boat to enjoy the lake at its best. See the city of Racine from the water and, on a clear day, Milwaukee and Kenosha too.
Choose to enjoy a relaxing time on deck enjoying the view or request a more adventurous experience to make the most of your 2-hours on the water. Whichever you choose, this is a great way to enjoy the outdoors for up to six people. 
Entrance: $95
Hours: Tour times vary
Address: Depart from 2 Christopher Columbus Causeway, Racine
17. See the World's Largest Collection of Bobbleheads
Indeed, one of the quirkiest attractions in Milwaukee is the National Bobblehead Hall of Fame and Museum. A visit here offers you the chance to see the world's most extensive collection of bobbleheads and get an insight into the history of these popular items. Check out some of the rare and unusual bobbleheads in the collection. 
The collection includes over 6500 unique bobbleheads and features a Hall of Fame where the best-of-the-best are displayed. Purchase bobbleheads and merchandise and even commission your own custom bobblehead. 
Entrance: $5, children under 5 go free
Hours: 10:00 to 18:00 (Monday to Friday), 10:00 to 17:00 (Saturday and Sunday) 
Address: 170 S. 1st St., 2nd Floor, Milwaukee
18. Explore the Boerner Botanical Gardens
A visit to Milwaukee between April and November must include a visit to the sprawling Boerner Botanical Gardens. Spend time strolling among the various gardens, which feature herbs, roses (over 500 varieties!), perennials, peonies, and shrubs. There's also a rock garden and a bog garden walk to enjoy.
If you'd prefer a more in-depth experience, sign up for a guided garden tour to learn more about the history of the gardens and the many species of fascinating plants grown here. 
Entrance: $8
Hours: 8:00 to 19:00 (daily between May 1 and October 31)
Address: 9400 Boerner Drive, Hales Corners
History and architecture buffs will relish a visit to the North Point Lighthouse. This beautifully restored building is one of the oldest in the city. It includes a 74-foot tall tower and authentic living quarters where the lighthouse keeper would have lived. 
Your visit will also offer a glimpse into the maritime history of the Great Lakes and the role that lighthouses like this one would have served. Climb the tower to see the spectacular 360° view of the Lake and downtown Milwaukee.
Entrance: $8
Hours: 13:00 to 16:00 (Saturday and Sunday)
Address: 2650 N. Wahl Avenue in Lake Park, Milwaukee
Forget boring accommodation… book yourself an EPIC STAY!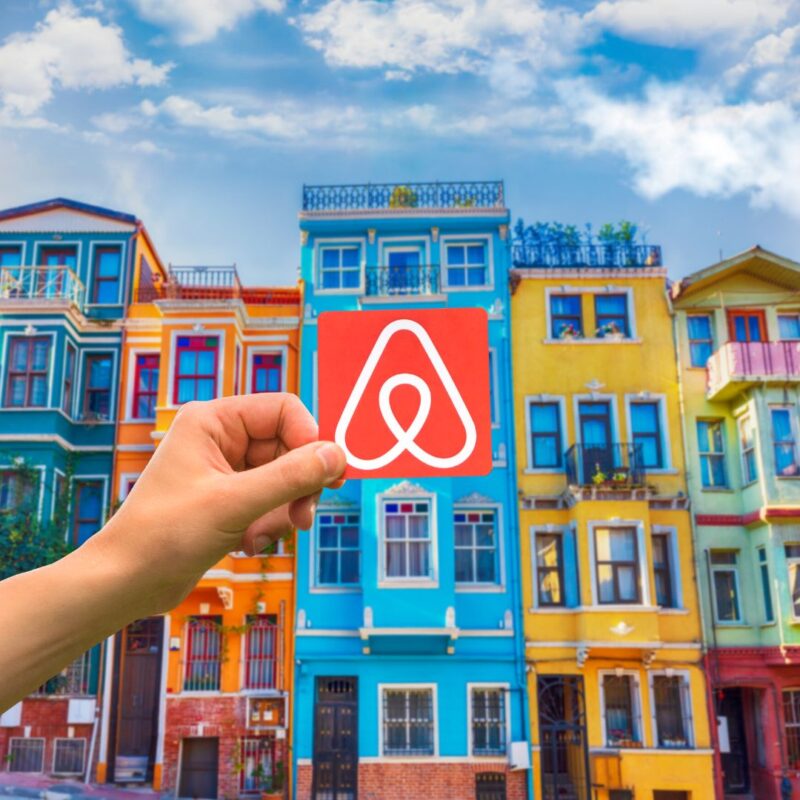 Why stay in a naff hotel when you can stay in a cosy, stylish local house instead? And for half the money too!
Stay somewhere EPIC and save your hard-earned dollars — from houses to barns to castles and caves, there is an Airbnb for every occasion!
Book an EPIC Stay
20. Check Out Black Cat Alley
Black Cat Alley is one of the edgiest Milwaukee attractions and is one of the most photographed locations in the city. It's an outdoor gallery in a private alley featuring 21 large murals. These murals have been created by artists from all over America and further afield.
Stop in to capture a selfie or two with these amazing murals in the background and check out the various cafes and shops that have sprung up around this unique artistic alley. If you're a cat lover, pop in at Sip 'n Purr – Milwaukee's only cat café.
Entrance: Free 
Hours: N/A
Address: E Ivanhoe Place, Milwaukee
21. Experience Art in Nature at the Lynden Sculpture Garden
Set on 40 acres of land, the Linden Sculpture Garden features 50 large-scale sculptures displayed among the property's woodland, lake, and park areas.
Visitors are invited to appreciate the contemporary monumental sculptures collected over the years by Peg Bradley and her husband Harry – the original founders of the park.
Sculptures from artists including Henry Moore, Barbara Hepworth, and Marta Pan are on display here to inspire visitors to love and appreciate art and the environment.
Entrance: $12
Hours: 10:00 to 17:00 (Monday to Wednesday and Friday) 10:00 to 17:00 (Saturday and Sunday)
Address: 2145 West Brown Deer Road, Milwaukee
Where to Stay in Milwaukee 
Visiting Milwaukee and need a place to stay? The good news is that the city offers a wide range of accommodations to suit every pocket, from budget-busting homestays to stylish city hotels.
Here are my top recommendations for where to stay in Milwaukee.
Located in a great location on the edge of downtown Milwaukee, this one-bedroom condo is an ideal base from which to explore the city. This Wisconsin Airbnb condo offers easy access to the lakefront and public transport. Complete with parking, gym facilities, and all the modern conveniences required for a comfortable stay, this condo comes highly recommended.
The Drury Plaza Hotel offers a comfortable stay in downtown Milwaukee. Hotel guests can access the on-site restaurant, private parking, fitness center, and bar. In addition, the hotel is central enough to explore some of the city's top attractions within walking distance.
Located a 20 minute walk from the beach, The Muse Gallery Guesthouse is in a quiet location that's within walking distance to many of the best attractions and public transport.
Guests have access to free WiFi, air conditioning, and a shared lounge. If you don't feel like walking, there are free bikes to use at your convenience.
Instead of having your own room, you will have a rental unit with a patio, fully equipped kitchen, a seating area, a washing machine, and a private bathroom. Guests can enjoy an American or a vegetarian breakfast each morning.
Some Additional Tips for Visiting Milwaukee
Before you head off and buy a ticket to Milwaukee, there's just a few more words of advice I need to share with you…
Invest in travel insurance! You never know what may happen on the road.
Summer in Milwaukee is a great time to visit to experience the many festivals and events. If you're on a budget, plan your trip for the spring or fall when rates are lower and crowds fewer.
Check out The Hop. The cheapest way to get around (aside from on foot) is on The Hop – a streetcar service covering the metro area. The bus system is also affordable and reliable.
Wrap up warm in the winter. Wisconsin winters are no joke. Come prepared. 
Bring a good water bottle with you and avoid buying single-use plastic ones!
Choose your neighborhood wisely. Where you stay will impact the experience you have. Each neighborhood has a distinct vibe and personality. For example, if you're into art and fashion, the Historic Third Ward is for you, while the East Side is super trendy with a thriving nightlife.
Don't forget your travel insurance for Milwaukee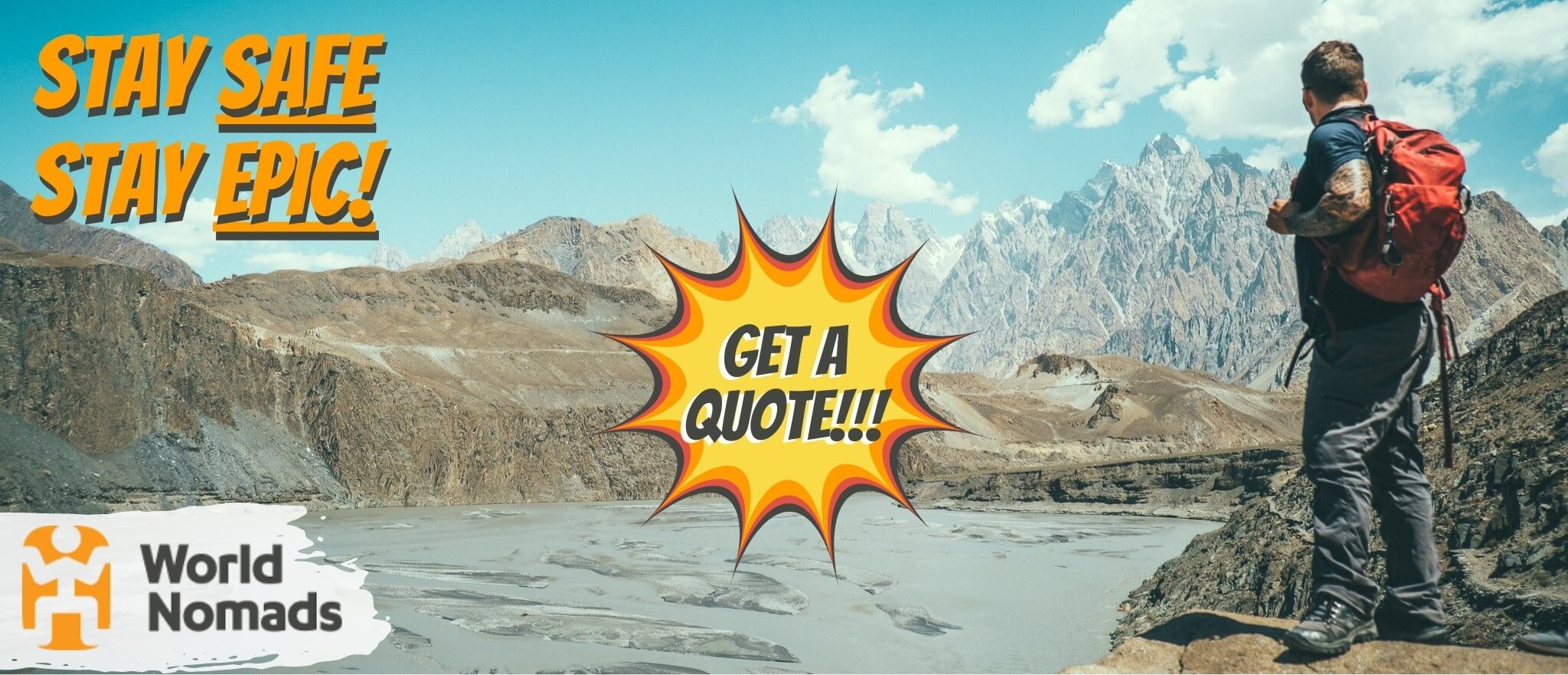 It's good to get lost sometimes, but it's also good not to get too lost. There are people that want you home in one piece.
There's one travel insurance provider The Broke Backpacker trusts for all his wildest shenanigans… World Nomads!
Click the button below to get a quote on your insurance or read our in-depth review of World Nomads' coverage. And then… let the shenanigans begin. 😉
Final Thoughts on Things to Do in Milwaukee
By now, it should be easy to see why Milwaukee is such a popular destination for visitors. Not just for its jam-packed summer line-up of festivals and events, but for its rich history, the culture of food and drink, and its natural beauty.
With such a diverse offering, it's entirely possible to revisit the city repeatedly and have a different experience each time. 
I hope this list of the top things to do in Milwaukee will come in handy. If you're planning a trip here, you've got all the information you need to make the most of everything on offer.
---
Thanks for reading – that was fun! 😀
We bring you epic FREE content!
Find out how YOU can help support us.
We're a big site with a big team and this job isn't always easy. But we do it because we love it – we love providing epic and free content. We love the knowledge that our content keeps you adventuring. We don't ask for money, but if you'd like to find out how you can help the site in more organic ways, click the button below.
Thank you for your support 🙂
---
Bye for now, but not forever!
If you want MORE top-tier Broke Backpacker content like this, then sign up for our weekly newsletter below to get the latest and greatest!
And for transparency's sake, please know that some of the links in our content are affiliate links. That means that if you book your accommodation, buy your gear, or sort your insurance through our link, we earn a small commission (at no extra cost to you). That said, we only link to the gear we trust and never recommend services we don't believe are up to scratch. Again, thank you!