Wisconsin is a place that feels the full brunt of all four seasons, and that's not a bad thing. The Badger State is often overlooked for those seeking greener pastures, but the rolling hills of Wisconsin can't be any greener in spring. It is a state of great natural diversity, especially as you follow the coastline.
Come and discover Door County, AKA the Cape Cod of the Midwest. Featuring five state parks, 300 miles of shoreline, delicious dining, and beautiful wineries, Door County is the ultimate Wisconsin holiday destination.
Head further towards Canada and find the Northwoods, the sparsely populated dense forests. The Northwoods are ill-defined, but when you havent seen another soul in hours, you've probably arrived.
And lastly, tucked away in the northwest corner of Wisconsin is the Apostle Islands, one of four National Parks in the state. Explore a total of 21 islands, historic lighthouses, and sea caves.
A great way to see all this, and more, is to stay one of the many incredible holiday rentals available in Wisconsin.
At Wisconsin Airbnbs, you'll find home-style living, romantic getaways, and budget options. All with great access to the places you want to see.
Read on to find out why you should stay in one of these homes, and our top picks for the best Airbnbs in Wisconsin!
Quick Answer: These are the Top 5 Airbnbs in Wisconsin
Overall Best Value Airbnb in Wisconsin
Overall Best Value Airbnb in Wisconsin
Waterfront Cottage
> $$
> 2 Guests
> Sturgeon Bay Views
> Deck & Firepit
Best Budget Airbnb in Wisconsin
Best Budget Airbnb in Wisconsin
Private Room on Lake Michigan
> $
> 2 Guests
> Sunrise Views
> Work Desk
Best Airbnb for Couples in Wisconsin
Best Airbnb for Couples in Wisconsin
Tiny on the River
> $$
> 2 Guests
> On the Black River
> Day Bed
Best Airbnb for Families in Wisconsin
Best Airbnb for Families in Wisconsin
Cozy Lakeside Cabin
> $$$
> 7 Guests
> Large Yard
> Family-Friendly Home
Over-the-Top Luxury Airbnb in Wisconsin
Over-the-Top Luxury Airbnb in Wisconsin
Insane Home in Milwaukee
> $$$$
> 13 Guests
> Basketball Court
> Rooftop Deck

Unlock Our GREATEST Travel Secrets!
Sign up for our newsletter and get the best travel tips delivered right to your inbox.
What to Expect from Airbnbs in Wisconsin
Airbnbs in Wisconsin have a habit of shape-shifting depending on the type of trip you are taking. There are homes near the airport for an early bird flight, lakefront cottages for honeymooners, and large properties for families and groups of friends.
Compared to other states, particularly on the east and west coasts, Airbnbs in the Badger State are pretty easy on the wallet. You will be able to find accommodation in downtown areas, historic small towns and in picturesque locations for cheap prices.
They make for a wonderful staycation, and are perfect for those traveling on a shoestring who are after a memorable adventure.
You won't have to do without luxury, either. Whether luxury to you means waterfront living with a Jacuzzi, or simply having a kitchen and an ensuite bathroom, Wisconsin has heard and answered your prayers.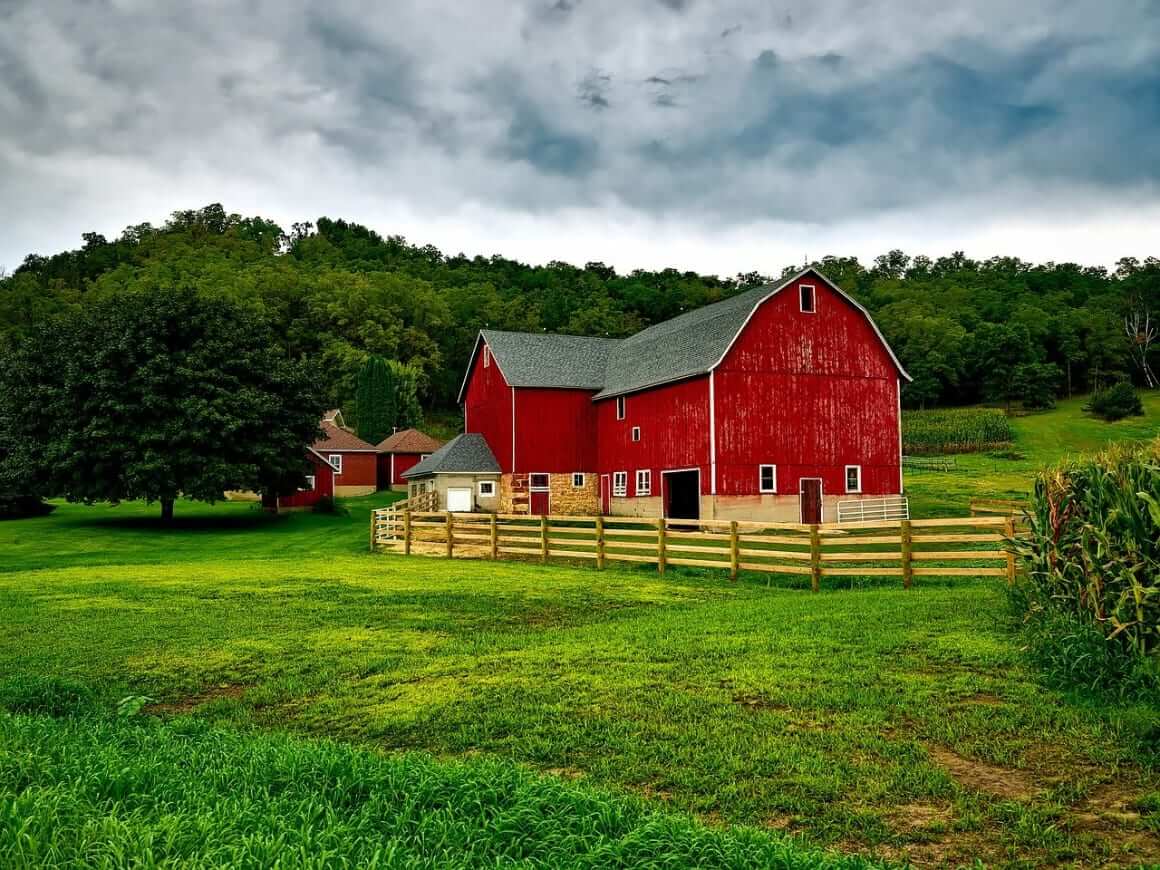 Cabins
Pack your bags, get away from it all, and head to your very own cabin. Cabins are perfect for those looking to explore the depths of Wisconsin, or those who want a break from urban life.
Cabins in Wisconsin come in all shapes and sizes. From romantic one room retreats to sprawling lodges that can house two families. Either way, these homes are all about spending time around the fireplace with friends and family, while being close to nature.
Wisconsin locals have these cabins for their own weekend vacations, so they've been designed with fun, comfort, and traveling in mind. You will find many cabins close to state parks, hiking, biking, and the lakes.
Tiny Homes
One of the coolest aspects of staying at an Airbnb, is having a unique vacation. The sort of trip that you remember where you stayed as much as what you did. Tiny homes are one such example of this, and offer an experience that will differ from anything you've done before.
Tiny homes are quite common throughout the state of Wisconsin, and they aren't just deep in the woods either. You can find these diminutive structures close to towns, amenities, and attractions. Providing a best of both worlds where you can have peace, quiet, and privacy but a bunch of things to do each day and evening.
Homes
After cabins and tiny homes, a regular old home probably doesn't sound so inspiring. However, it is often the best way for families and large groups to vacation in Wisconsin.
Cheaper than big country lodges and lakeside mansions, there are many great homes in Wisconsin that will give your group a memorable trip.
Placed all throughout Wisconsin, you can be in quiet, storied neighborhoods close to the action, near parks and recreation, or even on the lakeshore.
With multiple bedrooms, big kitchens and living areas there will be plenty of room for everyone. Even better, you can have a spacious lawn and plenty of distance from your next door neighbor.
Why Stay in an Airbnb
Still not sure why you should stay at an Airbnb? Here are some more reasons.
Privacy: Ditch the busy dorm rooms, and have your own private room or home, away from neighbors.
Affordability: For the same price as a hotel, enjoy open living spaces, full kitchens and lawns to relax on.
Safety: Hosts are carefully vetted, and Airbnb will help to find alternative accommodation if issues arise.
Staying Long-Term: If you're tired of moving around, enjoy weekly and monthly discounts through Airbnb.
Last-Minute Booking: Airbnb can help to find accommodation at the 11th hour for your spontaneous adventure.
The Top 15 Airbnbs in Wisconsin
Now that you know more about what you'll find, let's dive into the best Airbnbs in Wisconsin!
Overall Best Value Airbnb in Wisconsin | Waterfront Cottage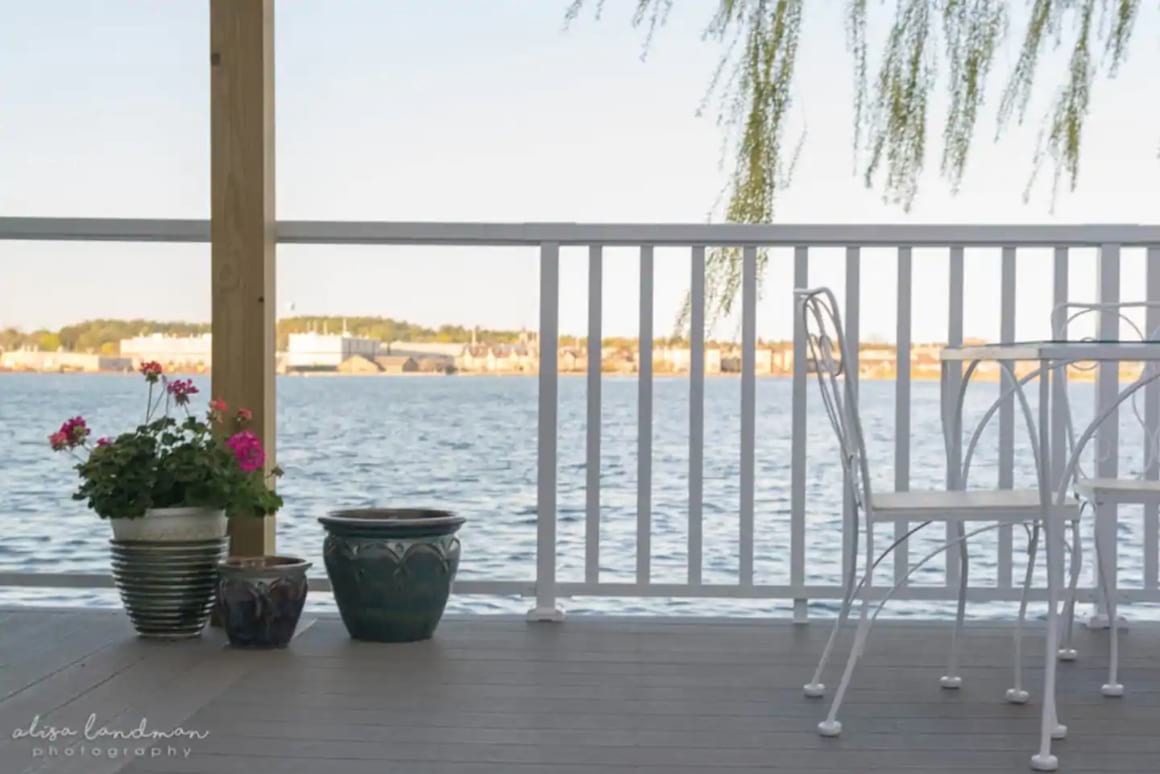 The Lily Pad cottage is perched right on the edge of Sturgeon Bay, with the water lapping the base of the deck.
A cosy and quaint home, the cottage is filled with plush furnishings, homey amenities and a relaxed atmosphere, allowing you to sit back and unwind. With views out over the lake, you can enjoy the beauty of nature from the comfortable couch.
The bay makes for a wonderful romantic getaway. As for the town, it's an historic ship building community with a strong artistic culture.
Come and enjoy the amazing views of Lake Michigan, without breaking the bank. Check in to your own private room within a larger home at this Airbnb in Wisconsin, before going to explore the region's gems.
Located in a quiet family neighborhood, it is within walking distance to parks, restaurants, bars, and stores. The evening sunrise view over the lake is as soothing as any morning coffee, and will get your day started nicely.
Walk, or grab a bike to head downtown, where you will find galleries, golf courses, and spas.
Enjoy the full kitchen, grab a board game or play corn hole outside on the terrace yard surrounded by nature.
Check out our budget traveling guide for more tips and tricks to stick to your budget!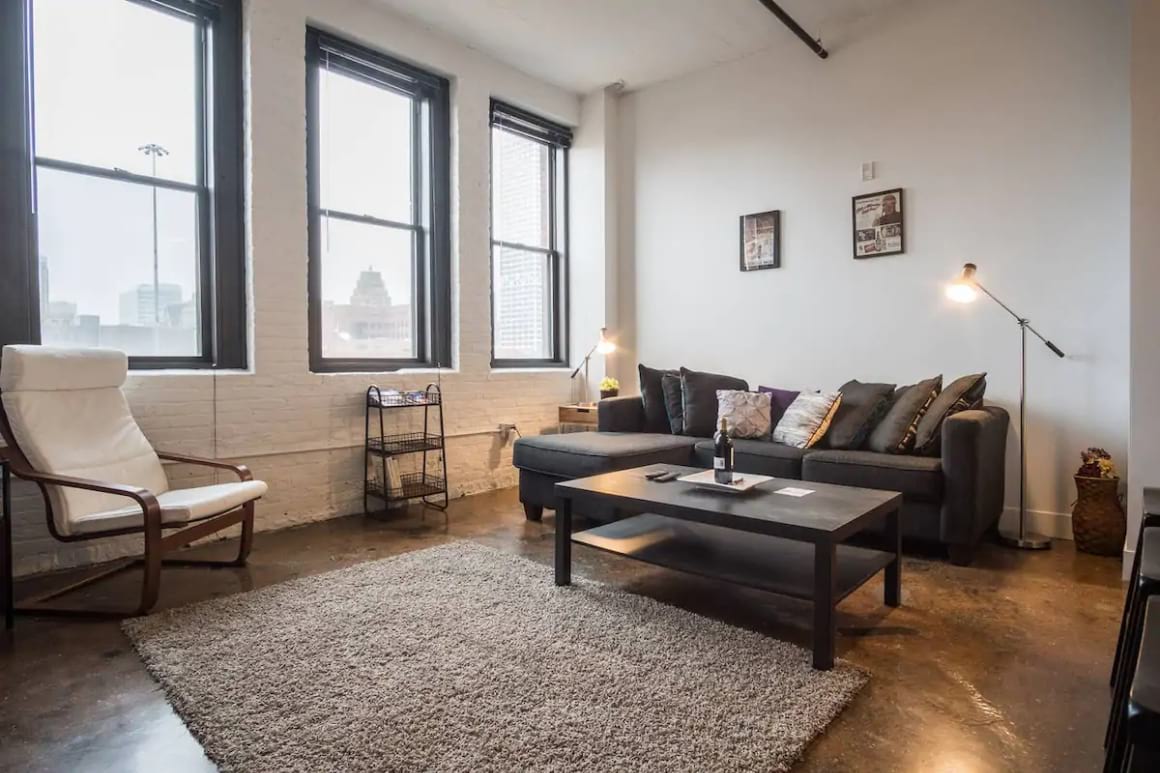 Tired of sharing your space with strangers? Want to explore Milwaukee before kicking back by yourself at night? Check out this private apartment Airbnb in Wisconsin.
Once a former tobacco warehouse, the building has been transformed into a series of trendy apartments. Located in the 3rd Ward, it is in the perfect spot to explore downtown Milwaukee and all the things to do there.
Wake up in comfort and at your own time, before making use of your own personal kitchen and catching up with family on the free WiFi.
In downtown, you are mere steps from the lake, art museums, public markets, and the city's best nightlife.
After your adventures, you'll love coming home to your own apartment and chilling in peace.
Is This the Best Travel Pack EVER???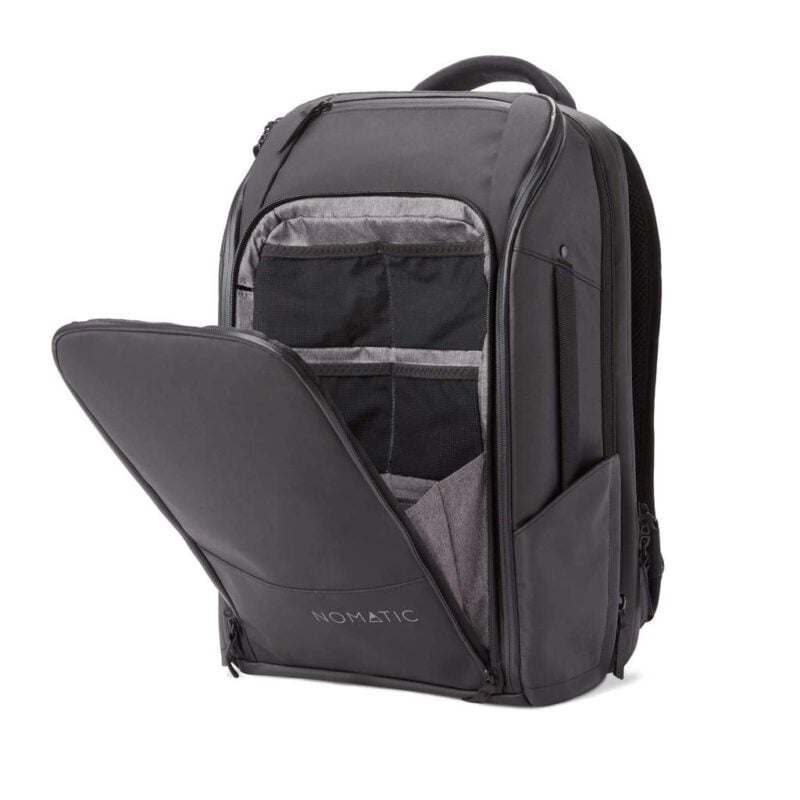 Most Romantic Airbnb for Couples | Tiny on the River
Enjoy the best of both worlds on your romantic escape. At this Wisconsin Airbnb, not only will you have incredible views over the Black River, but you will be only minutes from vibrant, up-and-coming downtown Brockway.
This tiny home is designed by the famous Escape Tiny Homes group, and is complete with exquisite craftsmanship. It features cherry cabinets, oak floors, a fireplace, and of course a heavenly bed.
Wake up relaxed, and look out the large bedroom window to the river below. Outside there is a spacious porch, fitted with a day bed for naps on sunny days.
Despite the surrounding trees and nature, the home is very close to Black River Falls and Brockway for shopping and cafes.
Best Airbnb in Wisconsin for Families | Cozy Lakeside Cabin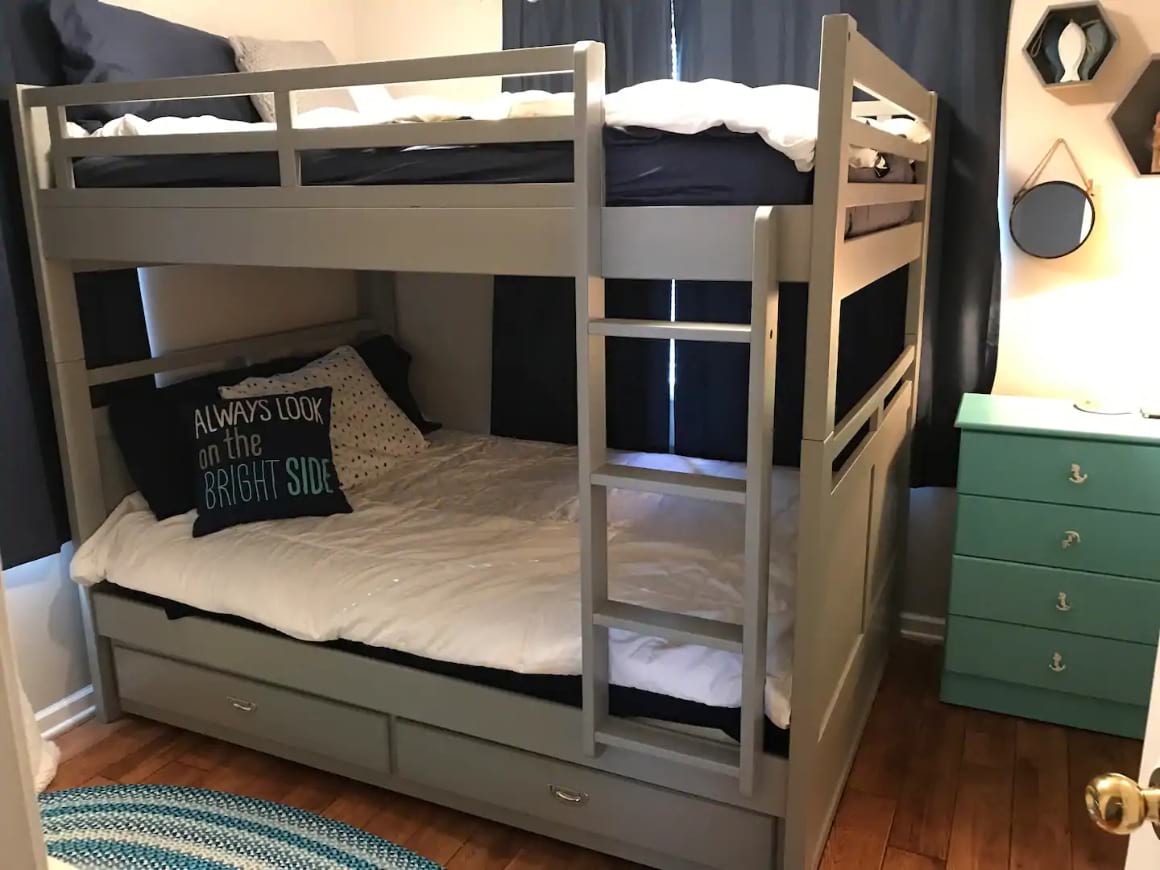 7 Guests
Family-Friendly Home
Located on Lake Koshkonong, this spacious cabin is perfect for your next family vacation.
Complete with two bedrooms (a double bed and bunk-beds), there is plenty of room for both you and the kids.
The young and restless will love the outdoor space, with room to run around and throw the ball. All three meals will run like clockwork, as the full kitchen and patio grill are fit to serve large families. But, if you want to take a break from cooking, the cabin is within walking distance of multiple lakeside restaurants, including the lake's most popular bar & grill.
Enjoy the lakeside views each day, dive off the dock into the water, relax in the hammock and hang around the fire pit as a family each night.
This incredible Wisconsin Airbnb is a one-of-a-kind gem. As you walk in you will be struck by the immense open-plan warehouse apartment. With an oversized kitchen, vaulted ceilings, and rich oak floors, you'll immediately want to extend your stay.
Gather on the couches and soak in the wall graffiti art, or set up a game of pool. Pace along the walkway above the kitchen that acts as a bridge between rooms.
Once you are ready to get serious, grab the ball and head down to the home's private basketball court, and head up to the rooftop to relax overlooking the Milwaukee skyline.
Best Cabin on Airbnb in Wisconsin | Big R's Retreat
4 Guests
Classic Front Porch
Come and enjoy a taste of the country life at this cabin Airbnb in Wisconsin. Named after the host, Big R fell in love with the rolling hills of Wisconsin and he can't wait to share his joy with you.
His love of the area has manifested itself into this amazing two bed cabin in the woods. Secluded and surrounded by nature, you can check out from the world alongside your partner and friends, and enjoy the fresh air.
Gather around the fire pit each evening and tell stories of the good ol' days, and get out a deck of cards as you take in the warmth of the cabin's fireplace.
In the morning, get up early, blanket in hand and sit on the porch as the sun creeps over the horizon.
Best Tiny Home on Airbnb in Wisconsin | Arbor Crest Cottage
Built by the passion and skilful hands of the hosts, Ashley and Jeremiah, this tiny home has quickly shot to the top to be the best in Wisconsin.
Located on their farmette, the tiny home is surrounded by leafy trees and flowers that bloom with bright colors. You are welcome to meet the many animals that graze on the property, or simply relax in your wonderful surrrounds.
The tiny home has been designed and decorated by Ashley. It is unique, and everything has been thought out with care. The kitchenette has everything you need for simple, but tasty dinners. The home is even stocked with raw honey from the family bee hives!
Best Home on Airbnb in Wisconsin | Lakeshore House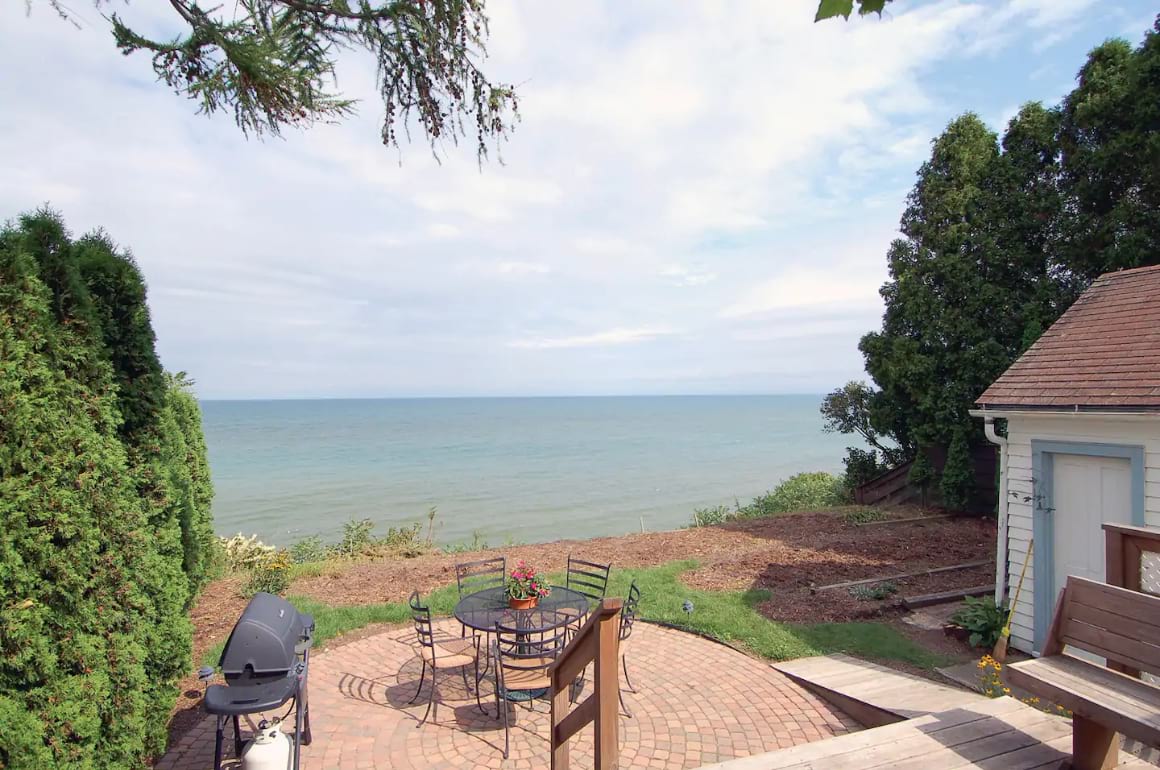 If you are looking to take a trip to Lake Michigan, grab yourself a front row seat to beauty at this wonderful lakeshore home.
Whether you are traveling with your partner, or a couple of friends, this home has plenty of space with two second story bedrooms overlooking the water. Both have skylights, so you can fall asleep under the sparkling stars each night.
The kitchen is fitted with a wood stove, so you can whip up a different dinner each night. Or, use the gas grill and cook up a storm, as you watch people paddle around the lake.
Your group will have direct and private access to the lakeside beach, so bring along a kayak for an awesome day on the water.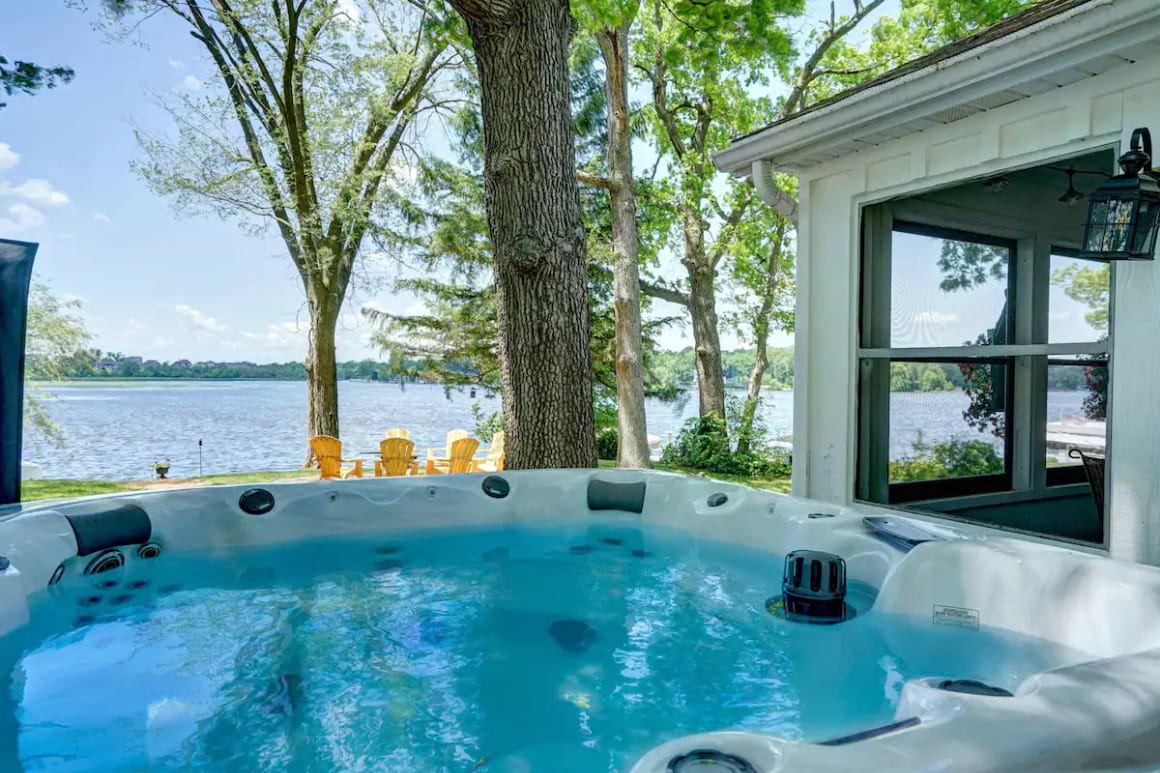 Soak in the picturesque views of the Fox River from the comfort of you very own Jacuzzi. This year-round hot tub will keep you smiling, even as the winter snow falls.
As for the home itself, it has a newly renovated kitchen and a screened-in porch with a fire table so the bugs won't get to you.
The space around the home lights up into a million colors each evening as the sun heads toward the horizon.
This end of the Fox River is right on the brink of Tichigan Lake, with its own water access and a variety of day activities.
Best Airbnb With a View | A YurtCation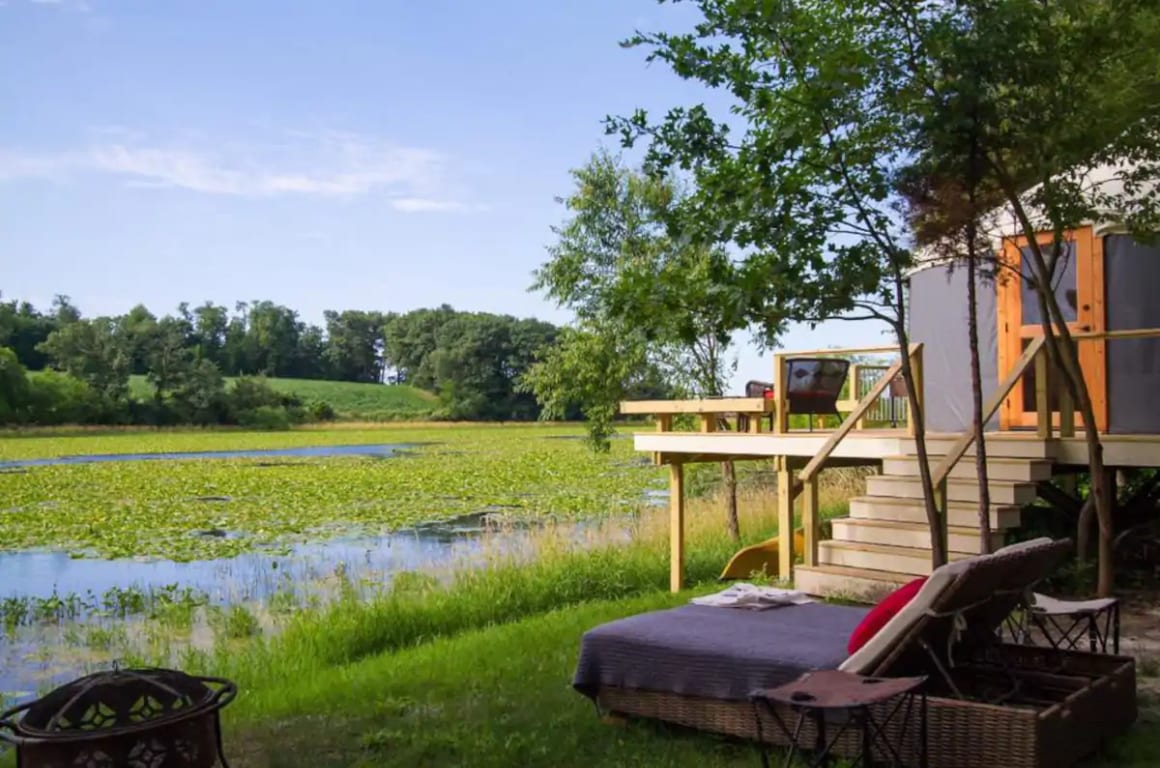 2 Guests
Unique Experience
The best Airbnb in Wisconsin for a view is this super special yurt. Have a glamping vacation, set on 40 acres of immensely scenic land.
Approximately 17 of those 40 acres is a mostly private lake for you to explore. Enjoy bonfires next to your yurt, and go canoeing or mountain biking. In the winter you can trade the bike for cross country skiing, while year-round hikes will take you deeper into nature.
Each night, come home and soak in the amazing views, some of the best that you'll find traveling Wisconsin.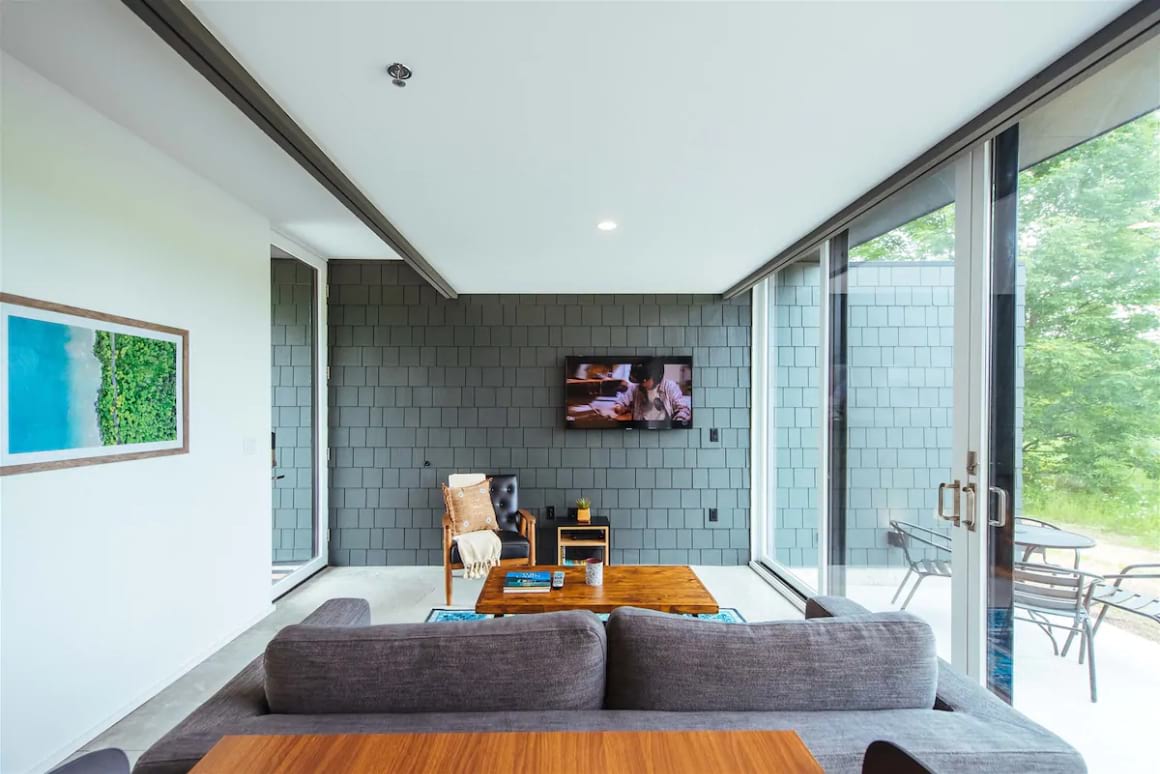 Their is no doubt that Egg Harbor is one of the coolest towns in the state of Wisconsin. From giant eggs that line the street, to distilleries, breweries and vineyards, it makes for a fun weekend staycation.
The home was architecturally designed, with large windows that invite you out to the cozy patio. The relatively small space has been designed to make the most of every inch, so you won't feel cramped.
Place yourself in the action by heading to this bright and modern home. It is within walking distance of downtown Egg Harbor, close to dining, and the lake itself.
Best Airbnb in Wisconsin for a Group of Friends | Larsen Farm Log Cabin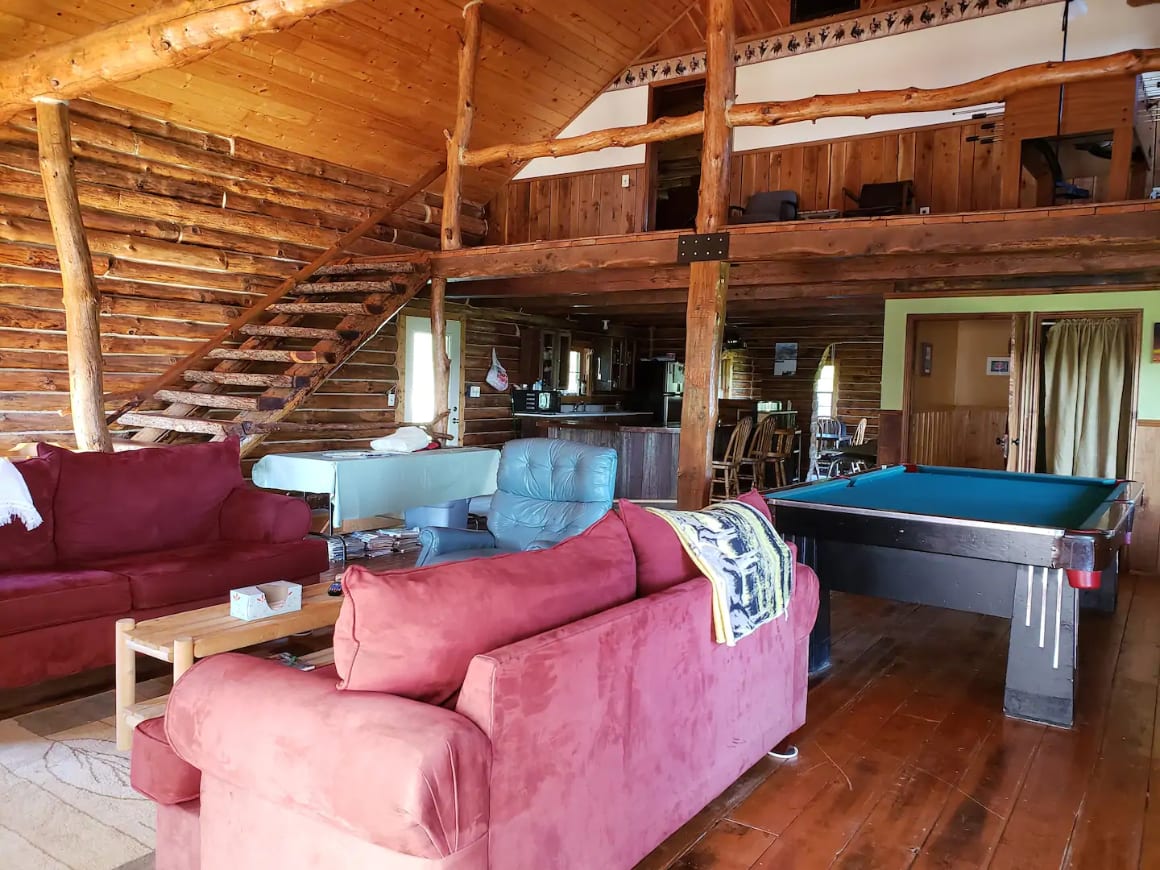 Text your mates and tell them its time for a trip to this log cabin in Wisconsin. Strap in for a time of adventure and fun, because from this secluded cabin you can rent ATVs!
If you take your host up on the offer, you can explore the numerous private trails around the property. If not, you can simply explore them on foot and try and find the property's cave.
At the home, you will love the fire pit to catch up with friends, along with the pool table, foosball and table tennis.
Wake up with your best buds on the spacious front porch overlooking the rolling hills. Keep an eye out for deer or cows wandering down to the lake.
Most Beautiful Airbnb in Wisconsin | Little Lake House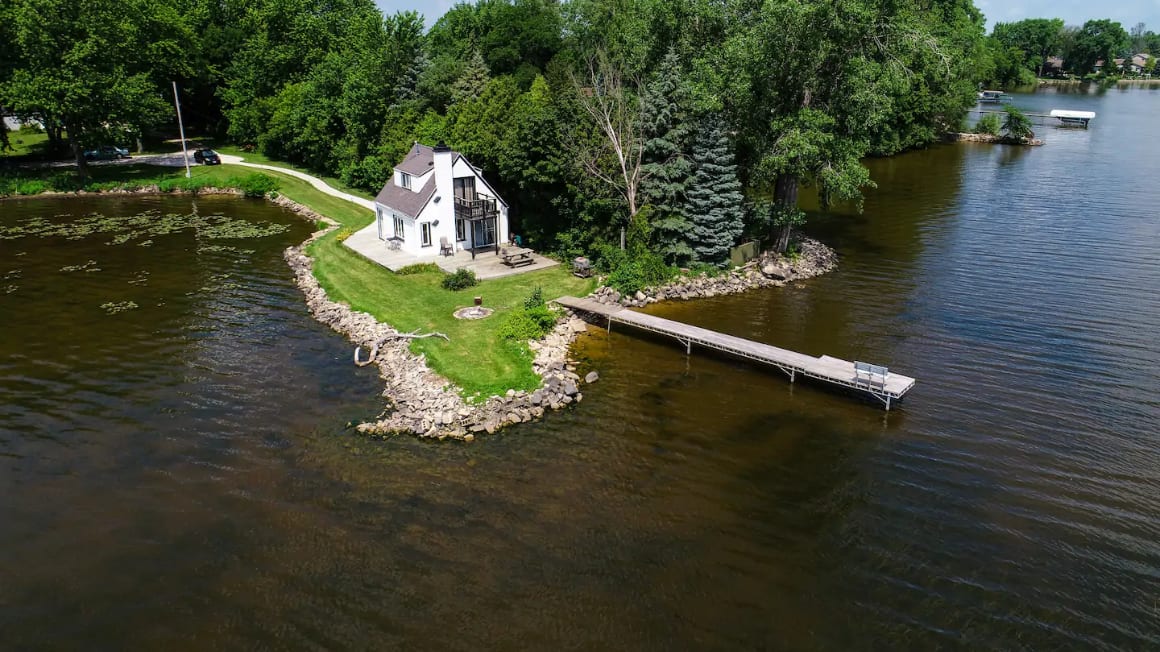 Often when we write about the most stunning Airbnbs around the world, they are expensive mansions that blow our minds. But there is something ultimately striking about this lakefront cottage.
Located right on the edge of Lake Winnebago, this little lake house is at the end of it's own private road.
The gorgeous white exterior has a subtle contrast to the dense green trees and grass that surrounds it. From the back deck, the manicured grass extends to the lake and you feel as if you are at World's End.
The home's deck extends out into the lake for peaceful swimming and even better views back to the home itself.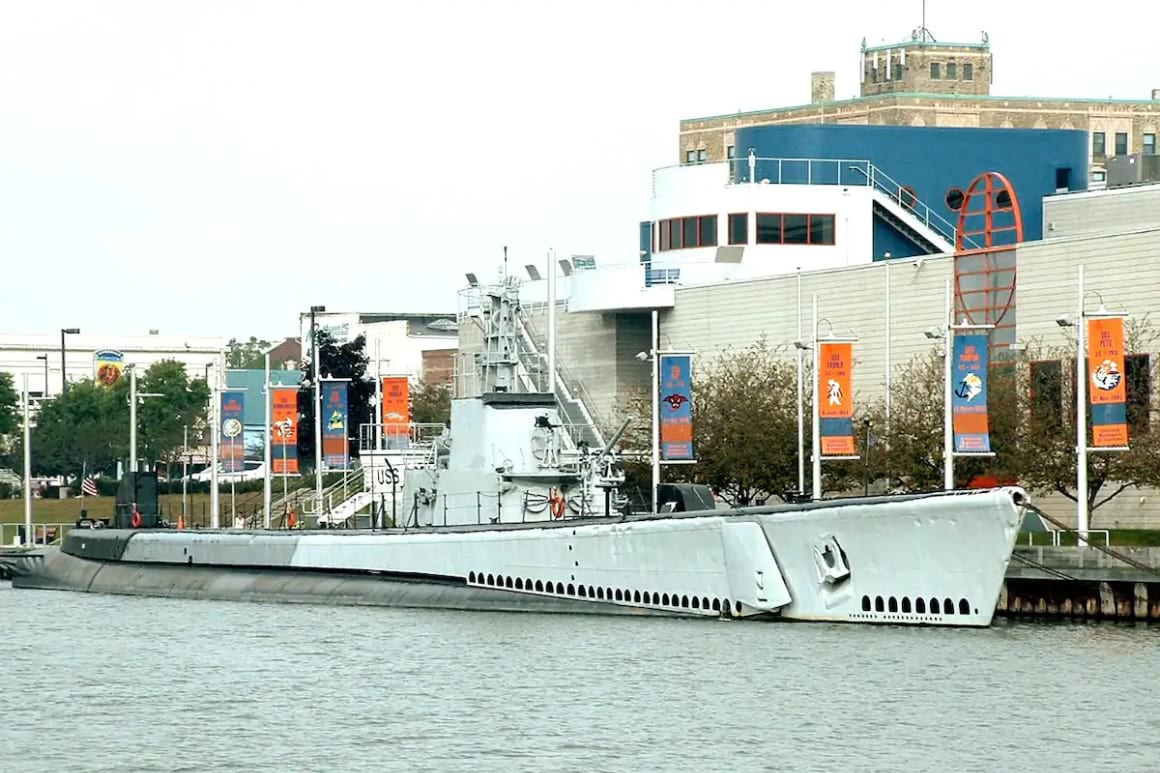 16 Guests
Incredibly Unique
Unique stays on the Airbnb platform often range from boats in the marina, to treehouses and hobit homes. But never a submarine with such historic significance. Until now!
Spend a night on USS Cobia, and make history. This submarine is a fully restored WWII sub and features 65 beds. The listed price is for just five guests, and each additional guest is $50.
Great for year-round visits, you can explore the submarine with a dedicated guide. Your stay comes with a tour that explores the boat entirely.
You can even enjoy a WWII or maritime based movie in the museum's theater. While cards and board games will be available for a fun night onboard the submarine.
Top 5 Airbnb Experiences in Wisconsin
Now you know what accommodation options await, and the trip ideas are coming together, why not check out Airbnb Experiences. If you aren't aware of what these are all about, they are essentially tours, activities and classes designed and led by passionate locals.
Discover your Wisonsin destination in more depth, through the eyes of a resident that lives and breathes the area. Hear town secrets and history, discover hidden gems, and dine at little known restaurants.
You can break up your adventure by taking the time to complete a variety of classes. These can range from cooking classes to blacksmithing, and meditating in the woods.
Here are our top 5 Airbnb Experiences in the Badger State.
$65 p/p
2 Hours
Up to 10 People
Drinks & Equipment
Explore the ancient bedrock sandstone of the Apostle Islands on this adventurous sea cave tour.
Alongside your fun, friendly, and expert guide, you can explore the Apostle Islands' famous sea caves and learn their storied past.
Discover unique sandstone features both on water and on land. Your guide is a Red Cliff Band of Chippewa Tribal member, so he has access to areas most do not.
For a unique insight into this remarkable landscape, this is the way to do it.
$65 p/p
2 Hours
Up to Ten People
Food & Drink Included
This Airbnb Experience will give you the VIP treatment during your exclusive vineyard and orchard tour of Wild Hills Winery.
Sample several of the estates artisanal wines, some that haven't been made available yet to the public.
Finish off your tour on the ridge top, which looks over the Wisconsin River Valley. Enjoy a cheese and charcuterie board, drink wine, and learn about the region from an expert, all the while soaking in the wondrous views.
$70 p/p
60 Minutes
Up to 10 People
Photos Included
Explore the city of Madison a different way. Alongside your passionate host, you can explore the streets of Madison all the while partaking in a fun photo shoot.
Walk through downtown Madison from the Memorial Terrace, along State Street all the way to the Capitol building. Have your enjoyment and fun captured by an expert photographer as you take in the city's best sites.
Perfect for couples, party groups, celebrations and those that need a fresh card for the holiday season.
$30 p/p
3 Hours
Up to 6 People
Trail Hiking
After meeting and greeting at a local coffee shop, follow your host for a unique Airbnb Experience. Head to a nearby trail network, that is rarely known outside of local residents and begin foraging for plants.
The hike itself lasts for two hours, and along with the help of your guide you will find plants and mushrooms that'll add another layer of flavor to your evening meals.
Your guide is an expert on plant biology and will be more than happy to answer any questions. Especially questions about what these plants are great for!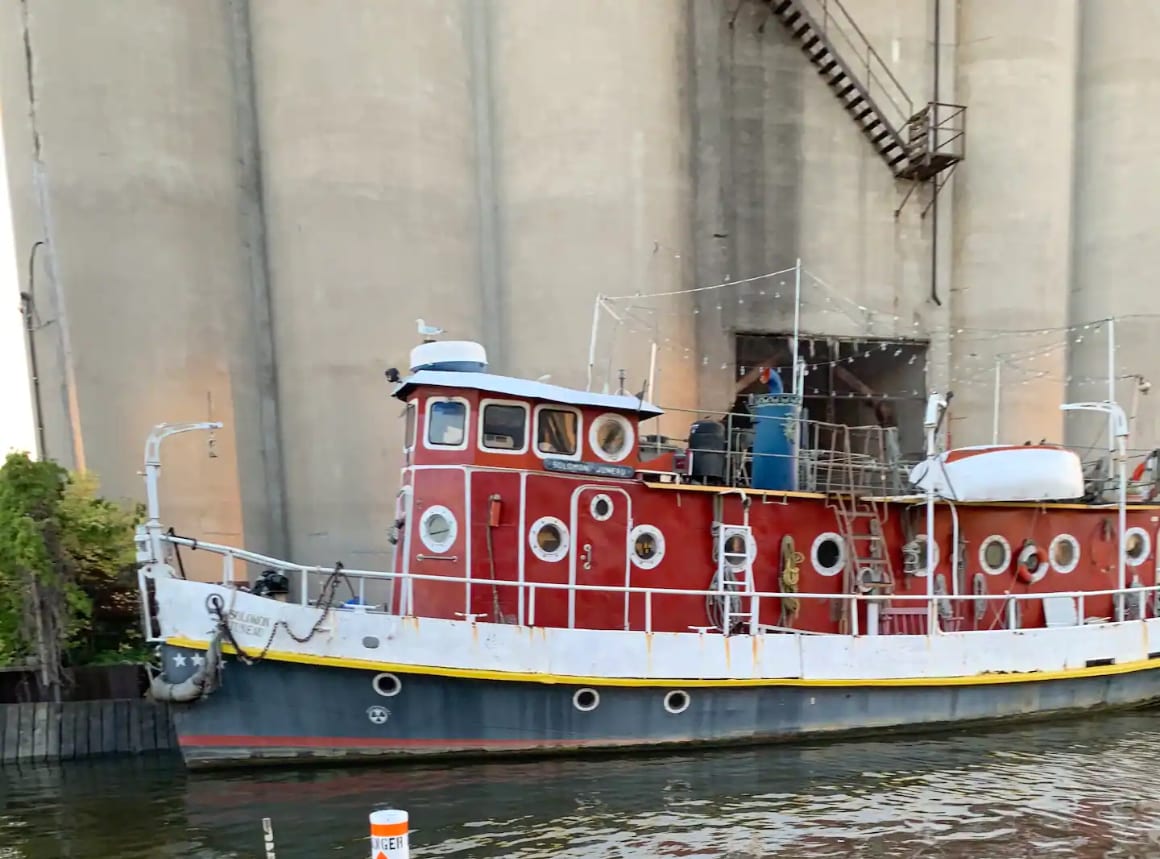 $45 p/p
90 Minutes
Up to 6 People
Leaving from the dock at The Cooperage Building, Captain Moe will guide you down the Milwaukee River aboard the Duffy Boat.
Float and explore four sections of the river. These include the Harbor District and the Hoan Bridge, where the river meets Lake Michigan.
Bring along snacks and your own beverages to put in the cooler and enjoy on the trip (the boat is warm even in the coldest winters).
Afterwards, enjoy the best tacos in Wisconsin at the Taco Moto food truck.
Don't Forget Your Wisconsin Travel Insurance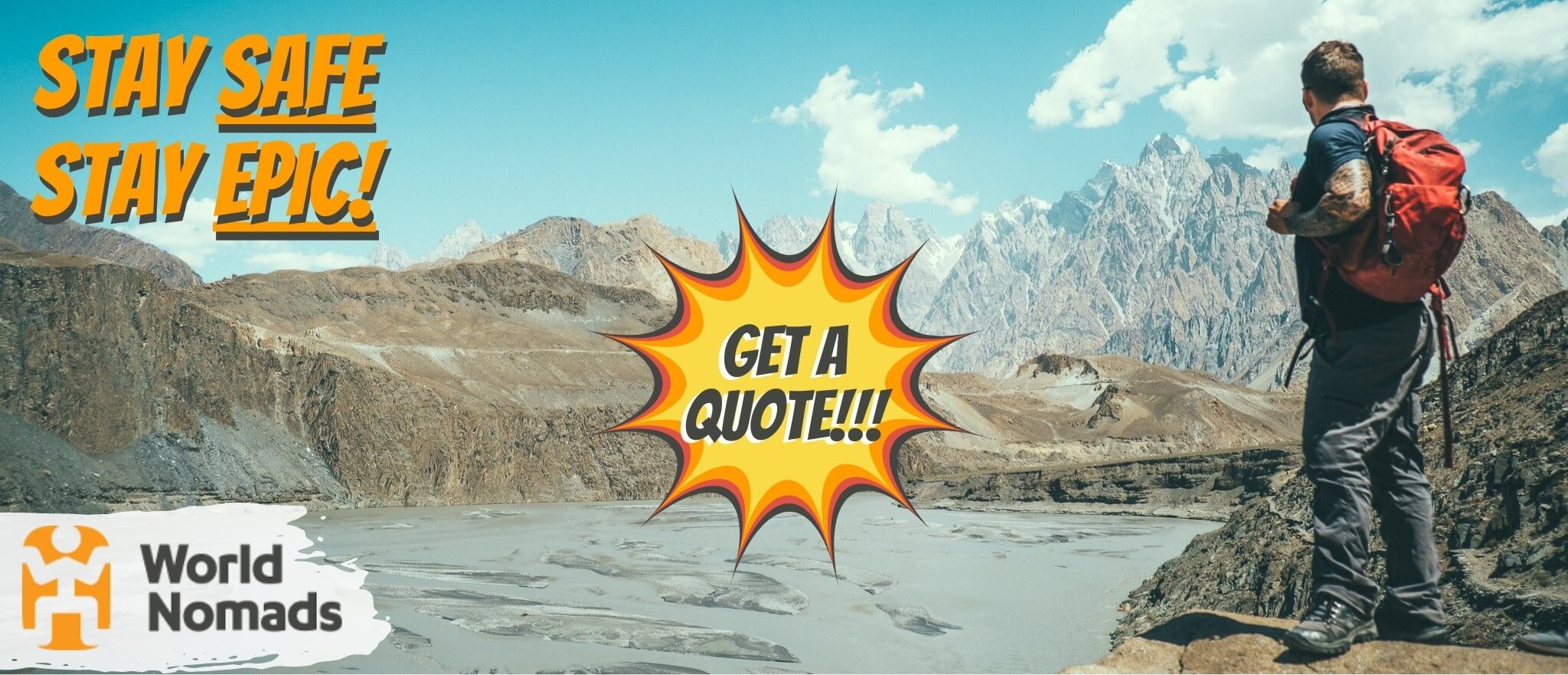 World Nomads' mission is to support and encourage travellers to explore their boundaries. They offer simple & flexible travel insurance, and safety advice to help you travel confidently.
They've been doing it since 2002 – protecting, connecting, and inspiring independent travellers just like you.
Get a quote below or read our in-depth review!
World Nomads provides travel insurance for travelers in over 100 countries. As an affiliate, we receive a fee when you get a quote from World Nomads using this link. We do not represent World Nomads. This is information only and not a recommendation to buy travel insurance.
Final Thoughts on Wisconsin Airbnbs
The best Airbnbs in Wisconsin will no doubt motivate you to ditch the dusty hotel room, or the crowded dorms and explore the state a different way. If you are on a budget, stretch your dollar further with a private room in the perfect location, or a small cabin by the lake.
Families can find spacious properties that were created with kids in mind. With bunk beds, lawns and games you will have the time and room to enjoy each others company.
Couples and friends will find the perfect Airbnbs in Wisconsin for them—with cabins, cottages, tiny homes and lodges, be prepped for a memorable adventure.
Now that you are all psyched to head to Wisconsin, consider picking up some travel insurance for your journey.
---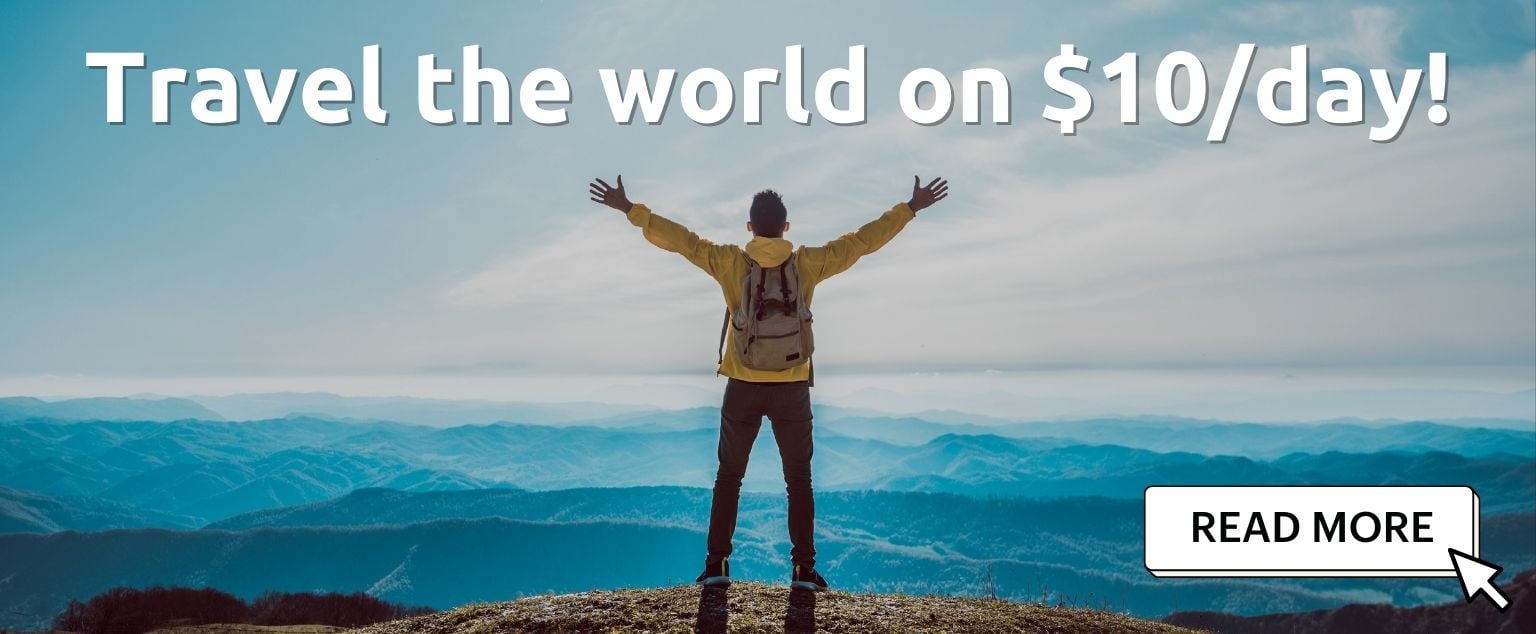 And for transparency's sake, please know that some of the links in our content are affiliate links. That means that if you book your accommodation, buy your gear, or sort your insurance through our link, we earn a small commission (at no extra cost to you). That said, we only link to the gear we trust and never recommend services we don't believe are up to scratch. Again, thank you!