We know that Tucson may not exactly be the first city that springs to mind when you think 'cities in America', but if you're on a road trip, or are passing through the state of Arizona, then visiting this surprising city is an absolute must.
There's some great history going on here in Tuscon such as the Barrio Viejo, heritage buildings at the University of Arizona and 4th Avenue. Combine this with it's recent transition into a bicycle-friendly city and a burgeoning foodie scene, and you can see why this college town is getting more and more popular. Yep, in fact there are a ton of things to do in Tucson.
What about the less popular things? The weird and wonderful? That's where we come in with our guide to the most off the beaten track things to do in Tucson. We've got it all, from hidden bars and airplane graveyards all the way to strange amusement parks and day trips to Wild West Towns. We're gonna make sure you have a blast in this Arizonan city.
Let's start with our stomach's shall we? For foodies searching for the best things to do in Tucson for foodies, heading out to explore what's on offer in its restaurants and eateries is where it's at. Not quite on the map as a food capital, Tucson has nonetheless in recent years become something of a foodie dream; new stuff has been popping up all the time as of late, making for a great place to explore.
So whether you're looking for Japanese, Thai, Mexican, Korean, or whatever else, Tucson's food scene has a lot going on. There's a ton of chef focused cuisine going on – for starters, you should check out 4th Avenue and head over to Main Gate Square.
Kitt Peak National Observatory is a cool way to spend your time in Tucson whether you're into stargazing or not. What's more, it doesn't have to be part of your stuff to do in Tucson at night: you can go on a day tour of the facilities here (the largest collection of astronomical instruments in the Northern Hemisphere, don't you know) and learn all about the cosmos.
Then again, there are of course nightly viewing programmes. But you have to make sure to bring a coat – being set all the way up on Kitt Peak (an hour southwest of Tucson centre), it gets pretty cold after dark. It's definitely one of the best things to do in Tucson – and as an added bonus, there are those mountain views to lap up.
Arizona is quite, um, desert-y. There's a whole lot of sand and scrubland going on here, with a ton of wildlife living within it and a lot of culture and history, too. To educate yourself more, the huge complex of the Arizona-Sonora Desert Museum definitely counts among the coolest stuff to do in Tucson.
It's not just one museum, guys: this is 98 hectares of (mainly outdoors) stuff to see, but includes a whole bunch of buildings that run the gamut from a natural history museum and botanical garden, all the way to an art gallery and trails through the stark landscape itself. This comprehensive site is easily one of the best things to do in Tucson.
In the 21st century, Tucson has become a lot more bicycle-friendly. Actually, in 2007, the League of American Bicyclists gave it a "gold" rating for its bicycle friendliness; there's even "El Tour de Tucson" (one of America's biggest bike-riding events) every November. So it's no wonder that one of the best outdoors-y things to do in Tucson is to simply pedal around.
It's a great way to see the city – and, like we said, it's an easy to cycle urban area, with pretty little lanes to cycle around. We recommend heading to Barrio Viejo ('Old District') and Barrio Kroger Lane (for views of the Santa Cruz river), cycling over the Rattlesnake Bridge, and pedalling around the University of Arizona bike lanes. Book yourself a saddle – it's a great round-up of the city.
If you're into photography one of the best things to do in Tucson is simply to take out you camera. This is a photogenic town with some seriously epic surrounding deseserts. You won't be able to put your camera (or phone) down and will be filling your Instagram gallery with all the goodness you and your followers need. Start in the national historic district of Barrio Santa Rosa and get wandering.
You'll find a lot of nice buildings to snap at the University of Arizona (like the Forbes Building). Elsewhere there's yet more stuff like the 1932 San Pedro Chapel, the recently restored Fox Theatre (go at night for nocturnal neon), and for a feel of the Old West in your photos make a beeline for Pinnacle Peak.
6. Become a star for the day at the Old Tucson Studios
Old Tucson Studios is a old film studio, originally built in 1939 by Columbia Pictures to resemble the Tucson of the 1850s. It was initially constructed for a movie simply called Arizona and has since been the shooting location for stuff like El Dorado, Little House on the Prairie and a lot, lot more. It definitely looks the part and will be your new favourite thing to do in Tucson if you're into shoot-outs and dusty old towns.
Spending the day here is pretty fun. We mentioned shoot-outs and, yes: they have those here. Gunfights in the streets are pretty cool to see (except in Miami when they're for real). You can also ride an old railway, drive an antique car, go on a mining adventure, ride a horse along trails, and get to speak to people with crazy accents (Australian tourists). You'll honestly feel like you're in an Old Western but with slightly better hygiene.
Spread across almost 3 million acres of rugged landscape, the Tonto National Forest is a pretty huge place – the largest of its kind in Arizona and the 5th biggest in the whole of the United States. However, thanks to its proximity to Tucson, it's also the most visited national forest in the whole country. If you're looking for outdoors-y things to do in Tucson, well, here it is.
It's here that you'll find 112 hiking trails, mountain biking routes, and an abundance of nature. See the Saguaro cacti in the desert, gaze up at the pines in the mountain forests, and catch sight of bald eagles and coyotes. If you want to stay in amongst all this spectacular wilderness, you can also stay the night at one of its campgrounds.
8. Discover the history of San Xavier del Bac
San Xavier del Bac – what now? It's a historic Jesuit mission, set up by Spanish colonists in 1692. You can find it south of downtown Tucson, set along the banks of the Santa Cruz River. It's the oldest European building in the state of Arizona and, we have to say, it's pretty beautiful. This isn't some small mission: it's a big, big, Moorish-inspired building.
The interior of San Xavier del Bac are super ornate, making for one of the coolest things to do in Tucson if you like wandering around stunning old buildings. Today it's been faithfully restored, with plenty of intricate details and bright colours inside and out; it still draws pilgrims arriving on foot – and on horseback!
9. Take a break at the Tohono Chul Park
A 45 acre botanical garden, located in Casas Adobes, Tohono Chul Park is a surprising desert park that is one of nicest things to do in Tucson when it's hot – that overhanging foliage really helps with the whole shade situation! Tohono Chul literally translates as "Desert Corner" in the indigenous Tohono O'odham language; accordingly, this is a slice of urban desert that's easy to explore.
The desert gardens here are intermingled with Native American herb gardens and sculptures dotting the landscape, with trails winding through all of it. If you get hungry or thirsty, there's an on-site bistro where you can enjoy some lunch with a view of the gardens; a cool place to reflect, we'd say, and a gem of a park.
10. Go panning for gold
It wouldn't be a visit to a town that's known for its Old West connections without panning for gold, now would it? This activity is one of the most quintessential things to do in Tucson and, luckily for you, there are quite a few gold mines and locales renowned for their gold-extraction credentials in the vicinity. Cool.
Gold was first found in Tucson in 1875. We all know what that means: Gold Rush. And it's still found quite a bit around the city – the Gold Rush is still on (almost, anyway). Head to Greaterville and Arivaca, or for some insider tips on all things gold (and organised outings for beginners), visit the Desert Gold Diggers Club, based in Tucson itself. Because I told you about it I want 50% of whatever gold you find.
Looking for weird things to do in Tucson? Don't worry: Carnival of Illusion has you covered. It's a Vaudeville-style extravaganza that makes for a fun-filled night of magic and illusions. Think Harry Houdini in the modern-day, with plenty of over-the-top showiness that is definitely made to entertain.
Definitely one of the more, um, unusual things to do in Tucson, this evening show plays out in an intimate venue. Audience participation, therefore, is kind of a given. For some of you, that may sound like a nightmare, but honestly: you'll feel like you're back in the 1800s watching the Carnival of Illusion dole out their intrigues and flashy saloon-style magic.
12. Get creeped out at the History of Pharmacy Museum
Hidden gem, you say? We've got just the thing for you. The History of Pharmacy Museum, of course. This is a sort-of-secret, tucked away on the campus of the University of Arizona. You'll discover things like medical documents from the 19th century, and bandit John Dillinger's chewed gum in a jar, for example. Yes, we think this is a suitably unusual thing to do in Tucson.
There's other parts to this collection that come from the Upjohn Pharmacy in Disneyland – all of it set in a replica of an old-time-y drugstore itself, complete with glass bottles and jars everywhere. A real glimpse into the past, with thousands of artefacts on show, you can even get a free tour of this hidden gem from the College of Pharmacy building at the University.
13. Stay a night at Hotel Congress
If staying in a historic, gang-related hotel is your idea of a unique thing to do in Tucson, then you may want to consider booking yourself a night (or two, maybe) at Hotel Congress. Built all the way back in 1918, it's here that John Dillinger and his gang were hiding in 1934 after a robbing a few banks – they were captured in this very hotel, the same year after a fire started in the basement.
Today you can still stay at the hotel. But it's not just about preserving history here; Club Congress, a gastro-pub, bar, nightclub, and live music venue all rolled into one, makes paying a visit to the historic (now raucous) Hotel Congress one of the coolest things to do in Tucson at night.
Safety in Tucson
The second-largest city in Arizona, Tucson is a very hot place – it's practically in the desert. The most you'll have to worry about here, we would say, is getting fried to a crisp, getting dehydrated, or sunburnt. There's can even be flash-flooding in the monsoon season (June – September), so be careful driving that time of year.
This goes double if you're planning on heading out into the national parks, kayaking or anything else that involves not being near civilisation. If you go hiking in the desert parks, take plenty of water, tell people where you're going and definitely stick to the path: watch out for snakes and bugs, too – rattlesnakes definitely exist in these parts.
As for crime, petty crime like car break-ins can occur in areas like Midtown and the South of the city; there's gang-related activity and a homeless population in Downtown, but nothing that will be affecting you as a tourist. Then again after bars shut at 2am, best to go home; Downtown gets deserted after this.
For the most part, be sensible: don't leave valuables in your car (always lock it) and be prepared when going into nature. You should be fine.
Read our tips for traveling safely before you fly and always get travel insurance. Check out our roundup of the best travel insurance.
14. Catch a movie at the funky Loft Cinema
Originally built in 1938, and initially used as a meeting place for Mormon students, The Loft first became a cinema showing art house films in 1965. After a brief adult film blip from 1969 to 1972, it became a "regular" cinema again and has been that way ever since. Independent films, foreign language films, cult classics: here's the place to see them.
Amongst other claims to fame, The Loft can say it has the longest-running showing of The Rocky Horror Picture Show in the US. There are other dress-up, costume affairs and sing-along events going on, too. There's also a free, monthly screening of an art-house film and the 5-day Film Fest every summer. How is this not one of the best things to do in Tucson at night?
There are pub crawls, then there are party bikes. Of course, this is something you can do in the day, but day drinking can just leave you sleepy and sluggish for the evening: no fun. Instead, head out for one of the best things to do in Tucson at night and book yourself a space on a party bike that'll take you around Downtown Tucson.
This is probably one of the most fun things you can do in Tucson if you're town with a group of friends; a company such as Arizona Party Bike will be the way to go. It's a pretty unique way to see the city, as you cruise around University Boulevard, along 4th Avenue, and in Downtown – the centre of the city's nightlife. All with music and that all-important electric assist.
16. Have a drink at Scott & Co.
If you're a regular reader, you'll know that we're into the idea of a hidden bar. That's just what you'll get at Scott & Co., a cosy, speakeasy-style bar that you'll find behind a secret door in the back hallway of a restaurant called 47 Scott. Finding it alone is one of the coolest things to do in Tucson at night, but the bar itself is pretty dang cool too if you ask us.
All you have to do is tell the bartender the kind of "flavour profile" you're after, and what liquor you like, and they'll create you a bespoke cocktail for your tastebuds. Open from 4pm to 10pm, it's not exactly a late-night spot in Tucson, but is perfect for a bit of pre-dinner drinking – especially if you feel like eating next door at 47 Scott!
There's no denying that Downtown is where it's at if you're looking for a place to stay in Tucson. You'll be close to historic 4th Avenue and the city's collection of historic buildings, as well as public transport, and a whole load of places to eat and drink. Staying in this part of the city, there's no way you're going to get bored, that's for sure!
Take a walk along the picturesque Santa Cruz Riverside
Nerd out at the public transport spectacle of Old Pueblo Trolley Inc.
Enjoy views of the night sky at Sky Bar Tucson – complete with telescopes and astronomy lectures
With no hostels to choose from in town, there are still a fair few options for backpacker accommodation in Tucson that will fit your price range if you're on a budget. Red Lion Inn & Suites Tucson Downtown is the best of these – especially for the price. Its got a swimming pool, clean, modern rooms, an on-site restaurant and continental breakfast included in the price. Great value for money.
A clean, quiet place to stay in the heart of Downtown, staying here means you'll be in walking distance of shops, restaurants and bars. We like that. This studio – one of the best Airbnb in Tucson, we'd say – comes complete with kitchenette, free parking (win) and a garden where the owners keep chickens, have a beehive, and even some fruit trees. Good for a solo traveller or a couple.
This is the historic hotel we wrote about earlier – and yes: Hotel Congress also happens to be the best hotel in Tucson. It's a great combination of a heritage building, lively bar and events downstairs, and cool, clean rooms with boutique features like old radios and Pueblo design throughout. Eat your fill of hearty snacks at the award-winning restaurant before catching a show: you won't have to leave!
Don't forget to check out VRBOs in Tucson for even more choice!
If the idea of walking around the desert-feeling botanical gardens here isn't too fun, or if you're looking for things to do in Tucson when it's hot (like, super hot), heading to Biosphere 2 is a good idea. This glass-and-steel research centre in nearby Oracle may still be tropical in nature, but it beats the searing sun of the desert!
The mission here is to re-create the Earth's ecosystems. Accordingly, you'll be able to walk through rainforest flora and mangroves, amongst other ecosystems. Though wandering around is cool enough, taking a tour will mean you actually get to learn something. If you're looking for things to do in Tucson for couples, and you and your partner love greenery, you'll really love this place!
18. Enjoy a trip to Kennedy Lake together
Kennedy Lake, located within aptly named Kennedy Park, is a suitably romantic place to hit up with your other half when you're in Tucson. Open from 6am to 10:30pm, you can enjoy a day with your partner in the beautiful, 10 acre setting, wandering the trails and admiring the view.
Especially when the weather is nice (and not overly hot), taking a trip to the blue waters of Kennedy Lake is a great idea for couples. Take a picnic, find a spot and snack away between your strollings and meanderings around the lake itself. Hot tip: Take a boat out on the lake for one of the more romantic things to do in Tucson.
19. Drive the stunning Mount Lemmon Scenic Byway
If you're a shoestring budget and you're looking for free things to do in Tucson, then going for a drive is a great idea (provided you have the budget for a car). On this drive, you get to soak up some pretty amazing views – all without having to pay for entrances or tour guides or anything like that. Nowhere is more worth your time in this regard than Mount Lemmon Scenic Byway, one of the most beautiful drives in Arizona.
In amongst the mountain scenery, you'll spot craggy peaks, rock formations, and a mix of desert landscapes as well as the high forest. The temperature drops the higher you (and your car) climb, too, making for a good thing to do in Tucson when it's hot. And if you want to do some hiking, there's places you can stop and be on a trail in mere minutes from the roadside – e.g. West Fork Trail.
20. Stroll along Mural Walk
Tucson, if you didn't know, has over 500 murals – often done by local artists and some of them commissioned by different organisations and companies. Either way, it definitely brings some colour into this desert town. And, if you're a fan of street art, finding at least some of them is one of the best free things to do in Tucson.
We suggest you try to find some of the coolest among them. "Desert Heart" mural is a cool one (E. Speedway Boulevard), and the "Desert lungs" mural on Oracle Road is also worth a look; "Sonora" (University Boulevard) is a striking, full-building sort of thing. We can't even begin to list them all, but make sure to finish up at Hotel McCoy, completely covered in murals, where you can grab a well-deserved bite.
21. Pay your respects at El Tiradito
El Tiradito is a popular spot for locals and constitutes what is basically a "wishing shrine". People come here, light candles and put rolled up prayers into the cracks of the wall. How did it come about? It's a Catholic shrine dedicated to a lovesick Mexican sheep rancher who was buried in unconsecrated ground. Makes sense.
Set in Tucson's Barrio Viejo, this shrine – dating back to the 1870s – is a big part of the history of this already historic district. If you're looking for one of the more, um, unique things to do in Tucson, paying a visit to El Tiradito is a good idea; just make sure you have your prayer or wish written out and rolled up ready to leave to here.
Not your run-of-the-mill petting zoo, the one at Funny Foot Farm lets your children get up close and personal with actual farm animals; think pigs, chickens, goats, donkeys, and cows. What small kid wouldn't love the chance to meet some of those famous critters from the picture books and cartoons they obsess over so much? Exactly.
It's a world away from the iPads and traffic and the modern world; the staff here teach children about the animals, how to care for them, and throw in a few leftfield facts that probably you wouldn't even know. When it comes to things to do in Tucson with kids (especially young ones) this can't be beaten. Bonus: Children one year and younger go free!
23. Explore the Valley of the Moon
The Valley of the Moon was originally conceived as a children's fantasy park in the early 20th century. It definitely looks like something from another world – there's buildings and strange monuments built with stones strewn around. Built by a former postal clerk, the Valley of the Moon boasts grottos and trails winding around the landscape for a cool place to explore.
If you're looking for things to do in Tucson with kids, you can't do much better than this amazing place; it's pretty unique, whimsical attraction and will be somewhere the kids they can spend hours. It's definitely eccentric: gnomes, trolls, fairy palaces, Renaissance music playing, and even more make for a magical world to explore.
It's a desert, but there's water alright. There's a landscape out here just waiting to be explored, and one of the best ways to do this is to get on the water. Saguaro Lake, set between the soaring Superstition Mountains and the beautiful Four Peaks, is a good place to do this. Exploring via kayak is one of the best, most adventurous things to do in Tucson.
You'll be paddling along the lakeside, spotting things like bald eagles and bighorn sheep in the desert oasis – the whole scene strewn with classic Saguaro cacti. It's a great way to get to grips with the natural history of the area. But be warned: bring plenty of water, wear sunscreen and cover up (sunhat or equivalent) because this is the desert after all.
25. See the world in miniature at the Mini Time Machine Museum of Miniatures
One of the more unusual things to do in Tucson would be to swing by the Mini Time Machine Museum of Miniatures. As you might be able to tell from the name of this museum, it's all about mini stuff here. Specifically, this Tucson institution boasts a collection of 500 antique (and modern) dollhouses. Yes, that's right: dollhouses.
But they're not your regular dollhouses. Not at all. Not only does this collection reflect much of the local area, with a few famous Tucson abodes thrown in for good measure. There are also various themes to each miniature house, with some being Halloween-themed, for example. It's all about visiting little snippets of history (hence the "Time Machine" part of the name). Weird and definitely wonderful.
26. Visit the Boneyard
It's not a graveyard as you might know it. The "Boneyard" – as it is colloquially known – is by far the biggest airplane graveyard in the world. It all began after WWII when decommissioned planes were left here so their parts could be salvaged. Fast-forward to today, and it's a wonderland for aviation enthusiasts: row upon row of old planes.
It's not open to the public, however. You'll have to get yourself to the Pima Air & Space Museum and book yourself on a tour of the 309th Aerospace and Regeneration Group (the official name of the Boneyard). It covers 80 acres, boasts over 150 planes, 5 old hangars, the Dorothy Finley Space Gallery and loads more. This is easily one of the very best things to do in Tucson. It's well worth a visit.
27. Find the gold stashed in Colossal Cave
Around 22 miles from Tucson, the big (obviously) Colossal Cave Mountain Park is where you'll find the eponymous Colossal Cave. The caverns itself are ancient karst tunnels and caves that can be explored on foot: you get a map at the entrance and then away you go. At 21 degrees celsius all year round, coming here is a good thing to do in Tucson when it's hot – or raining (it's all inside).
One of the most adventurous things to do in Tucson, exploring Colossal Cave may yield more than just rock formations. Legend has it that gold from various train robberies was hidden down here; a tour that takes you further than you can self-guide yourself may be in order for the more curious and active amongst you.
28. Take a break at the DeGrazia Gallery in the Sun Museum
Spread across 10 acres of the foothills of the Santa Catalina Mountains, just north of Tucson, you'll find DeGrazia Gallery in the Sun. One of the more… unique things to do in Tucson, this place was built to blend with the nature around it, making for a pretty unusual way to see art and exhibitions of artists from the Southwest.
Constructed in the adobe style, DeGrazia Gallery in the Sun has six permanent collections that trace the history and culture of the native people of the area. Indigenous culture and art is celebrated here; in addition, the artist behind the gallery itself, Ettore DeGrazia, is actually buried here, too.
29. Go sledding down White Sands National Monument
Comprising the largest area of gypsum sand dune field in the world, at around 275 square miles, White Sands National Monument simply has to be visited if you're in the area (i.e. in Tucson). It's relatively affordable to enter this incredible area of pure white sand, at $20 a vehicle, or $10 per person.
It's definitely the thing to be doing if you've got your own wheels, and probably best done on your way to – or on your way from – Tucson. One of the best things you can get up to here? Sledding! You can buy wax-covered discs at the visitor's centre and prepare to have a blast at this alien landscape.
30. Get your creative juices flowing at the Tucson Museum of Art
If the art at DeGrazia Gallery in the Sun Museum was a bit too leftfield for you, don't worry: Tucson has its very own Museum of Art. Located in Downtown Tucson, you'll get to see deep into the city's past with not just art on offer, but five historic houses on the grounds to explore as well. Today they're used as everything from the museum's cafe to interactive workshop space.
The Tucson Museum of Art features art from Latin America as well as the United States, but it's not all about looking pictures here. The family-friendly gallery puts on various events throughout the year, including artisanal markets and craft shows.
31. Get your girlpower on and shop for a new book at Antigone Books
If you thought you knew bookstores, think again: Antigone Books is a bookshop with a difference. Set up by three women in 1973, and named after the Greek mythological figure who stood up to male authority, the theme here is decidedly "girlpower" (so they have a lot of books about the Spice Girls I guess?). But it's more than that; it's progressive, period. This is, after all, the United States' first (and only) 100% solar-powered bookstore.
Passed on to another generation of women who own the shop and run the show, visiting Antigone Books is still like stepping into a world of books you'd never find anywhere else. An important part of the Tucson community, visiting this bookshop is more than just snapping up a new holiday read (although you should totally do that), it also means understanding more about what makes the town tick.
Tucson is all well and good. But there's actually so much to do in and around this surprising city that you may not feel like spending all your time here. Then again, if a city for you is more of a base than a destination in itself, fear not! We've got together a couple of our favourite day trips from Tucson to give you an idea of what you can do just a stone's throw away.
Wine? Near Tucson? That's right. The Sonita Wineries are in easy reach of the city and make for one of the best day trips from Tucson you could go on – especially if you're a fan of wine. Offering up an array of award-winning wines, and located in Southeastern Arizona, the different vineyards that make up the Sonita Wineries are worth your time.
About 40 miles from Tucson you'll find this wine-producing region. Some of the best places to stop off include the Wilhelm Family Vineyards – with its historic buildings and Dos Cabezas WineWorks. Providing tours of the vineyards themselves, tastings, food and picturesque places to partake in your favourite wines, how could you say no to an afternoon of indulgence here?
For a particularly chilled out vineyard in Sonita, check out Callaghan Vineyards, it's laid back, with intimate tasting sessions and friendly staff. Note: This is one day trip from Tucson you shouldn't self-drive – where's the fun in that!
Famous for its Wild West history, Tombstone is in easy reach of Tucson. Founded in 1879 by a gold prospector, this town was the first boom town on the frontier – naturally, a place a for outlaws and all sorts of scoundrels. In just 7 years it grew from 0 people to 14,000.
More famous than its quick growth, it's famous as the setting for the infamous gunfight at the OK Corral in 1881 between outlaws and lawmen. Tombstone, as you might have already guessed, had a bit of a reputation for being a lawless town, but today… not so much. The draws here are its historic saloons, shaded boardwalks, and re-enactments of the OK Corral gunfight.
So if you like history, cowboys and the sort of dusty scenery you might find in Red Dead Redemption or Deadwood, then you're going to love visiting Tombstone. Definitely one of the best day trips from Tucson.
There's a lot to see and do in Tucson. We've already shared a load of awesome things to do in the city, as well as some pretty cool day trips too – the hard part is fitting them all into your schedule. We're here to help, though, and decided to create this handy 3 day itinerary for exploring Tucson so you can make the most of your time in this interesting Arizona city
Day 1
The best place to start in Tucson is by learning a bit about some of the city's history – to be honest, that's a good place to start pretty much anywhere in the world: at the beginning, right? So rent yourself a bicycle and pedal around this very pedal-able city; head into the University of Arizona and its historic buildings, swing by the Barrio Viejo… It's a great way to get to grips with the city.
After your cycle ride in the morning, you'll be hungry (we bet). Lunch is a matter of tacos at BOCA Tacos y Tequila. Simple and delicious. Now head into Downtown and start exploring the murals of Tucson, making sure to begin at the nearby Greetings from Tucson mural, before heading south to N. 6th Avenue and the area around the Rialto Theatre to take in a few choice murals.
Your rewarding mural-hunting walk is rewarded further by delving into yet more of Tucson's choice food. This means hitting up 4th Avenue in the evening; whatever you want to eat, they've got it covered here. We recommend deli fare at 4th Avenue Delicatessen, go Greek at Athens, or eat burgers at Bison Witches Bar & Deli. Make sure to finish up hidden cocktails at Scott & Co.
Day 2
It's the start of a busy day in Tucson as you take yourself to Saguaro Lake, a 2 hour drive from Downtown. This is where you get to spend an action-packed day paddling around on the lake, spotting all the wildlife and soaking up the epic landscapes. We really recommend going as early as possible to miss out on the heat of the day which can seriously sap your energy.
On the way back from the lake, take a brief hour or so detour to Kitt Peak. This place is all about the night sky, but it's just as good visited in the day time: the views from the mountain itself are pretty epic. Head back (roundabout an hour) into Tucson, freshen up at your hotel, and go find something to eat. Try Famous Dave's Bar-B-Que for mouthwatering meats and delicious sides.
Hopefully, you're not too stuffed full to enjoy an art-house flick at The Loft Cinema, around a 10 minute drive away (or the same amount of time on a bus from Downtown). If you didn't fancy BBQ, then don't worry: the cinema serves a winning combination of pizza and beer to keep everybody happy.
Day 3
Start your third day in Tucson with a chilled walk in Tohono Chul Park. You don't really have to go super early since the shaded paths provide some much needed cool patches in the heat of the day. From Downtown, this slice of desert garden is 45 minutes on the number 16 bus. Didn't manage to get breakfast? Never fear: the bistro at Tohono Chul Park serves up some mean cuisine.
Continue your cultural day another 40 or so minutes on the number 16 bus back across the other side of town to the Tucson Museum of Art. Here you'll get to see art from the region, walk around a few historic houses on-site, and – once you've had your fill of art – go get your fill of food at La Cocina just a 4 minute walk from the Museum of Art.
Next up, we would say hit up San Xavier del Bac. Hopping in a cab to get this one is best – it'll only take something like 15 minutes. You'll be surprised at just what a spectacle this incredible Jesuit mission is, and how ornate its interiors are. Then head back Downtown to see the mad Carnival of Illusion. Hungry? Close by, 47 Scott will have you covered; Owls Club is good for drinks after (till 2am).
Don't forget your travel insurance for Tucson
World Nomads' mission is to support and encourage travellers to explore their boundaries. They offer simple & flexible travel insurance, and safety advice to help you travel confidently.
They've been doing it since 2002 – protecting, connecting, and inspiring independent travellers just like you.
Get a quote below or read our in-depth review!
World Nomads provides travel insurance for travelers in over 100 countries. As an affiliate, we receive a fee when you get a quote from World Nomads using this link. We do not represent World Nomads. This is information only and not a recommendation to buy travel insurance.
Here are some quick answers to common questions about what to do and see in Tucson.
Tucson may be small, but this city sure packs a punch with the number of things that are on offer for the casual visitor. There's some great Mexican food as well as great international cuisine. There are some incredibly beautiful natural spots in easy reach; the Sonoran Desert; and even some bandit history and kooky hotels. You'll find tons of stuff to do in Tucson.
And if you're looking for things to do here on a family holiday, or if you were looking for some zany things to do at night in this city, don't sweat it: our guide has you totally covered with a whole roster of activities. You'll love it!
---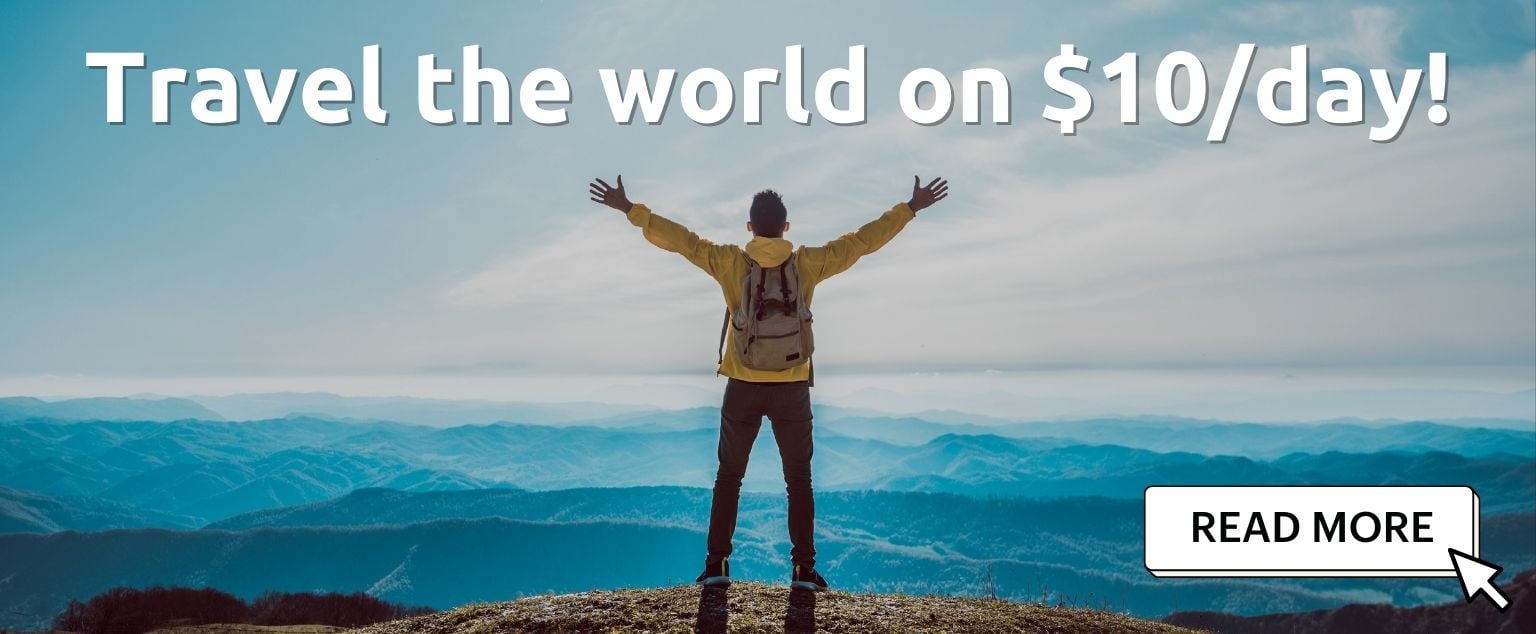 And for transparency's sake, please know that some of the links in our content are affiliate links. That means that if you book your accommodation, buy your gear, or sort your insurance through our link, we earn a small commission (at no extra cost to you). That said, we only link to the gear we trust and never recommend services we don't believe are up to scratch. Again, thank you!