When life gets hectic (when is it not?) having one backpack to serve a variety of purposes is awesome so you can just pack it and go. One such backpack, is the Tom Bihn Synapse 25 which I have to say is one of my favourites. In case you have never come across them before, Tom Bihn has been producing badass, high quality travel backpacks for decades now all from their base in Seattle.
Tough as granite and full of unique organizational features, the Synapse 25 has been the perfect backpack for day hikes, minimalist travel, and general everyday use. But wait! This year, Tom Bihn has upgraded a variation of the Synapse 25 with the brand spanking new Synik 30… and the differences are noticeable.
The Synapse 25 has received a lot of hype so I was very eager to see what the Synik 30 is capable of.
Please note that this review will primarily focus on the new Tom Bihn Synik 30 backpack while looking over the key differences between the Synik 30 and the Synapse 25. If you are after a full, dedicated review of the Synapse 25 then this may not be the backpack review for you!
Below, I will dive into all the key features (and there is a lot of them) that set the Synik 30 apart from the rest of the pack.
Let's get started and find out if the juice is worth the squeeze…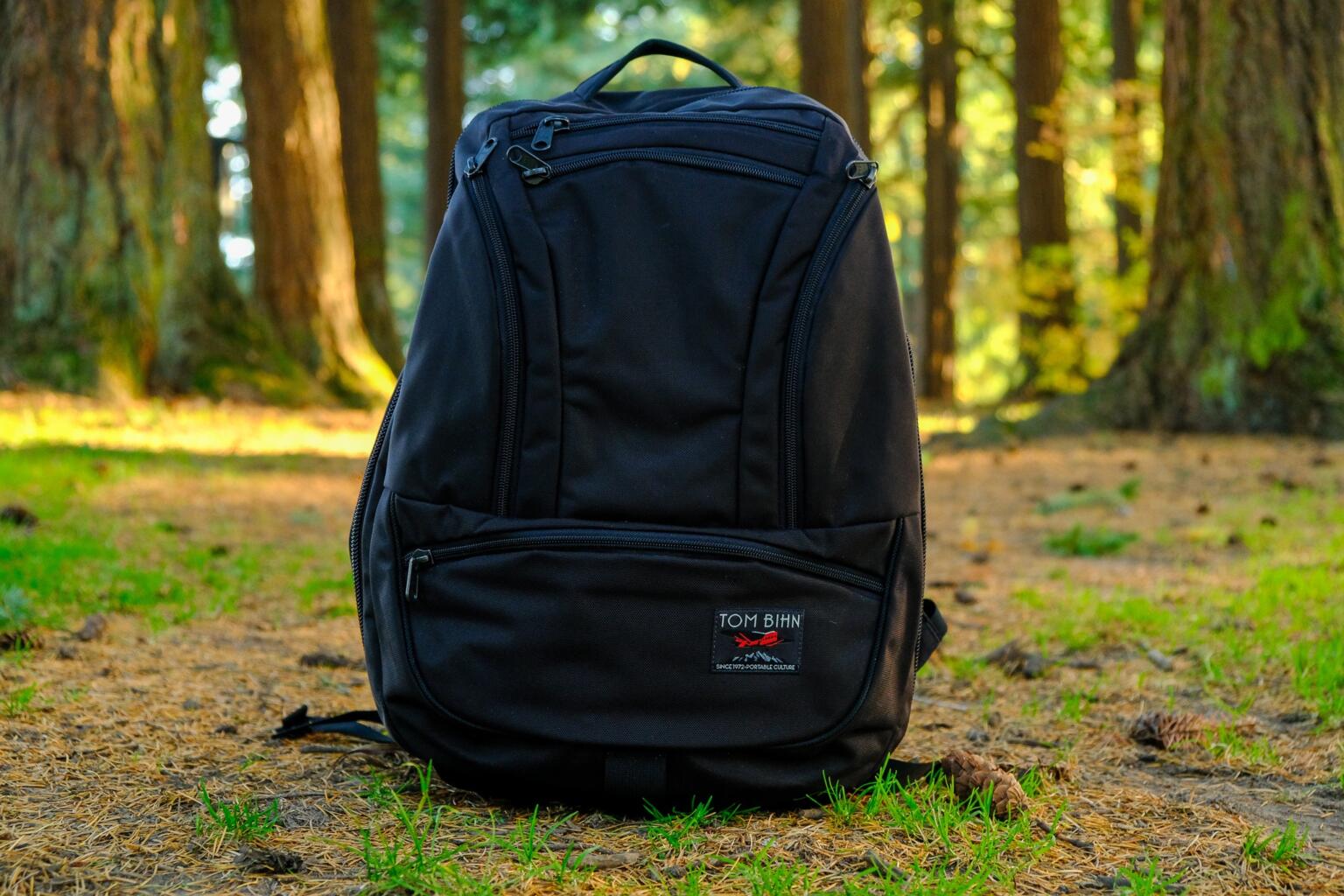 Quick Answer: Tom Bihn Synik 30 Specs
Price: $300
Volume: 30 liters
Weight: 3 lb 0.1 oz (Balistic Nylon 525d)
Material: 400d Halcyon/420d nylon ripstop
Manufacturing Country: USA
Ladies & Gents, It's Time to Step Your GEAR Game Up. 😉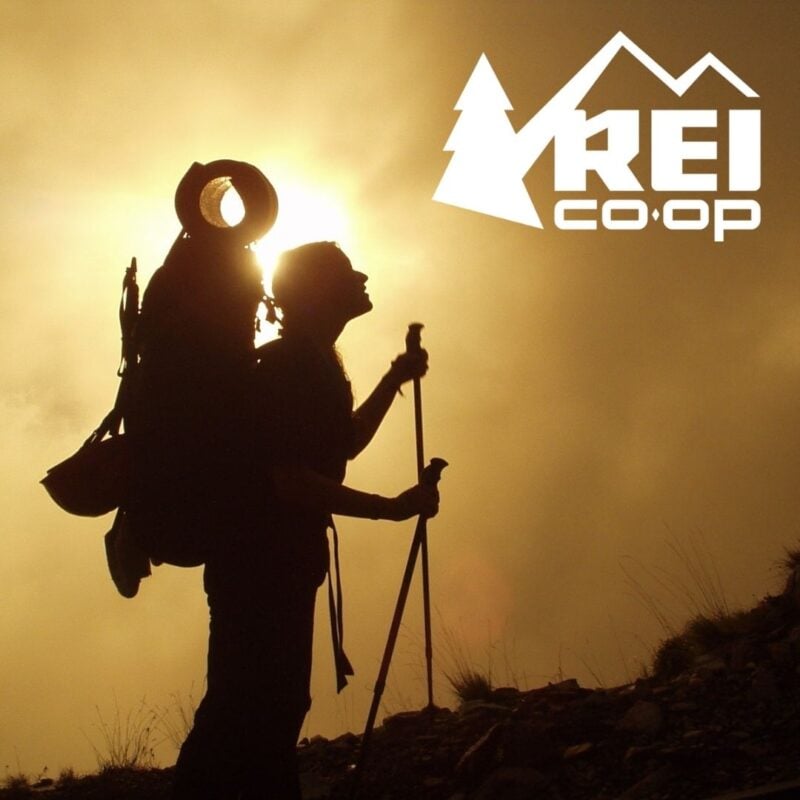 REI is one of America's biggest and most-loved outdoor gear retailers.
Now, for just $30, get a lifetime membership that entitles you to 10% OFF on most items, access to their trade-in scheme and discount rentals.
Join REI Today!
Over the course of a few weeks in my home around Portland, Oregon I took the Synapse 25 out on a series of test adventures. Since the Synik 30 is touted as both a hiking backpack as well as a somewhat urban backpack for everyday use, I tried it out in both environments. Some of you may know that Portland, Oregon is the perfect place for doing just this.
So how did it do in the forests of Oregon? What about in the cafes around downtown? Does the new Synik 30 have enough space to be a proper carry-on bag? The answers await…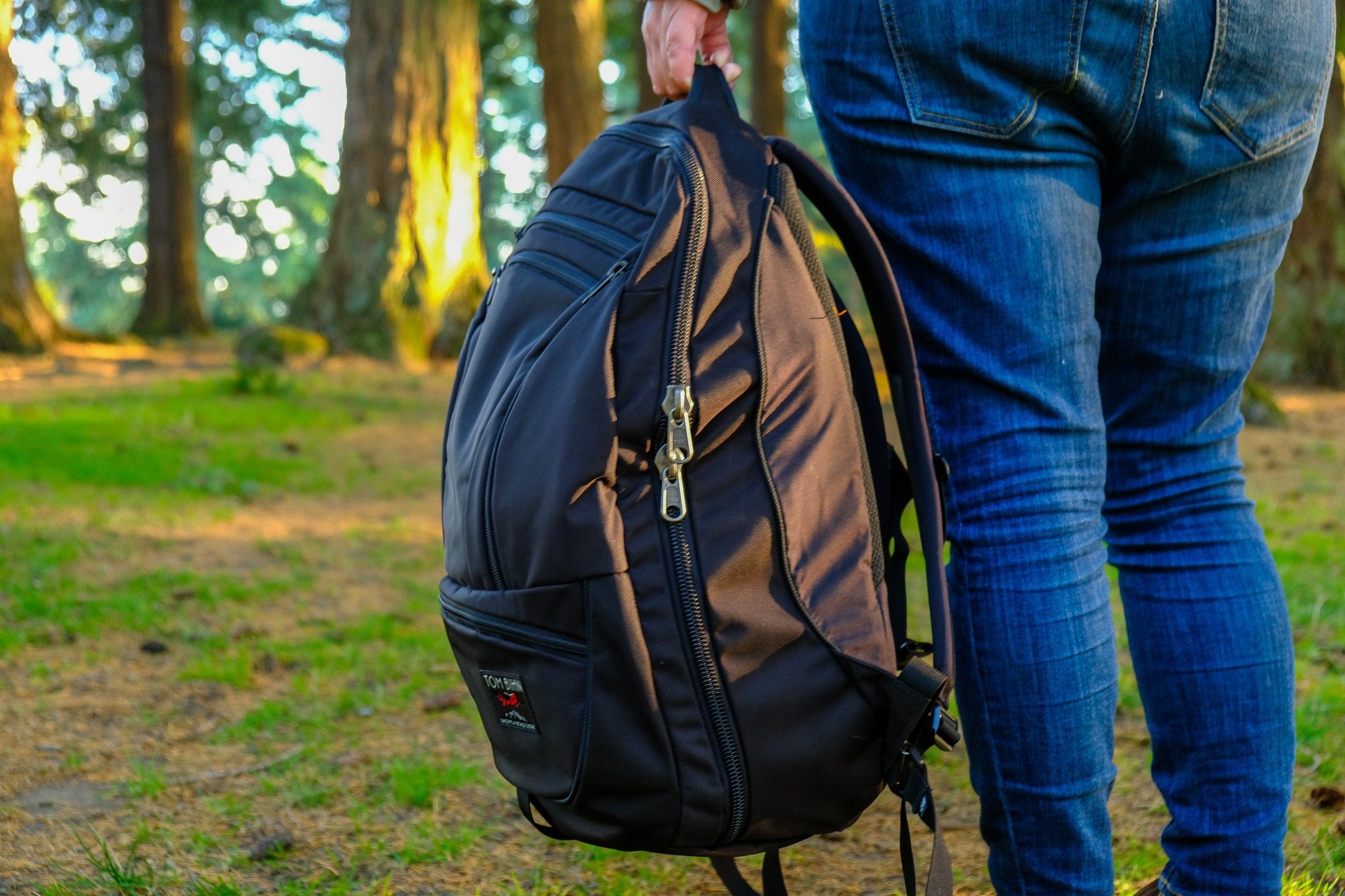 One of the most important aspects of any backpack is its functionality. If a backpack looks sexy, but can't integrate into a busy lifestyle, well then, it's worthless. When I get my hands on a new backpack to review, I tend to look it over from head to toe like a suspicious older brother inspecting a newborn baby sibling. And yes, once or twice I have had to send both back to where they came from…
Welp, good news: Tom Bihn seems to have made every square inch of the Synik 30 count. I am not sure what they were putting in their coffee up there in Seattle, but the designers of the Synik 30 really nailed it with the new features. Let's take a look at what's new…
New Features
Besides being 5 liters larger than the Synapse 25, the Synik 30 has a few more obvious upgrades. Located in a zippered sleeve within the main compartment there is now a two-point access suspended laptop compartment. Digital nomads take note!
The Synik 22 fits laptops up to the size of the 13" MacBook Pro; the Synik 30 can fit laptops up to 15" like the MacBook Pro and larger Microsoft models. So no, that old Sega Megadrive will be a bit too chunky to pack in.
The new edgeless shoulder straps will make for even more sweet carrying bliss, and seriously who doesn't want a more comfortable thing strapped to their body right? On a recent hike, I carried about 15 pounds (6.8kg) in my Synik 30 and found the shoulder straps to have the perfect amount of padding to support my load. You can feel the difference between the straps on the Synapse 25 for sure, as they are thinner.
If you travel for business and carry more than just a backpack, the Synik 30 has a wheeled suitcase passthrough so you can essentially fix the Synik 30 to your other rolling suitcase. I wasn't able to test this feature as I do not own a wheeled suitcase (sacrilege on this travel blog). How this works is this: there are two openings along the top and bottom of the back panel. You can slide the suitcase handle through the backpack without affecting or adjusting the frame.
From what I can tell, Tom Bihn is pretty weight conscious when it comes to adding material to a backpack, but they did add more padding to the carrying handle for good measure.
So, long story short the Synik 30 has a lot more going on than the Synapse 25, and I am a big fan of the improvements.
Upgrade Score: 6/5 stars. Yep, 6.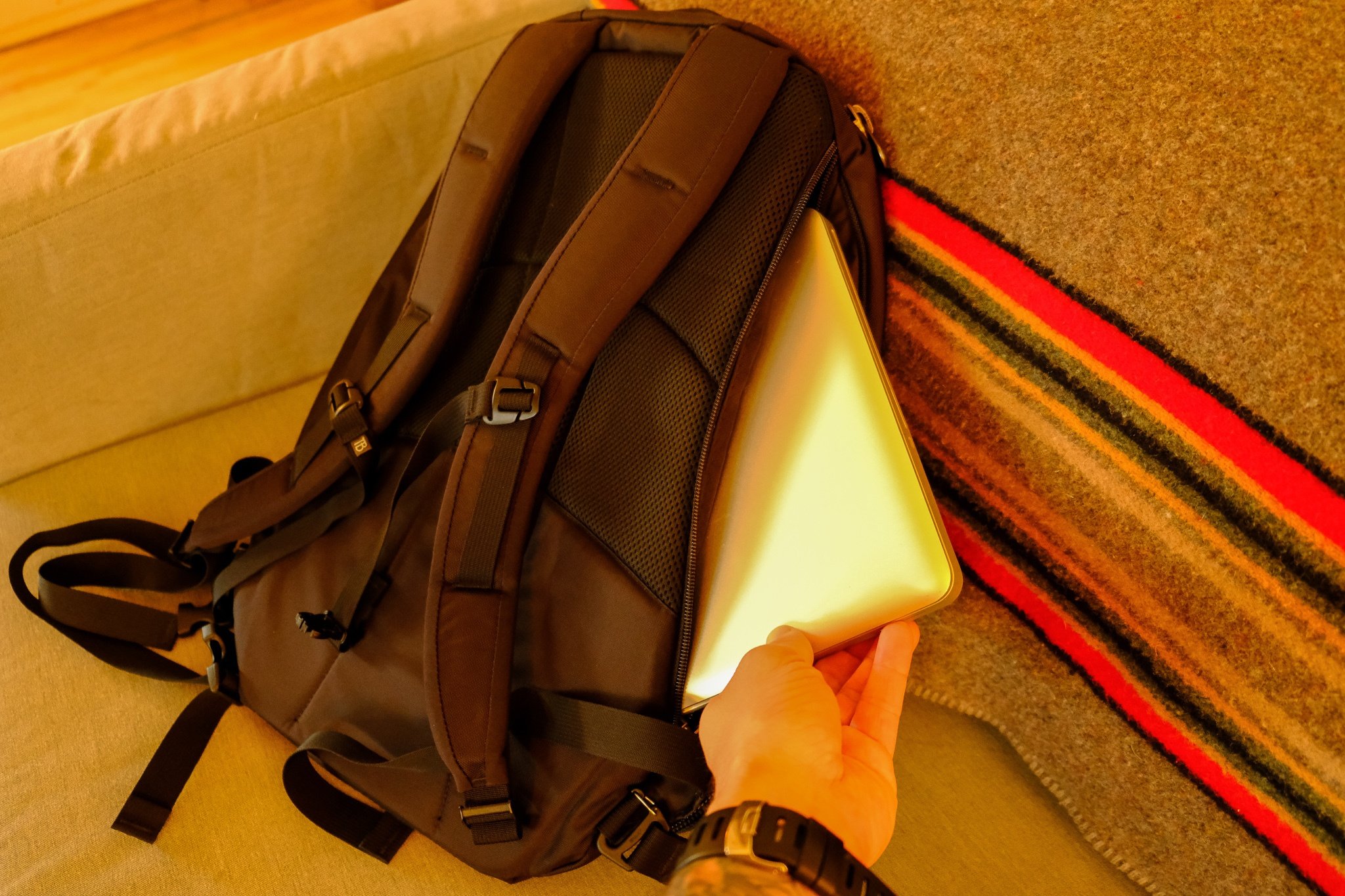 Exterior Design Features
One thing the Synik 30 does not lack is pockets. The front face of the pack contains no less than 5 individual storage pockets of various sizes and dimensions including a space to fit a hydration reservoir or travel waterbottle. This means the water bottle is on the back which is kinda annoying. I mean how does one drink while hiking?!
It is important to note that there is no place for the hydration reservoir hose to go internally either so if you wanted to use it, then you would have to rig up a system on the outside of the pack. Are you trying to make us die of thirst Tom Bihn?!
Therefore, the one improvement I would like to see is a proper side water bottle pocket. However, given that there is not heaps of space on either side of the main zipper track, I really don't see how they could integrate that idea without re-writing the laws of physics as we know them. But a guy can dream, right?
The large pocket is centered – this is crucial as it means that the heaviest item will be centrally located. Which means you won't be leaning over sideways like a palm tree in a hurricane if you do decide to pack something heavy into the pocket (like dark matter).
None of the smaller exterior pockets are exceptionally large but what I like is that you can fit of the important small items of everyday life like sunglasses, keys, small notebooks, an action camera, smartphone… whatever you fancy. The first top pocket in the center is probably the most convenient pocket, and I found myself using that pocket the most.
The exterior pockets are lined with water-resistant fabric (not waterproof), so if you find yourself in bad weather, take note not to keep anything you don't mind getting a little damp in these pockets. The Synik 30 can handle a bit of light drizzle for a little while but is not designed for monsoons.
When in a city though, I would never put anything valuable on the outside as the pockets can all be easily accessed if someone is standing behind you on the train. But I am sure you know that?
It's worth noting that the YKK zippers are high quality, burly things which seem like they can take a ton of abuse. This is a great detail as zips can often be the first thing to break on low quality bags. The zippers can be festooned with the included zipper pull cords. You just need to attach them yourself.
Exterior Features Score: 4/5
Internal Features
I've already covered some of the new internal features above but let's have a look at a few more. The Synik 30 opens like a clamshell (the Synapse 25 does not, it opens horseshoe style) so it can be laid nearly flat for packing. Opposite the laptop sleeve is a singular deep storage pocket; a good spot for a book, electronics, chargers, etc. The pocket goes about 3/4 up the face of the pack and does not have a zippered closure.
If you are only packing things for a hike or your day in town, it is probably unnecessary to unzip it all the way. But when the time comes to pack for a proper trip it, is awesome to be able to unzip the whole pack like a suitcase.
The internal frame can be removed if you want the pack to be less rigid. I personally would not remove the frame but to each his own. The frame can be accessed from either the top or the bottom. The Synapse 25 has no frame so it is less rigid and can be folded in half and pack away if need be.
I tend to go for backpacks with frames (even if the frame is thin) because it helps the backpack keep its shape over time and also improves the fit and balance.
An immediate notable difference between the Synapse 25 and the Synik 30 is the internal laptop compartment which does add value if you tend to travel with a laptop. It is worth mentioning that the material found inside the Synik 30 feels almost as tough as what's on the outside, just in case your cat jumps inside and starts clawing at it.
Considering how many pockets and things are on the outside of the Synik 30 (the Synapse 25 has the same pocket configuration basically), the minimalist design of inside works pretty well.
Note: Be careful not to overstuff the exterior water bottle pocket as if you do, there is way less space inside to fit other things.
Internal Features Score: 4/5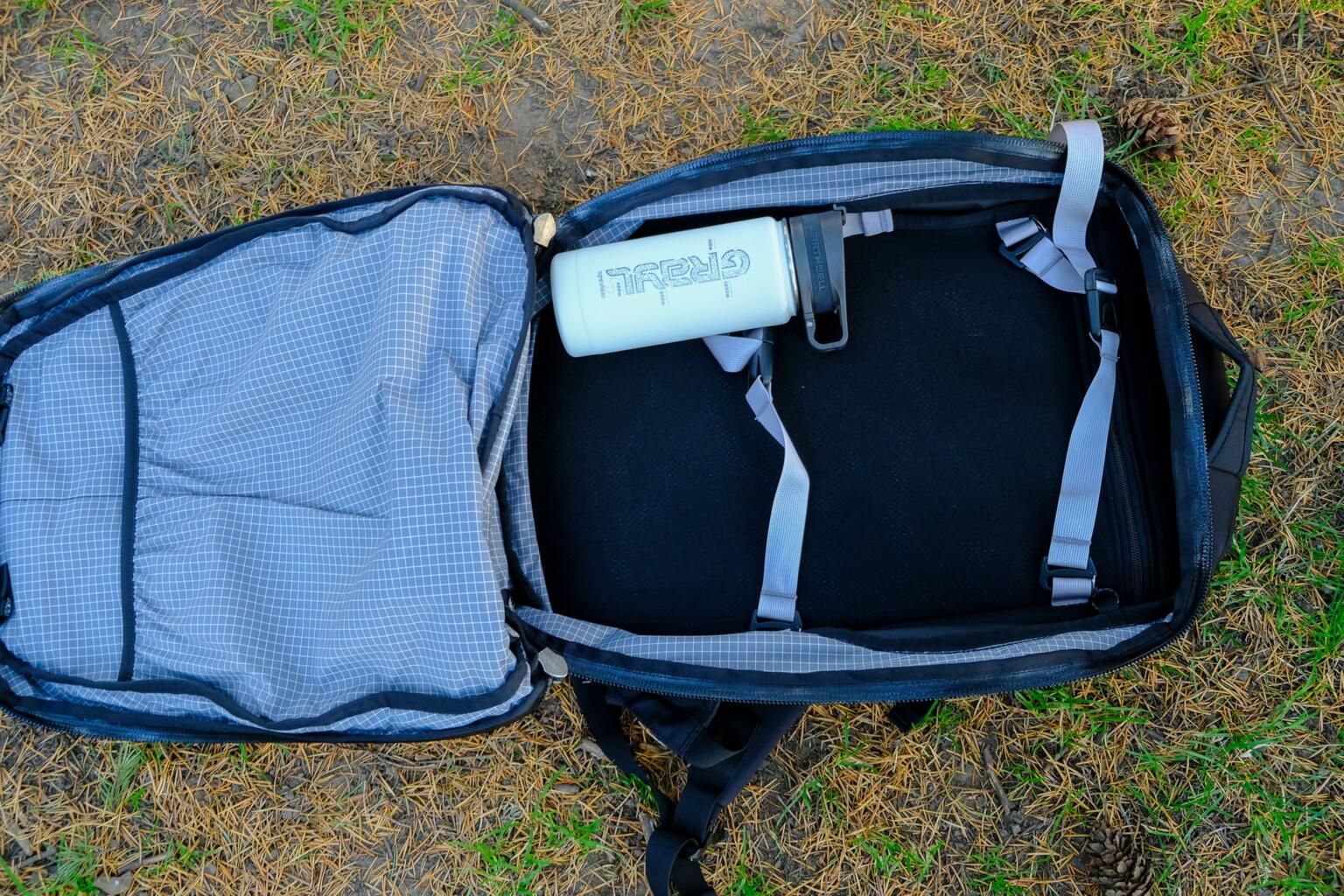 Materials and Durability
So you want your backpack to last a little longer than 2 years aye? Well, Tom Bihn gives you a number of different highly durable options…
I can honestly say that I have never heard of a backpack company offering three different material options for one backpack. Depending on your needs or style you can actually choose what your Synik 30 is made of.
And know this: Tom Bihn uses super high-quality materials, so no matter which fabric you prefer, you know it's going to be badass and most importantly—long lasting.
For the record, the Synik 30 I tested has 525 ballistic material.
These are the options:
-400d Halcyon
This fabric is right for you if…
You want a tough construction that doesn't weigh a whole lot more than the alternatives.
You're looking for a material with a hip, "technical" vibe.
You have pets: this fabric won't collect that never-ending bombardment of hair your dog or cat shed.
-525d High Tenacity Ballistic Nylon
This fabric is right for you if…
You want to prioritize softness with stiffness without wanting to lose toughness.
You want a backpack that looks good anywhere from the train station, to the office, to Bali.
You don't want Rover or Sassy's hair clinging to your beautiful bag.
–420d HT Nylon Classic Parapack
Weave: 1×1 plain weave
Fibers: 420 denier type 6,6 (high tenacity) filament nylon
Coating: heavy urethane
This fabric is right for you if…
You want your bag's fabric to have a soft, smooth hand yet be quite durable and have an interesting backstory.
You want a fabric that's stately enough to be at home at work, the mountains, or a nice hotel.
You don't want your bag to collect pet hair or abrade your clothing.
To learn more about the materials used in backpack construction, check out the Tom Bihn website.
Ballistic Nylon Score: 5/5
Tom Binh Synapse 25 vs Synik 30 Weight
Synapse 25: 2 lb (525 deniers Ballistic:)
Synik 30: 3 lb 0.1 oz (Balistic Nylon 525d)
It doesn't take a genius to see that the Synik 30 weighs significantly more than the Synapse. One pound may not seem like much, but in backpacker land, one pound is something to take note of. Personally, I think that all of the new shiny features touted by the Synik make the extra weight well worth it.
If you prioritize lightweight over durability you can always choose the lightest material available. That's the 400d Halcyon/420d nylon ripstop fabric for the Synik 30.
With extra weight comes extra space and if you are always carrying around various parts of your life with you like me, you're going to want the extra room. The 5-liter difference between the two packs is noticeable and is much appreciated.
If you are primarily looking for an everyday bag (not hiking or travel), you'll find the Synapse 25 to be plenty big enough.
Weight Score: 4/5
Size and Fit
The Synik 30 is built for a wide range of body types and can be adjusted to fit most people. To help balance loads and secure the backpack whilst hiking there are removable hip belt and sternum straps. If using a hip belt isn't your thing you can remove it and chuck in that dusty garage drawer.
Clearly the designers of this bag prioritized balance as even when packed pretty full you can achieve a well balanced, secure fit for hiking or walking in the city. The turtle shell shape isn't ideal for maximizing space for packing, but it does make it so the pack sort of contours to the shape of your back.
Unless you are giant taller than 6'6 (or a short-sized Danish guy), the hip belt straps should work for you just fine as the hip belt now sits slighter lower than on the Synapse 25.
So how does the bag actually feel when you wear it? The subtle bolstered padding of the shoulder straps is noticed when walking around for hours. Your back rests up against a mesh panel which breathes pretty well, but not as well as a proper backpacking backpack. I have yet to test the Synik 30 in hot weather so I don't know exactly how it would fair on an extended summer day hike or a sweaty walk around Barcelona.
To get the most out of the comfort and fit be thoughtful about how you pack so that you don't get any weird lumps digging into your back or an off-balance feeling.
Note: The Synik backpack comes in two sizes: 22 and 30 liters.
Size Score: 4/5
Customization
One cool thing about most Tom Bihn packs is that you can customize them based on your needs. Tom Bihn sells a number of practical accessories like key straps, organizer pouches, and packing cubes. Seriously, they thought of everything one might need.
Never used a packing cube before? They are great. Because I am not the most organized packer (and I am usually in a hurry), in the past my backpacks looked like they were packed by a one-eyed drunk at 4 am.
Packing cubes and little organizational pouches helped to keep all of my stuff in order while traveling. Another benefit of using packing cubes is they help maximize the interior space because of their shape.
Check out this article for a list of the best packing cubes available right now.
An important custom addition to consider is a rain cover. The Synik 30 does not come with any sort of rain protection, so I suggest making the investment. One can easily find a permanent home for a small rain cover (they pack up super small at 30 liters) in one of the external pockets.
If you live in a rainy area this is a must. Once a rain cover is paired with the water-resistant fabric, you can be confident that all of your stuff inside will stay dry.
Customization Score: 5/5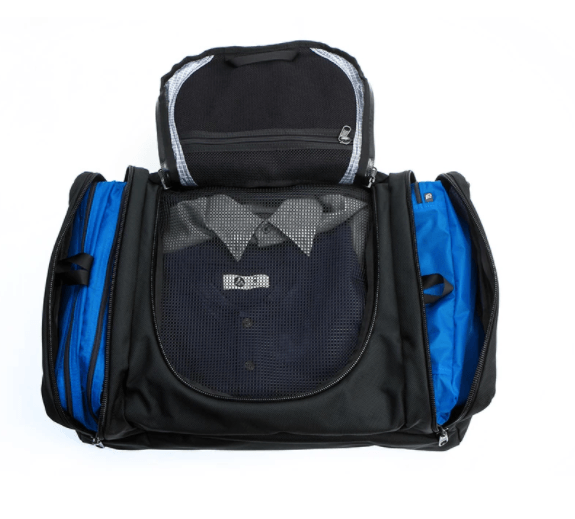 Aesthetics and Security
How sexy is the Synik 30?
From a visual point of view, the Synik 30 looks like a sharp urban travel bag (almost identical to the Synapse 25) and not so much like a hiking bag. The sleek design makes me feel like I should take it on a plane to Mexico rather than as my go-to bag for a hike in the mountains. Point being, you won't look like a dirtbag hiker wearing this pack in town.
The Synik 30 I reviewed is black (I'm a Johnny Cash man), but there are 10(!) color options to choose from. Take your pick.
Obviously, for any bag you are going to take traveling, you don't want it to scream "hey pickpocket dudes, I am an easy target!". As previously mentioned I feel like the high concentration of pockets on the back of the Synik does make it potentially more prone to thieves, especially in crowded areas like markets, train stations, and your Uncle's house. Just kidding, I am sure your Uncle is a great guy.
If need be, it is possible to lock two of the smaller pocket zippers together if you wanted to be sure to keep an item safe. A benefit of having tough fabric material is it would be much harder for someone to sneakily slash your bag while you are wearing it.
Aesthetics Score: 5/5
Security Score: 2/5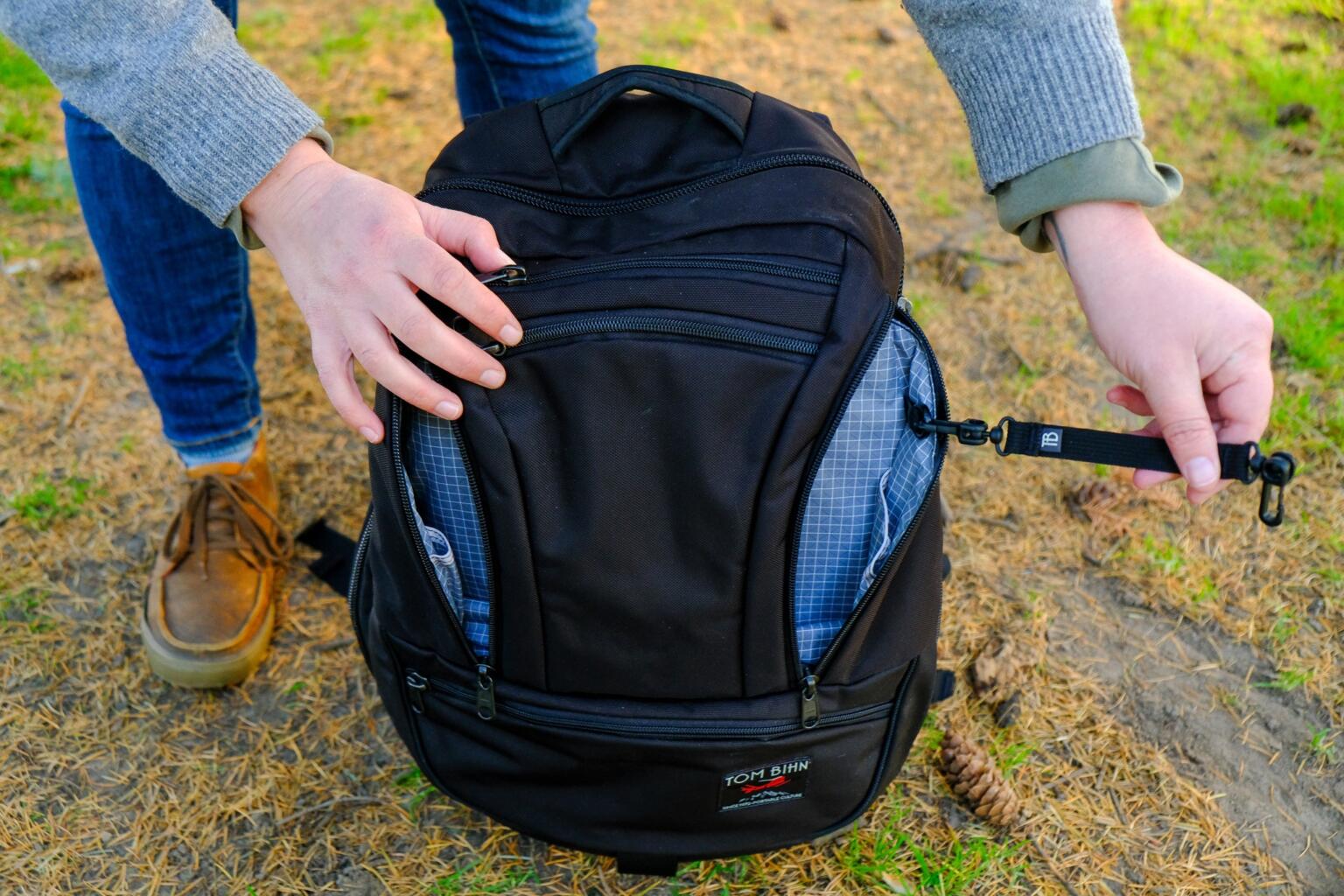 What We Liked About the Tom Bihn Synik 30
Toughness and durability. You know this thing is built to last.
The laptop compartment. Major improvement from the Synapse 25.
All of the pockets. You can never have too many pockets.
The removable frame, cool design.
The clamshell opening
New edgeless shoulder straps.
Choice of fabric material.
Sleek design.
What We Didn't Like About the Tom Bihn Synik 30
Not a fan of how the shoulder straps adjust up and down.
No accessible water bottle pocket for hiking.
The O rings, I don't see the purpose of having so many.
The price: expensive for budget backpackers.
Looks a little too urban to be a technical hiking pack.
Not easy to lock the side pockets.
The interior mesh pouch could benefit from a closure.
No rain cover.
Why We Like Tom Bihn's Story
In an era of global capitalism, it is very rare indeed to find a gear manufacturing actually making their products in the USA. They are a super small company not outsourcing to China or Vietnam and it shows in the craftsmanship of the Synik 30. All of their gear is made in the USA using quality materials and skilled labor. Good on you guys!
I also appreciate how they keep improving the same product year after year instead of rolling out a different backpack every six months. The Synapse 25 has been around for years and it keeps getting better all the time.
Tom Bihn has been making innovative travel gear for a long, long time and they continue to inspire and improve what they are producing, which is awesome. Keep crushing it!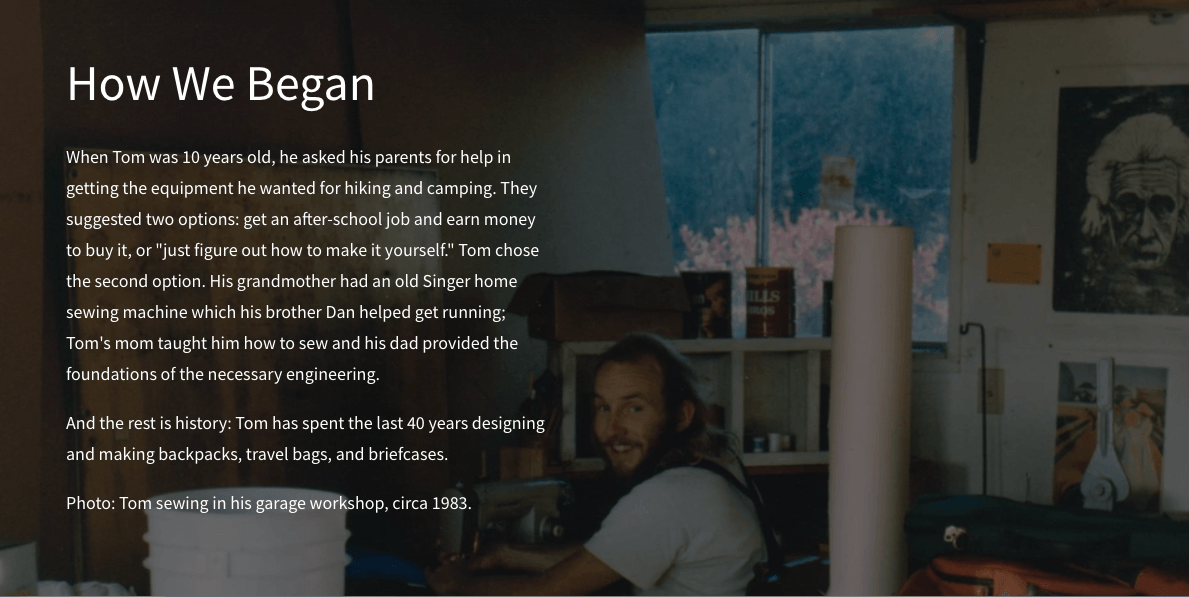 Our GREATEST Travel Secrets…
Pop your email here & get the original Broke Backpacker Bible for FREE.
Final Verdict: Tom Bihn Synapse 25 vs Synik 30
If you have been paying attention you should know by now that the clear dark horse of this review is the Synik 30. Between all of the feature improvements and the bigger size, Tom Bihn has upped its game with vastly improved Synik.
Both the Synapse 25 and the Synik 30 do make for a solid backpack choice. The question you have to ask yourself when determining which is right for you center around what your priorities are.
Don't get me wrong, the classic Synapse 25 is an excellent backpack choice for those looking for a compact, well-featured every day or hiking bag. 25 liters is just a little too small to be considered a truly excellent travel pack. For digital nomads, casual hikers, and weekend travelers, the Synik 30 just delivers more versatile and practical performance.
The addition of the laptop compartment is a big win for those of us constantly on the go with our electronics. I appreciate that one doesn't have to open the main compartment to access the laptop. Nobody has to see what you got hiding inside the main pack.
From a traveler perspective, the clamshell opening definitely makes the Synik the more traveler/frequent packer friendly option.
So now you have seen it all and heard the word. If you are looking for a wonderfully re-designed backpack, well, guys I say go for the Tom Bihn Synik 30 for an all-around top everyday backpack that you will be using for the next 10-20 years.
---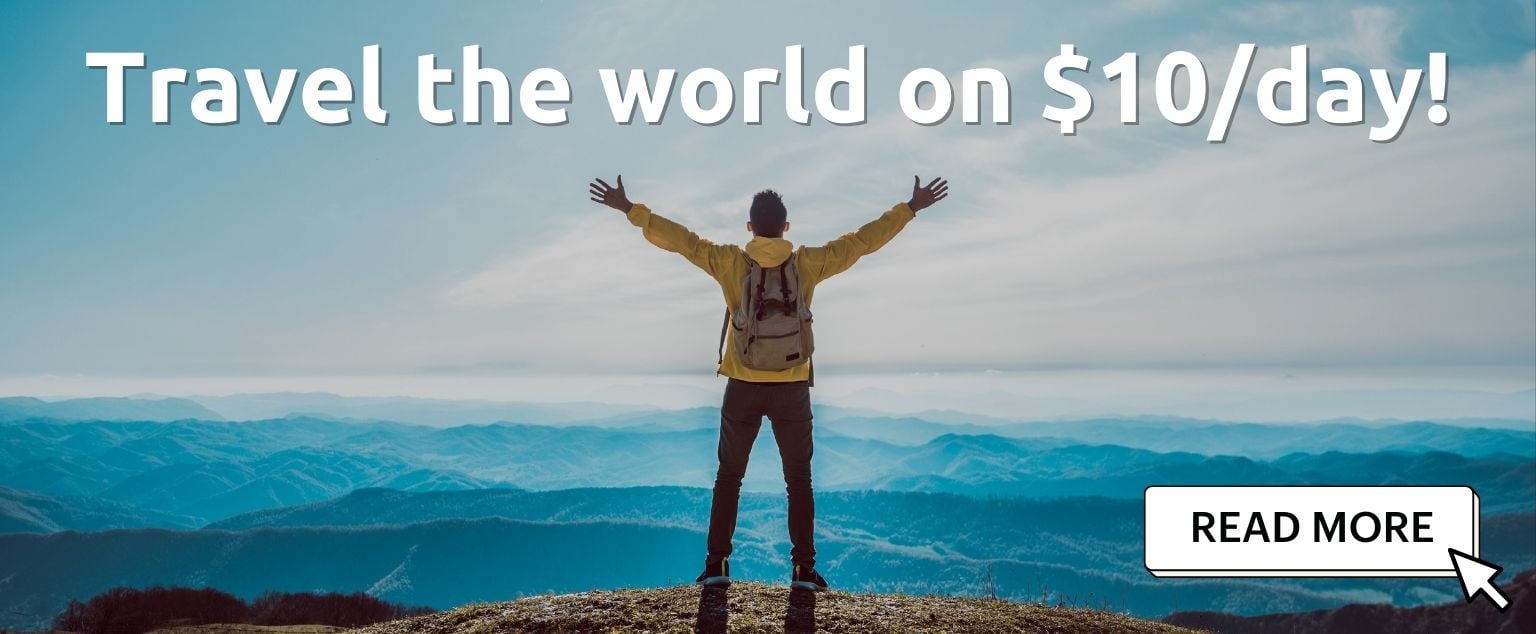 And for transparency's sake, please know that some of the links in our content are affiliate links. That means that if you book your accommodation, buy your gear, or sort your insurance through our link, we earn a small commission (at no extra cost to you). That said, we only link to the gear we trust and never recommend services we don't believe are up to scratch. Again, thank you!