Austin is everything you would expect from a city that has been voted the number one place to live in America, not once, but multiple times! Expect big city living, but with quaint, small-town charm, and a whole mix of local characters from laid-back hippies to on-the-ball tech experts.
There's a pretty big food scene with over 1,000 mobile restaurants (food trucks are kind of a big deal here), farm-to-table fine dining, and of course tacos for days. Let's not forget another key ingredient to creating the ultimate hipster city, craft beer of course! The people of Austin are so into their craft beer they even host the Texas Craft Brewers Festival, now that's what I call dedication.
Aside from eating and drinking, the city has world-class museums, its own ballet company, and features a load of incredible outdoor spaces. What's more, the combination of 300+ days of sunshine and warm temperatures make this an outdoor lovers paradise. Hike along scenic trails, or paddleboard on the city lakes, all before hitting up the best bars for a wild night out.
The VRBOs in Austin are just as awesome as the city itself. You've got cool condos, bohemian cottages, and luxury homes, all within close proximity of the city center. Keep reading to discover our must-stay rentals in Austin!
Quick Answer: These are the Top 5 VRBOs in Austin
Overall Best Value VRBO in Austin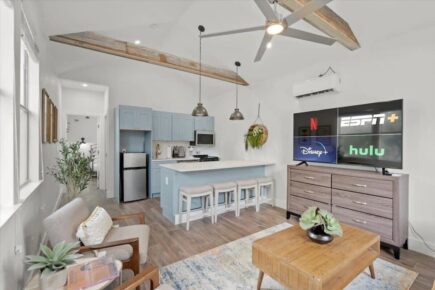 Overall Best Value VRBO in Austin
Centrally Located Apartment
> $
> 2 Guests
> Smart TV
> Garage parking
Best Budget VRBO in Austin
Best Budget VRBO in Austin
Spacious Condo with Outdoor Patio
> $
> 4 Guests
> Pool access
> Covered patio
Best VRBO for Couples in Austin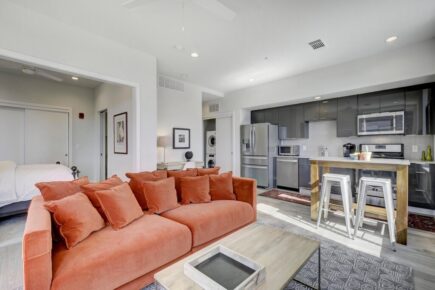 Best VRBO for Couples in Austin
Condo with Great City Views
> $
> 2 Guests
> Balcony
> Romantic vintage style
Best VRBO for Families in Austin
Best VRBO for Families in Austin
House and Guest House with Large Backyard and Pool
> $$$
> 14 Guests
> Games for kids
> Pool
Over-the-Top Luxury VRBO in Austin
Over-the-Top Luxury VRBO in Austin
Lakeside Mansion with Boat Dock with Infinity Pool
> $$$$
> 16 Guests
> Watersports equipment
> Infinity pool

Unlock Our GREATEST Travel Secrets!
Sign up for our newsletter and get the best travel tips delivered right to your inbox.
What to Expect from VRBOs in Austin
Rentals in Austin are great because no matter what you're looking for, you're bound to find it. Whether you're on a family vacation and need a comfortable yet stylish home that you and the kids will enjoy, or on a romantic retreat and looking for the perfect place to win some brownie points with your boo, there's a place that fits the bill. 
What's more, is that they're all in amazing locations; either in the city center or in super desirable areas close-by! The most popular VRBOs here are houses, condos/apartments, and cottages/guest houses.
Houses
Houses are a popular option in Austin, with lots of these types of rentals available. They are the best choice for large families or big groups of friends who want to be together under the same roof but still have plenty of space. Houses in Austin range from quirky historical properties to newer buildings that have more of a "professionally decorated" vibe. 
Of course, houses will have all the necessities you would expect to find in your own home, like a fully-equipped kitchen, a dining table, a lounge area with a TV, and comfortable bedrooms. Many of them have an outdoor space like a backyard or patio, plus a pool or hot tub if you're lucky! These rentals can be found in the trendy neighborhoods and areas around downtown like South Congress and East Austin.
Condos/Apartments
If you're a real city dweller or just prefer being right in the center of what's going on, then condos or apartments are the number one choice for you. We love the selection of condos in Austin, from spacious professionally done spaces to charming, local feel pads.
Lots of the condos are within walking distance of the famous nightlife of Sixth Street, so if you're here to party it up then staying in one of these is a no-brainer. There are also a ton of great choices in South Austin for those of you who prefer more low-key hipster areas.
Condos and apartments are great for couples or small groups of friends and will have everything you need for a great stay. Some more modern buildings include pool access (ka-ching!), and many of these rentals have stellar city views and maybe even a little balcony.
Cottages/Guest Houses
Cottages and guest houses are a top choice for couples and smaller groups. These intimate rentals are smaller than houses, and many are beautiful historical buildings. Expect them to have all the comforts that staying in a house offers, like a kitchen or a kitchenette, a cozy living area, and a dining table or breakfast bar. Many have lovely outdoor spaces and gardens with seating and a grill. 
The interiors range from modern, contemporary styles, to quirky places with vintage decor and antique furniture. You'll find plenty of cottages and guest houses to rent in the more residential areas of Austin, like South and East Austin, but are still close to downtown and trendy neighborhoods like South Congress and Zilker.
Why Stay in a VRBO?
Obviously, WE think VRBO is the best thing since sliced bread, but we know that showing you some drool-worthy rentals might not be enough to convince you that this platform will be the peanut butter to your (dream vacation) jelly. So here are some epic reasons:
Local Experience – When you're staying in a VRBO, you get a host who's actually from the city. This means you'll have a local who's willing to spill all of Austin's secrets, like which bars have the best drinks or which food truck serves the best burritos!
Unique Properties – VRBOs are clearly more interesting and varied than your standard hotel room, but when we say they're unique, we mean it. In Austin, you can even find *SPOILER ALERT* tiny homes and fully decked-out Airstreams for rent!
Privacy – You can filter your search results for fully private accommodation, plus some properties also have self-check-in.
The 20 Top VRBOs in Austin
You've got this far, now for the juicy part of the article – our top 20 Austin VRBOs! Brace yourself for some rental eye candy.
This Austin VRBO will really give you a bang for your buck! Centrally located, it is within walking distance of restaurants, bars, and cafes, and is only a short drive into downtown. If you've driven into the city or have a rental car, it comes with garage parking.
The inside is modern with bohemian decor, a spacious kitchen, breakfast bar, and living area. There are also little extras for the most comfortable stay possible, like a coffee maker and a smart TV. 
Lady Bird Lake
Texas State Capitol
University of Texas
What's not to like about this contemporary condo? Yes, it's super affordable and ideal for those on a budget, but there's bonus points for the fully-equipped kitchen, high-speed Wi-Fi, and pool access. You're really getting your money's worth and more with this one.
The space is good for couples, or a close friendship group and is just a short drive away from downtown. There's also a little private patio with seating, great for sipping your morning coffee.
$
Cute little loft bedroom
I cannot think of anything better for those traveling solo than your very own tiny home! This ridiculously cute little rental is within walking distance of grocery stores, restaurants, and bars (check, check, and check). It has a loft bedroom with a (not so tiny) queen mattress, a kitchenette, TV, and a modern bathroom.
The wooden interior is minimal, making the place feel more spacious than it is, and the tiny home has some outdoor space too, with a pair of deckchairs for lounging.
Is This the Best Travel Pack EVER???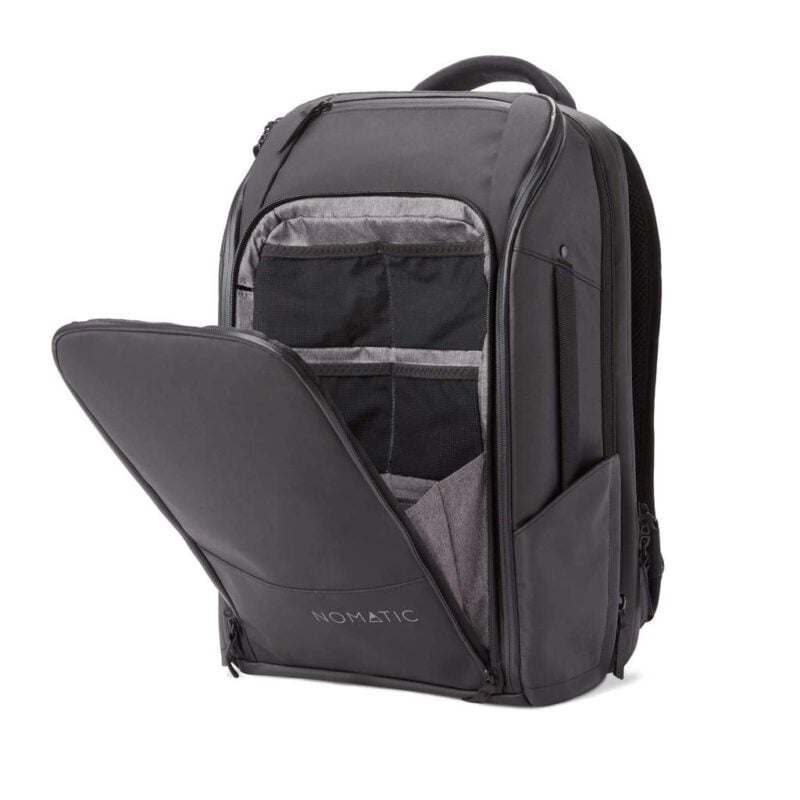 It's romance time. This modern condo is smack bang in the heart of downtown, only one block away from happening Sixth Street. It is spacious and bright, has a little balcony with great skyline views, and comes with pool access!
There's everything you need for your stay like a fully-equipped kitchen, dining table, and large living area, so this place will certainly make your Austin trip a memorable one. We love the little vintage touches like the velvet couch, wrought iron bed, and antique decor. Time to get it on!
This Austin VRBO is not one, but TWO incredible houses! It is the perfect choice for a large family or two families vacationing together. Both houses are beautiful, comfortable, and modern, and share the same backyard and pool.
The kitchens are fully-equipped with up-market appliances like sub-zero refrigerators (ooh la la), and the main house even has a wine fridge, so I guess we know where the party is gonna be.. The place is within walking distance of great restaurants and only a few blocks from Ladybird Lake.
16 Guests
Watersports equipment
Okay, this house DEFINITELY belongs on an episode of MTV cribs and is one of THE best VRBOs in Austin. This place is dope. It is a lakeside mansion, with its own personal dock, outdoor living room complete with fireplace right next to an infinity pool, home theatre, outdoor kitchen, and the list goes on… there's even a little creek with a waterfall running through the property!
When you stay here you'll have your own personal house manager to cater to your every need and make your stay flawless. Stay here if you've got the cash because this place is not cheap..
14 Guests
Outdoor kitchen/bar
Daaamn this house is fine! Perfect for large families or a big friendship group, there's something for everyone in this dreamy abode. It is less than five minutes to downtown by car, has a huge yard complete with a killer pool, outdoor kitchen/bar with a flat-screen TV, and even a trampoline. It doesn't get much better than this.
Inside there's a spacious game room with a ping pong table, giant sectional, and flat-screen TV for gaming. The decor oozes luxury, with plush furnishings, incredible chandeliers, and a modern indoor fireplace. 
There are so many great things about this condo, but probably the best thing about it is that it is across the street from Franklin's BBQ (a SUPER famous BBQ joint). Wake up early and just stroll across the street to be the first in line (yes, there's a line) for some world-class brisket!
Other than that, this condo is 10/10. It has large windows with city views, 3 balconies with outdoor seating (even a queen bed on one), and comes with top-notch furnishings and amenities. We recommend this place for families, couples, and friends. 
This 1920's guest cottage is beyond cute andone of the best VRBOs in Austin. Perfect for couples, the cottage is in a peaceful area, but still really close to downtown.
The decor gives the place plenty of charm with beautiful antique furniture, quirky wall art (look for the cow jumping over the moon), and statement pieces. It is kitted out with modern amenities like a full kitchen, HD TV, and wifi. 
Yes! We have found you one of THE best VRBOs in Austin, a 1971 Airstream! A.K.A. the Lovestream… Perfect for couples who are looking for something a little different for their romantic getaway, this baby has been fully renovated with a full kitchen and normal toilet (hooray!).
It is only one block away from the trendy South Congress where you'll find some of the best shopping and dining in the city. The real selling point though has got to be the outdoor deck with seating and the hot tub! Nothing beats a hot tub (swoon!).
Most Beautiful VRBO in Austin | Historical Casa
This place is truly worthy of the title 'most beautiful VRBO in Austin'. Every single detail has clearly been hand-picked or designed to transform this casa into a work of art! We love the Mexican-inspired architecture, hand-painted murals, chandeliers, and antique furniture. Oh, and the tiles, don't even get me started on the tiles…
What's more, there's a fabulous courtyard pool (..with the most amazing tiles) overlooked by spacious second-story balconies. This place was made for large groups and is centrally located in the city close to all the best spots to visit in Austin.
$$
Bright and spacious interior
2 Guests
Outdoor chiminea fireplace
Paging all honeymooners to this fabulous guest house in South Austin! You newlyweds are going to LOVE this place almost as much as you love each other (I said almost). This place is bright, with lots of windows that look out onto the little private yard, where there is outdoor seating and a lovely chiminea fireplace to cozy up next to in the evenings.
Inside, you'll have all the necessities and want for nothing. Full kitchen? Check. Dining and living space? Check. King size bed? Check!
If you are planning a weekend getaway, don't fret, as we've found you an amazing Austin VRBO that will do the job and more! This guest house has modern features, like a sleek kitchen, spacious bathroom with fabulous walk-in shower, and fireplace, yet it has southwest charm that shines through in the decor.
What we think makes this the ultimate weekend pad, aside from how close it is to South Congress and Ladybird Lake, is the huge outdoor space. It comes with a covered living area, outdoor grill and sink, AND a raised deck that is amongst the trees. 
5 Guests
Carport and street parking
This charming Austin VRBO is our number one choice for a long vacation in the city. Perfect for solo travelers, couples, small families, and groups of friends, this place is within walking distance to South Congress, restaurants, bars, and grocery stores!
It was built in the 1920s, but make no mistake, this place is fully modernized on the inside. There is a large kitchen, living area, and breakfast bar, plus, a desk if you're working from "home" or need to catch up with some work while on vacation. The high ceilings and bright interior make the place feel spacious. 
4 Guests
Infinity edge pool access
Nothing says downtown luxury more than city views, right? Well, this apartment has that, and more! Smack in the middle of downtown and just a short stroll from Sixth Street, Second Street district, AND Ladybird Lake, this place has a ton of space and huge windows that let you soak up the amazing city views, you'll even get a peek of some mountains!
The inside has bachelor pad vibes, with leather and wood accents, a sleek kitchen, and a comfortable sectional sofa (I just LOVE a sectional sofa). 
This awesome home is walkable to well-known restaurants, bars, and cafes and just a short drive downtown! It is a great choice for families and friends (including your four-legged friend you couldn't possibly leave behind!). It has a lovely garden with outdoor seating, a covered patio, and a grill for bbq nights! The inside has vintage and eclectic decor, plus all the must-haves for a seamless trip.
$
Professional looking interior
2 Guests
Walking distance to bars
We are obsessed with this Austin VRBO! It is within walking distance of restaurants, bars, and the famous nightlife of Sixth Street, but is a little tucked away so you won't get all the noise from the hyped-up party-goers. The inside is beautifully done with lots of natural light and a little balcony to enjoy your morning cup of coffee (or bloody mary), and most importantly, the bed is super comfortable.
This condo in East Austin is right in the middle of restaurants, bars, breweries, and some of Austins's best places to catch live music! It has a modern, open-plan living space with a kitchen, breakfast bar, cozy sectional (YEEEES), and a balcony. There's plenty of space for maneuverability and there's a walk-in shower. It's a win-win! 
$$
Walking distance to Scoot Inn
The whole gang is going to bow down to you when you book this epic historical loft. One of the best VRBOs in Austin, this place is just a short walk to the Scoot Inn, the oldest bar in the city, and a killer music venue. There is a huge rooftop terrace with plenty of seating for everyone to chill and watch the sunset over the neighborhood. Inside, a mixture of modern and vintage pieces gives the place a cozy feel. 
This house is off the charts cool, whether you're planning a birthday, graduation, or a bachelor/bachelorette party, everyone who made the cut is in for an amazing vacation. The house comes with high-speed Wi-Fi and a Sonos speaker in every room, plus a smart TV in every room, too.
There's a comfortable seating area, hot tub, and firepit in case you wanna take the celebration outdoors, and for something a little outside of the box, there's a golfing green in the garden!
Don't Forget Your Austin Travel Insurance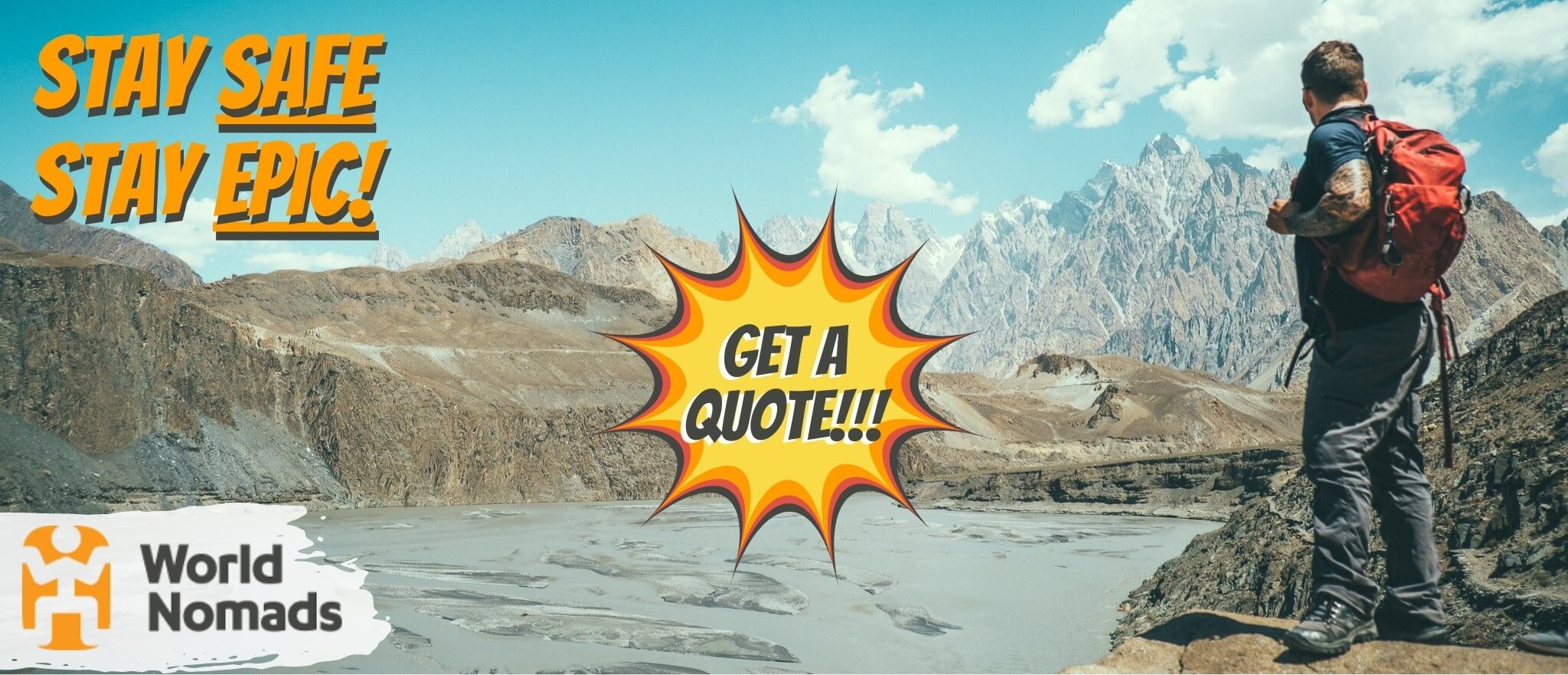 World Nomads' mission is to support and encourage travellers to explore their boundaries. They offer simple & flexible travel insurance, and safety advice to help you travel confidently.
They've been doing it since 2002 – protecting, connecting, and inspiring independent travellers just like you.
Get a quote below or read our in-depth review!
Final Thoughts on Austin VRBOs
So there you have it, our top VRBOs in Austin! We are so obsessed with the VRBO selection our bags are already packed and we've got one leg out of the door ready to go. Whatever you're looking for, wherever you want to stay in the city, and no matter what your budget is, you can be confident that you'll find a place to stay that you'll be more than happy with. 
The thing we're most impressed with is the fact that there are so many great and affordable options in some of Austin's most desirable areas. Just a few wise words before I go… It is always the smart and responsible thing to do to check out some travel insurance options, especially if traveling abroad. Remember kids, being responsible is COOL.
---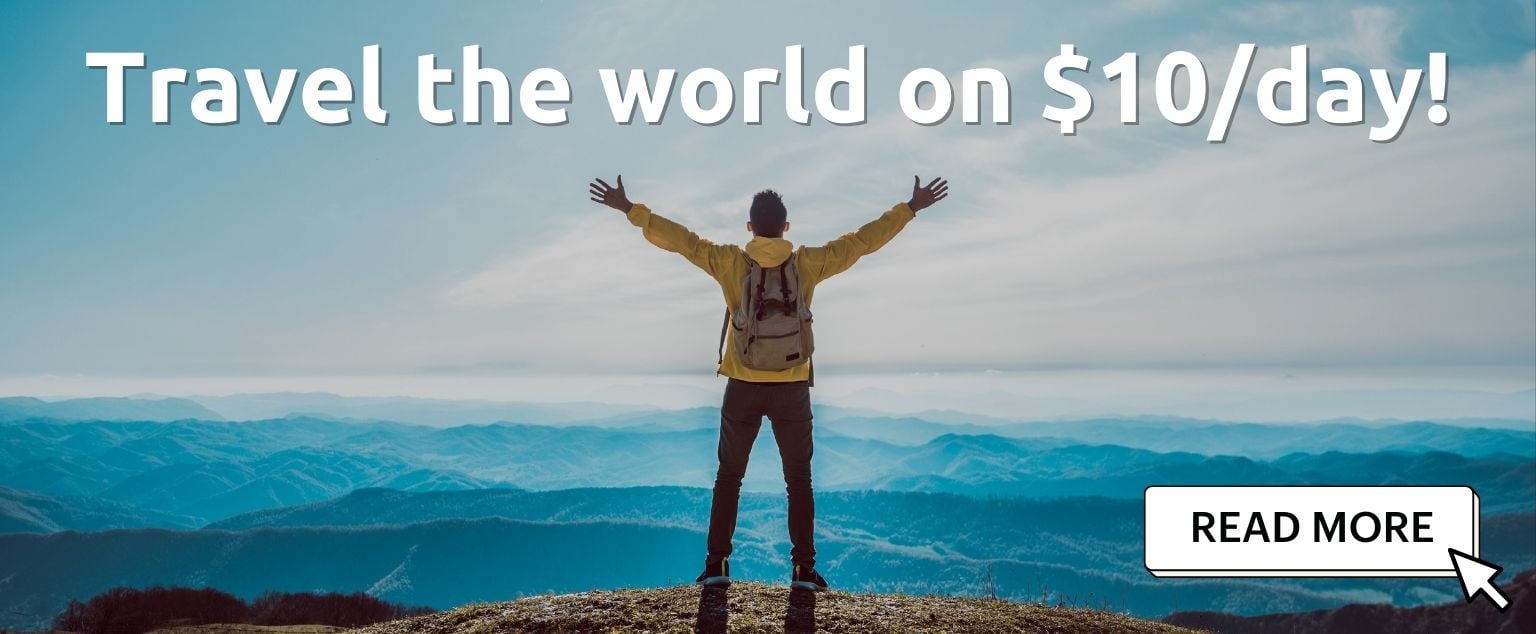 And for transparency's sake, please know that some of the links in our content are affiliate links. That means that if you book your accommodation, buy your gear, or sort your insurance through our link, we earn a small commission (at no extra cost to you). That said, we only link to the gear we trust and never recommend services we don't believe are up to scratch. Again, thank you!