Welcome to cowboy (and cowgirl) central folks! San Antonio proudly lays claim to the title "Birthplace of the American cowboy", so if you're after some wild west culture, you'll find yourself in the right place. This city has a rich, colonial past, making it a melting pot of different cultures.
Head to Market Square to experience THE biggest Mexican market in the entire US, where you can munch on some world-class Mexican and Tex-Mex cuisine and dance along to a mariachi band or two! But hey, there's also much more to the food scene here than mouth-watering enchiladas and fajitas. The Pearl Brewery, a former (ho ho) brewery, has restaurants ranging from Asian fusion to Caribbean street food, plus a weekly farmers market.
When you're finished gorging, walk it off along the San Antonio River Walk for scenic views, shopping, and maybe a spot of dessert? If you're too full to move you can always hop on a river taxi to take you to the historical Spanish Missions and the famous Alamo.
VRBOs in San Antonio are super cool because they range from quirky cabins and cottages to stylish, central condos, so whatever you're looking for you'll definitely find it! We've compiled our ULTIMATE guide below to rentals in San Antonio, so keep your eyes peeled, and read on!
Quick Answer: These are the Top 5 VRBOs in San Antonio
Overall Best Value VRBO in San Antonio
Overall Best Value VRBO in San Antonio
Southtown Guest Cottage with Dipping Pool
> $$
> 2 Guests
> Dipping pool!
> Outdoor seating with chimenea fireplace
Best Budget VRBO in San Antonio
Best Budget VRBO in San Antonio
Centrally Located Guest House
> $
> 2 Guests
> Smart TV
> Stylish interior
Best VRBO for Couples in San Antonio
Best VRBO for Couples in San Antonio
Downtown Bungalow
> $
> 2 Guests
> Pool access
> Local feel
Best VRBO for Families in San Antonio
Best VRBO for Families in San Antonio
Historical Cottage in Southtown
> $$
> 8 Guests
> Travel crib and board games
> Modern farmhouse decor
Over-the-Top Luxury VRBO in San Antonio
Over-the-Top Luxury VRBO in San Antonio
Historic Mansion with Pool
> $$$$
> 14 Guests
> An outdoor pool and hot tub
> Insane historical decor and furnishings

Unlock Our GREATEST Travel Secrets!
Sign up for our newsletter and get the best travel tips delivered right to your inbox.
What to Expect from VRBOs in San Antonio
If you're planning a trip here, you will most likely end up booking a house, cabin, cottage, or condo. These are by far the most popular VRBOs in San Antonio and come in a wide price range, varying styles, and with different levels of seclusion. If you want to be within walking distance of the thriving downtown, or close to the hip, arty neighbourhood of Southtown, then there's something here for you!
There's a combination of professionally done properties as well as those that have more of a local vibe, with a historical building thrown into the mix here and there. Most places are spacious, and almost all have kitchens or kitchenettes in case you're on a budget and want to cook at home, or have miraculously grown tired of the local cuisine (unlikely). 
Houses
Houses are our top pick for families as they are comfortable, spacious enough to accommodate the entire brood, and have full-sized kitchens to feed all those hungry mouths! They are great for a large group of friends too. You will find these rentals pretty much anywhere in San Antonio, with some beautiful houses available in the historic King William neighbourhood, and even within walking distance of downtown!
Many homes here combine traditional exteriors (think wooden cladding, front porches, and upright columns) with fully modern and stylish interiors. Expect them to have lots of space, possibly a garden, or even a pool if you've hit the jackpot! We love staying in homes as they provide you with all the amenities and comforts you're used to in your own house, so you can have a worry-free vacation. 
Condos/Apartments
Okay, condos and apartments are definitely the way to go if you want to be in the middle of all the action! They tend to be centrally located (hello downtown) so you will always find yourself within easy walking distance of shops, restaurants, and nightlife. Condos here range in size so they are great for couples or groups of friends. 
Expect a modern, professionally done design, with lots of space and natural light. If you are the type to exercise on vacation (hats off to you), some condo rentals include the use of the in-house fitness suite and pool so you can drink and eat to your heart's content worry-free!  These San Antonio VRBOs are comfortable and stylish, so are the perfect choice as your base to explore the city. 
Cabins/Cottages
We think cabins and cottages are ideal for romantic couple getaways or for vacationing with your bestie! These cute little rentals can be found within walking distance (or in) the trendiest San Antonio neighbourhoods, including downtown, Southtown, and King William! Expect a local vibe and quirky decor, but with all the things you could need for a breezy and memorable stay. 
Cabins and cottages are a little more secluded with some garden space or outdoor seating. They always have somewhere to cook and a dining area. Sometimes they are old, historical buildings that have been renovated for welcoming guests, and have lovely antique furniture and decor!  We love that they give you privacy while also being so close to restaurants, bars, and attractions.
Why Stay in a VRBO?
So why should you stay in a VRBO, I hear you ask? Well, here are just a few reasons why this platform is the way to go when booking your next trip:
Local Experience – Staying in a VRBO means you have a local host who can give you awesome pointers and tips to make the most out of your stay in San Antonio.
Unique Properties – VRBO offers a range of different kinds of properties that are interesting and have character (much more fun than a boring hotel!).
Affordability – We all like to save some pennies here and there. When you book a VRBO you are getting a quality place to stay, often at a much better price than a hotel, and in the trendiest local neighbourhoods.
VRBO Experiences – Did you know that VRBO has experiences too? Keep on scrolling to find our favourite San Antonio VRBO experiences below!
The 20 Top VRBOs in San Antonio
Now we've thoroughly convinced you that VRBO is our one and only, I present to you our top 20 picks for San Antonio, so giddy up and take a look!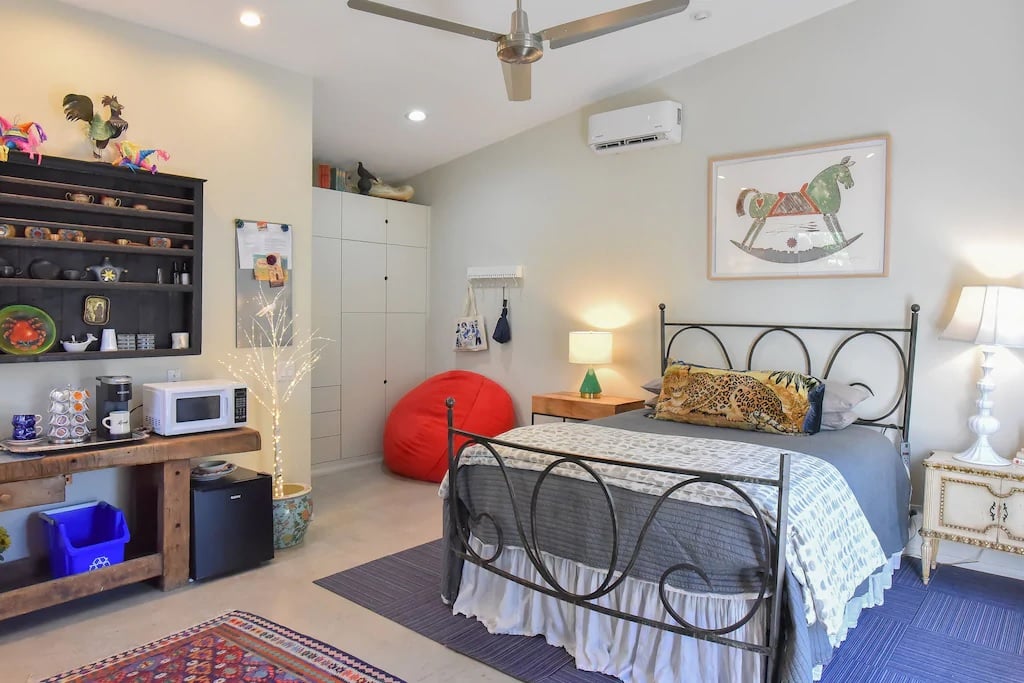 $$
Outdoor seating with chimenea fireplace
Great for couples, this cosy cottage is in the trendy Southtown area, and is a short walk from the River Walk, restaurants, bars, and the Alamo. It has amazing quirky decor, featuring mismatched antique furniture and interesting art pieces. What we love the most is the incredible outdoor space (right in the middle of the city too!), which has a lovely dipping pool just great for cooling off after a long day. There's also an outdoor dining table and a beautiful chimenea fireplace to gather around at night. 
River Walk
Alamo
Market Square
If you're desperate to visit this amazing city but are worried about keeping to a tight budget, then boy have we found you the best VRBO in San Antonio! If you're travelling solo or in a couple then this is a great option; it's a stylishly decorated guest house with a full kitchen, a desk, carport parking, plus a smart TV for your late-night Netflix binges! It's in a central yet quiet location, just a short drive away from downtown and local San Antonio attractions.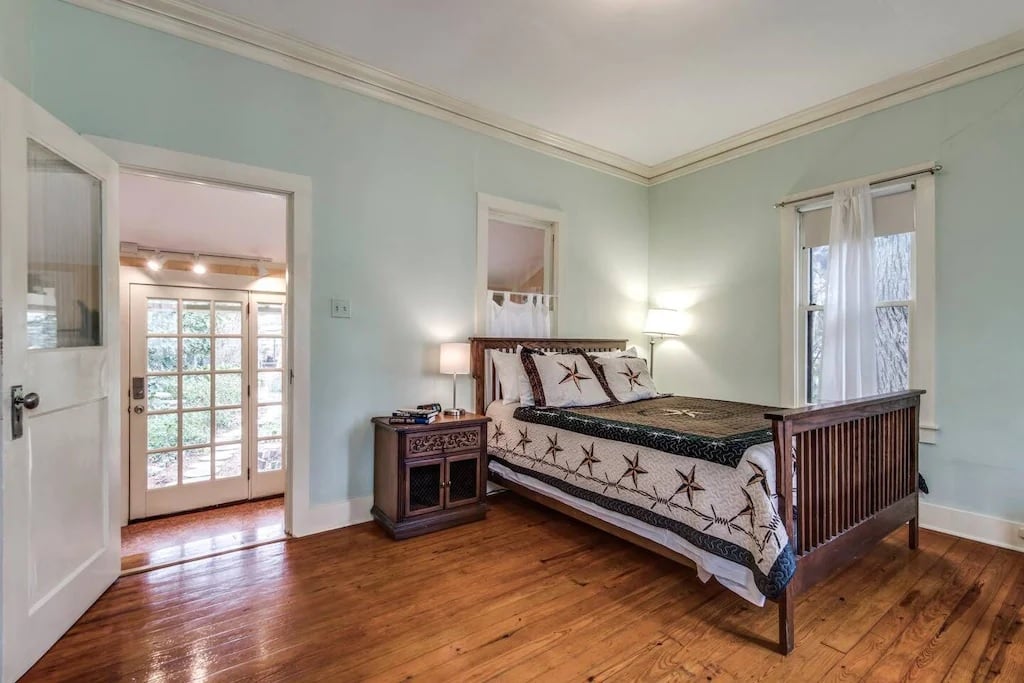 $
Originally an 1889 "wash house"
For those of you who love travelling solo, check out this incredible guest cottage in the historical King William neighbourhood! This building used to be a washhouse and sits in a lovely garden only ten minutes away by foot from the River Walk and the Blue Star Arts Complex. It has charming wooden furniture and a gorgeous, free-standing, clawfoot bathtub. Relax in the garden as the sun comes up with your freshly brewed cup of life, I mean, coffee, on the antique-looking stone table and chairs. 
Is This the Best Travel Pack EVER???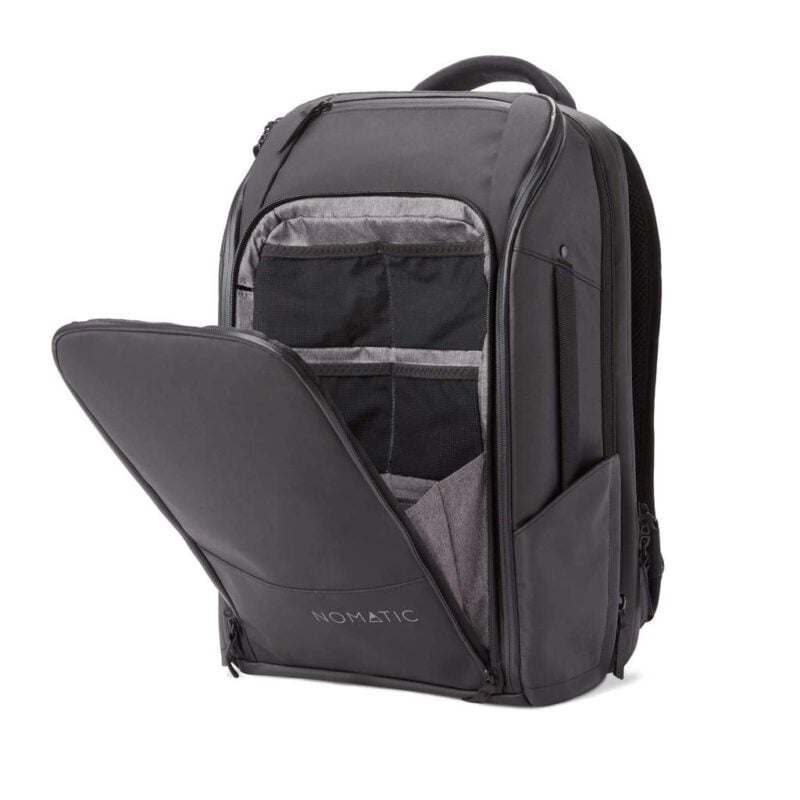 Time to get the romance on in this vibrant and artsy bungalow in downtown! Just a short walk to restaurants, bars, and the River Walk, this eclectic San Antonio VRBO has everything needed for a memorable stay, including a cute front porch and pool access! You and your boo will love the intimate atmosphere and one-of-a-kind decor!
8 Guests
Travel crib and board games
Perfect for families, this beautiful 1900s cottage is in a quiet area of Southtown and within easy walking distance of downtown San Antonio! It comes fully equipped with a travel crib and board games to make travelling with the little ones a walk in the park. The rooms are bright, airy, and spacious, with a dreamy "modern farmhouse vibe". Spend afternoons in the backyard which comes with comfortable outdoor seating, a dining table, and a monster grill where you can test out your newly purchased bottle of authentic Texas BBQ sauce. 
$$$$
Insane historical decor and furnishings
14 Guests
An outdoor pool and hot tub
Staying here would be like taking a trip back in time, but in the best way possible, of course! If you wanna walk around all day pretending you're in the cast of Bridgerton or Downton Abbey then you've got to check this place out. Great for a bougie family vacay or group trip with friends, this historical mansion is on the River Walk and is just 10 minutes on foot from downtown. Complete with an outdoor swimming pool and hot tub, luxury oozes out from this place in the antique furniture, chandeliers, and indoor fireplaces! Lady Featherington would definitely approve. 
$$
San Antonio River views
4 Guests
Use of building pool and gym facilities
This modern condo is great for small groups of friends or couples looking for a central yet quiet place to stay. If you're big into fitness this place is ideal as you will have access to the on-site pool and gym, plus there's a walking/bike trail right on your doorstep! The condo has a little balcony with seating that overlooks the San Antonio River below. It's fully equipped with everything you need for a hassle-free stay, including a coffee maker, fast wifi, and on-site parking!
$$
Stone wall accents and southwestern flair
6 Guests
Veranda with seating
A lovely place to stay for those with families, this 1858 historical cottage has an architectural design typical of the area at the time, and has beautiful stone walls, floors, and indoor fireplaces! It is just a short walk to the Alamo and other downtown attractions, so finding places to eat and drink won't be a struggle. Relax on the veranda after a long day before getting a cosy fire going inside. We love the subtle southwestern flair that shines through in the decor (we mean you, big bison painting). So Texas.
This super stylish San Antonio VRBO is less than 2 miles from the downtown River Walk and quite honestly, looks right out of a home decor magazine. A great choice for a family or group of friends, it comes with an outdoor space that is to die for. The covered veranda has a living and dining area, plus there's a fire pit in the garden! The overhead garden lights make it possible to sit out at night around the fire sharing stories and knocking back a couple of cold ones.
$$
High ceilings and natural light
The #1 choice for all your downtown adventures, this VRBO in San Antonio has the best location! It is a few blocks from bus lines that go to other popular neighbourhoods, and it is super close to some of the city's best Tex-Mex restaurants. Yes and yes. We recommend this for friends and couples who are looking for some downtown fun but still want easy access to the rest of the city. The high ceilings, natural light, and cool neutral tones give this place a very relaxing feel.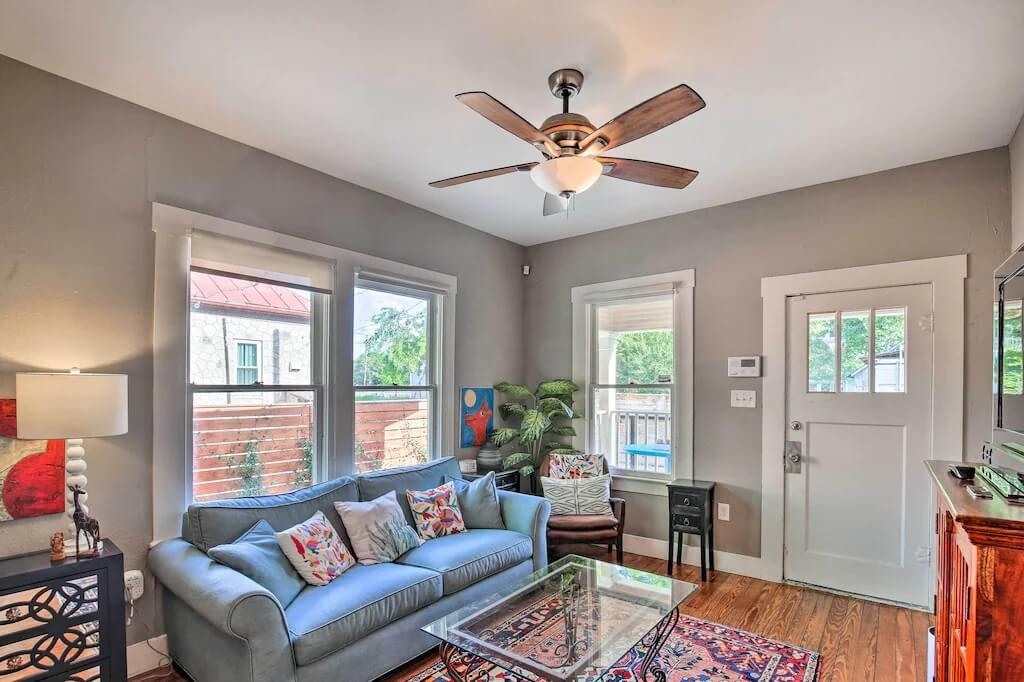 The best VRBO in San Antonio's Southtown area, this house is ideal for small families and is within walking distance of the River Walk, the Alamo, and Briscoe Western Art Museum. The house has ample outdoor space and seating, plus a fantastic grill for when you feel like a barbecue! The quirky, colourful, and sometimes antique decor and furniture make it a rental full of character that reflects the artsy neighbourhood.
Best VRBO in King William | Modern Condo
2 Guests
Pool and fitness room access
We think it's so cool that you can be in a historic neighbourhood and still stay in a modern condo! This place is ideal for couples who want to be able to walk around King William and admire the old buildings yet come home to a place with modern amenities and facilities. The high ceilings and large windows make the place feel large, plus there is a little balcony too!
$$
Cozy living area with a large couch
4 Guests
Backyard with patio
We absolutely LOVE this cute bungalow for small families and couples! It is in the historical King William area and only a short distance from the thriving downtown. The backyard is intimate and has outdoor seating and a couple of deckchairs too if you wanna top up that tan! The mismatched decor and furnishing give this place an artsy, local feel and the large teal sectional is just begging to be sprawled across. The house is fully equipped with a washer and dryer to boot, so you'll have the conveniences of home.
2 Guests
Pool access and rooftop lounge
This Southtown condo has drool-worthy resort-like amenities. We can confirm that there is a pool, as well as a poolside bar *screams*. The decor is an ode to that cowboy lifestyle you came to San Antonio to experience, and the bed is KILLER! Just what the doctor ordered for you newlyweds (wink).
Time to get that old text chain going and convince the gang that a San Antonio trip is the way to go! This house has the best outdoor space that everyone will enjoy, including outdoor seating, a sunken hot tub (jackpot!), a foosball table, and even a hammock. The inside is stylish and has tonnes of room with an open plan kitchen/living/dining area, so everyone can fit comfortably. The downtown location also puts you right by some of San Antonio's best bars.
$$
Professionally decorated feel
6 Guests
Fully equipped kitchen
This modern home in Southtown is great for a long-term stay in San Antonio! Whether you're a family, a group of friends, or a couple looking for an extended vacation, this lovely home has all that you could need. The kitchen is fully equipped with the usual modern appliances, but also has a blender, ice-maker, and coffee maker! It is a stone's throw away from local restaurants and bars and only a short walk to the downtown River Walk. The decor is clean-looking and clutter-free.
2 Guests
High-speed wifi and desk
The best VRBO in San Antonio for digital nomads, this modern studio in King William has high-speed wifi plus a desk to make working from "home" a breeze. It is within walking distance of restaurants, shops, bars, and other attractions so is the perfect base for you to explore the city. Great for couples or solo travelers, we like the mid-century modern vibe plus the little balcony is an added bonus!
12 Guests
Pool and tennis court access
You wouldn't believe me if I told you this place is smack bang in the middle of the city! If you're looking for a city escape (without the "city" part) then say no more! This amazing home is within 5-acres of garden and woodland with feature windows and outdoor living so you can really feel immersed in nature. It is just a short drive to downtown, but with a pool. tennis court, and children's outdoor play area, you'll find plenty of family fun without leaving the grounds!
This house is basically a giant playhouse for adults making it the ultimate VRBO in San Antonio for throwing parties! There is an indoor pool table, dartboard, and the all-important drinks fridge. Each bedroom has a tasteful pop culture theme, put me in the Pulp Fiction room, please! And best of all, it is just a short drive to local attractions for when you're all partied out. 
$
Amazing downtown location
An amazing steal, this San Antonio VRBO is smack bang in the middle of downtown, and right across from Market Square! It is modern, spacious, and bright, with a full kitchen and roomy bathroom. At night you'll have incredible views of the twinkling lights of the city, and a very inviting bed to lay your head on!
Don't Forget Your San Antonio Travel Insurance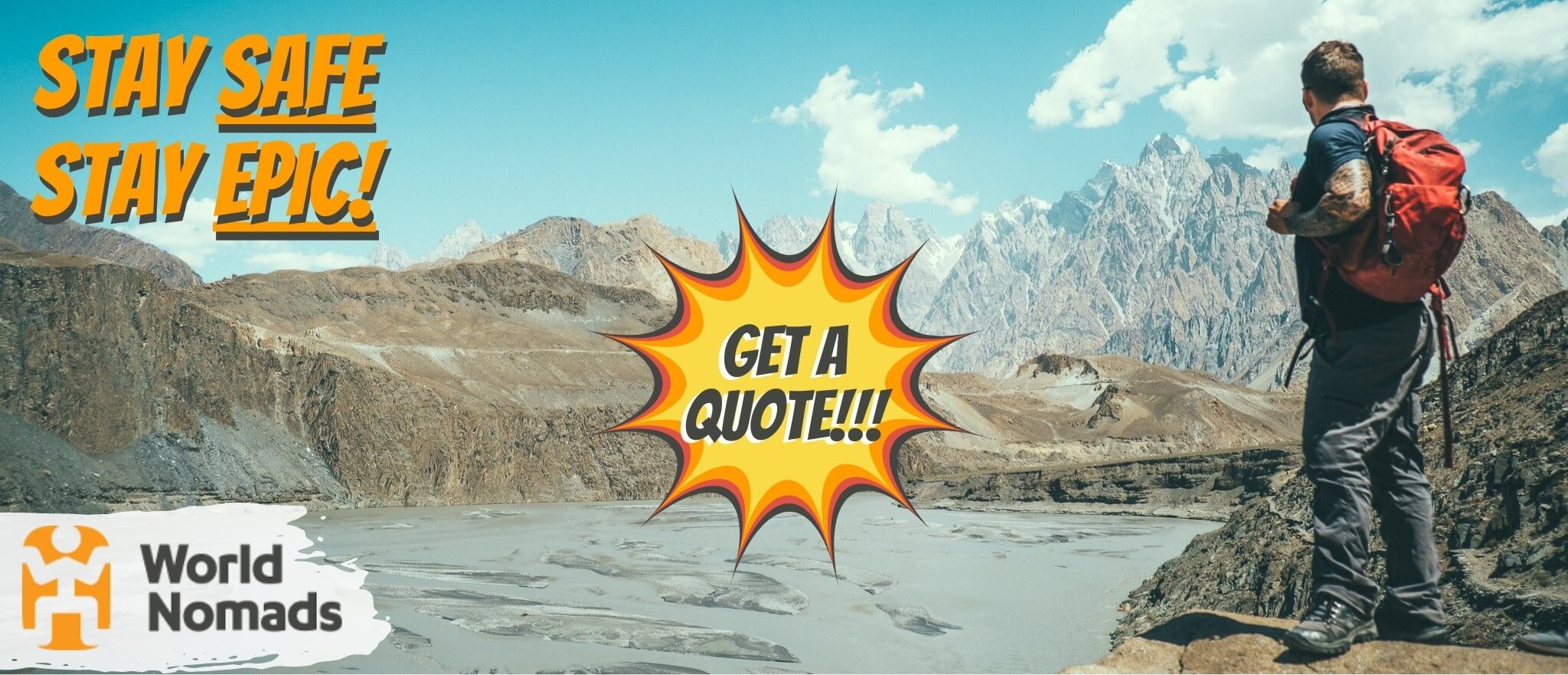 World Nomads' mission is to support and encourage travellers to explore their boundaries. They offer simple & flexible travel insurance, and safety advice to help you travel confidently.
They've been doing it since 2002 – protecting, connecting, and inspiring independent travellers just like you.
Get a quote below or read our in-depth review!
Final Thoughts on San Antonio VRBOs
In case you didn't realize we love, love, LOVE the VRBOs in San Antonio. From modern downtown condos to quirky historical cottages, this city has it all, and then some! Everywhere is within easy access of all the city has to offer, and has quality facilities and amenities that beat, I mean… rival, conventional hotels.
If you're hesitating, don't! Get on it and book a San Antonio VRBO today, as they are the best way to experience the city's amazing culture, food scene, and history. Just a few pearls of wisdom before I let you leave, it is ALWAYS a good idea to consider getting travel insurance, especially if you're going abroad!
---
Bye for now, but not forever!
If you want MORE top-tier Broke Backpacker content like this, then sign up for our weekly newsletter below to get the latest and greatest!
And for transparency's sake, please know that some of the links in our content are affiliate links. That means that if you book your accommodation, buy your gear, or sort your insurance through our link, we earn a small commission (at no extra cost to you). That said, we only link to the gear we trust and never recommend services we don't believe are up to scratch. Again, thank you!