A city steeped in colonial history; San Antonio should be on the itinerary of any traveller heading to Texas. Most famously the site of the Alamo battle, where Texas gained independence from Mexico, it's a history buff's dream. There's plenty for those who aren't so interested in the history side though! Think a great restaurant and bar scene, and a number of fascinating museums too. If all that's not enough, there are plenty of green spaces and outdoor attractions should you want to escape the hustle and bustle of the city.
In this article, we'll take a closer look at 11 of the best places to visit in San Antonio. They've been carefully selected especially for you so that you can really make the most of your trip to the city! But first, let's have a look at the best places to stay in San Antonio.
Need a place quick? Here's the best neighbourhood in San Antonio:
BEST AREA IN SAN ANTONIO
Riverwalk
Bursting with life and colour, the Riverwalk is a lively neighbourhood day and night. Whether you head for a stroll along the waterways, pop over to the famous Alamo, or opt for a rowdy night on the town, you won't have to look very far for something to do in San Antonio's Riverwalk neighbourhood.
Places to visit:
Admire the decoration and the architecture of the ornate Majestic Theatre.
Have your mind blown at the Guinness World Records Museum.
Take in the panoramic views from the Tower of the Americas.
These are the BEST Places to Visit in San Antonio!
There is immeasurably more to San Antonio than meets the eye meaning that choosing the best neighbourhood to stay in can be overwhelming. Be sure to check out the best places to stay in San Antonio first, according to what's closest to the attractions you'd like to see first!

Unlock Our GREATEST Travel Secrets!
Sign up for our newsletter and get the best travel tips delivered right to your inbox.
#1 – The Alamo – Possibly one of the most important places in San Antonio
Site of the battle where Texas gained independence from Mexico
Not only one of the most famous landmarks in San Antonio but the whole of Texas!
See artefacts belonging to Davy Crockett and James Bowie
Why it's awesome: This one has to be at the top of a San Antonio itinerary. History buffs will undoubtedly love it, but anyone can enjoy learning about the past of the Alamo. It was here in 1836 that the Mexican president staged a 13-day siege which was the beginning of Texas' struggle for independence. As it's a San Antonio must-see, it's best to get there early in the morning or in the late evening, otherwise, you'll be swamped with crowds!
What to do there: You can visit the Alamo under your own steam, but if you really want to learn more about this fascinating place, consider taking a guided tour. An expert guide will give you the full story of the colonial church. If you choose not to take a tour, you'll be glad to know that it's free to enter so you'll have more money to splurge on some other cool activities on this list! If you don't take the tour, then you can always pop into the museum and the research library to find out more!
#2 – San Antonio Missions National Park – One of San Antonio's coolest historical sites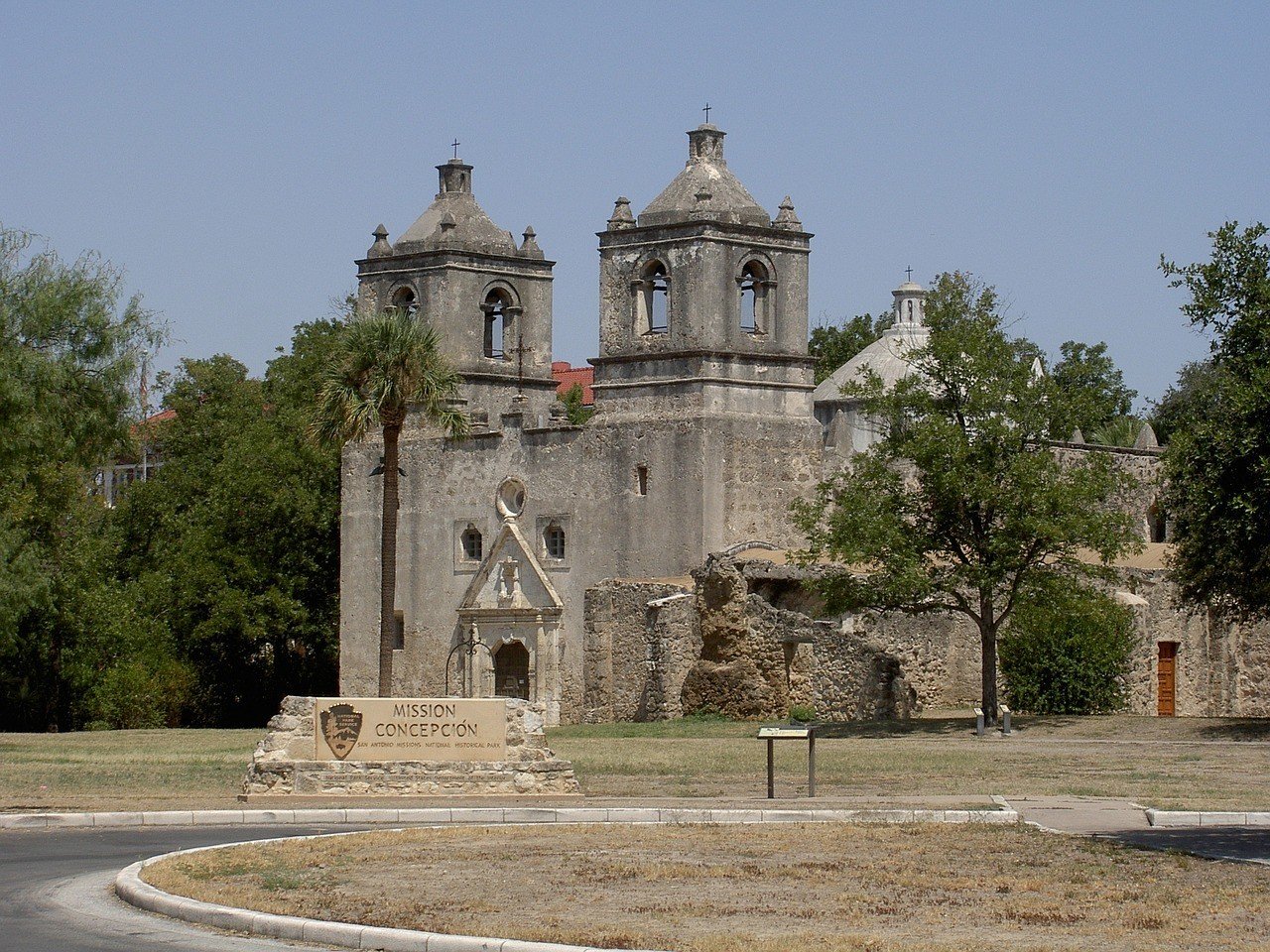 Free tours of some of the most important colonial churches in Texas
Don't miss the frescoes at Mission Concepción – they're beautiful!
A San Antonio must-see for history buffs
Why it's awesome: Missions National Park is one of the most important historical sites in Texas, and it's another one that's free to visit. Brush up on your colonial history in these spectacular 18th-century churches, four of which dotted along the San Antonio River. The missions are a symbol of the success of spreading Catholicism through the southwestern United States and into Mexico. Not only are there churches in the Missions National Park, but you'll see remains of other buildings too. Think granaries, workshops, and watermills!
What to do there: Each mission is located around 3 miles from each other, so it's a good idea to take a guided tour, where you'll learn about how the friars of the missions lived peacefully alongside Native Americans. You could set aside an entire day to explore the area under your own steam. If you wish to do that, there are plenty of trails between them suitable for both hiking and biking. Spend some time at each mission, as their all unique. Romanesque arches are the top sight at San Juan, while the frescoes at Concepción are jaw-dropping!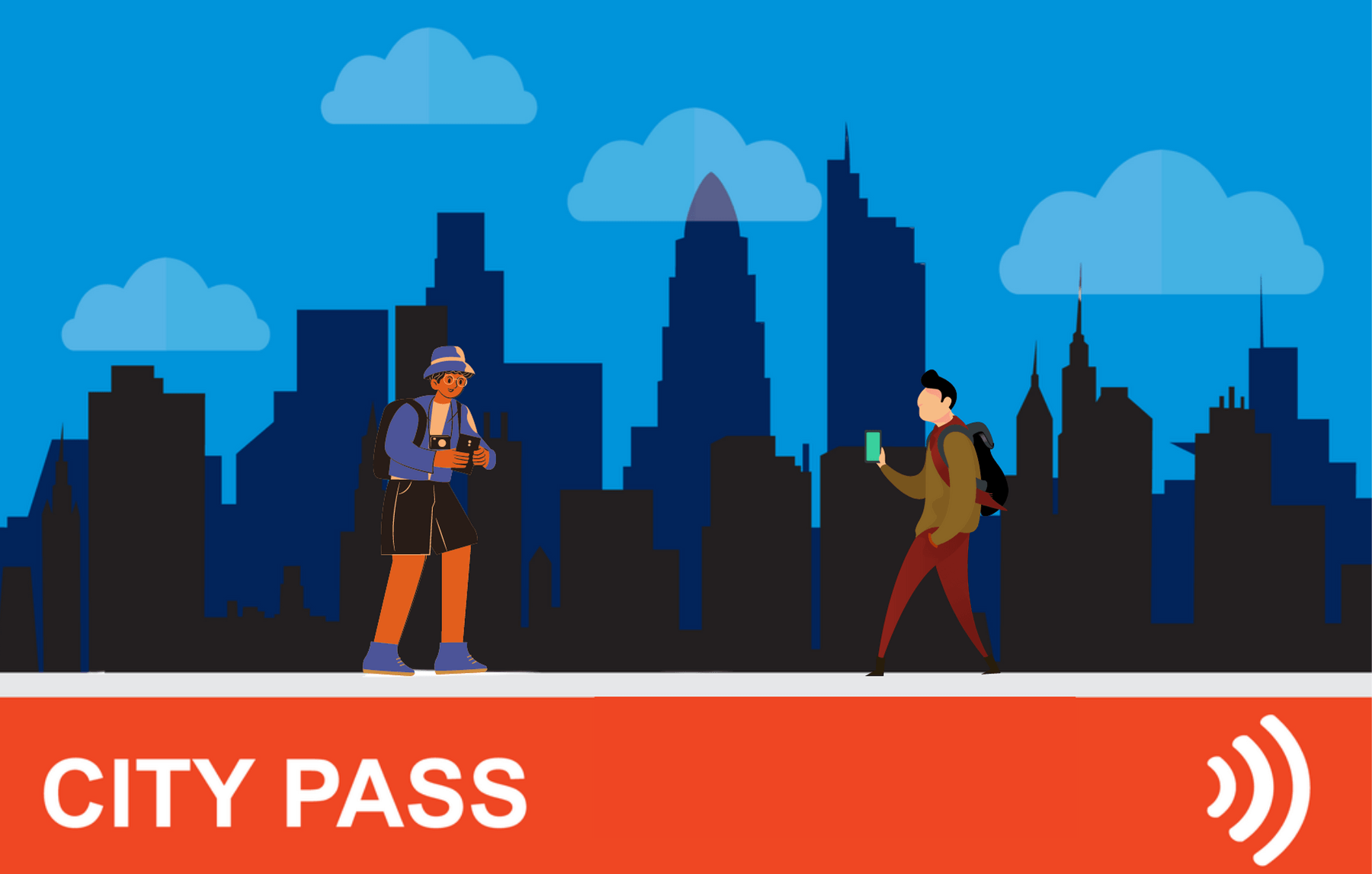 Travelling to San Antonio? Then plan yo' trip the smart way!
With a San Antonio City Pass, you can experience the best of San Antonio at the CHEAPEST prices. Discounts, attractions, tickets, and even public transport are all standards in any good city pass – be sure invest now and save them $$$ when you arrive!
Buy Your Pass NOW!
#3 – Bracken Cave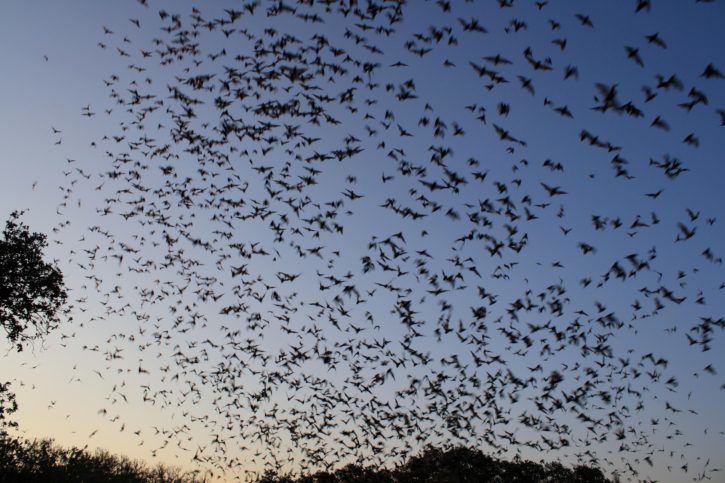 Visit at dusk
Over 20 million bats call this place home!
One of the best places in San Antonio for nature lovers!
Why it's awesome: It may seem like there's not a lot to do in San Antonio if we're having a bat cave so high on our list, but this one is pretty special. Every summer, between March and October, 20 million bats roost in this cave. That doesn't just make it the largest bat colony in the world, but one of the largest concentration of mammals to be found anywhere on earth! So, get down here at dusk at witness the incredible natural event of all these tiny mammals flying out to hunt. It's a magical experience!
What to do there: It's quite a beautiful natural setting, so while you're waiting for the bats to come out at dusk, admire the surrounding landscape. You're bound to be spellbound when the bats do actually come out, so that will certainly make up for any boredom you feel during your wait! Unfortunately, the bat colony is under threat due to a building development opposite. So, heading there is a good idea as it may not be the same in a few years' time.
#4 – San Antonio River Walk – A must visit place on the weekend in San Antonio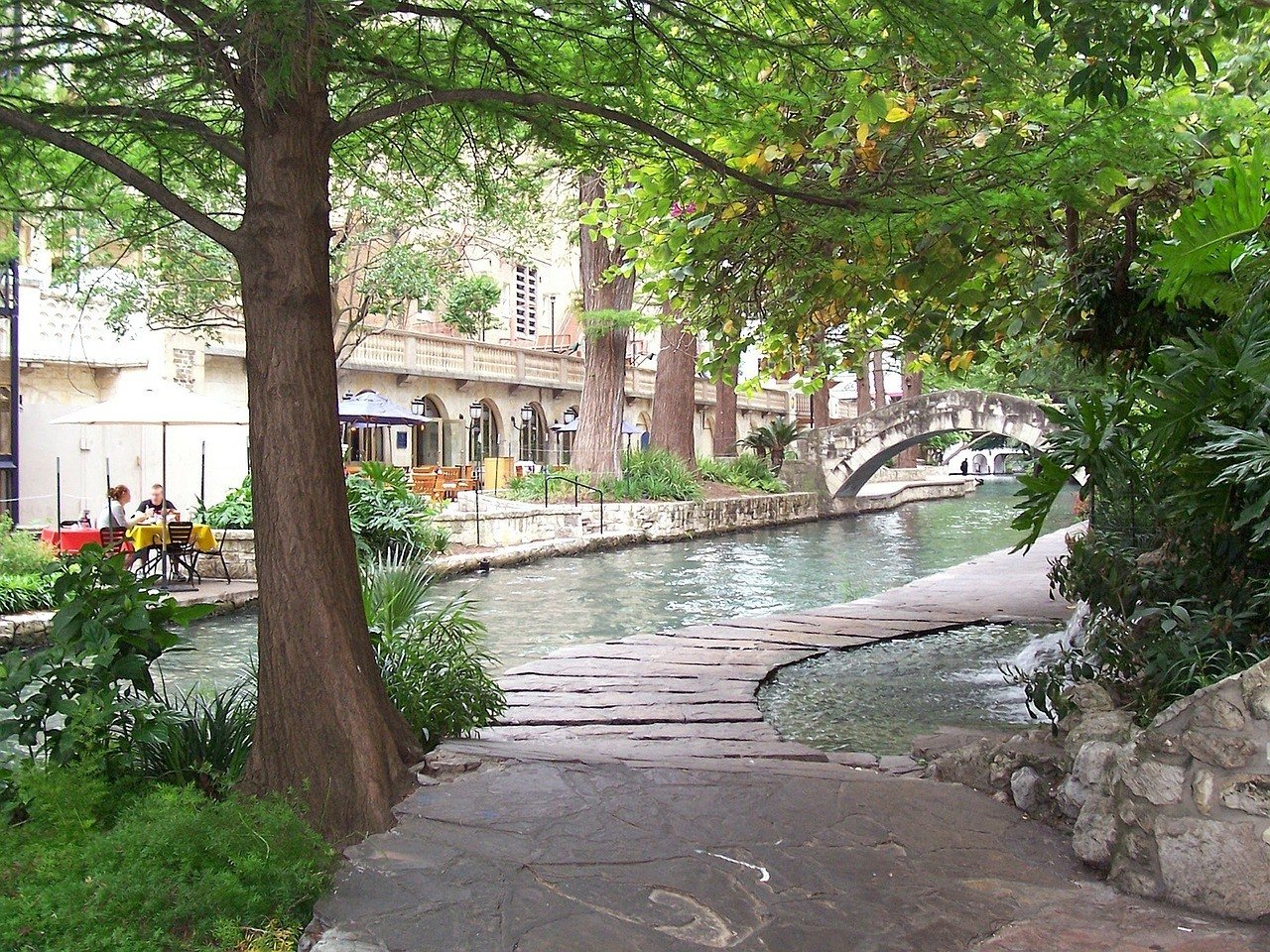 Connects major SA attractions like the Museum of Art and Brackenridge Park
One of the most visited attractions in San Antonio
Also home to some of the best places to eat in San Antonio
Why it's awesome: Many people say that there's no better way to see San Antonio than taking the Paseo del Río. If you want to do the whole walk, it's 15 miles long but most people just stick to the part which goes through the city centre. Flanking the walk, you'll find great restaurants and cafes to duck into if the weather gets too hot. Enjoy some traditional tex-mex food or a coffee under brightly coloured umbrellas! If you're visiting in January, you're in luck as you can enjoy the River Mud Walk Festival and Parade, where the river is drained, and the bed is used for celebrating!
What to do there: A leisurely stroll along the river is our number one recommendation for the River Walk, unsurprisingly! However, if you find it too crowded or you want to properly relax, take a boat cruise. Admiring the promenade from the water shows another side to this cool area. If a boat cruise is too expensive, there's also a river taxi which makes regular stops and won't be as heavy on the wallet!
#5 – Historic Market Square – A great place in San Antonio if you love to shop!
Visit the largest Mexican market in the United States
Pick up some cool souvenirs for friends and family
One of the most famous places in San Antonio
Why it's awesome: If you think about it, there's no way the largest Mexican market in the United States couldn't be awesome! Historic market square is set over 3 blocks in the centre of town and has everything you could possibly want to fill any extra space in your backpack! Brightly coloured clothes, handcrafted souvenirs, and a great atmosphere all await you at this cool spot. It's a feast for the senses too, Mexican spices, delicious food, and the sound of Mariachi are all par for the course too!
What to do there: Buying a souvenir or two is a must at the Mexican market. However, window shopping is just as fun as you never know what to expect. The 100+ stores in Historic Market Square have been passed from generation to generation, so it's a great place to chat to locals and find out more about their lives too! And what else do you think of when it comes to Mexico? That's right, food! Happily, there are plenty of spots to get a taco or an enchilada here!
#6 – HemisFair Park and the Tower of the Americas
Get jaw-dropping views of the Alamo City
One of the most recognisable landmarks in San Antonio
Located in HemisFair Park
Why it's awesome: If you want to get a panoramic view of the Alamo City, there's nowhere better to do that than here. The Tower of the Americas stands 750 feet above HemisFair Park in downtown San Antonio, and the observation deck provides spectacular views of the skyline and beyond! After visiting the tower, you can enjoy more activities in HemisFair Park. It's here that you'll find the Texan Institute of Cultures and some pretty fountains. You're in luck if you're travelling with kids too, as there's a playground!
What to do there: If you're not afraid of heights, then don't miss heading up the 750 feet Tower of the Americas. It's definitely the best place from which to explore San Antonio from above! You may even be able to spot your downtown Airbnb. There are regular events in HemisFair Park too. These include things like Art in the Park and Story Time. You could definitely spend a few hours relaxing here, and if you're travelling with kids they're sure to be quite content with all the cool stuff on offer too!
#7 – Natural Bridge Caverns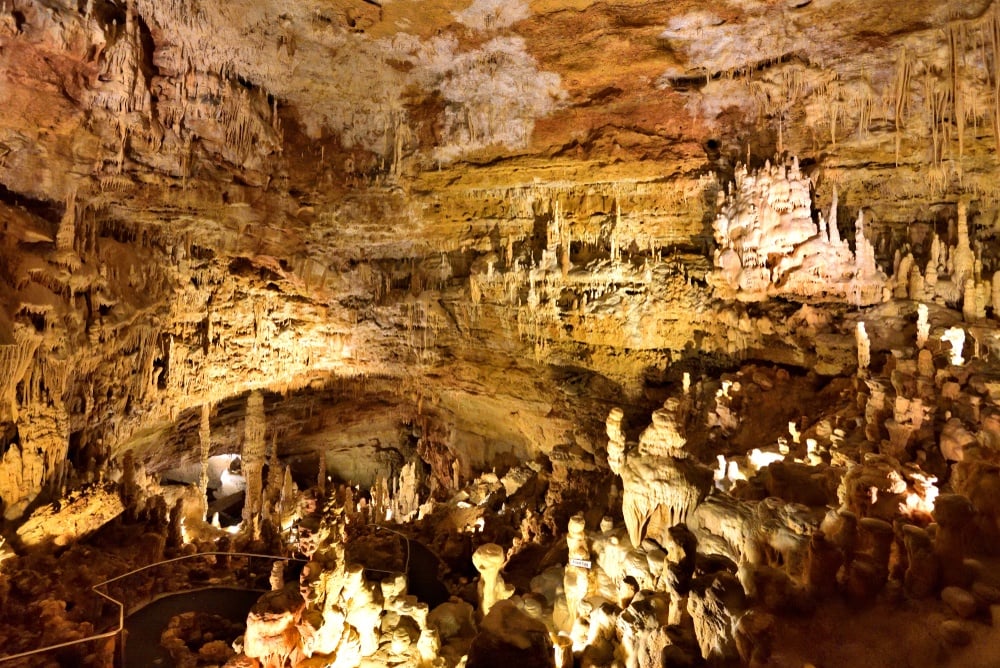 Explore the biggest commercial cave system in Texas
Take an underground lantern-lit tour
Have a go at zip lining or the underground rope course!
Why it's awesome: The Natural Bridge Caverns are one of the most popular attractions in San Antonio for locals and tourists alike. And it's not hard to see why! The name comes from a huge limestone arch that spans the entrance to the caverns – it's almost 60 feet long! The bridge is suspended as a sinkhole collapsed beneath it, but don't worry, it's all stable now. The commercial cave system is made of two levels – one above ground and one below. Above the ground, you can enjoy shopping and dining, while below ground is where the real fun is!
What to do there: There are plenty of choices. However, you can shop and dine in many parts of San Antonio, but you can't do a Subterranean cave tour everywhere. So, we'd make that the first thing on your list! By the light of lanterns, wander through the caves and explore the hidden passages. Don't worry, your guide will know the way back! There's also ziplining, a rope course, and gem mining above ground, so if you have the time, these aren't a bad shout either!
#8 – Brackenridge Park – One of the most incredible free things to do in San Antonio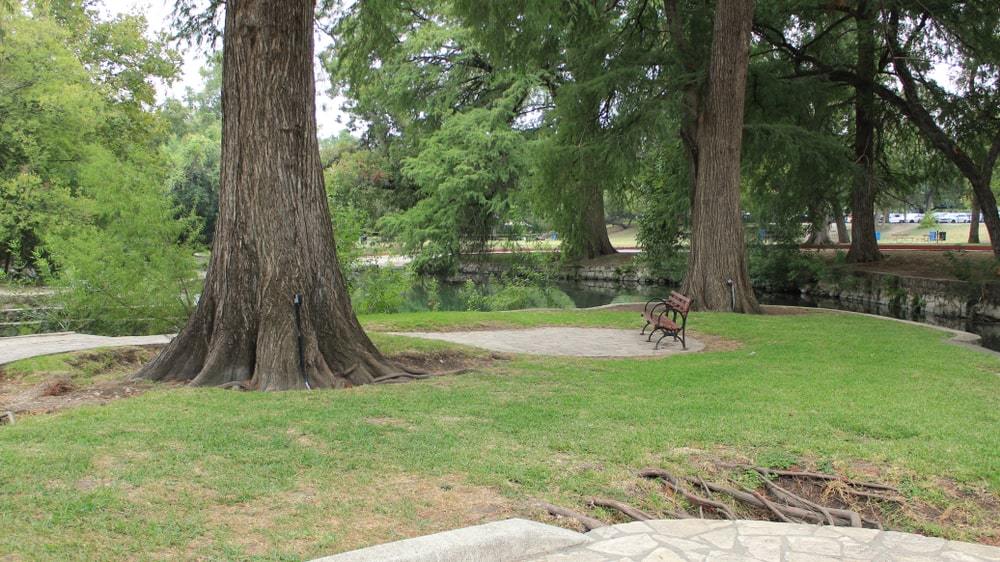 The perfect place to escape from the hustle and bustle of the city
Take a leisurely stroll along the scenic walkways
Try the Japanese Tea Garden for a truly relaxing spot
Why it's awesome: Brackenridge Park is the city's biggest park and a perfect antidote to the busy River Walk. It's set across 343 acres and is home to a number of other attractions. These include the San Antonio Zoo, Botanical Gardens, and Japanese Tea Gardens to name just a few. If you want to just soak up the sun, there are plenty of places to throw down a blanket and catch some shut-eye or enjoy a book too.
What to do there: For sheer variation of activities on offer, Brackenridge Park is one of the best places to visit in San Antonio. If you want to keep your workout regime going when you're on vacation, then why not dress down and take advantage of the park's jogging trails. There's an athletics track too and a golf course if you're looking for more intensive activity… okay, maybe golf isn't THAT intense! The park is also home to the zoo and the Witte Museum, so plenty of spots to learn about natural history too!
#9 – The Quadrangle – A nice quiet place to see in San Antonio
Visit the oldest building in the Fort Sam Houston neighbourhood
A free and open wildlife garden
Easily one of the most peaceful landmarks in San Antonio
Why it's awesome: The Quadrangle has a lot going for it. Not only is it the oldest building in the Fort Sam Houston neighbourhood, but deer, peacock, and rabbits freely wander around. Legend has it that the animals were brought here in 1886 to make the Apache leader Geronimo more comfortable during his imprisonment. There are other stories too, but we'll probably never know the actual reason! You can admire the Quadrangle's clock tower too, although you'll need superhuman eyesight to read the plaque fixed to the top!
What to do there: This is the perfect place to spend a morning or afternoon just disconnecting from everyday life. Even vacations can end up stressful, what with all the planning and searching for the best places to eat and drink, but you'll be able to forget all of that here. The animals are tame, meaning that you can occasionally pet and feed them, which is a lovely experience! Incredibly, among all this peace and quiet, Fort Sam Houston, which the Quadrangle is part of, is an active US military base!
Is This the Best Daypack EVER???
#10 – The Buckhorn Saloon and Museum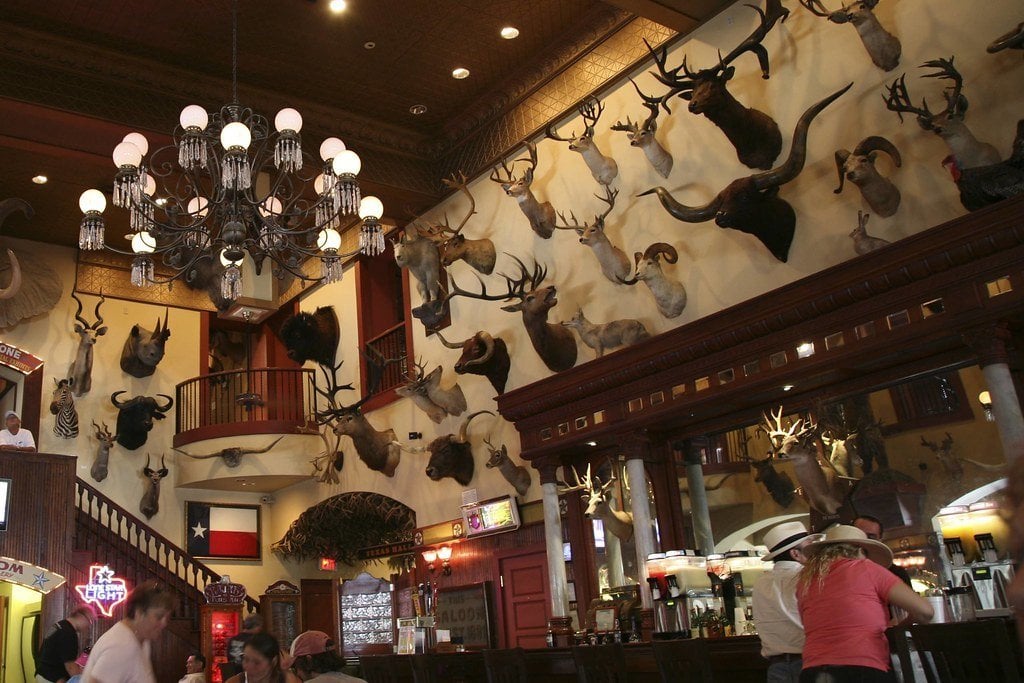 See what happens when you accept animal pelts and heads as payment for drinks!
Check out the museum's unusual taxidermy
One of the most unusual things to do in San Antonio
Why it's awesome: If you're into unusual taxidermy and bizarre history, then the Buckhorn Saloon and Museum should be at the top of your San Antonio itinerary. This curiosity is exactly what happens when you decide that deer and cougar heads are an adequate substitute for actual money when selling drinks! The original owner was a skilled furniture maker so it's not only the animals on the wall that are unusual and interesting. It may be cool, but this is one to avoid if you're a vegan!
What to do there: Have a drink in a traditional Texan saloon with a twist! Admire the rattlesnake rattle folk art (made by the original designer's wife) and see the furniture that was coveted by Kaiser Wilhelm. When you've finished your drinks, head into the museum. It's here that you'll find some of the really odd stuff! There's a 'mermaid' made up of equal parts monkey and fish, and a manboon! There's some seriously impressive real stuff too, such as the 10,000 year old prehistoric elk.
#11 – Six Flags Fiesta Texas – Easily one of the most fun places to checkout in San Antonio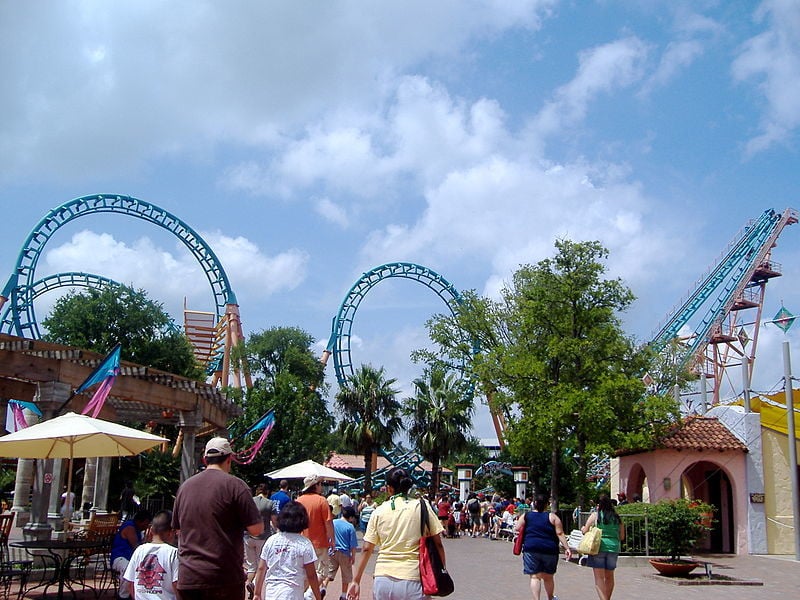 A great day trip 17 miles out of the city
Over 50 rides and attractions
Head to the water park for relief on a hot summer's day!
Why it's awesome: Let's end on the perfect place that's fun for all the family! Six Flags Fiesta Texas is a safe bet no matter who you're travelling with, as there are so many things to do here. Did adrenaline fuel thrill rides? Check. A water park to cool off? Check. Shopping and restaurants for when you need a break from all the fun? Check that too! It's a great place to spend a day, although that might not even be enough!
What to do there: If you're travelling with young kids, then there are lots of rides to keep them entertained which are fun, but not scary and dangerous. If you've got teenagers, they'll love the thrill rides. The best spot is the water park though. It can get so hot in the Texas sun that being able to cool off in the lazy river or shoot down a gigantic slide is a perfect tonic. Round off the perfect day at Six Flags Fiesta Texas with the nightly fireworks show!
Get insured for your trip to San Antonio!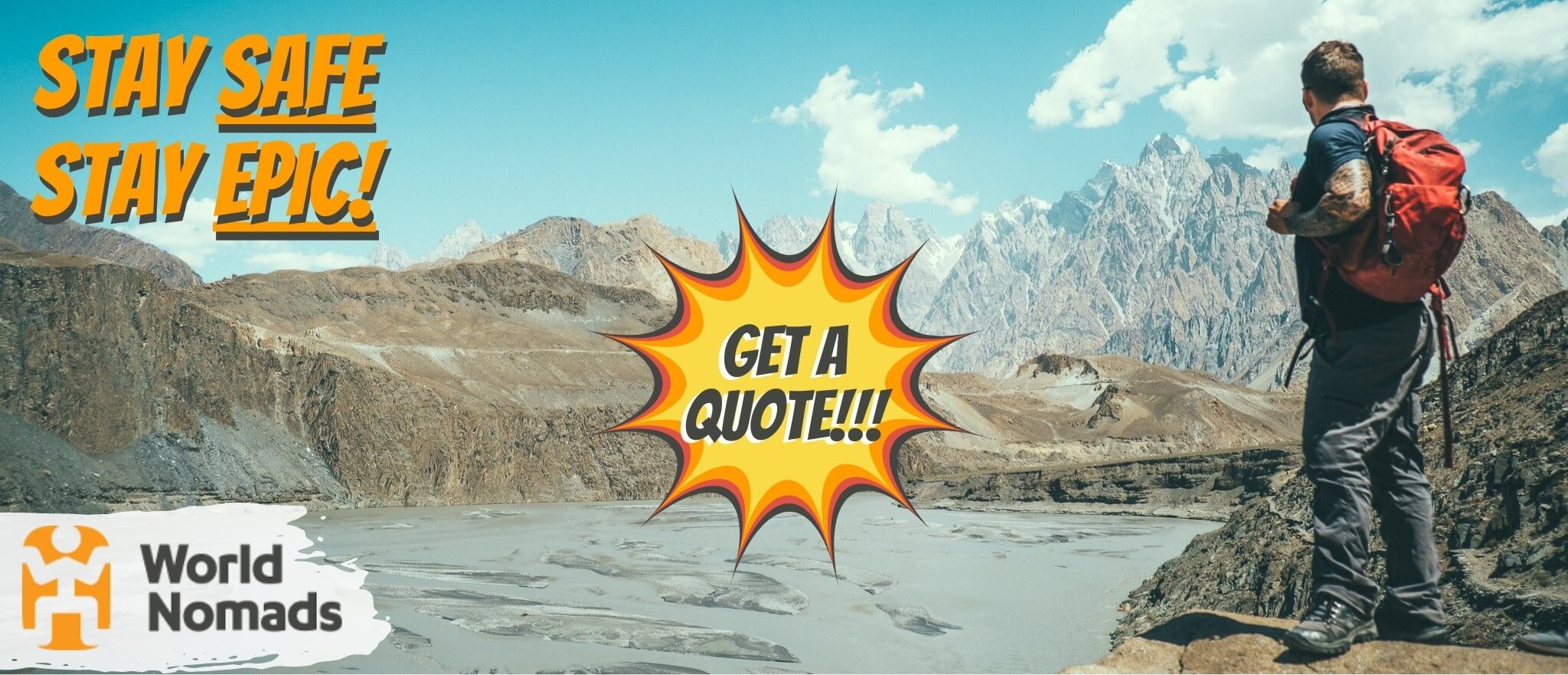 World Nomads' mission is to support and encourage travellers to explore their boundaries. They offer simple & flexible travel insurance, and safety advice to help you travel confidently.
They've been doing it since 2002 – protecting, connecting, and inspiring independent travellers just like you.
Get a quote below or read our in-depth review!
World Nomads provides travel insurance for travelers in over 100 countries. As an affiliate, we receive a fee when you get a quote from World Nomads using this link. We do not represent World Nomads. This is information only and not a recommendation to buy travel insurance.
FAQ on the Best Places to Visit in San Antonio
Find out what people want to know about the best places to visit in San Antonio
Final Thoughts
So, that concludes our list of the best places to visit in San Antonio. Although the Alamo is a super cool place to visit, we hope that you've seen that there's more to the city than just that! We also hope that you have a better idea of the best places to stay in San Antonio too!
Whatever you end up doing, we're pretty sure that you're bored. Our list offers a great variation of stuff to add to your San Antonio itinerary, from quirky and unusual museums to peaceful gardens, to great places to shop. You'll even find some of the best places to eat in San Antonio hidden away in a couple of our recommendations!
Not only will you know all about the best places to visit in San Antonio, but you'll also be able to experience the city like a local, as there are a couple of spots on here that are loved by locals just as much (if not more) than by tourists. All that's left is for us to wish you a great vacation in San Antonio!
---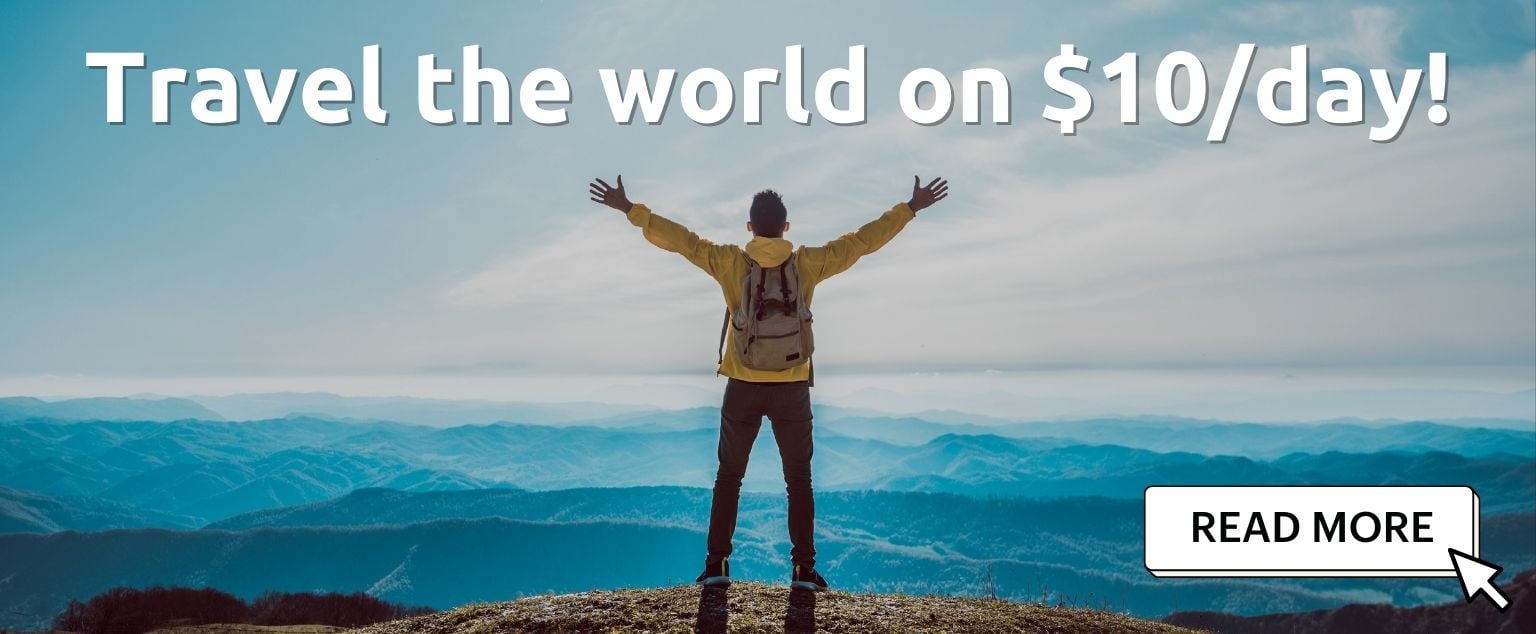 And for transparency's sake, please know that some of the links in our content are affiliate links. That means that if you book your accommodation, buy your gear, or sort your insurance through our link, we earn a small commission (at no extra cost to you). That said, we only link to the gear we trust and never recommend services we don't believe are up to scratch. Again, thank you!