San Antonio is one of the cities in Texas that you really can't miss. It celebrated its 300th anniversary in 2018, and it's a blend of culture, history, and good old Southern charm. It was here that Texas gained independence from Mexico in 1836, and a visit to the 18th century Alamo Mission where that happened has to be top of any itinerary. For modern culture and nightlife, you'll want to head to the River Walk area – one of the hottest spots in town!
With so much to do here, it can be tricky picking the right place to stay. Hostels and hotels are great, but if you want something a little more homely and characterful, consider an Airbnb in San Antonio. There's a lot of choice – including loft apartments, entire historic houses, and charming homestays.
In this post, we'll take a look at the best of the best when it comes to rentals in San Antonio. We've scoured through Airbnb so you don't have to, and we've put together this extensive list. Hopefully, it'll help you plan where to stay and leave you more time to focus on the important stuff! So, let's jump right in and check out these cool places to stay in San Antonio.
In a Hurry? Here's Where to Stay in San Antonio for One Night
FIRST TIME IN SAN ANTONIO
Historic River Walk Loft Apartment
Effortlessly combining the old with the new, this is a 19th Century carriage house which has been tastefully modernised. It is great value and a short distance from the San Antonio river walk so you're in a great position to explore the town.
Places to visit:
San Antonio River Walk
The Historic Alamo!!
Bars, restaurants & shops all in commuting distance
Is this amazing San Antonio Airbnb booked for your dates? We've got your back with our other favorite properties below!
Quick Answer: These are the Top 5 Airbnbs in San Antonio
OVERALL BEST VALUE AIRBNB IN SAN ANTONIO
OVERALL BEST VALUE AIRBNB IN SAN ANTONIO
Historic River Walk Loft Apartment
> $$
> 2 guests
> Kitchenette
> Private backyard with BBQ
BEST HOMESTAY IN SAN ANTONIO
BEST HOMESTAY IN SAN ANTONIO
Yellow Door Apartment
> $
> 2 guests
> Awesome location
> Private back entrance
BEST AIRBNB FOR COUPLES IN SAN ANTONIO
BEST AIRBNB FOR COUPLES IN SAN ANTONIO
Rich Hued Urban Retreat
> $$$
> 2 guests
> Great location
> King Bed
BEST AIRBNB FOR FAMILIES IN SAN ANTONIO
BEST AIRBNB FOR FAMILIES IN SAN ANTONIO
Large Historic house with pastries
> $
> 6 guests
> Breakfast included
> Lots of games
BEST LUXURY AIRBNB IN SAN ANTONIO
BEST LUXURY AIRBNB IN SAN ANTONIO
Historic King William Home
> $$$$
> 8 Guests
> Free car parking
> Stylish and contemporary
Why Stay in an Airbnb?
Local Experience
Airbnb gives travellers the unique opportunity to live "like a local." If you decide to book a shared home with your host, you get to look inside a local's daily life, learn about their culture and you might even be able to taste some traditional home-cooked meals.
There are few other ways short-term travellers can get into the homes and lives of locals, so this is a great way to create new connections. As an added bonus, you'll contribute to the local economy and build relationships.
Reach out to your host with questions about things to do or where to eat and they will be happy to help out and give you the best spots and tips. Don't be shy, Airbnb hosts are known for their caring and open hospitality.
And who knows? Next time you might be staying as a friend and not as a paying guest! (No promises though.)
Affordability
Basic backpacker or fancy business person? Airbnb aims to create a cosy escape for EVERY type of traveller! No matter your budget, you'll find something within your price range, from an entire home to a room in a shared house. There are over six million unique places to choose from.
Some places only charge per night and not per person. This usually works out a lot cheaper for big groups like families or if you are travelling with friends. Just split the bill at the end and everyone benefits!
Even the smaller rentals sometimes have more than one bedroom or a pull-out couch. Remember to request extra linen whenever you want to make use of that and your host will provide you with everything you need. To make sure your place is exactly what you're looking for, you can also filter the rentals for amenities like kitchen, TV, Wifi and much more.
Safety
Are Airbnb reviews legit? Airbnb wants every guest to be safe so they created a world-class review system where tenants are encouraged to be honest about their experience because it stays invisible until the reviewing period has locked.
Guests are given the power to tell the truth and "make or break" the place they stayed at since the platform forbids the owner to change or remove the review. Every comment you can read on Airbnb is based on finished stays and experiences. Plus, some hosts often depend on the money they earn renting their property and one bad experience from any guest would devastate their income. It might be a bleak perspective, but hey, that's something of a guarantee you'll be cared for!
Airbnb also has a 24/7 emergency line with someone ready to assist you. In the worst case, Airbnb will provide a driver or make sure you find a safe place. If you choose this booking platform, you will always be in good hands, without any doubt.
Want to keep your money safe?
You should always have emergency cash hidden on you – pick up this awesome security belt with its hidden pocket before you travel, it's perfect for hiding money, a passport photocopy.
The Top 15 Airbnbs in San Antonio
$$
2 guests
Kitchenette
Private backyard with BBQ
Let's kick off with the best value Airbnb in San Antonio. Even though the décor is cool and modern, it's located in a 19th century carriage house. So, it's certainly got a lot of character! It's a hop, skip, and a jump from the iconic San Antonio River Walk, so you're in a great position to get out and explore the town. Not to mention the awesome nightlife, bars, and restaurants… Or the museums and galleries during the day. If you'd prefer to stay in on an evening, enjoy a backyard BBQ under the stars!
Best Budget Airbnb in San Antonio – The Elvis Room
$
2 guests
Breakfast included
Laundry room on request
It may be a little further out of the city centre than some of the other apartments on this list, but that's not a bad thing. The Elvis room is the best budget Airbnb in San Antonio and it's still within easy reach of the Alamo and the River Walk on public transport. Although you don't have to splash out too much here, you still get a comfortable double bed and access to the house's common areas. These include a front porch, a back deck, and a sky deck where you can chill out and relax!
$
2 guests
Laptop friendly workspace
Complimentary Breakfast
Digital nomads usually travel long term, and sometimes it's nice to get somewhere that is a little more homely than your standard hostel or budget hotel. If that resonates with you, check out the little cottage and its enchanted garden. It's charming and cute, but most importantly it's perfectly suited to you working on your laptop. There's speedy Wi-Fi and a desk where you can set up your computer. Even better – there's a lovely veranda outside where you can enjoy the fresh air either for work or leisure!
$
2 guests
Free Wifi
Indoor fireplace
Sometimes solo travellers just need a break from a hostel, without being totally isolated from other people. So, a private room is a good idea, right? Certainly, one this nice and this reasonably priced. There's a private bathroom and entrance, so you'll get all the peace, quiet, and me-time you need. However, you've got a friendly host on-site should you need to ask anything or get any recommendations for San Antonio. You can also make use of the patio and the sunroom! If you've got plenty of clothes to wash or you want to cook, you're able to use the kitchen and laundry in the main house!
The Best Travel Backpack?!
Pssssst! Not picked the perfect travel backpack yet? The Broke Backpacker team has tried out over thirty backpacks this year! Our favourite carry on backpack is the Nomatic Travel Bag.
Read our full review!
$$
4 guests
Awesome location
Smart TV with Netflix
There's nowhere better in town for nightlife than the awesome River Walk. For one of the best San Antonio Airbnbs nearby, check out this place. A lot of River Walk apartments are quite small but this one can fit up to 6 guests – ideal for a group of friends planning on hitting the town! If you end up with a hangover the next day, you can use the Keurig coffee machine and fully equipped kitchen to prepare something greasy to soak up all the alcohol. Then, settle down in front of the Smart TV for your favourite series or film on Netflix.
$$$
2 guests
Great location
King Bed
A queen bed, lots of light, and a big comfy living room. All something that sets this awesome San Antonio apartment out from the rest. And when you're travelling as a couple, you'll want somewhere that's just that cut above. It's a block away from all the great restaurants, bars, and nightlife of the River Walk. The Buckthorn Saloon and Guinness World Records Museum are just a hop, skip, and a jump away too. Not that you need to leave the apartment for a good time – you can just as easy curl up on the sofa in front of a movie!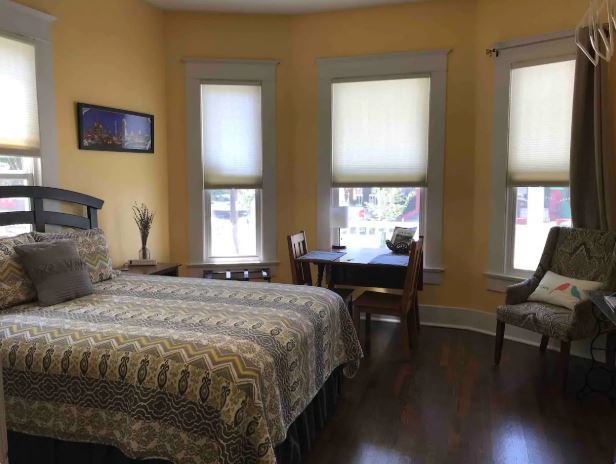 $
2 guests
Awesome location
Private back entrance
When a listing starts off with "we'd love to host you as you enjoy our awesome city", you know it's not your average rental. No, it's the best homestay in San Antonio! You and a travel buddy can share your own private room and bathroom, while your hosts are still on hand to help you with any concerns or questions you may have. If you're a long-term solo traveller and you've been missing your furry friends back home, the good news is there are some dogs here! They'll say hello but won't invade your privacy.
$
2 guests
Extreme speed wifi
Freshly ground coffee
There are so many awesome homestays in San Antonio that we couldn't just leave it at one. This great place is a private room where you can adjust the climate with your voice! The Wi-Fi is super quick and there's a space to work. Add in the freshly ground coffee on offer and this is another awesome San Antonio short term rental for a digital nomad! Another great thing about this property as there are none of those pesky cleaning fees that sometimes double the price of your booking!
The little touches here are seriously cool and make this homestay feel like your home.
$$$
6 guests
Fully equipped kitchen
Front porch rocking chairs
It may not be right in the centre of downtown on the River Walk, but then again, that means you're guaranteed a good night's sleep in a quiet environment! And that's one of the aspects of luxury, is it not? This awesome San Antonio Airbnb has some stuff you won't find anywhere else in town, such as rocking chairs on the front porch, and a backyard firepit. This traditional cottage manages to blend old-world charm with modern conveniences, and it's the ideal luxury Airbnb in San Antonio!
$$$$
8 guests
Free car parking
Stylish and contemporary
If you're happy to really splash the cash, then look no further than this Historic King William House. It really is a home away from home – in fact, for a lot of people it would be something like their dream home! The open plan kitchen has lots of indoor brickwork, exposed wood, and plants which will put you in a zen-like state of mind. You can fit up to 8 people in this awesome home, so although it's an over the top luxury San Antonio Airbnb, you might be pleasantly surprised with the overall bill!
$
6 guests
Breakfast included
Lots of games
This 3 bedroom house can comfortably sleep 6 guests, but at a squeeze you can 12 in. Equipped for all ages, it's the perfect San Antonio Airbnb for the entire family. Life is made simple by a voice-activated Alexa downstairs and you'll rest easy in your beds knowing there's a security system. Should the kids get bored, there are plenty of games and even an Xbox 360! Best of all, you can breakfast for up to 6 guests – and who would say no to fresh pastries in the morning?!
$
5 guests
Great location
Vibrant and colourful
Airbnb itself has named this as the most popular short term rental in San Antonio in the past. So, you know it's good! This 1930s home is colourful, vibrant, and can fit in up to 5 guests. Its location near the River Walk means that you're never far from an awesome night out or a cool activity to do together. If you want to stay in, pick something from Apple TV or pull out a DVD to watch on the 47 inch TV!
The decor is very chic and cool so it's a great pad for you and your buddies to hang out in.
$$$
2 guests
Laptop friendly workspace
Nest Climate Control
We know you've seen a lot around the River Walk already, but in such a great area you can never have enough choice. This one-bedroom apartment would be an awesome base for a couple or a business traveller! You'll already know that it's within walking distance of the Alamo and other great central attractions, so let's talk about the apartment. There's a smart TV, quick Wi-Fi, Nest Climate Control, and security cameras. So you'll be safe, comfortable, and entertained!
$$$
2 guests
Shared rooftop patio
Awesome views
We promise this is the last apartment we show you by the River Walk! A light and bright option with a rooftop terrace that overlooks the River, this is another awesome San Antonio apartment for couples. Prepare basic meals in the kitchenette where you have an oven, stove, minifridge, and microwave, before taking them up to the roof and eating with a view!
Top value Airbnb in Lackland AFB – Hazel House
$$
6 guests
3 bedrooms and 2 bathrooms
BBQ Grill facilities
Another popular area of San Antonio that may seem a million miles from the River Walk is Lackland Air Force Base. This house has space to comfortably accommodate 6 guests and even more on the sofas in the common area. It's the best San Antonio Airbnb outside of the immediate downtown, and it offers a backyard BBQ, fully equipped kitchen, and patio.
What to Pack for your San Antonio Airbnb
Our Broke Backpacker editors have put together a shortlist of their Airbnb essentials, which you can find here.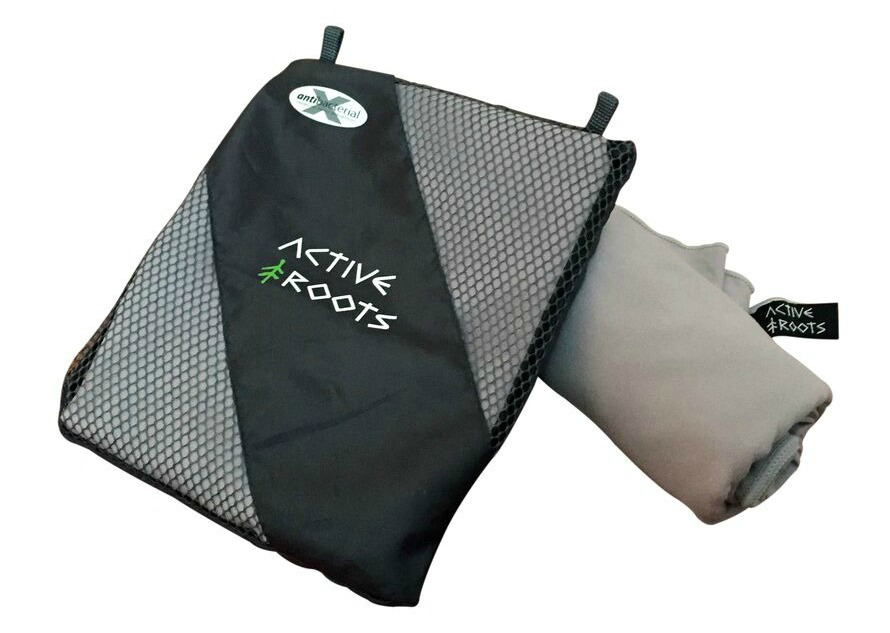 1. Active Roots Microfiber Towel: If you don't want to trust your Airbnb to provide clean towels, it's always smart to bring your own. Problem is, most towels take up a lot of space in your suitcase. The Active Roots Microfiber Towel is made of super-light material, which hardly takes up any space. Plus, it's incredibly comfortable and quick-drying. Great for a day around the pool or at the beach. The material is antibacterial, so it won't smell funny, even on long holidays.
2. Travel Blow Dryer: Your Airbnb only provides basic bathroom amenities, and you're desperately missing a blow-dryer! Bringing your own mini blow dryer with you on your travels can be a lifesaver, especially before a meeting or night out where you don't want to turn up with wet hair, or frizzy hair or (worse yet) unwashed hair because you were afraid you wouldn't get it looking the way you want in time!
3. Active Roots Toiletry Bag: To prevent the loss of your toothpaste in the depths of your bag, you should get a hold of the Active Roots Toiletry Bag. With large compartments, see-through and enclosed sections, you can have all of your stuff in the right spot, easy to find and accessible at all times.
4. Packing Cubes: Having your luggage accessible and organized can make your holidays a lot more enjoyable. Packing cubes help you to pack everything in proper order, prevent wrinkling and losing stuff in the depths of your suitcase. The cubes are see-through and water-resistant. If your Airbnb doesn't have a place to store your clothes, you can use the cubes as an improvised closet to keep everything accessible yet tidy.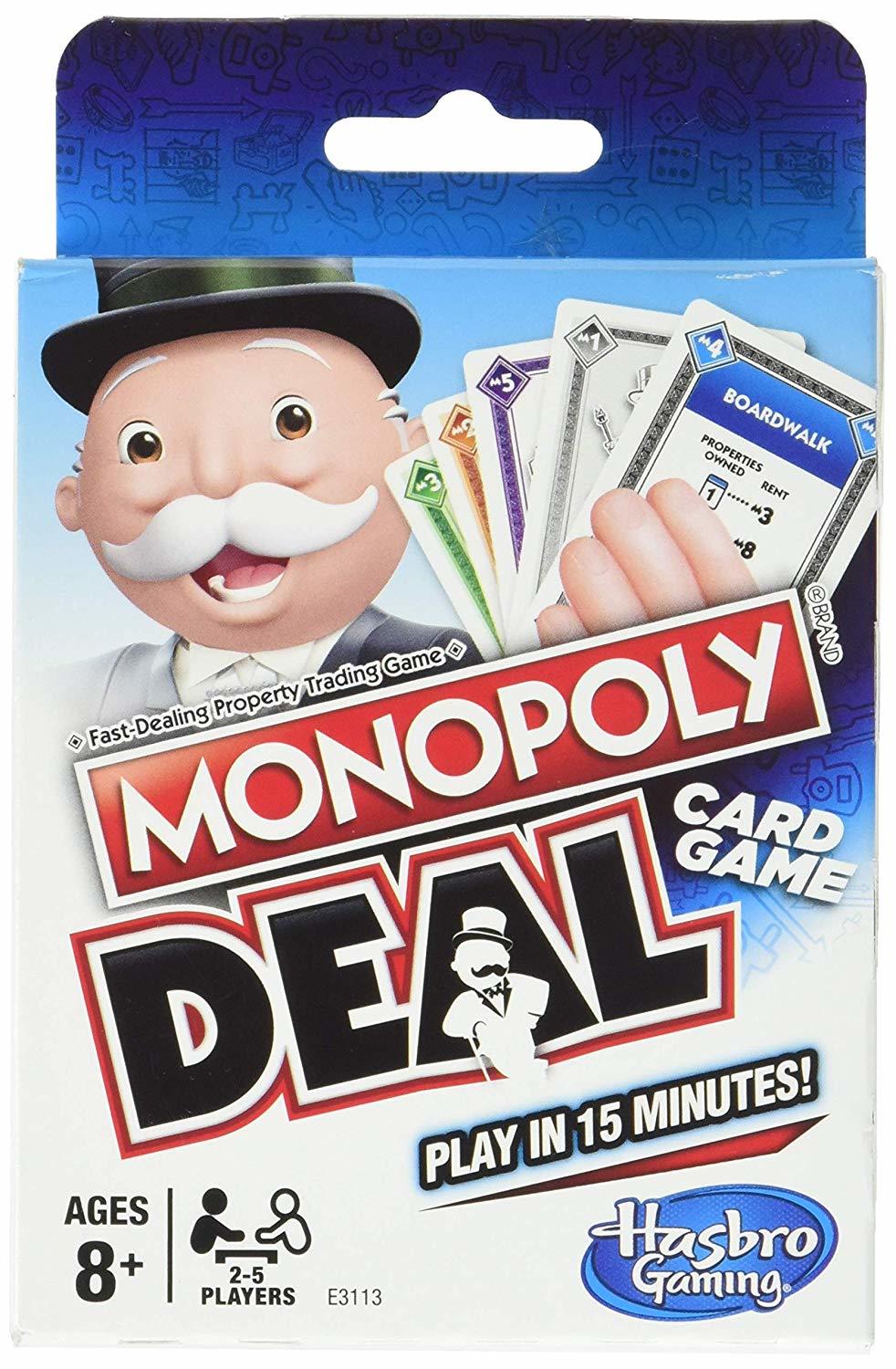 5. Monopoly Card Game: We've started to get bored of basic card decks as our only really lightweight travel games. Now we're Mixing things up with this Monopoly Deal Card Game and it brings all the group fun (and tension) of the original board game! This version requires quick thinking and reacting, a couple of brain cells and 2-5 people. Perfect for small groups and families – fun (and maybe tension) is guaranteed.
6. Reusable Shopping Bags: Getting rid of some plastic in your life might even make it a little bit better. Like the reusable shopping bag for example. There's no need to buy plastic bags at the checkout or have a massive amount stuffed in one cupboard back at home. Using the eco-friendly reusable shopping bag will make your shopping trip much more enjoyable while you're reducing your single-use plastic consumption at the same time.
Check out these other great resources
We have loads more information to help you plan your trip.
Final Thoughts on San Antonio Airbnbs
So, that concludes our list of the best Airbnbs in San Antonio. As you can see, there's a lot to choose from and we hope there's something on our extensive list that matches your budget, travel style, and personality. Not to mention the size of your group!
Whether homestays, entire houses, or chic loft apartments are your bag, you won't struggle to find any of these in Texas' second-biggest city!
We know some people can be indecisive and because there are so many great San Antonio apartments here, you might feel a little overwhelmed. If that's the case, just go for our best value Airbnb in San Antonio – Historic River Walk Loft Apartment. We love it because it's in a great location, and it effortlessly combines style, cost, and awesomeness!
Now, all that's left for us is to wish you an incredible vacation in San Antonio!
And don't forget to sort your travel insurance before heading to San Antonio! We've put together a roundup of the best travel insurance for backpackers – check it out here, or if you're low on time, get a quote from World Nomads, our favorite travel insurance provider.
Getting an estimate from World Nomads is simple – just click the button or image below, fill out the necessary info, and you're on your way!

Yay for transparency! Some of the links in this post are affiliate links. This means that if you book your accommodation, buy a book or sort your insurance, I'll earn a small commission at no extra cost to you. I only link to stuff I've actually used and never endorse crap. Your support helps me keep the site going.