For travellers planning to visit Croatia, you might want to swap the mainland for an island. With so many off the Dalmatian Coast, how do you choose?! Well, as the most luxurious island – and with more sun than anywhere else in the country – Hvar has to be right up there. As well as gorgeous beaches, you can make the most of vibrant nightlife.
Hvar isn't really a day trip destination from the mainland (though it is possible), so you will need somewhere to stay. Looking at Airbnbs in Hvar could be a more cost-effective way of enjoying your time on the island. Rentals in Hvar are often cheaper than the equivalent hotels, and they have lots of character.
In this post, we'll look at the best Airbnbs in Hvar. With properties suitable for a range of different budgets and travel styles, you're sure to find one for you. Not only that, but we'll also be sharing our favourite Airbnb experiences in Hvar!
Quick Answer: These are the Top 5 Airbnbs in Hvar
OVERALL BEST VALUE AIRBNB IN HVAR
OVERALL BEST VALUE AIRBNB IN HVAR
The Best Position in Hvar
> $$
> Four guests
> Awesome location
> Amazing views
BEST BUDGET AIRBNB IN HVAR
BEST BUDGET AIRBNB IN HVAR
Beach Side Studio Apartment
> $
> Two guests
> Fully-equipped kitchen
> Incredible views
BEST AIRBNB FOR COUPLES IN HVAR
BEST AIRBNB FOR COUPLES IN HVAR
Apartment with amazing sea view
> $$
> Two guests
> Queen bed
> Great location
BEST AIRBNB FOR FAMILIES IN HVAR
BEST AIRBNB FOR FAMILIES IN HVAR
House Delphina
> $
> Five guests
> Fully-equipped kitchen
> Perfect location
OVER-THE-TOP LUXURY AIRBNB IN HVAR
OVER-THE-TOP LUXURY AIRBNB IN HVAR
Luxury Palazzo in Hvar Town
> $$$$$$$$$
> 14 guests
> Hot tub
> Incredible views of Hvar

Unlock Our GREATEST Travel Secrets!
Sign up for our newsletter and get the best travel tips delivered right to your inbox.
What to Expect from Airbnbs in Hvar
Hvar is thought of as the most luxurious place in Croatia – even more so than Dubrovnik! You can expect some beautiful and elegant properties on the island. At the top end, you have boats and catamarans that you can rent to explore other parts of the island and the Dalmatian Coast. Get seasick? Splash out on a villa instead!
If your budget isn't in four or five figures, don't worry. There are loads of places to stay in Hvar Town and other spots on the island such as Stari Grad and Jelsa. There are plenty of entire flats here – some are the same price as private rooms, so go for your own space!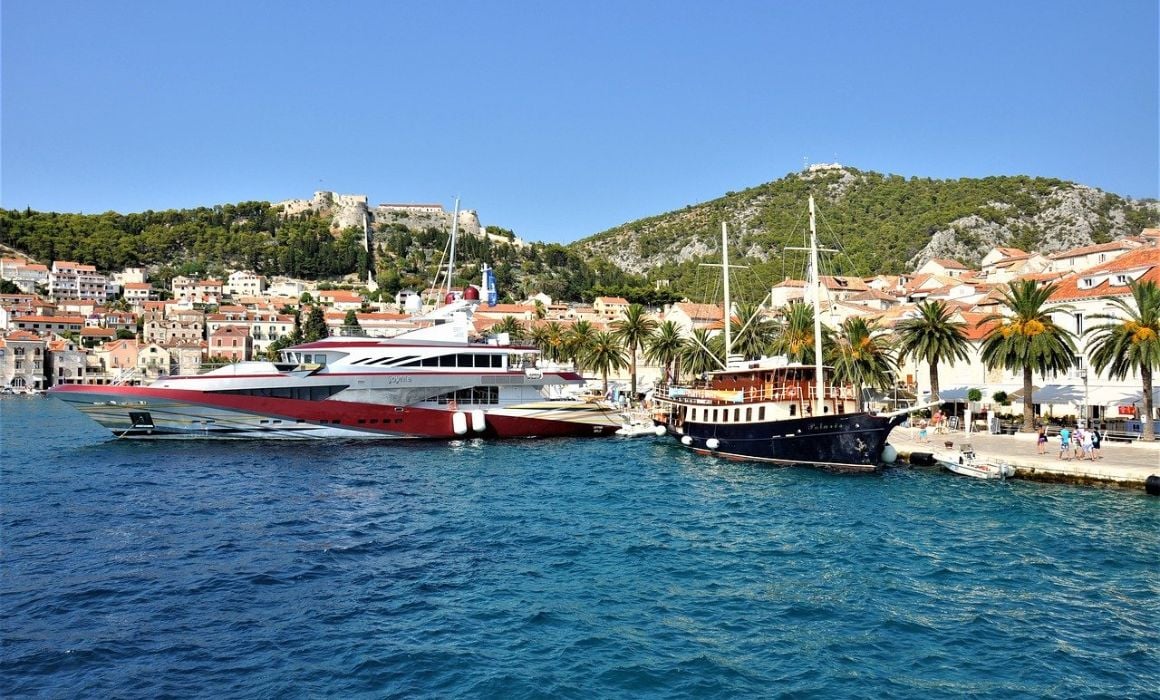 Entire Flat
Easily the most popular type of Airbnb in Hvar, entire flats are available across the island, but you'll find most of them in the tourist hotspots of Hvar Town and Port. Prices can start very low (around the same as a private room) for a studio here for two people. At the lower end of the pricing scale, you can expect a basic apartment with a kitchenette.
As your budget increases, you'll receive nice extras such as a fully equipped kitchen or outdoor terrace with views of the surrounding coast and islands.
Villa
Entire flats are most suitable for solo travellers, couples, and at a push, small groups of friends and family. However, if you're in a big group and happy to splash the cash, perhaps look at villas instead. There are almost 200 villas to rent through Airbnb on the island, each perfectly suited to a gathering of friends and/or family.
While amenities can vary according to budget, the very least you should expect is a large garden, pool, fully-equipped kitchen, and multiple bedrooms.
Boat
Many travellers turn to Airbnb to find unique places to stay. And what could be more unique than a boat?! With the beautiful Dalmatian Coast on your doorstep, it'd be a shame to spend your entire holiday in Hvar. Rather than renting a car and exploring via the asphalt, choose an Airbnb boat. You can sail or cruise with a professional captain.
Obviously, these come at a price and will be out of reach for the average broke backpacker. However, for a family trip or celebration, it could be what makes your trip to Hvar the holiday of a lifetime!
Why Stay in an Airbnb
Still thinking about a hotel or hostel? We're not sure why, but okay. Here's one last attempt to change your mind, with five of the best reasons to book an Airbnb in Hvar.
Local Experience: No matter how big your guidebook is, it won't have the superb local know-how can get from your hosts. Be sure to get their recommendations on things to do!
Unique Properties: As well as standard apartments and private rooms, this list alone includes boats, an Italian style palazzo, and even a windmill!
Affordability: Airbnbs are considerably cheaper than an equivalent hotel – and you won't have any hidden charges from the minibar either! Airbnbs are possibly the best option for backpackers in Croatia that need to keep the costs low.
Safety: It might seem a little weird staying in someone's house; however, both hosts and guests are vetted by Airbnb reviews to ensure the safety of both. Croatia is overall very safe, and the Airbnb booking security just adds a little extra to it.
Airbnb Experiences: Airbnb isn't just about great places to stay; it also offers incredible local experiences. We'll show you some of our favourites in a bit.
But first, let's get to what we've all been waiting for!
The Top 15 Airbnbs in Hvar
Looking for your dream Airbnb in one of Europe's best islands? Carry on through the next part of our list. There's sure to be something that matches your budget and travel style. Let's check them out!
When you look at that view across Hvar Town and the bay, it's hard to disagree that this is the best spot in town. But it's not all about the view; you also have markets, the main square, and everything else in Hvar Town just moments away by foot. If you don't fancy heading into town, you can prepare food in the fully-equipped kitchen. And it's not hard to decide on the perfect spot to enjoy that homemade meal!
Two guests
Incredible views
You might do a double-take when you see how cheap this place is. And then another when you see it's an entire flat rather than a private room. It's right by the beach too! If you're worried about finding it, your hosts might just come to the harbour to find you. The apartment has space for two people, so it would be ideal for a couple or a solo traveller. Either way, it will mean you have money left over in your budget to experience the best Hvar has to offer!
Two guests
Private bathroom and balcony
While entire places can be super affordable on Hvar, sometimes it's nice to have a bit of company – especially if you're travelling solo. This private room in a house is a comfortable and cosy place to come back to after a long day exploring the island. Sit out on the balcony and watch the sun go down, or climb into your queen bed and get some rest before another day of hiking, climbing, or chilling on the beach.
Is This the Best Backpack EVER???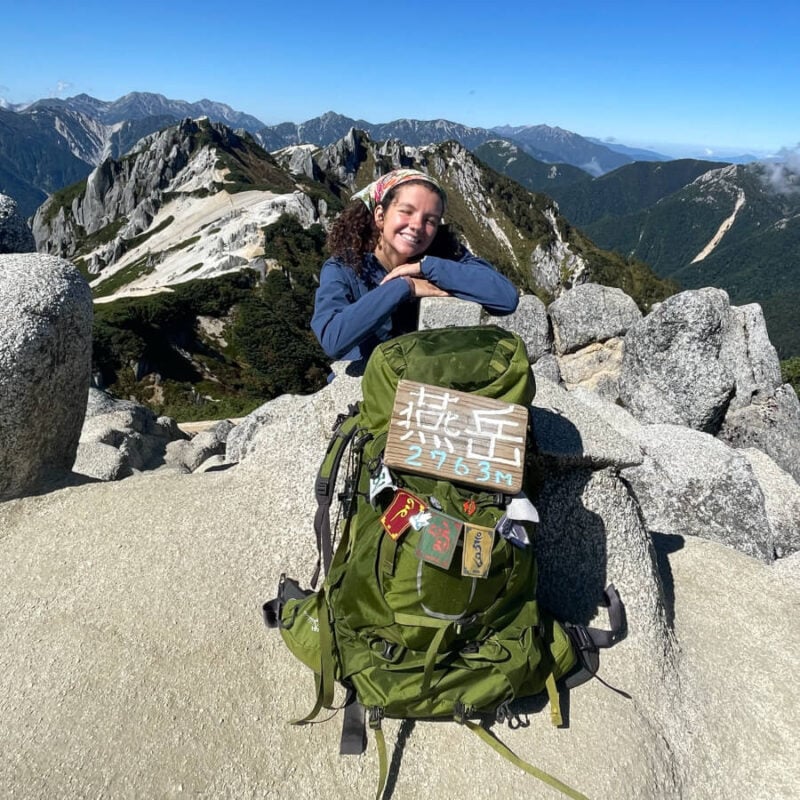 When you travel with a partner, you can't just pick any old place and hope for the best. It has to be something you'll both love that reflects your tastes. We think we might have found that place for you! When you eventually decide to drag yourselves out of the queen bed, enjoy the views of the sea from your balcony with a coffee or a glass of wine. What could be better?!
Best Airbnb in Hvar for Families | House Delphina
Five guests
Perfect location
Suitable for family members of all ages, House Delphina offers a fantastic location in Hvar Town. There are four bedrooms, which means everyone can have their own space rather than crowding into double beds. Not only is the location great, but there's also loads to do in the apartment. Watch a movie in the cosy living room or pick from a range of books and relax!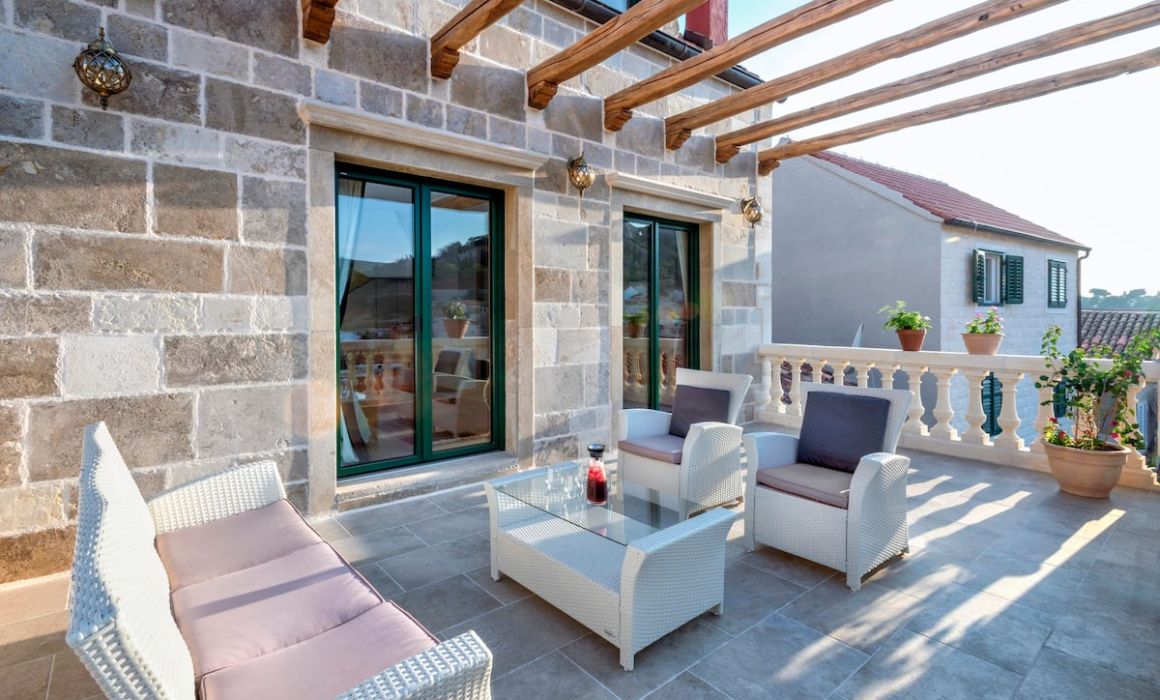 14 guests
Incredible views of Hvar
If you've ever wanted to feel like a celebrity (or you are one), we've got the ideal Airbnb in Hvar for you. This 17th-century palazzo has five bedrooms, all with their own en-suite! You won't need it in summer, but the stunning fireplace will take your breath away as soon as you walk in. On a balmy evening, head out to the huge balcony and chill with your nearest and dearest over cocktails or champagne kept cool in the fully-equipped kitchen. If you start to feel a chill, just jump in the hot tub!
Situated above the Hvar Channel, there's a reason this place is called million dollar view. As well as that beautiful private balcony, where you'll no doubt spend most of your time, you have a fully-equipped kitchen and a spacious living room. Your hosts are happy to pick you up if it's your first time in Hvar – you can't put a price on that hospitality!
With almost 200 villas in Hvar, it's difficult to pick the best one. However, this luxury Galapagos Villa makes it a lot easier. You don't typically get villas so close to cities, but this one is just two minutes away from Hvar Town. There's a real danger that you won't ever get there though; you may spend most of your time in the swimming pool or chilling out on the sun loungers in the garden!
$$$$$$
Explore Dalmatian Coast
Seven guests
Professional captain
For a truly unique stay on the Dalmatian Coast, why not consider staying on a boat? This is different from your usual Airbnb in Hvar because you already have a route planned out for your trip. You'll be enjoying luxury accommodation as you stop off on the islands of Vis and Bisevo. It's a great way to see the best natural attractions in the areas surrounding Hvar!
$$
Laptop-friendly workspace
Three guests
Washing machine
Being a digital nomad is made much easier if you have somewhere to set up your laptop and access to fast Wi-Fi. Thankfully, this flat has both of those – and friendly hosts on top! Should you get bored of working in your room, you have the bars and cafes of the town square on your doorstep. Combine writing or editing with a spot of people-watching and a well-earned coffee or beer – perfect!
Most Beautiful Airbnb in Hvar | Villa Vito
Eight guests
Wood-fired oven
Another gorgeous Airbnb in Hvar, Villa Vito might just find its way onto your Instagram feed. Part of what makes this property so beautiful is the way it blends into its Mediterranean surroundings – the stone detail perfectly complements the mountains behind. Make sure to use the stone pizza oven, but don't eat your very own wood-fired pizza too soon before a dip in the pool!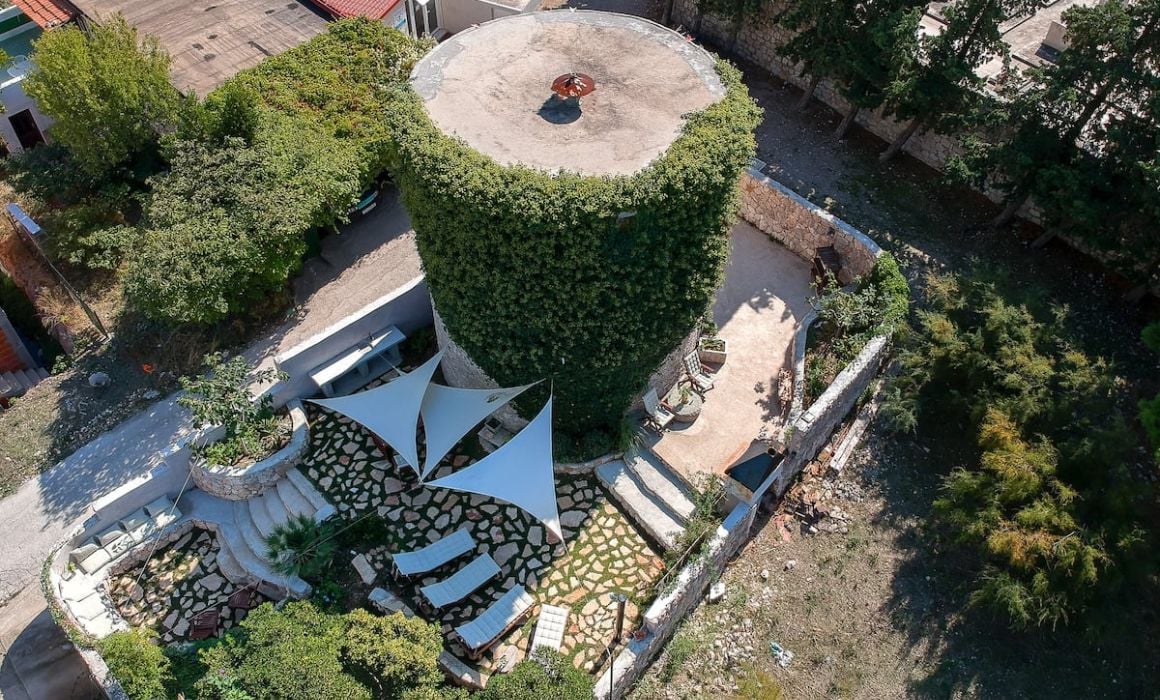 Six guests
Private garden and parking
Villas and boats are pretty unique properties; however, this windmill in the historic centre of Hvar takes things to another level! The old tower has been refurbished and is now a luxury accommodation, but it still has the original features and architecture. Dating back to the 18th century, you'll be staying in a slice of Croatia's history – not that it'll feel like that with mod-cons like Wi-Fi and air conditioning.
Best Airbnb in Hvar Town | Pearl of Hvar
We've seen a lot of Airbnbs in Hvar Town. That's because it's the most popular destination on the island! With a queen bed and space for two guests, this is perfect for a couple who want to make the most of the area. It's only a five-minute walk to the beach, too! Like many of the best apartments in Hvar, this one offers splendid views from its own private terrace.
Want to get off the beaten track? You might prefer to stay in Stari Grad. This unique stone house is your best bet! Not only is there space for up to four guests, but you'll also be able to bring your furry friends if you're travelling with pets. There's a table and four chairs in the garden where you can enjoy a BBQ and the peace and quiet of being so far away from Hvar Town.
Two guests
Electric bikes available
Another popular part of the island is Jelsa, which is said to have the clearest waters on the island. Judge for yourself by taking in the views of the blue Adriatic Sea. We think it looks just the same as the rest of Hvar, but that's no bad thing! Choose between chilling in the garden or getting out and exploring. You do have access to electric bikes, after all!
Top 5 Airbnb Experiences in Hvar
If you're looking for things to do in Hvar, it's not hard. However, with things like hikes and kayaking, you might not want to do that by yourself – it's perfectly understandable! Thankfully, there's another option.
Airbnb offers more than just fantastic places to stay in Hvar. Its experiences section allows you to explore all the best the island has through tours curated by local guides.
Go on a walking tour and find out all about the history from someone who has lived it. Go kayaking with someone who knows all the secret beaches, or just take a cooking class with someone who knows how to make the most of local ingredients. It's all possible with Airbnb Experiences!
500kn/person
Seven and a half hours
Up to ten guests
With so many islands nearby, you might want to check a few out while you stay on Hvar. One of the most beautiful is Vis. On this day trip, you'll stop there and a number of others, where you'll have the opportunity to swim in caves, snorkel, and visit the famous Blue Cave of Bisevo. There'll be plenty of chances to stop off and chill on beaches, too!
350kn/person
Four hours
Up to eight guests
If you prefer a more active way of getting between islands, perhaps sea kayaking is for you. It's certainly a good workout for your core and upper body! You'll head over to the Pakleni Islands and stop in beautiful secluded bays with rocky beaches. You'll also have a chance to swim and snorkel in the turquoise waters!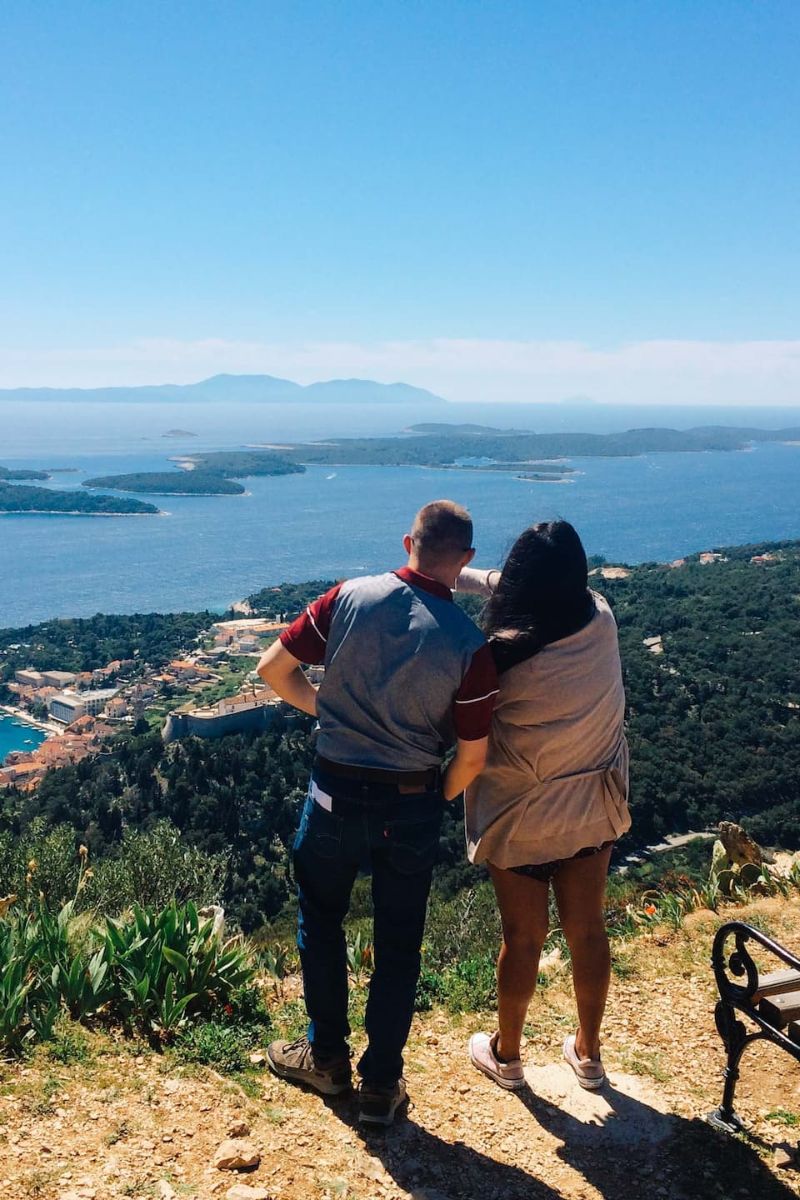 325kn/person
Two hours
Up to eight guests
For those who prefer to stay on dry land, this hidden gems tour might be the one for you. You'll see a 16th-century ghost village, the highest point on the island, and a castle built by Napoleon. From there, you'll watch the sunset. Don't forget your camera!
500kn/person
Three hours
Up to eight guests
The Mediterranean Diet is said to be the healthiest in the world. So why not get some tips on how you can eat delicious and healthy Mediterranean dishes? You'll make cooked fish with potatoes and salad from your host's garden. Don't worry, of course there's dessert! After you've cooked your meal, you'll be able to enjoy it with your hosts.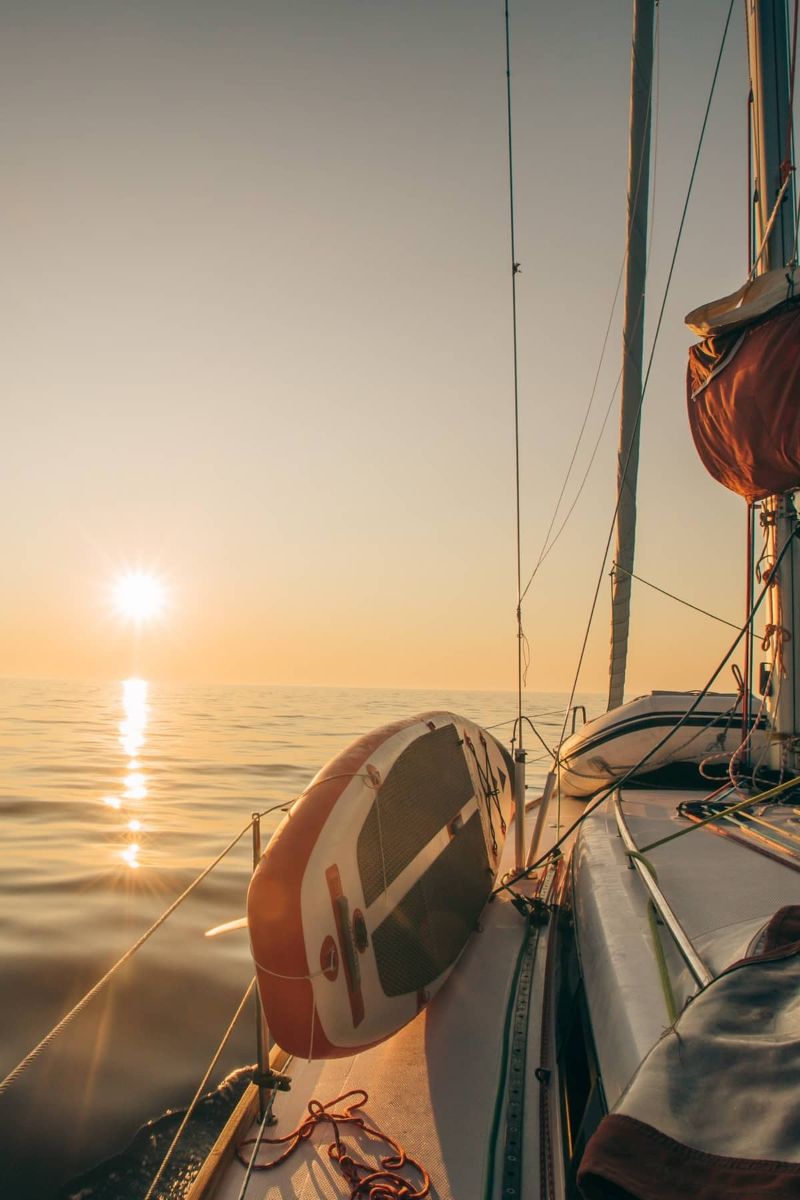 295kn/person
Two hours
Up to seven guests
If you aren't able to stretch your budget to stay on a boat for a week, just take a cruise in the evening and watch the sunset. This is one of the most popular Airbnb experiences in Hvar, so be sure to book quickly. You don't want to miss getting your Kate and Leo photo on the front of the boat!
Don't Forget Your Hvar Travel Insurance
ALWAYS sort out your backpacker insurance before your trip. There's plenty to choose from in that department, but a good place to start is Safety Wing.
They offer month-to-month payments, no lock-in contracts, and require absolutely no itineraries: that's the exact kind of insurance long-term travellers and digital nomads need.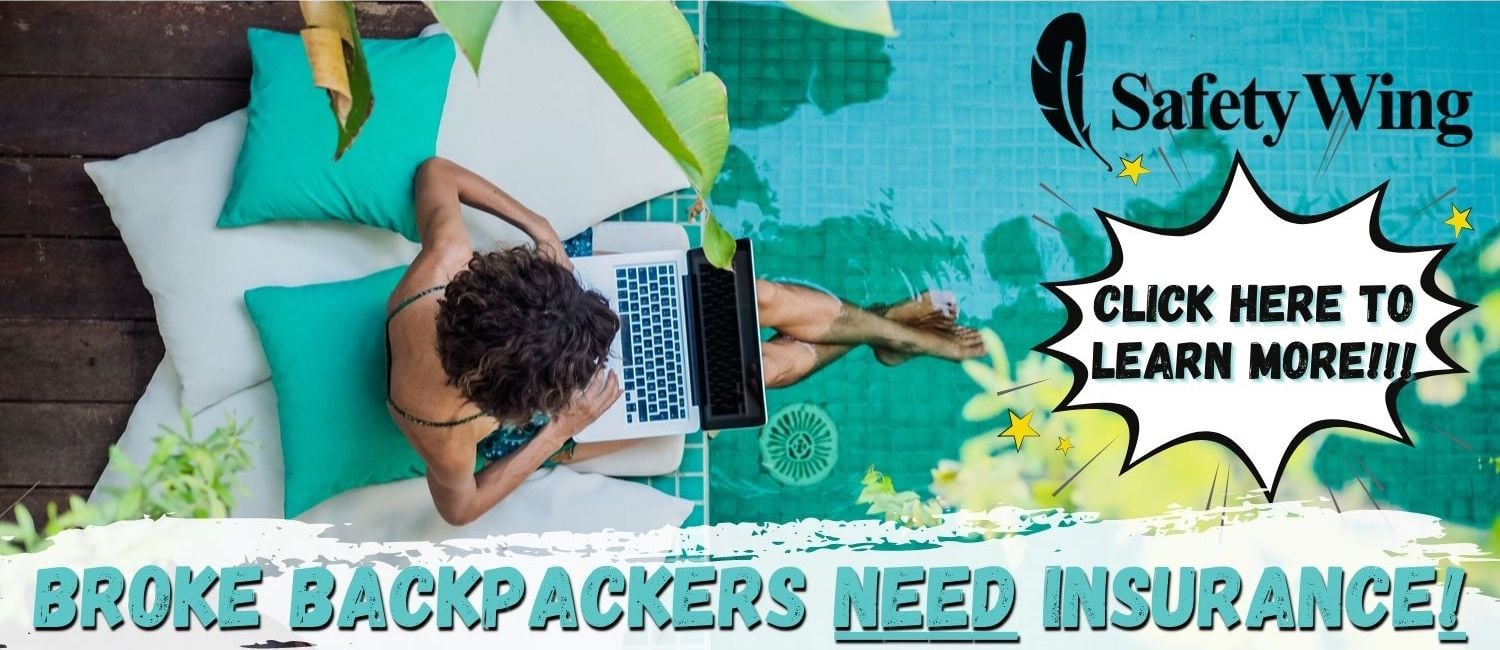 SafetyWing is cheap, easy, and admin-free: just sign up lickety-split so you can get back to it!
Click the button below to learn more about SafetyWing's setup or read our insider review for the full tasty scoop.
Final Thoughts on Hvar Airbnbs
Hopefully, you've now spotted somewhere you want to stay in Hvar. Just a quick recap – we've seen some fantastic seafront apartments with incredible views, villas with plenty of space for your family and friends, and even an old (but well preserved) windmill.
If you're still struggling to make your choice, keep it simple and go for our overall best Airbnb in Hvar – The Best Position in Hvar. This stylish apartment is a perfect combination of value for money and top location. With space for up to four guests, it can suit small groups as well as couples and solo travellers.
Whichever Airbnb in Hvar you book, hopefully, you'll have a great trip. To make it a safe one too, be sure to take out travel insurance from World Nomads. Now it's time for us to say Dovidenja!
---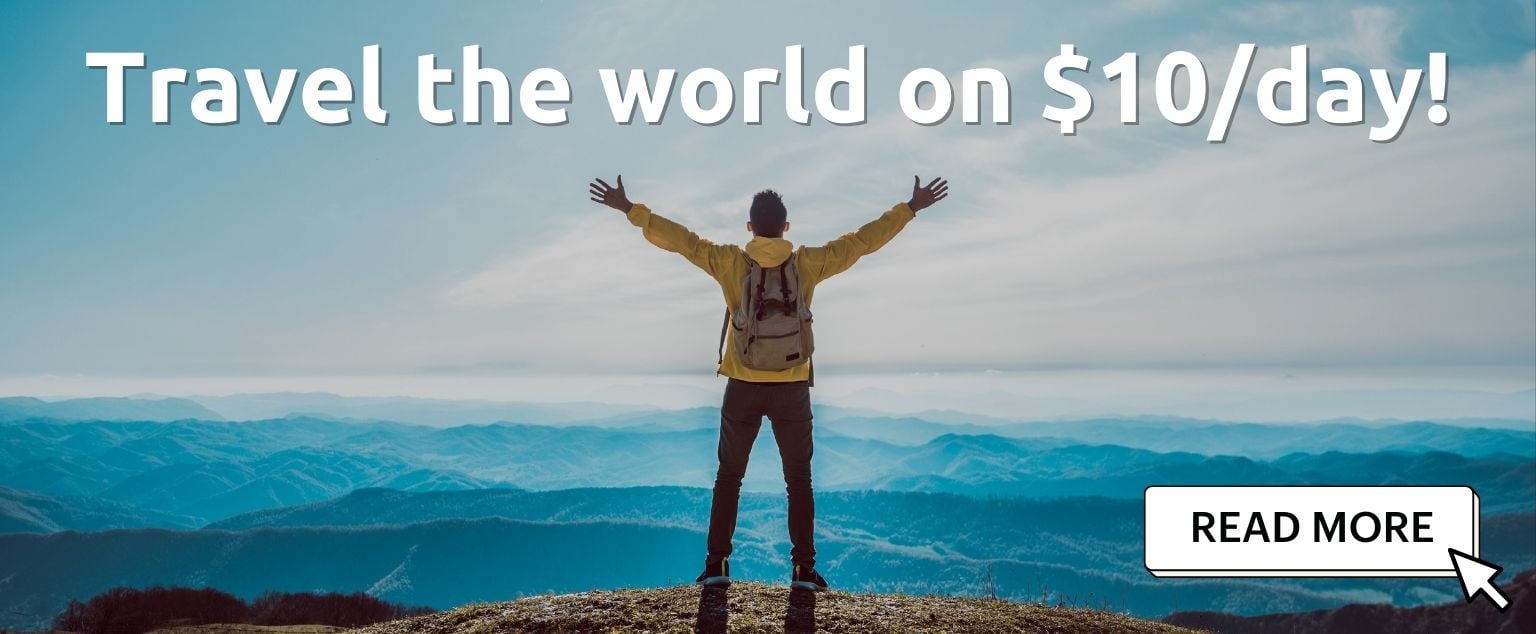 And for transparency's sake, please know that some of the links in our content are affiliate links. That means that if you book your accommodation, buy your gear, or sort your insurance through our link, we earn a small commission (at no extra cost to you). That said, we only link to the gear we trust and never recommend services we don't believe are up to scratch. Again, thank you!