One of the glittering jewels in Rajasthan's crown, Jaipur is the gateway to and capital of the region. The colourful buildings of the Pink City and the Amber Palace are guardians over mazy streets that are filled with the cacophony of rickshaws and market traders going about their business.
As well as visiting palaces and temples, you can enjoy the best of Rajasthani food and find some awesome souvenirs to take home for your friends and family. When it comes to travelling in Jaipur, it's actually quite friendly on the wallet. So, considering that you can get things for far cheaper than an American or European regional capital, maybe you should be good to yourself when it comes to accommodation.
Rather than a hostel or a hotel, take a look at Airbnbs in Jaipur to find something with a bit of character and charm! Whether you want an artistic apartment, a friendly homestay, or a chamber in the Pink City, there's a rental in Jaipur for you.
In this post, we'll take a look at the best Airbnbs in Jaipur. We've taken into account travel style, budget, and personality. So, let's jump in and find your perfect Jaipur apartment!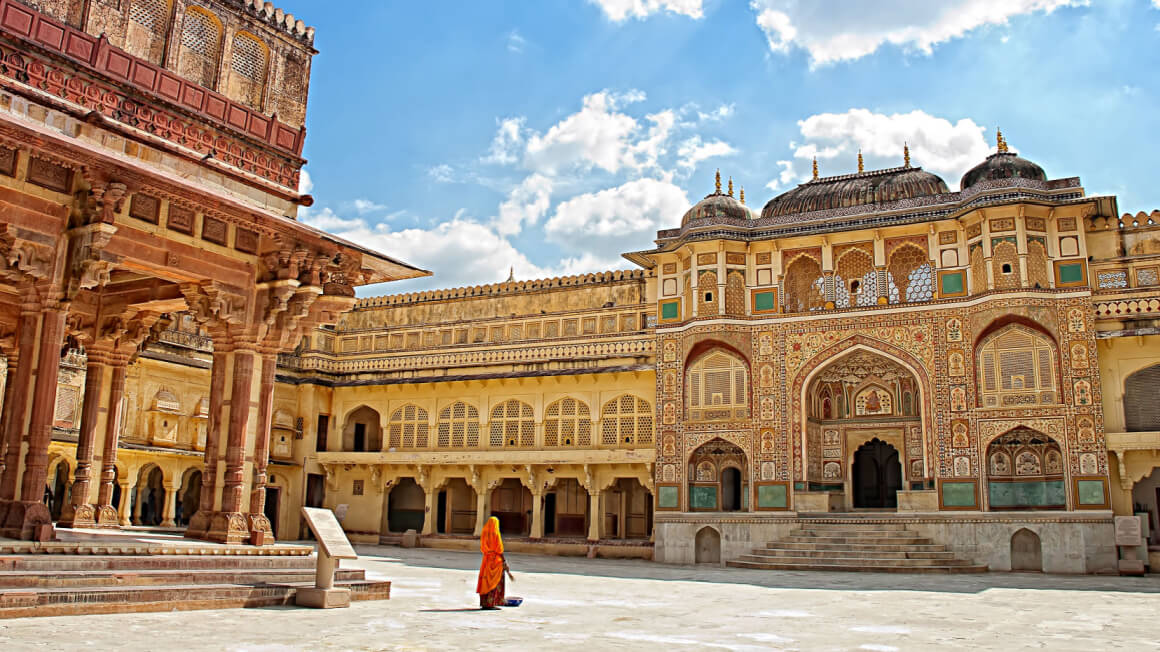 Quick Answer: These are the Top 5 Airbnbs in Jaipur
OVERALL BEST AIRBNB IN JAIPUR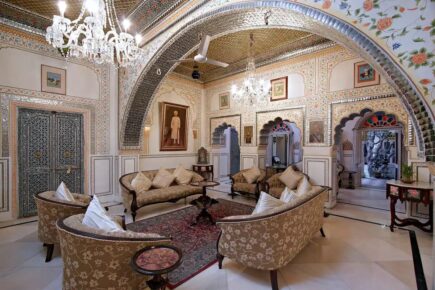 OVERALL BEST AIRBNB IN JAIPUR
A Heritage Home
> $$$
> 2 Guests
> Stunning garden
> Swimming pool
BEST BUDGET AIRBNB IN JAIPUR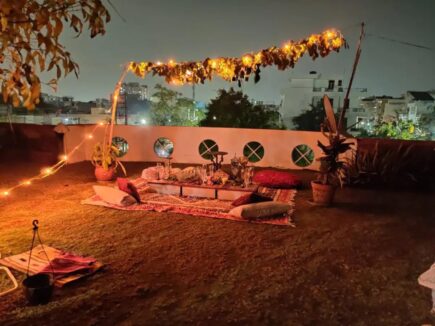 BEST BUDGET AIRBNB IN JAIPUR
Heritage Jaipur Studio
> $
> 3 Guests
> Beautiful terrace
> Kitchen
BEST AIRBNB FOR COUPLES IN JAIPUR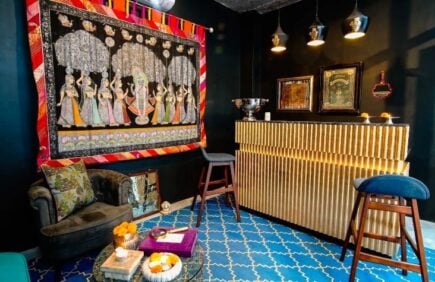 BEST AIRBNB FOR COUPLES IN JAIPUR
Artist's Mansion in the Pink City
> $$$
> 3 Guests
> Free parking
> Gorgeous Interior Design
BEST AIRBNB FOR FAMILIES IN JAIPUR
BEST AIRBNB FOR FAMILIES IN JAIPUR
Indian Art and Antique Studio
> $$$
> 8 Guests
> Dining and living area
> Rooftop terrace
BEST LUXURY AIRBNB IN JAIPUR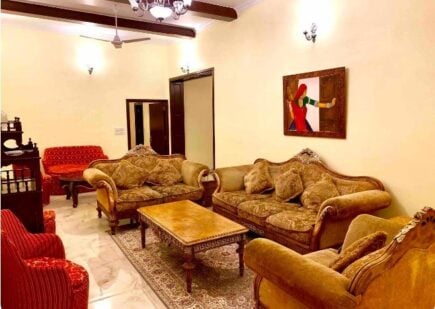 BEST LUXURY AIRBNB IN JAIPUR
Camellia Boutique Home Experience
> $$$$$$$$$$
> 16+ Guests
> Enclosed glass lounge
> Sample Rajasthani fine dining

Unlock Our GREATEST Travel Secrets!
Sign up for our newsletter and get the best travel tips delivered right to your inbox.
What to Expect from Airbnbs in Jaipur
The most common listings you'll find in Jaipur are private rooms, although entire homes are becoming more popular. Expect lots of incredible Jaipur decor and true hospitality.
You'll most often be dealing with a private owner, but the larger and more expensive properties are sometimes run by businesses or hotels. Either way, the Airbnb booking process is the same.
There are loads of great options in the city centre. But if you're willing to stretch out of the city a little, you'll find many grand options which could include swimming pools, a private terrace, or even a luxury villa.
Types of Airbnbs in Jaipur
Many vacation rentals in Jaipur are available to be rented long-term. Hosts offer a generous discount on long-term rentals which makes it an appealing option for digital nomads and slow travel enthusiasts.
Private Rooms
This is the most common type of Airbnb in Jaipur. Private rooms in Jaipur vacation rentals are a great choice for those who want to have some space of their own without renting an entire place. And the best part about staying in the private room of a local home is you'll end up with a bunch of tips and tricks to best discover the region.
Often the facilities like the kitchen and bathroom of these properties are shared with the other members of the house. It can be a more affordable option in many cases. These kinds of rooms are popular choices for solo travelers and couples.
Entire Homes
Renting an entire home on Airbnb is the best choice for family getaways, couples or solo travelers who value personal space. It can also give you a more local feeling while you're on a trip, giving you your own space while staying in your home away from home.
Although renting a whole space is more expensive on the whole than other options, the price per person, per night, is often less than you would pay for a cheaper option once you've split the cost. This is a great hack to keep in mind if you're traveling in a group or planning a family getaway.
Why stay in an Airbnb?
Local Experience: Having a local as a host means you can find out all the best places to stay in Jaipur that are off the beaten tourist track. That doesn't just go for this city, but for all travel destinations in India.
Unique properties: Airbnb has every kind of property you could think of. There's even a 'unique stays' search function, where you can find your dream property on the site.
Affordability: A quality Airbnb vacation rental will almost always end up cheaper than a nice hotel room. Smart money choices can make a big difference while you're on the road, especially when you're on a shoestring budget.
Privacy: These stunning local experiences also mean you get the break you need without anyone else interfering
Safety: It might seem a little weird staying in someone's house; however, both hosts and guests are vetted by Airbnb reviews to ensure the safety of both. India is overall safe, and the Airbnb booking security just adds a little extra to it.
Airbnb Experiences: Airbnb isn't just about great places to stay; it also offers incredible local experiences. We'll show you some of our favourites in a bit.
The Top 15 Airbnbs in Jaipur
We won't make you wait any longer. Check out our all-time favorite Airbnbs in Jaipur. Fifteen seems like a big number, but we've included all sorts of places, from low-budget to super-luxury so you'll find the right vacation rental for your trip!
Overall Best Airbnb in Jaipur | A Heritage Home
First on the list of our best Airbnbs in Jaipur is this absolutely stunning Jaipur apartment. It's a brilliant all-rounder to get an unforgettable Jaipur experience from your vacation rental. The top attractions of booking this apartment are the private terrace, beautiful garden, and swimming pool! It effortlessly combines value and style. And if that's not enough – it's in a great location! With space for two guests, it's ideal for solo travellers, business travellers, and couples.
Backpacking India on a budget is relatively easy. There are plenty of Airbnbs in Jaipur for those on a budget. Our favourite budget Jaipur Airbnb is this studio in Heritage Jaipur. Although it's not expensive, you get a lot of bang for your buck. This centrally located studio has some of the best views, a stunning terrace, and even a hot tub, for a totally wonderful stay.
---
Psst…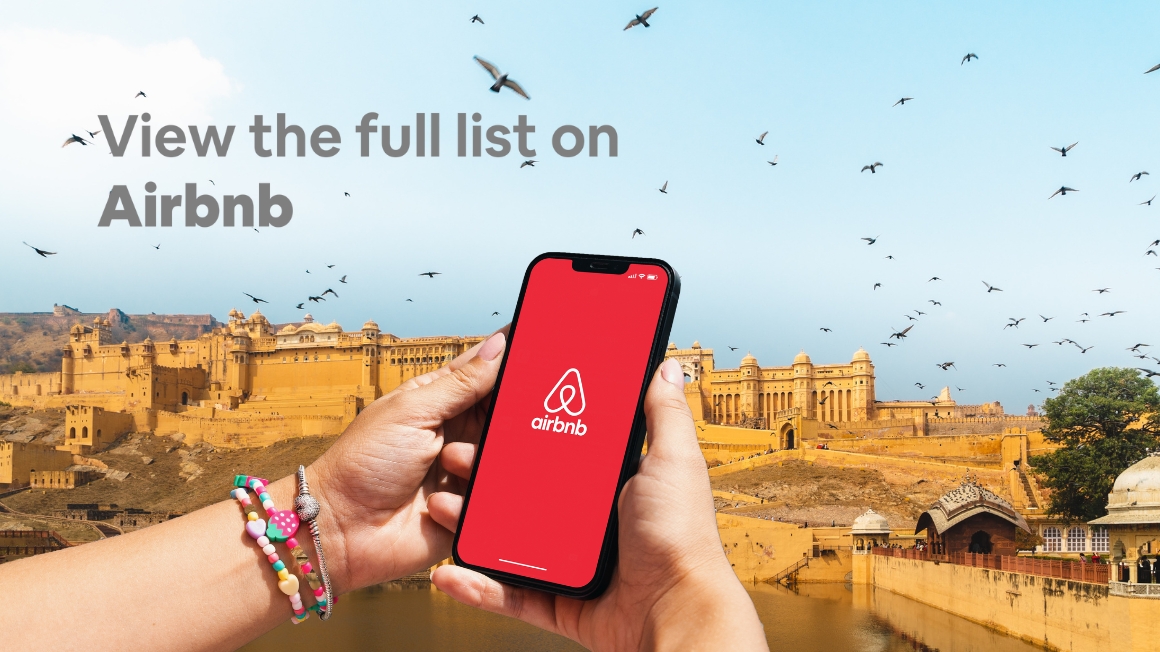 ---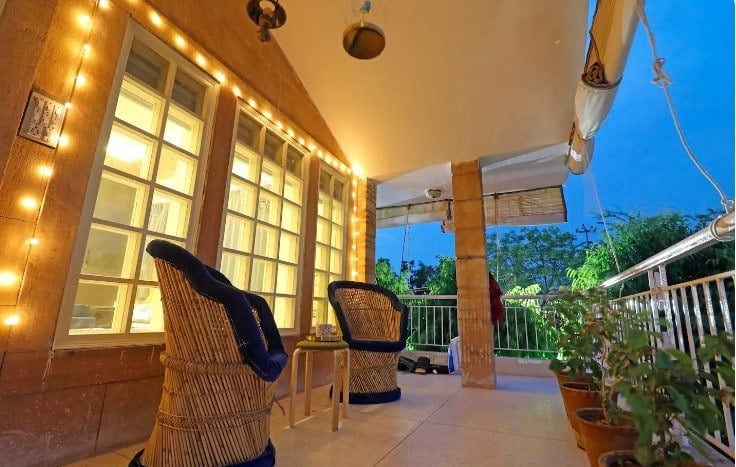 Travelling as a digital nomad means you need two things – a laptop-friendly workspace and decent Wi-Fi. Well, you can tick both of those on your checklist! This lovely Jaipur apartment in the city centre has a couple of other things to show off though – including a private balcony and access to Netflix. So, once you've finished working you can choose between people watching or series and film watching!
Is This the Best Backpack EVER???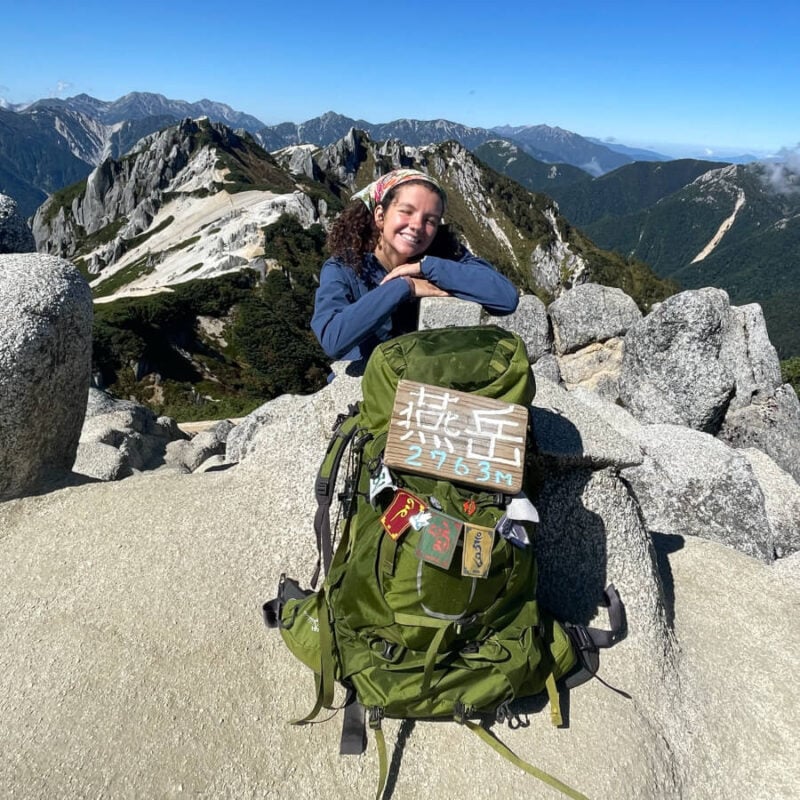 2 Guests
Access to private garden
Solo travellers often get told, "stay in a hostel, you'll love it." Well, you might not. However, you'll definitely love this place! Not only does it give you a comfortable and more importantly, private room, but you can also take advantage of free yoga classes – a great way of meeting new friends!
Although you're close to the city centre, spending time in the private garden will make you feel as if you are a million miles away from its hustle and bustle! There's also a large book collection, which you can peruse over a tea or coffee!
Best Airbnb in Jaipur for Nightlife | The Lotus Villa
$$
Discounts on long term stay
6 Guests
Laptop friendly workspace
Raja Park is the best place for a night out in the town, so you'll want to pick a Jaipur apartment in that area if you fancy a night on the tiles! The Lotus Villa is the perfect place if that's the case, and it has enough room for not only you but 5 of your mates too! Plan for your hangover in advance by heading to one of the markets within a stone's throw of the apartment. That means the following day, you can whip something up in the fully equipped kitchen. Then, settle down to watch a movie on the Tata Sky TV!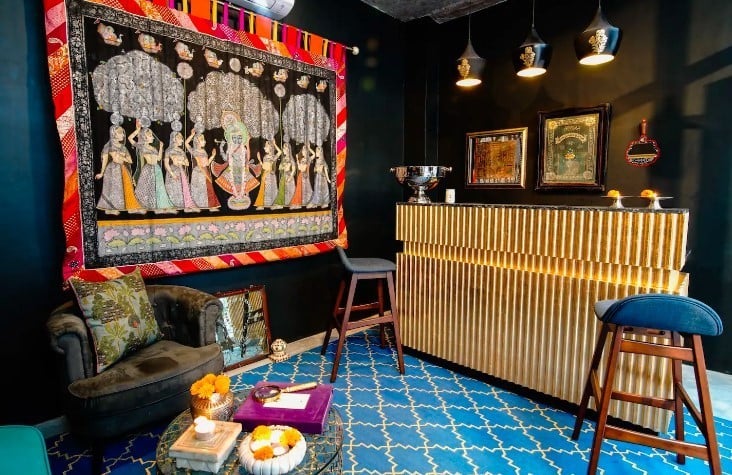 $$$
Gorgeous Interior Design
You can find some really romantic Airbnbs in Jaipur, but this one tops the lot! This artist's mansion is right in the most desirable location of Jaipur – the Pink City! Just look at that opulent and colourful interior design! The family house is decorated in traditional Rajasthani designs, and even shows some of the hosts own artwork! After a day of sightseeing, you'll be able to come back to a super king bed – the ideal place for you and your other half to starfish and enjoy each other's company!
3 Guests
Breakfast available on request
One of the best ways to keep your costs down and have an authentic experience is by staying with a local. So, let's check out the best homestay in Jaipur! Right in the city centre, you'll find this luxurious spot run by a local family. While being warm and hospitable, they'll leave you to your privacy in this charming room. However, if you want to chat and get to know them, you've also got access to communal areas which includes a balcony and terrace! You can even get a tasty breakfast on request!
$
Laptop friendly workspace
2 Guests
Complimentary Breakfast
There are so many great homestays in Jaipur that we couldn't just show you one. Digital nomads listen up, as this bougain villa homestay offers a laptop-friendly workspace and fast Wi-Fi. However, it really is great for anyone who wants to see an authentic side to Jaipur. Your kind hosts not only offer you the privacy of your own room, but also access to their living room, patio, and a bathroom all to yourself. There's even a private entrance! A complimentary breakfast is at hand, while you can also request lunch and dinner if you give enough notice!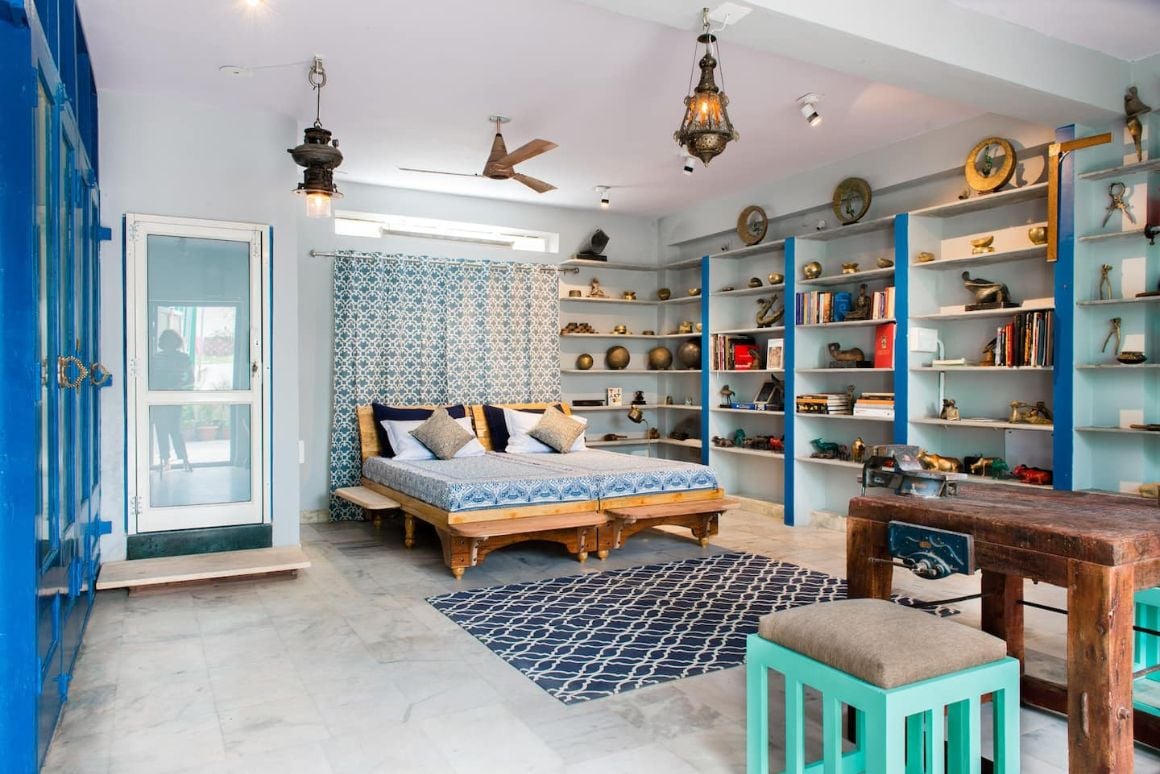 4 Guests
Private green terrace
Because travel costs in Jaipur are quite cheap, you really don't need to splash out too much to get somewhere luxurious. Here's one of the nicest apartments in Jaipur we've found – the artist's studio. This elegant space is adorned with paintings and sculptures to create a homely, tranquil, and relaxed atmosphere. As well as a really nice space to relax in, you can take advantage of the private green space that comes with the apartment. This is the ideal spot for a small family or group of friends – as there's room for 4!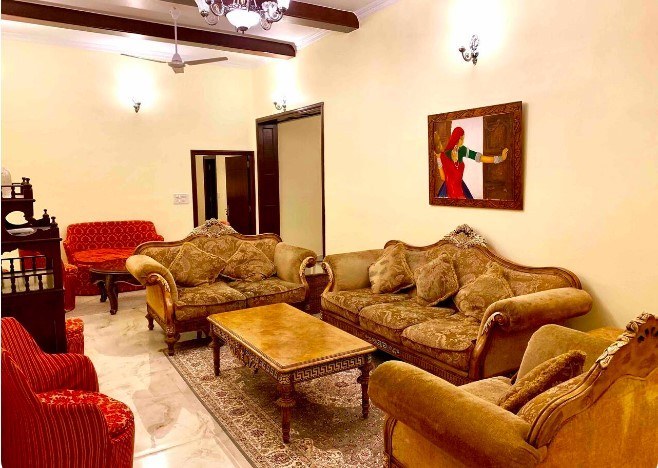 $$$$$$$$$$
Sample Rajasthani fine dining
16+ Guests
Enclosed glass lounge
As we said, your money can go quite far in Rajasthan. However, if you're still intent on spending a lot you can get this totally awesome Jaipur Airbnb – the Camellia Boutique Home Experience. Yes, it really does give you the chance to join your host at one of the city's most prestigious golf clubs!
Closer to home, you can also enjoy Rajasthani fine dining (which is pretty fine indeed) as well as a tea tasting experience. This delightful oasis offers a complimentary breakfast too, which you can enjoy in an enclosed glass lounge with awesome views!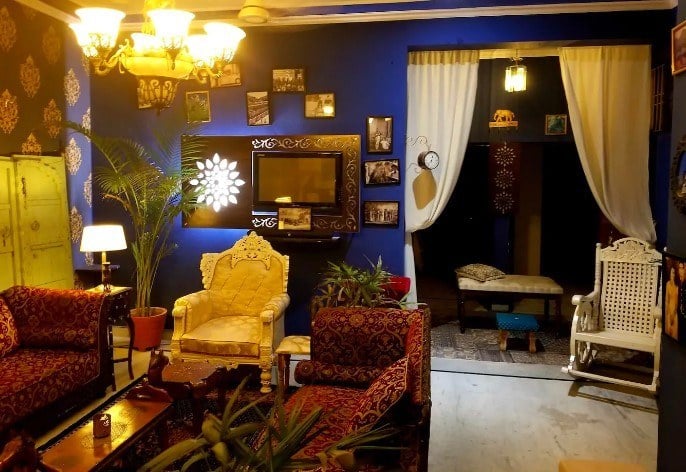 8 Guests
Dining and living area
Want to make your family vacation memorable and special? Then check out this Jaipur apartment. With space for up to 8 guests, it's suitable for families of all ages and (almost) all sizes! The royal interior of this entire floor of a villa gives you your very own comfortable living space, as well as a fully equipped kitchen to make a family favourite, or experiment with the goods you've picked up from the local market! There's also a communal rooftop lounge where you can watch the sunset!
Best Airbnb in Jaipur for a Group of Friends | Pink City Penthouse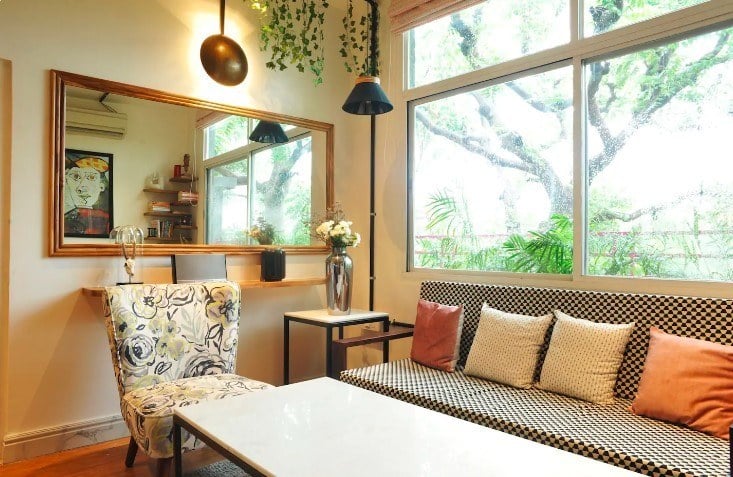 $$$$
Beautiful terrace with amazing views
6 Guests
Fully equipped kitchen
Travelling with your friends? Then you'll need somewhere with plenty of room. Happily, this Pink City penthouse is chic and spacious, as well as being in a great location! It's in a quirky, retro style, and the highlight is undoubtedly the terrace – where you can enjoy views of the city and its outstanding architecture! There's a fully equipped kitchen so you can prepare meals together, and a large TV equipped with Sky, Netflix, and Amazon. So, that's your night in sorted!
$$
Air conditioning throughout
6 Guests
Fully equipped kitchen
Bani Park is one of the coolest neighbourhoods in town, so let's take a look at a couple of Jaipur Airbnbs there. First is this fully furnished flat with space for up to 6 people – ideal for families and groups of friends! One of the bonuses is that it has air conditioning throughout, very useful in a hot and sticky city like Jaipur! That'll keep you cool as you prepare a meal in the fully equipped kitchen for you and all your travelling companions!
2 Guests
Access to terrace
If the first Jaipur Airbnb in Bani Park was a bit big for you, check out this awesome private room with space for 2 guests. It's ideal for couples, as well as solo and business travellers. Not only do you have your own private room, but there's also access to the communal areas, Wi-Fi, and terrace and garden. It's near to the bus station, so this is ideal if you have an early onward journey!
5 Guests
Laptop friendly workspace
We know you've already seen a few Jaipur Airbnbs in the Pink City, but we couldn't resist rounding off our list with one more! This is a totally awesome flat to round off our list, with space for up to 5 guests. It's on a narrow lane in the Pink City itself, so it's perfect for sightseeing! You've got a laptop-friendly workspace and Wi-Fi, so it's ideal if you need to do some work, or if you want to research the best things to see and do in Jaipur!
Top 4 Airbnb Experiences in Jaipur
So your Airbnb in Jaipur is sorted. Now it's time to fill up your days with exciting activities to best explore the area.
If you thought Airbnb was just a place to book accommodation, think again. Airbnb experiences are trips organized by locals. They can be anything from food tasting, urban exploration or in the case of Jaipur, an exciting sunrise climb.
What you get is an intimate insight into what makes this area special, plus the chance to explore with someone who knows the area like the back of their hand. These experiences are usually a lot more intimate than a commercially organized tour.
You can browse and book any Airbnb Experience through the Airbnb App or website. This way you have all the important details about your accommodation and activities for your trip in one place instead of losing track in a complicated email trail. I went ahead and picked out these top four Airbnb Experiences you can have in beautiful Jaipur, focusing on local life and culture.
$22
2 hours
Up to 5 people
A trip to India is also a foodie's trip of a lifetime. So when you're staying in Jaipur, getting to know how this world-class cuisine is made is an essential life experience. And who better to teach you than someone India, born and raised, AND has been working in the food industry for more than 14 years?
With this hands-on Jaipur cooking class, you'll learn skills to delight your senses and carry with you for the rest of your life. You'll learn in-depth knowledge of legendary spices, herbs and ingredients that you will be using in these recipes for generations.
And worry not – all dietary preferences are taken into account upon request. Plus, it's veggie and vegan-friendly! So everyone is welcome here.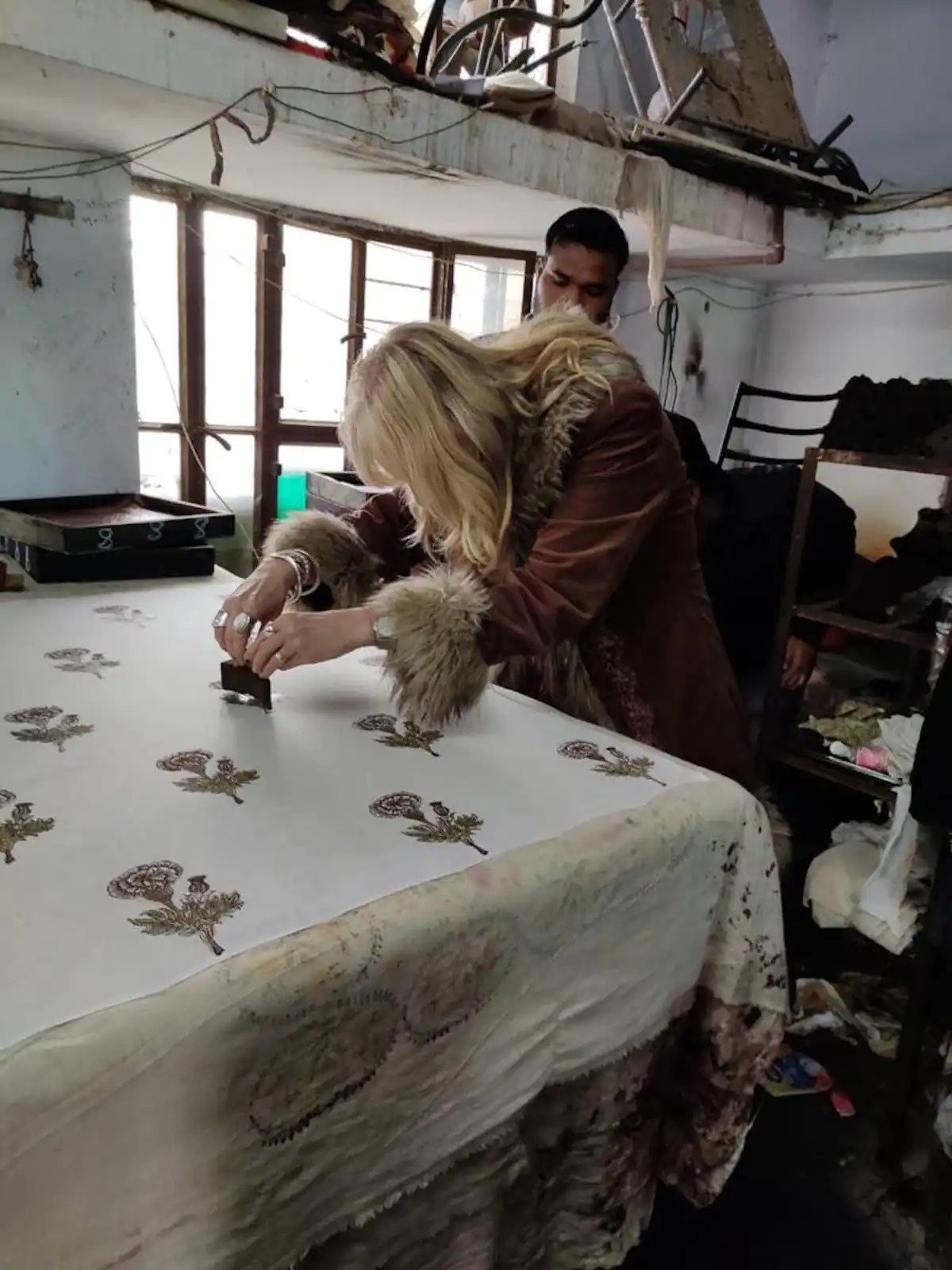 $28
1.5 hours
Up to 10 guests
One of Jaipur's claims to fame is the ancient hand-block printing technique still used today. With this hands-on workshop, you'll be introduced to local artisans who have perfected this technique and get to know their handcraft, up close and personal.
You'll be taken around one of the oldest workshops in Jaipur. These experts will give you the best first experiences into how this technique has developed plus you'll be able to use all their handcrafted equipment to make hand block printing of your own. At the end of the workshop, you can take home your own printed sample.
You will see men and women working together. Plus, there is step-free access to the workshop. We love inclusivity.
$49
3 hours
Up to 4 guests
This unforgettable sunrise climb in Jaipur is for those seeking an experience that few get to see in Jaipur. This tour will take you away from all the crowds to find mind-boggling, one-in-a-lifetime views of this incredible city.
Though, a foreword, you will need a semi-decent level of fitness for this one: you're going to be on a climb after all! You'll start before daylight, in the empty streets of Jaipur, to catch the first morning light over the city.
Your host has a degree in Indian cultural history – so you're in good hands for everything you want to know about Jaipur. So get your comfy shoes and early alarm ready. This will be one to remember.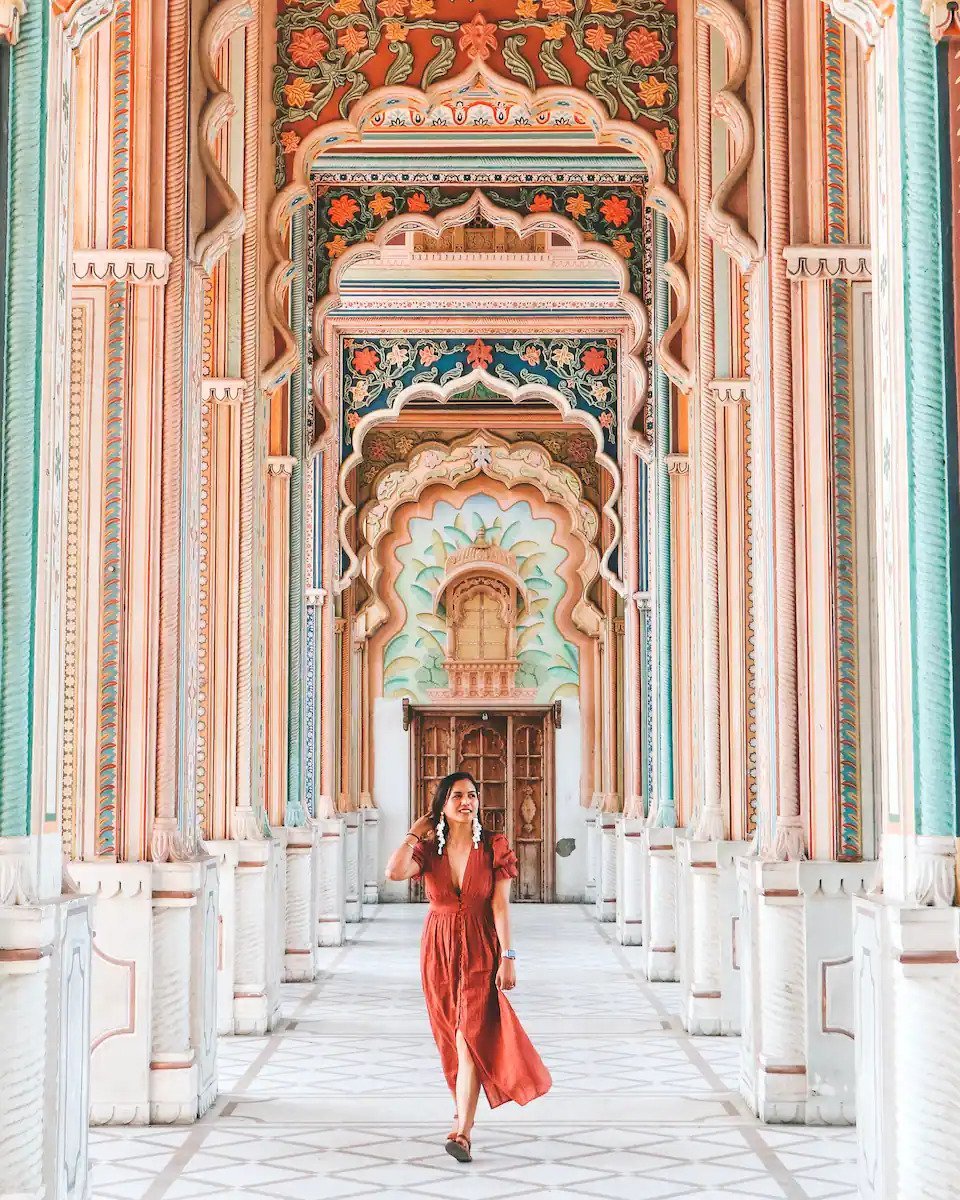 $152
10 hours
Up to 4 guests
This full day Jaipur photography tour is all about seeing the most beautiful parts of the city through your unique lens. The day is completely customisable depending on exactly what you want to see. You'll also have your lunch break in a locally recommended cafe.
You'll see the city through the eyes of the locals and have the best guide to take you at the optimum times of the day. You'll beat the crowds and have the perfect perspective of UNESCO Heritage Site Amer Fort, City Palace, Hawa Mahal, and more!
This is a perfect tour for photographers and travellers who simply want to get an eye-opening perspective. Your host is one of the best people in the city to show you all the history and culture you could think of. You'll end the day with the idyllic sunset over Jaipur.
FAQs about Airbnbs in Jaipur
Here's what people usually ask us when they look for vacation homes in Jaipur.
Don't Forget Your Jaipur Travel Insurance
Before you head off on a Jaipur adventure, good travel insurance is essential!
ALWAYS sort out your backpacker insurance before your trip. There's plenty to choose from in that department, but a good place to start is Safety Wing.
They offer month-to-month payments, no lock-in contracts, and require absolutely no itineraries: that's the exact kind of insurance long-term travellers and digital nomads need.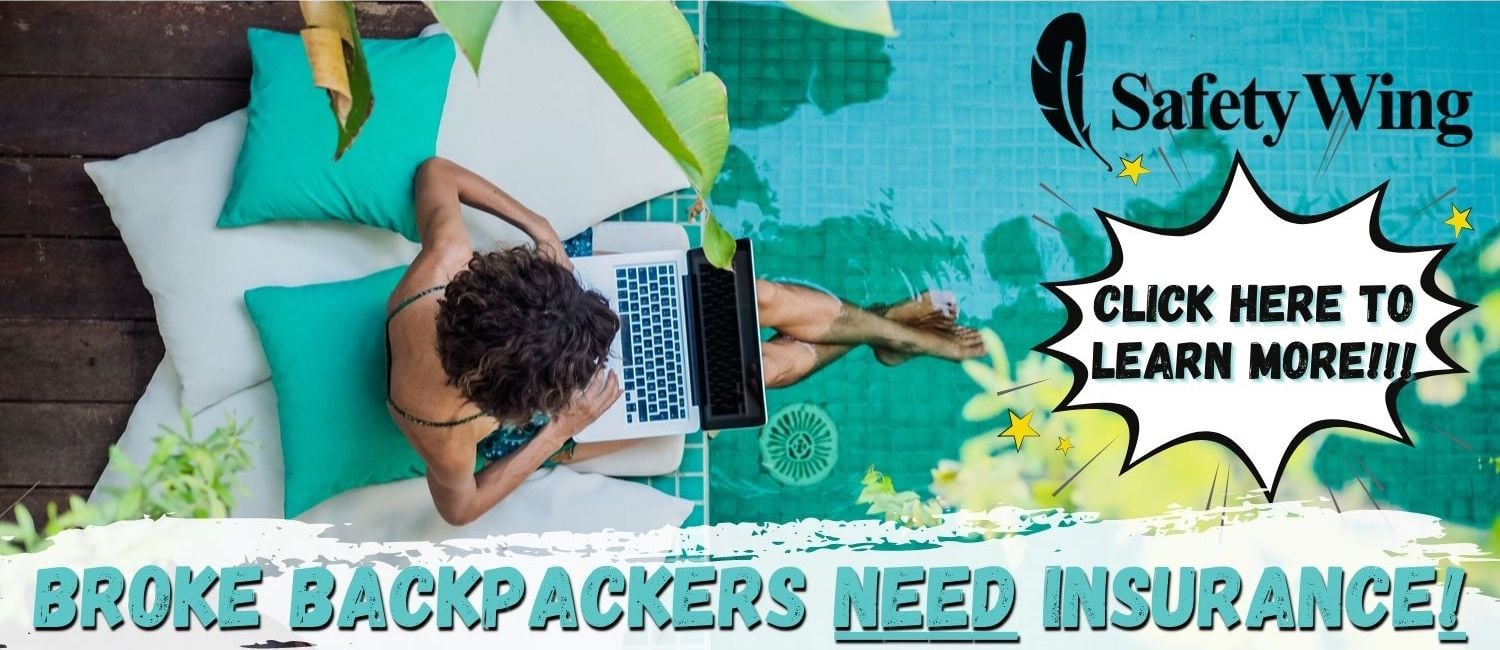 SafetyWing is cheap, easy, and admin-free: just sign up lickety-split so you can get back to it!
Click the button below to learn more about SafetyWing's setup or read our insider review for the full tasty scoop.
Final Thoughts on Jaipur Airbnbs
So, that concludes our list of the best Airbnbs in Jaipur. We hope you've found something that's suitable for your travel style, personality, and most importantly – budget! As you can see from our list, you're blessed with a whole lot of choices!
The glittering capital of Rajasthan has something for everyone – whether it's a penthouse with a view of the Pink City, a luxurious Indian home experience, or just a pad to crash after seeing all the sights. The only problem might be that we've given you too many choices. If that's the case – sorry not sorry!
But seriously, if you're still feeling overwhelmed and you're super indecisive, take a deep breath and relax. Then, book our overall best-value Airbnb in Jaipur – Paradise Home in the Heart of Jaipur. It's a combination of the best location, price, and just an all-around fab place to stay!
So, now that we've hopefully made planning your trip to Jaipur a little bit easier, all that's left is for us to wish you a wonderful vacation. We hope you have a great time!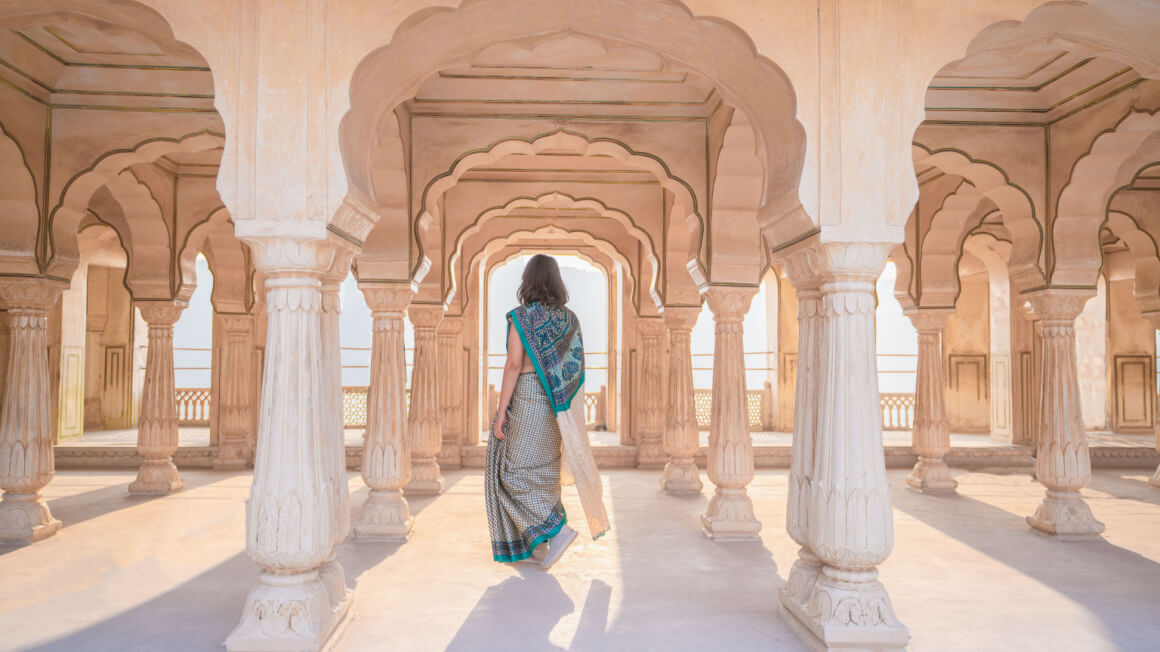 ---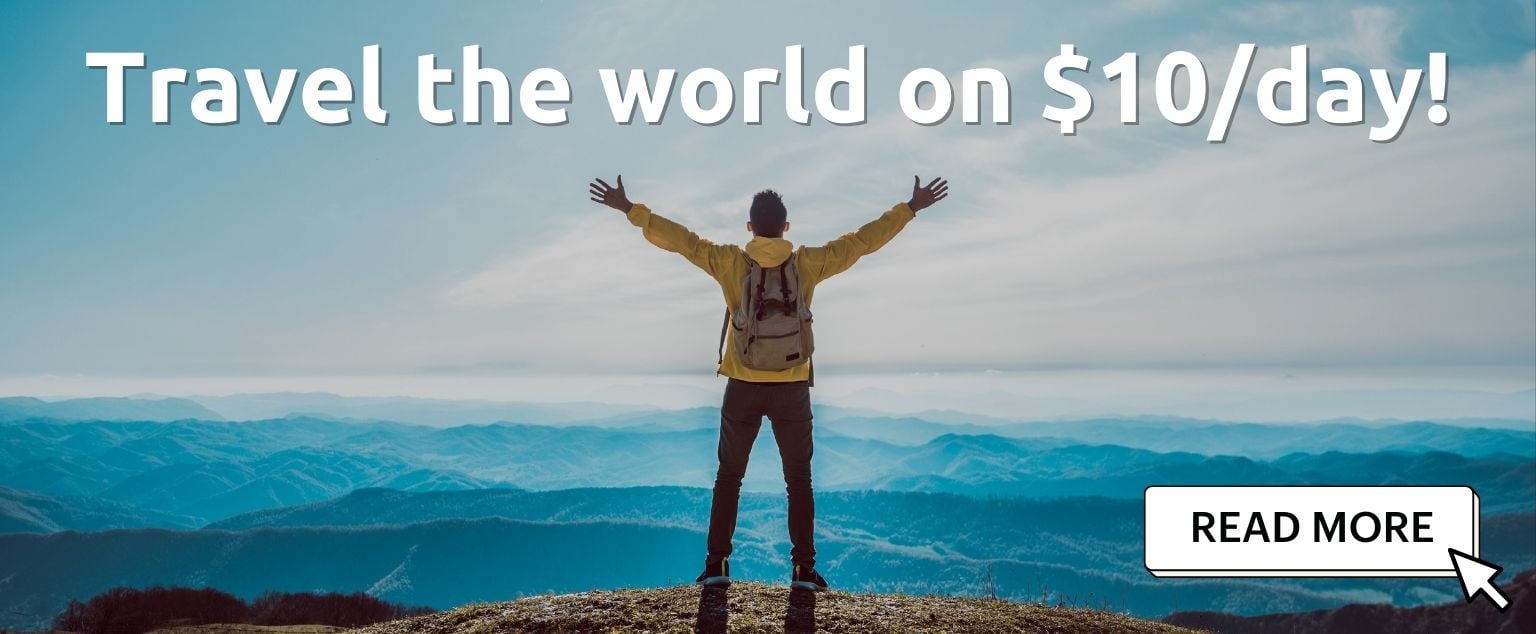 And for transparency's sake, please know that some of the links in our content are affiliate links. That means that if you book your accommodation, buy your gear, or sort your insurance through our link, we earn a small commission (at no extra cost to you). That said, we only link to the gear we trust and never recommend services we don't believe are up to scratch. Again, thank you!