The Hawaiian Island of Kauai is a stunning tropical haven away from the stresses of busy life. Its landscapes are made up of emerald valleys, dramatic mountains, lush tropical forests, and cascading waterfalls.
It's often called the "Garden Island", and a glance at a picture (and certainly a trip here) will show you why.
It's also a little less touristy than other Hawaiian islands, but not for its lack of beauty and things to do. The beauty of this is that you can still have an authentic experience here in Kauai, and escape the mundane holiday resorts that seem to take over every beautiful spot in this world.
It's only fitting then, that you choose an accommodation that adds to the authenticity of the place, so you can really feel like you've taken a trip to Hawaii. The best way to do this, is to stay in a vacation rental in Kauai.
Since vacation rentals are the homes of locals, you can expect homey interiors with local art and furnishings, and also have a helpful host who can give you inside tips and tricks to make the most out of your stay.
If this sounds great to you but you don't know where to look, don't worry, because I've come up with this list of best Airbnbs in Kauai for all travel styles and budgets, so you can have the best Hawaiian adventure!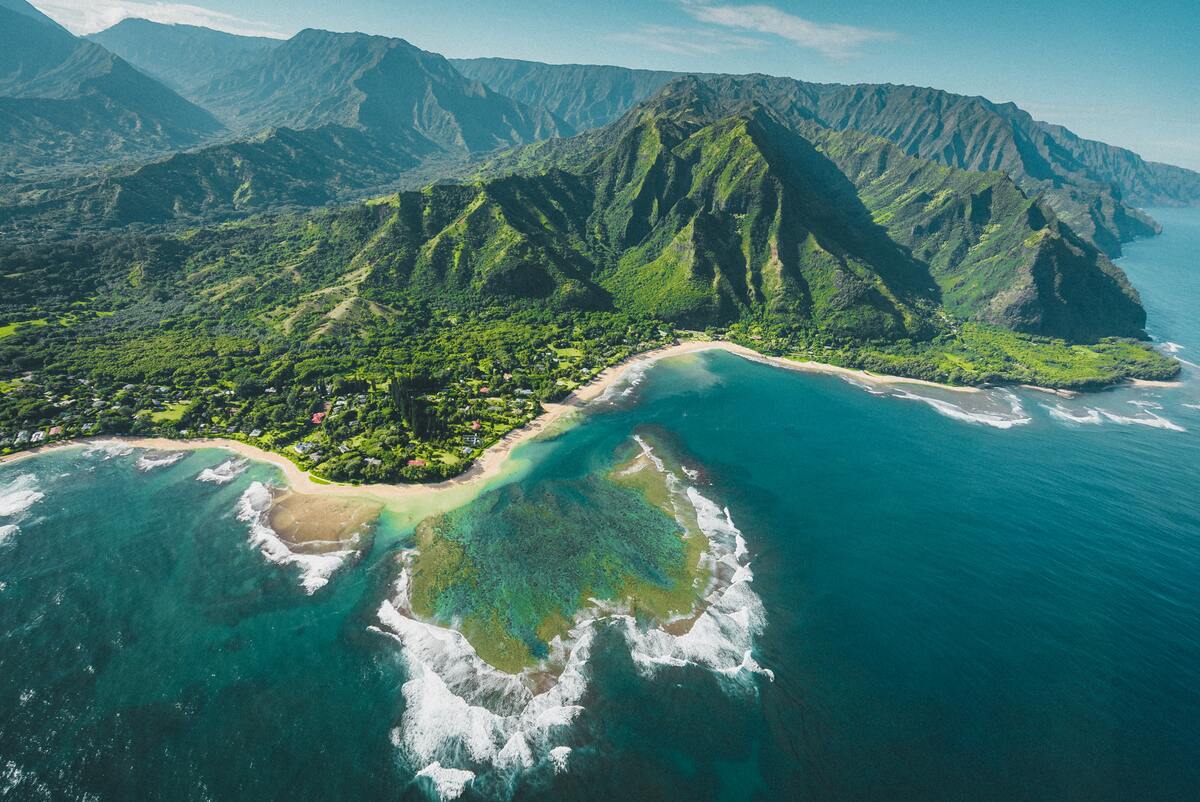 Quick Answer: These are the Top 5 Airbnbs in Kauai
Overall Best Value Airbnb in Kauai
Overall Best Value Airbnb in Kauai
Modern 2-Bedroom Condo
> $$
> 4 Guests
> Ocean views
> Modern Kitchen and bathroom
Best Budget Airbnb in Kauai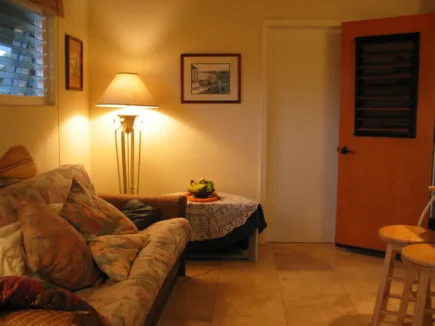 Best Budget Airbnb in Kauai
Simple Studio for 2
> $
> 2 Guests
> Walking distance to amazing beaches and secret caves
> Private bathroom
Best Airbnb for Couples in Kauai
Best Airbnb for Couples in Kauai
Eco-Chic Tropical TreeTops Villa
> $$$
> 2 Guests
> Romantic and secluded
> 11 acre property with jungle and creeks
Best Airbnb for Families in Kauai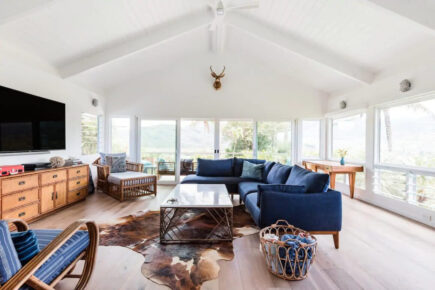 Best Airbnb for Families in Kauai
Home Near Hanalei Bay
> $$
> 6 Guests
> Family friendly
> Access to amazing pool and Jacuzzi
Over-the-Top Luxury Airbnb in Kauai
Over-the-Top Luxury Airbnb in Kauai
Kai Halulu on the North Shore
> $$$$
> 7 Guests
> Spectacular beach views
> Jacuzzi and home theatre

Unlock Our GREATEST Travel Secrets!
Sign up for our newsletter and get the best travel tips delivered right to your inbox.
What to Expect from Airbnbs in Kauai
Traveling in Hawaii ain't cheap, and let's be clear – Kauai is not your typical budget trip destination. But luckily, there are plenty of budget-friendly options when it comes to places to stay. Especially, when you're looking at Airbnbs.
Many vacation rentals in Kauai have a lanai which is a roofed veranda or balcony designed to bring the outside, inside. These are important living spaces in most Hawaiian homes. Why wouldn't you want to maximize time in the fresh air taking in tropical views?
Many modern homes have air conditioning, however, a lot of people sit out on the lanai and open up the windows at night to enjoy the cooler evening breeze.
The great thing about Kauai Airbnbs is that they are all over the island, so you'll never struggle to find a place to stay. You simply just need to choose where to stay in Kauai and then find a vacation rental nearby.
As well as your typical residential home, there are three kinds of Airbnbs that dominate the listings for properties in Kauai.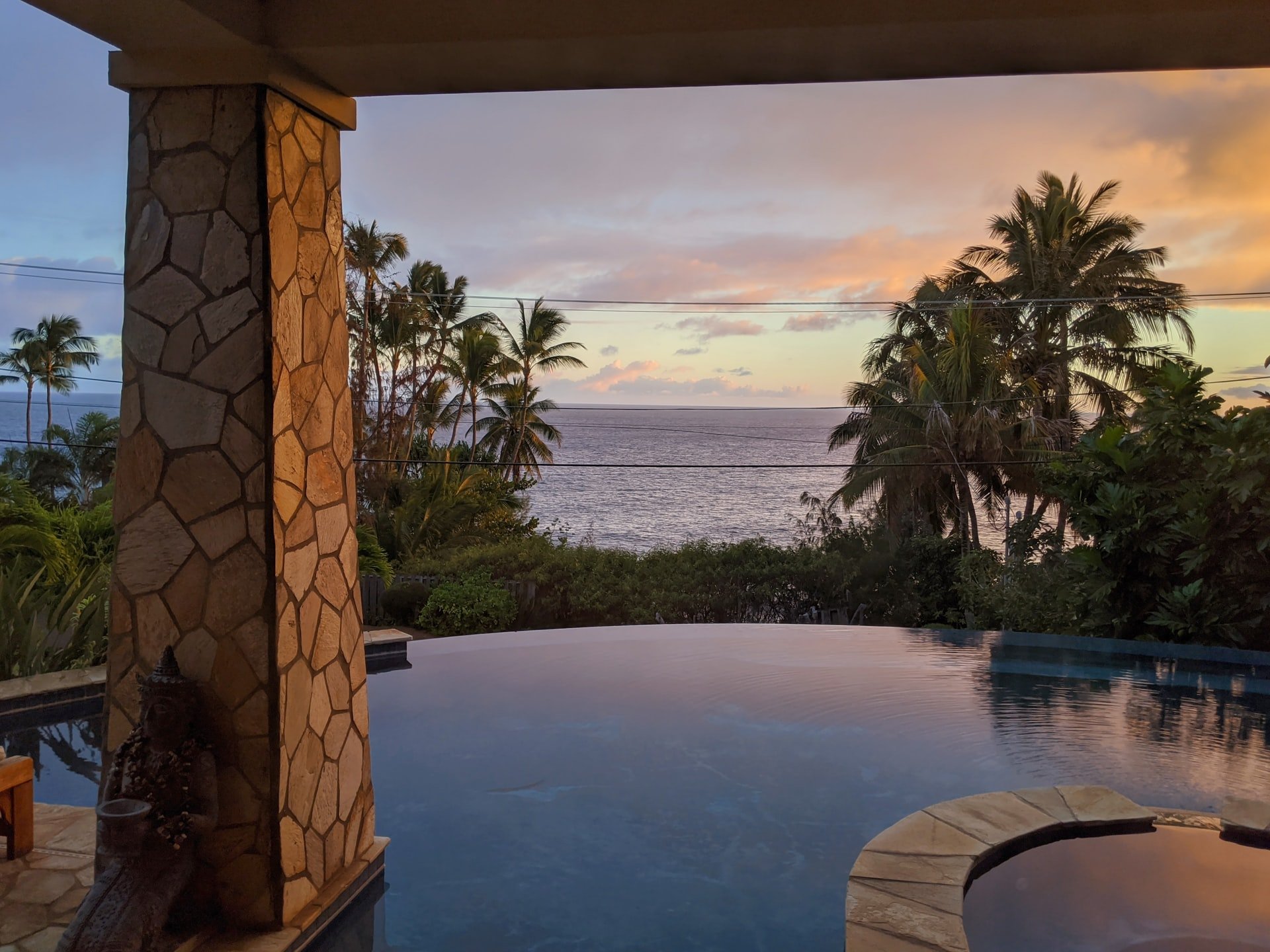 Villas
If you're looking for a luxurious Airbnb in Kauai, a villa is the way to go. These places are a bit more on the fancy side with a bunch of privacy and often have features like private pools, a hot tub, and insane views to match. Heck, some even have home cinemas!
Villas are suitable for groups of people and families since they come with multiple rooms and a lot of room. They are the most expensive type of accommodation on the market but they do come in the best locations.
It's even possible to find a villa with a private hideaways beach and come with all the beach gear included, such as beach chairs and SUPs, and kayaks.
Condos
A condo is an apartment in a building divided into separate living units and homes. They are entire rental units with everything you need from fully equipped kitchens to spacious living areas. Some even have balconies with ocean views.
Condos also have common areas like swimming pools, BBQs, and gyms that are accessible to all guests. These are most common in cities and built-up areas.
The apartments vary in size, although you can expect the full comfort of a house with a resort-like feel.
Studios
There are many studios in Kauai. Studios are a single room that serves as a combined living, dining, and sleeping space. Some of these are part of condos and resorts, and some are in private residential homes.
They often have their own en suite and kitchenette with a fridge and microwave. This is a good choice for a solo traveler or a couple as they are the most affordable type of vacation rentals. They are also great for short stays.
Why Stay in an Airbnb?
There are a bunch of reasons to stay in an Airbnb. Here are my top reasons!
Affordability: A quality Airbnb almost always ends up cheaper than a nice hotel room. Who doesn't want their cash to go further?
Unique Properties: Why stay somewhere boring when there are so many unique accommodation options these days? You can filter properties on Airbnb and search for unique properties including treehouses, tiny houses, boats, campervans, and more!
Privacy: There are many private and secluded places listed on Airbnb in Kauai. Properties have self-check-in too to keep any interaction at a minimum. Ideal for a romantic escape.
Local Experience: Local tips from a host can be the difference between visiting a place and truly experiencing it. You have the chance to live like a local in a different area and often get a lot of local suggestions from your host.
Staying Long-Term: Long term stays on Airbnb are rewarded with hosts setting up discounts for those who want to hang around a bit longer. The discounts can start to kick in with weekly stays, and in some cases, you will get a huge 50% discount if you stay for a month! This is great for digital nomads or someone who likes to travel slowly.
Safety: Airbnb checks all hosts that sign up to their platform. They have customer service available 24/7, so if any problems pop up, you know they've got you covered.
Airbnb Experiences: If you thought that Airbnb was only for finding great accommodation, think again. The platform also offers experiences that are unique activities with a local touch. I'll go into this later and share the best Airbnb Experiences in Kauai.
15 Best Airbnbs in Kauai
So now you know what to expect from vacation rentals in Kauai, without further ado, here are my top picks for the best Kauai Airbnbs.
4 Guests
Modern kitchen and bathroom
This beautiful two-bedroom condo can sleep up to four guests. It has a bright and airy feel because of the floor to ceiling windows, focussing on ocean views from every room.
The kitchen and bathroom are modern, and there's a spiral staircase that adds a bit of warehouse chic to the beach home. The Princeville location is awesome – walking distance to Hideaways Beach, Queen's Bath, Sealodge Beach, and Anini Beach. It's also a short drive from the stunning Tunnels Beach,
The home sleeps four people, and once you divide the cost per person, it's a seriously good deal for such an amazing Kauai Airbnb. You get a stunning holiday rental with all the amenities breaking the bank.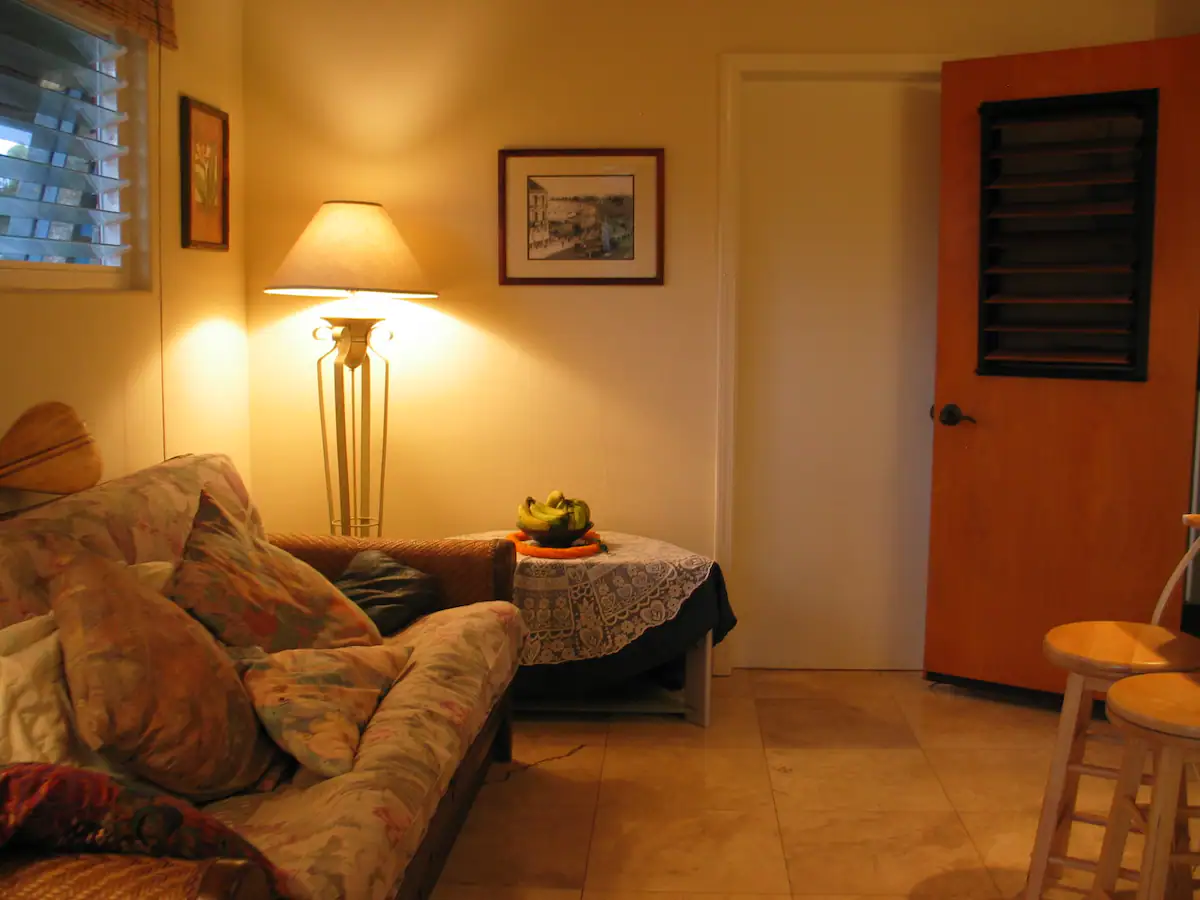 $
Walking distance to beautiful beaches and secret caves
This private room on Kauai's north shore is the best budget option. You can have your own space without breaking the bank. It's a studio space with a futon bed and a private bathroom.
While there's not a full kitchen, the studio has a mini-fridge, microwave, and coffee maker so you'll be able to prepare some simple meals. You'll have access to a gas BBQ outside, and the yard has fruit trees including bananas, grapefruits, avocados, papayas, and a herb garden.
The location is great! It's located in Princeville on the North Shore of the island. The studio is within walking distance to unmissable spots including Queen's Bath, Hideways, Tunnels Beach, Anini Beach, and secret caves where you can swim with the turtles and colorful Hawaiian reef fish.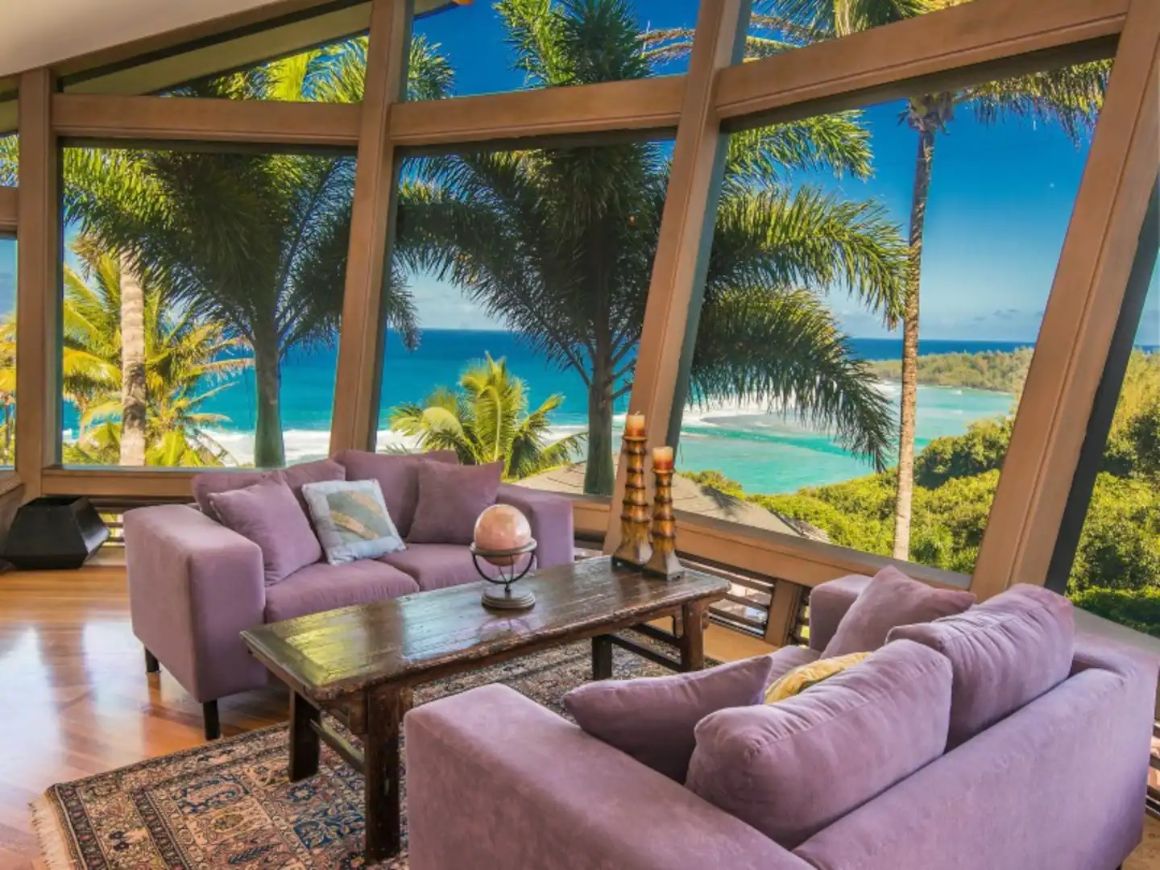 $$$$
Spectacular beach views
7 Guests
Jacuzzi and home theatre
Where to start with the luxurious features of this amazing Kauai Airbnb. There are spectacular ocean views that can be enjoyed from each bedroom, the kitchen, and living space through the floor to ceiling windows. There's also a huge lanai that makes the most of the coastal views, too.
The home has a dining gazebo, a wet bar, a warm outdoor shower, and a Jacuzzi. Heck, there's even an entertainment room with a home theatre.
The place is perched on a cliff above Pila'a Beach on Kauai's North Shore on a 10-acre property. After a 10 minute walk down the steep path, you can enjoy the remote and idyllic beach below.
This Kauai property is seriously luxurious, so if you're planning a fancy trip for yourself and six others, you should really check this one out.
Is This the Best Backpack EVER???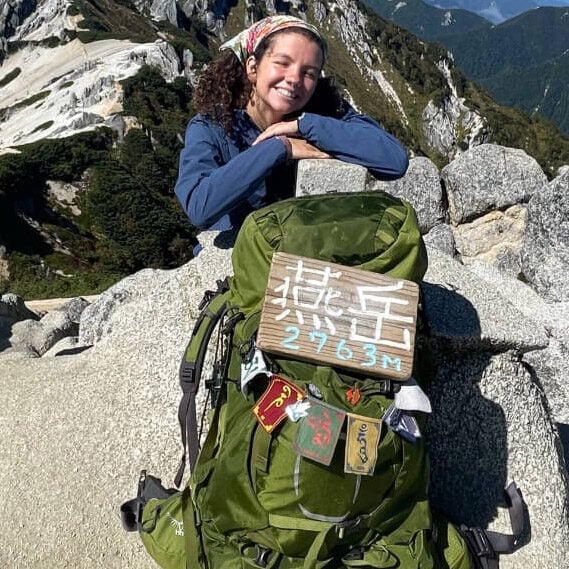 $$$
Incredible view from bedrooms
This beautiful, secluded property is located in the popular area of Princeville. Sure, Kauai has a lot of great things to do and see, but if you stay here, you're gonna have a hard time dragging yourself away from this infinity-edge private pool and the view that comes with it.
The outdoor area looks out over the jungle, three mountain peaks, and the turquoise water of Kauai's North Shore.
There are three large bedrooms with king-size and queen-size beds, as well as a full-sized sofa bed, so the home can comfortably accommodate eight guests.
The property provides some gear that outdoor enthusiasts will love, including bicycles, a surfboard, boogie boards, and yoga mats. There's a ping pong table in the games room, too! Staying here would certainly not be a terrible time.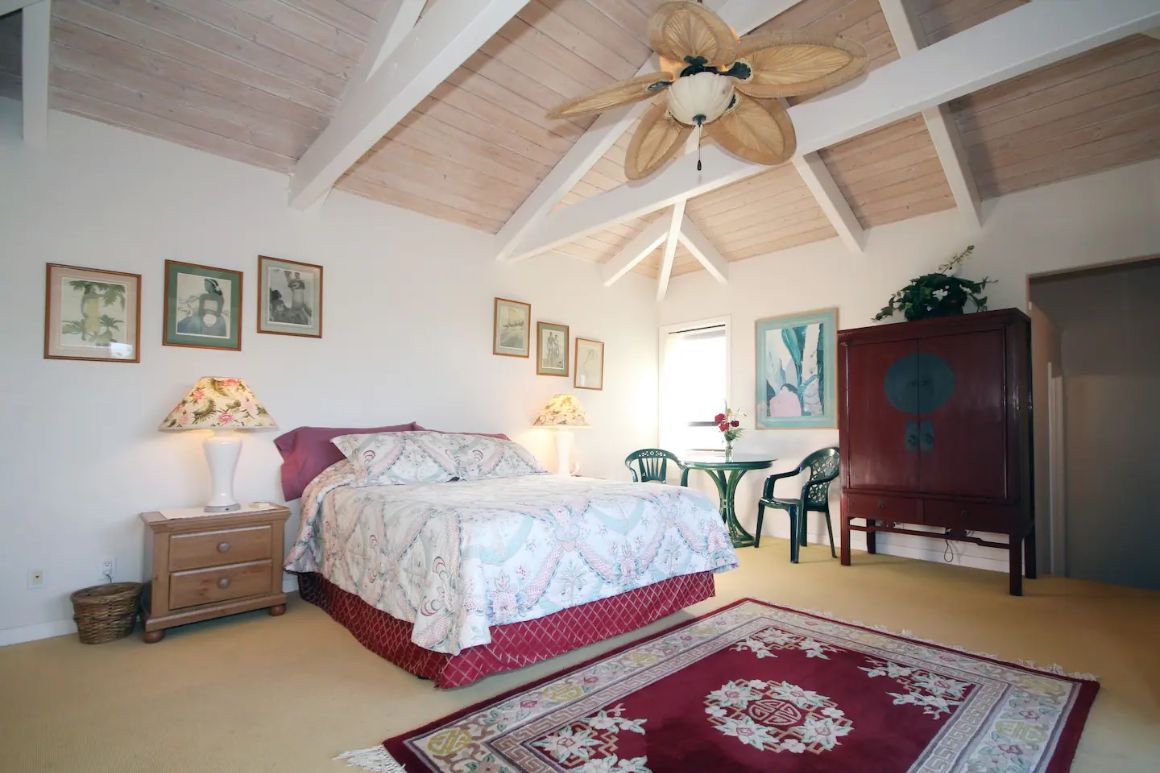 $$
Unique design and zen space
2 Guests
Pool and Jacuzzi access
This property is called Asia House, and it feels more like a resort or Balinese temple than a residential home.
This Kauai Airbnb is a studio that is semi-detached from the main house. It has its own en-suite bathroom, kitchenette, workspace, spiral staircase, and outside balcony with views over the courtyard and ocean.
This is an amazing space right opposite the Queen's Bath and other beautiful North Shore beaches. In the courtyard, there is a garden, bridge, and koi pond. Guests have access to these zen spaces, as well as the pool, hot tub, and outdoor shower.
$
Unique accommodation in a camper van
Embracing the van life is a seriously cool way to explore Kauai. Choosing this unique Airbnb means you've already got accommodation and transport sorted for your trip to the island. The best bit? You can wake up every day with an amazing view of Kauai's beautiful beaches, mountains, or jungles. The choice is entirely yours.
Hawaii is known for its amazing nature, and staying in a camper like this means you will be able to explore the best of it at your own pace, and not worry about getting home at night.
The camper is a charismatic vehicle that has a double bed to sleep two adults which converts into a seating area. It has a kitchen, a sink, and space to store your things.
Please note, there are a few extra costs to this listing such as car insurance.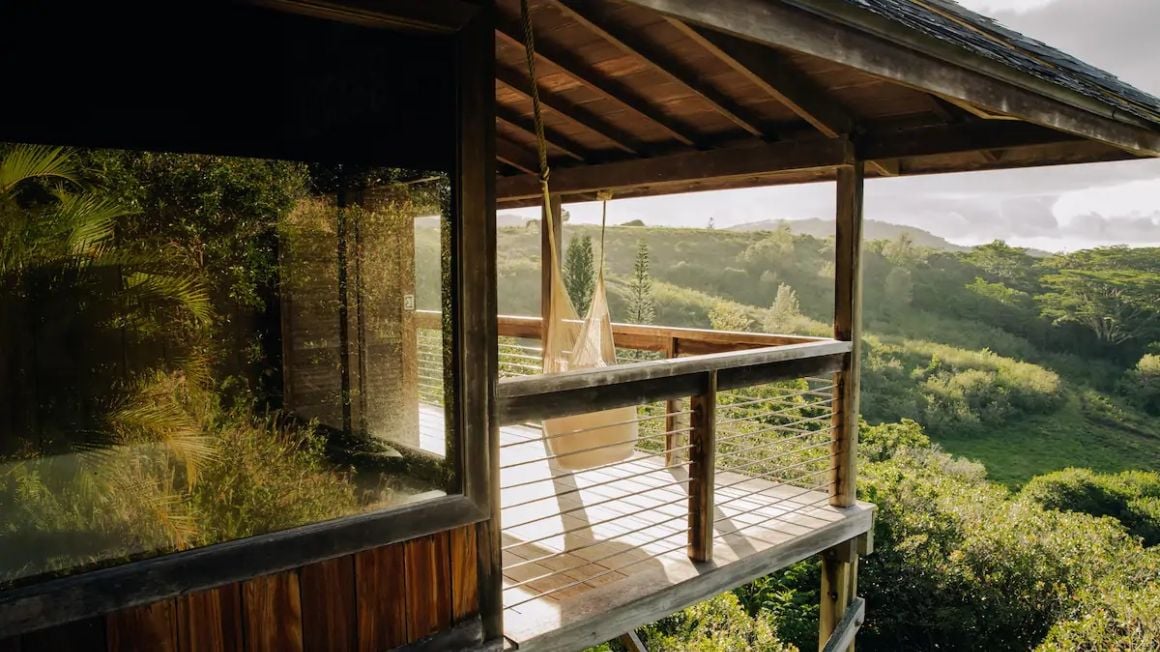 2 Guests
11 acre property with jungle and creeks
If you're planning a romantic getaway with your loved one, don't miss out on this divine eco-cabin. You will have a lot of privacy on this 11-acre property, filled with native plants, stunning birds, and a breathtaking view.
It's only minutes away from Poipu Beach Park, Poipu Beach Athletic Club, and the historic town of Koloa, but you'll have the feeling of total seclusion.
This beautiful home has an infinity pool and a huge wrap-around lanai with a hammock. The indoor areas feel just as luxurious with big windows connecting you to the beautiful outdoors and curated art, rugs, and sculptures.
The bathroom even has a double bath with an outlook over the valley. I'm pretty confident you and your partner will love it here.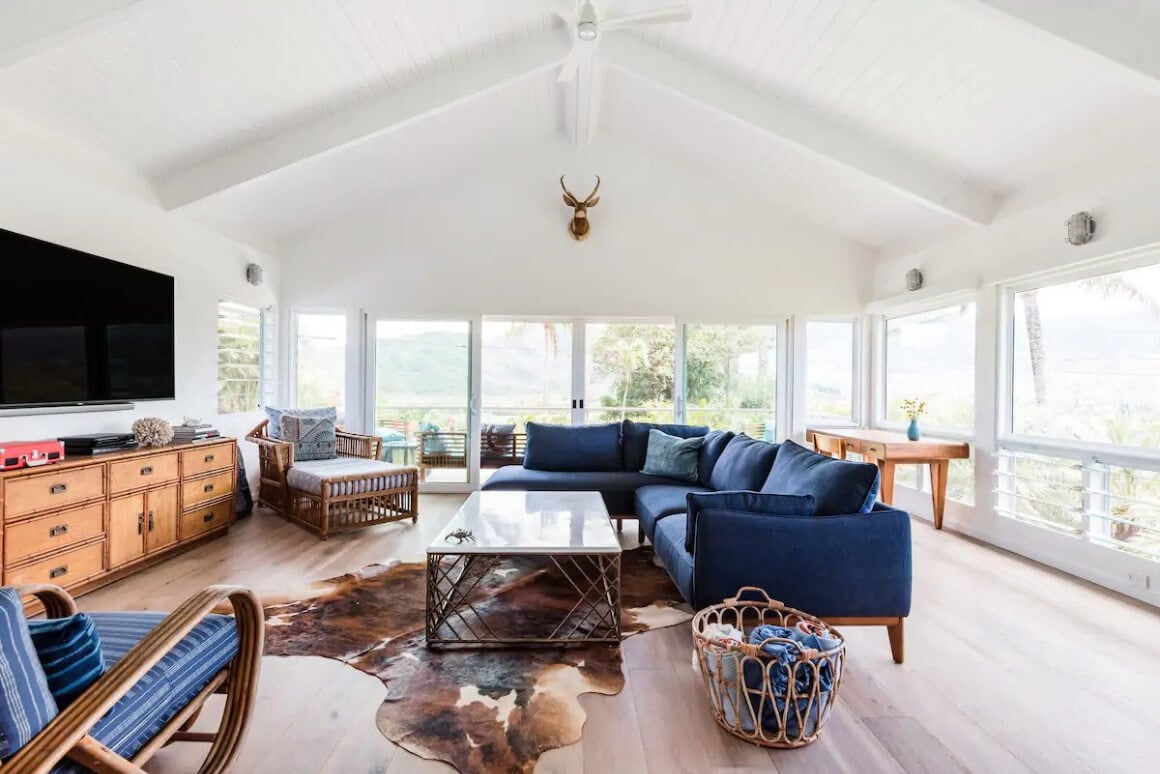 6 Guests
Access to amazing pool and Jacuzzi
This Kauai Airbnb in Princeville is designed with families in mind. It has everything you need for a comfortable and super fun stay.
It's a big spacious home with three bedrooms, a fully equipped kitchen, air conditioning, and a balcony to enjoy your meals in the fresh air. There's a backyard and two balconies, and there's plenty of space for the kids to play in the spacious living area.
Guests have access to an amazing pool and hot tub that the whole family will love. Plus, there's a driveway with ample parking for multiple cars.
$$
Close to hiking trails and the beach
4 Guests
Jungle views from each room
This light and airy jungle cottage is an amazing Kauai Airbnb for a group of friends or family. I'm not kidding when I say there are jungle views from every window. The vibe of this place is best described as boho chic.
The romantic garden cottage has two cozy bedrooms and all living spaces are equally inviting and charming. You can sit back on the balcony and admire exotic birds and lush tropical landscapes by day, and be lulled to sleep by the sounds of crashing waves in the distance at night.
If you're a yogi, there are yoga mats to use as well as beach towels, board games, and beach gear by request. You can spend your days hiking the Kalalau trails or at the beach which is only a 10-minute drive away. You're also close to the unmissable farmers that have the best local produce on the island.
A stay in this paradise sets the scene for the most wholesome group trip ever.
2 Guests
Bright and airy space
Finding a Kauai Airbnb suitable for digital nomads is not as easy as finding a luxurious resort or surfer shack. But, this Princeville studio is a good fit for a digital nomad or two to set themselves up in.
There's a big dining table that you can set up as a work desk, a comfy queen-sized bed, a private ensuite, and breezy balcony to enjoy your morning coffee. The place has its own kitchenette with a mini-fridge, grill, and microwave, and you'll also have access to the shared BBQ in the swimming pool area.
You have several beaches within walking distance and quick access to the bars, restaurants, and all-around cool vibe of Princeville. Not only will you have everything you need to create a comfortable work routine, but you'll also feel like you're staying in a holiday destination because, well, you are!
6 Guests
View from balcony
This beachfront apartment is ideal for your surf trip to Kauai. You're only a few steps away from your local beach and are well-positioned to check out all the best surf spots on the island.
There are two bedrooms which sleep four, though the living room has a sofa bed if you want to invite two extra mates for the good vibes (and to split the cost).
The apartment has everything you need for a comfortable stay in a quiet and laid-back part of the island. The balcony has views of the ocean, the perfect position for whale watching in the winter and for stunning summer sunrises.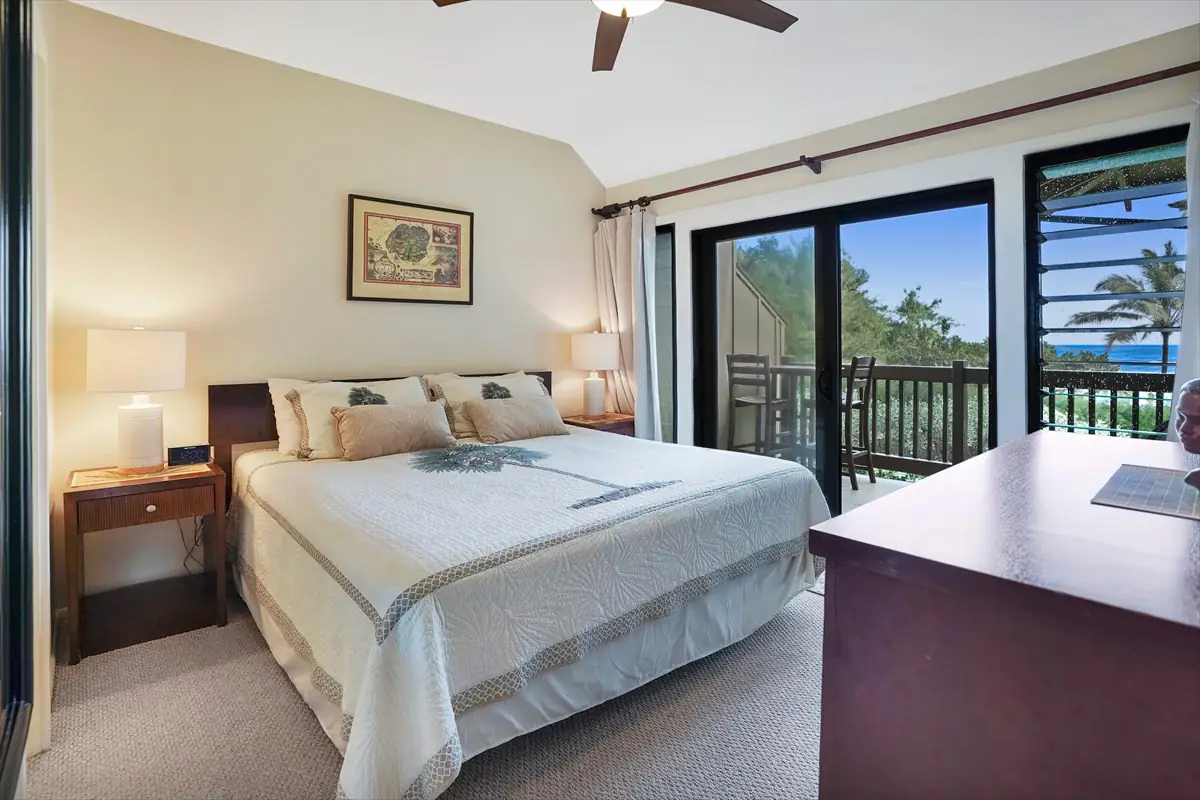 $$
Awesome beachfront condo
4 Guests
Access to pool and tennis court
Many of the best Airbnbs in Kauai are condos, and I reckon this one encapsulates the best bits of this kind of accommodation.
This condo is located on a bloody impressive property right on the beach. You would assume that this kind of luxury would mean that it would break the bank, but by Kauai standards, it's quite reasonable. It sleeps four guests in beds, and an extra two can crash on the couch.
Staying here you will have all the facilities of a beachside resort and the full functionality of a home. There's access to the stunning condo pool, tennis courts, a BBQ area, and kilometers of pristine public beaches.
5 Guests
Quick walk to the beach
This cozy studio gives you Hawaiian beach holiday vibes without breaking the bank. Who doesn't want to save their money for adventures? It's got two bedrooms, its own private en suite, full kitchen, and a gorgeous balcony with seating area. You're welcome to hang out in the spacious backyard which has gorgeous ocean views.
If you don't fancy cooking on your holiday, the studio is conveniently within walking distance to a bunch of great restaurants, bars and cafes.
Perhaps most importantly, in just a three-minute stroll you can have your feet in the sand at the stunning local beach. The condo is best suited to couples or small groups on a shoestring budget in Kauai.
When a property is listed as an Airbnb Plus, it means the property has been inspected in-person by Airbnb for quality and design. If you're looking for the classiest Airbnb Plus in Kauai, this is it.
This newly renovated home in Hanalei Bay is absolutely luxurious, though it's the little touches that make it an absolute standout from the crowd.
The bedrooms have blackout blinds, there are walk-in showers in each of the three bathrooms, and each room has been styled with classy design features and pops of color.
It has an open integrated living space that connects with the kitchen and dining area. There are multiple spacious lanais for you to take in the views over the ocean, surrounding mountains, and the Hanalei River.
After a big day out exploring the best of Kauai, you can unwind in the saltwater pool and watch the sunset, or escape the heat in the comfortable air-conditioned bedrooms.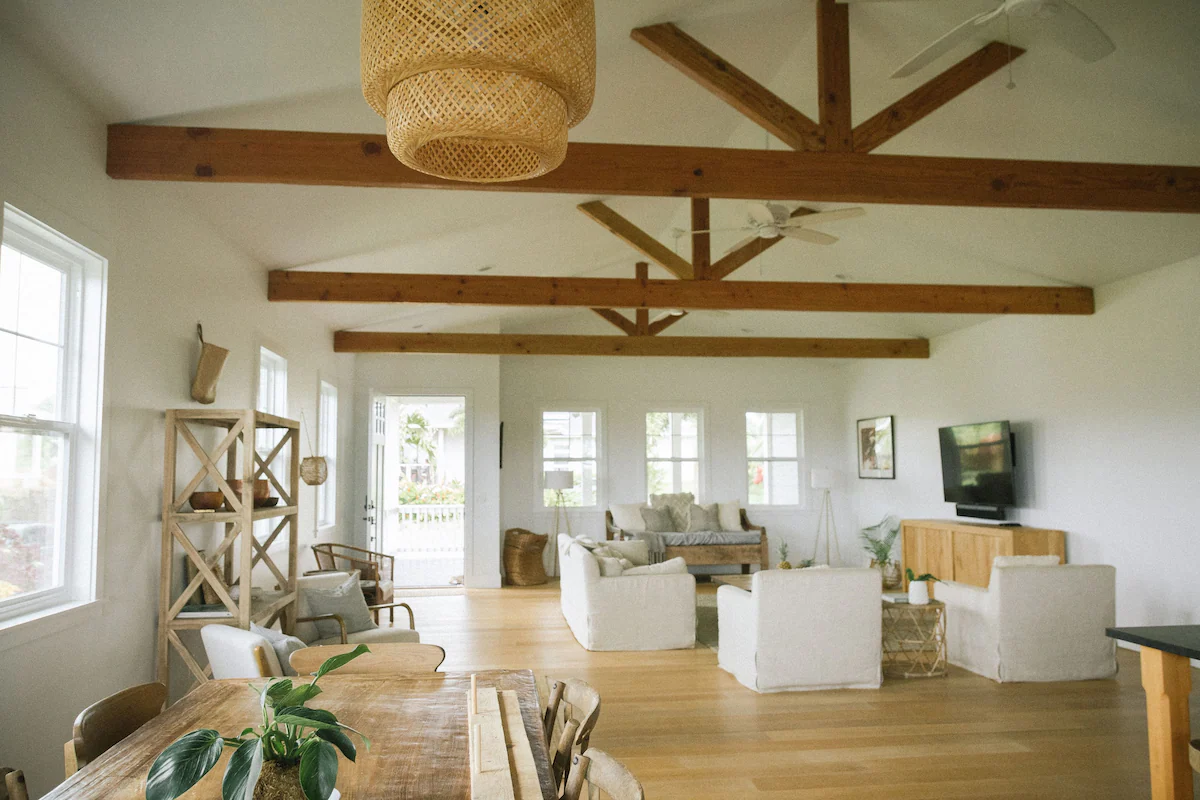 $$$
Suitable for large groups
10 Guests
Integrated living spaces
This beautiful home, affectionately known as The White Ginger, is a boutique home with a minimalist cross bohemian feel.
If you're traveling with a larger group, it can comfortably sleep up to 10 guests. It's got a spacious feel with a huge integrated living, dining, and kitchen space that opens out onto the balcony outside. There's plenty of space for everyone to hang out together or recharge in their own cozy nook.
Separate from the main house is a studio which can be an extra bedroom if you need it, or a lovely space to work or workout in.
While the per night cost is not exactly cheap, consider the value of splitting it per member of your group!
Best Airbnb Experiences in Kauai
By now, you probably know that Airbnb is not just a rental platform. As well as listing amazing properties, Airbnb also offers experiences organized by locals. They can be anything from cooking classes, multi-day hikes, or in the case of Kauai, a surf lesson on a famous Hawaiian beach.
What you get is an intimate insight into what makes that area special, plus the chance to explore with a local. These experiences are usually a lot more intimate than a commercially organized tour.
If you're unsure how to spend your days during your trip to Kauai, I've got you covered. I went ahead and handpicked the top five experiences on the island. I chose these Airbnb Experiences from a long list, because they are highly rated by guests and provide a unique and authentic insight into what makes Kauai special.
From $25 per person
Up to 10 people
2 hours
Start your day right with an invigorating sunrise yoga class with views out over the North Shore of Kauai. The class will connect you to the movement of your body and the spectacular nature around you with the soundtrack of morning birds and ocean waves guiding you through your practice. Sounds pretty magical, right?
Yogis of all levels, whether absolute beginners or experienced practitioners are welcome. The class will be tailored so each person can get the most out of their experience!
From $125 per person
Up to 30 people
3 hours
Looking for a breathtaking hike? And not because it's hard but because the views are incredible! Then you'll love exploring the hidden gems of the island's undeveloped South Shore coastline.
This gentle stroll passes along the edge of lithified limestone cliffs, where the power of the ocean enhances all of your senses. The views are incredible, but it's also a historic walk. It takes you past the Makauwahi Cave Reserve—Hawaii's largest limestone cave and richest fossil site.
If you're lucky, you may see giant land tortoises, as well as whales and dolphins in the ocean.
From $100 per person
Up to 2 Guests
2 hours
Hawaii is known for its amazing surf, and a trip to these parts isn't complete unless you hit the waves.
Surfing beginners, fear not. This Airbnb Experience shows you how to hang loose regardless of your skill level and will be customized depending on your experience. Your host, Ian, is well versed in teaching surfing and all things water safety.
The lesson takes place in Kapaa on the east side of Kauai. If you have your heart set on surfing another beach, this can be arranged with your host. Bring your own bathers, towel, and reef-safe sunscreen. Everything else you need, including a snack, is provided!
From $64 per person
Up to 7 Guests
90 minutes
Want to pick up some new skills while you're away? Then learn the art of weaving coconut leaves into baskets or bowls! Your expert guide will show you the ropes through the whole process, provide materials and guide you step by step. Plus, you have a unique handmade craft to take home as a souvenir.
I highly recommend making a hat to protect you from the blazing Hawaiian heat.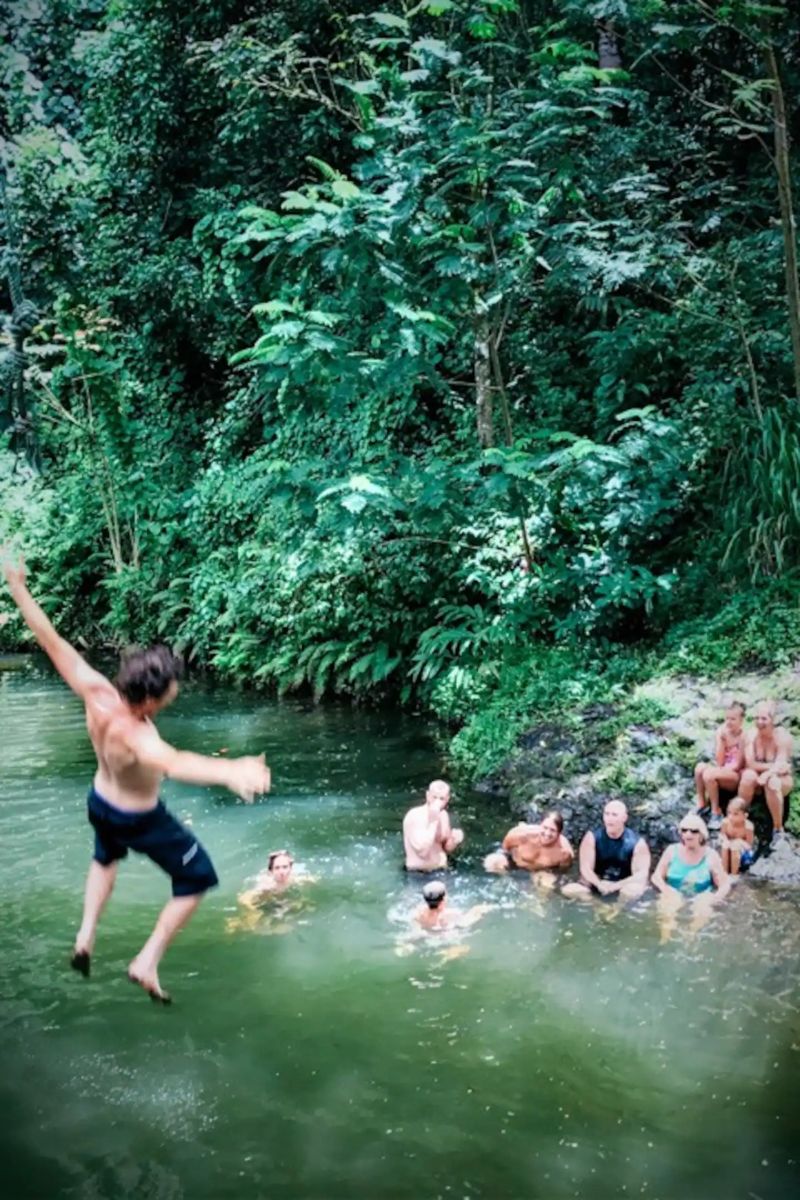 From $95 per person
Up to 8 Guests
3 hours
This Airbnb Experience will take you into the lush forest for a hike along the Kuilau Ridge to a viewpoint of Mount Wai'ale'ale.
The hosts have plenty of experience hiking these areas and will teach you about the impressive trees and wild edibles that line the way. There's a chance to cool off in a mountain stream, complete with a rope swing and a slackline to test your balance.
Be prepared for some wet conditions, it rains a lot in this tropical area. Make sure you wear decent shoes, and bring a hat and raincoat!
FAQs About Airbnbs in Kauai
Here's what people usually ask me about vacation rentals in Kauai…
Don't Forget Your Kauai Travel Insurance
ALWAYS sort out your backpacker insurance before your trip. There's plenty to choose from in that department, but a good place to start is Safety Wing.
They offer month-to-month payments, no lock-in contracts, and require absolutely no itineraries: that's the exact kind of insurance long-term travellers and digital nomads need.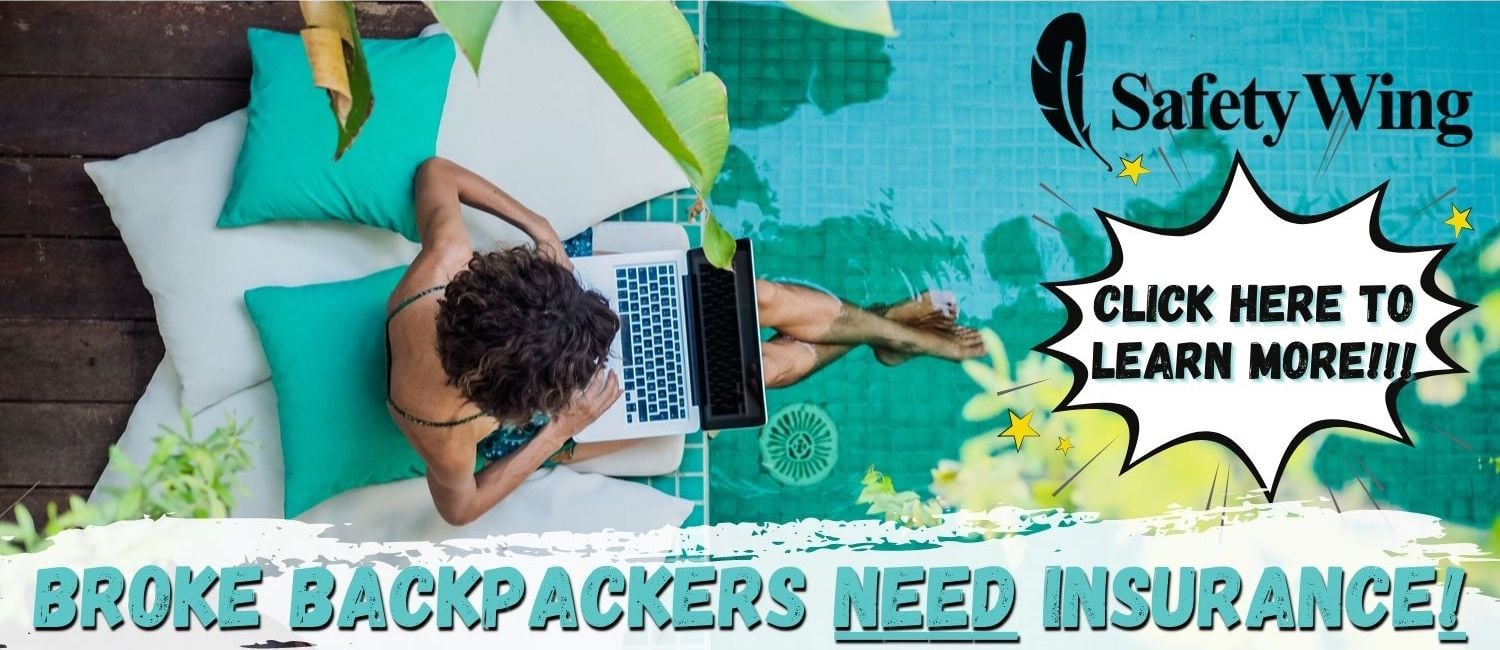 SafetyWing is cheap, easy, and admin-free: just sign up lickety-split so you can get back to it!
Click the button below to learn more about SafetyWing's setup or read our insider review for the full tasty scoop.
Final Thoughts on Airbnbs in Kauai
Whether you're planning a surf escape with your mates, a family holiday, or a romantic getaway, there are lots of different options for Airbnbs in Kauai to suit your budget and travel style.
Hopefully this guide has helped you narrow down your search little bit, but if you're still not sure, I invite you to look back at my overall best Airbnb, which has been picked for its ideal location, great value for money and top-rated hosts.
I've helped you sort your accommodation, you just need to pick a time and round up your crew. If you're considering how you can fill your days, don't forget to check out the Airbnb experiences on offer.
---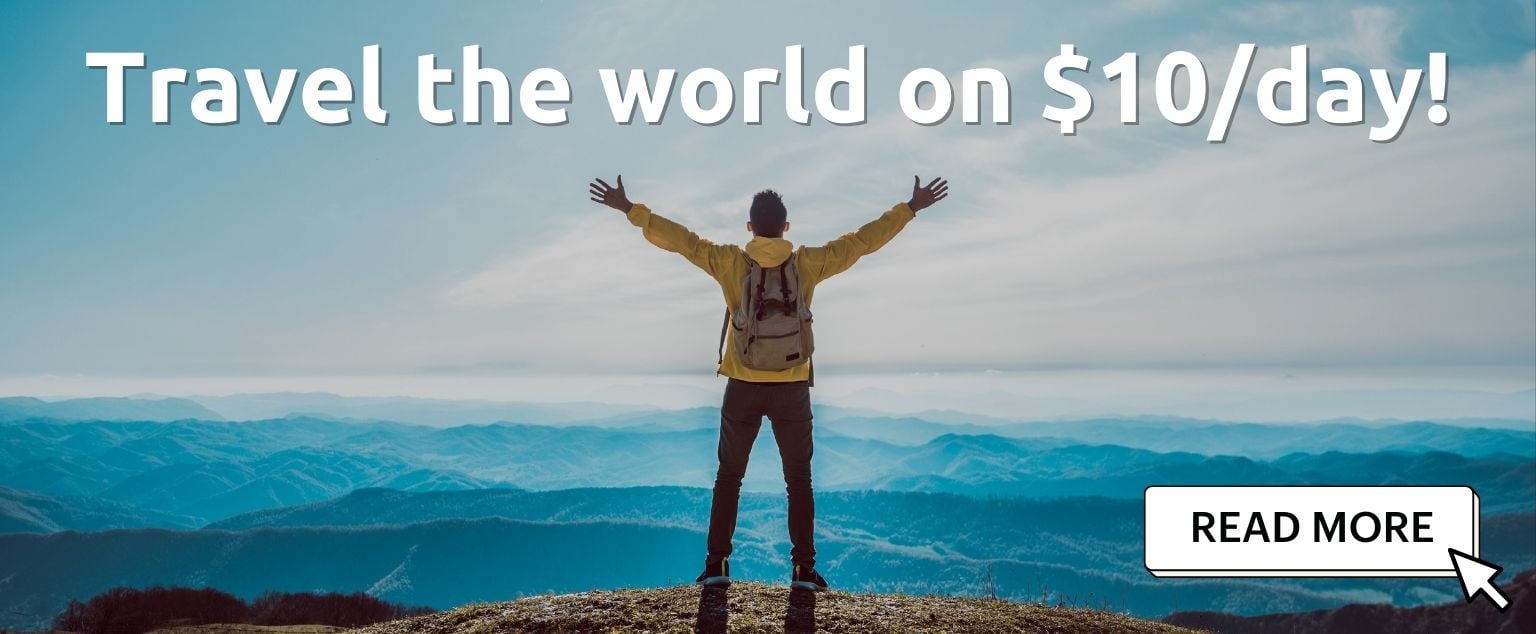 And for transparency's sake, please know that some of the links in our content are affiliate links. That means that if you book your accommodation, buy your gear, or sort your insurance through our link, we earn a small commission (at no extra cost to you). That said, we only link to the gear we trust and never recommend services we don't believe are up to scratch. Again, thank you!