The birthplace of the Industrial Revolution and home to one of the UK's most exciting music scenes, there's a whole lot to see and do in Manchester. Hit the bars of the Northern Quarter, stroll along the canal, and if you've had too much of the hustle and bustle, you've got the stunning Peak District right on your doorstep.
Though there's no shortage of hotels, it's all the usual chain suspects. For a little more character and personality, check out vacation rentals in Manchester. Cast your net a little out of the city centre, and you'll get to explore delightful neighbourhoods such as Didsbury and Chorlton.
It can be a little overwhelming deciding where to stay, but not if you let us help you! We've put together a list of the best Airbnbs in Manchester. Not only that, but we've also found five of the city's best Airbnb Experiences. Let's go!
Quick Answer: These are the Top 5 Airbnbs in Manchester
Overall Best Value Airbnb in Manchester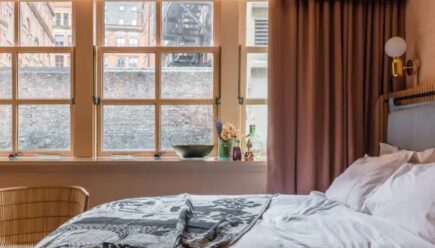 Overall Best Value Airbnb in Manchester
Whitworth Locke City Studio Apartment
> $$
> 2 Guests
> Central location
> King bed
Best Budget Airbnb in Manchester
Best Budget Airbnb in Manchester
Cosy King Size Room in Chorlton
> $
> 2 Guests
> King bed
> Free parking
Best Airbnb for Couples in Manchester
Best Airbnb for Couples in Manchester
Luxe New York Boutique Apartment
> $$
> 2 Guests
> King bed
> In Europe's oldest working cotton mill
Best Airbnb for Families in Manchester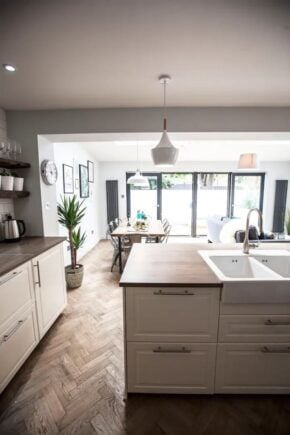 Best Airbnb for Families in Manchester
The Scandi House
> $$$$$
> 12 guests
> Open-plan living space
> Private patio
Over-the-Top Luxury Airbnb in Manchester
Over-the-Top Luxury Airbnb in Manchester
Unique Luxury City Boudoir
> $$$$$$$
> 6 Guests
> Cool and unique
> Great for hen parties

Unlock Our GREATEST Travel Secrets!
Sign up for our newsletter and get the best travel tips delivered right to your inbox.
What to Expect from Airbnbs in Manchester
Manchester is a fast-moving city. While there is a huge range of Airbnbs to choose from, it's hard to find an Airbnb in the very centre that isn't managed by a business. Think serviced apartments, entire flats, and boutique hotels. Once you get a little further away, that's where you get the most interesting properties.
Staying in Manchester can also be quite expensive, so looking a little further out can get you better value for money. A homestay in Withington or Fallowfield is close to the city's universities and great for solo travellers or partygoers. Houses in Didsbury or Chorlton are a good bet for families, and both these suburbs have their own quirky centres to explore as well as Manchester.
Don't worry about being too far away; there are regular trams, and the bus route from South Manchester to the city centre is the busiest in Europe.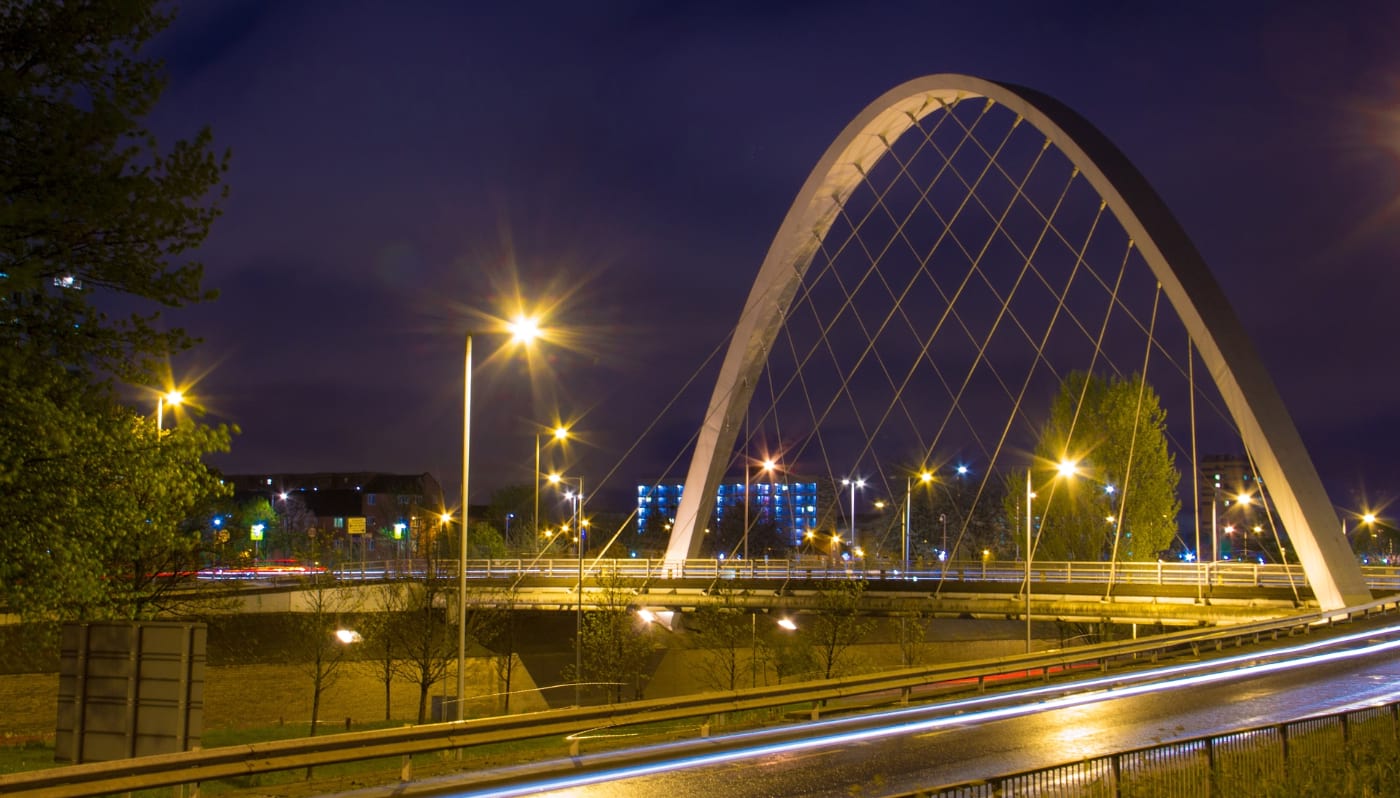 Entire Flat
A popular choice for most Airbnb users, an entire flat usually ensures you get a central location (though if you want to stay further out, that won't be a problem), lots of facilities, and the privacy you wouldn't get in a hotel or hostel.
They can also be any size – studio flats are perfect for a couple or solo traveller, while Manchester caters to larger groups such as hen and stag dos. It all depends on your budget!
In an entire flat in Manchester, you usually expect a fully equipped kitchen, a living space, and if you're willing to stretch your budget, a roof terrace or balcony. Though do be aware that Manchester is one of the rainiest cities in the UK!
Many central properties are managed by businesses, but further out of the centre, you'll be dealing with local hosts.
House
A great option if you're travelling as a family or group of friends, houses are dotted around Manchester's suburbs. If you want to make the most of the nightlife, look at an area such as Fallowfield or Withington. They're super accessible from town but have their own clubs and bars.
Travelling for the footy? Ancoats, New Islington, and Beswick are good for Manchester's Etihad Stadium, while Chorlton, Stretford, and Salford Quays are perfectly positioned for Manchester United and Old Trafford.
Houses not only offer kitchens and living rooms, but multiple bedrooms and often a garden. Again, how much you get will depend on what you're willing to spend.
If you're in England on a budget or travelling solo and can't justify booking out an entire house, just search for private rooms instead. You'll get a local host to help you find your way around, too!
Boat
Want a really unique stay in Manchester? Look out for a boat. There are only a few boats available, so once you find one you like, you'll have to snap it up pretty quickly!
Houseboats offer pretty much everything you could expect from an entire flat, but on the water. Piccadilly Basin is just outside of the city centre and less than a five-minute walk from one of the city's main shopping and eating streets – Deansgate. The area around the canal is well-developed, so there'll be no trouble finding places to eat, drink, and pick up supplies if you want to cook on the boat.
Because houseboats are usually quite small, they'd suit a couple or a very small group of friends.
Why Stay in an Airbnb
Now that you know what to expect from Manchester, we imagine you won't need any further convincing to stay in an Airbnb. But if you do, here are five reasons Airbnb is awesome!
Local Experience: Staying with a local host means you can leave the guidebook at home. They'll know all the best places to visit in Manchester that you might not find on your own.
Unique Properties: If you stay in hotels and hostels a lot, they can blend into one after a while. Freshen up where you stay with an unusual or unique Airbnb!
Affordability: Put an equally priced Airbnb and hotel next to each other, and there's only going to be one winner when it comes to value for money – and it's not the hotel. Especially if you're staying in a private room in a B&B in Manchester.
Safety: Airbnb's rating system vets both host and guest, so you know what to expect when you arrive. And they know you're not going to trash their home!
Airbnb Experiences: It's not just about awesome places to stay; it's what to do in Manchester. Airbnb Experiences offer you a local insight, but we'll get to that later.
The Top 15 Airbnbs in Manchester
Now that the admin is out of the way, let's get to the part you've all been waiting for. Here are the 15 best Airbnbs in Manchester. Choose carefully!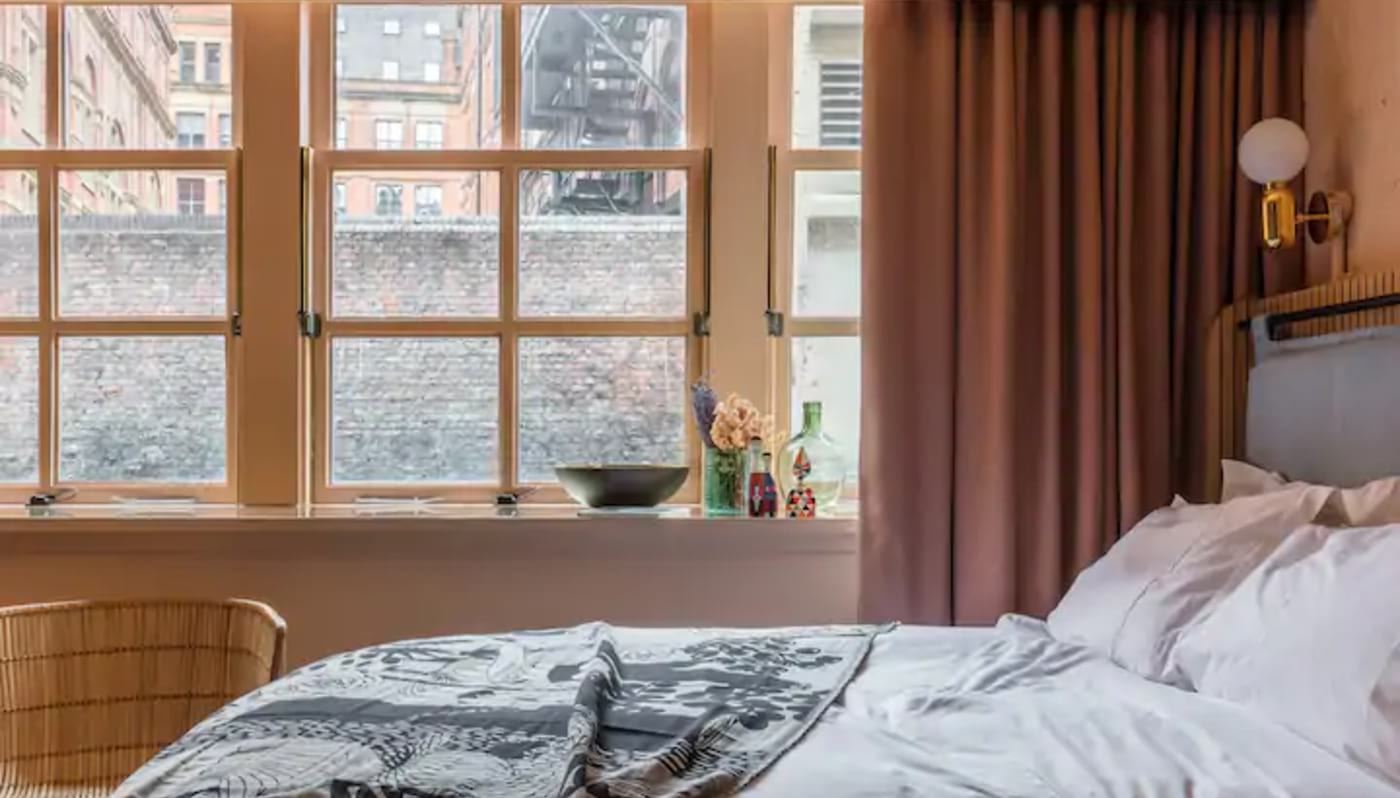 Located in central Manchester, this excellent value Airbnb is right near all the action – whether that's the city's monuments or nightlife. You've got a kitchenette, private bathroom, and a king-size bed. It's best suited to a couple or a solo traveller. There are some nice touches on arrival, such as a welcome gift, complimentary toiletries, and some tasty treats in a Locke bag.
Chorlton is one of Manchester's coolest neighbourhoods, and it's packed with Bohemian bars and cute restaurants. There are several independent shops, too. Though it might look quite a distance on the map, it's actually only 15 minutes away on the Metrolink. For a small outlay, you get quite a large bedroom in a friendly family home with free parking. You've got access to the kitchen and living areas, too – including a small and pleasant garden.
$
Laptop-friendly workspace
Travelling solo? A homestay is the best way to meet locals and get their recommendations on how to fill your Manchester itinerary while keeping your costs manageable. So, check out this lovely city centre flat near Oxford Road train station. You've got access to your host's kitchen, and there are loads of cheap eats right on your doorstep. The laptop-friendly workspace is perfect for digital nomads on a budget.
Is This the Best Backpack EVER???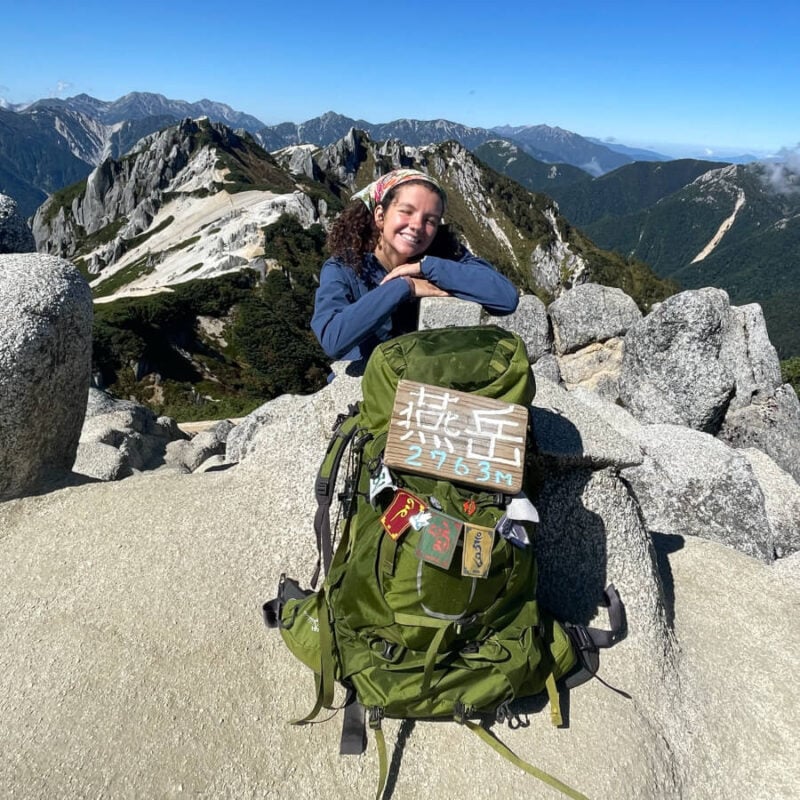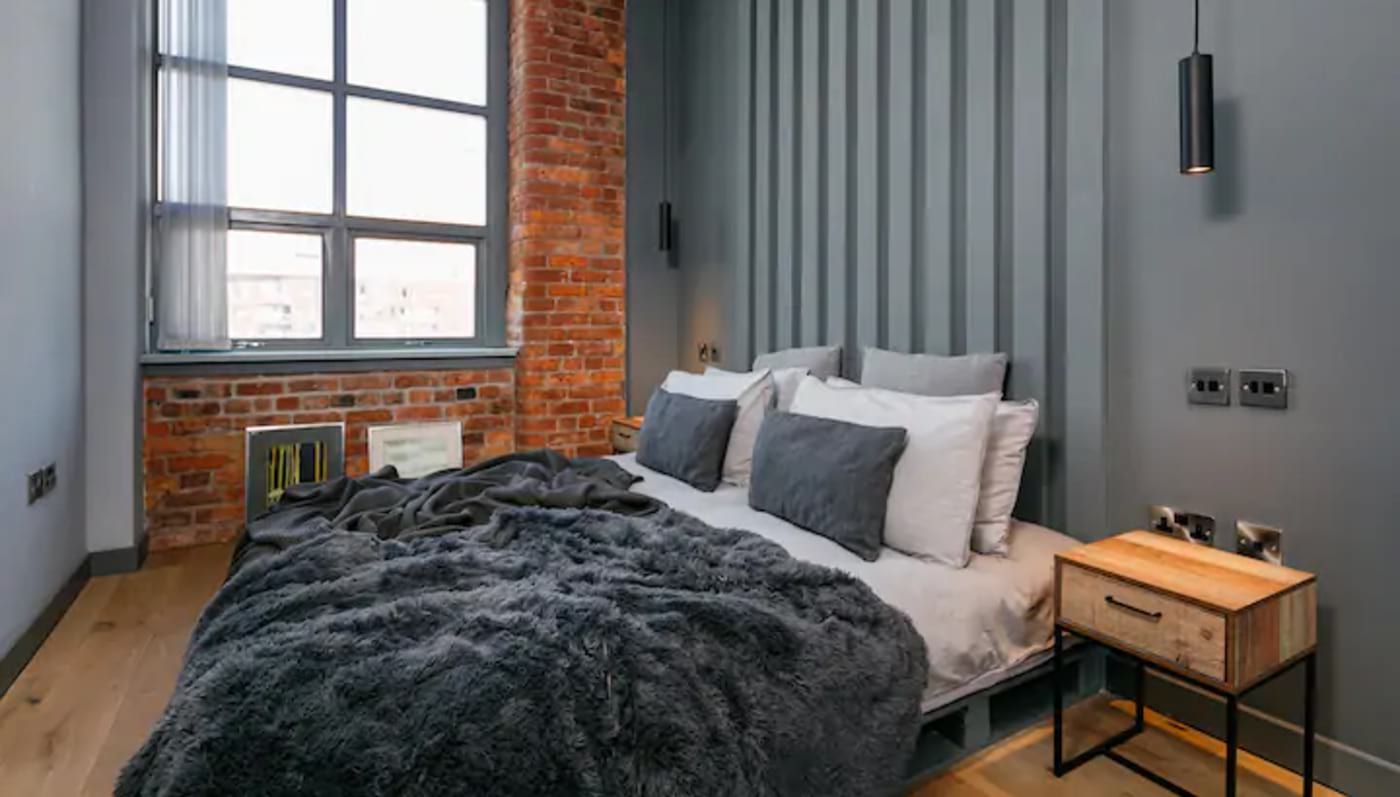 2 Guests
In Europe's oldest working cotton mill
A cool and modern apartment with industrial touches, this apartment is romantic yet perfectly captures the essence of Manchester. The city was formerly known as Cottonopolis, and the apartment is in Europe's oldest working cotton mill. Even if you're not impressed by the history, you're sure to love the comfy and squishy king bed, the lovely living area, and the fully equipped kitchen. A proper romantic love nest for the happy couple!
Best Airbnb in Manchester for Families | The Scandi House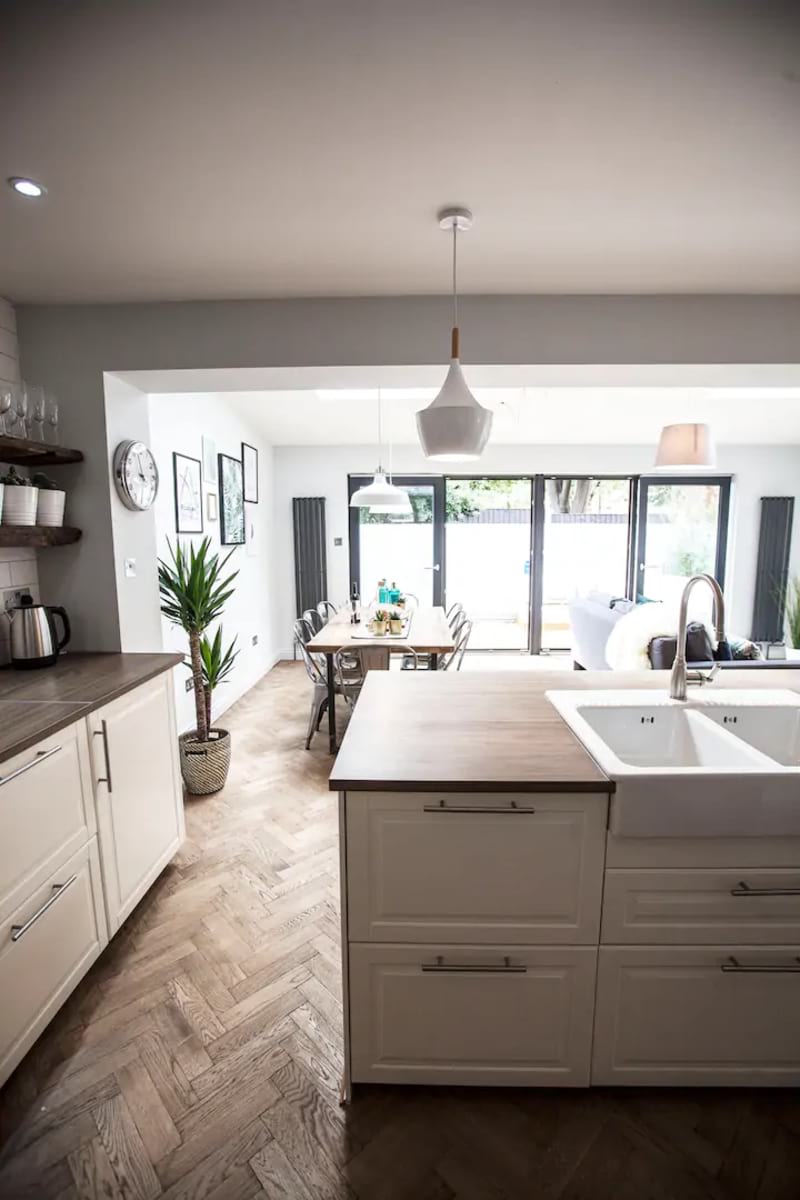 $$$$$
Open-plan living space
This Scandinavian inspired house is a little outside the city centre. Based between Fallowfield and Withington, this leafy suburb is charming, and there are loads of parks where you can go with the kids. The house can sleep up to 12 guests, which is good for a large family gathering. The price is more manageable if you split it multiple ways, too. We particularly love the open-plan kitchen and living room, where the family can spend quality time together over food.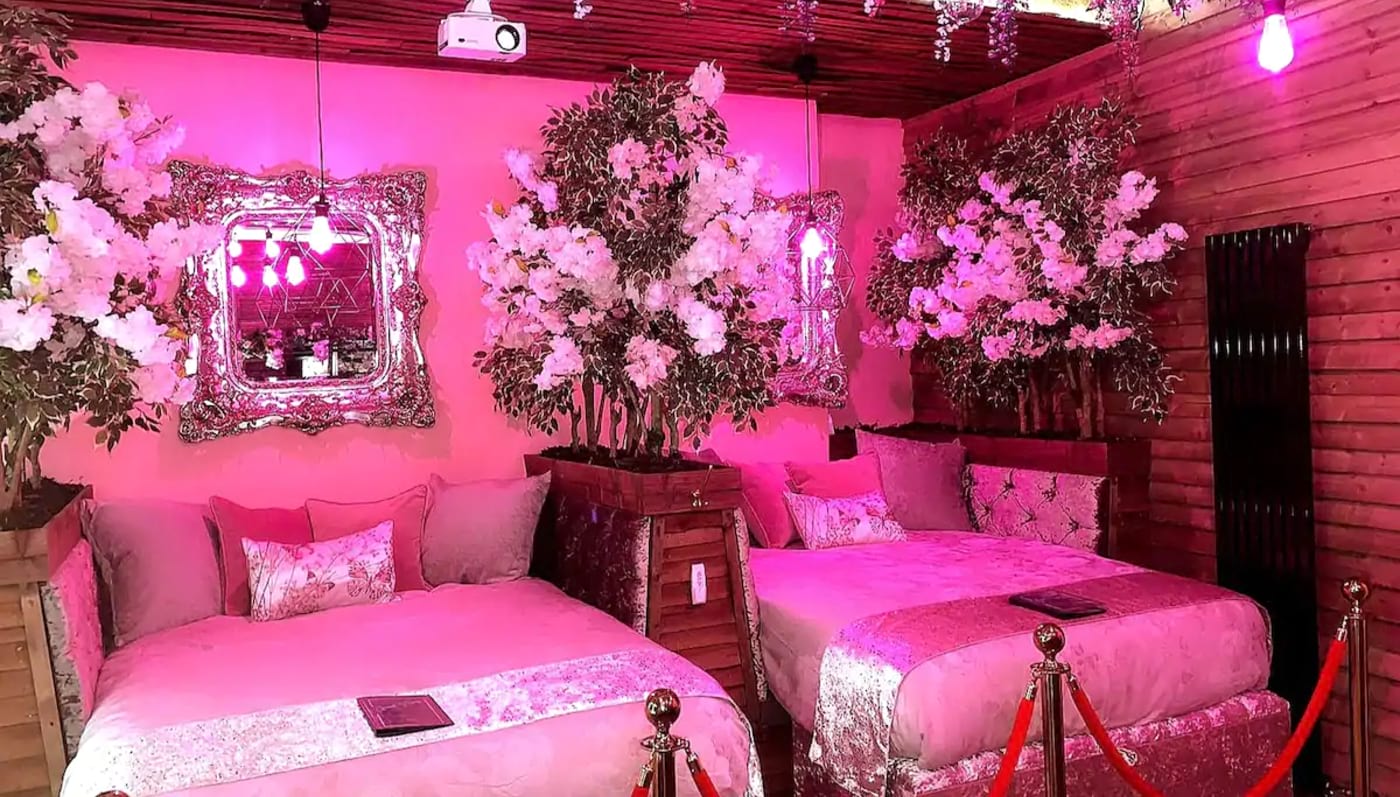 6 Guests
Great for hen parties
Probably best suited to a girls night, but hey we don't judge! Always wanted a stylish place to stay on your hen do? This unique option in the Ancoats (voted as one of the coolest 50 neighbourhoods in the world by Time Out) means there's loads of nightlife on your doorstep, but you can just as easily pamper yourself at your Airbnb. Who's up for a movie night with popcorn?!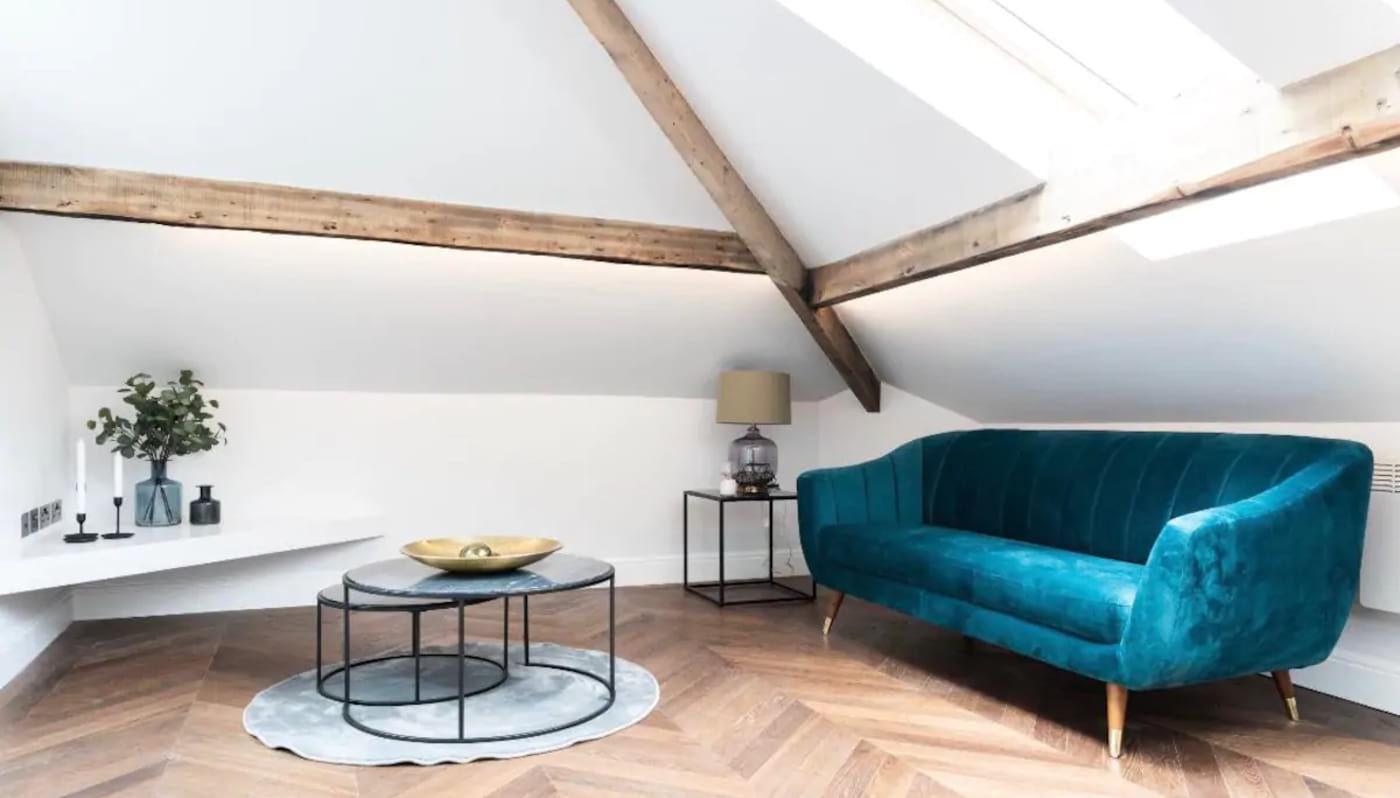 5 Guests
Kitchen and dining area
It's rare to find an entire flat at such a reasonable price in central Manchester, so don't hesitate to book if you like the look of this place. The fourth-floor penthouse is ideally positioned for the city's famed annual Christmas Markets, but it's a great option year-round. You're close to the business district of Spinningfields, so it's ideal for business travellers, too.
$$$$
Access to city centre on public transport
2 Guests
Local amenities on doorstep
West Didsbury is one of Manchester's hippest neighbourhoods. Along the Burton Road strip, you'll find some of the city's coolest restaurants and atmospheric bars. If you stay down here, you might love it so much you won't get into central Manchester! This mews house has been designed by an architect and is the luxurious escape that you really deserve!
Honeymooners and couples who want to step outside of the mainstream should consider this cool narrowboat in Piccadilly Basin. Ideally located for visiting the city's museums and nightlife, you'll get a bit of peace and quiet at night. A lovely touch is the honesty bar – there are wine, beer, and spirits you're welcome to enjoy on arrival. Just be sure to pay a fair price!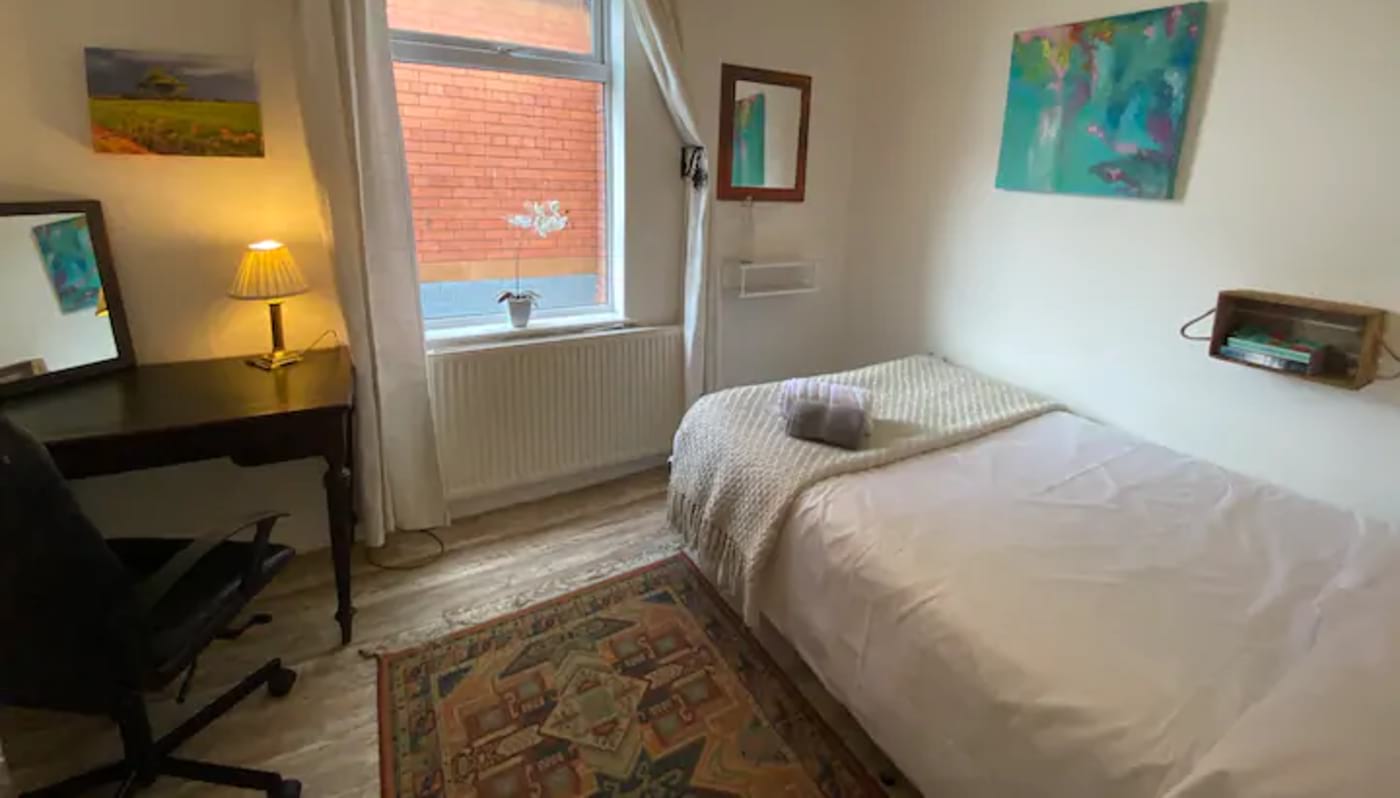 2 Guests
Close to Manchester University and MMU
Manchester is a real student city and, in fact, one of the best cities in the UK to live in, so it's not hard to find a room that would suit a digital nomad. It's best to look around the universities, Fallowfield, and Withington should you need a laptop-friendly workspace and rapid Wi-Fi. You'll be able to work during the day and easily meet people or get good (and cheap) food if you want to. You've got access to the backyard, kitchen, and living room here.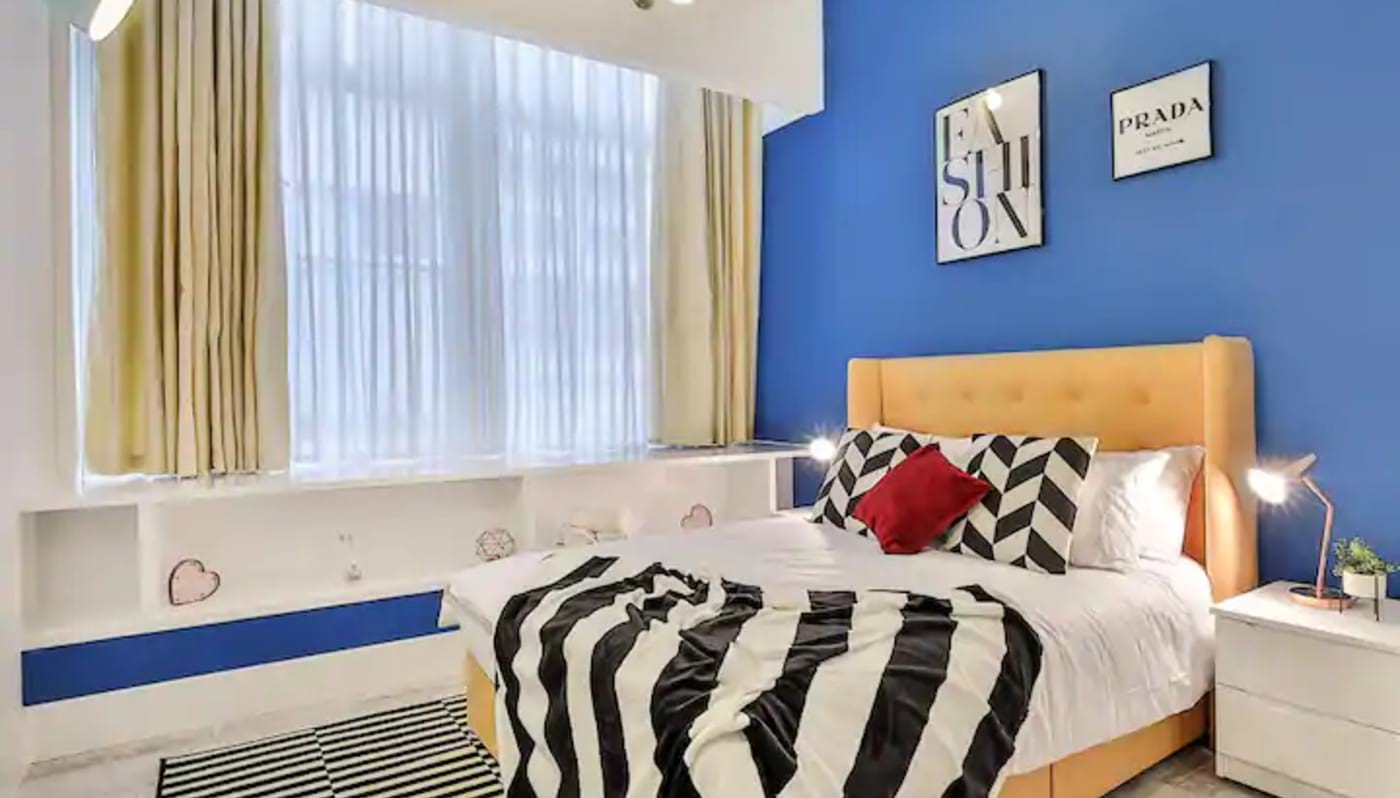 6 Guests
Open-plan kitchen
Manchester is a very gay-friendly city, and it's likely that most properties you'll find will be LGBTQ+ friendly. But you may as well go all the way and pick somewhere in the heart of the Gay Village! This stylish flat means there's no need for a taxi in getting to the city's best gay bars and clubs such as G-A-Y, Bar Pop, and New York New York. The property is located in a Grade II listed building and darling; it's fabulous!
Best Airbnb for a Weekend in Manchester | Cozy Modern Studio
2 Guests
Free tea and coffee
When it comes to a weekend in Manchester, chances are you won't spend too much time in your Airbnb. However, you still want somewhere comfortable and cosy to come back to. Look no further than this cosy and modern studio. There's free tea and coffee included so you can take five when you arrive back from exploring. It's also right near Oxford Road Train Station, so you can easily get out to the Peak District if you fancy a hike!
16 Guests
Bar and DJ booth
This extravagant Airbnb is one of the most fun properties in Manchester. Ideally suited to hen and stag parties or large group gatherings, it's got loads more than just that jacuzzi. There's also a bar and a DJ booth, so plug in your phone and blast your best Spotify playlists. It's in the Northern Quarter too, one of Manchester's most sought after locations.
You've probably noticed quite a few apartments in Manchester's Northern Quarter on this list; that's because it's where everybody wants to be. A stylish and minimalist apartment, you'll be just as tempted to spend a night in the cosy living room reading one of the huge coffee table books as you would to sink a few cocktails at the nearby bars. If the weather's good, take in your surroundings over a morning coffee from the balcony.
Okay, we promise this is the last Northern Quarter flat we're going to show you. In fact, it's the last Manchester flat on our list. But don't worry; it's a good one. With space for ten people, you can bring a decent-sized group here. The living area is comfortable should you fancy a night in, while the balcony offers city views on the handful of days of the year that Manchester is sunny!
Top 5 Airbnb Experiences in Manchester
As we said earlier, Airbnb isn't just about choosing the perfect place to stay. Airbnb Experiences gives you the opportunity to do activities once you arrive that will leave lasting memories – you may even get a souvenir from some of them.
Curated by locals, they can be anything from hiking and biking tours to cooking classes or bar crawls. There's a lot of variety suitable for all different styles of travel.
Let's take a look at five of the best Airbnb Experiences in Manchester that will really enhance your trip!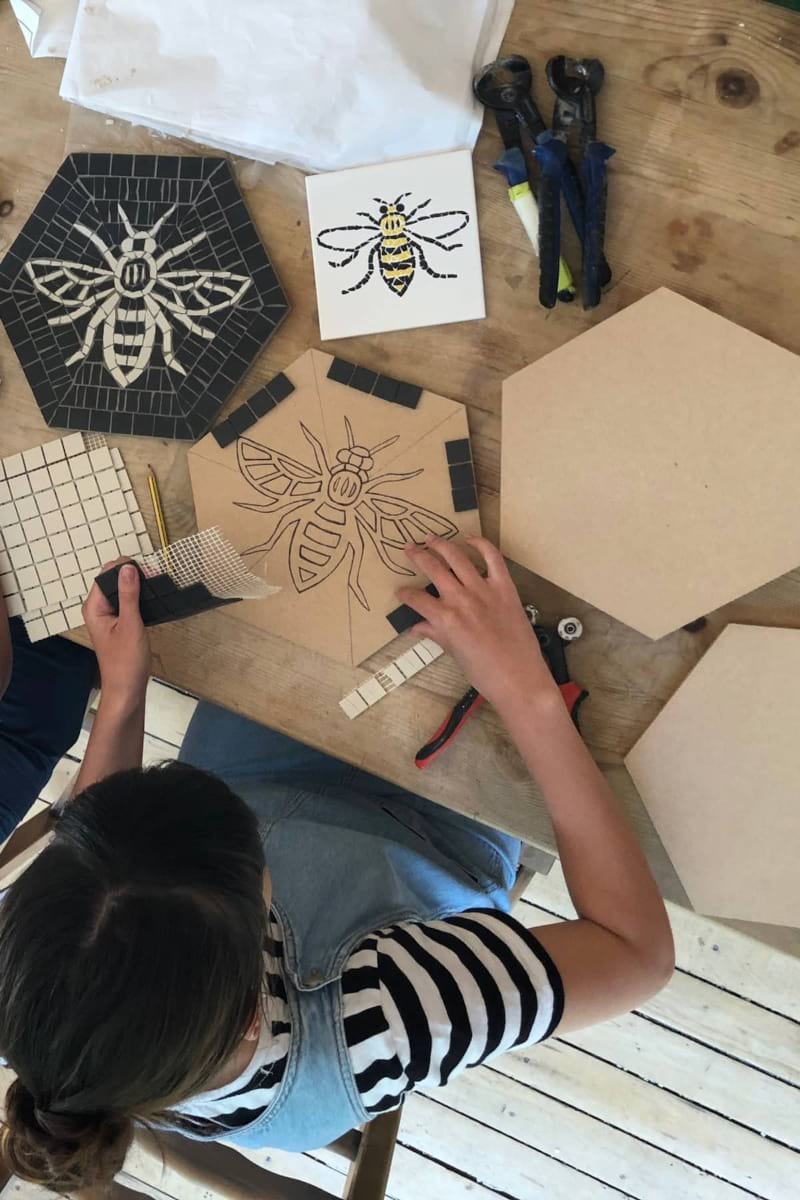 £50/person
4 Hours
Up to 4 guests
The worker bee is the most recognisable and enigmatic symbol of Manchester. Yes, even more than Manchester United's badge! On this tour, you'll check out the Manchester Museum and learn about the city's history before heading to a coffee house where you'll make an unforgettable and pretty souvenir of your trip. Make some space to hang your Manchester bee mosaic when you return home!
£60/person
4.5 Hours
Up to 2 guests
Manchester is lots of fun, but there aren't a lot of green spaces in the city. Thankfully, it's easy to find them with a trip out on the train. Starting at nearby Buxton, you'll be navigating the Peak District from an electric mountain bike. This means that even the hardest hills are manageable thanks to that extra electric push!
£10/person
2 Hours
Up to 10 guests
Though there aren't a lot of green spaces in the city centre, suburban neighbourhoods have something to offer. Chorlton Water Park is one of the area's best-loved nature reserves, and you can hike along the River Mersey for miles if you choose to do so. Be sure to bring a camera as you'll spot some beautiful scenery, and maybe some rare birds.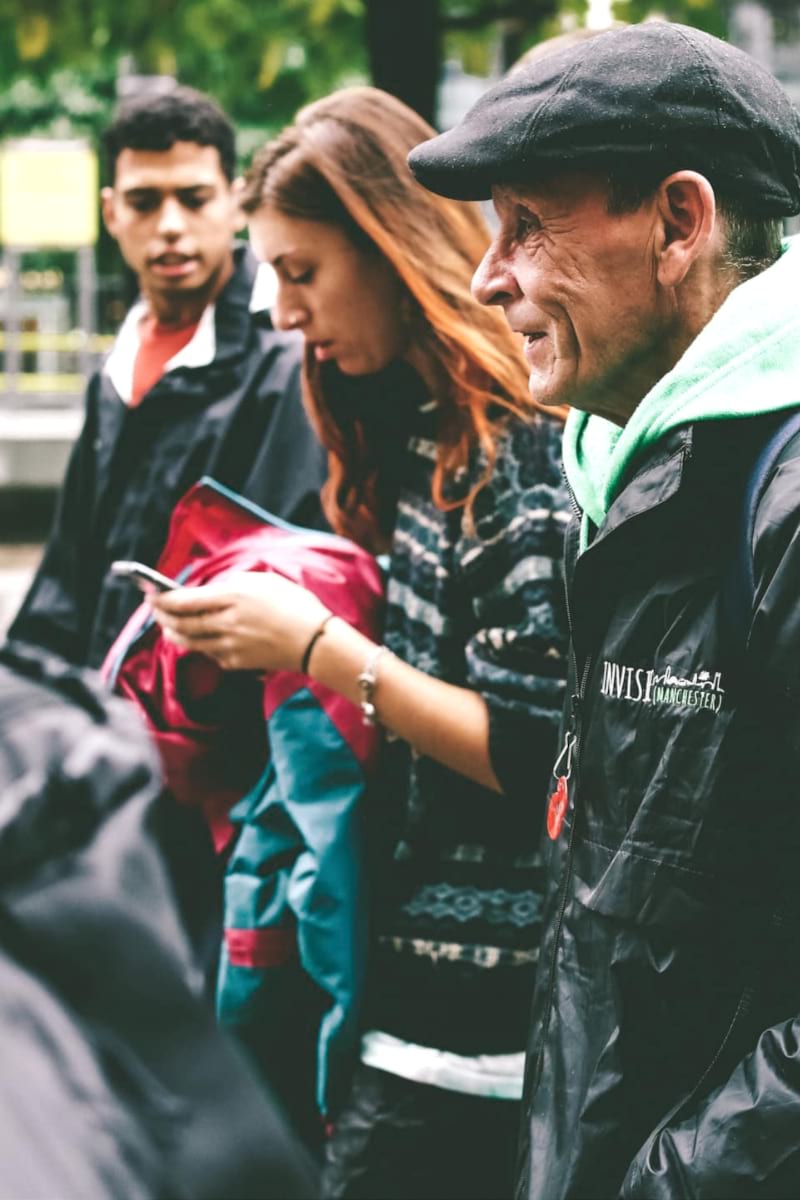 £10/person
2 Hours
Up to 10 guests
A guided tour of Manchester with a difference – your guide is part of a social enterprise that works with people who have been affected by homelessness. An entertaining and heartwarming tour of Manchester, this will inform you on social issues in the city, and you will also stop off at revered attractions.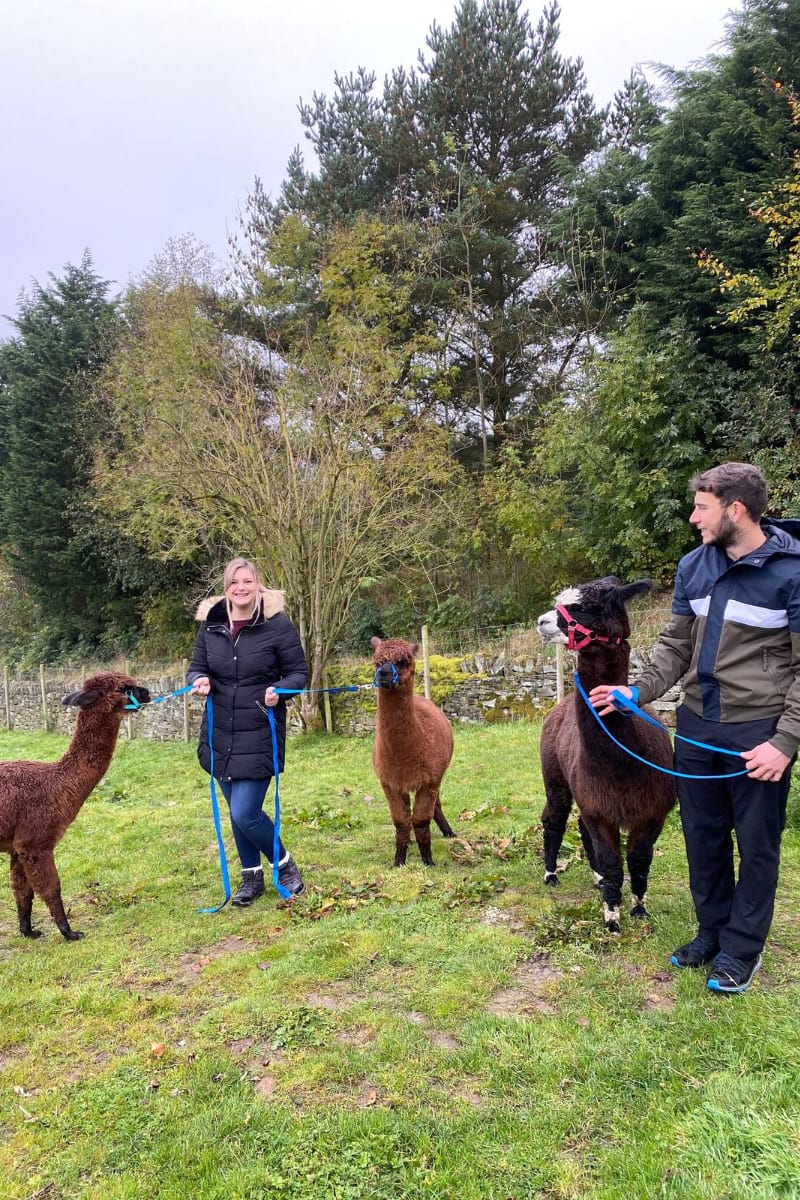 £20/person
1 Hour
Up to 3 guests
Another trip to the Peak District is in order for our final Airbnb Experience. Who wouldn't want to spend time walking with friendly alpacas? You'll be matched with the alpaca that suits you best and take a walk around the farm, taking in the stunning views of the surrounding Peak District hills. A lovely day out!
Don't Forget Your Manchester Travel Insurance
ALWAYS sort out your backpacker insurance before your trip. There's plenty to choose from in that department, but a good place to start is Safety Wing.
They offer month-to-month payments, no lock-in contracts, and require absolutely no itineraries: that's the exact kind of insurance long-term travellers and digital nomads need.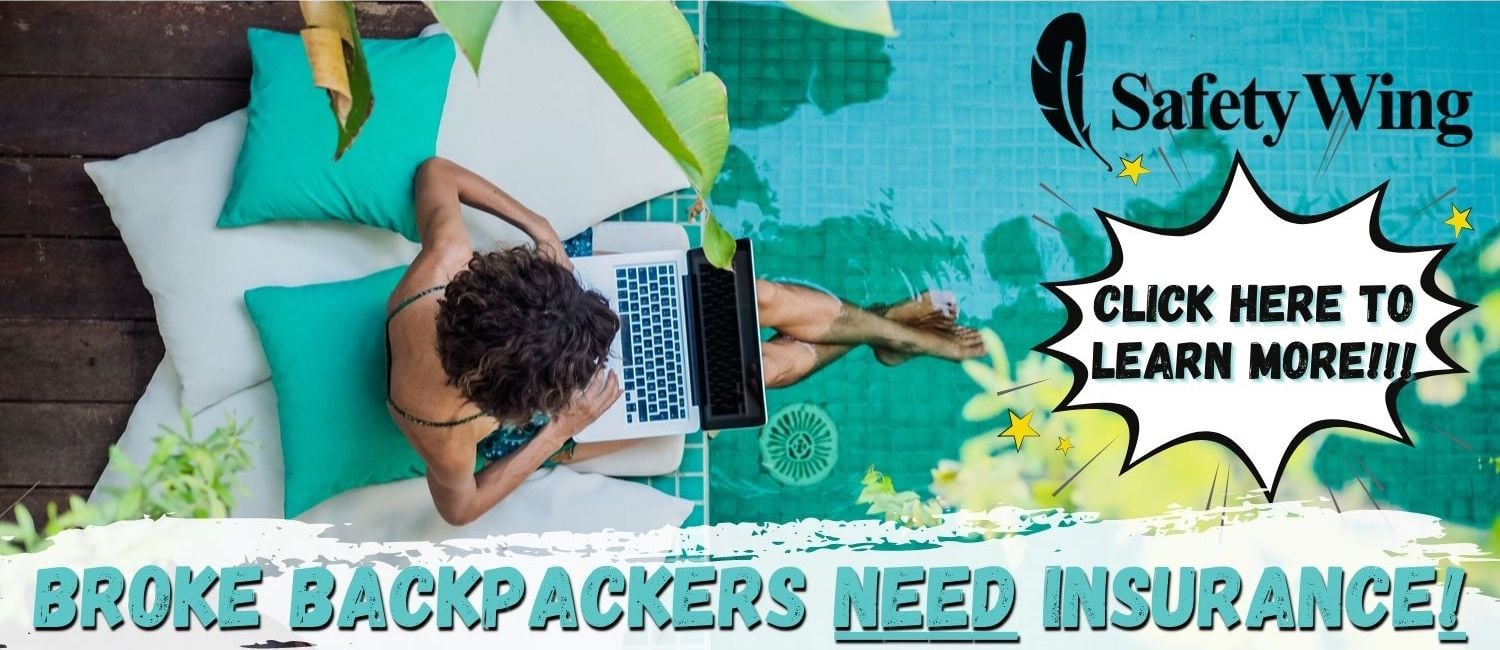 SafetyWing is cheap, easy, and admin-free: just sign up lickety-split so you can get back to it!
Click the button below to learn more about SafetyWing's setup or read our insider review for the full tasty scoop.
Final Thoughts on Manchester Airbnbs
Well, there you have it. Those are the best Airbnbs in Manchester, with a few awesome experiences thrown in, too. Whether you want to stay in a cool Northern Quarter loft, on a houseboat on the canal, or opt for a wild night out in the Gay Village, there's an Airbnb in Manchester for you.
Still struggling to decide which one is for you? Go for our overall favourite Airbnb in Manchester. That's the Whitworth Locke Studio City Apartment. Not only do you have a great central location, but it also offers excellent value for money.
We hope that wherever you decide to stay in Manchester, you have a fantastic vacation. Though Manchester is quite a safe city, make sure to protect yourself and your belongings too with a travel insurance policy from World Nomads!
---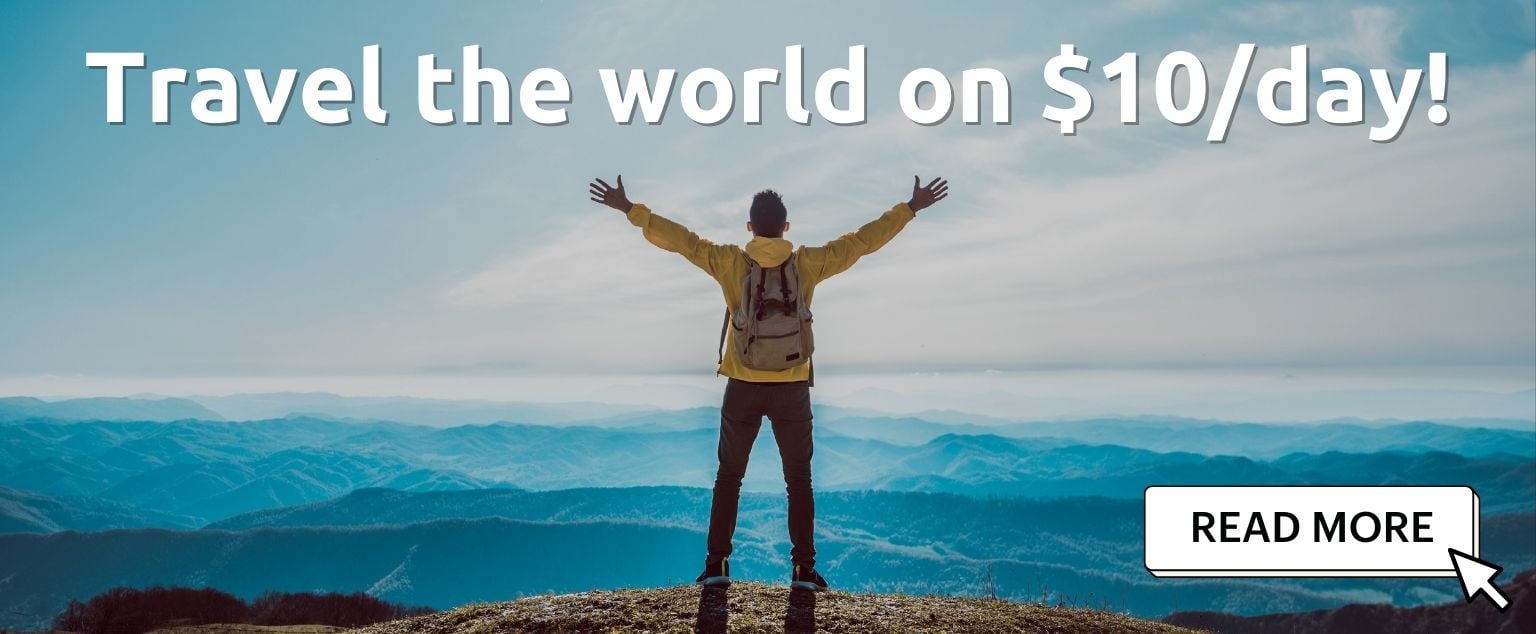 And for transparency's sake, please know that some of the links in our content are affiliate links. That means that if you book your accommodation, buy your gear, or sort your insurance through our link, we earn a small commission (at no extra cost to you). That said, we only link to the gear we trust and never recommend services we don't believe are up to scratch. Again, thank you!