When you think of travelling to France, where comes up first on your list? Paris? Perhaps Nice and the Cote d'Azur. Or maybe even skiing in the Alps. Nantes might not be top of your itinerary! However, you won't regret visiting this beautiful Breton city. With its stunning canal and historic centre, you might just fall in love.
But what's the best way to enjoy Nantes? You'll need somewhere nice to stay. And no, we don't mean a hotel or a hostel. Look at vacation rentals in Nantes to find something that reflects your own style and individuality. As well as your standard apartments, you might find something like a boat or a château!
We're here to help you find your dream Airbnb in Nantes. No matter what your travel style or budget, we're sure you'll find something on our extensive list to suit you. And for good measure, we've thrown in our favourite Airbnb Experiences. Let's check them out!
Quick Answer: These are the Top 5 Airbnbs in Nantes
Overall Best Value Airbnb in Nantes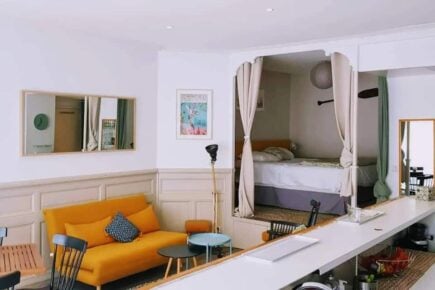 Overall Best Value Airbnb in Nantes
BARBUAT – Grand Cosy
> $$
> 4 guests
> Former bar
> Cosy and charming
Best Budget Airbnb in Nantes
Best Budget Airbnb in Nantes
Well lit room near the station
> $
> 2 guests
> Good location
> Nice views across the city
Best Airbnb for Couples in Nantes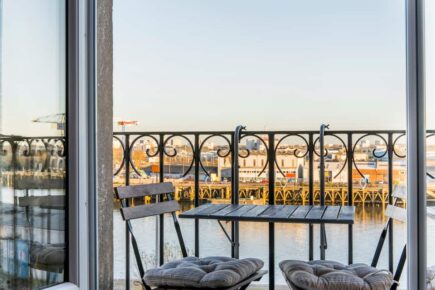 Best Airbnb for Couples in Nantes
Charming Apartment with exceptional view
> $$
> 2 guests
> River view balcony
> Stone walls
Best Airbnb in Nantes for Families
Best Airbnb in Nantes for Families
Sous le Cèdre – heart of Nantes
> $$$$$
> 6 guests
> Incredible location
> Two bedrooms + sofa
Over-the-Top Luxury Airbnb in Nantes
Over-the-Top Luxury Airbnb in Nantes
Duplex Panorama and Jacuzzi
> $$$$$
> 4 guests
> Rooftop jacuzzi
> Epic views

Unlock Our GREATEST Travel Secrets!
Sign up for our newsletter and get the best travel tips delivered right to your inbox.
What to Expect from Airbnbs in Nantes
Nantes is the hidden gem of the country. If you're wondering where to stay in France, and you're looking for unique places to add to your bucket list, don't skip Nantes!
When it comes to Airbnbs in Nantes, you've got a lot to choose from. Within the narrow winding lanes of the historic centre, you'll find a swathe of flats and apartments that are the ideal base for your adventures in the city.
However, if you're looking for something a little more unique, Nantes won't disappoint. Whether you want to stay on a boat on the city's romantic canal or even head a little out of the city centre to stay in a château, you have an option.
In most Airbnbs in Nantes, you'll have a local host, but in larger properties, you might be dealing with a business instead.
Boat
When you're in such a beautiful canal city, why would you want to stay on land? There are more than 20 boats where you can stay in Nantes listed on Airbnb. Don't expect a rubber dinghy or a rowing boat – these places are seriously luxurious!
On houseboats here, you can expect fully equipped kitchens, lovely living areas, and even chilled-out terraces where you can soak up the sun. Staying on a boat is generally a little more expensive than a regular apartment, but you are paying for the exclusivity.
Boats in Nantes can be found in two places – the Île de Versailles and in the Canal Saint Félix – both found on the River Erdre. Both are within walking distance of the historic centre. Take a closer look at boats in Nantes here.
Chateau
Want to experience a traditional and authentic part of France's history? Perhaps you should look at a château. Though it literally translates as castle in English, most châteaus are more like stately homes, or dare we say it, palaces!
You won't find any in the city centre, but if you're happy to travel into Nantes or want to use it as a base to explore the Breton countryside, it's an ideal unique accommodation. It is possible to rent entire châteaus in France, but that is extremely expensive.
However, a way around this is by booking a private room – of which there are a few on Airbnb. You can check out all château options at the link here.
Entire Flat
Okay – it's not the most original or exciting type of Airbnb, but it's still more fun and innovative than your standard hotel. Entire flats can suit anyone from a solo traveller or couple on a budget to a huge family celebration.
At the lower end of the scale, you might just get a basic kitchen or kitchenette in a studio. However, go high-end and you'll have a fully equipped kitchen, perhaps a roof terrace, or maybe even a pool. The possibilities really are endless.
Another great thing about an entire flat is that you have privacy that you wouldn't be afforded in a private room or a hotel. What's not to love? Here is a list of the entire flats in Nantes.
Why Stay in an Airbnb
Still not convinced you should stay in an Airbnb? We're not sure what more we could do to convince you – other than give you these five brilliant reasons to stay in an Airbnb!
Local Experience: When you have a local host, they will be able to share their favourite things to do and see nearby. Guaranteed they're not in the guidebook!
Unique Properties: You can get some really cool properties on Airbnb – as well as boats and châteaus in Nantes, there's even a treehouse!
Privacy: Tired of being told to keep the noise down when staying in a hotel or hostel? That won't happen with your very own flat. Enjoy that privacy!
Affordability: Put an Airbnb next to an equally-priced hotel and there's only one winner. Choose Airbnb if you like getting more for your money! It's an awesome budget option for backpackers in France.
Airbnb Experiences: Airbnb is not just about getting a great place to stay – their locally curated experiences allow you to enjoy the city like a local.
The 15 Top Airbnbs in Nantes
Now that we've told you exactly why you should book an Airbnb in Nantes, it's time to give you what you've been waiting for. Here is our list of the top 15 Airbnbs in Nantes – chosen with you, the reader, in mind!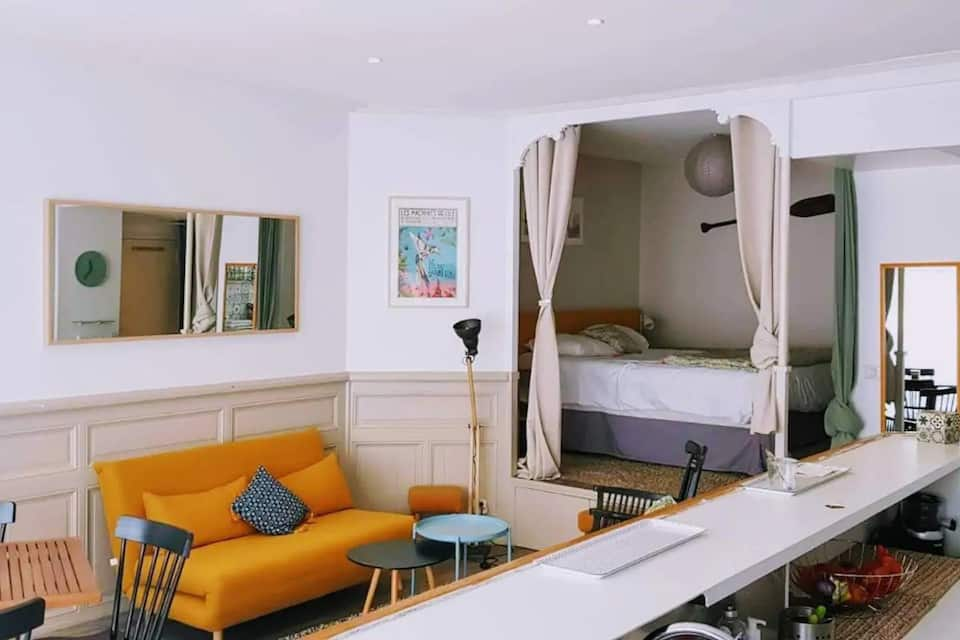 4 guests
Cosy and charming
Want to experience Nantes' nightlife? You could always start your pre-drinks in a bar. Yes, that's right, this awesome apartment used to be a bar but has since been transformed into an apartment.
It's in a great location, with the train station, botanic gardens, and Erdre River all within a stone's throw. For this price, you'd usually expect a studio for two people at most, but this cosy apartment sleeps up to four people. Perfect!
2 guests
Nice views across the city
Want to keep your costs low? Then this cute little apartment should tick your boxes. Just a hop, skip, and a jump from Nantes train station, you'll have a comfortable private room in a bright and comfortable apartment.
You'll even have great views across the city! If you're wondering about what to do in town, just ask your host for a recommendation.
3 guests
View across Nantes
A cliff?! Since when was Nantes by the sea?! Well, even though it is slightly inland, Breton used to be the foremost port in France. However, the cliff in question doesn't overlook the sea at this lovely townhouse 15 minutes from the city centre on foot.
You will not only have your own private bedroom to make use of, but a small garden, too. A lovely place to come back to and chill after a day exploring the town!
Is This the Best Travel Pack EVER???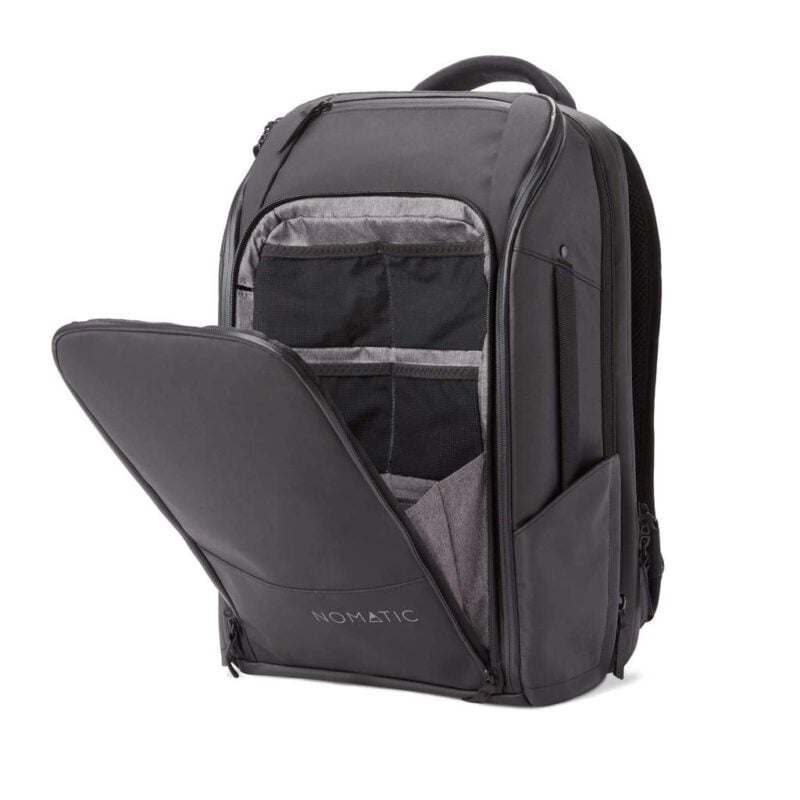 If you're travelling with your other half, you can't just pick any old place. Luckily, this duplex apartment has a balcony where you can sit and watch the river on an evening if you don't fancy heading to one of the restaurants nearby.
Should the Breton weather be a little too chilly, head inside to the romantic living room which has a stone wall, before climbing up the ladder to your comfortable double bed.
6 guests
Two bedrooms + sofa
This city centre apartment can comfortably sleep up to six guests, so it's perfect for families no matter their age. Should you want to keep costs down on restaurants, there's a fully equipped kitchen where you can whip up a meal from ingredients bought at markets nearby.
It's in a perfect location to explore the city, too – with the city's cathedral, history museum, and the castle of the Dukes of Brittany all within a kilometre.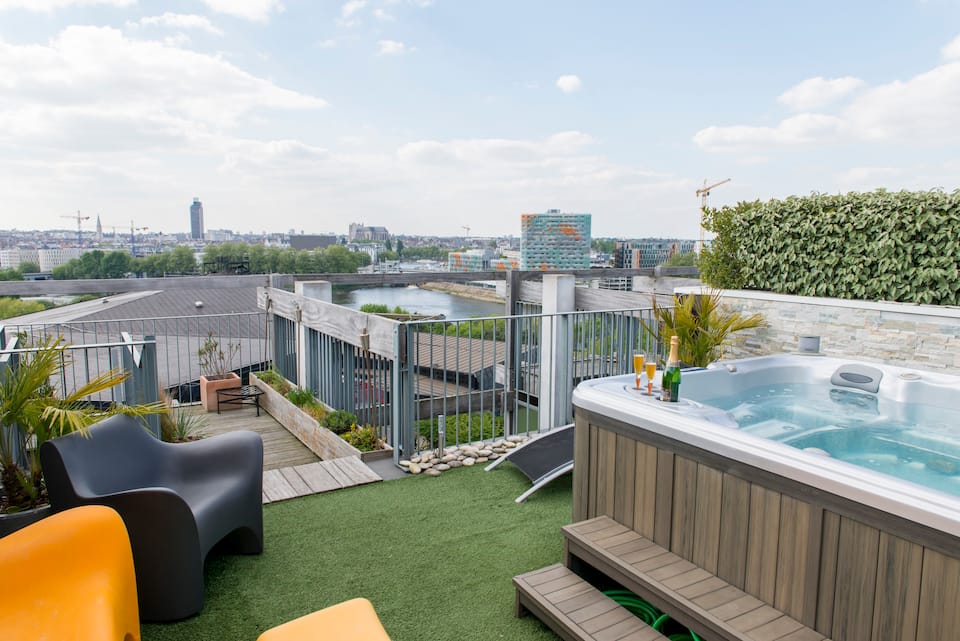 If you hear the phrase "rooftop jacuzzi with a view of the city skyline," that's bound to pique your interest, right? This gorgeous apartment has more than just that, though.
There's a bathroom with a hammam, and this flat was even awarded an architectural prize when it was built in 2007. With space for up to four guests in two queen beds, it isn't even THAT expensive. Perfect for couples holidaying together!
$$$
Modern kitchen on board
The Île de Versailles is one of the most popular attractions in Nantes – and by staying on a boat right next to it, you'll get to enjoy it before the tourists arrive and after they go home. And, you know, it's pretty cool to stay on a boat!
This floating residence was built in the 1930s, but you might not be able to tell thanks to that cool modern kitchen. There's a private terrace on the boat so you can enjoy views of the river around you and the park. A great option for couples!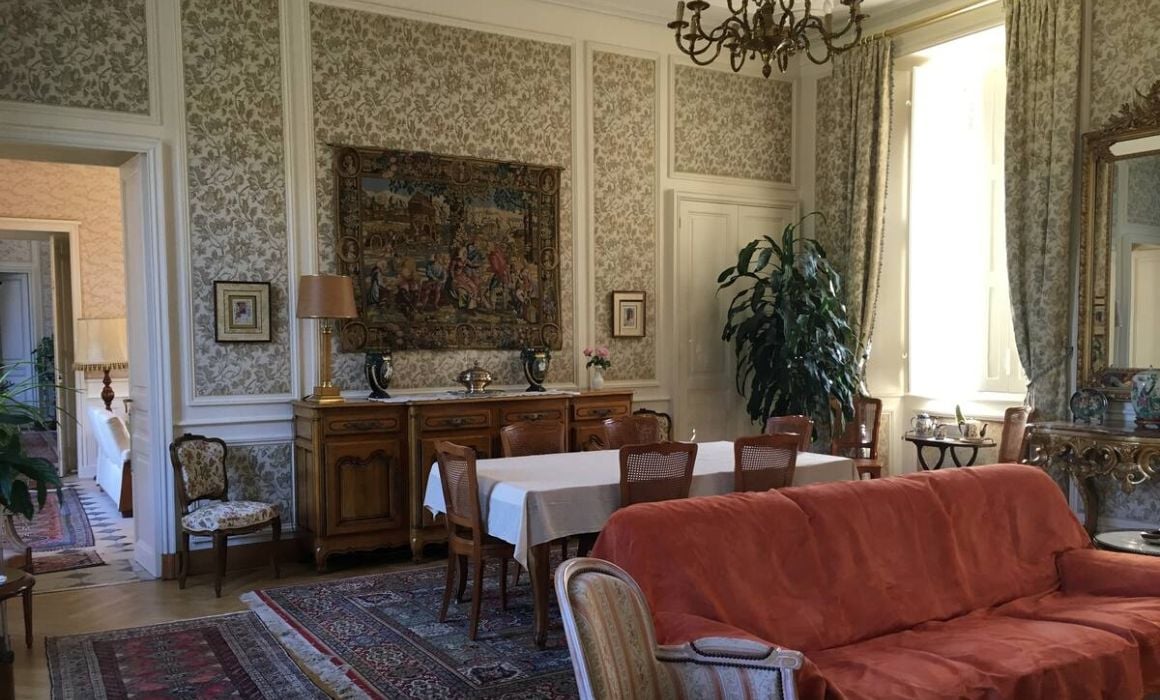 4 guests
Breakfast optional
As we said earlier, renting out an entire castle can be extremely expensive. However, that doesn't mean you can't experience living like French aristocracy for a day or two.
Rooms at this château on the Loire River can be split between four people, putting it on par with hostel prices. Can you believe that?! It's also just two kilometres from the Île de Nantes. You won't realise, though, as you're surrounded by a wooded park!
5 guests
Open plan kitchen/living room
Looking for an entire flat in Nantes? One of the main reasons to pick one is to be right in the heart of that UNESCO World Heritage-listed city centre. And this one does the job.
At this price, you would expect to host a couple, but in fact, you can fit up to five guests in here – though at least one will be on a floor mattress. It may be small, but as a base for exploring the city, you could do a lot worse than this cute flat!
$
Laptop friendly workspace
The great thing about being a digital nomad is being able to work from anywhere – so long as that place has a laptop-friendly workspace and Wi-Fi, of course.
Thankfully, this place has all that and more. You've got access to your host's kitchen and living room, and there's even a little balcony where you can take your laptop out and enjoy a morning coffee. It's close to the station, too – ideal for continuing your trip.
When you started reading this list, you probably didn't expect a treehouse, did you? Neither did we! However, hidden away in a wooded park in Nantes, that's exactly what you'll find.
Part of a Nantes Campsite, this is a wonderful opportunity for a couple to stay in a really unusual accommodation. As well as the fact you can tell your mates you stayed in a treehouse, you've got use of the camping park's facilities – including free parking and a swimming pool!
Whichever Airbnb Plus you choose, you know you're getting a good deal. Properties earn that accreditation based on great reviews, attention to detail, and an inspection from Airbnb itself.
With this apartment that can sleep up to four guests, you'll have garden views from your cosy bedroom. The open plan kitchen and living space make for a wonderful night in, too!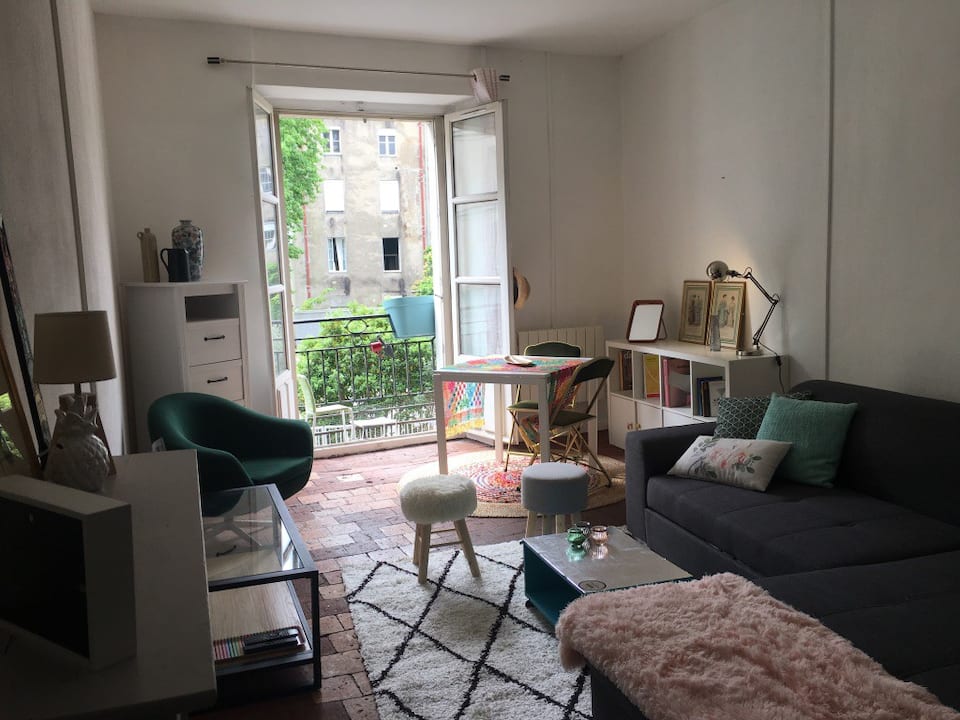 $$
In pedestrianised centre
Are you looking to be right in the centre of the action? Whether that's having the best restaurants on your doorstep, being a stone's throw from museums and galleries, or able to stumble home after a night out – you'll need to stay in Centre-Ville.
That's where this four-person flat is located. There are plenty of supermarkets nearby, too, so you can pick up food there and prepare it in the fully equipped kitchen if you prefer!
Nothing says romance like a jacuzzi and champagne before retiring to a queen bed. So why not make that the first night of your honeymoon in Nantes?!
Once you've had an incredible night's sleep… or whatever else you might get up to, wake up to breakfast, which is included too! The apartment is right in the heart of Nantes, so it's a great base for exploring together.
Best Airbnb in Nantes for a Group of Friends | Houseboat on the Water
5 guests
Cool wooden design
Staying with friends in Nantes? Why not do something that you'll really remember – like staying on a boat. This one is on the Canal Saint-Félix, close to many of the city centre attractions.
With room for up to five guests, it's a great place to share some beers in the evening over a game of cards or a board game – that is, if you're not out enjoying the local nightlife!
Top 5 Experiences in Nantes
Now that you've seen the top 15 Airbnbs in Nantes, you'll probably have some idea of where you're going to stay. But what are you going to do when you arrive?!
Well, we've decided to help you with that too. Airbnb Experiences are tours curated by locals – who know their city better than anyone else! It can be anything from a city tour or a cooking class to a multi-day hike in the mountains (though you won't find the latter in Nantes).
Here are five of our favourite Airbnb Experiences in Nantes. We've covered a wide range of activities, so hopefully, at least two or three will suit your style!
€96/person
2.5 hours
Up to 6 guests
Looking for a whistle-stop tour of Nantes in a classic car? The Citroen 2CV is arguably the most iconic car to come out of France – up there with the UK's Mini and Italy's Fiat 500. On this tour, you'll get to pull back the vinyl roof and look out for the city's most famous monuments and stunning architecture. There's a drinks break on this 2.5-hour tour!
€35/person
2 hours
Up to 10 guests
Want to explore Nantes on four wheels but feel a car is too fast? How about a skateboard?! Yes, we're serious. Your local guide will show you the basics of skateboarding safety before you get out and explore the city's tourist sites. If you're already a pro, you could always head to the city's top skate spots, including a couple of parks.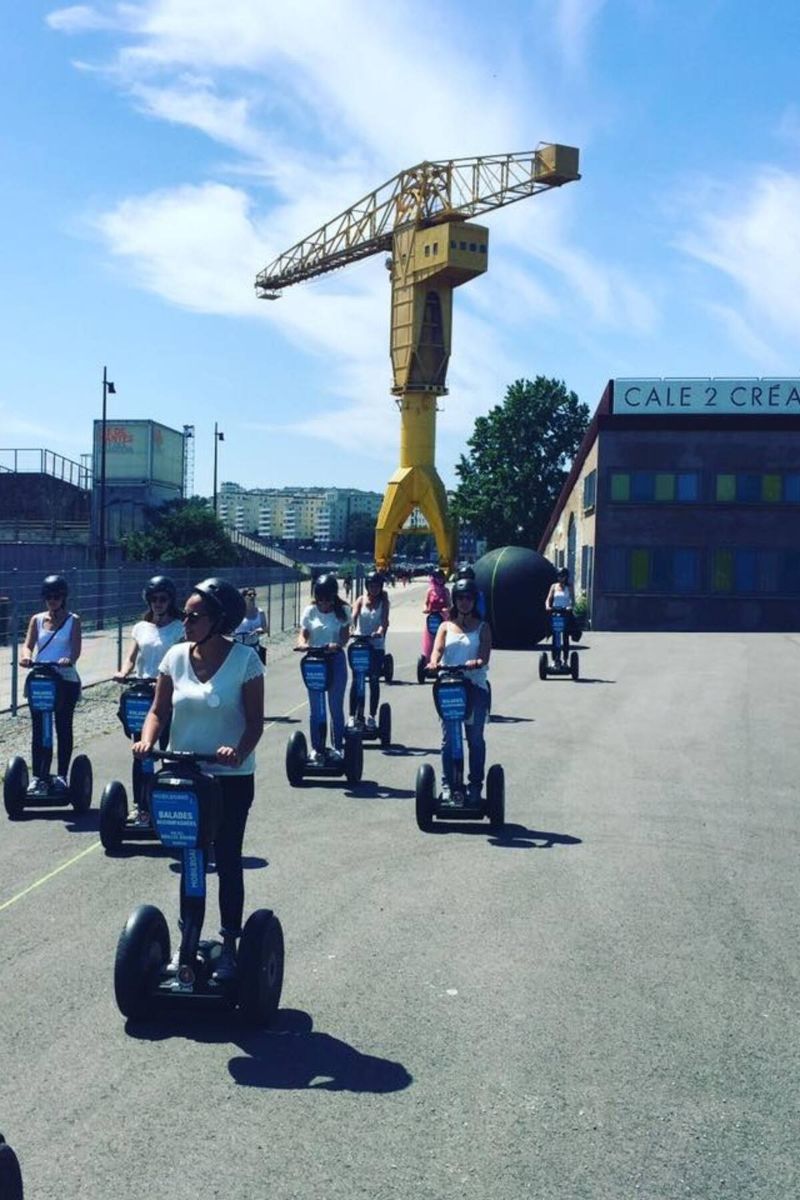 €30/person
1 hour
Up to 10 guests
There are so many ways to tour Nantes if you don't like walking – how about a Segway? Supposedly impossible to fall off (though we're not sure about that), you'll zip around the top tourist sites in town during an hour with an expert guide. You can see lots more in an hour on a Segway than you could on foot!
€18/person
2 hours
Up to 6 guests
No trip to a French city is complete without a foodie experience. At this one, you'll head to the Talensac market, where you'll try local fruit and vegetables from local vendors. From there, it's on to delis and boulangeries on the banks of the Erdre River, and spice warehouses, too. Nantes has an exciting food scene, so don't miss your chance to get involved!
€14/person
2 hours
Up to 10 guests
Want to discover the city in a more interactive and immersive way than just being shown what's what? A scavenger hunt might just be the way to do that. You'll be finding clues and solving puzzles with the help of a digital app and your teammates to have a truly unforgettable Nantes experience!
Don't Forget Your Nantes Travel Insurance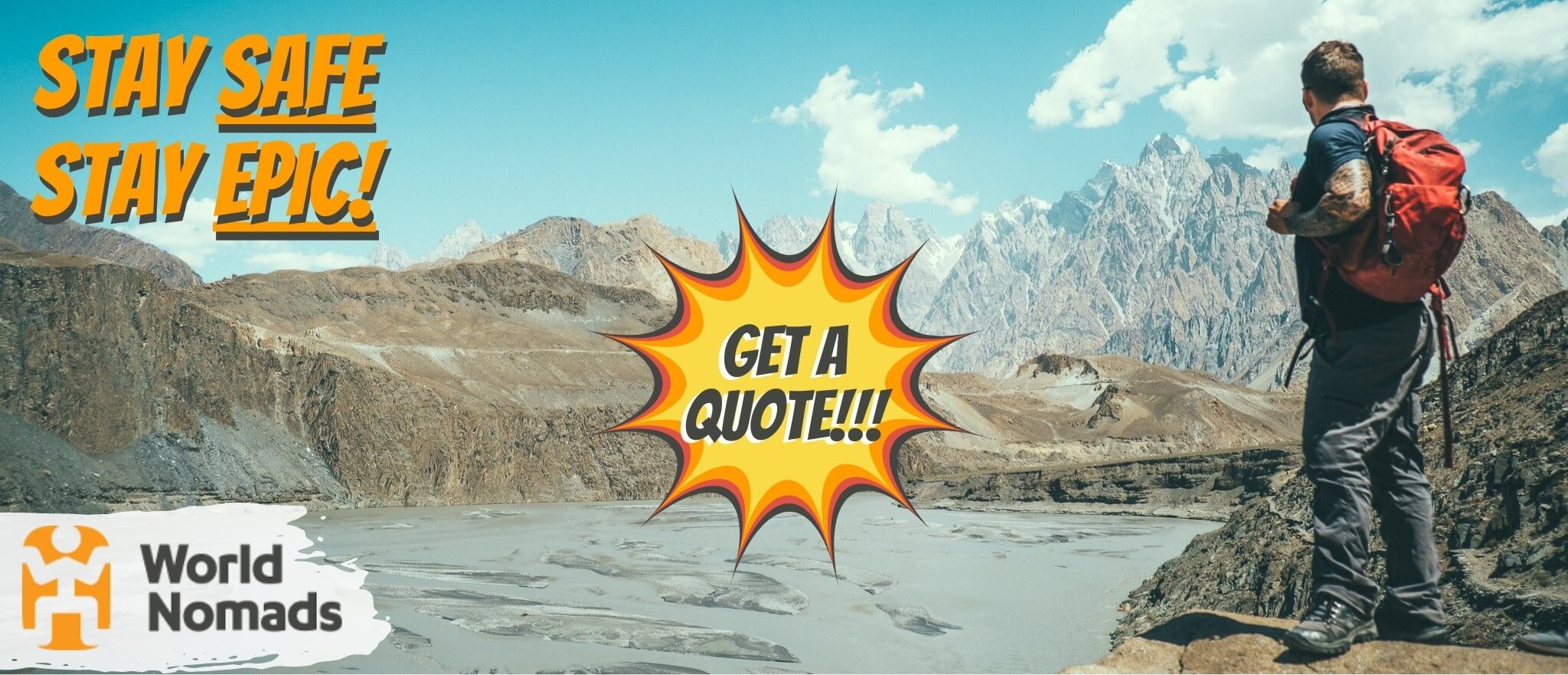 World Nomads' mission is to support and encourage travellers to explore their boundaries. They offer simple & flexible travel insurance, and safety advice to help you travel confidently.
They've been doing it since 2002 – protecting, connecting, and inspiring independent travellers just like you.
Get a quote below or read our in-depth review!
World Nomads provides travel insurance for travelers in over 100 countries. As an affiliate, we receive a fee when you get a quote from World Nomads using this link. We do not represent World Nomads. This is information only and not a recommendation to buy travel insurance.
Final Thoughts on Nantes Airbnbs
That's all from us. We've not only shown you the best Airbnbs in Nantes, but also the top five experiences you can do when you're there. We've seen everything from castles and houseboats to treehouses – as well as some more realistic and attainable options for the budget traveller.
Are you still trying to decide which Airbnb in Nantes is right for you? If that's the case, go for our overall best value Airbnb in Nantes – BARBUAT – Grand Cosy. It's in a great location, and it's cute, cosy, and clean.
---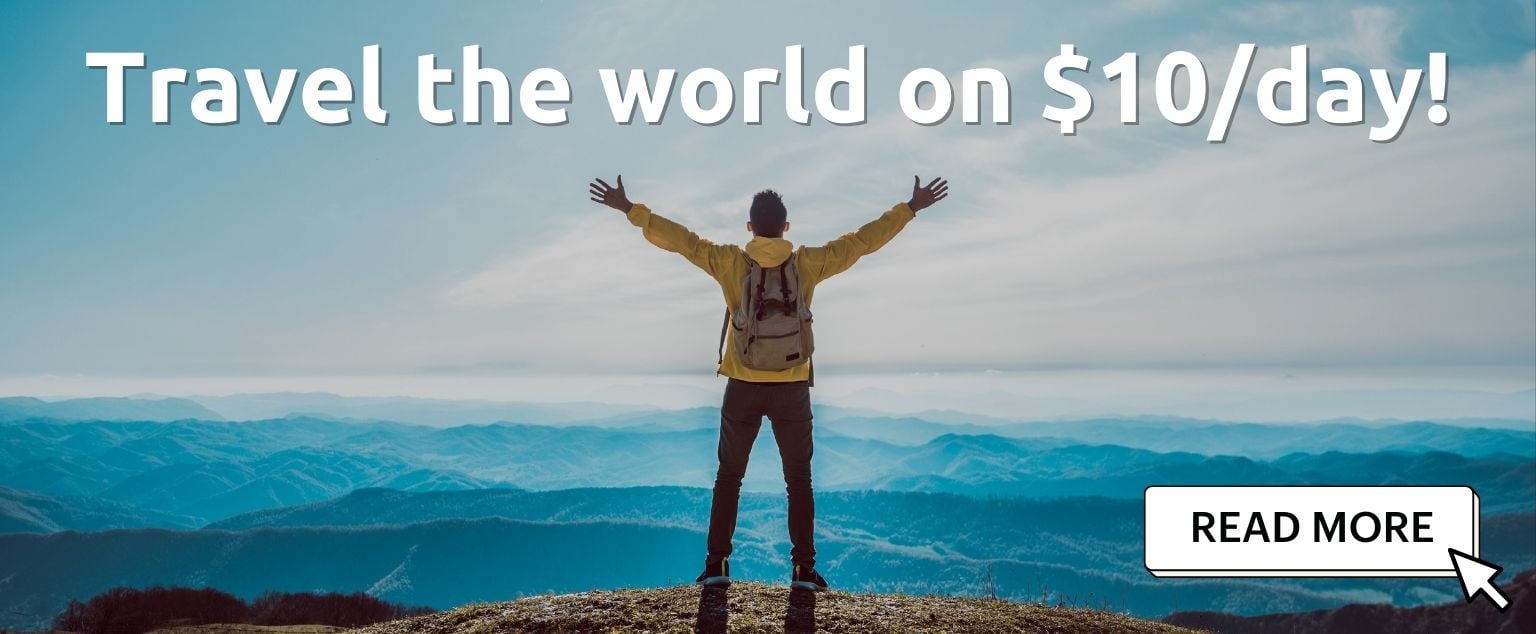 And for transparency's sake, please know that some of the links in our content are affiliate links. That means that if you book your accommodation, buy your gear, or sort your insurance through our link, we earn a small commission (at no extra cost to you). That said, we only link to the gear we trust and never recommend services we don't believe are up to scratch. Again, thank you!