Meaning 'Hidden Port' in English, Puerto Escondido's secret is out. The small town on Mexico's Pacific coast boasts one of the best surfing beaches not only in North America, but the entire world! There's more to Puerto Escondido than surfing on Playa Zicatela, though. It's still got a small-town vibe, and there are loads of awesome places to eat and shop.
But where should you stay in Puerto Escondido? With everything from beachfront cabanas to enormous villas with infinity pools, there's a lot to choose from. The only thing that's certain at this point is that you need to look at vacation rentals in Puerto Escondido.
With so many properties to navigate, we've decided to step in. We're about to show you a curated list of the fifteen best Airbnbs in Puerto Escondido. Not only that, there are some cool Airbnb Experiences too. So, let's jump straight in to one of the best surfing towns in the world!
Quick Answer: These are the Top 5 Airbnbs in Puerto Escondido
Overall Best Value Airbnb in Puerto Escondido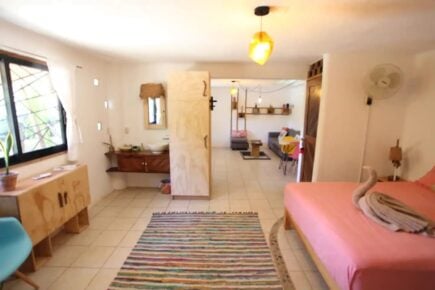 Overall Best Value Airbnb in Puerto Escondido
Cozy apartment close to the beach
> $$
> 2 guests
> Swimming pool
> Outdoor shared palapa
Best Budget Airbnb in Puerto Escondido
Best Budget Airbnb in Puerto Escondido
Casa Gio – Cabaña en el jardin
> $
> 2 guests
> Swimming pool
> Three hammocks
Best Airbnb for Couples in Puerto Escondido
Best Airbnb for Couples in Puerto Escondido
Studio near the beach
> $$
> 2 guests
> Swimming pool
> Queen bed
Best Airbnb for Families in Puerto Escondido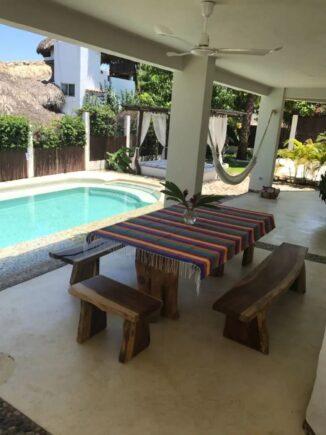 Best Airbnb for Families in Puerto Escondido
Casa Calilla – a little oasis
> $$$$
> 6 guests
> Two fully equipped kitchens
> Pool and outdoor sofas
Over-the-Top Luxury Airbnb in Puerto Escondido
Over-the-Top Luxury Airbnb in Puerto Escondido
Casa Naila, designer's house
> $$$$$$$
> 10 guests
> Beachfront location
> Service (such as cooks) included

Unlock Our GREATEST Travel Secrets!
Sign up for our newsletter and get the best travel tips delivered right to your inbox.
What to Expect from Airbnbs in Puerto Escondido
What to expect from Airbnbs in Puerto Escondido depends completely on your budget. Happily, no matter what it is, you can find somewhere full of character and personality. At the lower end of the scale, you have beachfront cabañas and cozy guesthouses, while those willing to spend more can have oceanfront villas with infinity pools!
In keeping with Puerto Escondido's relaxed vibe, many properties here have a local feeling and are managed by people from the area, especially in guest houses, boutique hotels, and b and bs. However, you may find in the larger and more luxurious Airbnbs, you'll be dealing with a business.
One thing all Airbnbs in Puerto Escondido have in common? You're never far from the nearest beach. So, grab your surfboard or paddleboard!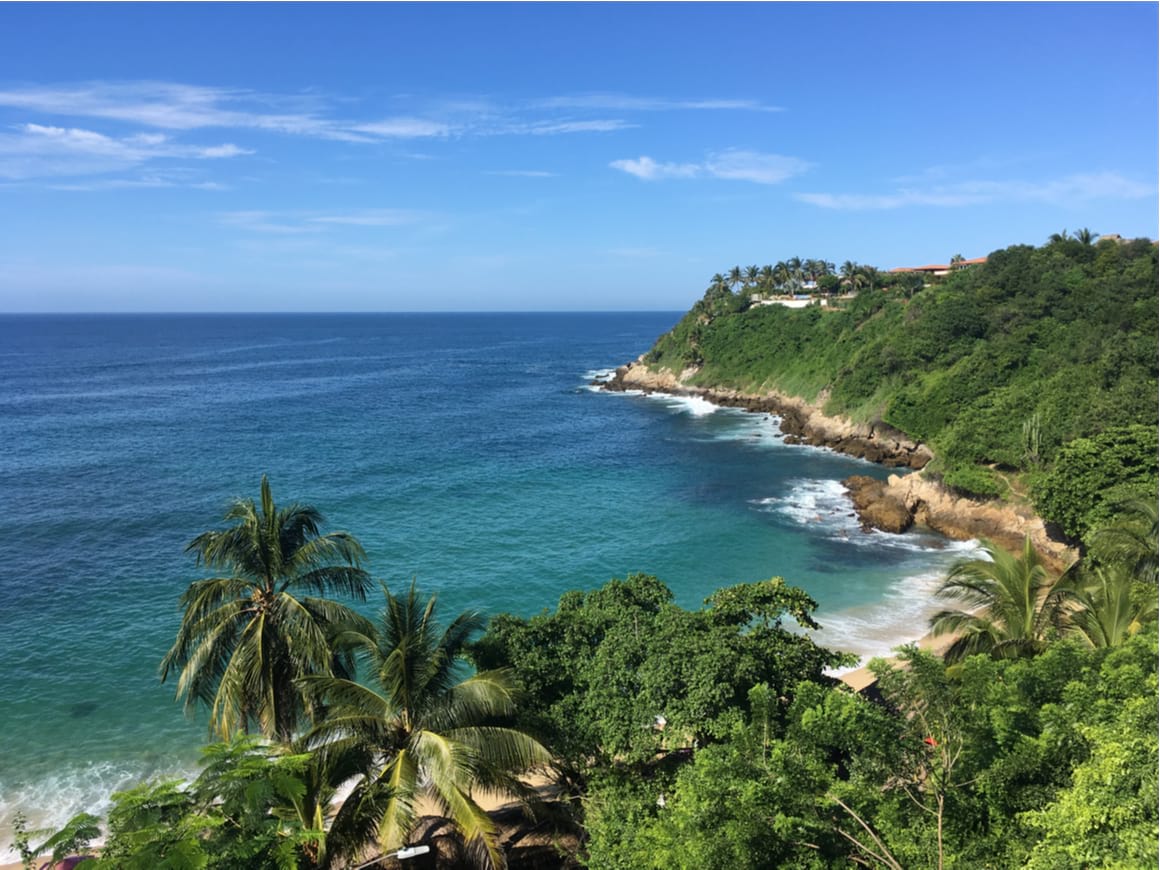 Cabaña
A cabaña is a cool and fun place to stay for a budget traveler. Translating literally into English as "cabin," you'll find most of these on the beachfront or on the property of a campsite, resort, or guest house. They're not as cheap as Puerto Escondidos hostels, but still very affordable.
Cabañas are normally small, and we'd recommend them for solo travelers or couples who don't want to eat up too much of their budget. If you're looking for a luxury getaway, maybe a cabaña isn't right for you, but if you're happy to have a cool and functional accommodation that's just a bit unusual, read on.
Cabañas often have access to pools and facilities of the property they're attached to. The rooms themselves are no-frills, but you'll still be able to enjoy large beds (often queens), and some offer kitchens.
Boutique Hotel
Yes, we know that most people come to Airbnb to escape from hotels, but bear with us for a moment. Boutique hotels aren't your big bland chains that sleep hundreds of people a night in dull, grey rooms. They're often passion projects belonging to local people, with individually designed rooms and thoughtful features that travellers love.
Many boutique hotels in Puerto Escondido boast swimming pools lined by sun loungers and hammocks, while others may even have hot tubs. The majority of boutique hotels are around Playa Zicatela and Brisas de Zicatela, but there are some close to the center too.
Boutique hotels are usually recommended for solo travelers and couples; however, some offer larger rooms, or you can book multiple rooms if you're in a group.
Villa
If you have a flexible budget, there's only one option to consider in Puerto Escondido. Villas are the ultimate luxury, and thanks to their size, they are great for big gatherings of friends and family. The size has another benefit, too; while those prices may seem expensive on the surface, they're a lot more manageable if you can split them ten or twenty ways!
Villas in Puerto Escondido almost always have a swimming pool, garden, fully equipped kitchen, and multiple rooms throughout the house. Many have oceanfront views, as they're located a little outside of the main tourist areas.
If you can't justify the price or size of a villa – perhaps you're traveling solo – there's another option. For those who have their heart set on a villa, just book a private room in one with a local host!
Why Stay in an Airbnb
Now that you know what to expect from a vacation in Puerto Escondido and have a general idea of what's on offer, let's look at five reasons you should stay in an Airbnb.
Local Experience: With a local host, it's much easier to find out the best way to travel like a local without the help of a guidebook. That doesn't just go for Puerto Escondido, but for all other travel destinations in Mexico.
Unique Properties: As you're about to see, there are a whole host of different properties in Puerto Escondido – everything from treehouses to villas!
Privacy: Many Airbnbs have self-check-in options; you can even filter for completely private accommodation if you wish to do so.
Affordability: High-quality Airbnbs often work out cheaper than hotels, especially in larger properties where you can split the cost multiple ways.
Airbnb Experiences: It's not just about where to stay; it's what to do when you're there. Airbnb Experiences offer locally curated tours and days out, but more on that later…
The Top 15 Airbnbs in Puerto Escondido
Now, let's get to the part you've all been waiting for. Arranged according to budget and travel style, here are the 15 best Airbnbs in Puerto Escondido. We think you're going to love them!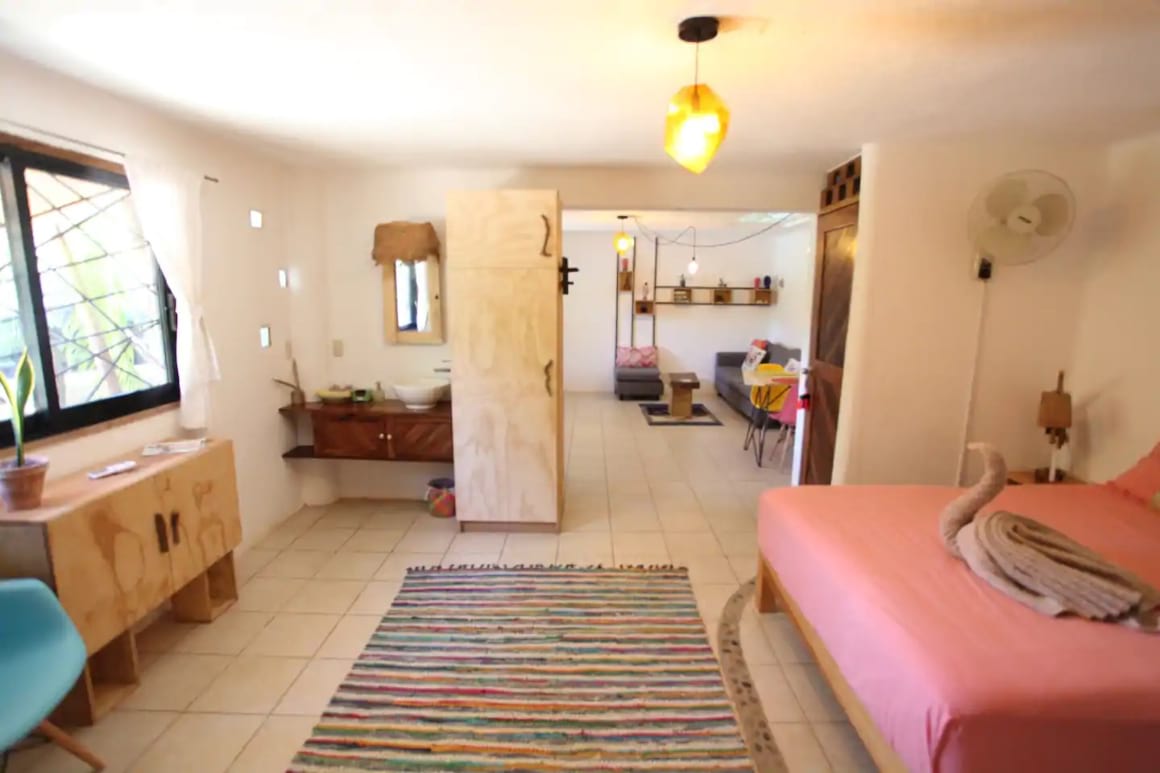 2 guests
Outdoor shared palapa
This cozy apartment in Casa Naia is the perfect spot for a solo traveler or couple visiting Puerto Escondido. It's a stone's throw from Zicatela, where shops and nightlife are based, yet you're still far enough away to get some peace and quiet. Whether you get that peace and quiet in the apartment itself or the shared palapa and garden is up to you. There's a swimming pool where you can ease yourself into the cool water to get an invigorating start to the day!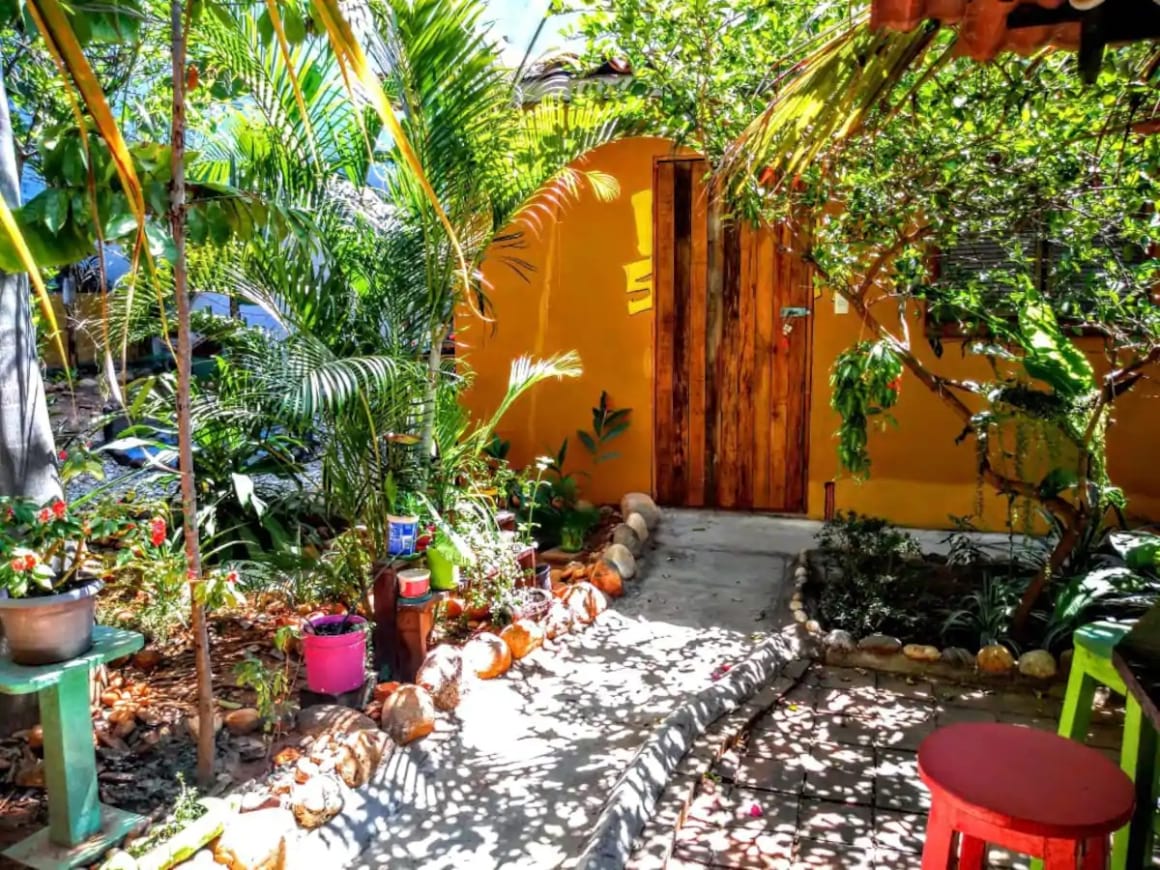 Despite its reputation as a world-class surf beach, there are some awesome cheap Airbnbs in Puerto Escondido. The first cabaña on our list, this is a cute tiny house-style building in the garden of Casa Gio. As well as your own private space, you've got access to a swimming pool and several hammocks where you can soak up the Oaxacan sun. There's a bar on-site too.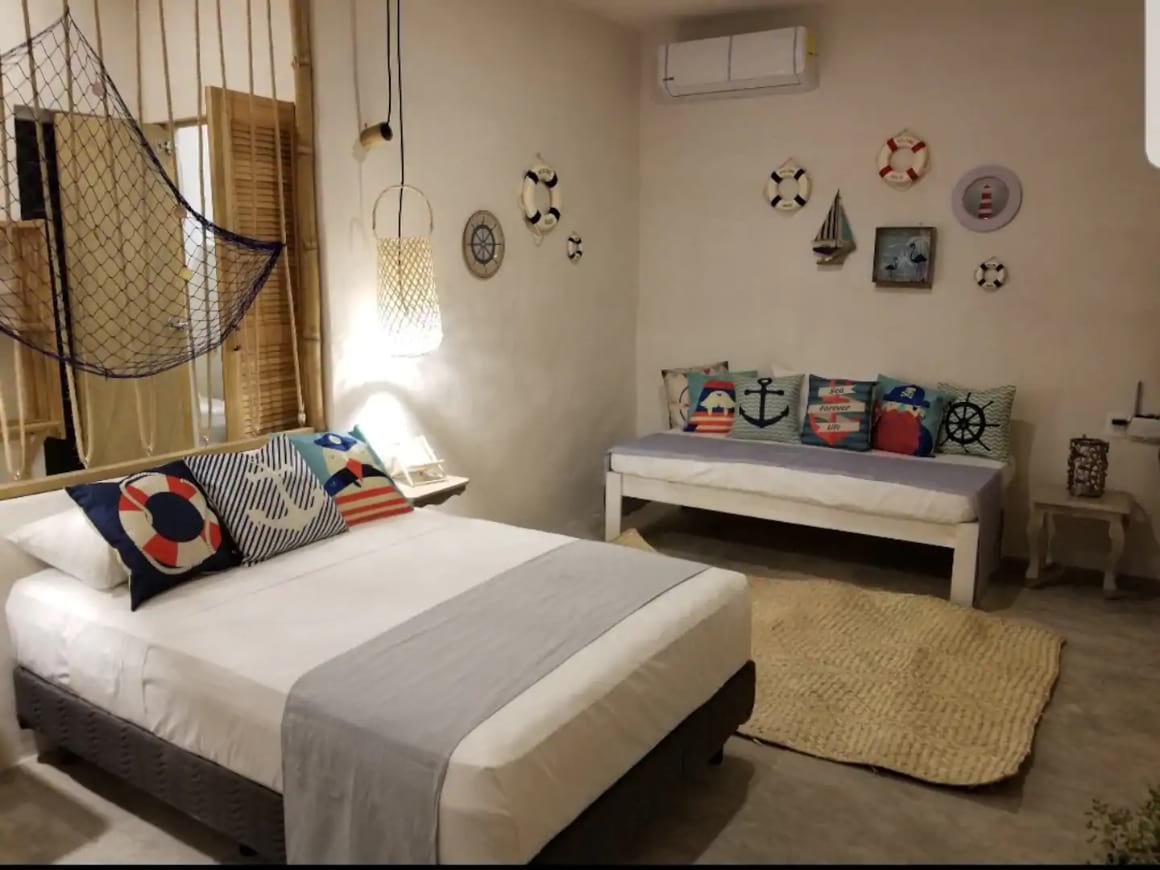 2 guests
Five minutes from beach
Just five minutes away from the beach, this is another private room in a tiny-house style building. The cool nautical theme is welcoming and fun to come home to after a day of surfing or seeing the sights. Your host is happy to recommend things to do and see in the area, places to eat, and tours to help you get to know the Oaxaca coast.
Is This the Best Backpack EVER???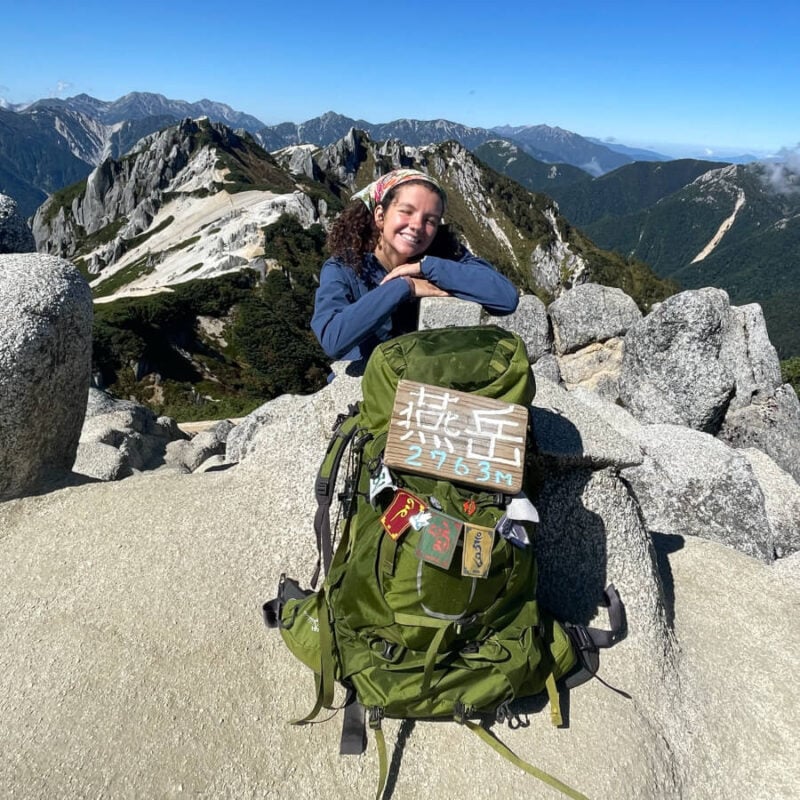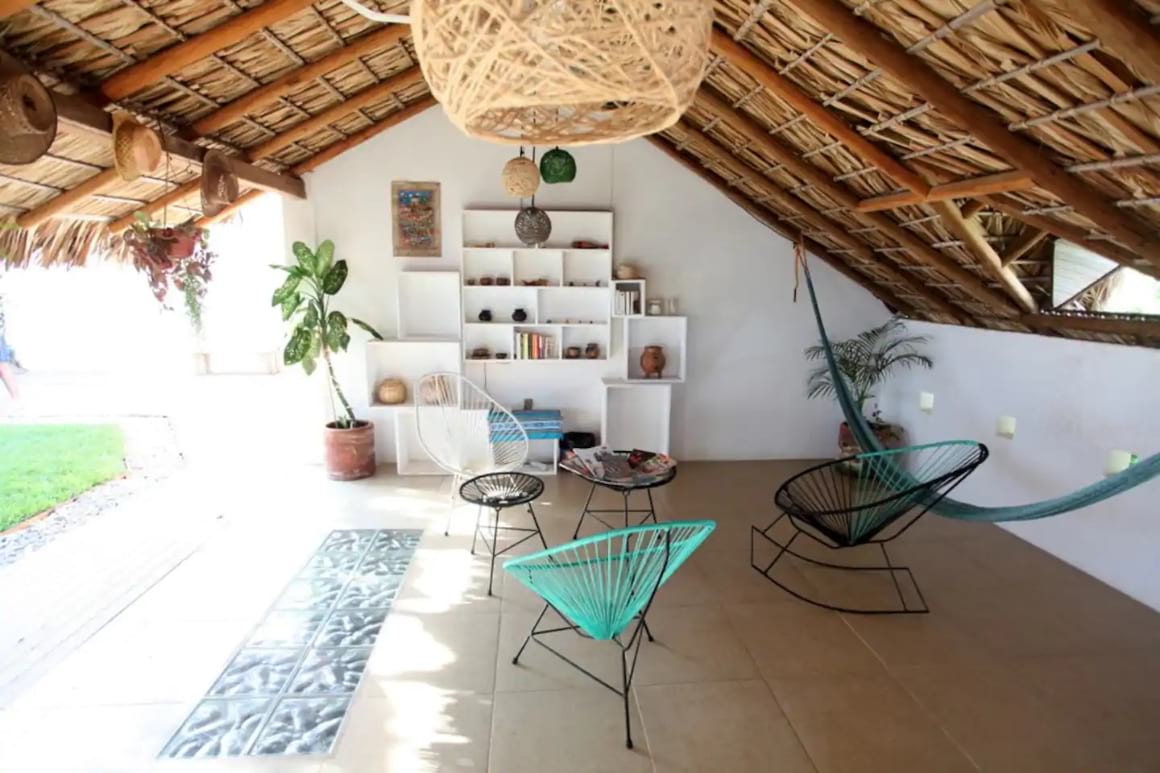 This small romantic studio is more than just a place to sleep together; it's somewhere you can spend quality time, too. With large open spaces to dine and relax, this is perfect for any couple. There's a swimming pool and a palapa which is shared with other guests. When you want some time alone, head back to your studio, where a queen bed awaits.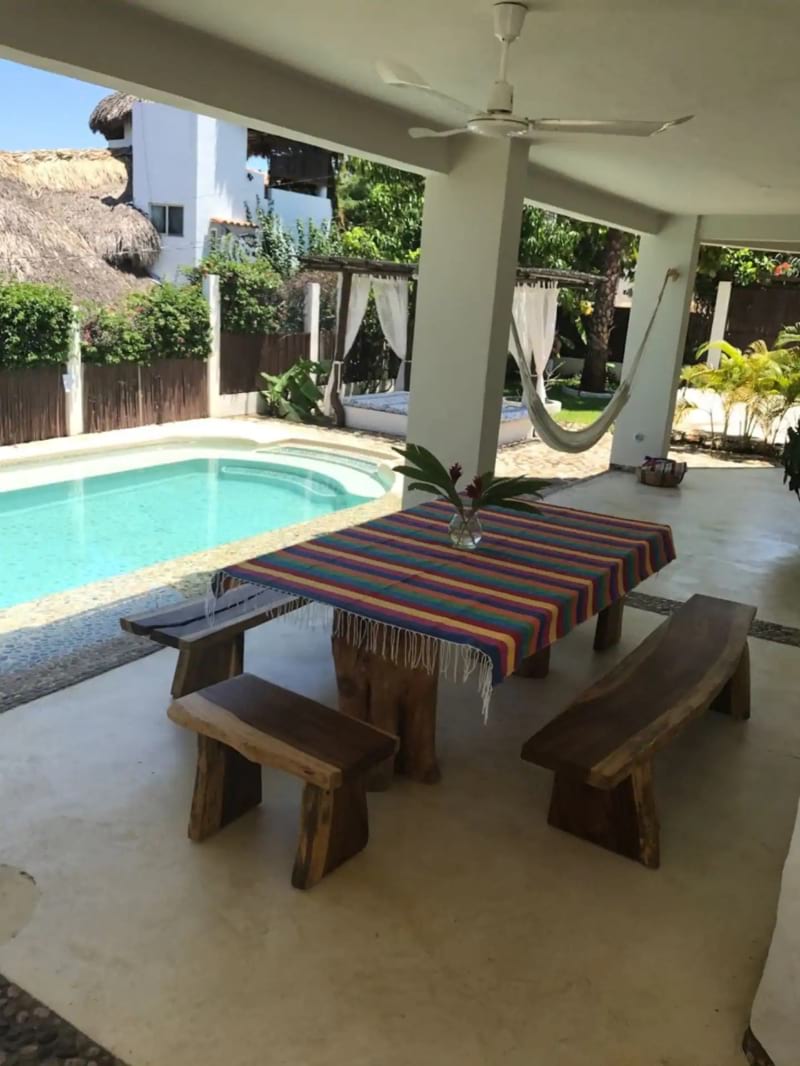 $$$$
Two fully equipped kitchens
6 guests
Pool and outdoor sofas
Ideal for families of all ages, there's a lot to love about this Puerto Escondido house. With not one but two fully equipped kitchens, you can make a starter, main course, and dessert all at the same time. Outside the house is the main attraction, though; as well as a swimming pool, there are outdoor dining and seating areas and big comfy hammocks where you can chill in the sun or catch up on your holiday read.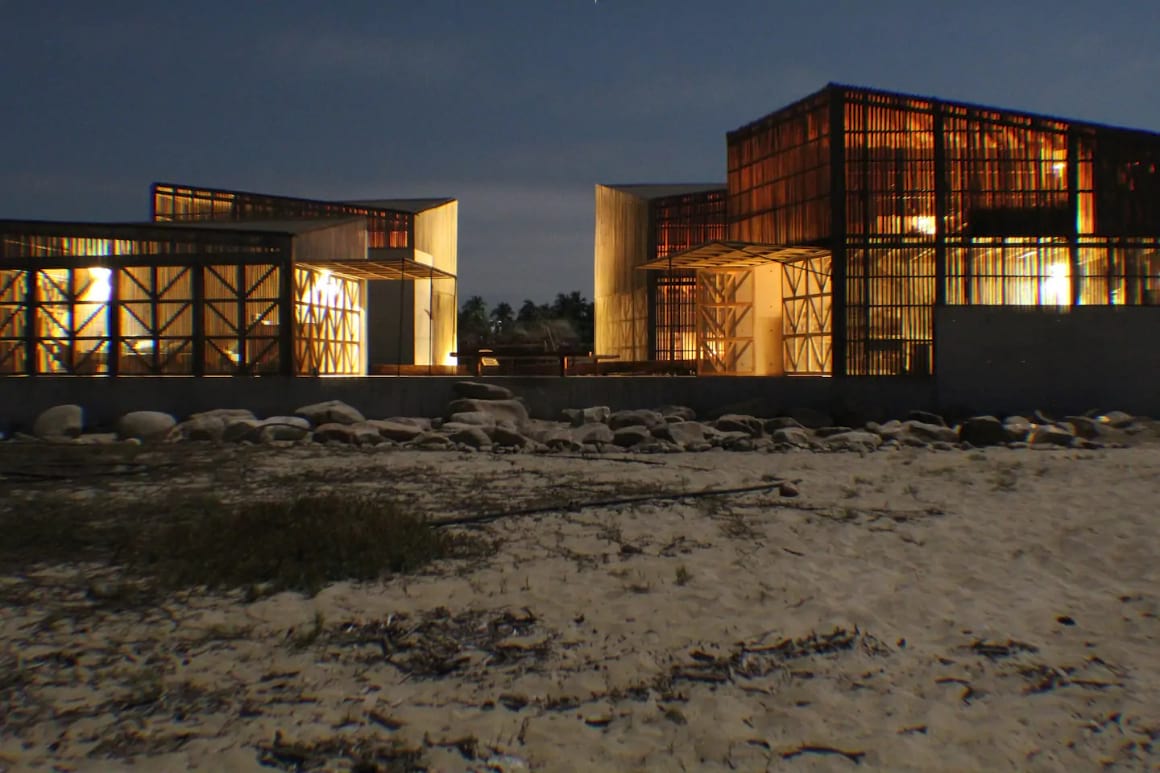 $$$$$$$
Beachfront location
10 guests
Service (such as cooks) included
Looking for something completely out of the box for your trip to Puerto Escondido? This industrial-style villa looks like the layer of a supervillain right on the Oaxacan coast. You won't have to lift a finger while you're here; concentrate on relaxing in the heated saltwater pools while cooks (whose services are included) prepare a delicious seafood dinner.
2 guests
Kitchen and bathroom
This simple budget cabin is ideal for a solo traveler or a couple on a budget. There's a king bed, a simple kitchen, and a rest area with hammocks and seating outside. Enjoy lunch there or update your social media using the property's Wi-Fi. This cute and rustic accommodation is no-frills, but we love its beachfront location.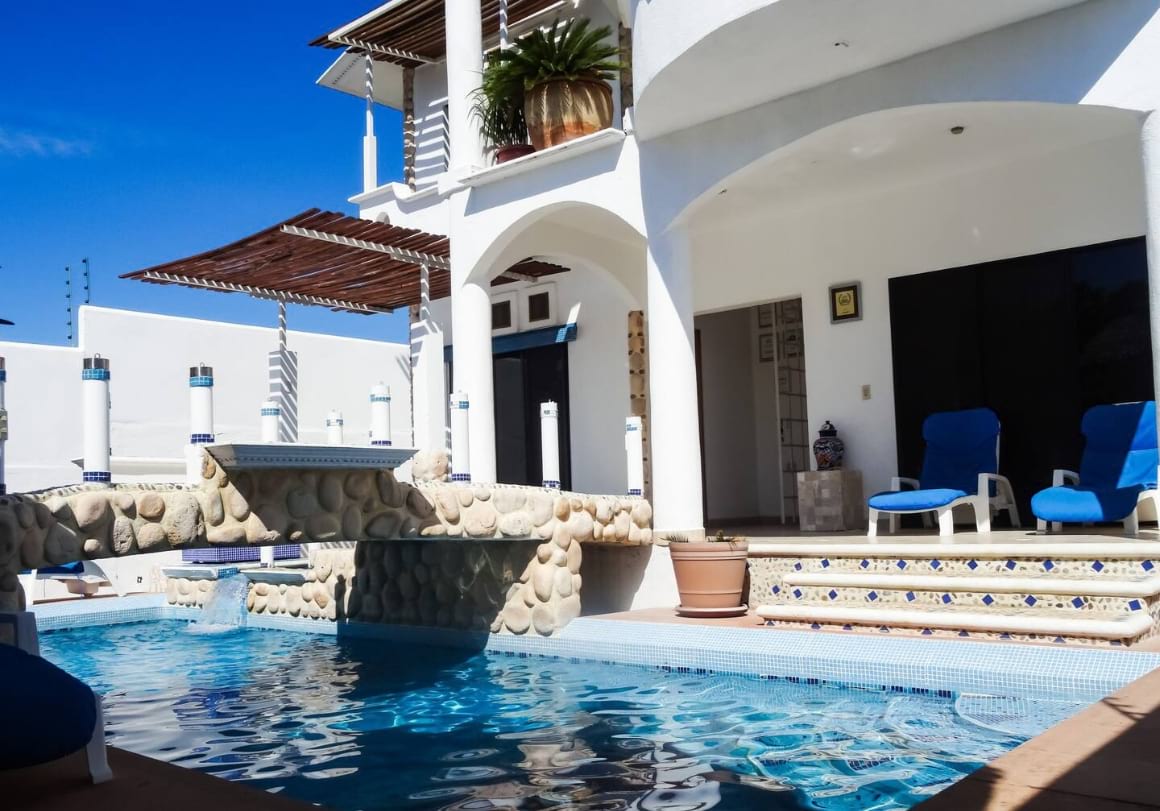 This elegant boutique hotel is in the Carrizalillo neighborhood close to the center, where you'll find one of Puerto Escondido's most jaw-dropping (but slightly quieter) beaches. The hotel boasts a hot tub and swimming pool, and you'll find a queen bed in your room. This is a great option for couples who want an alternative to the busy Playa Zicatela area.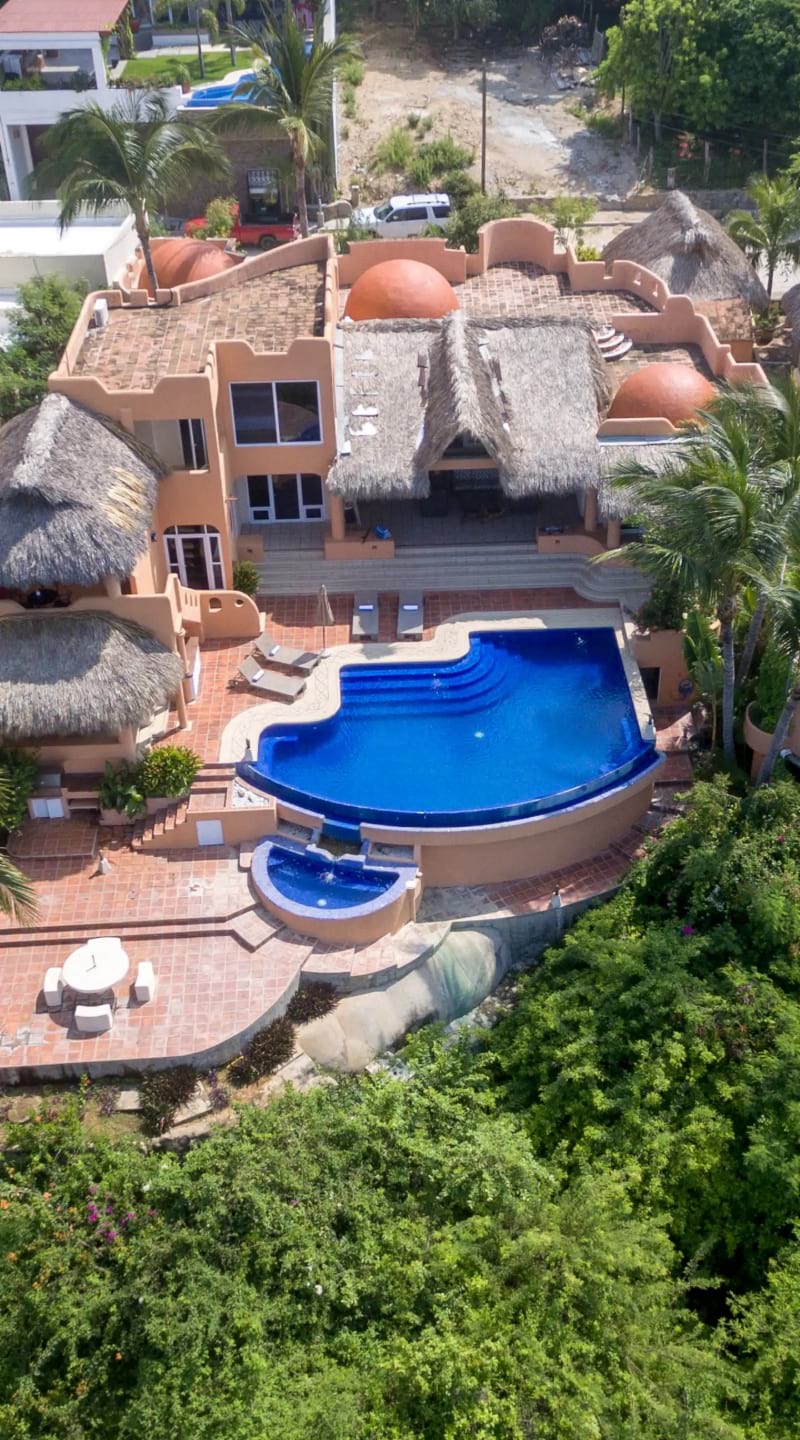 $$$$$
Cook and masseuse on request
10 guests
Panoramic ocean views
Want to enjoy views of the Pacific Ocean from your very own infinity pool? This Puerto Escondido villa is the right place for you. With room for up to ten guests, it's perfect for family vacations or gatherings of friends. Feeling exhausted after days of surfing or exploring Oaxaca? Come home to a cooking and massage service, which is available on request in this private gated community.
With a dedicated workspace and fast Wi-Fi, this private room is perfect for digital nomads. When it's time to put your laptop away, you even have a hammock on your own patio and a space to enjoy a coffee with views of Playa Zicatela. You have your own private bathroom and a king bed, so it's comfortable too!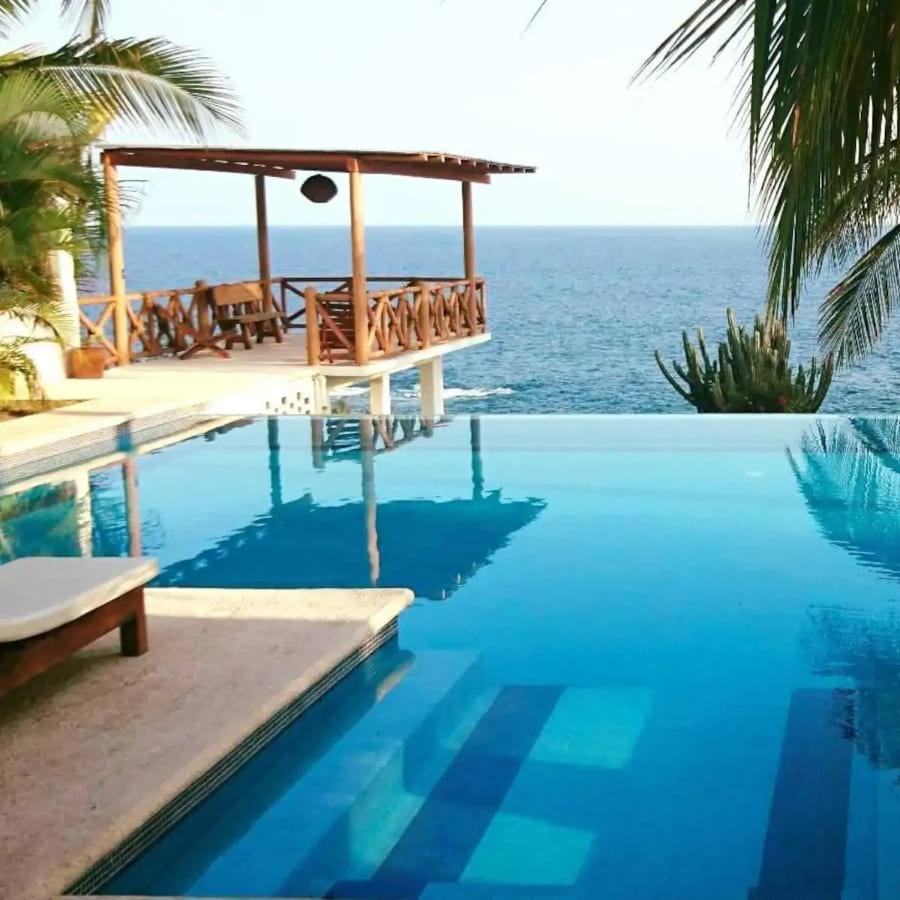 16 guests
Multimedia centre
Not so much the best Airbnb with a pool, but rather, the best pool in Puerto Escondido! The infinity pool is perched atop a cliff over the Cave of Love, and if you're brave enough to swim to the edge, you can get epic views of the Pacific. There are loungers and a covered area around the pool if you prefer to stay dry and soak up the sun. Thanks to having room for 16 guests, this villa is ideal for family celebrations and groups of friends.
$$$
Backyard infinity pool
6 guests
Pacific Ocean views
With a private terrace overlooking the Pacific Ocean from a clifftop, it's safe to say you won't get bored of this view of Carrizalillo Bay. If that's not enough, there's an infinity pool out there too! Don't fancy a trip to the nearby restaurants? Make use of the fully equipped and stocked kitchen and outdoor grill area.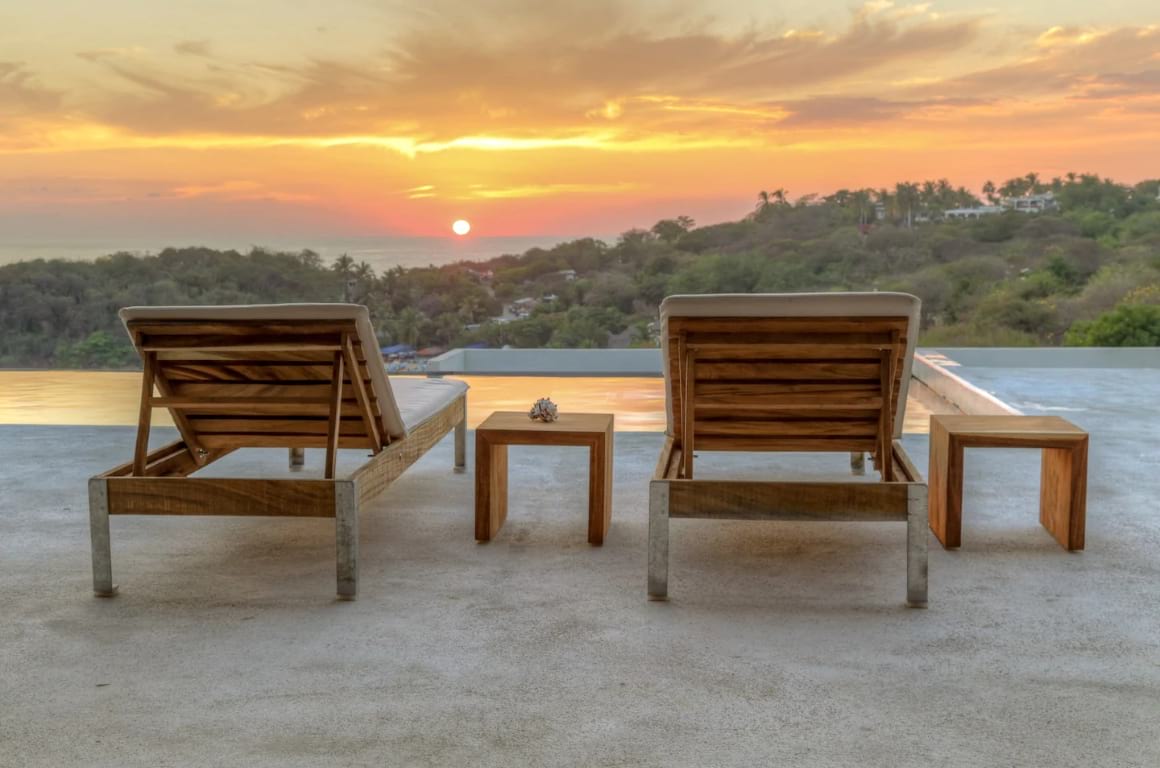 2 guests
Projection screen
Just married? Congratulations! Now, here's a villa that matches the special occasion. The modern and industrial oceanfront property is named after the nearby waterfall. From this luxury accommodation, there's a private path to Playa Manzanillo, where you can go snorkeling or swimming. Back at the property, enjoy a full breakfast each day or a continental on a Sunday, prepared by the in-house chef. There's a projection screen for movies and a king bed when you want some privacy.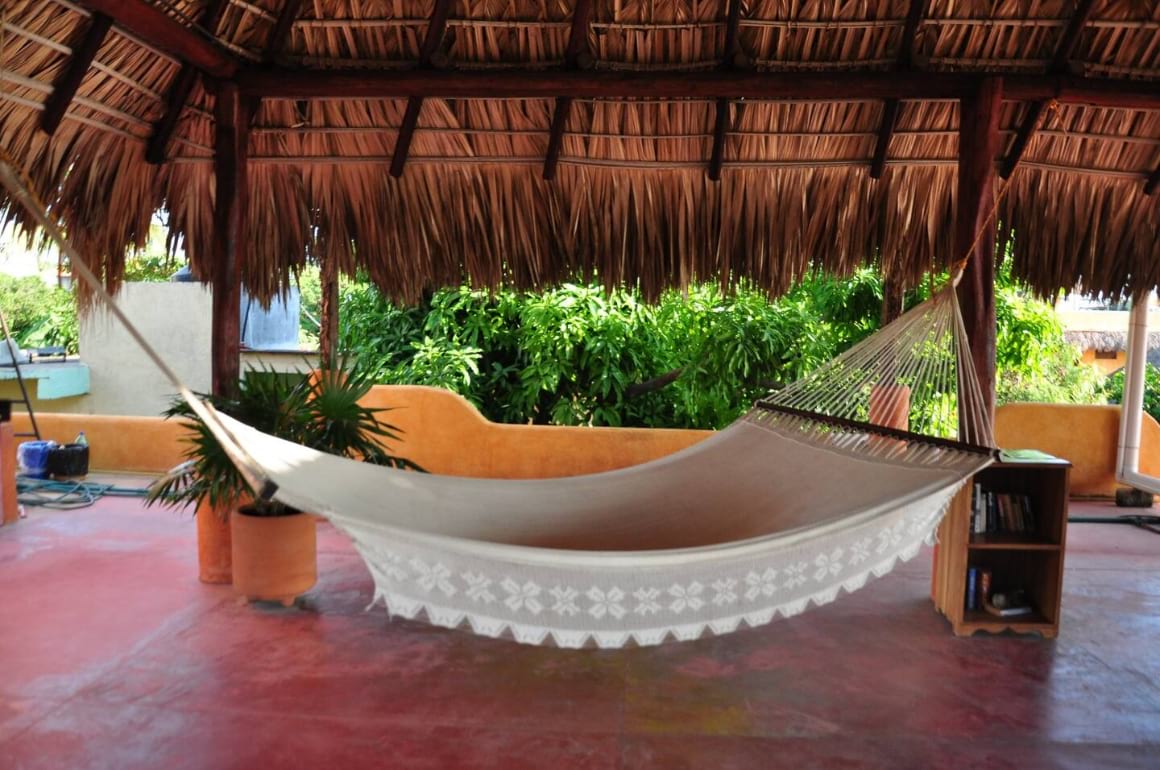 If you're staying in Puerto Escondido for a short time, the most important thing is getting a good location. Right by Playa Zicatela, you can experience surfing, days on the beach, nightlife, and restaurants all within a stone's throw of your base. And if you do have any time spare, there's a lovely roof terrace where you can soak up the sun from a hammock!
Best Airbnb in Puerto Escondido for a Group of Friends | Casa Don Juanito Beach House
$$$$
Swimming pool and garden
8 guests
Outdoor dining area
With space for up to eight guests, this is the perfect Airbnb in Puerto Escondido to book with your friends. While the price may seem high at first, if you split it equally, it won't come to much more than a bed and breakfast or guest house. There's a lot to love here, including a swimming pool, outdoor dining area, and a garden. There are even hospitality staff who can help you arrange your time in Oaxaca or rustle up exquisite seafood meals.
Top 5 Airbnb Experiences in Puerto Escondido
No matter your plans for your trip to Puerto Escondido, it's always good to have a few ideas in mind for things to do. That's where Airbnb Experiences comes in.
The Airbnb Experiences platform offers tours and days out curated by local people who want you to fall in love with their hometown and make amazing memories. Experiences can be anything from surf lessons to cooking classes.
With more than 20 Airbnb Experiences in Puerto Escondido, you may find it hard to decide what to do. To help you out, here are our five favorite Airbnb Experiences in town – you just have to decide which one you're going to do first!
$41/person
2 hours
Up to 4 guests
No trip to Puerto Escondido is complete without having a crack at surfing. But if you've never done it before, that might seem intimidating. This beginner surf lesson should dispel any worries or fears. Over two hours, you'll learn how to stand up on your board and catch waves. If you're more experienced, it can be tailored by your host.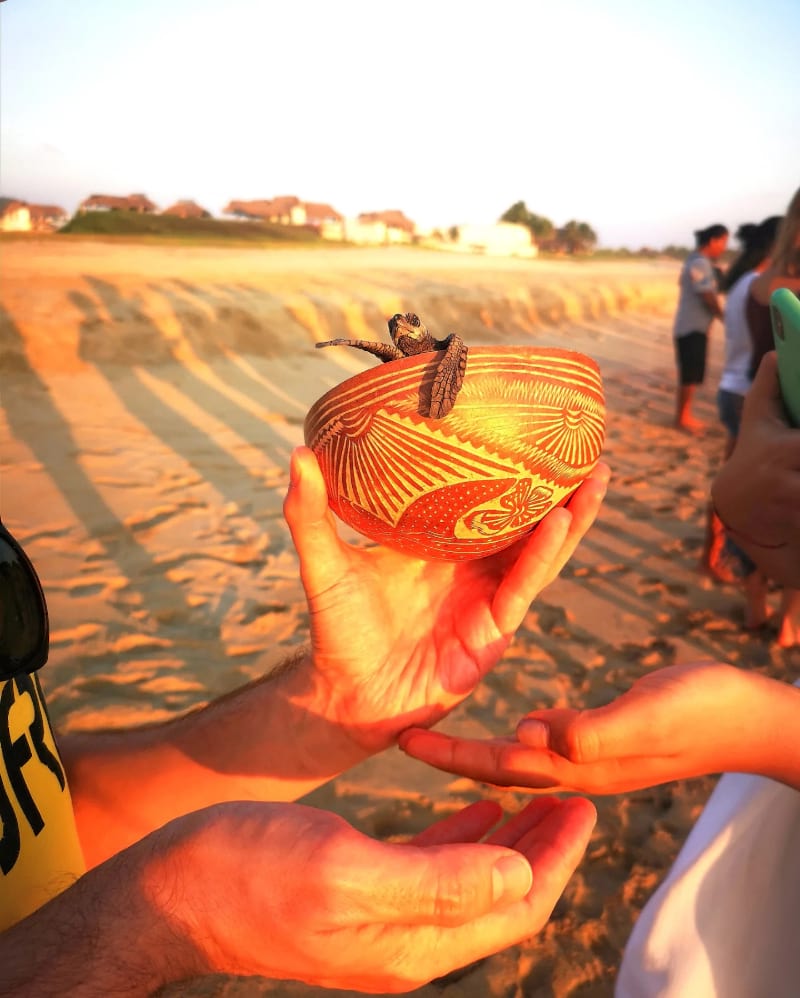 $36/person
4.5 hours
Up to 10 guests
There's more to Puerto Escondido's beaches than surfing, as this tour proves. Your first stop is a turtle camp, where you'll learn about these beautiful creatures. You may even get a chance to release the hatchlings back into the wild. Then, it's onto a bioluminescent lagoon where you can see glittery light on your skin. Don't forget your swimsuit!
$77/person
10.5 hour
Up to 4 guests
If you have a few days in Oaxaca, you may decide you want to get away from Puerto Escondido for a more authentic view of the region. Visiting four towns on this tour is the perfect way to do that. You'll enjoy mezcal, coffee, and chocolate during the tour, and there's also the chance to observe crocodiles and go for a swim – thankfully, in two different places!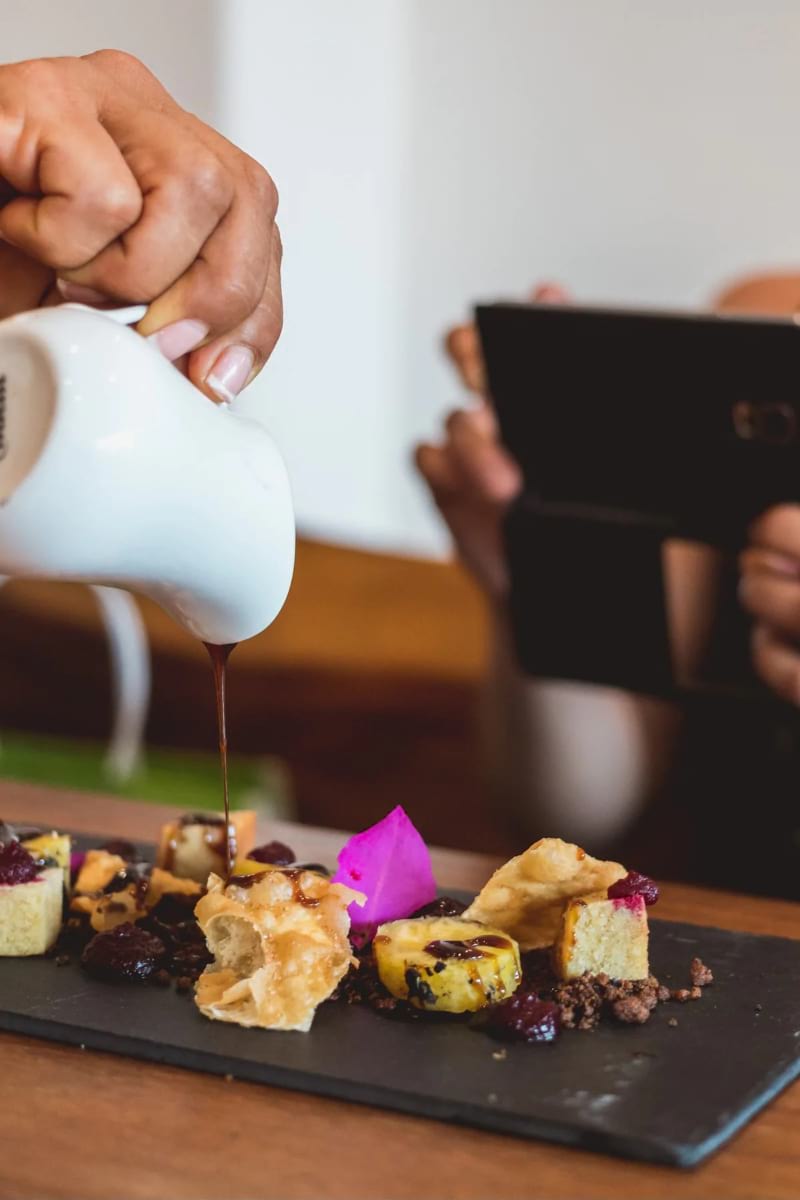 $49/person
3 hours
Up to 8 guests
Mexican cuisine is one of the world's most revered, and Oaxaca is where some of it's most famous and delicious dishes originate from. Don't miss your opportunity to learn a few tricks to impress friends and family back home. You'll head to all of Puerto Escondido's secret spots and enjoy some of the places locals love to frequent.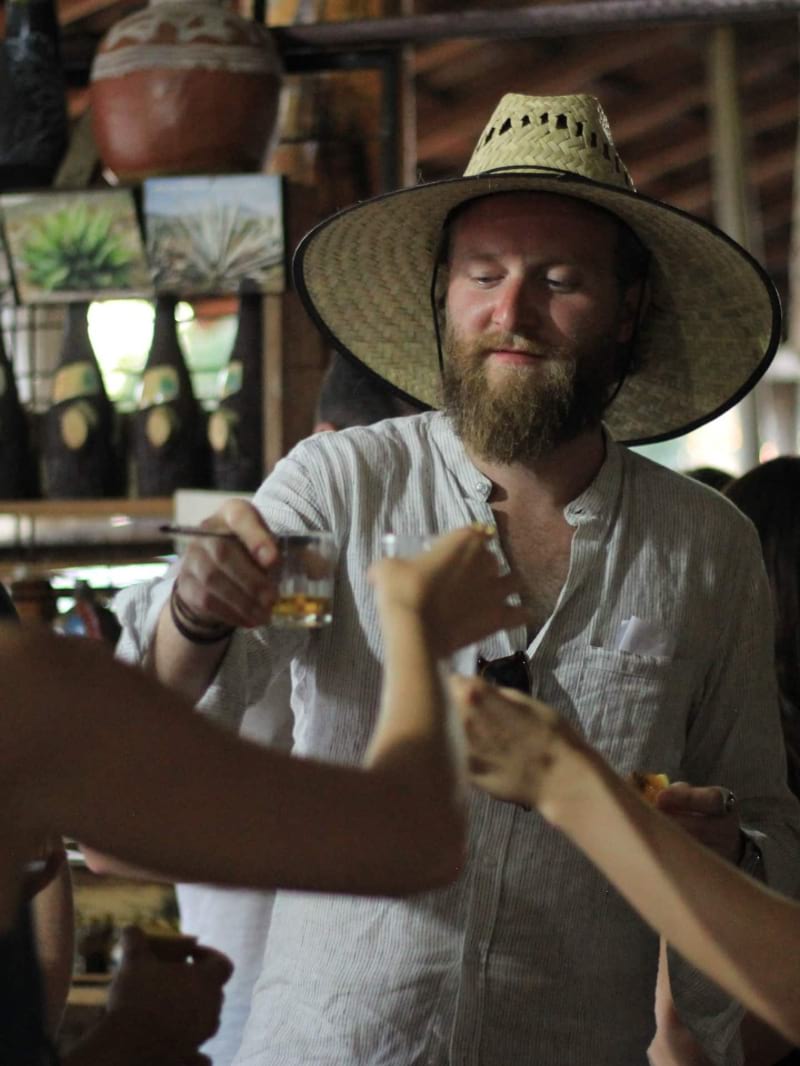 $39/person
2 hours
Up to 10 guests
Enjoy a tipple? This visit to a Mezcal distillery is unmissable. Round trip transportation from your accommodation is included – and of course, there's tasting to enjoy. Just be sure not to have too much – it's strong stuff!
Don't Forget Your Puerto Escondido Travel Insurance
ALWAYS sort out your backpacker insurance before your trip. There's plenty to choose from in that department, but a good place to start is Safety Wing.
They offer month-to-month payments, no lock-in contracts, and require absolutely no itineraries: that's the exact kind of insurance long-term travellers and digital nomads need.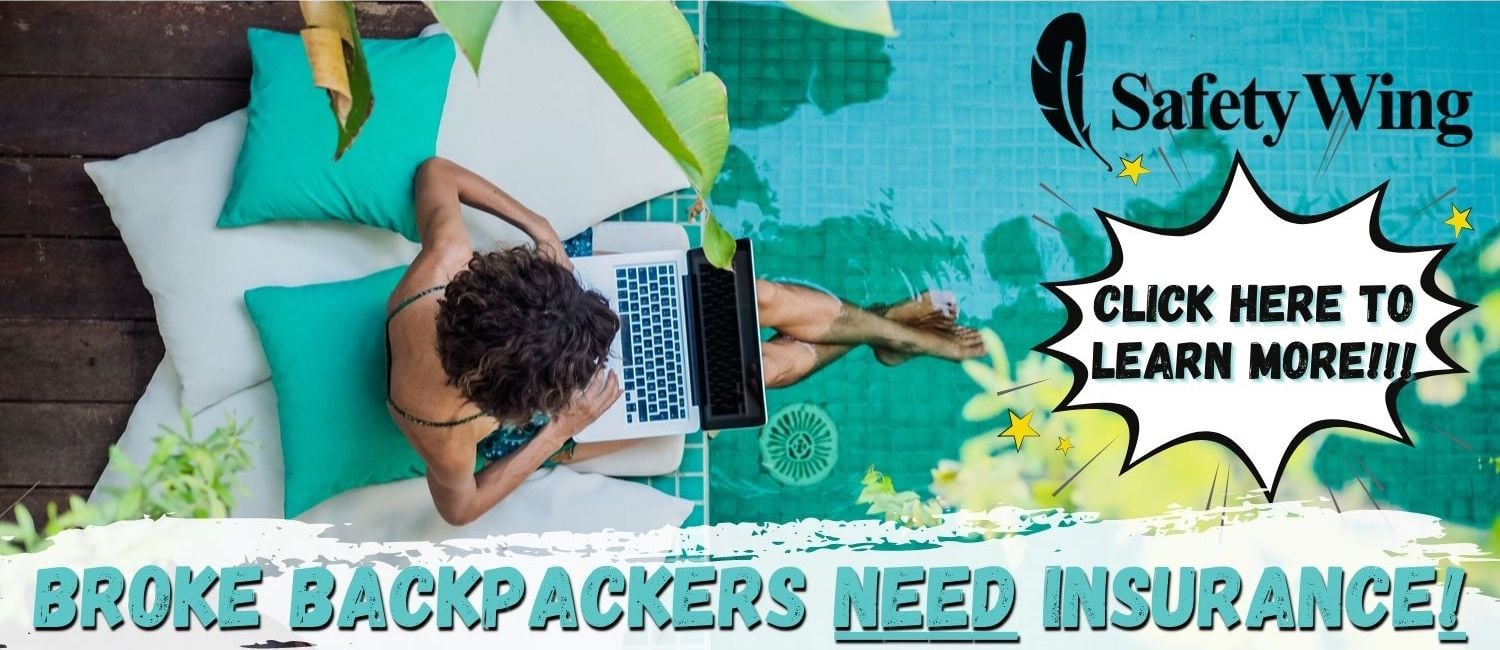 SafetyWing is cheap, easy, and admin-free: just sign up lickety-split so you can get back to it!
Click the button below to learn more about SafetyWing's setup or read our insider review for the full tasty scoop.
Final Thoughts on Puerto Escondido Airbnbs
Well, there you have it. You've just seen the 15 best Airbnbs in Puerto Escondido, along with some awesome Airbnb Experiences. Whether you want to stay in a villa overlooking the Pacific Ocean, a beachfront cabaña, or a cute boutique hotel, there's an Airbnb in Puerto Escondido for you.
If you still can't make up your mind, don't worry about it; just go for our overall best Airbnb in Puerto Escondido. That's the cozy apartment close to the beach. It's perfect for a couple or solo traveler and won't eat into your budget too much – and of course, it's right on the beach!
We hope that wherever you choose to stay, you have an incredible vacation in Puerto Escondido. Be sure to check out World Nomads for travel insurance policies to keep you and your belongings safe.
---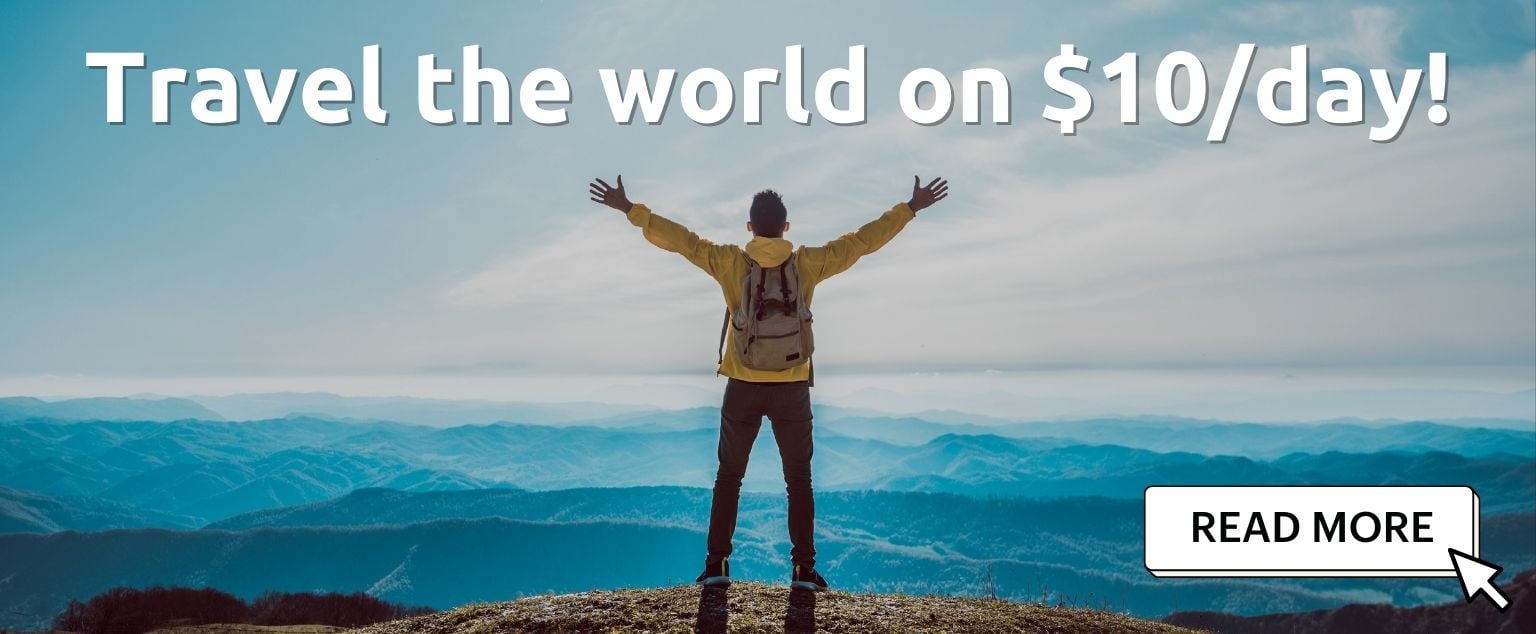 And for transparency's sake, please know that some of the links in our content are affiliate links. That means that if you book your accommodation, buy your gear, or sort your insurance through our link, we earn a small commission (at no extra cost to you). That said, we only link to the gear we trust and never recommend services we don't believe are up to scratch. Again, thank you!