Bordeaux is not only famous for its world-class wine and food, but it's also the largest urban UNESCO World Heritage Site. Make sure to look up as you're walking around – the architecture is sublime! The river is also a wonderful place to go for a romantic stroll or an early morning run.
But what about where to stay in Bordeaux? Well, it does have some spectacular hotels, yes, but you can feel the real essence of the city by staying in one of many rentals in Bordeaux. Private homes are a wonderful insight into local life!
With that in mind, we've put together a list of the best Airbnbs in Bordeaux Whether you want a homestay as your base or something a little more individual, you're sure to find something that will match your budget and travel taste.
Airbnb is more than a platform for finding somewhere to stay; you can also find some amazing and fun experiences there too – more on that later. First, let's look at some admin regarding Bordeaux Airbnbs!
Quick Answer: These are the Top 5 Airbnbs in Bordeaux
Overall best value Airbnb in Bordeaux
Overall best value Airbnb in Bordeaux
Vintage flat in central Bordeaux
> $$
> 4 guests
> Awesome location
> Mezzanine bedroom
Best Budget Airbnb in Bordeaux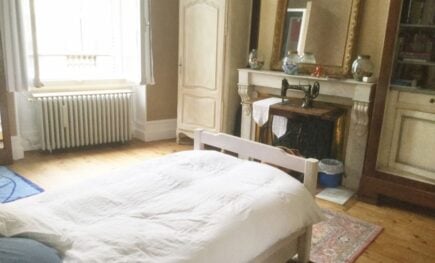 Best Budget Airbnb in Bordeaux
Private Room in City Centre
> $
> 3 guests
> Antique furnishings
> Indoor fireplace
Best Airbnb for Couples in Bordeaux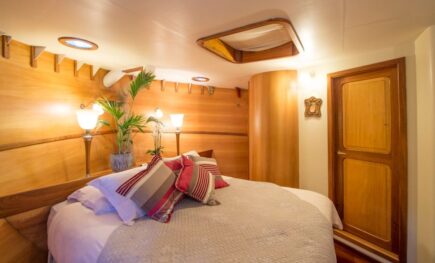 Best Airbnb for Couples in Bordeaux
Tango Barge in Bordeaux
> $$$$
> 2 guests
> Queen bed
> Spa tub
Best Airbnb in Bordeaux for Families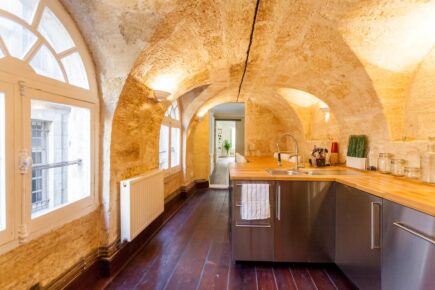 Best Airbnb in Bordeaux for Families
Comfortable and Warm Flat
> $$$$
> 6 guests
> Historic building
> Stone kitchen
Over-the-Top Luxury Airbnb in Bordeaux
Over-the-Top Luxury Airbnb in Bordeaux
Loft with pool in centre
> $$$$$$$
> 10 guests
> Heated swimming pool
> Terrace with BBQ

Unlock Our GREATEST Travel Secrets!
Sign up for our newsletter and get the best travel tips delivered right to your inbox.
What to Expect from Airbnbs in Bordeaux
Bordeaux has one of the most exciting Airbnb scenes in France. In some cities, you'll be choosing between flats, private rooms, and maybe the odd unique property. Not here, though!
Bordeaux, of course, does have your standard flats and homes; however, if you're in the UNESCO listed historic centre, you can expect chandeliers, balconies, and magnificent architecture. And that's not even the most exciting property available!
Built on a bend in the River Garonne, you'll find a swathe of houseboats in the city – especially the Bacalan Area. Happy to get out into the countryside and splash the cash? You might just land yourself a château!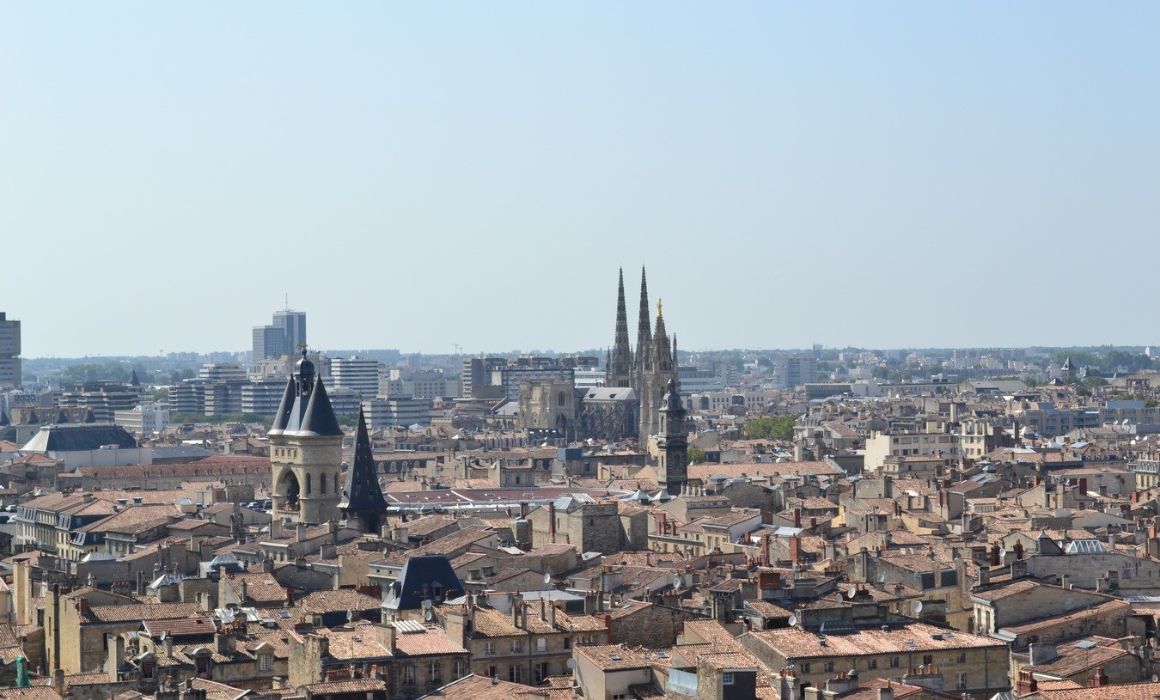 Boat
If you fancy something completely different, how about staying on a boat in Bordeaux? The River Garonne itself is quite wide, and you'll usually find boats being used as accommodation in the Port de Plaisance in the Bacalan District. However, there are also some in La Bastide, opposite the Grand Theatre and Place de la Bourse.
Wherever you stay, it's certainly not a rubber dinghy you'll be sleeping in! These houseboats have fully equipped kitchens, double or even queen beds, and terraces where you can sit out and enjoy the sunshine. They're within walking distance of all the tourist attractions, too. A real luxury alternative to regular hotel accommodation.
Check out boats in Bordeaux here.
Château
Want to experience how the French aristocracy lived? There is a way to do that. Château directly translates as castle, but these properties aren't the traditional idea of a large stone fortress. They're more like period stately homes or palaces – and they really are stunning.
You won't find any of these in the city centre, but in the countryside surrounding Bordeaux. Many have their own vineyards, so they're perfect for wine lovers.
The downside of a castle? It will likely put a strain on your budget. Even staying in a castle's private room will set you back more than a regular Airbnb or even a fancy hotel. However, there's nothing wrong with dreaming!
See the best châteaus in and around Bordeaux here.
Loft
Feel like boats and châteaus are just that little bit too fancy? That's not unusual. But happily, there's one more unique type of accommodation in Bordeaux that will make you feel special – and this one won't break the bank.
A loft apartment is usually on the top floor of a flat – kind of like a penthouse. Chances are you'll have a larger space than an average flat, and it may even be open plan. At the lower end of the scale, you can expect a nice living area and usually a fully equipped kitchen.
Loosen the purse strings and you'll have a roof terrace and perhaps even a swimming pool! Check out loft apartments in Bordeaux here.
Why Stay in an Airbnb
Still not convinced about an Airbnb? We're not sure why, but okay. Here are five reasons that will definitely make your mind up.
Local Experience: A local host can give you recommendations on things to do and see that you definitely won't find in the guidebook!
Unique Properties: Especially true in Bordeaux, you can stay in outside the box properties that will make any hotel look dull and drab.
Affordability: Put an Airbnb side by side against a hotel of equal cost, and there's no competition where your money will go further!
Safety: Staying in someone's house, that's a bit risky, isn't it? Well no, not with Airbnb's review system which vets guest customer and host!
Airbnb Experiences: As well as offering unique places to stay, you can find wonderful experiences and see your destination like a local.
The Top 15 Airbnbs in Bordeaux
Now that you know what to expect from an Airbnb in Bordeaux, let's get down to the part you've all been waiting for: we're going to show you our favourite Airbnbs in Bordeaux. With everything from private rooms to castles, there's sure to be something that will suit you perfectly!
4 guests
Mezzanine bedroom
Just how do you choose the best value Airbnb in Bordeaux? It's not easy! However, it's made simpler when you see a vintage apartment like this. At this price, you'd expect it to suit a couple, but it can sleep as many as four.
It's in a wonderful location between the Saint Michel and Saint Pierre districts, and it gives you a taste of life in a traditional Bordeaux flat. If you're only spending a weekend in Bordeaux, this is the perfect home to stay!
There are a lot of words you can use to describe Bordeaux; however, cheap is not one of them. There are quite a few cheap hostels in Bordeaux, but we've got an even better option for you!
If you're looking for a budget Airbnb, rather than searching for an entire place, you'll be looking at a private room. With space for three guests and some lovely antique furnishings, you won't get a much better blend of value for money and style than here!
Again, staying as a solo traveller will mean you don't have a whole load of money to burn. Best to look at friendly flats with locals who can point you in the direction of their favourite hangouts. With that in mind, check out this spacious room. It's just ten minutes from the city centre on foot, and you've got a view of a square from your window. There's also a fully equipped kitchen, so you can avoid the awkward 'table for one' at a restaurant!
Is This the Best Backpack EVER???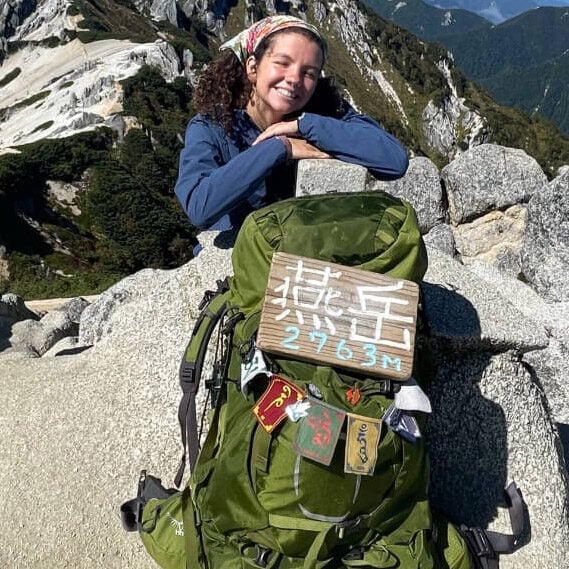 Travelling with your other half? You'll want to sweep them off their feet if that's the case. So, forget looking at standard flats and go for a boat instead! And not just any boat – the Van Gogh Cabin at the Tango Barge is the perfect love nest. With a queen bed and a spa tub, it's screaming romance! Splash out a little extra in the morning for a continental breakfast in this perfect little love nest.
We mentioned traditional Bordeaux flats in the intro, and they don't come much more traditional than this. It's part of a building that dates back to 1750! You'll notice that in some of the touches, like the stone walls and ceiling in the fully equipped kitchen. Despite the building's age, there's no shortage of mod cons: you've got a home cinema in the living room and an induction hob in the kitchen – as well as Wi-Fi throughout.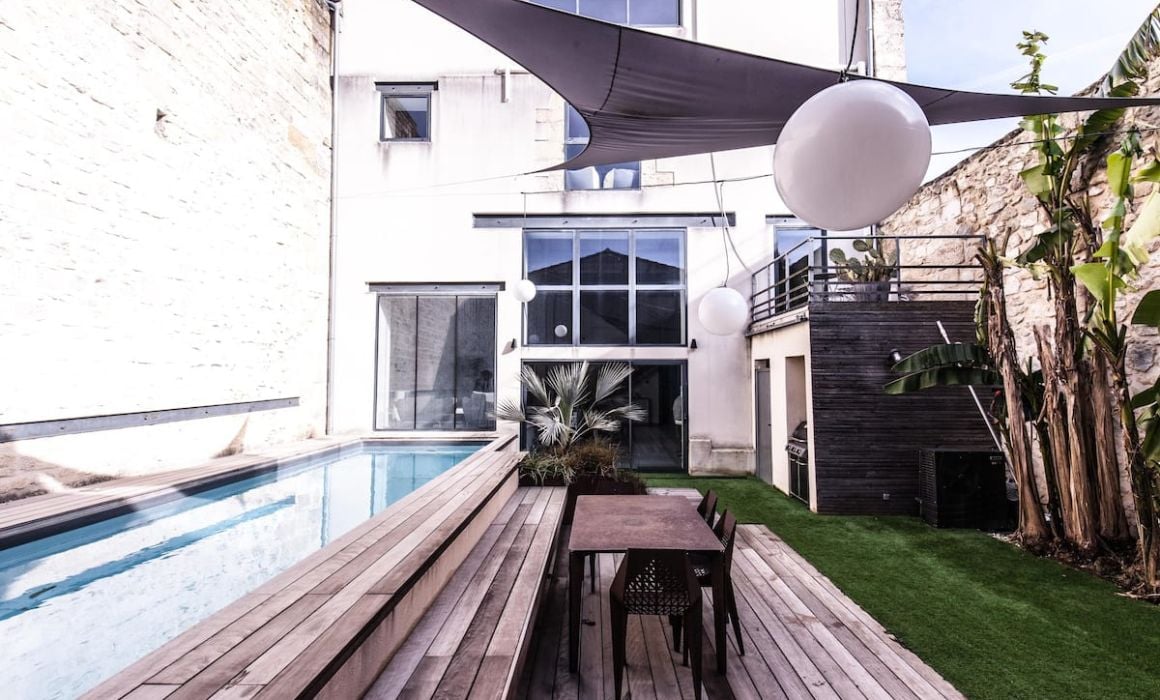 $$$$$$$
Heated Swimming Pool
10 guests
Terrace with BBQ
Is there anything more over the top than a rooftop pool? Well, how about a heated rooftop pool with a BBQ and terrace, perfect for hosting guests or just having a big family/friend get together?! There's room for up to ten, and if the weather isn't good enough to head out onto the terrace, the open-plan living room and kitchen is perfect for a rainy day.
4 guests
BBQ and open kitchen
One of many boats in Bordeaux's Bacalan district, this one is perfect for groups of up to four people. While you won't be able to sail away on it on the high seas, you'll be able to get out on deck and sun yourself thanks to the two terraces. One's on the roof, and one is out on the back. Feeling hungry? Enjoy a BBQ out there or head inside to cook in the open-plan kitchen. This offers everything you could expect from an apartment – with the added bonus that it's on water!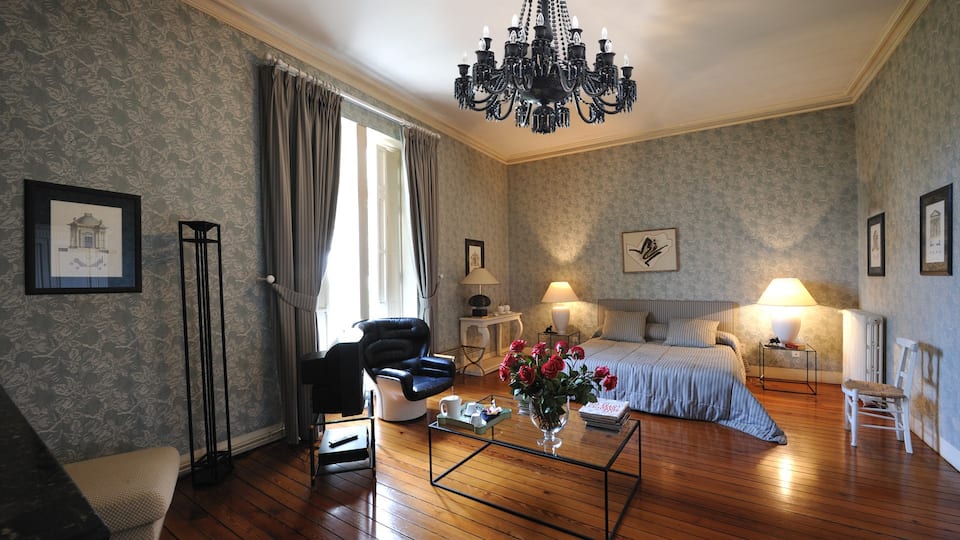 $$$$$$
Vineyard and tastings
When it comes to unique accommodation options, it doesn't get much more exciting than a château. You'll literally stay in a slice of French history! However, it won't come cheap. But what do you expect when you have vineyard views, a marble bathroom, and huge baroque chandeliers? If this particular listing is booked for your visit, you'll be pleased to know that there are some other suites at Pape Clement on Airbnb.
This modern and chic loft is built around a private courtyard just a stone's throw from the city's botanic garden. A cute and cosy space, it has views of the stunning Sainte Marie de la Bastide Church, one of the most impressive buildings in Bordeaux. However, you'll be just as happy with how this place looks inside. There's a mezzanine bedroom and lots of bright colours blended with wooden shades.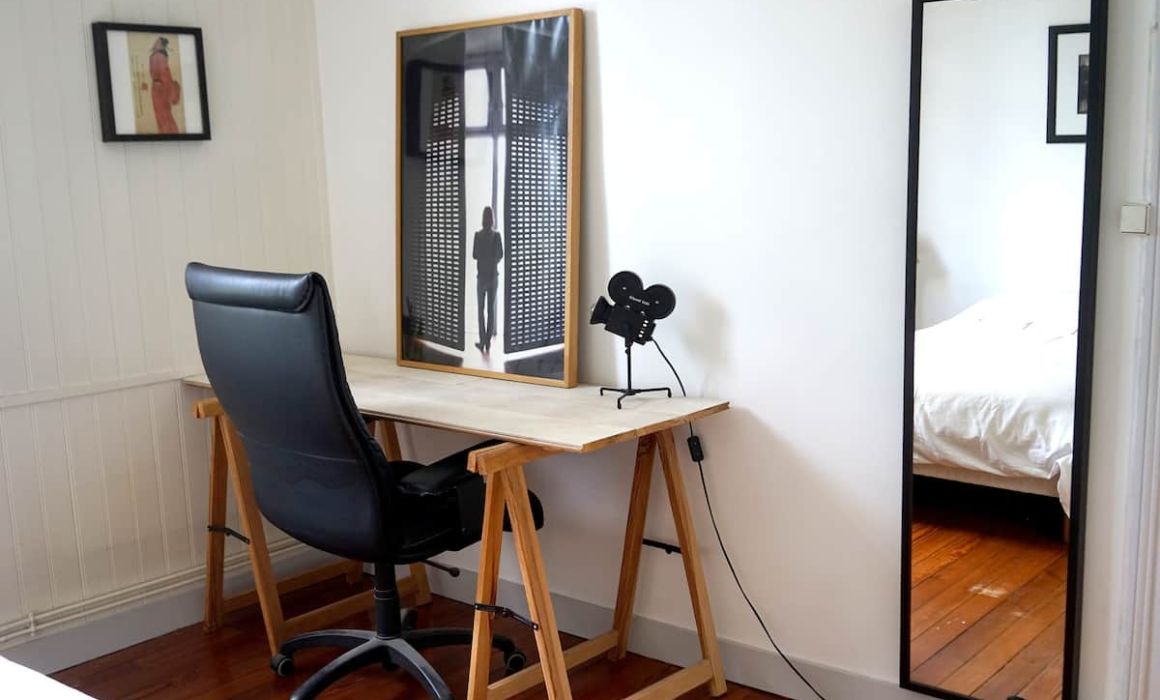 $$
Laptop friendly workspace
Being a digital nomad is great as you can work anywhere there's a good internet connection and a laptop-friendly workspace. However, sometimes you just want that little bit more. At this house in Bordeaux, you'll have your very own private room with a swimming pool – perfect for taking a break from emails, copywriting, or web design! There's a comfy leather office chair for when you are working, too.
2 guests
Surrounded by nature
Have you ever seen anything that looks like this, let alone considered staying there? This floating house on the River Garonne is the perfect way to get a peaceful and quiet escape while still being in proximity to Bordeaux. Wake up to the sounds of birds and see the swans floating past as you head out for a morning coffee on the terrace. A wonderful way to get off the beaten track!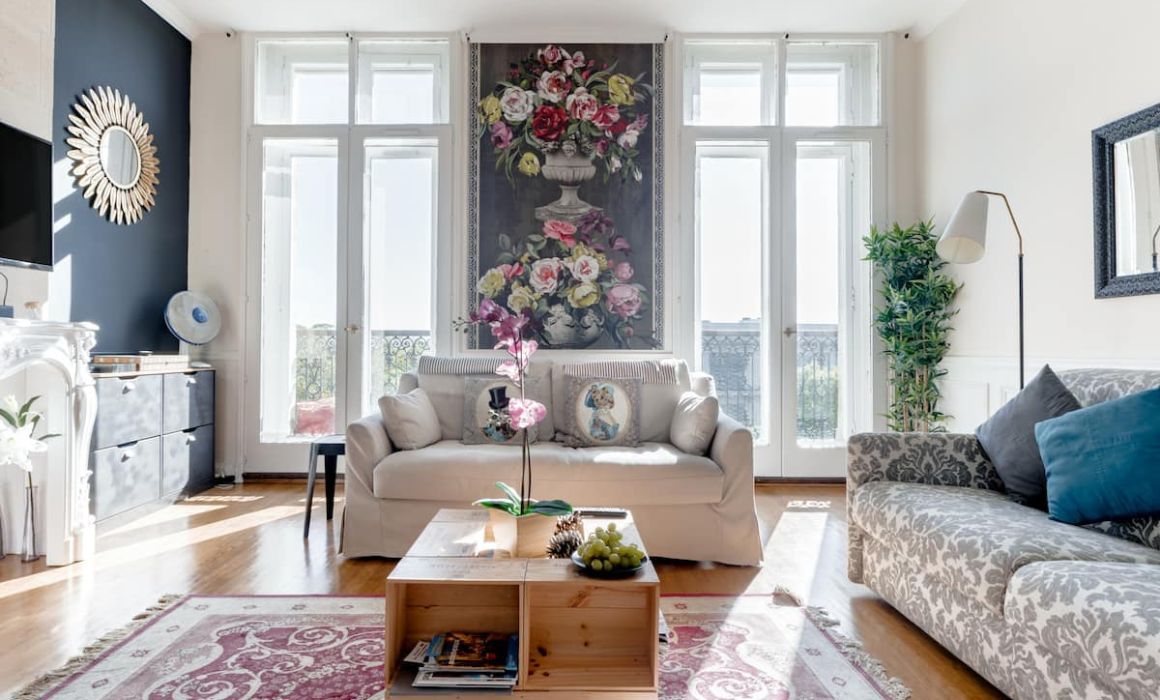 Airbnb Plus properties are the highest quality in a destination, and the hosts are known for great reviews. These homes even get a personal visit from an Airbnb inspector! So, if a home has a Plus badge, you know it's going to be good. This home with river views is one of the best Airbnbs in Bordeaux – period. It has not one, nor two, but three balconies to enjoy the views and atmosphere of the city. And it's pretty beautiful inside, too!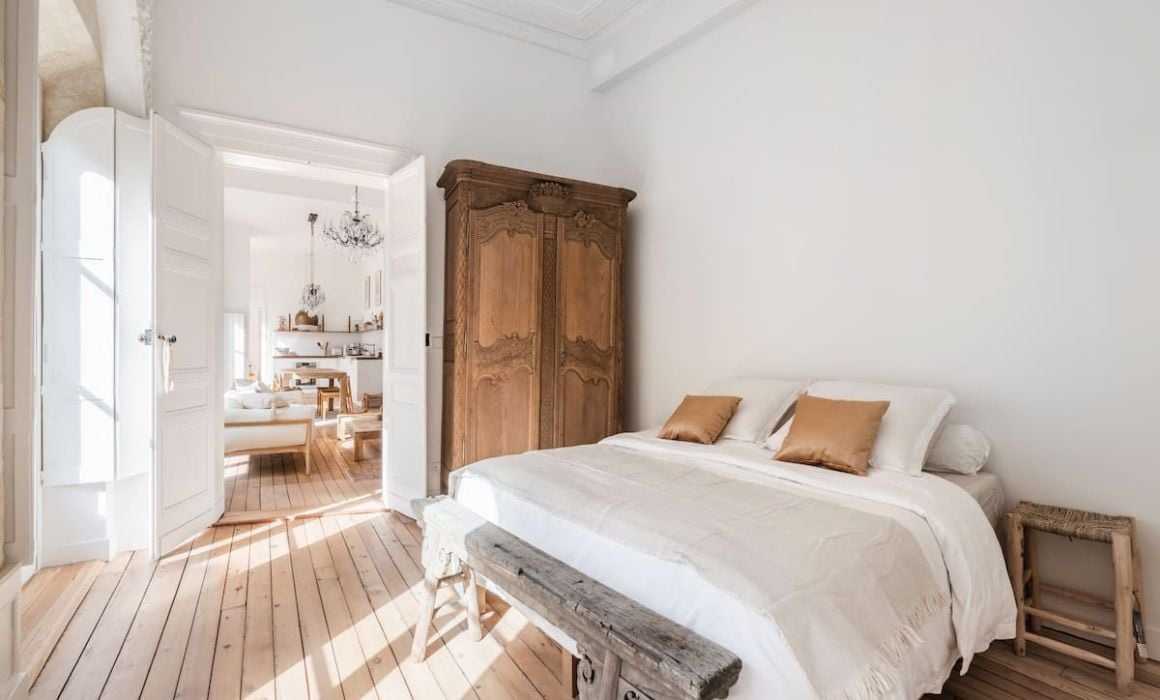 4 guests
Contemporary design in historic building
Another difficult category to judge is the most beautiful Airbnb in Bordeaux. With historic apartments, floating houses, and even châteaus, where on earth do you begin? We decided the city centre was a good shout – and found this. The colour palette means it's always light and bright in here, no matter the weather outside. And there are terraces where you can enjoy a fresh and flaky croissant from a local boulangerie for breakfast!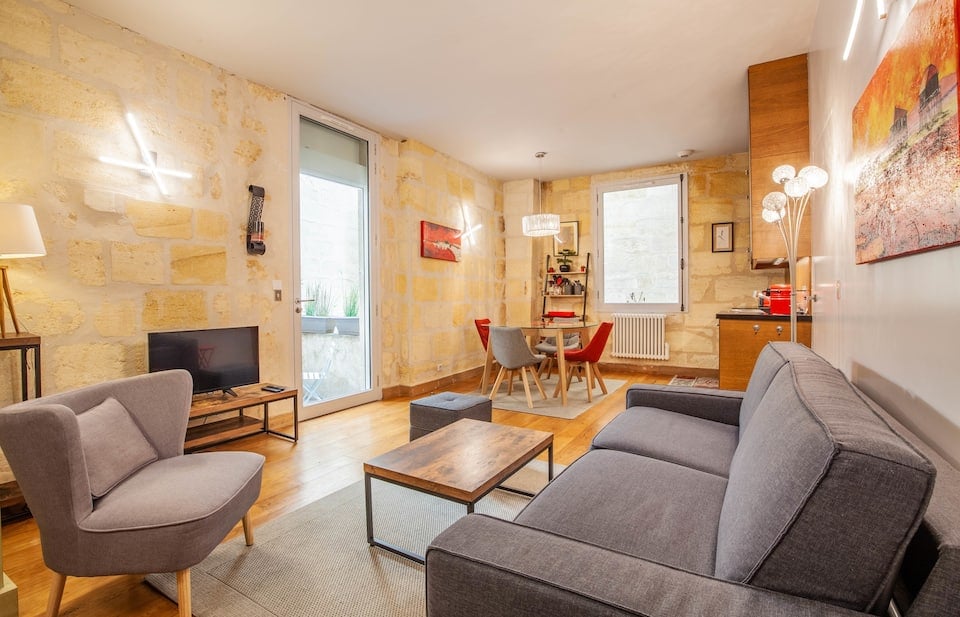 If you're looking to spend a weekend in Bordeaux, location is the most important thing. At this awesome apartment, you've got the Galerie des Beaux-Arts, Musée d'Aquitaine, and two of the city's most happening squares within one kilometre. You don't have to compromise on quality for this great location, though; there's a warm, open plan living area and a cute little terrace outside. What more could you want?!
Last but not least is an apartment that could almost be mistaken for an art gallery or bookshop. With huge windows, it lets in a lot of light! It's great for groups of friends, but you will have to fight over who shares the room with two single beds and who gets the double in the master bedroom.
Top 5 Airbnb Experiences in Bordeaux
Now that you've seen where to stay in Bordeaux, you're going to need an idea of what to do while you're there. Bordeaux is known for its fine wines, so it would be a shame not to try some of them during your stay in the city.
With Airbnb Experiences, you can do that and much more, safe in the knowledge that you're supporting local people. That's what Airbnb Experiences are all about – curated by locals just for you, they're a great way to make memorable holiday moments while supporting local economies.
There are more than 70 Airbnb Experiences in Bordeaux to choose from, but here are five of our favourites.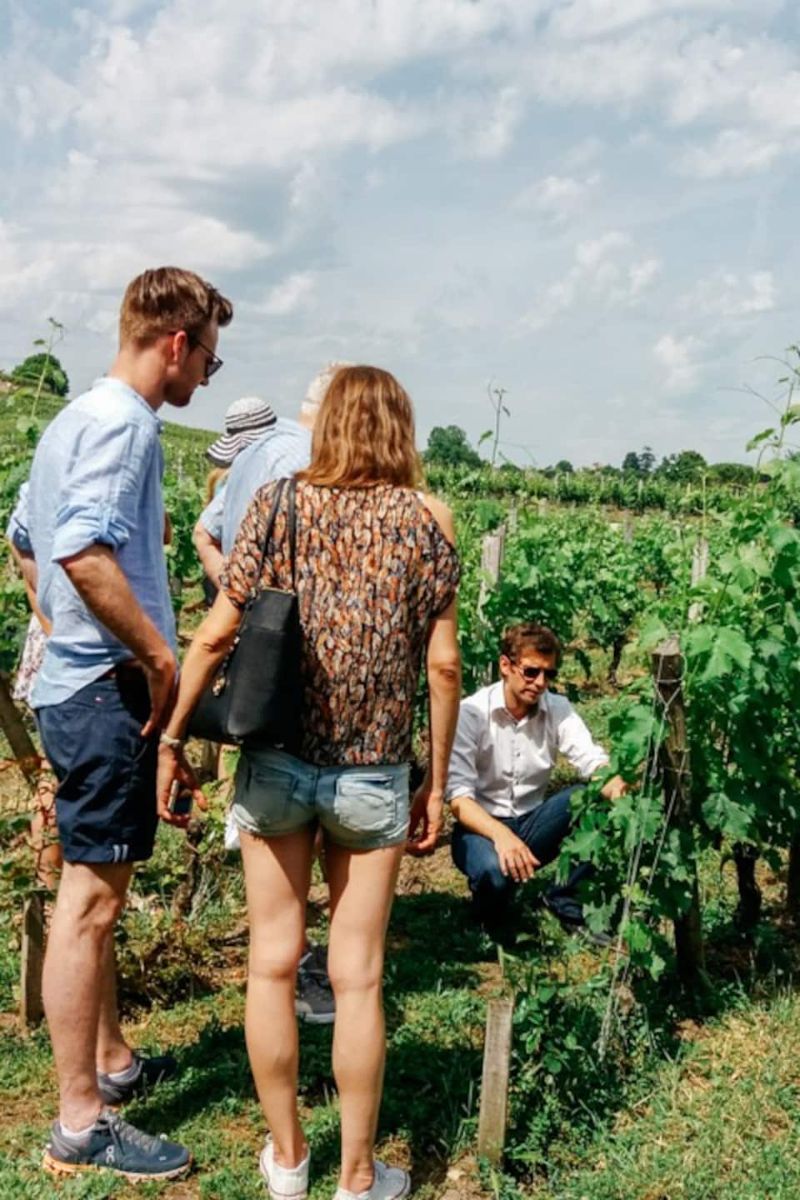 €72/person
4 hours
Up to 8 guests
You can't visit Bordeaux without sampling its fine wines. This breakfast tour will take you among the Route des Châteaux – so you can visit one even if you don't stay overnight! Even though it's morning, you'll still have the chance to sample five Bordeaux wines. You'll get a croissant, and a coffee/tea and orange juice too, so that cancels out the wine, right?!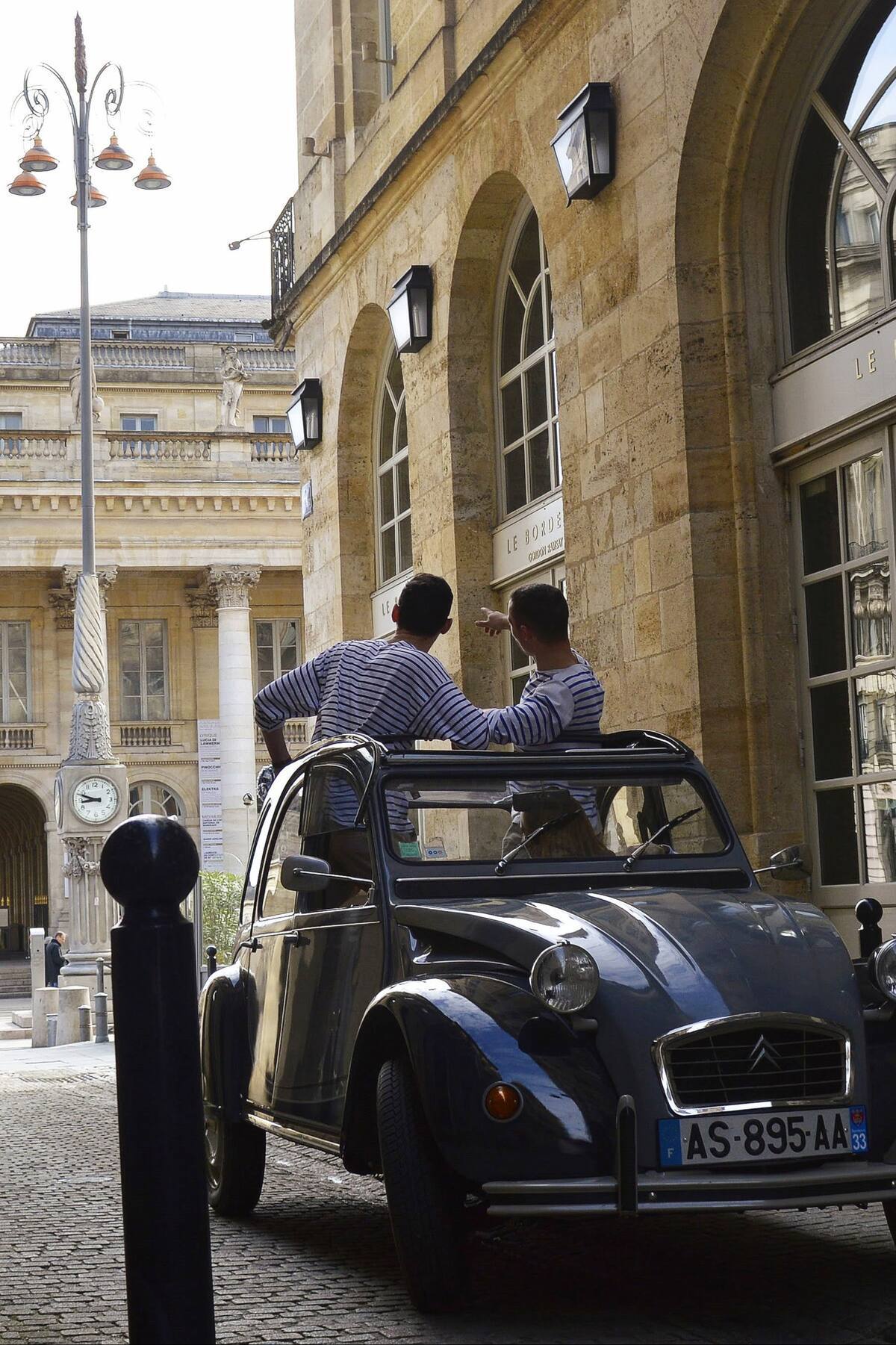 €55/person
1 hour
Up to 9 guests
France's answer to Britain's Mini, Italy's Fiat 500, and Germany's VW Beetle is surely the Citroen 2CV. And is there a better way to see the city than in one of these classic cars? Take down the vinyl roof and admire the stunning architecture above; there'll be plenty of stop-offs in squares for photos, and for your guide to tell you all about what you're seeing!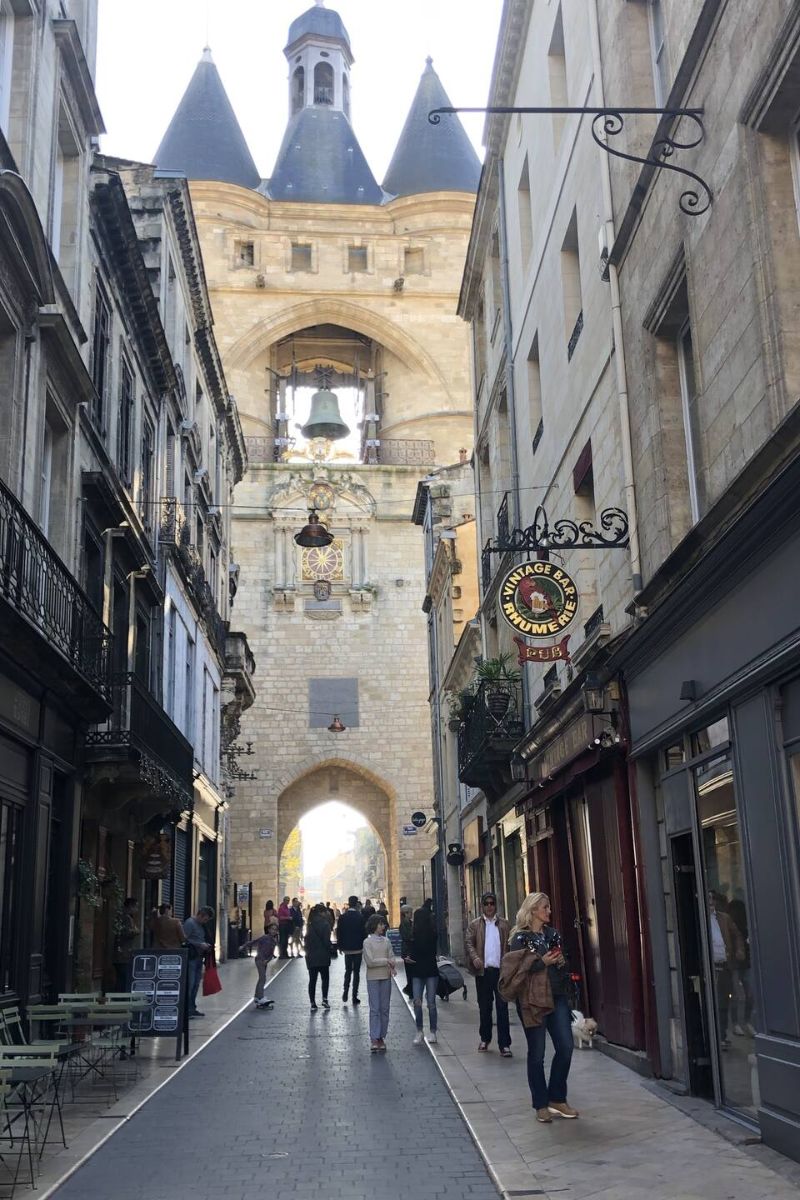 €35/person
2.5 hours
Up to 8 guests
While touring the city in a 2CV is undoubtedly wonderful, you might spot some things you'd otherwise miss if you're on foot. So, meet your guide at the bell tower and take a stroll through the city's historic centre. As you wander through the back streets, you'll learn more about how the city grew on the back of the wine trade. And of course, there'll be a stop off to sample a Bordeaux wine at the end of the tour!
€20/person
3 hours
Up to 10 guests
What do you think of when someone says France? Usually, something to do with food. Like a flaky croissant, or a tempting pain-au-chocolat. Perhaps even a naughty macaron! Whatever it is you're craving, you'll find the tastiest in Bordeaux on this tour. We'd suggest avoiding breakfast on that day so you can stock up on tasty treats…
€100/person
1.5 hours
Up to 4 guests
Sometimes, it can be a bit unsettling walking around a place you don't know at night – no matter how safe it is. So, instead of taking a night-time walking tour of Bordeaux, do it in a motorbike and sidecar instead. You'll be given a helmet and gloves to embark on this cool and unique way to travel through the city. And yes, like most other tours in Bordeaux, you'll end it by sampling a glass of wine!
Don't Forget Your Bordeaux Travel Insurance
ALWAYS sort out your backpacker insurance before your trip. There's plenty to choose from in that department, but a good place to start is Safety Wing.
They offer month-to-month payments, no lock-in contracts, and require absolutely no itineraries: that's the exact kind of insurance long-term travellers and digital nomads need.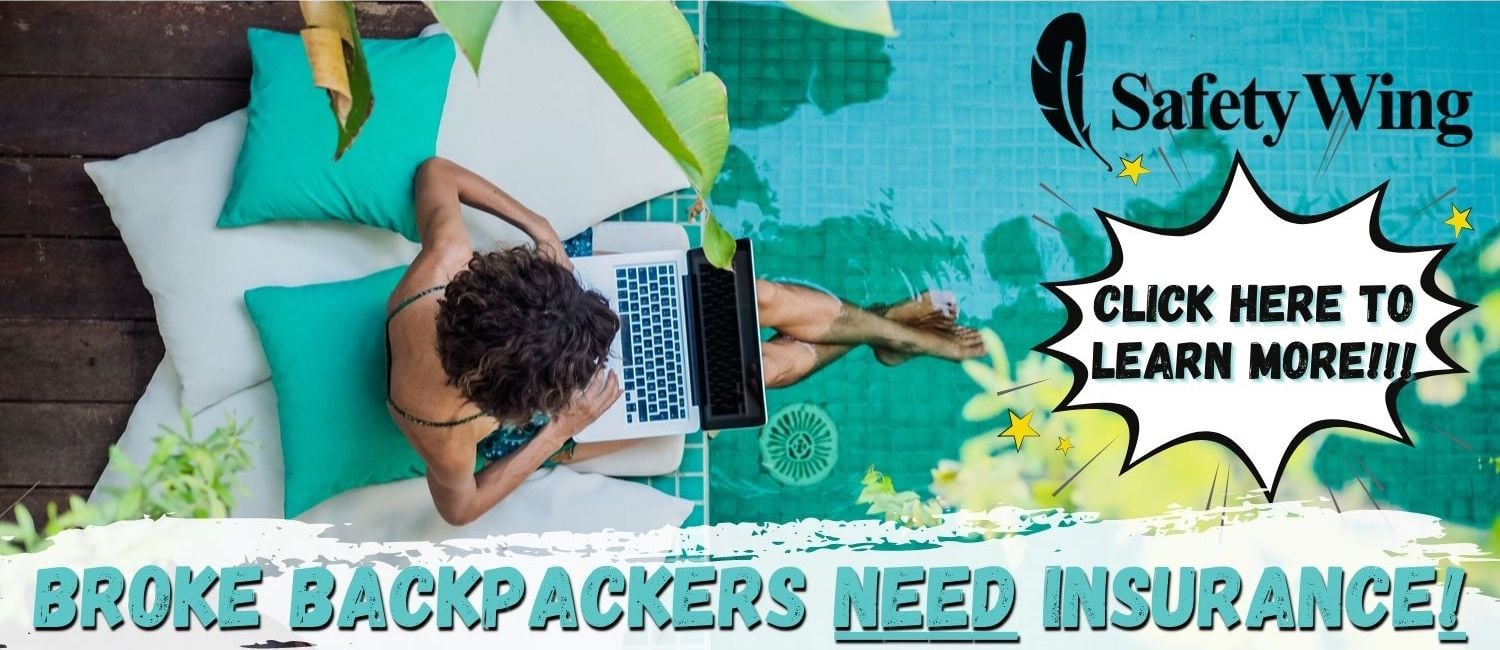 SafetyWing is cheap, easy, and admin-free: just sign up lickety-split so you can get back to it!
Click the button below to learn more about SafetyWing's setup or read our insider review for the full tasty scoop.
Final Thoughts on Bordeaux Airbnbs
So, that's all from us on the best Airbnbs in Bordeaux. Not only have we shown you 15 incredible properties, but five experiences, too. We're sure that by following our guide, you'll have an amazing time in this beautiful French city.
Are you still struggling to pick between châteaus, boats, and gorgeous apartments? We don't blame you. However, we do have one last bit of advice. Go for our overall best value Airbnb in Bordeaux – that's the Vintage Flat in Central Bordeaux. It's a great combo of value for money and an awesome location.
One last thing – be sure to take out an insurance policy with World Nomads before you travel. We don't just want you to have an awesome trip – but a safe one, too!
---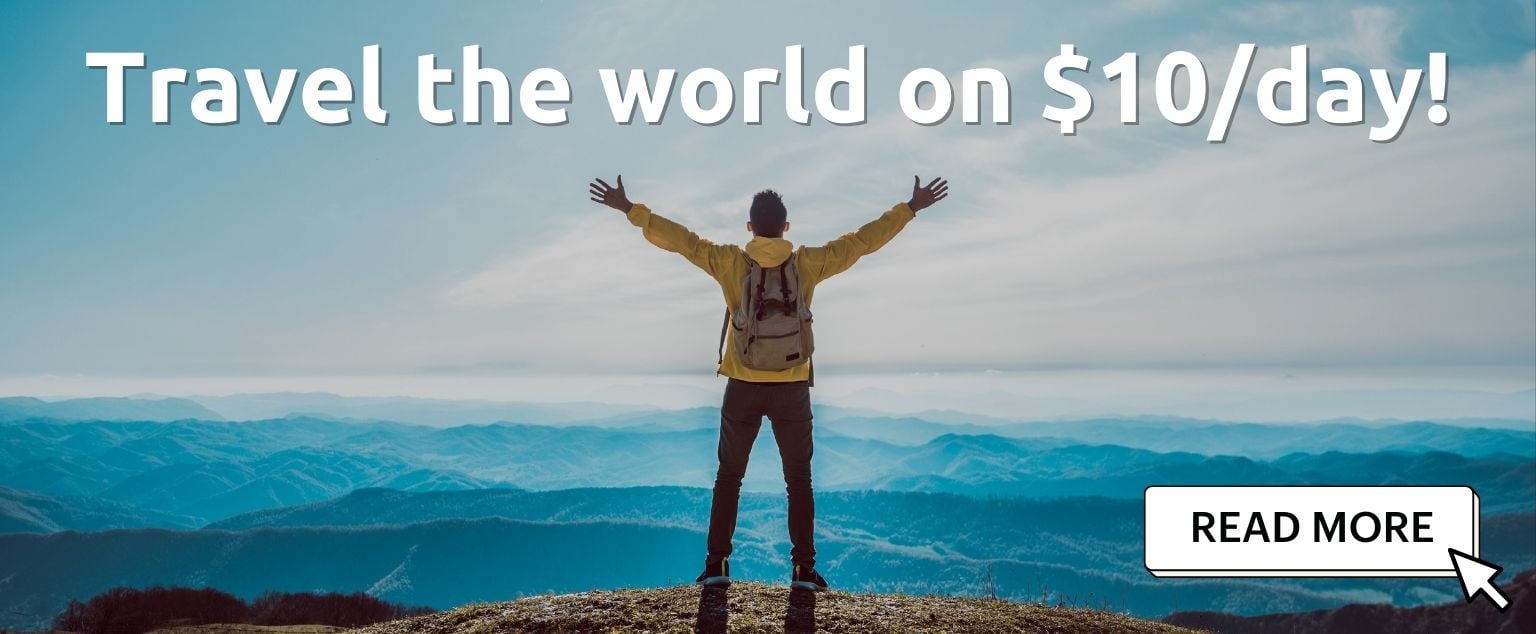 And for transparency's sake, please know that some of the links in our content are affiliate links. That means that if you book your accommodation, buy your gear, or sort your insurance through our link, we earn a small commission (at no extra cost to you). That said, we only link to the gear we trust and never recommend services we don't believe are up to scratch. Again, thank you!