New Hampshire is famous for its breathtaking natural landscape and scenery. Also known as the "White Mountain State" and "Switzerland of America", New Hampshire is a haven for those who love the outdoors and looking for an adventurous vacation every year.
Large areas of the state are covered with stunning lakes, rivers, mountains, and forests. New Hampshire ranks among the top five of the natural areas in the United States.
It is also home to some incredibly warm people and you'll be met with such friendly hospitality, especially if you decide to stay in a bed and breakfast in New Hampshire.
I always opt for B&Bs or inns because they give that homely feel and the hosts love to help personalize your holidays. It should come as no surprise that the bed and breakfasts in New Hampshire are some of the best nationwide. Offering modern amenities and set in some gorgeous locations, most B&Bs cater to every type of pocket and budget.
So, if that sounds like something you would enjoy, read on to find out the best bed and breakfasts in New Hampshire.
In a Hurry? Here's Where to Stay in New Hampshire for One Night
FIRST TIME IN NEW HAMPSHIRE
Charming Room in a Victorian House
In one of the cozy and super comfy rooms at this elegant Victorian bed and breakfast, you can spend a quick yet relaxing day or two while in New Hampshire. Located in Dover, the place is a few minutes' walk and drive away from the historic downtown and beaches. An ideal place for two people, this B&B has amenities like fast Wi-Fi and complimentary breakfast.
NEARBY ATTRACTIONS:
Children's Museum of New Hampshire
Vaughan Woods State Park
Rye, Hampton and York beaches
Is this amazing New Hampshire Bed and Breakfast booked for your dates? We've got your back with our other favorite properties below!

Unlock Our GREATEST Travel Secrets!
Sign up for our newsletter and get the best travel tips delivered right to your inbox.
Staying in a Bed and Breakfast in New Hampshire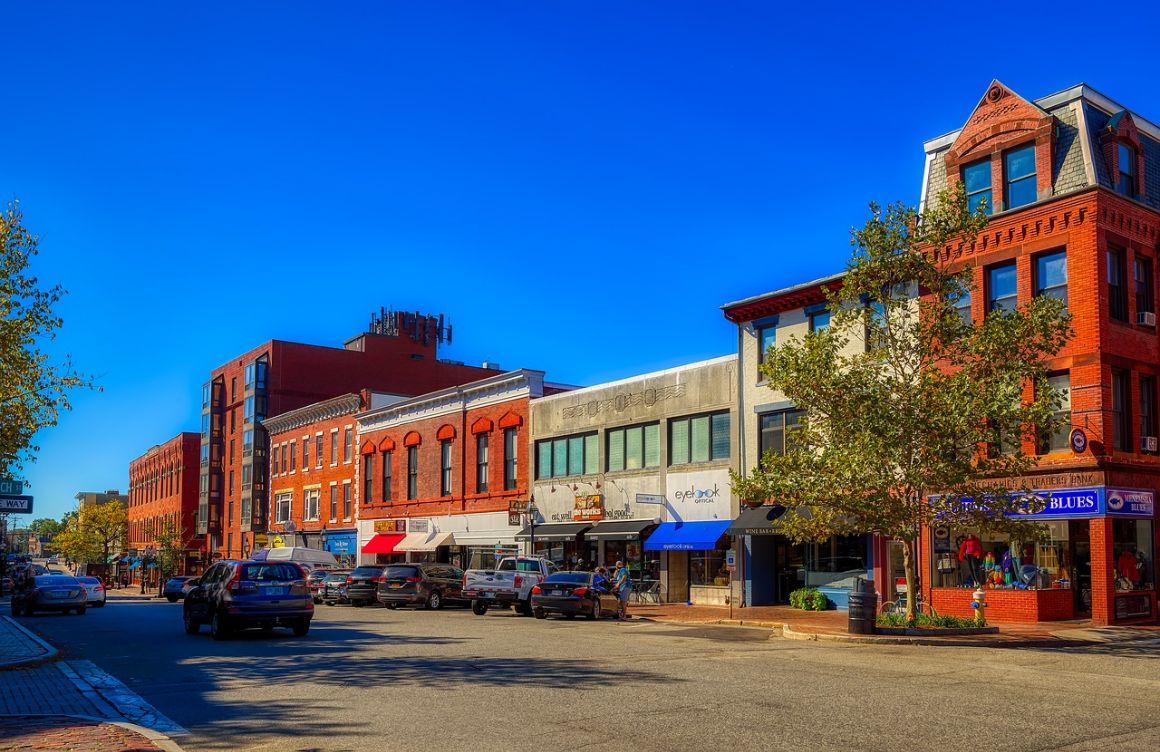 New Hampshire is a popular place with many attractions. A good vacation starts with the perfect accommodation, so for your escape from daily life, whether it's a quick weekend getaway or an epic New England road trip, a bed and breakfast is your best bet.
Whether it's a Victorian-style inn or a mountain cabin lodge offering cozy rooms, the warm hospitality, comfort, and calm will not be missed.
Fresh and hot breakfast will be served as you sip your morning tea over beautiful views of the lake or mountains, marking each moment into unforgettable memories. Looking for your family or just for your partner, no matter! Just have a look at some of the best B&Bs in New Hampshire to stay at below.
What to Look for in a Bed and Breakfast
Bed and breakfasts are the best places to call home while you explore New Hampshire. There are a number of great B&Bs to choose from – there are stylish period properties, log cabins, mountain lodges, and even lavish penthouse lofts. You can choose good quality budget-friendly places or choose to splurge on a luxury stay.
When looking for a bed and breakfast, it's always a good idea to look at the location first. Portsmouth is like a mini version of Boston, with the state's flagship university located here. Lincoln is an incredible ski town with the popular Loon Mountain and Cannon Mountain. There are many things to do in Concord, a small town near the mountains and national parks, making it perfect for a rustic getaway, while Jackson is oozing with natural beauty.
Most bed and breakfasts have private rooms, but you might have to share a bathroom – if this is a big deal for you, you will need to narrow down your search to find one with a private bathroom. Inns normally provide complimentary breakfast along with other major amenities, but if you also want self-catering facilities, again you'd need to narrow down your search field.
For a good B&B, you should look for the amenities offered in detail. The ideal place to start your search is through Airbnb or Booking.com, where you can have a great range of places to choose from that suit your preferences. But it takes so much time and energy to separate the wheat from the chaff, so I've saved you the time and listed some great B&B options for you below.
Overall Best Value Bed and Breakfast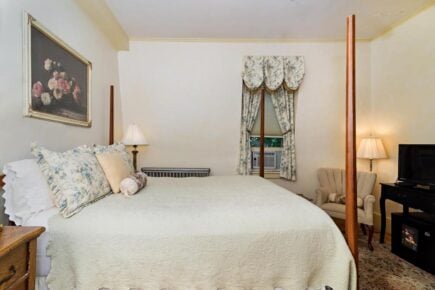 Overall Best Value Bed and Breakfast
Charming Room in a Victorian House
> $$
> 2 Guests
> Comfortable beds
> Superb breakfast
Best Budget B&B in New Hampshire
Best Budget B&B in New Hampshire
Cosy Room in Charming Victorian B&B
> $
> Up to 4 Guests
> Shared bath
> Backyard and deck
Best B&B For Couples
Best B&B For Couples
Queen Room in an Idyllic Setting
> $$
> 2 Guests
> Complimentary breakfast
> Beautiful location with garden and terrace
Romantic B&B in New Hampshire
Romantic B&B in New Hampshire
Cosy & Chic Room
> $$
> 2 Guests
> Excellent breakfast
> Beautiful location surrounded by mountains
Traditional Bed and Breakfast
Traditional Bed and Breakfast
Cosy Room w/ Mountain View
> $$
> 2 Guests
> Continental or a la carte breakfast
> Mountain view
Best Bed and Breakfast for Families
Best Bed and Breakfast for Families
Mountain Chalet B&B
> $$$
> 4 Guests
> Great location
> Pets allowed with a fee
Best B&B for Solo Travellers
Best B&B for Solo Travellers
Cozy Room in the Woods
> $
> 2 Guests
> Continental breakfast
> Good base for outdoor recreation
The 12 Top Bed and Breakfasts in New Hampshire
Now that you know what to expect from a B&B in New Hampshire, let's take a look at the best of the best!
$$
2 Guests
Comfortable beds
Superb breakfast
Enjoy a quick or relaxing stay in this elegant three-story Victorian house in Dover New Hampshire. This B&B has beautiful architectural features and a garden.
Complete with all necessary amenities such as free Wi-Fi, air conditioning, TV, and en suite bathroom, the B&B is a charming place. Your bedroom will be as cozy as it can be, with a super comfy bed and soft linens. Superb breakfast with vegetarian and gluten-free options is also offered.
The bed and breakfast is a few minutes away from the historic downtown area. The Rye, Hampton, and York beach areas are a 20 min drive away, so you have lots to explore nearby.
$
2 guests
Shared bath
Backyard and deck
Looking for a comfortable yet budget-friendly stay? Look no further! This charming Victorian home in a quiet neighborhood in Concord is a great bed and breakfast to stay at. It is minutes away from a park, Main St. and a bus station.
Your cosy private room has a comfy double bed, closet, and laptop desk. The B&B has a shared bathroom which is stocked with essentials and toiletries. Several great amenities are provided, such as Wi-Fi, heating, washer, and dryer.
The host provides a nice breakfast every day. You can relax in the backyard or deck, or have a cup of tea in the kitchen. The B&B is homely and inviting.
$$
2 Guests
Complimentary breakfast
Beautiful location with garden and terrace
This bed and breakfast is perfect if you're traveling with your partner. It offers several amenities – toiletries and appliances in the private bathroom, air conditioning, heating, electric blankets, and ironing facilities. The bed is large and comfy and free Wi-Fi is also provided. The best thing about this B&B is its superb complimentary breakfast.
Located in a beautiful idyllic setting in New London, Maple Hill Farm B&B is just a walk away from the beach. There are golf courses, ski areas, and lakes for lots of outdoor recreation like swimming, boating, and fishing. The B&B itself also offers a garden and a terrace.
$$
2 Guests
Excellent breakfast
Beautiful location surrounded by mountains
If you're looking for a romantic getaway with your partner, look no further! This B&B is nestled in the beautiful White Mountains in the town of Jackson, and is centrally located near to some great local restaurants, shopping, and lots of outdoor recreation like hiking, skiing, and golfing.
To have a relaxing getaway, this Victorian-styled bed and breakfast don't hold back. A three-course breakfast is served, with a different menu every day and some occasional surprise treats. Have an excellent breakfast in the exquisite dining room in front of a fireplace and your mornings will be lit!
The quaint inn has uniquely decorated and comfy rooms, equipped with free Wi-Fi, TV, and DVD player. The en suite bathroom has all the essentials. Other amenities include a guest lounge, parking, and a hot tub.
Is This the Best Backpack EVER???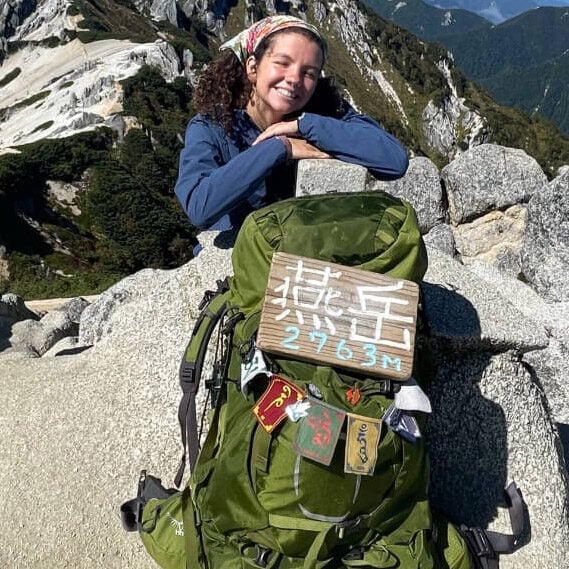 $$
2 Guests
Continental or a la carte breakfast
Mountain view
This bed and breakfast is unique in that it is one of the original homes of Lincoln, New Hampshire, built in 1900. The place has a very traditional colonial look yet very inviting and warm. Located in downtown Lincoln at the base of the White Mountains, this B&B, the Red Sleigh Inn is just minutes from Loon Mountain and Cannon Mountain.
Coming to the rooms, you won't be disappointed. The rooms have warm and cozy interiors with super comfy beds and an en suite bathroom with complimentary toiletries and other stuff.
The room has a work desk and extra seating and all the other usual essential amenities. Board games and alarm clock service are an added personal touch to the place. Breakfast is also served, hearty and healthy, so you can fuel your adventure for the day!
$$$
4 guests
Great location
Pets allowed with a fee
Want to spend a weekend in the great outdoors amongst nature in New Hampshire? Here's the perfect bed and breakfast for you. Nestled in the woods at the foot of Welch Mountain, this B&B is an entire chalet for your holiday pleasure. There will be great hiking trails around you, so grab your family and check it out!
This B&B serves a full breakfast and adds homemade snacks too. You will have two bedrooms in a suite with a living/TV room and a shared bathroom. The indoor fireplace will keep you warm and cosy and board games, books and toys will keep the kids busy. Win-win for all!
$
2 guests
Continental breakfast
Good base for outdoor recreation
Enjoy your getaway at this quiet home in the woods. Close to places like Mount Monadnock and Mt. Monadnock State Park, this B&B provides a great location and base to plan all your backpacking adventures and outdoor activities.
This bed and breakfast is a lovely home with a contemporary design and large windows that make is bright and sunny. Your private room is cosy with a comfy bed and a private bath.
The amenities are basic yet great – you will have free Wi-Fi, TV and access to a media room with surround sound features. A delicious continental breakfast is served daily to power up your day!
$$
Up to 6 guests
Free Wi-Fi
Shared baths
Gather your adventurous friends and book this amazing bed and breakfast for your next holidays in New Hampshire.
This B&B is a hostel in Conway that is the perfect base point for all your outdoor adventures. Some of the best hiking, climbing, canoeing & other opportunities are just minutes away. And a short drive will bring you to shops, cafes, and bustling nightlife.
This B&B is loaded with amenities and offers shared spaces that include a common area, porch, fire pit, and a fully-equipped kitchen. Breakfast is served daily to start your day with energy. When you're back after a fun-filled day, relax and rest in your private bunk room.
$$
Up to 6 guests
Amenities for children
Great views
Nestled in the heart of the White Mountains, this cosy inn bed and breakfast is the perfect getaway to unwind and have the time of your life!
The location provides the ideal place to relax and enjoy nature or even have an adventure. It is adjacent to a golf course and offers stunning views of the expansive mountains. Lots of outdoor recreation is available, such as hiking, cycling, skiing, and snowmobiling.
So start your day with a delicious breakfast served by the hosts. Your private room will have a super comfy bed and a private bathroom with all the essentials, including complimentary toiletries. Loads of other amenities are also offered, including AC, heating, Wi-Fi, and TV. There are facilities for children and lots of stuff like toys and board games to keep them busy too!
$$
2 Guests
Complimentary breakfast
Mountain/Garden views
This all-inclusive bed and breakfast is a quaint 1863 inn in downtown North Conway, New Hampshire. Surrounded by the White Mountains and near to attractions such as Conway Scenic Railroad and Mount Washington Observatory Weather Discovery Center, this B&B offers opportunities for several outdoor activities.
Your room here is uniquely-styled and has antique furnishings and a private bathroom. There's free Wi-Fi, flat-screen TV, and a balcony with amazing mountain or garden views. Amenities such as a seasonal pool and hot tub, porch, and patio with a fire pit and a playground are also available.
Fresh breakfast with options such as Vegetarian, Vegan, Gluten-free, American, is served every morning in the common dining room.
$$$
2 guests
Patio/balcony
Longer stays allowed
There is no dearth of bed and breakfasts with great locations in New Hampshire, but this one takes the lead. I daresay this B&B is at an epic location – right in North Conway, overlooking the Moat Mountain and Saco River. It is easily accessible to the best shopping and dining and to popular outdoor recreation like canoeing, skiing, and climbing.
This B&B is a beautiful house with great interiors. Your room is a premier two-person Jacuzzi suite with a king-size bed that will help you unwind after a long day. Enjoy the wonderful views of the mountains and the river from the balcony. The deck has chairs for your comfort. Inside, relax by the fireplace and snuggle up with your partner for a comfy stay.
$$$$$
Up to 16 guests
Lake & Mountain views
Private Pool
Located within walking distance to town, local shops, restaurants and a host of outdoor recreation spots including a boat ramp, beach, playground a basketball court, this grand bed, and breakfast is one of a kind.
Housed in a Victorian Mansion, this B&B can have more than 20 guests, so it's perfect for a luxurious escape with family or friends. With mountain and lake views and easy beach access, this B&B really has everything for adults and children alike.
This B&B is an elegant and lavish home, hosting eight bedrooms with accompanying full baths. The amenities are aplenty. Gather around the private pool or on the patio for a BBQ night. Meals are available for a price, but you can use the kitchen to make your own too.
Don't Forget Your New Hampshire Travel Insurance
ALWAYS sort out your backpacker insurance before your trip. There's plenty to choose from in that department, but a good place to start is Safety Wing.
They offer month-to-month payments, no lock-in contracts, and require absolutely no itineraries: that's the exact kind of insurance long-term travellers and digital nomads need.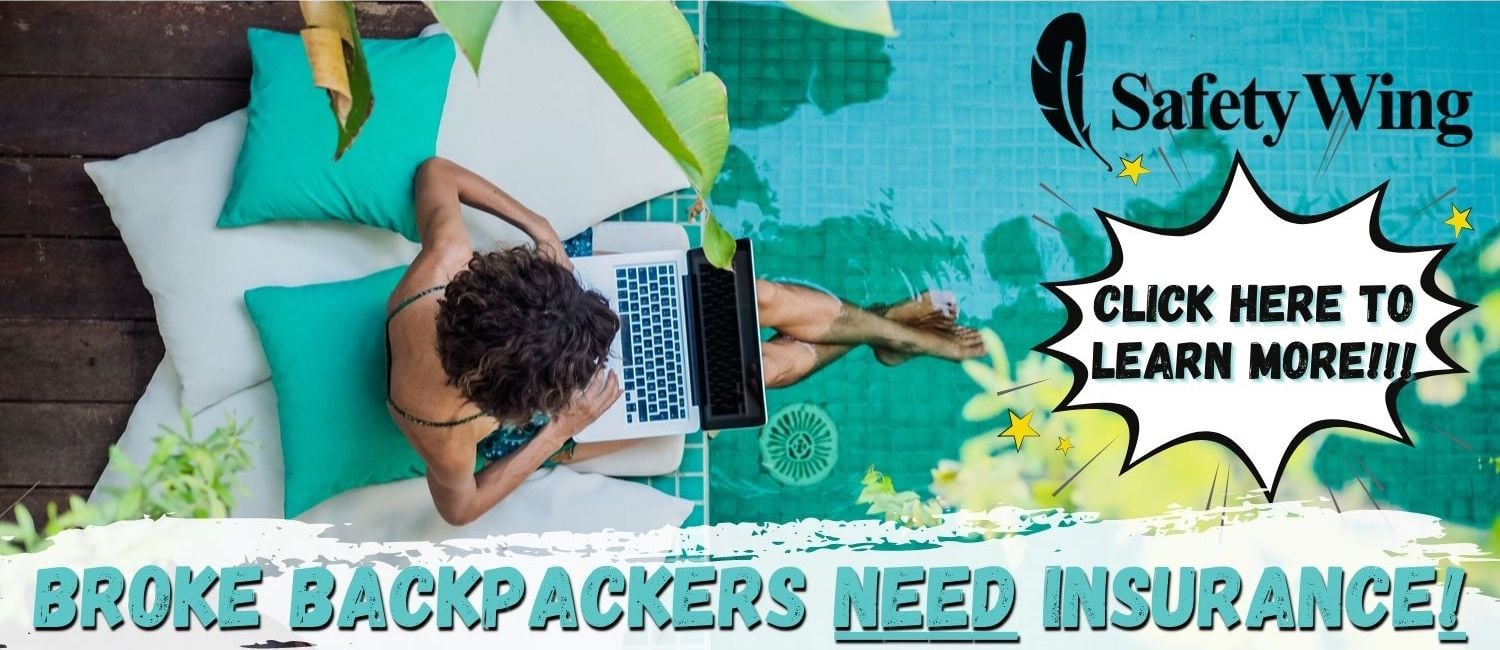 SafetyWing is cheap, easy, and admin-free: just sign up lickety-split so you can get back to it!
Click the button below to learn more about SafetyWing's setup or read our insider review for the full tasty scoop.
Final Thoughts on B&Bs in New Hampshire
Pack your gear and bags and get ready to explore the wilderness of New Hampshire. It's time for that quick getaway with friends, or to take that long vacation with your family. New Hampshire is brimming with natural scenery and loads of outdoor adventures and is waiting for you!
In a place like New Hampshire, the standard type of accommodation (e.g. hotels) does you no good. The ideal places to stay are always bed and breakfasts if you ask me.
Cozy inns, Victorian homes, or rustic cabins in New Hampshire, whichever fits your preferences and budgets. Of course, it takes a lot of time and energy on searching for and choosing the right B&B, which is exactly why I compiled the list above for your ease and convenience.
Staying at a bed and breakfast in New Hampshire is a great way to experience the state. Most B&Bs offer a variety of complimentary breakfast options too. I'm sure some of the ones I have suggested will suit your needs!
Before signing off, I'd like to remind you that whenever you're traveling to an international destination, it is always wise to consider travel insurance. Unforeseen incidents may happen, and I feel it's best if you're prepared. The added security from travel insurance will also ease your mind and make your travels safe!
---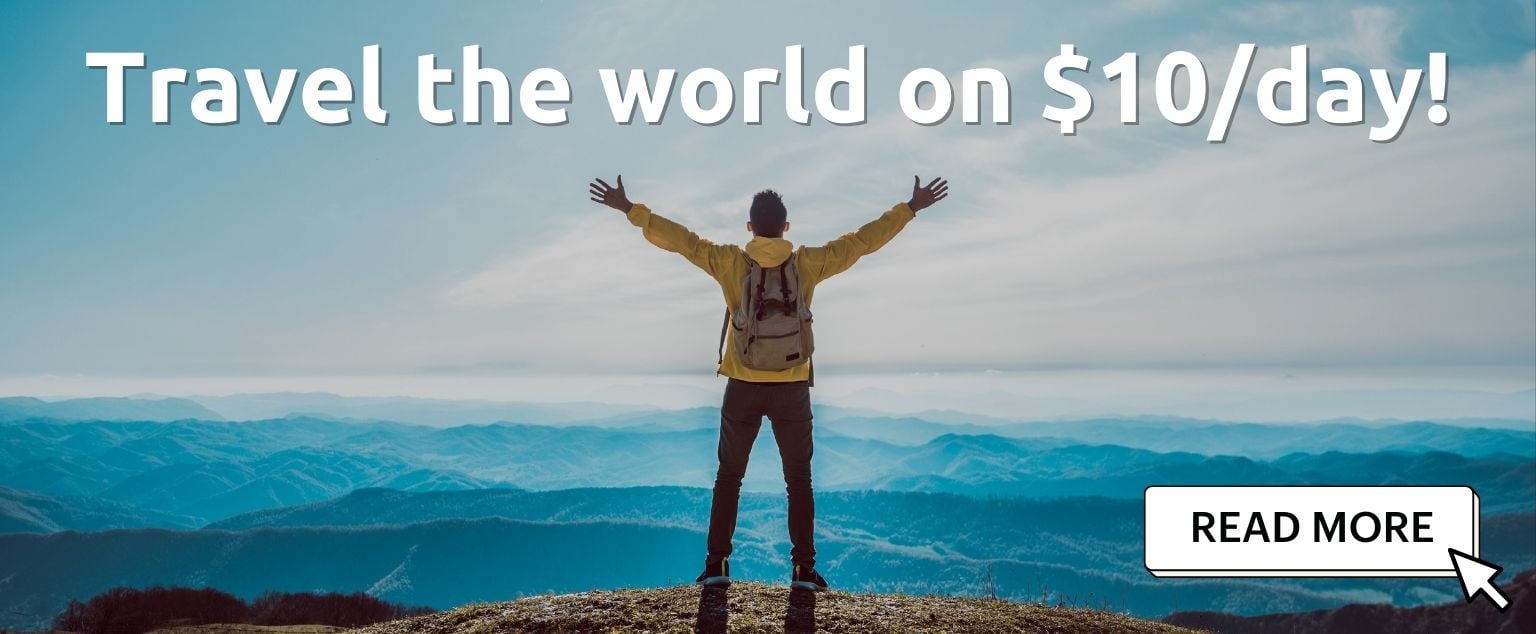 And for transparency's sake, please know that some of the links in our content are affiliate links. That means that if you book your accommodation, buy your gear, or sort your insurance through our link, we earn a small commission (at no extra cost to you). That said, we only link to the gear we trust and never recommend services we don't believe are up to scratch. Again, thank you!