Located just outside of Banff National Park, the relaxed atmosphere and beautiful surroundings of Canmore make it a top vacation destination at any time of year. Plus, it's not far from Calgary, making it a very convenient place to plan a trip!
In a place full of natural beauty, you won't want to be stuck in some stuffy hotel during your vacation. Thankfully, there are lots of amazing cabins in Canmore where you can enjoy the stunning landscape without giving up any modern comforts.
To give you a jump-start on planning your trip, we put together a list of all the best cabins in Canmore. Each one of these properties is a perfect home-base for all your epic adventures from skiing to rock climbing!
In a Hurry? Here's Where to Stay in Canmore for One Night
FIRST TIME IN CANMORE
Gateway to the Rockies
Combining modern comforts and rustic wilderness charm, this cabin has everything you need for a great vacation in Canmore. Skiing, ice climbing, and hiking options are all nearby and you can enjoy the spectacular view from the huge deck any time you want!
Places to visit:
Ghost Wilderness
Sunshine Village
Mount Aylmer
Is this amazing Canmore Cabins booked for your dates? We've got your back with our other favorite properties below!
Staying in a Cabin in Canmore
If you want to feel immersed in nature yet still have the comforts of modern life, then a cabin is probably just right for you. These cute little properties give you the best of both worlds and give you a "camping" style experience, except with the service and amenities of an apartment.
With beautiful nature all around, it's hard to have a "bad" location in Canmore. That being said, you can pick between cabins with a more central location or properties that are more remote if you prefer to be even more removed from the tourist scene.
The best way to get around Canmore is by car, and all the best cabins offer free parking onsite to make transportation easier for you. Some places may also be close enough to use bus services to some of the parks and top attractions of the area.
Since Canmore is a popular destination year-round, especially since there are so many ski resorts in the winter, cabins have heating, and often indoor fireplaces for an even cozier touch.
No matter what season, you can count on getting a good nights' sleep in the privacy of your cabin and surrounded by peaceful nature!
What to Look for in a Cabin
Since cabins range in size from little single-room spaces to larger house-sized properties, you can find cabins for solo travelers, couples, large families, or any group size in between! And depending on just how "out in the woods" you want to feel, some places don't have Wi-fi, which could be a pro or con depending on your preference.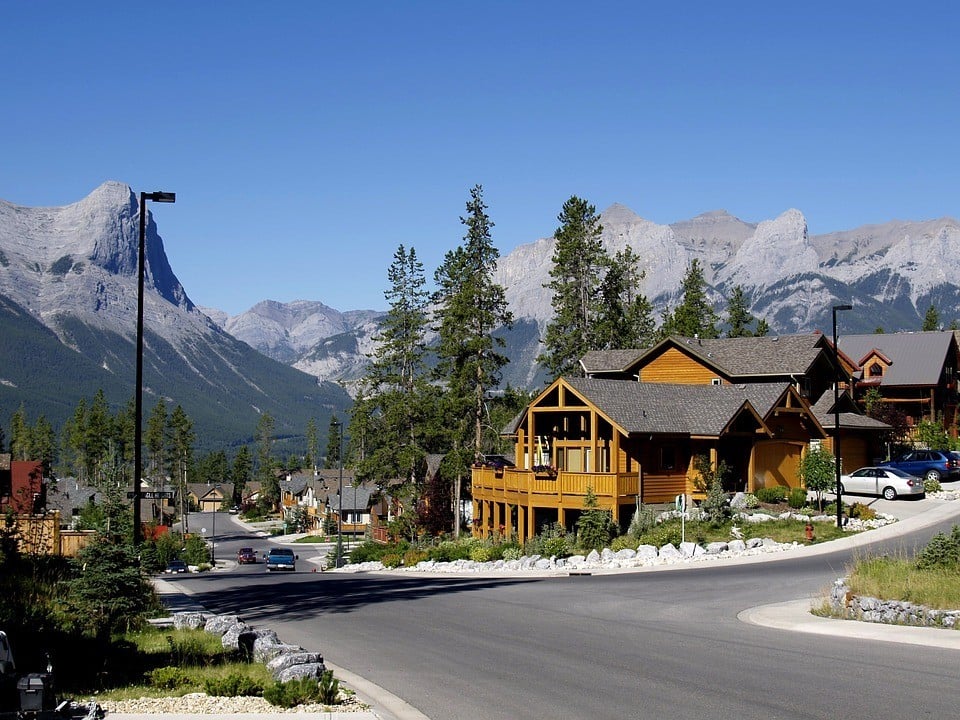 The best cabins in Canmore are suitable for short or long-term stays, but sometimes have minimum booking requirements especially during holidays. Since Canmore is also a popular skiing destination, cabins have heating and often indoor fireplaces to stay warm.
Unless you want to be really rustic, most cabins have basic home amenities like hot water, electricity, and kitchens. Most cabins also have camping features like outdoor fire pits, picnic furniture, or porches with views of the forest and mountains.
Since there aren't too many options for public transportation, having your own vehicle is definitely advised when visiting Canmore. Cabins have places where you can park, but check to make sure if you need a vehicle with 4×4 drive to reach some of the more remote properties when road conditions are more challenging in winter.
THE OVERALL BEST CABIN IN CANMORE
THE OVERALL BEST CABIN IN CANMORE
Gateway to the Rockies
> $$
> 2 Guests
> Outdoor sauna
> Fire pit
THE BEST BUDGET CABIN IN CANMORE
THE BEST BUDGET CABIN IN CANMORE
Baby Bear Bunkie Cabin
> $
> 2 Guests
> Kitchenette
> Fire pit
THE BEST CABIN FOR COUPLES
THE BEST CABIN FOR COUPLES
Cozy Banff Log Cabin
> $$$
> 2 Guests
> Breakfast included
> Bicycles to borrow
THE BEST CABIN FOR A GROUP OF FRIENDS
THE BEST CABIN FOR A GROUP OF FRIENDS
Riverside Bragg Creek Cabin
> $$
> 6 Guests
> Riverside location
> Fire pit
OVER-THE-TOP LUXURY CABIN
OVER-THE-TOP LUXURY CABIN
Mountain View Cabin
> $$$$
> 8 Guests
> Equipped kitchen
> Hot tub
THE BEST CABIN FOR FAMILIES VISITING CANMORE
THE BEST CABIN FOR FAMILIES VISITING CANMORE
Spectacular Banff Mountain Cabin
> $$
> 6 Guests
> Equipped kitchen
> Patio and garden
THE BEST CABIN FOR BACKPACKERS
THE BEST CABIN FOR BACKPACKERS
Banff Beaver Cabins
> $
> 2 Guests
> Kitchenette
> Central location
The Top 7 Cabins in Canmore
Now that you have an idea about what to expect from unique accommodation in Canmore, check out some of these cool properties. From the center of Canmore to quiet mountain perches, here are some of the best cabins to enjoy the Canadian Rocky Mountain wilderness.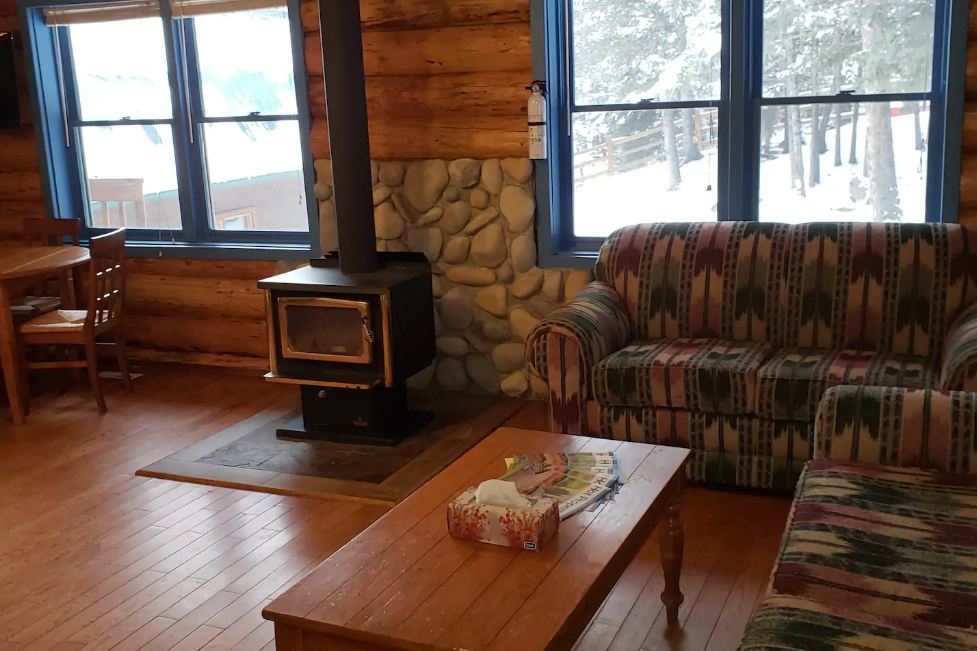 $$
2 Guests
Outdoor sauna
Fire pit
Whether you're looking for rest and relaxation or an exciting outdoor adventure, it's all ready and waiting at this charming little cabin. The cozy woodland charm comes complete with a woodstove and outdoor sauna, perfect for winter nights!
There's lots of cool ski resorts, mountain biking paths, and nature trails in the area, so there's no shortage of things to do. When you get back from your expeditions, you can cook a meal in the kitchen, cozy up by the fireplace, or stargaze around the outdoor fire pit.
$
2 Guests
Kitchenette
Fire pit
This cabin might be tiny, but it's also the perfect cozy escape when traveling to Canmore. The little log room has a rustic charm, but there's also heating so the cabin is open year-round. Outside there's also an old stone fire pit perfect for campfire stories and stargazing at the end of the day.
You can reach hiking trails right from the property, or drive to reach top ski resorts and mountain lakes during your stay. Even though the cabin has a woodland setting, you can reach Canmore and the town shops and restaurants in 15 minutes on foot!
$$$
2 Guests
Breakfast included
Bicycles to borrow
Looking for a romantic escape near Canmore? Check out this cozy little log cabin close to Banff National Park. Not only will you have a private cabin to yourselves, but a homemade breakfast is also provided each morning of your stay!
From the cabin, you can easily walk to the downtown area of Banff, and it's a short drive to Canmore, ski ranges, and beautiful glacial lakes. Back at the cabin, you'll have a great view of the Rockies and a cozy indoor fireplace to keep you warm in the winter.
$$
6 Guests
Riverside location
Fire pit
Just outside the little town of Bragg Creek, this wood cabin has a remote atmosphere but is still walking distance to stores and restaurants in town. Your friends can enjoy hiking, fishing, golfing, or just relax and enjoy the river.
From the backyard of the cabin, you'll have access to the Elbow River and a great fire pit and outdoor seating area to enjoy the views. And in the winter, there's a cozy indoor fireplace and large windows so you can still appreciate the scenery.
Is This the Best Travel Backpack EVER???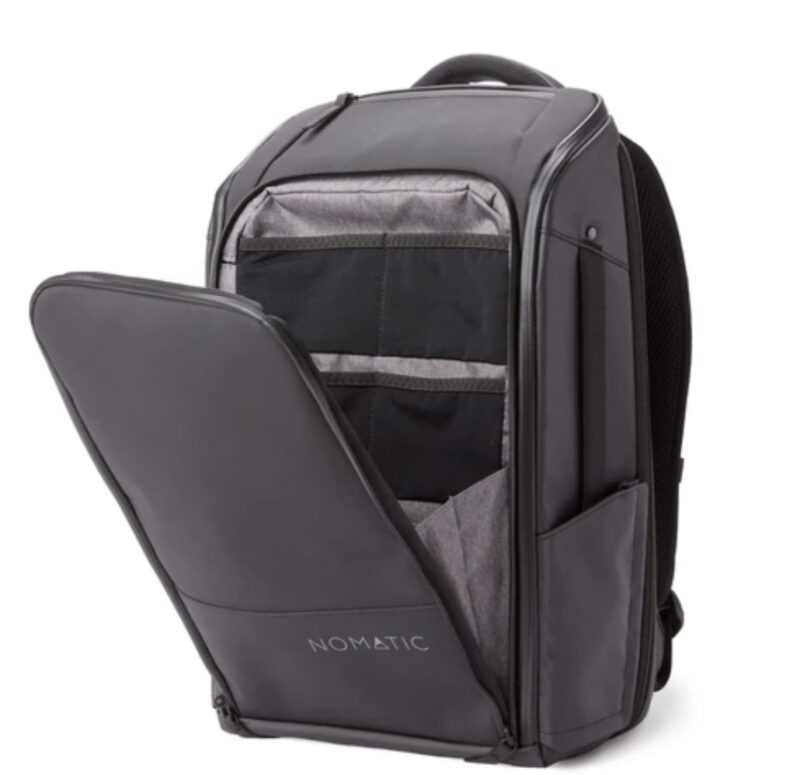 $$$$
6 Guests
Equipped kitchen
Patio and garden
Stylish and spacious, this stunning high-end mountain cabin is the perfect spot for a luxury vacation. The stylish rooms offer accommodation for up to 6 people, making it perfect for groups or families too. With amenities like flatscreen TVs, Blue-ray player, and much more, you'll find it hard to leave this home.
The cabin is close to ski resorts, hiking tracks and beautiful nature walks. There's also a beautiful backyard attached to the resort which is a perfect spot to have picnics or enjoy a bit of afternoon sun.
$$$
8 Guests
Equipped kitchen
Hot tub
Enjoy the luxury of a high-end hotel and the cozy comfort of a mountainside cabin during your trip to Canmore. The huge living space comes with everything you need including a large kitchen, dining area, and even a hot tub to relax at the end of the day.
It's just a 10-minute walk to reach the main streets of Canmore, and for further trips, you can park your vehicle onsite. Banff National Park is only about 20 minutes away by car, along with numerous ski areas, glacial lakes, and famous hiking trails.
$
2 Guests
Kitchenette
Central location
Banff National Park is just outside of Canmore, and one of the top attractions of the area. The Banff Beaver Cabins is a perfect place for backpackers looking for some outdoor adventure. Conveniently located in the downtown area, you'll be walking distance from shops and restaurants, as well as bus service options to the park in the summer.
There are several cabins to choose from ranging in size from 2-person occupancy to 4-person occupancy, so even if you're backpacking with friends you can still snag a spot. Plus, since you'll be close to the center area of Banff, you can walk to a lot of shops and attractions!
Check out these other great resources
We have loads more information to help you plan your trip.
FAQ about Cabins in Canmore
Here's what people usually ask us when they look for vacation homes in Canmore.
Final Thoughts on Cabins in Canmore
It's no secret that the glacial landscape of the Canadian Rockies has captivated photographers, vacationers, and outdoor enthusiasts for years. Right in the heart of it all, Canmore has retained a small-town charm alongside ski resorts and modern vacation homes.
To enjoy the best of the town and all the natural wonders, finding unique accommodation in Canmore is the way to go. Staying at a cozy cabin is the perfect retreat from the daily grind and chance to reconnect with nature!
Before you finalize your trip and make reservations at one of the best cabins in Canmore, you might also want to consider getting travel insurance. Having a back-up plan (especially if you're racing down ski slopes!) gives you more peace of mind so you can relax and have fun during your trip.
And have you thought about getting Travel Insurance for your trip? We've put together a roundup of Travel Insurance for backpackers – check it out here, or if you're low on time, get a quote from World Nomads, our favorite travel insurance provider.
Getting an estimate from World Nomads is simple – just click the button or image below, fill out the necessary info, and you're on your way!

---
Find out how YOU can support the site.
We work hard to put out the best backpacker resources on the web for free! It's all about helping out our tribe of awesome backpacker readers (that's you!). Please visit the link to find out how you can help keep the site going 🙂
For the sake of transparency, some of the links in our content are affiliate links. This means that if you book your accommodation, buy a piece of gear, or sort your insurance through our link, we earn a small commission at no extra cost to you. We only link to stuff that members of the Broke Backpacker team has actually used and never endorse products or services that are not up to scratch. Thanks for your support!