A lot of people take their backpack for granted when it comes to their computer equipment. Many just shove their laptop into their bags haphazardly and without any thought of what could be happening to it…
Doing this a great way to destroy your laptop, for good.
If you travel a lot with a computer, you're going to need the best travel laptop backpack possible. That way, you can keep your computer safe from harm while moving around.
This article will help you pick from the best laptop backpacks for travel depending on your needs and preferences.
Whether you are bringing your laptop on a backpacking trip, a weekend getaway, or your regular commute, each of these backpacks prioritizes quality, versatility, organization, and comfort!
Every rucksack on this list is a TSA approved, has a specific laptop compartment, and the correct dimensions to carry onto any flight.
Read on to find the best traveling laptop backpack for your next digital adventure!
For this article, we are focusing on travel backpacks that can accommodate laptops.
All of the bags listed below are travel backpacks with laptop compartments and are well equipped to organize your technical gear while you're traveling.
Here are some features of the top laptop backpacks:
Backpack with a laptop compartment: A separate padded compartment keeps your electronics secure. Of course, you can also use these zipped compartments for books, your travel journal, or many other things.
Front-loading: Many backpacks are top-loading, which means having to dig around awkwardly to get something from the bottom. Look for a backpack that zips flat (like a suitcase) for ultimate ease!
Weather-resistant: If you are going to be carrying your laptop and other valuables, you want a backpack that will protect your valuables! Make sure it's weather-sealed or includes a rain cover.
Carry-on size: Carry-on travel backpacks save you from having to deal with lost bags and luggage fees. All of the backpacks on this list are carry-on sized and abide by TSA guidelines.
When looking at the best carry on backpacks, size is one of the most important factors. You want a backpack that complies with TSA rules and has small enough dimensions to get onto any budget airline flight.
Most travelers only need a backpack for clothes, a good, portable laptop, and some technical gear (if that at all). Unless you are traveling with a tent, camping gear, and sleeping bag, you don't need a hiking backpack.
1. Look for a Comfortable Laptop Backpack
Comfort is extremely important to consider when choosing the right laptop backpack for traveling. Are the straps comfortable and sturdy enough to carry your gear or a heavy pack? Is this a bag you're going to want to lug around the streets of Paris, or from hostel to hostel?
Be sure to look for a backpack with padded and adjustable straps! Bonus points if the backpack comes with waist straps or if it has padding on the actual back portion – having a stiff piece of metal directly on your back is not always comfortable.
2. Prioritize Accessibility and Organization
The best laptop backpacks have organization compartments. Well-thought-out design is especially important if you plan to use one for traveling. With the top-rated laptop bags, you should be able to easily access your gear, and keep everything nice and tidy when you are on the go.
A padded laptop sleeve will help you keep your laptop safe and protected, as well as remove your laptop in the TSA line efficiently. All of the backpacks on this list have a completely separate laptop sleeve, and they are built to go through TSA lines with ease.
3. Versatility
You want the best laptop backpack for air travel, yes, but you also need something that will be useful after you land too. Can you use your backpack on day hikes? Is it fashionable enough to wear while sightseeing? Do you want a backpack for your camera and photography equipment?
There are obviously many uses for a laptop backpack, but first, you need to figure out what your travel-specific needs are.
Me? I prefer bags with a wide-opening main compartment and the ability to lie flat like a suitcase. My favorite travel laptop backpacks have an efficient organization system to keep my clothes and gear organized. I also prefer to have a bag I can take on the trails since most of my travel trips revolve around the outdoors.
4. Durability and Protection
This may go without saying, but when looking for the best laptop backpack for travel, you want to choose one that going to last years. A good quality backpack should also come with a great warranty. This is going to be one of your most important investments if you travel frequently!
Not only do you want a backpack that will last, but also make your laptop last as well! Protection is one thing that a lot of people take for granted – they may think that a laptop will be safe so on their back, but there is no way to predict accidents. Whether intentional or not, bags fall all the time, from tables, from being tossed around, and from (personal experience) broken bathroom coat hooks.
Make sure that the backpack that you're buying as some sort of padding. A bit on the bottom and around the sides of the main compartment should get the job done.
5. Travel Backpack vs Hiking Backpack?
Simply put, traditional hiking backpacks usually do not make for great laptop backpacks.
Often times hiking bags are top-loaded (meaning you can only access your gear from the top opening). They are also covered in straps and designed to keep weight centered on your back. Great for hiking, but oftentimes, not so great for organizing and packing/unpacking regularly.
This is why it's a better decision to go with a compact traveling laptop bag –  something that you can carry on, easily stow, and access without having to worry about unpacking too much.
Nowadays many backpack companies that specialize in hiking are making great hybrid travel backpacks. If you plan to travel and want the flexibility of being able to hike on your trip, then I recommend getting a laptop backpack that is also comfortable for hiking.
If you are looking to hike, look for a laptop sleeve that doubles into a hydration bladder pouch, and bags with sturdy, comfortable straps.
Looking to Find Your Tribe?
Introducing Tribal, Bali's first purpose designed co-working hostel!
A unique coworking and co-living hostel for those that want to travel the world while working from their laptops. Make use of the massive open-air coworking spaces and sip on delicious coffee.
Network with other like-minded travellers all day and if you need a quick screen break, just take a refreshing dip in the infinity pool or go grab a drink at the bar.
As I mentioned earlier, this article is going to focus on laptop backpacks that are specifically good for traveling with. I have reviewed our favorite backpacks below, categorized by different types of travels to accommodate your travel needs.
Best Overall Travel Laptop Backpack
Arguably the ultimate bag for travelers; if you are nomadic, you'll love Nomatic.
A raging Kickstarter success, Nomatic raised over two million dollars and is on a mission to create the ultimate travel bag – and we think they've accomplished just that.
Rich with pockets and plenty of features, Nomatic leaves no stone unturned as they have created a bag that is both stylish and functional.
Although Nomatic advertises this as a bag for 3-7 day trips, a minimalist traveler will easily be able to get a ton more time out of this bag.
Some of our favorite features are the detachable waist straps with water-resistant pockets, the 15″ laptop pocket, and the roller bag sleeve. The Nomatic 40L also comes with a laundry bag… which is awesome.
The Nomatic bag is also weather-resistant! This means you can take it outdoors or into bad weather and be relieved to know that your laptop will be protected. We wouldn't take the bag on anything longer than a dayhike or a hurricane, but for casual adveturers, the Nomatic works great.
To learn more about this sick piece of kit, be sure to read our in-depth review of the Nomatic Travel Bag! Like the backpack itself, we have also spared no expense.
UPDATE for 2021: Nomatic no longer sells or does business in the European Union, which is an unfortunate development.
Runner Up – Best Travel Laptop Backpack
The Tortuga Setout Laptop Backpack is the smaller version of their first Setout – and it's just as awesome!
This bag is a 25-liter masterpiece for anyone looking for a smaller laptop bag that feels and looks great.
But just because it looks great doesn't mean it's lacking in features. The Setout Laptop Backpack has plenty of organizational-features including mesh pockets and a super-secure area for your laptop.
The Setout Laptop is marketed as a laptop bag for those who do lots of air travel. If this sounds like you, then this may be your backpack from heaven.
Read our complete Tortuga Setout Laptop Backpack Review here.
Leather Laptop Backpack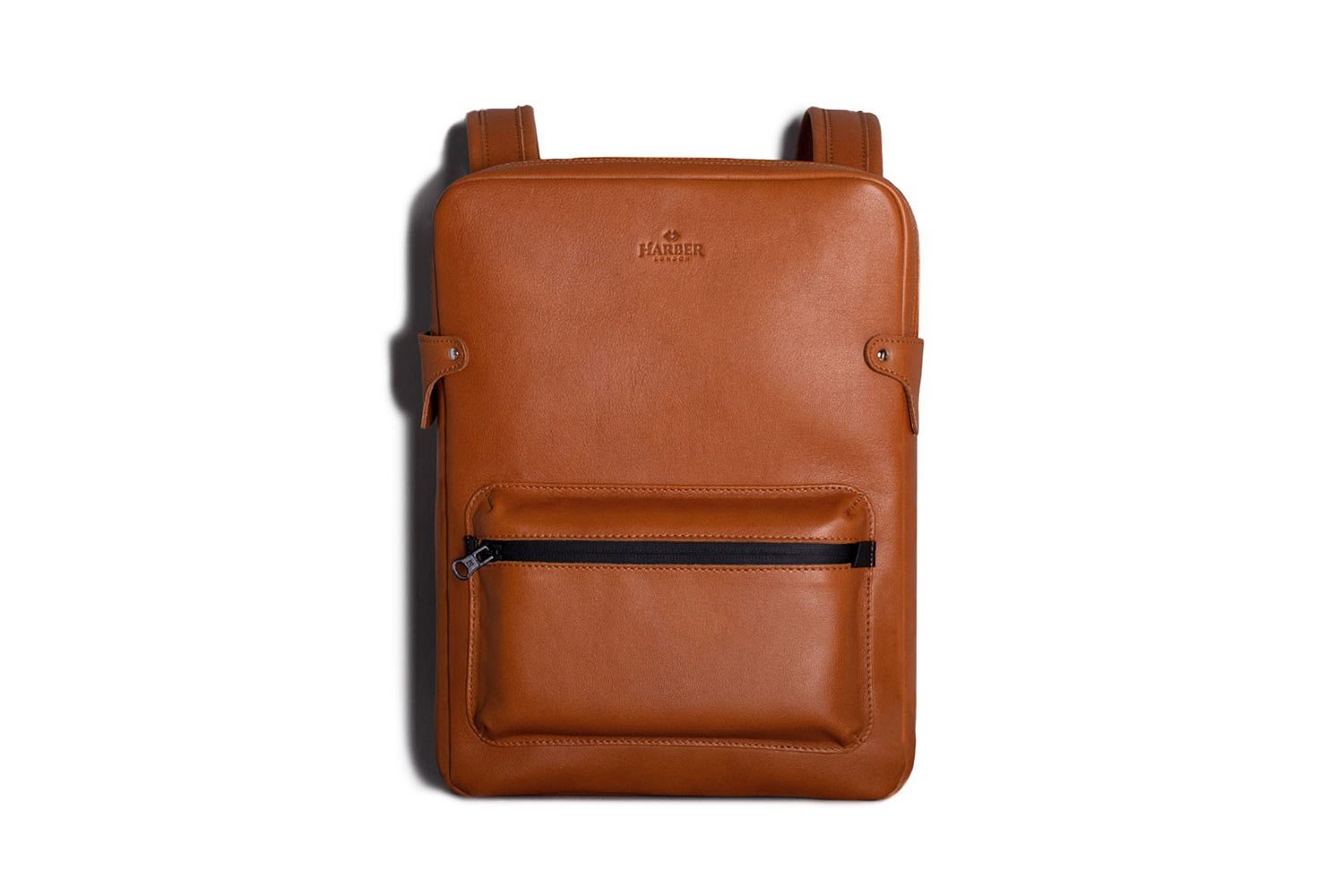 The Harber London Slim Laptop backpack is stylish and functional. It is quite literally a laptop backpack and won't fit too much more in (although they do make bigger packs so take a look at their site) and just perfect for minimalists who want something a little bit special.
The pack is crafted from Premium Full Grain Leather which will age beautifully and form an utterly unique patina overtime. The interior is nicely padded, there are loads of pockets for you cables as well as a handle if you want to carry it.
Different sizes are available for a number of different laptop and device sizes.
Best Commuter Laptop Bag
If you are after something smaller, lighter and commuter friendly, then why not consider the Osprey Metron. At 26l it's a well sized daypack which will accommodate your laptop, and lunch quite nicely. There is of course a padded laptop pouch along with enough pockets and pouches for keys, cards and pens.
The compression straps are also a nice touch allowing you to fasten the backpack down so you won't stick out like a tortoise and barge into people (as much) when you crowd onto the morning train. It also comes with a brightly coloured rain cover making this backpack ideal for cycle commutes.
This is a very functional backpack that adapts well for work, travel, and hiking.
Most Ethical Laptop Backpack
Team up with the women of Gulu for your next commuter backpack, and you'll receive a roomy pack with plenty of small pockets for essential details. The Gulu Made brand set up shop building a backpacking factory in Uganda and has entrusted the local community with making sustainable backpacks built to last. 
These bags are designed and built by local tribes. The women of Gulu took modern comfort features into account, adding on water bottle holders and ten different organization pockets with an extra computer sleeve. 
The Motivator is the most spacious Gulu-made pack on the market and offers everything you need to commute in sustainable style. If you are after an ethical product, this is a good one.
If you look ethical gear, we have a cracking vegan backpack round up on the site.
Best Outdoor Laptop Bag
One of the best-organized backpacks, this is ideal for the minimalist traveler that wants to hit the trails too. Anyone who has been to the outdoor store REI knows how passionate those employees can get about their outdoor gear. I once had a guy talk to me about this backpack for 20 minutes, and why he travels with it literally everywhere.
The best part about The North Face Recon is how durable this backpack is. It can handle use and abuse for years before you have to replace it, and it's extremely comfortable, even if you're carrying heavy school books, electronics, etc. The material is sturdy, and all of the zippers are YKK.
This pack works great for hiking and outdoor adventures, as it should since that is what The North Face is known for. Really, you can use this backpack for more than travel. It's great for school, commute, and everyday use.
This backpack has padded sections for both 15-inch laptops and iPads, and 3 separate sections for organizing contents… The laptop section doubles as a hydration pack holder with a hole to put your tube through.
It is spacious but fits under an airplane seat or in the overhead bin, but can fit a good amount of stuff.
There is a front mesh pocket that is useful for anything you need to access quickly, or storing a wet swimsuit or towel on the trails. There are two water bottle holders that stretch outwards. And for all you hikers, this backpack comes with a small waist strap.
Whether you need a backpack for the trails or for walking around the city, The North Face Recon is one of best travel laptop backpacks currently available: it's durable, light, just the right size, and great quality.
Best Backpack for 17-Inch Laptops
Incase is known for making stylish business and laptop backpacks. Expandable, easy to travel with, and well-padded, the Incase EO is also our chocie for the best 17-inch laptop backpack!
The bag itself is made out of 300D polyester, and the black option has a triple coated weather-resistant front panel. The shoulder straps are made with breathable mesh, and the back panels are padded too.
When you're in a rush, there is a large side handle that let's you grab your backpack quickly.
The main compartment has plenty of storage space, and it expands 35% to fit all of the clothes you may need. You can also maintain a slimmer profile if you are just using it for layovers and day trips.
This is one of the best laptop bags for travel because of the way the laptop sleeve is set up. Like some of the other backpacks on this list, you can unzip the dedicated laptop compartment to lie the backpack flat and send it through the TSA conveyer belt without having to actually remove the laptop.
In the same compartment, there is also a small pocket on the other side for other flat electronics like your iPad or Kindle.
This backpack is smaller than others on this list, but the Incase EO makes use of its space. Plus, sometimes smaller is better, so you can travel around day to day without carrying a bulky bag.
Best Small Laptop Backpack for Travel
The Timbuk 2 is quite similar to the Incase EO above. It's a smaller laptop TSA-friendly backpack that works great for both travel and work, and is one of the best lightweight laptop backpacks.
The material is 400D Nylon Faille. The laptop sleeve fits a 15-inch laptop and allows you to send your bag through the security line without removing your device(s). There is also a dedicated pocket for a tablet.
There is a side pocket for your water bottle and a front pocket that is useful for your passport and boarding pass. The main compartment has plenty of space, and the one in front of it has three smaller compartments for organization.
This backpack is comfortable too, thanks to its mesh panel on the back, and an adjustable front strap.
The drawback about this bag is that it's not big enough to take on most long backpacking trips; however, if you are just looking for a bag for everyday use, and quick weekend trips, this is a sleek, low-profile backpack that will keep all your stuff organized. Overall it's absolutely one of the best lightweight laptop backpacks. Sternum straps would also have been nice.
Best Laptop Backpack for Travel Photographers
If you are a serious photographer or have aspirations to be – this bag is next-level.
The LowePro ProTactic 450 is far and away the most functional and stylish backpack for photographers and videographers.
As you would hope from a high-value camera bag, the ProTactic has tons of features. In particular, we like it's ventilated harness, removable waist-belt, tons of straps and a shlew of interior and exterior pockets.
The most impressive thing of the ProTactic is how big it is and how well organized the compartments are. Fitting up to two DSLR's, a 15″ laptop and some drones, this bag is versatile and able to handle all of your tech needs. It's practically a mobile office! You can go out shooting, pull out your laptop, and begin editing right then and there.
This is one of the best laptop backpacks for many, many reasons; more than what we've talked about already. If you want to learn more about the Lowpro, be sure to visit our post on the best camera bags, where we go into more detail.
Ultimatey, high-quality construction and well-reviewed durability make the Lowepro a must have for photographers willing to make an investment.
Best Laptop Messenger Bag
AER has done it again! They're taken the same ergonomic principles that were used for their laptop backpack and applied to a messenger bag. The result: an amazing laptop messenger bag that is very efficient, effective, and, above all, useful.
The qualities of the AER City Messenger Bag feel familiar to the AER Travel Pack 2 Laptop Bag. Both:
Are constructed from weather-resistant material.
Have a sleek and sexy design.
Feature adjustable interiors for maximum organization.
The biggest difference between the AER backpack and messenger bag is obviously the latter is smaller than the former.
But the AER City Messenger bag is still just as useful. It comfortably holds a 15-inch MacBook and can even hold a camera kit with a few lenses after some rearranging. The fact that the interior of this bag can be rearranged, much like a camera bag, makes it stand from the rest as well. At the end of the day, this is more than a messenger bag.
Best Large Travel Laptop Backpack
The Tortuga Setout is easily one of the best large laptop backpacks on the market. It is quite similar to the Minaal 2.0, also reviewed below, but $50 cheaper, which is what gave the Tortuga an edge in the race.
The materials on this bag include 900d weathered polyester with a weather resistant finish and lockable YKK zippers. The straps are injected with molded foam for your ultimate comfort. Other awesome features include front-loading, a padded and removable hip belt, hideaway shoulder straps, and side handles.
In terms of functionality, the Tortuga Setout has a quick access pocket at the front with a full front tech pocket with a carabiner attachment and dividers. I like how this pocket zips all the way down to the bottom of the pack, so you have easy access to a jacket or bulky item that you want to quickly access or throw into your bag.
There is a separate laptop compartment at the back of the backpack with plenty of cushions. Your laptop will sit a few inches from the bottom for extra protection in case you drop your bag. The laptop sleeve can fit a 15-inch laptop as well as a 9.7-inch tablet. The  TSA-friendly laptop sleeve also allows you to leave the device in your backpack while going through security.
The main compartment opens up flat like a suitcase. There are two mesh pockets on the top lids; however, I think the Minaal 2.0 (reviewed below) has better mesh pockets that are more spacious and functional.
This is an amazing backpack built for efficient, on-the-go travelers. It's similar to the Minaal 2.0, but at 44L, the Tortuga can carry more gear, and if you do not end up using all of the space, this travel backpack has compression straps.
NOTE that Torutuga makes two types of Setout bags: the standard Setout (which we're talking about now) and one specially designed Laptop Setout (mentioned earlier). These are two different bags. If you'd like to learn more about the standard version, then read our review of the Tortuga Setout.
Best Travel Backpack for Europe
The Minaal Carry On has updated their original travel backpack to the 2.0, and it's loaded with new features that improve its functionality, and make it one of the best laptop backpacks for travel! This backpack has the perfect dimensions carry-on any flight (22 x 14 x 9 inches), including those strict European budget airlines, which is one of the reasons why we chose it as one of the best backpacks for travel in Europe
The Minaal Carry-On is made out of heavy-duty nylon, and the fabric does a solid job repelling water, too. The shoulder straps and removable hip straps pack away easily for transit, and the strap system and cushioned back panel foam allow for ultimate comfort.
This backpack has one of the best laptop compartments on this list. It's located on the back side and zips all the way open to run through a TSA conveyer belt without having to remove the laptop. There are 5 smaller compartment/pockets in this section for all of your essentials (passport, small tech gear, chargers, etc.)
The padded laptop specific sleeve is suspended away from the sides so your laptop is protected if you drop your backpack. The new Minaal Carry On 2.0 makes the laptop sleeve accessible from both the top and the side.
The main compartment zips all the way open like a suitcase. The larger side is perfect for packing your clothes, shoes, and other items. The 2.0 has made another major change to the main compartment: the two zippered pockets on the right are now three-dimensional, making them much more spacious than before. Think of these like built-in packing cubes.
Most Durable Travel Laptop Backpack
Another one of the best-organized backpacks, 26-litre GoRuck GR1 was designed and built for war zones and cities alike by a former Army Green Beret to be extremely durable and adaptable.
For one, this is the most durable backpack on this list, designed for any weather and climate. The YKK zippers perform in sandstorms, and the 1000 Cordura material is rainproof.
You can literally dunk this backpack into a river (as shown in the video below) and keep your gear dry!
Oh, and every bag is strength-tested at over 400 pounds (that's around 181 KG!). Despite all of these features, the bag was designed to keep a low-profile, and it's easy to take on any trip.
This bag is also extremely comfortable. The shoulder straps are padded to handle heavy loads (like 400 pounds), and this backpack is designed to sit high so the weight doesn't hang on your shoulders.
A Big and Tough Backpack
The laptop compartment is one of the biggest on the market, making this travel backpack one of the best 17-inch laptop backpacks. It also has a false bottom to fully protect your laptop if you drop your bag.
Not only is this backpack built to withstand the toughest situations, but it's also very functional for traveling and short trips. The main compartment opens flat for easy packing. The backpack also houses a 3L hydration bladder with a tube exit port. The main compartment also has carabiner holds and a smaller compartment to fit an iPad or Kindle.
The drawback is that this is one of the most expensive and heavy backpacks on this list. It's probably not the best backpack for someone trying to pack as little weight as possible; however, it's designed to withstand a lifetime of abuse and has a lifetime warranty to match. Despite the price tag, you get what you pay for.
Best Carry on Laptop Backpack for Travel
Standard Luggage has created a backpack specifically desgined to be used as a carry-on. Meeting all standard cabin requirements without sacraficing any space or usability, this laptop backpack is great for those who fly often.
This backpack has many useful features. Aside from having a dedicated laptop comparment (mandatory, of course), the Standard Luggage also comes with interior compression straps, locking zippers, and several extra pockets, among other things.
One of the coolest parts about this backpack is its customizability. Touted as a 3-1 bag, it can be used as standard backpack, a shoulder bag, and a suitcase. In addition, it is expandable from 35L to 45L, just in case you need a little extra room.
Construction-wise, the Standard Lugge Carry-on is made from high grade ballistic nylon and comes with an additonal raincover. Combined with 6 adjustments pounts and the abiltiy to hide away straps, all of these features make this one of most well-rounded and effective carry-on laptop backpacks.
Because of it's customizabiltiy and durability, many exclaim that the Stanard Luggage bag can even be used outdoors and for hiking. We find that it falls a bit short of some other top-rated travel laptop backpacks in this regard. That being said, nothing is stopping you from taking this bag on an adventure!
A Simple and Easy to Use Laptop Backpack
Fjallraven is one of the most recognizable backpack brands out there. Seriously, you can't walk a mile in the city and not see someone sporting one of these boxy bags as they appeal to just about every type of person.
The Fjallraven Kanken, one of the company's flagship models, can also be used as a traveling laptop backpack. Their spacious enough to a hold a 15″ computer, included a dedicated laptop sleeve, and are pretty resistant to the elements. If you're looking for something quick and easy, not to mention in-vogue, then buying all Fjallraven Kanken wouldn't be a bad idea.
Fjallraven's do have their limites. Their boxy design is a little awkward sometimes, although these bags are still comfortable to wear. Though their water-resitant, stanard Fjallraven backpacks do lack some protective padding as well.
If you needed an everyday backpack, and not JUST a backpack for traveling, it's hard to go wrong with the Fjallraven Kanken. It's proven itself over and over and will probably keeping on doing just that.
Still have some questions? No problem! We've listed and answered the most commonly asked questions below. Here's what people usually want to know:
There are countless travel backpacks on the market for every type of travel use, but these are the best backpacks for travelers bringing along their laptop and technical gear. Maybe you've already fallen in love with one of our top travel bags, but if you need us to make the choice, pick the best travel laptop backpack that best fits your purpose.
If you want a versatile backpack for a long-term travel vacation, look no further than the Nomatic Travel Pack 40L. If you are based in Europe, or on a multi-month adventure there, the AER Travel Pack 2 is an awesome bag.
For traveling minimalists, who still carry some gear, the Incase EO travel backpack and Timbuk 2 Uptown are both great bags. Photographers should look at the Emblem V4, and outdoor enthusiasts should definitely get the NorthFace Recon.
No matter what your travel style is, there is a bag on this list to cover all of your needs!
Is there a laptop backpack that you particularly enjoy? Think that we'd enjoy it as well? Leave a comment below and tell us about it so we can try the backpack out too!
---
Thanks for reading – that was fun! 😀
We bring you epic FREE content!
Find out how YOU can help support us.
We're a big site with a big team and this job isn't always easy. But we do it because we love it – we love providing epic and free content. We love the knowledge that our content keeps you adventuring. We don't ask for money, but if you'd like to find out how you can help the site in more organic ways, click the button below.
Thank you for your support 🙂
---
And for transparency's sake, please know that some of the links in our content are affiliate links. That means that if you book your accommodation, buy your gear, or sort your insurance through our link, we earn a small commission (at no extra cost to you). That said, we only link to the gear we trust and never recommend services we don't believe are up to scratch. Again, thank you!