When urban planners were wondering about how to build up this as a resort town, we imagine that they had no idea Cancun would look almost 50 years on! The mixture of sun, turquoise seas and white sands is probably enough for your average holidaymaker. However, the presence of Mayan ruins and a fascinating pre-Hispanic culture just take Cancún to the next level! This is the perfect destination for partying, laying on the beach, and learning about Mayan culture. Oh, and did we mention how good the food is?!
In this article, we'll take a look at the best places to visit in Cancun. Hopefully, it'll help you plan your trip and stay safe during your stay in one of Mexico's premier tourist destinations! First though, let's take a look at some of the best places to stay in Cancun.
Need a place quick? Here's the best neighbourhood in Cancun:
BEST AREA IN CANCUN
Zona Hotelera
Zona Hotelera is one of the most convenient and popular places to stay in Cancun. A short drive from El Centro, this area of the city caters to tourists.
Places to visit:
Dine on fresh and delicious seafood at El Fish Fritanga
Enjoy the view at Fred's House Seafood Market & Grill
Swim in the shimmering turquoise waters of Playa Delfines
These are the BEST Places to Visit in Cancun!
Not only does Cancun have a menagerie of sunny fun activities waiting for you to read about below, but also a quirky collection of neighbourhoods. Be sure to check out where to stay in Cancun and find an area that suits you before diving into the fun below!

Unlock Our GREATEST Travel Secrets!
Sign up for our newsletter and get the best travel tips delivered right to your inbox.
#1 – Isla Mujeres – A nice quiet place to see in Cancun
Just a twenty minute ferry ride from the city port
Packed with white sand beaches and turquoise waters
Best seen by bicycle, golf cart, or on foot
Why it's awesome: Many people love Cancun for its beaches and its nightlife, which are both undeniably great. However, at times this can become a bit too hectic for some people. Luckily, we've found the perfect escape from the hustle and bustle of the city – Isla Mujeres. It's just 6km long and compared with Cancun, it's hardly developed at all! It's the perfect day trip from the city as it's so easy and accessible, and there are a few hotels on the island should you want to extend your stay and see how quiet it is once the last ferry has returned to town!
What to do there: One of the best things about Isla Mujeres is not what there is to do there, but rather that you can relax and do nothing. In fact, you can totally disconnect from everything and just enjoy how tranquil the place is! One of the best places to do this is on the island's western shores or the gorgeous Playa Norte. The white sands are replaced by turquoise water, warm and perfect for a swim. Don't miss your chance to explore Cancun's best-kept secret!
#2 – MUSA – Museo Subacuático del Arte – One of the more unique places to visit in Cancun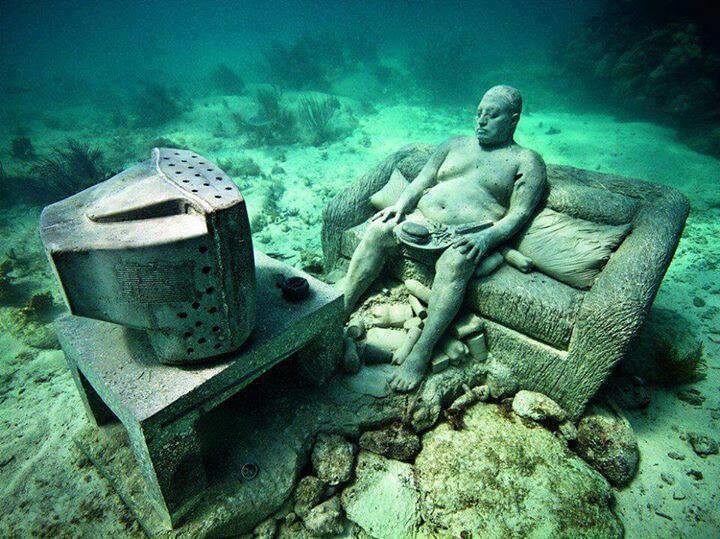 One of the few underwater museums in the entire world
Come here early in the day, when one of the premier attractions in Cancun isn't too busy!
A great place for first-time scuba divers and snorkellers
Why it's awesome: Since 2009, the Museo Subacuático del Arte has been one of the most popular attractions in Cancun. And it's not hard to see why! The initial idea behind the museum is to reduce damage to Cancun's reefs, and the shallow waters are packed with beautiful sculptures designed by a British artist. Incredibly, in just 400 square metres of water, you'll find more than 500 sculptures, which attract tropical fish. This is one of the more unusual places to visit in Cancun and definitely worth putting on your itinerary!
What to do there: If you want to visit Cancun's Museo Subacuático del Arte, then you have a few options. For those who want to stay dry, you can take a glass-bottomed boat trip. However, if you want to get up close to the sculptures themselves, then try scuba diving or snorkelling. It'll give you a totally different perspective! Don't worry if you're new to this activity, this is a great place to try it for the first time, due to the shallow waters and the fact that so many people are around! You'll be safe and able to explore the museum in the best way!
#3 – Xcaret Park – Easily one of the most fun places to check out in Cancun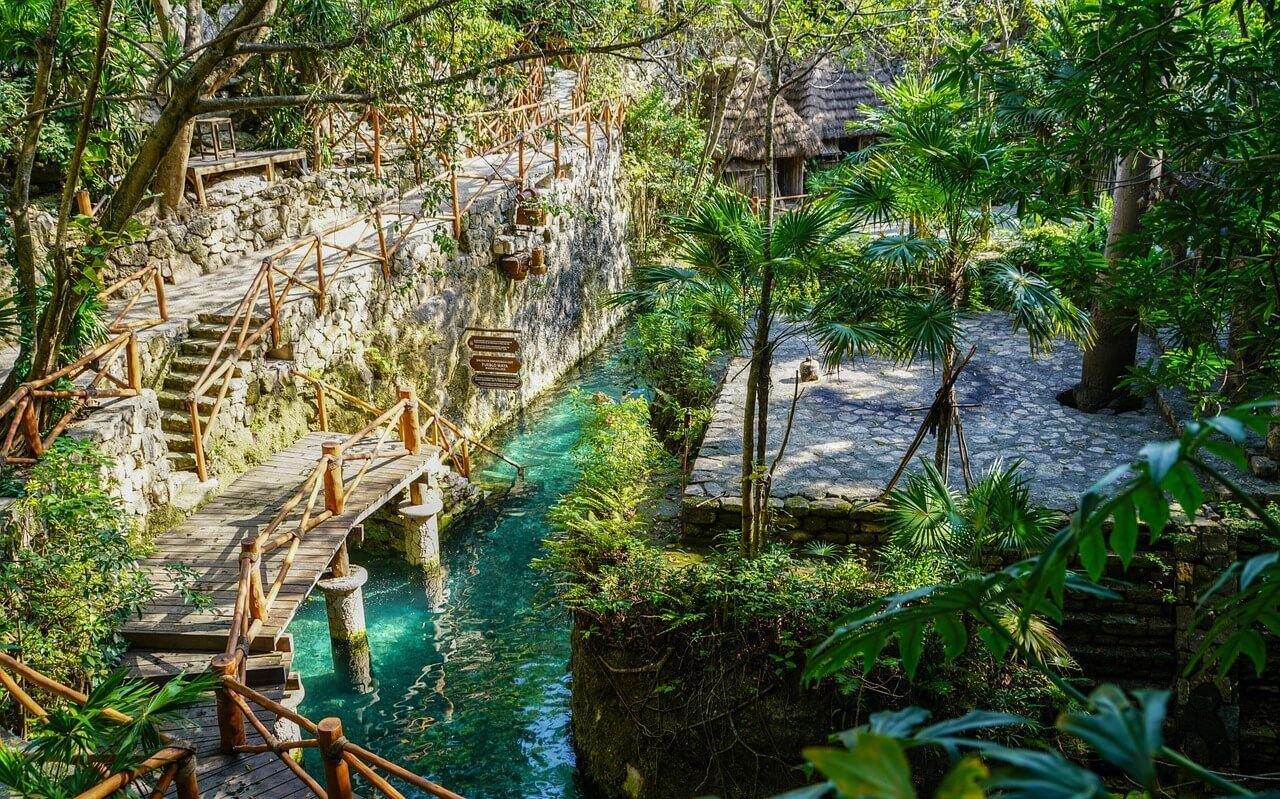 One of the largest theme parks in Mexico
Easily enough activities to spend a day here – possibly even more!
One of the best places in Cancun to visit as a family
Why it's awesome: Xcaret Park started off as a theme park, but now has 6 different locations under its ownership. This was the first one, and quite possibly the best. Not just any old theme park, Xcaret Park blends Mayan culture and history with live shows, delicious food, and cool natural attractions. Over 1 million visitors descend on the park annually, and although it's a day trip from Cancun on the Riviera Maya, it's super easy to get here from the Zona Hotelera!
What to do there: There are more than 40 attractions set across this 250 acre park, so you're sure to find something cool and interesting for you and your family. For those interested in wildlife, you can get up close and personal in the park's nature reserve. Here, you'll find jaguars, macaws, and other animals indigenous to Central America. If you'd prefer to learn about Mayan culture, watch one of the fantastic live shows that take place in the park. And of course, don't miss out trying a tasty taco or enchilada. The park is home to some of the best places to eat in Cancun!
#4 – Playa Delfines
One of Cancun's most beautiful Blue Flag beaches
A great spot for surfing
Lifeguards always on hand
Why it's awesome: If there's one thing Cancun is known for above all others, it's beaches. Or maybe nightlife… Okay, so it's known for a few things! However, you don't often find tourists who don't have at least one beach on their Cancun itinerary! But how do you pick the best one? Well, Playa Delfines is our top pick because for some bizarre reason, it doesn't quite attract the crowds you get on some of the other beaches. It's hard to work out why though, it's long, wide, and the sunsets are stunning!
What to do there: If you want to try your hand at surfing, the powerful waves here offer just the opportunity to do that. Perhaps Playa Delfines is quieter because it's not as easy to swim here. Although we're not suggesting you head out too far, it's a good place for paddling. And should you face any trouble, there is always a lifeguard at hand. However you like to spend your time at the beach, don't miss one of the best places in Cancun to relax and chill out!
#5 – Torre Escénica
One of the best places to get views of the most iconic landmarks in Cancun
Learn about the city's geography and history
Free entry if you have an Xcaret wristband
Why it's awesome: So, we mentioned earlier that Xcaret has 6 different locations in and around Cancun. One such is the Torre Escénica, an 80m building that offers excellent views of the city. It's the highest point in Cancun! If you've visited Xcaret, then take advantage of free entry to this cool monument with your ticket. Right in the centre of the Zona Hotelera, it's a great place to go in the evening and catch the sunset!
What to do there: This tower, which is kind of like a theme park ride too, is probably one of the best places in Cancun to learn about the city's history and geography. As you climb the tower in a rotating capsule, you'll hear lots of statistics about the place, as well as having the most important landmarks in Cancun pointed out to you over the speaker. If you're searching for what to do in Cancun in the evening or have a couple of hours spare in the morning, this is definitely something you should consider adding to your itinerary!
#6 – Coco Bongo – A great place to visit in Cancun at night
Probably one of the best nights out in Cancun
A cross between a mega-club and a choreographed cabaret show
Why it's awesome: Have you really visited Cancun if you haven't experienced the city's nightlife? We'd say probably not. One of the best things to do in Cancun is to enjoy the weird and wonderful nightlife scene than the crazy Coco Bongo club! It's not your traditional nightclub with a dancefloor and a DJ, oh no. It's so much more than that! The extravagant shows that are put on at this mega-club often include live music, gravity-defying acrobats, and even impersonators. Don't miss this off your Cancun itinerary if you want a fun night out!
What to do there: Make the most of the all-inclusive drinks! $65 for a ticket may sound extremely expensive at first for a night out, but after a few cocktails, that price will be looking a lot more reasonable. If you don't like pushing to the front to get served (you might have to do this as it gets crazy busy), then consider going VIP. You'll have your own waiter service and a lot more room to manoeuvre, while still getting to enjoy the epic shows! Going VIP is safer anyway, as far as staying safe in Cancun while drunk goes.
#7 – La Isla Shopping Village – A great place in Cancun if you love to shop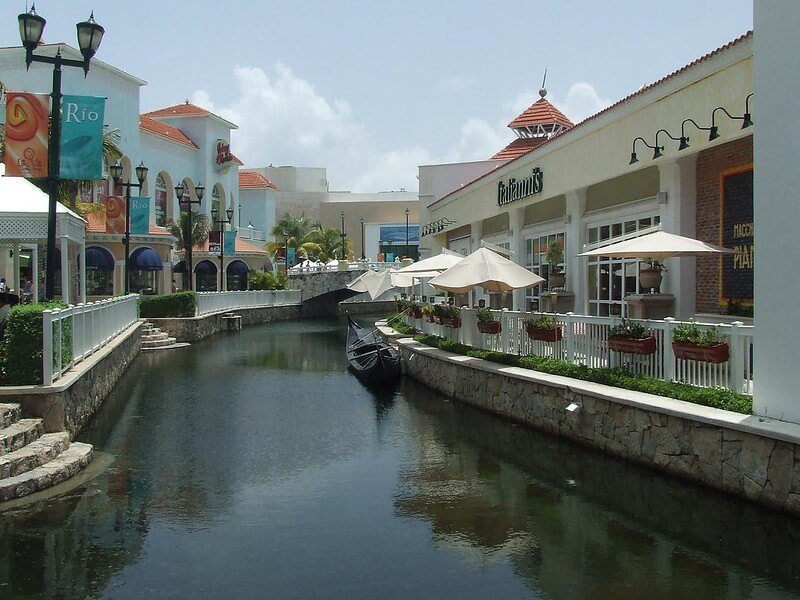 The largest retail area in the Zona Hotelera
A great place for some retail therapy and to pick up some souvenirs for family and friends
Houses some of the best places to eat in Cancun too
Why it's awesome: For the shoppers among you, Cancun has something that might just make your trip. La Isla Shopping Village does exactly what it says on the tin… it's an entirely artificial island completely dedicated to shopping! Not only is it a great place to pick up some souvenirs and bargains, but it's the perfect escape from Cancun's relentless sun. Canopies shade the alleyways that connect the stores, while there are a number of squares set around fountains. It's one of the best places in Cancun to relax and shop!
What to do there: Whatever you want to buy, you'll find it here. La Isla is a mixture of Mexican chain stores, souvenir shops, and some well-known global retailers. That's not all though – if you're shopping you're likely to get hungry, right? Well, you'll be pleased to know that there are several restaurants here. If you're not sure about Mexican food, try some of the more familiar restaurants in Cancun. Global chains like McDonalds and Starbucks, rounded off with a Haagen Dazs ice cream will be the perfect reminder of what you're missing from home!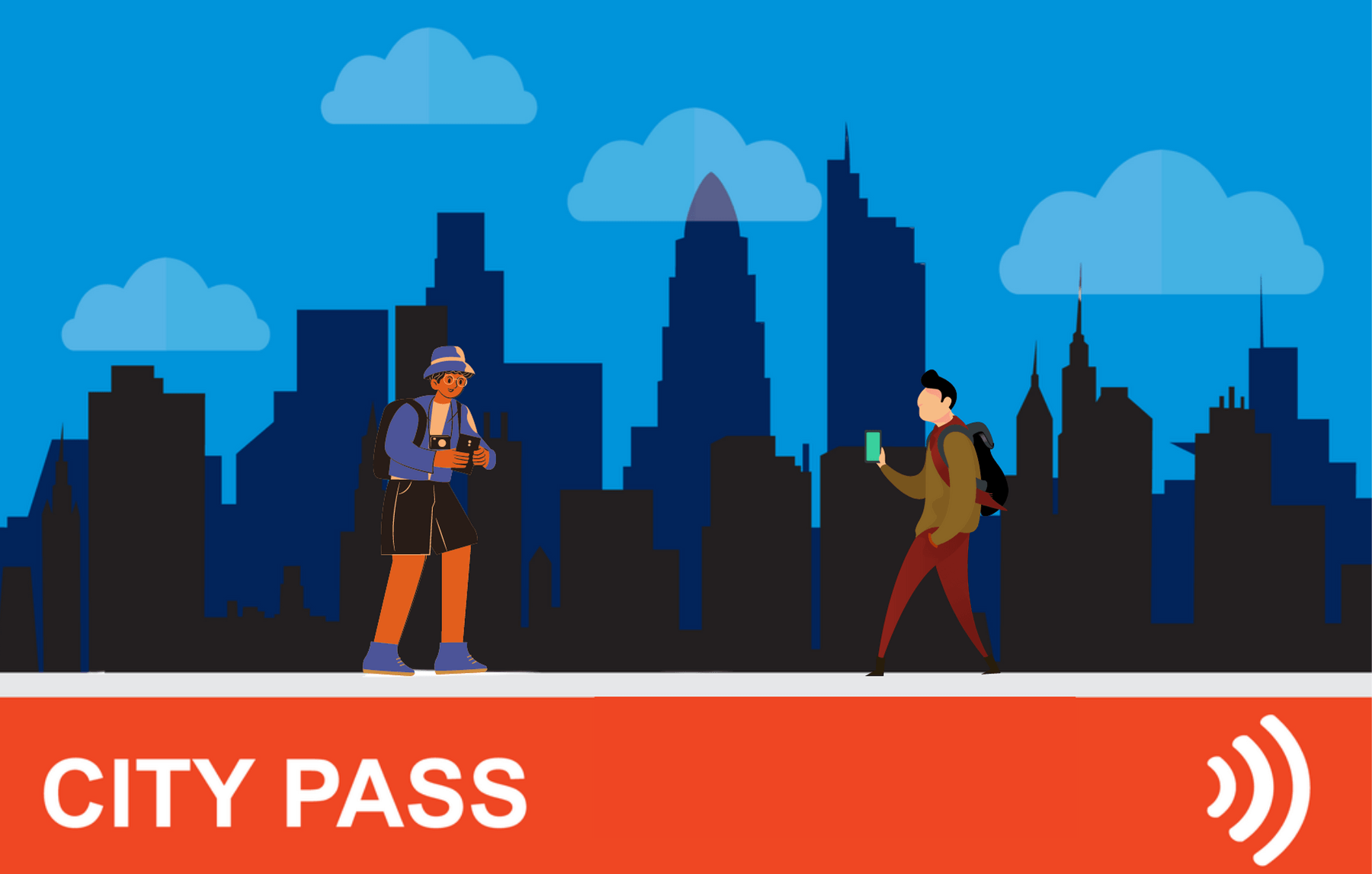 Travelling to Cancun? Then plan yo' trip the smart way!
With a Cancun City Pass, you can experience the best of Cancun at the CHEAPEST prices. Discounts, attractions, tickets, and even public transport are all standards in any good city pass – be sure invest now and save them $$$ when you arrive!
Buy Your Pass NOW!
#8 – Museo Maya
Learn everything you could possibly want to know about Mayan culture
Built over San Miguelito ruins, which form part of the museum
One of the best places in Cancun to learn something new
Why it's awesome: Mayan culture may not always be on people's minds when they're booking their trip to Cancun, but when you arrive, you'll see how important it is here. And there's no better way to find out more than visiting the Museo Maya! The museum is home to thousands of artefacts found in the Mayan ruin around the Yucatan peninsula and it's a fascinating insight into what life was like before the Spanish conquered the area. The exhibits walk you through how the Mayans lived – from their agriculture and belief systems to the regular battles cities fought against each other!
What to do there: Exploring the exhibits is obviously a must at this cool museum. As well as the artefacts and information you'll pick up on your way around, you'll actually get to explore Cancun's city centre ruins! After all, the museum stands on the site of the San Miguelito dwellings. The pyramid is undoubtedly a highlight, and all of these are incorporated into the museum. Hopefully, this museum will whet your appetite for the nearby Mayan ruins such as those in Coba Village or Chichén Itzá! Both are Cancun must sees!
#9 – Parque de las Palapas
Great place to visit if you're travelling with the kids
Some of the best places to eat in Cancun here if you like street food
Lots of cool stalls to pick up traditional handmade souvenirs
Why it's awesome: Cancun has a lot going for it, but one criticism people have is it's not the best place for families. However, maybe these people haven't been to Parque de las Palapas, as it's a great place to go with the kids! This square in the city centre has plenty of activities for the whole family, and some of the best places to eat in Cancun too, especially for street food lovers. It's the ideal place to spend a relaxed afternoon!
What to do there: If you're small enough, you can rent a little electric car to drive around the square. Maybe it'd be best leaving this activity to the kids… even if you have always wanted to drive that Ferrari! Even if you're travelling solo or an all-adult group, you'll still find something to interest you here. Why not browse the beach hut-esque palapas, where vendors sell jewellery and souvenirs. Or, pick up tasty street food snack.
Is This the Best Daypack EVER???
#10 – Chichén Itzá – One of the most amazing places in Cancun
A UNESCO World Heritage site
The most celebrated pre-Hispanic ruins in Latin America
Well worth making the two hour day trip!
Why it's awesome: Yes, we know Chichén Itzá is a two-hour drive from Cancun. However, it's made up of the most important and best-preserved ruins from the Mayan Empire, so you should definitely find a space for it on your Cancun itinerary. This UNESCO World Heritage site is one of the most famous Pre-Hispanic ruins in the whole of Latin America (up there with Peru's Machu Picchu). Be awestruck by the huge Pyramid of Kulkulkan and the gigantic calendar stone!
What to do there: Most chose to visit Chichén Itzá in a day trip from Cancun. If you can stand being part of such a huge crowd, the spring and autumn equinoxes are great times to visit! The sunlight will resemble a snake slithering down the side of the main pyramid, a sight that you certainly won't forget in a hurry. Day trips to Chichén Itzá often combine other nearby attractions, such as visiting the city of Valladolid and the Ik Kil cenote. This is another of the best places to visit in Cancun, especially if you want to have a swim!
Get insured for your trip to Cancun!
ALWAYS sort out your backpacker insurance before your trip. There's plenty to choose from in that department, but a good place to start is Safety Wing.
They offer month-to-month payments, no lock-in contracts, and require absolutely no itineraries: that's the exact kind of insurance long-term travellers and digital nomads need.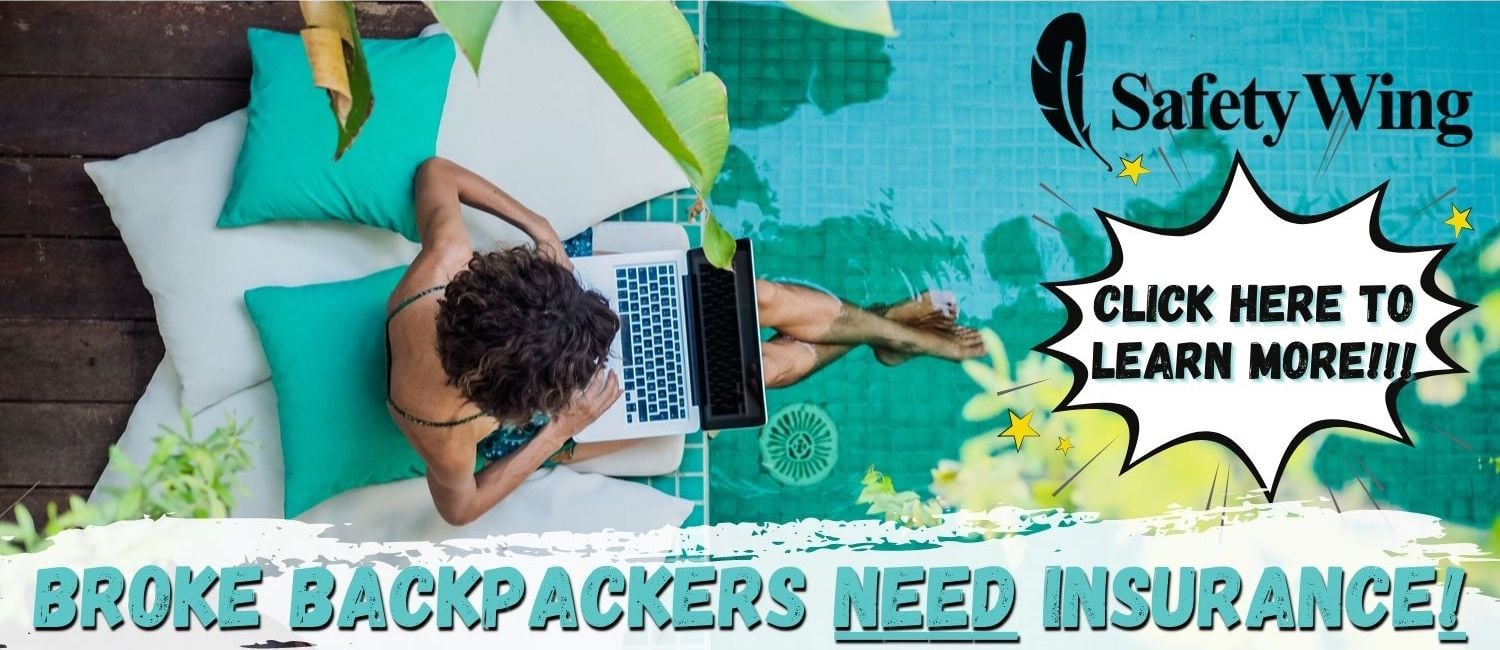 SafetyWing is cheap, easy, and admin-free: just sign up lickety-split so you can get back to it!
Click the button below to learn more about SafetyWing's setup or read our insider review for the full tasty scoop.
FAQ on the Best Places to Visit in Cancun
Find out what people want to know about the best places to visit in Cancun
Final Thoughts
So, that's all from our list of the best places to visit in Cancun. Hopefully, you'll see that there's more to this city than just partying and laying on the beach. Even though that's definitely not a bad way to spend your holiday!
Whether you want to soak up knowledge, explore Cancun's Mayan ruins, or just chill out on a white-sand beach, the capital of the Yucatan region has everything you could want from a holiday destination.
We hope that our lest of the best places to visit in Cancun hasn't just shown you the best of what this city has to offer, but also has given you an idea of how the locals live. You'll be able to fit right in on your vacation, especially if you know a bit of Spanish! We hope you have a fantastic time when you travel to Cancun.
---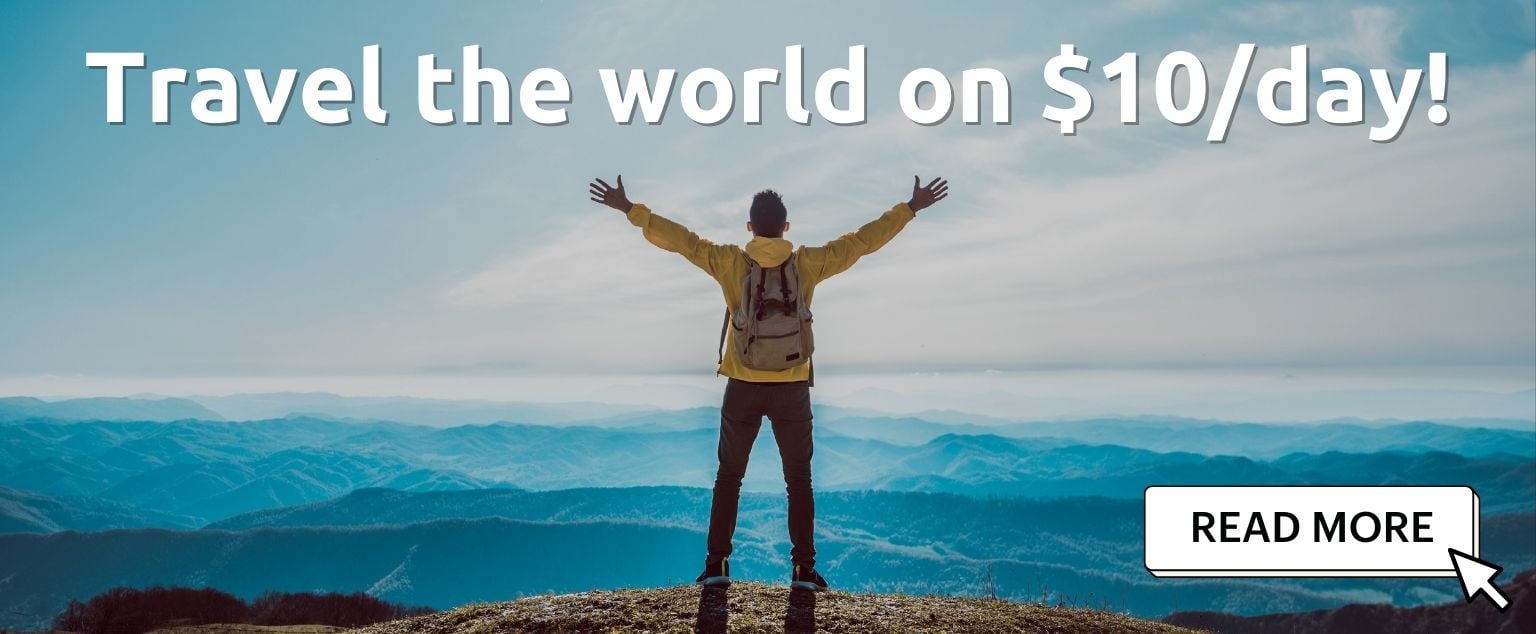 And for transparency's sake, please know that some of the links in our content are affiliate links. That means that if you book your accommodation, buy your gear, or sort your insurance through our link, we earn a small commission (at no extra cost to you). That said, we only link to the gear we trust and never recommend services we don't believe are up to scratch. Again, thank you!