The gateway to the Maya Riviera – Cancun – the capital of Quintana Roo is a top resort destination in Mexico. To this day people from all over the world still flock to the stunning beaches and ultra-relaxed atmosphere found here.
It's one of Mexico's major cities, and most visited. There are many good reasons for that. 
Though Cancun does have a tarnished reputation: Spring Break, organised crime, price inflation, scammers, street hawkers, petty theft, even drug trafficking. Are the rumours true?
Well, yes. But let me ask you this: which of the world's major cities doesn't involve the majority of those things too? The truth is, the Mexican government are working hard to make sure Cancun stays safe for tourists – and it shows.
So when people ask me, "Is Cancun safe to travel to?" The answer isn't necessarily straight forward. But you CAN have a totally safe trip to this remarkable city.
This insider's guide to staying safe in Cancun is written for you – with the ultimate safety advice. So when you step out of Cancun Airport, you'll all set to start your dream holiday.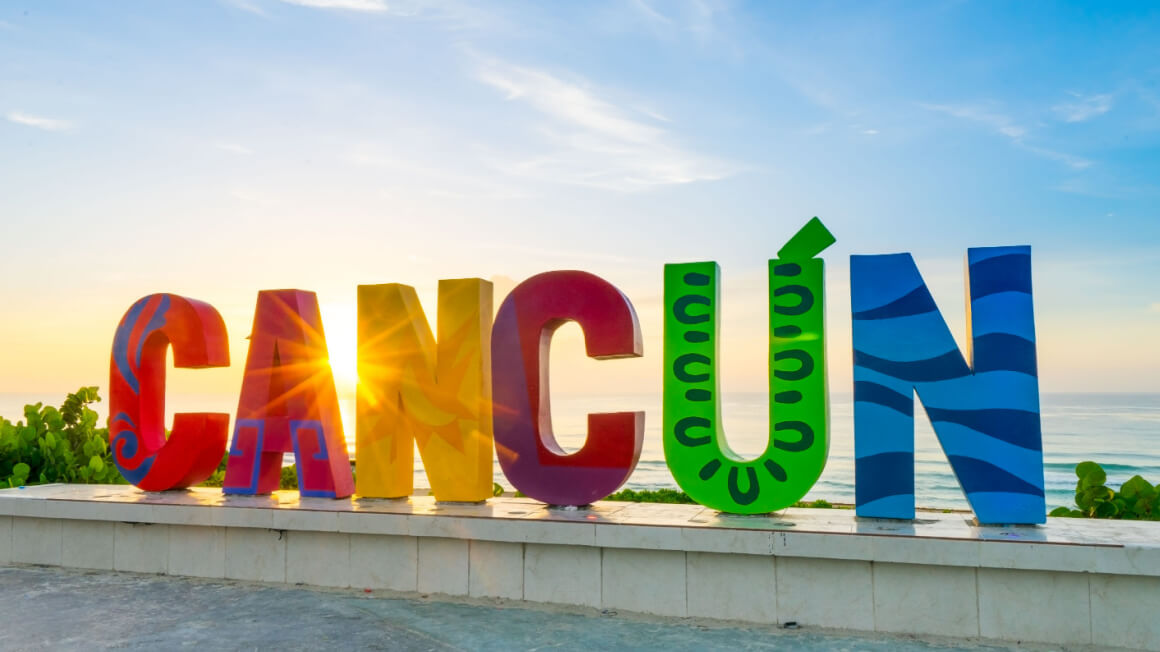 Unlock Our GREATEST Travel Secrets!
Sign up for our newsletter and get the best travel tips delivered right to your inbox.
There is no such thing as a perfect safety guide, and this article is no different. The question of "Is Cancun Safe?" will ALWAYS have a different answer depending on the parties involved. But this article is written for savvy travellers from the perspective of savvy travellers.
The information present in this safety guide was accurate at the time of writing, however, the world is a changeable place, now more than ever. Between the pandemic, cultural division, and a click-bait media, it can be hard to maintain what is truth and what is sensationalism.
Here, you will find safety knowledge and advice for travelling Cancun. It won't be down to the wire cutting edge info on the most current events, but it is layered in the expertise of veteran travellers. If you use this guide, do your own research, and practise common sense, you will have a safe trip to Cancun.
If you see any outdated information in this guide, please reach out in the comments below! We strive to provide the most relevant travel information on the web and always appreciate input from our readers (nicely, please!). Otherwise, thanks for your ear and stay safe!
It's a wild world out there. But it's pretty damn special too. 🙂
Updated January 2023
Is it Safe to Visit Cancun Right Now?
Yes! Cancun is safe to visit right now.
Although Cancun is far from what I'd consider a completely safe city, it's far from overly dangerous. In fact, over 30 million people visited Cancun in 2022 – and the vast majority of them come and go completely unscathed.
Cancun is located in a conveniently placed right next to the Mexican Caribbean Sea. More than that, Cancun International Airport is one of Mexico's top serving airports, connecting Mexico to the rest of the world.
Many don't come to Cancun for the history. Many do come for those white sand beaches and bright blue Caribbean Sea.
Mexico has a reputation for crime. Though let me set the story straight: this city has a crime rate considerably lower than much of Mexico. Mexico relies on the income of tourism from Cancun, and they work hard to maintain your safety here. 
Horror stories told about Mexico vastly involve gang crime. There's very little reason for gang crime to involve tourists just looking for a nice time. There are currently no travel advice warnings from the UK, USA, or other governments.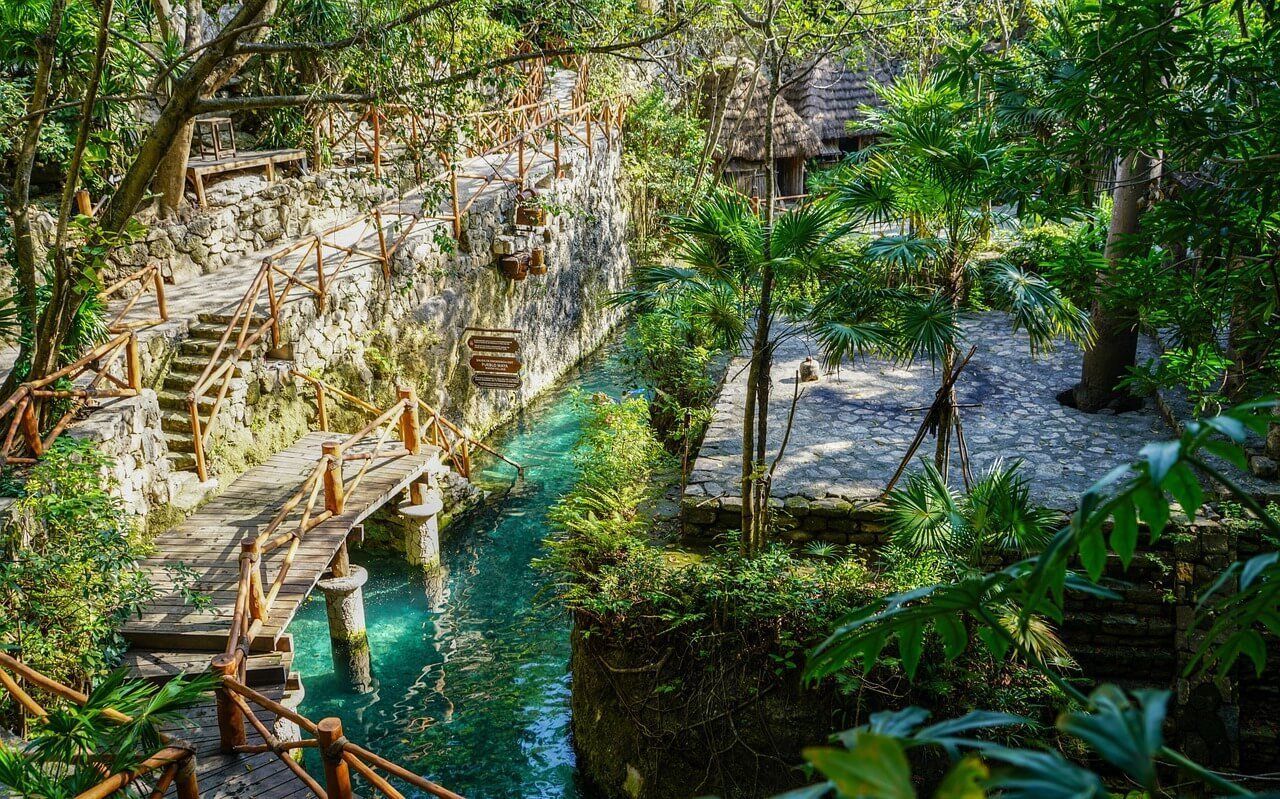 Violent crime is extremely rare in Cancun – especially in the touristy areas. Cartel violence occurs in the distant areas on the outskirts of the city and further afield where you have no reason to go anyway.
Other Cancun safety things to be aware of, that aren't human-related but more due to Mother Nature, is the weather! The rainy season in Cancun goes from June to November, which can bring cloudy skies, heavy rains and even some flooding.
Though, please beware (and I'm not joking here) the sun is extremely strong in Cancun. Please come prepared with all your sun protection gear.
Now let's dive into some detail about the safest areas in Cancun for tourists.
While it has a bit of a bad reputation, Cancun is a top destination for travelling in Mexico. It's important for the Mexican government to protect this tourist area which brings in a huge income.
So those places that you desperately want to see, are actually some of the safest places for your Cancun vacation. Here are the top 4 safest areas.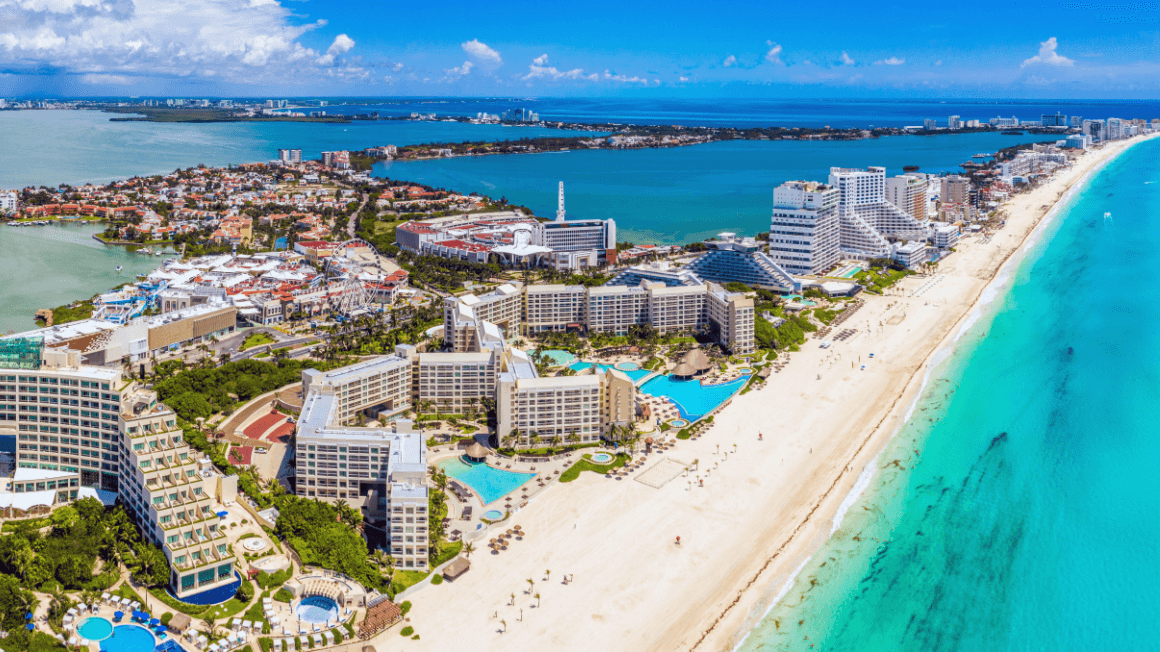 Hotel Zone – (known locally as Zona Hotela) This monster resort island is this is the safest area for tourists in Cancun. You'll find all inclusive resorts, golden sands, local bars, and it's safe to walk around at night. Plus some Mayan ruins are close by.
Downtown Cancun – This lively and vibrant area is filled with top attractions in Cancun, and it's well connected to Cancun Airport. This is a great place for backpackers to drop into Quintana Roo too.
Playa Del Carmen – Okay, it's not technically Cancun. But it's just as close to Cancun Airport and has an extremely very similar vibe – just on a smaller scale. I actually recommend it more for a Cancun vacation.
Isla Mujeres – On a short ferry from Cancun you'll find this dream paradise. Turquoise waters, white WHITE sands, and mind-boggling views. Make time for a trip to Isla Mujeres.
Dangerous Areas in Cancun
While the majority of Cancun is pretty safe, it's still not the safest place to stay in Mexico. That mainly comes down to it being a big city.
Like most big cities, organised crime occurs. Although violent crime is rare (but not impossible), petty crime is common.
There are some sketchy areas that tourists should avoid. The best people to ask are your accommodation staff who know the area best. Here is a rough idea of the more dangerous areas in Cancun:
Anywhere at night: Keep in mind that you're still in Mexico. It is not recommended to walk around at night. The Hotel Zone is okay but you should opt for a taxi to get from A to B anywhere else.
Non-touristy areas: While you should experience local life in Cancun, you don't want to walk into the wrong neighbourhood. The crime rate is much higher outside of the popular tourist zones.
24 Top Safety Tips for Travelling to Cancun
Cancun is a place for good times and fun by the bucketload. However, it pays to know that this ain't a theme park. You're still in Mexico, and a big city after all.
That said, thousands of people visit Mexico every year. Beyond that, Cancun is one of the safest destinations in the Mexican state.
Basically, as long as you use your usual safe travel tactics and keep aware of the dangers then you should be fine. Here are a few Cancun safety tips that will make your trip much smoother.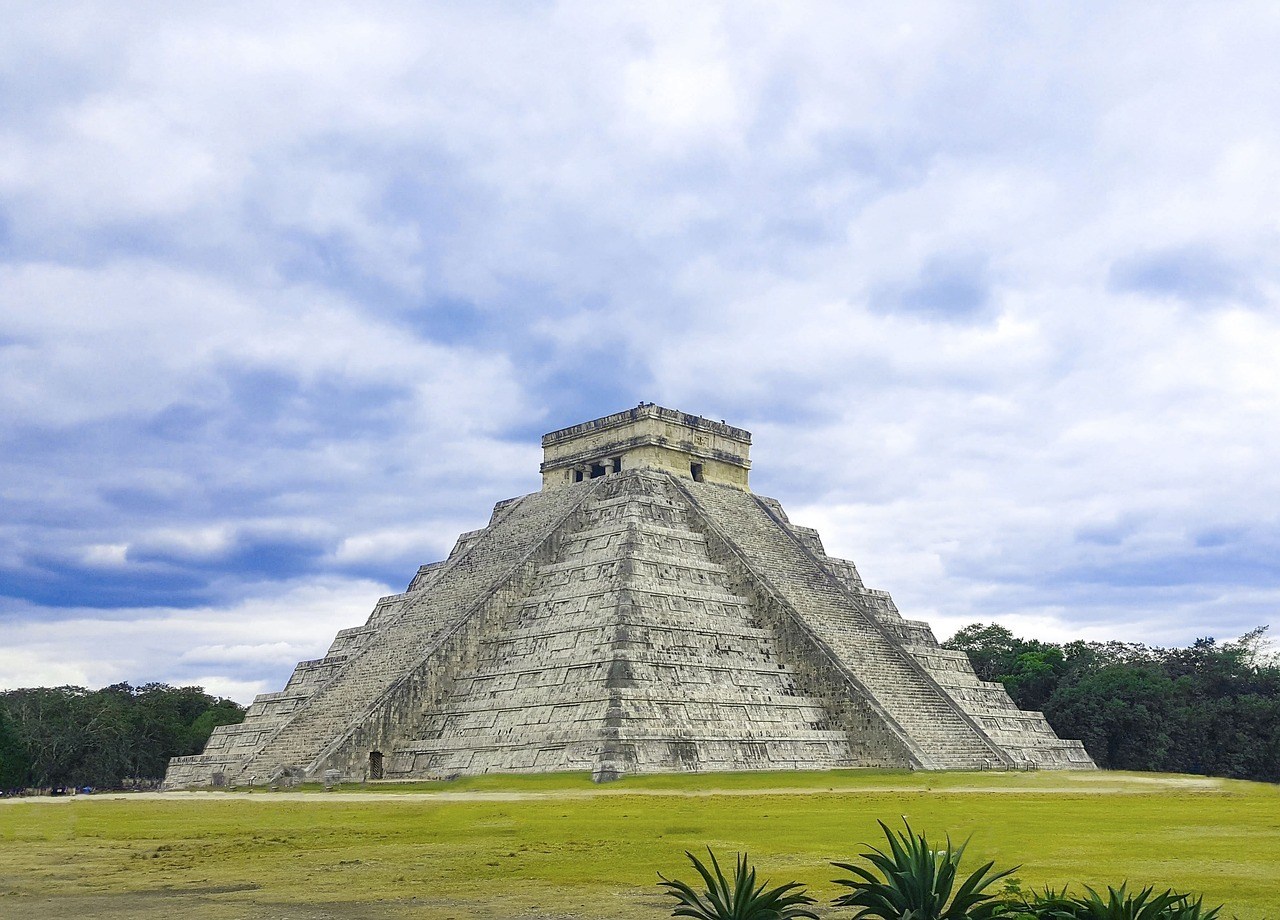 Be aware of street crime – It happens in every city! Cancun is no exception to petty crime.
Stay aware of your surroundings – Being mindful of what's going on around you is always a good thing.
Don't drink unfiltered tap water – stick to bottled water and you'll be good.
Keep your belongings close – Having dangly bags and valuables actively on show will definitely make you more of a target.
Know how to get from Cancun airport – This is when you are your most vulnerable. Research how to get to your accommodation in advance.
Don't change all your money at the airport – Cancun airport offers far from the best rates. Exchange some money before you leave home then exchange at the casas de cambio.
Careful when you're taking money out at ATMs – Do it inside shops, banks or malls, and be aware of who's behind you.
Learn some Spanish – You'll be surprised how this changes your experience. It helps you get around, chat to people, order food, and get out of any potential sticky situations.
Use the hotel room's safe – leave your passport, some money, and any non-essentials.
Be wary of scammers – It sounds harsh, but sometimes people who seem overly friendly or need help are looking to take advantage of people. A simple "no, gracias" works a treat.
Watch out for police officers trying to fine you – Especially for something that doesn't seem like a crime. Take note of their ID number if you're not sure and head to the tourist police.
Carry a copy of your passport & visa – Police can ask for this.
Dress down and avoid looking flashy – It just screams 'I'm a tourist and I'm not paying attention to anything around me!'
Make sure you know where you're going – It's not really the place to wander; you may inadvertently wander into a sketchy area. Have a rough Cancun itinerary with a bit of research to add an extra safety level.
Hand it over – If someone tries to rob you, give 'em what you've got. It's not worth it.
Carry a 'dummy wallet' – A crappy wallet that you can give to robbers. Not essential, but still.
Stay away from drugs – Mexico really isn't a place to fuck around with drugs. Refer to point 7: Police are corrupt here. Don't give them more ammo.
Street hawkers can be annoying – But don't be rude. They're just trying to make some money. Again, "no, gracias".
Don't get crazy drunk – I know, it's fun. But don't lose yourself.
Choose a reputable tour company – Read reviews and make sure they've got adequate safety in place.
Don't swim under the influence – Cancun is a party but people die at sea under the influence.
Yes, crocodile warnings are real – if you see them, tread with caution.
Watch for weather warnings in hurricane season – June to November. Some years are worse than others.
Sun Protection! – The sun takes no mercy here. Sunstroke and increased risk of sun cancer really is a huge danger here.
Is Cancun safe to travel alone?
Yes, Cancun is one of the popular destinations when you're visiting Mexico alone.
Travelling alone anywhere in the world, let's be honest: it's cool. You get to do what you want to do, and when you want to do it, but more than anything you only have yourself to rely on. Solo travel is a challenge sometimes, but I'll tell you what – it's totally worth the effort!
The main thing when you're travelling by yourself is to look after yourself. Knowing the right travel tips for solo travellers might save you from one or the other sketchy situation.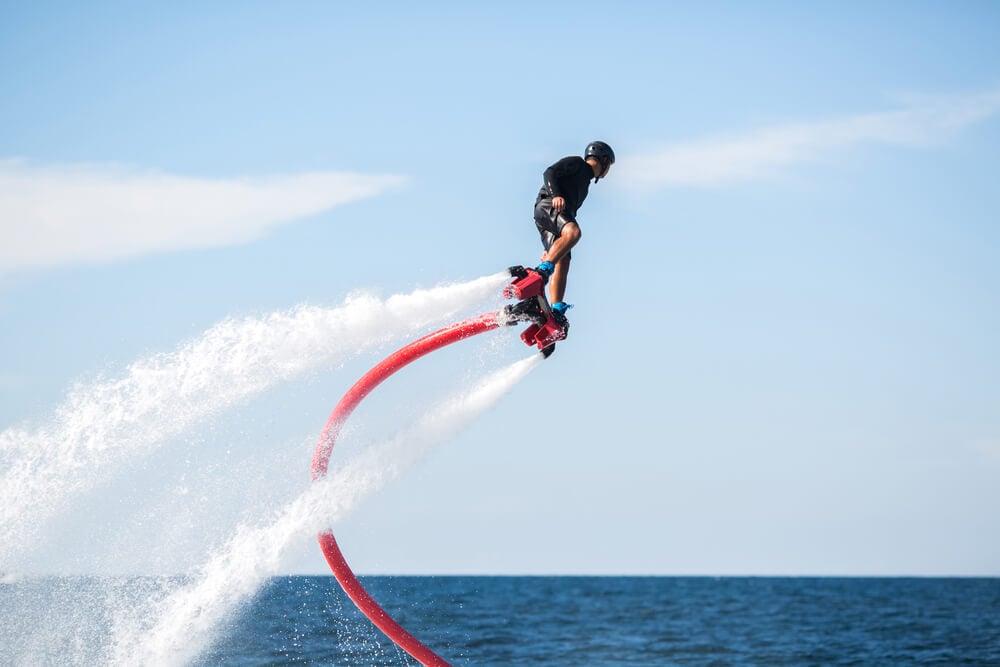 Don't get completely wasted. Losing your mind to alcohol, or whatever, has the potential to lead to dangerous, dodgy and honestly just pretty stupid situations.
Do your homework about what to do in the area. There's no point being by yourself but being too afraid to go out and do anything and looking lost can lead to you being targeted
But if you don't fancy going it alone, that's fine. Head on a tour and you'll get to go to places you might not have considered visiting in Cancun alone.
Read accommodation reviews. Being stuck somewhere you don't like can change the whole trip, so make sure you book yourself a nice hostel in Cancun.
Get clued up on social events happening in the area. These might be happening at other hostels, bars, and social spaces around town.
Know your limits. Not just when it comes to drinking, but we're talking about everything – tanning, laying on the beach, etc.
Don't run out of money. Set up a daily budget and stick to it.
Wandering around by yourself in sketchy areas just isn't clever. Even less so when it's night.
Is Cancun safe for female travellers?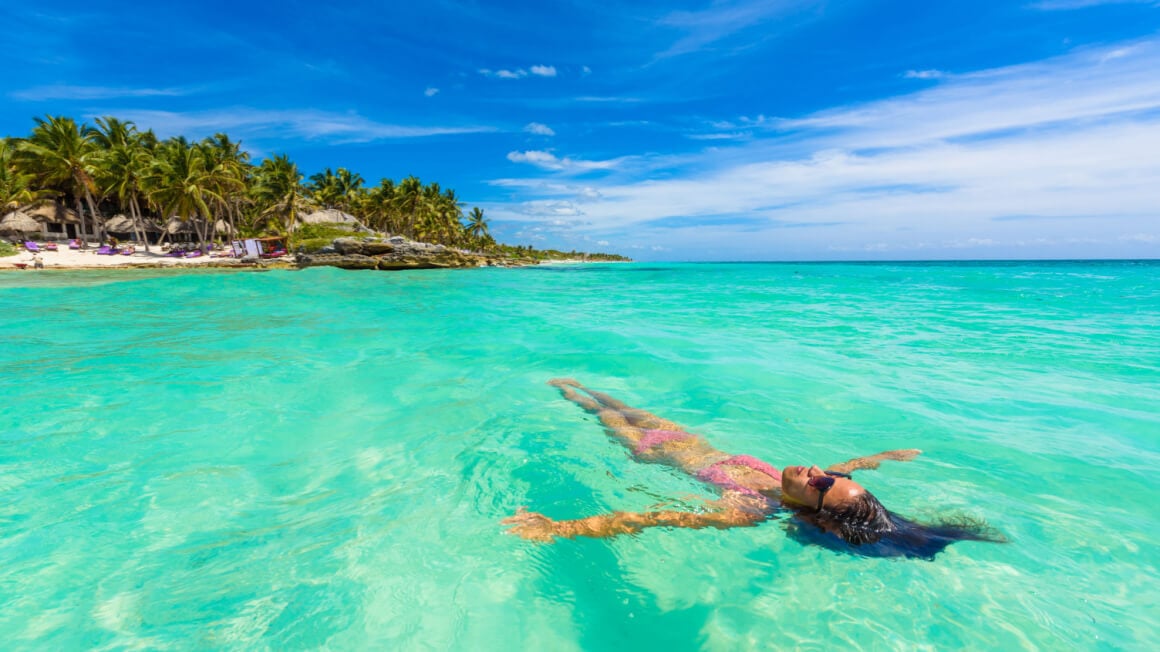 Yes. Though be aware, Cancun for solo female travellers is as safe as you make it, honestly. There are things about being a female traveller that just doesn't apply to our male counterparts – male attention being one of them. It happens everywhere and vacation in Cancun is no different.
To keep you extra secure we've got a few travel tips for women travelling to Cancun…
Meet other travellers. This is always tip number one. There's safety in numbers.
Listen to your spidey senses. If your gut is telling you something's not right, get out of there.
Explore on excursions and trips. They're also a good way to meet people and see what Cancun has to offer outside of where your feet can take you.
Research your accommodation. There are loads of great hostels for women. Read reviews written by fellow female travellers.
Do not go wandering around by yourself at night. It's not really a clever thing to be doing many places in the world and definitely not in Mexico.
Let someone know where you're going. Whether that's the staff at the hostel, your parents or friends back home.
Push yourself to do things outside your comfort zone. But know that if something is actually making you feel uncomfortable, and it doesn't feel right, then don't do it.
Don't feel obliged to tell the truth. If someone's a little too interested in you then don't feel like you have to tell the truth about who you are or what you're doing.
If someone is really making you uncomfortable, make a fuss, make a scene. Tell staff. Yell "Fire!"
Keep your food and drink in sight at all times. Drink and food spikings, unfortunately, do occur happen.
Is Cancun safe for families?
Yes! It is safe to visit Cancun with your family. Plus the beach in Cancun makes a great playground for kids.
But, like anywhere you're going to take your brood, you need to do your research. Of course, you have much more responsibility than just organising yourself.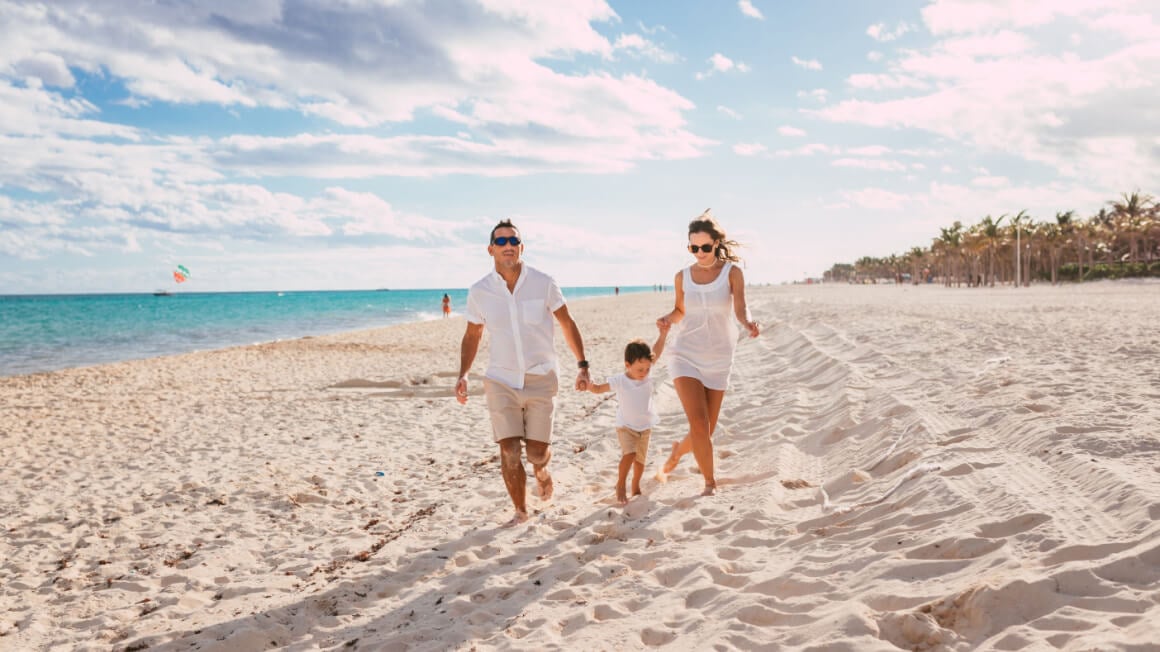 A vacation here is a fantastic opportunity to introduce your kids to a whole new country and culture. More than that though, it'll be an amazing beach holiday that they'll probably never forget.
Understand the map and how to get around, have a solid itinerary planned and get at least some basic Spanish under your belt.
Snorkelling, Mayan Ruins, personal trips on pirate ships (yup). It still comes with the understood hazards, but, otherwise, a Cancun holiday for families is a guaranteed good time, safety included.
Getting Around Cancun Safely
Knowing how to get around is one huge aspect of how to stay safe in Cancun.
Driving is fantastic – you'll just need an international driver's license, solid car rental insurance, and some confidence. You're in a big city, and people (including huge buses) are all driving Mexican style. So go slowly and wear your seatbelt.
Taxis are safe in Cancun. Ask your accommodation where your nearest Sitio (taxi rank) is. Don't use anything but official taxis; using illegal taxis is just asking for trouble.
Agree with your driver before you get in (do it in Spanish for a massive discount) to avoid any confrontation at your destination. Most taxi drivers in Cancun are dickheads. There, I said it.
Like most places, Uber is safe in Cancun. Actually, it's a much better option. It's WAY cheaper, the drivers are regulated, and you can track your whole journey.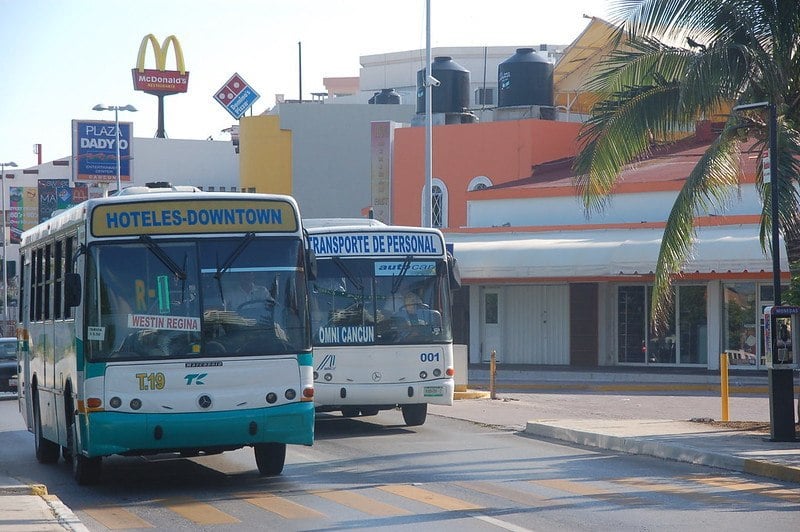 Buses and minibuses are great. They run all over the city, they're regular, and super cheap. It just means you have a bit more of an adventure.
If you're going further afield, you'll probably use a coach. ADO is the most trustworthy company which will get you safely to places like Cancun Airport, Playa Del Carmen, and Chichen Itza. You can buy these tickets online, at the ADO bus terminal, or at several ticket booths in the city.
If you want to go to islands like Isla Mujeres, Cancun's ferry service is fast, clean, and safe too!
Getting Insured BEFORE Visiting Cancun
The best safety advice for visiting Cancun is to make sure you have top-notch Mexico travel insurance. In the unlikely case that you need it, it can truly be a lifesaver.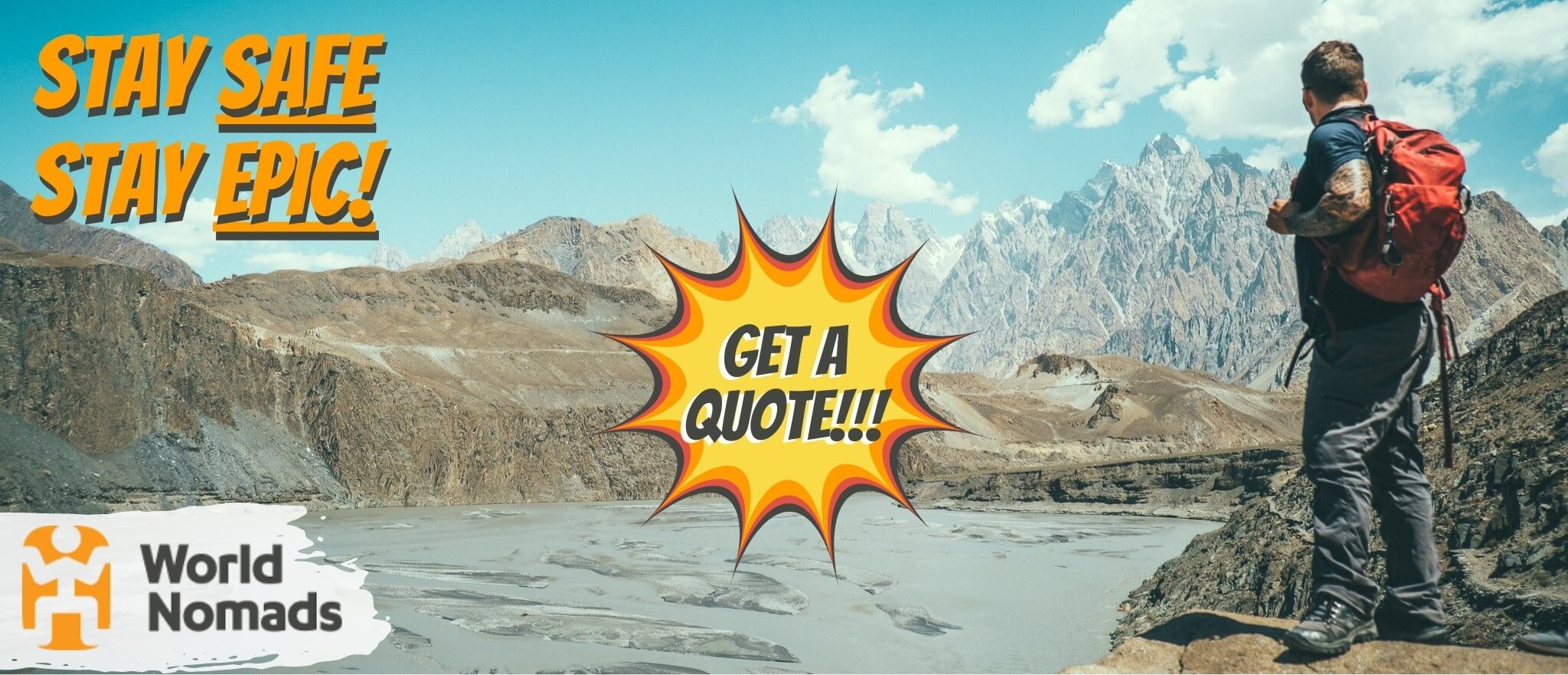 World Nomads' mission is to support and encourage travellers to explore their boundaries. They offer simple & flexible travel insurance, and safety advice to help you travel confidently.
They've been doing it since 2002 – protecting, connecting, and inspiring independent travellers just like you.
Get a quote below or read our in-depth review!
World Nomads provides travel insurance for travelers in over 100 countries. As an affiliate, we receive a fee when you get a quote from World Nomads using this link. We do not represent World Nomads. This is information only and not a recommendation to buy travel insurance.
Cancun Safety FAQs
For a travel destination like Cancun, there are lots of different things you have to consider when it comes to safety. We've listed the most common question, answers and facts to make your trip as easy as possible.
So, How Safe is Cancun?
Is Cancun safe? Yes. Is it always safe? No.
Will you be safe on a trip to Cancun if you behave like a normal person? Yes. There's basically no reason to worry about going to Cancun if you use your common sense.
There are obviously ways to make yourself unsafe in Cancun such as drinking way too much or wandering down streets at night, but that's true for many places in the world. But you're a sensible person who does their research.
Remember: 911 is your Mexico emergency number now – so that's an easy one. And don't forget that Mexico travel insurance!
As long as you keep your eyes open, you'll have the time in your life in Cancun. Step up your tanning game, chill at the beach for a whole week straight or have the party of your life – the options are endless.
If you've been to Cancun before and have some extra tips, please help out your fellow travellers to have a safe trip too with some comments down before.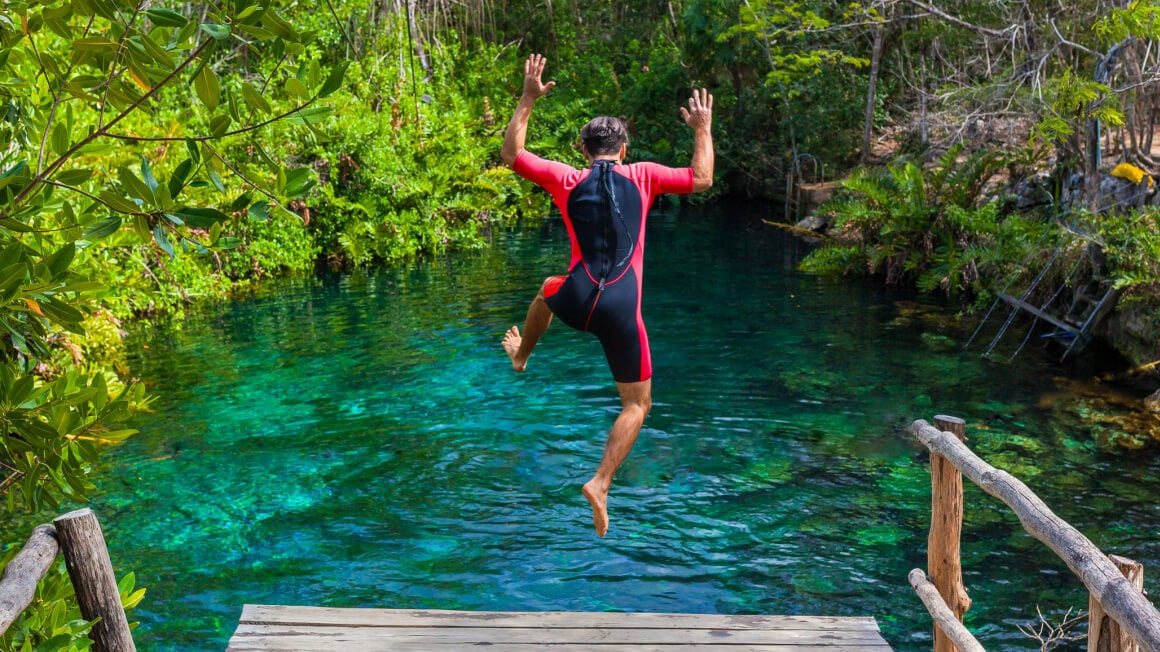 Disclaimer: Safety conditions change all over the world on a daily basis. We do our best to advise but this info may already be out of date. Do your own research. Enjoy your travels!
---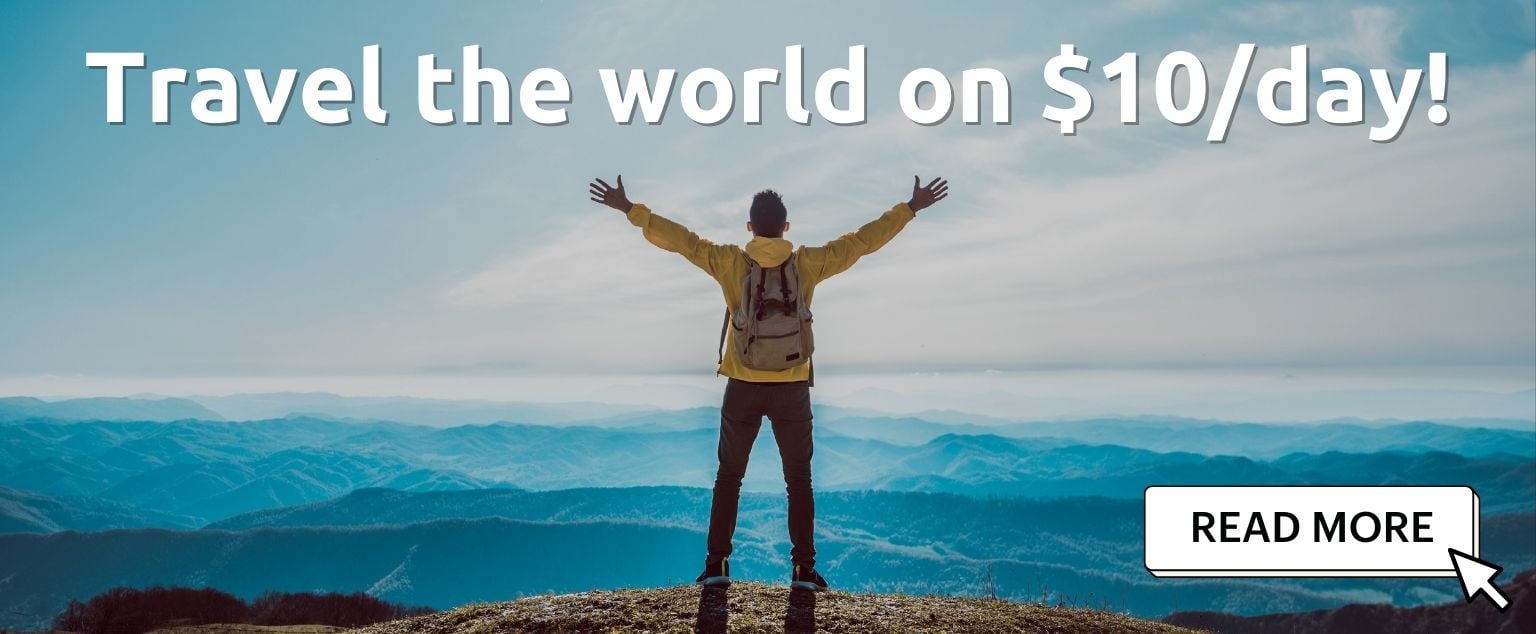 And for transparency's sake, please know that some of the links in our content are affiliate links. That means that if you book your accommodation, buy your gear, or sort your insurance through our link, we earn a small commission (at no extra cost to you). That said, we only link to the gear we trust and never recommend services we don't believe are up to scratch. Again, thank you!