Cancun is kind of like Mexico-lite or Mexico for the masses. It's famous as a party destination with nightclubs, plenty of bars, and the vibrant Hotel Zone. Cancun is a popular destination where people come to let their hair down.
There's a lot more to Cancun than just nightlife, however. Being located close to coral reefs, jungles, and ancient Maya ruins, there are actually tons of things to do in Cancun.
There are also plenty of off the beaten track things to do in Cancun that are relatively free of tourists, with only the more intrepid visitors checking them out.
That's where we come in. We've compiled a list of the more unusual things to do in this fun city, so you won't miss out on any of the unmissable activities on offer in Cancun!

Unlock Our GREATEST Travel Secrets!
Sign up for our newsletter and get the best travel tips delivered right to your inbox.
Top Things to Do in Cancun
Backpacking Mexico isn't complete without a stopover in Cancun. If you're short for time, check out the table below for our top picks of the unmissable things to do in Cancún!
If you do have more time, we recommend coming up with a rough itinerary for Cancún before you start your travels so you don't miss out on anything!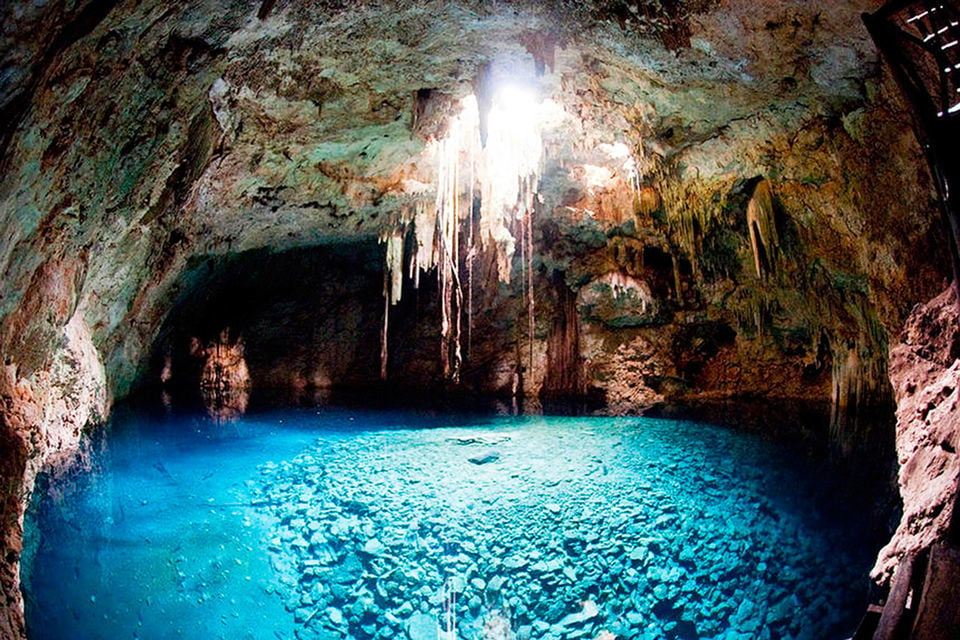 A trip to Cancun isn't complete without a trip to the cenotes. These are natural pools created by sinkholes, and swimming here is a pretty unforgettable experience.
We recommend going slightly earlier on in the day: you won't have to share the water with dozens of other people, and it's a great time for some atmospheric shots. The dramatic sinkholes surrounded by lush jungles around gives them a very Lost World feeling.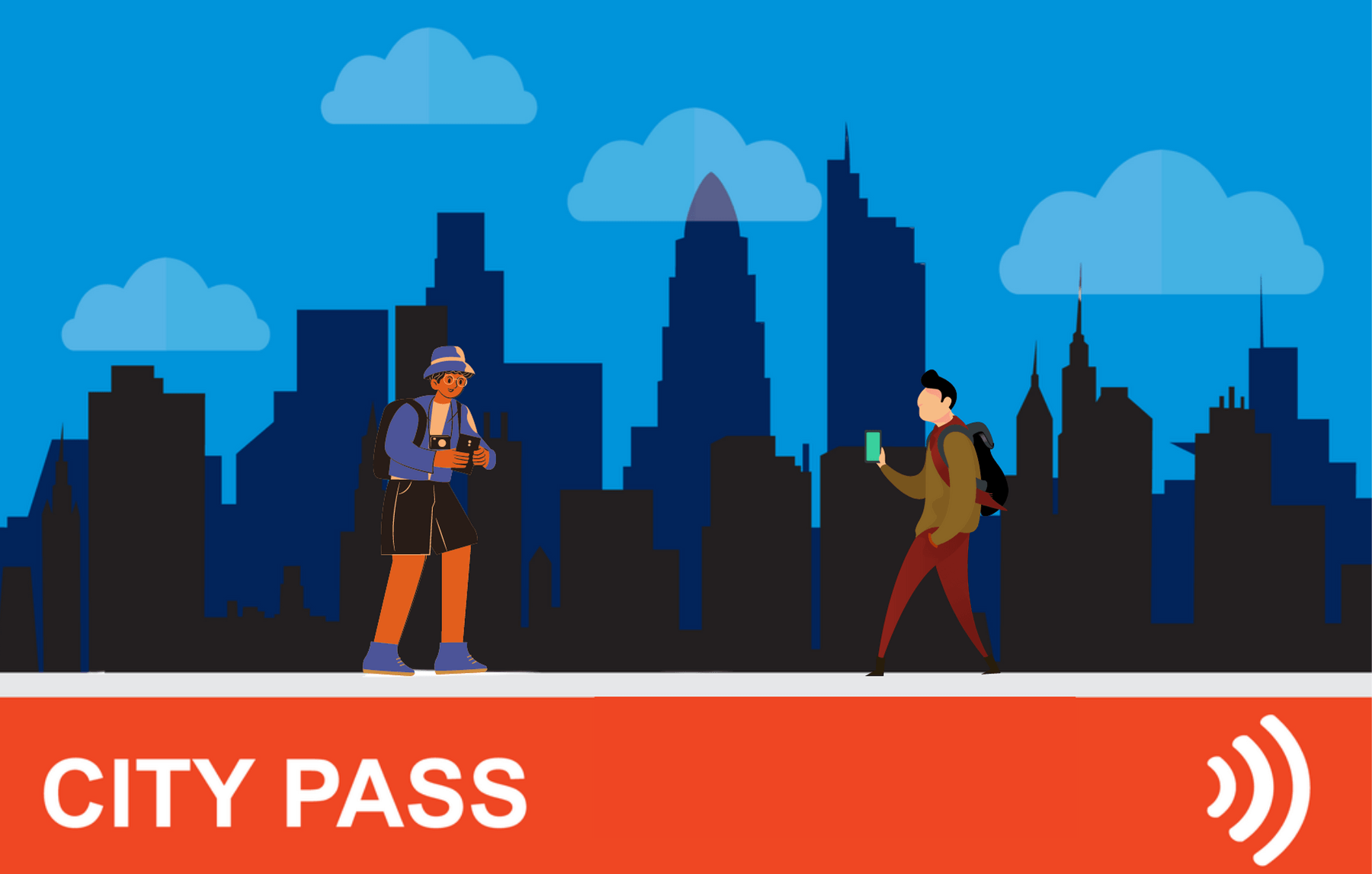 Travelling to Cancun? Then plan yo' trip the smart way!
With a Cancun City Pass, you can experience the best of Cancun at the CHEAPEST prices. Discounts, attractions, tickets, and even public transport are all standards in any good city pass – be sure invest now and save them $$$ when you arrive!
Buy Your Pass NOW!
2. Find out all about the Day of the Dead
You probably know about the Day of the Dead (or Día de los Muertos) already. However, you may not be aware of the very special Day of the Dead festivities at Coba, an archaeological site just a stone's throw from Cancun.
The local Maya community here, known as Tres Reyes, puts on the Hanal Pixan ('Food of the Soul') ceremony here. This involves candle-lighting, offerings of food to ancestors to continue their bond with the living, and picnics of traditional food of the region. Witnessing this genuine ceremony is one of the more unique things to do in Cancun.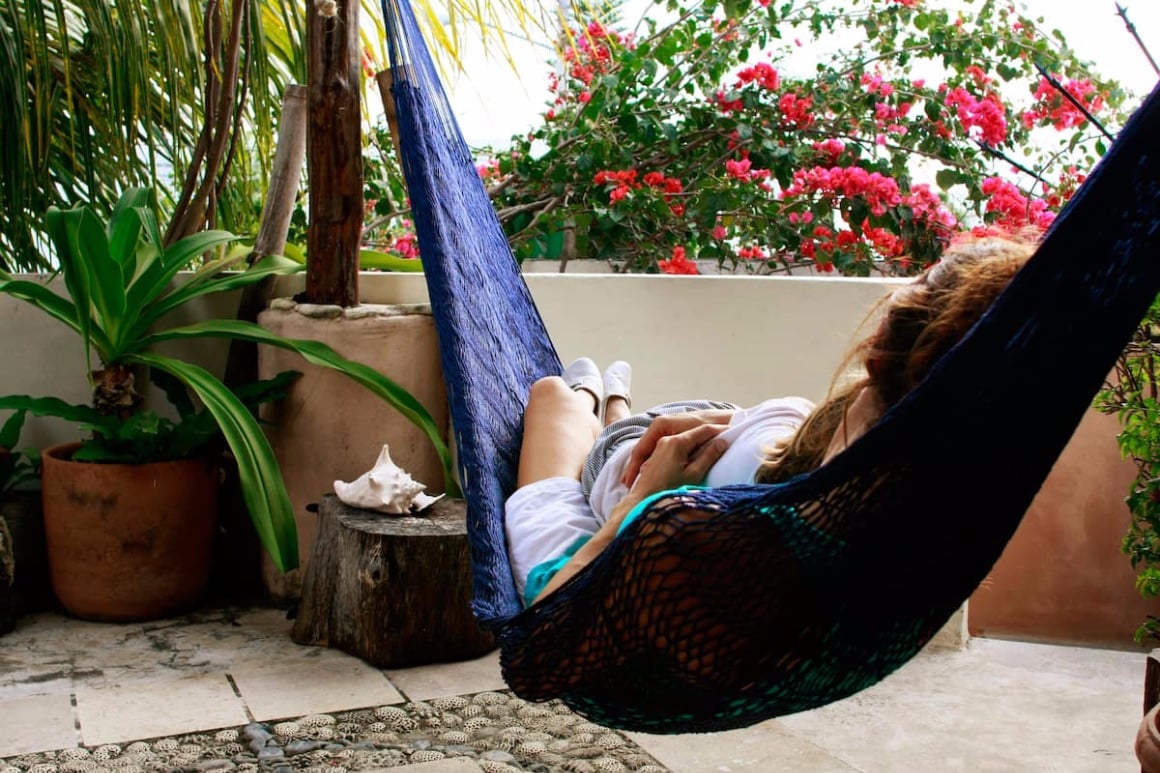 This eco apartment in downtown Cancun will give you an authentic homestay experience, and sits just 15 minutes away from the Hotel Zone. There are 2 single bedrooms, a pool, air-con and everything you'll need for a comfortable stay.
There's more to this Airbnb than just great accommodation, though – the hosts are certified diving instructors and are more than happy to lend you a hand! They know everything there is to know about diving and sailing around the Caribbean, so you'll be sure to gain some invaluable insider knowledge.
4. Find the City's Street Art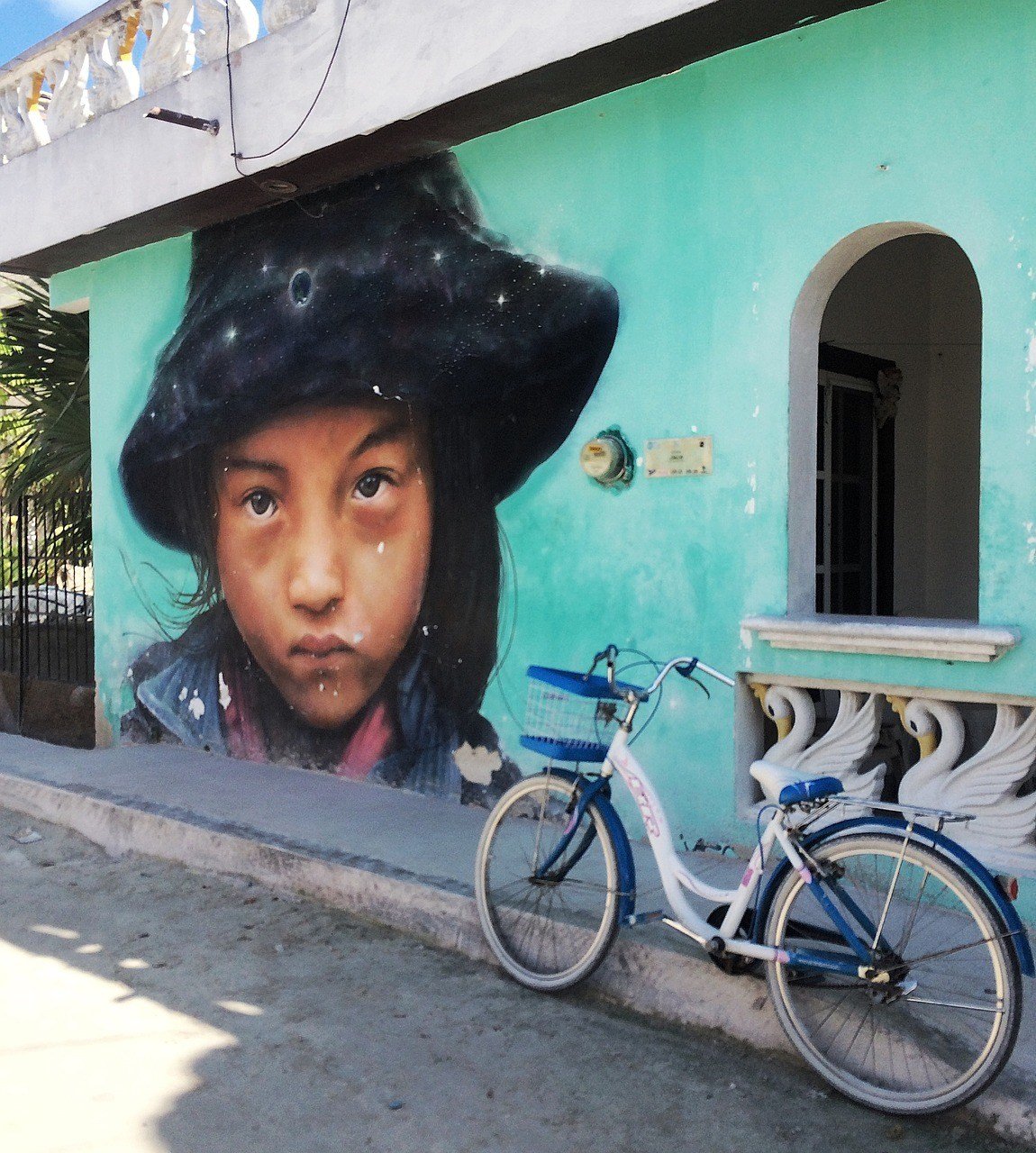 In recent years the city has developed a healthy street art scene, with many doors and walls in Downtown Cancun being daubed with vibrant murals. Artists from all over the world have joined in, including Interesi Cazki from Ukraine, as well as Aaron Glasson (New Zealand) and Celeste Byers (USA).
This growing collection of street art reflects the vibrant culture of Cancun and have become landmarks in themselves. Discovering them on a stroll around town has got to be one of the coolest things to do in Cancun, so don't forget your camera!
For a truly unforgettable Cancun travel experience, take a trip to a temazcal (shaman's hut) and you'll have the opportunity to take part in a shamanic ceremony with a real-life shaman.
You'll sit opposite the shaman as he burns aromatic herbs and copal (tree resin) to purify your thoughts and rid yourself of bad intentions. If you feel like you need a release and want to learn something about traditional Mexican culture, this is the place to come.
6. Visit the Amazing Pink Lakes of Las Coloradas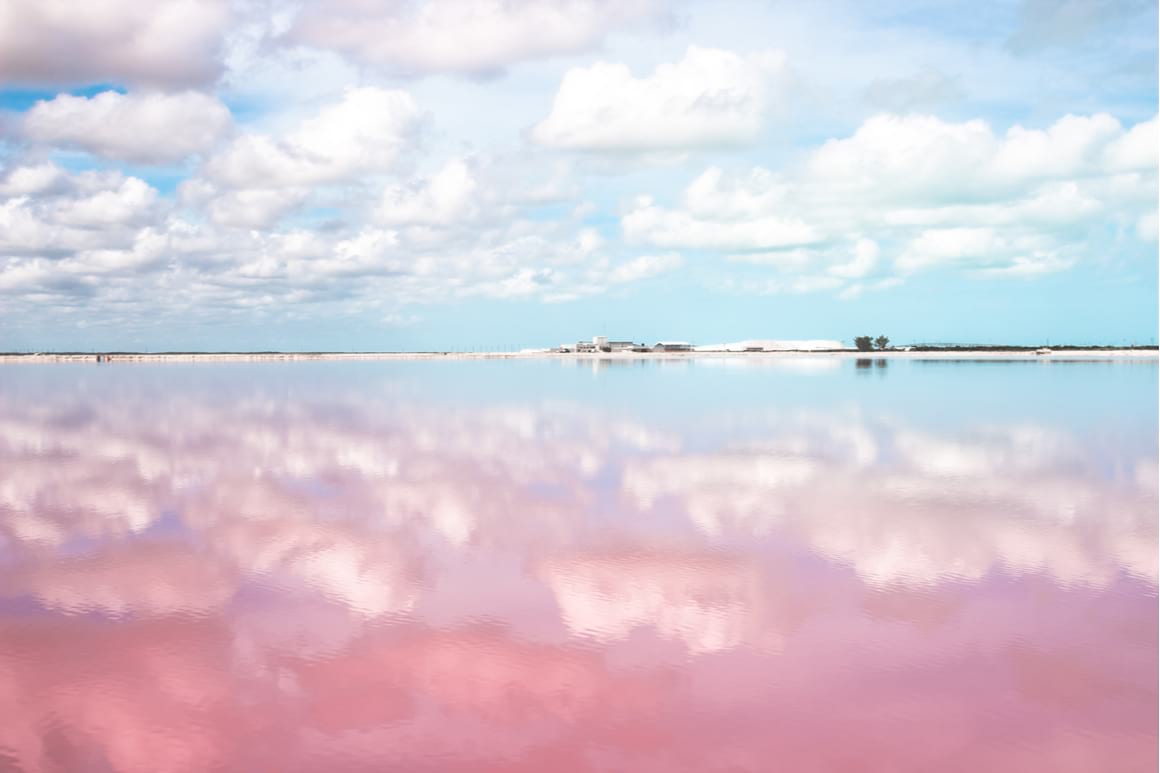 Las Colorada are pink lakes – yes, pink – and, together with the blue sky, make for some supreme Instagram fodder. They're a couple hours out of Cancun, but are absolutely worth the trip if you can make it.
The red algae and brine shrimp living in the shallow, salty waters literally lend their own colour to the lakes, turning them a shade of strawberry milkshake, pastel pink. The lakes are protected as Part of the Rio Lagatos Biosphere Reserve, and so they should be. There's also a family of flamingos living nearby.
Small Pack Problems? 😉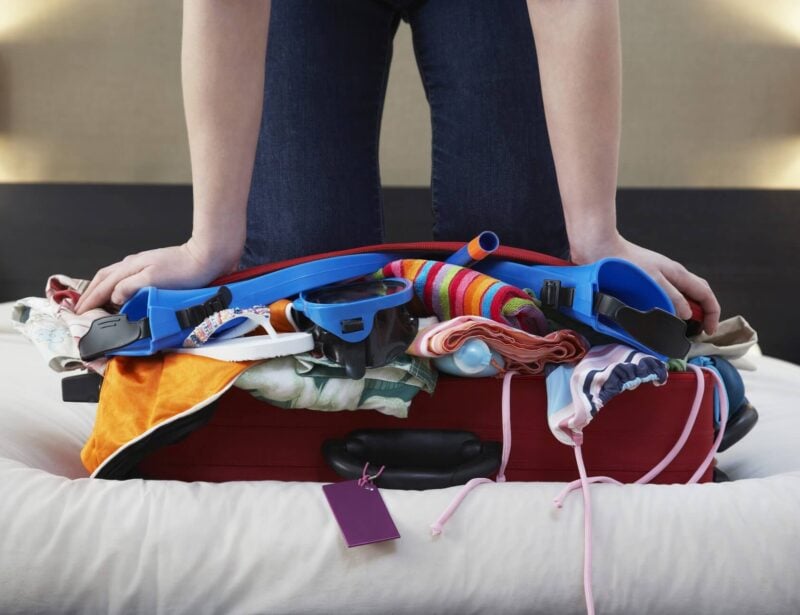 Wanna know how to pack like a pro? Well for a start you need the right gear….
These are packing cubes for the globetrotters and compression sacks for the real adventurers – these babies are a traveller's best kept secret. They organise yo' packing and minimise volume too so you can pack MORE.
Or, y'know… you can stick to just chucking it all in your backpack…
Get Yours Here
Read Our Review
The underwater world is one of the best things about the Yucatan Peninsula. Being near some pristine coral reefs just offshore, it's a prime spot for diving and snorkelling. It's absolutely worth a trip, and if you're not able to dive, take a glass-bottomed boat instead!
To make the marine world that much more weird and wonderful, the MUSA (Museo Subaquatico de Arte) have placed 500 statues and sculptures that help promote the growth of coral. It's eerie, fascinating, and easily one the most unique things to do in Cancun.
Entrance: $47-70
Hours: 09:00-14:00
Address: Cerrada Las Golondrinas Lote #24, Zona Hotelera, 77560 Cancún, Q.R., Mexico
8. Learn about the History of the Yucatan Peninsula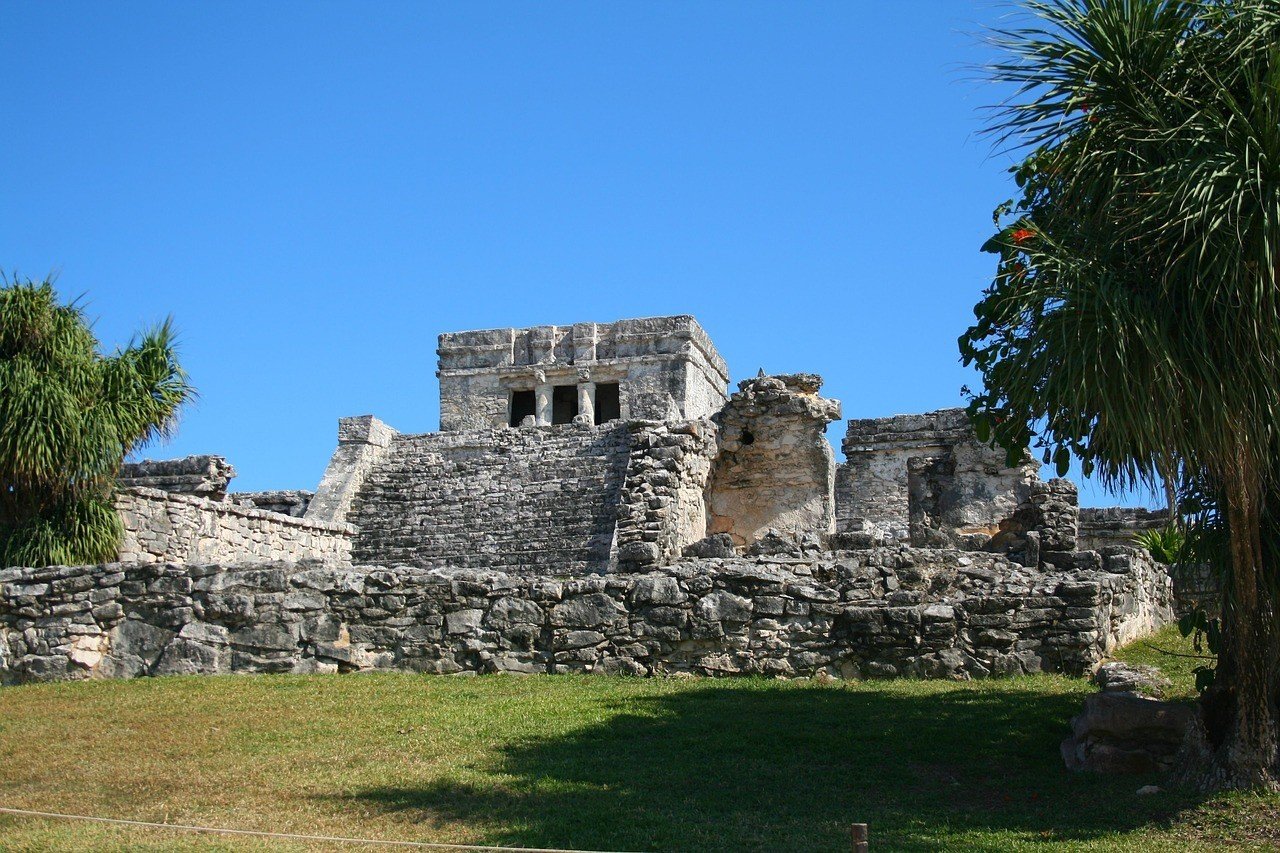 It wouldn't be a trip to Cancun without discovering the ancient history of the Yucatan Peninsula – that's why they call this section the 'Riviera Maya'. We recommend heading to El Meco: an archaeological site close to the city that's often missed by visitors, making for one of the more off the beaten track things to do in Cancun.
The ruins were first inhabited sometime around the 3rd century AD, and then grew again around the 11th century. Chichen Itza is one of the more iconic and well-known ruins, and can be found in Yucatan.
Entrance: $3
Hours: currently closed
Address: Carretera Puerto Juarez, López Portillo, 77520 Cancún, Q.R., Mexico
9. Learn How to Cook Mexican Food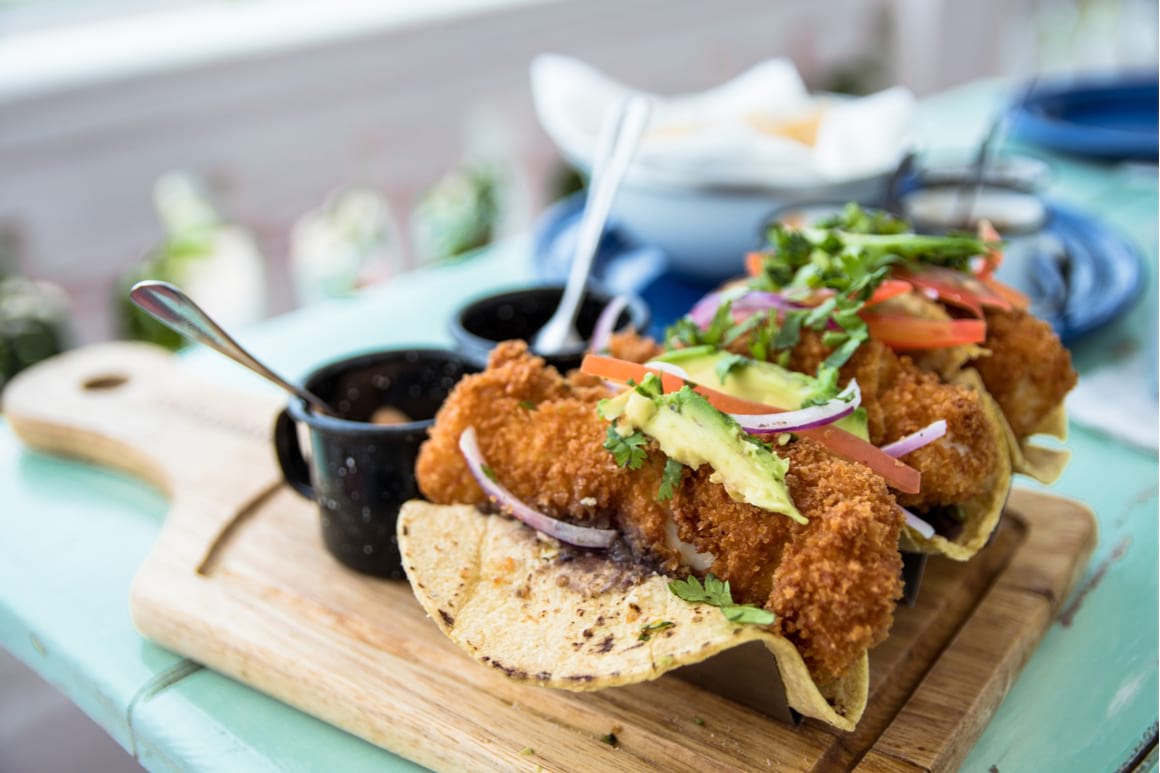 If you're a foodie, then you'll love learning how to cook a few Mexican classics. There are a whole host of different Mexican cooking classes in Cancun, which often include a trip to the market to source local ingredients beforehand.
Cancun Food Tours is just one school on offer, who'll actually take you to one of Cancun's top restaurants. Learn to use traditional utensils, insider tips & tricks on cooking Mexican food, and ultimately have a recipe or two to take back with you.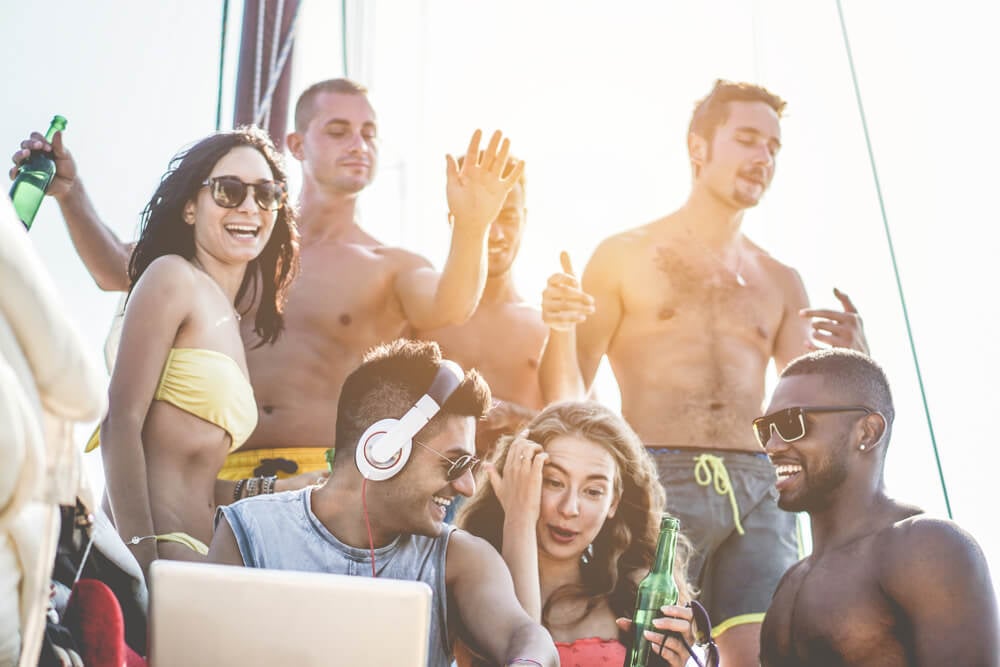 One of the top things to do in Cancun, of course, is to party. Cancun is classic Spring Break territory, but it doesn't have to be Spring Break for you to get involved in the action. Enjoy the sun, sea and atmosphere on a classic boat party.
Climb onboard one of the boats leaving from Marina Kaybal and prepare yourself for mayhem. There'll be chances to snorkel, so we recommend getting boozy after your dive to stay safe. There'll be plenty of chances to have a drink after, and watching the sunset over the city from the water is pretty special, too.
Is This the Best Daypack EVER???
11. Indulge in Tacos and Local Beer
Mexico is known for creating some top class (adult) beverages, and beer is certainly one of them. What better way to wind down from a day of exploring than enjoying a plate of tacos with a cold one.
Gorging yourself on tacos is, obviously, part of the Mexican travel experience. You'll find loads of taco joints, but some of the best are Tacos Rigo in Downtown, El Polilla (at the Market) and Taco y Tequila.
12. Dive Into the Beautiful Sian Ka'an Biosphere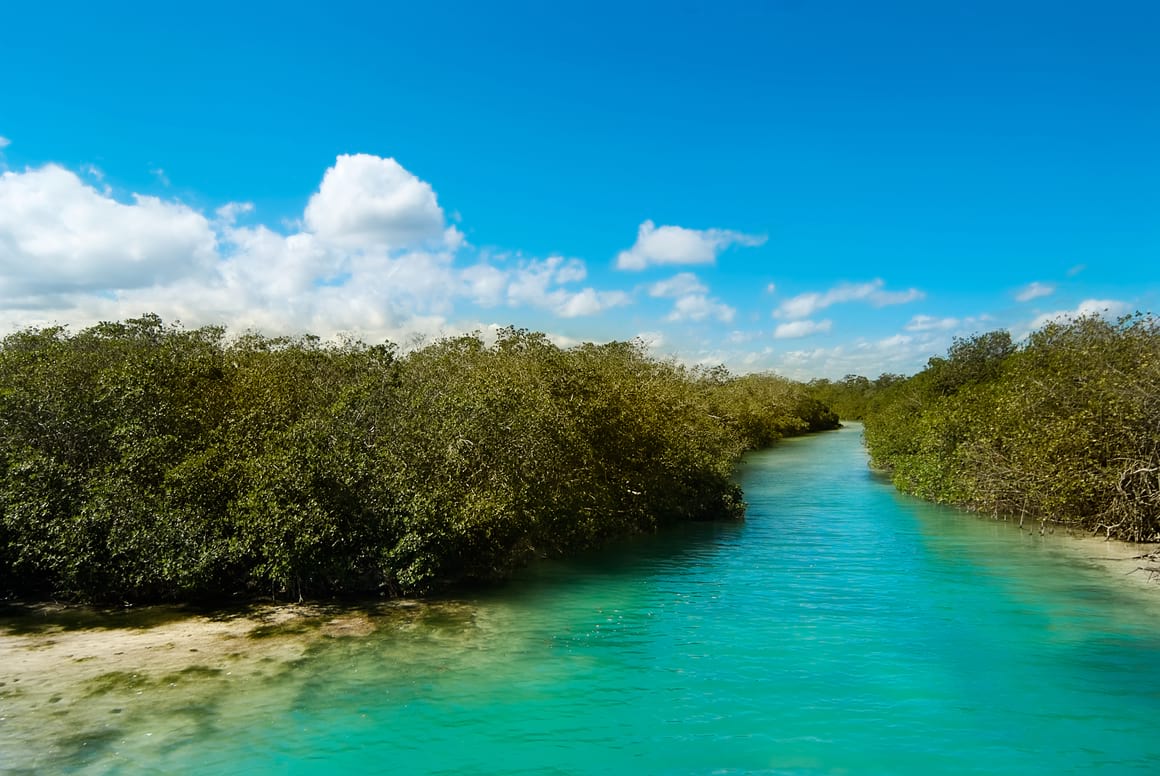 Mexico is within reach of some of the best wild- and marine life around, so no trip to Cancun would be complete without some sort of nature experience! The Sian Ka'an Biosphere Reserve is just south of Cancun, and can be explored by boat.
One of the most noteworthy parts of the reserve is the Boca Paila Bridge – which is where the lagoon meets the Caribbean Sea. It's here that you'll be able to spot wild crocodiles, as well as dolphins, manatees, sea turtles and tropical birds.
13. Crawl around Cancun's caves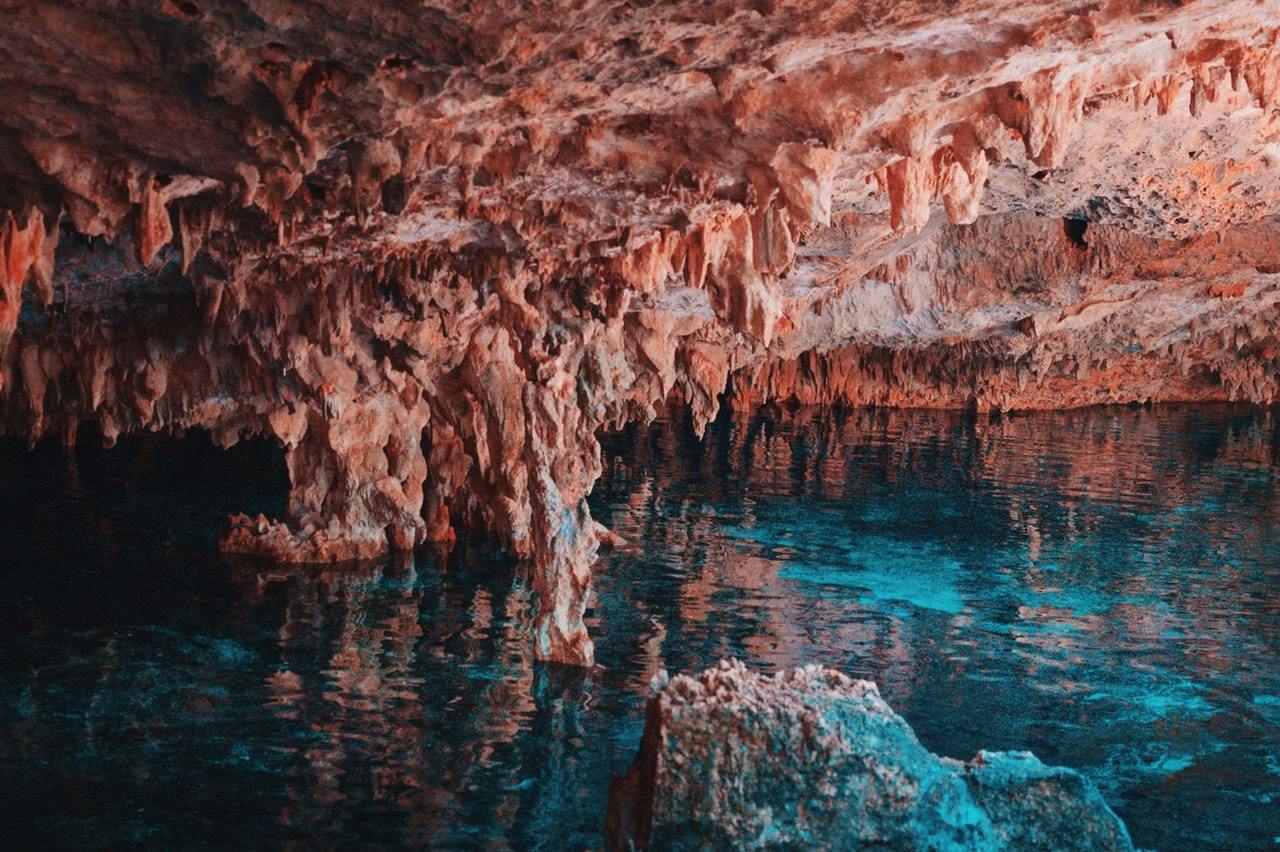 Caving won't be everyone's cup of tea, but if it's yours, then we would recommend the adventurous and thrilling visit to some recently discovered caves near Cancun.
Not only will you get to see a cool collection of stalactites and stalagmites, but there's also a connection between these caves and the ancient Mayan people. The best way to experience caving is to not go by yourself, but to go with a guide from a company like Contoy Excursions.
14. Experience the Jungle on Horseback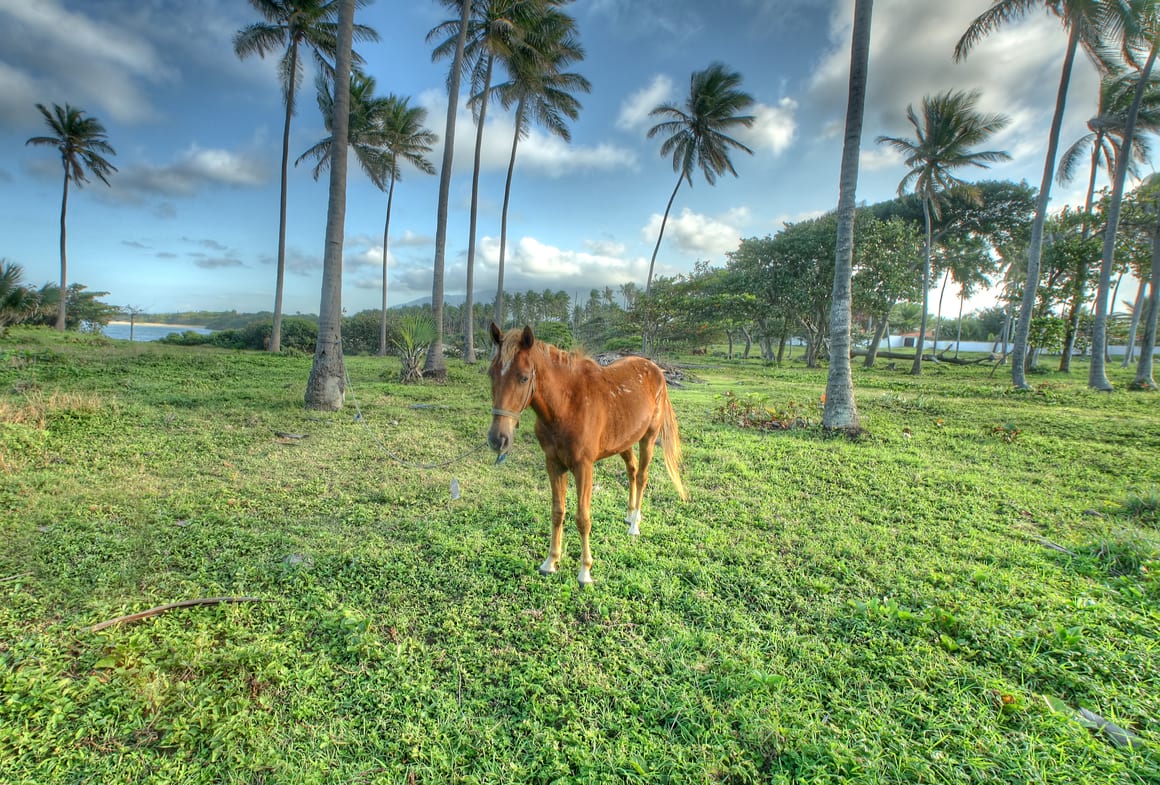 If you love the outdoors and want to experience the jungle, why not do it on horseback! Head to Cancun Polo Club for the chance to ride through tropical jungles and over pristine private beaches.
It's a chilled day out, so don't worry if you haven't done this sort of thing before. The guide will tailor the whole trip to your needs, whether you're a beginner rider or horseback connoisseur.
Travel with peace of mind. Travel WITH a security belt.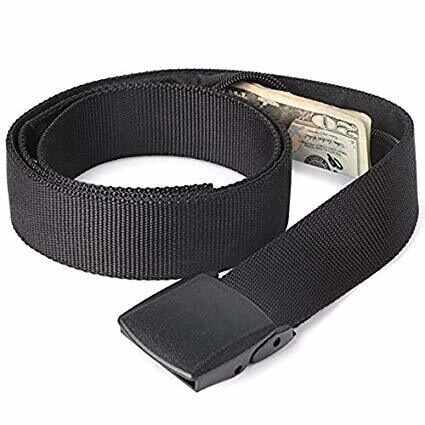 Stash your cash safely with this money belt. It will keep your valuables safely concealed, no matter where you go.
It looks exactly like a normal belt except for a SECRET interior pocket perfectly designed to hide a wad of cash, a passport photocopy or anything else you may wish to hide. Never get caught with your pants down again! (Unless you want to…)
Hide Yo' Money!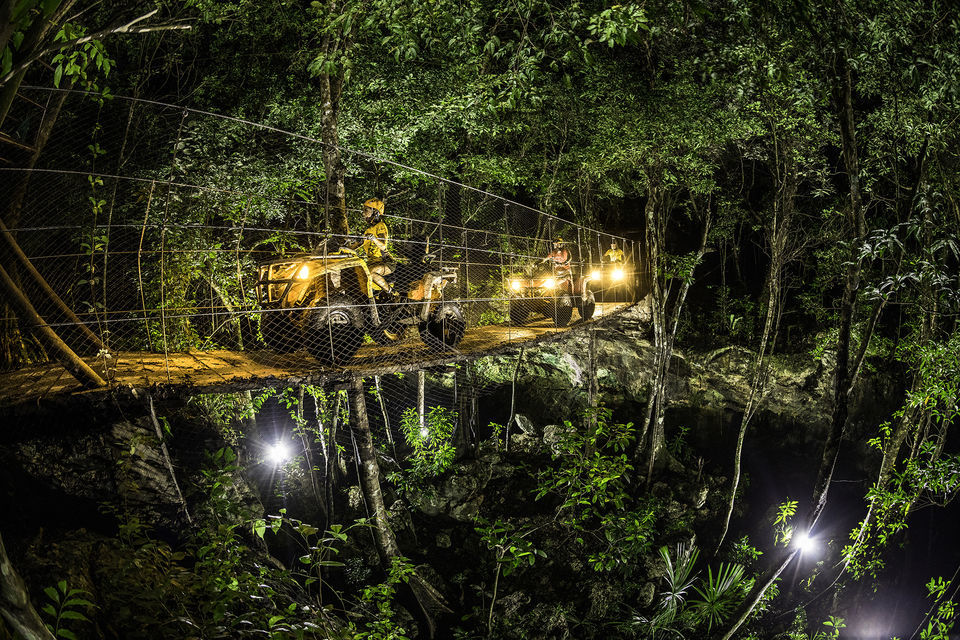 If you want to experience the jungle with an added adrenaline factor, check out this ATV jungle tour. Not only will you see the jungle – you'll also have the option to take a dip in a cenote, and participate in a temazcal session.
The tour itself is a 3.5 hour round-trip, giving you time to ride around the jungle, fly above the trees on 3 zip lines, and enjoy some traditional Mexican snacks. It's a truly unique experience in Cancun.
16. Zipline over the Treetops
The Riveria Maya is pretty famous for a lot of things, especially the jungles. Enjoy a stunning view of the treetops from the zip lines in Xplor Park for a truly unique experience.
These are 7 lines and some long runs to enjoy. One of the lines actually passes through a waterfall, so bring clothes you don't mind getting wet!
17. Go Bird Watching in the Jungle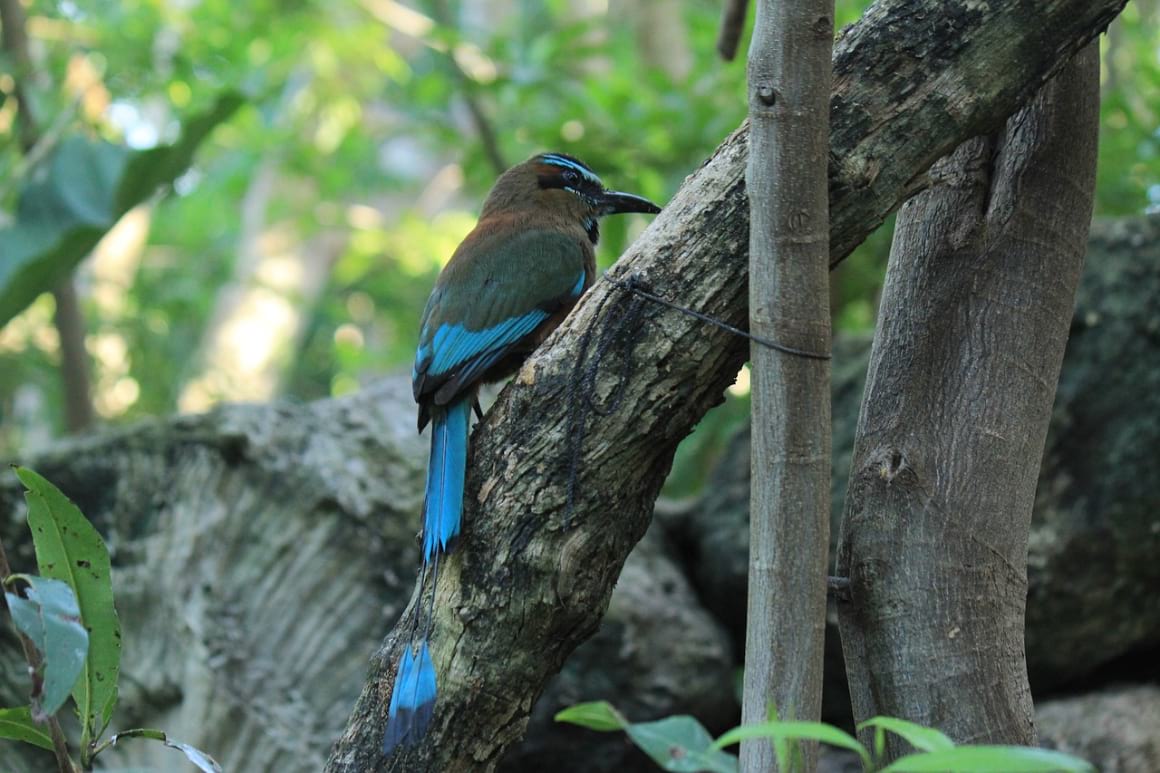 Birdwatching may not sound thrilling where you're from, but Riviera Maya birdwatching is something entirely different. The birds you'll get to see here are colourful, exotic and rare – we're talking truly unique and next level birdwatching.
Thousands of migratory birds make their way to the Yucatan Peninsula at different times of the year, making this a great thing to do in Cancun regardless of when you're visiting. Glimpse tropical gnatcatchers, Yucatan jays, orange orioles, and cinnamon hummingbirds, to name just a few of around 90 species.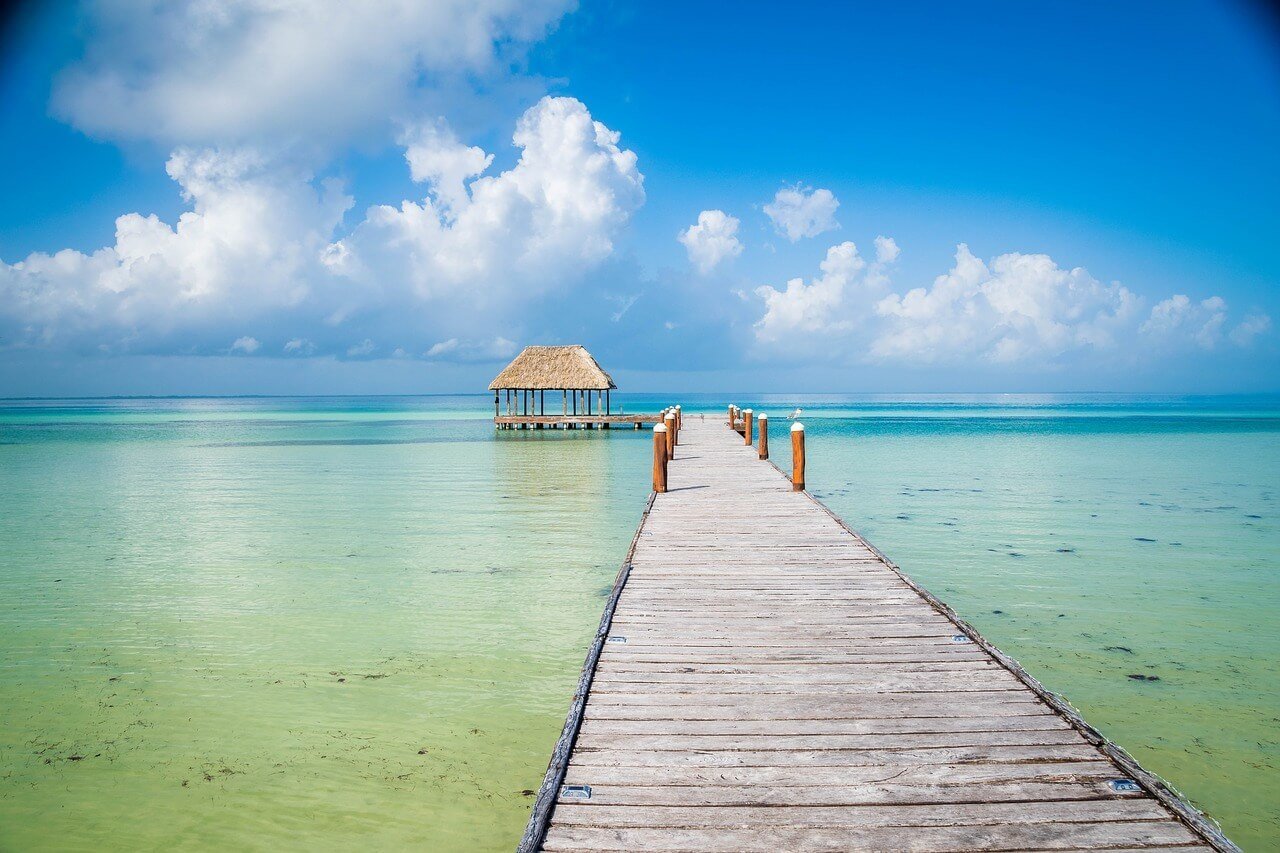 Nothing quite says "tropical vacation" like journeying to your very own paradise beach in Mexico. Make your way to Isla Holbox for a secluded and romantic getaway from the hustle and bustle of the Hotel Zone.
It's a car-free island with a laid-back village and plenty of white sand beaches. Well away from the big hotels and loud music of Cancun, Holbox is a great thing to do in Cancun for couples. There aren't even any paved streets, so you'll get to beach hop driving around on golf carts instead of cars.
19. Stroll around Market 28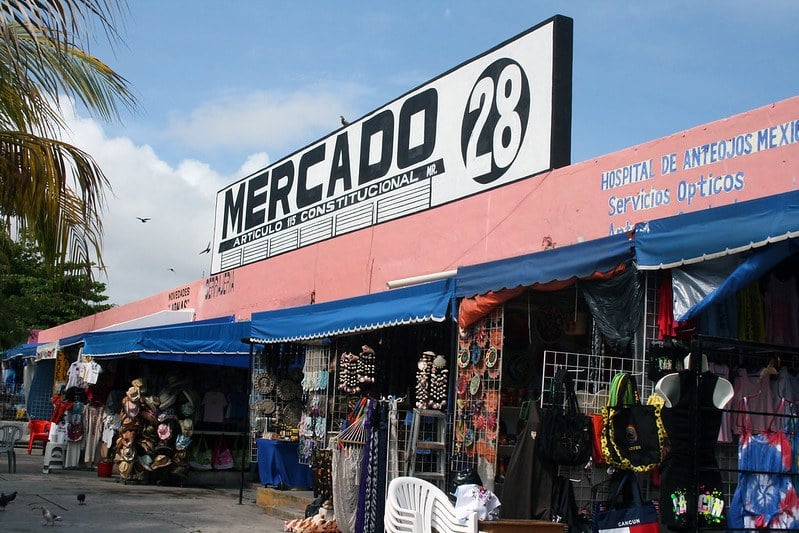 There's nothing quite like strolling around a market. They're an awesome way to experience a culture, so you should definitely hit up a local market in Cancun.
Market 28 is a flea market in Downtown Cancun, a must-see if you feel like grabbing a few unusual knick-knacks. If you don't fancy spending your money or you're traveling on a tight budget, just walking around the market makes for a great day out.
Entrance: Free
Hours: 08:00-19:00
Address: Xel-ha Mz 13, 28, 77509 Cancún, Q.R., Mexico
20. Hit up the Night Clubs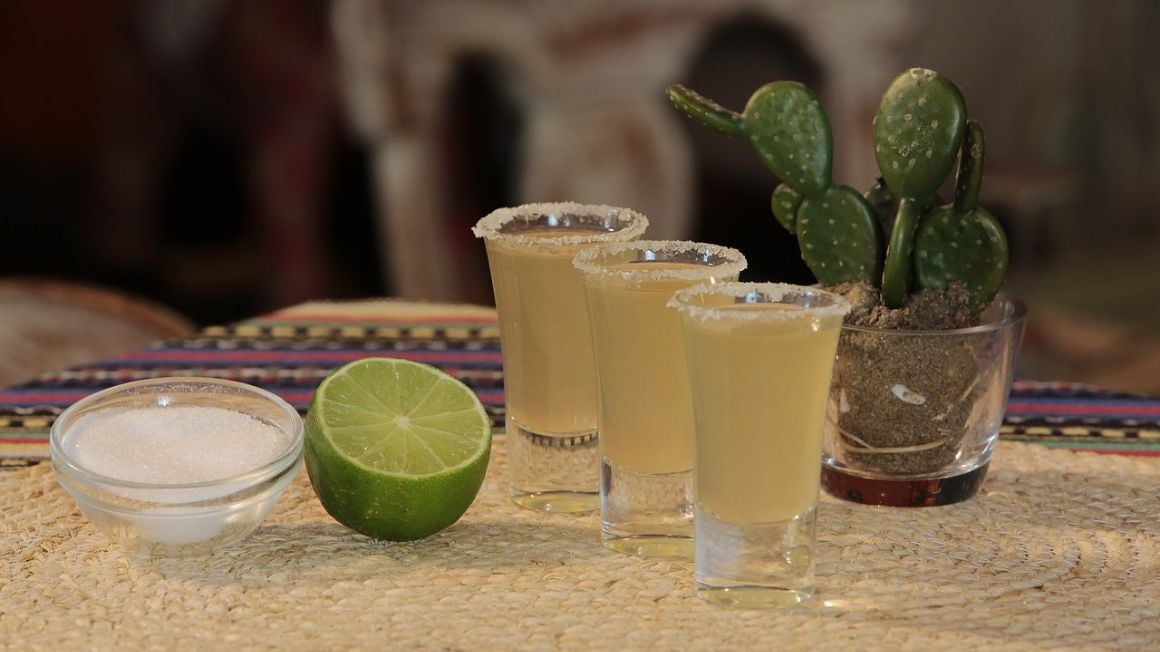 It's time to party, but this time on dry land. There are a bunch of pretty famous places to drink and dance until the early hours in Cancun, so definitely hit them up while you're there! Congo Bar is a good for a drink on the terrace and maybe a spot of beer pong, for starters.
Legendary Cancun drinking spot Señor Frogs is more full-on – the sort of place you can start busting out a few dance moves. Congo Bongo will be the place to finish up, and comes complete with acrobatic shows, live music and that sweet Mexican liquor.
Save $$$ • Save the Planet • Save Your Stomach!
Drink water from ANYWHERE. The Grayl Geopress is the worlds leading filtered water bottle protecting you from all manner of waterborne nasties.
Single-use plastic bottles are a MASSIVE threat to marine life. Be a part of the solution and travel with a filter water bottle. Save money and the environment!
We've tested the Geopress rigorously from the icy heights of Pakistan to the tropical jungles of Bali, and can confirm: it's the best water bottle you'll ever buy!
View on REI
Read the Review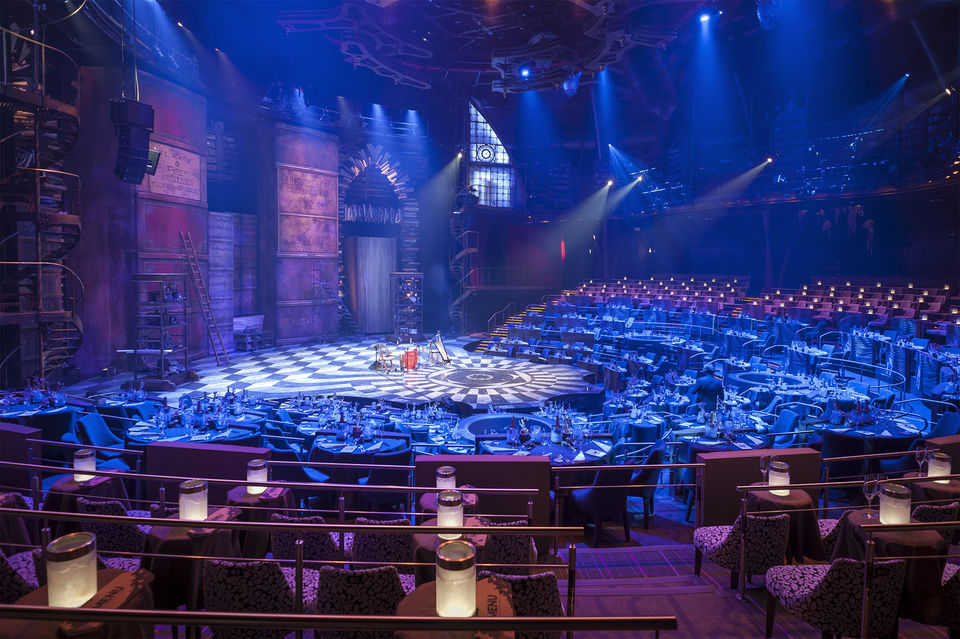 This is actually the first-ever Cirque du Soleil to not be in the United States and, accordingly, has been given a Mexican makeover. Joya is the story of an alchemist and his granddaughter as they travel through a mangrove swamp, searching for the secrets of life.
Grab yourself a ticket; it may not cheap, but it is worth it for a special way to spend the night in Cancun. It's suitable for people of all ages, and is truly spectacular to see.
Entrance: varies by show
Hours: 17:00-22:00 (Tuesday-Saturday)
Address: Carretera Federal, Cancun – Chetumal Km 48, 77710 Playa del Carmen, Q.R., Mexico
22. Party on a colourful barge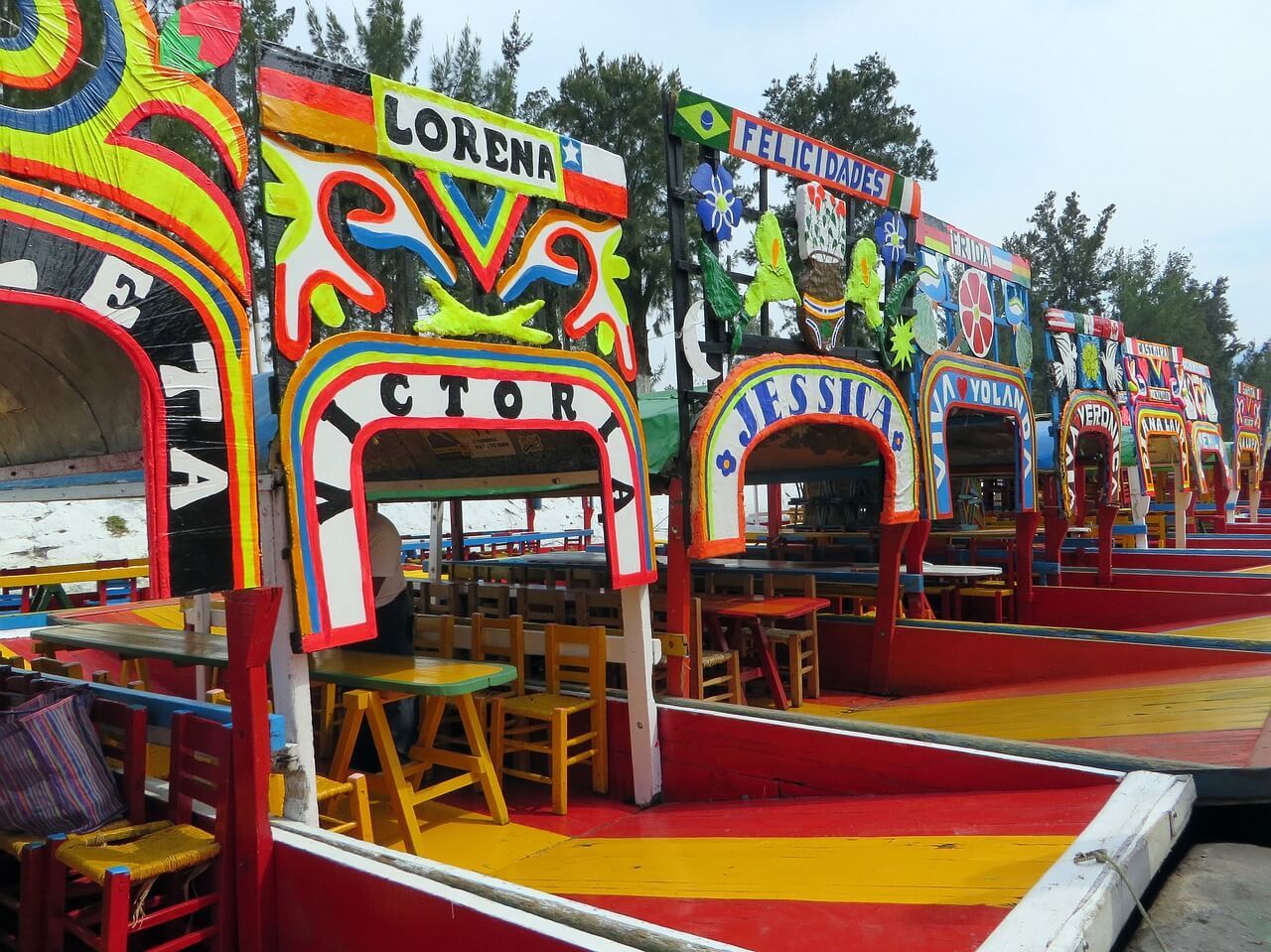 If you're looking for something maybe just a little bit more sophisticated than club nights or booze cruises, look no further than having a Mexican fiesta on a traginera (sort of like a gondola). It's one of the best things to do in Cancun at night, so get your hostel buddies together and book yourself onto one of these awesome boats.
You'll get treated to mariachi bands, traditional Mexican food and a fair bit of drink, all whilst floating around on the mad, neon-lit tragineras along jungle canals. It's a dinner party with a difference combined with a slice of Mexican heritage – what's not to like?
23. Watch the sunset at Playa Delfines
Sitting on the undeveloped Playa Delfines and catching a sundowner is easily one of the best things to do in Cancun. It's a great way to end the day (or start off the night).
It's an easy bus ride from the city, making it convenient if you're staying on the other side of town. There's also a wooden lookout where you can get some great shots of the sun setting over the ocean. It's pretty stunning.
Entrance: Free
Hours: Open 24 hours
Address: Punta Nizuc – Cancún 335, Zona Hotelera, 77500 Cancún, Q.R., Mexico
24. Get your adrenaline pumping on a flyboard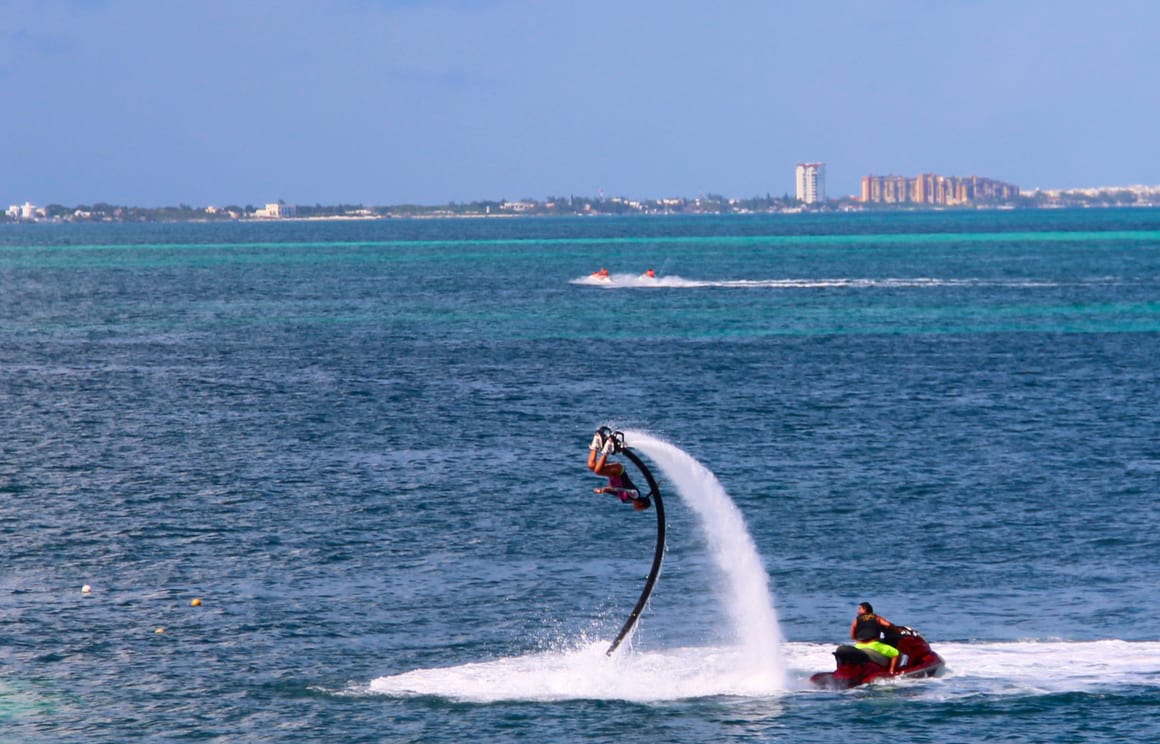 If you've ever wanted to fly through the air on a water-powered jetpack, here's your chance.
Is this the future? Possibly. If you're not so sure about it, heading to the Hotel Zone and watching others being propelled by jets of water can be pretty entertaining. You've got to be 12 years or older, which makes it a pretty fun thing to do in Cancun with older kids.
Where to Stay in Cancun
Looking for a specific place to stay? These are our highest recommendations for places to stay in Cancun.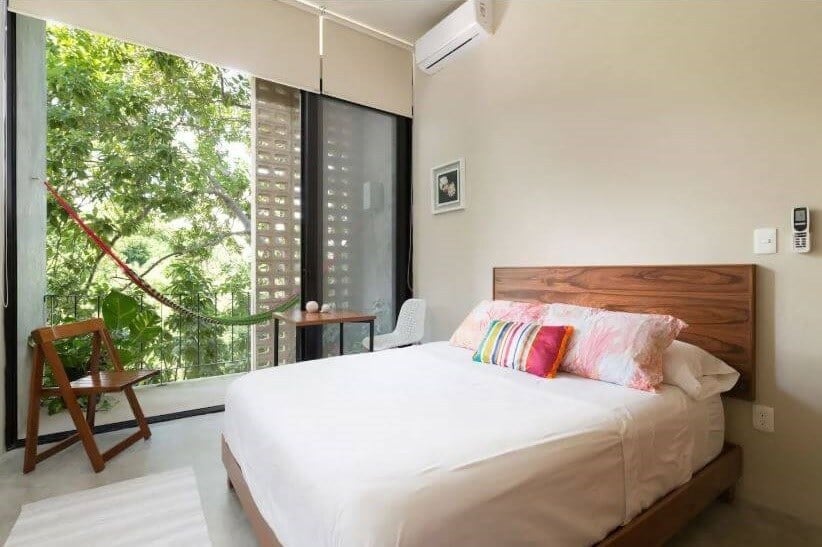 This Airbnb in Cancun has an incredible central location that's close to everything, but peaceful enough for you to get a good nights sleep. It's modern, beautifully decorated and has everything you need for a comfortable stay. The studio sleeps 2 guests, so it's perfect for couples or solo travelers.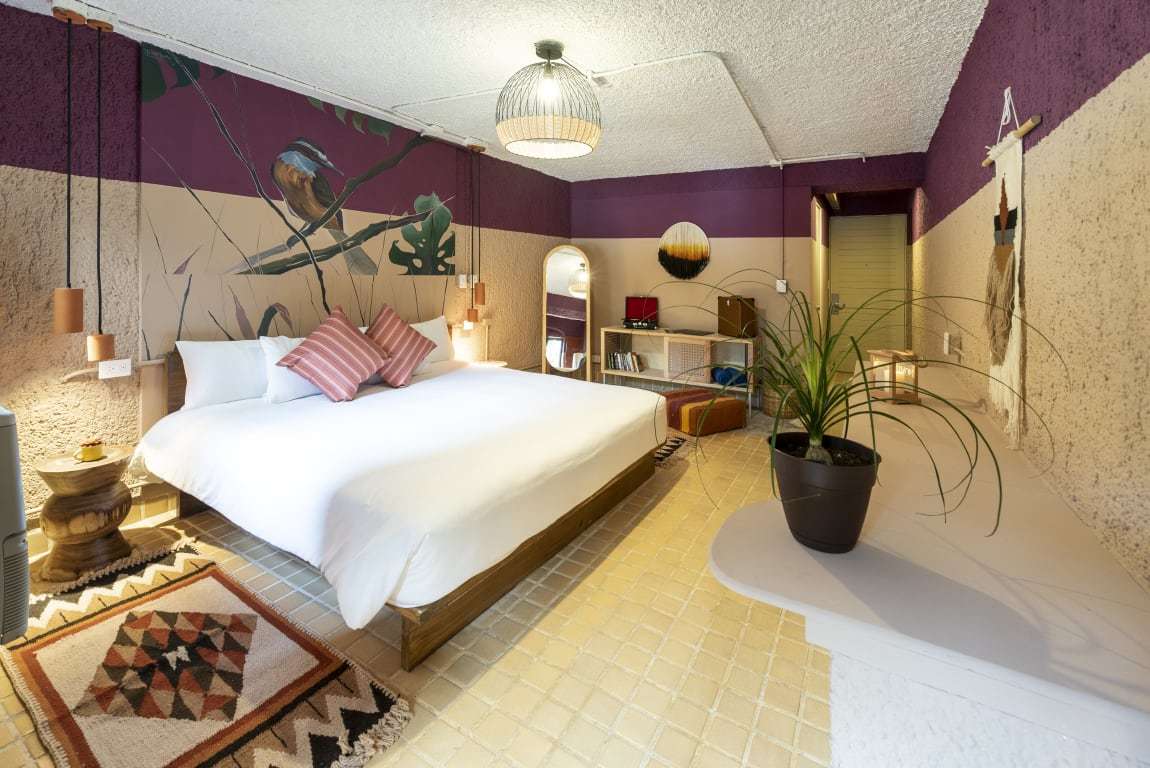 If you want to hit the beach while you're here or join the nearby parties, this Selina hostel is perfectly positioned. The property boasts a resort-style pool, yoga deck, a movie room, and an excellent restaurant and bar. This place is one of the best hostels in Cancun and a steal for the price.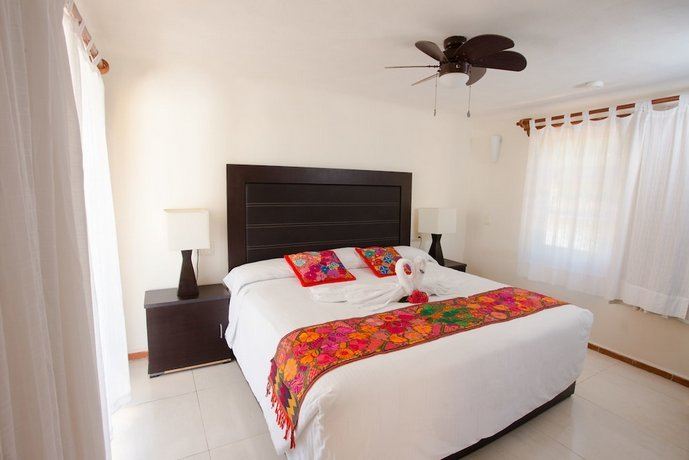 Hotel La Joya Isla Mujeres is our choice for the best hotel in Cancun. Just steps from the sea, this hotel has a private beach, outdoor pool, and a restaurant and bar. It's charming and cosy and has just 11 rooms, so make sure to book well in advance.
If you need some other inspiration for places to stay in Cancun, check out our guide on vacation rentals in Mexico that has a good selection of options.
Some Additional Tips for Visiting Cancun
Invest in travel insurance! You never know what may happen on the road.
Learn to haggle. Cancun is a traveler hotspot, and many souvenir shops will take advantage of unassuming tourists. Never accept the first price offered to you and haggle your way down to avoid getting ripped off!
Don't use taxis. Taxis charge a lot in Cancun, so avoid using them if you can. Buses are a much cheaper alternative.
Bring a good water bottle with you and avoid buying single-use plastic ones!
Don't get caught up in the Hotel Zone. Cancun's Hotel Zone has everything you could possibly need, but make sure to trek beyond the area to make the most of your trip.
That being said, avoid unfamiliar areas at night. While Cancun is relatively safe to visit, it's best to steer away from non-tourist areas as these will have higher levels of crime.
Find cheap flights. Every once in a while, a killer deal pops up.
FAQ on Things to Do in Cancun
Here are some quick answers to common questions about what to do and see in Cancun.
Don't forget your travel insurance for Cancun
ALWAYS sort out your backpacker insurance before your trip. There's plenty to choose from in that department, but a good place to start is Safety Wing.
They offer month-to-month payments, no lock-in contracts, and require absolutely no itineraries: that's the exact kind of insurance long-term travellers and digital nomads need.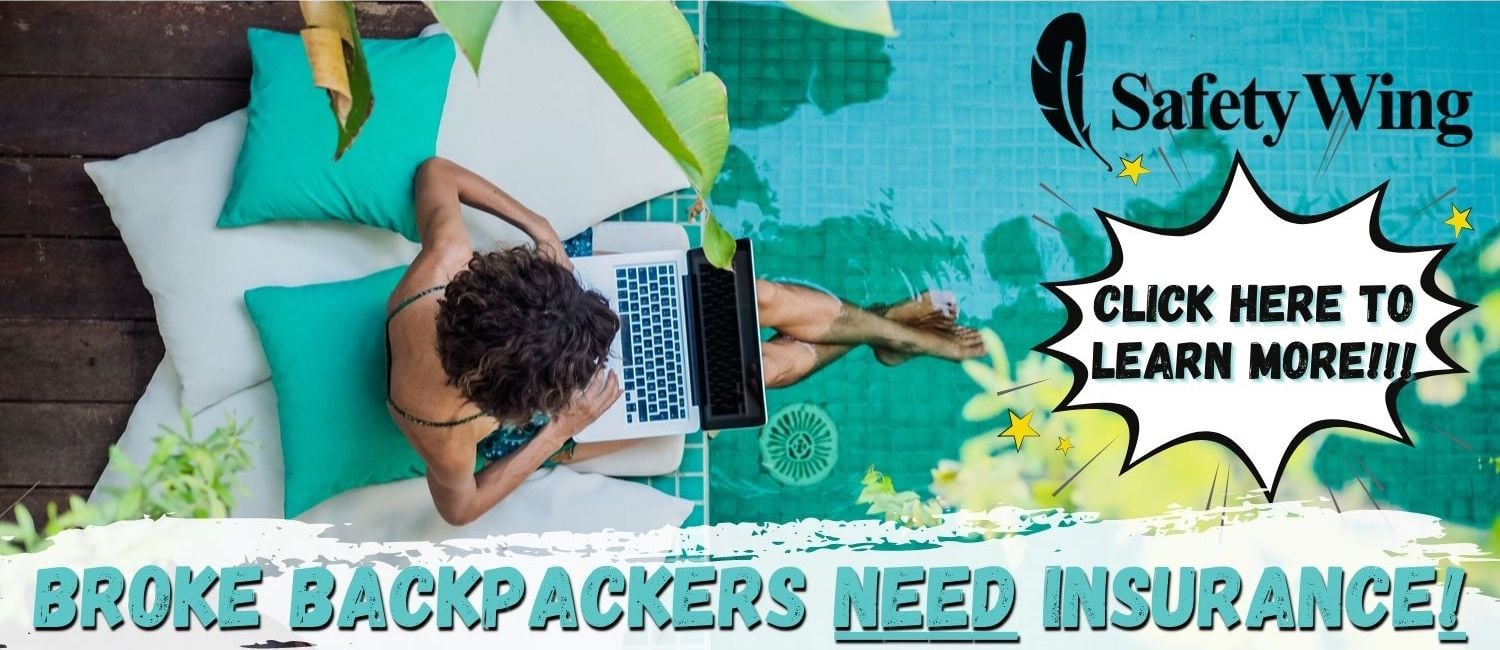 SafetyWing is cheap, easy, and admin-free: just sign up lickety-split so you can get back to it!
Click the button below to learn more about SafetyWing's setup or read our insider review for the full tasty scoop.
Final Thoughts
Cancun is known both as a party town and as a gateway to some admittedly stunning historical Maya sites. There's so much to see and do in the area, so there'll be something for you no matter your group size, budget, or interests.
No matter where you stay in Cancun, you'll be sure to find authentic and adventurous activities at every turn. We hope this guide has given you some inspiration for the best things to do in Cancun!
---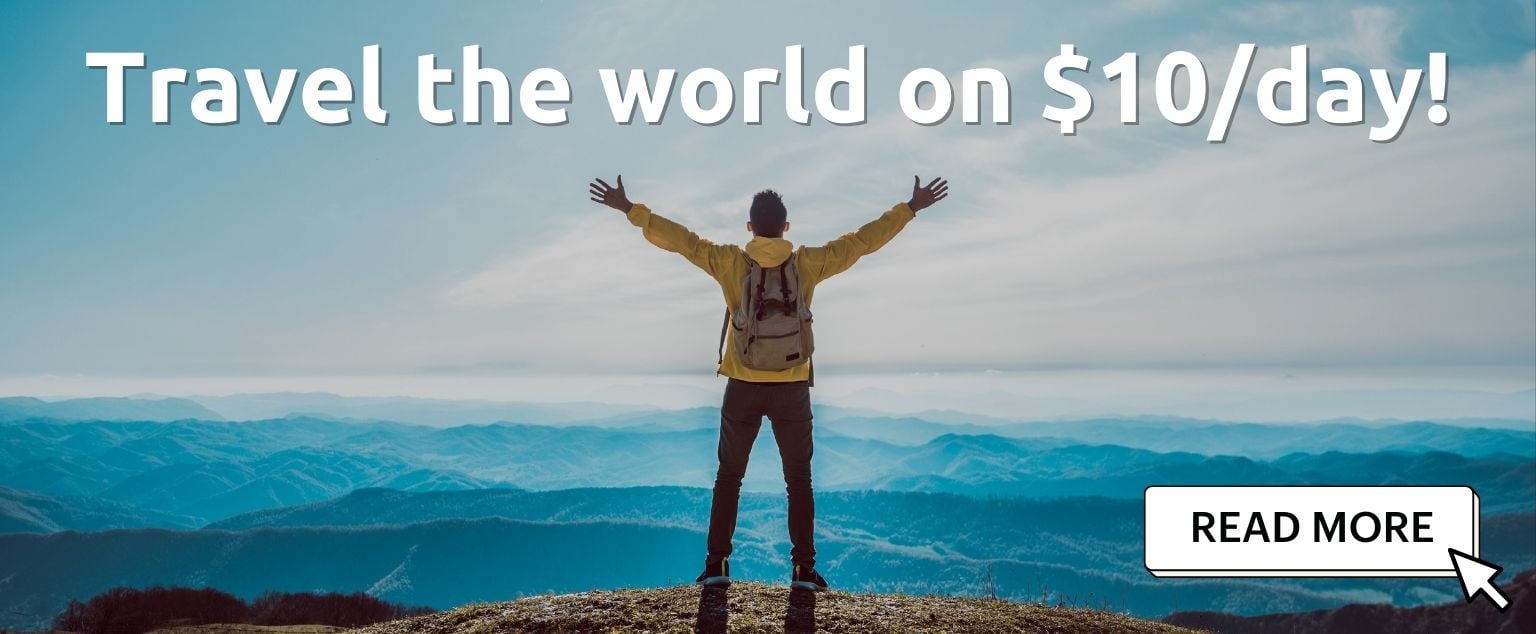 And for transparency's sake, please know that some of the links in our content are affiliate links. That means that if you book your accommodation, buy your gear, or sort your insurance through our link, we earn a small commission (at no extra cost to you). That said, we only link to the gear we trust and never recommend services we don't believe are up to scratch. Again, thank you!