The Lake District is the United Kingdom's most visited and most loved national park. Beyond the lakes that you'd expect from the name, you'll also find some of the highest peaks in the UK, wonderful walking trails, and lots of quaint towns and villages where you can stop off. And yep, they'll all have a country pub!
While you might be tempted by the idea of a pint, hold on just a moment. The best way to see the Lake District is by car. While it may seem a challenge packing it all in, having your own transport is the best chance you've got. It's a good idea to keep a few days aside to make the most of your road trip in the Lake District.
That's where we come in. We've put together a list of the best road trips in the Lake District. Our comprehensive guide means you can skip the hard work and go straight to packing!

Do You Want to Travel FOREVER??
Pop your email in below to get a FREE copy of 'How to Travel the World on $10 a Day!'.
Why Road Trip in the Lake District?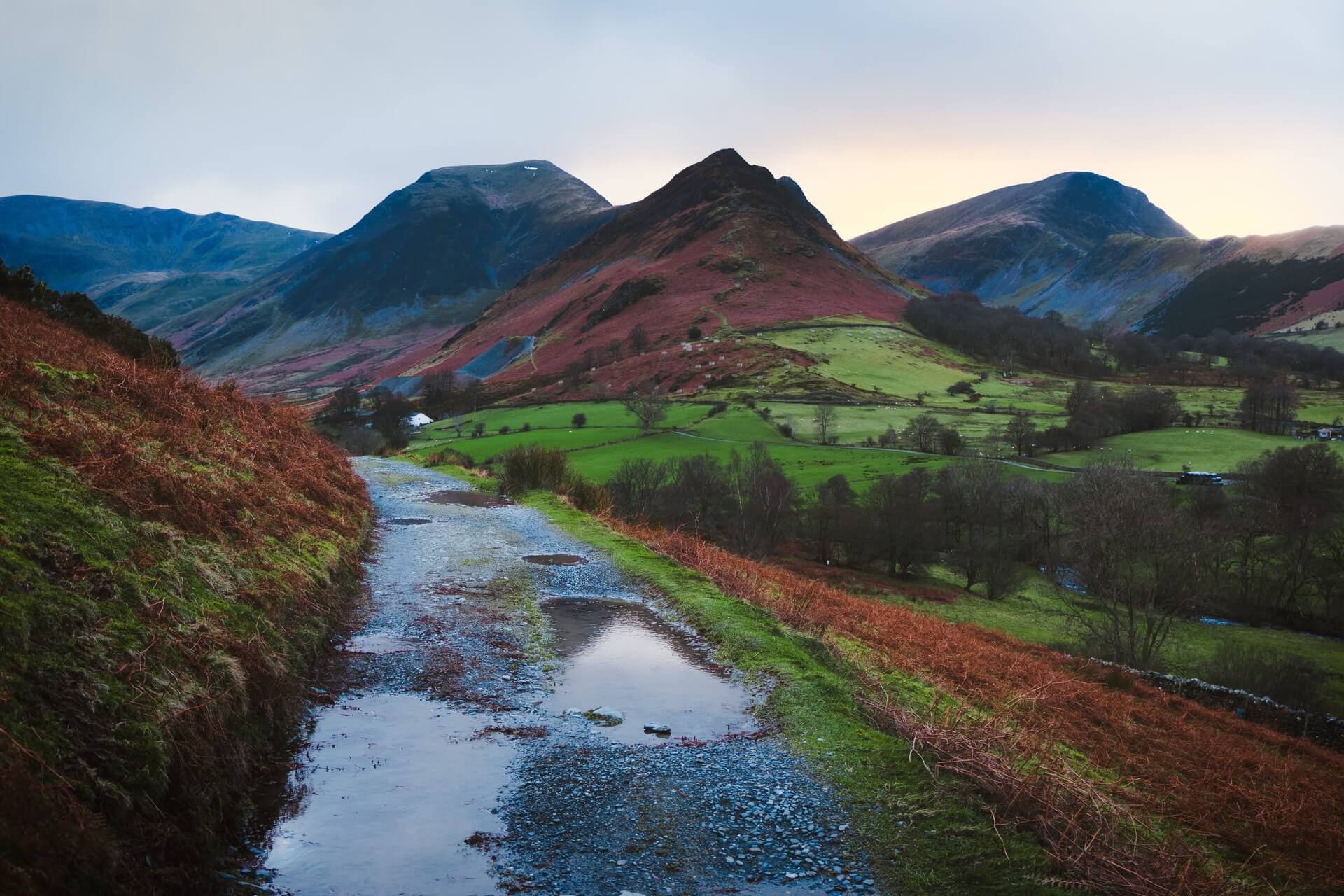 If you still need to be convinced, let us twist your arm; we won't need to do it very hard! The list of reasons to road trip in the Lake District is endless, but here are the top five.
Outdoor adventure: With more than 200 fells (hills) and 16 lakes, the Lake District National Park is a paradise for walkers and cyclists. While some fells are more difficult to climb than others, you can reach the summit of them all without overnight camping.
Pubs: After a day out on the fells, there's nothing better than walking into a country pub. Warm up by the roaring fire and rest your aching limbs with a hearty meal and a pint of local ale.
Awesome accommodation: From campsites, Airbnbs or hostels in Lake District, you'll find some of the most stunning places to stay in the UK here.
Literature: It's not all about outdoor activities; there are several fascinating museums in the area which tell the stories of the best-known literary names associated with Lakeland.
Public transport (or lack of): While we'd prefer to stick to positive reasons to road trip in the Lake District, we can't ignore the lack of public transport. Yes, you'll easily get between the main towns, but without a car, the best bits are inaccessible.
We're not sure what else we can do to encourage you to visit the Lake District. Perhaps we don't need to do anything! Before we show you our Lake District road trips, let's get some of the boring stuff out of the way first.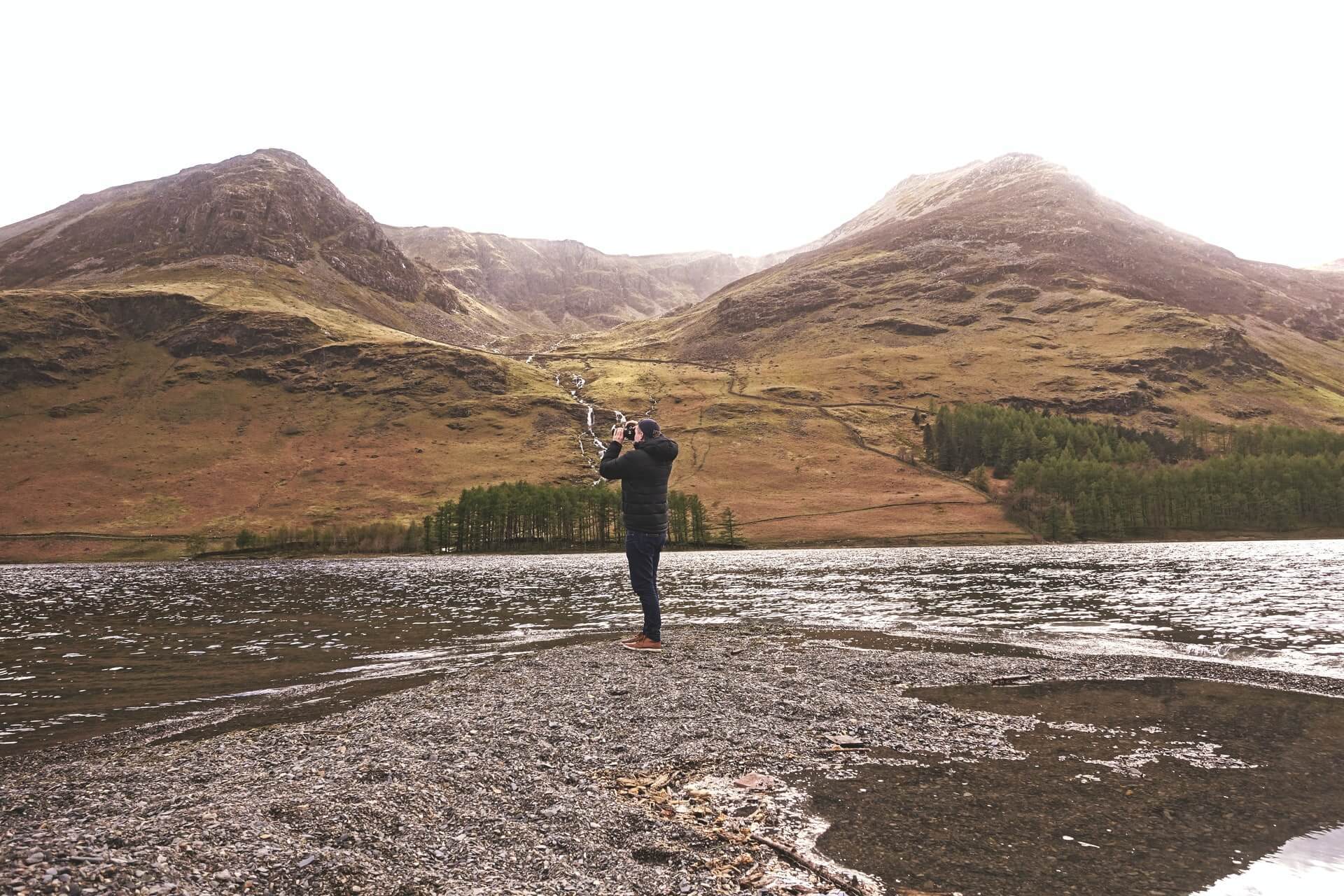 From: Penrith
To: Whitehaven
Total Distance: 71.3 miles/114.7km
Days: 3
Top Road Trips Stops: Ullswater, Keswick, Buttermere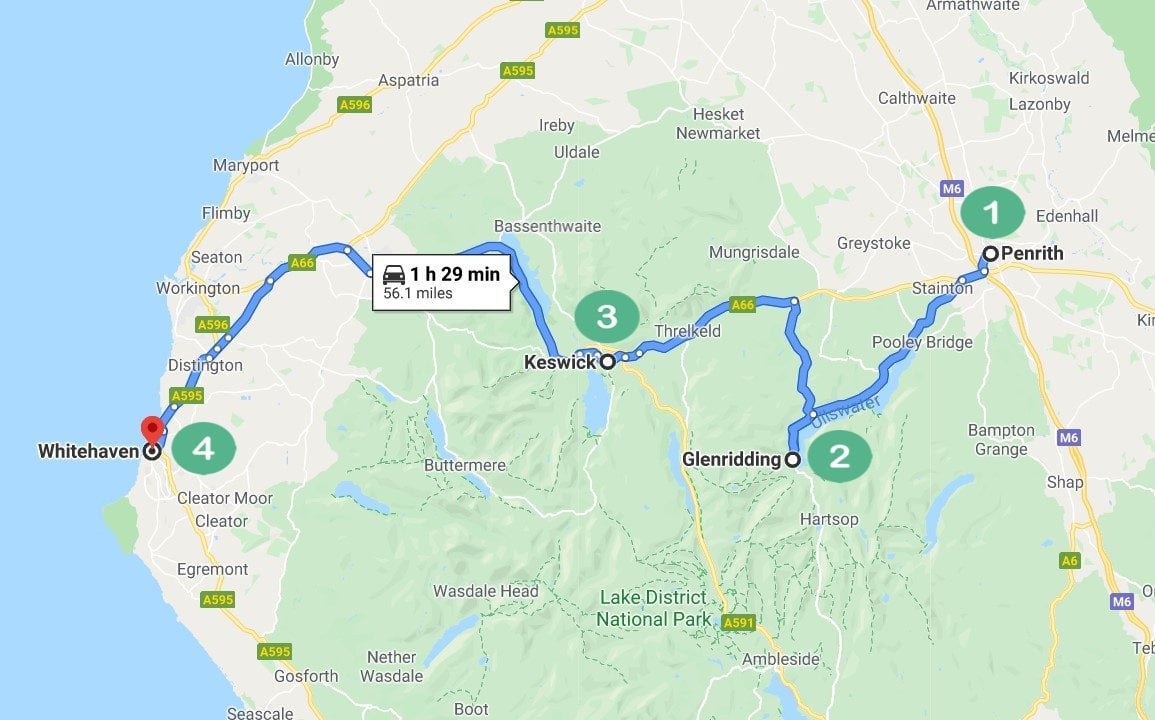 Starting in the north of the Lake District, this scenic drive will start off outside the Lake District in Penrith. There are some Lake District icons on this road trip – including the Ullswater steamers, Helvellyn, and the largest town in the lakes, Keswick. You'll get to see the peaceful village of Buttermere before ending at the coast. Get ready for a pretty easy drive that you can stretch out over a few days or pack into a couple. It depends on how many walks you want to enjoy!
Road Trip Highlights:
Ullswater Steamers
Helvellyn
Castlerigg Stone Circle
Keswick Town Centre
Honister Pass
Day 1: Penrith to Glenridding (0.5 hours)
Begin your trip slightly outside of the Lake District at Penrith. One of the largest towns in Cumbria, you'll easily be able to pick up anything you need for your trip in terms of food and camping equipment. Head for the village of Glenridding, a great base for climbing Helvellyn. It's 712 metres at its highest point. If you don't want to climb the fell, take a cruise on one of the iconic Ullswater steamers or walk to Aira Force Waterfall.
Day 2: Glenridding to Keswick (0.5 hours)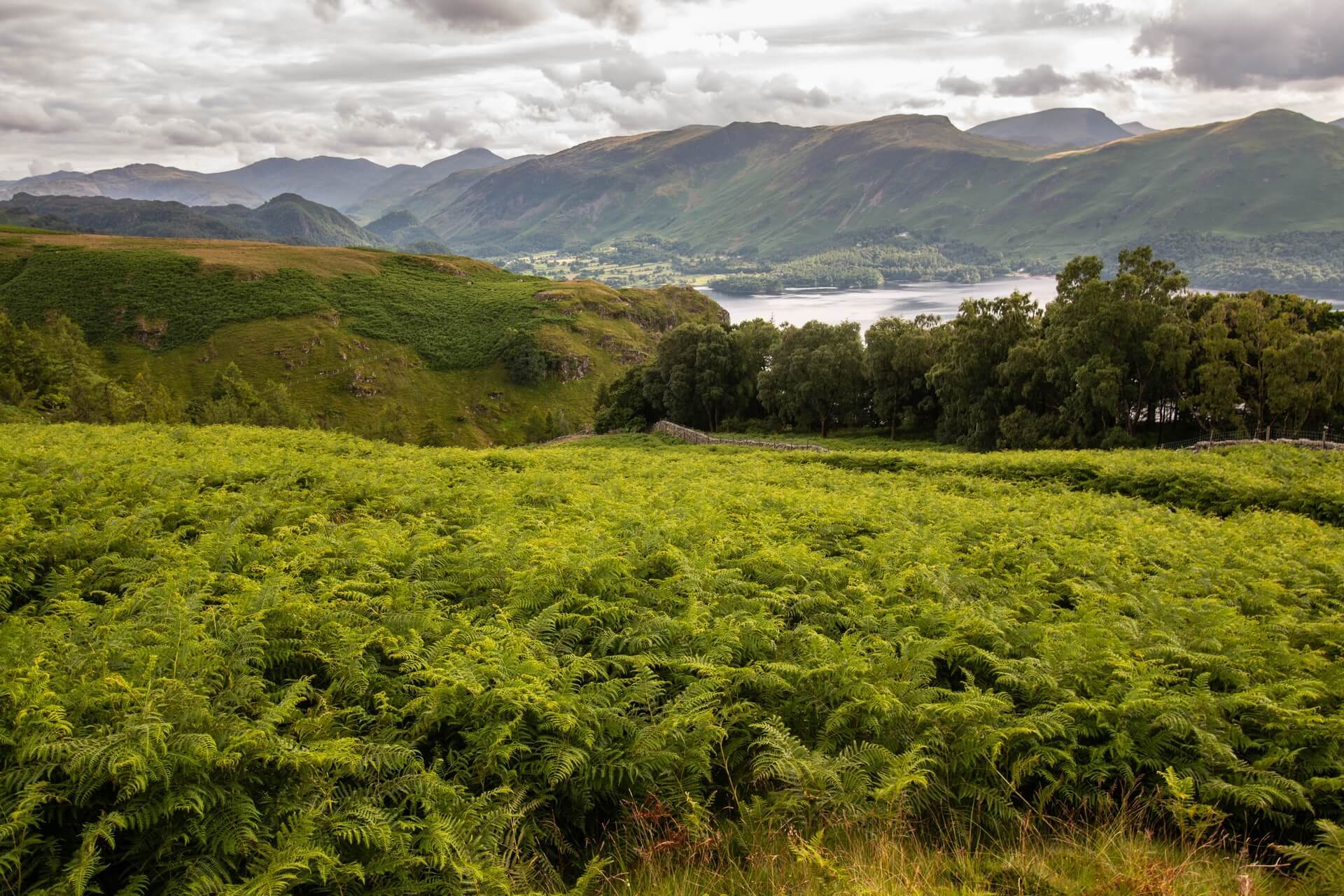 Next, it's onto the largest town in the Lake District – Keswick. On the way, be sure to pull off the dual carriageway to visit Castlerigg Stone Circle. This mysterious stone circle is said to be the most dramatic in England – it certainly has the best views! Leave for the outskirts of Keswick, where you can stop at the Cumberland Pencil Museum. Then, spend a leisurely afternoon wandering around the town and exploring the market. Take a walk on Derwentwater, too.
Day 3: Keswick to Whitehaven (1.5 hours)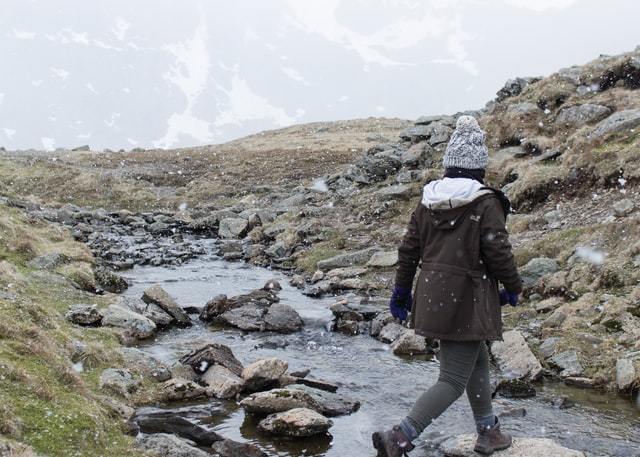 Leave Keswick early to experience one of the most scenic roads in Britain. The mostly single track Honister Pass is one of the highest roads in Cumbria, travelling from the Borrowdale Valley to Buttermere. It's not for the faint-hearted! Stop off at the Honister Slate Mine, which has some epic activities on offer. Then head to the quiet village of Buttermere for a recovery walk and food. Then it's onto your last stop – Whitehaven, on the coast!
Is This the Best Daypack EVER???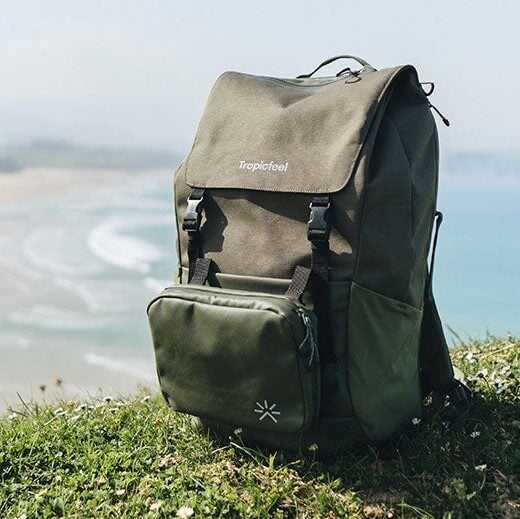 We've tested countlessday packs over the years, but the Tropicfeel Shell is something else. There are a lot of flashy backpacks on the market but not many come with a detachable wardrobe.
Weatherproof, eco-friendly, durable, feature-loaded, and comfy as fudge brownies: these are just some of the words people might use to describe the Tropicfeel Shell. But we just call it bloody beautiful.
Learn More • View on Tropicfeel
Small Pack Problems? 😉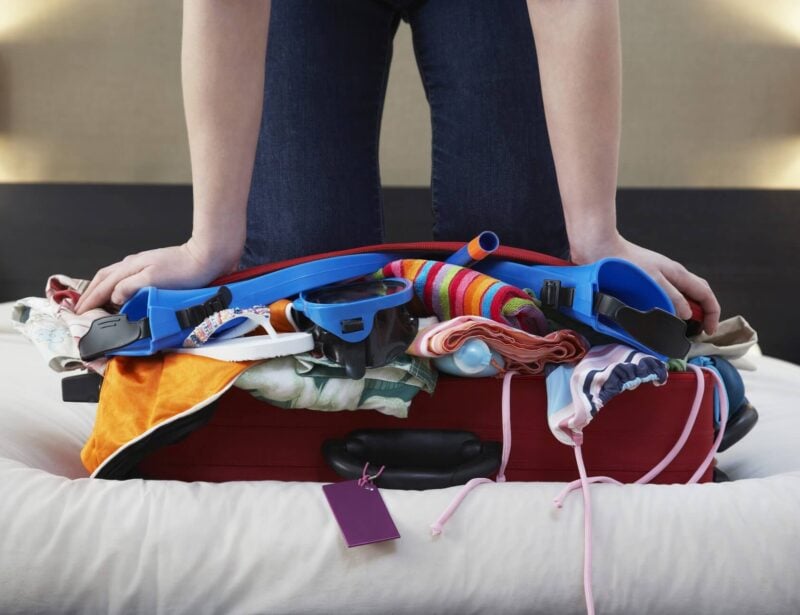 My missus travels with all her clothes in ziplock bags: don't be like my missus. UP YOUR PACKING GAME!
Packing cubes for the globetrotters and compression sacks for the real adventurers – these babies are a traveller's best kept secret. They organise yo' packing and minimise its volume too so you can pack MORE.
Or, y'know… you can stick to ziplock bags.
View Our Fave Cubes
Or Check Out the Sacks!
From: Grasmere
To: Ambleside
Total Distance: 51.8 miles/83.4km
Days: 2-3
Top Road Trips Stops: Grasmere, Ambleside, Bowness on Windermere, Hawkshead, Coniston Water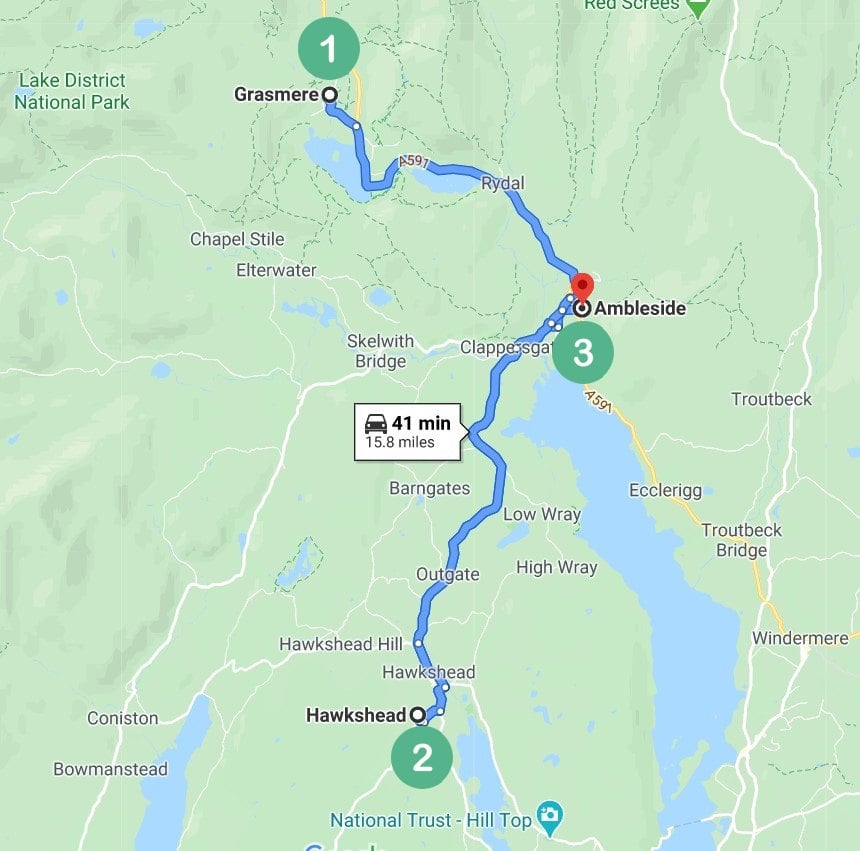 If you're into literature, this is the best road trip in the Lake District. As well as the largest lake in England (and Coniston Water) you'll be visiting museums dedicated to Wordsworth and Beatrix Potter. There are some beautiful walks here, too, and you can stop off for a spot of shopping in Ambleside and Bowness on Windermere.
Road Trip Highlights:
Wordsworth Museum
National Trust – Hill Top
Lake Windermere
Tarn Hows
Coniston Water
Day 1: Grasmere to Hawkshead (1 hour)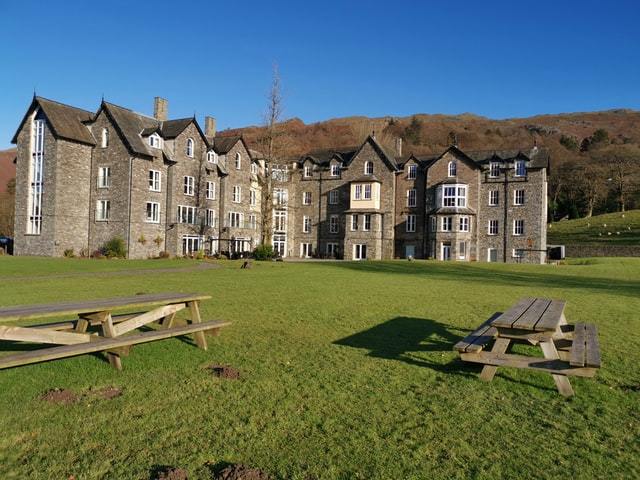 This Road Trip begins in Grasmere. But before you jump in the car, check out the fascinating Wordsworth Museum. Drive south to the largest lake in England – Windermere. Skip Ambleside as you'll be back tomorrow, and head for Bowness. It's always busy, and there are loads of places to eat and drink with a view of the lake. Then, take the Windermere car ferry across if you don't want to drive the whole distance and head for Hill Top House – Beatrix Potter's former home. Stay the night in Hawkshead.
Best Stops: Wordsworth Museum, Ambleside, Bowness on Windermere, National Trust – Hill Top
Where to Eat: The Magic Roundabout, Bowness on Windermere, The Drunken Duck Inn, The Little Ice Cream Shop
Where to Stay: YHA Hawkshead, Field Cottage, The Old School House
Day 2: Hawkshead to Ambleside (1 hour)
Today, you'll be visiting another of the beautiful lakes in the area. After leaving Hawkshead, you'll stop almost immediately to take a walk around Tarn Hows. A popular beauty spot, it can be busy, but it's well worth visiting. Explore the cafes and shops of Coniston Village before visiting the lake itself, where Donald Campbell attempted the water speed record. For those who want to hike, the Old Man of Coniston is a circular walk that provides fantastic views and can be done in under four hours. After leaving the village, head back to Ambleside via Elterwater village.
Best Stops: Tarn Hows, Coniston Village, The Old Man of Coniston, Monk Coniston (Beach), Elterwater Village
Where to Eat: The Bluebird Cafe, Steam Bistro, Lake Road Kitchen
Where to Stay: YHA Ambleside, Ghyll Pool Cabin, Styhead Tarn Lodge
From: Ravenglass
To: Drigg
Total Distance: 31.4 miles/50.5km
Days: 1-2
Top Road Trips Stops: Eskdale Green, Dalegarth Station, Scafell Pike, Drigg Beach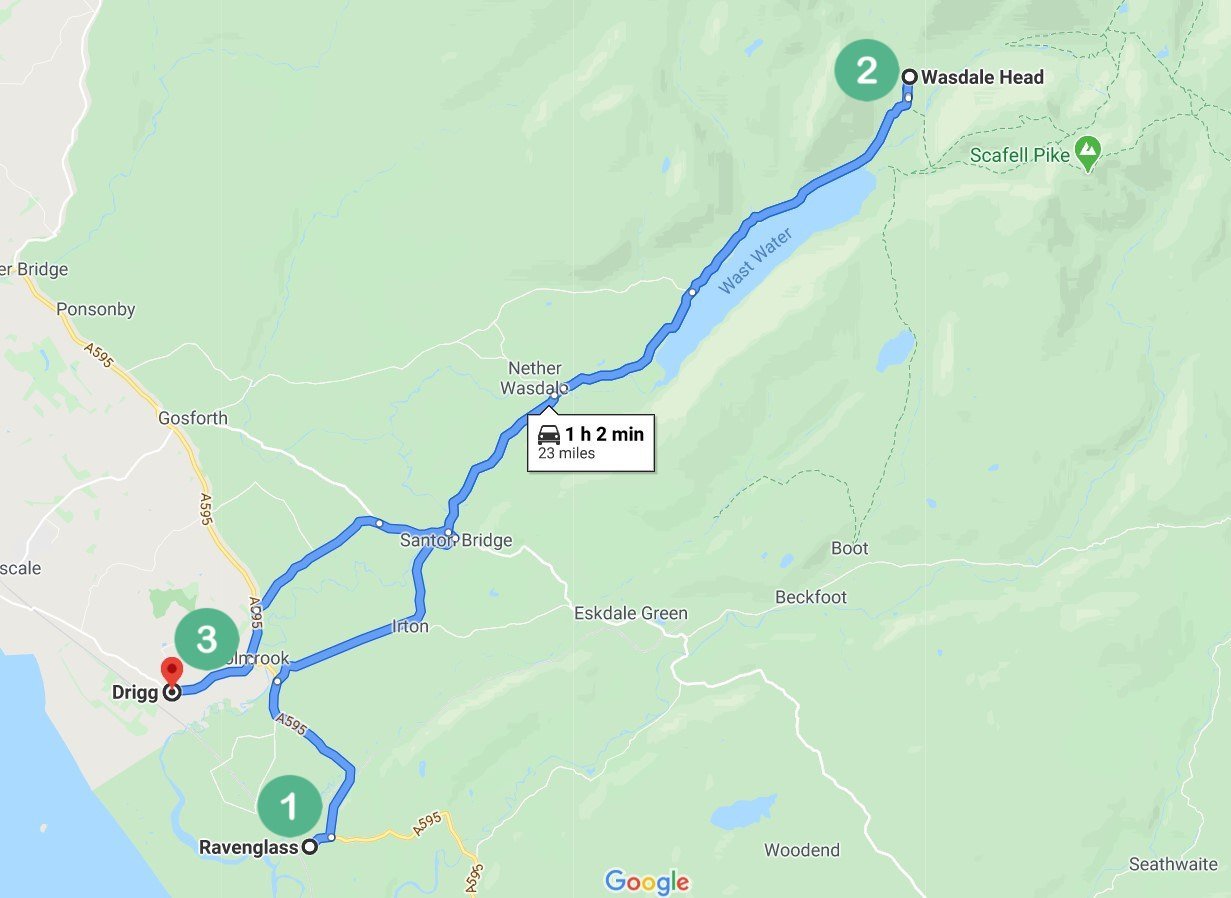 Another short drive to get to know the best of the southern Lake District. This one can be done in a day if you're really in a rush! However, it's much better to spend the night at a lovely Airbnb on Wastwater before an early morning climb to the top of Scafell Pike. For those who aren't bothered about ticking England's highest peak off their list, there are miniature railways, beaches, and pretty villages to get excited about!
Road Trip Highlights:
Ravenglass Roman Ruins
Scafell Pike
Day 1: Ravenglass to Wasdale Head (1 hour)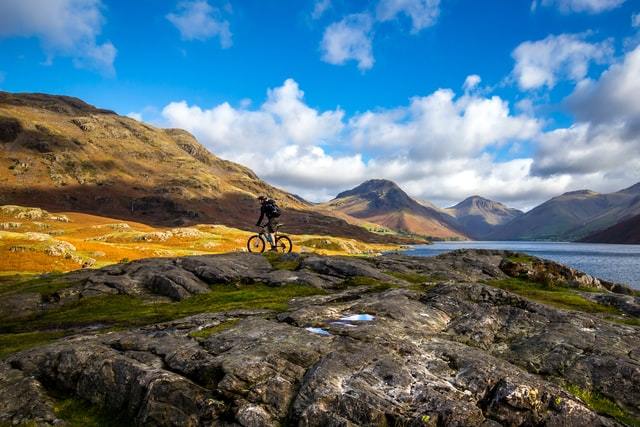 Start in the only coastal village in the Lake District – Ravenglass. Before getting into your car, consider checking out the Roman Ruins – they're seriously impressive! You can drive, but consider taking the Ravenglass & Eskdale Railway to Dalegarth Station. This classic miniature steam train is a wonderful way to learn about the area's history and take in the views. If you've driven, check out the Japanese Garden and Giggle Alley woodland.
Then, it's onto your stop for the night. Wastwater is said to have "Britain's favourite view." It's the deepest lake in England, making it popular with divers. This remote area is a great place to stop for the night before an early morning walk.
Day 2: Wasdale Head to Drigg (0.5 hours)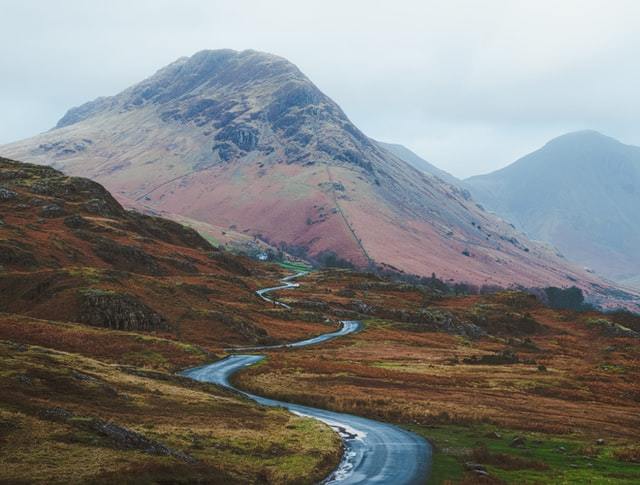 We've kept day two quite short – especially if you use the morning to climb Scafell Pike. That'll take five or six hours even in good weather. Even if you don't want to climb the mountain, there are some pretty walks from Wasdale Head anyway. Carry on down to Nether Wasdale, for a well-earned lunch – however far you've walked. Then, providing the weather is good, finish your trip off at Drigg and its beach. The uncrowded stretch of sand is lined by dunes!
From: Ambleside
To: Ambleside
Total Distance: 117 miles
Days: 4-5
Top Road Trips Stops: Lake Windermere, Glenridding, Keswick, Scafell Pike, Coniston Water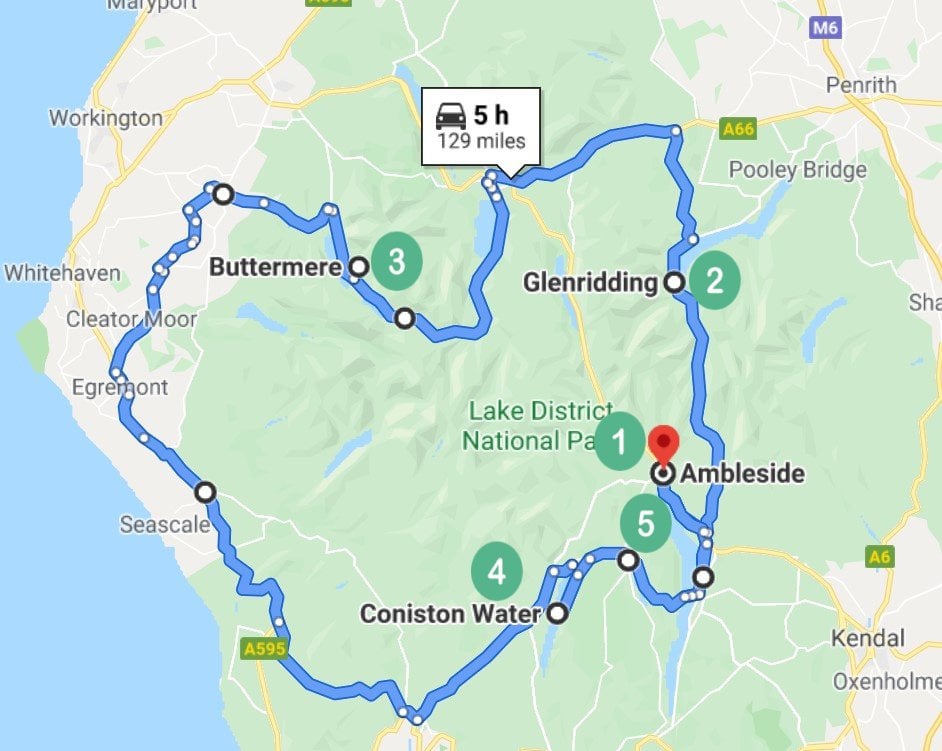 Last but not least, let us give you the ultimate tour of the Lake District. We've already been over some of the cool places to visit and things to do on the list; this route will help you incorporate all of them into just one trip. This will give you everything – visit the most beautiful lakes, tackle the highest hills, and find the base for great walks. All that with great places to eat, drink, and sleep thrown in too. Good for those who have up to a week to spend in Northern England. Like the others, it's not hard to stretch or condense this trip!
Road Trip Highlights:
Helvellyn
Keswick
Honister Pass/Buttermere
Scafell Pike
Coniston Water
Windermere
Day 1: Ambleside to Glenridding (0.5 hours)
Since this is a loop, you can start anywhere you like on the trip. However, since Ambleside is in the central lakes and one of the largest and busiest towns, it's an easy place to get your bearings. Day one has the least driving, and you'll be heading south along the pretty north shore of Windermere before heading north up to Glenridding. Take in the stunning views along the Kirkstone Pass before you stop and decide whether to explore Ullswater or climb Helvellyn!
Day 2: Glenridding to Buttermere via Keswick and Honister Pass (1 hour)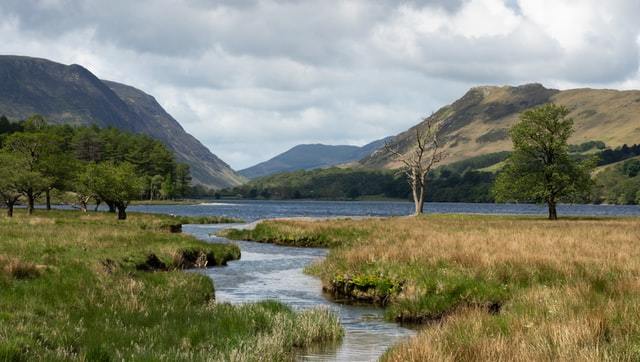 If you take the morning of day two to climb Helvellyn, consider staying the night in Keswick and leaving the tricky Honister Pass until next day. However you do it, be sure to stop at Castlerigg Stone Circle before stopping in Keswick. Wander around the market town's shops and stop for a coffee or lunch. If you didn't tackle Helvellyn, head over to Grange. There, you'll find Castle Crag – a much easier climb! Another idea is to stop at the Honister Pass slate mine on your way to Buttermere.
Day 3: Buttermere to Coniston Water (2 hours)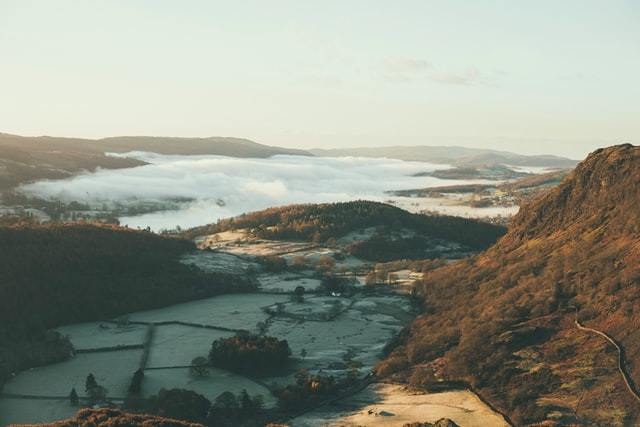 When it comes to driving, today is the heaviest day of your ultimate Lake District road trip. Not that you'll mind! On emerging from the gorgeous hill country, you'll skirt along the Cumbrian coastline. Stop off at Drigg Sand Dunes, one of the least crowded and prettiest beaches in the UK, or explore Ravenglass's ancient Roman ruins. If you have plenty of time, take a return journey on the Eskdale Railway! Don't fancy either of those things? Drive up to Wastwater – England's deepest lake. From there, numerous pretty walks await – including Scafell Pike if you have 5-6 hours. Then, it's back inland towards Coniston Water and your stop for the night.
Best Stops: Drigg Sand Dunes, Ravenglass Railway, Scafell Pike, Coniston Water
Where to Eat: The Wild Olive (Drigg), The Inn at Ravenglass, Ritson's Bar (Wasdale), Steam Bistro (Coniston)
Where to Stay: Cosy Country Cottage, Pod Cottage Howe Farm
Day 4: Coniston Water to Ambleside with Windermere loop (1 hour)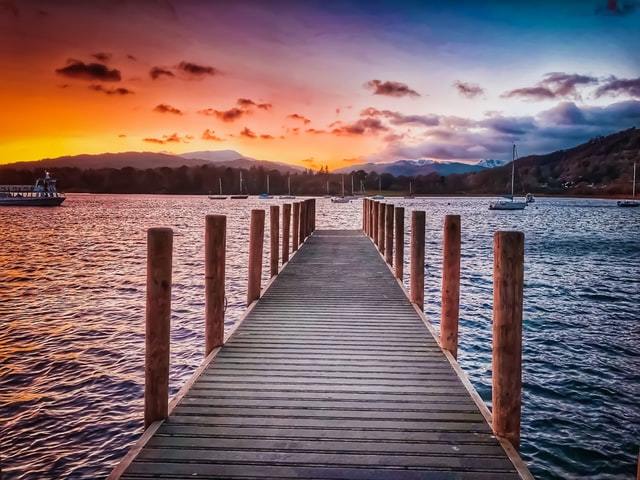 The final day of this Lake District road trip is quite a chilled one. You'll be stopping off in pretty villages; first on the list, Hawkshead. You'll have to park outside the village though as the centre is pedestrianised! Go for a wander to see what inspired Beatrix Potter and Wordsworth. Then, it's onto Potter's house – Hill Top, overlooking Windermere. After a stroll through the gardens, the final stretch sees you head for Ambleside via Bowness on Windermere. Whether you want to drive around the lake or take the ferry is up to you!
Driving in Lake District
If you already live in the UK and have your own car, that's the best way to see the Lake District. For everyone else, it'll mean renting a car. Driving in Lakeland can be nerve-wracking at times – roads are narrow, and some of the mountain passes barely have room for two vehicles to pass. However, if you enjoy driving, you'll relish the challenge. Just remember you're not a rally driver!
Renting a Vehicle in Lake District
Renting a vehicle isn't hard in the United Kingdom, though it can be expensive for solo travellers. Couples and groups can split the cost to make it more affordable. It may be best to rent a car outside of the Lake District. Kendal, Lancaster, and Carlisle are some of the nearest towns where there will be more availability.
Before renting, you should be aware of the following things before picking up your car.
Age Surcharge: UK residents can drive from 17 years old, but companies will rarely rent to someone that young. An age surcharge applies to drivers under 25; it'll usually be around £30 – £40 per day. Some companies won't even consider renting to a driver under 22 years old.
Bond/Deposit: A deposit is likely to be anywhere from £200 – £500. Many rental companies expect this to be on a credit card. Be sure to check for anything wrong with the car before driving away; you don't want to be charged for something that's not your fault!
Additional Driver Charge: It's a lot of responsibility to be the designated driver. However, starting from roughly £10 per day with most companies, you can add additional drivers.
Insurance: You can't drive in the UK without motor insurance. Knowing that, rental company insurance can often be extortionate! Save on cash and stress by checking out RentalCover.com.

Sort out your rental before your road trip in Lake District to get the best price. rentalcars.com simplifies the process at a lower cost and can match you with the right vehicle for your adventure.
Road Rules in Lake District
First and most importantly, the UK drives on the left, just like Ireland, Iceland, Cyprus, and Japan. You may find the roads in the Lake District so narrow that you're driving in the middle, though. Be sure to give way to traffic coming from the right at roundabouts.
Another important thing here is drink driving: Don't do it. While the limit allows a small amount, it's best not to have any at all. Be sure those pints are out of your system when you jump in the car the following morning.
Road rules are no stricter than any other part of the UK, but you should be aware that at times you'll be sharing thoroughfares with walkers, cyclists, and horses, as well as regular traffic. The Lake District actually has its own drivers' countryside Code of Conduct, which you can find here.
Though not a rule, it's a good idea to have a paper map with you in the Lake District. There are several spots where phone signal is impossible to find.
Now that we've got the admin out of the way, let's jump into the loveliest Lake District road trips!
Insurance in Lake District
If you're driving in the United Kingdom, you need a minimum of third party insurance cover. However, this only covers fire and theft; if you get into an accident, you'll be liable. While we hope that won't happen, it's always best to be prepared. RentalCover.com can offer fully comprehensive insurance with roadside assistance too.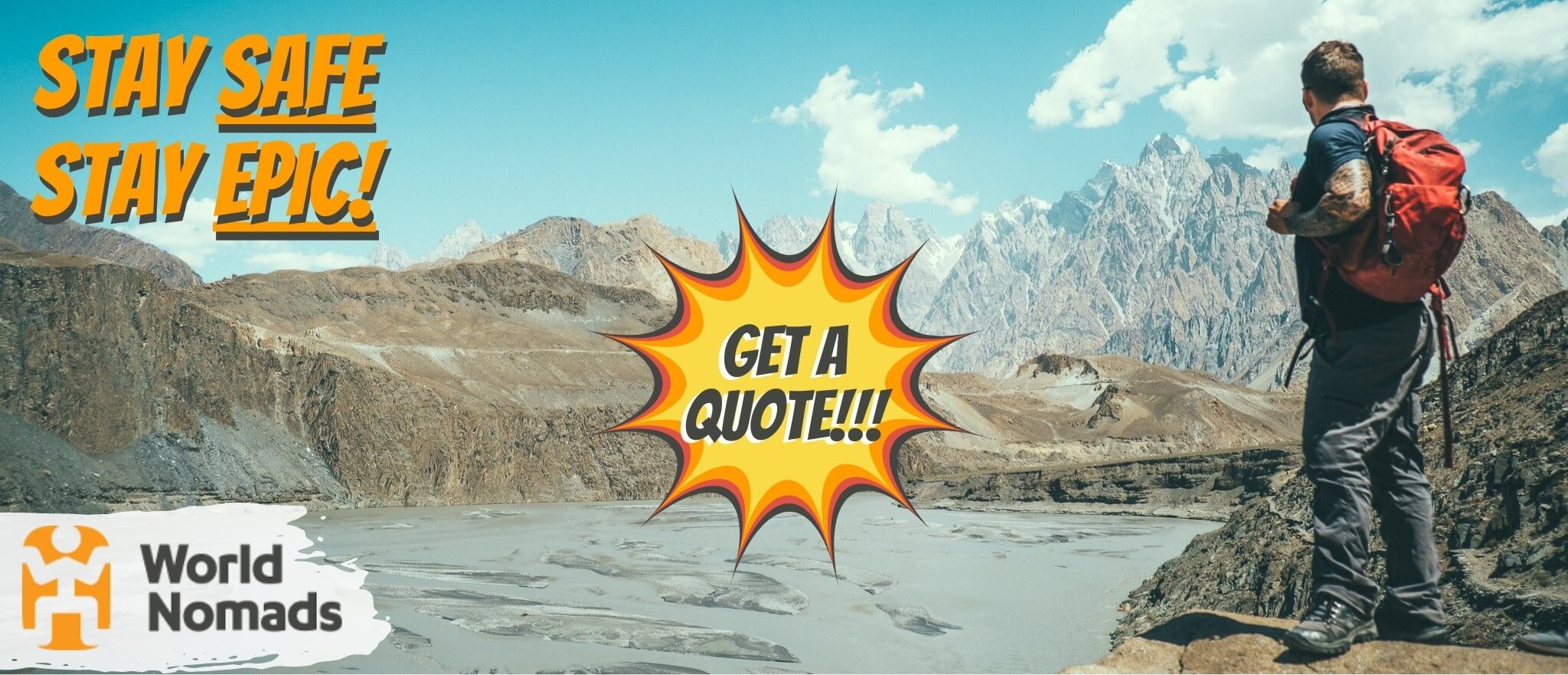 World Nomads' mission is to support and encourage travellers to explore their boundaries. They offer simple & flexible travel insurance, and safety advice to help you travel confidently.
They've been doing it since 2002 – protecting, connecting, and inspiring independent travellers just like you.
Get a quote below or read our in-depth review!
World Nomads provides travel insurance for travelers in over 100 countries. As an affiliate, we receive a fee when you get a quote from World Nomads using this link. We do not represent World Nomads. This is information only and not a recommendation to buy travel insurance.
What To Pack for a Road Trip in Lake District
If you're not careful, Lake District's wilderness will smack ya to next Monday. There are six road trip essentials I never go traveling without: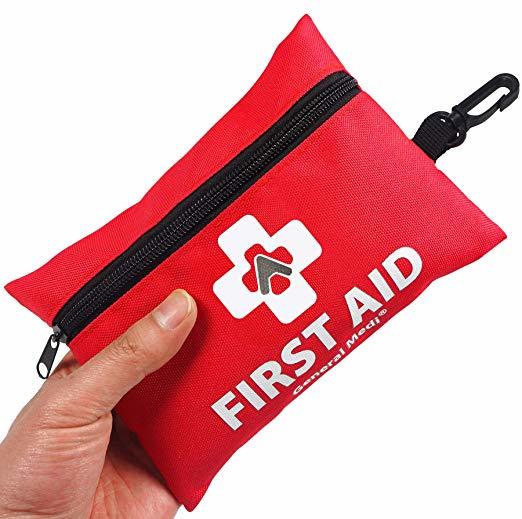 1. First Aid Kit: Even if you don't plan on doing anything extreme on your trip, like hiking, climbing, or other extreme sports, you never know what could happen. You could cut yourself while cooking, smash a finger in a car door, or burn yourself on a hot radiator. A first aid kit will be able to handle most of these minor situations.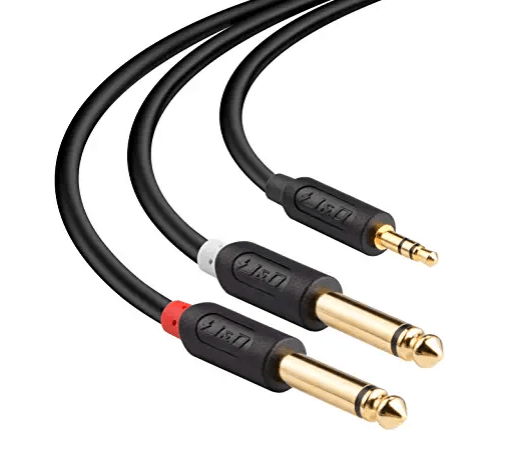 2. Aux Cord: One of the only things to do on a long car ride by yourself is to listen to music or a podcast. Since most people use their phones as an MP3 player these days, an auxillary cord is crucial to preserving your sanity. If there is no auxiliary port in your car, buy a radio transceiver or use a portable speaker.
3. Phone mount: It's very dangerous to be looking down at your phone while driving. If you need to have access to your phone, for maps and what-not, buy a mount for it. This way, you can keep your eyes on the road and your phone won't be far from your field of view.

4. Headtorch: Every backpacker should have a head torch! A decent head torch could save your life. If you want to explore caves, unlit temples, or simply find your way to the bathroom during a blackout, a headtorch is a must. Currently, I'm using the Petzl Actik Core rechargeable headlamp – an awesome piece of kit! Because it's USB chargeable I never have to buy earth polluting batteries.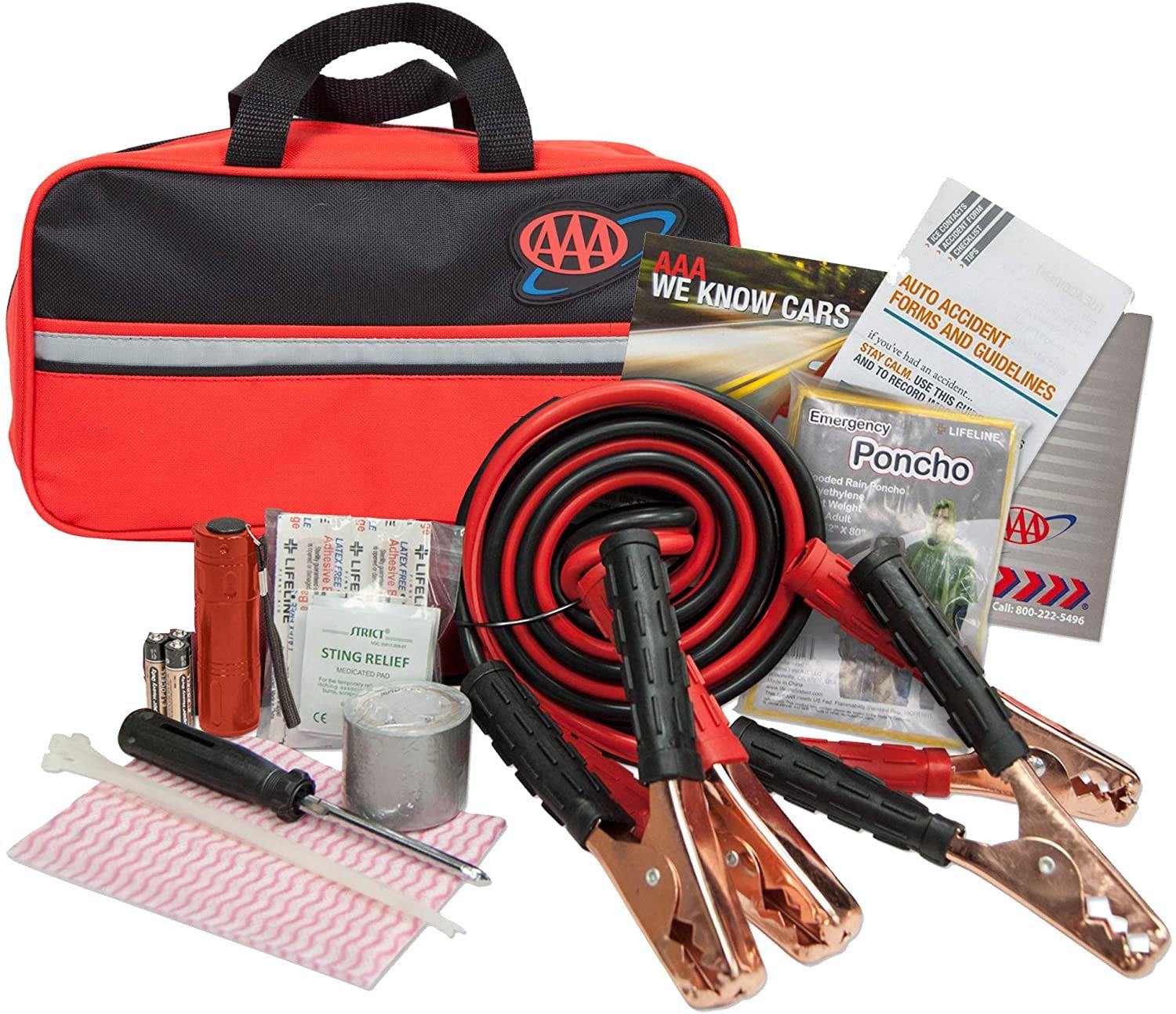 5. Roadside Emergency Kit: Just like you never know what could happen to yourself, one never knows what can happen to their car. A vehicle can mysteriously fail, break, run into a ditch; all that and then some. Most emergency kit include a pair of jumper cables, a tow rope, a set of essential tools, and ties.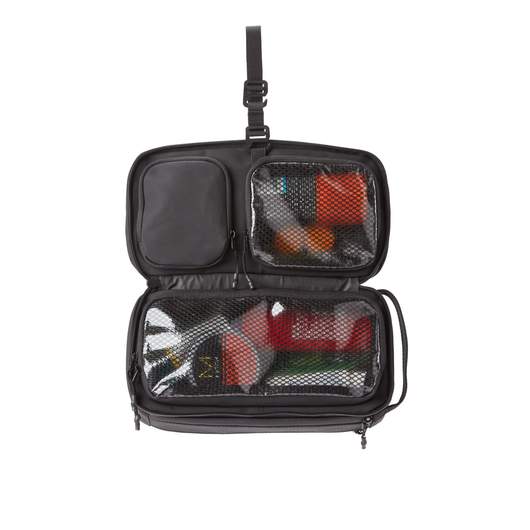 6. Toiletry Bag: I always travel with a hanging toiletry bag as it's a super-efficient way to organise your bathroom stuff. Well worth having, whether you are hanging it from a tree whilst camping, or a hook in a wall, it helps to have quick access to all your stuff.
For plenty more inspiration on what to pack, check out my full road trip packing list.
Final Thoughts on the Best Road Trips in Lake District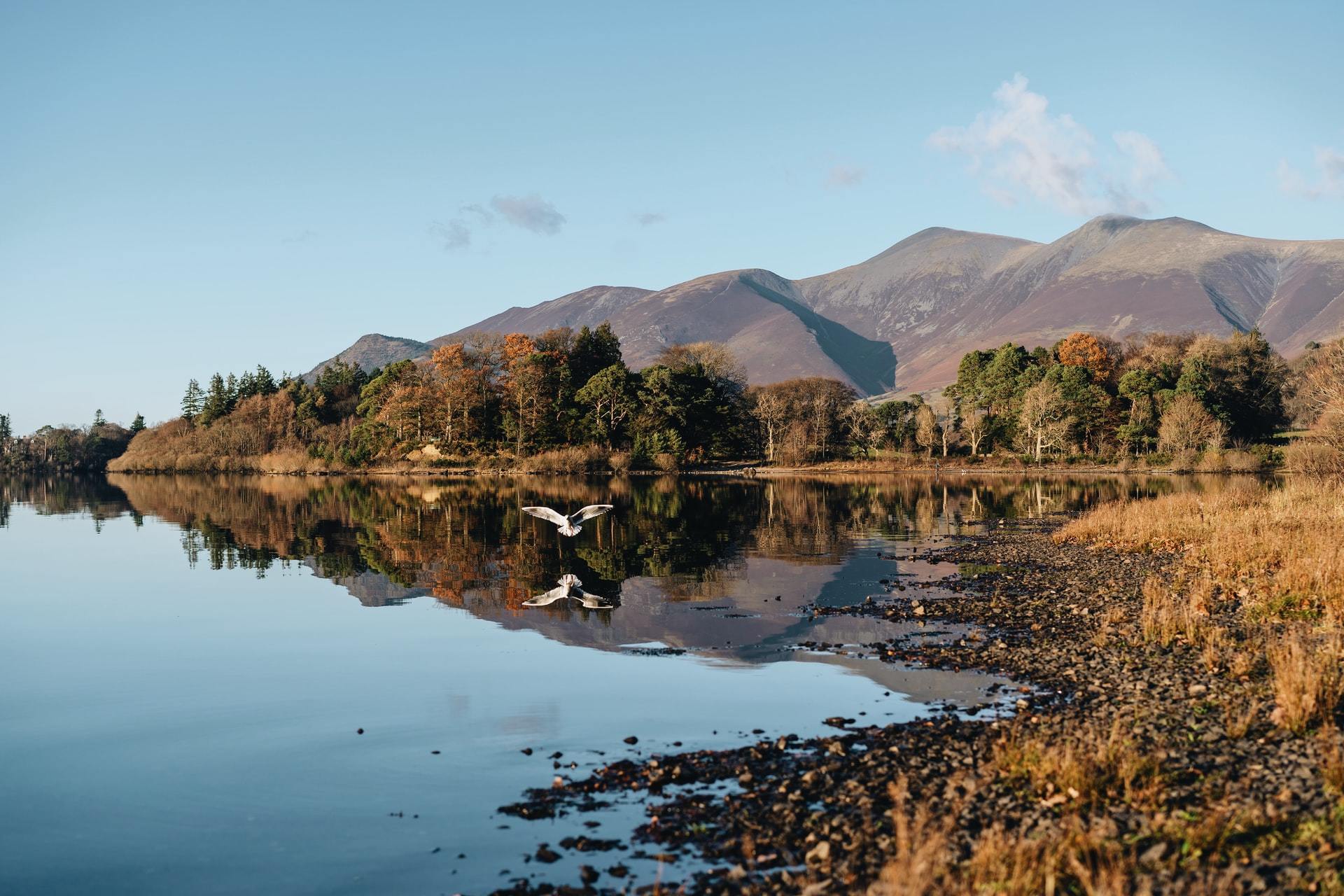 Now that you have a better idea of how to plan a road trip in the Lake District, you're probably heading to the petrol station or looking up rental companies online.
While there are some difficulties in driving in the Lake District (narrow roads, tricky mountain passes, sheep), the positives of a road trip here far outweigh any negatives! The good thing is that the Lake District is quite small, so you never need to spend more than a couple of hours of driving each day.
Whichever awesome road trip in the Lake District piques your interest, you can be assured of beautiful landscapes, wonderful walks, and traditional pubs!
---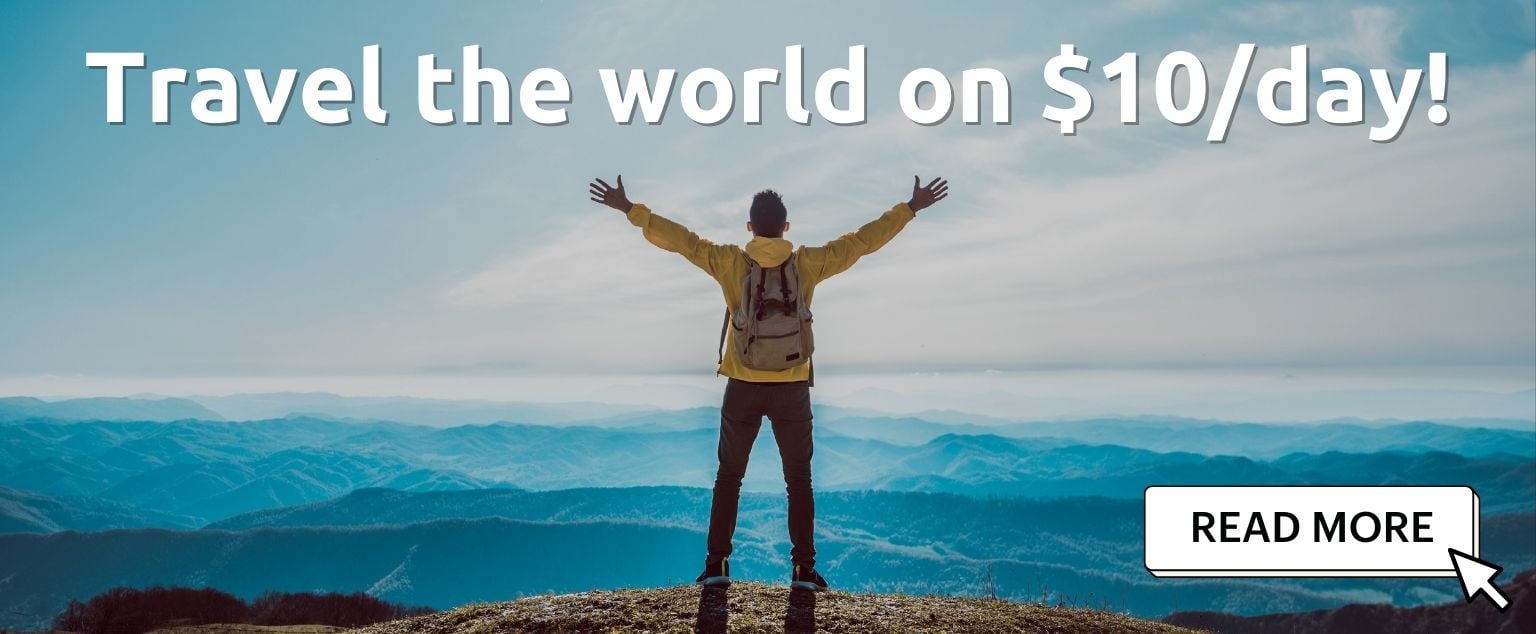 And for transparency's sake, please know that some of the links in our content are affiliate links. That means that if you book your accommodation, buy your gear, or sort your insurance through our link, we earn a small commission (at no extra cost to you). That said, we only link to the gear we trust and never recommend services we don't believe are up to scratch. Again, thank you!