Oh, Oahu. What comes to mind when you hear the name Oahu? Amazing white sand beaches? Yes. Tropical jungle? Yes. Chilled-out surfer vibes but with the nightlife to match? Hell yeah! This Hawaiian Island has it all.
Oahu is the perfect blend of nature meets urban with something for everyone. If you wanna tear up some world-class waves, then head to the North Shore. Prefer to catch some long rides with the city as your backdrop? Hit up Waikiki in Honolulu.
For all the non-surfers out there, lounge on world-class beaches, snorkel on pristine reefs, then finish up by heading out to a tiki bar and sipping on pina coladas.
Are you convinced yet that this Hawaiian paradise island needs to be your next destination, or do you need to read about some of the awesome rentals in Oahu? Well, buckle up, because the VRBOs in Oahu do not disappoint! Oahu VRBO has a mixture of properties right in the middle of the action, and more relaxing stays just a short drive away. Read on to discover our absolute top picks!
Quick Answer: These are the Top 5 VRBO in Oahu
Overall Best Value VRBO in Oahu
Overall Best Value VRBO in Oahu
Central Waikiki Condo with Step Out Balcony
> $$
> 3 Guests
> Walking distance to Waikiki Beach
> Spectacular ocean, city, and Diamond Head views
Best Budget VRBO in Oahu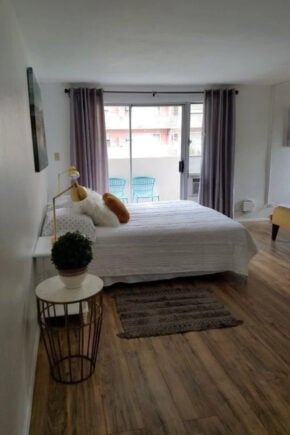 Best Budget VRBO in Oahu
Cozy Central Honolulu Studio
> $
> 2 Guests
> Cozy balcony
> Central Waikiki location
Best VRBO for Couples in Oahu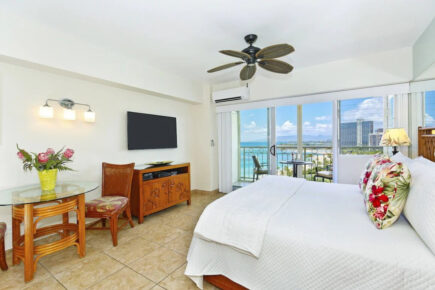 Best VRBO for Couples in Oahu
Spacious Waterfront Condo
> $$
> 2 Guests
> California King bed
> Beach views from the private balcony
Best VRBO for Families in Oahu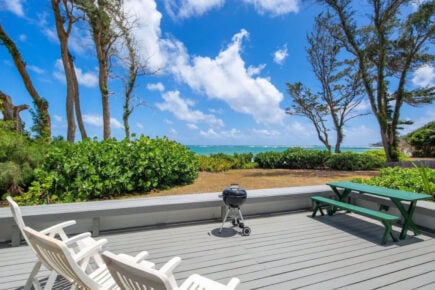 Best VRBO for Families in Oahu
Beachfront House with Amazing Outdoor Deck
> $$$
> 6 Guests
> White sand beach
> Outdoor deck with BBQ!
Over-the-Top Luxury VRBO in Oahu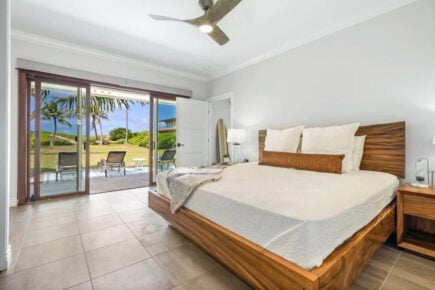 Over-the-Top Luxury VRBO in Oahu
Beachfront House and Guest Cottage with Lavish Interiors
> $$$$
> 17 Guests
> Outdoor shower
> Huge living spaces

Unlock Our GREATEST Travel Secrets!
Sign up for our newsletter and get the best travel tips delivered right to your inbox.
What to Expect from VRBOs in Oahu
Rentals range from incredible condos with stunning views of the Honolulu skyline and A-plus beaches below, to jungle or beachfront cottages, houses, and villas. Most rentals, no matter what type, have a "local" feel (think Hawaiian print and tiki-style furniture). For those of you looking for a once-in-a-lifetime experience, there are even a few liveaboard boats for charter. I mean seriously, how cool is that?
Most VRBOs in Oahu have a fully equipped kitchen (great for those on a budget), but the absolute best thing about staying in Oahu is that no matter where you are, you are either a short walk or drive to the beach. Sounds like heaven to me!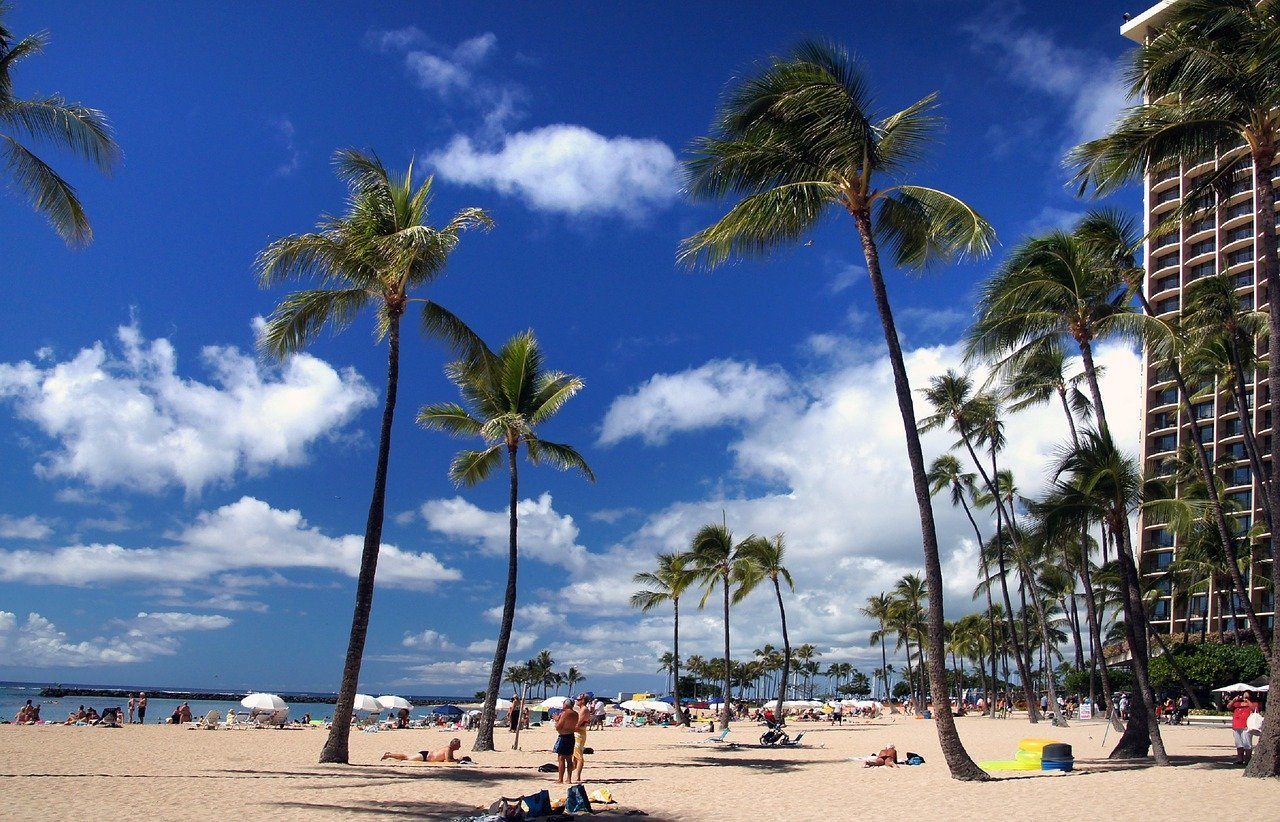 Condo/Apartment
Hands down, some of the best VRBOs in Oahu are condos. If you want to be in a central location right where the party's at but still enjoy your privacy, space, and absolutely breathtaking (and Insta-worthy) views, then this is the accommodation type for you. These are great places to rent for solo travelers, backpackers, couples, or those without transportation looking for a weekend getaway.
Waikiki is chock-full of condos, most with their own private balconies that overlook the infamous Waikiki beach or the Wai'anae Mountain Range. For those of you who are big on being cost-effective, these rentals normally have a fully equipped kitchen so you'll save a few pennies here and there by cooking at home.
Luckily, condos are almost always within walking distance of anything you could need, so you'll have a poke bowl or some manapua in your hands whenever your heart desires.
Houses
Houses are a great VRBO in Oahu option, especially for those lucky enough to stay longer than a few days. If you want all the creature comforts of home (full-sized kitchen, cozy seating area, TV) while you're in the tropical paradise of Hawaii, then these are a perfect choice! They are great for groups of friends or families because you can all stay together under the same roof but at the same time have enough room to breathe.
One of the best things about VRBO houses in Oahu is that they are available in all the most famous spots outside of Honolulu city, and loads of them are just steps away from the beach. Stay on the famous North Shore for laid-back vibes and gnarly waves or in the town of Kailua with its pristine white beaches and weekly farmers' market.
Villas/Cottages
If you're looking for more of a romantic getaway (cue dimming of the lights and sultry mood music) then villas are the way to go. Most of the villas in Oahu are located in resorts, so you can enjoy tastefully decorated rooms, beautiful grounds, and you get to enjoy the resort amenities. Romantic sunset drinks at the poolside bar, anyone?
For a more authentic Hawaii feel, opt for a cottage. These quaint and cute rentals can be found in great beachfront locations and are more budget-friendly. They have all the amenities you could need for your stay, and the owner's personality often shines through in the decoration which is always fun!
Like houses, villas and cottages can be found in any of the popular destinations such as Northern Oahu and Kailua. They aren't limited to couples either – these are a great option for families too.
Why Stay in a VRBO
VRBOs are awesome, and there are a ton of reasons why they should be your go-to for your next vacation! Here are just a few:
Local Experience: Get insider tips on where to catch the best waves or which bars and restaurants the locals head to on the weekend.
Unique Stays: When you stay in an Oahu VRBO, you're not staying in some cookie-cutter hotel but somewhere that will really give you a feel for what that laidback Hawaiian lifestyle is all about.
Affordability: Booking a VRBO is usually more affordable than a hotel, but you don't need to sacrifice on comfort or quality, and you can still stay in the best neighbourhoods!
Privacy: Don't feel like a lengthy check-in or awkward small talk? Some VRBOs offer self-check-in, and you can filter for completely private properties. Your tranquil island escape can be hassle-free as soon as you reach the front door.
The Top 19 VRBOs in Oahu
So here it is – drumroll, please. Introducing our top picks for the best VRBOs in Oahu with something to suit every traveler's needs! Keep scrolling for some drool-worthy rentals: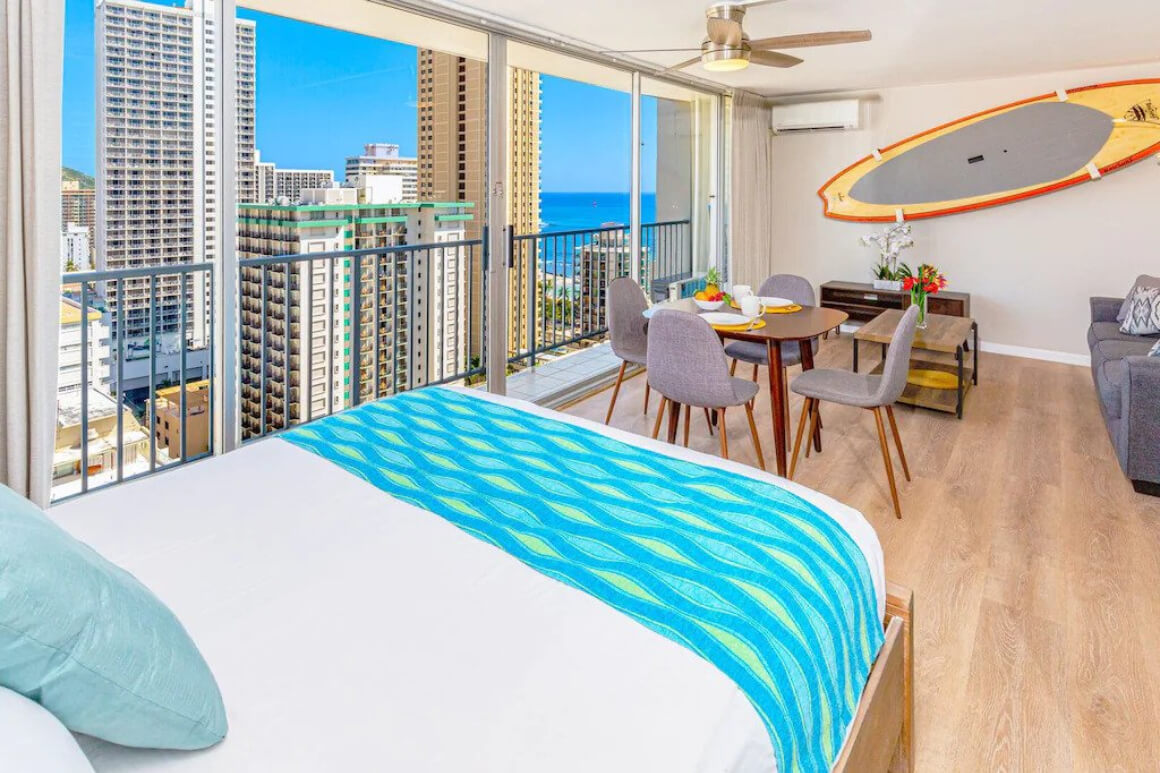 $$
Walking distance to Waikiki Beach
3 Guests
Spectacular ocean, city, and Diamond Head views
This amazing value Oahu VRBO is an absolute dream! It is bright, spacious, and has a balcony to die for. Huge glass doors and windows give you the best views of the ocean, Honolulu, and the mountains. Best of all, slide those doors right back to feel the sea breeze and bask in the Hawaiian sun.
Waikiki Beach
Honolulu Zoo
2 Guests
Central Waikiki location
This snug studio is the perfect choice for budget travelers, and it comes with a kitchenette to boot! It has everything you might need including a cute little balcony. The best thing about this place (apart from the stellar price) is that it's right in the middle of all the action and is just a short stroll away from public transport options, beaches, and restaurants.
1-2 Guests
200m from Waikiki Beach
Solo travelers rejoice! This super cool condo is just steps from Waikiki Beach and only a block from Kalakaua Avenue, Honolulu's main strip. The perfect base for all your adventures, spend the day surfing, hiking, and sightseeing nearby before coming back to cozy up in your island-style room and watching reruns of Hawaii 5-0.
Is This the Best Travel Pack EVER???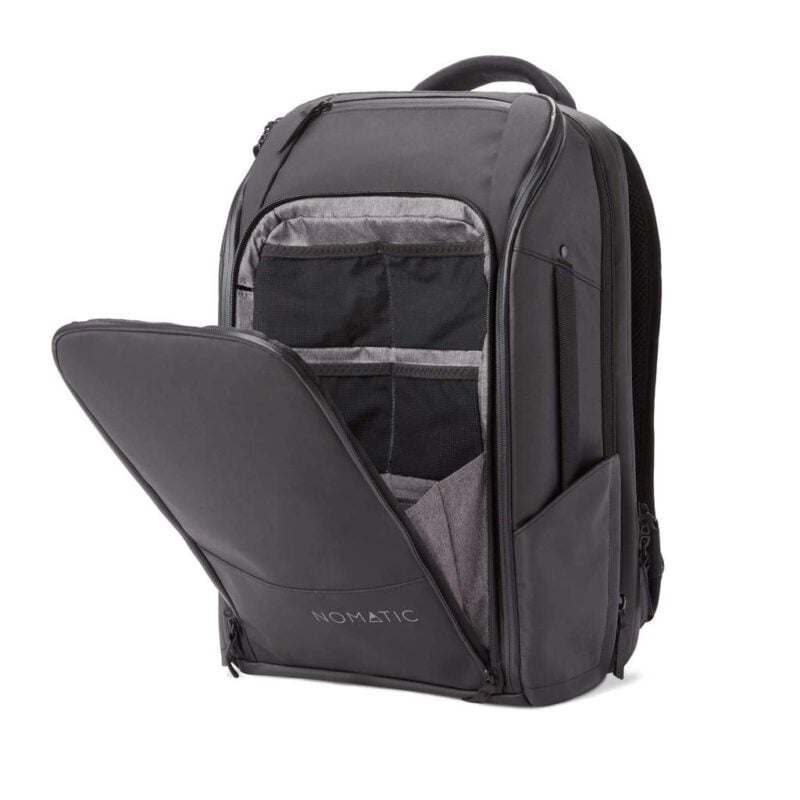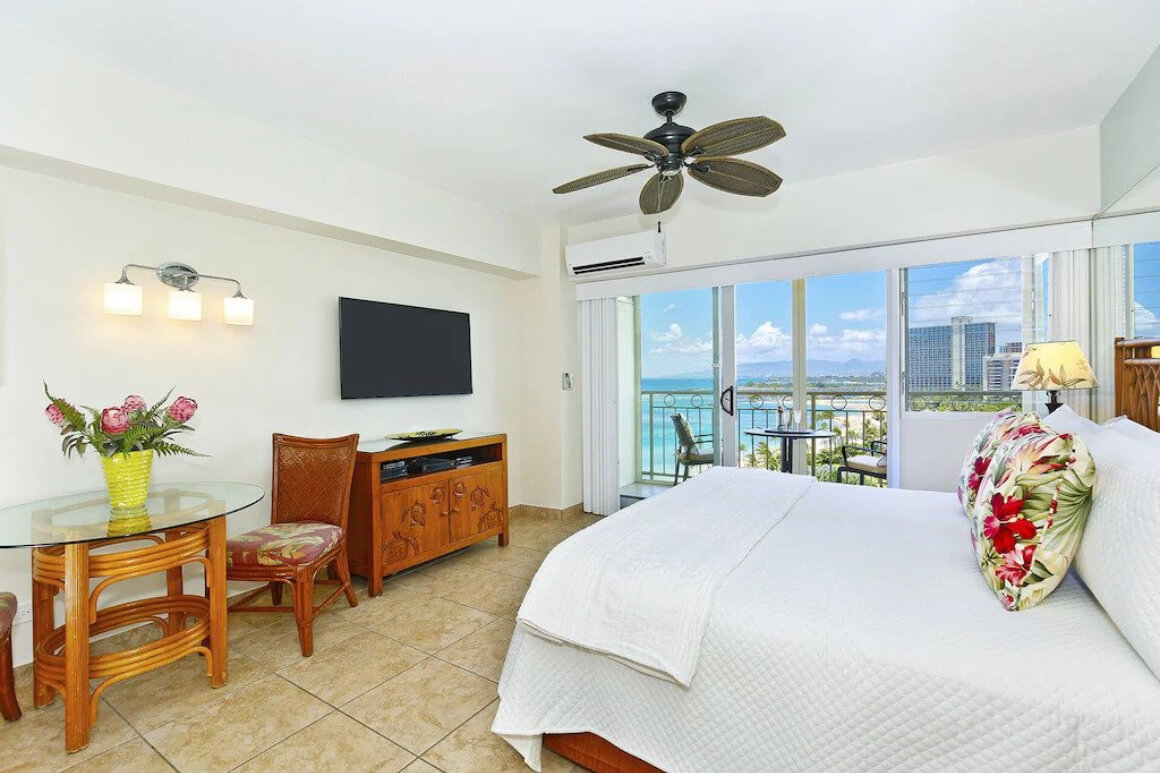 2 Guests
Beach views from the private balcony
Did someone say romantic getaway? This spacious apartment is located in the Waikiki Shore condominium which is, you guessed it, right on the beach! The balcony not only has incredible views but also gives you front row access to Honolulu's Friday night fireworks. So open a bottle of bubbly, sit back, and enjoy the show.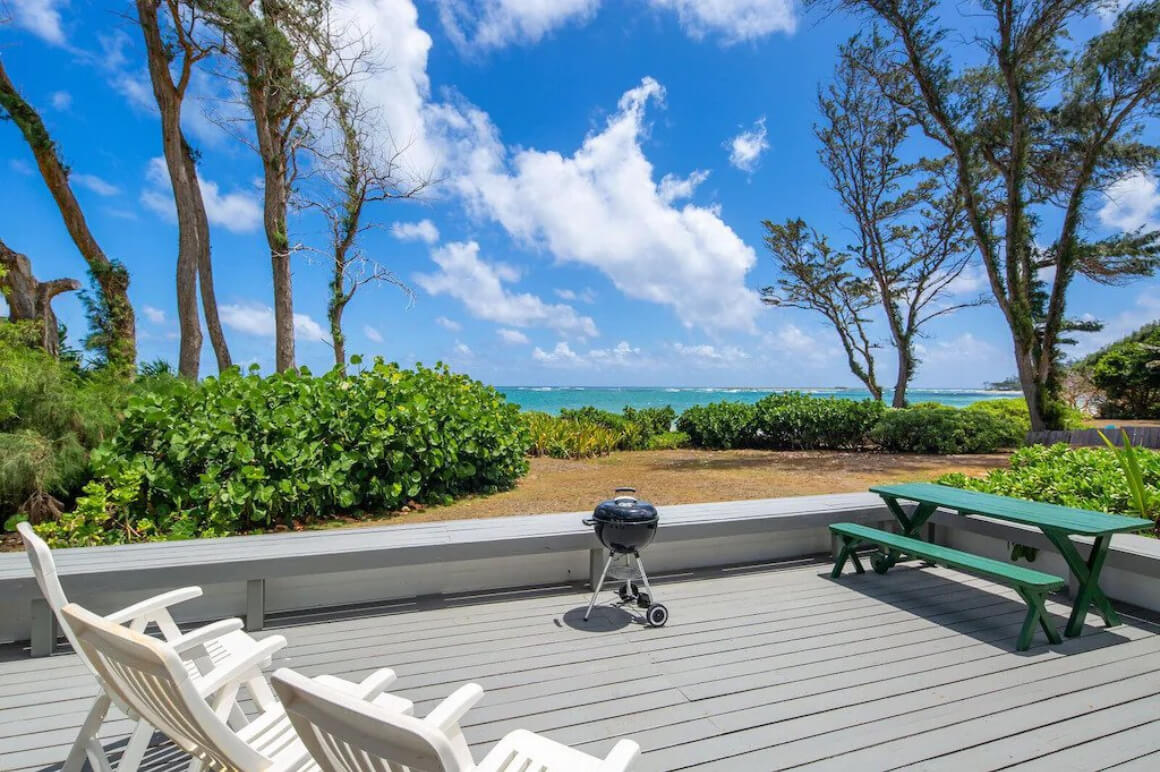 6 Guests
Outdoor deck with BBQ!
This spacious Kahuku beach house has to be one of the best VRBOs on Oahu! It has an amazing outdoor deck that leads onto a beautiful, sandy swimming beach which is perfect for kids. Did I mention the deck comes with a BBQ? So fire up the grill and get ready to feed some hungry little mouths because this island-style home is a must-stay for families.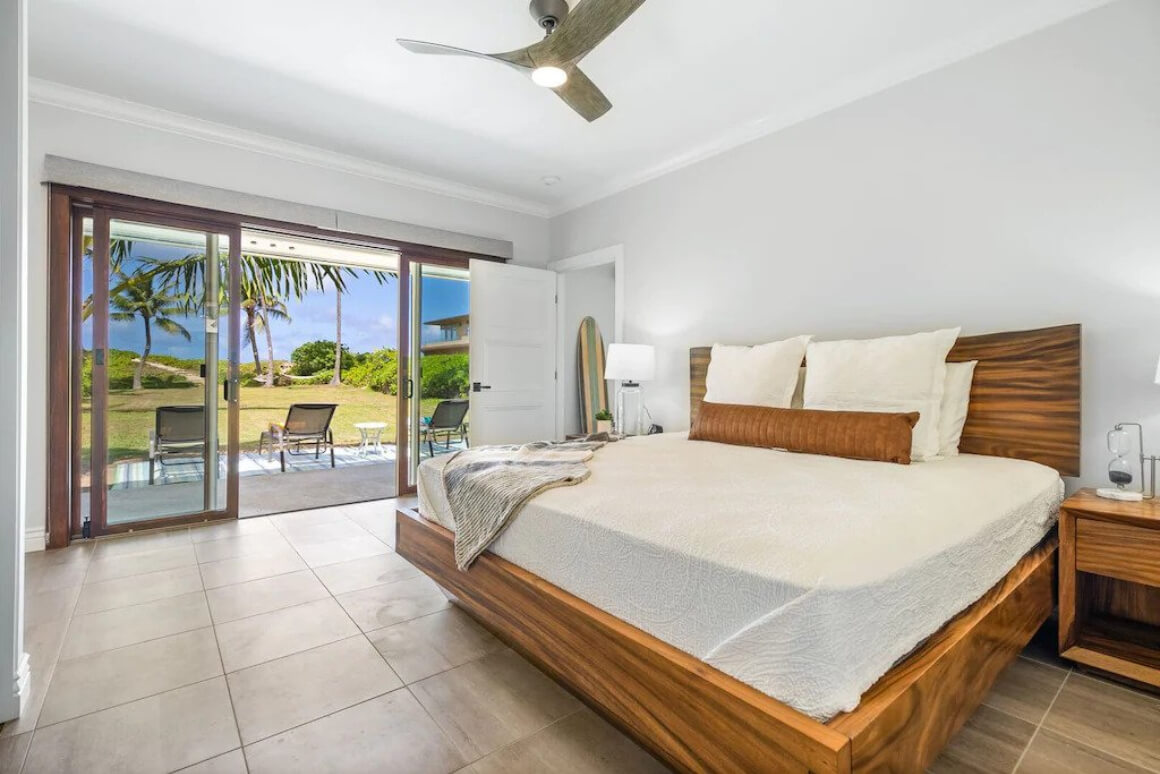 17 Guests
Huge living spaces
This house is huge, and there's a guest cottage too! The rooms are massive and look like they're straight out of a magazine. The master bedroom has the most amazing free-standing tub, and there is an outdoor shower surrounded by tropical plants. What more could you want? Maybe if it was right next to the beach? Hold on a second, it is merely steps away from a palm tree-lined beach… I'll take this one, please.
$$$$
Hillside location with ocean views
24 Guests
Modern, contemporary style
This 6,000 square-foot home is located in the same neighborhood that Hawaii 5-0 was recorded, which is unsurprising since this house looks like it belongs in a movie! It is simply stunning with huge glass windows pouring in natural light and giving 360-degree views of the forested hillside around. It is a short drive from all the best tourist destinations but still feels incredibly private.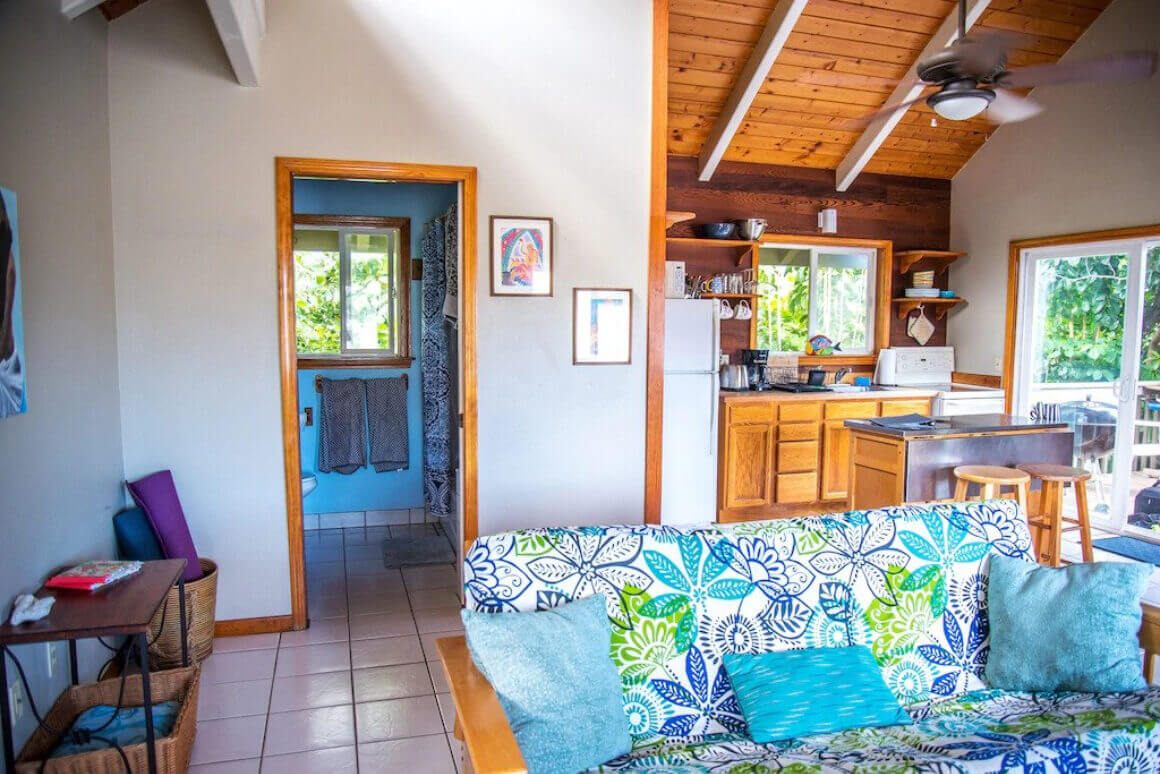 4 Guests
Bicycles included
Check out this cute little cottage that has everything you need for a comfortable stay including the use of two bikes (we love a freebie), and a super cool loft bed! It is really close to the North Shore bike path which will lead you to anywhere that's worth going to on the North Shore. Large windows make this place feel bright and airy. Plus, there is a private deck for all your barbecuing needs.
This condo offers a cool, vibrant, and spacious place to stay in the middle of Waikiki. Modern and comfortable furnishings (hello, L-shaped couch) make this place feel homey but also luxurious. The big sliding glass doors open up to a balcony overlooking the marina where you can watch surfers tackle Kaiser Bowls surf break using the apartment telescope. This place also has some of the best Friday night fireworks and sunset views!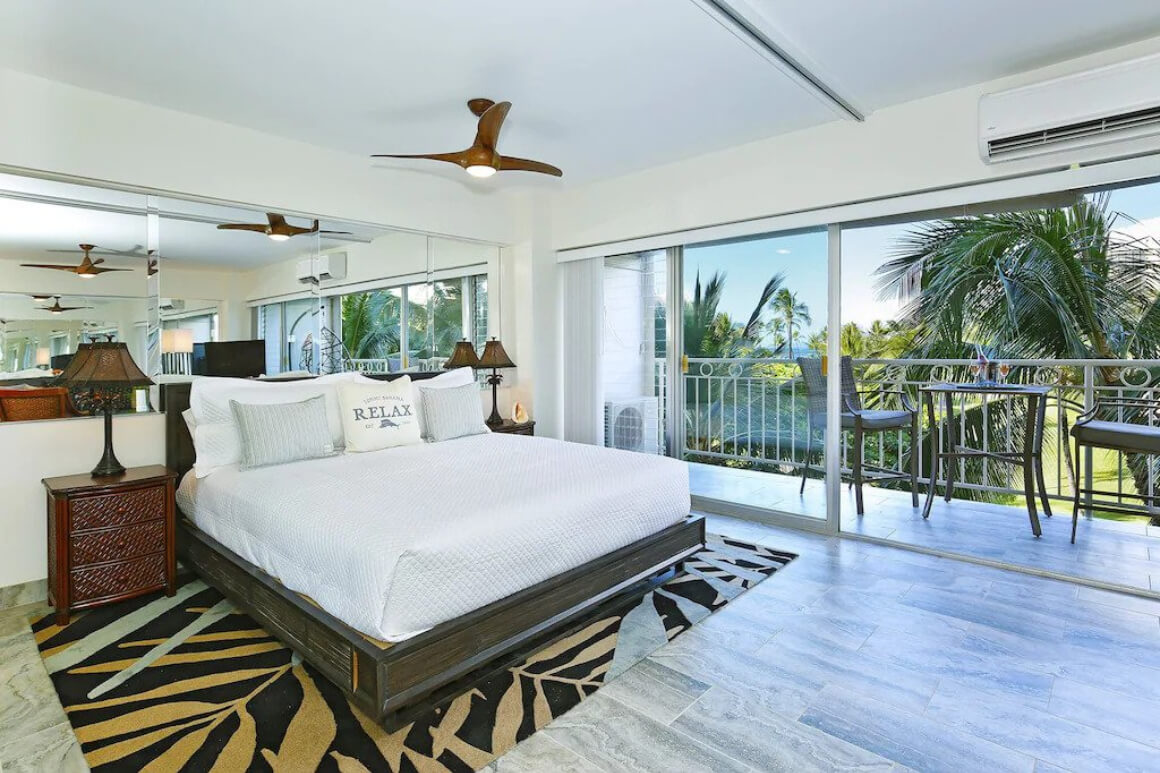 $$
Tropical-style decor and furnishings
2 Guests
Amazing California King bed
For all you newlyweds out there, this amazing and spacious condo is one of the best VRBOs in Oahu! Of course, the bed is incredible, the views are incredible, and the location is incredible, but what makes this place a step above your average hotel room is its authentic Hawaiian feel which shines through in the wooden furniture and tropical prints seen throughout the space. Not to mention the coconut trees that are just a stone's throw away from the balcony!
8 Guests
Right on the beach
Great for families or groups of friends, this place is house goals. A plantation-style building, there is a large porch and balcony to relax in, and the whole home is decorated to reflect the coastal vibe (but not in a nautical theme). Each room is as beautiful as the last but the bedroom with the four-poster bed really takes the biscuit. VRBO.com, we are packed and ready to move into this stunning Oahu beach house.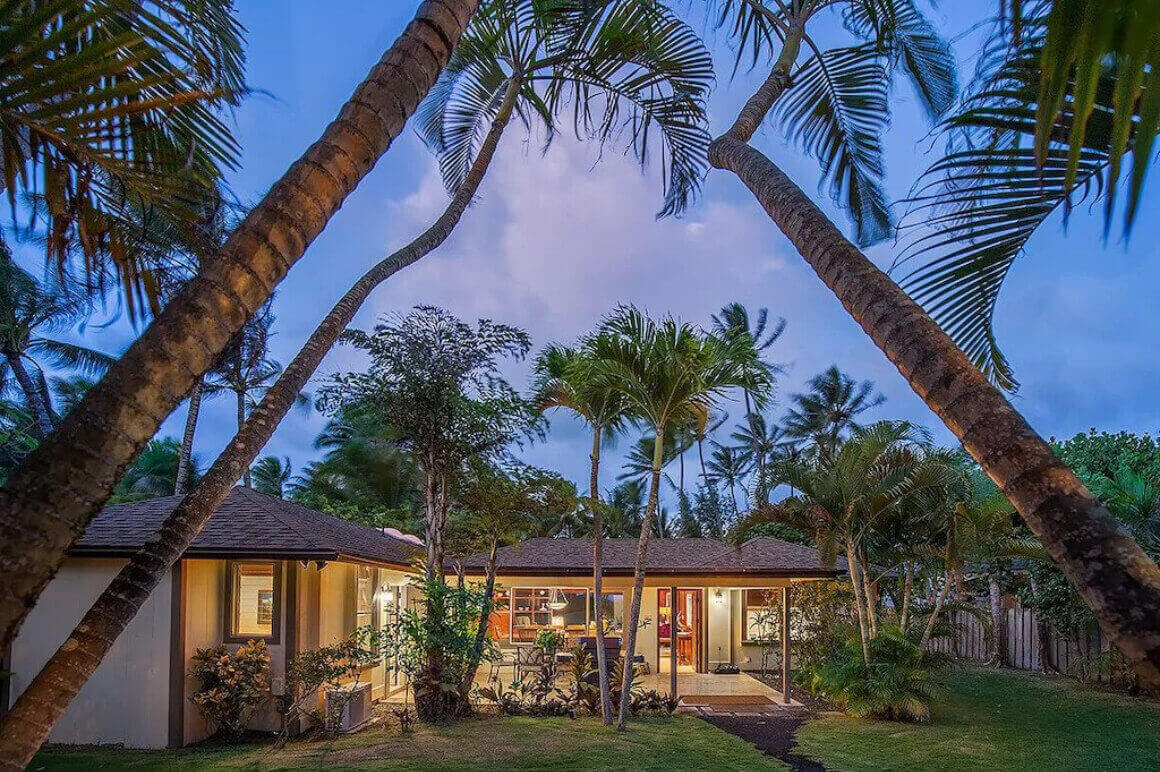 $$$$
Stunning hardwood interior
Ocean views in the front and mountain views in the back, this beachfront villa with a guest house is the perfect place to party it up! The garden is huge and the villa interior is just as stunning with dark wood paneling, spacious living areas, and a full kitchen. In the daytime, you can snorkel, swim, and surf right from the backyard, so there's no need to worry about bored party guests!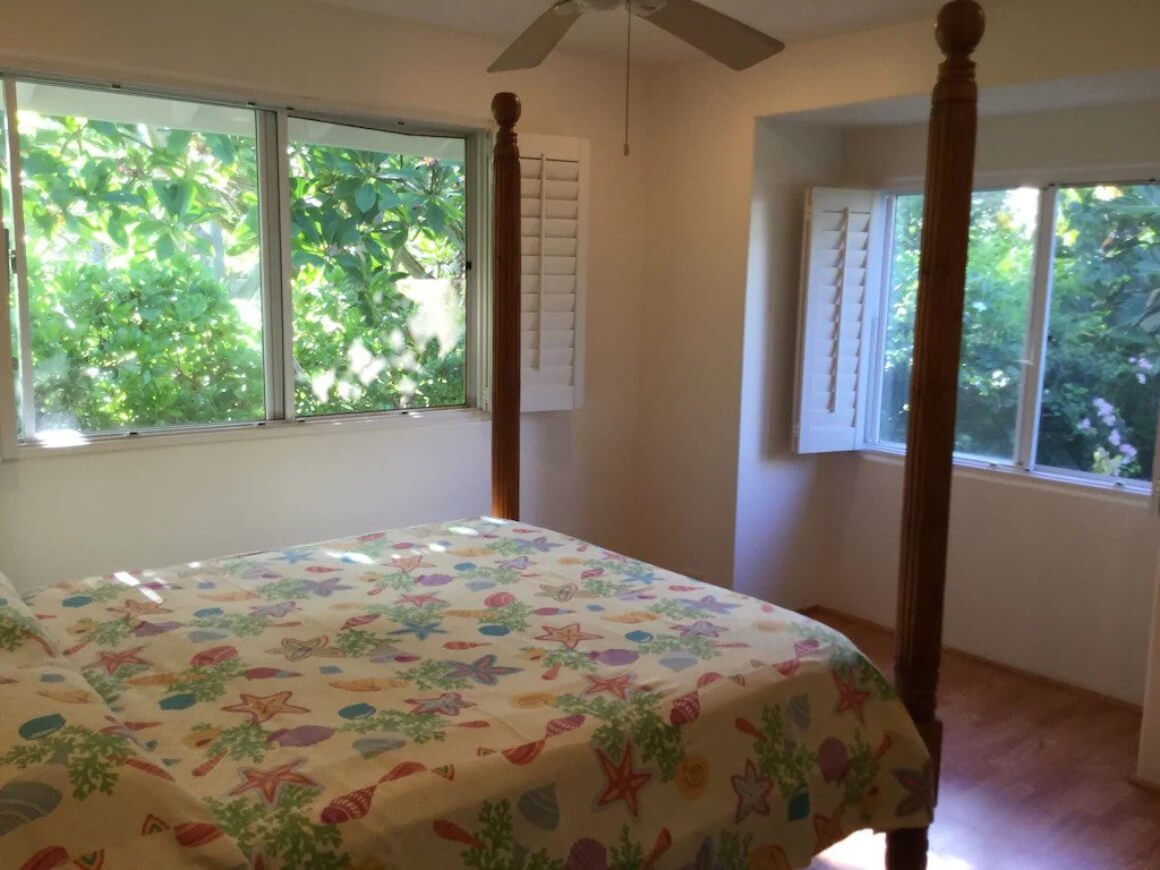 $$
Year-round swimming and snorkeling
Ready to get stoked? Stay like a local in this laid-back Hawaiian beach cottage on the world-renowned North Shore. Close to three world-class reef breaks – Silva Channel, Hammerheads, and Walls, be prepared for some sweet, sweet rides and gnarly wipe-outs. If you're not that big into surfing, the beach is also great for swimming, snorkeling, or turtle watching!
Centrally located and affordable, this lovely and bright apartment makes the perfect base for your weekend Oahu VRBO getaway, either for a couple or a small family of three. It has large sliding glass doors that open onto a little balcony and white rattan furniture that does wonders to open up the space! Public transport lines run right past the building so anything not within walking distance is an easy bus ride away.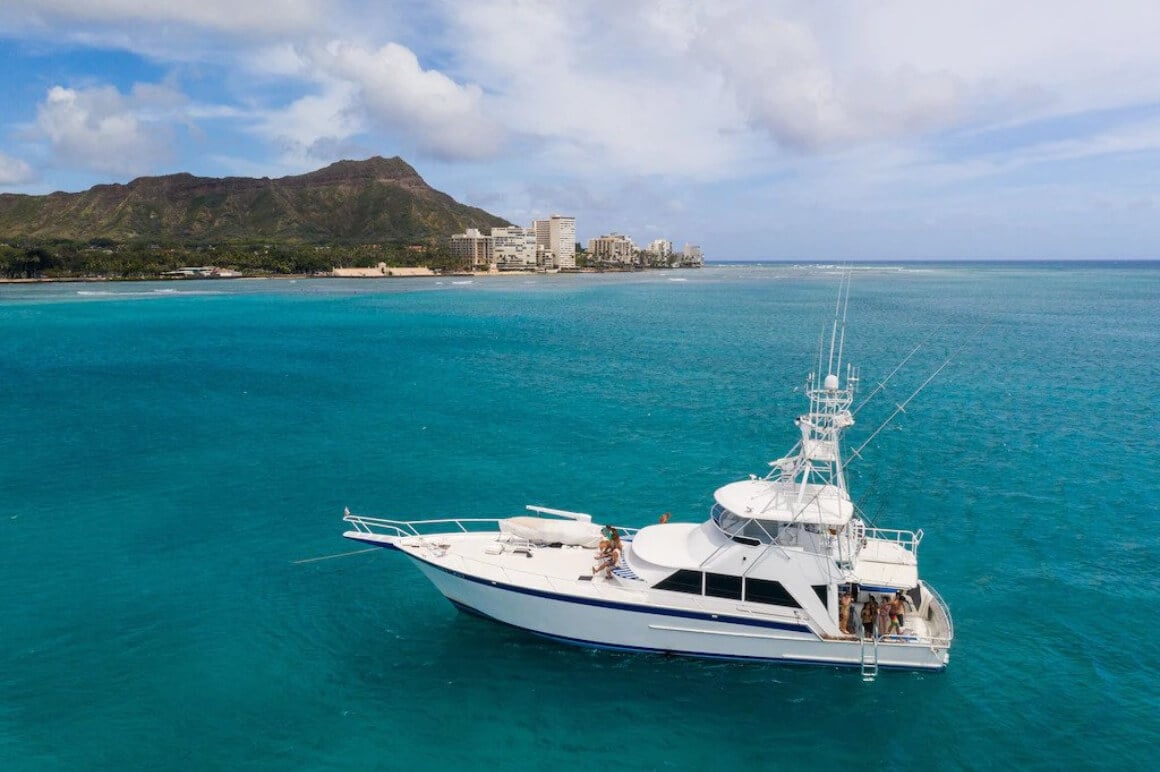 8 Guests
It's a frickin' yacht!
I'll say it again – it's a yacht! What better way to experience Oahu than by cruising along the Waikiki coastline with the backdrop of Honolulu and Diamond Head mountain? Grab your friends, grab your swimsuits, and enjoy the complimentary cocktails made by the crew while you sail along the coast. If you don't feel like swimming in the sea then no problem, simply fire up the Jacuzzi and relax. Spend the night safely docked in Kewalo harbor where you can enjoy the boat in private.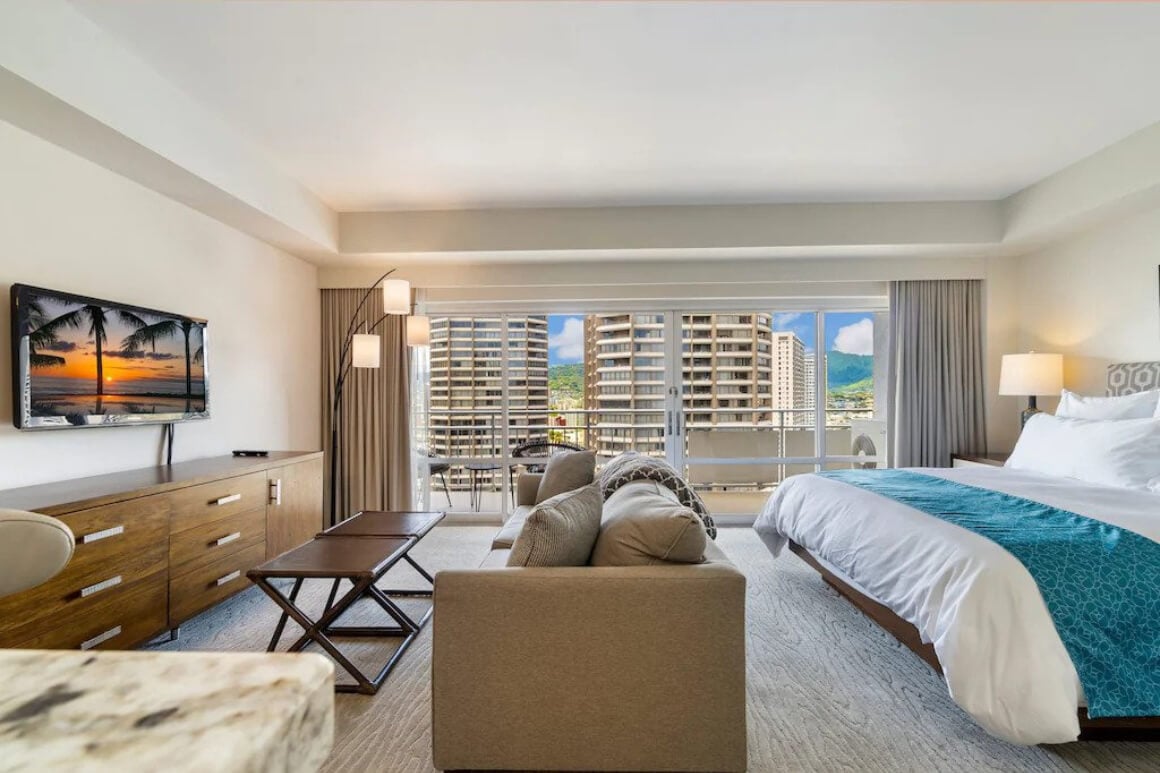 This is a bright and airy condo with huge glass sliding doors that open up onto a lovely balcony. The building is wheelchair friendly, and the apartment itself is super spacious and provides enough room to maneuver easily between living and sleeping areas. Centrally located, everything you need is within a short distance!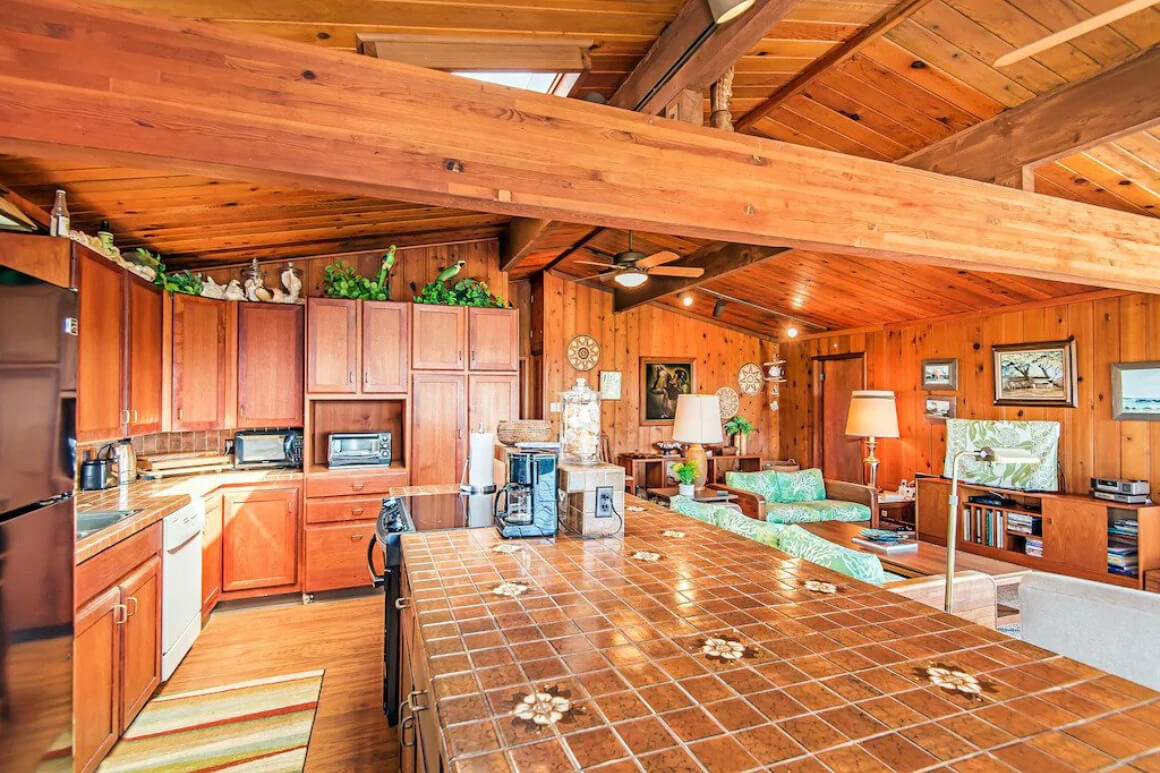 $$$
A short drive to all the North Shore has to offer
10 Guests
Tropical-style decor and furnishings
Get the gang together, we've found the best VRBO in Oahu for your next group holiday! This is a cozy, island-style home on the North Shore that is close to all the best beaches, Waimea Falls, and Haleiwa Town. All the bedrooms are beautiful, so there won't be any fighting over who gets the master, and the open plan, fully equipped kitchen will make cooking group meals an easy task.
$
Instagram worthy Hula Girl mural
Here it is, our top pick for Waikiki, a bright and cheerful condo that is central to all the action and with a good price to match! It is 300 meters from Waikiki beach and within walking distance of all the major attractions that this trendy neighborhood has to offer. If you want to go off the beaten path and check out the rest of Oahu, free parking on-site makes it easy to rent a car for a couple days for all your exploring. Don't forget to snap a pic with the Hula Girl wall mural!
We love this luxurious villa and all it has to offer! It is conveniently located within the Turtle Bay Resort so you get to enjoy all their amenities, restaurants, and bars, but with the privacy of your own beachfront villa. The villa complex has a shared swimming pool, Jacuzzi, and state-of-the-art BBQs.
Don't Forget Your Oahu Travel Insurance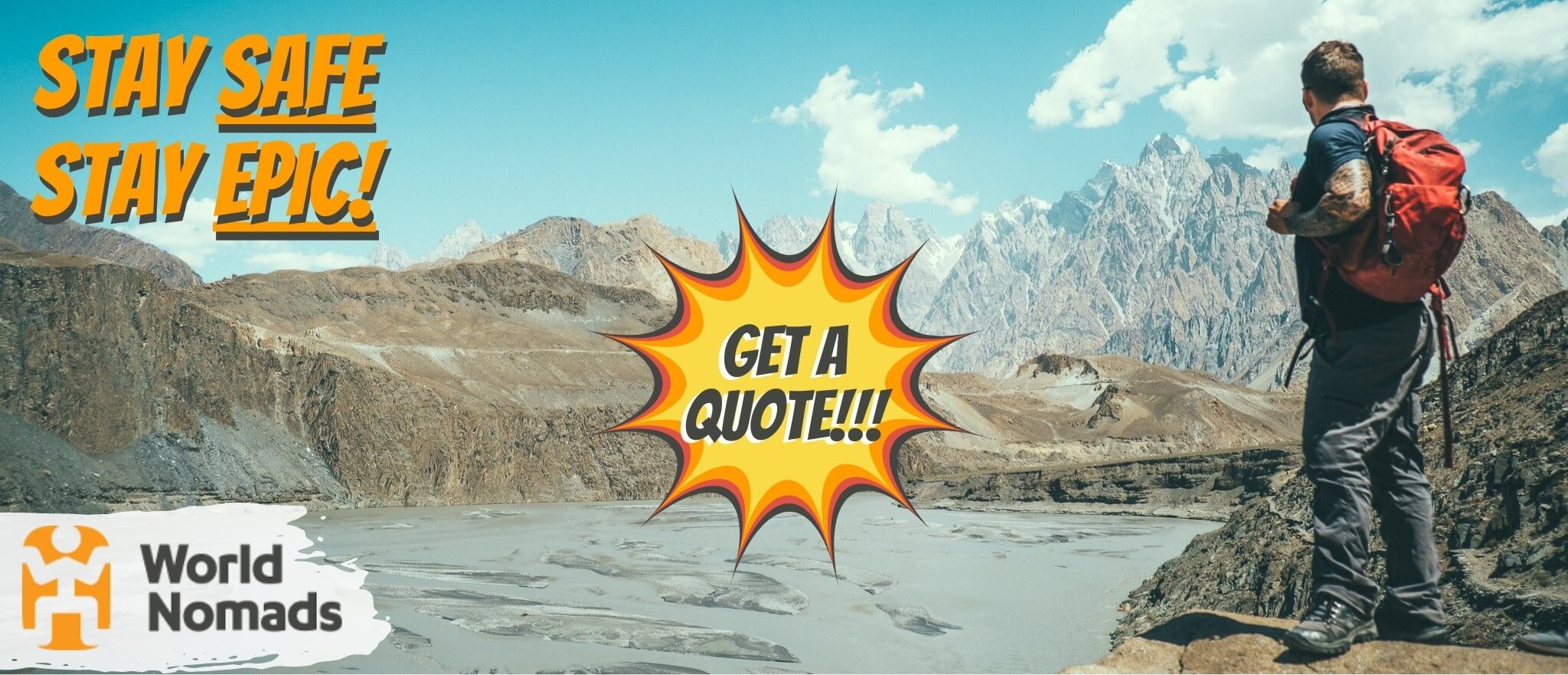 World Nomads' mission is to support and encourage travellers to explore their boundaries. They offer simple & flexible travel insurance, and safety advice to help you travel confidently.
They've been doing it since 2002 – protecting, connecting, and inspiring independent travellers just like you.
Get a quote below or read our in-depth review!
World Nomads provides travel insurance for travelers in over 100 countries. As an affiliate, we receive a fee when you get a quote from World Nomads using this link. We do not represent World Nomads. This is information only and not a recommendation to buy travel insurance.
Final Thoughts on Oahu VRBOs
This Hawaiian Island has world-class beaches, world-class surfing, and it seems like world-class accommodation. VRBOs in Oahu are versatile, ranging from stylish city-center condos to comfortable ocean-front houses. It is easy to find somewhere to stay in all the best locations whether you're a city dweller or a beach-lover!
What we love most about Oahu VRBOs is that no matter your budget, number of guests, or even preferred style of accommodation, there is literally something for everyone. So stop hesitating about whether to book your dream Oahu trip and do it! We've got your accommodation choices covered, just remember to always consider getting travel insurance if you're taking a trip abroad. Surf's up!
---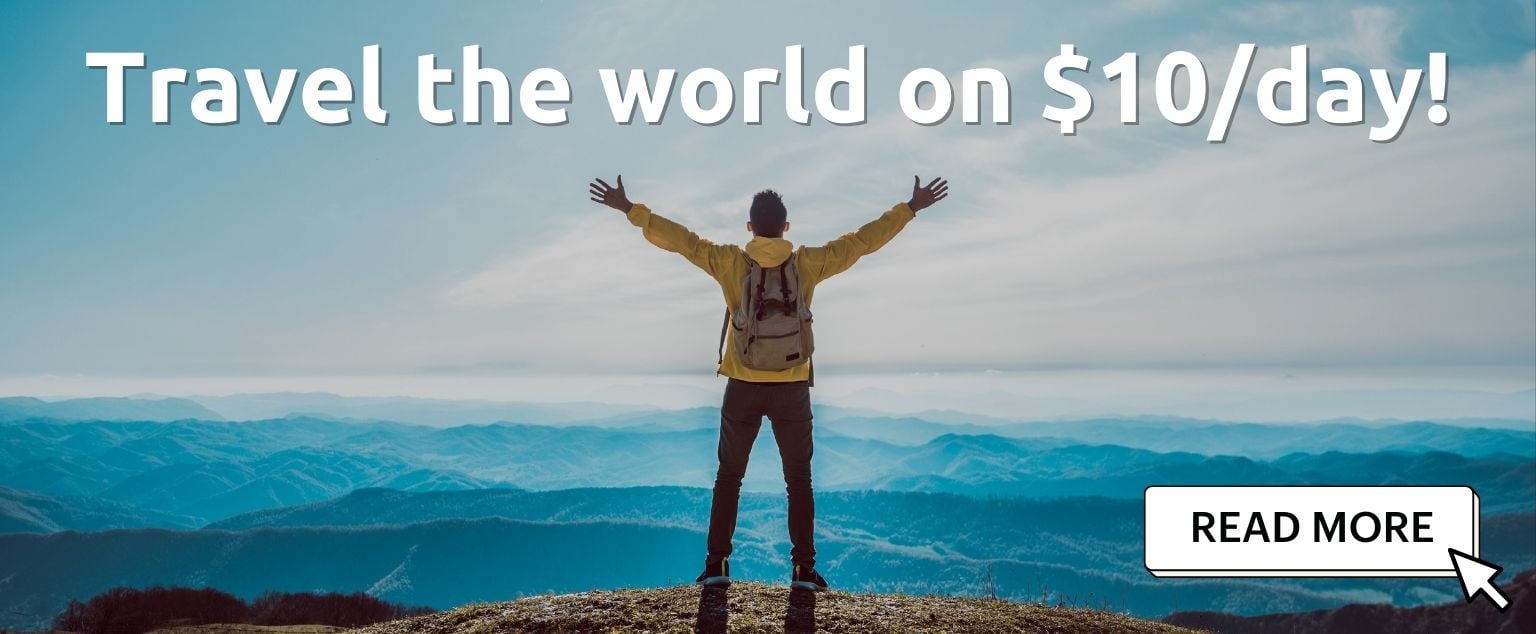 And for transparency's sake, please know that some of the links in our content are affiliate links. That means that if you book your accommodation, buy your gear, or sort your insurance through our link, we earn a small commission (at no extra cost to you). That said, we only link to the gear we trust and never recommend services we don't believe are up to scratch. Again, thank you!