The Christmas lights are switching on, the market stalls are being built, and the cozy fires are being lit. As we near the festive season, we're going to journey across the country to find the best cottages for Christmas in the UK.
While the UK's most famous annual Christmas events are hosted in London, you'll find twinkling light shows in every countryside town and village. As London's weather is usually grey and rainy, head further north to experience a magical winter wonderland surrounded by pastures covered with snow. You might even choose to mix it up with a coastal winter vacation!
Whether you're after an outdoor tobogganing trip, a relaxing holiday cuddled up by a fire, or a Christmas city escape, there is no shortage of beautiful, historical, and quaint rental cottages in the UK.
Cottages at Christmas in the UK
From Northern UK's winter wonderlands to the bustling crowds of London, and the snow-dusted trees in the countryside, cottages can be found in every corner of this expansive country.
Including quaint studios to historic cottages with extraordinary stories and huge back yards, there is a vacation rental awaiting every type of festive season traveler, whether you celebrate Christmas or not.
In the UK, traditional cottages are built from a combination of stone, brick, and timber. With thick walls, high-vaulted ceilings, and wood-burning fireplaces, they are the best type of rental to cozy up with loved ones during winter. Cottages typically have an open-plan living room, and a number of private bedrooms.
They are often located in rural villages or secluded in the countryside, making them ideal for small and large private family gatherings. If you do your research, you might even find a cottage with a private Jacuzzi – perfect for warming up on a cold winter's day!
Top 20 Cottages in the UK for Christmas
With some of Europe's best Christmas markets, chilly weather, and cozy holiday season rentals, the UK is a top destination for Christmas lovers from across the world. Grab a cup of hot chocolate, and continue reading to find the top cottages for Christmas in the UK.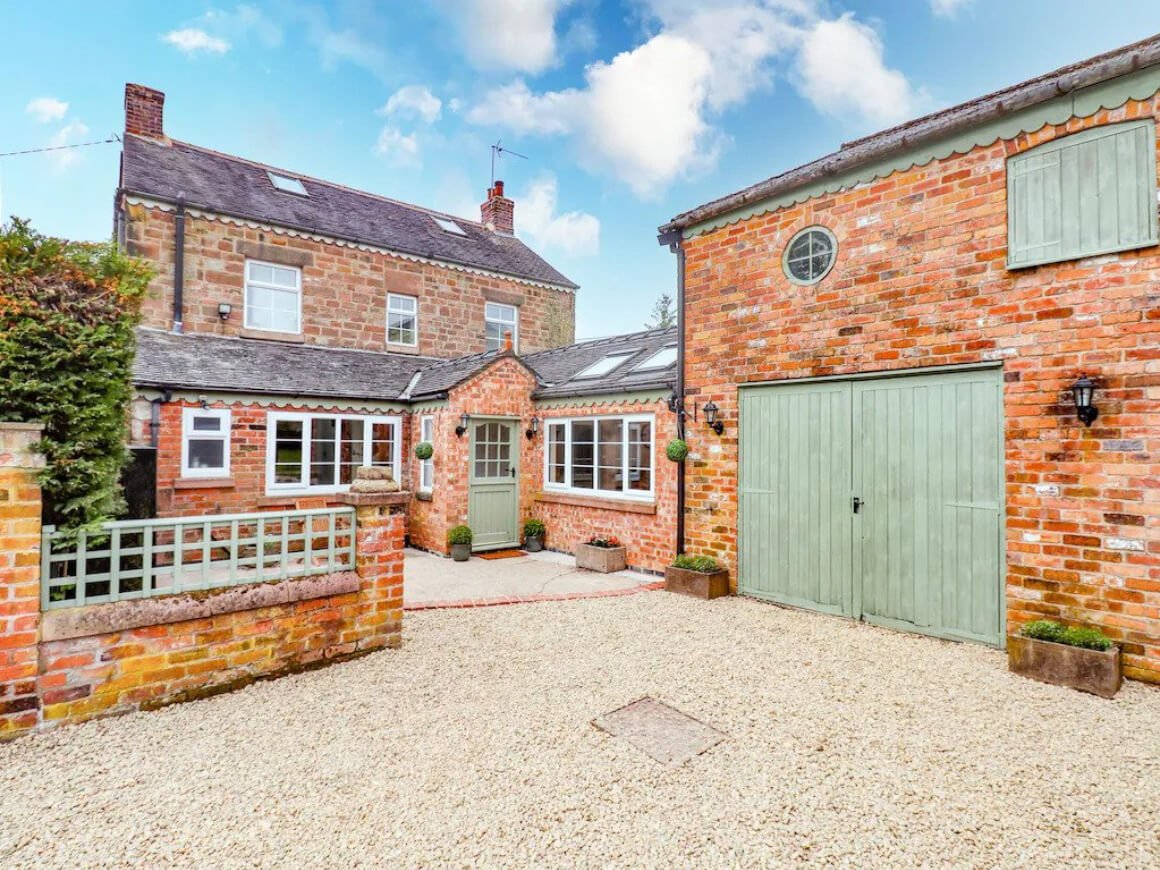 $$
Old brick and timber home
9 Guests
Located in Rushton Spencer, near Cheshire
This traditional English cottage is a historic building that carries tons of character in its red-brick walls. Located on the main street of a quaint rural village, that comes to life during the festive season, you will be just moments from all the classic Christmas action.
The cobblestone paved, and Victorian-influenced Cheshire area, offers incredible countryside scenery, as well as a variety of boutique shops and local eateries.
You can rent this four-bedroom home that sleeps nine guests for a fraction of the price you might expect to spend. All in all, it's the perfect spot to bring a family or a group of friends together during Christmas time.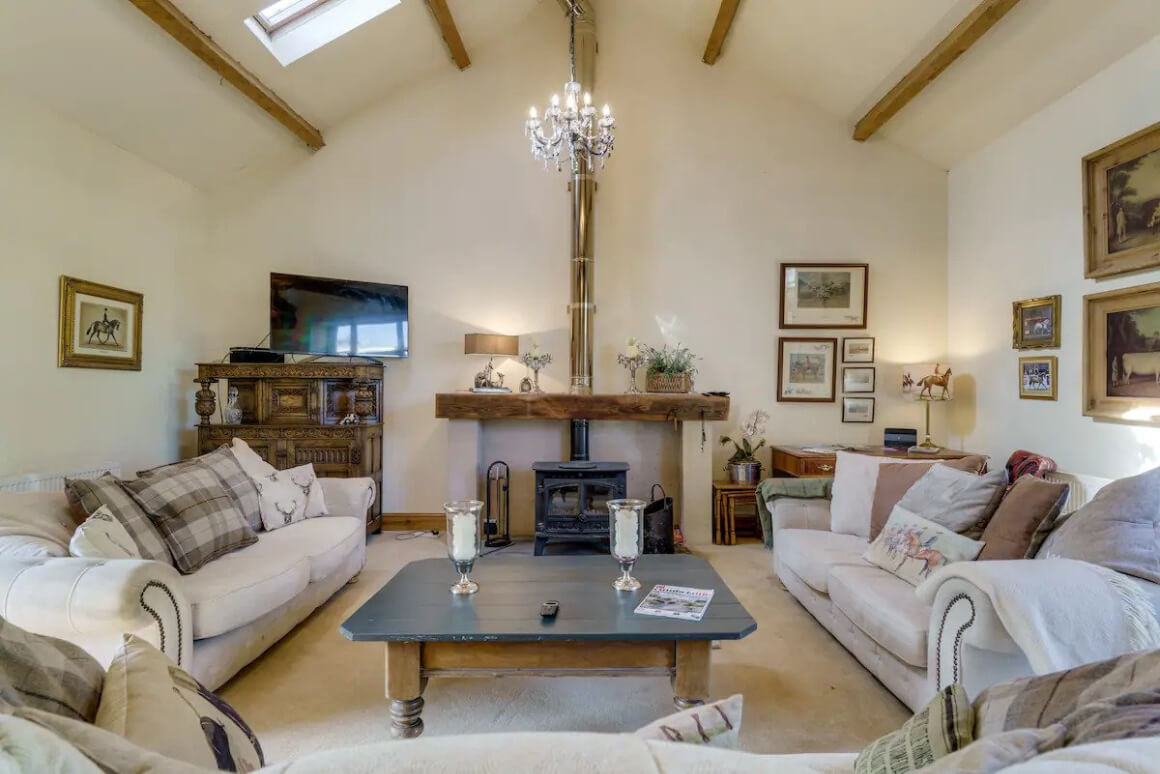 $$$
Classy upscale fittings and new furniture
8 Guests
Near Kendal, in the Lowgli countryside
In the spirit of the season, Christmas should be spent with families and loved ones. This gorgeous three-bed cottage in the English Lake District is one of the best rural cottages in the UK to do so.
The character-filled cottage is, in fact, a converted countryside barn. While the views are gorgeous year-round, it's only when the first snowfalls that you'll experience the winter wonderland of the Lowgli countryside.
Ideal for families, this safe area is scattered with walking and hiking trails. For those who prefer to relax or do some retail therapy, the historic town of Kendal offers some fascinating shops and spots to grab a bite.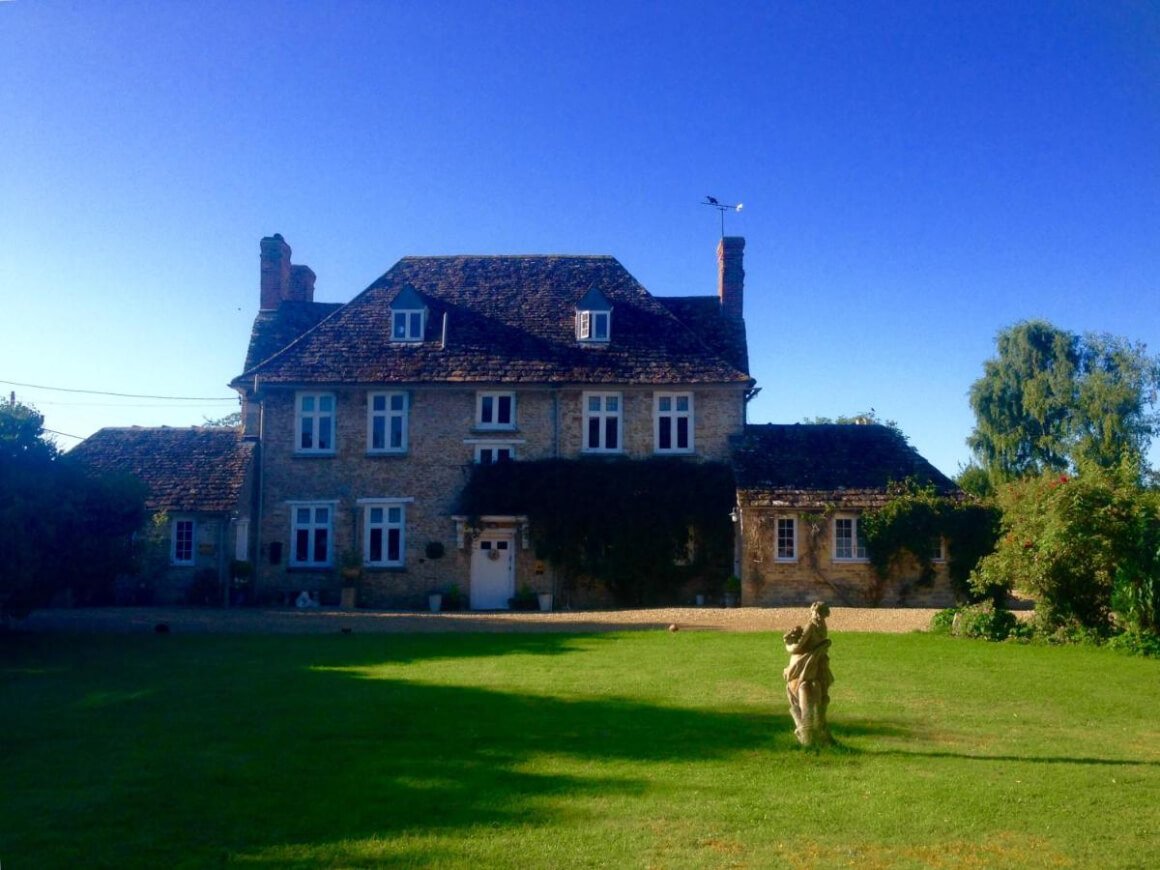 $$$$
Old home with original antique furniture
15 Guests
Located in Buscot, between London and Bristol
It's no easy task choosing the most beautiful winter cottage in the UK. However, this home stands out for its uniquely preserved historical integrity. As you walk through the wooden doors, you'll immediately feel like you've been transported into another era.
Each room in the old cottage is filled with a combination of upscale contemporary fittings and indulgent antique furniture.
Picture old four-poster beds from the Victorian Era, a drawing room with carved wooden chairs and eclectic hanging chandeliers combined with top-of-the-range kitchen appliances and new bathroom and plumbing fittings. For fans of Downton Abbey, you won't be surprised to learn that the Downton Abbey village of Brampton is only a short drive away.

Unlock Our GREATEST Travel Secrets!
Sign up for our newsletter and get the best travel tips delivered right to your inbox.
$
Old stone cottage with brand-new interiors
4 Guests
Located in Longframlington near Heritage Coast
If an affordable Christmas holiday is what you're after, you'll find plenty of gorgeous options across rural England. This spot is one of the best cottages for Christmas in the UK. It has clean white interiors, cozy furniture, and contemporary fittings, including a sparkling clean bathroom.
The converted barn cottage has been furnished with a combination of contemporary and antique items, including an old wood-burning fireplace which will easily keep the entire property warm throughout your stay.
If you feel the need to leave this homey and cozy spot, there is an adventure awaiting you at the doorstep. Choose from visiting historic castles, exploring the never-ending countryside, or even taking a trip to an icy coastal town nearby.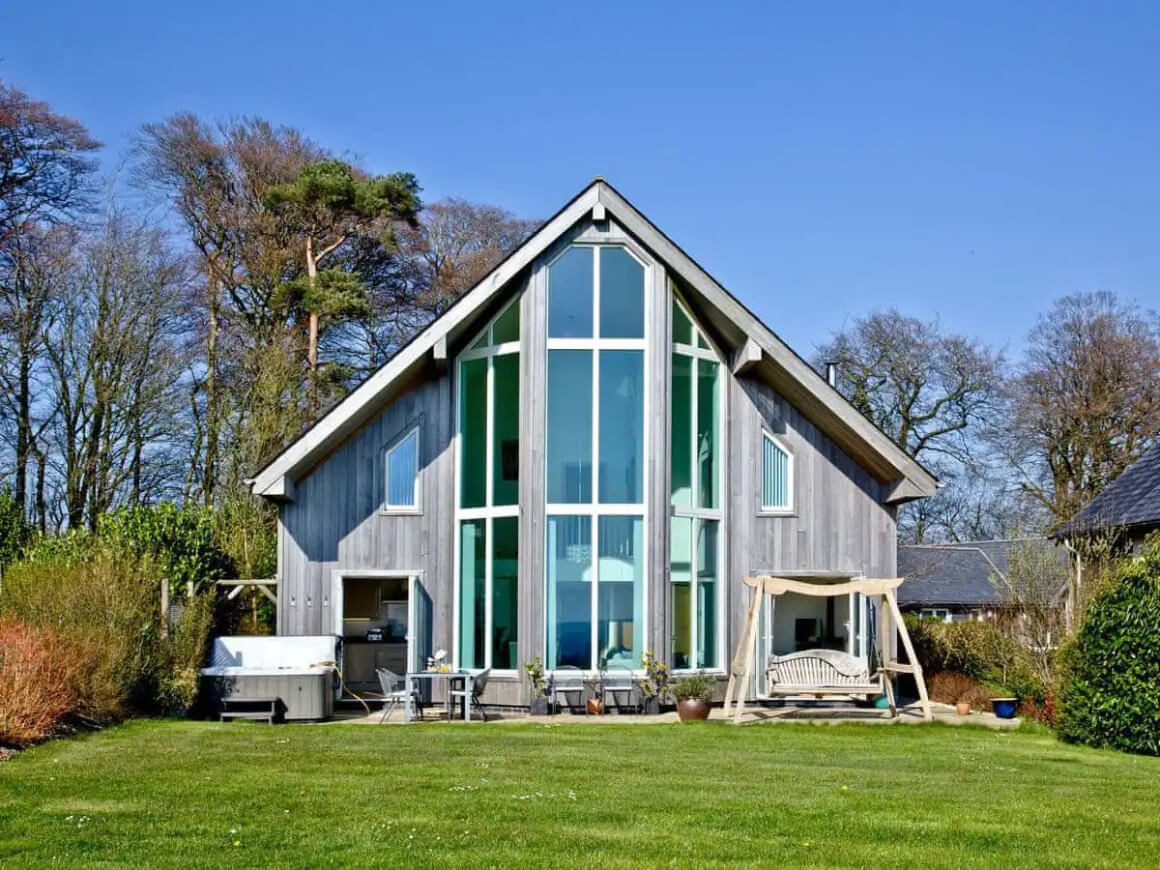 $$$
Jacuzzi and access to shared pool and gym
8 Guests
Located on a 1000-acre estate in Cricket St Thomas
From the outside, this opulent cottage looks like a modern (even futuristic) take on a traditional North American ski cabin. It has an A-frame roof and huge triple-story windows inviting an abundance of natural light into the shared living space.
Inside the home, you'll be surprised by the ultra-luxurious and modern interiors, including crystal chandeliers, modern art, and cozy linen furniture. Fitted with a fully-equipped gourmet standard kitchen, you'll be able to cook up a storm with your family for Christmas dinner, which can be enjoyed overlooking endless pastures for as far as the eye can see.
Surrounded by nothing but the countryside, this secluded cottage is a great option for exploring the nearby towns of Dorset and Somerset as they light up for the festive season.
$$$
Pet-friendly with exposed brick walls
8 Guests
Located in Cadeleigh, Mid Devon
Here in the English countryside, you can expect outstanding views, miles worth of walking trails, and an encounter with the odd wandering cow. This modern build is one of the most sought-after cottages at Christmas in the UK.
As a modern take on a traditional English barn, the cottage boasts expansive glass windows from floor to ceiling, allowing natural light and exquisite views into every inch of the space.
Four en-suite bedrooms allow you to enjoy your own peace and quiet, however, the massive living area, as well as the cinema and pool table room, are perfect spots to socialize with your mates. It is an epic spot for a group of friends looking for some festive cheer.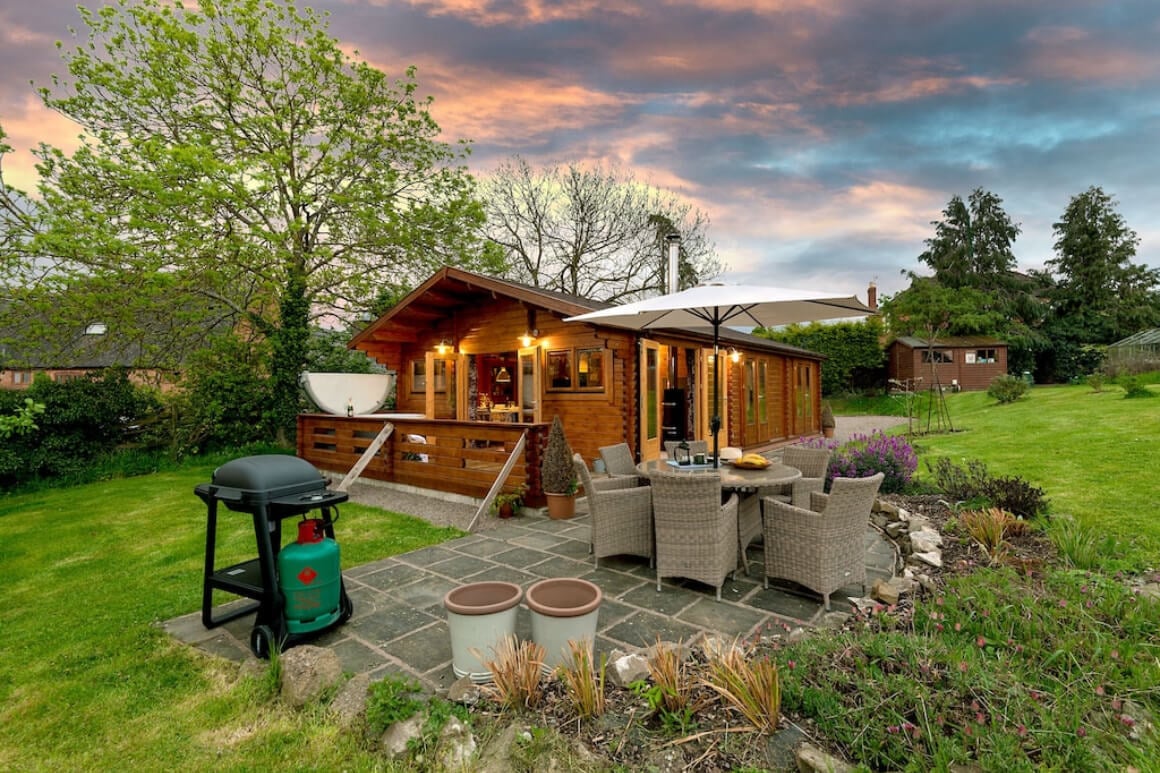 $$
Classic timber structure with log burner
4 Guests
On an orchard in Malvern Hills
This might just be the most quaint cottage in the country. Located on a private orchard, the property is surrounded by nothing but idyllic greenery. The single-story cottage is made entirely from timber, from the walls to the ceilings.
There is a cozy living space that opens up onto a spacious outdoor deck with a private Jacuzzi. Name a better way to spend a cold evening than sipping champagne in a bubbling Jacuzzi – I dare you.
Inside the cottage, you'll be greeted with homey interiors and a French-inspired kitchen fitted with only top-of-the-range Charles Rennie Mackintosh appliances. With the wood-burning fire keeping the home toasty warm, it is a pleasure to cook here.
$$$$
Modern architecture with a private jetty
2 Guests
Riverside in Gloucestershire
If you think a lake-shore cottage is only appropriate for a summer vacation, you'd be wrong. This exquisite modern property is one of the top luxury cottages for Christmas in the UK. It's fully secluded, hidden beneath a canopy of trees with nothing but a private dock between the cottage and the lake.
Unlike other more traditional cottages, this one is clearly designed to be as modern as possible, from the floating staircase to the glass railings. The floor-to-ceiling windows make it feel as if you're outside, even from the comfort of the faux fur-lined bed. I can just imagine curling up by the fireplace and watching the rainfall just outside the windows – festive bliss.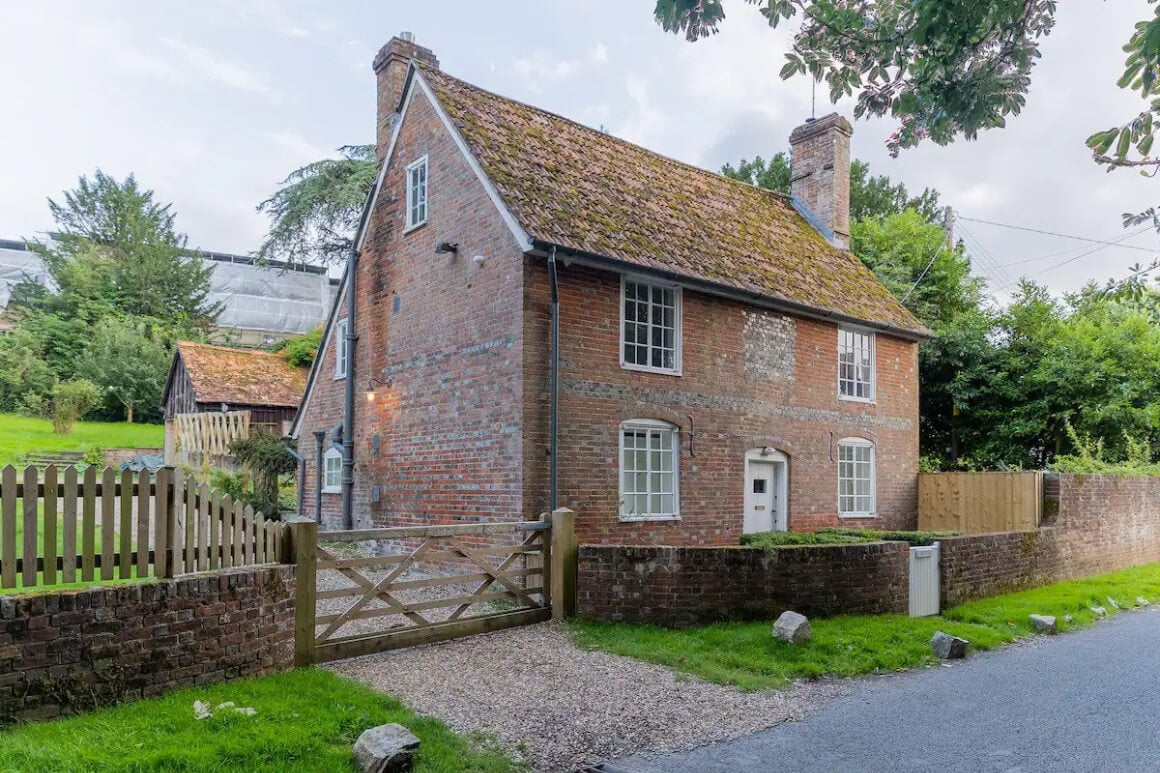 $$$$
Traditional timber cottage with warm interiors
8 Guests
Located in Avington, near Winchester
This charming cottage looks like something out of a fairy-tale. The classical red-brick house is clad with moss – you can even see where the building's windows used to be placed in this original 18th-century cottage.
However, as you walk inside, you'll be greeted with surprisingly contemporary interiors throughout the three-story home. The furniture has been hand-picked and curated with care, creating a super inviting and warm feel. Warm wooden countertops, exposed timber ceiling beams, and luxurious linens fill the space.
The cottage sits in a quiet street in the heart of a small village. If the small-town life gets too slow for you, you'll only be a few miles away from the pubs and shops of nearby Winchester.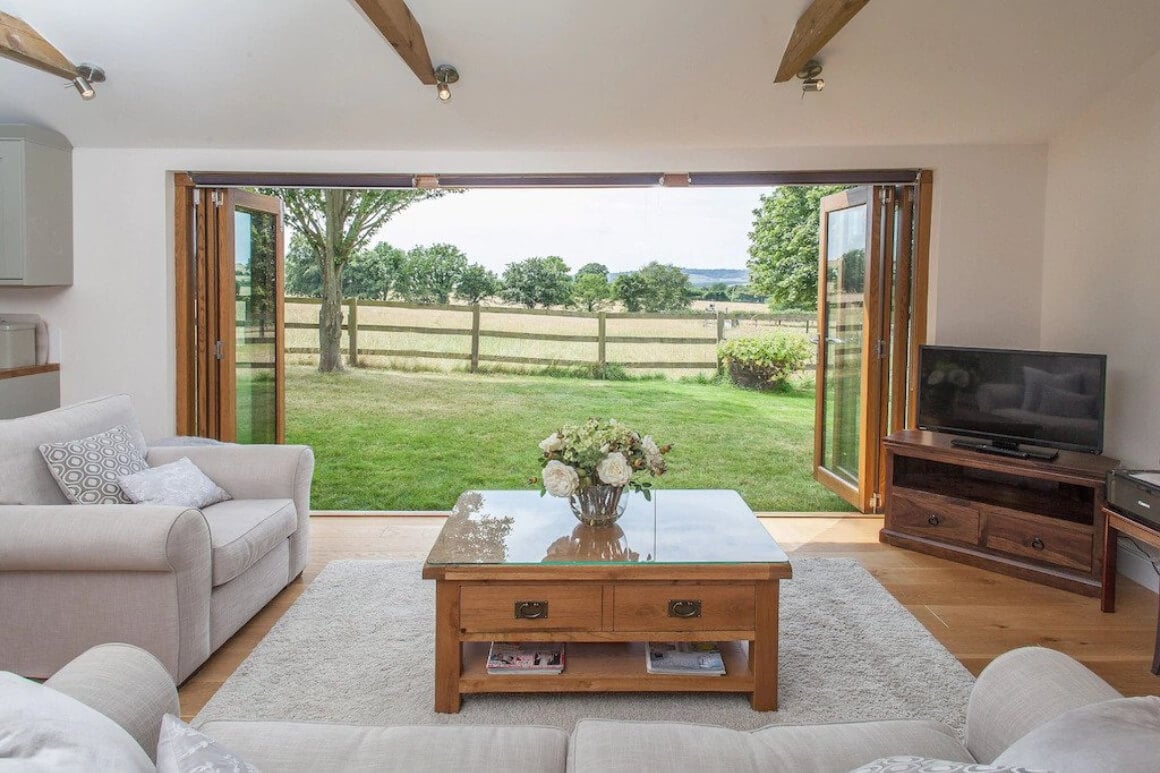 $$$
Contemporary cottage with central heating
2 Guests
Located in West Meon, Hampshire
With cobble-stone streets and triple-story cottages with rickety stairs consuming the majority of these old-English towns, it can be tough to find a suitable cottage rental for wheelchair users.
This elegantly refurbished rural cottage offers five-star accessible accommodation, with tons of wide-open space, no steps, and an accessible bathroom. It's not only practical – we believe it's also on the list of top romantic spots to rent!
From inside this cozy retreat, you'll feel as if you're the only person on the property, which spans as far as the eyes can see through the glass doors. There are countless walking paths and trails from the doorstep, and you won't have to venture further than the local village to purchase some necessary groceries, or visit a small eatery.
Is This the Best Backpack EVER???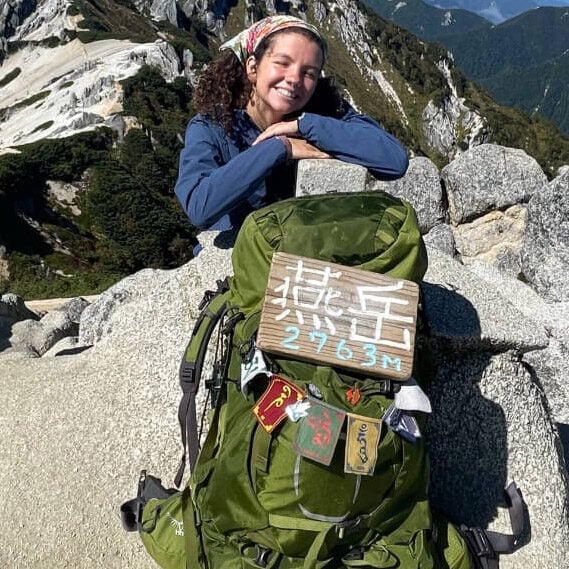 $$
Grassy backyard with gazebo and games
7 Guests
Located in Elham, near London
If you're after a buzzing city escape for Christmas, keen to do some high-end shopping or dining, or up for browsing sprawling Christmas markets, you'll want to base yourself in a big city. This cottage sits just outside London, only a short train ride from the dynamic city center.
Originally built as a coach house, the home has high ceilings, giving it a super spacious and bright feel. While all three bedrooms have an en-suite bathroom, the central living area is where you'll want to spend most of your time. Equipped with a cozy fireplace and a full kitchen, this is the perfect spot to retreat home to after a day exploring London.
$$$
North American ski lodge style
10 Guests
Located in Nethy Bridge, a forested village
Make yourself at home in this stunning modern cottage in the forest. From the huge yard, this spot looks like a classic North American cabin, with A-frame glass frontage windows and a timber exterior. In fact, the windows are so huge, that you'll feel as if you're outside, even as you sit comfortably in front of the wood-burning fireplace.
When it gets too cold to venture outside, there is plenty of room to spread out across this luxury cottage in the UK, ideal for Christmas. Choose from two living rooms, or enjoy some alone time in one of the four bedrooms.
Hidden on the banks of a pristine river, with a private Jacuzzi on the deck, this is a top location for a family gathering.
$
Historic stone castle-inspired cottage with a Jacuzzi
8 Guests
In the Galloway Forest Park
Hidden between trees on Loch Trool in the Galloway Forest Park, this historic stone home looks just like the castle from your favorite classic fairy-tale. It sits hidden between trees on two acres of countryside and pastures, 13 miles away from the nearest town.
This secluded cottage was once home to the Earl of Galloway, giving it an authentic and historical charm you won't find in other places. While it's not exactly hours away from town, there's limited phone reception and internet connection. Unplug and disconnect from your mobile devices, to reconnect with nature and your loved ones.
$$$
Tiny modern home with yard
2 Guests
Located in Devon, South Hams
While tiny homes are pretty common across the US, they are far and few between in the UK. This interesting structure has a futuristic look to it, with a curved timber ceiling and walls.
The interior is very simply furnished, with quirky green-colored details bringing a touch of fun energy into the space. Enjoy small luxuries such as a heated towel rail in the bathroom, making sure your towels are toasty warm and dry.
Located off the beaten track in Devon, you might be lucky enough to enjoy a snowstorm during your visit. In this case, the best way to keep warm is to brave the cold and hop in the Jacuzzi – without a doubt one of the top-selling points of this beautiful cottage in the UK for Christmas.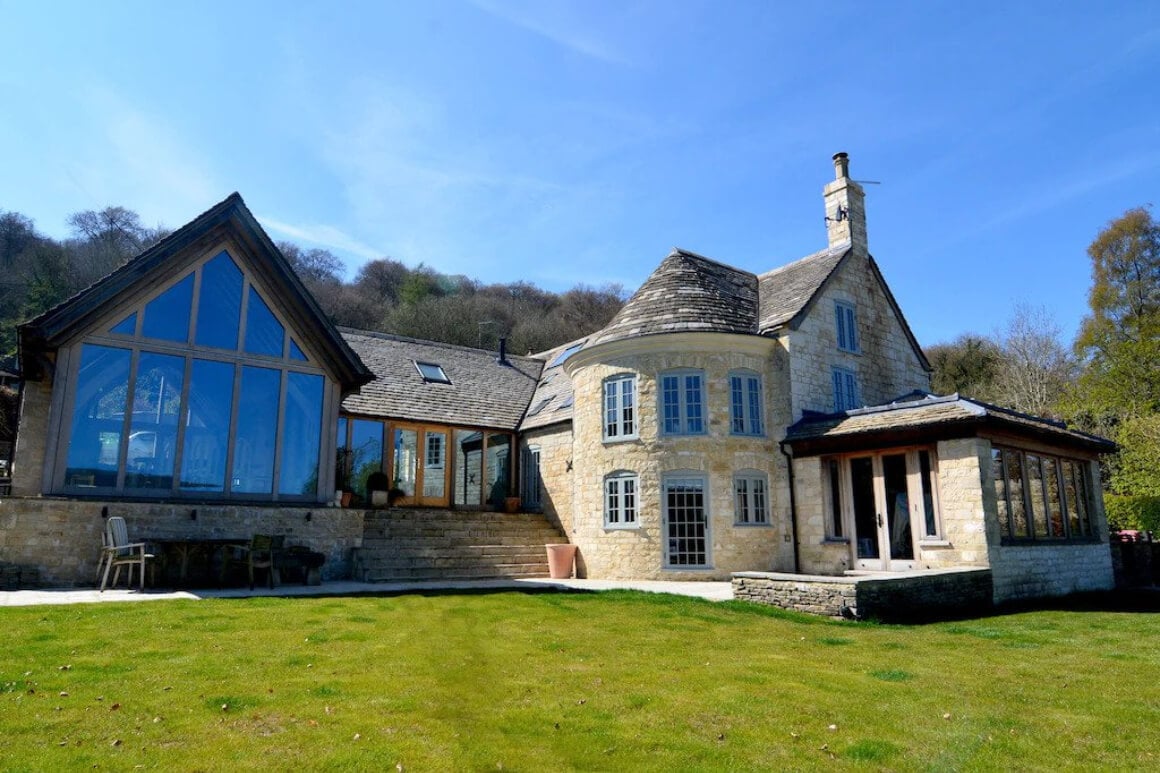 $$
Stone and oak built home
8 Guests
In the Painswick Valley countryside
We didn't know this was possible, but this exquisite cottage perfectly combines old English castle and modern North American ski lodge architecture. With underfloor heating, wood-burning fireplaces, and a stone tower, even the interiors combine old and new with style.
The home was built using stone and oak, and is located in a quaint rural village with panoramic views of the Slad and Painswick Valleys, through the massive frontage windows.
Modern meets gothic in the central living space, with arched exposed ceiling beams interspersed with a ton of sky-lights. We can see why some think this home belongs in an Elvish castle in the Lord of the Rings series.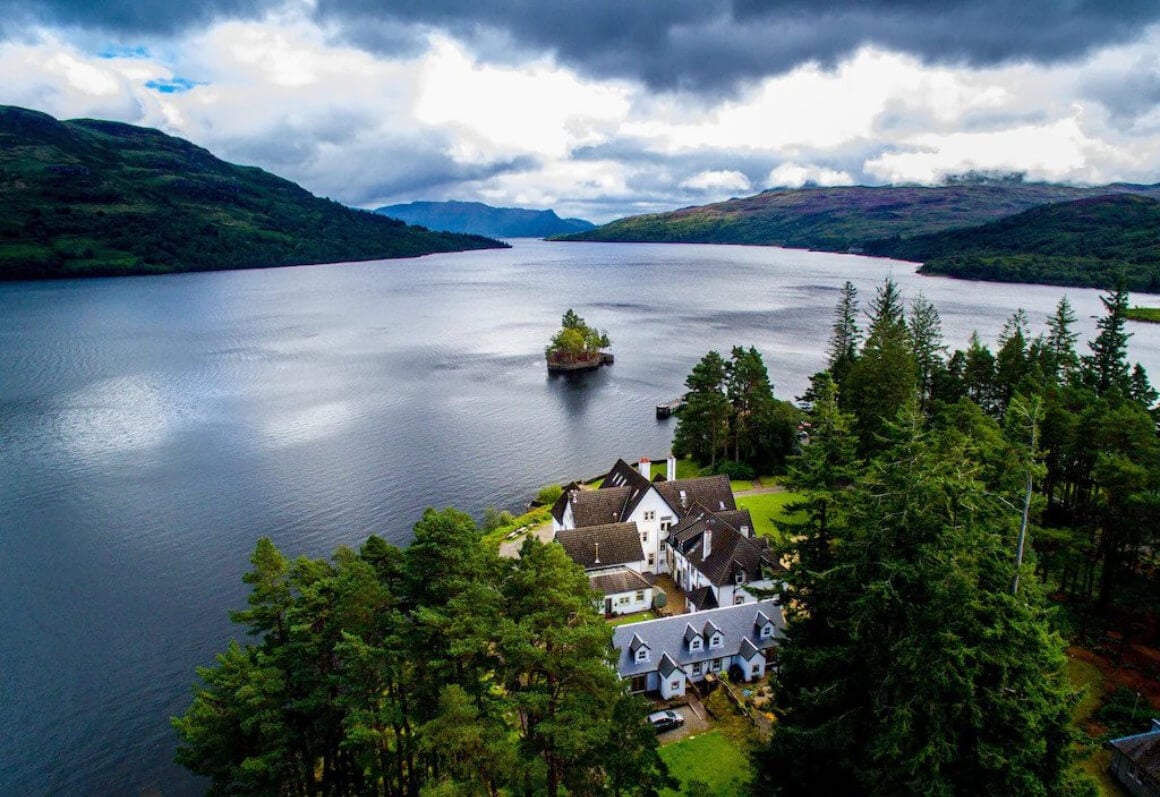 $$
Stone-built cottage with a garden
8 Guests
On the banks of Loch Katrine in Stronachlachar
Staying in a lochside cottage at Christmas is something everyone should experience. This charming cottage sits adjacent to the main Lochside house, in a secluded rural forest region. While the cottage has a remote vibe, you'll only be a short drive away from a local village with shops, restaurants, and boutique shops to explore.
With four bedrooms and spacious shared living spaces, this home is ideal for adventure-loving families who pine for the great outdoors, even in the middle of winter. Luckily enough, the hosts have included a variety of kids' toys, books, and DVDs to keep the family occupied when the weather is just too cold to bear.
$$$
Covered outdoor greenhouse dining room
6 Guests
On a private orchard in Newton Longville
Come in and experience the high energy that this funky and colorful open-concept home has to offer. Located on a gorgeous fruit orchard, surrounded by trees, this spot includes a large yard with outdoor seating.
While it might be too chilly to make proper use of the BBQ and outdoor lounge, you'll surely use the enclosed glasshouse, with a private dining table inside. Strung with Christmas lights, we can't think of a better spot to spend a snowy Christmas eve with your family.
With eclectic touches throughout the space, these super-star hosts have thought of absolutely every detail. Forgotten toiletries? They have them. Board games? Your hosts have you covered. Pet treats, beds and bowls? You're all set!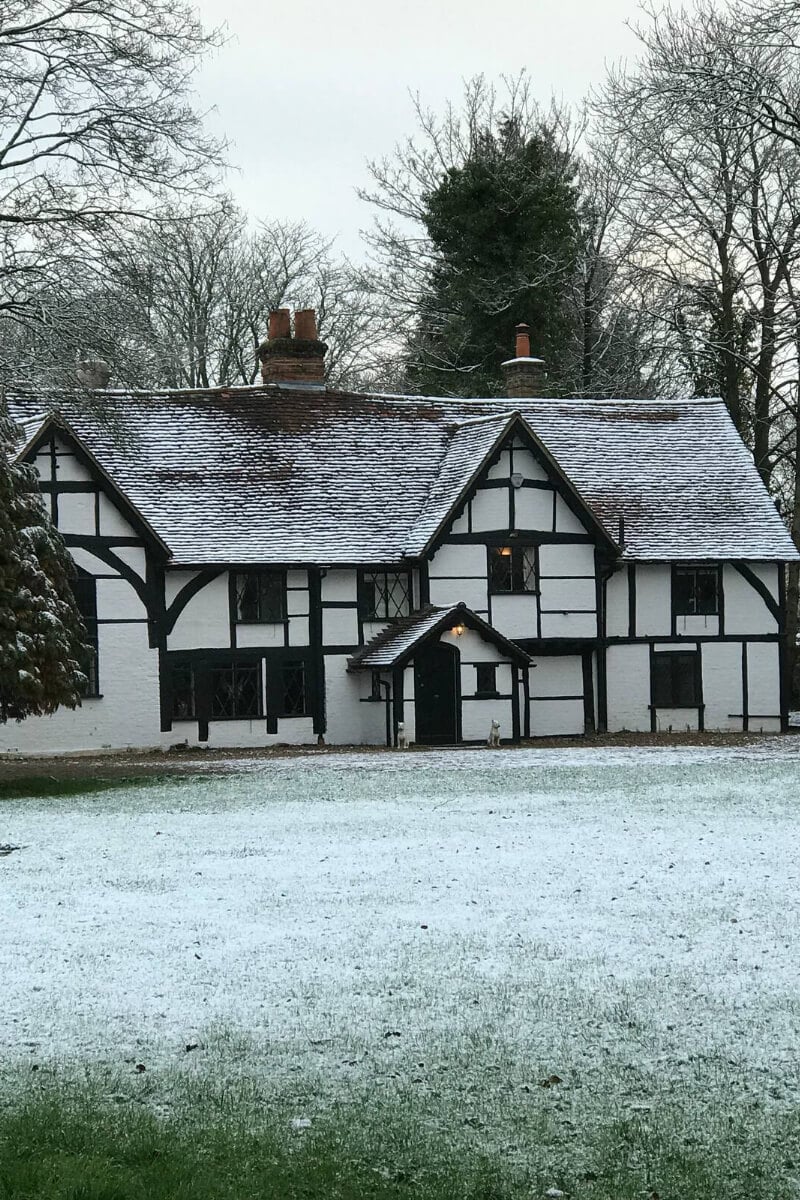 $$$
Historic home with great dining hall
14 Guests
Located in Dorset, near the Thames and Eton
Take a step back in time in this historic 16th Century English cottage for Christmas. As part of the Estate of Dorney Court, this old home has been tastefully refurbished with a mix of antique and modern furniture.
Uncommon to other smaller cottages, this one includes a great dining hall with 30-foot high ceilings. With vaulted ceilings, hanging gothic style chandeliers, and an original wood-burning stove, it's the ideal spot to host a classy Christmas eve dinner or lunch.
To add a bit of fun to this authentic home, each bedroom has been decorated according to a different theme, including a French-inspired bedroom and a winter sleigh-designed room.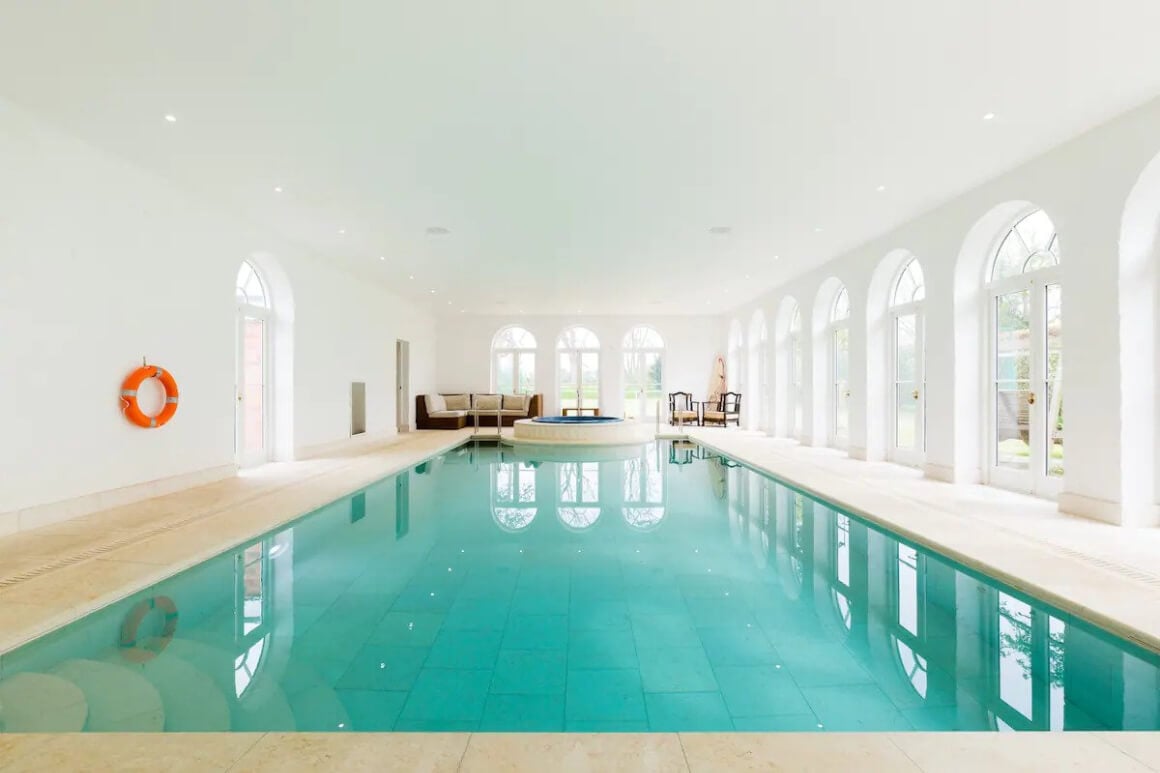 $$$$
Games room and indoor heated pool
6 Guests
Located in Little Comberton in the Cotswolds
Especially if you're gathering with young kids, renting a winter cottage with a heated indoor swimming pool is a great idea. Not only does this grand Cotswold cottage have a huge indoor pool, Jacuzzi, and spa room, it also has a private soccer pitch/tennis court and is filled with different games. Whether you enjoy a game of table tennis, soccer or prefer to relax in the bubbling Jacuzzi, this rural cottage has you covered.
The huge property sits on the edge of an 80-acre estate, doubling as one of the best spots to rent for event hosting. While the home seems secluded, with nothing but countryside views as far as the eye can see, you'll be relatively near some large local towns with some of the best Christmas markets in the UK, pubs, and shopping.
$$
Abbey House influenced interiors
5 Guests
On the grounds of Newstead Abbey Gardens
I'm sure you're all too familiar with the drama film Downton Abbey. Well, this classical Grade II listed 1800s cottage sits on the grounds of Newstead Abbey, one of the film's main filming locations.
You'll be walking in the footsteps of history, enjoying the same exquisite gardens that were once enjoyed by a famous English poet who called the abbey his home.
As one of the most historical cottages for Christmas, this gardener's cottage sits overlooking the rose garden. The interior has been carefully curated and influenced by the main house, yet with a contemporary touch. The best part about this spot is that it allows guests access to the gardens, which are usually a tourist attraction you need to book to see.
Don't Forget Your UK Travel Insurance
ALWAYS sort out your backpacker insurance before your trip. There's plenty to choose from in that department, but a good place to start is Safety Wing.
They offer month-to-month payments, no lock-in contracts, and require absolutely no itineraries: that's the exact kind of insurance long-term travellers and digital nomads need.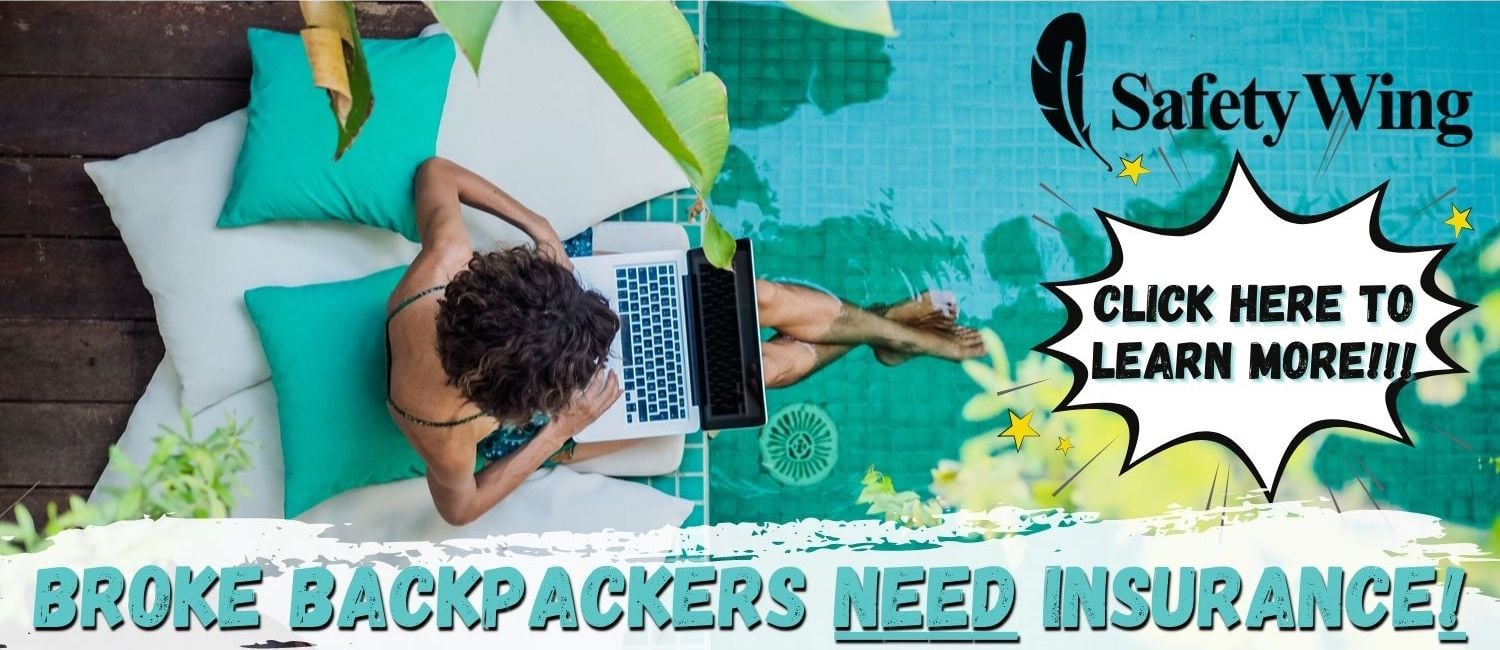 SafetyWing is cheap, easy, and admin-free: just sign up lickety-split so you can get back to it!
Click the button below to learn more about SafetyWing's setup or read our insider review for the full tasty scoop.
Final Thoughts
Regardless of whether you celebrate the holiday or not, the Christmas season in the UK is a magical time. If you're visiting from a different country or planning a local Christmas vacation, you're sure to find the perfect cottage in the UK.
Choose from a historical Abbey garden cottage or a modern North American ski-lodge-inspired home in the countryside. From England to Scotland to Wales to North Ireland, history enthusiasts, winter sports lovers, and shopaholics will all be blown away by what this varied region has to offer.
---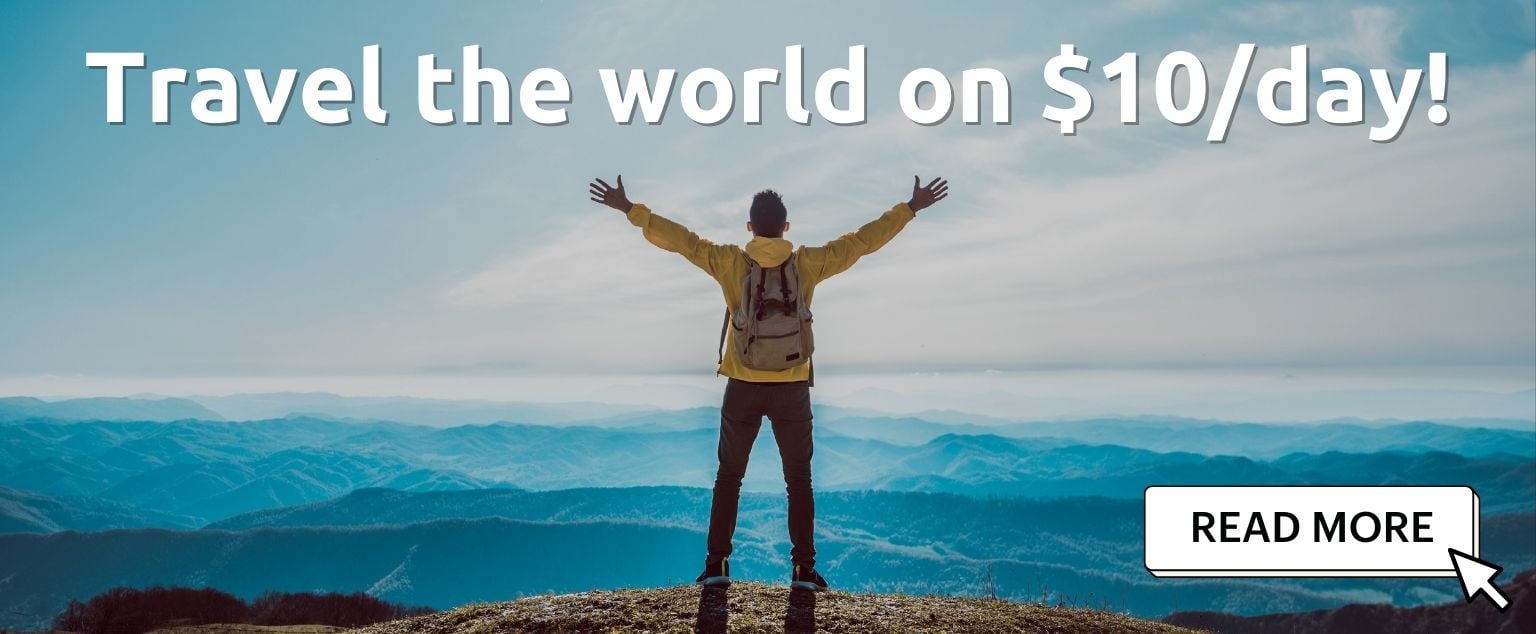 And for transparency's sake, please know that some of the links in our content are affiliate links. That means that if you book your accommodation, buy your gear, or sort your insurance through our link, we earn a small commission (at no extra cost to you). That said, we only link to the gear we trust and never recommend services we don't believe are up to scratch. Again, thank you!