What if I told you that you can stay out in colder temperatures at the flick of a switch? Heated jackets offer up a flash of warmth on Winter's darkest days. Freezing temperatures shouldn't force you into a life indoors, but a cold core ruins any outdoor fun before you even have a chance to warm up.
Layering up and investing in a nice, merino bottom layer can only take you so far. To reach further into the action and get deeper into the snowdrift, you need some serious technology.
It wasn't so long ago we were piling high the skins once the leaves started turning brown.
In previous years as the leaves started to turn a burning red, we'd throw on the long johns and layer up in that many layers we'd look like the Michelin Man! Not ideal for outdoor activities like climbing! Nowadays, you can just switch on your jacket for a boost and flick it off if things start to heat up a bit too much!
This technology is really beginning to flourish, but there are heated jackets and then there's the Dewbu Heated Jacket. If you're going to invest in this new technology, don't mess about with a coat that will run out of juice when you need it most. Instead, you need to find a high quality heated jacket made for you to pair with your next freezing adventure.
The Dewbu Heated Jacket may be just the coat you're looking for. The choice isn't easy. There are more quality heated jackets on the market now than ever. More and more companies are making extreme promises to keep their name at the top. The question is: Do these coats just talk a big game, or do they stand up strong against the real cold?
Today, we're going to find out exactly what the Dewbu Heated Jacket is all about. We'll inspect every facet of the coat down to the inner stitchings, as well as compare how this coat stacks up to the competition… so you don't have to!
Spoiler alert – this thing kicks ass! While it's not for everyone, this heated jacket offers serious benefits and really takes the sting out of winter. Let's take a closer look at one of 2022's best-heated jackets.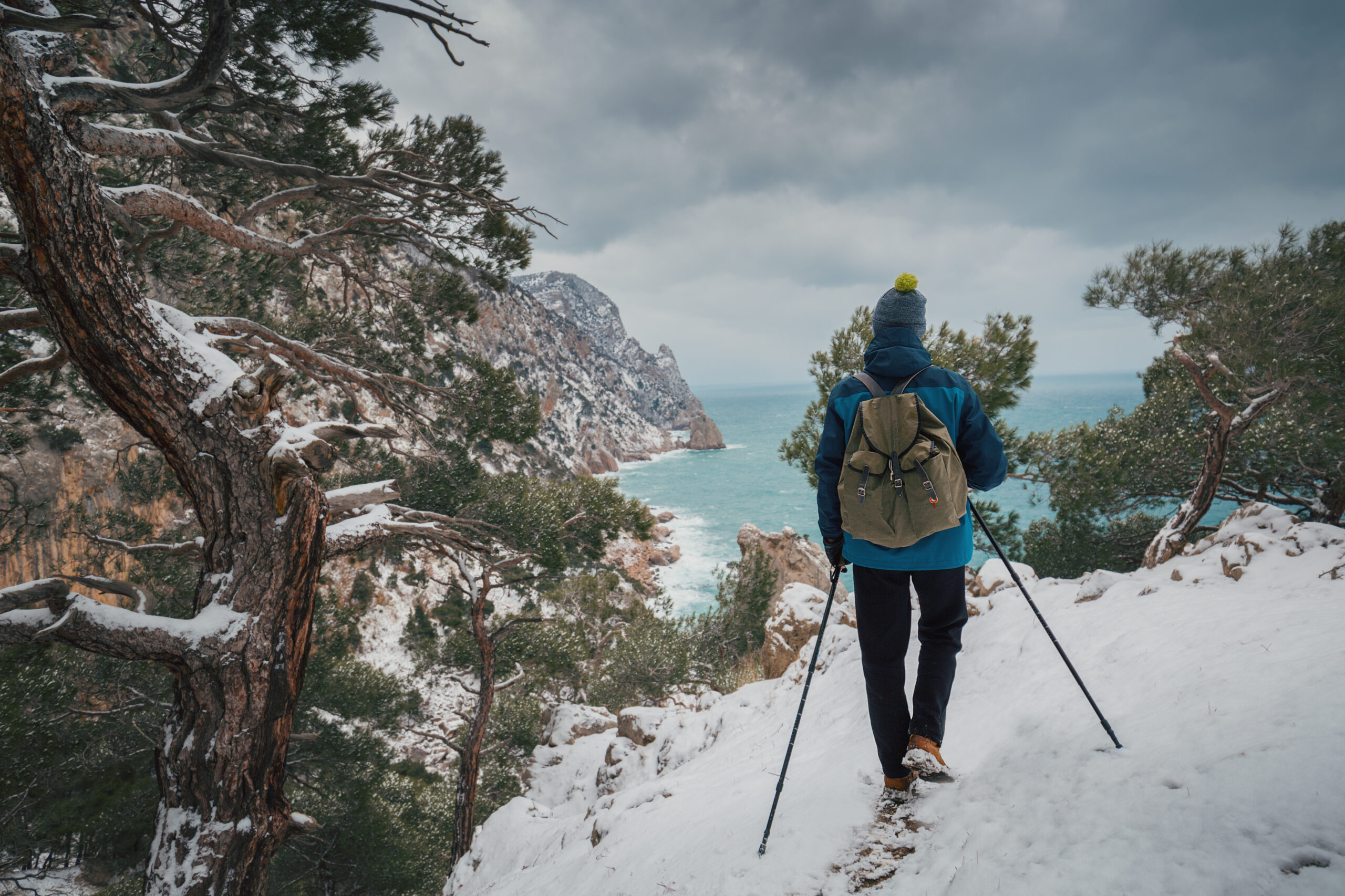 Product Specs and Performance Breakdown
This coat can stay toasty through some gnarly conditions, with unique heating elements, downright comfortable warmth, and rock-solid wind resistance. Thanks to a splash of variability in all the right places, you can wear this heated jacket in the dead of winter and on those blustery autumn mornings while you wait for the sun to heat things up naturally.
This versatility makes the Dewbu heated jacket an equally suitable companion for treks to new heights and across parking lots with your winter snacking supplies!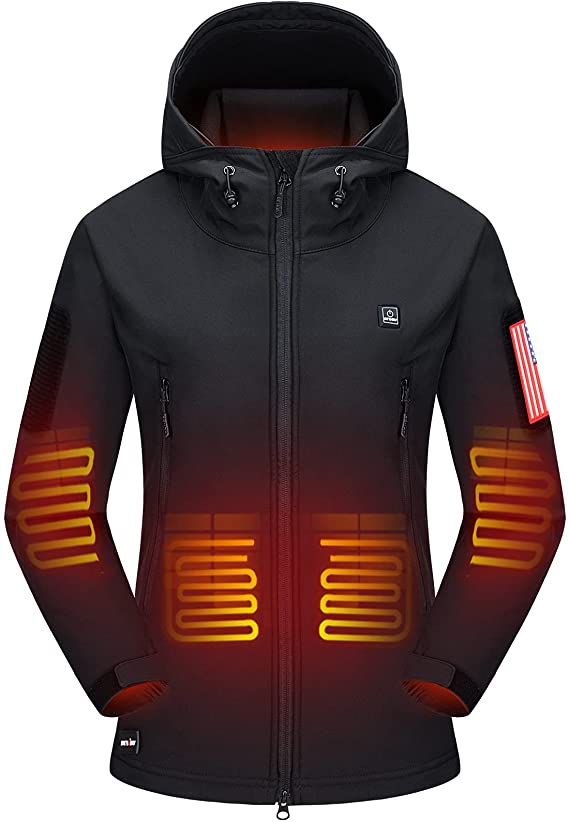 Size and Fit
The Dewbu Heated Jacket is built as an outer layer. This means the jacket fits a bit oversized to comfortably sit over mid and base coats. To combat falling too baggily over your arms and shoulders, the jacket comes with plenty of adjustable cinches and a neck gaiter.
Elastic arm sleeves can tighten up and stay velcro-ed strong to keep snow from sneaking up your upper arm. My favourite oversized portion of this potent protector is the XL sized chest pocket region. These huge sections easily fit your hands so you can easily fit some useful items in this convenient location.
Up top, the jacket's rimmed hood goes above and beyond and juts out just far enough to help precipitation bounce off before it hits the mainframe. The entire inner layer is insulated with a soft polar fleece lining that really turns the heat up a notch whilst keeping things super comfy.
Your final layer needs to fit all your extremities when it's time to bundle up, and this baggy coat makes sure there's room for everyone by the fireplace. The sleek back panel makes sure your coat doesn't hang too loosely while keeping you warm, but there is definitely room to bundle up both under and over the Teflon exterior.
If you want to be able to layer up then this coat leaves enough room to wear something like a fleece underneath. If you're looking for a tighter fit then think about downsizing.
Looking for a dedicated cold weather jacket? Check out the best winter jackets on the market.
Ladies & Gents, It's Time to Step Your GEAR Game Up. 😉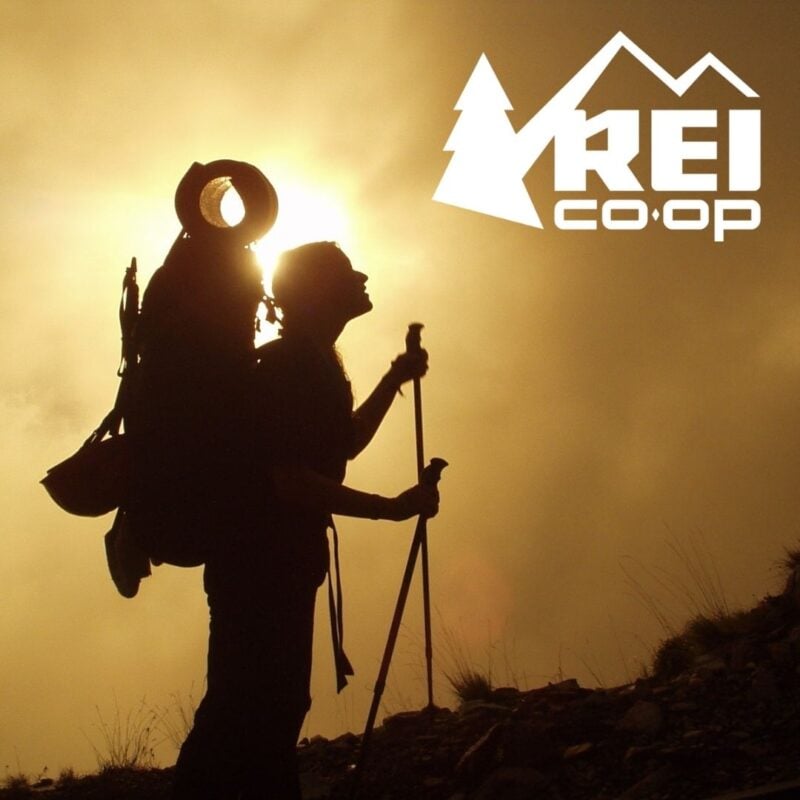 REI is one of America's biggest and most-loved outdoor gear retailers.
Now, for just $30, get a lifetime membership that entitles you to 10% OFF on most items, access to their trade-in scheme and discount rentals.
Join REI Today!
Outer Shell
A heated jacket sounds great, but without the proper outer materials, it just can't hang against some harsh weather elements that typically accompany cold temperatures. Luckily the Dewbu takes it all into account and made sure to include a durable polyester Outer Shell.
This versatile material keeps the overall weight of the jacket down while helping to insulate the artificial heat inside. That's not all this shell is capable of protecting. The water-resistant material doesn't have the same credentials as Gore-Tex, but will still hold its own through flurries and nasty sleet.
A Teflon-coated final layer helps make sure the rain and snow just slide right off! This coating makes the jacket wind-proof as well as highly water-resistant and will keep your jacket looking clean for decades. Dirt, debris, and tough tumbles through wintery wonderlands bounce right off this high-performing outer shell.
Need a snowsports jacket? Check out the best ski jackets on the market, including some heated options.
Dewbu Heated Jacket Heating System
Without this essential ingredient, the Dewbu is just another jacket. The central heating is powered by either a 7 Volt or 12.4 Volt battery. These batteries can be fully charged in just a few hours and provide all-day warmth.
10 hours on low or 5 hours on high is enough time to enjoy a day outside, and because the jacket can warm up to 140 degrees Fahrenheit (60c) in just a few minutes you may not have to keep the jacket powered all afternoon, especially if you're on a hike.
A simple control panel allows you to adjust your heating across three different modes while also providing a lowkey space to charge electronics.
The key to Dewbu's heating prowess is in the carbon fibre heating zones. The seven-volt model provides Two large heating elements across the chest and one in the mid-back to pump out heat to where you need it the most, while the upgraded 12 V model features five total carbon fibre heating zones.
While we love the maximum heating capability provided to your core in the Dewbu heated jacket, I also would have loved to see them include an extra carbon fibre heater in the neck area like some of the competition to really push the heating over the top. Still, this versatile heater pumps out plenty of heat to keep you warm on some damn cold January mornings.
A simple control panel allows you to adjust your heating across three different modes while also providing a lowkey space to charge electronics.
Pockets, Hoods, and Zippers
The devil is in the details. These three elements of a winter coat are absolutely critical to finishing off the warmth of your coat and allow plenty of heating choices.
Nobody does pockets better than a proper heated jacket. The Dewbu takes advantage of two central heaters and two large chest pockets to allow your hands front row seats to the artificial heating.
In addition, the jacket rocks 2 back pockets and 3 arm pockets for plenty of convenient storage – just don't leave a chocolate bar in the chest pocket with the engine on!!
Up top, the flexible hood can be easily folded up and tucked away on calmer days, or quickly deployed to provide hardcore protection thanks to the stretched out brim.
Best Use
On the coldest, greyest, nastiest days when you're still itching to get outside, battery-powered heat inside a lightweight and durable shell qualify this coat for the ride. This coat is best used as a versatile outer layer for colder days spent outside.
Winter exercisers can power on the extra motivation they need to get out the door and onto the trails and switch off the battery heating to maintain comfortable temps throughout the workout. Since the battery can last up to 8 hours on low, you can maintain body heat all afternoon.
Take advantage of the Teflon coating outer layer to hit the slopes with the Dewbu and stay toasty on the lift ride up. It's also a great option for when you've finished your blood pumping hike and you're taking in the view from the windswept peak, it can quickly get cold up there especially if you've worked up a sweat. Flick a switch and maintain your body heat for your trek back to basecamp.
You don't have to be bombing hills to take advantage of this jacket's heating power. Winter errands have always been met with sharp cutting winds. Switch your coat on for the walk to the movie theatre and switch it off once you settle into your seats.
The space-saving heat pumped out by the battery-powered jacket make the Dewbu a great companion every day and on long trips in variable weather. Instead of packing loads of different coats for all sorts of occasions, you can use this jacket as a one-stop heater that can reach temperatures well above its weight class.
For 90% of applicants, this Heated Jacket is best used as a versatile outer layer. The jacket is rugged enough to serve as the last line of defence against moderate to short-term severe weather along with an extra boost of warmth when needed.
Anyone suffering it out below 20 degrees celsius is better off using the Dewbu as a middle layer underneath an arctic outer layer. At subzero temperatures, this coat can provide twice the insulation and warmth as most typical layers so you won't have to leave the house dressed like a marshmallow!
The best present of all… is CONVENIENCE!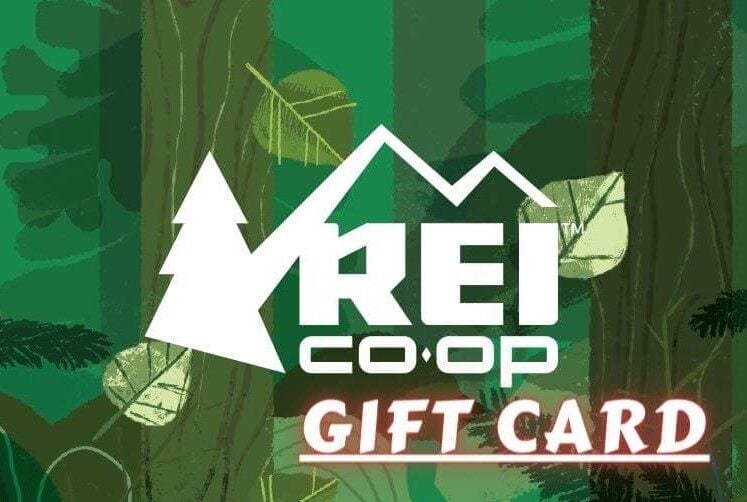 Now, you could spend a fat chunk of $$$ on the WRONG present for someone. Wrong size hiking boots, wrong fit backpack, wrong shape sleeping bag… As any adventurer will tell you, gear is a personal choice.
So give the adventurer in your life the gift of convenience: buy them an REI Co-op gift card! REI is The Broke Backpacker's retailer of choice for ALL things outdoors, and an REI gift card is the perfect present you can buy from them. And then you won't have to keep the receipt. 😉
Buy on REI!
These two companies are at the forefront of the heated jacket industry and they both serve as worthy outer layers for getting the job done when you'd rather be sat by the fire.
Let's get the most important statistic out of the way first. At 80 dollars compared to 119, The Dewbu is the cheaper of the two models, although both can be found for an affordable price. It also includes a battery that lasts twice as long at all three heat settings to let the gear expo know it means business.
The other major area the Dewbu excels compared to the competition is its outer shell. The Dewbu's extra layer of weather protection far outperforms the Ravean's water-resistant down fill.
Critics will be quick to point out that even though the Dewbu is more waterproof than the Ravean, both of these jackets would pair well with a Gore-Tex final layer. There are no heated jackets out there that can completely replace a snow-proof outer layer if you're planning on getting knee-deep into the mix.
These two heated jackets are the next best thing and can churn out a lot of warmth in the right pair of hands. While the Dewbu has a special place warming up my heart, I can admit the Ravean serves up some serious competition.
The Dewbu represents a slightly heavier option, with more variable heating options and higher maximum output. If instead, you're looking for a heated jacket that can fit in any suitcase, you might pair well with the Ravean, lightweight mid-layer that can puff out on its own.
There are plenty of endorsements out there for everything a down layer can handle. Outdoorswomen have long favoured a down middle layer for travelling, hiking, and anytime space, style and function come together. A lightweight fit that comes with battery-powered heating? Now that's a game-changer.
Find the coat that best pushes you in the right direction and head off with confidence no matter the weather.
Want to know more? Check out our more detailed review of the Ravean Heated Jacket.
Want some other options?
Well, there's the Gamma Wear Graphene Heated jacket, a top-quality option for extreme conditions. Then there's the Venustas heated jacket, a great 3-1 option.
You can also have a look at our rundown of the best Ororo heated jackets as well as checking out the best Women's heated jackets. So you've got plenty of options!
Pros and Cons
Here's what we learned. While checking out this heated coat's performance across the board we discovered a few places this jacket really stands out.
+Pros
An upholstery strength Teflon exterior coating makes this one of the best weather resistant heated jackets in the business.
The 12 Volt model can heat things up to fifty five celsius in minutes or churn on low heat for ten hours.
The flexible hood can be removed or unrolled to block your face with a brim layer.
-Cons
Dewbu includes five separate carbon fibre heating elements but not one of them is in the neck or collar area.
Once you hit subzero temperatures this coat is better suited as a middle layer.

Our GREATEST Travel Secrets…
Pop your email here & get the original Broke Backpacker Bible for FREE.
Final Thoughts
There is little risk in taking a shot on this affordable heated jacket. Dewbu has brought battery-powered heating coats into the double digits to make portable heaters more accessible than ever. It's one of the best adventure and travel jackets on the market.
All this oomph doesn't even take much maintenance. You can machine wash and tumble dry this coat just like any other winter wear after you take the battery out.
These battery heated jackets are the closest thing in the wintertime to sunshine in your pocket. Head outside with a kick from some artificial energy and you'll spend more time this winter soaking it all in.
---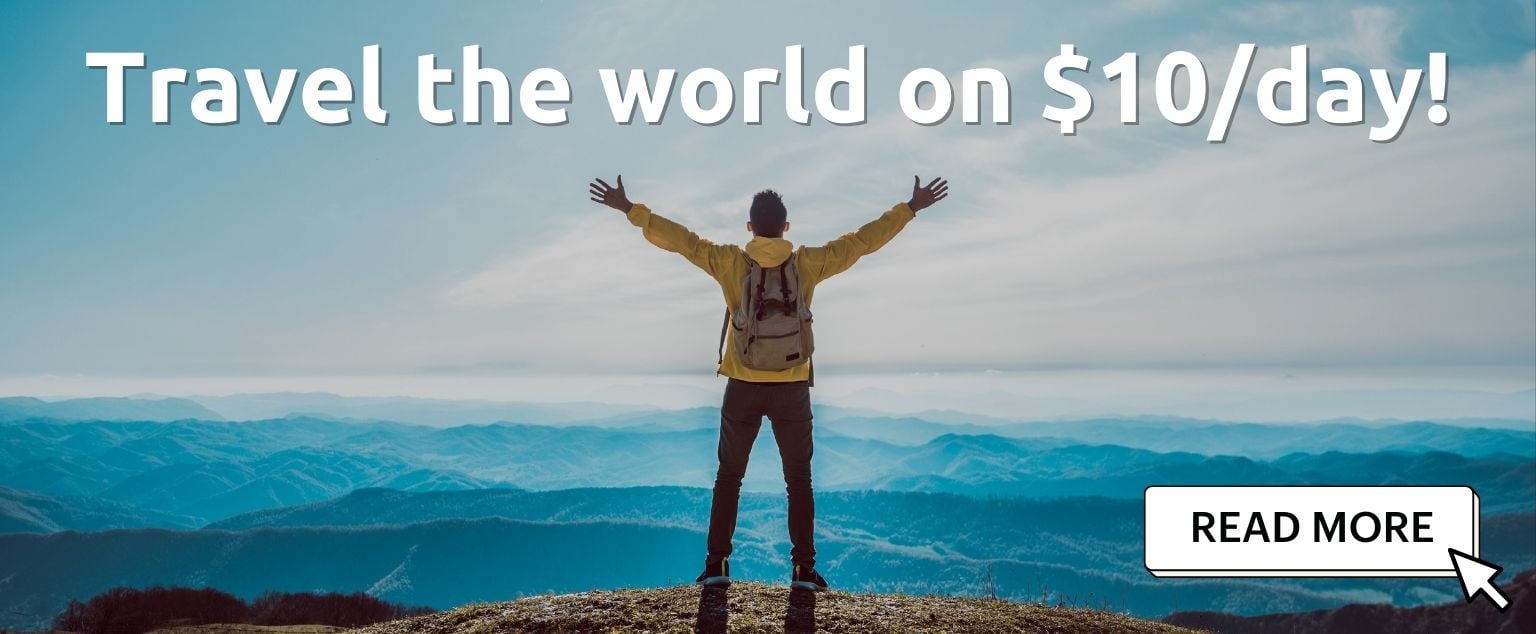 And for transparency's sake, please know that some of the links in our content are affiliate links. That means that if you book your accommodation, buy your gear, or sort your insurance through our link, we earn a small commission (at no extra cost to you). That said, we only link to the gear we trust and never recommend services we don't believe are up to scratch. Again, thank you!