Ok, so the Venustas is the closest an artificially heated jacket has come to the comfort and look of traditional coats, so you'll want to keep reading! They protected a powerful battery system with comfortable fleece and wrapped it all in a completely waterproof and wind-resistant hardcore exterior shell that tops the charts.
The Venustas has the potential to really shake up the industry, but before we go around crowning this cosy jacket king of the coats, we've got to make sure it's truly up to scratch. As a 3-in-1 option, this heated jacket promises to take artificial warmth and combine it with a super durable exterior that qualifies the jacket as the only piece of outerwear you'll need this winter.
If this ain't your first review, chances are you've seen the Venustas Heated Jacket pop up again and again on lists of the best available jackets on the market. At first glance, the jacket's keen specs stand out, and its removable fleece interior creates many options for use. But is it truly worth your hard-earned cash?
After our detailed look behind the stitchings of this heavy-duty coat, we believe it is, and today we'll walk you through why. The fledgeling heated jacket industry has loads of room for improvement sure, but this particular jacket redefines what peaks this type of gear can reach.
Thanks to its multiple wearing options and attention to detail, this coat is plenty warm even before you switch on the variable carbon heating elements. With a heavy-duty battery capable of pumping 10 hours of warmth across four heating zones, when it is time to power on, you'll have a coat capable of staying warm all afternoon and even well into the night.
That's just the tip of the iceberg concerning this heated jacket's myriad of capabilities. Let's take a closer look and see what makes up this contender for one of the best-heated jackets on the market.
Product Specs and Performance Breakdown
Every coat starts as a spreadsheet, and great jackets are constantly tinkered with until they reach the mountaintop. So lets take a look and see how this coat weight up against some of the other winter jackets out there.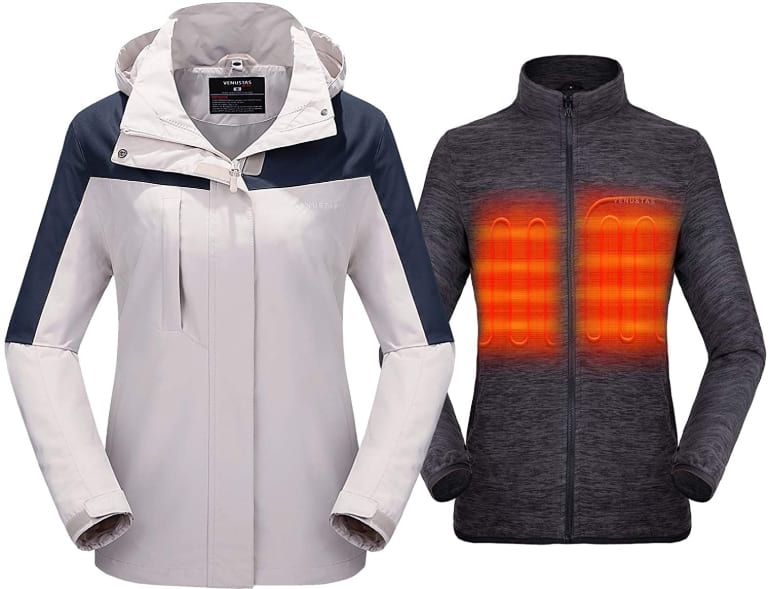 Size and Fit
You can find this comfy heated jacket in men's and Women's sizes, but the unisex fit should wrap cosily around most body types. With three different ways to wear, the Venustas Heated Jacket will fit a whole heap of different situations.
Looking specifically for a women's jacket? Check out our rundown of the best womens heated jackets.
The hip-length coat fits slim and gives you plenty of warmth to bundle up with on freezing commutes or winter city breaks. It means the coat stays close and doesn't let any cold air in.
The 3-in-1 fit of the Venustas serves to bridge the gap between heated jackets and the industry's best winter coats by providing you with several different coats of all sizes. The powerful artificial heating is more than enough to get you out of bed at the crack of dawn and exploring the world without worrying about being cold!
On dry days, You can hit the door with just the inner fleece section of this coat and take battery-powered heating with you wherever the journey takes you. Zip up Venustas' second layer, and you'll attach a waterproof and wind-resistant nylon shell to boost your battery-powered warmth machine!
You can wear each one of these layers on their own or combine them for a weather-resistant coat with far more warmth than any traditional coat is capable of pumping out.
Thanks to the three different wearing styles, It pumps out the heat and stands out in the crowd, all with a classic look. The outer layer sits wide enough to be worn over most sweaters or other mid-layers, while the internal fleece layer fits tight through the neckline to keep the insulating warmth close.
Worn together, all you'll need to add on is a comfy merino base layer to stop even the coldest days from ruining your plans.
Looking for just a fleece? Check out our rundown of the best fleece jackets and see if one works for you.
Winter is coming… WARM UP!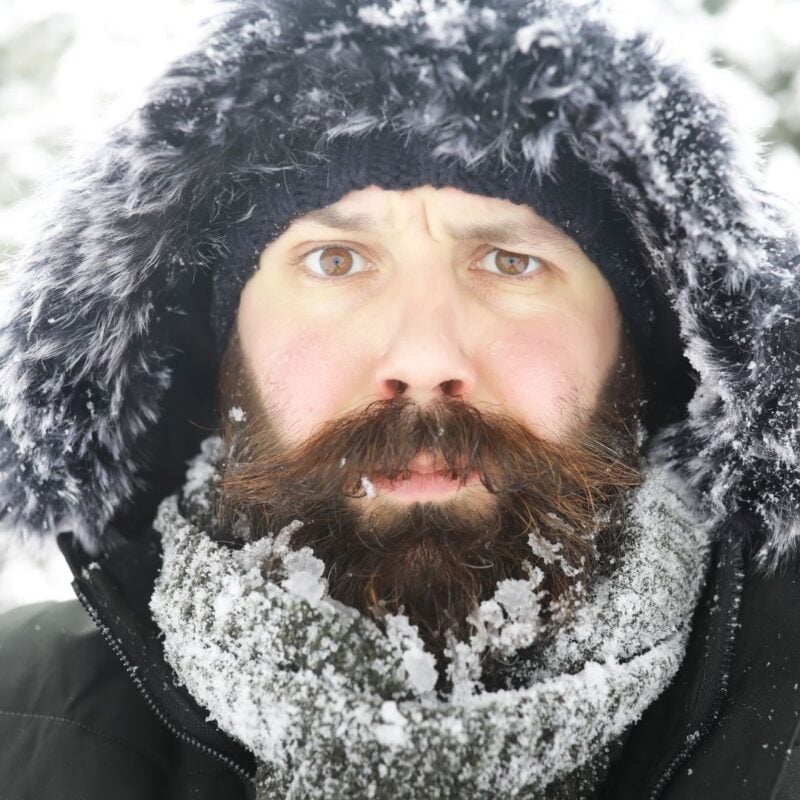 Get up to 50% OFF when shopping gear for the winter on REI.
Warm up for the holidays and SAVE on outdoor gifts all the way through Dec 18!
View on REI
Outer Shell
Unlike most heated jacket models on the market, Venustas paid significant attention to the outer shell of their coat. This detachable outer layer can be worn without the accompanying battery pack when you just need something to break through wind and rain without overheating.
The outer shell is 100% nylon with a heavy attached hood that goes a long way towards stopping snow flurries and freezing rain from ruining your afternoon. Nylon is known for its breathability and water-resistance, a formidable combination to come by. That's what makes this outer shell a perfect fit for a 3-in-1 jacket.
On its own, this shell is all you'll need to get through the autumn months or even winter workouts. The exterior layer can be separated and worn as a lightweight jacket. You won't find any carbon heating elements sewn into the outer layer, but not every single day requires those kinds of reinforcements.
The outer shell of the Venustas Heated Jacket sets the coat apart from the competition and helps to stock up your closet with three coats for the price of one. Without the nylon exterior, this coat would just be a heated fleece. With it, you have a rough and tumble winter warrior.
Looking for a rain jacket? Check out our rundown of the best rain jackets.
Venustas Heating System
The more we broke down this jacket, the more Venustas's heating system stood off the charts. Most coats couldn't hold a finger to the five separate carbon fibre heating elements that provide warmth to your shoulders as well as your core.
We would have loved some dedicated warmers in the front pockets too, but this coat elected to keep the heat close to heart. Just be sure to pack some gloves or mittens if your hands get cold. Some Venustas models include the cherry on top, a neck gaiter with a carbon heater that buttons up and blocks the cold even more efficently.
The entire heating system fits inside the inner fleece lining of the coat and works on its own on warmer days. This jacket can take you far deeper into winter than most typical fleece jackets can hang, thanks to the artificial warmth and extra layers.
What you're taking along for the day's work is a heavy-duty battery that can churn out heat for more than 10 hours on low settings. The coat heats up in moments, and the secure exterior elements keep the warmth where it's supposed to be.
You can switch the jacket onto high, get warm in a hurry, and drop the settings lower to stay warm all afternoon.
Pockets, Hoods, and Zippers
Functional features qualify this coat for winter sports, and you'll find more details across the edges of this coat that back up that qualification.
To take waterproofing seriously, the Venustas protected all its pockets with waterproof zippers and secured the edges of the coat with adjustable velcro wrists. These functional zipper protectors make your coat practically snowproof and provide a dry home for your expensive electronics.
Cold days are no match for the fleece combined with the extra-large outer layer that brings warmth across your body. You can even button off the extended neck of the outer layer to bundle up all the way to your chin.
On top of all that, the oversized hood comfortably fits over a beanie and a pair of headphones. The hood is only attached to the outer layer of the heated jacket, allowing you to decide between extreme warmth or increased portability.
You can always keep the jacket on hand with the portable waterproof bag included. This bag tucks down to almost nothing when not in use and easily fits any layers of your coat you may not need at that time.
Best Use
Because of the flexibility of this jacket, you can wear this coat on blustery autumn mornings down to hikes in the dead of winter. Each one of the coat's parts provides legitimate warmth. You'll be able to separate this coat into two and employ only one layer for those chilly days that don't require the entire package.
Zip off the waterproof outer layer and wear it on its own as a windbreaker or raincoat that can keep you warm through cold-weather workouts or hikes. On dryer days, choose to wear only the fleece interior for a timeless look that heats up way hotter than it looks.
When the cold starts to come out, this jacket comes together to work as a heavy-duty blockage against the wind, rain, snow, and freezing temperatures. Thanks to the jacket's heavy-duty battery system, you can heat up in a hurry and stay warm all afternoon.
That makes this jacket an excellent choice for folks who plan to spend the entire day outside no matter what the forecast is saying. The variable heating options help you choose your own adventure and keep your core warm and toasty, and the bonafide exterior layer insulates while keeping everything dry underneath the surface.
The extended battery life also means this is one of the best-heated jackets on the market for cold weather camping trips or entire weekends spent away from the nearest plug-in. Venustas is one of the best long-lasting heated jackets on the market, and the three in one technology opens up the range of opportunities for the Venustas.
The best present of all… is CONVENIENCE!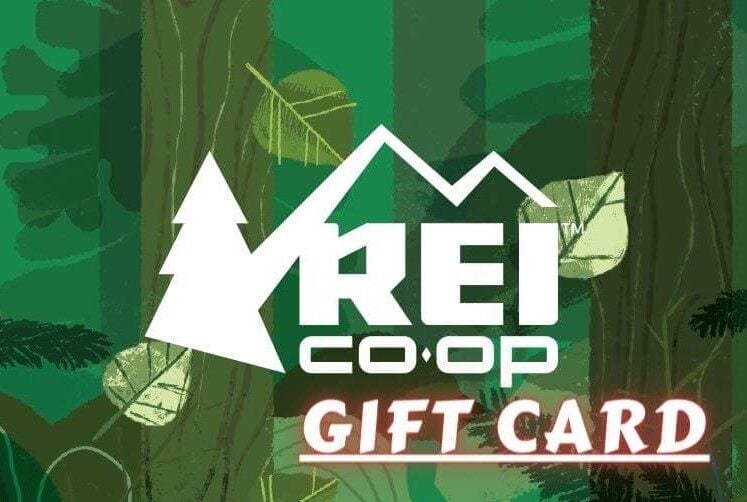 Now, you could spend a fat chunk of $$$ on the WRONG present for someone. Wrong size hiking boots, wrong fit backpack, wrong shape sleeping bag… As any adventurer will tell you, gear is a personal choice.
So give the adventurer in your life the gift of convenience: buy them an REI Co-op gift card! REI is The Broke Backpacker's retailer of choice for ALL things outdoors, and an REI gift card is the perfect present you can buy from them. And then you won't have to keep the receipt. 😉
Buy on REI!
If you're more interested in the fleece inner layer than the nylon shell, perhaps you'd be interested in meeting some of the competition. For shoppers who already have a high-quality outer shell and are looking for a more traditional heated jacket, you could have a better time with the Ravean Heated Jacket.
The two's outer shells aren't quite comparable. Venustas' exterior layer is one of a kind, and the Ravean's fluffy down doesn't even try to provide the same kind of water and windproofing. While the Ravean down X does have a water-resistant nylon coating, it can only get you through a few surprised flurries, not function as your last line of defence against winter storms.
Instead, the Ravean wants to function only as a middle layer or down jacket with an artificial kick. With six separate carbon fibre heating elements, the Ravean has some of the fastest artificial heating on the market, and it includes a built-in flashlight that comes in handy around camp to provide a splash of multifunctionality the Venustas can't quite offer.
Perhaps the most crucial factor of all, you can often find the Ravean down for 40 bucks cheaper than the Venustas. But don't forget the value added by the Venustas coat's three separate layers. Add those three different coats with the fact that the Venustas can last for an extra 4 hours on the low heating setting makes the jacket well worth the additional cost.
Decide on what best fits the needs of your winter closet, and rest easy knowing either one of these heated jackets won't die on you when you need it most.
Want to know more? Check out our dedicated Ravean heated jacket review.
Venustas
Venustas
Venustas Heated Jacket
> $$
> Powerful battery system with comfortable fleece
> Waterproof and wind-resistant hardcore exterior shell
Ravean
Ravean
Ravean Heated Jacket
> $$
> Water-resistant nylon coating
> With six separate carbon fibre heating elements
Pros and Cons
Still on the fence? We'll spell it all out for you. Here is what the Venusta does better and worse than the competition.
Need more options? Check out the Gamma Wear Graphene heated jacket instead or maybe look at the Ororo heated jackets on offer or check out the Dewbu heated jacket too.
+Pros
The ability to remove and add on to the layers of this heated jacket practically double the amount of days you'll be able to wear it.
Hardcore exterior layer protects your body from wind and rain better than most heated jackets
Ten hours of battery powered heating on low setting qualify this coat for overnight adventures.
-Cons
We've all heard the term 'jack of all trades' but there is a second half to the saying: a jack of all trades is a master of none. This coat wants to do it all but doesn't excel in any specifics.
Because the hood is only apart of the outer layer, there are no carbon fibre heating elements around your neckline or near the exterior pockets.

Our GREATEST Travel Secrets…
Pop your email here & get the original Broke Backpacker Bible for FREE.
Final Thoughts
That wraps up our look at the Venustas Heated Jacket. This multifunctional coat brings a lot to your wardrobe. Anyone looking for a one-stop shop for their winter weather arsenal should feel cosy all winter long with the help of this 3-in-1 heated jacket.
While there are no heated jackets on the market that can compete with the weatherproofing of hardy winter coats, the Venustas is bridging that gap in a big way. Add that to the extra-large battery pack that pumps out heat for hours, and you've got one of the safest choices in the industry.
This coat is equally sound around town and deep into the backcountry. Whether you want to spend more time outside this winter by choice or for work, investing in the right equipment is the best way to get further out there and be happier and more comfortable when you do.
Bundle up in style and take only what you need with you on your winter shopping trips or wear it all and stay toasty on long winter weekends spent outside.
---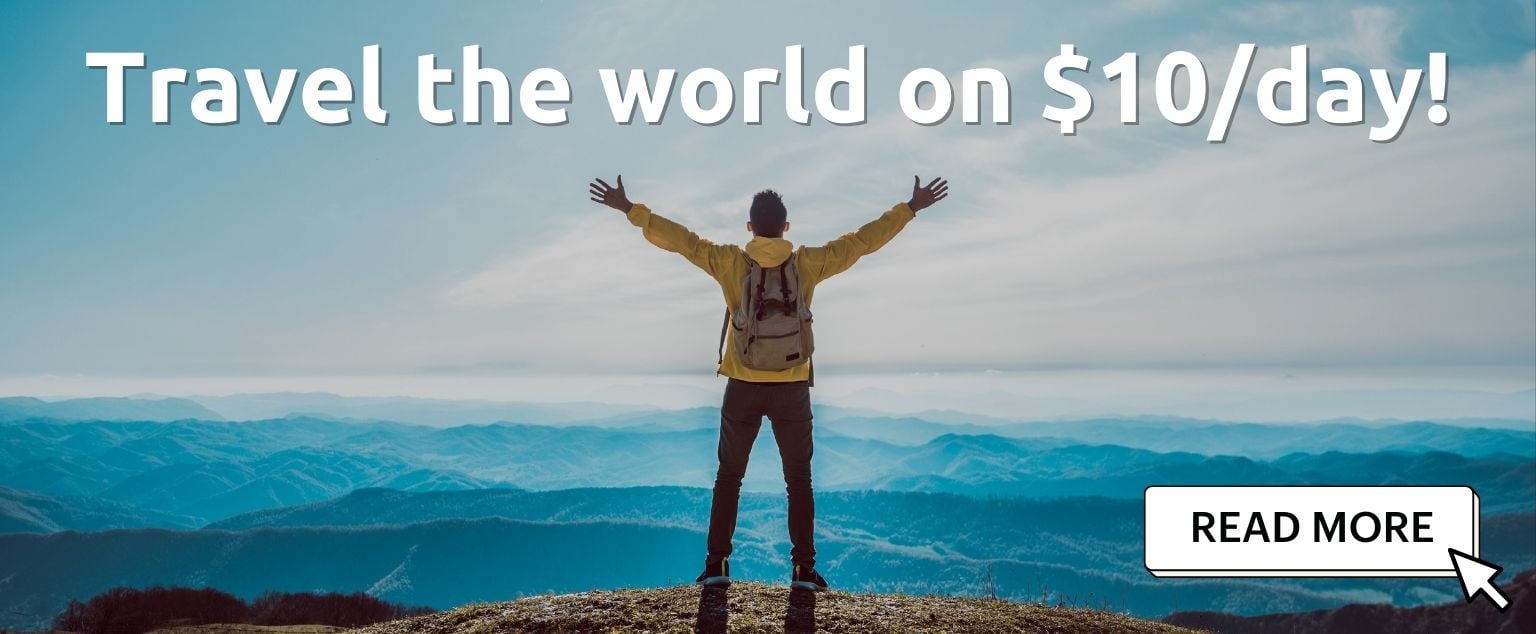 And for transparency's sake, please know that some of the links in our content are affiliate links. That means that if you book your accommodation, buy your gear, or sort your insurance through our link, we earn a small commission (at no extra cost to you). That said, we only link to the gear we trust and never recommend services we don't believe are up to scratch. Again, thank you!