Explore the magical natural beauty of the Japanese municipality. Discover cultural and religious icons and soak in hot springs with the locals. Our itinerary for Hakone will have you experiencing it to the fullest!
Hakone is an incredible place, mountainous and wild. You'll find volcanic action, hot springs dotting the landscape, and hiking trails with views that rival the best in the world. It's the perfect area to enjoy a tranquil vacation away from city life!
Once you get there you may struggle to figure out what to do in Hakone, since many of the locals don't speak much English and you won't find all that much information online.
That's where we come in. We've put together a 3-day itinerary in Hakone, so that you can make the most of your time here without stress or misstep!
Planning a trip to Hakone? You'll be happy to know that no season is a bad season! Hakone is a beautiful area with a warm, temperate climate. If you're interested in the summer heat, the best time to visit is in the balmy summer months (July – September). The city's summers are reasonably short and muggy but very comfortable!
Winter is also short and very cold, but the city is geared towards a huge variation in weather, so you'll find yourself with just as much to do in the chilly months as the warm ones! Hakone's biggest drawing point – at least for broke backpackers – is its incredible natural beauty and wealth of outdoor activities!
Honestly, it's difficult to say when to visit Hakone! The shoulder months are also a great time to visit, as prices are down and crowds are small. You'll have many places to yourself, and you can take in the Japanese town more like a local, rather than a tourist. You'll also find that many of the natural attractions take on a special glow in fall.
No matter the time of year you visit, Mount Fuji towers above the scene, often coated in white.
Hakone is a small, serene Japanese municipality with little tourist presence. While this is wonderful and ideal for a break-away vacation, it does mean that you'll struggle to find information on where to stay in Hakone!
Fortunately, we've done the digging, and we have you covered. If you're interested in the local culture and people, we suggest you stay in Motohakone. This is the municipality's main town. Atmospheric and situated right on Lake Ashi, it is the best place for holiday-makers.
You'll have easy access to restaurants and cafes, as well as some of the top stops on your Hakone trip itinerary! They're conveniently located within walking distance. You'll also be able to catch boats and cruises from here, solidifying its status as the most convenient neighborhood in Hakone!
Another great area to stay in is Tonosawa. This one is for the nature lovers. You'll find the village nearly hidden among trees, nestled against the hillside. This is the perfect location for a totally tranquil holiday in Hakone.
The train also stops right here, so while it doesn't have the convenience of Motohakone's centrality, it's easy to reach everything you want to. Even on a weekend in Hakone!
Centrally located and with beautiful views over Hakone, K's House is the best hostel in town! The communal kitchen is well-stocked, and the dorms are comfortable and spacious. Perhaps most importantly, the charming little hostel has its own open-air hot spring! It's the perfect place for broke backpackers to spend their Hakone vacation.
For more hostel ideas, check out these GREAT hostels in Japan.
If you're looking for a traditional ryokan experience, this is where you should stay! Enjoy your very own onsen with dinner (about 6 courses) and breakfast included. Over 70 tons of fresh hot spring water flows into their onsens each day. Only 15 mins away from Yumoto Station on foot (5 mins by shuttle bus). This a full legitimate Japanese experience.
This lovely 3-star hotel has everything you need and then some! The warmly-lit rooms are cozy and air-conditioned. There is a bar and a hot spring, making evenings here delightful. Continental breakfast is available daily, and most stops on our Hakone itinerary are within walking distance!
For a luxurious stay with epic views of the mountains and lake, Ashinoko Hanaori is unbeatable! The staff are excellent, the location is incredible, with a terrace and a pool overlooking Lake Ashi. The rooms embrace that classic Japanese simplicity, and you can enjoy a massage and sauna any time of day. It's the best place to stay in Hakone in 3 days!
Hakone is a laid-back backpacker's paradise! Many of the Hakone itinerary stops are within walking distance from one another, making it ideal even for a short stay and a Hakone walking tour.
You don't only have to use your own two feet! Considering where our other Hakone itinerary stops are, you won't want to. Fortunately, Japan is famous for its efficient and impressive public transport systems and Hakone exemplifies this!
The mountainous municipality has a terrific system of buses, trains, boats, cable cars, and even ropeways. You certainly won't need to rent a car, as the public transport system operates smoothly, and you'll never have to wait long.
Keep in mind that it is a municipality, not a city, so you may have to take more than one means of transport to get to where you want to go. It is therefore valuable to ask for a transport map at the desk of your hotel (or download offline maps on your phone) and plan out your trip before the day starts. That way, you'll be able to spend your time enjoying the Hakone attractions, and sitting at bus stops as little as possible!
We recommend you get the Hakone Free Pass if you're spending 2 days in Hakone or more. It costs just over $50 USD, which is a lot, but all transport is included and many of the stops on our Hakone itinerary offer discounts or free entrance to people with the pass.
Open Air Museum | Lake Ashi | Hakone Shrine | Okada Museum of Art | Hakone Glass Forest Museum | Hakone Onsen | CafeBar Woody
Your first day in Hakone will be spent exploring the area's natural beauty, as well as some incredible museums! Pack your camera and get excited.
Day 1 / Stop 1 – Visit the Open Air Museum
Why it's awesome: It's a unique and fascinating outdoor sculpture museum!
Cost: $15 USD.
Food nearby: Get some early morning sushi at a lovely nearby restaurant, Hakone Kappei. If you prefer coffee and a pastry, there are cafes within the museum space itself!
Start day one in Hakone right with a languid visit to its monumental Open Air Museum! Possibly the most important of Hakone's points of interest, it is truly one of a kind, with sculptures large and small arranged within the park.
The mountainous scenery provides the perfect backdrop for the arts, and if you visit during the cherry blossom season, there simply isn't a place more beautiful! Stroll through the park and admire the strange and interesting sculptures – and be sure to take lots of pictures.
The park is very large, so we recommend you spend about two hours here. That way, you'll have time to see the Picasso exhibit, where some of the artist's most influential works are showcased. You'll also see, and go up the glassy building – an incredible structure of colorful mosaic glass!
The works are both by Japanese and Western artists, creating unique contrasts and symbiosis! Whether or not you enjoy art, a stroll through this park is well worthwhile, and a great deal of fun.
Insider Tip: Artworks are showcased both inside various buildings, and outside in the park. If you're running low on time, we recommend you spend most of that time outside. This is where the most unique works are found, balanced perfectly with nature.
Day 1 / Stop 2 – Cruise on Lake Ashi
Why it's awesome: It's a beautiful lake with awesome views of Hakone
Cost: $10 USD
Food nearby: Grab a pastry or a sandwich at Bakery & Table Hakone
700 meters above sea level, the gorgeously peaceful Lake Ashi, or Ashinoko Lake, is an icon of Hakone. You can easily join a cruise on the lake, rent a boat to explore it on your own, or even just take a walk along the lakeshore and dive in (if it's that time of year)!
The scenic lake was formed 3,000 years ago in the caldera created by Mount Hakone's last eruption! The shores are for the most part left untouched, so you can cruise past Japanese wilderness for hours.
A 30-minute Hakone sightseeing cruise crossing the lake is the easiest trip to come by and costs only $10 USD!
Day 1 / Stop 3 – Stop at Hakone Shrine
Why it's awesome: It's Hakone's most famous and most brilliant Shinto shrine!
Cost: Free!
Food nearby: Enjoy outdoor dining with an idyllic view at Salon de thé Rosage.
Hakone Shrine is – you guessed it – the Hakone's emblematic shrine! Standing at the shore of Lake Ashi and the foot of Mount Hakone, it's the perfect destination to end your Lake cruise and set off on the next adventure!
The shrine structures are dispersed among the forest trees. You'll find giant red Torii gates at the lakeside, showing pilgrims and visitors where to go.
Walk up steps through the forest flanked by lanterns donated by past pilgrims. The peaceful shrine sits among the trees, often shrouded in mist! Depending on the season you choose to visit, the shrine is often rather crowded. Keep this in mind when planning your trip.
Insider Tip: We suggest you wear comfortable walking shoes and bring water, as you'll be walking uphill for a while!
Day 1 / Stop 4 – Okada Museum of Art
Why it's awesome: It's your best opportunity to take in the history of Japanese art styles!
Cost: $26 USD
Food nearby: Grab a coffee right here at the Okada Museum of Art footbath cafe.
For an art experience that's a little more traditional, the fourth stop on your Hakone itinerary is this amazing art museum! The collection of Japanese paintings is incredible, and there's so much to see and learn here.
Japanese art is a totally unique art form, which has developed and changed totally separately to the various art movements in the Western world. It is fascinating to walk through the museum and appreciate how truly different the styles are!
There is also an immense Chinese ceramics and sculpture collection on display at the museum – dating, like the other artworks, from antiquity to the current era!
Even the design of the building is fascinating, with ultra-modern structures and curated gardens. The museum ticket comes with a hot spring footbath! So you'll be able to enjoy a soak and relax after spending about 2 hours at the museum, resting your feet before the last stop of the day!
Day 1 / Stop 5 – Hakone Glass Forest Museum
Why it's awesome: It's a gorgeous Venetian glass museum right in rural Japan!
Cost: $14 USD
Food nearby: Stop in at the Japan Countryside Cafe, just opposite the museum
For a little slice of Italy right in Japan, visit the unique Glass Forest Museum! This stop is a brilliant photo opportunity, with such incredibly aesthetic backdrops. The art is displayed in wonderfully creative ways!
The Venetian art museum will have you in a trance! But our favorite part of this museum is its garden. There are trees and a bridge made entirely of glass, contributing to the beauty of the natural surrounds rather than contrasting with them.
Insider Tip: This museum and its garden are definitely more impressive and enjoyable on a sunny day! So if your send day in Hakone is cloudy, we suggest you postpone this stop till the sun shines again.
Day 1 / Stop 6 – Chill in a Hakone Onsen
Why it's awesome: You can luxuriate in geothermally heated healing water!
Cost: $15 USD +
Food nearby: Enjoy a traditional meal at the in-house restaurant, Irori.
Let your worries melt away in a traditional Hakone Onsen! These traditional hot spring baths are what make Hakone special – you simply can't miss it.
Our favorite Onsen is Hakone Yuryo, but there are many dispersed around the municipality, and you can just as happily tick off this Hakone itinerary stop at any one of them! The Onsen, based on hot springs that stem from the volcanic activity of the area, can be enjoyed in a variety of ways!
If you're traveling on a budget, we suggest you relax in one of the public baths. If you're looking for something a little more secluded, and maybe even romantic, go for a private open-air bath! Both are on offer at most Onsens, and they're both great ways to experience the traditional spaces!
This is also an ideal way to end off your daytime adventures, soaking after your explorations! You may be a little bone-weary by now, so this will rejuvenate you and have you ready for day 2 in Hakone! Backpackers exploring Japan will especially enjoy stopping here to relax.
Insider Tip: Many Ryokan, or hotels, have their own Onsen! So when you book into your hotel, check if they have one – you may be able to head straight back to your accommodation to enjoy this evening stop, and it will be free! If it doesn't, fees range between $5 USD and $20 USD.
Day 1 / Stop 7 – Meet locals at CafeBar Woody
Why it's awesome: Enjoy great cocktails and get to know the younger locals.
Cost: Free!
Food nearby: You can tuck into cheap comfort food right here!
If you want to get to know the more modern, nighttime elements of local culture, get a drink at CafeBar Woody!
With fantastic cocktails and tasty food, this bar is always busy. It has a fun, vibrant atmosphere, and the prices are really good. The bar also has a Toy Story theme and a jazzy playlist! While you may not think that those two things match, it manages to combine them wonderfully!
It's quirky and unusual. While it's certainly not a must-see stop on your 2-day itinerary in Hakone, if you have the energy to go after your onsen soak, you won't regret it!
Chisuji Falls | Hakone Ropeway | Owakudani | Old Tokaido Road | Pola Art Museum | Amazake-chaya Tea House
On your second day in Hakone, you'll experience volcanic activity and local Japanese culture! It's a beautiful day planned, full of activity and fun.
Day 2 / Stop 1 – Hike to Chisuji Falls
Why it's awesome: It is a beautiful and unique waterfall.
Cost: Free!
Food nearby: If you haven't had breakfast, you can stop for something tasty at the Bar Hotel Hakone Kayama's in-house restaurant.
The hike to the falls itself is short and easy, as the metro stops just a short way from it! However, there are many gorgeous hiking trails around it, which we recommend exploring. There's so much to see here, and it just gets more beautiful the deeper you go!
Chisuji Falls is a short, small waterfall only 3 meters high. What it's lacking in height, it makes up for in breadth! The waterfall falls in strings flowing delicately over the mossy rock. It looks almost ephemeral and totally charming!
The name 'Chisuji' means 1000 lines, and that is the aptest description of the uncommon waterfall. 20 meters wide, you can stroll along the riverbank and admire the way the water separates and flows, surrounded by greenery.
This is a particularly beautiful place to visit in summer when the forest is green and vibrantly alive, and the water is flowing quickly. Since the first stop on day 2 of your itinerary, you'll likely have the falls all to yourself. You'll certainly miss the crowds, even if you're a bit of a late sleeper!
Day 2 / Stop 2 – Experience the Hakone Ropeway
Why it's awesome: You'll enjoy spectacular views while on your way to your next stop!
Cost: $14 USD (one way).
Food nearby: Dine with a view at Owakudani Station Restaurant.
The Ropeway is the perfect way to take in Hakone's sights! Enjoy panoramic views of Mount Fuji and Lake Ashi – not to mention the sulfurous gasses below and around you.
An aerial lift between two Hakone villages, the Ropeway stops at Owakudani, your next Hakone itinerary stop. It leaves every minute, so whether there are crowds or not, you will never have to wait long at all! The gondolas fit about 10 passengers and all will be able to comfortably enjoy the views!
This stop is a lot more enjoyable on a day with good visibility, as you will then be able to see the impressive Mount Fuji and the surrounding landscape! Even on a cloudy day, there's much you will see. It's also the best way to reach Owakudani!
Day 2 / Stop 3 – Marvel at Owakudani
Why it's awesome: It's an active volcano, streaming with steam!
Cost: Free!
Food nearby: You can grab snacks at the Owakudani Kurotamago Kan souvenir shop, or sit down for Ramen noodles at the on-site restaurant.
Visiting this mountain is certainly one of the best things to do in Hakone! Owakudani is the area around Mount Hakone's crater, formed around 300 years ago (along with Lake Ashi). It is an active volcanic zone, with sulfurous steam and hot rivers! Honestly, it's a pretty apocalyptic area in the best way.
See pools which have become caldrons, and there's steam rising ominously into the air! You can also buy a black egg here – naturally blackened and cooked by the sulfurous water and said to prolong your life by 7 years if you eat it!
Until 1873, when a Japanese Empress renamed it, this crater was called Great Hell. You can certainly imagine it being the entrance to such a place!
This is a fantastic morning excursion, and you'll beat the afternoon crowds! While the crater itself does not cost anything to see, parking, and the ropeway (our previous stop for good reason) does cost enough that you're paying for the experience – but it contributes to conservation and safety measures, which we fully support!
If you're spending more than 3 days in Hakone, we recommend extending this stop and taking another hike along one of the trails! The views are spectacular and well worth the time and effort.
Insider Tip: Keep an eye out on Hakone alerts. When volcanic activity in the area increases, both Owakudani and the ropeway, your next stop, is closed off for your safety.
Day 2 / Stop 4 – Stroll along Old Tokaido Road
Why it's awesome: It's absolutely lovely and historically significant.
Cost: $5 USD
Food nearby: Enjoy casual, traditional dining at Tatsumi Garden!
This one is for those interested in historic Hakone landmarks! Built during the feudal Edo Period, this road was an important means of getting through the area without getting attacked by bandits!
Now you can stroll along the road in exactly the same condition as when it was first made! The rocky road stretched between tall Cedar trees, overgrown in many places with moss and lichen.
It's the perfect place to spend a few hours and enjoy a picnic in the forest!
If you want to learn more about the old highway, you can also visit the little museum found along the route. It's free to enter, and there are some interesting reconstructions and displays relating to the history and purpose of Old Tokaido!
Day 2 / Stop 5 – Take in the Pola Art Museum
Why it's awesome: The setting is almost as incredible as the artworks!
Cost: $17 USD
Food nearby: Enjoy pastries and light meals in the forest atmosphere at Cafe Tune.
Japan is known for its combination of modernity in architecture with interesting natural elements and pops of strangeness! The Pola Art Museum has just this. The futuristic structure sits in the middle of the Hakone forest, housing a huge body of art!
The collection of nearly 10,000 artworks changes frequently, while some masterpieces can always be found here. Strolling through the museum, admiring the artworks while full-length windows open up onto the forest is surreal. An incredible museum experience! On a rainy day its even more impressive, the eerily magical forest blanketed and somber.
The museum's primary display is on Impressionism, with some of the greatest works by Monet, Cezanne, and Renoir! It is truly spectacular, and one of the most impressive things you'll enjoy on your Hakone trip!
The museum also has a spectacular nature trail that you can explore.
Day 2 / Stop 6 – Join the locals at Amazake-chaya Tea House
Why it's awesome: It's a charming wooden tea house, centuries-old!
Cost: $4 USD +
Food nearby: The tea house itself has some amazing options!
Step into the past and experience Japan as it has been for centuries! This 400-year old tea house is the perfect way to enjoy the local culture.
Amazake is a traditional sweet rice wine which has been around since the samurai! The tea house also specializes in a large variety of sake, so you can try a good deal of different drinks! It's nestled in the bend of a hiking trail but easy to find.
With wonderful fresh local dishes and a lovely atmosphere, we had to include Amazake-chaya on our Hakone itinerary! If you're touring Hakone looking for the best food and drinks, this is the best place to be.
Insider Tip: The tea house only works in cash, so be sure to keep yen on you when you visit! In fact, it's always good to have cash when out of the city, as many places to visit in Hakone may not have embraced the technology, and it's always good to come prepared!
Mount Fuji | Odawara Castle | Little Prince Museum | Hakone Tozan Railway | Sengokuhara Pampas Grass Field
Continue your 3-day itinerary in Hakone with these wonderful stops! Whether you're spending one more day in the area, or another two weeks, these stops can be combined to make for the perfect vacation in Hakone.
Climb Mount Fuji
This is an incredible, once-in-a-lifetime experience that few have.
Mount Fuji is open to hikers from early July to early September!
Make lifelong memories on Japan's highest and most famous mountain.
If you want to climb alone this hike may not be for you – since it is only open for a short time, you will most likely be joined by hundreds of other enthusiastic hikers! But since it is a difficult climb, and requires some dedication, the people with you will be the kind you'll want to be with.
People come from all over the world to Hakone, specifically to climb Mt Fuji! The views are exquisite, and often you meet people who will remain friends for years! It's simply a great bonding experience, tackling that peak together.
We recommend you avoid Obon week, in mid-August, as this time is extra crowded and often leads to queues – which is not a fun part of hiking.
While the hike can be strenuous, it is not technically difficult! So as long as you have a decent level of fitness, you should be just fine. Expect it to take two days – we recommend you set out early in the morning to make the most of your trip!
There are various different trails, which take between 5 and 8 hours to ascend. The descent should take about half the time. There are also plenty of huts to camp for the night, so that you can really take it in, and don't have to rush down on the same day! If staying Mt. Fuji interests you, check out our guide to the best places to stay here.
Plan carefully, and be sure to pack everything you need!
Visit Odawara Castle
Explore the town of Odawara, with its landmark medieval castle.
Rebuilt in the 60s, the castle is now a museum.
Nestled in the foothills, you can enjoy fantastic views from the rooftop!
First built in the 15th century, Odawara Castle is a gleaming white, traditionally built reconstruction. It is an important town landmark, and well worth the visit if you're spending more than 3 days in Hakone.
The castle is now a museum, but it's been a Hakone stronghold for centuries. Built by a notable Samurai family, it has a rich and interesting history, which you can learn about upon visiting!
Because of Japan's difficult history, few structures have survived since the days of the Samurai. That's why, despite this being a reconstruction, its accurate design and wealth of artifacts make it a great visit for anyone interested in Japanese history and martial arts!
Many of the displays inside are unfortunately only available in Japanese; so unless you're very interested and happy to use a translation tool, you may prefer to just enjoy the grounds and the view from the top!
The garden is terrific, and different flowers flourish throughout the year. In fact, many tourists visit specifically for the grounds. Well-maintained and beautiful, there is lots to see and explore! It is also free unless you enter the museum.
If you have the time, we recommend you make a day trip of it, and explore the charming town after a visit to the castle!
Explore the Little Prince Museum
For a little whimsy and childhood nostalgia, visit this charming museum.
Dedicated to the Little Prince and its author, this museum is the only of its kind.
Beautiful 18th-century European architecture and lovely artworks.
Not everything in the area is geared towards children, and if you travel to Hakone as a family, you'll be looking for something a bit more kid-oriented after 2 days in Hakone! This is the perfect stop.
In fact, even if you're an adult who loved The Little Prince when you were younger, this is a lovely little stop! Dedicated to the life and work of Antoine de Saint-Exupéry, and particularly his novel The Little Prince, this museum is totally out of the ordinary.
The museum looks as if it's situated squarely in old-world France, which makes for an interestingly whimsical experience, and some lovely photos! Displays are both indoor and outdoor, and you'll spend a few hours strolling through the buildings and the grounds. There is even a little French townscape!
While its charming and great fun, we do recommend this stop mostly to big fans of the novel and families! It's a 30-minute bus ride from most other things, although, the surrounding countryside is a wonderful place to explore and enjoy a picnic.
Bring your camera, as there are lots of lovely photo opportunities! Keep in mind, the gift shop is terrific and the perfect place to pick up a few souvenirs for anyone else you know who's a fan of the novel!
Hakone Tozan Railway
Wind through the Hakone forest on one of these charming little trains.
Chugging up the steep hillside, it's a feat of engineering!
The trip is especially wonderful in June, andJuly when thousands of hydrangea line the tracks.
Hop on the train for the upper section of the Hakone Tozan Line! This impressive line with charming little trains is fun for more than just train enthusiasts!
The track winds through the densely forested valley and up the mountain in a zigzag pattern. It takes about 40 minutes and is pure charm and fun. Particularly in June or July, the train is surrounded by such exquisite natural beauty, you won't want to blink.
It's also a lovely trip to take in winter when the landscape is covered in white! Whether you come in time for the blooming hydrangeas so close to the train that you can almost touch them, the fall colors, or the white winter, it's a wonderful way to experience Hakone!
You can even take the train in the evenings when the tracks are lit up and the sunset can be watched on the trip. For this, you will have to book seats in advance, as they are always booed out, and overcrowding is prevented.
You will pass over rivers, along wooded glens, and up the mountain in what is truly an impressive accomplishment – few trains can mount such a steep incline! It's a lovely little stop on your 2-day itinerary in Hakone, perfect for couples looking for a little quaint romance or just to gaze at beauty.
Stroll through Sengokuhara Pampas Grass Field
A wonderful hiking destination, this flowing field is gorgeous.
The field stretches for hundreds of meters, covering the hillside.
The pampas grass changes colors every season, glowing golden in fall.
If you're looking for one more lovely hiking destination in Hakone, this vast field is the perfect stop! This is one of the few places where you can admire the tall pampas grass, or Suzuki, and certainly the largest.
The best time to visit is in fall, when the heads of the grass become golden, and the wind makes them look like flowing gold! It is wonderfully beautiful, and another one of those stops where you'll want your camera!
There is a path through the field, leading up the hill. So you won't have to walk through the field – in fact, it's frowned upon, as it can damage the plants. They are about as tall as a human, so you could also get lost in the field!
Fall is a terrific time to visit Hakone, and this is one of the reasons why! From here you can choose to hike up Daigatake Mountain, or turn around and explore the town. Either option is great, though if you're looking for fantastic photos, we recommend continuing up the mountain! Especially on a sunny day, it's a wonderful hike.
Hakone is a very safe part of Japan! There is very little theft or violent crime in the municipality, and you have little to be concerned about, moving either at night or during the day. Even traveling alone is safe!
We do recommend that in crowded areas like shrines and museums, you keep your bag closed and your hand rested on it.
While Japan is one of the world's safer countries, it is rural areas like this one that are best to visit for those concerned about crime. What you do need to be aware of, however, is Hakone's volcanic risk.
First of all, the risk is very low. There are occasionally times of increased volcanic activity. It is, after all, an active volcano! However, it has been a full 3,000 years since the volcano has actually erupted, so there really isn't much to be concerned about (currently).
If the volcano were to erupt (because never say never), you should have ample warning time to make your way out of the field of danger. So you needn't disturb your tranquil vacation with concerns about safety! You can visit this website for current volcano updates.
Don't Forget Your Travel Insurance for Hakone
World Nomads' mission is to support and encourage travellers to explore their boundaries. They offer simple & flexible travel insurance, and safety advice to help you travel confidently.
They've been doing it since 2002 – protecting, connecting, and inspiring independent travellers just like you.
Get a quote below or read our in-depth review!
World Nomads provides travel insurance for travelers in over 100 countries. As an affiliate, we receive a fee when you get a quote from World Nomads using this link. We do not represent World Nomads. This is information only and not a recommendation to buy travel insurance.
If you're spending more than 3 days in Hakone, go beyond the usual attractions! These day tours from Hakone are the perfect way to explore those hard-to-reach places. Not to mention a trip or two to Tokyo for those of you growing a little bored with the peaceful vacation!
Tokyo Coach Tour and Bay Cruise
Hop on a bus or train to the great bustling city of Tokyo for a day full of activity and sightseeing! One of the best day trips from Hakone, there are plenty of sightseeing tours you can join. We recommend you join one that combines land and sea – because, why not!
Marvel at the many Tokyo monuments and attractions while you cruise around the city. Hop on a boat and see the sights from a different angle!
This is a wonderful opportunity to tick all things Tokyo off your bucket list. You can try incredible local dishes, stop at the Imperial Palace Garden, and explore neighborhoods known for their cuisines and sumo culture. If you want to spend more than a day in Tokyo, book a hostel using our Tokyo hostel guide.
Hakone Fuji Day Tour: Cruise, Cable Car, and Volcano
Explore more of Hakone on this full-day tour! You'll cruise along the lake on a fun pirate ship, enjoying breathtaking views and on-board entertainment. Try local cuisines and experience the tranquil ambiance of the area!
You'll also take the ropeway up Mt Hakone and experience the unique volcanic environment of Owakudani. This day tour is ideal for those who are only spending one day in Hakone and want to cover the most important natural attractions in the municipality!
As such, it wouldn't be complete without an opportunity to relax at a traditional hot spring!
Tokyo: Disneyland 1 Day Admission Ticket
This day trip is for those of you who decide the kids need to use all that energy – or, for that matter, you do. We recommend you buy a skip-the-line ticket so that you don't have to spend any time waiting to get in – you can head straight to the rides.
Tokyo's Disneyland is one wild ride! Jump on the theme park's most thrilling rides, and watch the shows that appeal to you most. You can stay long into the night, and there's a nightly fireworks show!
This theme park has a unique Japanese twist to the traditional Disneyland characters and entertainment. It's a wonderful place for families and couples to spend the day.
Tokyo Pub Crawl
If a night trip sounds better than a traditional day trip, join a pub crawl! There's little nightlife in Hakone, so a trip to Tokyo may be just what you need. Particularly if you're already in the city after joining the last day trip!
Join the fun on a bar-hopping tour that will take you to Tokyo's best pubs and clubs! You'll enjoy discounted drinks all night, and party the night away with some new friends. It's a brilliant way for backpackers to meet new people, and have a great time without trying to find folk the traditional way. If you're only spending one night in Tokyo, we highly recommend it!
Lake Ashi Cruise, Odawara Castle & Seafood BBQ
For an alternative way to experience Hakone, join this fun day tour! It's a great way to conclude your trip to Hakone, experiencing a few of your itinerary stops in new ways and seeing some lovely hidden places.
You'll visit Mishima Skywalk, a long suspension bridge over the lake with fantastic views! In addition to the cruise, which is comfortable and explores some really cool places, there's a buffet seafood lunch! There are so many delicious dishes available here, we would join the tour just for that.
Find out what people want to know when planning their Hakone itinerary.
Conclusion
Hakone is renowned for its natural beauty and lovely local culture! Backpackers with a penchant for hiking will absolutely love it and any photographer will have a field day.
No matter how you prefer to travel, our Hakone itinerary will show you all the best in the area! Visit charming museums and outdoor art spaces that rival the best in the world. Take a trip up the mountains on hiking trails, cable cars, and trains! Experience an active volcano and the fascinating influence it has had on its surrounds over millennia!
Whether you're visiting Hakone as a break from Tokyo, or because you've always wanted to see the iconic Mount Fuji, you will not be disappointed! It's an ideal rejuvenating destination for solo travelers, families, and couples.
Pack walking shoes, sunscreen, your travel camera, and an extra memory card. You will need it for this adventure!
---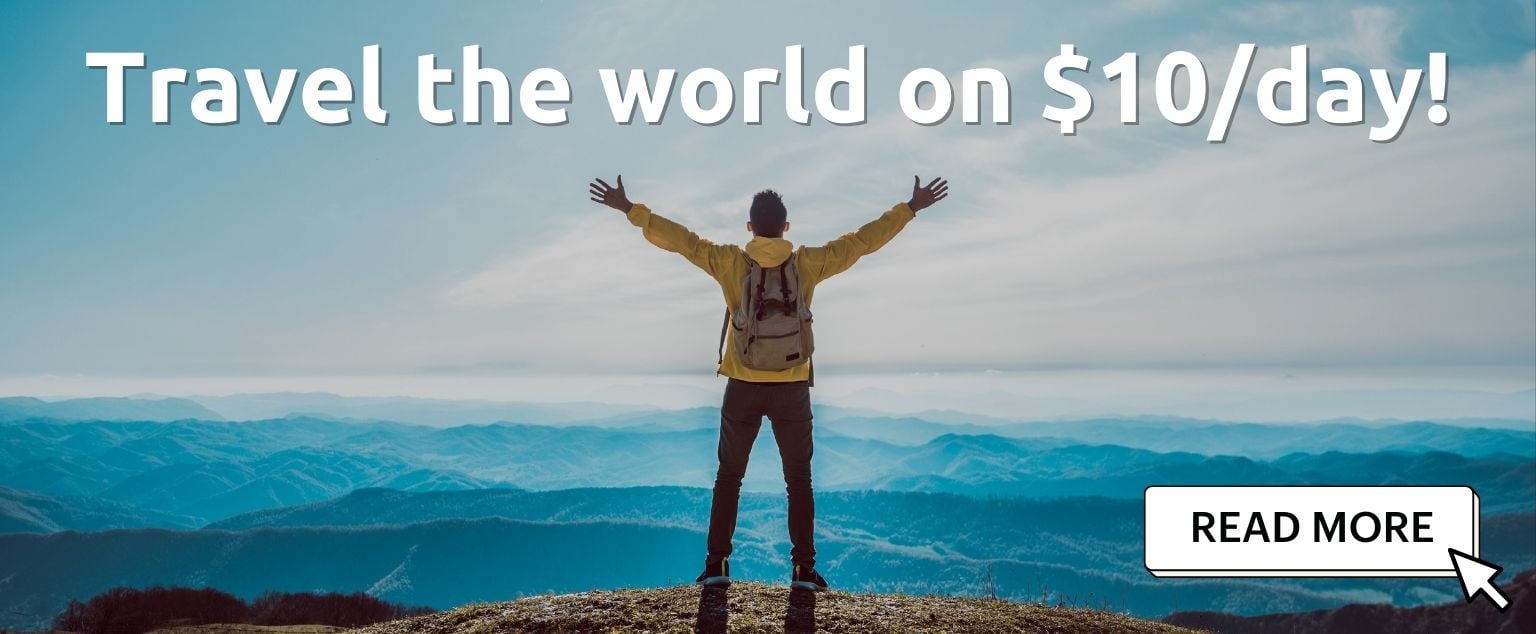 And for transparency's sake, please know that some of the links in our content are affiliate links. That means that if you book your accommodation, buy your gear, or sort your insurance through our link, we earn a small commission (at no extra cost to you). That said, we only link to the gear we trust and never recommend services we don't believe are up to scratch. Again, thank you!