Learn how to start a travel blog and how to make money online…
Travel blogging is probably the best known of the digital nomad job options out there and for many aspiring travellers, starting a travel blog seems like the golden ticket to getting paid to travel.
And it's true…
If you want to start a travel blog it can change your life.
It did mine!
Through this site, I found a way to turn my passion for travel into a career that has seen me gallivant all over the globe, working where I want, when I want.
I now earn six figures a year whilst traveling – and that's pretty fucking epic.
And the amazing thing is that with enough dedication and the right information – you can do this too.
When I first started blogging, my goal was to experiment with being a freelance journalist, something I had always been interested in. I used my travel blog as a springboard for gigs with BBC Travel, The Independent, Business Insider and dozens of others.
It turned out that being a journalist wasn't for me either but running a travel blog taught me I had a real passion for online business and has pushed me to learn new skills and experiment with multiple different online income streams…
And this is all because I took the leap and started this travel blog. There are so many great reasons to start a blog. I have learnt so much by running this blog that I am now able to apply that knowledge to new and exciting projects.
Over the last two years, I've launched five other online ventures and right now, in early 2018, they are finally all profitable.
This is very exciting and I am beyond stoked for the future – I truly believe that I can make a couple of million by the time I'm 32, help my parents retire and then drop off the map to start my hippy commune in a magical forest…
Whatever your aspirations are, being your own boss is the best way to get there.
In short, starting a travel blog was the best decision I ever made.
It changed my life, and it can do the same for you.
Now, let's cut the shit…
Starting a travel blog has worked out for me but that doesn't mean it's easy and you can forget about the idea of working with a cocktail in one hand from the beach. That is the most cliche, overused and inaccurate portrayal of what it looks like if you just quit your job to travel and start a travel blog.
You need a laptop to be able to compete, without one you are dead in the water. Check out this post for a breakdown of the best travel laptops for nomads.
Travel blogging is a competitive game and if you want to make any money out of your travel blog you are going to have to be well ahead of the curve because let's be honest, this has become a very saturated niche.
I don't get "paid to travel" with my blog and I have never been on a press-trip, they just don't interest me and nobody wants to work with me anyway on account of my branding – The Broke Backpacker ain't exactly a good fit for a luxury cruise and it tends to be the luxury sector of the travel industry that works with bloggers as it's the luxury sector that have a budget to waste on pretty Instagram pictures.
But, if you want to start a travel blog and if you are willing to work hard, have a real passion for writing and are not expecting to make a boatload of money quickly, you'll learn that there are more ways to make money online than you probably realize. Read on and learn how to start a travel blog and how to make money out of your travel blog…
1. Picking A Niche For Your Travel Blog
If you want to start a travel blog, the first step is picking your niche.
Picking a decent niche is the first hurdle to starting a travel blog and the best piece of advice I can give you is don't look at what everybody else is doing. You want something unique, something that is 100% yours.
Everyone is copying each other. Don't do this. The best way to start a travel blog is to stand out. Be unique!
Think about who the hell are you actually writing for, is this a personal blog for your family and friends?
Are you planning on blogging just as a hobby or do you want to become a professional?
Is there one topic you know a lot about or a unique point of view which you feel confident illustrating through your blog?
Think very carefully about who is actually going to read your content. When picking a domain name, try to pick something that sums up what you are writing about in just a couple of words.
If you want to start a travel blog, these tips in mind when choosing a name…
Be original: Steer clear of names like NomadicWill or WanderingWill – they have been done to death. In my opinion, it's a foolish idea to have your name on the blog at all as this means that it is going to be more complicated for you to sell your business further down the line – sure, you may not want to but it's good to have the option.
Leave yourself room for growth: If you want to start a travel blog, don't call your travel blog 'TravellingInFrance.com' because as soon as you leave France you are going to be faced with a problem. I boxed myself into a corner with The Broke Backpacker in that I can't work with luxury brands even though they do sometimes approach me; don't make the same mistake. You want a strong name that can evolve with your aims.
Choose a simple URL:  Any travel blog name that is longer than three words is probably too long and for the love of Jebus, definitely avoid hyphens. If you can't get the name you wanted, because it is taken, I would avoid adding or subtracting an extra word. For example – if The Broke Backpacker had been taken, opting for The Broke Aussie Backpacker would have been a really foolish move as that person would then have to compete with the already established original website in Google search rankings.
Lock down the social media accounts: Double check that your chosen name is available on social media accounts as well and lock them down. Whenever I think of a new online venture, the first thing I do is buy the relevant domain and lock down social media accounts.
It's time to get creative! Have a play below and see if the travel blog domain name you want is available…
Do You Want to Travel FOREVER??
Then pop your email address in below and we'll send you a FREE copy of 'How to Travel the World on $10 a Day!' – make travel your LIFE.
2. Setting Up Hosting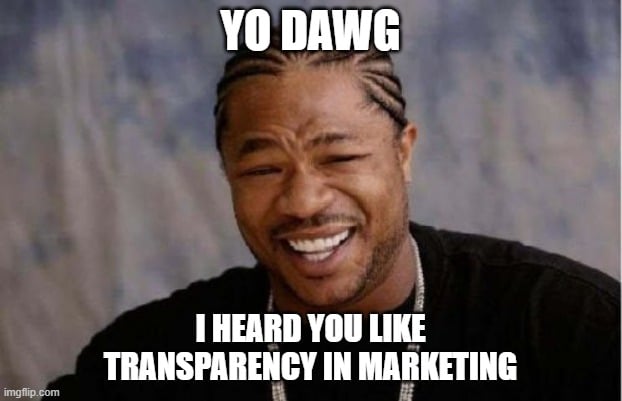 Heads Up! I'm about plug the shit out of Bluehost as the go-to hosting platform.
They ARE an affiliate partner with The Broke Backpacker meaning I do receive a kickback commission if any of you fine readers sign up for Bluehost using the links in this article.
Does that affect what I've written in this article? Na, I still love Bluehost and highly recommend them. I'm just also legally obliged to tell you. 🙂
Many digital nomad newbies are intimidated by hosting but it really is very easy indeed to install and set up and you will need to get it sorted before you can properly start your travel blog. Let me run you through it…
If you want to start a travel blog, getting started with Bluehost is the absolute best option for you.
Best of all, Broke Backpacker readers get an exclusive deal on the price – $2.95 a month rather than the normal $7.99 a month – that's a pretty massive saving.
Bluehost has got great support, and at a beginning price of $2.95 a month, it's hard to complain about the price.
I have several websites and have experimented with a number of different hosting companies. Bluehost has quickly become my favourite hosting solution.
Hosting your travel blog with Bluehost will only cost you $2.95 a month and if you opt for hosting with Bluehost you can score your domain name for free as well. Best of all, setting up is quick.
First thing's first, to start a travel blog, click the button below.
Bluehost has been badass enough to give my readers a special deal. Using my links should take you to this page…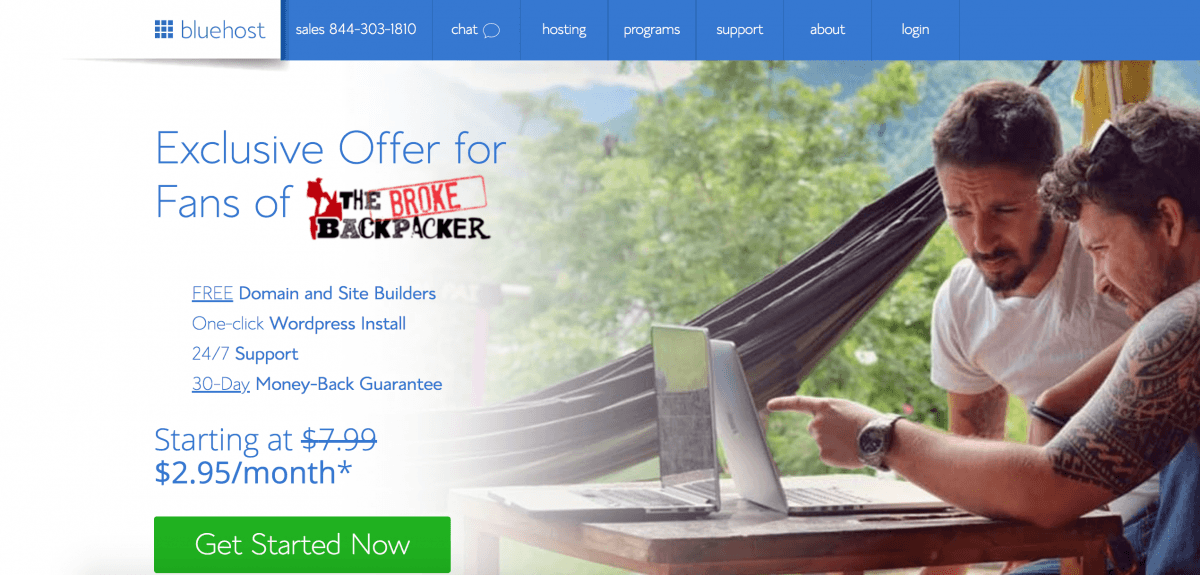 Which has the best prices available on the web. If you want to start a travel blog, it's hard to complain about $2.95 a month.
Hit the big ass green button and you'll be redirected to a page outlining Bluehost's different hosting plans…
If you are new to the blogging world and aren't sure if this is a long term path for you, I would recommend just going with the $2.95 package. It's still a great plan to start a travel blog.
However, if you are serious or are planning on setting up more than one online venture – it's worth going for the 'prime' account as it includes more bandwidth and the ability to host more than one domain.
Now's your chance to get your domain name for free! Unless you've already bought a domain name, type your chosen blog name into the box on the left and click next.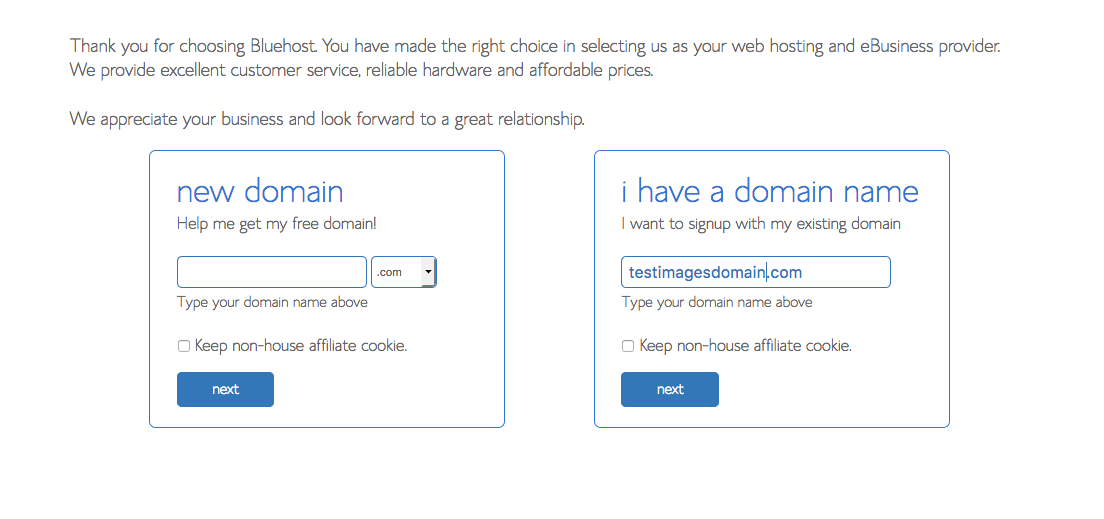 Visit Bluehost now and search for your very own domain… 
Next up, fill in your payment information and you're all set!
Baboom! Now it's time to pick a password. Don't make it your pets name. Put some thought into making it unique. The last thing you want is your glorious travel blog to get hacked.

Then double check to make the password is correct…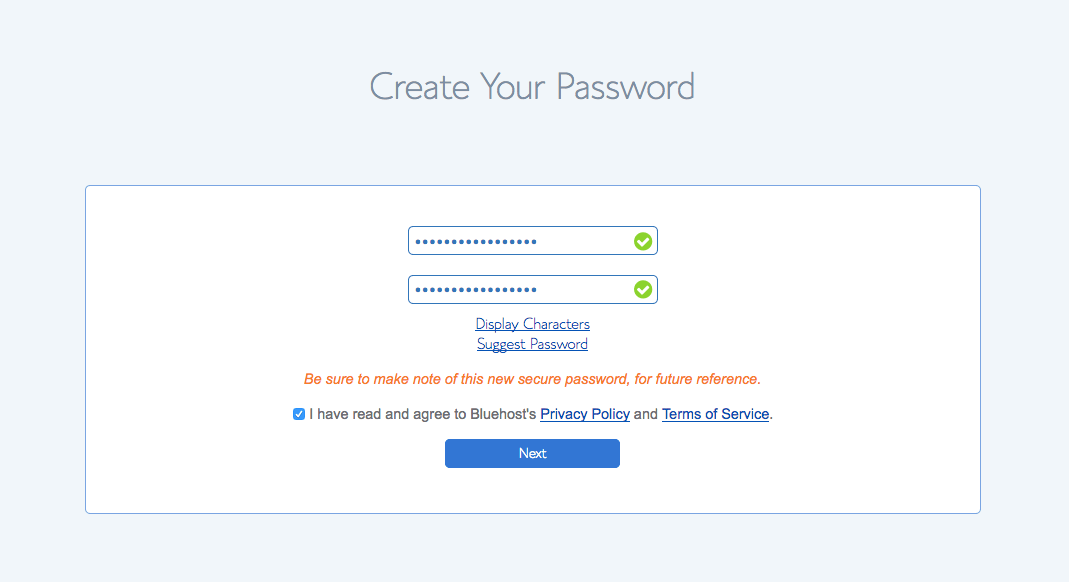 If you've done everything correctly, you'll see this…
You've now got your travel blog domain name and hosting all sorted, onto the next step: picking a theme.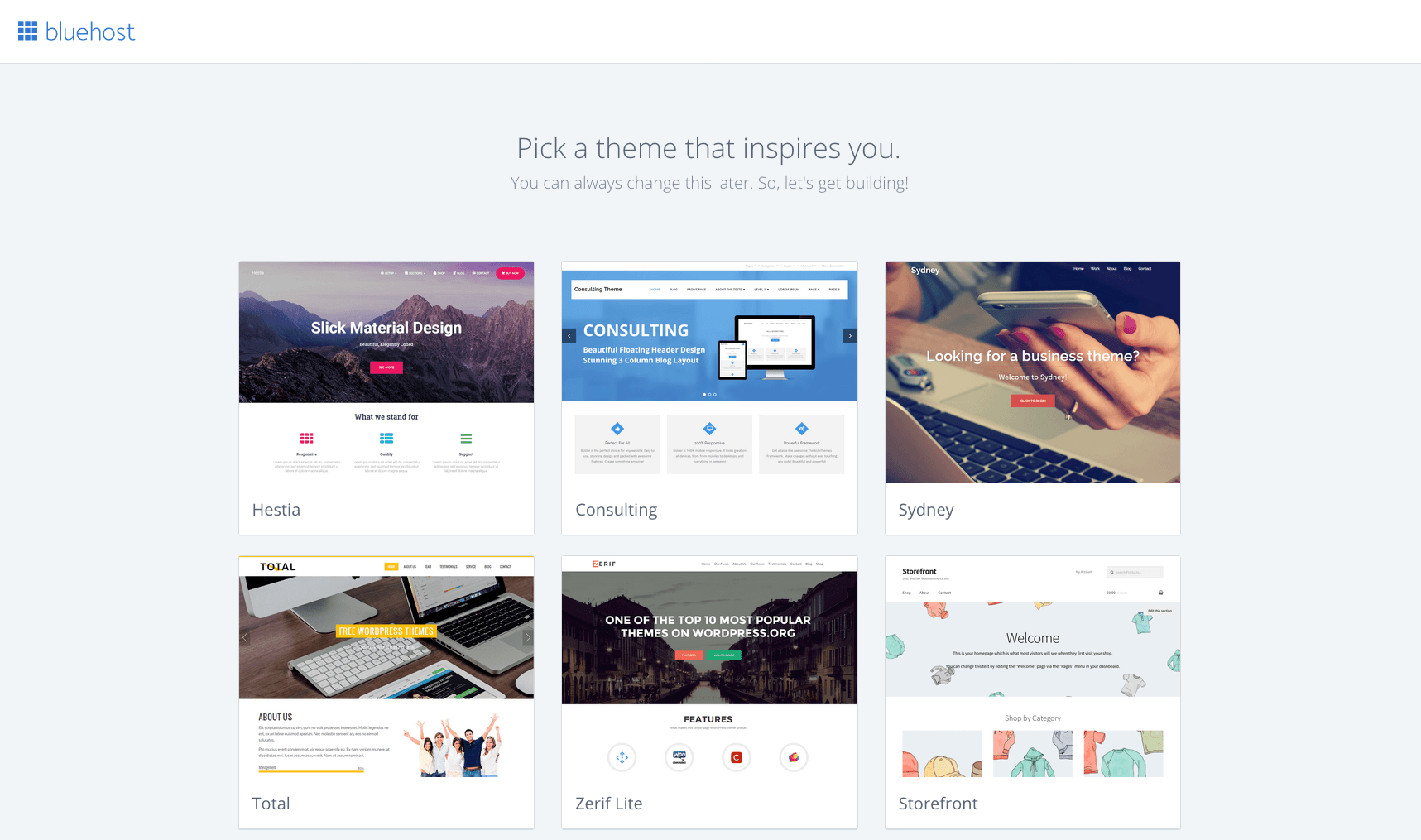 Don't sweat too much about this as it can always be changed later. Just pick one that looks nice.
Once you are finished, you'll see this.

3. Installing WordPress
Now that you've signed up for hosting, it's time to install WordPress so you can make a start on actually putting your site together.
Back in the old days, this used to be complicated and annoying. But in 2017 Bluehost made some awesome changes, and now installing WordPress is easy as pie – because it comes already installed!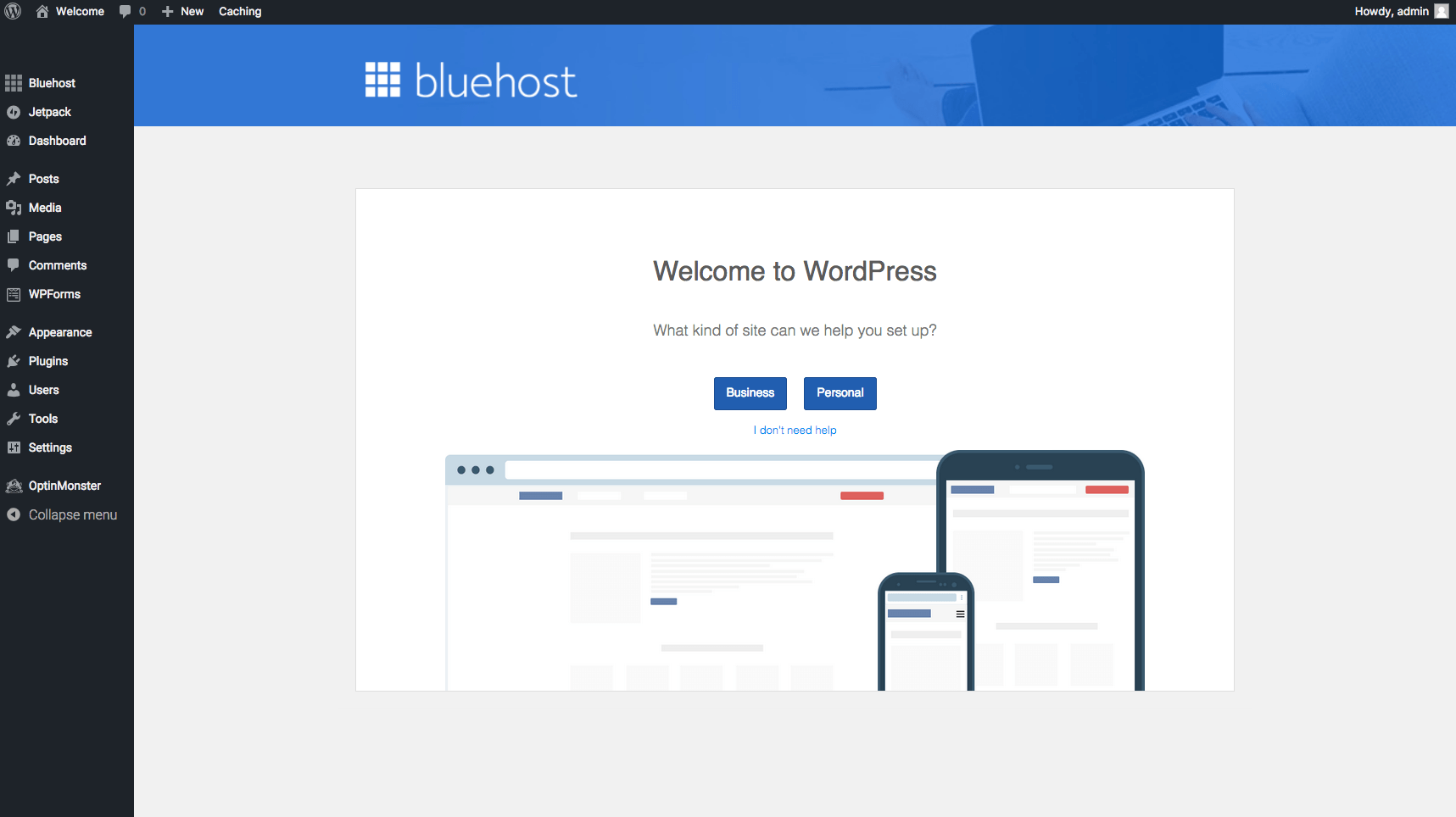 If you are a web-design pro, then click 'I don't need help'.
But if you are here, I suspect you aren't a web design pro. So take some advice from a pro – choose 'business'. Yes, your blog might have a more personal touch, but business blogs have more professional layouts.
Then, click the big blue 'launch' button.
You'll then be taken here…
Next, select your site title and it's description. Again, don't sweat too much about it now. Put what you'd like the title and description to be, and move on (it can easily be changed later).
Congratulations! You're now the proud owner of a WordPress travel blog! What on earth do you do now?
4. Logging Into Your Site
It's super-simple. After clicking 'next step', you'll be taken here.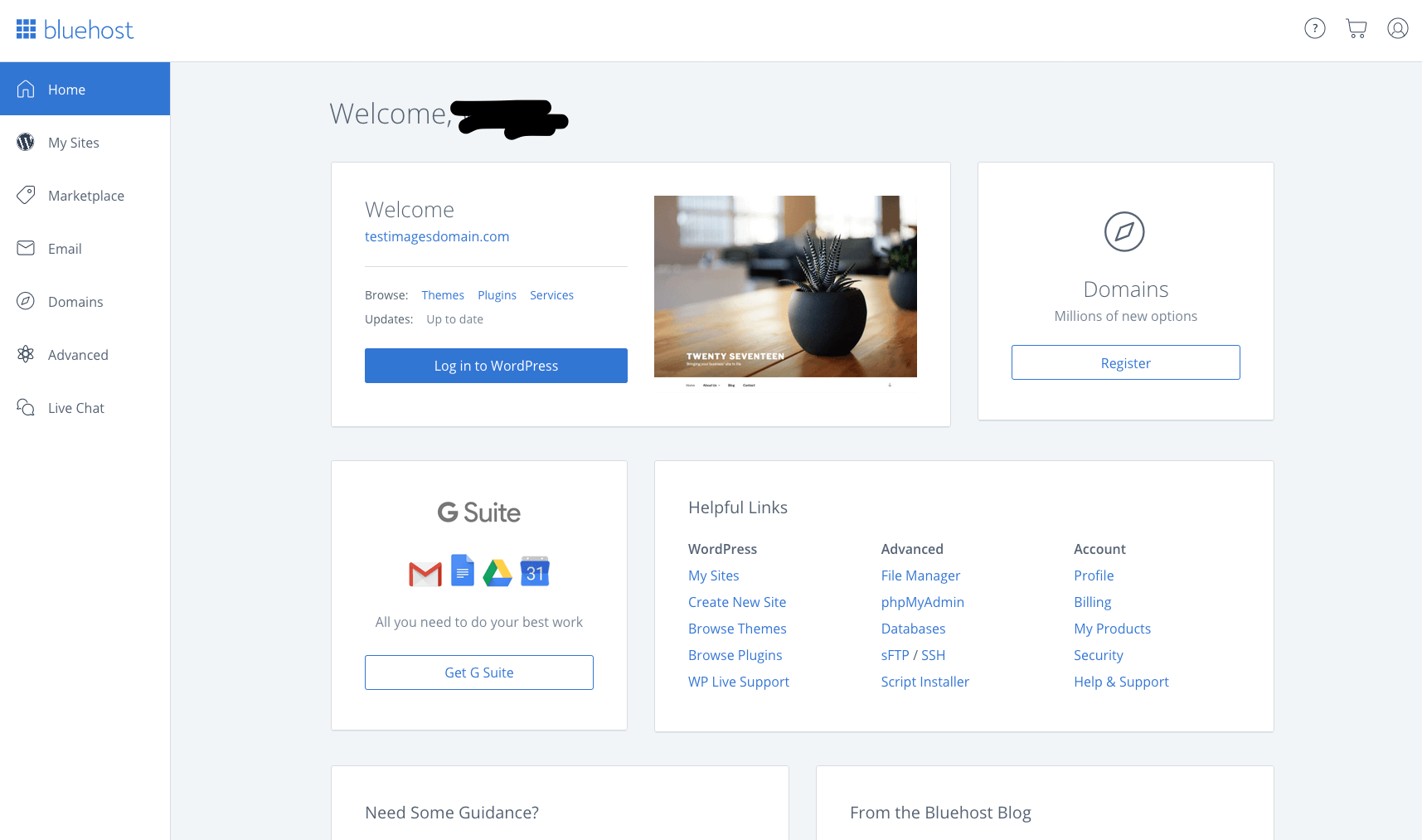 Click 'login to WordPress' and you are in!
Huzzah, you've conquered the boring shit! Now we can move onto the more exciting stuff – designing your brand and writing your first posts…
5. Finding a Theme
It's time to make your site awesome! There are a ton of free themes that you can pick up with WordPress but I strongly recommend making the investment into a beautiful theme that will help you stand out…
ThriveThemes: The internet marketers best-friends, ThriveThemes specialise in themes that are designed to convert your traffic into email subscribers and sales of your digital product. If you have a business plan in mind that revolves around digital products or you are interested in setting up a marketing blog, these are the guys to go for. Thrive also offer some truly awesome landing page and opt-in form packages. Investing in ThriveThemes was by far one of the smartest things I've done.
Honestly, I strongly recommend checking out ThriveThemes – It's pretty intuitive and if you choose to design your site on Thrive, you'll be head and shoulders above the competition – your site will look better, flow better and convert better. We are currently working on another site, a top-secret project, and we've designed this entirely on Thrive. You can also simply use Thrive alongside a normal theme to create landing pages, again – These are very powerful.
ThemeForest: If you want to pick a standard, none-thrive, theme with a really professional design head to ThemeForest. You'll pay around $50 per theme (the price varies, but averages out at around $50), but the themes available have hundreds of options for customisation, are usually responsive, and have a support team to solve your queries within a few hours. I've been using a heavily customised ThemeForest theme on The Broke Backpacker for years and I have no intention of changing anytime soon although I am increasingly using Thrive Themes for really important 'money posts' and for gaining email subscribers.
Once you've bought a theme, install it on your site by following the instructions. In ThemeForest, you'll be able to download the installable WordPress file. Once you've done that, you can log into WordPress, click on Appearance – Themes – Upload, upload the zip file, and you'll be on your way to creating a kick ass site.
For more ideas on how to make your blog look good, check out some of these design tips from Blogging Fast Lane.
Get Your Copy of the Backpacker Bible Totally FREE!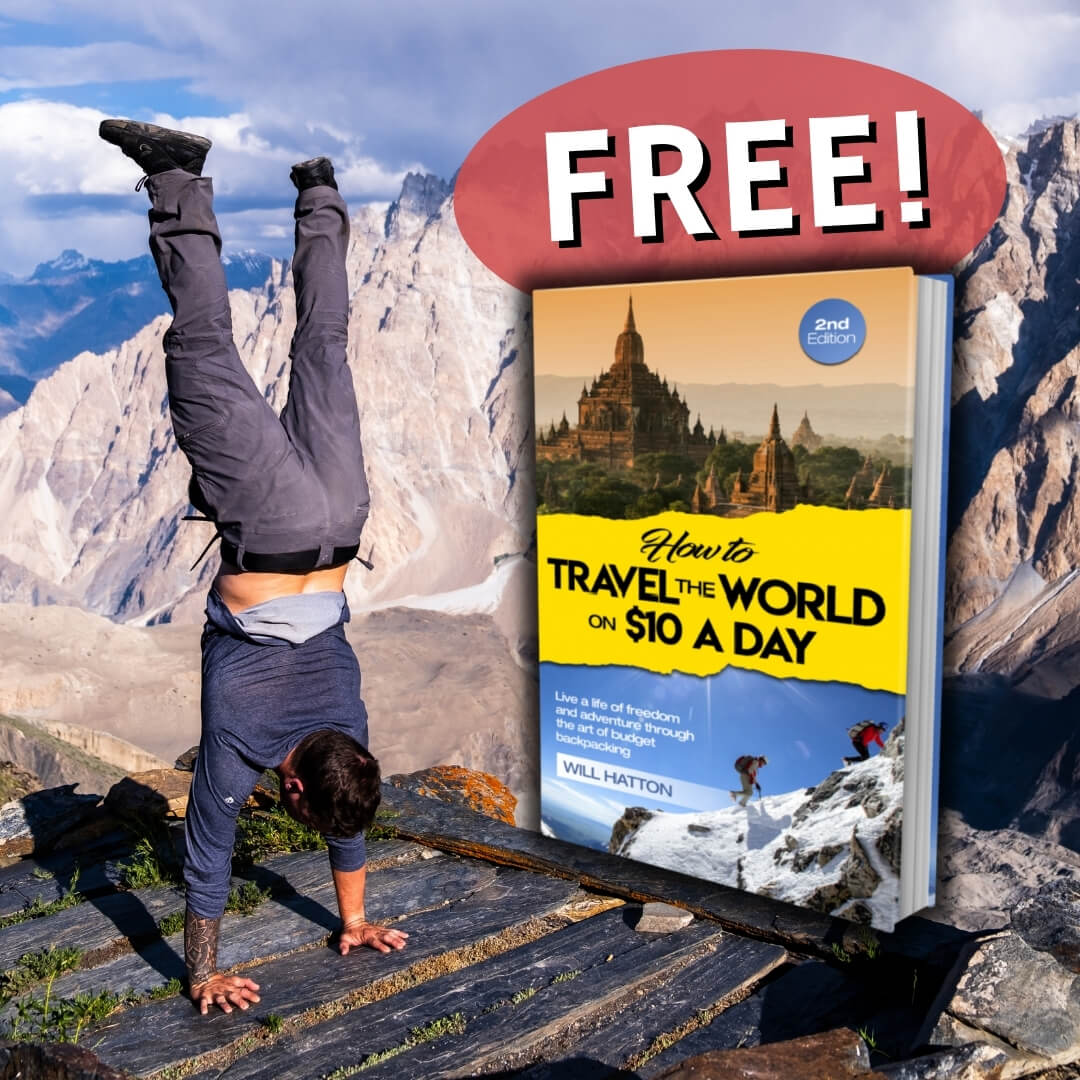 Learn how to travel the world on just $10/day with the Backpacker Bible – Will Hatton's own personal guide to the life of a budget traveller!
This book is the ULTIMATE culmination of more than 10 years of travel experience. It's full of valuable insider hacks and secrets that will help you unlock your full potential as a traveller.
AND… it's also FREE at the moment! All you need to do is click this link (or the sexy image of Will flexing his handstand skillz), provide your email, and we'll email you the ebook lickety-split!
6. Design Your Brand
Hopefully, you've given some thought to what you want your blog to be all about… Brainstorming with friends or even running polls in Facebook statuses (this is how I often make final decisions on brand names) is a great way to start.
Once you have figured out your brand, you can start thinking about a logo or banner – something to put on every page of your site so that your branding constantly reminds your audience where the hell they are in the deep, dark interwebs. I designed The Broke Backpacker logo and banner image (that you see at the top of every page) myself in PicMonkey – an extremely cheap and extremely versatile online photo editor, I highly recommend giving it a go.
Designing your brand is a constantly evolving part of running a travel blog; I have re-written my 'about' page over a dozen times over the years as my aims changed. I suggest you start by writing out twenty post titles and then figuring out how you are going to arrange these posts in your site – it's a good idea to throw together a quick site-map in excel.
7. Install WordPress Plugins
Now that your site is almost ready to roll, it's time to install some plugins to improve your user experience and to give you a ton more options for what you can and can't do on your travel blog. Here are some of the essential plugins you should install to start your first travel blog…
Akismet: Every day, I receive hundreds of spammy comments on my blog. Luckily, I don't have to deal with any of them as Akismet blocks all comments that are originating from comment-bots.
Yoast SEO: After Akismet, this is the single most important plugin for your site as this is the absolute foundation of on-page SEO and without SEO your content will never be read by anybody. Stay tuned for my upcoming guide to SEO, coming out soon.
Subscribe to Comments Reloaded: When someone leaves a comment on your blog post, you receive a notification. Stupidly though, they don't actually receive a notification when you (or anybody else) replies. This plugin enables that functionality.
Sucuri: Sucuri is like antivirus software for your website. It scans and secures your website and lets you know if your site gets hacked.
SumoMe: SumoMe is another plugin that has lots of other "sub-plugins." Most famous is their social sharing plugin, which makes it easy to add customised share buttons to your blog posts.
TinyMCE Advanced: The standard post editing screen is good, but it's not good enough. TinyMCE Advanced makes WordPress look a little bit more like Microsoft Word, which means you have more control over the formatting and style of your blog posts.
WP Smush: Images take up a lot of space, and especially on a travel blog, they're going to be the number one thing that slows down your website. This plugin makes the file sizes of your images smaller without affecting the quality of the photo.
9. Produce Content that Matters
As a travel blogger, you will really stand out if you produce quality content that isn't identical to the other thousands of travel bloggers out there. In my opinion, there are three qualities that travel bloggers should try to cultivate and to show through their work.
Passion
Let's face it, it's a lot easier to put energy and enthusiasm into something if you're passionate about it. If you love taking photos, making videos, writing about your experiences and inspiring others to travel then travel blogging is a great gig. If you're only vaguely interested in starting a travel blog to fund your travels then you are definitely making a mistake – do not get into travel blogging for the money, there is much easier money to be made in other online fields – check out Ditch Your Desk for a ton of great info.
I've always been passionate about writing and, luckily, I had been writing for a long time before I even started my blog – it probably took about one thousand hours of practice to sculpt my writing style from utter shit into something readable. Your passion is your power, find your passion and then build your business around it.
Persistence
The great thing about travel blogging is that, as long as you stick with it, you will eventually have a site which brings in an income. How long does that take? It took me four months but the average seems to be a bit longer than that – more like six to eighteen months.
Really though it just depends on how much time you put into it – I reckon it probably takes about 1000 hours of work to build up a successful and profitable travel blog; you can put that work in ALL at the beginning, especially if you have years worth of travel stories to draw upon (which I did when I started) or you can pace it out. As long as you stick with it and work hard, you will eventually get there.
Integrity
Once your blog gets to a certain size, you will start receiving offers for paid content placement (more on that later) from advertisers, SEO companies and, if you're lucky, brands related to your niche. The only problem is that nine times out of ten these guys are not fun to deal with – they will offer you pitiful compensation in exchange for plastering their crappy products all over your blog. Sometimes they will even ask you to place content in exchange for 'exposure' across their networks.
One of the main things that separate the professional bloggers from the hobby bloggers is an accurate sense of value; pro bloggers know what their site is worth and they know which products and services might be of interest to their audience – Promoting crap to your audience or undervaluing your site and taking pennies from advertisers will damage your brand and stunt your site's growth.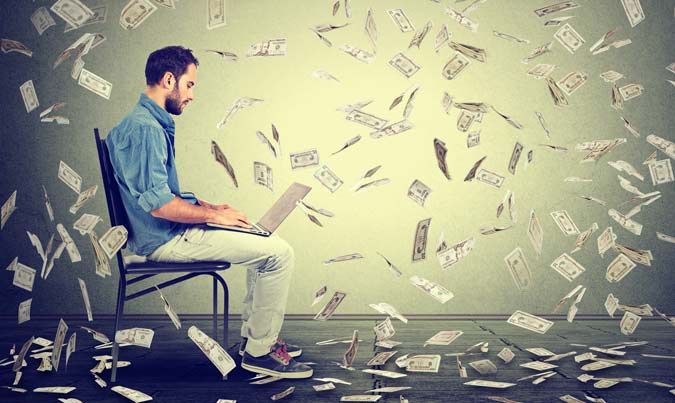 10. Start Building an Audience
Without an audience, your travel blog is extremely unlikely to gain momentum or to earn any money unless some extravagant playboy billionaire happens to stumble across your site and decides to inexplicably sponsor you… That ain't going to happen so if you're going to take travel blogging seriously, you will need to invest your time into mastering SEO, social media and the ancient art of hustlin'.
Mastering SEO
Search engine optimisation is the practice of writing an article that Google finds appealing and therefore bumps to the front page. There was a time when writing great content was enough but now, with an influx of very talented and very hungry newbie travel bloggers, you need to make sure that your content is search engine optimised.
Whilst it is possible to drive traffic through social media, organic search traffic remains the most effective way of getting readers onto your site and growing your brand. SEO is probably the most important part of running any online business. To get to grips with the basics of SEO and learn how to find kick ass keywords for your articles check out my mammoth post – What is SEO on DYD.
Social Media
Social media is becoming less and less relevant to building an online business as Twitter continues to decline and Facebook charges influencers more and more to reach their own damn audiences – greedy fuckers. Instagram is a beautiful way of showcasing your work however it is owned by Facebook and no doubt, some day soon, they will start charging influencers as well. Youtube is exceptionally powerful but very difficult to break into and Snapchat is populated by some of the most boring people known to man…
So, it sounds tough, how do you become a blogger without a huge social media following? Well, it is completely possible to run a successful travel blog without much of a social media following and I personally don't recommend spending all your time on social media unless you are working on video content. To learn more about social media, check out my mammoth Social Media 101 post.
Hustle
Really, the most important skill you need is a good work ethic and a vision for what you want to create. You need to be confident promoting yourself and reaching out to potential allies and clients. If you start with that, the rest will follow. Check out this post for my top tips on how to be productive. 
11. Build A Successful Travel Blog
Everybody has a different definition of success. When I started out, my primary objective was to show people that travel doesn't have to be expensive and that it's possible to travel anywhere in the world on a budget of less than ten dollars a day. That was my personal goal. Moving forwards, my definition of success for this blog has changed a bit – partly because of the thousands of hours I have put into it. I am still passionate about teaching others to travel the world broke but I am also keen to fund my travels and build an online empire.
The definition of success for any business is turning a profit so if you're not making money then you are not running a successful business. Depending on your circumstances, that might be totally OK. You might have millions in the bank and be starting a travel blog to simply record your experiences and inspire others to travel. If this is you, you're in luck – you are the perfect candidate for travel blogging… Travel blogging can, and should, be fun.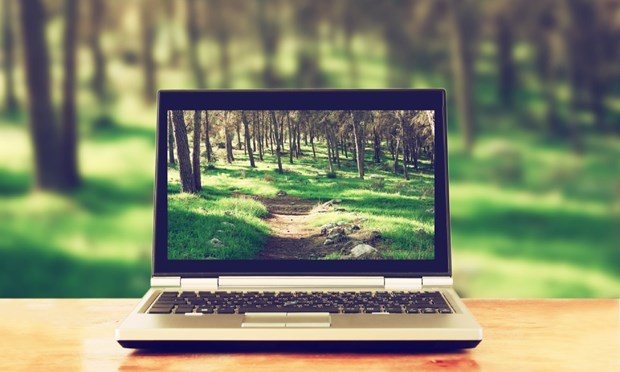 Travel blogging should be about creating, about sharing, about inspiring others to hit the road and discover a life of adventure. Unfortunately though, when you combine that with trying to make a living online the lines can become blurred. If you are passionate about travel, like myself, then starting a travel blog will very much change how you travel…
I know many bloggers who started a travel blog with the objective of making money from their travels so that they could travel forever, most us now daydream of a time when we can pack in the blog and travel old-school… without a laptop, without a phone, without being connected.
Recently, I shared about my journey from Broke Backpacker to entrepreneur in an interview with Tiqets. Read up on how my life has changed because I've found a way to make my money online!
12. Start Making Money
So how do you become a blogger that actually makes money? With a few notable exceptions, most professional travel bloggers make between $2000 and $5000 a month. This figure can fluctuate wildly on a month by month basis depending on how you have set up your online income streams. Some bloggers pull in six figures but these guys have been around since the age of the dinosaurs and were able to take advantage of travel blogging being a very new thing with very limited competition.
These early bird travel bloggers were in a very fortunate position indeed as they were the first to write about, for example, travelling in Europe – this means that they have all got dozens of articles sitting happily on the front page of google and they continue to generate traffic, and therefore income, without having to do too much other than design new digital products to sell to their audience. However, it's possible to take those coveted first page rankings away from other bloggers… If you produce content that is longer, better and properly optimised.
There are two main streams of income for bloggers – passive income (the dream!) and hustle…
Passive income
Passive income can only really exist if you have a good amount of traffic. In most cases, you need about 50,000 unique visitors a month to your blog before you can start making anything even close to the $1000 mark in passive income. Passive income consists of…
Affiliate schemes: Selling travel insurance, booking services or Amazon products through your site. Check out affiliate marketing 101. 
Digital Products: Selling ebooks or courses such as a 'How To Start A Travel Blog' or 'How to Become a Blogger' courses (more on that, no – I'm not going to sell you shit, in a moment).
Mediavine: Mediavine will pay to place ads on your site which payout based on the number of impressions a page – I have got SOME ads turned on on SOME pages on this site and make a couple of grand a month from Mediavine but overall I am trying to limit ads.
Hustle
Advertisers: If you want to start a travel blog you need to know this.Some companies will pay for posts on your site advertising a product, service or website. This can be a dodgy game as Google does not look fondly on blogs that do this. Sponsored content is, however, the easiest way to make money out of a travel blog and most bloggers, even some of the biggest names out there, are involved to some extent.
Brand Partnerships: The holy grail for most travel bloggers; brand partnerships involve a travel or adventure related company asking you to use and promote their gear. I've scored partnerships, some of them worth upwards of $5000 a year, with a few companies and whilst they are a great source of clean money they are hard to land. Many bloggers aim to score press trips, the real golden opportunities though are paid press trips. 
Selling your soul: I don't endorse products I don't like, some of the shit that companies have asked me to put on this site has been downright laughable… If you don't care about your image or your audience though, you can make good money this way.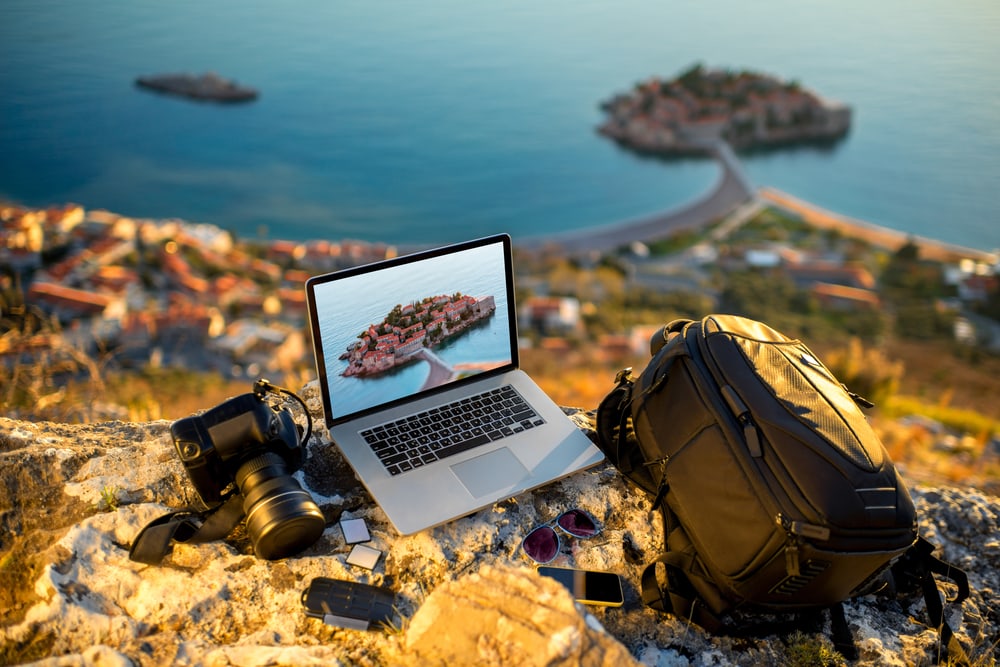 I make an average of $7000 a month from my travel blog (March 2018) and $3000 a month from other online ventures, I expect to hit a combined monthly income of 20k a month by the end of 2018. If you want to start a travel blog you should get excited knowing those numbers are totally possible for you too!
13. Don't Waste Your Money on a Course
The best way to start a travel blog is to teach yourself.
Here's why.
There are a lot of travel bloggers out there trying to sell 'How to Become a Blogger' courses… The thing is, most of the guys selling these courses have got no idea how to start a successful travel blog, on a budget, in the current market.
The tactics that they suggest often no longer work. Things have changed – the number of travel blogs has exploded and it is harder than ever to stand out and to build a brand amongst so much quality competition.
In the old days, all you had to do was write an article, choose a keyword and whack it on your site – very quickly it would be ranking on page 1 of Google and you would be sorted. Now, if you want to start a travel blog and grow it,  you have to compete with fifty other bloggers who have written about the same subject.
Most of the 'How to Become a Blogger' courses contain very limited practical information on how to actually monetise a blog so whilst they can be a good blueprint for things like web design and best SEO practices, they won't help you fund your travels.
In short, most travel blogger courses are outdated and not worth the money – you can find everything you need to know online and through trial and error. I never enrolled in a 'How to Become a Blogger' course and frankly it pisses me off that travel bloggers are selling these courses for such exorbitant amounts of money when much of the content has been floating around the web for nearly ten years and they are not providing any real value.
Saying that, if you want to start a travel blog and prefer to get your hand held, maybe it's worth it but my advice is to just Google and watch Youtube videos teaching you what you need to know – that's what I did.
Ditch Your Desk and Travel FOREVER!
Will has gone from broke backpacker to serial entrepreneur and… there are secrets he wants to share with YOU.
Over on Ditch Your Desk, you enter the mind of Will Hatton: blogs about online entrepreneurship, personal development, mastering your productivity, and an honest look at the digital nomad lifestyle.
9-5 or anytime, anywhere. The choice is yours.
[Visit] Ditch Your Desk
[Read] Online Entrepreneurship 101
So, should I start my own travel blog?
If you are passionate about storytelling and inspiring others to travel, a career in travel blogging is a fantastic choice and one of the best digital nomad jobs out there.
Be warned though, if you want to start a travel blog you will be fighting an uphill battle to monetise your blog in an increasingly competitive market. It is still totally possible to create a successful and profitable travel blog but if you are doing it just for the money, there are better options out there…
I have no regrets about starting a travel blog – it has been an incredible journey for me and I have learnt so many valuable skills which I am now using to set up a string of online ventures in niches which are better paid and less competitive than travel blogging.
At the end of the day, I'm passionate about travel – not travel blogging.
Having kick-ass adventures and then finding the time to actually write about them is a difficult balancing act. Many bloggers start a travel blog with the hope of funding their trips but the very nature of your travels changes completely when you suddenly have to think about taking photos for Facebook, answering emails and dealing with site problems from the middle of the Himalayas…
My objective is to make enough money to be able to buy a large chunk of land somewhere and disappear forever. To unplug from social media and to travel without a phone or laptop. This is my goal. I'll be blogging about the journey over at ditch your desk.
Blogging is an incredible journey and can be a seriously rewarding job for those who love to travel. If you're passionate about travel, photography and learning new skills, blogging could be the job for you, good luck!
But remember, if you want to start a travel blog you have to understand it's a marathon, not a sprint. Produce great content and keep plugging away and you will, eventually, get to where you want to be.
PS – To get tips and tricks on how to ditch your desk, hit the road and earn an online income, sign up to the newsletter! 
FAQs on Starting Your First Travel Blog
A) Can I really make money blogging?
Yes, absolutely. If you want to start a travel blog you should get excited! It is one of the most exciting digital nomad careers out there and you will learn a huge amount about an absolutely staggering range of topics. You can apply this newfound knowledge to all kinds of online ventures. PS, if you are looking to do this, then check out our Packing List for Digital Nomads.
B) Do I need to speak English to start my own travel blog?
Blogging online in your native tongue can be a huge advantage as you will not have as much competition as if you were blogging in English. Your total market may be smaller but it's easier to lock down a larger percentage of that market and build a recognisable brand fairly quickly.
C) Travel blogging seems so saturated now, am I too late to start a blog?
This is a question I get a lot from people who want to start a travel blog.
Here's my two sense.
Quality will always trump quantity and every year new blogs appear out of nowhere to take a slice of the pie. It is definitely a very competitive space though and if you simply want to make money online so that you have the freedom to travel there are better options out there. If you do start a travel blog; pick your niche wisely… Choose a space where you can become an authority.
D) How much does it cost to start a travel blog?
You can start a travel blog for under $100 although if you want something flash you can spend way more than that.
E) But you can set up a free blog, right?
You can start a travel blog where you do not have to pay for hosting but this means you will be doomed forever to have a forgettable domain name where you cannot build up your domain authority as you don't have your own part of the internet.
F) Do I need a laptop?
Yes, definitely, it's imperative for anyone who wants to start a travel blog. You cannot hope to compete without access to a computer.
Start A Travel Blog Resources
Ditch Your Desk: Your ultimate resource for making money online.
Bluehost: When you start your first travel blog you're going to need hosting, Bluehost offer some of the most affordable hosting packages and, best of all, TBB readers get an exclusive discount on the price!
Thrive Themes: Game changing landing pages…
PicMonkey: Super cheap and super awesome photo editing software.
Another walkthrough on blogging: Check out my friend Jeremy's post on travel blogging for some other useful insights.
---
Thanks for reading – that was fun! 😀
We bring you epic FREE content!
Find out how YOU can help support us.
We're a big site with a big team and this job isn't always easy. But we do it because we love it – we love providing epic and free content. We love the knowledge that our content keeps you adventuring. We don't ask for money, but if you'd like to find out how you can help the site in more organic ways, click the button below.
Thank you for your support 🙂
---
Bye for now, but not forever!
If you want MORE top-tier Broke Backpacker content like this, then sign up for our weekly newsletter below to get the latest and greatest!
And for transparency's sake, please know that some of the links in our content are affiliate links. That means that if you book your accommodation, buy your gear, or sort your insurance through our link, we earn a small commission (at no extra cost to you). That said, we only link to the gear we trust and never recommend services we don't believe are up to scratch. Again, thank you!