For more serious adventures and backpackers, there has been one backpacking stove that has been consistently crushing its competition for three decades: The MSR Whisperlite Universal.
When it comes to producing a quality product that will last the length of your backpacking career, MSR is as good as it gets. The produce the best backpacking stoves on the market – hands down.
I have been traveling with one MSR stoves for the past 10 years. I can honestly say that all of the MSR gear I have ever owned has always performed perfectly since day one.
But as great as it is, this stove is not perfect for everyone. Which is exactly why I wrote this epic guide. 
This brutally honest MSR Whisperlite review offers up a complete breakdown of what makes this stove one badass piece of gear, and breaks down whether this is the best stove for YOU. We even cover the MSR Whisperlite International vs Universal question!
I will explore the benefits of using a hybrid-fuel stove, MSR Whisperlite price, competitor comparison, best use whilst backpacking, stove safety, and much more, so you know everything to decide whether this is the best travel stove for you.
Right then kids, let's get this party started and get on with our MSR Whisperlite review!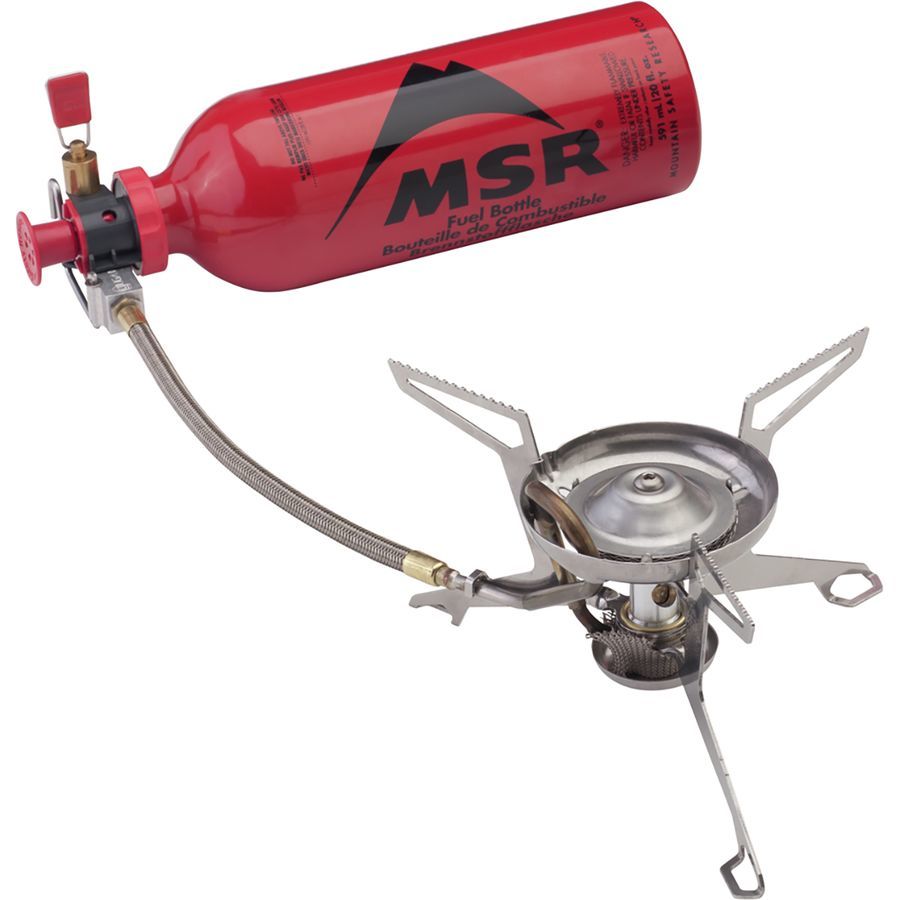 Quick Answer: Why the MSR Whisperlite Universal is the Ultimate Expedition and International-Use Stove.
Here are a few of the questions this MSR whisperlite Universal review will explore:
What are the benefits of having an MSR Whisperlite backpacking stove?
How much does the MSR Whisperlite cost?
What is the best application for the MSR Whisperlite?
What kind of fuel does the MSR Whisperlite use?
Is the Whisperlite easy to use?
What are the Whisperlite's competitors?
Is cooking with liquid fuel safe?
Pros and Cons of the Whisperlite Universal
Ladies & Gents, It's Time to Step Your GEAR Game Up. 😉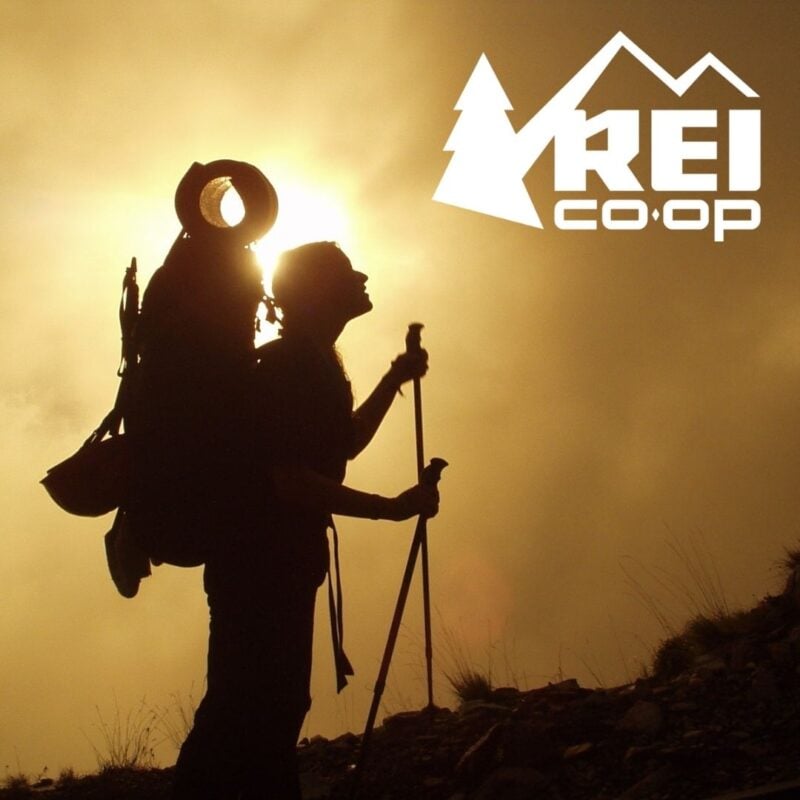 REI is one of America's biggest and most-loved outdoor gear retailers.
Now, for just $30, get a lifetime membership that entitles you to 10% OFF on most items, access to their trade-in scheme and discount rentals.
Join REI Today!
MSR knew they created a quality product with the first generation Whisperlite stove. The stove remained relatively unchanged for years. In 2018 the Whisperlite Universal has received a few upgrades that have turned a solid, reliable stove, into a truly fantastic, versatile powerhouse.
The most notable difference seen in the new Whisperlite Universal is its ability to burn both liquid gas and isobutene fuel from a canister. You heard that right. You can switch between liquid gas and the same isobutane canisters that you use for your MSR Pocket Rocket.
When you are traveling to the far-flung lands of the world it can be tricky to find isobutane canisters. However, you can almost always find isobutane fuel canisters in any major city, though if you fail to plan you could be stuck without any fuel option.
That is the big reason why the MSR Whisperlite Universal kicks so much ass. You can burn just about any sort of fuel short of burning whiskey (though you probably could do, at least for a little while: not recommend).
From the perspective of ease of obtaining a usable fuel source whilst traveling internationally, the Whisperlite is clearly the best stove on the market. It also ranks as the lightest in its class of backpacking stoves.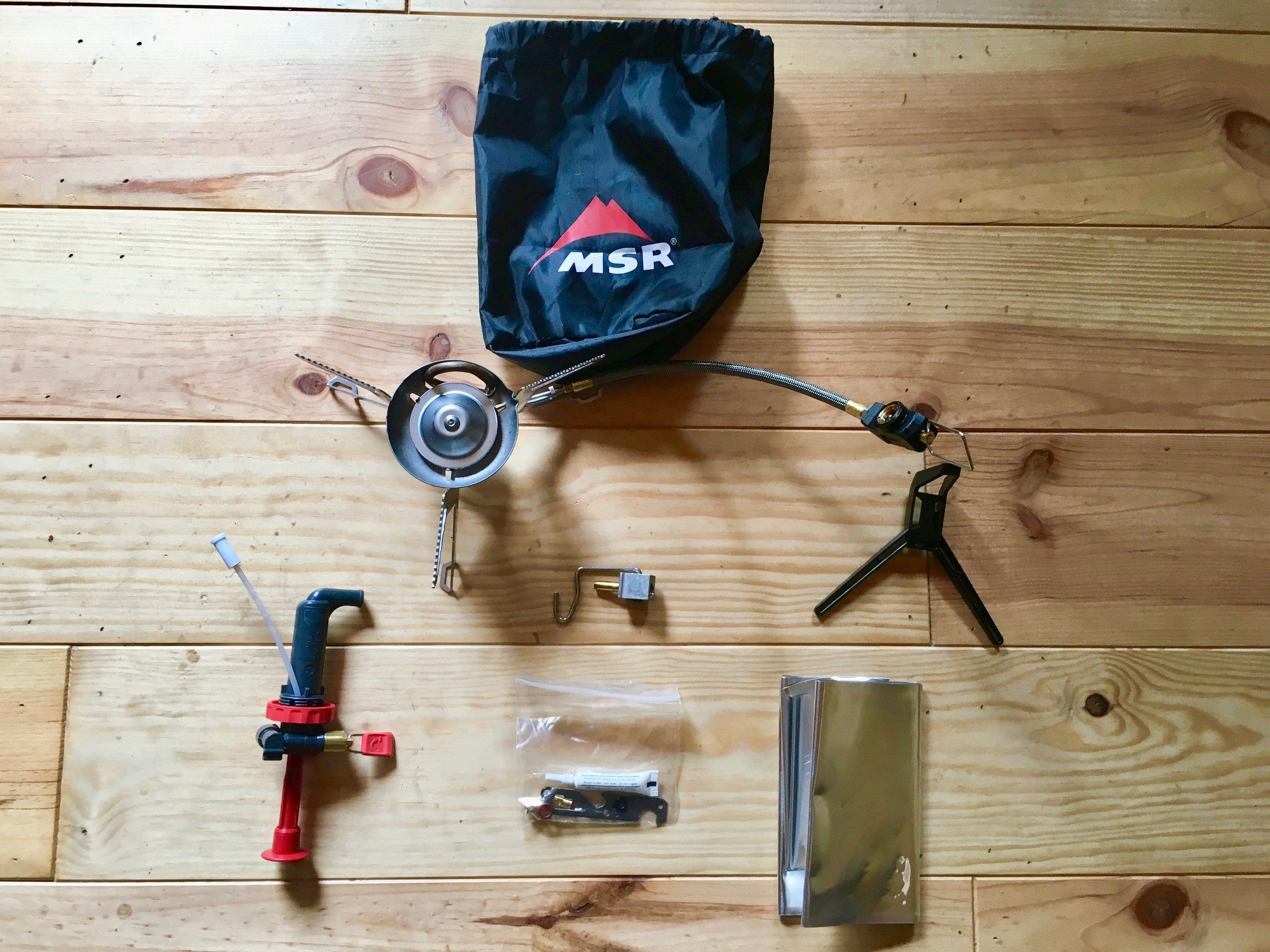 Minimum Weight: 11.2 ounces
Burn Time: White Gas = Approximately 110 minutes
Boil Time of 1 liter of water: White Gas = 3 1/2 minutes
Field Maintainable: Self-cleaning Shaker Jet technology and redesigned leg assembly facilitate fast cleaning and make maintenance in the field a breeze
Stable Cooking Surface: Solid, well-balanced stainless-steel legs make up the ideal base for the cooking stand. Features serrated pot grips to keep your pot balanced and sturdy
Versatile Fuel Use: Gives you the option to burn nearly any fuel source, including petrol, white gas and isobutane-propane.
Cooking Control: Simmer or full-flame torch with excellent precision.
Cold Weather Cooking: For adventures braving cold, demanding environments, the Whisperlite delivers even in extreme temperatures or varsity level snow melting situations.
Windproof: The windscreen really provides the cooking flame with an excellent shelter from the elements.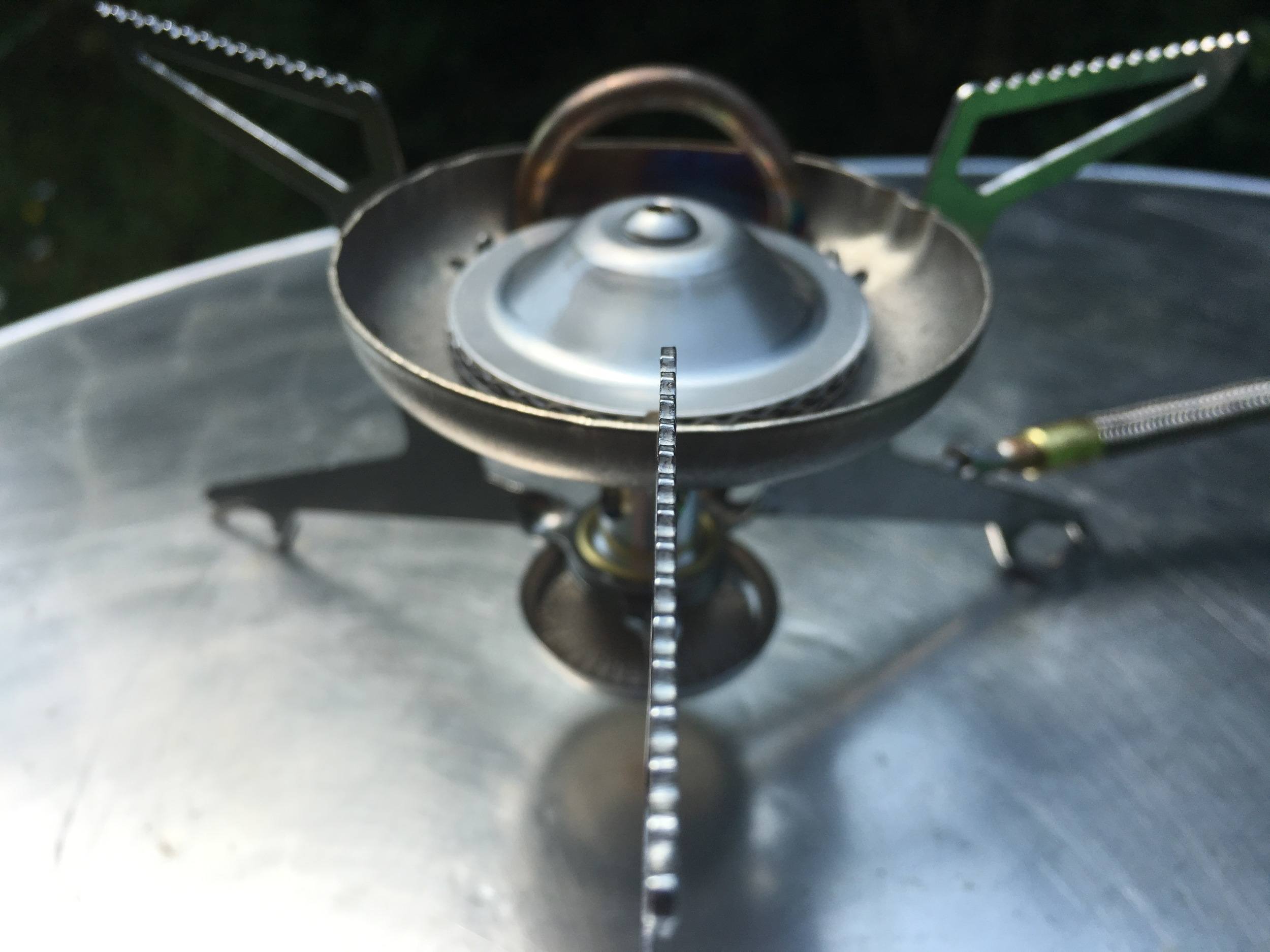 How much does the MSR Whisperlite Universal Cost?
Certainly, the Whisperlite Universal is not the cheapest backpacking stove out there. However, in the world of backpacking gear and gadgets, you get what you pay for.
The Whisperlight is built to last. Like any piece of quality backpacking gear, the Whisperlite is an investment. You will likely be using this stove on adventures for years and years to come.
MSR also offers up a great warranty and repair program if ever your stove were to get damaged or malfunction. They really stand by the quality they produce and won't screw you around if there is a problem with a piece of their equipment.
The best present of all… is CONVENIENCE!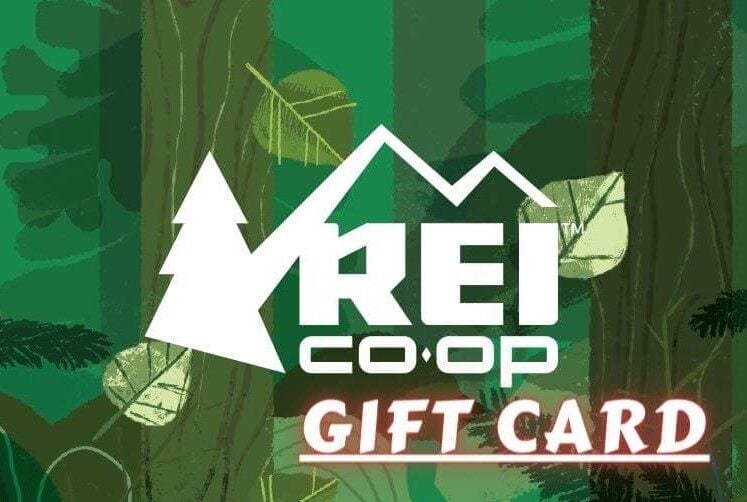 Now, you could spend a fat chunk of $$$ on the WRONG present for someone. Wrong size hiking boots, wrong fit backpack, wrong shape sleeping bag… As any adventurer will tell you, gear is a personal choice.
So give the adventurer in your life the gift of convenience: buy them an REI Co-op gift card! REI is The Broke Backpacker's retailer of choice for ALL things outdoors, and an REI gift card is the perfect present you can buy from them. And then you won't have to keep the receipt. 😉
Buy on REI!
What type of trip is the Whisperlite Universal best suited?
I'll be honest with you. The average backpacker probably doesn't need a Whisperlite for every day traveling and/or backpacking scenario. There are certainly other stoves made by MSR (like the MSR Pocket Rocket 2) that are smaller, lighter, and more practical for the average backpacking activity.
When you are looking for the best backpacking stove for yourself you'll need to consider what type of adventures you plan on doing.
Every tool has its time and place and the Whisperlite Universal is no different. For a single overnight backpacking trip in your home country, the Whisperlite might be overkill.
The Whisperlite Universal really comes into its own on both extended and international backpacking trips. If you are traveling as a larger group, having a stove that is efficient and powerful is key when you are cooking for multiple individuals.
The next big consideration is fuel.
As I mentioned before you'll never have to stress about finding fuel canisters when you have the Whisperlight. It can burn just about any fuell! Sometimes finding isobutane fuel canisters in the off the beaten track destinations of the world can prove difficult and even impossible. This is especially true if you find yourself far from a major city.
The brilliant thing is that if you prefer and/or have isobutane canisters you can use them with the Whisperlight too!
Furthermore, if you plan to go trekking or mountaineering in sub-zero or high altitude environments, you will need a stove that can melt ice and snow for drinking water. The Whisperlight was born to do just that.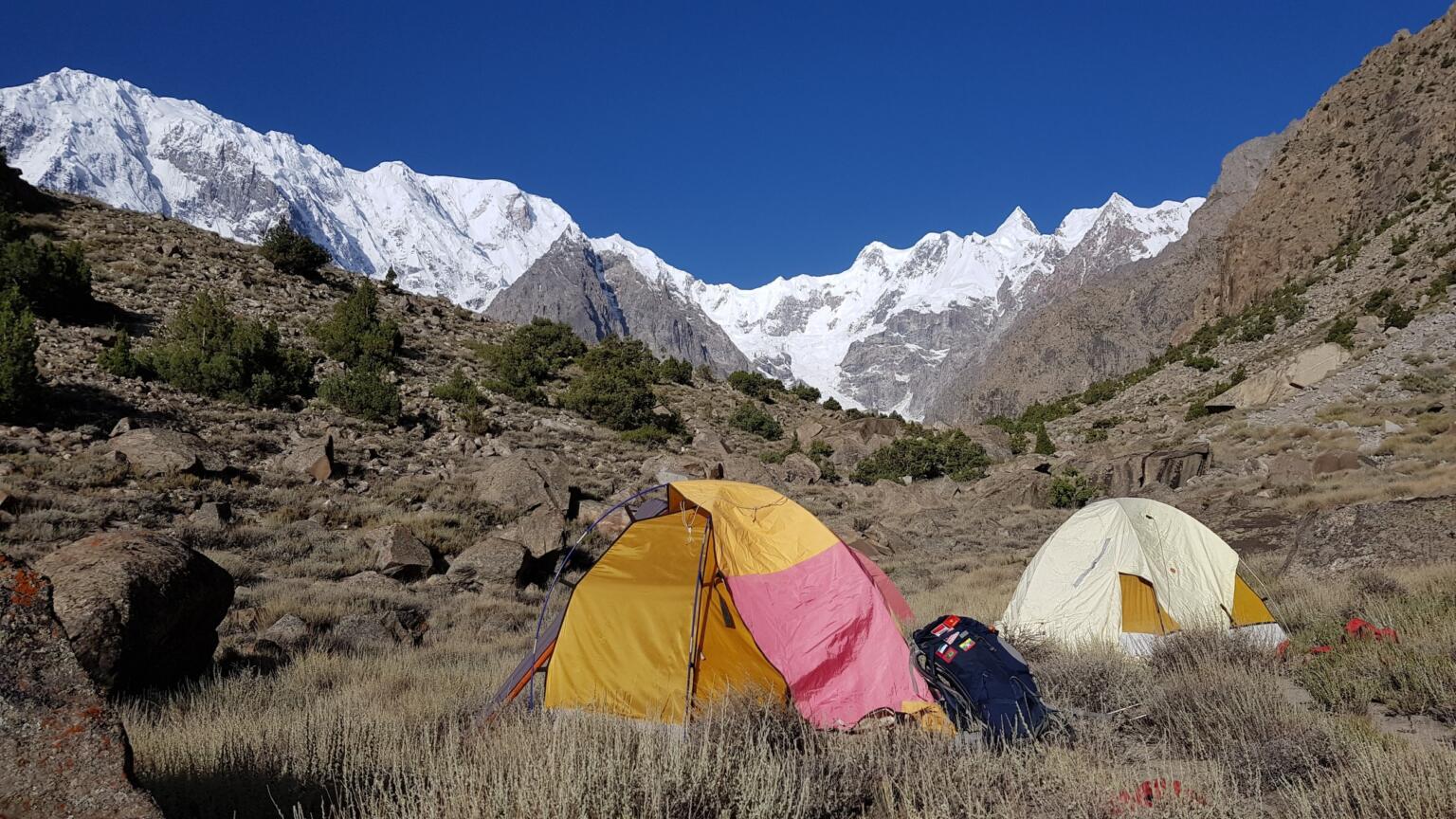 What types of Fuel can the Whisperlite Universal burn?
Short answer: many! The Whisperlight Universal is capable of using white gas, kerosene, petrol, and isobutane gas.
Kerosene will give you the longest burn time at a rate of 20 oz of fuel = 155 minutes of flame. White gas burns considerably faster. 20 oz of fuel = 110 minutes of burn time. If you are using an 8 oz isobutane gas canister, your burn time will be around 75 minutes.
Ideally, you always want to use clean fuel with your Whisperlite stove. Avoid using old fuel and always stay away from leaded petrol.
I have personally seen people use diesel fuel as well, though officially MSR does not recommend it with their Whisperlite camp stove.
Depending on the weather, where you plan to go backpacking, and how you plan on using the stove are all things to consider when purchasing fuel for any given trip.
For cold weather adventures, white gas is the fuel that will give you the highest consistent performance.
You may have heard of the Whisperlite Universal's next of kin: the Whisperlight International. So, what is the difference when it comes to the Whisperlite Universal vs International?
So basically these stoves are nearly identical except for one major difference. The Whisperlight International ONLY burns liquid gas. That means if you are wanting to use isobutane canisters in addition to white gas or kerosene, you are out of luck.
The Whisperlight International is also a bit cheaper at $99.95 (can be as low as $80!).
Bottom line when it comes to the Whisperlite International vs Universal debate is that the Whisperlight International is just as bad ass and practical as the Universal on many fronts, just not as dynamic and its hybrid-fuel burning brethren.
Cooking Safety 101 and the Whisperlight Universal
We live in the golden age of backpacking gear. In 2018, just about every backpacking stove out there is relatively safe. Safe as anything can be when a fuel-burning open flame device is involved.
Over the last decades, the folks at MSR have spent countless hours and energy pouring all of their collective genius into making the Whisperlight as efficient, well-engineered, and durable as possible. They certainly did not skimp on the safety.
Do to the quality of the construction and engineering you should never have to worry about fuel leaks, bum fuel-lines, or other catastrophic failures.
Cooking with a Whisperlight Universal or any other stove for that matter is inherently slightly dangerous. However, being the thoughtful, smart, responsible human being that you are you should never experience any dangerous situations if you use the stove the way it was meant to be used.
A little common sense goes a long way guys, let's just have fun and be safe using the MSR Whisperlite stove!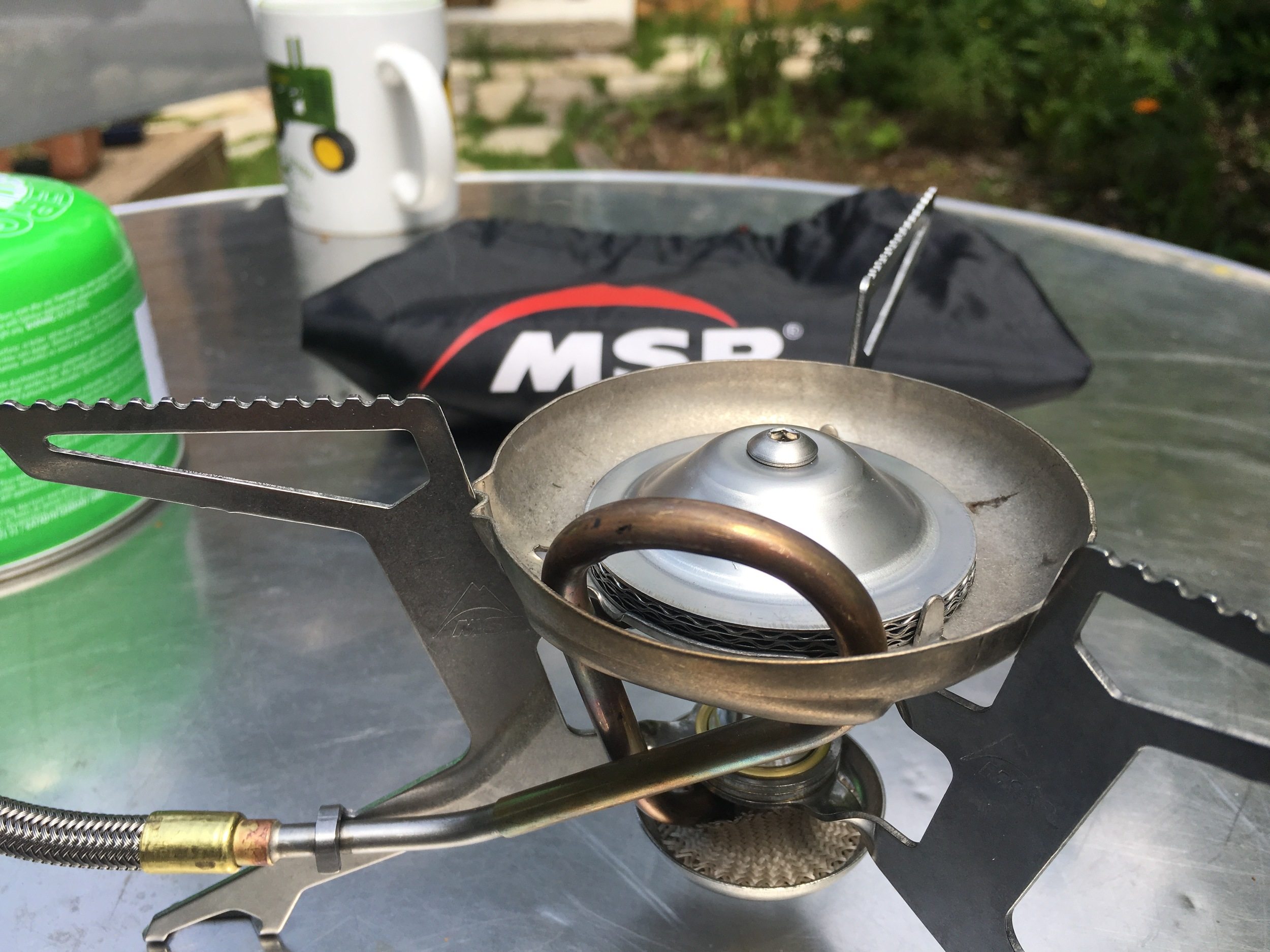 Backpacker Stove Safety Tips
Always cook with proper ventilation and airflow.
Whilst you are cooking your food, other animals can smell it.
Always hang your food away from your tent to avoid having bears or other unwanted creatures of the night.
Always cook on a flat, level surface.
Let your stove cool down before you put it back in its pouch.
Never leave your gas canister in direct sunlight.
If you must cook under the shelter of your tent, consider cooking in the vestibule area.
Be careful when lighting the stove, especially if you are wearing gloves or long sleeves.
Always make sure you COMPLETELY close the valve when you are done cooking.
Never cook or operate your stove in tall dry grass, leaves, or other flammable shit.
When possible, keep a little extra water handy for the worst-case scenario (IE possible forest fire created by the stove flame).
Never stick your face next to the stove when lighting it. Common sense!!
MSR Whisperlite Universal Pros and Cons
We have explored every inch of the Whisperlite Universal. I have sung its praises thoroughly. Now it is time to look at both the pros and cons of backpacking with the Whisperlite Universal.
Pros:
Functions beautifully in all weather conditions.
Precision burning flame.
Easy to maintain
Good for groups and can handle large cookware
Strong, heavy-duty leg supports
Lightest stove in its class
Can operate on many different fuel types
Cons
Bulky
Many parts and pieces
Fuel line is rather stiff and can be tricky to pack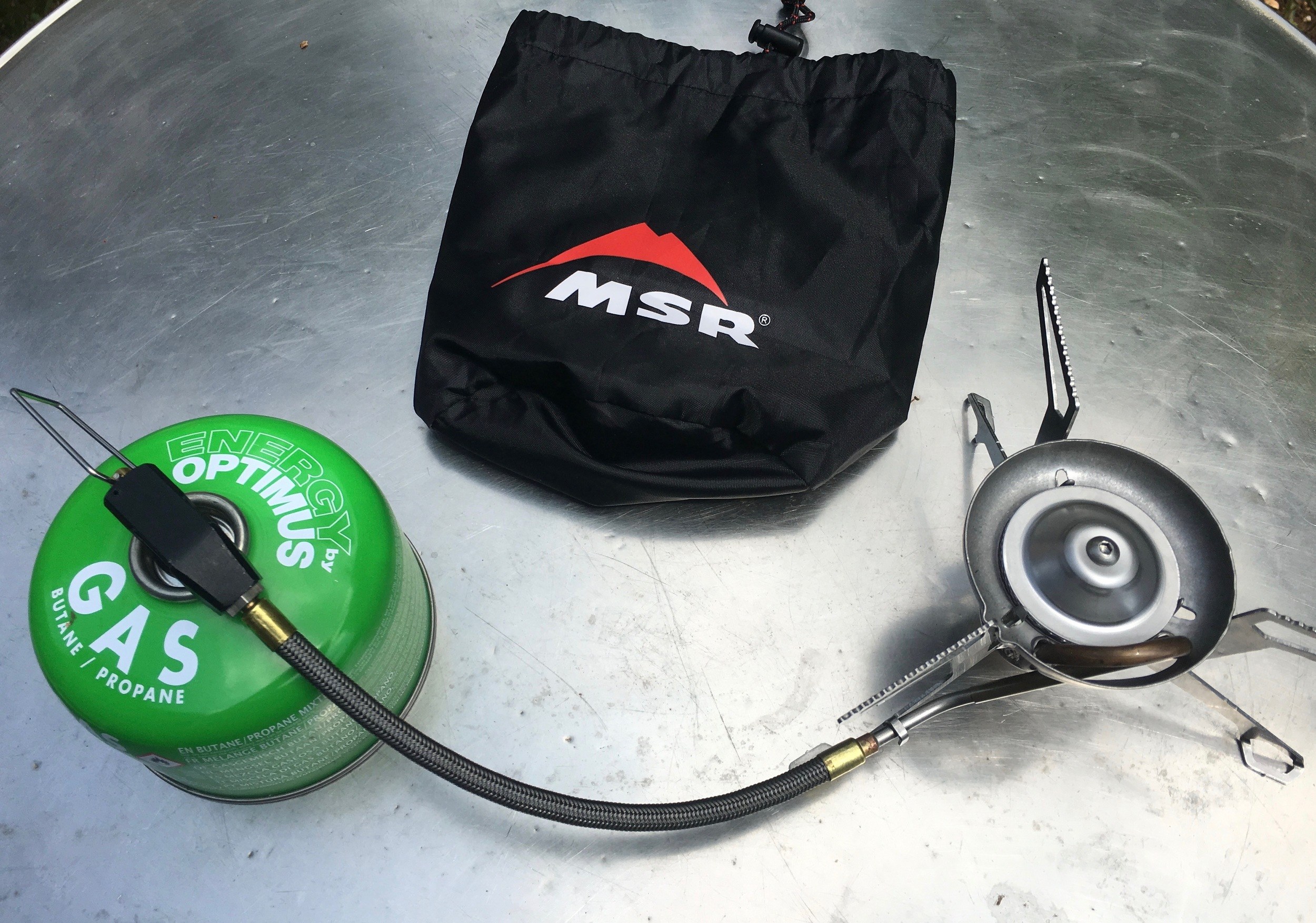 Our GREATEST Travel Secrets…
Pop your email here & get the original Broke Backpacker Bible for FREE.
Final Thoughts on the MSR Whisperlite Universal Backpacking Stove
There you have it my friends. I hope you found this Whisperlite Universal review informative and helpful! You are now primed to make an informed decision for yourself regarding if the Universal is the right stove for you.
At the end of the day, having the right stove to fuel your adventures is an important decision. No matter what type of traveler or hiker you are, the MSR Whisperlite Universal is a fantastic addition to any backpacking kit. Elevate your adventures to the next level with this truly amazing backpacking stove!
So pick up your Whisperlight and hit the trail! Then you can start looking forward to sitting atop some snowy peak looking down at a wild river winding its way through the valley below, steaming cup of coffee or tea in hand…
What is our final score for the MSR Whisperlite? We give it a rating of 4.2 out 5 stars!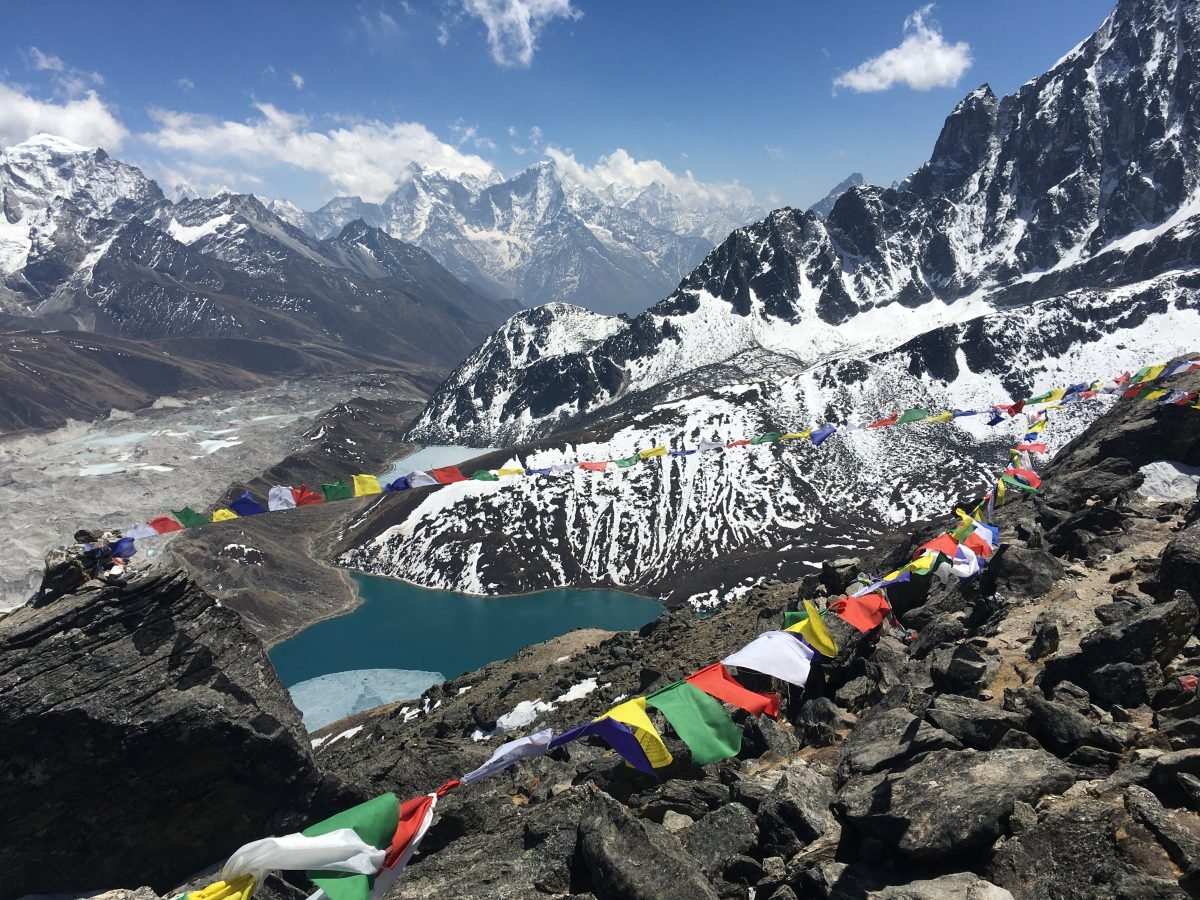 What are your thoughts? Did this brutally honest review of the MSR Whisperlite Universal help you? Anything I didn't answer? Let me know in the comments below – thanks guys! But let's be honest, we blew the other MSR stove reviews out of the water right!
---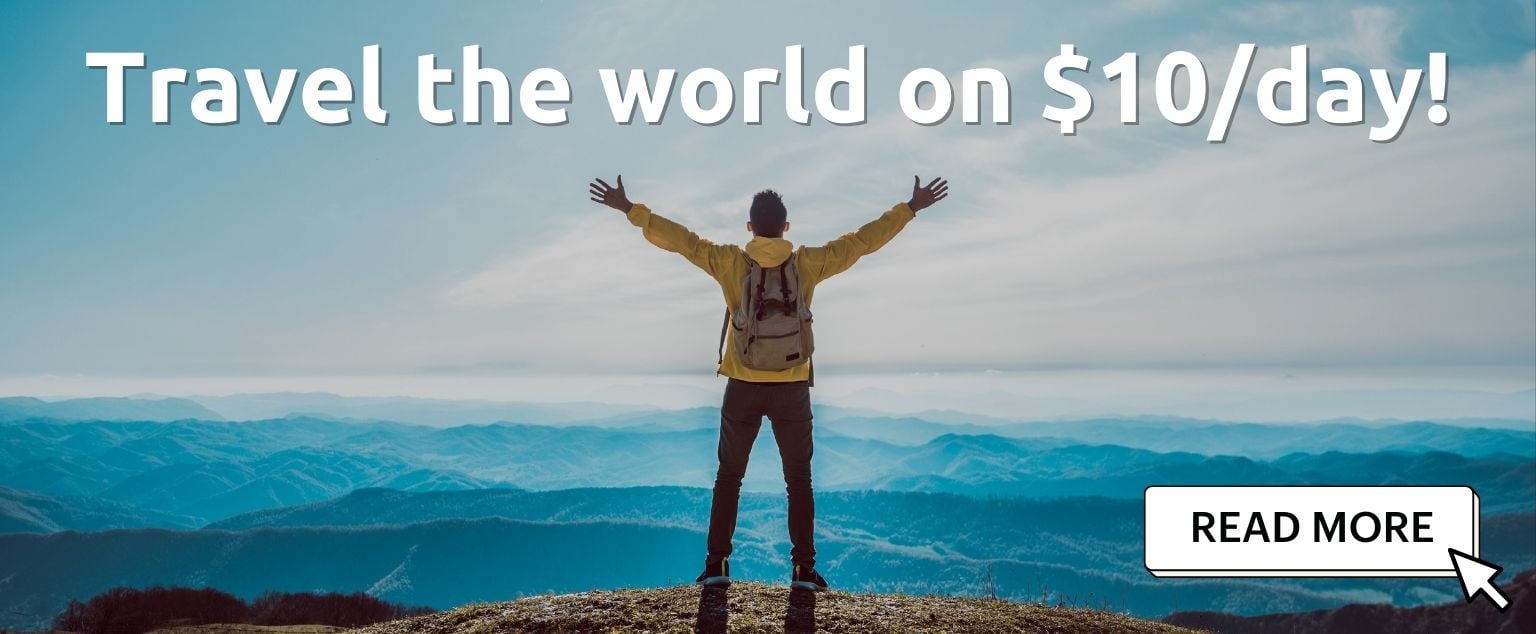 And for transparency's sake, please know that some of the links in our content are affiliate links. That means that if you book your accommodation, buy your gear, or sort your insurance through our link, we earn a small commission (at no extra cost to you). That said, we only link to the gear we trust and never recommend services we don't believe are up to scratch. Again, thank you!