In the Northern Hemisphere, The North Face of most mountains is the coldest, sharpest and iciest peak to conquer. This side of the mountain gets less sunlight than southerly-facing routes, resulting in frostier temperatures and more shadows. These treacherous conditions have slowly glaciated into radically challenging places to summit.
What a fitting name for an outdoor powerhouse. This company set out to make gear that makes it easier to tackle the coldest, most unforgiving sides of the mountain. That mission grew this passion project into one of the largest outdoor companies on the planet.
It's gotten a lot easier to find the minimalist sketch of the half dome logo over the years, as the North Face has expanded its product lines to produce great gear on or off the mountaintop.
Through all the success, there are still few companies better equipped to get you geared up and out there. They still churn out some of the most technically advanced outdoor gear on the planet, but they now also produce great products for everyday living.
You don't have to be an alpinist to find great value in the North Face Gear. We'll introduce you today to all sorts of gear that fills in many niches. The only thing all their equipment has in common is its steadfast commitment to guaranteeing you never stop exploring.
This round up will examine Gore-Tex jackets, snowproof tents, backpacks with laptop compartments and tents perfect for festival hopping. Because while exploration can also mean North Face expeditions, it can also simply mean getting lost in the winding streets of an unfamiliar city.
Whatever you've got on the horizon, take a look at the North Face's treasure chest of fantastic outdoor equipment that will help you get out there.
Quick Answers – The Best North Face Gear At a Glance
Best North Face Backpack – Router Pack
Best Budget North Face Tent – Stormbreak 2
All About North Face
You can trace this company's roots down to the same ragged road trip the founder of Patagonia took. Doug Thompkins and Yvon Chouinard packed up a van in Ventura and headed for Fitz Roy Peak for a real taste of the Andes in the late '60s. Along the way, the entrepreneurs surfed a few waves, scaled a few mountains, and saw a different way of doing business.
The North Face is the brainchild of a couple of dirtbags following their passion. The company has grown and changed hands quite a bit throughout the decades, but enthusiasm for providing more people with quality gear that ensures they never stop exploring has stayed on as The North Face's guiding principle.
From the start, this company has had its finger on the pulse, inviting a then-unknown band called The Grateful Dead to play at the opening of their first-ever store location in 1966. Unfortunately, they've grown up a bit too much from their humble days as a prominent member of the counter-culture movement…
The North Face is now owned by The VF corporation, which holds a portfolio of companies like Vans, Dickies, Smartwool and Supreme. When the North Face went corporate, they also shifted production overseas, and their new corporate overlords don't provide consumers with much transparency about the manufacturing process.

The good news is there has been no tangible downgrade in quality as the North Face has gone global, and their gear is more accessible than ever. It's never been easier to own high-quality outdoor equipment, and The North Face is now leading that charge. And, let's be honest, when it come to the best outdoor jackets and clothing, The North Face are right up there with the best.
The Best North Face Travel & Outdoor Gear
The North Face started out strictly focused on climbing equipment, but they now have stocked their stocked with all sorts of outdoor clothing, tents, and sleeping bags. They've even dipped their toes into travel bags, providing several excellent backpacks and duffel bags at a great price.
Whether you're shopping for crampons or footprints, any product with the signature half-dome sketch will be a great choice to introduce you to a new sport or help you fall further in love with the great outdoors.
Without further adieu, here is a slice of the best North Face gear from many categories to broadcast everything this outdoor giant has been cooking up.
Ladies & Gents, It's Time to Step Your GEAR Game Up. 😉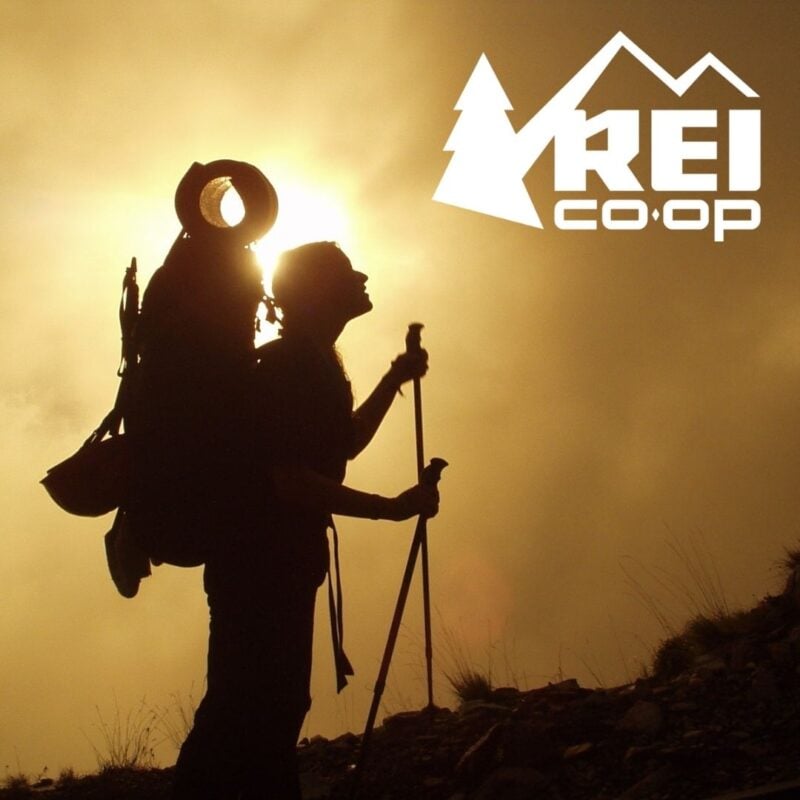 REI is one of America's biggest and most-loved outdoor gear retailers.
Now, for just $30, get a lifetime membership that entitles you to 10% OFF on most items, access to their trade-in scheme and discount rentals.
Join REI Today!
You'll find a great reason to wear this solid down jacket three seasons a year. On those first days of fall, when there is a chill in the air and leaves dancing downward, this jacket is all you'll need to stay warm and comfortable around town or in the woods.
As the temperature really drops, the Nuptse down is a valuable mid-layer, keeping the heat in and your heart pumping while you stay outside through winter. The use cases for such a versatile piece are endless. Perhaps that's why almost every outdoor company has their own take on the puffy-down.
The Nuptse stands out of the crowd by sticking to classic colourways and upgrading the little things without making radical changes. The jacket's appearance hasn't changed since 1996, and the fashion cycle has successfully swung around and brought this look back to the limelight.
Pros
700-fill down interior meets the Responsible Down Standard, and the exterior harnesses post-consumer recycled content
Oversized puffy feel makes this jacket more comfortable than most down options
Velcro cuffs and bungee cord cinches help tighten up the edges and keep your heat inside
Cons
Won't be water or snow-proof without the help of an outer layer
You can stuff the jacket inside of its own pocket, but it feels a lot like trying to cram a sleeping bag
The warmth to weight ratio isn't as great as some other backcountry down options
Best North Face Backpack – Router Pack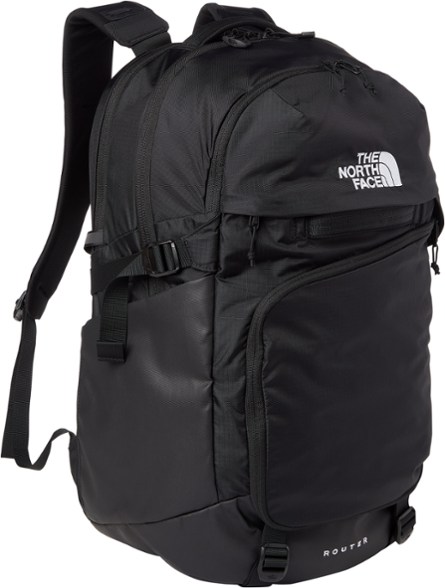 We love nothing more than a technically advanced backpack that doesn't let the world know you've got loads of expensive gear inside. This jet-black bag has space for everything, all concealed by a low-key black exterior. The Router Pack won't help you reach a literal mountaintop, but it will help you push through the day-to-day.
What sets this day bag apart is its immense storage capacity. It looks like a casual daypack, but underneath slick 500D ripstop nylon is a 40 Litre pack with great storage options spread across three compartments and many handy exterior pockets.
The sides of the bag are adorned with two confident compression straps, allowing you to condense the Router down to size and expand it to fit a week's worth of clothes. It even has a modest airvent, sternum strap, and hip belt system that takes things up a notch when you need it the most.
Pros
Provides incredibly sneaky value for one-bag travellers
Sternum strap and waist belt help spread the load
Outer storage compartment is split into 11 different pockets to keep all the little things organised
Cons
Not a bag I would want to take to the Matterhorn
Fully loaded, this pack would be a bit heavy on your shoulders
It can be a bit difficult to access your electronics when it's time to get to security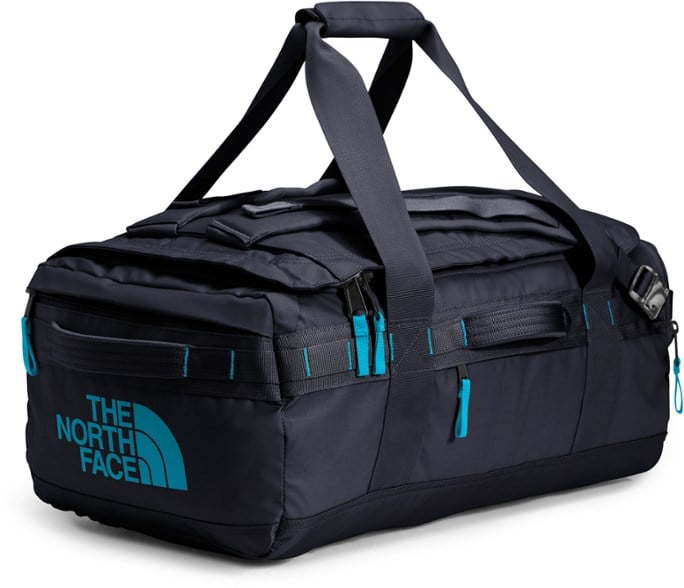 The North Face knows better than anyone that before you can climb the mountain, you've got to get your gear to basecamp in one piece. The Voyager Duffel will help you navigate crowded airports, sketchy bus terminals, and every obstacle on your way to the top.
The Voyager is The North Face's lighter version of the Base Camp Duffel, a rugged bag with a cultish following of hardcore adventurers who put their bags through serious abuse. To provide something for everyone, The North Face built this bag for urban exploration by slimming down the external shells and adding on a few more key compartments.
This awesome duffel bag stays tough and keeps one eye on the future, trusting in recycled polyester tarpaulin to stay covered sustainably. Completing the transition from base camp to the urban jungle is a laptop sleeve and a fabulous divider system that protects your last pair of clean underwear in style.
Pros
You can shuffle between backpack and duffel style carrying
As long as you don't overstuff the duffel, you should have no trouble sneaking it on as a carry-on
U-shaped zipper works really well alongside a mid-compartment divider to open up storage options
Cons
Laptop compartment will be a tight squeeze for models much larger than a 13" MacBook
A touch flimsier than the original Base Camp Models
Backpack straps are a bit too thin to take on hikes
The North Face dropped a real gem here that makes sure nobody has to stop exploring. This sleeping bag can keep you warm and cosy in temperatures around freezing, all for less than a hundred bucks. Best of all, the synthetic bag is one of the most environmentally friendly sleeping bags on the market, so you can sleep under the stars without smogging up the view.
A long U-shaped zipper closes off the coffin-style sleeping bag uniquely. It makes it easy to open up a splash of space for your feet to breathe without undoing the entire contraption. On those extra cold nights, the bag bundles up well, and you'll find great insulation all the way through the hoodie closure.
Another nice touch is the single zipped pocket that will help you keep your reading light or cell phone within easy access if nature call's in the middle of the night. You can find quite a few different Eco-Trail options, all rated for different coldness levels and all made from recycled polyester – there's even a double bed-sized option that sleeps two!
Pros
Outer shell and interior fill are 100% recycled
Rated to keep you warm in temperatures down to 20 farenheit/-7 celsius
Tie-down loops help you secure your sleeping mat underneath your bag
Cons
The Eco-Trail is not light enough for long-haul backpacking
Rumors swirl that the sleeping bag does not last long as some competitors
Wild new zipper style still has some kinks to work out
These boots are made for walking through all sorts of cold weather. With an extra 200 grams of insulation between your feet and the bitter cold earth, plus a gaiter-ready attachment system, these ultralight boots push the limits of four-season sneakers.
The hiking boots are here to do a little bit of everything. Future light midsoles look to bring the feeling of a trainer into a more substantial boot, and the midsole protection helps you bounce off tough rock obstacles.
The underlying goal of these hiking boots is to feel fast and light on the trail without sacrificing weather protection. Thanks to the inclusion of the same carbon plate you'll find in The North Face's running shoes, that mission is a resounding success. You can shop for the uninsulated version of the same shoe which will push you through the bramble even faster.
Pros
A future light membrane keeps the boot both waterproof and breathable
An extra splash of insulation helps these boots serve you into December
These shoes are one of the more versatile hiking boots on the market.
Cons
They could be a bit too hot on the warmest days of the year and a touch cold on the coldest
The non-insulated version of the Vectiv also comes without ankle support
$200 pair of hiking boots that don't include Gore-Tex protections are fighting an uphill battle

Do You Want to Travel FOREVER??
Pop your email in below to get a FREE copy of 'How to Travel the World on $10 a Day!'.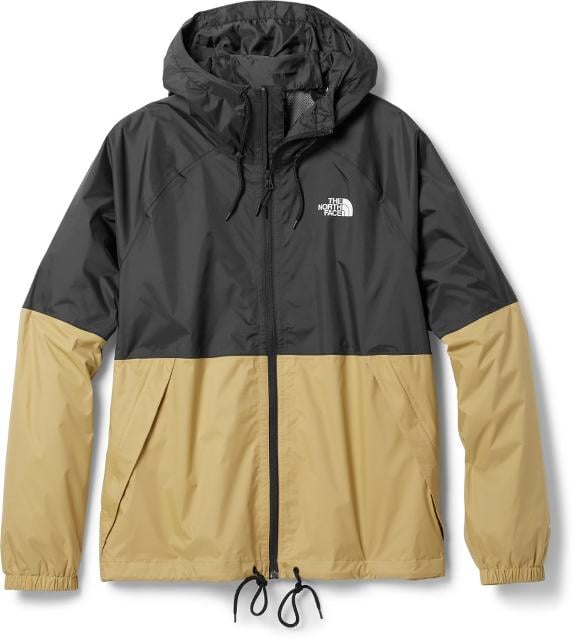 A quality hoodie is an essential aspect of any closet. It's an everyday wear item that keeps you warm and feeling comfortable throughout the house, on quick walks or while running errands. The North Face takes things a step further by providing an everyday hoodie that also blocks out the rain.
The Antora fills out a great niche within your closet. It sports an interesting two-tone look that highlights your outfit without being too flashy, and it does a damn good job keeping the wind and rain off your baselayers.
In a classic North Face style, a cinched waistband, elastic wrists, and a shoestring hoodie help you adjust the jacket to really block out a downpour. The slightly baggy, hip-length fit allows you to wear this rain hoodie over a fleece on snowy days, and the breathable fabrics ensure you can comfortably block out the rain without sweating through the scorchers.
Pros
You can remove and reattach the hood depending on the weather
One of the coat's great strengths is its soundproofing capability
Made out of completely recycled nylon and polyester
Cons
The jacket is inspired by The North Face's technically advanced Mountain Light, but it ain't packing the same weather resistance!
The jacket says its packable, but anything is packable technically. This is no ultralight coat
You won't find any bells and whistles on this raincoat
These boots are a real game-changer. It's almost like a pair of Blundstones with an extra 5 inches of comfortable, super-warm fabric protecting your feet. Except that these boots are also a whole lot more weatherproof, too. They're a no-brainer for galloping around any winter wonderland.
A mudguard up top is the key to this whole operation. One collar bungee is easily adjustable to hug around your ankle and prevent any snow from sneaking in. When you get home, one pull is all it takes to get your feet out of your boots and in front of the fire.
The weatherproofing starts from the top, but the extreme comfort comes from the ground up. An incredibly cushy Ortholite footbed works two different jobs; it adds an extra layer of insulation between your feet and the snow and makes it feel like you're walking on pillows.
Pros
You can easily slip on and off these boots, even with half-frozen hands. But they stay snow-tight when you need it.
As long as you're not logging serious mileage, these boots are super comfortable to wear all day long
An extra splash of fleece warmth in all the right places
Cons
They went for in-house waterproofing instead of the tried and true Gore-Tex
These are not for scaling mountains, more for walking through a winter wonderland
They are known to fit a size too small or squeeze tightly when teamed up with wool socks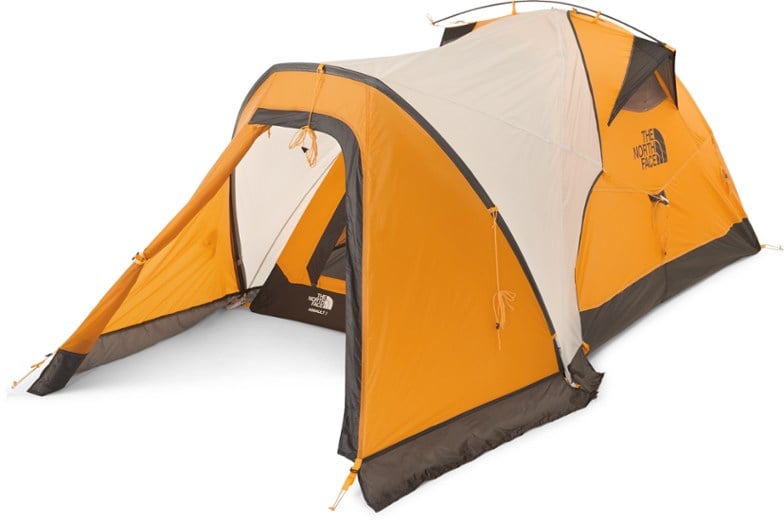 As the crowning achievement of The North Face's Summit Series, this unit has some high expectations. The tent is eager to set up shop at and above 10,000 feet, where the only thing low is the margin for error. To reach these heights, the Assault 2 is composed of all sorts of high-quality parts.
The Futurelight technology that gives this tent its name is a result of over a year of field testing and intense research has resulted in a highly breathable, waterproof fabric. The North Face now uses it in all sorts of alpine clothing and gear. In this tent, three layers of Futurelight create a nanofibre web of great protection and an incredibly light tent.
The shell is held together by solid carbon fibre poles in a classic X-shape scheme. A removable vestibule will let you choose if you want a front porch or cut down on the weight even further. The cherry on top is the large vent systems that help this tent qualify for more than just blustery winter usage.
Pros
Extremely light for a four-season expedition tent
Four large windows help in the fight against interior condensation
Packs down to the size of two Nalgene bottles
Cons
This tent would be an extremely tight fit for two people
To deploy the vestibule, you'll need nimble fingers – a tough ask at high altitudes and cold temps
As a single-walled tent, it's more water-resistant than full-on waterproof
Best Budget North Face Tent – Stormbreak 2
The Stormbreak 2 brings things down to earth a bit compared to the Assault model, providing excellent value for campers who don't plan on sleeping outside in blizzards. This tent's affordable price point and long list of quality features make it a great entry-level option.
Weighing in at over 5 lbs, it's on the edge of feeling a bit too heavy for backpacking expeditions. You can share the weight between two hikers easily enough, and shorter expeditions who don't mind lugging around an extra pound or two will reap the benefits of the spacious tent.
The Stormbreak sneaks in extra space and more mesh storage pockets to make two people comfortable inside, even on a rainy night. It's not quite a bonafide backpacker, but thanks to the affordable price and quality build, the Stormbreak is one of the best tents to keep in the back of your car for all sorts of occasions.
Pros
43 inches of peak height invites enough headspace for both campers to sit upright
Double vestibules will keep two packs and pairs of boots dry for 3 seasons
Two separate ventilation sections up top should help keep condensation to a minimum
Cons
Too heavy for solo backpackers
Footprint sold separately
Included aluminium poles aren't up to the same standard as the rest of the pack
The best present of all… is CONVENIENCE!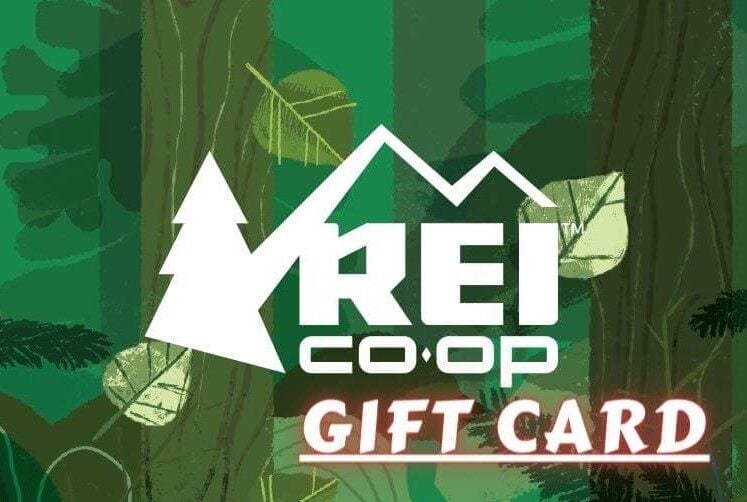 Now, you could spend a fat chunk of $$$ on the WRONG present for someone. Wrong size hiking boots, wrong fit backpack, wrong shape sleeping bag… As any adventurer will tell you, gear is a personal choice.
So give the adventurer in your life the gift of convenience: buy them an REI Co-op gift card! REI is The Broke Backpacker's retailer of choice for ALL things outdoors, and an REI gift card is the perfect present you can buy from them. And then you won't have to keep the receipt. 😉
Buy on REI!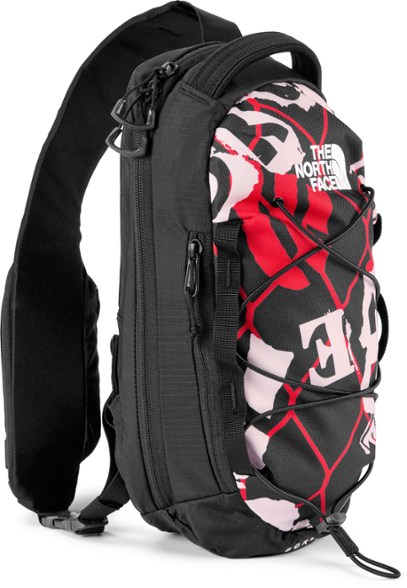 While loads of hip bags and fanny packs have gotten smaller and smaller, the Borealis is going the other direction, delicately walking the line between sling and day pack. You can shove six litres across one shoulder with this successful sling pack, and thanks to the elongated shape you won't have trouble fitting a tablet or kindle into your next quick trip.
The storage capabilities are furthered still by the three separate pockets in this pack. A quick access pocket right on your shoulder strap will hold your keys, phone or tickets, although it is slightly too small for pro models of certain cell phones. You'll find plenty of space for the rest between a water bottle pocket, a side zipper pocket, and a fleece-lined main compartment.
Inside the main storage area is even more opportunity. A u-shaped zipper opens up to a flexible amount of space, plus a tablet sleeve and a mesh pocket. It adds up to a rather large sling pack that finds great use for every inch of available space.
Pros
The pack is finished with a durable water repellent coating that will help you survive a surprise drizzle
A bungee system on the outside allows you to carry oversized gear or easily clip on helmets
Several different storage compartments is a rare find on most packs this small
Cons
The color scheme is sweet, but I like to keep my valuables stored in a less flashy pack
Water bottle pocket won't hold a Nalgene bottle
Sling strap is not ambidextrous, and it doesn't have the versatility in carry style that most packs in this category offer

Our GREATEST Travel Secrets…
Pop your email here & get the original Broke Backpacker Bible for FREE.
Final Thoughts on The Best Gear By North Face
That wraps up our list of The North Face's best gear options, but it's only the tip of the iceberg when it comes to The North Face's wide-ranging product lines. We could go on and on about different rain jackets, scarves and gaiters under the company's thumb, but the fun's got to stop at some point.
There are a few themes that seem recurring when examining North Face's options. Every one of their products is a bit more technically advanced than the price suggests. Time and time again, products like the stormbeaker 2 and the Eco-trail synthetic sleeping bag outperform their similarly priced competition.
Please, nobody tell the North Face that they could charge more for their products. I'll take a win when I can get one in this inflation-filled world. The best part is, almost all of these affordably priced products go out of their way to slip some more sustainability into their packing tape.
While we can't crown the company as a true eco-warrior until they provide more transparency, we can acknowledge its recycling efforts. Smack dab on their website is even a renewed section that provides discounts on second-hand gear. Party on!
---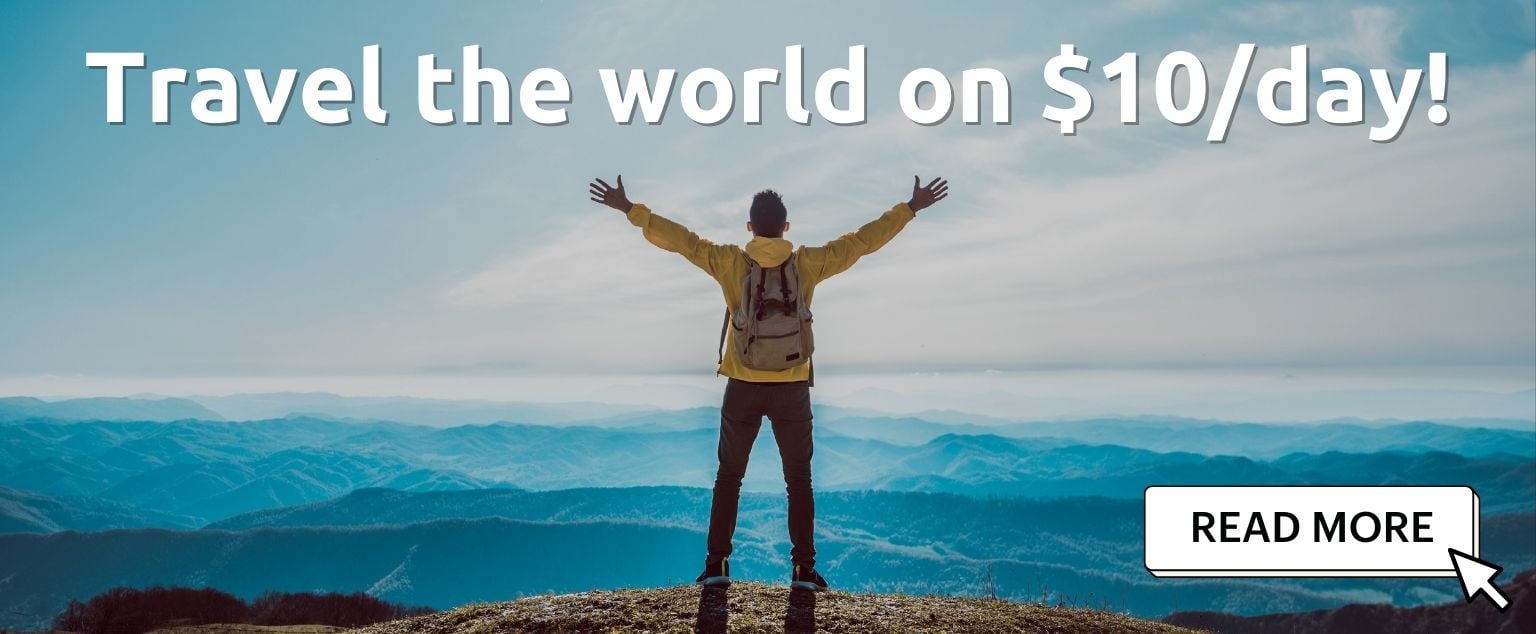 And for transparency's sake, please know that some of the links in our content are affiliate links. That means that if you book your accommodation, buy your gear, or sort your insurance through our link, we earn a small commission (at no extra cost to you). That said, we only link to the gear we trust and never recommend services we don't believe are up to scratch. Again, thank you!