Auckland is New Zealand's most populous city and boasts some of the country's best museums and cultural institutions. It is a diverse, multicultural and cosmopolitan city, home to the largest Polynesian population in the world!
Nicknamed the City of Sails, Auckland has strong ties to the ocean. The city is surrounded by enchantingly beautiful islands, breath-taking landscapes, and flawless beaches. In the suburbs, you'll also find dormant volcanic cones that are now public parks with walking trails and excellent city views!
Away from the city are plenty of wonderful day trips and excursions to enjoy, so you'll have no shortage of fun on your vacation. To find out what the top attractions are, check out our list of the 17 best things to do in Auckland!
Top Things to Do in Auckland
Backpacking through Auckland and wondering what to do? These are undoubtedly the best activities in Auckland!
Before you head off, make sure you know which in which of Auckland's neighborhoods you want to stay in. Find out what you want to see and choose your accommodation accordingly. If you're on a tight budget, we'd recommend Auckland's amazing hostels!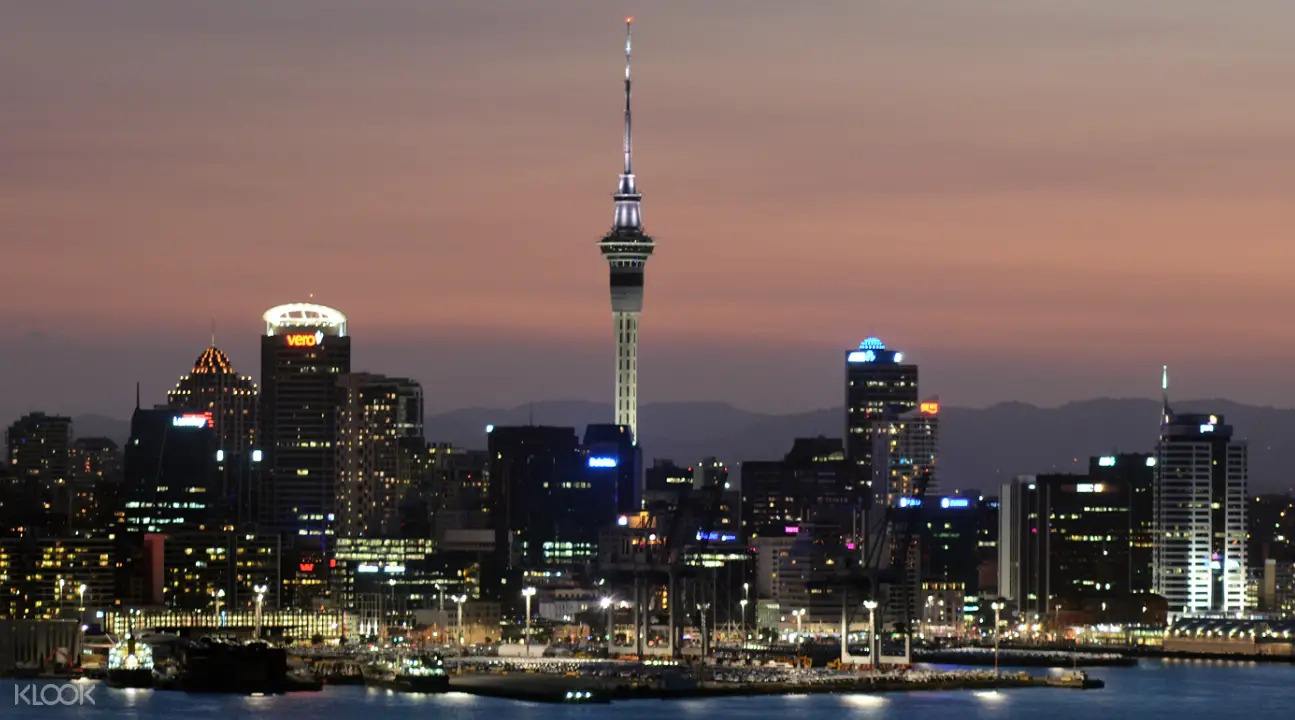 A truly exhilarating experience awaits visitors to Auckland's Sky Tower. Standing over 1000 ft tall, it is the tallest man-made structure in New Zealand and offers breathtaking views for up to 50 miles in every direction!
At the viewing platform you can choose to dine at a restaurant or a cafe, take part in a SkyWalk around the pergola, SkyJump off the tower, or just absorb the stunning views.
With 360 degree views of the city, and two adrenaline-pumping activities on offer, it is no wonder that the Sky Tower is one of the most popular places to visit in Auckland!
2. Climb a Volcano at Mount Eden (Maungawhau)
Mount Eden is a dormant volcanic cone just a couple miles south of Auckland city center. It is the largest of 48 volcanoes found in the region, rising up to 643 feet above sea level! It is also the highest natural point in the city, and one of the main Auckland attractions!
Mount Eden is free to visit, has loads of walking paths to explore and it's elevated position provides spectacular views of the city! It holds an important place in Maori tradition, and when looking into the 160 ft deep crater there is a certain quiet intensity to it.
For the best views, it is best to visit Mount Eden at sunrise or sunset.
First Time in Auckland
CBD
Auckland's CBD is the busiest part of the cosmopolitan city and there's always plenty going on. With many of the city's major sights, a wide selection of places to eat, drink, and shop, and a good choice of hotels, hostels, and apartments
Places to Visit:
Take a boat trip to spot whales and dolphins
See the statues in Aotea Square
Visit the Auckland War Memorial Museum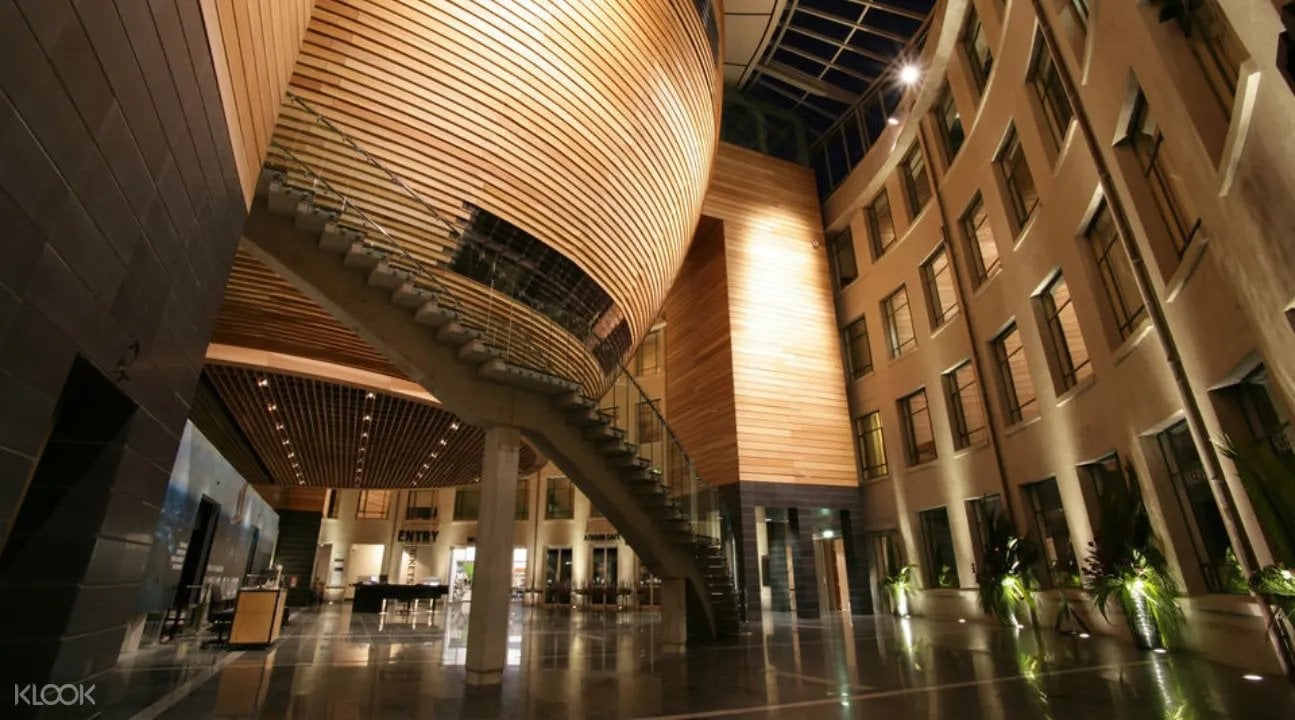 Auckland Museum is regarded as one of the finest museums in the Southern Hemisphere. Housed in a heritage building that serves as a memorial to fallen New Zealand soldiers, it is renowned for its unique collection of Maori and Pacific Island treasures.
The museum tells the story of the Auckland region, and of New Zealand as a nation. The exhibits showcase the country's natural history, investigates New Zealand's cultural origins, and highlight the region's unique geological landscape.
The museum's war memorial exhibition, Scars of the Heart, is particularly poignant and looks back at a country at war.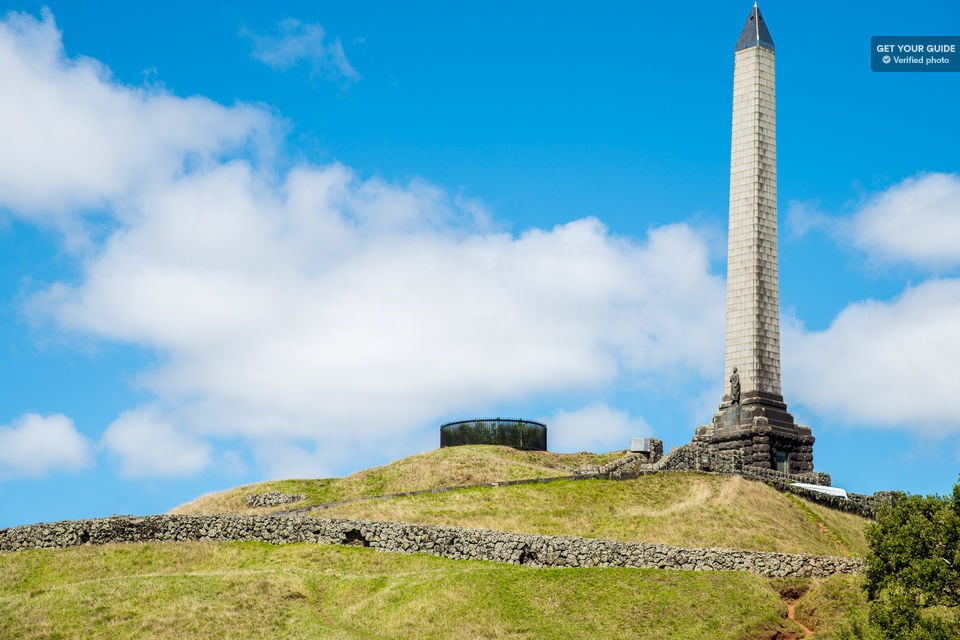 Cornwall Park is a tranquil green space that serves as the perfect getaway for people looking to relax in nature. The park has a lovely family-friendly atmosphere and includes picnic areas, a playground for kids, gardens, tennis courts and lots of paths for walking and cycling.
At one end of the park is One Tree Hill (Maungakiekie), a culturally significant volcano with a monument at the summit. Maungakiekie was home to one of the largest Maori settlements in New Zealand, and is possibly the largest prehistoric earth fort in the world!
A walk to the summit is particularly rewarding, providing magnificent views of the surrounding areas.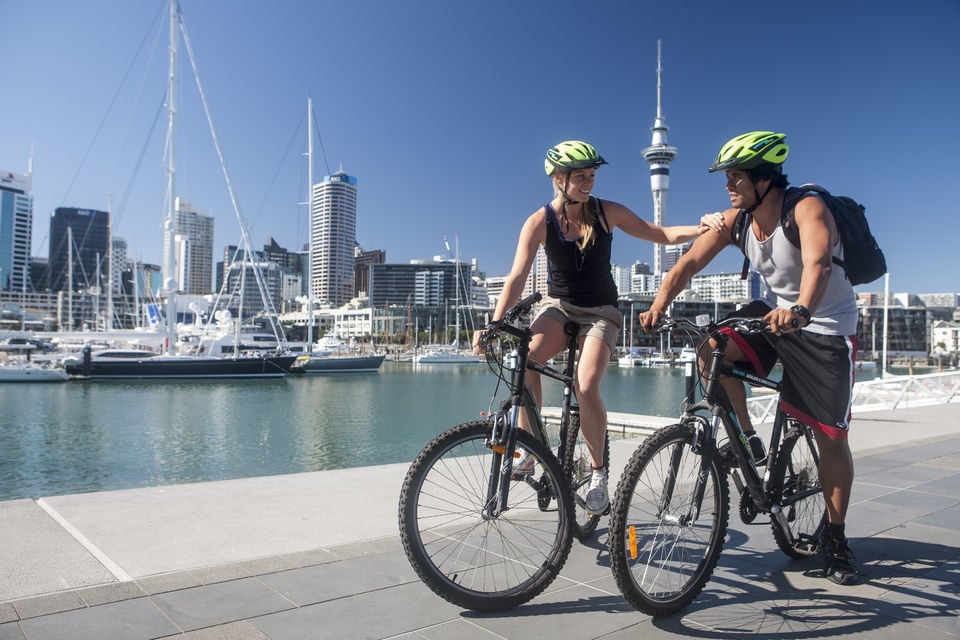 Viaduct Harbour is where you'll find a plethora of restaurants and bars, a marina full of yachts and several high-end hotels. The precinct is a great place to grab a bite to eat or a coffee and enjoy the bayside atmosphere. Walk around the scenic harbor and you'll be gobsmacked at the sight of the superyachts!
Viaduct Harbour is also where you'll find the New Zealand Maritime Museum. Here you'll see popular artifacts on display including a 19th-century steerage cabin, a Maori dugout canoe, alongside riveting tales of New Zealand and the great Pacific community's' incredible maritime history, stretching back thousands of years.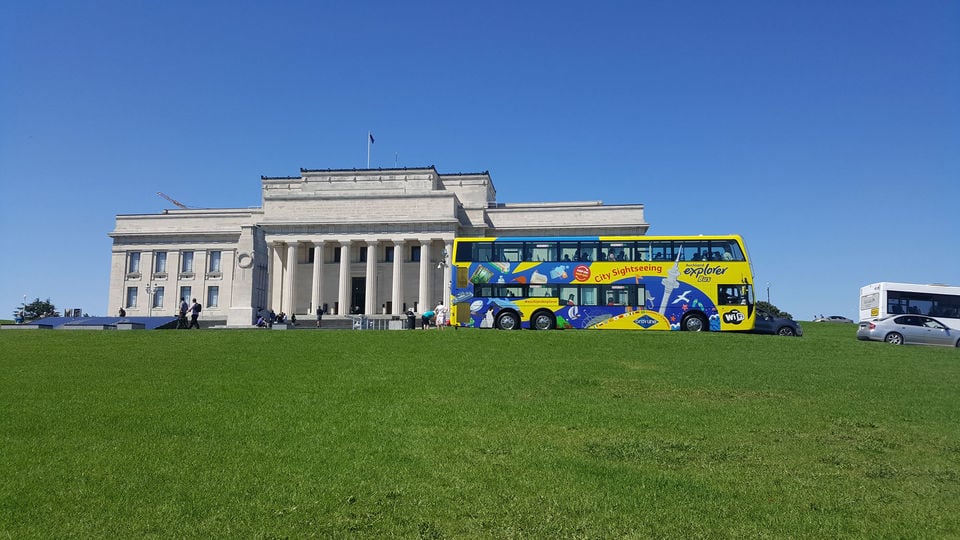 Located in Albert Park, Auckland Art Gallery is the largest art museum in the country. The gallery features a wide selection of historic, contemporary, and tribal artworks from New Zealand, the Pacific Islands, and abroad.
There are four floors of exhibition space housed in one of New Zealand's most iconic buildings. Notably, the gallery features the largest collection of local art in the country, of which The Maori Portraits are particularly impressive.
The Best Travel Backpack?!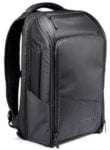 Pssssst! Not picked the perfect travel backpack yet? The Broke Backpacker team has tried out over thirty backpacks this year! Our favorite carry on backpack is the Nomatic Travel Backpack.
Check out our full review!
Unusual Things to Do in Auckland
Vacations are a great time to mix it up a bit and try things you wouldn't normally do at home. Here are some places to visit in Auckland that showcase the city's unique side.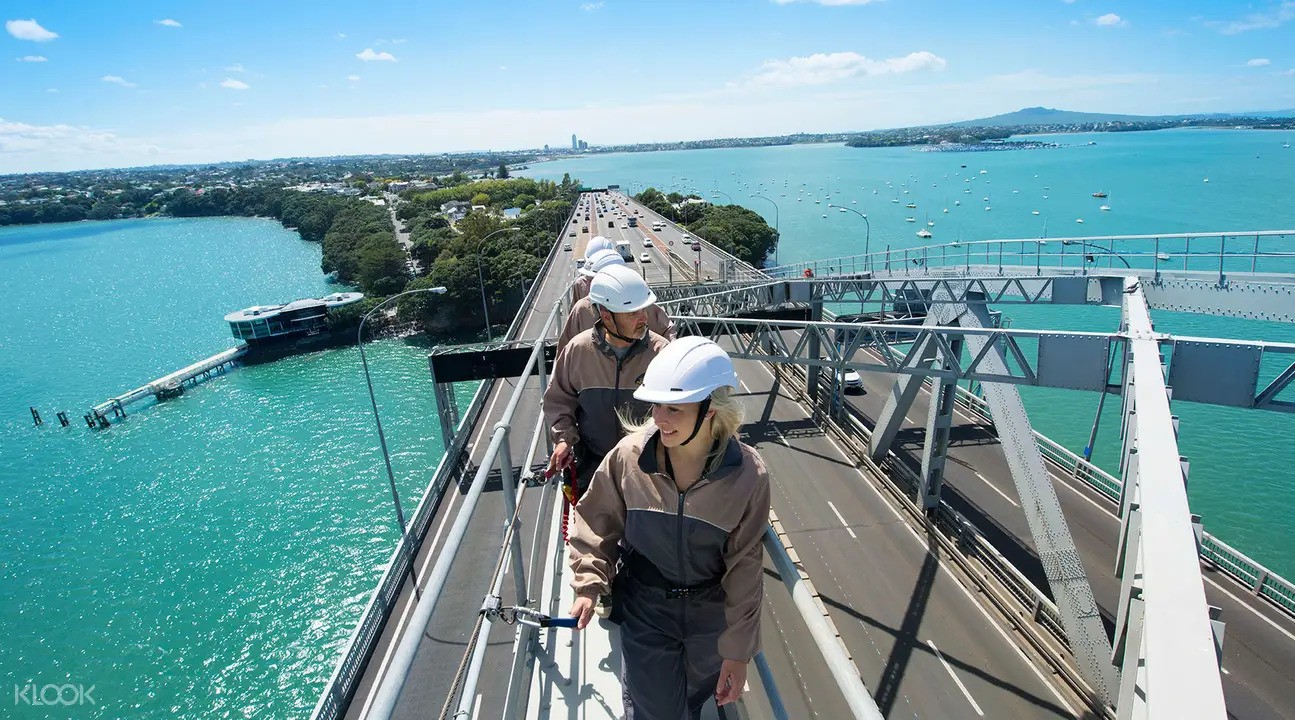 Built in 1959 the Auckland Harbour Bridge connects Auckland to North Shore. At a length of 3, 300 ft long it is the second-longest road bridge in New Zealand. The best way to enjoy it, however, is not by car but by walking over the curved arches during a bridge climb.
Kitted up in a harness and securely attached to a safety rail, the bridge climb ascends gently above the river below. At the summit of the climb, the views are so captivating, it's easy to forget where you standing!
8. Walk the Pink Path of Nelson Street Cycleway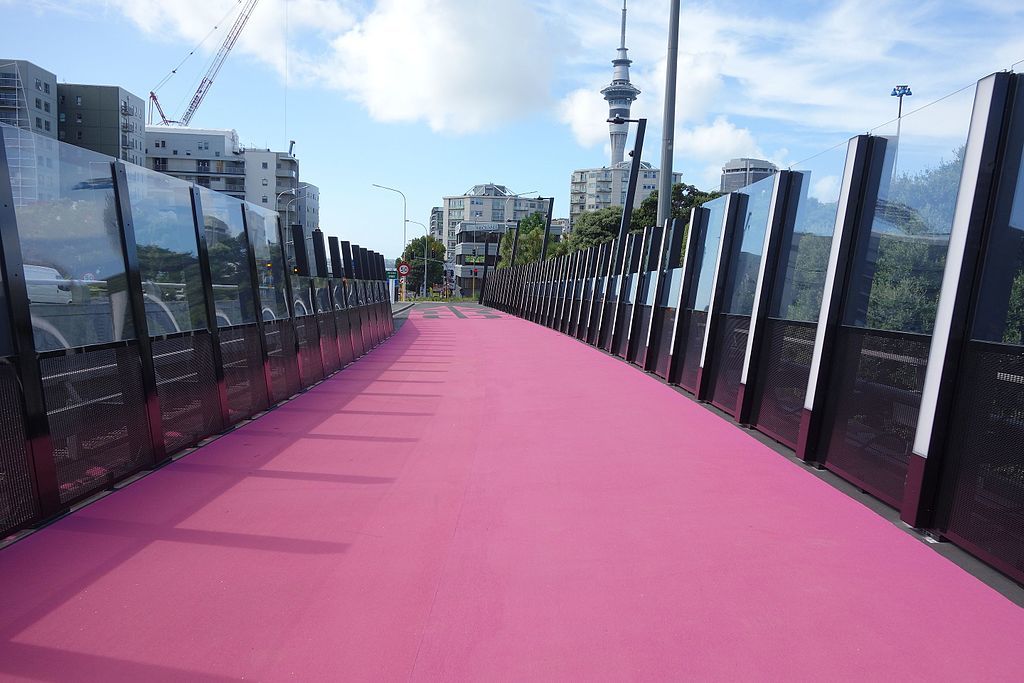 The Nelson Street Cycleway, otherwise known as the Light Path, is a 2000-foot cycle and walking path right in the heart of Auckland. It used to be part of Auckland's highway infrastructure but was reinvented as a cycleway to complete Auckland's inner-city cycle loop.
The first thing you'll notice about it is that it is boldly styled with neon pink tarmac. The cycleway is hugely popular with cyclists heading to and from work during the day, but with neon lights adding to the pink glow of the track it becomes even more eye-catching at nighttime.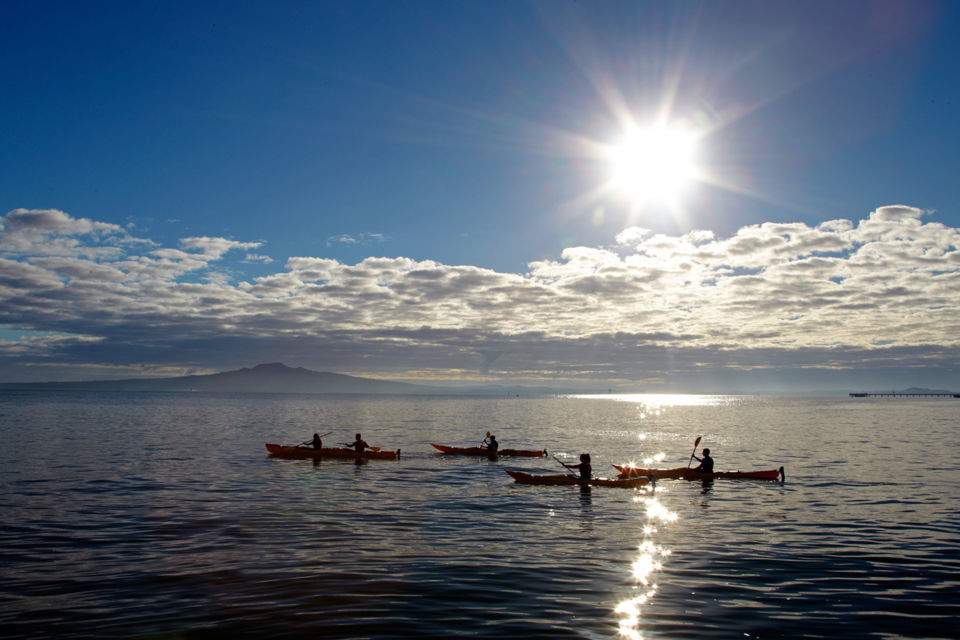 Rangitoto Island is a volcanic island located just off the coast of central Auckland across from Davenport. The island was formed after a series of volcanic eruptions around 600 years ago, which makes it the youngest volcano in Auckland!
The island is easily accessible, and you can either take the ferry or paddle in a kayak. The summit of Rangitoto can be seen from all around the Hauraki Gulf. The island is very popular for its dramatic and scenic hiking trails that lead you through lava fields and New Zealand's largest pohutukawa forest!
Safety in Auckland
Overall, Auckland is a safe city with very few things to worry about. However, it is still a good idea to take precautions to ensure your personal safety.
If you decide to drive in and around Auckland, the one thing you may need to watch out for are break-ins. Wherever you're parked it is advisable to lock your doors and as always don't leave any valuables on display. Opportunistic crimes such as pickpocketing do occur occasionally, so beware of your belongings in crowded areas.
Read our tips for traveling safely before you fly and always get travel insurance. Check out our roundup of the best travel insurance.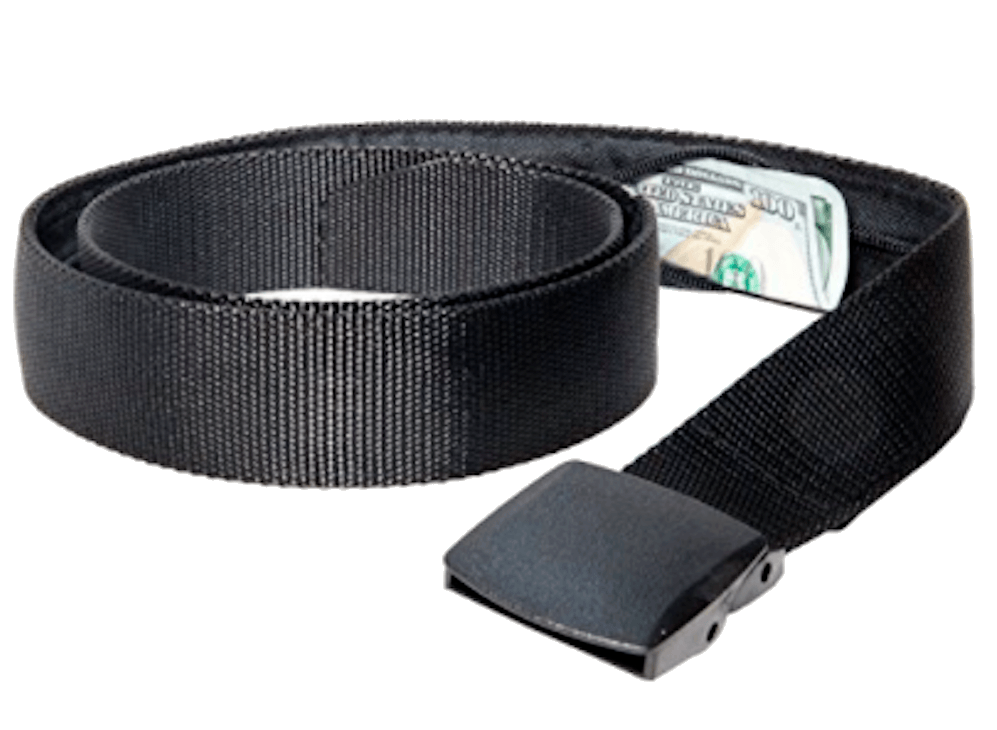 You should always have emergency cash hidden on you - pick up this awesome security belt with its hidden pocket before you travel, it's perfect for hiding money, a passport photocopy.
Things to Do in Auckland at Night
Wondering what things to do at night? Continue your Auckland sightseeing at these spots after dark.
Step back in time at New Zealand's oldest theatre. Styled with art-deco and faux-European trappings, this former talking picture hall now plays host to an eclectic mix of drama and live music not just from Aotearoa, but around the world!
The theatre seats over 2,300 people which provides an intimate setting while still attracting some big names. The Civic hosts a wide variety of shows throughout the week, so there is bound to be something worth seeing during your stay! If you don't catch a show there are also guided tours of the venue to enjoy.
11. Tantalize Your Tastebuds at the Auckland Night Markets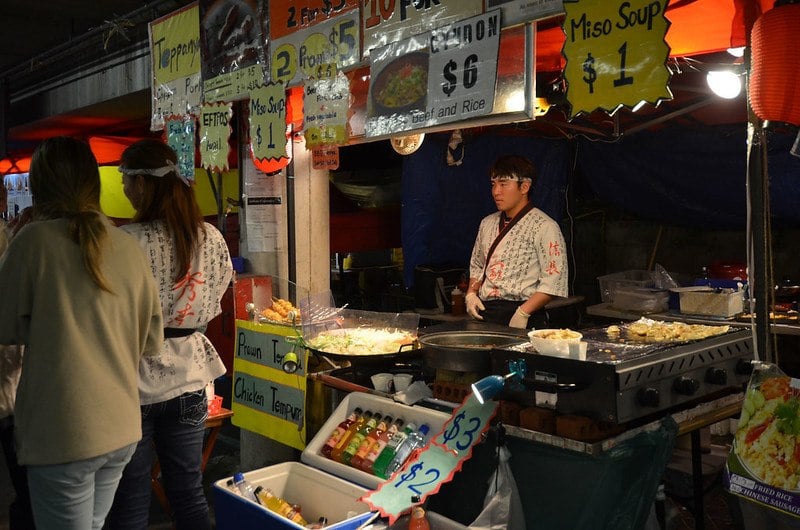 Auckland has a growing market culture, thanks in part to the booming Southeast Asia, Chinese, and Polynesian communities, and night markets are becoming increasingly popular. There is a night market open every day of the week and catering to every budget. Spread out over the city, they provide great gathering points for families and friends looking to enjoy a balmy Auckland evening.
Each market has a unique feel to it, but you can expect to find examples of local fashion, toys, performances of live music, adult beverages and even dance troupes to go along with some tasty food options. The weekend markets are particularly popular, so head down to Shortland Street CBD Market on Friday or Pakuranga Market on Saturday to enjoy the festivities.
Where to Stay in Auckland
Auckland's CBD is jam-packed with historical landmarks and is surrounded by the major Auckland tourist spots. As the busiest district in the city, there is always something to see and do just around the corner. Staying here will give you easy access to loads of attractions, with some even being within walking distance!
Viaduct Harbour
Sky Tower
Auckland Art Gallery
The Attic Backpackers is a clean and modern backpackers haven, located in the heart of Auckland CBD. Located across the road from the iconic Sky Tower and a minute walk from the hustle and bustle of Queen Street, their location could not be better!
View on HostelWorld
A home away from home! This spacious and private one-bedroom apartment in the heart of the city is tucked away from traffic and street noise. It's warm, sunny and safe, perfect for business travelers or visitors wanting to stay close to attractions and the waterfront. Comes with free parking too!
View on Airbnb
First Time in Auckland
CBD
Auckland's CBD is the busiest part of the cosmopolitan city and there's always plenty going on. With many of the city's major sights, a wide selection of places to eat, drink, and shop, and a good choice of hotels, hostels, and apartments
Places to Visit:
Take a boat trip to spot whales and dolphins
See the statues in Aotea Square
Visit the Auckland War Memorial Museum
For a combination of great location and value-for-money, you can't go wrong by staying at Ibis Budget Auckland Central! All rooms come with a fridge and cooking facilities. Look out the window and be treated to amazing views of the city!
View on Booking.com
Romantic Things to Do in Auckland
Impress your partner by treating him/her to one of these romantic activities in Auckland.
For a romantic night out, a sunset cruise with dinner and drinks is sure to impress the one you love! The slowly fading light, the gentle lapping of the waves and the shimmer of city lights on the surface water is all you need to set the mood.
You're off to a good start, but an evening on the water wouldn't be complete without a superb 3-course meal and a glass of wine to compliment the surronds. Take some time to relax in each other's company, feel the wind in your hair and watch the cityscape light up in beautiful colors.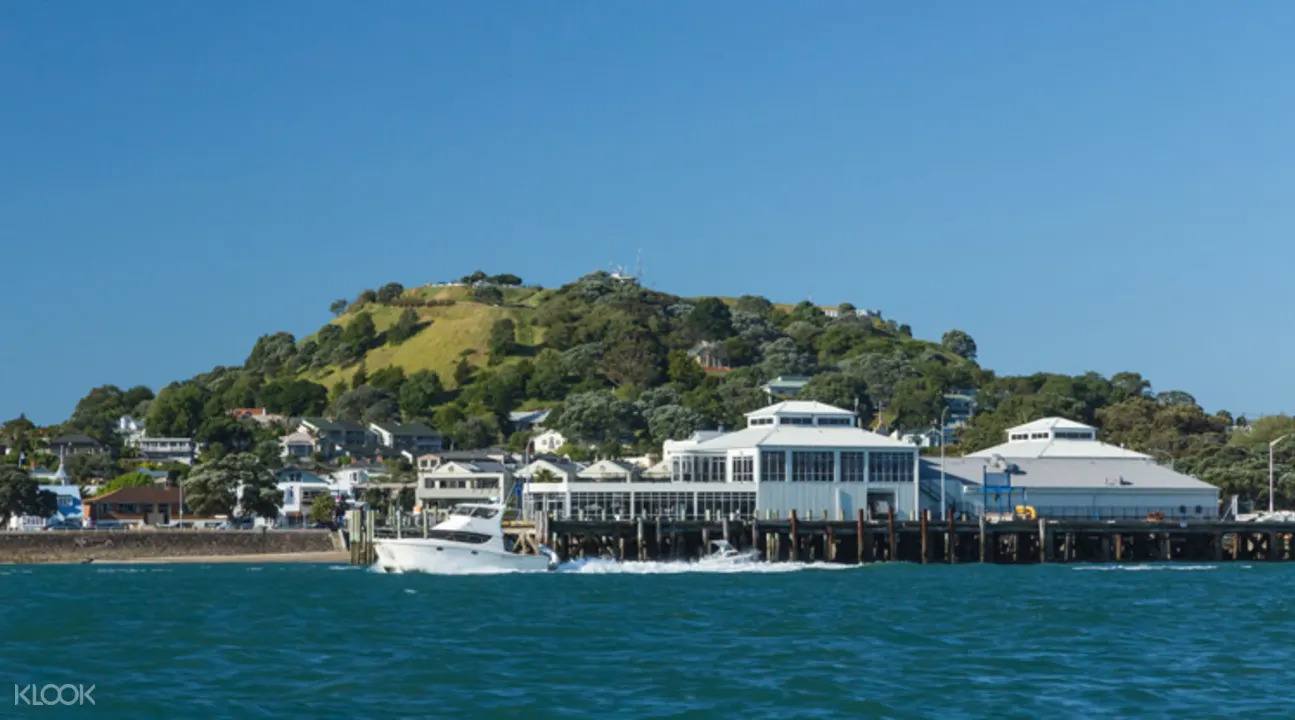 Auckland Domain is the largest and oldest public park in New Zealand! The park sits on, and runs through the crater of the (dormant) Puketawa volcano.
Within the park you'll find the Domain Wintergardens, Auckland War Memorial Museum, several sports fields, and some lovely walking paths including the famous Lovers Walk. When the trees lining the path are in bloom during spring, there are few places in the city with a more romantic atmosphere.
Do You Need Travel Insurance?
Don't forget to sort your travel insurance! We've put together a roundup of the best travel insurance for backpackers, or if you're low on time, get a quote from World Nomads now, our favorite travel insurance provider.
Getting an estimate from World Nomads is simple – just click the button or image below, fill out the necessary info, and you're on your way!

Best Free Things to Do in Auckland
New Zealand is not a cheap country to visit, but that doesn't mean you always have to spend money. Afterall, Aoterao is famous around the world for the quality and immediacy of it's landscapes. To save some bucks, check out these free activities in Auckland.
14. Take a Free Walking Tour of the City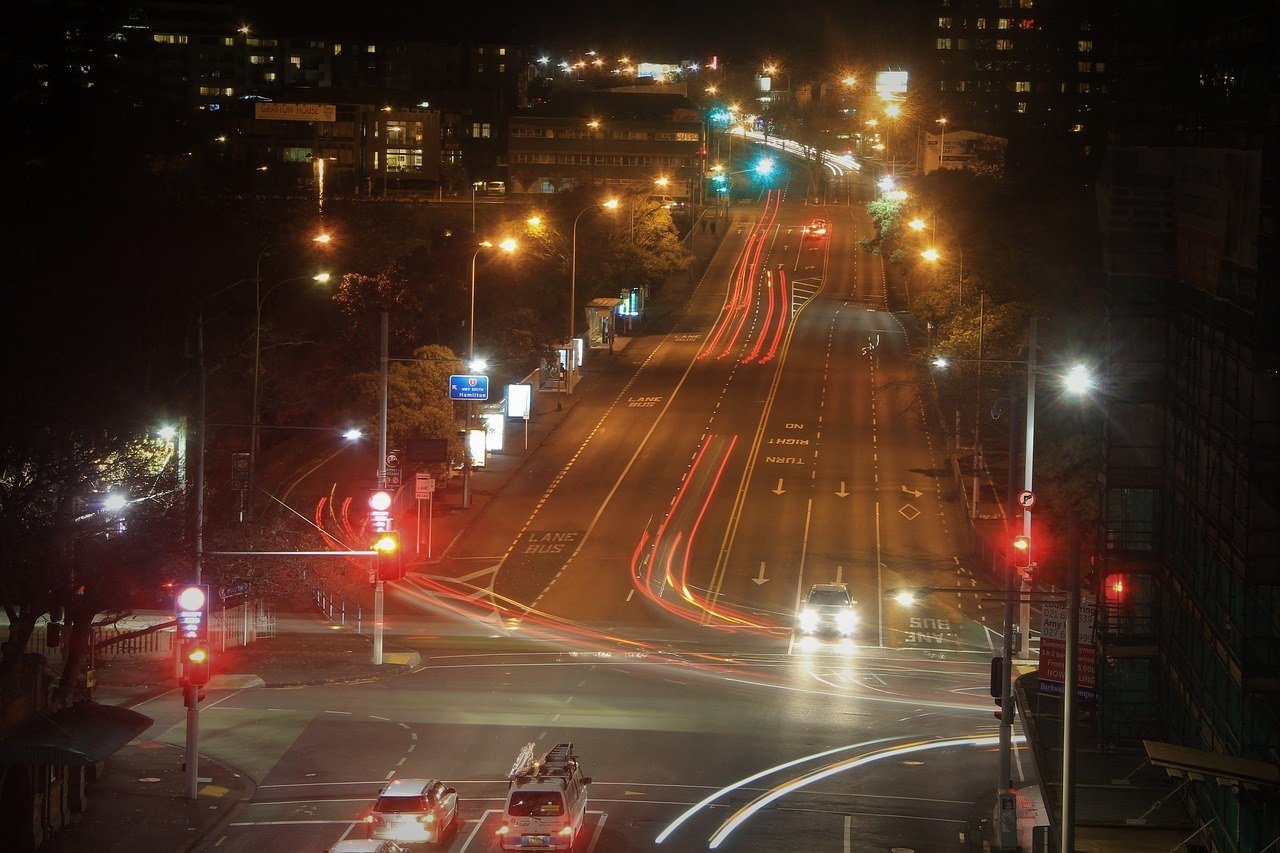 For anyone visiting a new city for the first time there is no better way to get your bearings than by taking a tour with a local guide, free of charge! A quick walk around the city with an informative host is all you need to get a sense Auckland and get a sense of what you can expect during your stay.
Auckland Free Walking Tours depart from Queens Wharf Village, Thursdays to Sundays at 10 am. The tours tick off some of the best things to do in Auckland city center, come rain or shine!
15. Slow Down in Devonport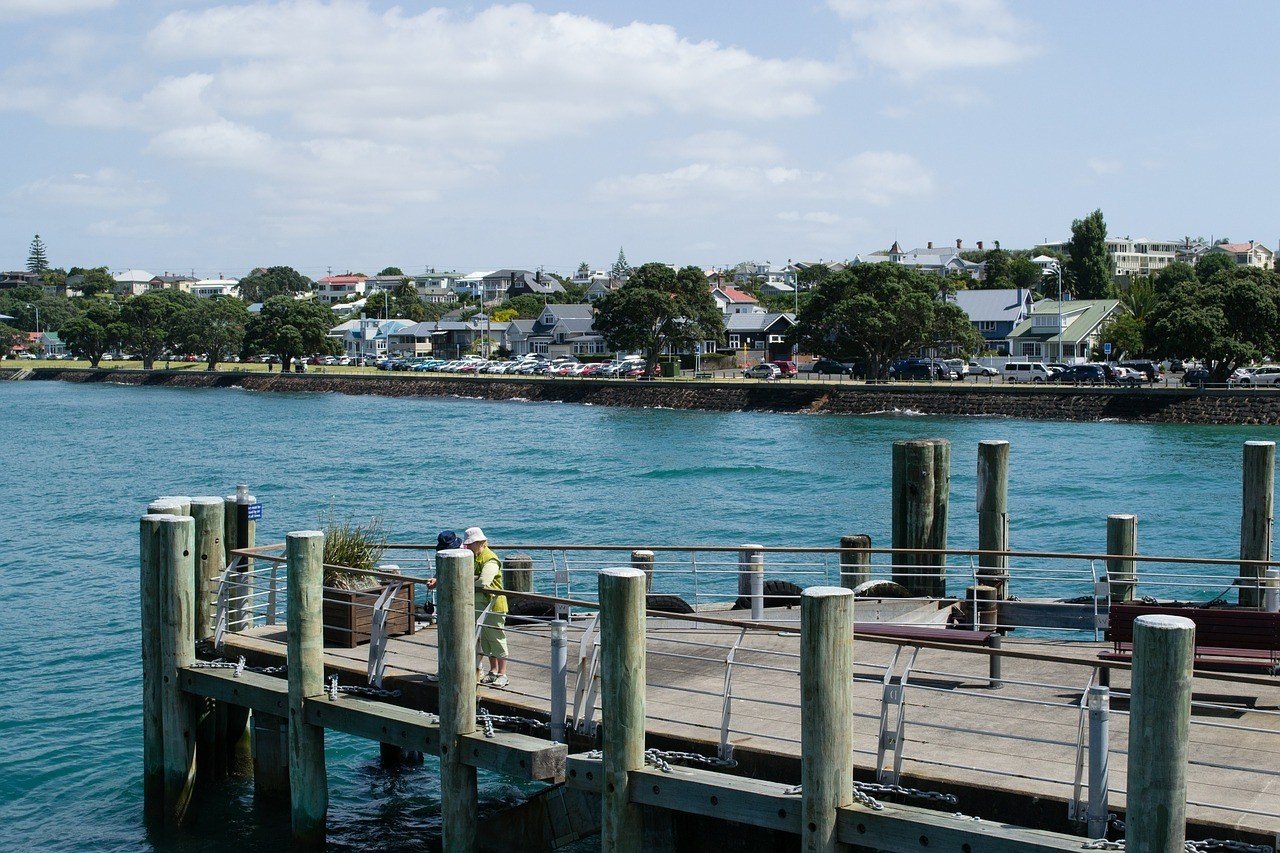 A short, 12-minute ferry ride is all it takes to get to the quaint seaside village of Devonport. This suburb of Auckland has streets lined with colonial-era architecture, beautiful beaches, a rugged landscape and an active naval base.
Davenport has a distinct small-town charm that is hard not to fall in love with. From the volcanic cone there are amazing views of Auckland across the bay! Catch the Devonport Craft & Fine Food Market on the first Sunday of every month.
Like most seaside villages there are also plenty of boutique stores and interesting shops to browse too.
Auckland Packing List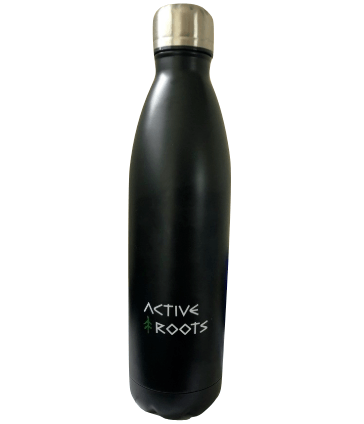 1. Travel Water Bottle: Always travel with a water bottle – it'll save you money and reduce your plastic footprint on our planet. AR bottle are tough, lightweight and maintain the temperature of your beverage – so you can enjoy a cold red bull, or a hot coffee, no matter where you are. For every AR bottle sold, we donate 10% to PlasticOceans.org – an initiative to reduce plastic in our oceans!
2. Microfibre Towel: It's always worth packing a proper towel. Hostel towels are scummy and take forever to dry. Microfibre towels dry quickly, are compact, lightweight and can be used as a blanket or yoga mat if need be.
3. Security Belt with Hidden Pocket: I never hit the road without my security belt. This is a regular looking belt with a concealed pocket on the inside – you can hide up to twenty notes inside and wear it through airport scanners without it setting them off. This is hands down the best way to hide your cash.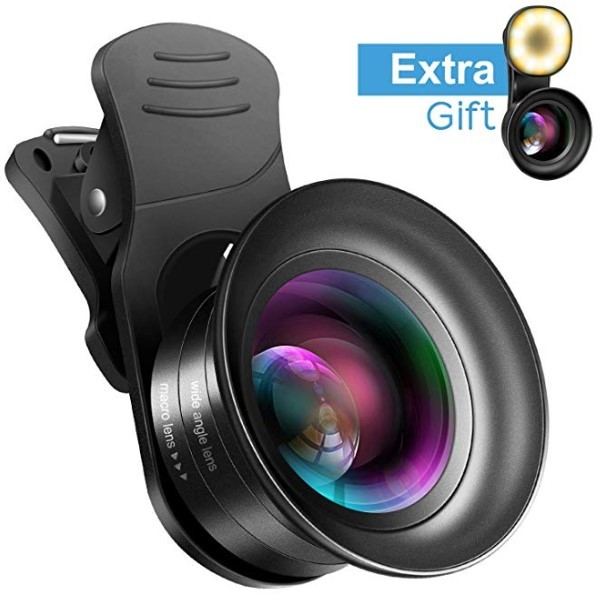 4. Camera or Cell Phone Camera Accessories: One thing's for sure – Auckland is a picturesque destination! Get perfect shots from your phone using clip-on-lenses with wide-angle, close-up and optical zoom. With the ability to turn travel pictures from basic to professional, this universal lens sits neatly over any phone camera and comes with a durable, travel-friendly case!
5. International Adapter: Auckland outlets accommodate typical US two-pronged plugs, but for electronics that have three prongs or if your plugs are of a different variety, you'll need an adapter. Save yourself the hassle of trying to track down an adapter at your destination and paying twice as much than planning ahead by buying one online.
More must-haves: Take look through the complete New Zealand packing list for more items you'll want while you're there!
Books to Read in Auckland
The Backpacker Bible – Learn how to ditch your desk and travel the world on just $10 a day whilst building an online income.
The Penguin History of New Zealand – I read this entire book in one week whilst working as a hut warden in Nelson Lakes National Park. This is the best book out there to learn about New Zealand's rich history, culture, and socio-economic situation. Highly recommended!
The Luminaries – Richly evoking a mid-nineteenth-century world of shipping, banking, and gold rush boom and bust, The Luminaries is at once a fiendishly clever ghost story, a gripping page-turner, and a thrilling novelistic achievement.
A Good Keen Man – This autobiography is the quintessence of male rural New Zealand life. Bloody hilarious.
Things to Do with Kids in Auckland
Taking the kids on holiday and looking for activities to keep them busy? Here are a couple of family-friendly tourist attractions in Auckland!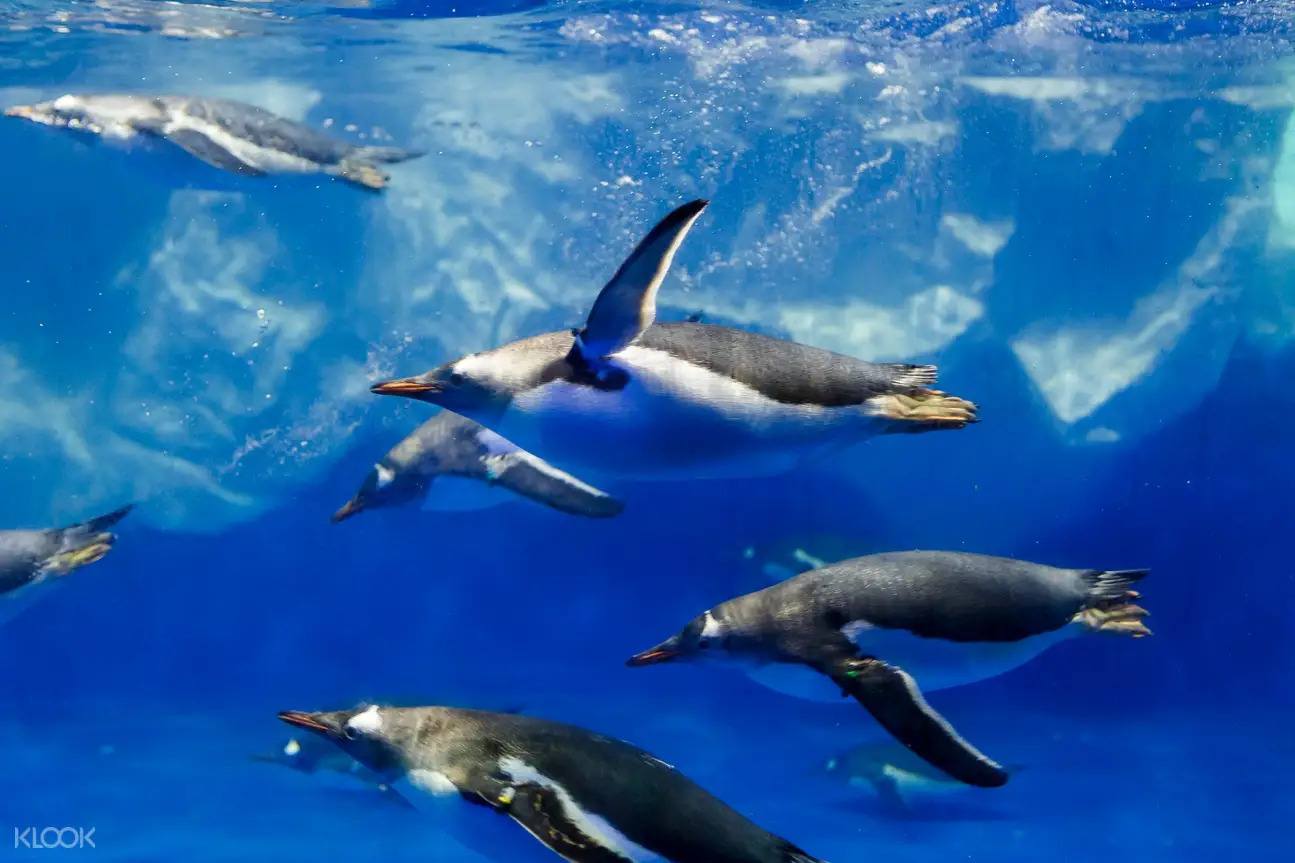 For a fun day out for the whole family or anyone who loves sea life, a visit to Sea Life Kelly Tarlton's aquarium is a must! The aquarium has a diverse collection of marine wildlife on display in its habitats, and provides loads of educational information. There are even opportunities to get up close and personal with some of the inhabitants.
Kelly Tarlton's has the world's largest emperor penguin colony, a family of giant stingrays and the largest collection of sharks in New Zealand! Not only does the aquarium showcase a range of marine diversity, but it also plays a large role in turtle rehabilitation and conservation.
A trip to Kelly Tarlton's is sure to pique the minds of curious kids and adults alike!
17. Learn about Gardening at Auckland Botanic Gardens
Located approximately 15 miles south of the city center in the suburb of Manurewa, the Auckland Botanic Gardens is 159 acres of native and exotic vegetation! Take the family down and introduce the kids to a wonderful array of weird and wonderful plants.
The gardens have areas to enjoy a picnic, a children's garden and a growing collection of sculptures to admire. There are loads of workshops that happen throughout the year, and in the school holidays there are various gardening programmes to keep the kids busy.
The gardens are open every day of the year and entrance won't cost you a thing!
Day Trips from Auckland
Just a 40-minute ferry ride away is the popular Waiheke Island. The island is a fantastic getaway destination because of its scenic beaches, multiple wineries, and wondrous natural landscapes!
Many a fan will argue that Waiheke Island has some of the best wines in the region, thanks to the unique volcanic landscapes permeating the northern side of the island. More of a beer person? Don't worry, there is also a brewery that you can visit too!
Adventure-seekers also have good reason to visit, with zip-lining being a popular activity on the island. With so much on offer, it's best to make a day out of it and enjoy the island at your own pace.
Lord of The Rings fans, this is what you've been dreaming of… visiting the actual movie set from your favorite movie series! The Hobbiton Movie Set is the country's only remaining set from the films and features the majority of Hobbiton, including The Green Dragon Inn.
You can visit Bagend itself & take a stroll around Hobbiton at large. When you're all tuckered out, take a seat in the Green Dragon and unwind with a cask ale. For fans of Tolkien and Peter Jackson's work, this will not disappoint.
Don't be shy to drag a friend with you, even if they are not a fan like yourself,  the craftsmanship and atmosphere make Hobbiton is enjoyable for everyone!
3 Day Itinerary in Auckland
We hope you've got a sense of the wide variety of experiences that Auckland has to offer. If you're only in town for a short time and what to pack in as many highlights as possible, take a look at our example itinerary to help get you started.
Day 1
Start off your Auckland itinerary with a free walking tour to get yourself orientated in the city. The walking tour weaves through the city center and introduces you to all the main points of interest in Auckland. Tours depart from Queens Wharf Village, accessed by the Britomart train station.
After you get back to Queens Wharf, take a short walk to the New Zealand Maritime Museum located at the Viaduct Harbour, where you can delve in to the regions captivating sea-fareing history. Another short walk away is the famous Sky Tower which offers top down views across the entire city.
If you have time head into the Auckland Art Gallery and browse some traditional artwork. Finish off your day with a show at The Civic theater, or eat out at an Auckland Night Market.
Day 2
Mount Eden serves up its best views of the city at sunrise, so we recommend heading up to the summit early in the morning. There are several buses that stop nearby, or you can get the train to Mt Eden station.
Once you've got your first coffee inside you, and the suns working it's way higher in the sky, hop on a bus and head over to Auckland Domain. Start with a visit to the Auckland War Memorial Museum in the morning, as you'll want to spend a few hours browsing the wonderful exhibits. Afterward, enjoy a leisurely stroll through the Domain, and along Lovers Walk.
Dusk is a great time to enjoy the ambiance of the harbour, as stars come out and lights come on. There's a host of incredible sea food restaurants in this area catering to all budgets.
Day 3
Get the third day of your Auckland itinerary off and running with a visit to One Tree Hill at Cornwall Park. There are a few buses from the city that stop nearby.
Next, we recommend spending a few hours exploring Devonport. Whether you just relax at a cafe or walk around and see the sights, you don't want to rush this visit! To get there take the ferry from the Downtown Ferry Terminal, 99 Quay Street.
Alternatively, catch an early morning ferry over to Wahiki Island. If you only have a short time in the country, this is a fantastic way to see examples of New Zealand's world famous beaches, volcanic landscapes, and dense bush, while only taking a 30 minute ferry from the CBD.
Conclusion
The City of Sails is such a great city and has so much to offer! From boat cruises on the water to exploring volcanoes and learning about local Maori culture, there is plenty to see and do on your trip to Auckland.
Whether you're on your own or taking the family, there is something for everyone in this North Island city! Make sure you plan ahead and list your ideal itinerary to get the best of Auckland and make the most of your stay.
A fantastic mix of culture, beautiful scenery and heart-pumping activities await you on your Auckland getaway! So what are you waiting for? Book your next adventure today!
Yay for transparency! Some of the links in this post are affiliate links. This means that if you book your accommodation, buy a book or sort your insurance, I'll earn a small commission at no extra cost to you. I only link to stuff I've actually used and never endorse crap. Your support helps me keep the site going.
---
Need More Inspiration?
Like this post? PIN ME!!!