The island of Bermuda is known for its pink sand beaches and historical UNESCO World Heritage sites. What you may not know though, is that it's only a two-hour flight away from New York City, making it the perfect island escape for a long weekend.
Being only 20 miles long and two miles wide, Bermuda is tiny, to say the least. However, this only adds to the beauty and charm of this Caribbean island, which doesn't have any commercialized shops or chain restaurants.
To really feel at home on the island, I recommend staying in a vacation rental. Not only are they often owned by locals and decorated in local style, giving you a truly authentic experience, but they are also reasonably affordable. In some cases, even cheaper than hotels.
And the location! The best vacation rentals in Bermuda are those by the sea. Luckily, you're almost always near the coast on this small island.
However, though Bermuda is small, there are a ton of accommodation options to choose from. That's why I put together this list of the best vacation rentals in Bermuda so you can take out the stress of choosing a place to stay and enjoy putting together your itinerary instead.
Let's take a look!
Quick Answer: These are the Top 5 Vacation Rentals in Bermuda
Best Overall Vacation Rental in Bermuda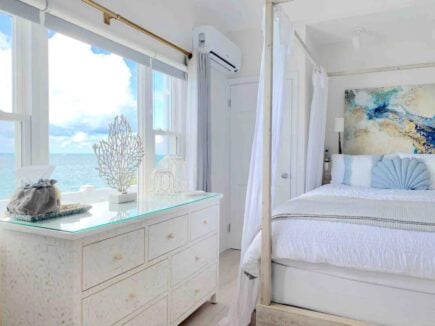 Best Overall Vacation Rental in Bermuda
Exquisite 1 Bed Cottage with Ocean Views
> $$$
> 2 Guests
> Includes a private workspace and balcony
> On the beachfront in Smith's Parish
Best Budget Vacation Rental in Bermuda
Best Budget Vacation Rental in Bermuda
Fully-Equipped 1 Bed Loft with Garden
> $
> 2 Guests
> Simple and small space with outdoor seating
> In a residential neighborhood in Pembrook Parish
Best Vacation Rental for Couples in Bermuda
Best Vacation Rental for Couples in Bermuda
Cozy 2 Bed Condo on Private Beach
> $$
> 4 Guests
> Balcony overlooking the ocean
> On a secluded beach in Sandy's Parish
Best Vacation Rental for Families in Bermuda
Best Vacation Rental for Families in Bermuda
Coastal 2 Bed Home with Pool
> $$$
> 5 Guests
> Huge garden with pool, waterslide, and jumping board
> On the beach by Elbow Beach, close to Hamilton
Over-the-Top Luxury Vacation Rental in Bermuda
Over-the-Top Luxury Vacation Rental in Bermuda
Exclusive 8 Bed Beach Estate
> $$$$
> 16 Guests
> Updated interiors with pool, garden, and gazebo
> 5.5 acres of beachfront location near Tucker's Town

Unlock Our GREATEST Travel Secrets!
Sign up for our newsletter and get the best travel tips delivered right to your inbox.
Types of Accommodation in Bermuda
To make choosing a vacation rental easier for you, I have listed the most common types of accommodation available so you can see which would be best suited to your style and budget.
Traditional Beach Cottages
Traditional Bermudan houses are a landmark of the island. Built using stone bricks, these homes date back as far as the 1700s. Architecturally, they are pastel-painted square buildings with a white stepped roof.
I recommend spending a few nights in one of these authentic spots for anyone who is interested in learning about the culture and heritage of the island, as well as those who wish to stay in central towns and villages.
Conveniently, many of these homes are located by the beach and have been refurbished with modern fittings and contemporary furniture.
Depending on how many beds you need, you could find a traditional cottage for a steal of a price when compared with villas. They range from 2 bedrooms up to 8, so would be ideally suited to couples and groups.
Condos and Apartments
Although the island is small, the central cities of St. George and Hamilton have a bunch of low-rise condos on offer. Usually built near the main beaches as tourist-designated accommodation, these self-catering vacation rentals in Bermuda range from basic studios to family-friendly apartments, to extravagant penthouse suites.
The best thing about these properties is their ocean views and common amenities. Guests can enjoy access to shared pools, Jacuzzis, private beach space, and on-site eateries. More upscale buildings even offer fitness centers and concierge services.
Condos and apartments are suitable for all types of travelers who wish to stay in and amongst the bustle and by well-known beaches. Whether you're a solo traveler or a group of six, you'll find what you're looking for in a Bermudan condo.
If you're a digital nomad looking for somewhere to hunker down for a while, condos tend to be available for long-term rentals and are fully kitted out with everything you might need.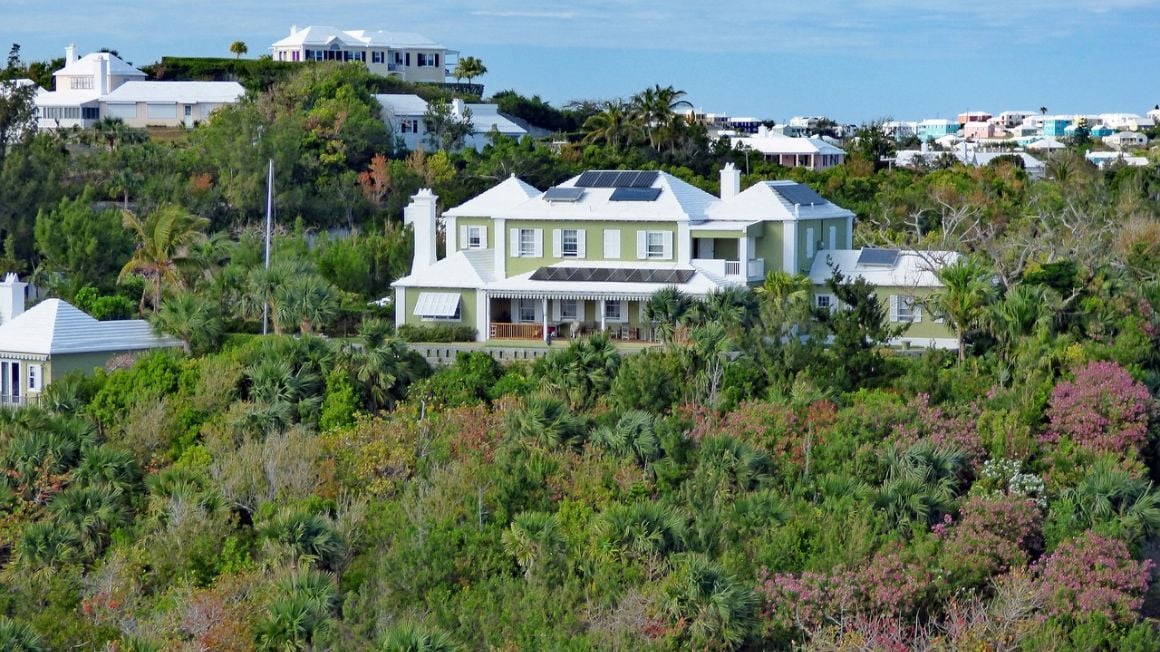 Luxury Villas and Estates
As one of the most desirable beach destinations, it's no surprise that Bermuda is swarming with luxurious villas and estates. In fact, aside from a few small cities, most of the island is scattered with residential beach-side neighborhoods.
From modern mansions to traditional oceanside villas, there's a good reason these homes come in at such a steep price. Most have been refurbished to the highest standard, with top-of-the-range appliances, spacious living rooms, and private suites. Villas also typically include a private pool, Jacuzzi, garden, and have exquisite views of the ocean.
Villas are a great option if you're traveling with a large group of friends or family, and even if you're planning to host a destination event.
Top 20 Vacation Rentals in Bermuda
Now that you have been introduced to the type of vacation rentals available in Bermuda, it's time to check out my list of the best of the best. From luxury vacation rentals to quaint cottages, you'll find an option that's right for you in this guide to the island's best accommodation.
Enjoy!
Best Overall Vacation Rental in Bermuda | 1 BR Cottage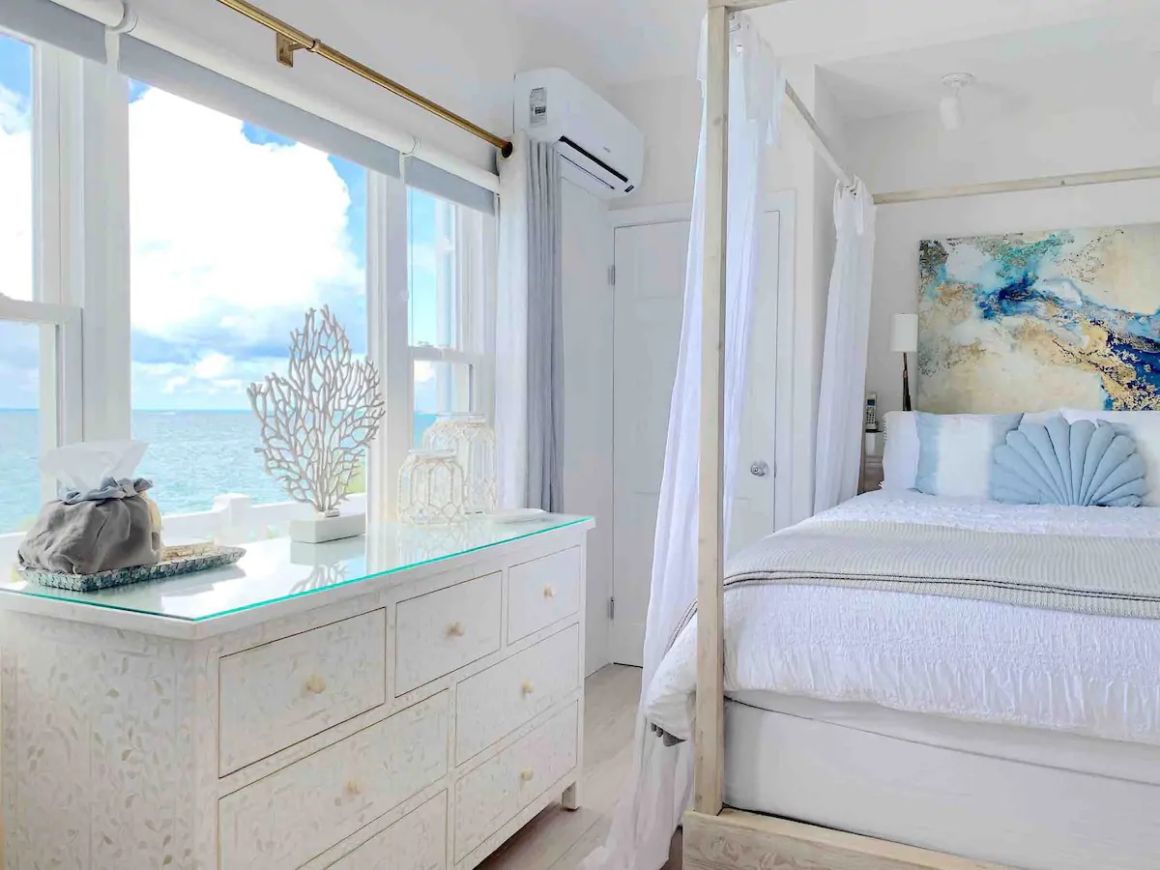 $$$
On the beachfront in Smith's Parish
2 Guests
Includes a private workspace and balcony
You'll find this gorgeous cottage right on the oceanfront. It's a classic pale blue Bermudan home with a white stepped roof and has a balcony overlooking gorgeous ocean views. There is even a private stairway that leads from the cottage to the ocean, perfect for those willing to rise early for a morning dip.
I didn't only choose this spot for its location and views, but also for its exquisite interiors. The home has been remodeled with modern fittings, tiling, and floors, and is fitted with contemporary furniture. Calming white and blue hues bring about a sense of relaxation from the moment you step into the cottage.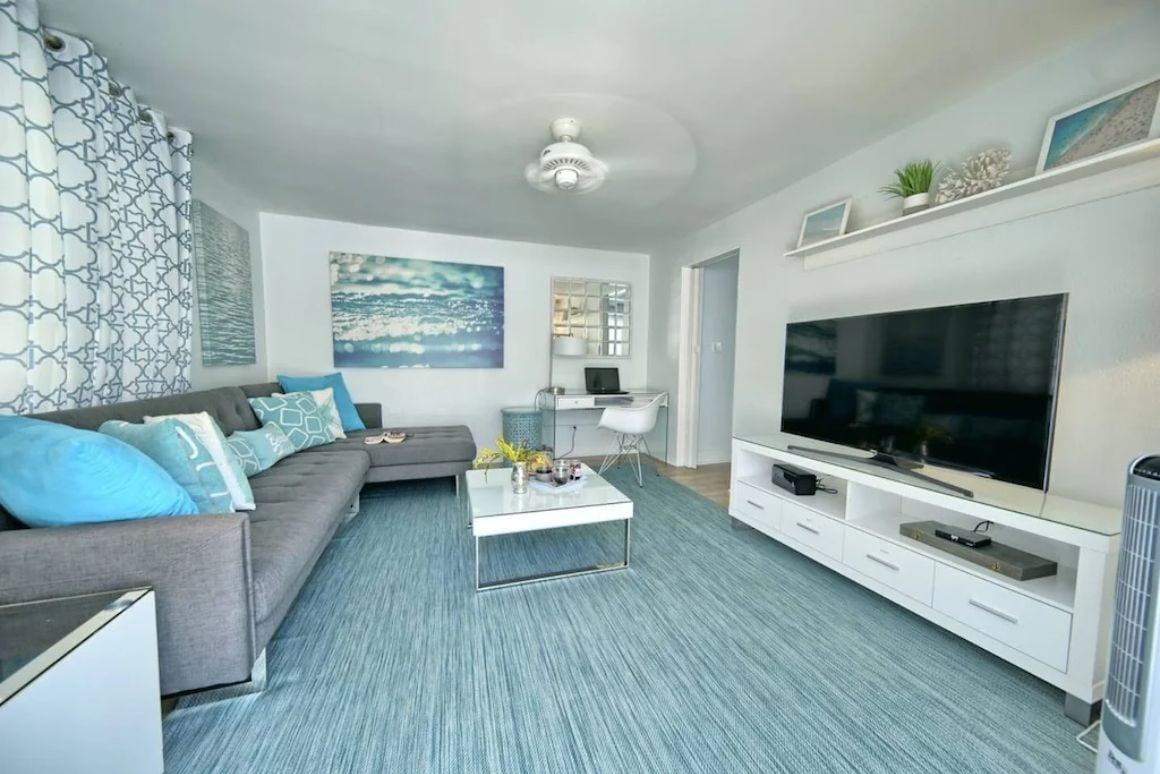 $$
Just outside central Hamilton and Camden
4 Guests
Modern furniture and a pool courtyard
Because the island is so small, you could easily locate yourself in the heart of town, while still enjoying privacy and beautiful beaches.
This self-catering vacation rental in Bermuda is situated just outside the Hamilton center, a short walk to a top private beach. Not only is it super easy to get to the beach, but the apartment also has a huge swimming pool and deck which is shared with a few other apartments.
The one-bedroom apartment feels more like a cottage than an apartment. It is on the ground floor and has a bunch of open space and natural light, as well as a private yard.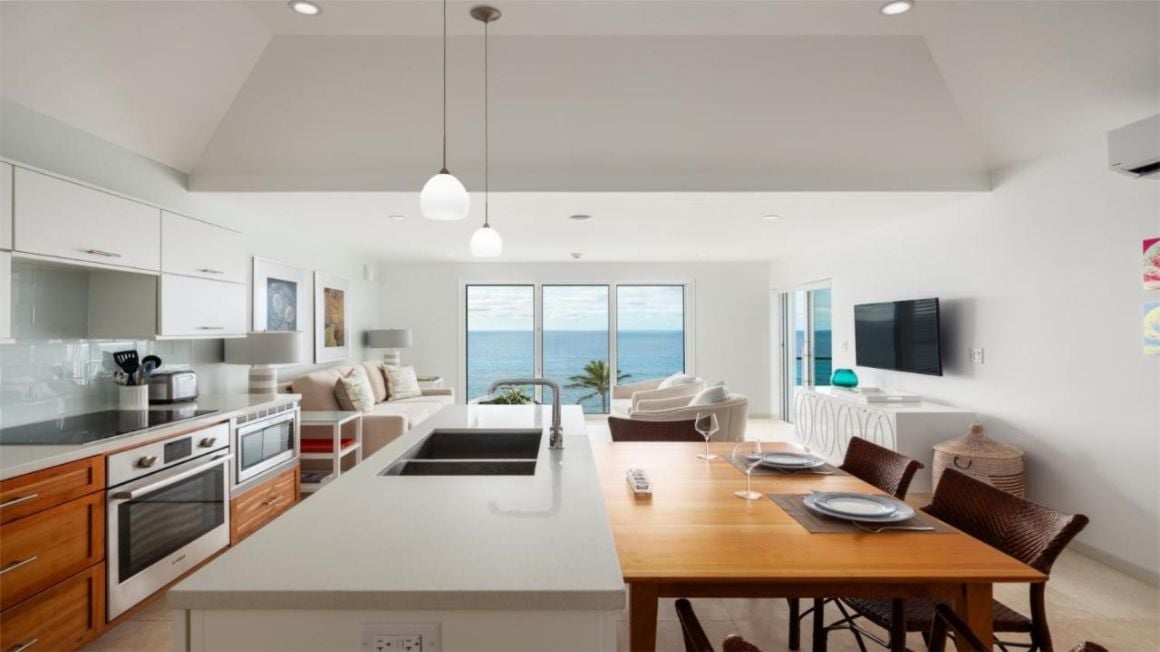 $$$$
Meters from Marley Beach, near top attractions
6 Guests
In a resort with a private beach area
Welcome to paradise. If you're up for a bit of social activity, this resort with self-catering rooms will be sure to blow you away. The three-bedroom penthouse condo has been renovated using up-scale fittings and contemporary furniture.
Think double-story floor-to-ceiling glass walls, stone countertops, and modern wooden cabinetry. The open-concept living space is overflowing with natural light and is the perfect spot to spend quality time with your loved ones.
The home is furnished to the highest standards, with luxury linens, and hotel-like extras. Not to mention, the ocean view from every window and balcony is breathtaking.
Is This the Best Backpack EVER???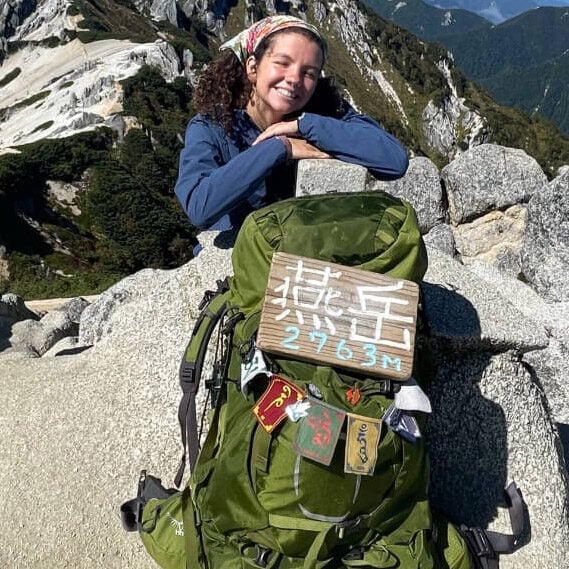 Most Luxurious Tropical Hideaway in Bermuda | 8 BR Beach Estate
$$$$
5.5 acres of beachfront location near Tucker's Town
16 Guests
Updated interiors with pool, garden, and gazebo
Located on a secluded beachfront on Smith's Parish, surrounded by inland water inlets and wild trees, you'll feel like you're on your own private island at this luxury vacation rental in Bermuda.
The property is exquisitely designed and decorated using neutral tones and beachy artifacts. From contemporary furniture to modern art and natural wooden touches, you'll be impressed by beauty in every direction you turn.
The outdoor space takes the cake. Not only is there a massive pool and garden on the beachfront, but the home also includes an indoor/outdoor games room and a range of decks on each level of the home.
Best Vacation Rental in Bermuda a Small Family | Coastal 2 BR Home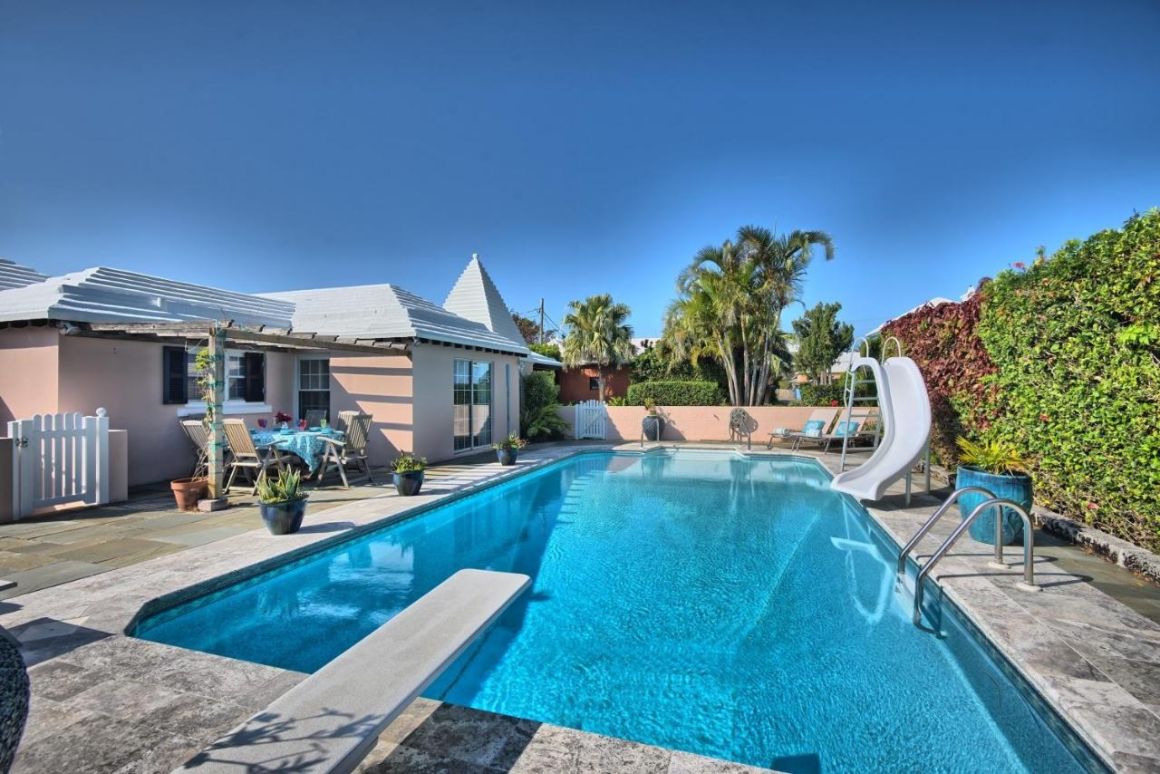 $$$
On the beach by Elbow Beach, close to Hamilton
5 Guests
Huge garden with pool, waterslide, and jumping board
Bermuda is without a doubt one of the top locations for a family beach vacation. There are a few things that make this home family-friendly. Firstly, it's located near the beach and the main town, making it easy to access major attractions.
Second, it has a spacious garden, lawn and swimming pool. In fact, the kids will fall in love with this pool with its diving board and waterslide.
Lastly, the authentic Bermudan home has been refurbished with stunning interiors, with a definite beach theme present throughout the home.
Best Weekend Vacation Rental in Bermuda | 1 BR Loft W/ Garden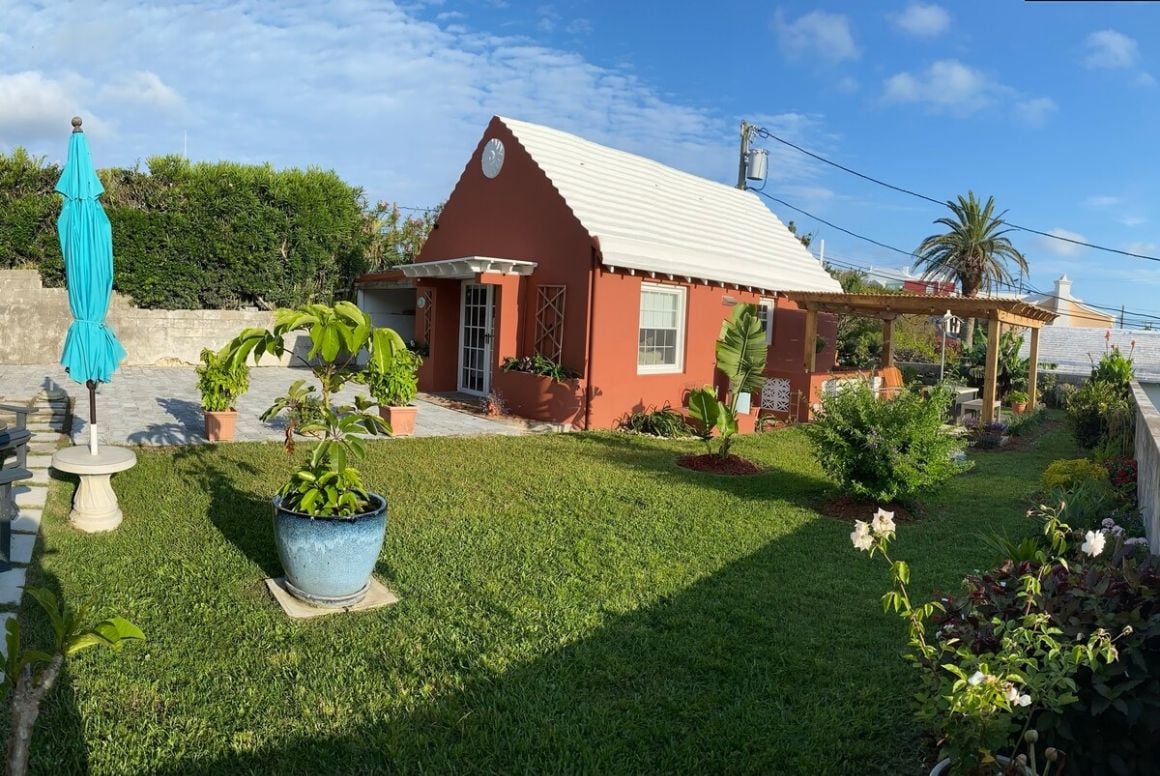 $
In a residential neighborhood in Pembrook Parish
2 Guests
Simple and small space with outdoor seating
This loft is as authentic as they get. It sits in a residential area near top beaches and shops and is the best holiday home in Bermuda for those on a tight budget. Every inch of the small space has been designed to make it feel larger than it is. There's even an at-home office space.
Downstairs, you'll find a spacious open-concept living area with a two-person dining table, lounge, and fully-equipped kitchen. The upstairs loft is reserved for bedtime and is fitted with an ultra-comfortable bed.
But there's more. This budget spot even includes an outdoor deck with a fire pit – perfect for an evening in with your loved one.
Best Vacation Rental in Bermuda with Pool | 4 BR Waterfront Villa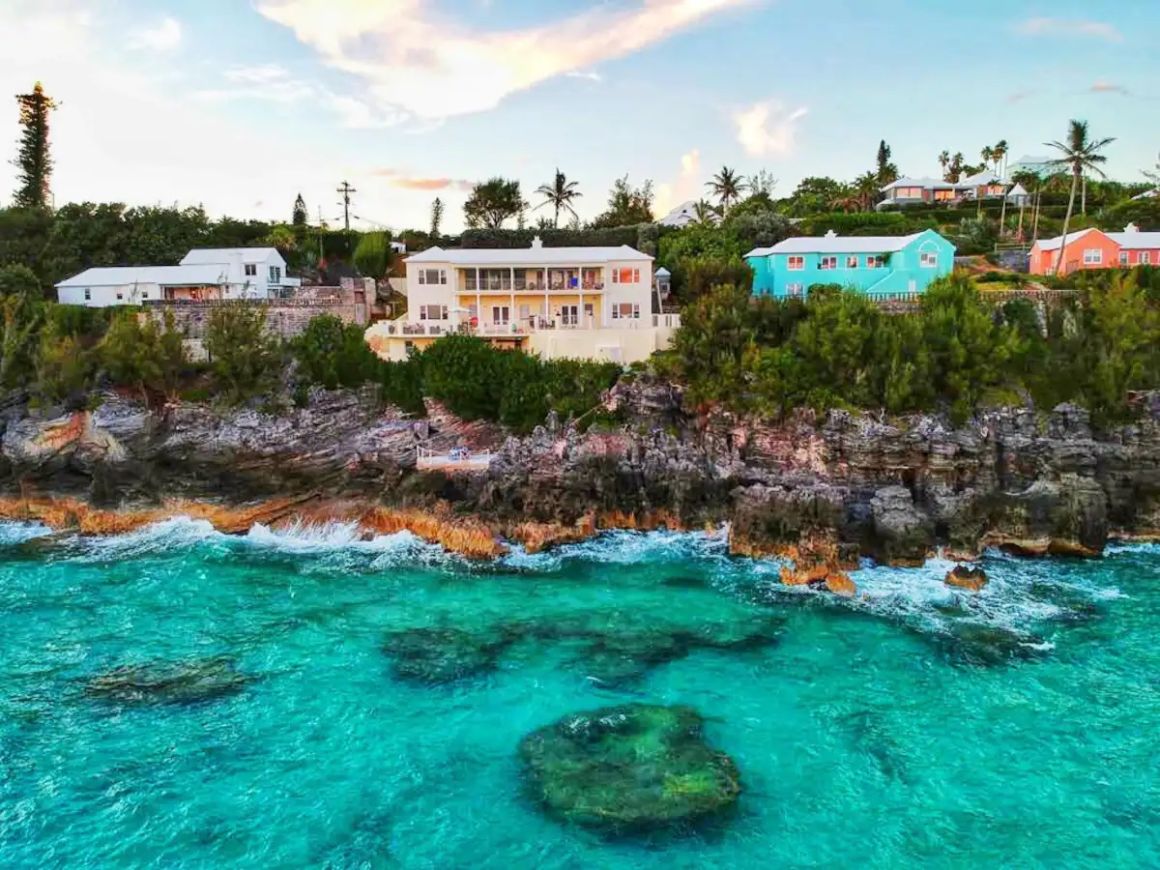 $$$$
Direct beach access in Southhampton
9 Guests
Contemporary interiors with ocean views
There's no doubt about it, swimming pools are essential in a tropical climate. This luxurious villa sits on the edge of a cliff and has a beautiful swimming pool deck overlooking the ocean. In fact, you can stroll a few steps down your own pathway to the ocean.
The home is fully equipped with a gourmet level kitchen and spacious lounge, as well as an outdoor living area with a dining table and loungers. There's even a Jacuzzi on the deck for when the weather cools down.
Perfect for families with young children, the hosts even offer access to a crib, toddler bed, highchair, pack n' play, baby bath, and car seat.
Super Accessible Vacation Rental in Bermuda | 2 BR House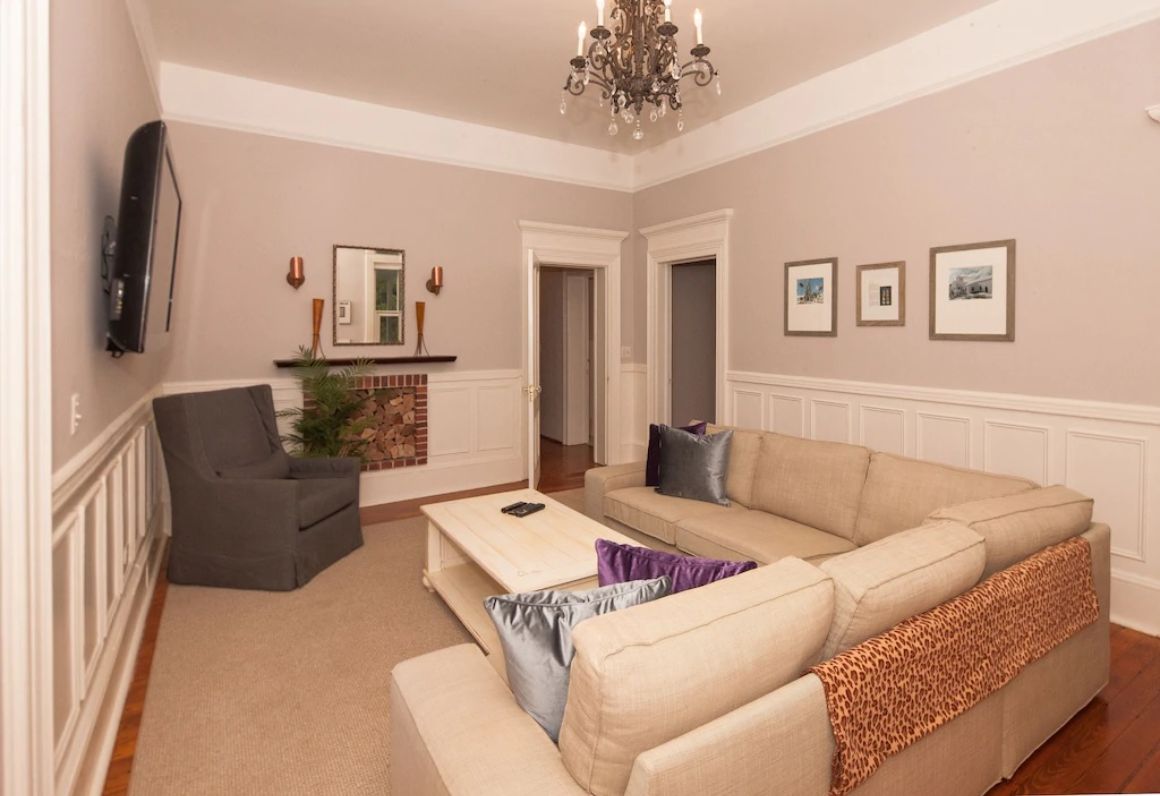 $$
Minutes from the center of Hamilton
6 Guests
Old English style home with classic furniture
Accessibility on this small island can be an issue. I usually recommend staying at a resort or hotel, to be absolutely sure you won't encounter any steps or tight spaces. However, this two-bedroom house is a great option for wheelchair users.
Each room has spacious walkways and the home is one single story. It's equipped with everything you might need from a self-catering vacation rental in Bermuda, including a kitchen with tons of prep space, washer/dryer facilities, and air conditioning throughout.
Better yet, this spot is as beautiful as it is practical. In fact, as a traditional period property, it boasts high ceilings, large windows, and antique hardwood floors.
Most Central City Vacation Rental Bermuda | 2 BR Seaview Cottage
$$
In the heart of historic St. George
6 Guests
Refurbished home with coastal themed interiors
Even if you choose to stay in Bermuda's main city, you'll never be more than a short drive (or walk) from the beach. This beautiful historic home offers the best of both worlds and has great views of St. George's Harbor across to St. David's island.
The home has two bedrooms and two bathrooms connected by an open-plan kitchen and living room that open onto a deck. Furnished with outdoor dining and lounge furniture, this is the best spot to take in the surrounding views.
Take advantage of the fully-equipped kitchen to cook up a family-style meal, or walk a few minutes into the historic town and browse local eateries for a bite to eat.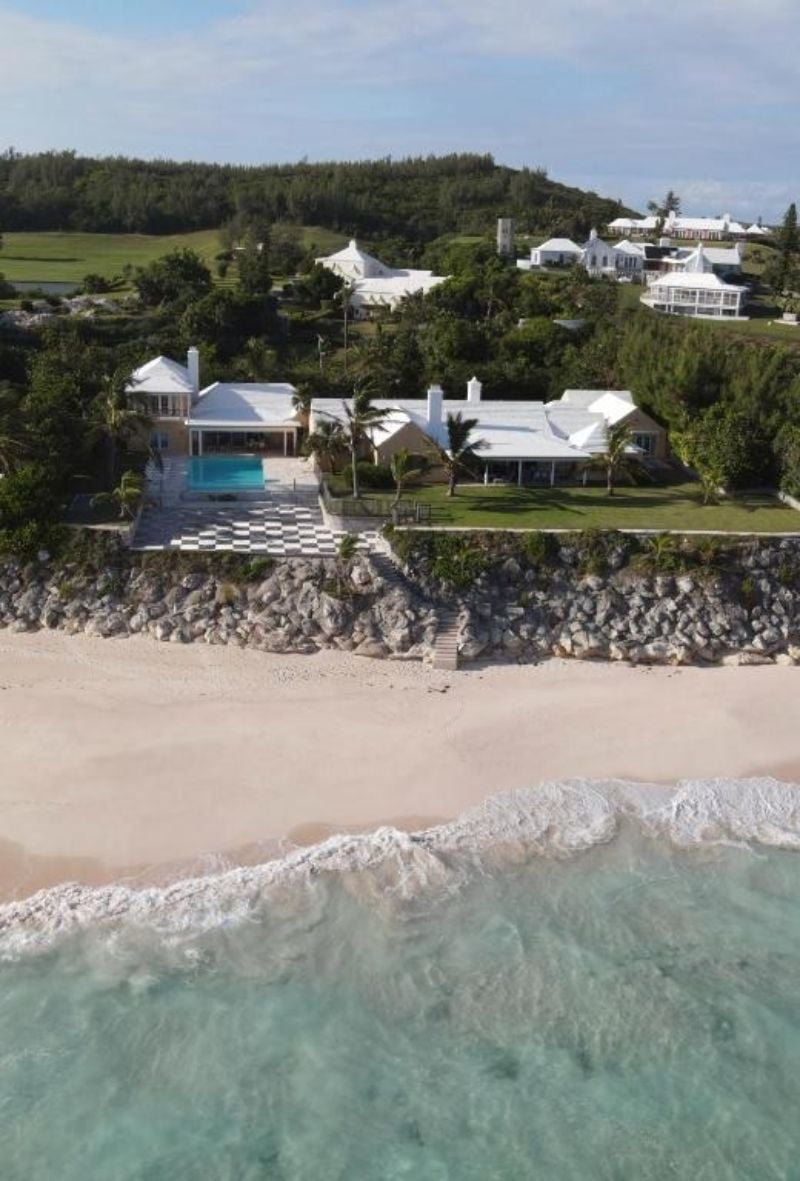 $$$
In a quiet area near Tucker's Town
10 Guests
Massive lawn, pool and a private beach
The best part about this beach vacation rental in Bermuda is its exquisite ocean views and location. It sits on the beachfront of a pink beach near the quirky Tucker's Town and has a lush lawn. From the garden, there's a secluded private path that will lead you directly onto one of the island's most beautiful beaches.
The home has five spacious bedrooms and a fully-equipped kitchen. Perfect for families, it has tons of outdoor and indoor living spaces and offers exquisite views from every window in the house.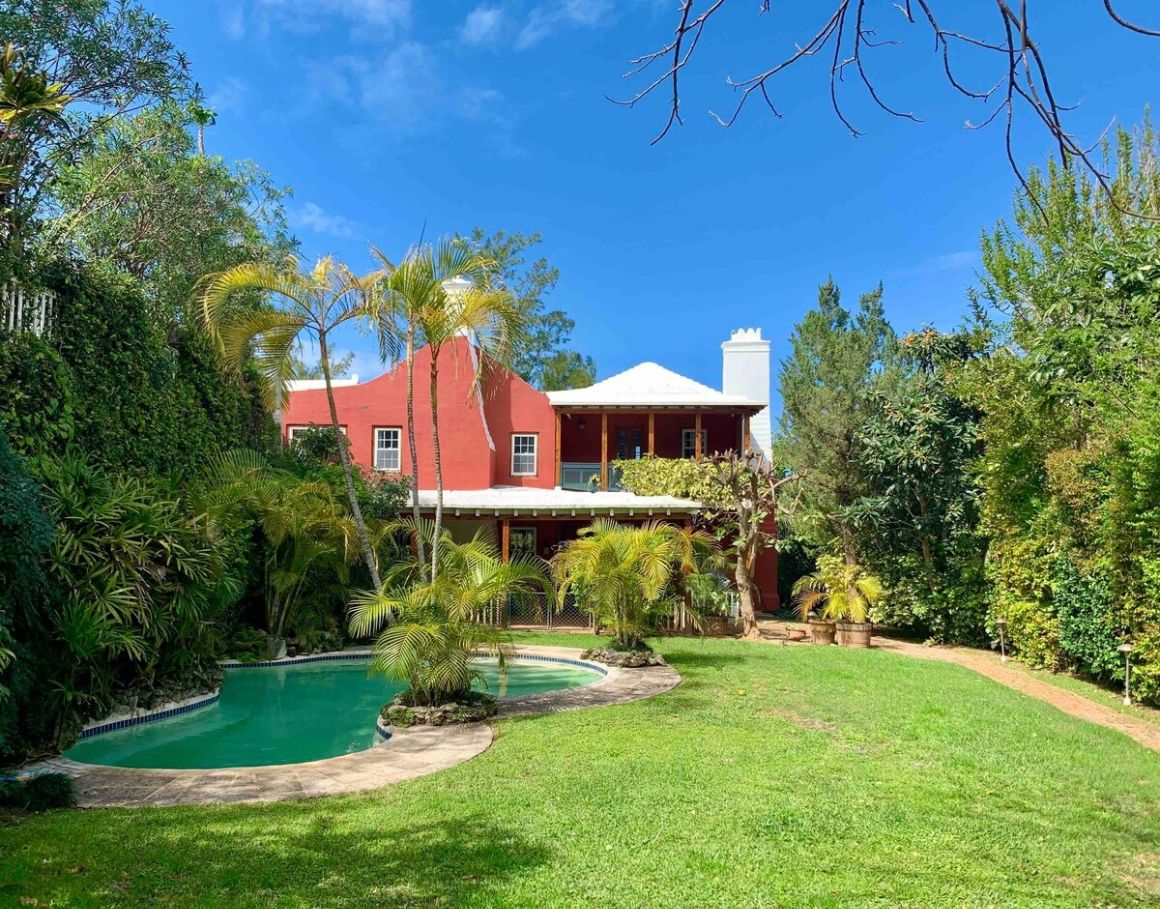 $$$
Hidden in the trees in Warwick, close to shops and restaurants
6 Guests
Classic Bermudan home with authentic furniture
You'll be welcomed by the smell of fragrant flowers and an ocean breeze at this holiday rental in Bermuda. Hidden between tropical plants, this home has a more secluded feel when compared to other beach villas.
Not to mention, this home is a historic building with high vaulted ceilings, red stone floors, and thick stone walls. The interiors do well to blend authentic antique furniture with contemporary touches.
My favorite part about this home is the garden, which has a spacious green lawn and a shaded swimming pool. There is also a BBQ, outside dining area, and table tennis table, perfect for spending an evening by the pool with friends.
Most Unique Vacation Rental in Bermuda | Luxury 5 BR Home
$$$$
Surrounded by beaches in Warwick Parish
9 Guests
An eclectic home filled with art and antique furniture
Make yourself at home in this private artist's residence that is tucked away in a peaceful garden setting. Aside from having a lush garden, the home sits on a hill overlooking beaches and a harbor, offering world-class sunsets with its north-west facing view.
Designed and furnished by a local artist, the home is full of surprises in every direction you look. It's filled with homey touches, interesting art, and unique artifacts, giving it a truly eclectic 'lived in' feel.
The five-bedroom home is furnished with antique furniture and includes an outdoor pool area with a living and dining area.
Best Vacation Rental in Bermuda for First Timers | 2 BR Cottage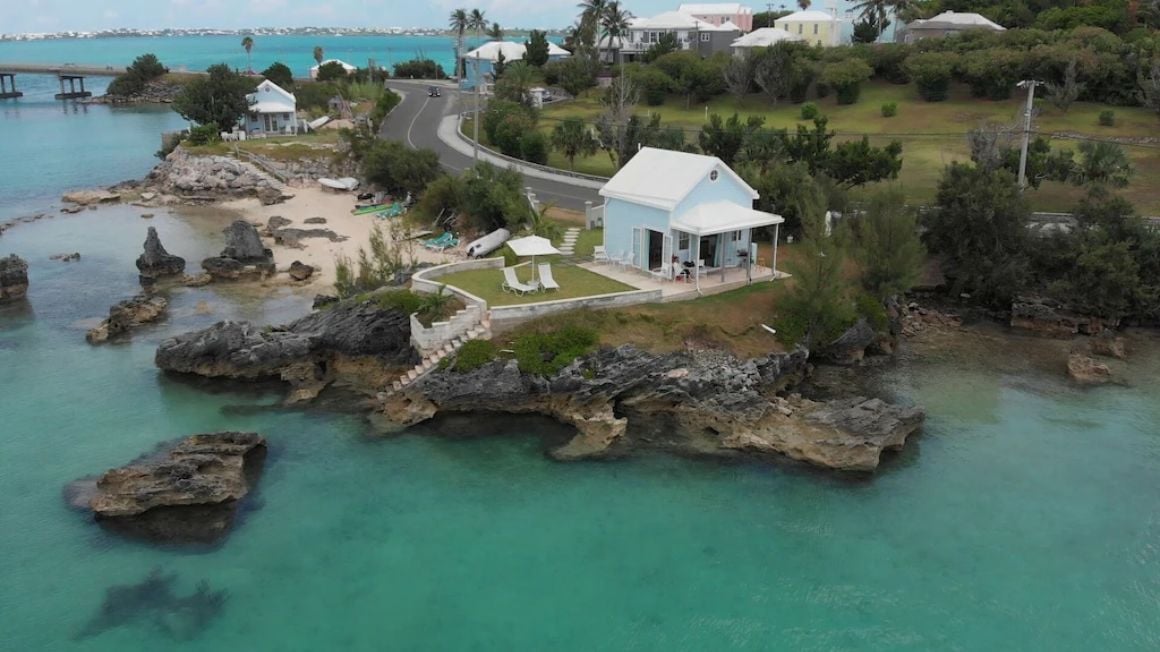 $$
On the beach by Somerset Village's shops and eateries
4 Guests
Secluded on a rocky outcrop, surrounded by ocean
This might be my favorite beach vacation rental in Bermuda. Perched on a rocky outcrop above the ocean, you'll be treated with panoramic ocean views. On top of having a private beach a few steps from the house, there is even a floating dock in the bay where you can swim to.
Surprisingly, this small home is super affordable considering its location. Although small, it has everything you could possibly need during your vacation.
It's also super well located for a first-time visit, surrounded by both popular and secluded beaches, shops, and restaurants in Somerset Village, and well-known attractions.
Best Vacation Rental in Bermuda for Nightlife | 1 BR Pool House
$$
Near the pink sand beaches of Southampton
3 Guests
Traditional Bermudan architecture and bright painted walls
As one of the Caribbean's top island holiday destinations, there's a buzzing nightlife scene in Bermuda. Conveniently, basing yourself in a central location will almost always mean you'll be within walking distance to a bunch of beach bars and local pubs.
This classic yellow Bermudan house is the perfect affordable stay for a night out on the town. The pool house sits on a residential property and has been refurbished with simple interiors.
The space is air-conditioned and has a well-equipped kitchen with all the necessities including a popcorn machine and blender – the two most important devices for some homemade cocktails and snacks!
Best Vacation Rental in Bermuda with View | 1 BR Cottage
$$
Perched above the ocean in Paget Parish
4 Guests
Colorful updated interiors and furniture
Views are abundant across the island. However, the views from this luxury vacation rental in Bermuda are exceptionally breathtaking. The home sits on a quiet residential street perched above the rocks in a calm bay.
The house itself is beautifully designed with lots of space and natural light. Kitted out with modern fittings and cabinetry, the owners have decorated the interior with lots of calming neutral tones interspersed with pastel colors.
Enjoy the views from the upstairs balcony, or relax on the garden loungers as you listen to the waves lap against the shore.
Vacation Rental in Bermuda for Couples | 2 BR Condo
$$
On a secluded, private beach in Sandy's Parish
4 Guests
Balcony overlooking the ocean
There's something romantic about calming oceans and tropical weather, and Bermuda is a great destination for a lover's getaway. Although it has two bedrooms, it's affordable enough for two guests.
This home sits a few minutes from a private neighborhood beach and has a bright and spacious open-plan living area. With tons of windows and doors throughout the space, you'll be able to enjoy harbor views from every part of the home.
One of my favorite features is the wraparound deck, which is the best spot to catch the sunset on a balmy evening.
Off-the-Beaten-Path Vacation Rental in Bermuda | Historic 2 BR Apmt
$$
In a quiet road on the outskirts of St George
4 Guests
Authentic stone interiors with a small garden
One of the best vacation rentals in Bermuda for its location, this cottage looks like it could belong in a small English town. It has vaulted timber ceilings, stone and plaster walls, and built-in fireplaces.
The home has been refurbished, repainted, and touched up using neutral and contemporary fittings and cabinetry. It's furnished in a homey style, with luxurious linens, unique art, and tasteful furniture.
Located just outside St. George, you'll be within walking distance to restaurants, boutique shops and markets, beaches, and public bus stops. Best of all, the home has a quaint covered porch and yard where you can enjoy your morning coffee.
Best Vacation Rental near Attractions in Bermuda | Studio Cottage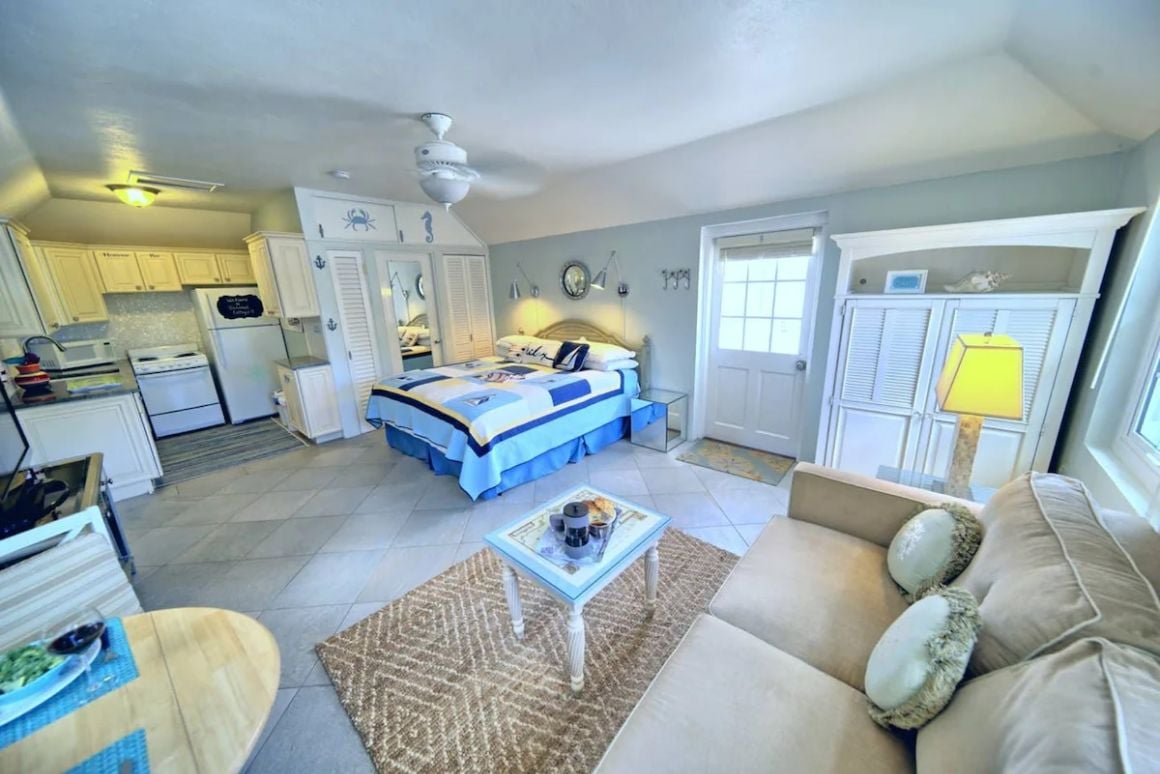 $$
Near the botanical gardens and museums in Paget
3 Guests
Neutral tones and lots of natural light
Since the island is so small, it's pretty difficult to find a rental that isn't near top sights and attractions. However, I chose this studio cottage because of its low price and amenities. This poolside cottage is located in a residential home and includes access to a swimming pool, deck, and shared tennis court and gardens.
Kitted outwith coastal-themed interiors, the home is perfectly comfortable for a couple, solo travelers, or even three guests at a squeeze.
The Botanical Gardens border the property, and other attractions including Homers Cafe and Masterworks Museum are only a short walk from the home.
Vacation Rental near the Best Beaches in Bermuda | 2 BR Cottage
$$
By Long Bay, Daniel's Head, and Sugar Cane Point Beach
4 Guests
New furniture and fittings
What more could you want from a tropical getaway than a lush garden cottage by the beach? Even though this cottage sits between some of the most famous beaches on the island, it still has a super private feel about it.
As one of the top beach vacation rentals in Bermuda, this spot has direct beach access and a useful outdoor shower. The cottage is simply furnished with all the necessities, including washer/dryer facilities and a coffee machine.
Brew a cup of fresh coffee and enjoy it on the garden porch before you head down to the beach for the day.
Small Town Vacation Rental in Bermuda | Idyllic 1 BR Condo
$$
Overlooking Sandy's Parish harbor
2 Guests
Cozy cottage furniture with beautiful views
This isn't just another charming cottage in Bermuda. What sets this spot apart is its elevated location above the harbor, giving guests some of the most beautiful sunset views on the island.
The kitchen has been refurbished with trendy blue and white tiles and marble countertops and is the perfect spot to cook up a storm. If you'd rather eat out, you'll only be a few steps away from the charming town and harbor, which is teeming with quaint eateries.
For those who need to answer a few emails, the cottage has a convenient pull-out desk space where you can set up your computer.
Don't Forget Your Bermuda Travel Insurance
ALWAYS sort out your backpacker insurance before your trip. There's plenty to choose from in that department, but a good place to start is Safety Wing.
They offer month-to-month payments, no lock-in contracts, and require absolutely no itineraries: that's the exact kind of insurance long-term travellers and digital nomads need.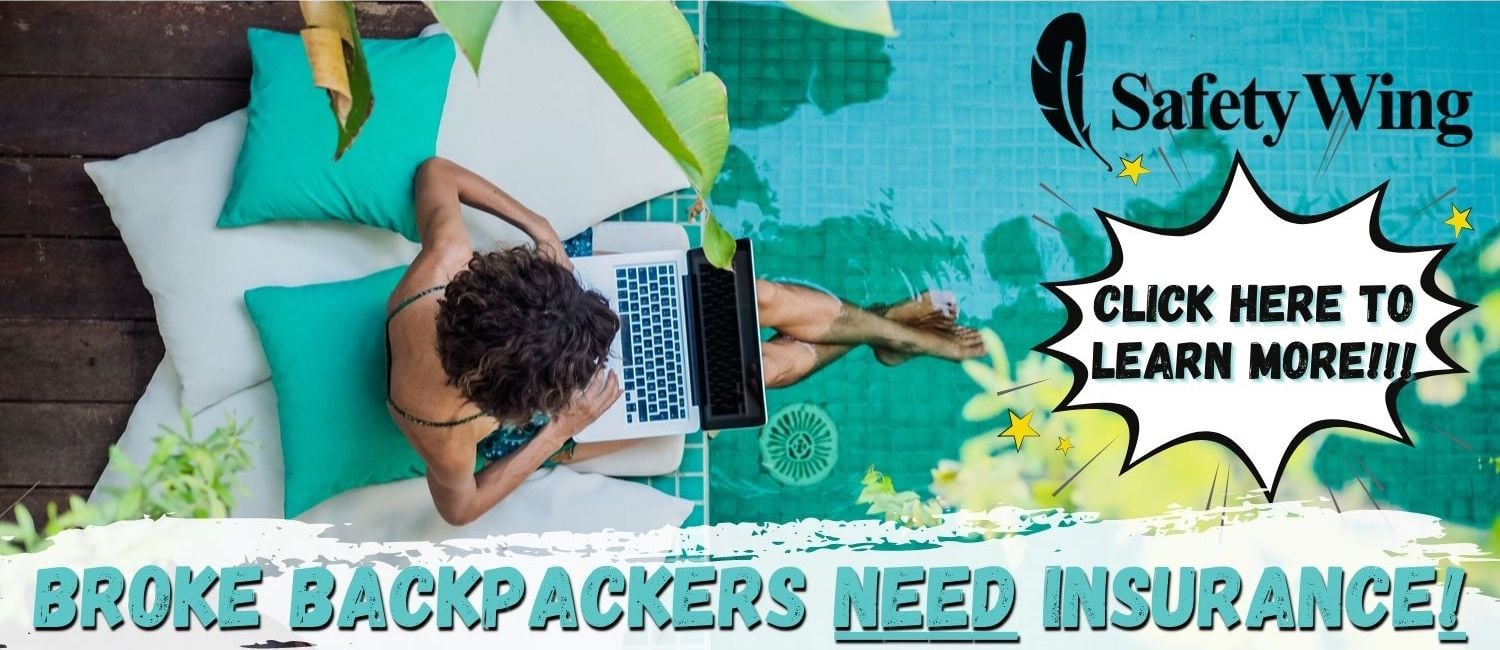 SafetyWing is cheap, easy, and admin-free: just sign up lickety-split so you can get back to it!
Click the button below to learn more about SafetyWing's setup or read our insider review for the full tasty scoop.
Final Thoughts
As you can see by now, the tropical island is scattered with an abundance of stately villas and quaint colorful homes influenced by Portuguese, West Indian, British, American, and African settlers. Not only is it a melting pot of diversity, but it's also a super welcoming country for digital nomads.
If you're still not sure which vacation rental is right for you, remember to consider your location.
For access to tropical luxury, pink sand beaches, and a laid-back environment, the beach houses and villas in Warwick will exceed expectations. This is a great spot for couples, families, and large gatherings.
If you're down for a central 'city' holiday filled with museum visits, history, and culture, head straight to the historic town of St. George. As a historic urban English settlement, you'll find many authentic Old English homes here.
Southampton is the main tourist hub, with a beautiful beachfront lined with hotels, resorts, and apartments for rent. However, if you prefer a secluded or romantic location, you'll find what you're looking for in Pembrook. This area is scattered with picturesque garden cottages, often with ocean views.
Whether you visit for the culture, the beaches or to learn about the history of the island, you'll find some of the best vacation rentals in Bermuda will provide you with the most authentic experience and a personal touch.
Did you have a favourite on my list? Let me know in the comments.
---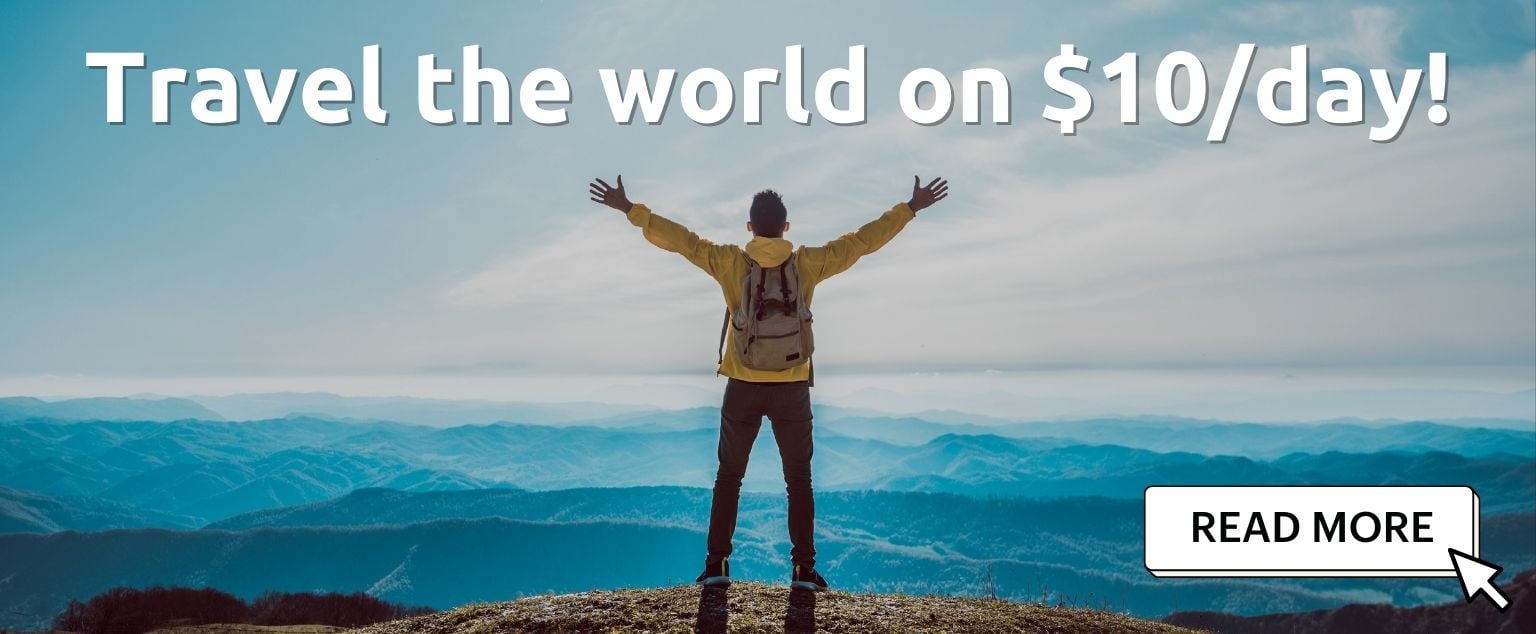 And for transparency's sake, please know that some of the links in our content are affiliate links. That means that if you book your accommodation, buy your gear, or sort your insurance through our link, we earn a small commission (at no extra cost to you). That said, we only link to the gear we trust and never recommend services we don't believe are up to scratch. Again, thank you!