As Hawaii's capital and largest city, Honolulu is the beating heart of the Polynesian island chain. The city sits on the South Coast of Oahu (known appropriately as 'The Gathering Place'), on Hawaii's most densely populated island. The place is full of cultural and historical landmarks, world-class shopping, fine cuisine, and of course, top-quality accommodation along the coastline.
Honolulu stretches from the historical Pearl Harbor through the world-famous Waikiki Beach and all the way to Makapuu Point. Surrounded by dramatic topography and nature, Honolulu combines a metropolis city with laid-back tropical island vibes.
Along this coastline, you'll be treated with an abundance of vacation rental options. Choose from luxurious villas and estates on the outskirts of the city to high-rise condos and penthouses in the center of bustling Waikiki Beach.
With world-class surfing conditions, year-round sunshine, and friendly locals, Honolulu is a popular tourist destination and is packed with options for different vacation needs and budgets.
Keep on reading to see our favorite vacation rentals in Honolulu!
Quick Answer: These are the Top 5 Vacation Rentals in Honolulu
Overall Best Value Vacation Rentals in Honolulu
Overall Best Value Vacation Rentals in Honolulu
Tropical Beachfront Oasis with 4 Beds
> $$$
> 14 guests
> Located on the beach between Waikiki and Hawaii Kai
> Large beach house with tranquil tropical garden and Jacuzzi
Best Budget Vacation Rentals in Honolulu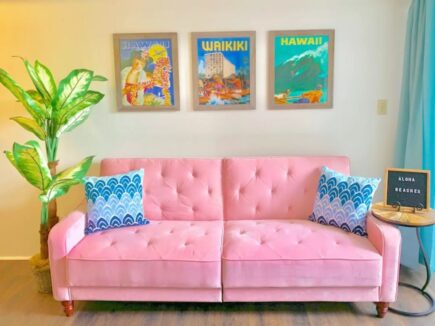 Best Budget Vacation Rentals in Honolulu
Colorful Ocean View Condo for 2
> $
> 2 guests
> Located two blocks from Waikiki beach and food trucks
> Funky condo with tropical wallpaper and edgy furniture
Best Vacation Rentals for Couples in Honolulu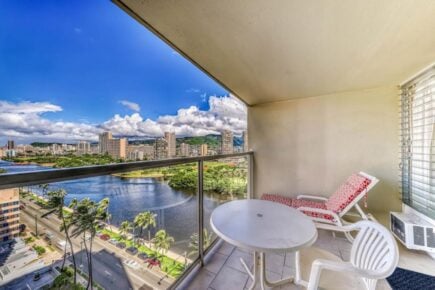 Best Vacation Rentals for Couples in Honolulu
Sunny 1 Bed Condo with Canal Views
> $$
> 3 Guests
> A few minutes walk from the beach in Waikiki
> Bright condo with large living room with two sleeper couches
Best Vacation Rentals for Families in Honolulu
Best Vacation Rentals for Families in Honolulu
Bright and Spacious 4 Bed Home
> $$$
> 8 Guests
> Located in Hawaii Kai, overlooking Honolulu
> Beach-style home with huge balconies with city and ocean views
Over-the-Top Luxury Vacation Rentals in Honolulu
Over-the-Top Luxury Vacation Rentals in Honolulu
Modern and Homey 4 Bed Villa
> $$$
> 12 Guests
> Walking distance from some of the island's top beaches and eateries
> Modern wooden interiors, spacious design, and sprawling ocean views

Unlock Our GREATEST Travel Secrets!
Sign up for our newsletter and get the best travel tips delivered right to your inbox.
Types of Accommodation in Honolulu
Apartments, Condos, and Penthouses
Most accommodation on the island of Oahu can be found along Honolulu's Waikiki beach stretch. This vibrant center holds the city's top shopping districts, restaurants, and eateries, and is stacked with high-rise buildings with apartments, condos, and penthouses.
From a budget loft with a basic kitchenette, to an opulent four-bedroom penthouse with ocean views, this type of spot is ideal for a range of visitors. Large families and groups of friends can enjoy the inclusive shared amenities available at the buildings and apartments. If you're up for Waikiki's nightlife, these rentals are usually located within walking distance to top bars and nightclubs.
These are spaces are also accessible for wheelchair users. You'll be able to easily find super affordable condos for those on a budget.
Villas and Estates
Hawaii's coastlines are full of luxurious homes. While these homes are uncommon in the center of Honolulu or Waikiki Beach, there are many villas and estates dotted along the outskirts of this tropical metropolis. Villas and estates are the most luxurious vacation rentals in Honolulu with lots of extra special comforts.
Whatever you're looking for – be it a swimming pool and Jacuzzi overlooking the ocean, games rooms, private cinema and bar, opulent outdoor living area or sprawling lush lawns and gardens, villas and estate homes have what you need. They're usually positioned on the beachfront, or at the very least, offer stunning ocean views!
Due to the sheer size and quality of these rentals, they're best suited for large families and groups of vacationers with a large budget.
Beach Houses and Cottages
In my opinion, a beach house or cottage falls just between the two previous types of rentals. They're modest and homey, and offer a much more authentic local experience when compared with villas and estates.
Many of the beach houses and cottages around Honolulu are original plantation-style homes – single-story, basic open-plan concept living area and surrounded by tropical gardens. The best part about these rentals? – their location! They're positioned out of the busy city and right by the ocean, often with private beach access.
Ranging in size and affordability, these homes are ideal for small families, couples, and honeymooners looking for a more quiet and peaceful Honolulu experience.
Top 20 Vacation Rentals in Honolulu
Honolulu offers a sneak peek of everything Hawaii has to offer, from five-star resorts and hotels to condos and authentic holiday home rentals. Here is a list of our top picks!
$$$
Located on the beach between Waikiki and Hawaii Kai
14 guests
Large beach house with tropical garden and Jacuzzi
What more could you ask for than a spacious and sunny family home, right on a beautifully secluded beach? This home has been recently renovated with hardwood floors, clean beige walls, and trendy wooden cabinetry. It's furnished with super stylish traditional Hawaiian plantation furniture, including woven wicker furniture, authentic ceiling fans, and boho touches.
The best part about this home is its location. The indoor living space opens out onto a large lawn with a private Jacuzzi, with nothing but palm trees separating you from the white beach sand. If you ask me, this is paradise.
$
Located two blocks from Waikiki beach and food trucks
2 guests
Funky condo with tropical wallpaper and edgy furniture
Quirky furniture, a basic kitchenette, and a balcony with ocean views for a low price per night. This combo isn't super easy to find in Hawaii, which is known to be overpriced. This cozy loft is kitted-out with everything you might need from a beach vacation rental in Honolulu, from a bathroom stocked with products to a balcony overlooking the ocean.
You'll be spoilt for choice with restaurants, bars, and cafes right at your doorstep. Even better – this spot is only a couple of blocks from Honolulu's most famous Waikiki beach!
$$$
By Diamond Head, directly on Tonggs Beach
6 Guests
Quaint gingerbread-style house with three private lanais
This quaint coastal cottage is registered as one of Hawaii's Historic Homes. It's one of the few remaining architecturally significant homes along the Honolulu coast, which is now dominated by tall buildings and condos.
While the exterior has kept its charming historical shell, the interior has been recently remodeled using clean finishes and comfortable furniture. Touches of white and blue throughout the home give it a beachy feel. This is perfect, as a beautiful shallow reef and beach are right on the doorstep!
Is This the Best Travel Pack EVER???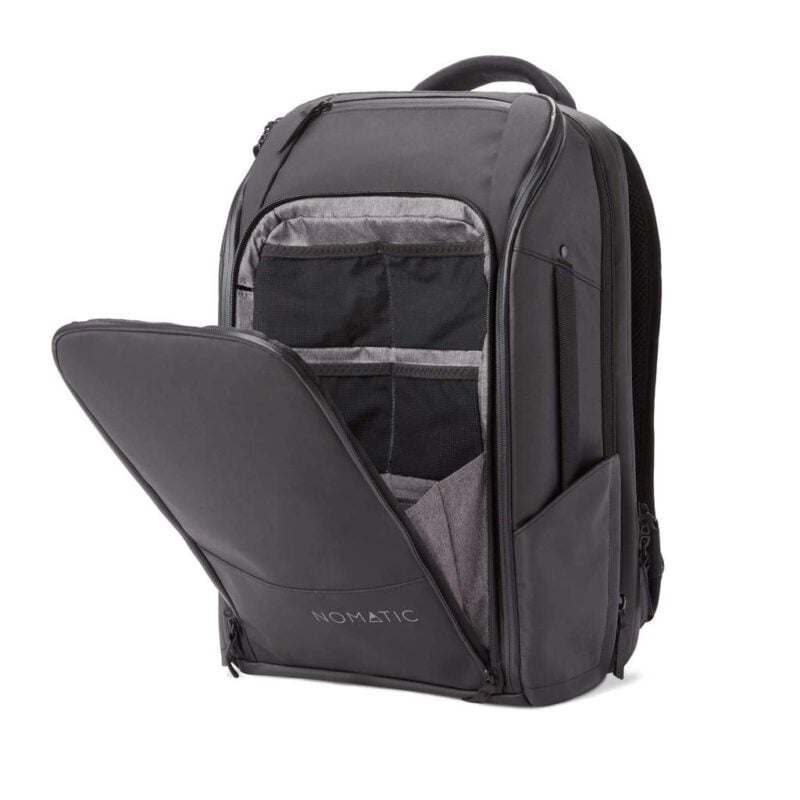 $$$
Walking distance from some of the island's top beaches
12 Guests
Sprawling ocean views
With sprawling ocean views and top-class architecture, it's no wonder this is one of the most luxurious homes on the coastline. This stunning spot is architecturally designed to be one with nature. It's built using natural wood and stone materials, with a wooden balcony built around the trees.
The interior is equally as impressive, with tons of space and natural light filtering through the surrounding jungle trees. All the rooms have unobstructed glass sliding doors, which help to bring the tropical nature surroundings indoors.
$$$
Located in Hawaii Kai, overlooking Honolulu
8 Guests
Beach-style home with huge balconies
Set in the hills overlooking the city, this spacious four-bedroom home is one of the top self-catering vacation rentals in Honolulu for a family getaway. While it's out of the hustle and bustle of Waikiki Beach, it's still close enough to drive to.
The house has sprawling views of Honolulu, including the ocean, city, canals, and hills. These views are best enjoyed from the multiple decks and balconies, as well as the sunny open-plan living space which invites natural light through the floor-to-ceiling glass windows.
$$$
Located in a residential block in Waikiki
3 Guests
Spacious new condo with pool and private parking
Planning a quick weekend getaway to the big Hawaiian city? Look no further, this vacation rental has everything you might need for a short stay visit. Firstly, it's centrally located in a residential apartment block minutes away from the famous Waikiki Beach and surrounding attractions. As a corner condo, it even has beautiful ocean and island views from the private balcony.
Secondly, it's well-equipped with a self-catering kitchen, open-plan living space, and a super comfortable private bedroom. Finally, you'll be able to enjoy access to the building's shared amenities, including a swimming pool, Jacuzzi, and gym. The free parking and concierge service is another added bonus!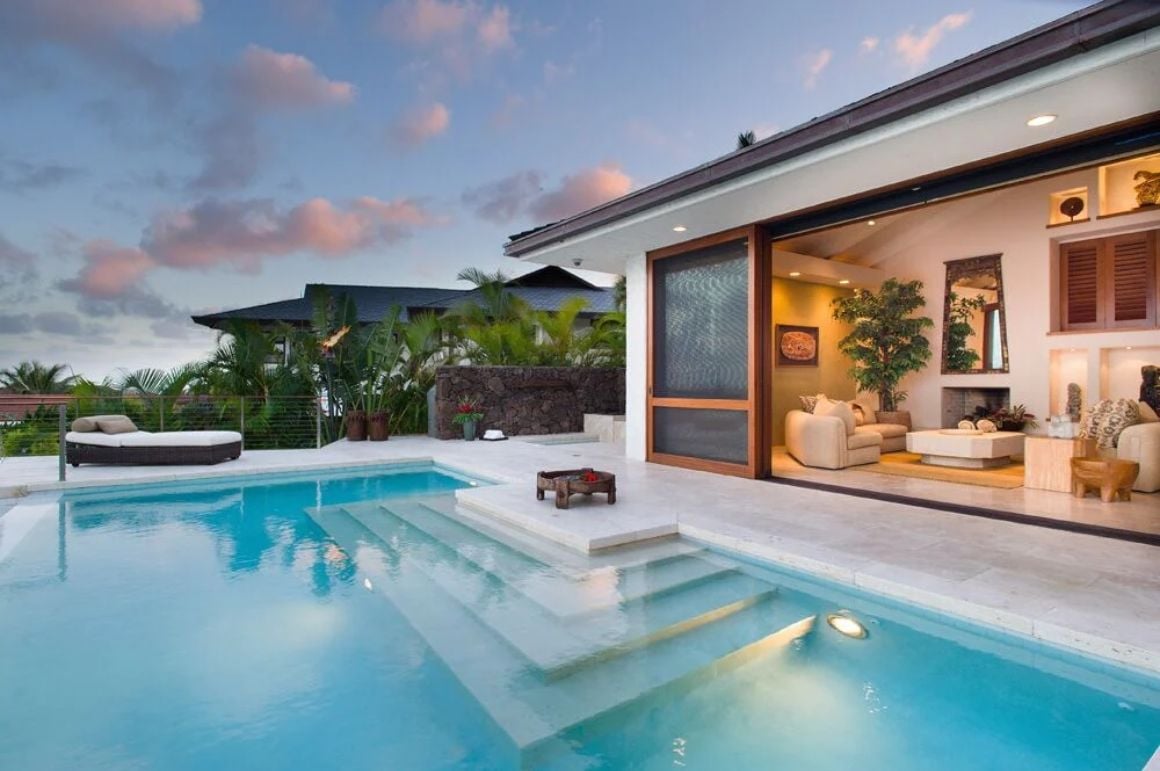 $$$
Located near Diamond Head, a few roads back from the beach
5 Guests
Modern interiors and vaulted ceilings
With year-round sunshine and tropical humidity, a cool-down in a swimming pool is an absolute must in Honolulu. This contemporary home has a stunning marble-lined swimming pool on an outdoor living area deck, overlooking the ocean. While on the other side of the home, there's a secluded Jacuzzi pool. This heated plunge pool is nestled between tropical plants and even has its own waterfall feature.
Inside the home, you'll find clean architectural features including exposed built-in shelving and simple interiors with natural tones and wooden touches.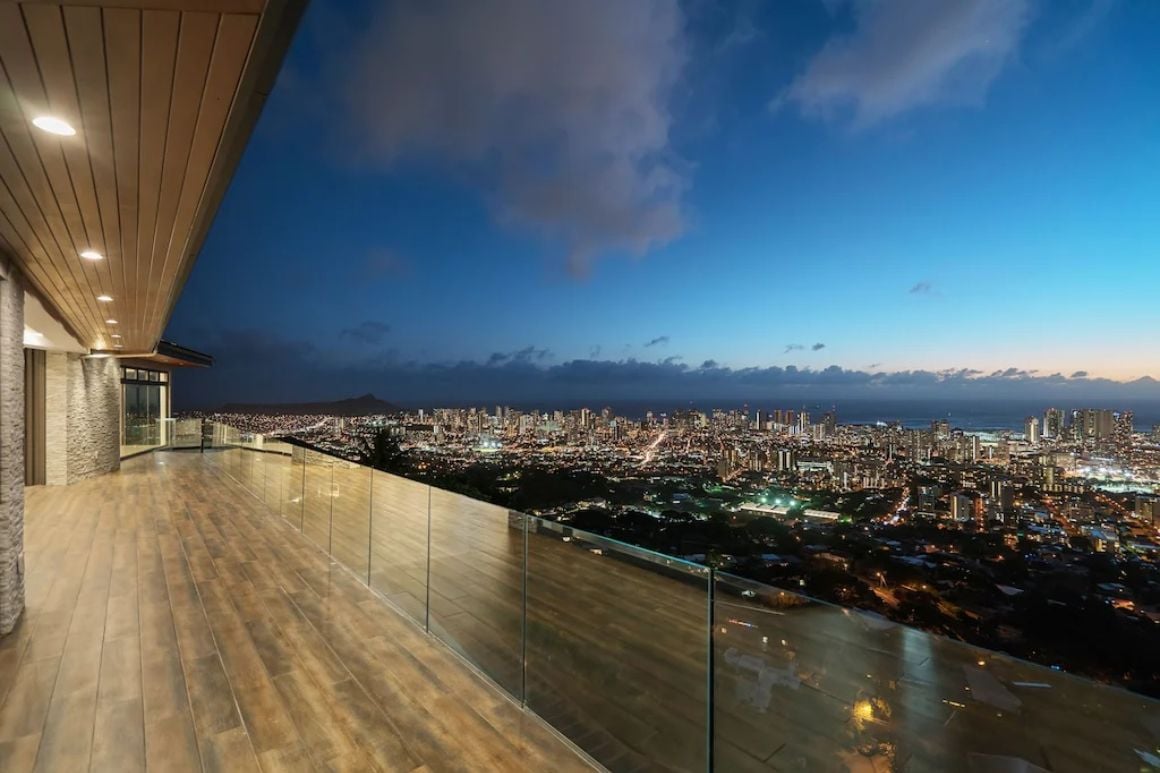 $$$$
Located in Maikiki, above the Waikiki beachfront
10 Guests
Pool and jacuzzi overlooking unique city views and lift access
Accessibility meets opulence in this luxury vacation rental in Honolulu. Perched atop a mountain overlooking the blinding lights of Waikiki, this extravagant multi-layered home is designed with contemporary influence and affluent style. There is even a rotating carport, which makes it super easy to enter and leave the property. Talk about style!
The home has two lifts, lots of wide-open space, and well-lit walkways, making it perfect for high-end visitors with accessibility needs. The kitchen is well equipped with all the necessities, and there is tons of space for hosting events in this mansion. However, the best part of this rental is the outdoor pool and jacuzzi deck overlooking the city.
$
Walking distance to shops, beaches, and restaurants
2 Guests
Recently renovated loft
Simple, clean, and conveniently located – what more could you ask for from a budget holiday home in Honolulu? This spot is so central, you could easily stroll across the street to a boutique bakery or down the road towards Waikiki's shopping district. Your only issue might be struggling to choose a restaurant to visit, as there are so many within walking distance of the front door!
With a small dining table perfect to use as a home office, this spot is a great call for a digital nomad who wants to be in the center of this dynamic metropolis.
$$$$
In the seaside suburb of Kahala, close to Waikiki central
8 Guests
High ceilings and multiple living areas
This suburban charmer is nestled in a residential neighborhood just outside the city. Even though it's a quiet area (ideal for young kids), it won't take you more than a few minutes to drive into the center of Waikiki.
Ideal for a large family, this four-bedroom home is super spacious and homey. The large living area with a massive comfy couch is the perfect spot to set up for an evening movie. However, the star of the home is the backyard, which boasts a large rounded swimming pool and Jacuzzi, and a lush green lawn – plenty of space for children to run wild in!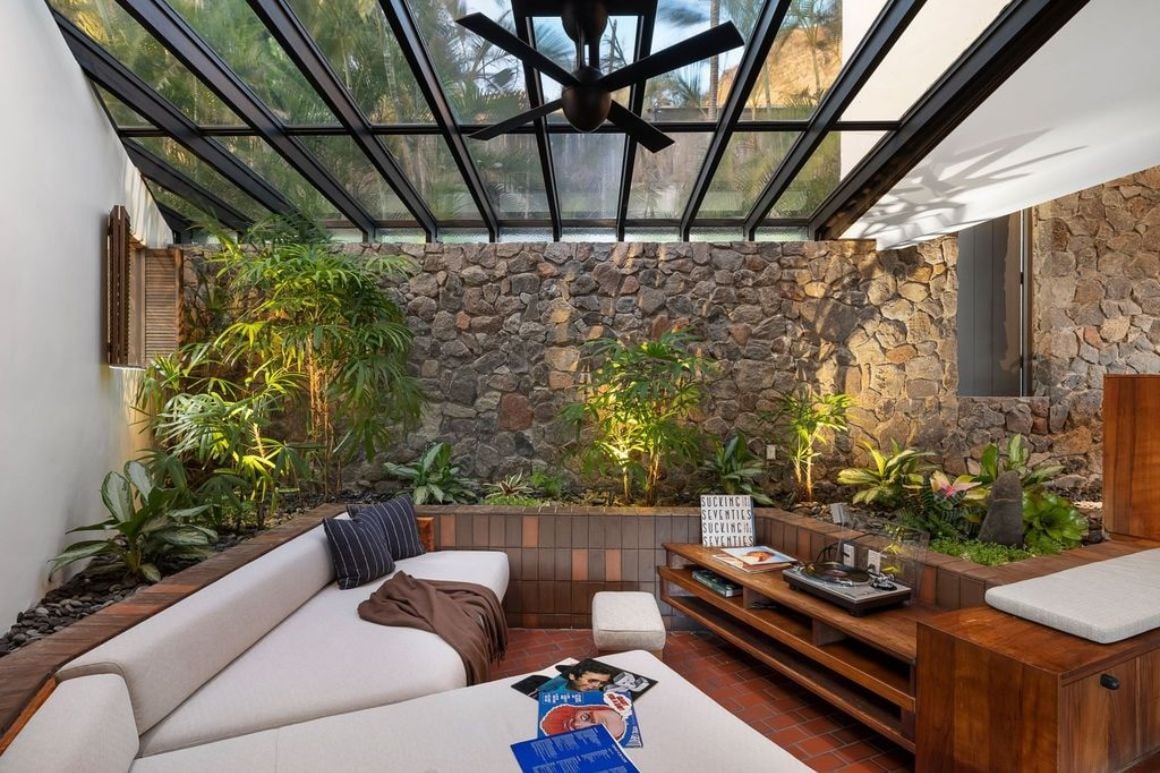 $$$$
Walking distance to Waikiki, Kapiolani Park, and restaurants
11 Guests
Modern interiors with a games room
Designed by one of Hawaii's top architects, this stunningly luxurious house was designed to combine the outdoors and indoors, easily making it one of the best vacation rentals in Honolulu. Complete with large glass windows and skylights, there is natural sunshine in every corner of the home. Japanese-inspired wooden panels and sliding doors give the home an even more unique quality.
Perfect for friends, there's an outdoor pool table under a covered lanai, a poker table, an entire outdoor living area with a flat-screen TV, and a half indoor, half outdoor BBQ kitchen. Take it from me, doing dishes outdoors is a lot more enjoyable.
$$
Home is where you park it!
2 Guests
Kitted campervan with kitchenette and portable shower
Fancy waking up by the ocean one day and in the jungle the next? With this mobile campervan, anything is possible. It is fitted with a comfortable queen-sized bed, a basic kitchenette with a gas burner and mini-oven, and a portable shower. Set up camp between two palm trees, and enjoy a relaxing sunset from the hammock.
This is the ideal mobile vacation rental for those who enjoy the simple pleasures of life – spending time with your loved one, exploring new places, and experiencing raw Hawaiian life.
$$$
Wherever you decide to set sail!
7 Guests
Refurbished old teak yacht with kitchenette and lounging decks
All aboard this magnificent romantic sailing yacht. Although the listing advertises that it can fit seven guests, you'll enjoy the extra space as a two-person couple. A traditional varnished teak interior complete with stain-glass windowed cabinets and marble kitchen counters, you will hardly believe you're floating in the ocean in this unique and romantic vacation rental.
You'll enjoy most of your time under the shaded deck, lounging around and eating delicious meals in this outdoor living area. The best part of this rental is the ever-changing views, sunsets, and sunrises which you'll experience from every angle.
$
In central Waikiki, close to many bars and nightclubs
4 Guests
Tons of natural light and a balcony overlooking the city
The bright sunshine, walls of glass, and colorful interiors make this condo a welcoming home. A cozy yet spacious spot, it is fitted with a very well-equipped kitchen allowing you to quickly feel at home.
The best thing about this condo is its central location and city views. Located in the Waikiki Skytower, you'll be able to walk just about anywhere in Waikiki by foot. Enjoy views of the surrounding skyline, canal, and ocean from almost every window.
$$$
Located close to the beach in Waikiki
8 Guests
Modern penthouse with sweeping views and pool access
While ocean views in Hawaii are not hard to come by, Honolulu is a different story. Here, many buildings simply overlook each other and block each other's ocean views. This corner penthouse is located above the city and offers stunning island and city views from its multitude of wraparound balconies and windows. From the kitchen island, you'll be able to prepare dinner while glancing out over the city landscape.
These days, newly built condos in Honolulu are hard-pressed for space. However, because the penthouse is located in an older building, you'll benefit from the traditional high ceilings and large windows, as well as spacious bedrooms with walk-in closets.
$$
A few minutes walk from the beach in Waikiki
3 Guests
Bright condo with large living room
One of the best vacation rentals in Honolulu for two, this contemporary and homey space is designed for romance. It has stunning views of the city and canal from the private balcony, a comfortable bedroom, and the inviting living room makes it easy to curl up and simply enjoy the views.
While this spot is located in the central Waikiki area, it's so high up that it feels like you're totally secluded from the outside world.
$$
In the heart of Waikiki with skyline views
5 Guests
Newly renovated condo with top-of-the-range finishes
If I had to pick, this is my personal favorite. Bright white walls and modern cabinetry contrasted with warm wooden furniture make this feel like a home-away-from-home in Honolulu. The two-bedroom space with skyline views and access to a rooftop swimming pool deck perfectly combines work and vacation for a digital nomad. There's also plenty of room to set up a workspace in the spacious condo.
The best part has to be the master bathroom. Not only does it include sleek double vanity sinks, but it has a large walk-in shower with two showerheads. I can just imagine washing a day of work away in this luxurious shower.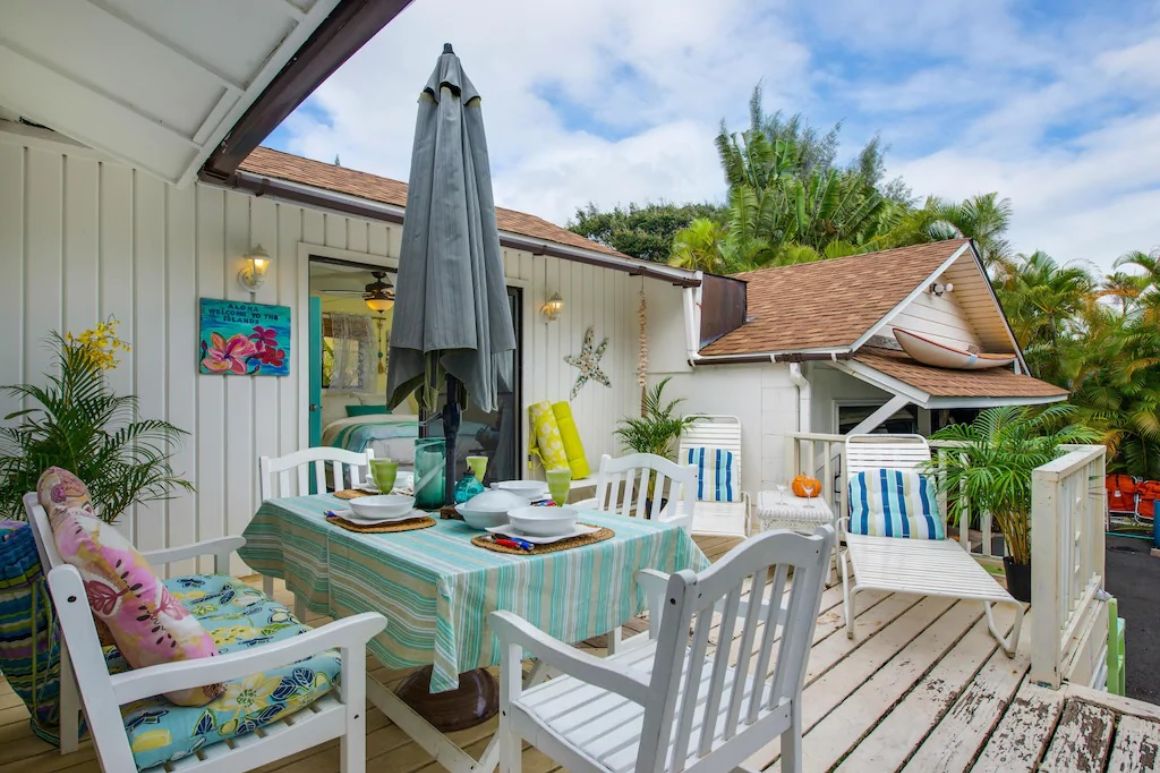 $
Located on a quiet beach
4 Guests
Funky Polynesian cottage
Funky fabrics, brightly colored walls, and island-inspired art bring an array of color and texture into this quaint traditional cottage. Decorated with charming ocean-inspired touches, including shell lamps, mirror frames, and mosaic-tiled art, it will be hard to forget you're staying in one of the top beach vacation rentals in Honolulu.
When you're not on the beach, which is only a few steps away from the house, you'll likely be chilling around the half-covered lanai. This deck is super spacious and includes a four-seater dining table and comfortable loungers – perfect for warming yourself up after a refreshing ocean dip!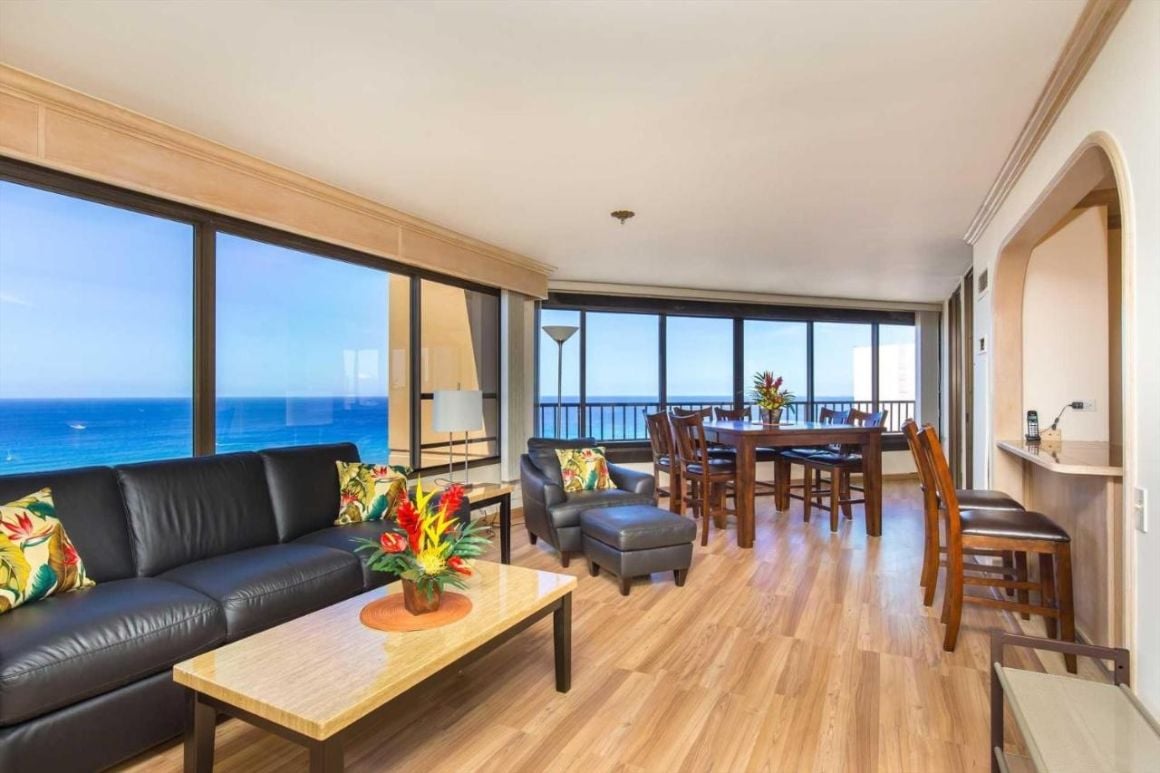 $$$
On the beach near Hale Koa Luau
6 Guests
Wraparound balcony overlooking the ocean and harbor
This two-bedroom condo has tons of space for activities. It's simply furnished with wooden and leather furniture and has a spacious living space. While it's well-equipped for a stay in Honolulu, the winning feature of the home is without a doubt the near panoramic ocean views. In fact, this condo sits in the corner of a high-rise building, offering stunning views of the ocean, city, and harbor.
Feel free to make use of the large rooftop swimming pool and lounger deck, which has equally as impressive views of Honolulu!
$
Located just north of Waikiki
4 guests
Recently renovated and bright home with small yard
Bringing your dog with you on a tropical vacation has never been so convenient. This spotless home has been recently remodeled and boasts modern white interiors fitted with top-of-the-range fittings and appliances, and comfortable muted furniture.
We all know how much more cleaning needs to be done when traveling with a dog. Well, this home is so simply decorated that it's super easy to clean. Best of all, it has a small closed-in yard and is one road away from a large green park, perfect for your dog to run around and enjoy some sunshine.
Don't Forget Your Honolulu Travel Insurance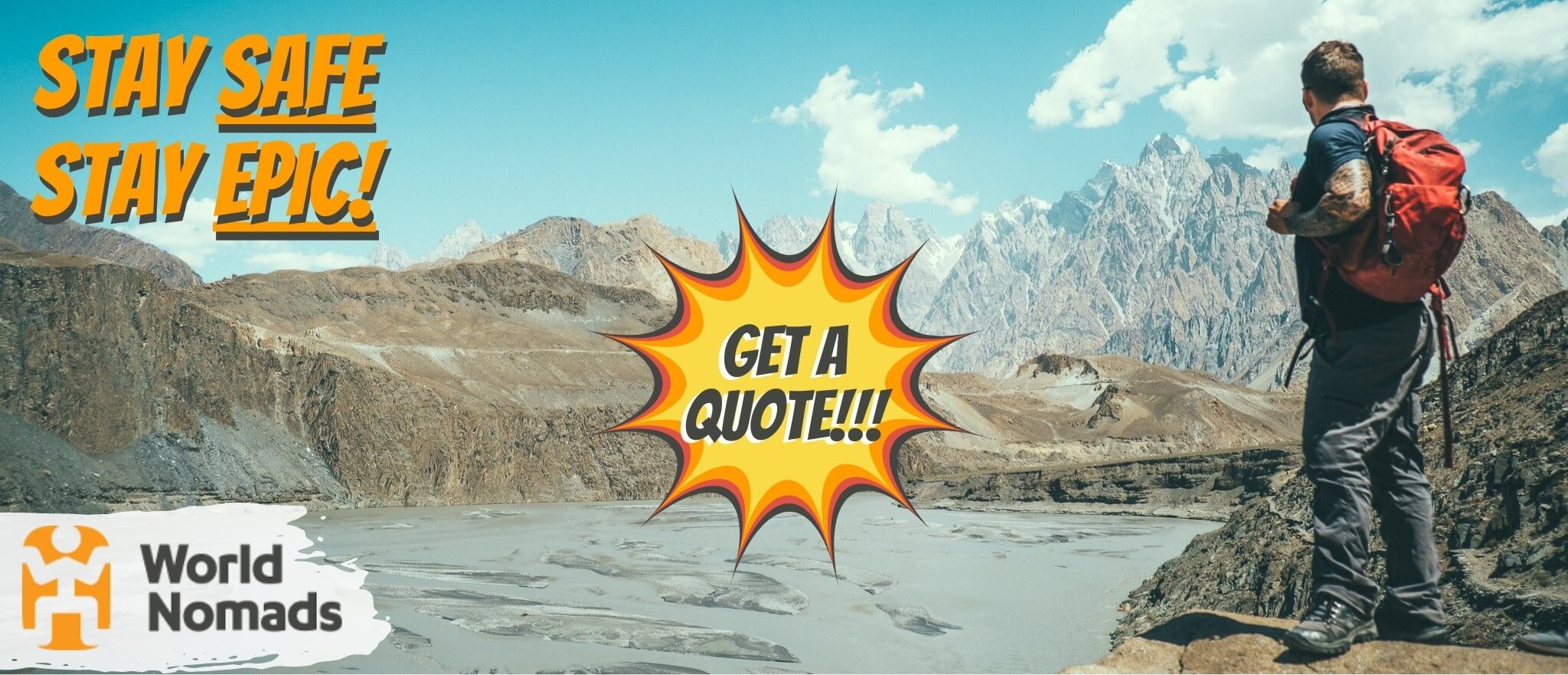 World Nomads' mission is to support and encourage travellers to explore their boundaries. They offer simple & flexible travel insurance, and safety advice to help you travel confidently.
They've been doing it since 2002 – protecting, connecting, and inspiring independent travellers just like you.
Get a quote below or read our in-depth review!
World Nomads provides travel insurance for travelers in over 100 countries. As an affiliate, we receive a fee when you get a quote from World Nomads using this link. We do not represent World Nomads. This is information only and not a recommendation to buy travel insurance.
Final Thoughts
There's a good reason why Honolulu is home to most of Hawaii's population and attracts the most tourists. This dynamic tropical city offers guests everything from secluded beaches to lush golf courses to buzzing shopping districts.
Honolulu has you covered when it comes to holiday homes, from extravagant villas designed by famous architects to basic lofts in the city center, and everything in between.
Whether you're a digital nomad looking for a long-term rental, or a family of ten renting out a home for an annual reunion, you'll find some of Hawaii's finest self-catering vacation rentals in Honolulu.
---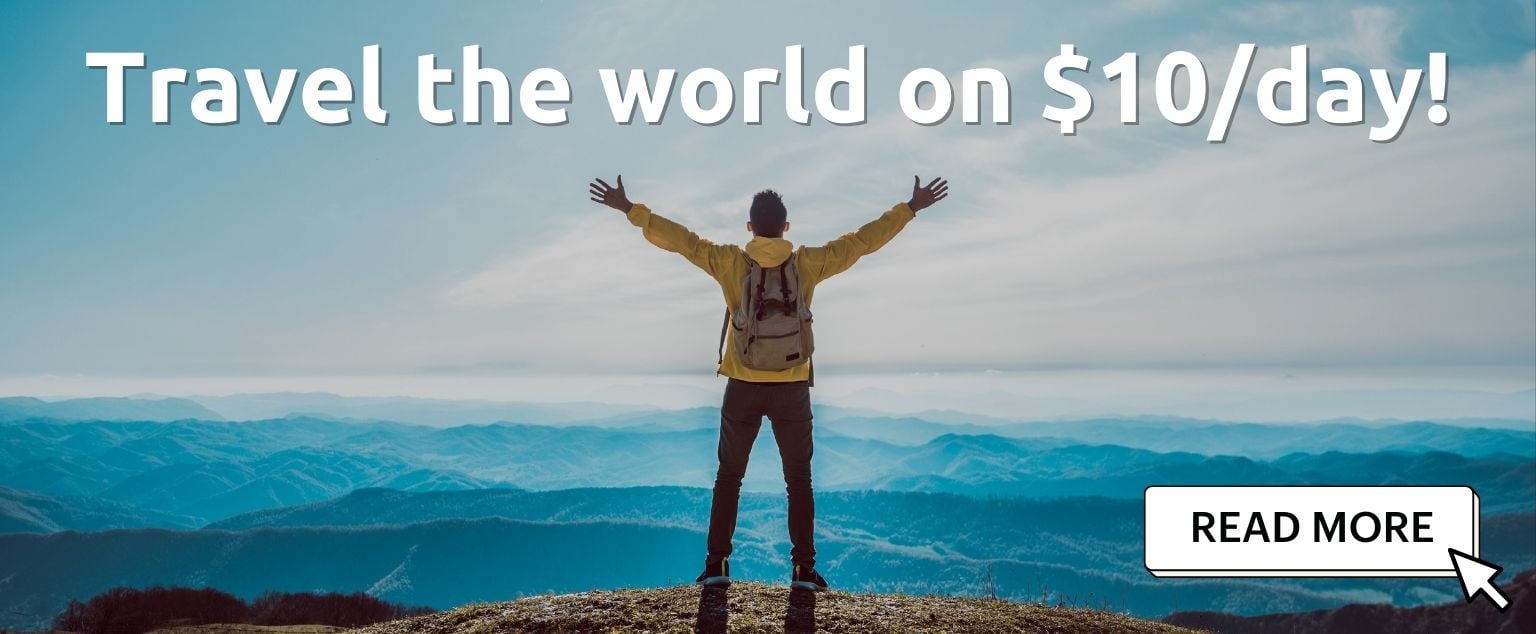 And for transparency's sake, please know that some of the links in our content are affiliate links. That means that if you book your accommodation, buy your gear, or sort your insurance through our link, we earn a small commission (at no extra cost to you). That said, we only link to the gear we trust and never recommend services we don't believe are up to scratch. Again, thank you!