Oahu is the third-largest Hawaiian island, yet is home to the biggest city and the largest population in the archipelago.
The island is separated into five different regions: Honolulu is Hawaii's state capital and is a busy beachside city buzzing with activity. The Leeward Coast is scattered with rural villages and includes some of the island's most remote beaches.
The North Shore is a laid-back beach town that has some of the best surfing waves in the world. Many surfing events are held here during Hawaii's winter months. Central Oahu is home to the famous WWII Pearl Harbour as well as the majority of the island's plantations and agriculture. Finally, the Windward Coast nearby Honolulu is a lush and dramatic topographic area with some of the most gorgeous ocean scenes.
Filled with stunning vacation rentals, Oahu is a place to escape and enjoy tropical nature in style.
Quick Answer: These are the Top 5 Vacation Rentals in Oahu
Overall Best Value Vacation Rentals in Oahu
Overall Best Value Vacation Rentals in Oahu
Beautiful Modern 2 Bed Home with Yard
> $$$
> 4 Guests
> Spacious and bright with a massive backyard
> Located a short walk from Lanikai beach
Best Budget Vacation Rentals in Oahu
Best Budget Vacation Rentals in Oahu
Affordable and Central Modern Studio
> $
> 2 Guests
> Contemporary studio with balcony
> Located a block from the beach in Honolulu
Best Vacation Rentals for Couples in Oahu
Best Vacation Rentals for Couples in Oahu
Spacious and Bright Loft with Ocean Views
> $$
> 2 Guests
> Plantation style loft overlooking a golf course
> Close to restaurants and cafes in Kahuku
Best Vacation Rentals for Families in Oahu
Best Vacation Rentals for Families in Oahu
Contemporary Golf Estate Home for 6
> $$
> 6 Guests
> Newly renovated private house with golf course views
> Located in a gated golf estate in Ko Olina
Over-the-Top Luxury Vacation Rentals in Oahu
Over-the-Top Luxury Vacation Rentals in Oahu
Luxury 6 Bed Plantation Estate
> $$$$
> 21 Guests
> Massive home with entertainment room, pool, and private beach access
> Located on the beach in Kahuku
Types of Accommodation in Oahu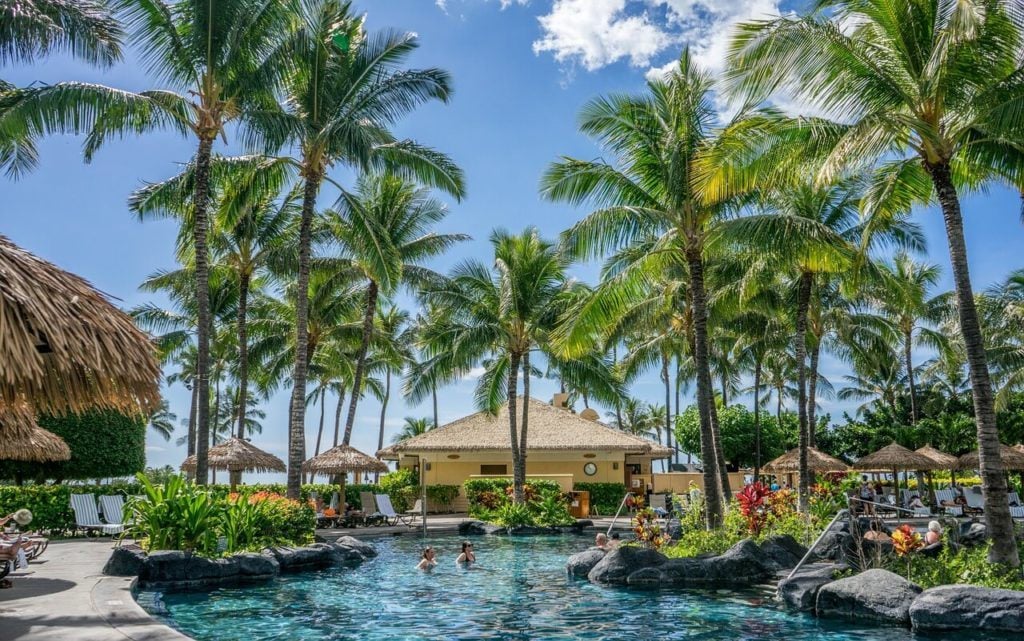 Beach Houses and Villas 
It's should come as no surprise that there are some epic villas and beach houses in Oahu. It is most commonly found on the North Shore where there are fewer tall buildings and large resorts.
As the North Shore has some of the best surfing on the planet, these homes are often rented out by professional surfers during winter when the waves are the biggest. During summer, it is a popular destination for families and couples looking for a relaxing beach vacation in a more secluded region of Oahu. The homes are usually child-friendly, and located on the beach.
Take note: with such big waves, the North Shore has strong rip currents and can be very dangerous for swimming.
Apartments and Condos
Waikiki is the busiest beach stretch in Honolulu with loads of apartments, condos, and studios overlooking ocean views. This metropolis also hosts most of the island's top hotels and resorts. It's a super convenient location packed with restaurants and tourist attractions, and the ocean water is beautifully calm and safe to swim in.
You'll be able to browse through a range of condos, from cheap studios to ocean-view penthouses. While many of these condos have been refurbished using modern fittings and furniture, the bulk are fitted with traditional wooden Hawaiian plantation furniture.
These rentals are ideal for couples and single travelers, and can accommodate digital nomads for long-stay visits. Those with disabilities or in wheelchairs can benefit from building accessibility amenities such as elevators and ramps.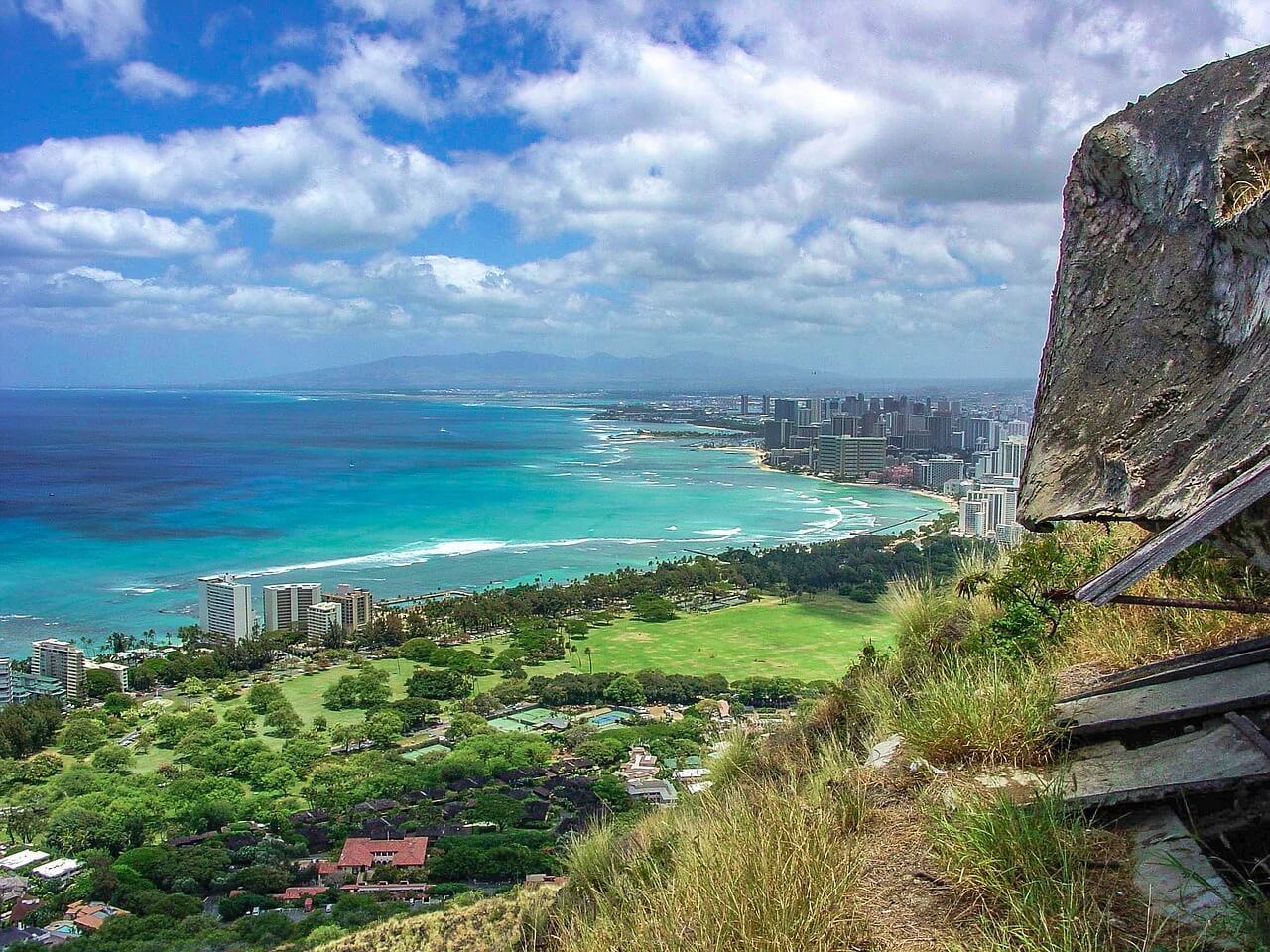 Gated Resort Homes
Oahu has a bunch of gated resorts positioned in great locations. The bulk of these resorts can be found on the outskirts of Honolulu where beach tourism is most popular. There are also some beautiful gated resorts located slightly inland on lush golf courses.
From condos to private homes, gated resorts offer a level of security and safety as well as many shared amenities such as swimming pools, Jacuzzis, manicured gardens, and gyms. Gated resort homes are typically enjoyed by families with young children and couples, or those looking for a convenient vacation rental with a swimming pool and golf course amenities.
Top 20 Vacation Rentals in Oahu
Whether you're looking for tropical seclusion, great surfing conditions, or a metropolis beach setting, you'll find some of Hawaii's best vacation rentals in Oahu.
$$$
Located a short walk from Lanikai beach
4 Guests
Spacious and bright with a massive backyard
Bright natural light and wide-open spaces welcome you as you step into this contemporary home. The downstairs living area has an open-plan concept and opens onto a lanai and lush lawn.
White walls, marble countertops, and sleek cabinetry give the home a modern feel, which is complemented by warm timber floors, homey greenery, and comfortable cushions.
Included in your stay, you'll have access to a private laundry room, sunroom, and two off-street parking spots (which is a huge asset in the busy Lanikai area).
$
Located a block from the beach in Honolulu
2 Guests
Contemporary studio with balcony
Affordable luxury in the heart of Honolulu – what more can you ask for than a modern and clean studio apartment in a central location for a super low price? This studio has been recently remodeled with hardwood floors, kitchen, and bathroom cabinetry, and is complete with modern furniture and aesthetic green touches. In a prime location, it is only a few minute's walk from the beach!
Featuring a spacious outdoor balcony, a well-equipped kitchenette with a hotplate, microwave, and coffee machine, this is the best vacation rental in Oahu for those on a tight budget.
$$$$
Located in Hawaii Ka, 10 miles from central Honolulu
12 Guests
Modern and spacious mansion overlooking the ocean
Tall ceilings, floor-to-ceiling sliding doors, and a panoramic ocean view – this holiday home in Oahu is beautifully extravagant. A grand open-plan living room opens onto a huge outdoor terrace with a barbeque, swimming pool, and Jacuzzi. 
Designed by a famous Hawaiian architect, this extravagant home has six oversized ensuite bedrooms with outlandish ocean views. The master bedroom has a lounge and private office space, perfect for digital nomads. I can't imagine a more gorgeous place to work from home!
Is This the Best Travel Pack EVER???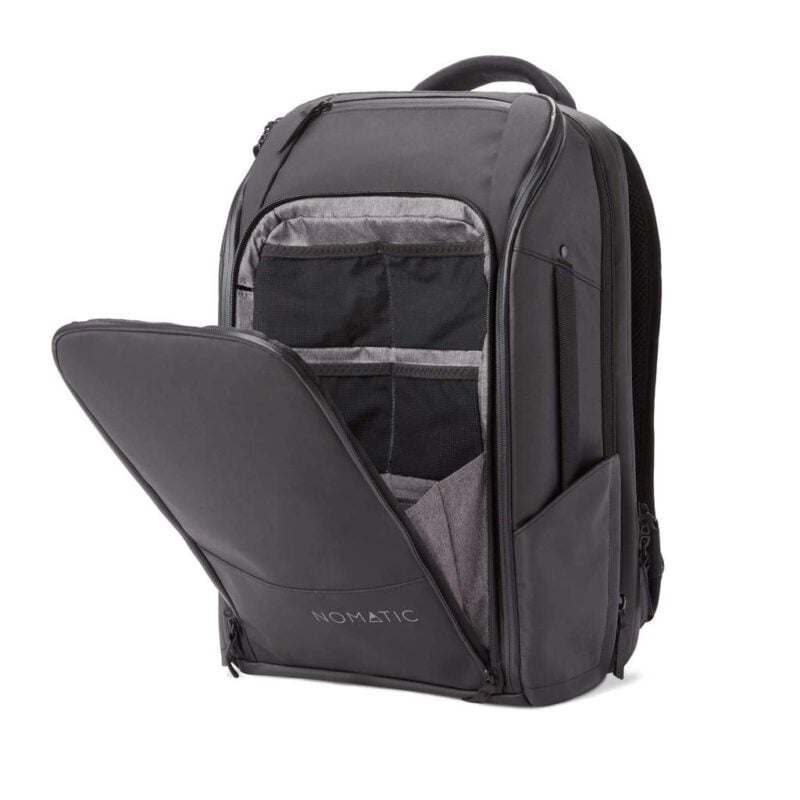 $$$$
Located on the beach in Kahuku
21 Guests
Entertainment room, pool, and private beach access
This stunning estate epitomizes luxury. Breathtaking ocean views can be seen from almost every room! There are six bedrooms and enough room to sleep 21 guests, ideal if you're travelling with a large group.
Arguably the best part of this luxury vacation rental in Oahu is its location. Positioned on an acre of beachfront land in Kahuku, the home boasts private beachfront access. With a swimming pool, Jacuzzi, full kitchen, and everything you need to keep young children occupied, it is the perfect family getaway.
Top-of-the-range appliances and fittings complement the authentic Hawaiian plantation-style furnishings. It gives the extravagant estate a super homey and local feel, which is not common in such luxurious homes!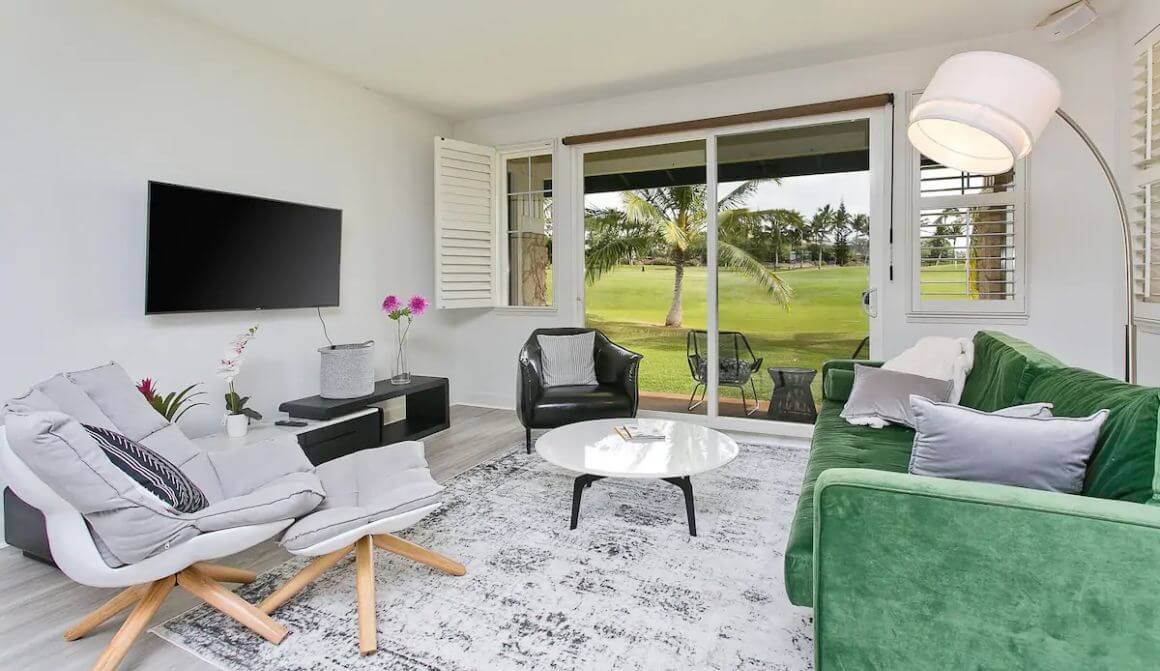 $$
Located in a gated golf estate in Ko Olina
6 Guests
Newly renovated private house with golf course views
This three-bedroom house is nestled between lush tropical gardens in the Ko Olina golf estate. Although the home is completely private, access to shared facilities gives it a resort feel. 
With a garage, laundry room, and large covered lanai, the home is fitted with everything you need from a holiday rental in Oahu. I could not picture a more perfect family sanctuary than this spacious home!
$$
Located on the beach in Pupukea, North Shore
5 Guests
Panoramic balcony views
If you only have a weekend in Oahu, head straight to the North Shore. This two-bedroom home has a large balcony overlooking stunning white beaches. The only thing that will obstruct your ocean view might be a palm tree. Below the lanai, there's a spacious green lawn leading directly onto a pristine beach.
The interior boasts contemporary architecture with exposed wooden beams, hardwood floors, and large glass windows. It is furnished with comfortable and simple furniture making this the perfect retreat after a day in the sun.
Best Rental in Oahu with a Pool and Jacuzzi | Cozy 4 Bed Family Home
$$$
Located in Haleiwa on the North Shore
8 Guests
Warm plantation style home with pool and Jacuzzi
You'll find this authentic plantation home nestled between tall palms in the famous Haleiwa neighborhood. The four-bedroom space gives you a real cozy feel, and is located in the perfect spot for surfers. With a full kitchen, laundry room, and indoor and outdoor eating areas, this is a solid self-catering vacation rental in Oahu.
The best part of the home has to be the private swimming pool and Jacuzzi. In an enclosed yard space, the swimming area is surrounded by a waterfall of tropical plants, making it feel super secluded.
$$$
Located on the beachfront in Haleiwa
3 Guests
Spacious ground floor home leading onto the beach
This charming and spacious single-story home is positioned directly on the beachfront. From the house to the lanai to the garden, there are no steps or obstructions making it super accessible for wheelchair users. 
The home has recently been remodeled with wooden floors, clean white walls, and exposed wooden beams. A fully equipped kitchen boasts a large center island, ideal for a group cookout. Large sliding doors open out onto a lush lawn with nothing but palm trees between you and the gorgeous beaches.
$$$
Located on the beach, outside the center of Honolulu
10 Guests
Tropical Bali style home with pool and ocean view
Central and extravagant – what more could you ask for from a luxury vacation rental in Oahu? You'll love spending outdoors, by the swimming pool and Jacuzzi nestled between a private jungle-like garden. Relax on the spacious deck furnished with an outdoor living area and dining space.
The best part about this holiday home is its central location. Just outside the hustle and bustle of Waikiki, the villa is only a few minutes' walk from the beautiful Ke'ahamoe beach. It's a short enough drive into the center of town yet still has a super peaceful and secluded spot.
$$$
Located in Honolulu, 10 minutes from Waikiki Beach
8 Guests
Spacious home with games room and pool
Close to the family-friendly Waikiki Beach, this bright and spacious home is optimal for a big family of all ages. The house has two large lounges and a separate games room with pool, poker and foosball tables, as well as a bar. A large outdoor lanai leads into a warm swimming pool. 
With plenty of room for your family to spread out, you'll have no problem finding a bit of peace and quiet. The house has a range of kid and baby toys as well as a stroller, car seat, and crib.
$$$
Located a 5-minute drive from Downtown Honolulu
14 Guests
Bright home with jacuzzi and patio
This roomy spot is perfect for a friend's getaway. The home is designed to maximize privacy between suites, with separate lofts across the property. In fact, you can divide the home into two depending on how much privacy you want.
The house is packed with fun activities for a trip with friends including a Jacuzzi, barbeque area, and karaoke system. Modern interiors scattered with interesting art and retro surfboards give off a true holiday feeling.
Most Unique Vacation Rental in Oahu | Yurt by the Beach
$$
Located steps from the beach in Haleiwa
2 Guests
Comfortable yurt with bathroom and kitchenette
Interested in sleeping in a traditional yurt structure, with all the usual amenities you might expect from a holiday rental in Oahu? This home prizes itself for being eco-friendly and is inspired by the natural Hawaiian landscape. 
It has direct beach access to one of the best big-wave surf spots in the world. Built to reconnect guests to the natural Hawaiian environment, expect basic hospitality at this unique rental. 
The hosts have left no stone unturned here. Feel free to use the bicycles to explore the coastline as well as paddleboards, soft-top surfboards, and snorkeling equipment!
$$
Located in Turtle Bay Resort, Kahuku
2 Guests
Condo with access to shared pools and golf course
When you're on your honeymoon, the ideal rental will have gorgeous views, crisp linen, and stylish furniture. This condo offers all that, and more! Bright natural light, garden views, and clean contemporary interiors bring romance to life in this one-bedroom condo. It's located in a gated resort and offers resort facilities and hotel-quality accommodation without the steep price.
Only a few minutes' walk away, you'll find two luxury golf courses, and some of the area's top bars and restaurants. Those who enjoy a casual meal on the go will love the unique food trucks that line the streets in the area.
$$
Located in the heart of Waikiki
4 Guests
Spacious living area with balcony and pool
Look out over the buzzing metropolis of Honolulu from this spacious condo with 180-degree views. Fitted with everything you might need from a self-catering vacation rental in Oahu, this central condo has an open-plan living area leading onto a large balcony overlooking the city skyline.
Luxurious fittings, high-quality linen, and pops of blue interiors bring the ocean theme into this city apartment. Located a few blocks back from the vibey Waikiki Beach, you could not ask for a better location.
Bring along an extra friend or two as there is a double pull out bed in the living room.
$$
Located on the beach in Waianae
2 Guests
Newly renovated with top-quality furnishings and linen
The views from the balcony of this contemporary one-bedroom condoare unparalleled. From the turquoise ocean to the clear sky, you'll be mesmerized by the hues of blues.
The condo's interior isn't too shabby either. It was remodeled in 2019, and boasts brand new furniture and top-of-the-range appliances. Air-conditioning throughout, a washer-dryer within the unit, and the most comfortable king-sized bed you could wish for will make it difficult to leave this elegant space.
However, when you do decide to venture out, you'll only have to walk a few steps to get to the beautiful Lahilahi Beach (also known as Turtle Beach).
$$
Close to restaurants and cafes in Kahuku
2 Guests
Plantation style loft overlooking a golf course
This super stylish dual-story loft is decorated with impeccable taste. It perfectly blends modern contemporary and traditional Hawaiian plantation style, with leafy plants, wooden touches, and blue velvet couches.
Located on a lush golf course next to Turtle Bay, it has stunning views of the ocean from the double-story floor-to-ceiling glass doors. That's not all – the apartment also offers access to the Turtle Bay Resort's shared pools, barbeque areas, tennis courts, and restaurants.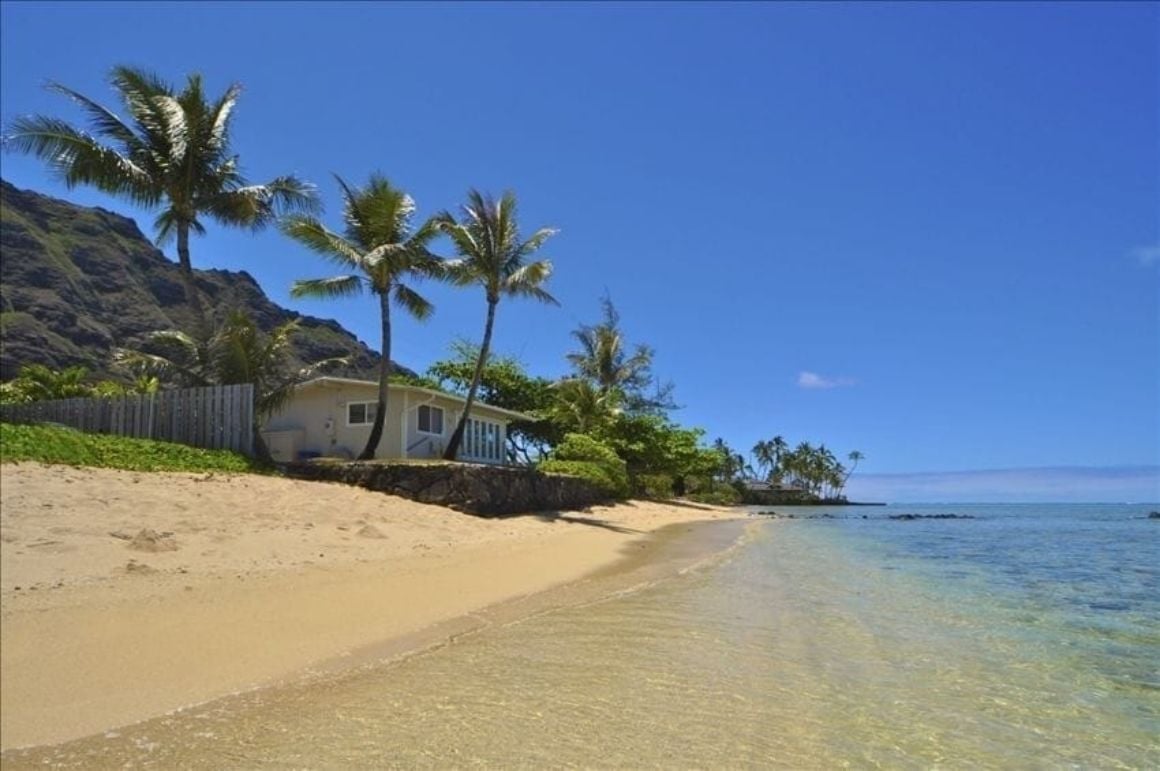 $
Tucked between the mountains and ocean in Kaneohe
4 Guests
Quaint bungalow isolated on a huge beach
This quaint bungalow is located on the beach in a remote part of Oahu with dramatic mountain backdrops. You'll have to walk 300 feet to reach the nearest neighbor!
The bungalow itself is simple and beautiful. As an old plantation home that was recently rebuilt, it features bamboo ceilings, wooden walls, and a covered lanai overlooking the ocean. While the home comes with everything you might need during your stay, visitors are advised to rent a car to explore the area and venture into town for supplies.
My favorite part of this home is the large sliding doors that open out onto the lanai. This feature brings the raw outdoors into the charming Polynesian home.
$$$
Located on the beach in Haleiwa
3 Guests
Modern and authentic Hawaiian furniture
Basic, beautiful, and directly on the beach, this home is picture-perfect. The bungalow was completely remodeled in 2020, adding a modern feel to the space. It bears traditional island-style bamboo walls and woven furniture interspersed with modern marble countertops and white wood cabinetry. 
The property is ideal for two guests, but can easily fit a third for those who don't need absolute privacy (as the rooms are open plan). Unrivaled beachfront views and private beach access make this one of the best vacation rentals in Oahu's North Shore.
$$
Hidden in the trees, a block from the beach in Haleiwa
3 Guests
Wooden home with rooftop yoga deck and vegetable garden
Your childhood dreams will come true in this lovely treetop home perched above the tropical jungle and overlooking the ocean. Perfect for two guests, but possible to fit in a third, this home has an open-plan living area with a secluded bedroom behind a curtain. 
Aside from being a treehouse, the most unique part of this spot is the rooftop yoga shala, where you'll be blessed with shaded sunlight throughout the day. The property also has a stocked vegetable and herb garden – grab some fresh ingredients for your home cooked meals!
$$
Located a minutes' walk from the beach in Waialua
4 Guests
Homey beach house with large balcony and yard
Thinking of bringing your furry friend along on vacation? This stunning one-bedroom cottage is one of the best vacation rentals in Oahu for those with pets. The double-story house is surrounded by high fencing and a spacious garden with plenty of space for dogs to run free. What's more, the home is located on the beachfront, making it super convenient to bring your dog along on your beach adventures.
Brilliantly located only one mile from the center of Oahu's North Shore, it is within walking distance to some of the area's top restaurants, shops, and beaches! Simple furnishings with traditional plantation touches give this house a homey feel. It also has a well-equipped kitchen!.
Don't Forget Your Oahu Travel Insurance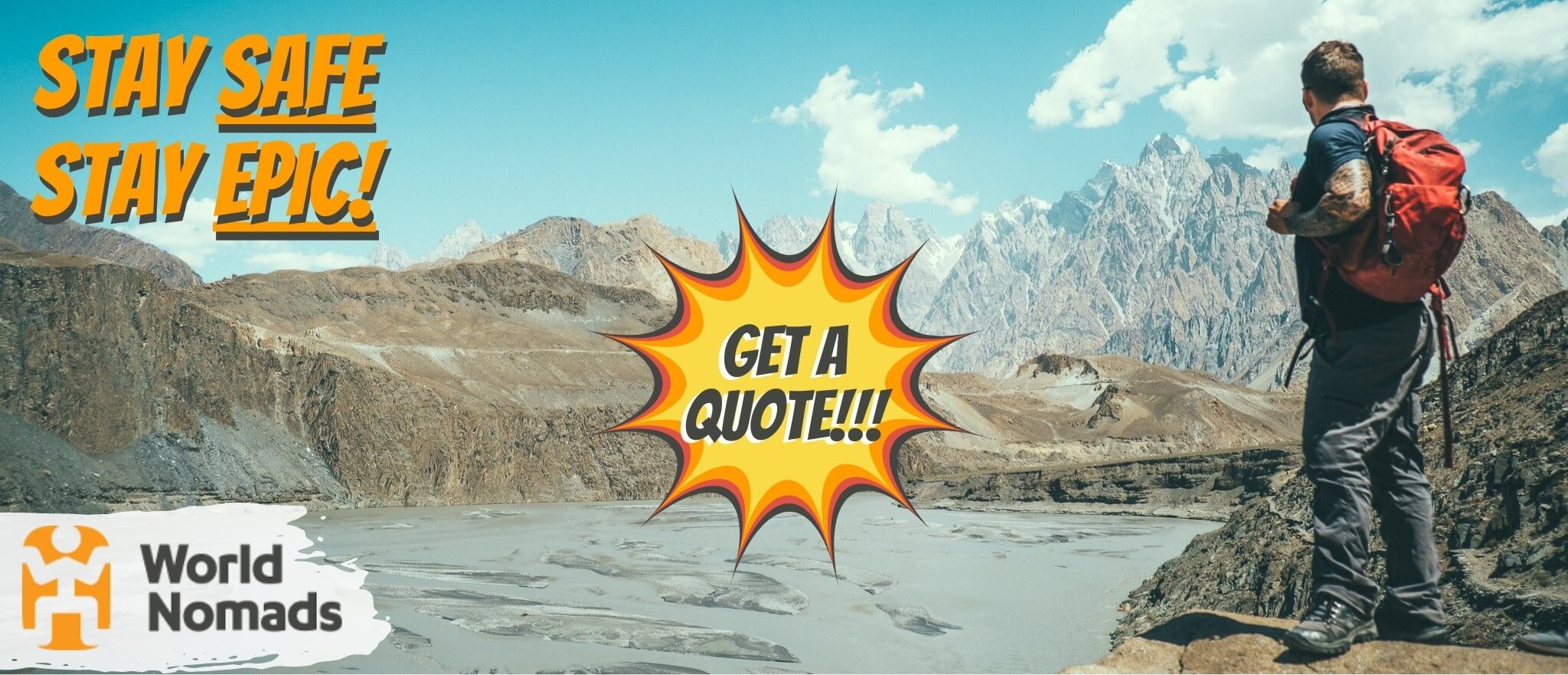 It's good to get lost sometimes, but it's also good not to get too lost. There are people that want you home in one piece.
There's one travel insurance provider The Broke Backpacker trusts for all his wildest shenanigans… World Nomads!
Click the button below to get a quote on your insurance or read our in-depth review of World Nomads' coverage. And then… let the shenanigans begin. 😉
Final Thoughts
The city-meets-beach island of Oahu has the largest and most diverse population of any Hawaiian island, and is known for its fusion between old and new Hawaii.
While the island is known for being the site of Pearl Harbor, popular Waikiki Beach, and a global surfing paradise, there is so much more to see around this island – surfing, hiking, eating delicious food, fishing, snorkeling, diving, and kayaking, to name a few.
Oahu offers a variety of vacation rentals along its shores, from five-star hotels and resorts to condos and beach houses offering a more authentic and local feel. Depending on your budget and desires, you'll be sure to find the perfect vacation rental in Oahu.
---
Thanks for reading – that was fun! 😀
We bring you epic FREE content!
Find out how YOU can help support us.
We're a big site with a big team and this job isn't always easy. But we do it because we love it – we love providing epic and free content. We love the knowledge that our content keeps you adventuring. We don't ask for money, but if you'd like to find out how you can help the site in more organic ways, click the button below.
Thank you for your support 🙂
---
Bye for now, but not forever!
If you want MORE top-tier Broke Backpacker content like this, then sign up for our weekly newsletter below to get the latest and greatest!
And for transparency's sake, please know that some of the links in our content are affiliate links. That means that if you book your accommodation, buy your gear, or sort your insurance through our link, we earn a small commission (at no extra cost to you). That said, we only link to the gear we trust and never recommend services we don't believe are up to scratch. Again, thank you!