Russia's capital Moscow is known for a number of things; history, culture, nightlife, and crazy architecture.
But with over 100 distinct neighborhoods spread amongst 12 main districts, figuring out where to stay in Moscow can be a bit tricky. While Moscow does have an extensive public transport system, it's best to stay in an area of Moscow that suits your interests.
This guide will break down the five best neighbourhoods to stay in Moscow, as well as the top things to do in each. That way, you'll be able to find somewhere that suits your travel style and budget.
Looking for a specific place to stay? These are our highest recommendations for places to stay in Moscow.
For more information on hostels, check out our post: best hostels in Moscow.
This stunning Airbnb in Moscow is ideal for groups or families. The apartment has been recently renovated and is bright contemporary. Guests can enjoy a full kitchen and internet access, and free parking and a gym are available on-site. The bedroom is a bit cosy, but you'll have everything you need for a comfortable stay.
Loft Hotel H11 is the coolest hotel in Moscow. Conveniently located on the borders of Basmanny and Kitay-Gorod, this hotel is a short walk Moscow's major attractions as well as several metro stations.
Best Hostel in Moscow: Godzillas Hostel
Godzillas is Moscow's largest and most famous hostel. In the heart of Tverskoy, this three-story hostel is a short walk from the city's major sights and attractions. With comfortable beds and modern amenities, you won't find a better hostel in the city.
Moscow is an impressive city, to say the least. Covering more than 2,500 square kilometres, Moscow is the home to nearly 12 million people.
Thanks to its rich and complex history, thousands of travellers flock to Moscow each year. From iconic sights and unique Russian fare to its vivid nightlife or cultural attractions, there's so much to see and do in Russia's capital.
The oldest section outside of the Kremlin, Kitay-Gorod is located at the heart of the city. Red Square and St. Basil's Cathedral are located within walking distance of this neighbourhood. It's one of the best places to stay for getting to know the area, making it our top pick for first-time visitors.
If you're traveling on a budget, Presnensky is an affordable and convenient location to stay in. Close to Moscow Zoo and within walking distance to other attractions, accommodation here is generally cheaper than other areas.
Tverskoy is home to Moscow's best nightlife scene. It's a luxurious and trendy neighbourhood, home to clubs, bars, and world-class restaurants.
Arbat is a very hip district, and one of the coolest places to stay in Moscow. The area attracts many young professionals, and is full of trendy cafes and rustic restaurants.
Basmanny sits in the east of the city. With its laidback atmosphere, Basmanny is a great place to experience the slower side of Moscow life. It's our top pick for families visiting Moscow, as it's a peaceful base from which to explore the city.
Still not sure where to stay in Moscow? Don't worry, we've got you covered! Read on for a more detailed breakdown of each area.
Each of Moscow's neighbourhoods offers something special to visitors. Whether you're looking for an all-night party or to immerse yourself in the city's dynamic history, there's a neighbourhood that will cater to you.
Kitay-Gorod lies at the heart of Moscow. Home to the city's most famous attractions, staying here is the best way to discover the city. It's walking distance from many major attractions, including Red Square, the Kremlin and St. Basil's Church.
The area is also home to impressive architectural masterpieces, an exotic restaurant scene, and fascinating museums. Whether you're interested in the arts, architecture, or seeing the sights, there's something for everyone in Kitay-Gorod.
This modern flat in a central location is ideal for couples visiting Moscow for the first time. Guests can enjoy the full kitchen, laundry facilities and free Wifi. The location is ideal, as the Airbnb is within walking distance of shops, cafes, and cultural attractions.
Despite sitting in the heart of Moscow, dorm rooms in this hostel are pretty affordable. The hostel comes with a fully equipped kitchen, and is within walking distance of shops and restaurants. The location is also hard to beat, as the Kremlin is less than 200 metres away.
This three-star hotel is one of the best places to stay in Moscow for the first time, thanks to its central location and affordable rates. While it's not as cheap as a hostel, the hotel offers an airport shuttle, laundry facilities, Wifi, ensuite bathrooms and a TV. The Kremlin and Saint Basil's Cathedral are within walking distance, and shops and restaurants are right next door.
Top Things to do in Kitay-Gorod:
Walk through the iconic, impressive and imposing Red Square.
Explore Moscow's Kremlin, the epicentre of Russia's political power and fortified complex in the centre of the city.
Marvel at a myriad of Russian treasures, imperial arms, jewellery and more at the Armoury.
See the iconic St. Basil's Cathedral, with its colourful spires and patterned façade.
Line up at the western corner of Red Square to enter Lenin's Mausoleum, where you can see the embalmed body of Soviet Russia's infamous leader.
Visit Grand Kremlin Palace, the official residence of the Russian president.
Climb 137-steps to the top of the Ivan the Great Bell Tower, and take in one of a kind views of Moscow.
Visit the Moscow GUM Department Store, a lively shopping mall with hundreds of shops and restaurants.
Budget travel can be difficult, but definitely isn't impossible in Moscow. Located on the north side of Boulevard Ring, Presnensky (or Presnya) is home to numerous attractions, restaurants and top literary sites.
With affordable hotels, hip nightlife and impressive architecture, Presnensky has a lot to do for even the tightest of budgets.
This modern studio sleeps two guests, and is perfect for couples or solo travelers visiting Moscow on a budget. You'll have all the comforts of home including a full kitchen and Wifi. The studio is steps away from the famous 1905 Street, and there are numerous bars and restaurants in the area. If you want to travel further afield, the metro is within easy walking distance.
Rooms in this boutique hotel can sleep up to three guests and come with free Wifi. The hotel also provides a very affordable breakfast each morning, so you can eat well without breaking the budget. Public transport is a short-walk away, so you can make the most of the city at a fraction of the price of other hotels.
Best Hostel in Presnensky: High Level Moscow
High Level is the first hostel in Moscow to be set in a skyscraper! Sitting 171m above ground level, you'll be sure to get incredible views of the city from every window. The building is set in the commercial district, so you'll have plenty of shops nearby. It's also close to public transport, so the best things in Moscow are within easy reach.
Top Things to do in Presnensky:
Enjoy a traditional Russian meal of blinchiki, caviar, and vodka at the iconic Café Pushkin.
Spend an afternoon learning about space, the stars and beyond at the Moscow Planetarium, one of the city's most popular museums.
Sit back and relax in Patriarch's Pond, a favourite haunt of Moscovites of all-ages.
See the stunning works of Russia's impressionist artists at the city's newest museum, the Museum of Russian impressionism, located in a former Bolshevik chocolate factory sugar silo.
Explore the remarkable Gorky's House (Ryabushinsky Mansion, the art nouveau mansion of famed writer Maxim Gorky.
Marvel at the immense Cathedral of the Immaculate Conception, the largest Catholic Church in Russia.
North of Kitay-Gorod is the hip, trendy and lively neighbourhood of Trverskoy. This centrally located neighbourhood is not only home to a number of amazing attractions, but it is also within walking distance to the city's main landmarks.
Home to luxury boutique and upscale restaurants, Tverskoy is a neighbourhood where history and elegance mesh seamlessly with modern amenities and opulence. If hitting the town is a key aspect of your Moscow itinerary, then Tverskoy is the place to be.
This apartment can accommodate up to four guests, and sits close to shops and restaurants. The Airbnb comes with a full kitchen and all the comforts of home including Wifi, a TV, and laundry facilities. It's right by the metro, so all of Moscow's best bars and nightlife are within easy reach.
Best Hotel in Tverskoy: ARIUM Hotel
ARIUM Hotel is a great choice for travellers interested in culture and fun. The hotel is central to Moscow's nightlife scene, located just minutes away from all of the city's hottest clubs.
Best Hostel in Tverskoy: Godzillas Hostel
Godzillas is the largest and best hostel in Moscow, and for good reason. Situated in the heart of Tverskoy, this three-story hostel is a short walk from the city's major sights and attractions. With comfortable beds and modern amenities, you'll have everything you need for an awesome stay.
Top Things to do Tverskoy:
Enjoy cheap beer, table games, and Russian techno tunes at Gogol, one of Moscow's oldest and most popular clubs.
Night Flight is a world renowned venue. It's expensive af, however if you can afford to head on over then it's absolutely worth it.
Spend an evening enjoying the ballet or an opera at the Bolshoi Theatre: the heart and soul of Moscow's arts and culture scene.
Enjoy art, festivals, food and fun at Hermitage Park, a charming garden and one of the most popular and trendiest places in the city.
Visit VDNKh, a Stalinesque theme park featuring gilded statues, grandiose pavilions, and thrilling rides.
See an impressive collection of 20th-century paintings, sculptures and other works of art by famous Russian and foreign artists at the Moscow Museum of Modern Art.
Enjoy luxury boutiques and upscale restaurants as you walk along the lively and grand Tverskaya Street.
Home to luxury shops, unique boutiques, and outstanding museums, Arbat is where bohemian flare and modern creativity meet.
Moscow's former warehouse and factory district, Arbat now attracts numerous Moscow elites. From advertising to tech execs, young professionals flock to Arbat to enjoy its world-class restaurants, stylish bars and irresistible cafes.
Stylish, spacious, modern and conveniently located, there's no better Airbnb in Arbat. Close to a myriad of restaurants and the Moscow metro, you'll feel at home in this apartment in the heart of Arbat.
Best Hotel in Arbat/Khamovniki: Hotel Grafskiy
Modern amenities and an unbeatable location make Hotel Grafskiy the best hotel in Arbat. A 10-minute walk to the city centre, Hotel Grafskiy is close to restaurants, bars and attractions. You're guaranteed a comfortable and relaxing stay at Hotel Grafskiy.
Best Hostel in Arbat/Khamovniki: Jedi Hostel
With incredible views and an amazing location, Jedi Hostel is the best place to stay in Arbat. Enjoy comfortable and private capsule-like rooms at this clean and safe hostel. The hotel is less than 20-minutes away from the city centre, and is close to metro stations and grocery stores.
Top Things to do in Arbat:
See priceless works of art at the Pushkin Museum of Fine Art, Moscow's premier foreign-art museum.
Enjoy some of the best seafood in the city at Rico one of Arbat's best-kept secrets.
Be amazed by the magnitude and magnificence of the historic and ostentatious Cathedral of Christ the Saviour.
Immerse yourself in history at Park Pobedy, a green space filled with fountains, monuments and statues commemorating the sacrifices and triumphs of war.
Sample retro Russian fare at Varenichnaya No 1, an old-school style restaurant with delicious food and amazing prices.
Climb to the top of the Sparrow Hills lookout and enjoy amazing views of the surrounding city and scenery.
Take a stroll down Arbat Street, a 1-kilometre long pedestrian boulevard and enjoy all the sights, sounds and smells of this lively neighbourhood.
If you're travelling with children, Basmanny is the best place to stay in Moscow. A calm oasis in the heart of the city, Basmanny is known for its relaxed atmosphere, clean streets, and lush surrounding scenery.
Well situated to the east of the city-centre, Basmanny is a short walk or subway ride to Moscow's main attractions. Within this charming neighbourhood, there's plenty of activities for travelers of any age.
This stunning Airbnb in Moscow is ideal for groups or families. The apartment has been recently renovated and is bright contemporary. Guests can enjoy a full kitchen and internet access, and free parking and a gym are available on-site. The bedroom is a bit cosy, but you'll have everything you need for a comfortable stay.
Conveniently located just over a mile from the city center, this hotel is a short walk Moscow's major attractions and several metro stations. Enjoy a continental breakfast each morning, before heading out to enjoy all awesome things that Moscow has to offer.
Best Hostel in Basmanny: Good News Hostel
Comfortable beds, free wifi and a decent location, this hostel has it all! Good News Hostel is close to a myriad of cafes, bars, and noteworthy attractions. It even offers bike hire if you'd prefer to skip the metro and explore the city on two wheels.
Top Things to do in Basmanny:
Rent paddleboats in the summer or ice skates in the winter and enjoy Chistye Prudy, a clean, quiet and quaint pond in that runs along the Boulevard Ring.
Step back in time and see Lubyanka, headquarters of the infamous Russian KGB.
Hop on a bike and enjoy the crisscrossing paths through Sokolniki park, home to a manicured rose garden, cool places to eat, and an open-air swimming pool.
Enjoy Russia's biggest toy store, Central Children's Store, located just west of the Basmanny neighbourhood.
Head 60m underground and explore Bunker-42 Cold War Museum, a 700 square meter museum housed in a defunct Cold War communications centre.
Slow down and smell the roses and ornamental flowers at Aptekarsky Ogorod, Moscow's pleasant and pretty botanical garden.
Here's what people usually ask us about the areas of Moscow and where to stay.
Don't Forget Travel Insurance for Moscow
World Nomads' mission is to support and encourage travellers to explore their boundaries. They offer simple & flexible travel insurance, and safety advice to help you travel confidently.
They've been doing it since 2002 – protecting, connecting, and inspiring independent travellers just like you.
Get a quote below or read our in-depth review!
World Nomads provides travel insurance for travelers in over 100 countries. As an affiliate, we receive a fee when you get a quote from World Nomads using this link. We do not represent World Nomads. This is information only and not a recommendation to buy travel insurance.
Final Thoughts on Where to Stay in Moscow
Moscow is full to the brim with awesome neighborhoods and places to visit. It's simple to travel across the city, but staying in a neighborhood that suits your travel style is the best way to make the most out of your trip.
If you're still undecided, we recommend Godzillas Hostel for their top location and modern amenities. If you're after a private room, check out Loft Hotel H11. Located centrally, you're sure to have a comfortable stay.
Do you own an awesome hostel, hotel or apartment? Want to be featured in our list? Email [email protected] to find out how.
---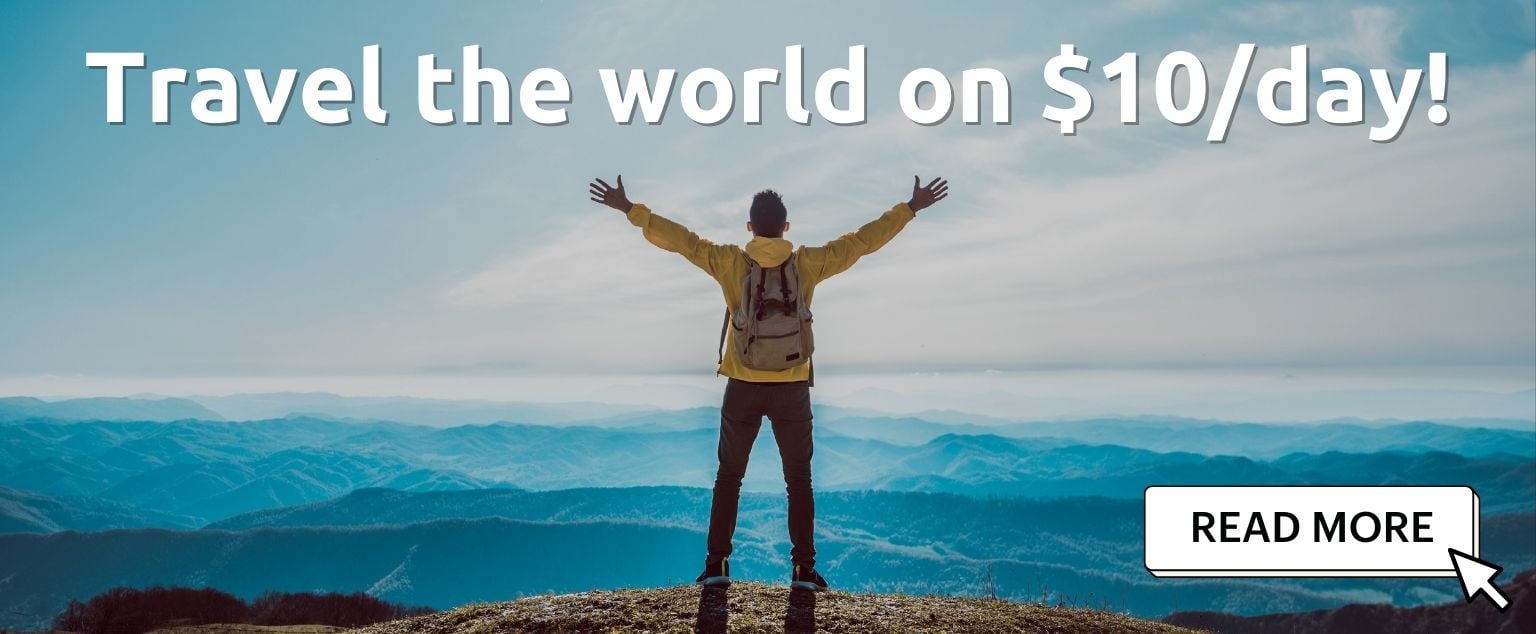 And for transparency's sake, please know that some of the links in our content are affiliate links. That means that if you book your accommodation, buy your gear, or sort your insurance through our link, we earn a small commission (at no extra cost to you). That said, we only link to the gear we trust and never recommend services we don't believe are up to scratch. Again, thank you!