Taipei is an exciting fusion of cultures, influences, and history. Taiwan's capital city is a busy place, with loads of action wherever you go. There are Taoist temples and Japanese-era mansions, restaurants and street food markets, and plenty of fun to be had in the busy streets.
This 300-year-old city has seen many different influences over the years, shaping it into the unique destination that it is today.
If you are looking for the best place to stay in Taipei, then be sure to consider checking into an Airbnb. Taipei Airbnbs offer convenient, affordable, and fun bases for exploring the city.
They provide more of a local experience than hotel rooms and are often found in the most ideal locations. There are loads of different accommodation types out there too – suitable for all kinds of travelers!
Interested in finding the best Airbnb rentals in Taipei? Check out our guide below on some of the coolest places to stay and experiences to be had in this vibrant destination!
Quick Answer: These are the Top 5 Airbnbs in Taipei
OVERALL BEST VALUE AIRBNB IN TAIPEI
OVERALL BEST VALUE AIRBNB IN TAIPEI
Spacious Studio
> $
> 5 Guests
> Mountain Views
> Stay in the Da'an District!
BEST BUDGET AIRBNB IN TAIPEI
BEST BUDGET AIRBNB IN TAIPEI
Beautiful Studio Apartment
> $
> 5 Guests
> Lockbox
> Located in downtown Taipei
BEST AIRBNB FOR COUPLES IN TAIPEI
BEST AIRBNB FOR COUPLES IN TAIPEI
Modern Loft Apartment
> $$
> 4 Guests
> Fully functional kitchen
> A stylish loft apartment
BEST AIRBNB FOR FAMILIES IN TAIPEI
BEST AIRBNB FOR FAMILIES IN TAIPEI
Modern Home Apartment
> $$$
> 4 Guests
> Laundry services
> Air conditioning
OVER-THE-TOP LUXURY AIRBNB IN TAIPEI
OVER-THE-TOP LUXURY AIRBNB IN TAIPEI
Superior Serviced Apartment
> $$$$
> 15 Guests
> Free parking
> Spacious and luxurious apartment

Unlock Our GREATEST Travel Secrets!
Sign up for our newsletter and get the best travel tips delivered right to your inbox.
What to Expect From Airbnbs in Taipei
Taipei is an incredibly exciting destination – something that can be felt in the many different Airbnbs around the city. No matter what kind of traveler you are, there will certainly be a suitable place for you to stay.
One thing to note about downtown Taipei accommodation is that properties are generally not very spacious. You will most commonly find apartments – often studios or lofts. These places generally provide only the basics, and often lack things like kitchens and multiple bedrooms. However, if you are staying around the bustling streets of Taipei city, it's best to live like a local and eat out at the many amazing restaurants, markets and street food stands!
Generally, properties in Taipei offer total convenience and comfort. There never seems to be a metro station too far away, and the city is also very walkable. This is perfect if you have a full Taipei itinerary planned for your visit. If you are looking to stay in the busier central areas of Taipei, then Airbnbs offer some of the best value in terms of their locations.
Here are a couple of the accommodation types that you could find on Airbnb around Taiwan.
Private Apartment
Taipei mostly consists of tall apartment buildings. If you are planning on staying in the central areas of the city, around Taipei Main Station, then this would be the most common type of vacation rentals in Taipei. Booking a private apartment on Airbnb offers fantastic value here – especially when considering the central location.
Apartments here are usually pretty small, but the spaces are used smartly. You can find many loft and studio apartments. These places offer complete privacy, and are very suitable for solo travelers, couples, and small groups. If you would like your own private space to enjoy at the end of a long day, then having your own apartment is the answer.
One of the best things about booking places like this is that they allow you to experience city life more like a local. Instead of just staying in stale hotel rooms, you get to immerse yourself in a neighborhood and building where people actually live. These apartments are also surrounded by great restaurants, markets, street food stalls and more.
Private Room
Another popular option in Taipei is to rent out a private room within a shared home. This could be found in a guesthouse, house, or a city apartment. If you love mingling with other people, and want to absorb a true local experience, then this is a brilliant option.
This type of Airbnb won't appeal to those that want their own complete private space. It is also not a great choice for groups or families. However, if you are a solo traveler or a couple looking to experience all that Taipei has to offer, then this would be a great choice.
Not only are these kinds of vacation rentals in Taipei usually the most affordable, but it also allows for a unique experience. You will be able to talk to your host about local recommendations on where to go and what to see.
Entire House
Large independent houses are not very easy to find around Taipei. However, if you venture a little bit outside of the busy inner-city, you will be able to find some more spacious houses to rent. These are found in quieter residential neighborhoods and are a good option for families and groups.
While most apartments are loft or studio spaces, Taipei house rentals offer more privacy and space. You can get independent bedrooms, private bathrooms, and more roomy living spaces. Houses like this also have full kitchens – something that is missing in many city apartments.
Renting out an entire house will cost a little bit more – as you get so much more space and amenities. However, if you split this cost up between your group, it can actually turn out to be really affordable!
Why Stay in an Airbnb
Taiwan Airbnbs can appeal to any kind of traveler. Here are a few of the many reasons to use this platform for booking your next trip.
Local Experience: One of the major advantages of staying in an Airbnb is the real-life connection that you get to the destination. You will be able to communicate with a local host that can give great recommendations on where to go and what to do. Airbnbs are also often places where locals actually live – providing you with a genuine experience of the destination.
Unique Properties: If you've stayed in one hotel, you've experienced them all! Instead of checking into a standard boring room, Airbnbs offer fun and unique properties. These places offer variety and often feature some really cool amenities and designs that you just couldn't get from typical accommodation.
Privacy: Airbnbs allow you to enjoy a completely private experience. There are many that allow for self-check-in and completely private accommodation. You can get your own kitchen and private living spaces – no need to mingle with other hotel guests!
Staying Long Term: If you really want to experience a destination, then Airbnbs are a fantastic option for long term stays. Not only can they be really well equipped (full kitchen, strong WiFi, etc), but you can often find long term discounts set up by hosts. An Airbnb can really become your home away from home.
Airbnb Experiences: Beyond accommodation, Airbnb is also a platform that offers awesome local experiences. These offer insider knowledge and are some of the best ways of experiencing your destination. We will give a few of our favorite options below!
Top 15 Airbnbs in Taipei
If you are after the best Airbnb in Taipei, then check out our top picks below. These properties have been chosen to suit all kinds of different travel styles – and they will certainly provide an unforgettable trip!
Overall Best Value Airbnb in Taipei | Spacious Studio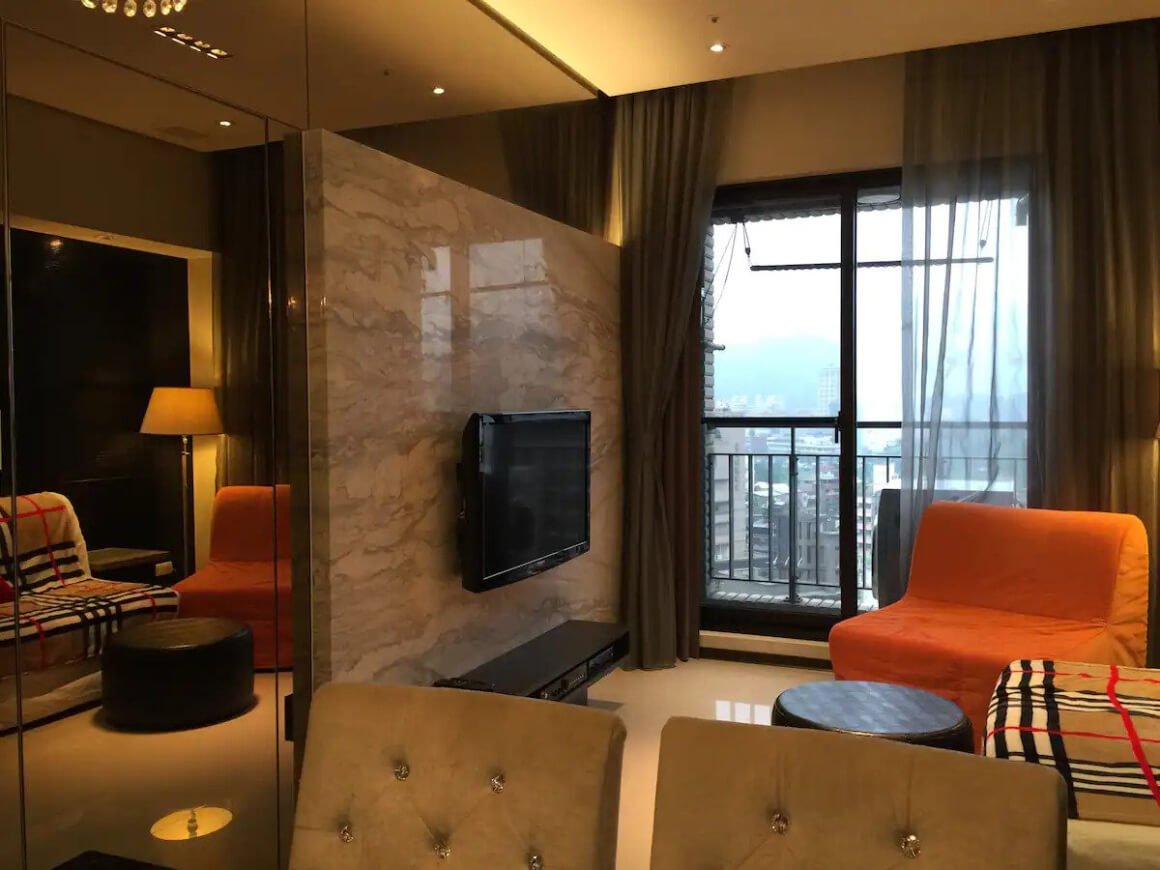 5 Guests
Stay in the Da'an District!
Anyone who's backpacking in Taiwan will see that space, especially in accommodations, is very limited. Apartments here are mostly tightly packed studios. This listing smartly uses its space though, and it offers some awesome value for money!
The simple yet cozy one-bedroom apartment offers five travelers a peaceful night after a day of exploring. If you're stuck inside, the sofa bed and TV will keep you happily occupied. But nearby you have Zhongshun Park, Four Four South Village Market, and the Suho Paper Museum to discover.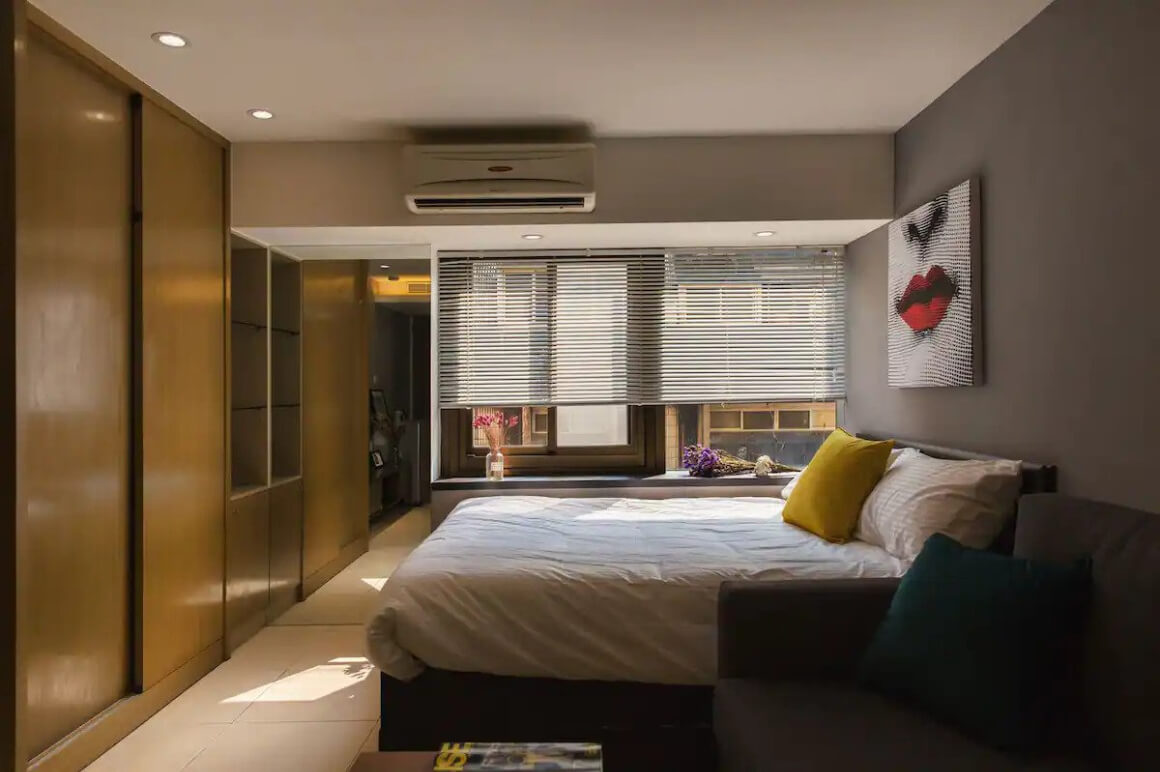 5 Guests
Located in downtown Taipei
Want to make the most out of your Taipei city visit without breaking the bank? This little studio apartment will be your perfect base! The place is right in the heart of downtown Ximen – just a short walk to Ximen MRT Station.
Enjoy a simple, comfortable space in this apartment, with all the essentials that you need such as a double bed and air conditioning. You may not have a kitchen, but who would want one with such a bustling neighborhood right outside the door! Try out authentic Japenese cuisine at Fireweeds, or head to the kid-friendly Mr Tree.
You'll also be able to easily access some of the best places to visit in Taipei, including the Taipei Botanical Gardens and National Museum of History.
Perfect Airbnb for Solo Travellers | Fun Cat Apartment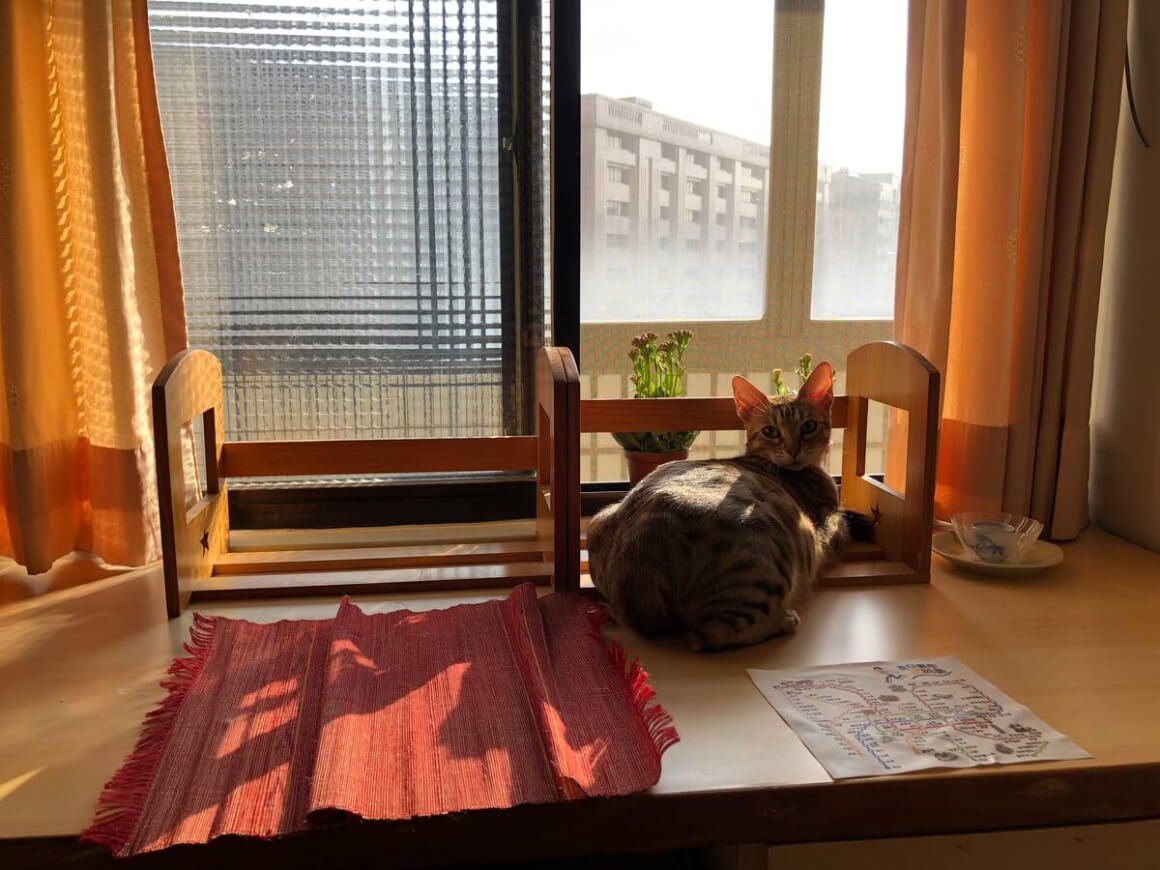 1 – 2 Guests
Apartment with 5 cats
This Airbnb ticks all the right boxes for anyone wanting to explore Taipei on a solo trip. The name serves it well, as it's home to five cats, which love a cuddle. This definitely makes for a fun, quirky stay in the city.
It's within walking distance of the MRT Station – allowing you to easily travel around the city. Solo travelers can unwind on the queen-sized bed, enjoy the fast WiFi, watch a little TV, and have complete privacy.
You can make your own coffee and heat up ready-made meals in the mini oven, but we suggest you try out the nearby Night Market for a selection of delicious street food!
Is This the Best Backpack EVER???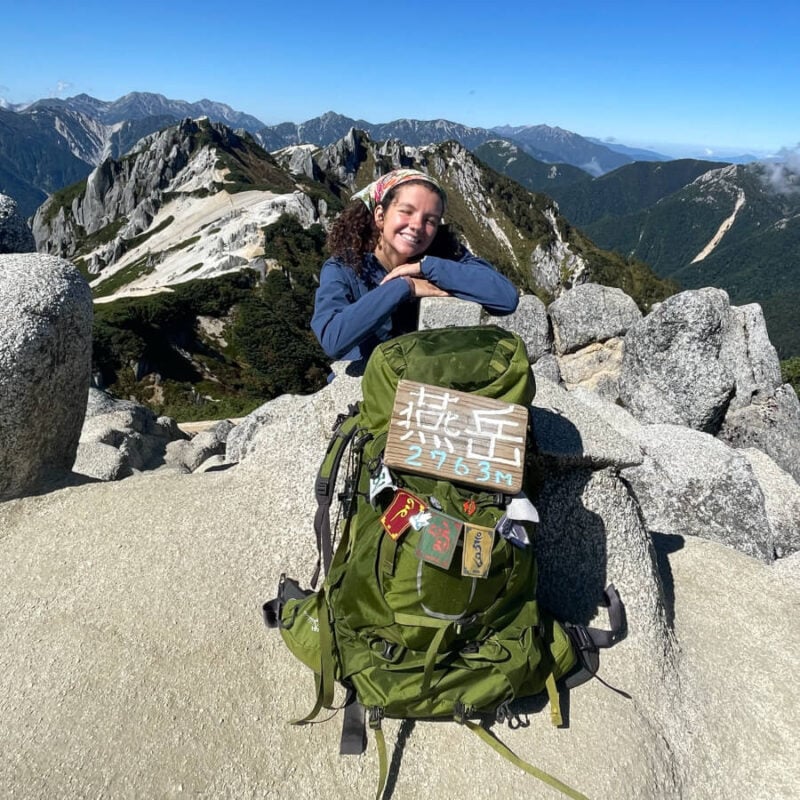 $$
Fully functional kitchen
4 Guests
A stylish loft apartment
This entire apartment may be small, but its clever design makes it the perfect base for a comfortable stay. Unlike many other downtown apartments in Taipei, this space has a complete (but simple) kitchen so couples can make dinner together – or surprise each other with breakfast in bed.
This is undoubtedly one of the best Airbnbs in Taipei in terms of style, with its clean and modern style. Downstairs has a cozy sofa bed where you can cuddle up and look out the window at the city below. While up the winding stairs you'll find the loft bedroom complete with a double bed.
This loft apartment is in a great location, just a 10-minute walk away from Taipei Main Station. You'll also be near to convenience stores, an English cinema for date night and there's a cozy dinner spot just a short walk away.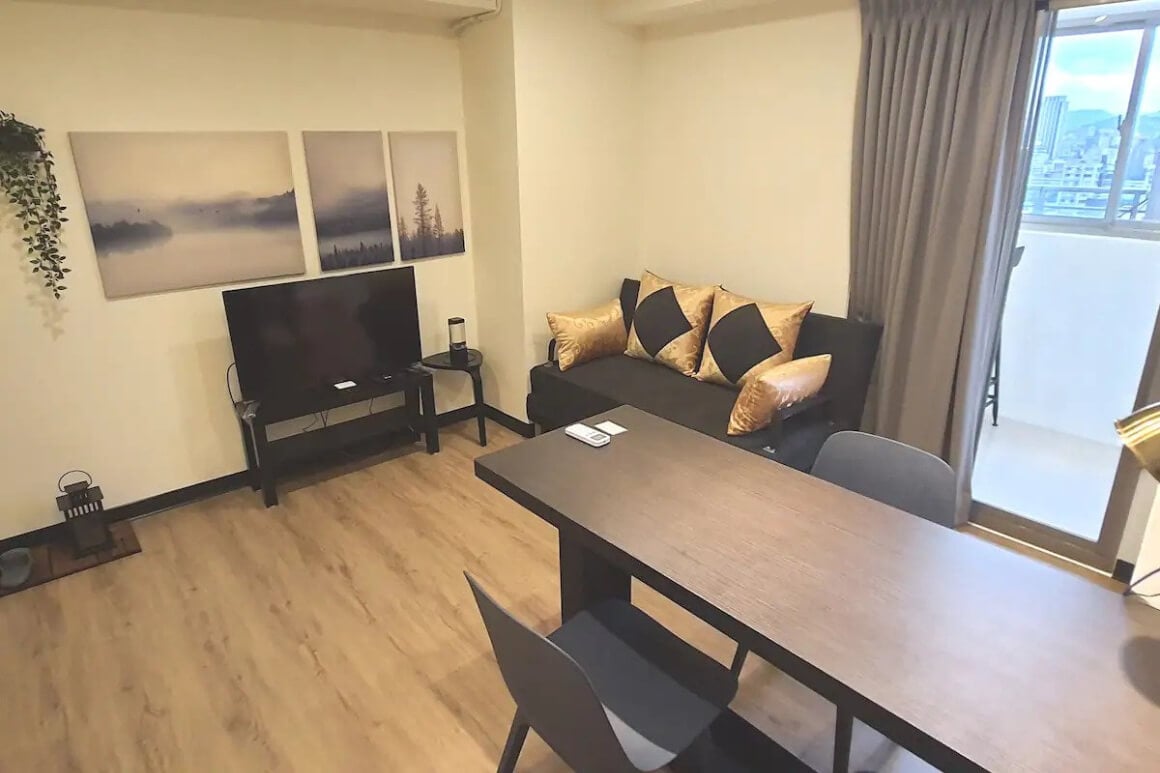 This is entire apartment is ideal for families that still want to stay in a great location in busy downtown Taipei. You can walk to Shida Night Market right from the doorstep. This gives plenty of opportunities for sightseeing and finding delicious street food.
The 2 bedrooms in this apartment offers just enough space for the whole family to enjoy. Groups staying here can enjoy cooking their own meals in the kitchen, and will have plenty of space to relax and enjoy the large TV. If you are traveling with a baby, the helpful host of this Taipei Airbnb can also provide a baby crib and high chair etc.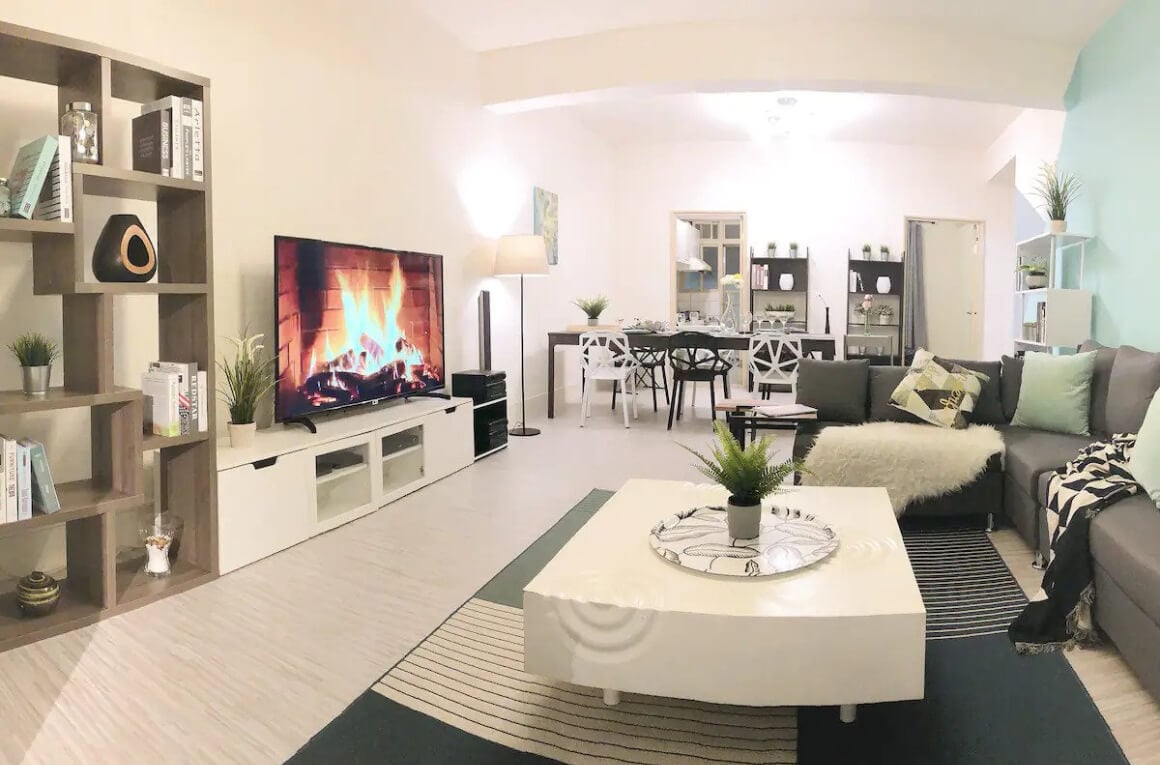 15 Guests
Spacious and luxurious apartment
If you are after a seriously deluxe Taipei vacation rental, then this is the place to book! It's a spacious accommodation, designed for ultimate relaxation. Guests can soak up the green views over the park, spread out between the large rooms in the apartment, and make use of the massive TV.
This Taipei Airbnb has been richly furnished and comes with all the amenities you would need. Each of the four bedrooms come with single beds, so fifteen guests can hang out here and have "light parties". The kitchen leads into the living and dining area, which is great for social events.
Not many apartments in the Xinyi district allow for this much space while still being located in the exciting streets of downtown Taipei. It's great for a family or close group of friends, and the dining room table offers the chance for real sit-down dinners.
Best Airbnb in Taipei for a Group of Friends | Stylish City Condo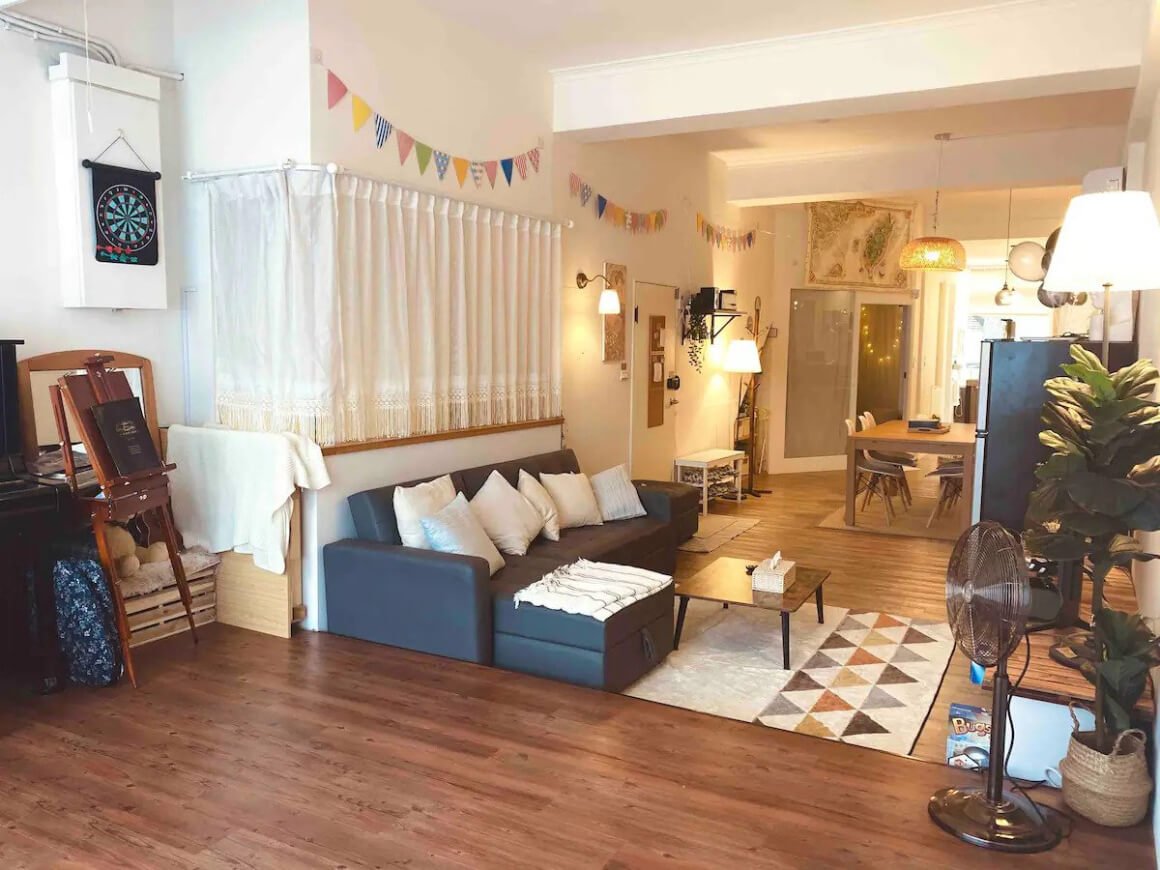 $$$
Fully equipped kitchen
12 Guests
Amazing social space
This apartment is the ultimate spot for a group holiday. It's located just opposite the main Taipei City train station, so getting around the city couldn't be easier. There are also convenience stores and Starbucks coffee shops within walking distance of Airbnb.
This is arguably the best Airbnb in Taipei for foodies, since they have the Michelin-starred Tim Ho Wan serving Dim Sum just around the corner.
Enjoy morning coffee in the living room, marveling at the stunning views from the window, and spend the evening cooking and laughing together in the kitchen. The Japanese-style tatami sleeping arrangements make for a really fun bonding experience. The stylish sofas and wooden finishes make for an inviting ambiance.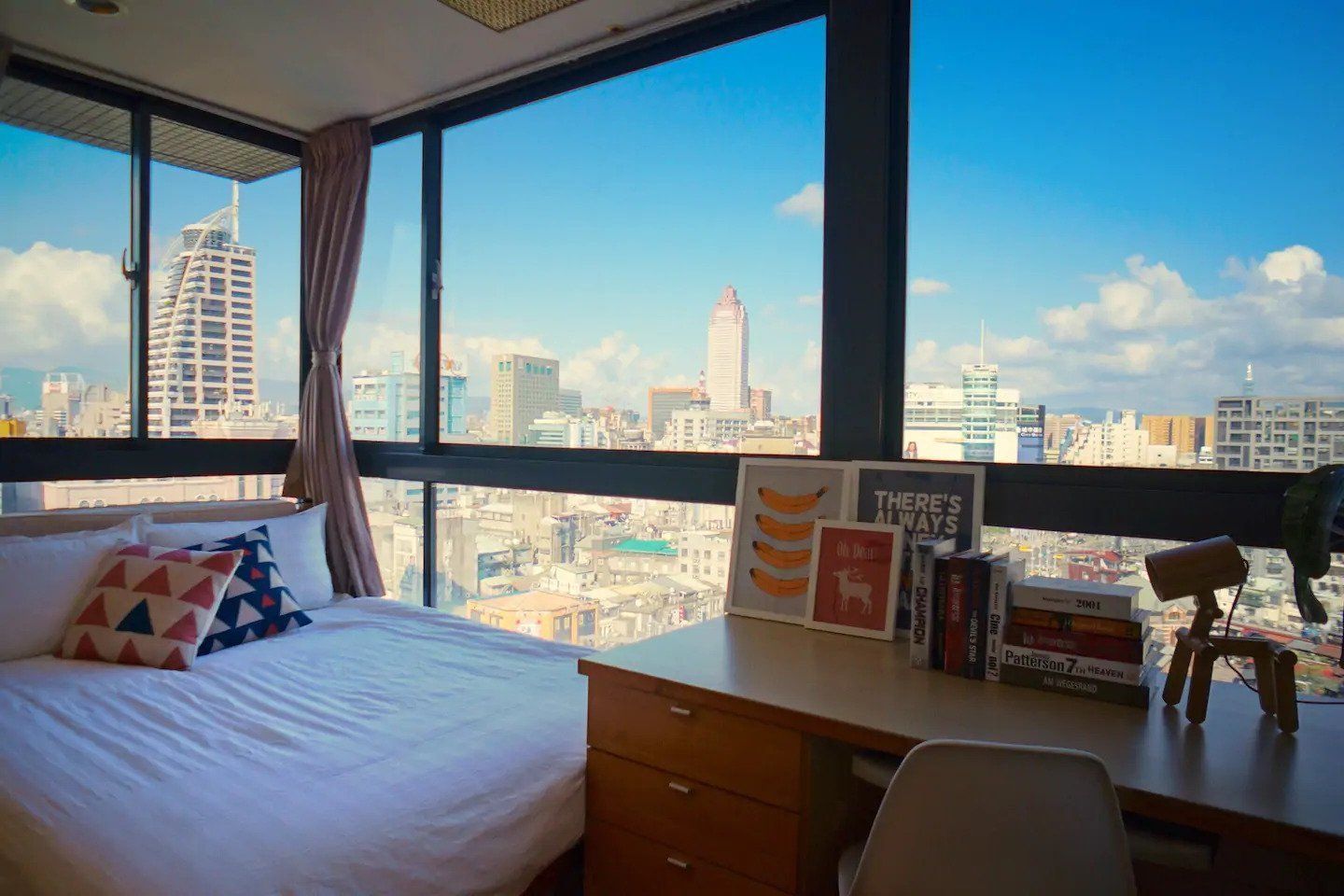 4 Guests
In the heart of the city
Anyone planning on spending an extended period in Taipei will love this killer apartment. This place hovers above the Ximen-ding shopping district – full of amazing places to eat and shop throughout the day and night. The apartment is also a few steps away from the metro station.
You'll be perfectly positioned to see the best of Taipei in a short time, without compromising comfort. Feel at home in this stylish environment, with sweeping views over the city skyline. And enjoy comfortable living spaces and clean bedrooms – perfect for kicking back after a long day in the city!
2 Guests
Long-term stay allowed
This awesome apartment is in the best vacation rentals in Taipei for digital nomads as it comes with a dedicated workspace, fast WiFi, air conditioning and is in a great location outside the hustle and bustle of the city.
It's close enough to downtown while still being far from the noise and disturbances. It is within walking distance of the MRT station, the Maokong Gondola and Taipei Zoo and is only 15 minutes away from Taipei 101. So you have plenty of daytime adventures to choose from.
This Airbnb has a basic living space and a full kitchen to start your day, and a good-sized bathroom to end it off just right. The bedroom is separate from the living area, which is ideal for spreading out your stuff.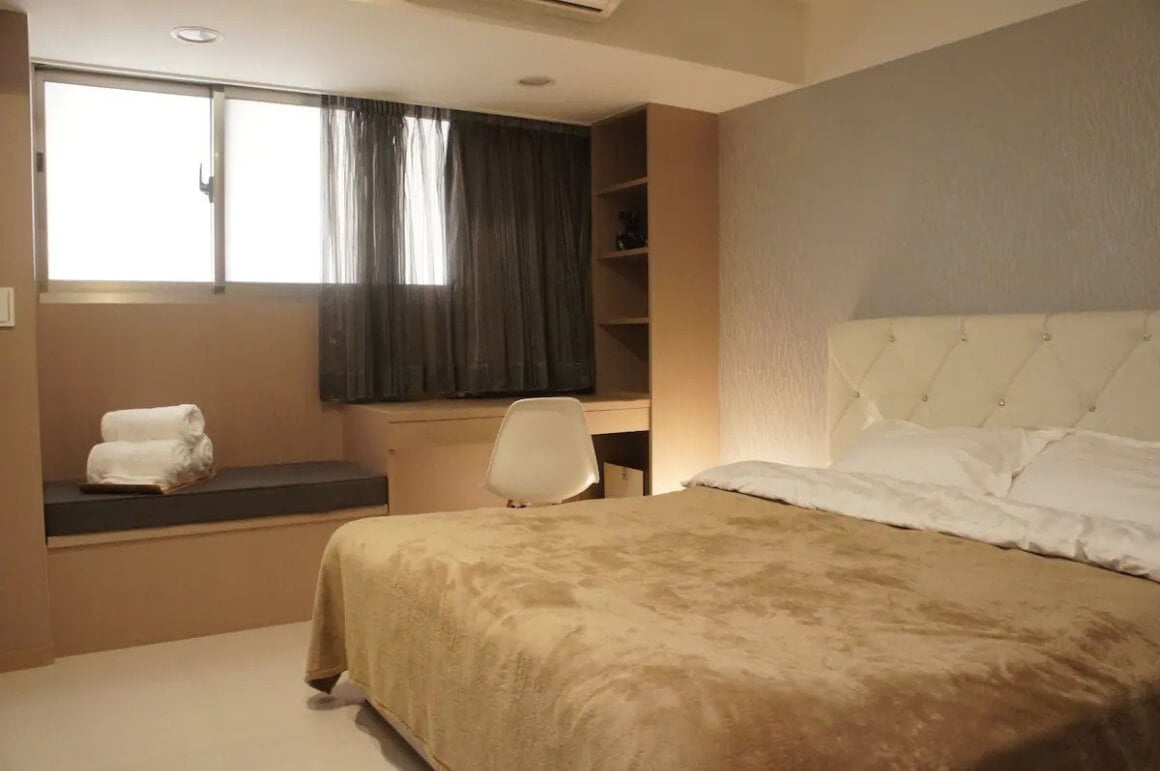 $
Modern kitchen facilities
5 Guests
Located in the heart of Ximen
This apartment is all about location! It is close to the Ximending Night Market – and only a minute's walk away from Ximen MRT station and convenience stores.
In fact, the entire Ximending area is completely walkable from here. This will allow you to experience spots like the Red House, the Taipei Tianhou Temple, and the Ximending Walking District all by foot.
When you return to the apartment, you can sink into the comfortable double beds, watch cable TV, and make use of the sparkling kitchen to cook ingredients sourced from the nearby market. This two-bedroom Taipei Airbnb offers amazing value for money.
$$
4 queen-sized double beds
10 Guests
Perfectly located near Taipei Station
If you are after a comfortable travel base near Taipei main station, then this lost-style townhouse is a top choice. The place offers access to the entire city and is just down the road from the Tamsui River. Unlike most rentals in the area, this one has plenty of space.
The space is perfectly suitable for families, groups of friends, or any kind of traveler wanting to explore Taipei! The central location makes it a smart choice for travelers not wanting to spend too much time traveling between attractions.
Stunning Airbnb for Honeymooners in Taipei | Beautiful Private Room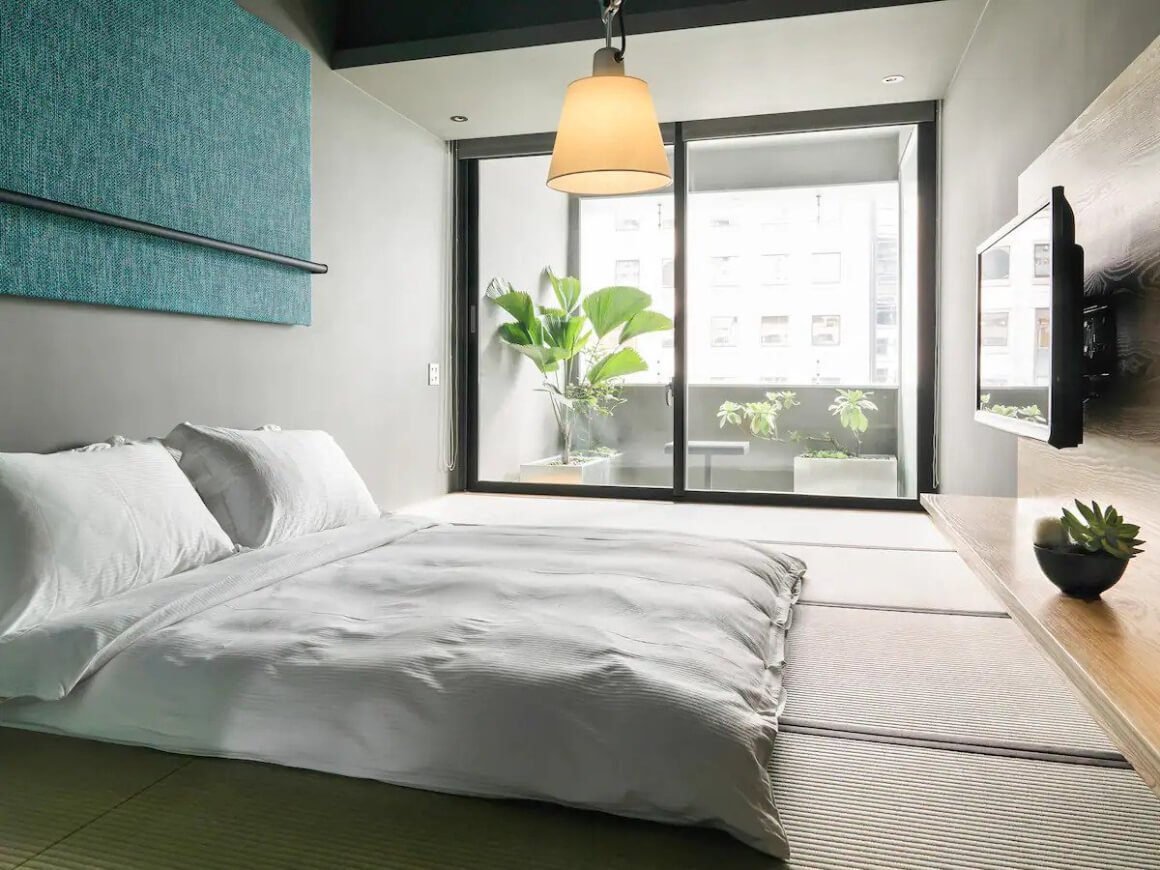 $$
Features a large bathtub
24 Guests
Daily cleaning staff
This private room in a guesthouse is one of the most special places for a romantic stay in Taipei. Guests can enjoy big fluffy futon beds or relax on the balcony.
This stylish room is located near Taipei 101, Sun Yat-sen memorial hall, Daan Forest Park, and the MRT station. Getting around the city is easy from here, although you may never want to leave the beautiful room!
This is the perfect blend of city excitement and intimate privacy, exactly what a honeymoon in Taipei should be.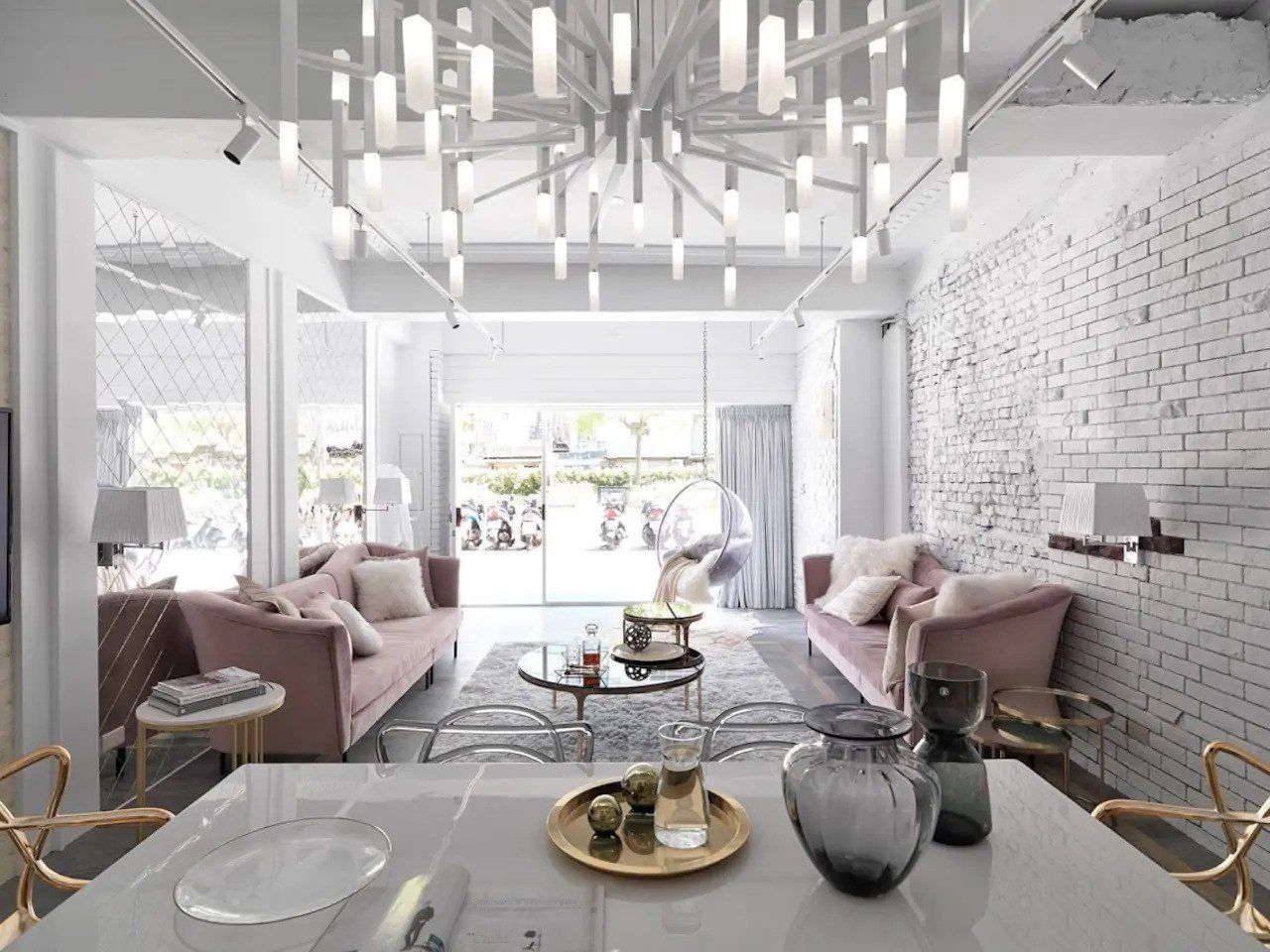 $$$
Fully equipped kitchen
8 – 16 Guests
A rare private villa in Taipei
Taipei rentals don't get much more stylish than this! Ideal for large groups or families, this super-luxe villa will allow you to experience the city in total comfort. Instead of a small studio apartment, your group can enjoy the entire private villa – located in the sought after eastern business district.
Liaoning Night Market is just down the road, as well as many great walkable restaurants. If you would rather stay in though, there is a large and well-equipped kitchen to make full use of. This place is pure Taipei luxury.
3 Guests
Located in the center of Ximen
Ximen is one of the most vibrant and exciting districts in Taipei. This place is well known for its shopping area and many restaurants – but the walking streets are also a nightlife paradise! This cool loft apartment is located right in the center of Ximen – within quick walking distance of the area's main strip.
After a long night of partying, you can come back to a comfortable bed, fun decor, and a great little chill-out area. This pad also has 24-hour security and excellent WiFi.
Best Short-Term Rental for Digital Nomads | Loft Style Apartment
Anyone needing to do some work while traveling in Taipei will love this apartment. The space is equipped with free Wifi and a space to work in the kitchem, so you'll be able to keep up with any work on your to-do list. As well as a comfortable bed, fully-equipped kitchen and washing machine, you don't have to worry about a thing!
It's right across from Taipei Main Station. This means that seeing the city from this apartment couldn't get any easier! This is one of the most desirable neighborhoods in Taipei thanks to its central city access.
Don't Forget Your Taipei Travel Insurance
ALWAYS sort out your backpacker insurance before your trip. There's plenty to choose from in that department, but a good place to start is Safety Wing.
They offer month-to-month payments, no lock-in contracts, and require absolutely no itineraries: that's the exact kind of insurance long-term travellers and digital nomads need.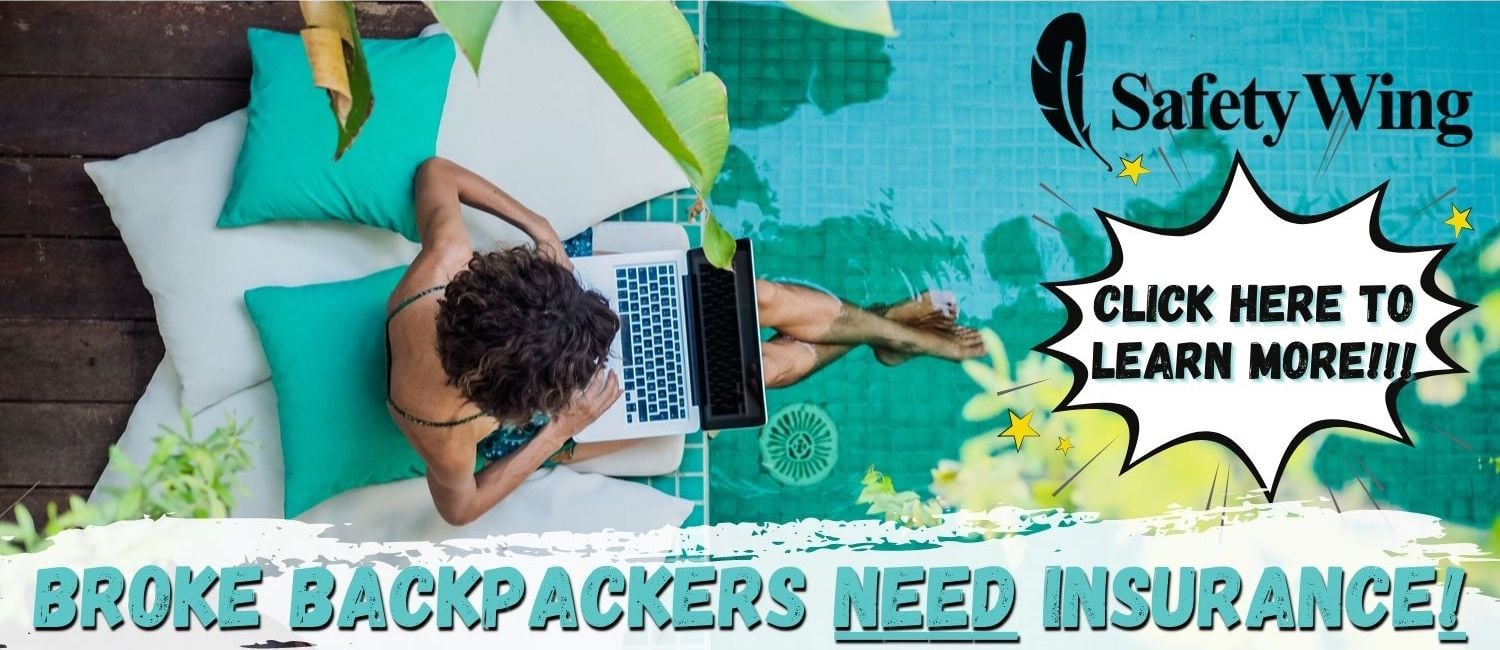 SafetyWing is cheap, easy, and admin-free: just sign up lickety-split so you can get back to it!
Click the button below to learn more about SafetyWing's setup or read our insider review for the full tasty scoop.
Final Thoughts on Taipei Airbnbs
If you are looking for the best places to stay in this city, then choosing Airbnb Taipei is always a great option. The list above shows just how exciting these places can be – suiting all kinds of different people and tastes.
Whether you want to enjoy the buzz of the city from a convenient apartment, or relax in a spacious villa, Taipei Airbnbs have it all available. This is a destination that everybody can enjoy, and the different types of Airbnb accommodation options really show this off.
If you plan on traveling to Taipei, then we would highly recommend checking out some of the places mentioned above. They will be sure to provide you with an unforgettable experience of the city! Just remember to always get travel insurance when heading abroad – being prepared for new territories is always a good idea!
---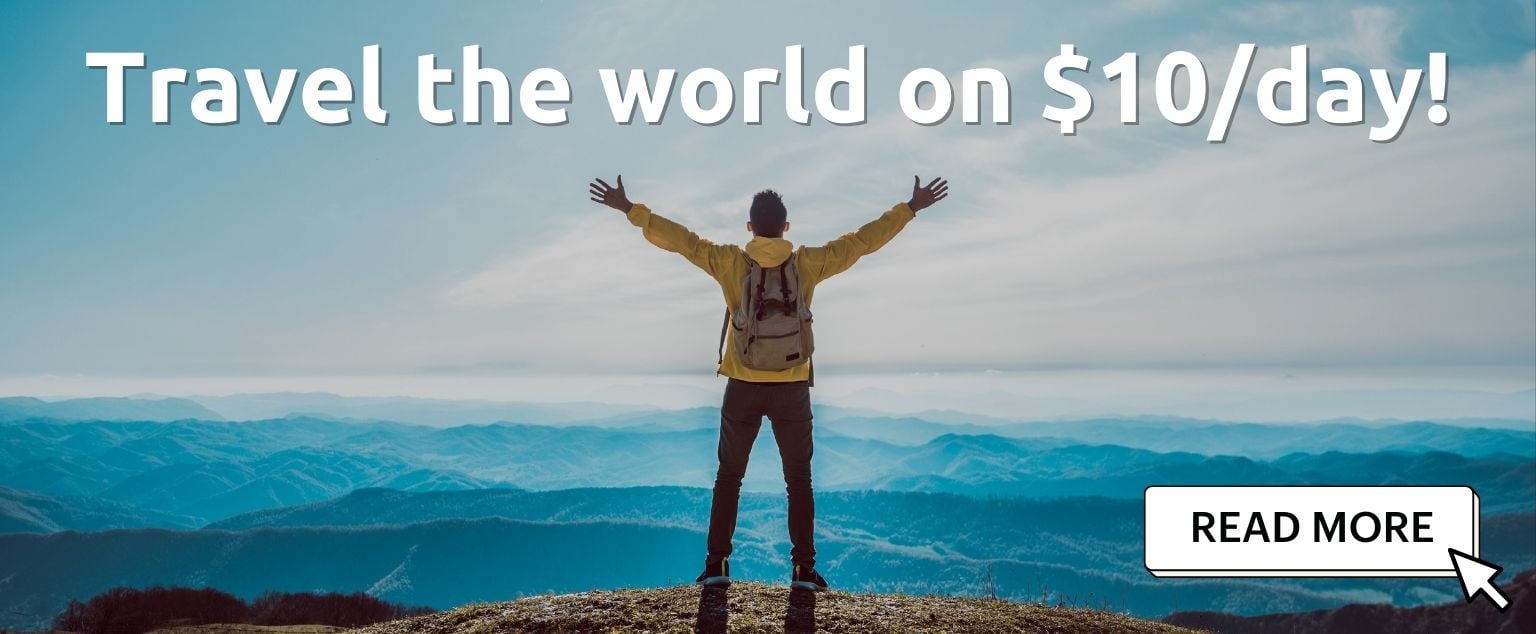 And for transparency's sake, please know that some of the links in our content are affiliate links. That means that if you book your accommodation, buy your gear, or sort your insurance through our link, we earn a small commission (at no extra cost to you). That said, we only link to the gear we trust and never recommend services we don't believe are up to scratch. Again, thank you!