Taipei is the modern capital of Taiwan. The diverse city has a great infrastructure and it's easy to explore the key places of interest in Taipei as well as travel to nearby cities and towns. From one of the tallest towers in the world and a globally renowned zoo to places of natural interest and terrific shopping, Taipei offers plenty for everyone.
Taipei doesn't feature on many travellers' radars, particularly people from outside of Asia, and is often overlooked in favour of other East Asian cities. It can be difficult to find information on what to see and do if you are planning a trip to Taipei, especially if you want to hit up more offbeat attractions and head off the beaten path.
With this ultimate list of the best places to visit in Taipei, you'll be able to make sure to cover all the top attractions. No matter your age or travelling style you'll find plenty of reasons to add Taipei to your travel wish list.
Warning: some of these best places to visit in Taipei are sure to surprise you!
Need a place quick? Here's the best neighbourhood in Taipei:
BEST AREA IN TAIPEI
Datong
Datong is the perfect place to stay if you are travelling on a shoestring budget. It is located just north of Zhongzheng and remains very central to explore Taipei's many destinations.
Places to visit:
Take a look at the humble features of the Confucius Temple
On the contrary, marvel at Bao'an Temple, one of Taipei's most ornate temples
Try some local delicacies at the Ningxia Night Market
And now onto the fun stuff … here are the best places to visit in Taipei:
These are the BEST Places to Visit in Taipei!
Ready for the breakdown of Taipei's must-see places? Don't miss these gems. These are the top things to see for crafting the ultimate Taipei itinerary!

Unlock Our GREATEST Travel Secrets!
Sign up for our newsletter and get the best travel tips delivered right to your inbox.
#1 – Taipei 101 – One of the most amazing places in Taipei
Eco-friendly structure
Among the world's tallest towers
Rich symbolism
Sweeping views
Why it's awesome: This is top of the Taipei places to visit list for good reason. Up there, you feel top of the world! Shaped like a traditional pagoda and standing at 508 meters (1,667 feet) tall, the soaring Taipei 101 was once the world's tallest tower. It's is still said to be the biggest green building in the world, both because of the coloured glass on its facades and due to its many environmentally friendly features.
Steeped in symbolism, the impressive tower has 101 floors. One hundred is usually viewed as perfection, so this gleaming modern tower goes one step beyond being perfect! There's a large and luxurious shopping mall next to the tower and inside there are various offices, an observation level, displays, a conference centre, and a VIP Club.
What to do there: Ride in the super-fast elevators to reach the observation levels, with both indoor and outdoor viewing areas to enjoy. Feast your eyes on the sweeping city views and see interesting displays related to the tower's construction, use, and symbolism. Spot various symbolic features around the tower and see many of the best places in Taipei from a completely different perspective.
#2 – Taipei Zoo – Awesome place to visit in Taipei with kids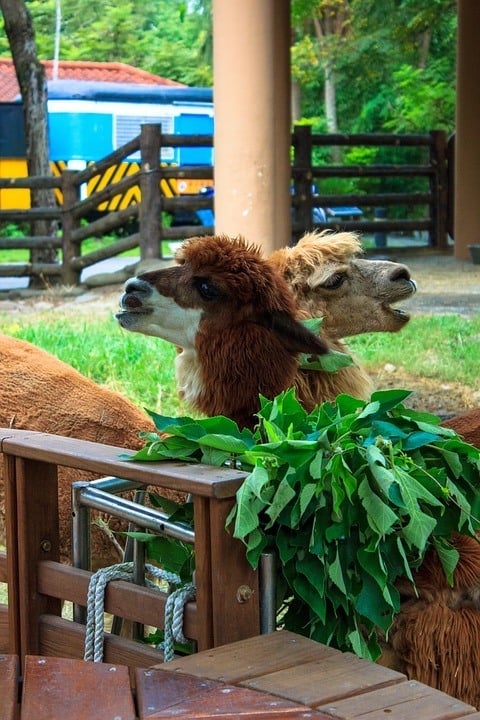 Beautiful landscaping
Home to diverse creatures
See pandas
Educational exhibits
Why it's awesome: The largest zoo in Asia and one of the biggest zoos in the world, the modern and well-kept Taipei Zoo is often said to be among the best zoos on the planet. Spread over a large area, the zoo is home to an abundance of interesting species from across the globe.
Admission costs are low and it's a fantastic place to spend a fun-filled day with the kids. Indeed, it's one of the best places in Taipei for a family outing. There are various places to eat and drink throughout the zoo and the terrain is stroller friendly. Lush gardens, wide, open spaces, and educational displays add to the appeal.
What to do there: Plan to spend at least half a day (if not a whole day) exploring the large zoo. Seeing the cute pandas is often a highlight for many visitors, though don't be disappointed if they are resting in the air conditioning! The children's theatre, insectarium, and nocturnal animal house are also often popular with younger visitors.
#3 – Shilin Night Market – A must-see in Taipei for foodies!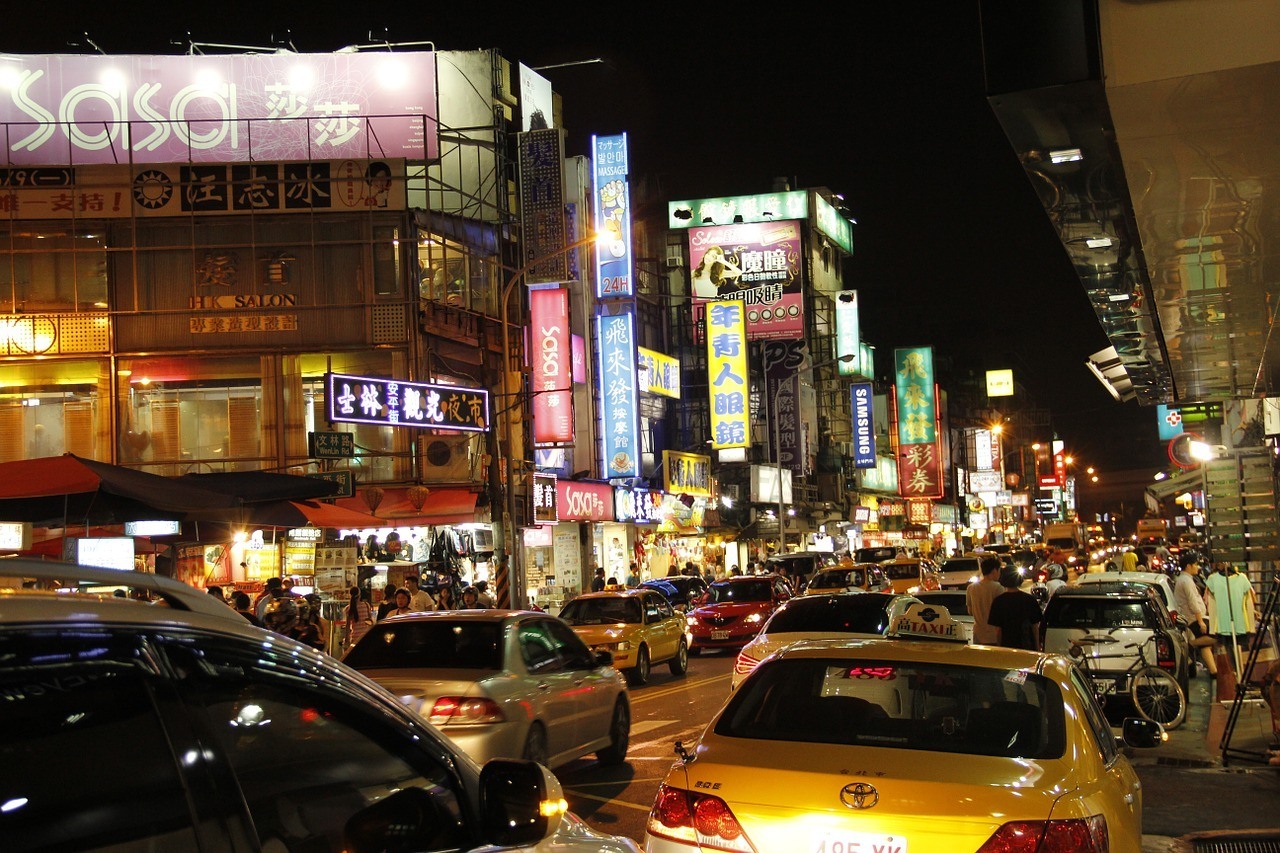 Array of items
Lively vibe
Lots of street food
Popular with locals and tourists
Why it's awesome: Large and lively, Shilin Night Market draws many locals and tourists alike every day of the week. Stalls spread through a maze of streets, and you'll find a great selection of local goods and international brands, usually at discount prices.
Some places have fixed prices and there are somewhere you can haggle so make sure you perfect your haggling skills. It's especially worth asking for discounts if you're buying in bulk. It's not only a great place for shopping, though; Shilin Night Market is also one of the top spots in Taipei for delicious street food. It's veritable foodie heaven!
What to do there: Stroll along the streets, letting your senses guide you as you sample a huge selection of local cuisine. Inhale the rich aromas, watch as vendors cook up dishes on the spot, and see an exciting array of delicacies set out to tempt the hungry.
Sink your teeth into things like fried buns, dim sum, stinky tofu, tempura, grilled meats, oyster omelet, and much, much more. Once you think it couldn't get any better, pop into the underground Shilin Night Market Food Court for even more mouth-watering treats! It really is one of the best places to eat in Taipei.
Another famous night market in Taipei if you liked the Shilin Night Market is the Ningxia Night Market which is another great place to try some street food.
#4 – Longshan Temple – One of the most religious places to see in Taipei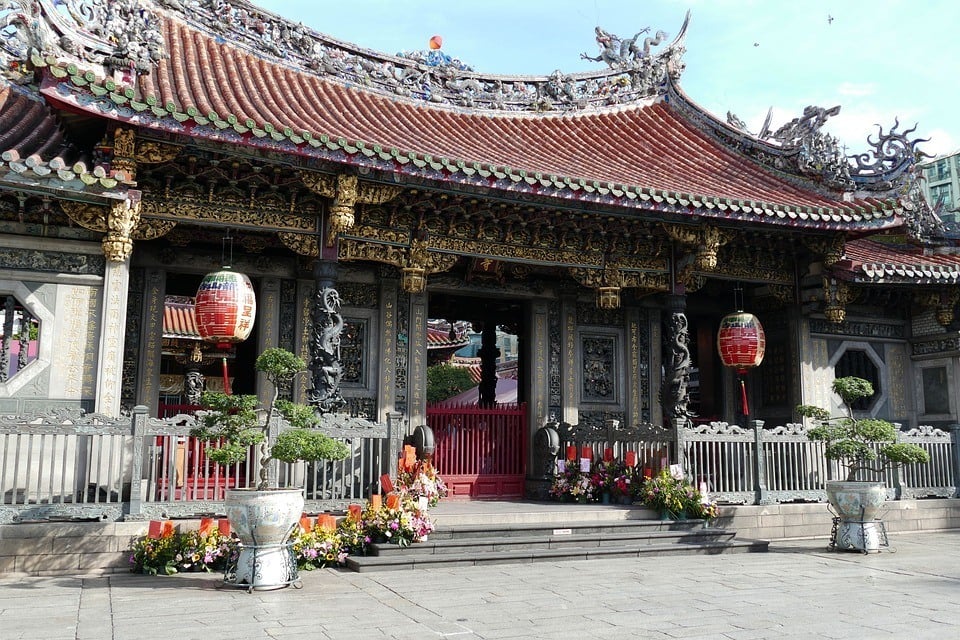 Long history
Gorgeous architecture
Spiritual ambience
Ornate statues
Why it's awesome: Built in the late 1730s by people from Fujian, Taipei's Longshan Temple became a major spiritual and community centre for settlers from mainland China; it was built in honour of an ancient temple in their home province.
Still an active place of worship today, it is also one of the most significant religious landmarks in Taipei. The Longshan Temple features ornate and colourful details and the vibe is tranquil and serene. It's a place to go in Taipei to have a breather from the city.
What to do there: Admire the striking building from the outside, feasting your eyes on the decorative pillars and roof, statues, and grand doorways. Step inside, where you'll likely see people praying and making merit, inhale the sweet smells of incense, and see even more spiritual statues and artwork.
Wander through the grand halls and pause to take in the details of the various altars. There are shrines to various Chinese gods and goddesses as well as to the Lord Buddha. As far as cultural places in Taipei go, this is one of the best.
#5 – Danshui River Mangrove Nature Reserve – One of the most underrated places to see in Taipei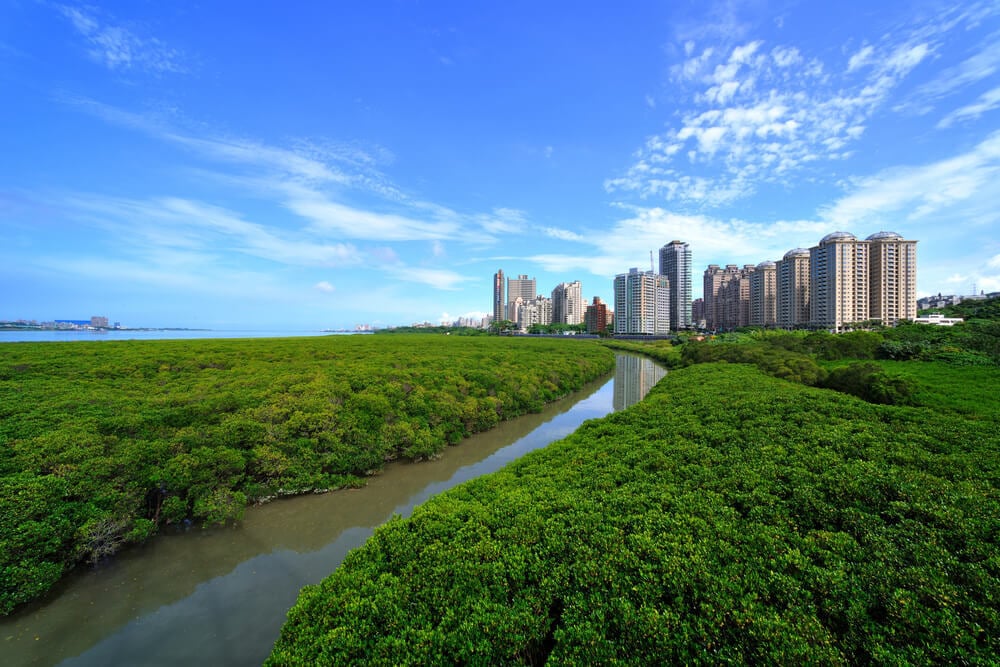 Interesting wildlife
Pretty views
Why it's awesome: A short train ride from the hustle and bustle of the city centre, Danshui River Mangrove Nature Reserve is an interesting and peaceful outdoor spot.
One of the coolest lesser-visited attractions in Taipei, there is no charge to explore the nature reserve. Also known as Tamsui River Mangrove Nature Reserve, the area protects the large Hongshulin mangrove swamp as well as all the creatures that call the salty swamp home.
What to do there: Step into the small but informative education centre to learn more about the swamp and its eco-diversity before wandering along the boardwalk. Peer into the mangroves to spot an array of flora and fauna. Some of the most unusual creatures to look out for are the curious mudskippers – fish that can walk on land.
You're also likely to see crabs and many types of birds. The ambiance is calm and there are great views of city life in the distance.
#6 – Jiufen – A very cool place in Taipei to go for a day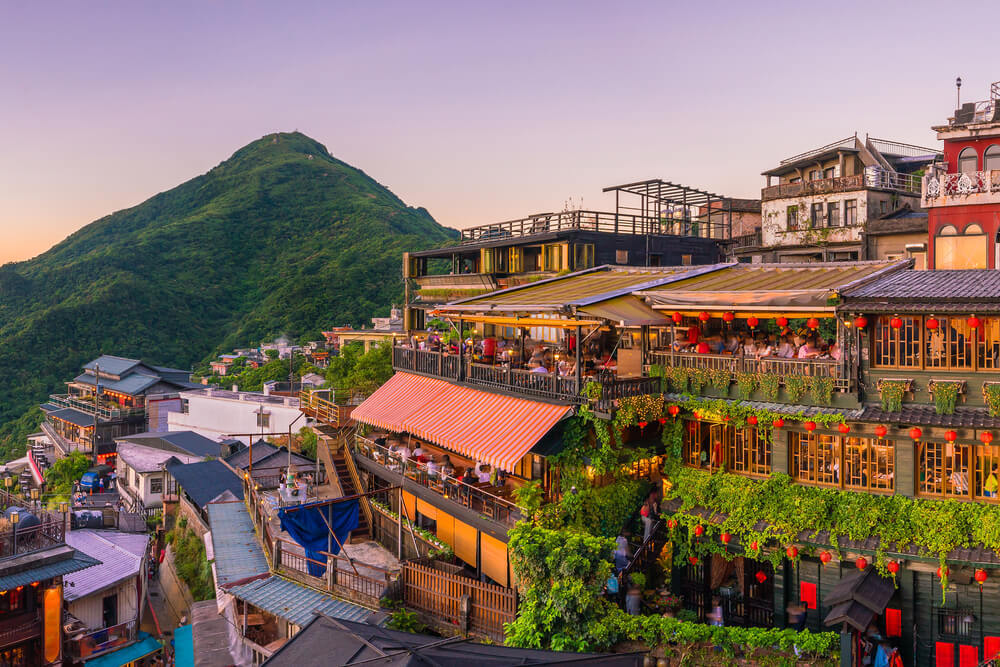 Great shopping
Plenty of photo opportunities
Stunning vistas
Historical vibe
Why it's awesome: Jiufen is an old gold mining town in the wider Taipei area. Built by the Japanese, it is perched on the craggy mountainside near the coast. Easy to reach by road and rail from the heart of the city, it's one of the most picturesque places of interest in Taipei.
There's an olde-worlde vibe and plenty to see and do. The covered shopping area is especially popular and the views are beautiful. The town has featured in a number of movies and TV shows and if you're backpacking Taiwan, be sure to include Jiufen on your itinerary.
What to do there: Visit the ornate Chinese temple and soak up the sense of spirituality and stand at the nearby observation point to enjoy beautiful views out over the water. Explore the two main hillside pedestrian streets of Shuchi Street and Jishan Street, pausing to look in the assortment of shops filled with an array of goods.
Stop for refreshments in a charming tea house and refuel in one of the traditional restaurants.
Although no longer open to visitors, you can see the outside of the historic Taiyang Co. Ruifang mining Operation Office and the now-derelict Jiufen Shingpeng Theatre, which was one of the earliest theatres in Taiwan. Feeling active? Go hiking up Mount Jilong and enjoy the terrific vistas!
#7 – National Chiang Kai Shek Memorial Hall – Possibly one of the most important places to visit in Taipei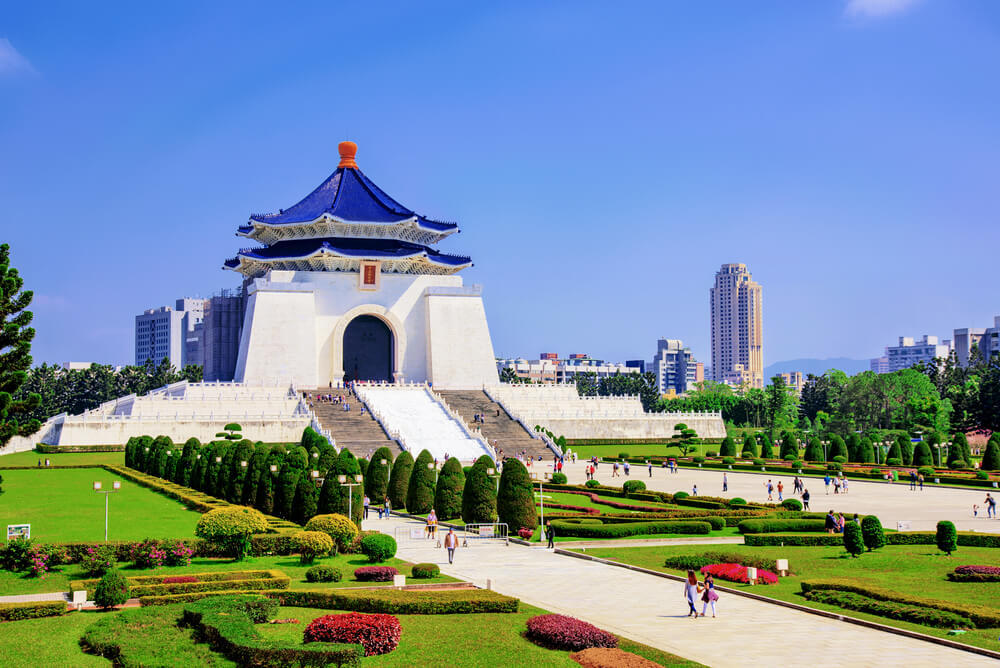 Magnificent building
Interesting and educational displays
Traditional guards
Beautiful grounds
Why it's awesome: Among the most famous places in Taiwan, the National Chiang Kai Shek Memorial Hall is a well-known city landmark and a popular tourist attraction. Located at one end of the large Liberty Square, the iconic blue and white building is an attractive sight.
Open since 1980, it was constructed to honour the memory of the late president. Inside there is a large bronze statue of Chiang Kai Shek, guarded by solemn-looking soldiers in ceremonial uniforms, as well as educational displays and a library.
What to do there: Climb the 89 steps that lead to the upper level of the memorial hall, noting that the number of steps represents the age at which the former leader died. See the large statue of the late leader and snap some pictures of the smartly dressed guards. Descend back to ground level to learn more about the leader and Taiwan's history in the museum.
There are many interesting objects and artifacts and comprehensive information is provided in English as well as Chinese languages. It's one of the best places to visit in Taipei to get more of a sense of the culture and history of Taiwan.
#8 – Fort San Domingo – One of Taipei's coolest historical sites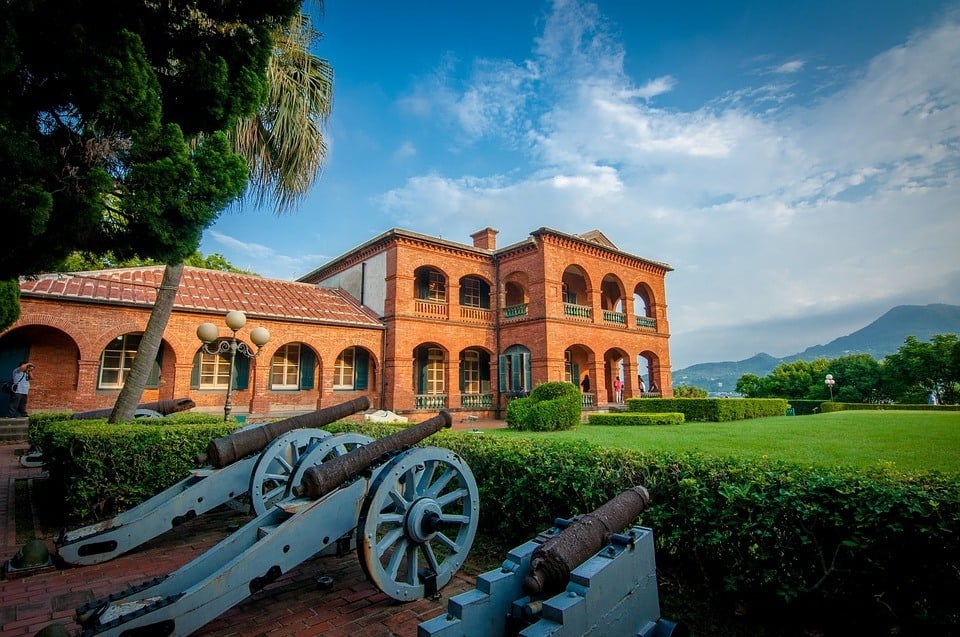 One of Taiwan's oldest buildings
Controlled by various powers throughout history
Informative displays
Pleasant gardens
Why it's awesome: Located in Tamsui, the striking red-colored fortress of San Domingo stands on the site of an earlier wooden fort. The original fortress was built by the Spanish, while the present building was constructed in the 1640s by the Dutch. It was later expanded and fortified further by the Qing regime and served as the British consulate from 1868.
It was occupied by the Japanese during the Pacific War, then later passed back to British control. One of the oldest buildings in Taiwan, today it is a National Historic Site and among the most popular tourist attractions in Taipei's district of Tamsui.
What to do there: Pay the reasonable admission fee and climb the shaded steps to reach the entrance to the historic fortress. See the flag flying proudly above before following the sightseeing route through the fortress's diverse areas.
In addition to the red fort, the site also has the original gate that was constructed during the Qing era, leafy gardens, and the English-style former residence of the British Consul. You can learn more about Taiwan's history and see varied displays, period furnishings, and artifacts.
#9 – Houtong – Quite the quirky place to visit in Taipei!
Former mining town
Home to many cats
Unusual features
Cute cafes
Why it's awesome: A short train ride from the heart of Taipei brings you to Houtong, an old coal-mining town built by the Japanese that is now known for its many felines. The hillside town was abandoned when the mines dried up, leaving cats to roam free, multiply, and claim the space as their own.
Today, Houtong is a Taipei must-see for any animal lover, particularly those with a penchant for cats. Volunteers care for the animals and have created many cool and quirky cat-themed attractions. I dunno about you, but this is my personal best place to visit in Taipei!
What to do there: Get up close and personal with the friendly cats that call Houtong home. You can buy food to pamper the kitties, but don't feed them human treats as it can make them sick.
See the feline-themed artworks that adorn many walls, spot the small houses built to afford shelter to the strays, and enjoy snacks and drinks in one of the quaint cafes. There are plenty of great photo opportunities and you can purchase a range of cat-themed memorabilia.
Cat town: top sight in Taipei!
Is This the Best Daypack EVER???
#10 – Beitou – Great place to visit in Taipei for couples
Diverse museums
Places of natural interest in Taipei
Why it's awesome: Although soaking in hot springs may not be the most obvious choice of things to do when experiencing hot and humid conditions, taking a dip is surprisingly relaxing and soothing. Beitou Hot Springs has a number of well-maintained and clean hot springs, with private changing areas and lockers.
Signs clearly state the temperature of each pool. It's one of the best public hot springs around the city, though you will also find some private hot springs if you want a more exclusive experience. Beitou also boasts stunning geothermal features and several interesting attractions.
What to do there: Melt your problems away! If you're looking for things to do in Taipei to take your mind off all those measly problems you left back home, this is the place to go!
Marvel at the milky blue steaming waters of Beitou Thermal Valley, also known as Hell Valley (closed on Mondays), set in beautiful natural surroundings. Discover more about the area at Beitou Hot Spring Museum, Ketagalan Culture Center, and Beitou Library. Stroll through the scenic Beitou Hot Spring Park and Plum Garden, visit the small and secluded Puji Temple, and soothe away any aches and pains in the hot springs.
#11 – Ximending – A great place in Taipei if you love to shop!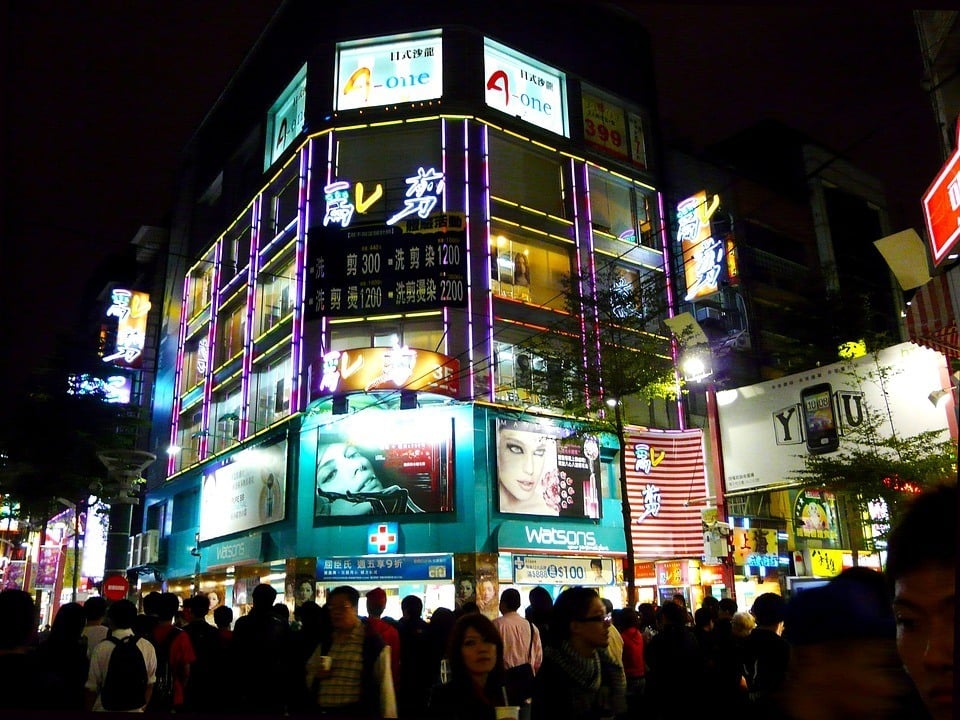 Energetic at night time
Japanese influence
Why it's awesome: Ximending is one of the best places to visit in Taipei if you're looking for cool shopping with a trendy and youthful vibe. Lively by day and by night, it has a wealth of recreational and leisure options too. Made popular when there was a heavy Japanese presence in Taiwan, it has gone from strength to strength since the 1980s.
It's easy to spot the Japanese influences still today, though there is also a strong local feeling too. Brimming with clothes shops and accessory stores, the area also has cool karaoke joints, cinemas, and eateries.
What to do there: Spend hours browsing in a large variety of stores in Ximending, trying not to get swept away in the exuberant crowds. It's an especially great place to shop in Taipei for alternative styles and items generally associated with various sub-cultures. Try out new fashions and perhaps add some funky pieces to your wardrobe. Stop for a bite to eat in one of the local restaurants and, as night falls, sing your heart out in one of the KTVs.
#12 – Ghost Mask Museum – One of the more unique places to visit in Taipei
Quirky attraction
Cultural and spiritual insights
Hand-made items
Lesser-visited museum
Why it's awesome: The Ghost Mask Museum started life as one man's private collection of hand-made ghostly masks. Nestled down a quiet alley, visitors can peer at some 1,500 unusual masks, with some that are rather grotesque and others that border on the comedic. Seeing the creepy collection of masks is definitely among the most unusual things to do in Taipei!
What to do there: Gaze in curiosity at the large collection of masks created by sculptor Wu Jyh Chyang and appreciate the effort and passion that must have gone into painstakingly creating each item by hand. Some masks are embellished with various items, including animal hair, cigarette butts, and scraps of cloth.
The museum provides insights into local ghost beliefs and some seek to teach valuable life lessons and warn of punishments that await one in the afterlife if people fail to live a righteous life. This may not be the top must-see in Taipei for those with a deep-seated fear of their own mortality… but I think it's awesome!
Small Pack Problems? 😉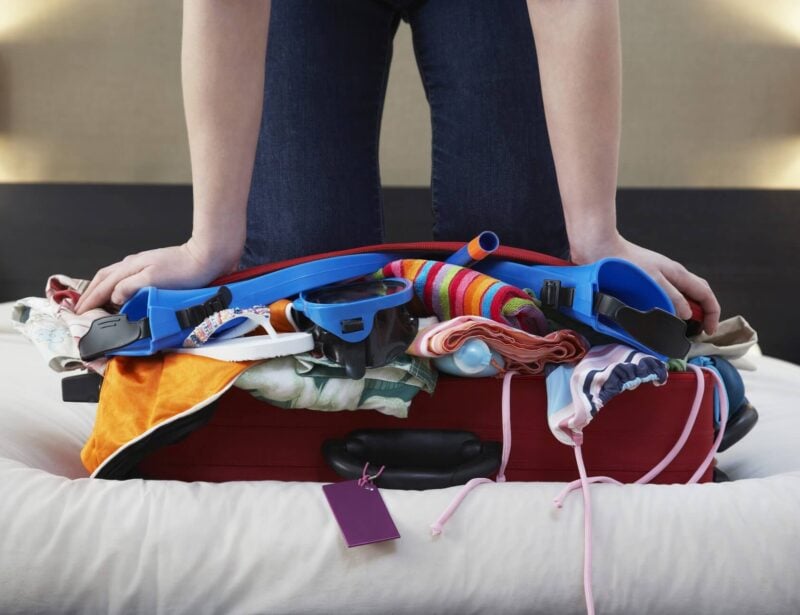 Wanna know how to pack like a pro? Well for a start you need the right gear….
These are packing cubes for the globetrotters and compression sacks for the real adventurers – these babies are a traveller's best kept secret. They organise yo' packing and minimise volume too so you can pack MORE.
Or, y'know… you can stick to just chucking it all in your backpack…
Get Yours Here
Read Our Review
#13 – Taipei Botanical Garden – One of the nicer places in Taipei to sightsee!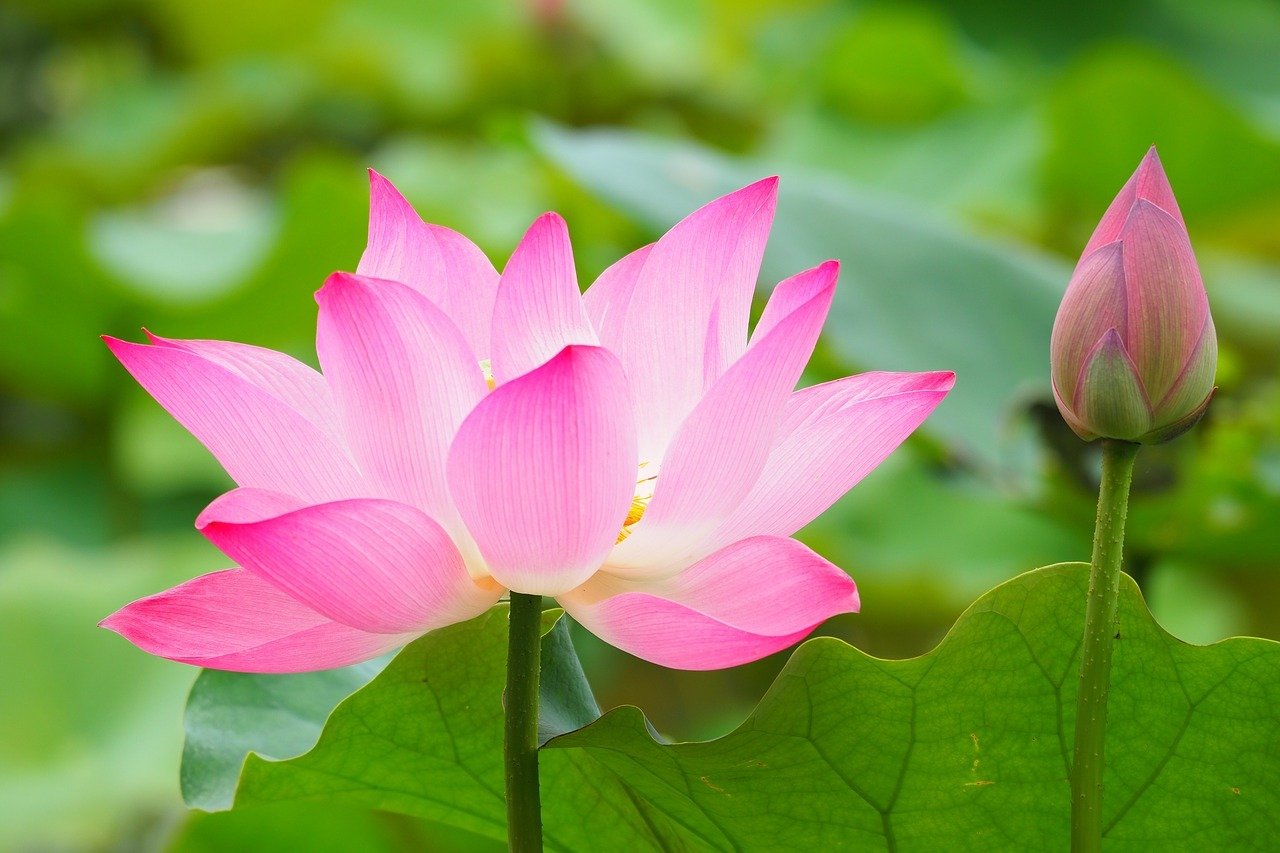 Centre for botanical research
Pleasant walking trails
Various gardens
Wide selection of plants
Why it's awesome: Switching gears from Taipei's more morbid attractions, the Taipei Botanical Garden is home to some 1,500 species of plants… and super pretty! Established as a botanical garden by the Japanese in the early 1920s, there has been a garden at the same place for many decades. The pretty and peaceful garden is split between 17 different areas, with historical buildings, sparkling ponds, and well-maintained footpaths too.
What to do there: Take a leisurely stroll through the picturesque botanical garden, admiring a wide range of plants and flowers from different parts of the world. There are species native to the island of Taiwan, as well as those from neighbouring nations and farther afield. Some species are rare and there's good information provided about the various flora.
#14 – Taipei Fine Arts Museum – A great place to visit in Taipei if you are alone/traveling solo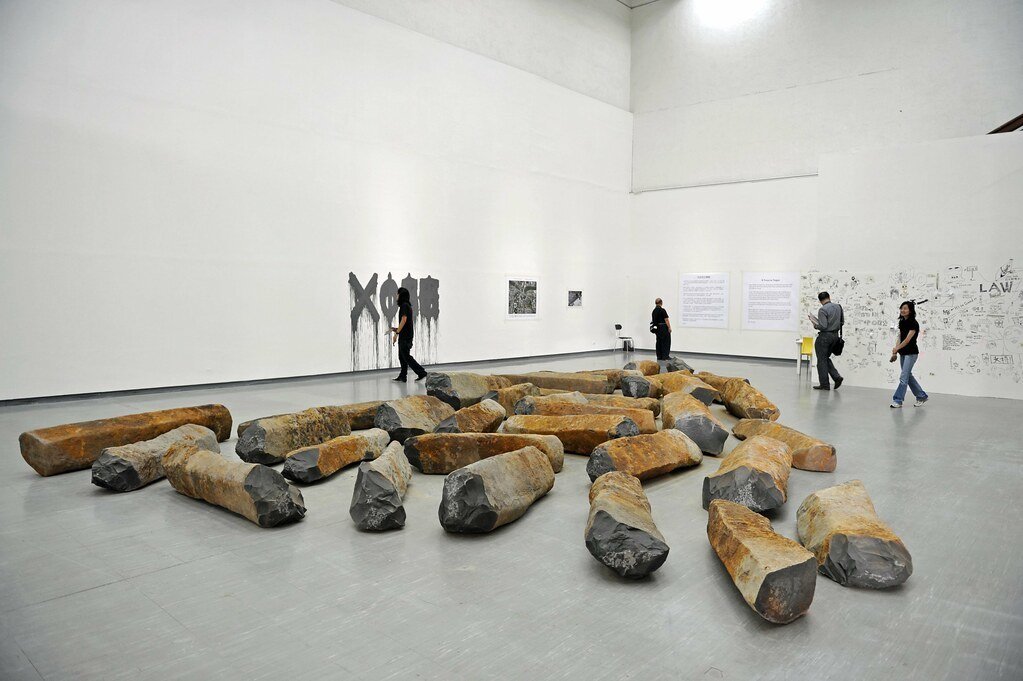 Lovely building
Interesting art works
Activities for kids
Learning opportunities
Why it's awesome: The Fine Arts Museum is a Taipei must-do for anyone interested in art. A great place for solo travellers to immerse themselves in visual creativity, the museum has been capturing people's interest since 1983. It was Taiwan's first art museum to focus on contemporary and modern art. Now located at Taipei Expo Park, it's a cool place to go in Taipei to escape the heat and enjoy a few hours in air-conditioned comfort.
The building has interesting architectural elements and there are many thought-provoking and stimulating art pieces to enjoy. There are regularly changing temporary displays in addition to the permanent exhibits, and the museum often hosts a range of special events.
What to do there: Wander along the tube-like suspended corridors, soaking up the Chinese influences, peer out through the gigantic windows to see nearby landmarks and open spaces, and, of course, feast your eyes on an abundance of fascinating art. Pieces span from the start of the twentieth century to the present day and there are works by both local and international artists.
Aiming to take visitors through the history of art in Taiwan, the museum also houses a number of antiques alongside modern works. If you're visiting Taipei with children, don't miss popping into the Children's Art Education Centre too because kids love museums of fine art!
If you want to visit some more sites in the area, the Taipei Confucius Temple is just a ten-minute walk away and is a really stunning Chinese temple that doesn't take too long to see.
#15 – Yehliu Geopark – A beautiful outdoor place to visit in Taipei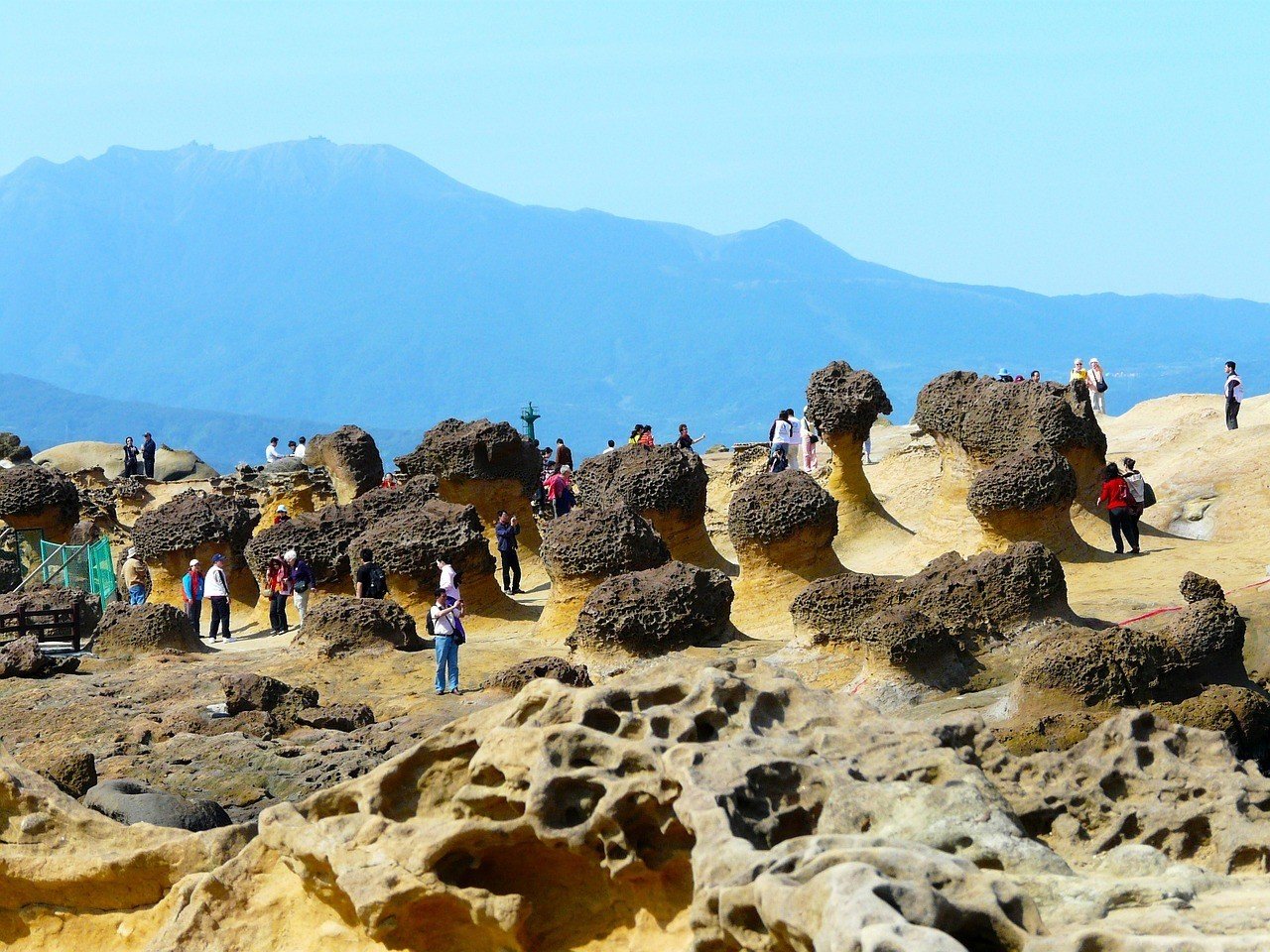 Natural attraction
Splendid views
Brilliant photo opportunities
Coastal setting
Why it's awesome: Yehliu Geopark is a fascinating natural attraction to add to your bucket list when you travel to Taipei. Although fairly remote, it is easy to reach by bus, making it an ideal day trip from Taipei. There are many interesting geological formations, created by the mighty powers of Mother Nature over thousands of years. The unusual landscapes are photogenic and there are amazing views out over the ocean so make sure you bring your camera!
What to do there: Walk along the coast, soaking up the views and marvelling at the unusual rocky landscapes. The cape runs for around 1,700 metres (5,577 feet), and highlights include features named the Kissing Rock, Sea Candles, Ice Cream Rock, Elephant Rock, Fairy Shoe, and Ginger Rocks. Take plenty of pictures of the stunning Queen's Head. You can also pay a visit to the nearby Yehliu Ocean World where you can observe an interesting selection of aquatic creatures.
#16 – Dahu Park – A cool place to see in Taipei with friends
Enjoy being outdoors
Lake and mountain vistas
Varied activities
Home to local wildlife
Why it's awesome: Located in the Neihu District of Taipei, Dahu Park was established in 1979. One of the city's prettiest parks, it is known for its large and scenic lake. The park sits in the shadow of Mt. Bailushi. There are various leisure options and it's one of the best Taipei vacation ideas for families and groups of friends looking for somewhere to unwind in nature.
Combining natural and man-made features, there's plenty to keep you occupied for several hours and it's also one of the best places to stay in Taipei. If you visit Taipei on the weekend you'll likely find the park teeming with local families, but if you go on a weekday you can enjoy a quieter ambiance.
What to do there: Cross the pretty Jindai Bridge that spans the large Egret Lake and enjoy the views of the lake and the surrounding nature.
Follow nature trails through the park and spot diverse flora and fauna, relax in the traditional Chinese-style pagoda next to the water's edge, have a go at fishing, unwind in the heated swimming pool, and enjoy a little TLC in the sauna and steam room. If you're feeling active, climb Mt. Bailushi for terrific views over the area.
#17 – Taipei City Mall – The Underground Mall in Taipei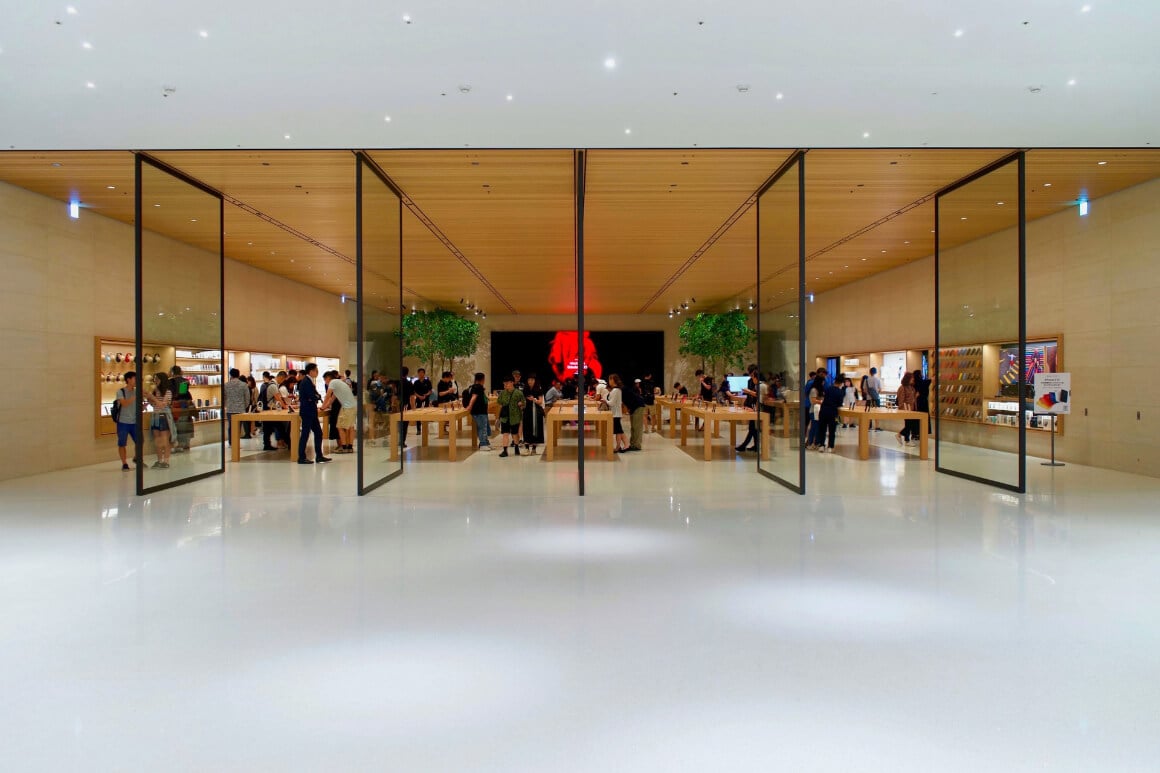 A great place to shop for boutique clothing and souveniers
Easily connected to Taipei Main Station
The oldest market in Taipei
A cool place to pass the time
Why it's awesome: Taipei City Mall is an underground mall between the Daan and Zhongzheng districts in Taipei City. It was the first underground market to open in Taipei City though it's had its share of history. In the 90s, the government decided to knock down the original market and build a new one. It opened in the year 2000, eight years later, and provided shops for the 810 market stalls that originally stood there.
Now, the 825-meter long underground mall is composed of modern shops, filled with boutique brands and traditional stalls intertwined. It connects to Taipei Main Station and the metro, which is right underneath the mall. So it's pretty easy to get to.
What to do there: shop until you drop! It's a mall, so of course, it's the place to be to buy clothing and souvenirs. You can find contemporary brands or something a little more traditional, or you can find a cafe or restaurant to relax in and enjoy some good food.
#18 – Yangmingshan National Park – The Most Beautiful National Park in Taipei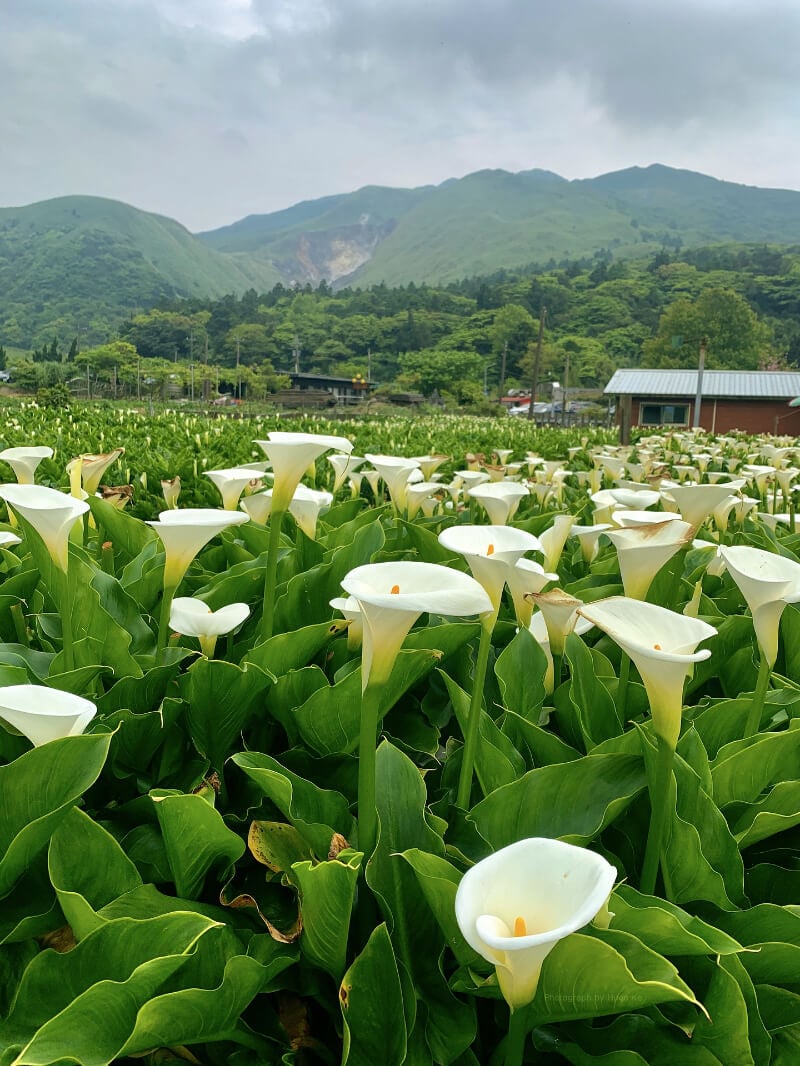 One of the 9 National Parks in Taiwan
A great place to enjoy nature and being outdoors
Hiking and wildlife activities available
A quiet place to escape the busy city center
Why it's awesome: The Yangmingshan National Park is one of nine national parks in Taiwan and is conveniently located between Taipei and New Taipei City.
Historically referred to as Caoshan (which means Green Mountain in English) the national park is a breath of fresh air away from the hustle and bustle of the city. There are some nice scenic spots in the park to enjoy a nice picnic or you can just enjoy being out in nature.
You'll find hiking trails that take you through stunning gardens, over rolling landscapes and past the hot springs. If you are staying in Taipei City for more than a week I would definitely recommend taking the trip up here.
If you don't have a lot of time and you want to see some nature, consider checking out the Elephant Mountain hike. The Elephant Mountain is located within the city close to the Xiangshan MRT Station.
What to do there: As it's a national park, the best thing to do here is to unwind in nature and just stroll around the hills and gardens.
If you're visiting on a weekend, you can only get to the national park by bus. From Taipei Main Station, take the 260 bus or the Red 30/208 from Jiantan MRT Station. These buses will drop you off at Yangmingshan bus station where it's just a 700 meter walk to the park entrance.
#19 – National Palace Museum – The Largest Collection of Chinese Artifacts in The World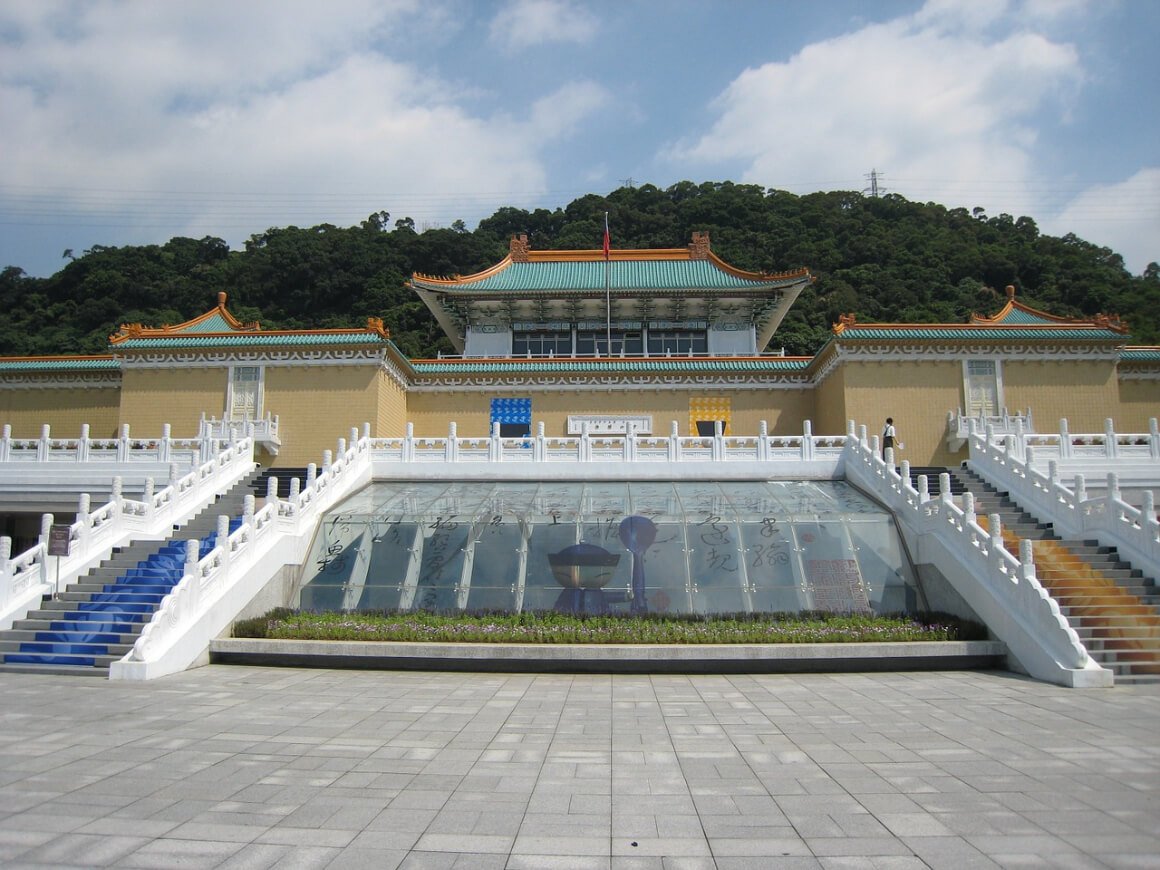 Largest collection of Chinese artefacts in the world
In a gorgeous building that's worthy of Instagram photos
Located in the Shilin district, perfect for those who want street food after
A nice, quiet indoor activity to do when it rains
Why it's awesome: The National Palace Museum is known for its permanent collection of nearly 700,000 pieces of Chinese artwork, relics, and artifacts. This is the largest collection of its type in the world.
Spanning 8,000 years of Chinese history, mostly from the Ming and Qing dynasty, but also dating as far back as the neolithic age. The collection of high-quality pieces was usually collected by Chinese emperors, and they are now on display for public viewing.
Many of the artifacts used to be housed in the Forbidden City in Beijing, but during the Civil War in China, many items were moved to Taipei to protect them from getting destroyed in the conflict.
A total of 2,972 crates of artifacts were moved from the Forbidden City, which was only 22% of the original number of crates due to be sent here, but it is said that the pieces that made it to the National Palace Museum represented some of the very best of the collection.
What to do there: Walk around and enjoy the incredible artifacts, from pottery and ceramics, weapons, paintings, clothing, and tools. There's so much to see here, it could easily take you a whole day.
The exterior is also one of the most beautiful buildings in Taipei City. You should take your time to admire the outside as well as inside. It's also located in the Shilin District, so if you go in the afternoon, you can head to the night market for some food after.

Our GREATEST Travel Secrets…
Pop your email here & get the original Broke Backpacker Bible for FREE.
Get insured for your trip to Taipei!
ALWAYS sort out your backpacker insurance before your trip. There's plenty to choose from in that department, but a good place to start is Safety Wing.
They offer month-to-month payments, no lock-in contracts, and require absolutely no itineraries: that's the exact kind of insurance long-term travellers and digital nomads need.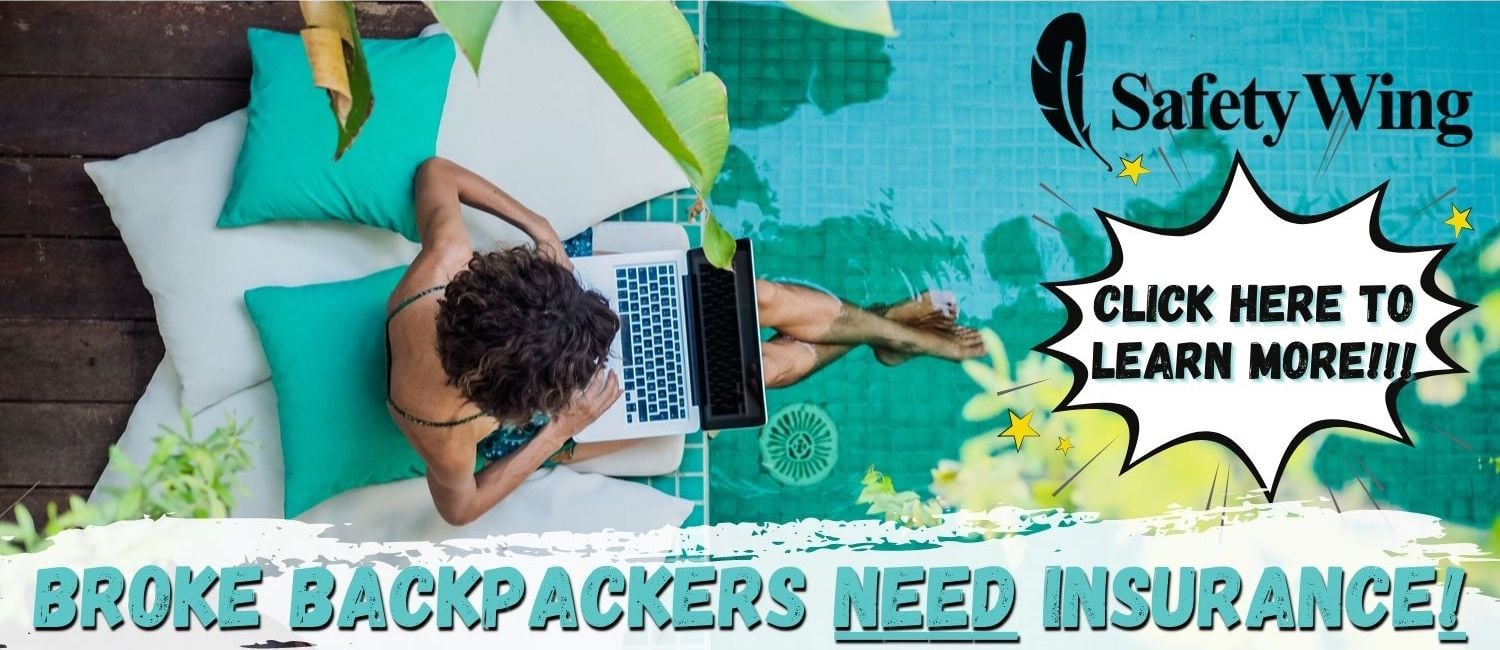 SafetyWing is cheap, easy, and admin-free: just sign up lickety-split so you can get back to it!
Click the button below to learn more about SafetyWing's setup or read our insider review for the full tasty scoop.
FAQ on the Best Places to Visit in Taipei
Find out what people want to know about the best places to visit in Taipei
Final Thoughts on The Best Places to Visit in Taipei
So, Taiwan is awesome and so is the capital; Taipei is filled with beautiful places to see indulging in rich culture and vibrant history.
I'd even say that Taiwan is criminally unexplored when compared to its other East Asian neighbours.
There's no shortage of secrets in the city if you're aching to break away from Taipei's tourist attractions. Even if you stick to visiting Taipei's popular places, you're still going to have an awesome time!
Taiwan is a fantastic little island and another gem of East Asia with its own unique history.
When you get there, make sure you soak it up. Go to some places, hit up Taipei's best destinations, and, most of all, eat yourself into that mother of all food comas at one of the incredible night markets, because there are so many. Whether you go to the Shilin Night Markets, Raohe Night Markets or Ningxia Night Market, don't be afraid to try some BBQ.
And, most of all, have a blast!
---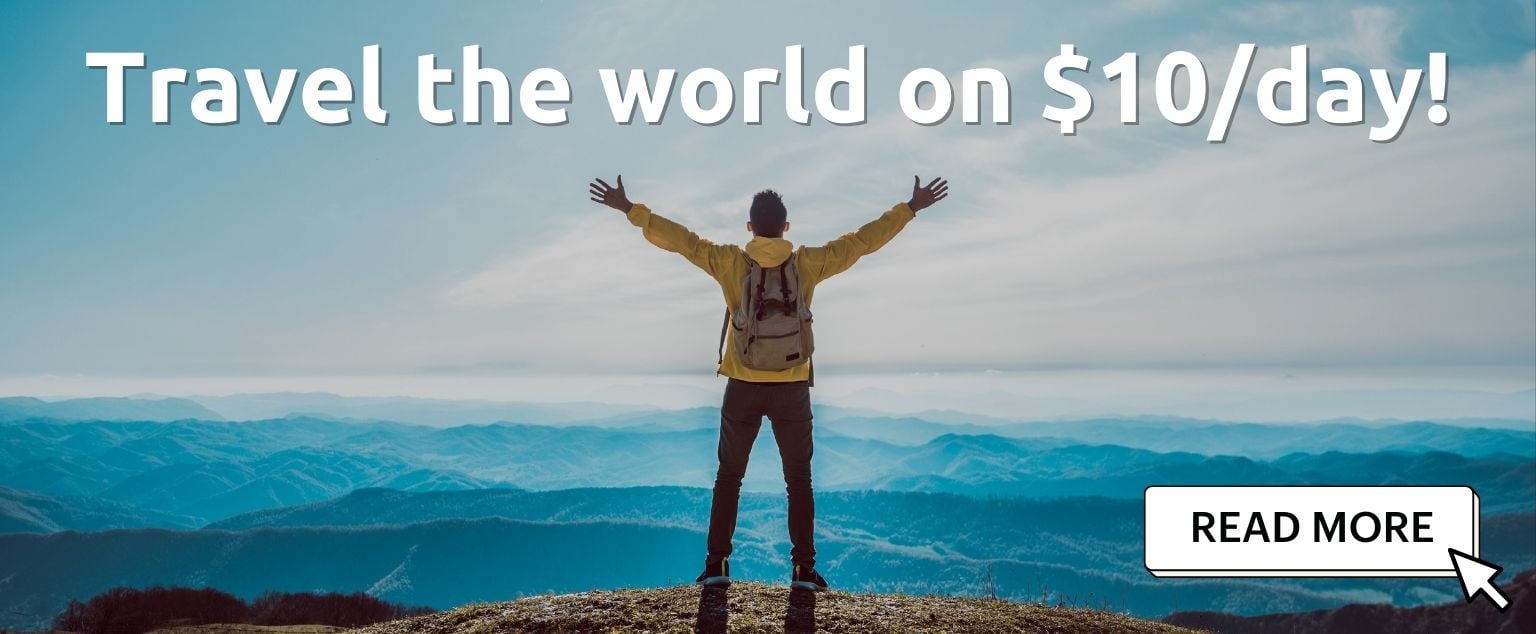 And for transparency's sake, please know that some of the links in our content are affiliate links. That means that if you book your accommodation, buy your gear, or sort your insurance through our link, we earn a small commission (at no extra cost to you). That said, we only link to the gear we trust and never recommend services we don't believe are up to scratch. Again, thank you!