The Maldives is a complete wonderland when it comes to beachside luxury. With its tropical beach hut properties being so iconic, this island archipelago is one of the most popular honeymoon spots in the world. And for good reason.
The islands are packed with awesome beaches, thriving stretches of coral, and incredible resorts to soak it all up.
For me though, the Maldives is all about beach houses.
You may find yourself in a lush resort setting – pretty much the lap of luxury, with all the amenities and facilities you could ask for. Or you may find yourself booking a private local house that's ideal for independent travellers.
Either way, what's always, always guaranteed when you're staying in a beach house in the Maldives are some incredible views of the sea, tropical gardens, and the night sky.
If all this has convinced you that jetting off to this island paradise is a good idea, then you'll want to read on. This handy guide to the best beach houses in the Maldives has accommodation options to suit any type of traveler.
In a Hurry? Here's Where to Stay in Maldives for One Night
FIRST TIME IN MALDIVES
Veli Vilaa at Dhiffushi
Hammock? Check. Your own slice of white sand beach? Check. This is the best beach house in the Maldives for your money. With its modern meets vintage decor, sea views, and awesome sunsets, it's a sure winner.
NEARBY ATTRACTIONS:
Araanu Beach
Dream Corner Coffee Shop
Sand Grill Restaurant
Is this amazing Maldives Beach House booked for your dates? We've got your back with our other favorite properties below!

Unlock Our GREATEST Travel Secrets!
Sign up for our newsletter and get the best travel tips delivered right to your inbox.
Staying in a Beach Houses in Maldives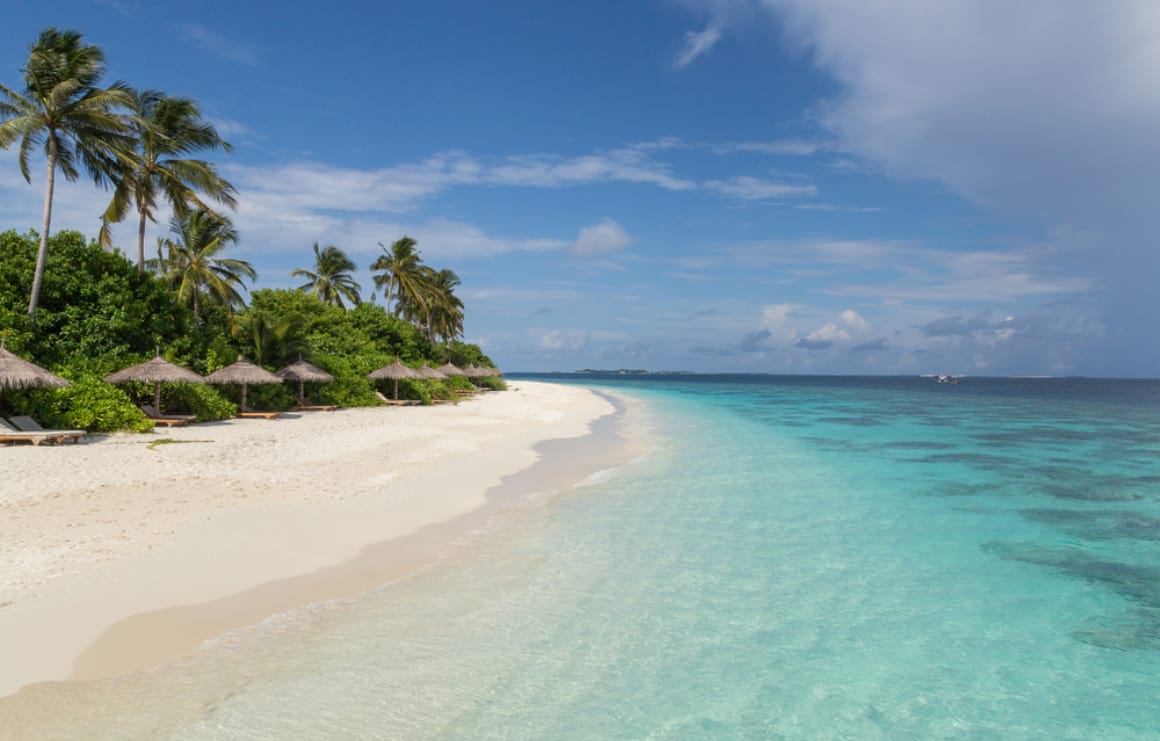 The first thing you should know about beach houses in the Maldives is that they're not cheap. This isn't the sort of place where you can base yourself for weeks on end in a private property by the sea if you're on a budget.
In fact – and this is the second thing to note about beach houses in this island nation – many of them are situated within resort areas. This instantly means that you'll be paying a little extra for that sort of privilege. But, it's these resorts that keep the islands so well-maintained, which is why the Maldives is one of the best tropical islands to visit for natural beauty.
Staying in a resort does come with some perks. You often get breakfast included as part of the bargain, as well as the use of resort facilities such as workout rooms and daily maid services.
If you really want to up the ante you can opt to stay in a property on stilts situated right over the turquoise sea itself. This is that iconic and unique accommodation in the Maldives that you've always seen pictures of. While not exactly what I'd call affordable, for a special occasion it can't be beaten.
What to look for in a Beach House
If you're on a budget, you may want to look for a place to stay in the Maldives that isn't situated in a resort area. Properties in resorts are automatically more expensive. Where possible, look for private properties situated in local areas, close to bars and cafes, or – even more ideally – not too far from the airport. It just helps bring the cost down, while also being more authentic and convenient.
If you are on a budget, or you're traveling solo – or even if you're backpacking – it is possible to find yourself a decent beach house in the Maldives. You could even find a private room in a larger property, which will keep costs down.
It is good to remember though that the Maldives isn't known for being cheap. But if you're planning a trip there, you're probably already making allowances for that.
What do you get as part of your beach house experience here? Private outdoor areas – a deck, a walled garden, balconies – are pretty much a standard. Swimming pools are often included, too. But surprisingly you won't often find fully-equipped kitchens, owing to the number of properties situated within resort areas, so if you like to cook, make sure to check for self-catering facilities. If not, get ready to be waited on rather than rustling up your own grub.
You should also check that there are fans or A/C in the room, plus mosquito nets – because this is a tropical island after all, and nothing ruins a sleep more than a hot room full of bugs.
I'd also recommend Airbnb as the platform to book through. It has plenty of choice, tons of great photos for each property (usually, anyway), and the ability to communicate directly with the hosts of the properties. Booking.com and Vrbo are decent enough, but Airbnb wins every time for me.
OVERALL BEST VALUE BEACH HOUSES IN MALDIVES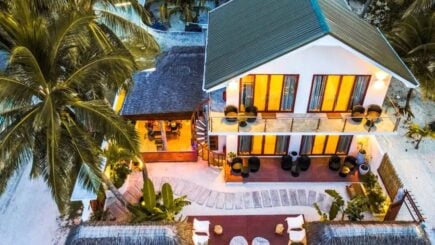 OVERALL BEST VALUE BEACH HOUSES IN MALDIVES
Veli Vilaa at Dhiffushi
> $$
> 11 Guests
> Private garden
> Balcony
BEST BUDGET BEACH HOUSES IN MALDIVES
BEST BUDGET BEACH HOUSES IN MALDIVES
Chilled Beach House
> $
> 8 Guests
> Private garden
> Daily breakfast
BEST BEACH HOUSE FOR COUPLES
BEST BEACH HOUSE FOR COUPLES
Beach Villa Ukulhas
> $
> 2 Guests
> Resort location
> Private terrace
BEST BEACH HOUSE FOR A GROUP OF FRIENDS
BEST BEACH HOUSE FOR A GROUP OF FRIENDS
Shallow Lagoon House
> $
> 16 Guests
> Private garden
> Breakfast included
OVER-THE-TOP LUXURY BEACH HOUSE
OVER-THE-TOP LUXURY BEACH HOUSE
High-end Designer Beach House
> $$$$
> 16 Guests
> Literally everything you could ask for
> Breakfast included
BEST BEACH HOUSE FOR FAMILIES VISITING MALDIVES
BEST BEACH HOUSE FOR FAMILIES VISITING MALDIVES
Shell Beach Holiday Home
> $$$
> 10 Guests
> Daily maid service
> Private pool
BEST BEACH HOUSE FOR BACKPACKERS IN MALDIVES
BEST BEACH HOUSE FOR BACKPACKERS IN MALDIVES
Seven Corals
> $
> 16 Guests
> Breakfast included
> Travel desk services
The 15 Top Beach Houses in Maldives
Now that you know what to expect from beach houses in the Maldives, it's time to start gawping at incredible beach houses in the Maldives.
$$
11 Guests
Private garden
Balcony
Perfect for your own private getaway in this dream destination, here you can spend your days hanging out in a calm oasis, relaxing into the Maldivian way of life. Located right on a white sand beach, this is a spot for stunning sunsets and time spent sunning yourself on the sand alike.
The beach house itself is modern with a mix of vintage touches – a design lover's dream. Every detail has been considered. Aside from the decor, just swinging on a hammock with a view of the sea is the best part of this awesome place.
$
8 Guests
Private garden
Daily breakfast
Spending time in the Maldives on a budget doesn't have to be a buzzkill – just check out this place. This rustic beach house has been lovingly maintained with a modern beachy vibe. Think white-washed walls, house plants, and rattan furniture. It definitely looks the part.
With enough room to sleep eight guests, rooms here all connect out onto an interior private garden, so you can kick back on the sunbed or enjoy meals together. But the best thing about this place is it's literally steps from the sand. That's why you've opted for a beach house in the Maldives, right?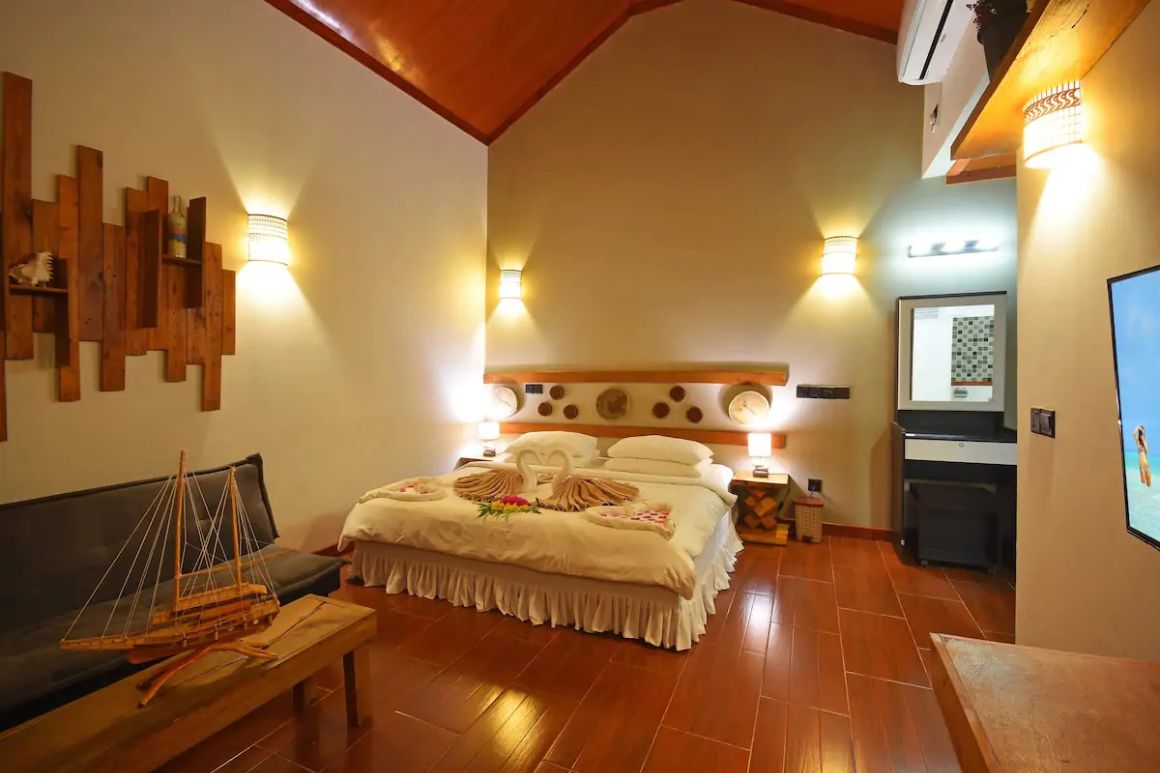 $
2 Guests
Resort location
Private terrace
This cute little beach villa in the Maldives is set up just for couples to have a romantic getaway. Set on a compact resort area, there are only two other bungalows nearby, so it never feels overly busy. That means you and your partner can sit back and listen to the waves rolling onto the shore from your private terrace.
The beach house itself is laid-back but clean and well-maintained and comes with its own living room and ensuite bathroom. You'll also have access to the property's restaurant – an extra bonus.
Best Beach House for a Group of Friends – Shallow Lagoon House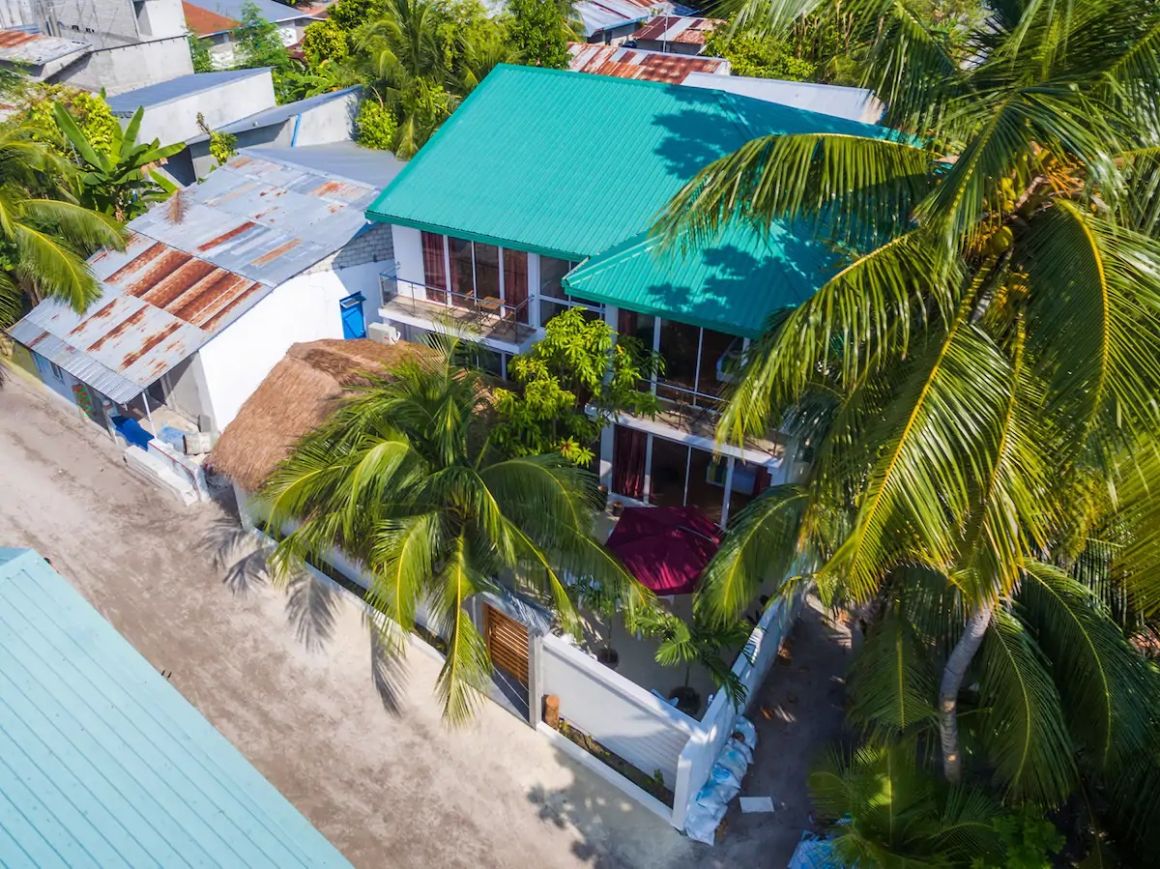 $
16 Guests
Private garden
Breakfast included
Spending time in paradise with your pals is always a good idea – and why not do it at this awesome beach house in the Maldives? Situated on Rasdhoo Island (accessed via boat or seaplane) it's a dreamy spot for those looking for the best diving spots or just want to kick back with their mates at the end of a day exploring the undersea wonders of the Maldives.
You'll get the whole run of the property here, which includes modern rooms, private bathrooms, balconies, and even your own walled garden. But you'll probably spend most of your time chilling on the heavenly beach right on the doorstep.
Is This the Best Backpack EVER???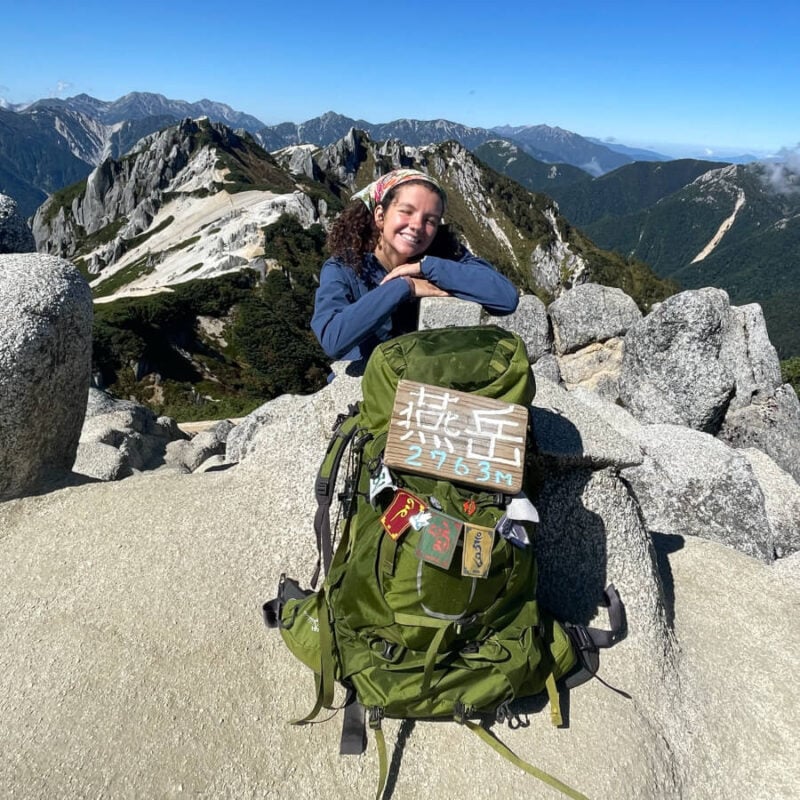 $$
12 Guests
Great for surfing and diving
Fully equipped kitchen
If that place didn't quite do it for you, you may want to consider this one for you and your friends. It's pretty chilled out – not too polished, and feeling more like a local's home by the sea. Located on the beautiful island of Thulusdhoo (the capital of the Karfu Atoll), this is a famous surf spot and diving location.
If either of those activities ticks boxes, it may just end up being the best beach house in the Maldives for you. The house itself features a colorful private walled garden and plenty of room inside to hang out.
$$$$
16 Guests
Literally everything you could ask for
Breakfast included
You don't have to go far in the Maldives to find some insane luxury, but honestly, this place stands out among the rest. An almost celebrity-style beach house, it sits right on the edge of the Baa Atoll within the UNESCO World Heritage Biosphere Reserve. So the location is primo.
The house? It's built around an inner garden and overlooks a chic private swimming pool that faces the beach. Inside each room has been decorated with high-end furnishings. You won't want for anything during your stay: there's video games, security systems, a bar, a workout room… Need I say more?
$$$
10 Guests
Daily maid service
Private pool
If you're looking for a top beach house in the Maldives to base you and your family, this place could do very nicely indeed. For one thing, it's pretty reasonable cost-wise. Then in terms of location, you'll be situated mere steps away from a stunner of a beach, and in a local area close to restaurants and shops.
The house features facilities to suit families, with a walled private garden and swimming pool, and four bedrooms to fit everyone in. Rooms are cleaned daily, meaning you won't have to lift a finger. A plus point is having access to the facilities of a nearby resort, too.
Best Beach House for Backpackers in Maldives – Seven Corals
$
16 Guests
Breakfast included
Travel desk services
Yes, backpackers too can enjoy the luxury of a beach house in the Maldives – on a budget, too. Situated on the easygoing Maafushi Island, you'll be just a few steps from the beach here in a resort area that's run by a friendly group of people. They'll help you figure stuff out like ferry tickets and excursions (good for independent travelers).
The property itself can be rented out per room, or the entire house, so it depends on your budget and who you're with. I say go for the whole thing, enjoy yourself.
Amazing Luxury Beach House in Maldives – Dreamy Sea House
$$$$
2 Guests
Private pool
House literally located on the sea
This place is the classic Maldives. Situated right over the water itself, it's the stuff travel brochures are made of. Here you'll get an opulent beach house that looks over the turquoise seas, complete with your own pool and the white sand just a short hop, skip and jump along wooden walkways.
The decor is as luxurious as you'd imagine, with high-end furnishings and tropical chic aesthetics. You'll have an outdoor shower, deck, day bed, all that stuff, but also access to a resort with a bar and restaurant, too.
$$$
1 Guests
Breakfast included
Secure resort location
You might be thinking that the Maldives is exclusively for honeymooners, couples, or families at a stretch – but it's totally not. You can still enjoy paradise as a solo traveler, and safely too. This beach house in the Maldives is situated within a resort area, but it doesn't feel overly romantic or opulent.
You can wander around the resort gardens on winding pathways, enjoying the various different restaurants, sports facilities, and spas – all while enjoying the privacy of your very own beach house.
$$$$
3 Guests
Breakfast included
Private pool
Popping to the Maldives for a weekend? Well, that's pretty awesome, and if you're doing it, you should opt for a stay at this beach house.
Just twenty minutes from Male Airport, you'll be kicking back on the sand in no time. This place comes complete with everything you'll need, with interiors that reflect the surrounding nature and calming white-washed walls.
Among other things, here you get your own private plunge pool that looks out over the sea. It's part of a resort, so you've got places to eat, places to work out, and excursions to organize right there.
$$$
2 Guests
Breakfast included
Private pool
You can't get a location any more epic than being right on the shores of powdery white sand on the Baa Atoll, Dhigali Island. Ringed by coral seas, the beach house sits overlooking the turquoise water, where below it's teeming with colorful marine life.
The beach house is 100% high-end, think white-washed walls and Spanish colonial-style interiors. Again, this place is situated in a resort so you'll have everything you'll need at your fingertips.
Best Beach House in Maldives for Views – Lilly Beach House
$$$
3 Guests
Private deck
Breakfast included
The Maldives has no shortage of amazing views, but if you really want to find somewhere truly stunning then book yourself into this beach house. Located right on the edge of the gleaming Indian Ocean, this is part of a resort that offers an endless amount of facilities. It's the kind of place that you'll fall in love with.
The snorkeling, in particular, is fantastic. But you won't even need to get in: you can see rays and reef sharks right from your very own private deck. Fan of sunsets? Good, because from here they're particularly epic.
$$$
2 Guests
Excursions available
Night skies are awesome
The Maldives is a classic honeymoon destination, and here is no exception to the rule. This beach house has been beautifully designed and features a large bed, high ceilings, and wooden floors – all with doors that open out onto a private deck.
With a beach bar located onsite, and a night sky that glitters with countless stars, it's a perfect place to make some memories you won't forget anytime soon.
$$$
2 Guests
Breakfast included
Private swimming pool
There are a lot of beautiful beach houses in the Maldives, but this place is a sure contender for the best of the best. Located on the tiny island of Meedhuffushi in the heart of the South Nilandhe Atoll, the property is unbelievably gorgeous, with aesthetic design matched only by the natural surroundings.
The high ceilings and natural decor allow the views and the tropical greenery outside to do the talking. In short, this place is incredible. It also comes with its own private pool and deck for sunbathing and stargazing alike.
Don't Forget Your Maldives Travel Insurance
ALWAYS sort out your backpacker insurance before your trip. There's plenty to choose from in that department, but a good place to start is Safety Wing.
They offer month-to-month payments, no lock-in contracts, and require absolutely no itineraries: that's the exact kind of insurance long-term travellers and digital nomads need.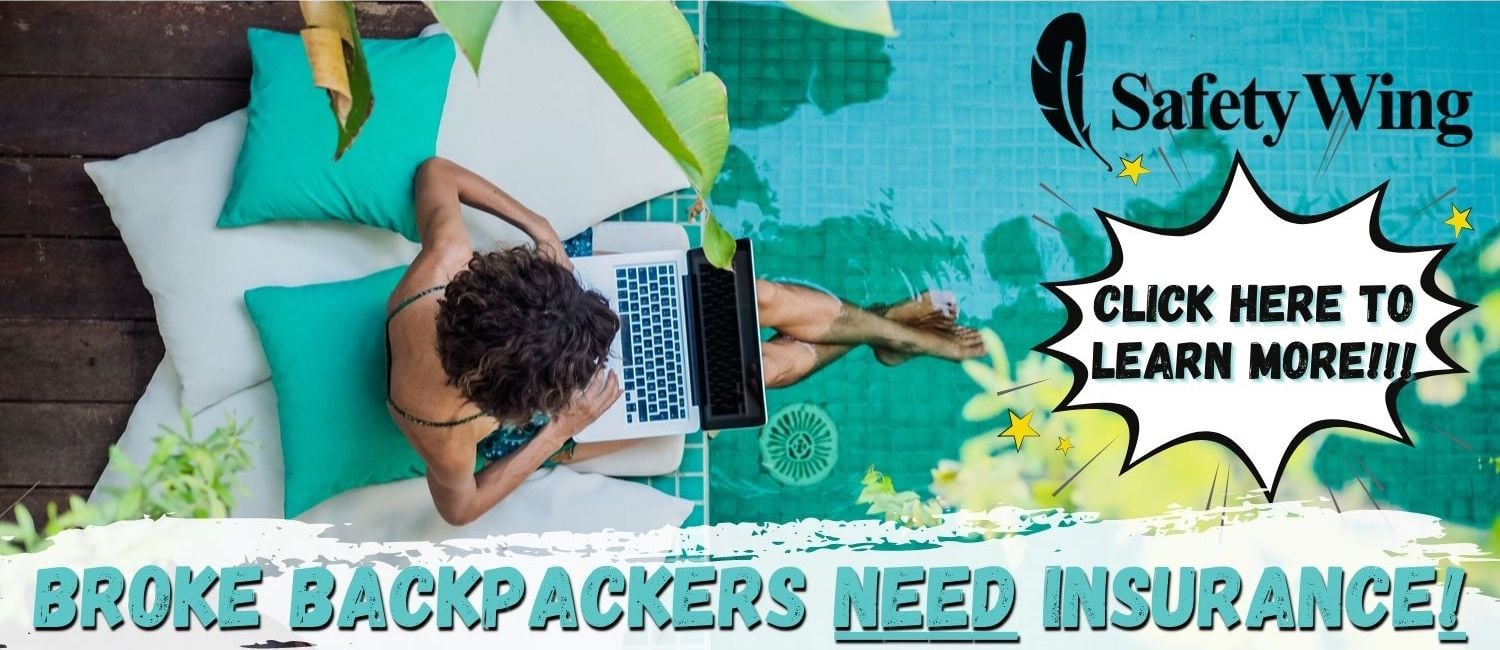 SafetyWing is cheap, easy, and admin-free: just sign up lickety-split so you can get back to it!
Click the button below to learn more about SafetyWing's setup or read our insider review for the full tasty scoop.
Final Thoughts on the Best Beach Houses in Maldives
So, there you have it people. That was my selection of the very best beach houses in the Maldives suitable to every type of traveler. There are plenty of choices, plenty of beautiful properties, and plenty of reasons to drop literally everything and start planning a trip to the Maldives.
That's because, while pricier than other beach destinations, staying in the Maldives doesn't have to break the bank. Beach houses can be had here for a (relative) bargain. So if you've always wanted to go… well, why not?
Before you go; in the very likely event that you're traveling to the Maldives from outside your home country, it's a good idea to think about travel insurance. I know, I know – it's a hassle, but sometimes it's better to cover yourself and have peace of mind than throw caution to the wind. Something to consider, anyway.
---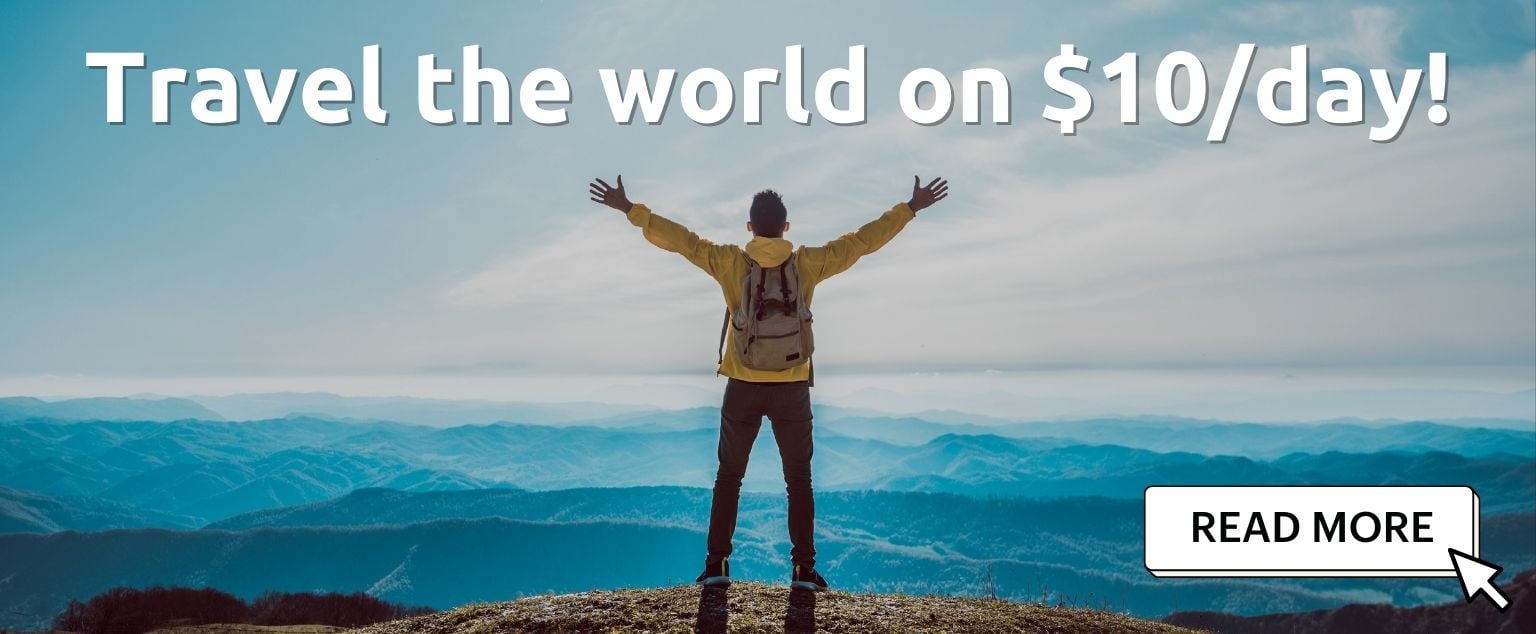 And for transparency's sake, please know that some of the links in our content are affiliate links. That means that if you book your accommodation, buy your gear, or sort your insurance through our link, we earn a small commission (at no extra cost to you). That said, we only link to the gear we trust and never recommend services we don't believe are up to scratch. Again, thank you!