A university town steeped in history and culture; Cambridge offers plenty to tourists. If you're already in the UK, it's one of the places you shouldn't miss. With a train station that connects it to London in just under an hour, Cambridge makes for a fantastic day trip but it's also an enjoyable place to stay for a longer time.
Staying in a Cambridge Airbnbs in one of the many unique and historic neighborhoods is an experience which you shouldn't miss. You can live like a local, mingle with the locals, and get valuable tips to make your time memorable.
Whether you have plenty of money to spend or you are on a strict budget, Cambridge has an Airbnb to suit all your needs.
Quick Answer: These are the Top 4 Airbnbs in Cambridge
Overall Best Value Airbnb in Cambridge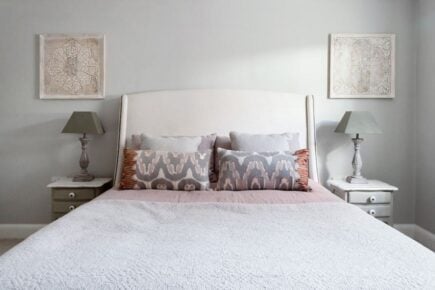 Overall Best Value Airbnb in Cambridge
Former Victorian Townhouse Turned Boutique Retreat
> $
> Guests: 4
> 2 bedrooms
> Elegant apartment
Best Budget Airbnb in Cambridge
Best Budget Airbnb in Cambridge
Cozy Flat in a Cosmopolitan Area
> $
> Guests: 2
> Self check-in
> Located in a Victorian terrace
Best Airbnb for Couples in Cambridge
Best Airbnb for Couples in Cambridge
Private Room in a Farm Stay
> $$
> Guests: 2
> Farm stay
> Luxury award-winning cottage
Best Airbnb for Families in Cambridge
Best Airbnb for Families in Cambridge
Spacious Countryside Home with Amazing Views
> $$$
> Guests: 12
> Self check-in
> Set across 3 floors

Unlock Our GREATEST Travel Secrets!
Sign up for our newsletter and get the best travel tips delivered right to your inbox.
What to Expect from Airbnbs in Cambridge
Steeped in gorgeous architecture and history, Cambridge also offers plenty of sports and culture. Although it's best known as a student city, with a huge population of students, there's a lot more to see if you are thinking of making it your next vacation destination.
Finding the right accommodation in Cambridge can be a challenge, so to make sure that you get a place that suits your needs, we've listed the variety of property types you can find there.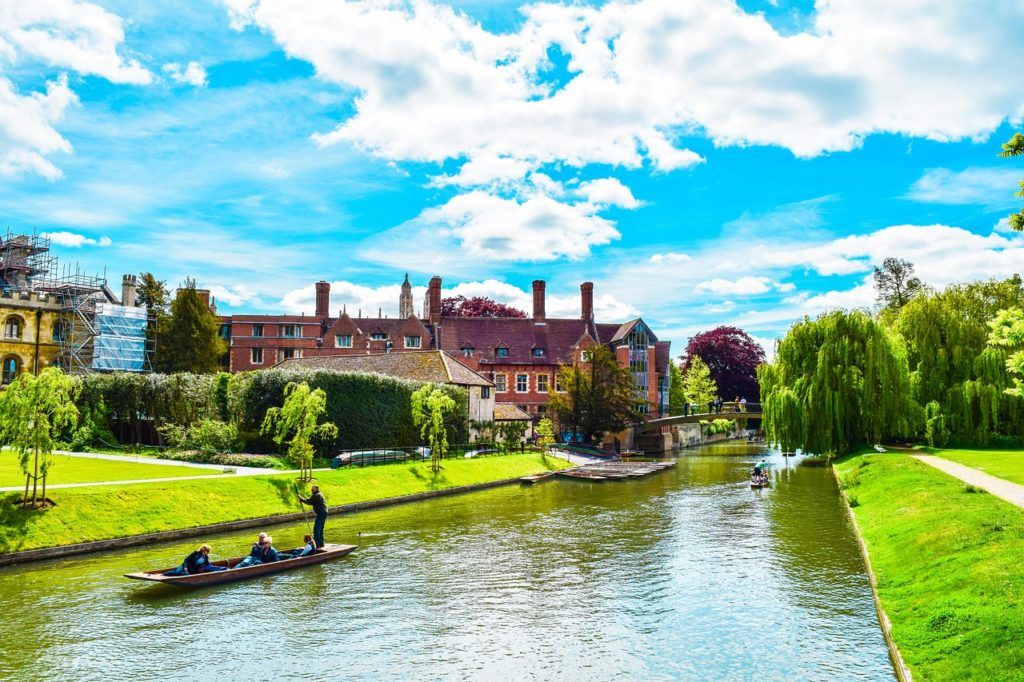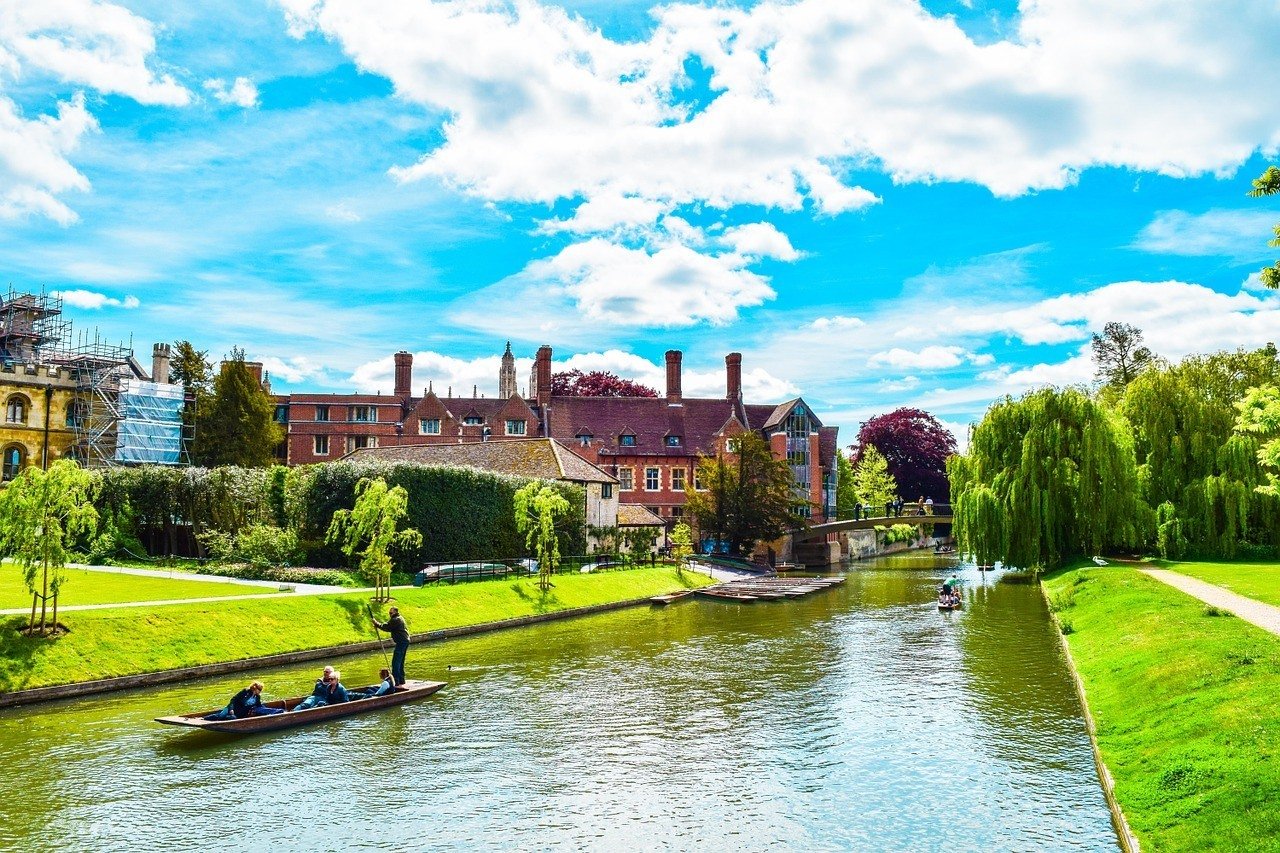 Private Rooms
Although this is not the main type of Airbnb in Cambridge, there are plenty of them in town. Some are simple with just the basic amenities but there are luxurious and stylish rooms too. You can definitely find one that suits your needs.
Private rooms can be cheap but they can also cost you some money, depending on your preference. Common areas are usually shared so if you want your own bathroom, make sure that you check the description before booking.
Staying with locals ensures that you get recommendations, whether you are searching for the best restaurants, the most happening bars or local hangouts that you shouldn't miss. No one can give you better ideas than those who live in Cambridge.
Flats and Apartments
Apartments and flats in Cambridge are virtually everywhere but if you want to be in the thick of the action, you need to pick those that are in the city center. This will save you the travel time and will also ensure you are only just a few steps away from the best restaurants, bars, clubs, and historic buildings.
Flats and apartments ensure you of privacy and can even accommodate groups and families, depending on the size. Most feature a well-equipped kitchen so you can prepare your own meals should you choose to do so.
Many properties are managed and owned by locals who promise you a comfortable stay. Don't be afraid to ask for insider tips from your host, they'll be more than happy to help.
Cottages and Residential Homes
English cottages, townhouses, and residential homes are some of the most beautiful options, and have additional amenities that families and groups of friends will enjoy.
Although not in proximity to the city center, they are just a few minutes' drive away, so getting around shouldn't be a problem. If you want a quieter home base for your vacation, there are delightful choices of cottages and homes in the countryside.
Generally speaking, cottages and residential homes have unique personalities and although they might not be new, some are often newly renovated and maintained in great condition. You can get anything from basic homes to the more opulent and stylish.
Why Stay in an Airbnb?
Affordability: Some of the most unique and beautiful Airbnbs in Cambridge can be had at prices way lower than your usual hotels.
Unique Properties: Say goodbye to humdrum hotels and boring stays. Airbnb properties are quirky, distinct, and beautiful so you'll be guaranteed a memorable time.
Local Experience: Staying in an Airbnb means staying with locals and getting insider tips from them that you wouldn't have known otherwise.
Privacy: Regardless if you are traveling alone, with friends or with family, Airbnbs guarantee privacy, just make sure to filter the properties carefully.
Staying Long-Term: The longer you stay in a place, the more discounts your host will offer.
The 15 Top Airbnbs in Cambridge
Cambridge is a wonderful place to discover! Let's not waste any time, here are the best rentals in the area. We've put in effort and time to check the available Airbnbs in Cambridge, so you don't have to.
4 Guests
Elegant apartment
This former Victorian townhouse has been converted into an elegant apartment. The property has two bedrooms, the main bedroom has a king bed and the second bedroom has a double bed. Both bedrooms have en-suite bathrooms and room-darkening shades.
The airy living area has a Bridgewater sofa where you can curl up and read a book. Thoughtfully decorated, the entire home has hardwood flooring and neutral hues which lend the home a cozy atmosphere.
2 Guests
Located in a Victorian terrace
This cozy little property is perfect for those who are on a tight budget. The flat has its own front door to the street and is located on the ground floor of a Victorian terrace. It is within 10 minutes walk from the station and 20 minutes walk from the town center.
The flat has a sitting room, kitchen, shower room, and a bedroom with a king-sized bed. It is within sight of vibrant Mill Road which is packed with delicatessens and cafes where you can go to satisfy your hunger. There is an outside shared patio space with a wooden table, chairs, and a bench.
Places to visit:
4 Guests
Behind Grafton Square
This is the best Airbnb in Cambridge for digital nomads that can be shared by four people for that added savings when traveling.
This lovely one-bedroom apartment has a bedroom and a sofa bed in the living room which can easily accommodate two additional guests.
Located just behind Grafton Square, guests can get all their groceries and other necessities they need if they wish to prepare their own food in the newly-renovated kitchenette.
Is This the Best Backpack EVER???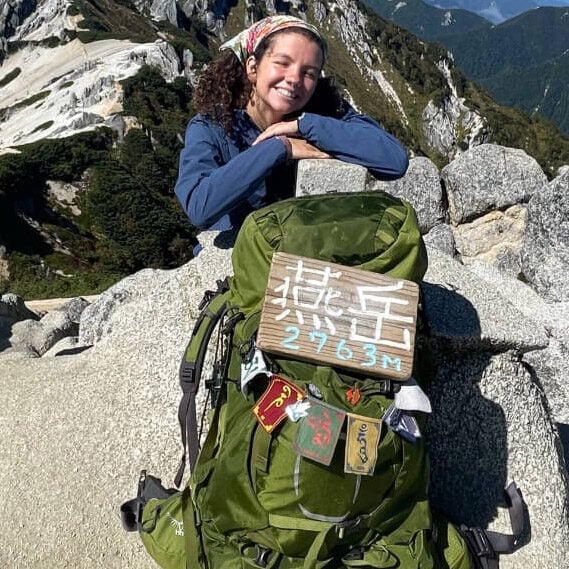 $$
Overlooking Jesus Green
6 Guests
Two parking spaces
This fully-refurbished three-bedroom townhouse overlooks Jesus Green in the historic center of Cambridge. It has two parking spaces and is the perfect base for guests to explore the local area's delights.
The master bedroom is on the top floor and has a king-sized bed and a spacious en-suite bathroom. The second bedroom is on the first floor and also has a king-sized bed, an en-suite toilet, and a small balcony overlooking Portugal Street.
The third bedroom has a Juliet balcony that overlooks the rear garden with views of the famous Varsity Hotel roof terrace. The ground floor has a study area, and a living area. The dining room is in the basement, as well as the well-equipped kitchen.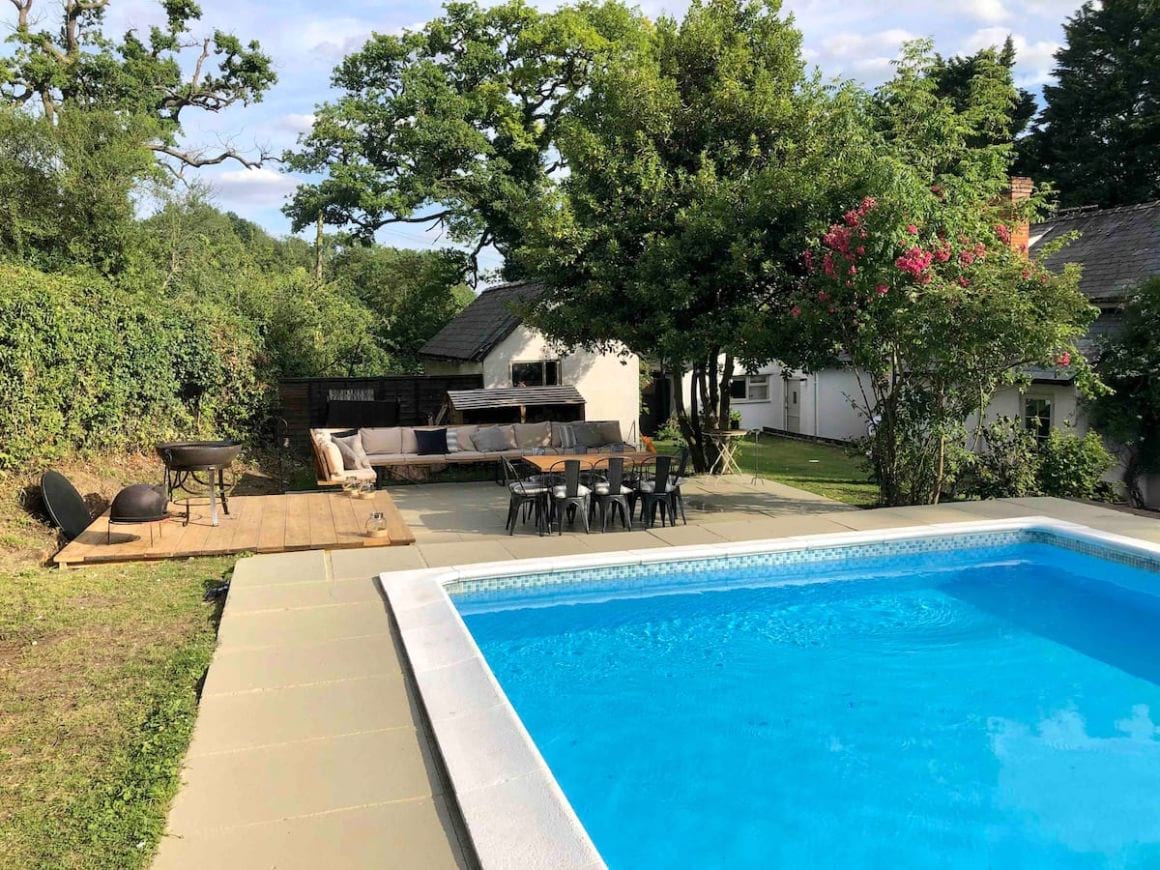 $$$$
300-year-old property
10 Guests
Surrounded by sweeping fields and woodlands
This expansive 17th-century cottage is the perfect country escape for a group of friends. It's hidden down a winding lane deep within the North Essex countryside.
The beautifully restored 300-year-old property has four bedrooms, a large family kitchen with a huge farmhouse table, and two large reception rooms. The exterior has a fully heated swimming pool with a terrace, a lounge area, dining table, sun loungers, and a BBQ area for guests to use and enjoy.
The property is near the historic town of Cambridge and the quaint market, Saffron Walden, is just 10 minutes away.
4 Guests
Stunning period home
Cambridge has its fair share of beautiful homes and this one is no exception. This beautiful period house has two bedrooms with a king-sized bed and a double bed, a courtyard garden, a fully-equipped kitchen where you can prepare your meals, and a breakfast room.
The newly refurbished house is in a popular residential and central location on Norfolk Street and is just a few doors from the popular Norfolk Street Bakery.
There is easy pedestrian access to the train station, the city center, and Mill Road amenities. The stunning interiors and open-plan ground floor give the house an airy and more spacious feel.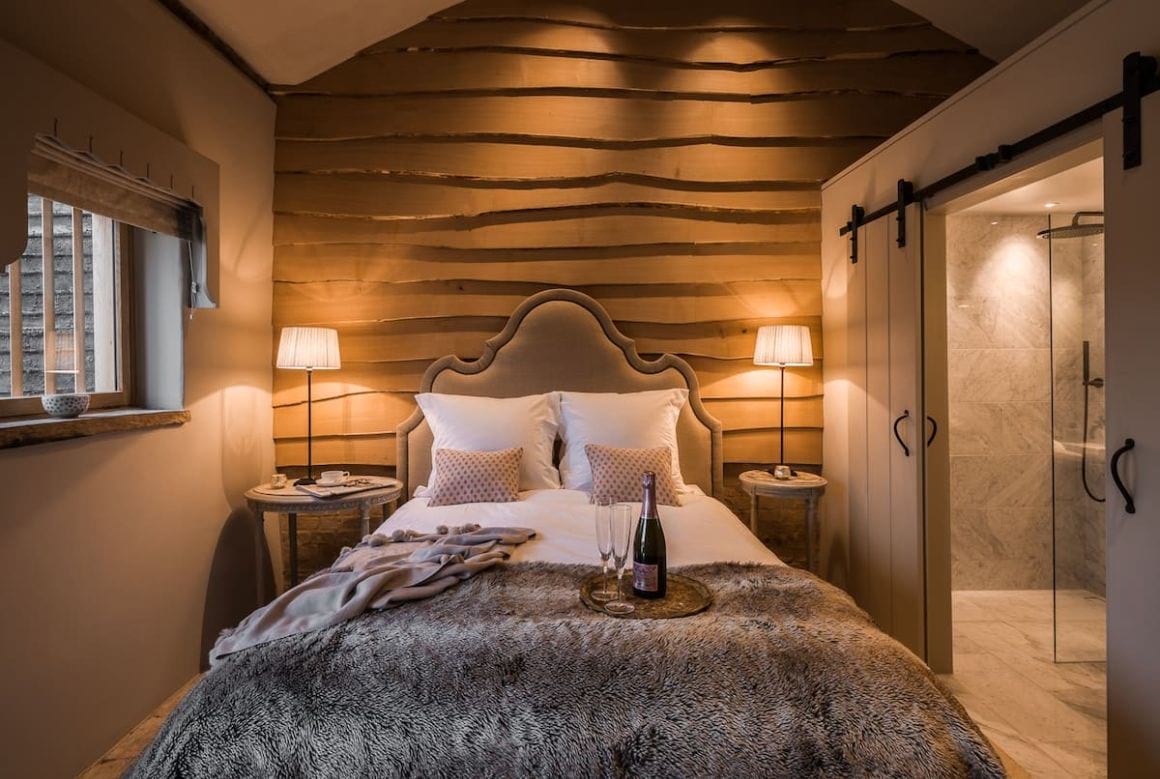 2 Guests
Luxury award-winning cottage
If you've never thought of Cambridge as a honeymoon destination, you should do so now. This luxury Grade II property is located three miles from the City of Cambridge and is set in 23 acres of private parkland.
Honeymooners can come home to a roaring log fire while enjoying a much-deserved gin and tonic from the bar. The property is called The Buttery and comprises a cozy sitting room with a kitchen and dining area with a log-burning stove.
There's also a sizeable bedroom with a queen-sized bed and an en-suite shower room. There is even underfloor heating throughout the cottage.
$$
Nestled on a working farm
4 Guests
Overlooks the fields of the Roding Valley
This self-contained barn is nestled on a working farm and is only five minutes away from Stansted Airport and four miles from the M11 junction 8 into London and Cambridge. It's the perfect starting point to explore East Anglia.
This self-catered barn has two bedrooms and can sleep up to four people, a fully-equipped kitchen, a generous dining space, and comfortable seating around a wood burner. Outside there are picnic benches and a barbecue in the wildflower meadow with views out over the fields.
Shared amenities include a washing machine, dryer, a boot room, ice maker, and an American-style fridge. Guests are very much encouraged to walk the footpaths on the farm and the countryside.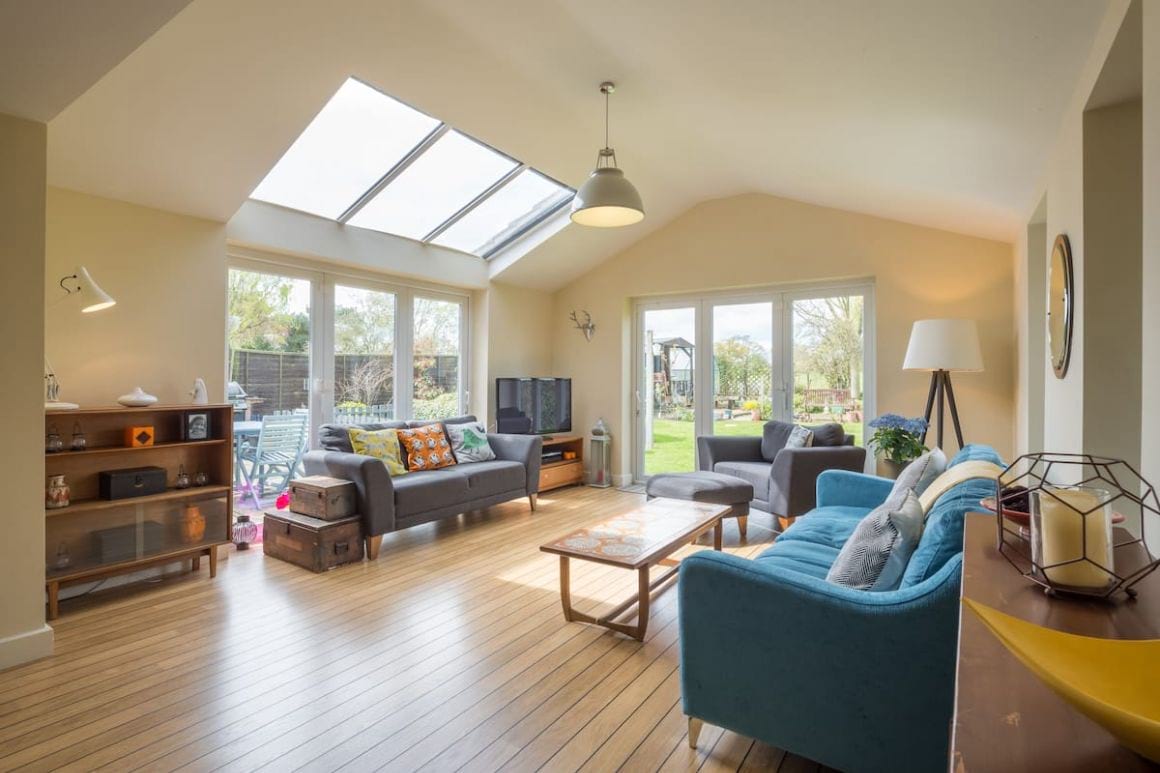 12 Guests
Set across 3 floors
This spacious countryside home is tastefully decorated and has 2400 sq. ft of versatile living accommodations. There are five bedrooms, three baths, a dining area that can accommodate 10-12 people, a separate sitting room, an open fire with a family and kids' area with a selection of toys, DVDs, and games, and an extra living room and study.
A natural swimming pool is situated at the end of the garden with decks and sun loungers. There is no fence around the pool area so children need to be supervised at all times. Additional amenities for children in the exteriors are: a climbing frame with a slide, monkey bars, swings, and a pool table in the summer house for older kids.
The property is in the peaceful village of Campton, which is just a short walk away from Shefford. The Arseley train station is just 3.5 miles away and there are also direct trains to London, the drive into Cambridge is less than an hour.
This property is located in the magnificent Audley End Estate and is wonderfully set in the open countryside of Saffron Walden, which is just a short train ride away from Cambridge and London.
It is an ideal combination of an authentic farm with modern comfort features. This 17th-century Jacobean mansion is widely regarded as one of the finest homes in England and is approached from a private drive that has ample parking for 8-10 cars.
The villa has nine beautifully furnished bedrooms, four en-suites, two additional bathrooms, a large drawing-room, with a piano and an open fire, a library, a swimming pool, a hot tub, and expansive landscaped grounds.
Granta Cottage is the perfect base if you want to explore Cambridge University and the quaint village of Grantchester. This newly-built townhouse has plenty of natural light, a private patio, and a garden.
The entire unit has heated floors, a fully-equipped kitchen, four bedrooms (one with an en-suite bathroom), three full bathrooms, a dining room, and a backyard with a fire pit and BBQ grill.
$
In a beautifully refurbished villa
4 Guests
Moments away from the most happening places
This retreat is located in a beautifully refurbished Cambridge villa and is the best Airbnb in Cambridge near nightlife.
It is just moments away from Christ's Piece, Jesus Green, and Midsummer Common, which has an abundance of bistros, bars, clubs, and restaurants. You can party all night and need not worry about traveling far to crash on your comfortable bed.
This beautifully designed studio property has an extra fold-away king-sized wall bed, a well-appointed kitchen, and a private bath. The area is also near a tennis court, outdoor fitness, and the Jesus Green lido open-air swimming pool.
4 Guests
Contemporary style
This residential home in Impington is brand new and on a single level. It has two bedrooms, a bathroom, a living room, and a fully-equipped kitchen. It has bifold doors that open out onto the patio and garden where you can relax and have breakfast close to nature.
There is a well-lit path entrance, a step-free entrance to the property, a wide entrance for guests, a disabled parking spot, and a step-free path to the outdoor entrance. All areas inside the home, including the bedrooms and bathrooms, have wide entrances and step-free entrances.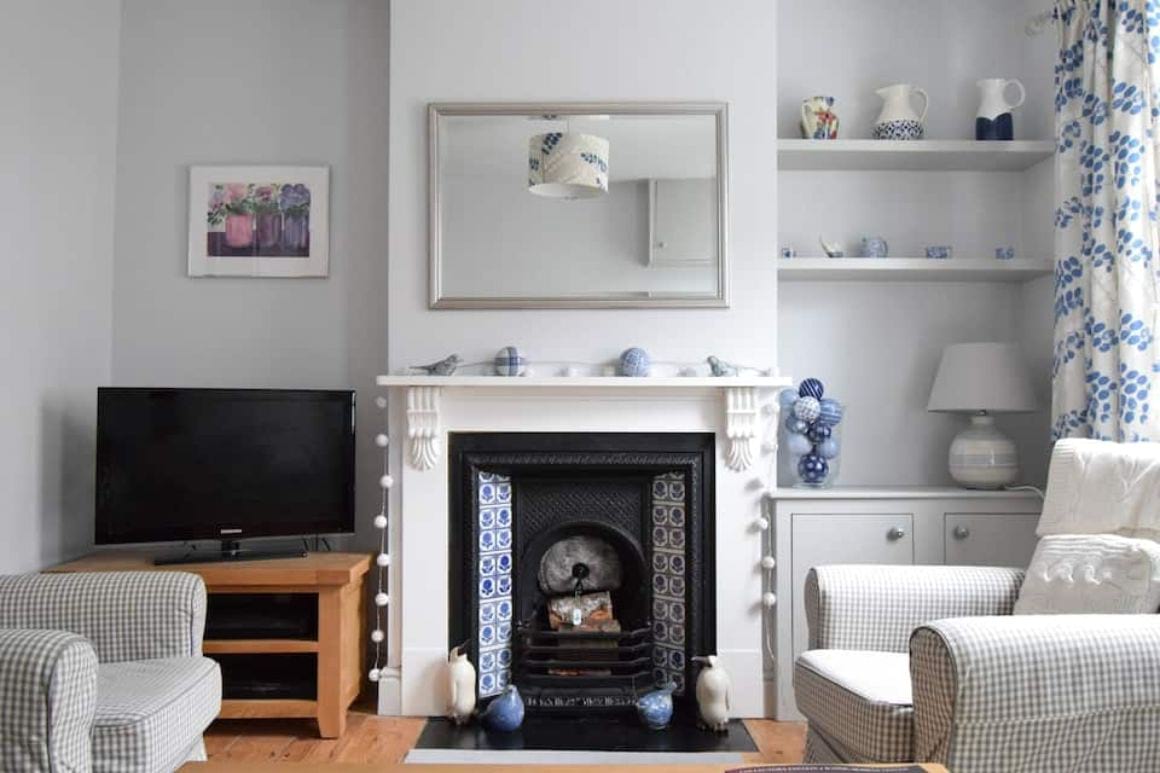 $$
A short walk to the city center
6 Guests
Charming Victorian family home
This charming Victorian family home is located near the city center and is the best Airbnb in Cambridge if you want to explore the area but only have a limited number of days for vacation.
This spacious and modernized property has three bedrooms with beautiful hardwood floors, a new modern kitchen, a lovely lit garden, and 1.5 bathrooms.
It is just 15 minutes away from all the historic attractions and is also nearby pubs and restaurants, so you need not worry about what to eat should you decide not to cook.
Check out our ideal Cambridge Itinerary for a weekend escape.
2 Guests
In the heart of famous Mill Road
Mill Road is undoubtedly the best location in Cambridge for sampling a wide array of cuisine. It has an abundance of independent restaurants, pubs, and cafes that are just steps away from this property.
The beautiful Botanical gardens is nearby. World-famous universities can be reached on foot and the historic city center is just 10 minutes away. This property has a private entrance, a fully-equipped kitchen, a dining area, and a luxurious and comfy bed.
Top 3 Airbnb Experiences in Cambridge
If you are looking for an authentic and unforgettable vacation, you should book Airbnb Experiences. It's time to treat yourself to high-quality, fun, easy-to-book local tours that will let you see and encounter things like a local.
The best things about Airbnb Experiences are that they are run by local experts so they know exactly what they are saying, and they can be booked on the same platform where you book your accommodations.
This eliminates the annoying need to download a different app, going to a different website to sign up, confirm emails, as well as download or print tickets.
Have we piqued your interest? Great! Here are the top three Airbnb Experiences in Cambridge.
$91
Up to 8 people
3.5 hours
A brand-new experience for anyone heading to Cambridge is this rowing introduction conducted by the City of Cambridge Rowing Club, the oldest in the area.
Guests will be introduced to various rowing techniques on a rowing machine. After mastering the techniques, guests will head to the boat bay and take turns in pairs by taking a stroke using a rowing blade on the water.
Of course, you need to immortalize this unforgettable experience with a picture because if you don't have a photo, it didn't happen, right? The minimum age for this activity is 15 years old. The minimum weight is 38 kg and the maximum weight is 120 kg.
This fun tour around Cambridge will see guests hopping on E-scooters and donning safety equipment. The tour starts at the corner of Parkers Piece in proximity to the University Arms Hotel where you will meet the guide who will introduce you to the world of E-scooters. A safety demonstration will be provided before the tour begins.
The tour will start with an introduction to the origin of football, Cambridge, and E-scooters before zooming onto your first stop. You will then be guided through the religious history of Cambridge, The Knights Templar, and the role of Cambridge during the Crusades. The tour will go through the University Library, circle back through University College, and finish on King's Parade.
Please note that all customers must have at least a provisional driver's license to access the E-scooters. E-scooter rental is not included in the tour fee and will cost £9.99 and must be paid on the day of the tour. E-scooters will be accessed through the Voi app, the link will be provided upon booking.
$31
Up to 10 people
90 mins
This walking tour takes guests to some of the famous colleges and historic sights of the city as they meander down quaint alleyways and saunter on cobbled streets.
Your local guide will entertain you with historic facts and quirky stories of the colleges and their colorful alumni. You'll also hear fascinating tales of city life through the ages that you won't find in any guidebook.
You'll walk through a thousand-year-old church and discover its hidden secrets, travel back in time to medieval Cambridge to find out how the university started, and visit different colleges to hear their history.
All tours are conducted in small groups to ensure an authentic and personal experience. Some of the tour's highlights are: Corpus Christie, St. John's Kings, the Colleges of Gonville &Caius, Pembroke, St. Benet's Church, Peterhouse and Queens, The Cavendish Labs, the Mathematical Bridge, and the historic Eagle Pub.
Guests are reminded that as this is a walking tour, and should wear comfortable walking shoes and dress appropriately for the English climate.
Don't Forget Your Cambridge Travel Insurance
ALWAYS sort out your backpacker insurance before your trip. There's plenty to choose from in that department, but a good place to start is Safety Wing.
They offer month-to-month payments, no lock-in contracts, and require absolutely no itineraries: that's the exact kind of insurance long-term travellers and digital nomads need.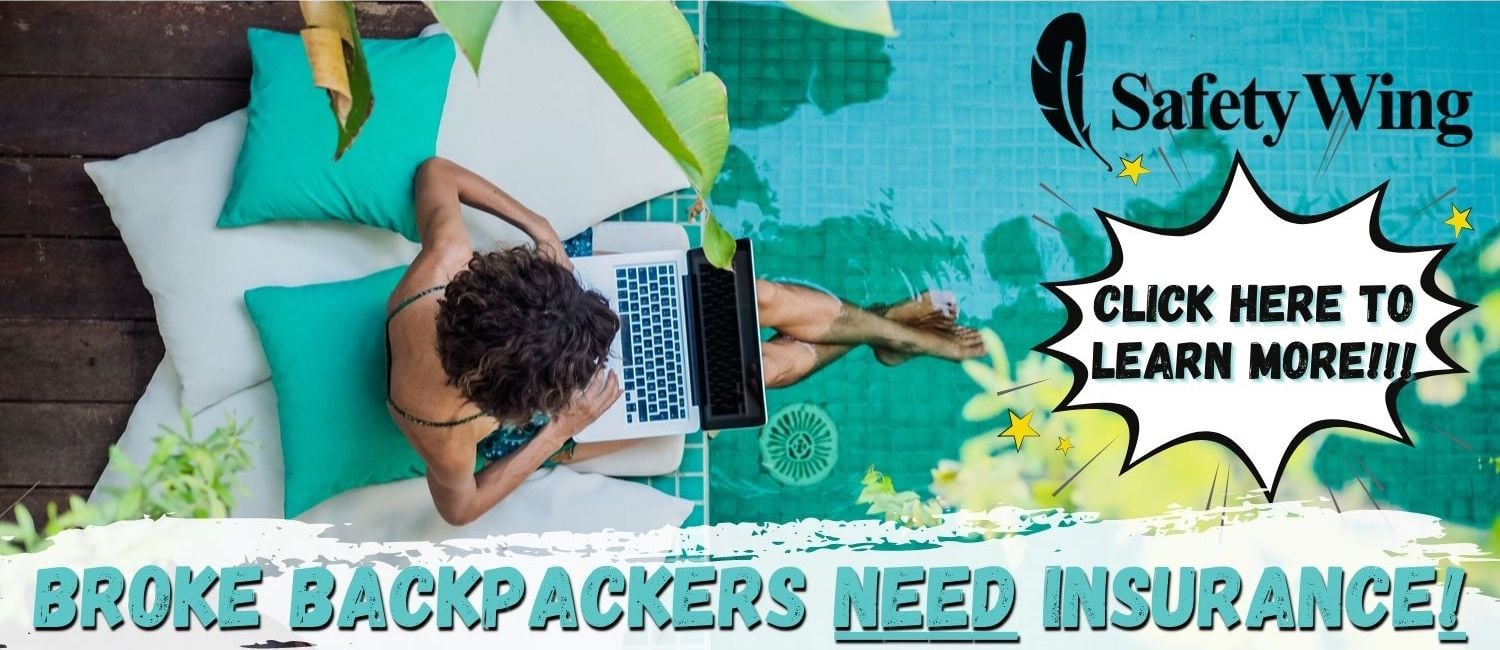 SafetyWing is cheap, easy, and admin-free: just sign up lickety-split so you can get back to it!
Click the button below to learn more about SafetyWing's setup or read our insider review for the full tasty scoop.
Final Thoughts on Renting Airbnbs in Cambridge
A vacation or time away in Cambridge need not be complicated. Best known for its university that lends the place undeniable energy, Cambridge is an old town with a web of cobbled stones and the bicycle remains the locals' favorite way of getting around.
However, Cambridge is not all history, the many minds that have passed through Cambridge University have created a lively industry.
Whether you are in town for just a couple of days or a few weeks, there will be a Cambridge Airbnb just right for you. If you don't have any plans yet on where to go and what to do, you can always check out Airbnb Experiences.
---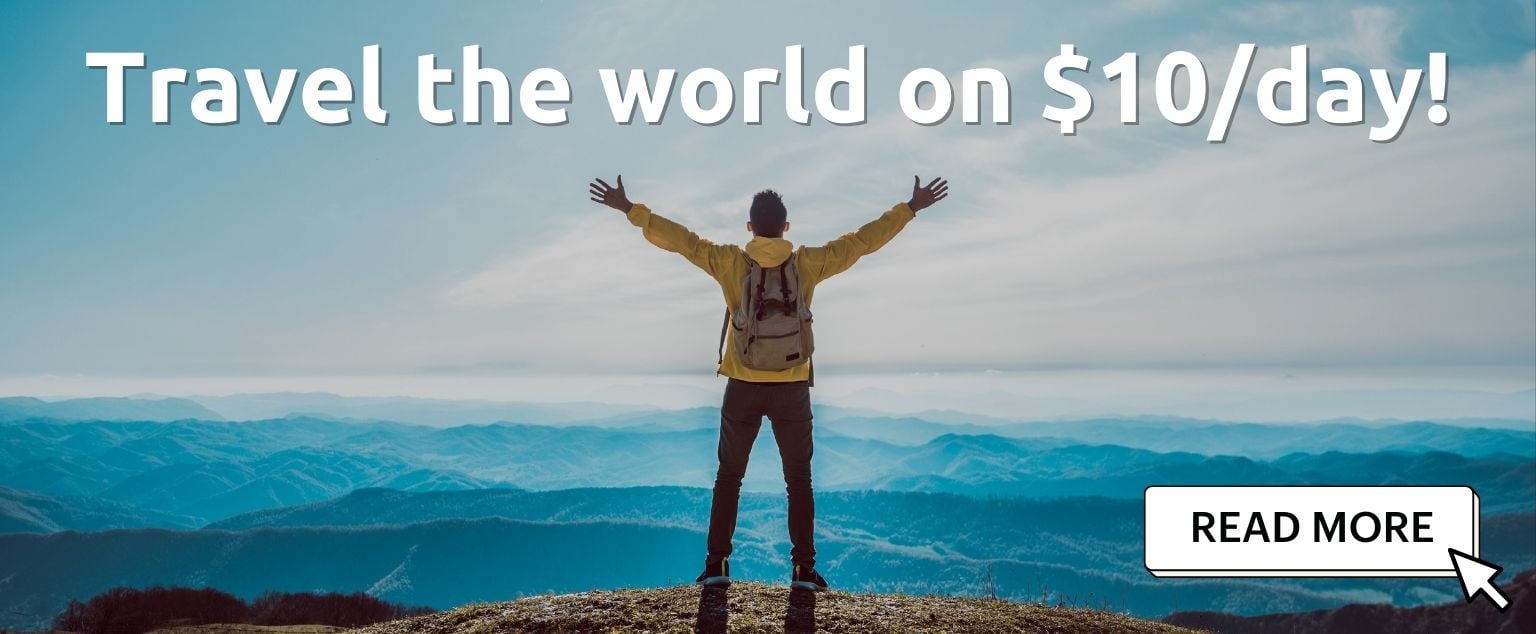 And for transparency's sake, please know that some of the links in our content are affiliate links. That means that if you book your accommodation, buy your gear, or sort your insurance through our link, we earn a small commission (at no extra cost to you). That said, we only link to the gear we trust and never recommend services we don't believe are up to scratch. Again, thank you!