Cambridge is a great travel destination for anyone who's interested in history, architecture, and wants to enjoy them in a modern, vibrant city.
When you travel to Cambridge, you'll marvel at its medieval, atmospheric streets that still manage to embrace contemporary culture and progress. And you'll find so many amazing places to visit in Cambridge that you might struggle to choose between them.
Cambridge isn't on many people's bucket lists. This means that you might struggle to find interesting places to visit in Cambridge. To help you find the attractions and landmarks that you're interested in, we've created this comprehensive list.
Need a place quick? Here's the best neighbourhood in Cambridge:
BEST AREA IN CAMBRIDGE
Round Church Street
Round Church Street is located just outside the City Centre and is one of the first residential neighbourhoods in Cambridge to be found next to the universities. While staying there, you will be within walking distance from all the main central sights, which makes it an area of choice if you are visiting Cambridge for the first time.
Places to visit:
Visit Saint John College, its chapel and the Bridge of Sighs
Go for a picnic in Jesus Green Park
Go for a picnic in Jesus Green Park
These are the BEST places to visit in Cambridge!
There are just too many cute narrow, cottage lined streets in this magical borough. Before scrolling any further down the page, check out where to stay in Cambridge and be sure to grab the best accommodation on one of these lovely lanes before someone else beats you to it.

Unlock Our GREATEST Travel Secrets!
Sign up for our newsletter and get the best travel tips delivered right to your inbox.
#1 – King's College and King's College Chapel – A great place to see in Cambridge if you love architecture
The views from the lawn of this Cambridge must-see are simply stunning.
If you're visiting Cambridge during the school term, make sure you take the chance to see the King's College Choir at Evensong.
Why it's so awesome: These buildings were founded in 1441 by Henry VI and the grounds are simply stunning. They were once home to famous alumni including Rupert Brooke, Lord Keynes, and Horace Walpole and have become one of the most popular attractions in Cambridge for tourists.
What to do there: This is a still working college, so you might have to share the grounds with students depending on when you visit. The views are simply stunning, with lawns that reach all the way down to the river and provide a scenic and relaxing area to study. Also worth checking out is King's College Chapel, with spectacular stained glass windows, a 16th-century organ screen, and an altarpiece by Ruben, known as the Adoration of the Magi.
#2 – Fitzwilliam Museum – A great place to visit in Cambridge if you are alone/traveling solo
Cambridge has been a center of learning and culture for hundreds of years, and this long history is reflected in the Fitzwilliam Museum.
The building itself is a masterpiece, and what's inside measures up.
Why it's so awesome: This museum contains some of the most stunning antiquities, pottery collections, and manuscripts you'll ever see. It's a varied mix that includes exhibits from Greek, Roman, and Egyptian times. The art gallery is also amazing, with works by masters like Rembrandt, Van Dyck, Turner, and Rubens.
What to do there: Take a couple of hours out of your schedule when you travel to Cambridge to experience some of its art culture. Check out your favorite artists and perhaps find some new ones as you wander the beautiful halls of this historic and architecturally significant building.
#3 – Cambridge University Botanic Gardens – A beautiful and scenic place to check out in Cambridge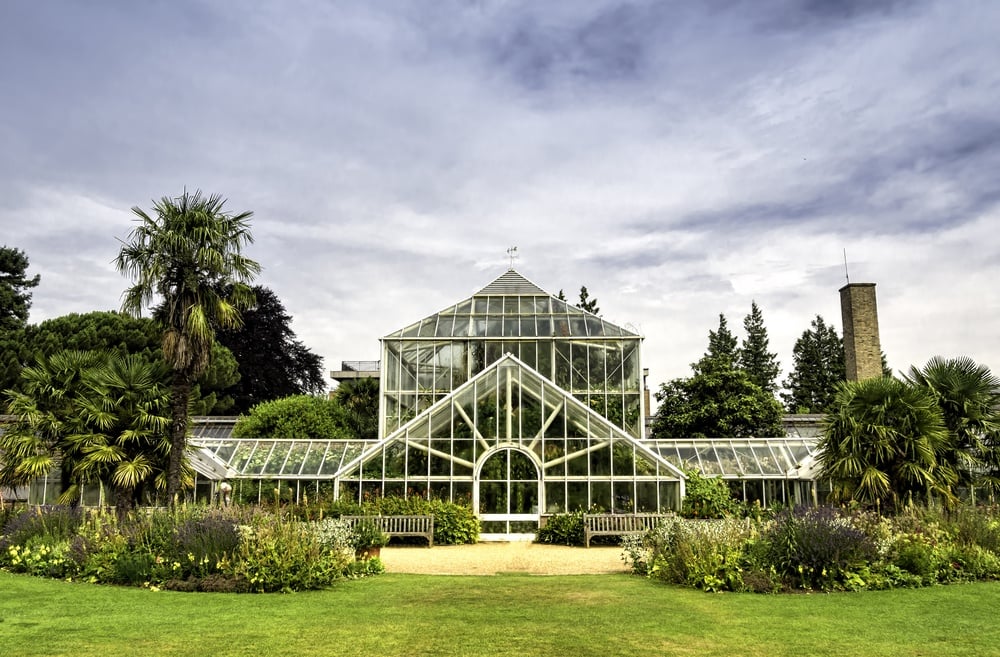 This garden stretches across 40 acres and includes more than 8,000 species of plants.
The gardens were first established in 1831, and the variety of plants they contain have made them a Cambridge must-see.
Why it's so awesome: Established in 1831, this garden contains plants from across the world. It's a lovely and peaceful place in the middle of the city, great for plant enthusiasts as well as anyone who needs a break from the city. Maybe you'll get lucky and find a victorian style Airbnb close by so you can visit this lush green haven more than once.
What to do there: If you visit on a Sunday, there's a free guided tour you can take through the gardens. Otherwise, you can wander along the many trails or explore the glasshouses. And when you're done with the gardens, make sure you visit the Garden Café for a snack and browse the Botanic Garden Shop.
#4 – Anglesey Abbey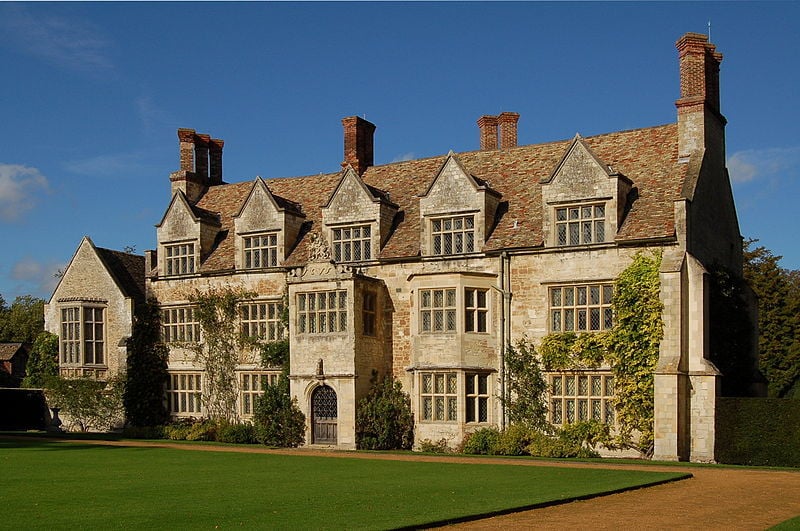 A National Trust property that's become one of the most important landmarks in Cambridge.
The home contains spectacular tapestries and an amazing art collection.
114 acres of parkland surround the house, so make sure you head out to explore them afterwards.
Why it's so awesome: Anglesey Abbey was refurbished in 1926 and is now one of the best places to visit in Cambridge to see fine art and furnishings. The tapestries in this collection include pieces by Soho, Gobelin, and Anglesey and the art collection includes Constable's The Opening of Waterloo Bridge. The building's grounds are also incredible and include lots of attractions to entertain the kids.
What to do there: Check out the artwork and the tapestries before heading out to explore the grounds. If you have the family with you, take them to the Wildlife Discovery Center, where they can watch birds and bugs in their natural habitats. And afterwards, visit the historic water mill, the Lode Mill.
#5 – Queen's College – One of Cambridge's coolest historical sites!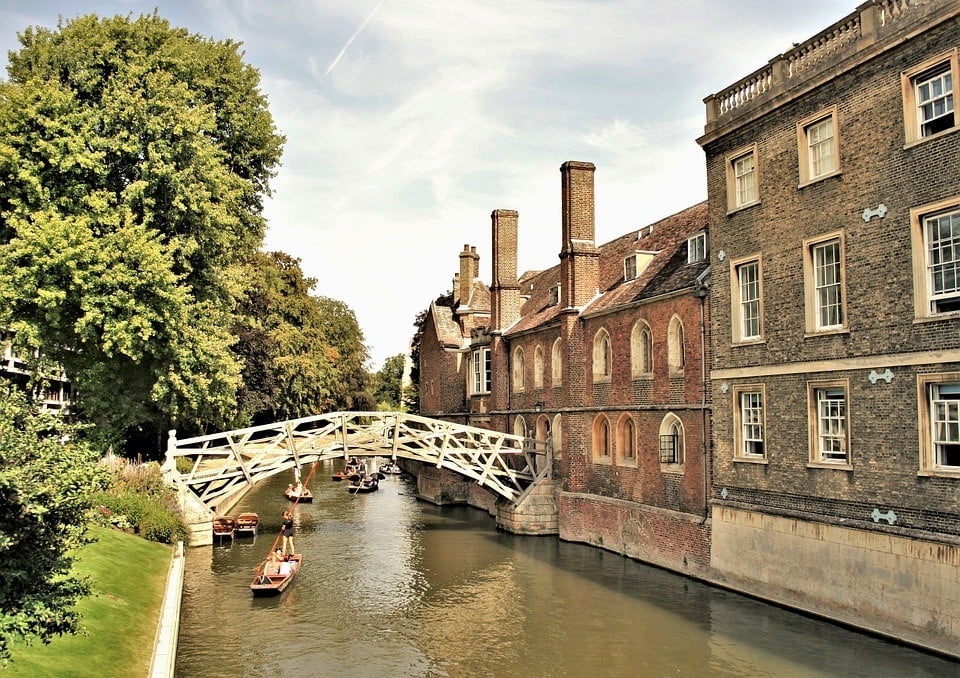 A historical building that contains other important landmarks in Cambridge.
The building was founded in 1448 and is an incredibly complete example of a medieval building.
Why it's so awesome: Queen's College was originally built under the patronage of Margaret of Anjou, wife of Henry VI. However, it was refounded in 1465 by Elizabeth Woodville, wife of Henry IV. The building is remarkably complete, more than any other medieval building found in Cambridge's colleges. It also contains several other buildings and features that are worth seeing for yourself and make this one of the best points of interest in Cambridge. Maybe you'll get lucky and find a medieval-style Airbnb close by too.
What to do there: From the moment you walk beneath the magnificent gateway leading to the First Court, you'll feel as if you're back in medieval times. Make sure you explore the building before heading down to the Mathematical Bridge, which extends over the Cam to the College Gardens. The bridge was reconstructed in 1902 and is made without using a single nail. You should also spend some time exploring the Cloister Court, The Pump Court which includes the Erasmus Tower, and the Victorian Chapel.
#6 – Cambridge Junction
An independent arts venue where you'll see the best music, theater, movies and more.
This is one of the best UK music venues outside of London, so make sure that you check out what's on while you're in the city.
Why it's so awesome: If you love the arts, then you need to check out this venue when you travel to Cambridge. The Cambridge Junction hosts the best independent art exhibits and shows in the city, including movies, music, comedy, theater, and spoken word.
What to do there: Check out what's on at this venue while you're in the city and show up to anything that sounds interesting. Pay particular attention to the music shows, because they will probably be among the best that the UK has to offer.
#7 – Scott Polar Research Institute Museum – One of the most incredible free places to go to in Cambridge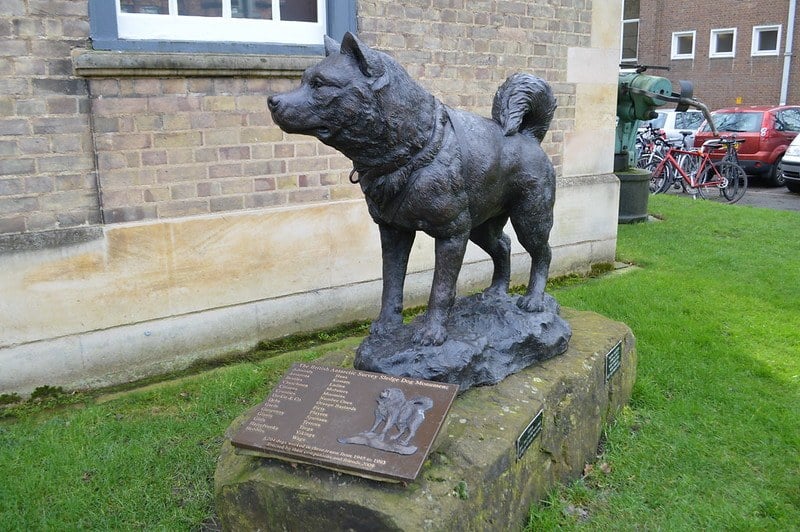 Learn more about famous explorers at this niche museum.
If you're fascinated by the idea of seeing foreign lands, then learn about the men who did it first.
Why it's so awesome: There's something intriguing about the first explorers and that's exactly what this museum explores. The Polar Museum traces the history of Cambridge University's world-class polar research teams. So, you'll be able to picture what it was like to explore uncharted, icy territory from the comfort of a warm room.
What to do there: This museum is free, so it's a great way to fill a slow afternoon and learn something at the same time. Explore the exhibits and learn about history's most amazing explorations. You're sure to walk away from this Cambridge must do with a deeper appreciation for the bravery of those early explorers.
#8 – Heffers book shop – One of the most underrated places to see in Cambridge
A palace of a bookstore for book geeks and anyone looking for that rare tome.
You can also buy other items at this shop like maps and unusual souvenirs.
Why it's so awesome: It might sound strange to say that you need to visit a bookshop when you're visiting Cambridge, but this isn't like other bookshops. Plus, you're in Cambridge, which means that you should indulge your inner book nerd and browse the shelves.
What to do there: This is a bookstore that seemingly has no end, so you'll need a while to explore. Look for forgotten stories by your favorite author or that hard to find tome that you've been looking for forever. Or, if you're like most bookworms, just enjoy being in an environment that includes so many possibilities for something great to read!
#9 – Lammas Land – Awesome place to visit in Cambridge with kids!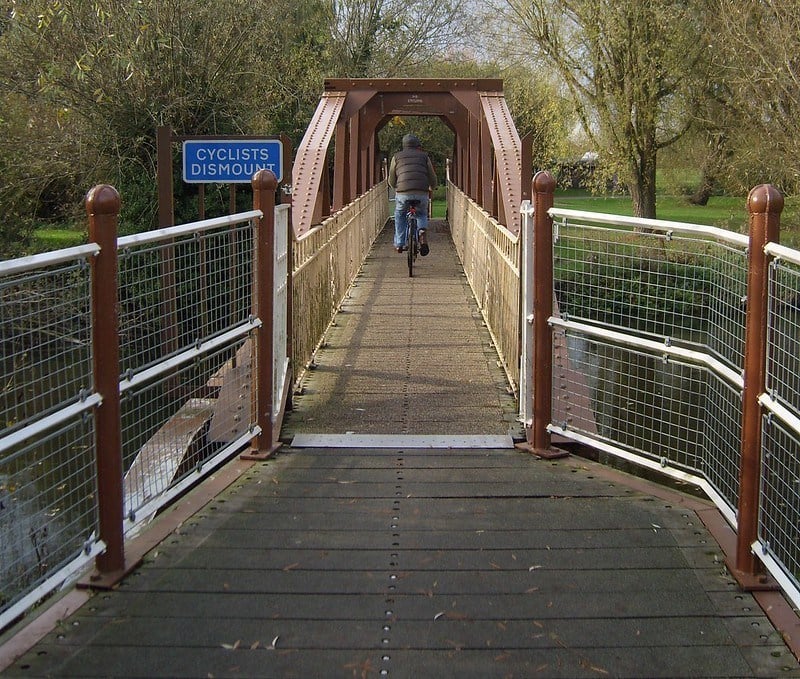 A popular park and play area for kids in the southwest of the city.
There are lots of activities for kids of every age in this park.
Parents will enjoy the green space and the chance to get away from the city as well.
Why it's so awesome: When you're visiting Cambridge, you might want to take the chance to enjoy some green space and let the kids run around. And this is the perfect place to do it. Lammas land contains a paddling pool, tennis courts, and a play area. It's also close to the river so you can go punting once the kids are done with their playtime.
What to do there: Grab a packed lunch and take the kids to the park for the afternoon. There are a range of amenities for kids of all ages including springies for the younger children and climbers and a space net for the older crowd. There's also a shallow paddling pool for hot days. And when you're done with your picnic, head over to the river to go punting, which is a Cambridge must do.
Is This the Best Daypack EVER???
#10 – Great St. Mary's Church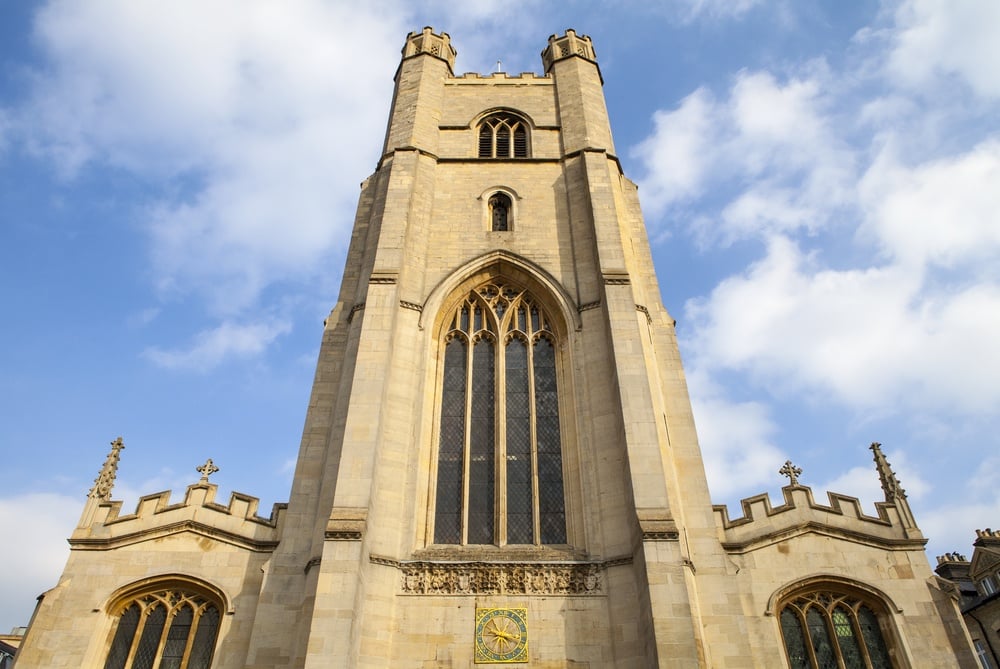 The tower at this church is one of the most famous places to visit in Cambridge for romantic proposals!
The views from the tower are spectacular as well, a good way to see an overview of Cambridge.
Why it's so awesome: St. Mary's is both a parish and a university church and was built in the 15th century. The exterior is beautiful and imposing, but it's the interior that really shines, with stunning galleries that were added in 1739. There's also a smaller church attached known as Little St. Mary's, with incredible stained-glass windows.
What to do there: Explore the interior of the church before heading up the 123 stairs to the tower. You'll want to bring your camera with you to take advantage of the amazing views from up there. Afterwards, head down to Little St. Mary's to check out the stained-glass windows.
#11 – Midsummer House – One of the most romantic places to visit in Cambridge!
A Michelin starred restaurant surrounded by the banks of the River Cam.
You'll need to make a booking to get into this restaurant, as it's one of the best places to eat in Cambridge.
Why it's so awesome: Acclaimed chef and owner Daniel Clifford first opened this restaurant in 1998 and it's considered to be one of the best in Cambridge. It's also incredibly romantic, with its views over the River Cam on Midsummer Common. The menu is based on seasonal produce and dishes that bring out the natural flavor of the food, which is why it must be a part of your Cambridge itinerary.
What to do there: Make a booking to ensure that you get a table and have a romantic night out with a loved one. Dress up and prepare yourself for a gourmet menu in lovely surroundings.
#12 – The Orchard Tea Garden – Cool place to see in Cambridge with friends!
This is an atmospheric and historically significant tea garden located in the small village of Grantchester.
You can walk from Cambridge to Grantchester along the River Cam.
Why it's so awesome: The walk from Cambridge to Grantchester is a Cambridge must do on its own. When the weather is good, the path along the River Cam is a great way to get some exercise and work off what you're about to eat. The Orchard Tea room is incredibly famous in the city and has for a long time. Over the years, famous celebrities such as Alan Turing, Rupert Brooke, Stephen Fry, Virginia Woolfe, George Bernard Shaw, Stephen Hawking, and Sir David Attenborough have all eaten there.
What to do there: Take the walk along the river to Grantchester as long as the weather is good. The tea garden is a particularly good place to eat in spring when you can sit amongst the blossoms of the fruit trees. You can even take a punt there and cross off another item on your Cambridge itinerary at the same time. Once you're in Grantchester, spend the day exploring the tiny, historic town before you head back to Cambridge.
Small Pack Problems? 😉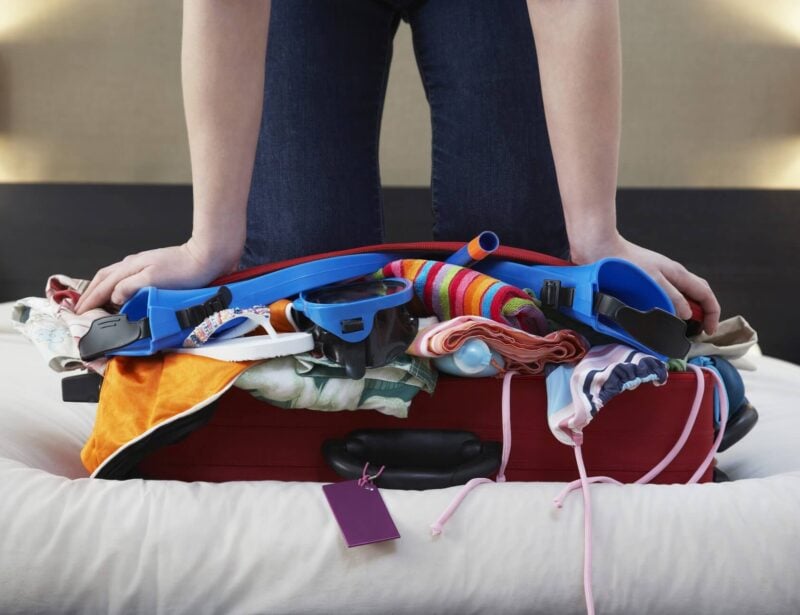 Wanna know how to pack like a pro? Well for a start you need the right gear….
These are packing cubes for the globetrotters and compression sacks for the real adventurers – these babies are a traveller's best kept secret. They organise yo' packing and minimise volume too so you can pack MORE.
Or, y'know… you can stick to just chucking it all in your backpack…
Get Yours Here
Read Our Review
#13 – Cambridge General Market
Located in the heart of the city in Market Square, this is the heart of activity during the day.
The market is open from Monday to Saturday from 10 am to 4 pm.
What to do there: If you're looking to buy some souvenirs or fresh produce, this is the best place to do it. The quality of the goods at this Market are amazing and includes meat and fish, books, clothing, sweets, crafts, and refreshments.
What to do there: Show up during the day to enjoy the atmosphere and grab some bargains! This historical market includes great food as well as clothing, a tailor, and flowers, so just show up and see what catches your eye.
#14 – Grafton – A great place in Cambridge if you love to shop!
A large selection of stores in the middle price category.
This is one of the hotspots in Cambridge if you're looking for souvenirs that won't break the bank.
Why it's so awesome: Grafton is one of the oldest shopping centers in town and it was recently renovated. You can get everything at this complex, from souvenirs to electrical goods and clothes. There are also some shops with clothing and toys for children as well as a large food court where you can get a snack after you've had enough browsing.
What to do there: If you're looking for something specific when you travel to Cambridge, chances are that you'll find it at this shopping complex. The prices are good and won't break the bank and you can head to the food court when you get hungry.
#15 – FoodPark – A must-see for foodies!
Home to Cambridge's popular food truck scene and one of the best places to eat in Cambridge.
No matter what type of food you like, you'll find something to tantalize your tastebuds at this park.
This isn't technically a place, as the food trucks move around constantly.
Why it's so awesome: Food trucks are a great way to eat because they provide easy, cheap food and access to a range of cuisines. FoodPark prides itself on gathering the best trucks in the business and getting them to night markets or to regular parks where you can enjoy the dishes they offer.
What to do there: Whether you like burgers, ice cream, vegetarian food, pizza, or anything else, you'll find a food truck that sells it. The trucks move around the city, but they can be found at night markets and train stations. So, find out where they're located on the day you're in the city and show up for a cheap, delicious meal.
Get insured for your trip to Cambridge!
ALWAYS sort out your backpacker insurance before your trip. There's plenty to choose from in that department, but a good place to start is Safety Wing.
They offer month-to-month payments, no lock-in contracts, and require absolutely no itineraries: that's the exact kind of insurance long-term travellers and digital nomads need.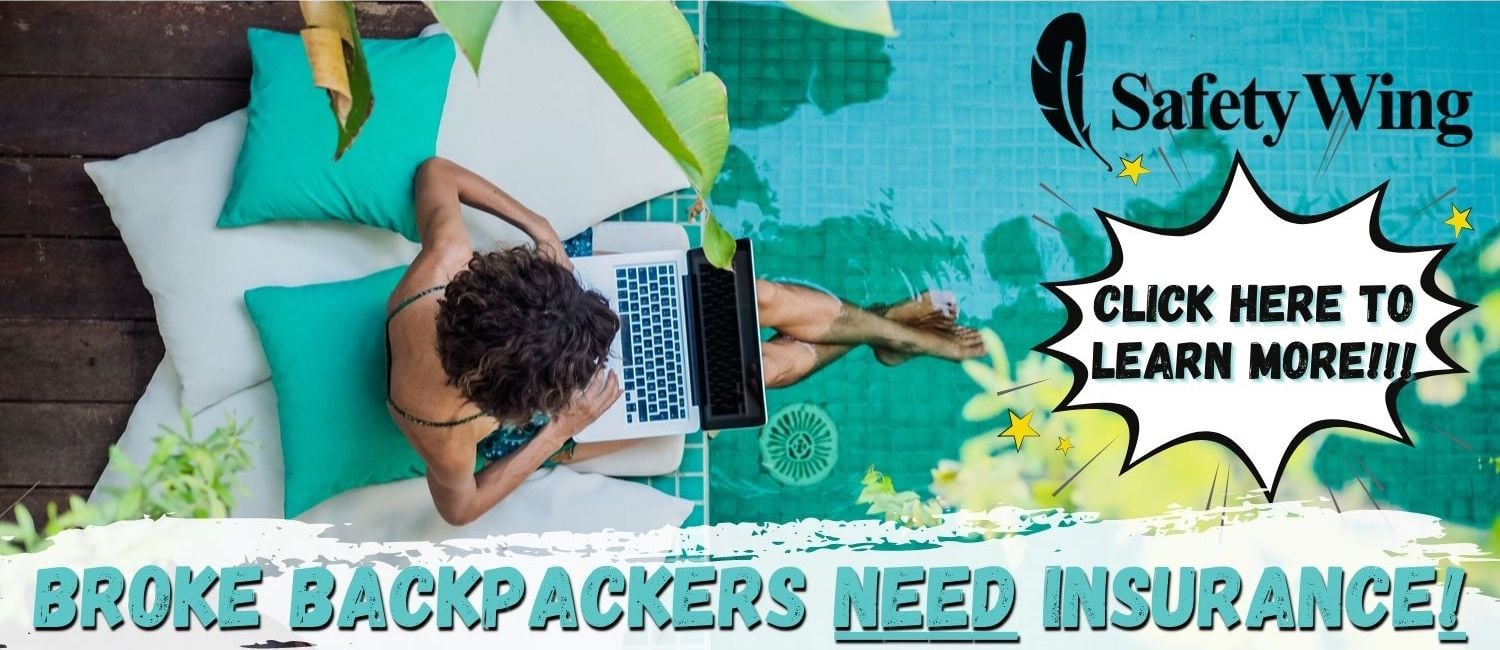 SafetyWing is cheap, easy, and admin-free: just sign up lickety-split so you can get back to it!
Click the button below to learn more about SafetyWing's setup or read our insider review for the full tasty scoop.
FAQ on the Best Places to Visit in Cambridge
Find out what people want to know about the best places to visit in Cambridge
Final Thoughts on the Coolest Places to Visit in Cambridge
England is a modern, forward looking country, which is why people often forget that it has a long and sometimes tangled history. But this history is one of the most interesting things to explore when you're traveling in Cambridge. With this list as your guide, you'll be able to visit all the top attractions while you're in the city, and perhaps find a few hidden attractions on your own!
---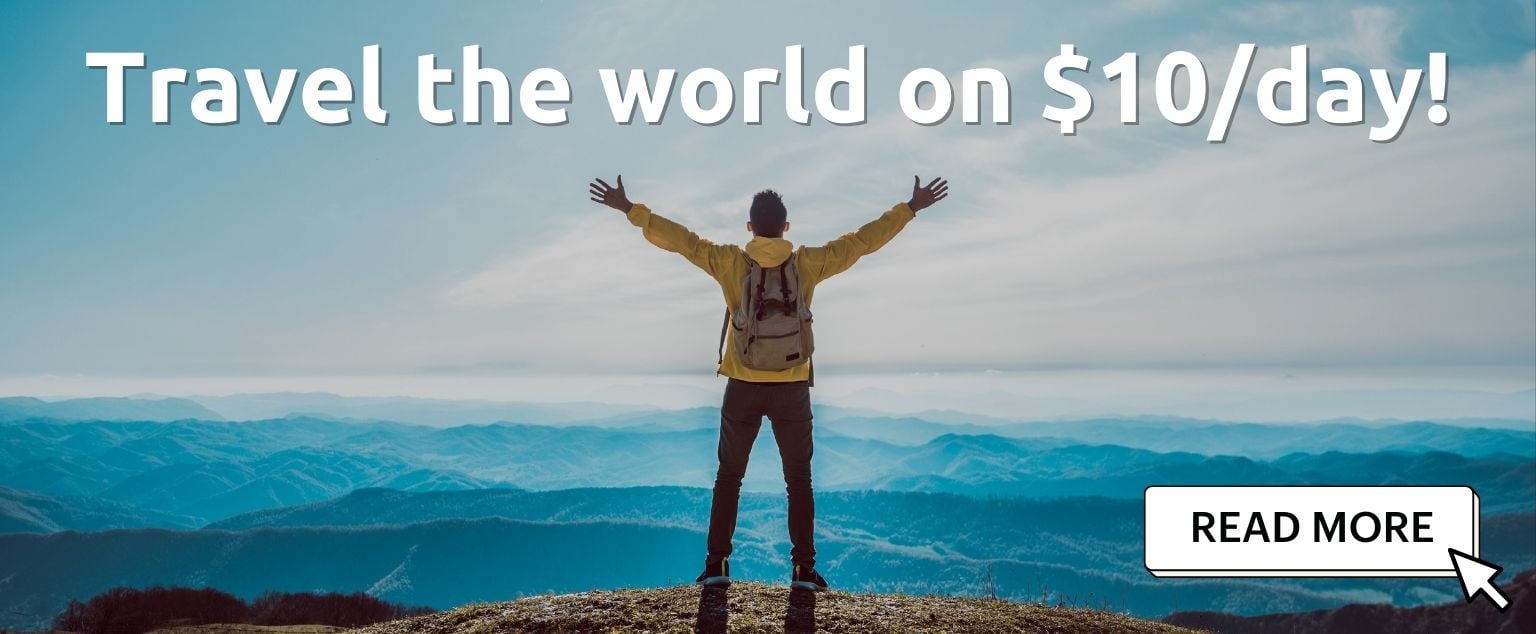 And for transparency's sake, please know that some of the links in our content are affiliate links. That means that if you book your accommodation, buy your gear, or sort your insurance through our link, we earn a small commission (at no extra cost to you). That said, we only link to the gear we trust and never recommend services we don't believe are up to scratch. Again, thank you!