Pack up your wellies and brolly, it's time to head to Cambridge! Home to one of the top Universities in the UK and being only an hour out of London, it's the perfect destination for those looking to enjoy a quaint English city.
Cambridge is a historic city and the trading capital of the UK during the Roman and Viking eras. England takes pride in its history and preserves much of its centuries-old architecture, and has more than enough fascinating exhibits in its museums.
But that doesn't mean it's a boring place. Quite on the contrary, I was surprised by the sheer abundance of fun attractions in Cambridge! After all, it is a student town, so you can expect Friday nights to be wild!
Whether you want to chug beer with the locals, watch collegians crazily compete at the rowing races, or stroll through the market in search of antiques, you can be sure that there are plenty of things to do in Cambridge.
Not sure what to do in Cambridge? Read on to learn about all the top attractions.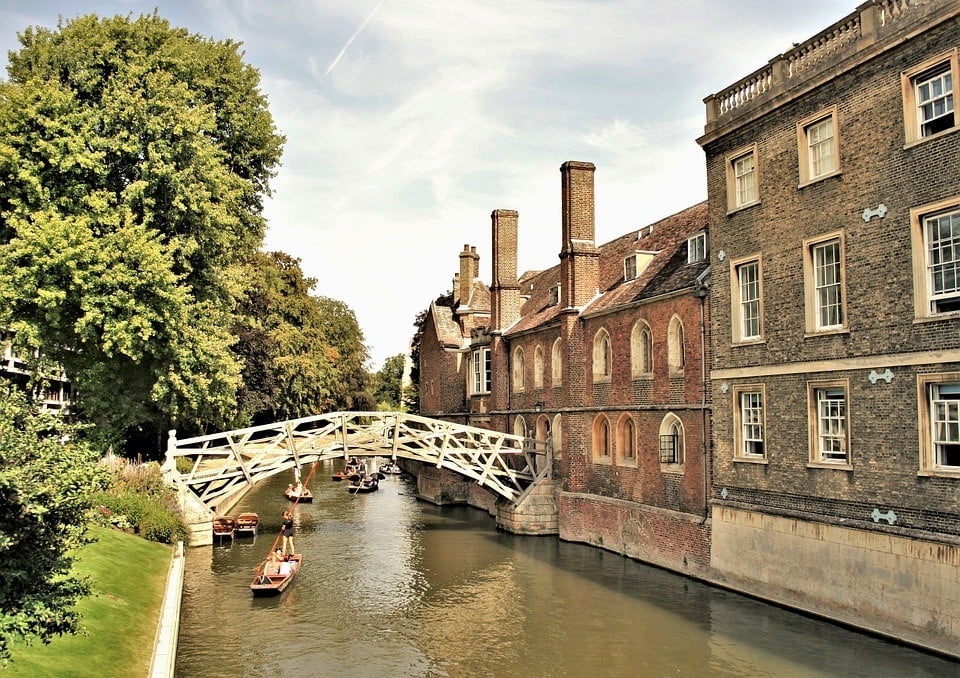 The Top Things to Do in Cambridge
While there is plenty to keep you entertained, I know it's likely you won't have time to fit all the attractions in Cambridge on your itinerary, so here are the main ones!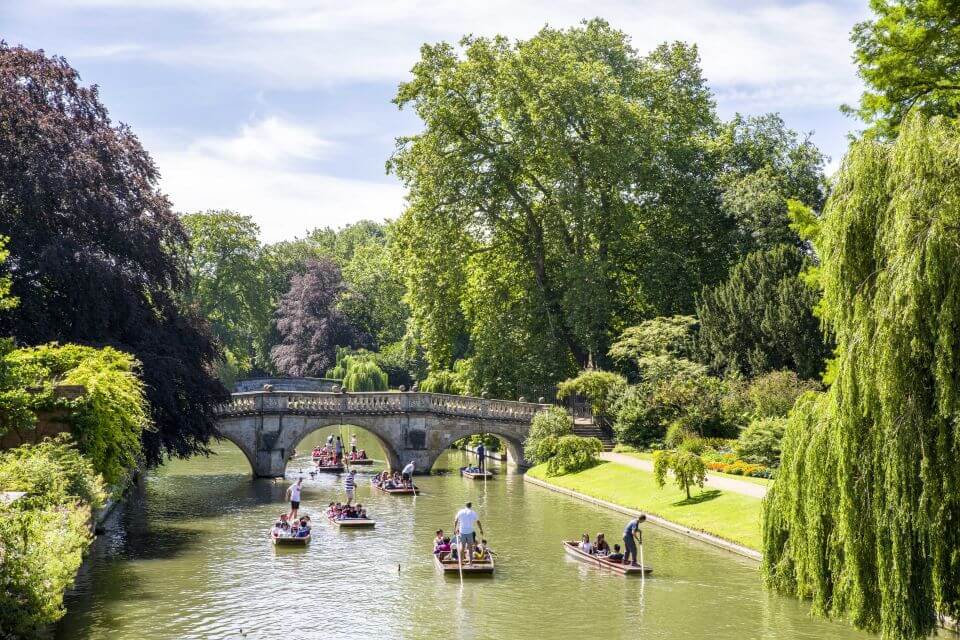 Let's kick off with one of the most iconic activities in Cambridge! Anyone who's been there can tell you that punting is a long-standing tradition in the city. If you've never hopped on one of those shallow-bottomed boats before, fret not: punting is far easier than it looks, and most people quickly get the hang of it.
Alternatively, you can always book a punting tour instead of navigating the boat yourself. This is a better option for anyone who's a little nervous about steering a boat.
Pro tip: Now, this is the most sought-after activity in the city and the lower side of the river can get exceptionally packed in peak season. If you want to avoid the crowd, I recommend that you take the less-frequented upriver route which runs through the blisteringly beautiful Cambridge countryside.
Entrance: $43.73
Hours: Dependent on tour
Address: 6469+F6Q Cambridge, United Kingdom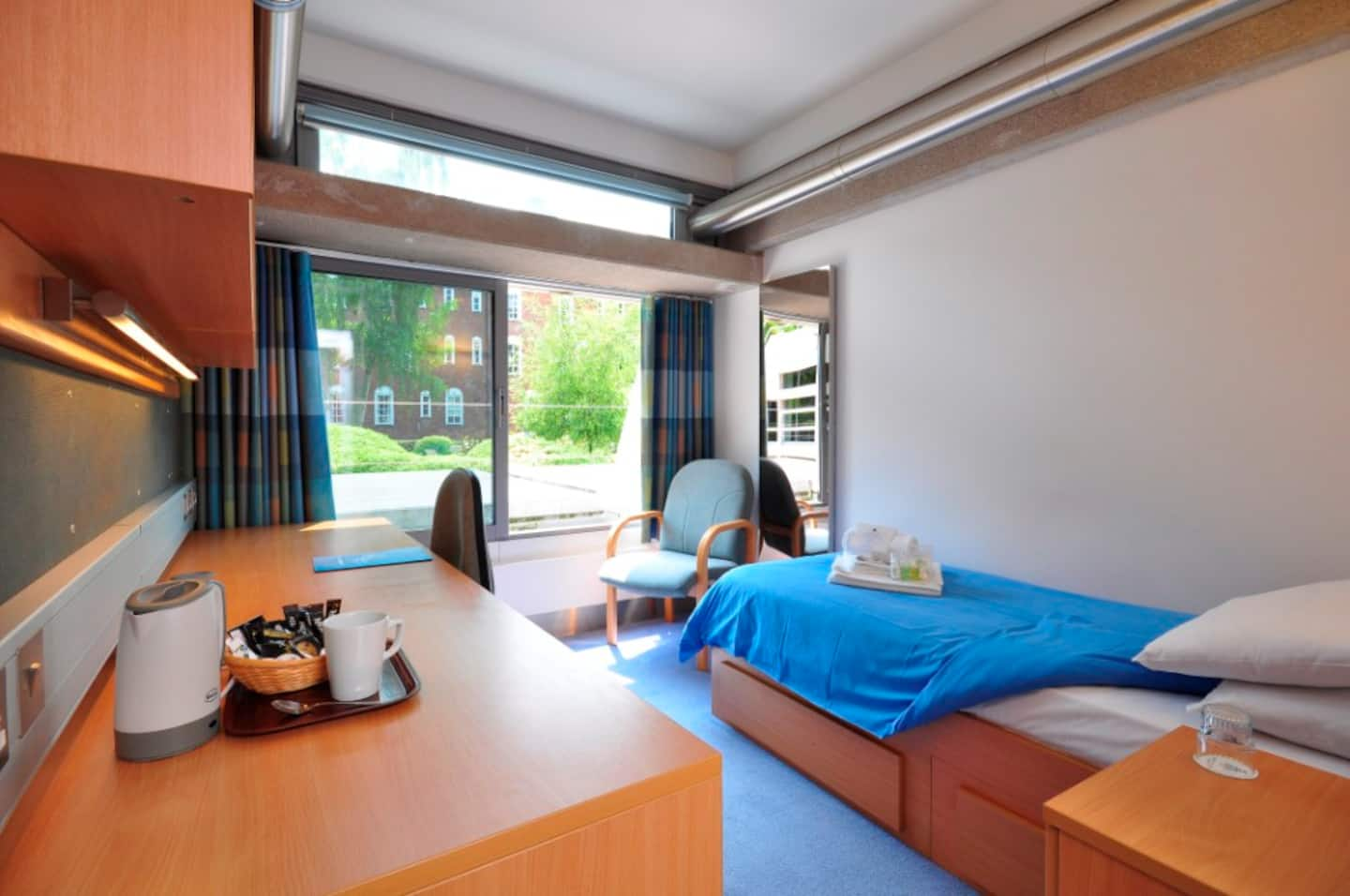 Landed in Cambridge and feeling envious of students who actually get to live on the historic campuses? Well, here's an Airbnb that places you smack on the grounds of Christ's College, a prestigious institution owned by the University of Cambridge. Talk about reliving your student days, right?
Perfect for solo travelers and backpackers, this Airbnb in Cambridge has a single bed and a desk. This is a student room, after all. It's also only available for reduced periods during the year, so don't expect fancy amenities. It does boast an excellent location in the center of Cambridge though, plus there's a bus station within walking distance.
And since you're already staying on campus, why not attend one of the many free lectures hosted by the university?
Entrance: $62/night
Hours: Check-in 2 p.m. to 2 a.m., Check-out 10 a.m.
Address: Christ's College, St Andrew's St, Cambridge CB2 3BU, UK
3. Attend the Shakespeare Festival
Whether you're into plays or not, I would highly recommend that you check out a production by the UK's best poets and playwrights, since Shakespeare is so iconic. The Cambridge Shakespeare Festival takes place in various college gardens during the summer, so you'll need to look online to see what's on.
Trust me when I tell you that you really want to head to the venue as early as possible: summer is peak season in Cambridge and there are only 200 seats for an expected crowd of 25,00 people. Yup- it's that popular!
Now, don't worry if you're not able to get a seat. There are plenty of open spaces where you can spread a blanket and lounge back while watching the play. This event is also ideal for connecting with locals and travelers from all around the world.
Entrance: $18
Hours: Varies
Address: Various locations in Cambridge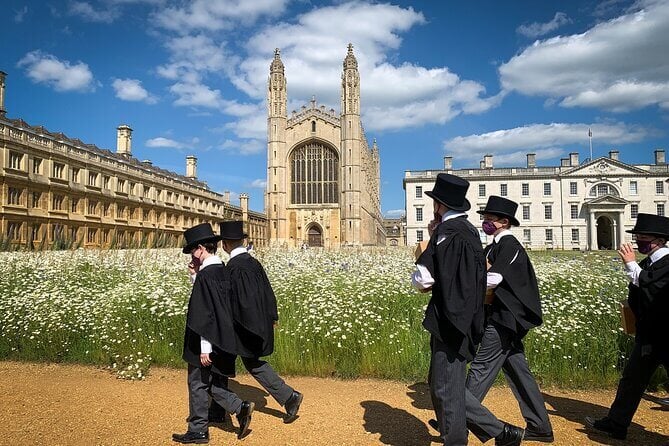 It goes without saying that exploring all those gorgeous universities is one of the top places to visit in Cambridge.
You'll find plenty of punting expeditions that'll take you past some of the main colleges, but in my opinion, the best way to appreciate the university's architecture and natural beauty is through a guided walking tour- so be sure to shoe up adequately.
With this tour, you'll even get to explore the interior of both King's College and Cambridge University. Additionally, it also includes a guided stroll through the vibrant city center- perfect for uncovering Cambridge's many hidden gems!
Entrance: $31.30
Hours: 11 a.m. to 1 p.m.
Address: 11 King's Parade, Cambridge CB2 1SJ, UK
5. Have Fun at the Midsummer Fair
It won't take you long to realize that there are plenty of long-standing traditions in Cambridge. And by long-standing, I do mean centuries-old!  
For example, the Midsummer Fair was apparently established by none other than King John himself and it's among the oldest fairs in England. This lively cultural event takes place on the last week of June and draws massive crowds to the Midsummer Common.
If you're planning on attending this event, I would recommend that you head there early so you can properly mosey around before the crowd settles.
Be sure to bring some spare change along too so you can enjoy the rides and colorful stalls selling just about everything from souvenirs to quintessential fairground snacks.
Entrance: Free
Hours: 5 p.m. to 9 p.m. (weekdays), 12 p.m. to 9 p.m. (weekends)
Address: Cambridge CB5 8DJ, United Kingdom
6. Catch a Show at the ADC Theatre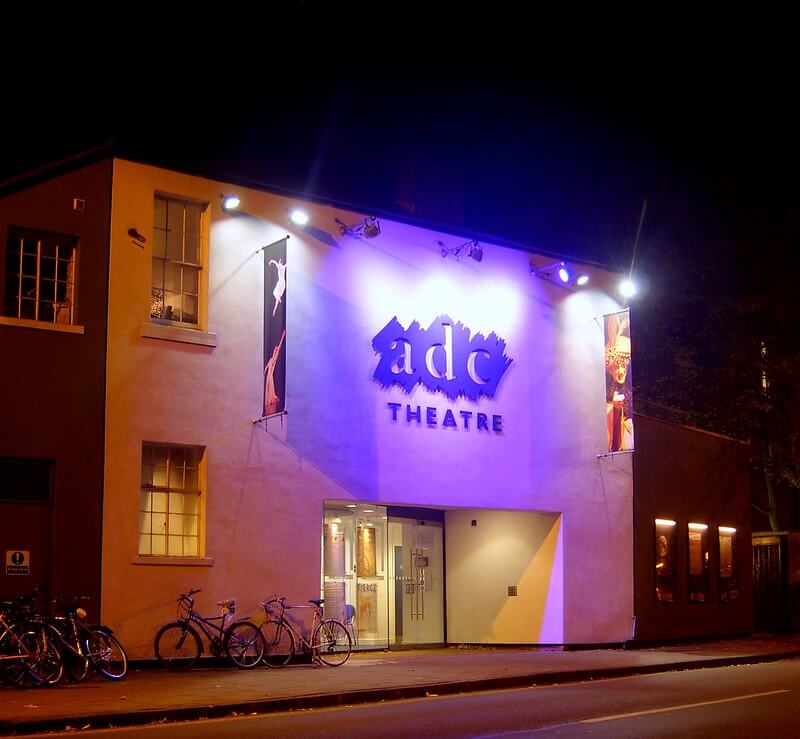 There's truly no easier way to soak up the local arts scene that to attend a show at the Amateur Dramatic Club (ADC)! This is the best evening activity for a weekend in Cambridge.
This student-run establishment regularly offers productions staged by both students and Cambridge-based theatrical groups. Because it's basically run by a troupe of amateurs and budding actors, you can expect ticket prices to be super affordable.
ADC also happens to be one of the oldest playhouses in all of England and its administration team consists of pretty big names like Emma Thompson, Sir Ian McKellen, and Stephen Fry, among others.
Entrance: $6 to $19 depending on the show  
Hours: 1 p.m. to 2. am.
Address: Park St, Cambridge CB5 8AS, United Kingdom
Small Pack Problems? 😉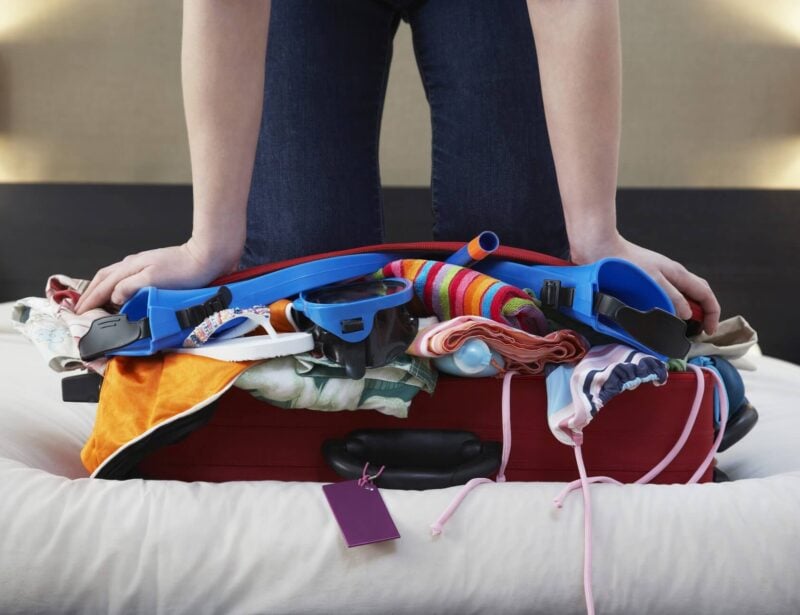 My missus travels with all her clothes in ziplock bags: don't be like my missus. UP YOUR PACKING GAME!
Packing cubes for the globetrotters and compression sacks for the real adventurers – these babies are a traveller's best kept secret. They organise yo' packing and minimise its volume too so you can pack MORE.
Or, y'know… you can stick to ziplock bags.
View Our Fave Cubes
Or Check Out the Sacks!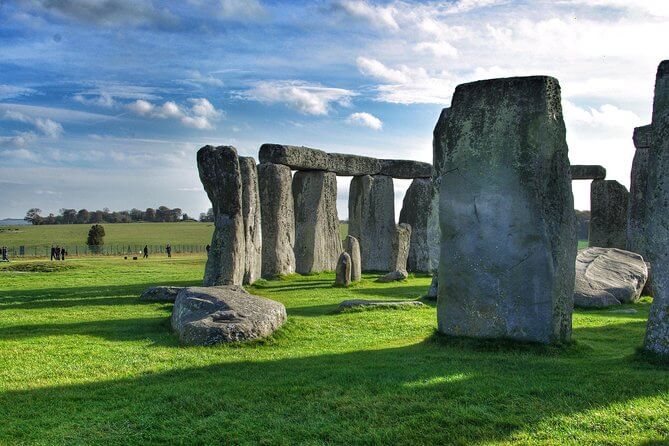 Now if you've got some time to spare, I would totally recommend a day trip to nearby Bath and Stonehenge.
Yes, it's a bit of a long drive but then again, I'm talking about two of the most fascinating sites in Europe. Talk about sightseeing bonanza! If you're backpacking the UK, a trip to Stonehenge is an absolute must.
It's no secret that British taxis are notoriously expensive, so to cut back on expenses, you can always book a guided expedition. This particular activity includes round-trip transport from Cambridge, walking tours in Stonehenge, and a stop at Bath.
Admission to Stonehenge is included so you won't need to waste precious vacation time waiting in line.
Entrance: $156.57
Hours: 8 a.m. to 9 p.m.
Address: Gonville Place, Cambridge CB1 1NA, UK
8. Browse for Treasures at the Market Square
Here's an activity that combines retail therapy with a little bit of history! Easily recognizable by its brightly colored stalls, Cambridge's Market Square lies in the city center.
This is the ideal place to browse for antiques and old books. You can also check out stalls offering fresh produce, arts, music, souvenirs, and much more.
Head over to All Saints Garden on Trinity Street where an Arts and Crafts Market pops up every Saturday. Over there, you'll find various types of handmade jewelry, sculpture, pottery, and even clothing.
Oh, and did I mention that this is one of the oldest attractions in Cambridge? Yup, the Market Square has been around since the Middle Ages. No wonder it's such a treasure trove!  
Entrance: Free
Hours: 10 a.m. to 4 p.m.
Address: Market Hill, Cambridge CB1 0SS, United Kingdom
9. Have a Pint at The Eagle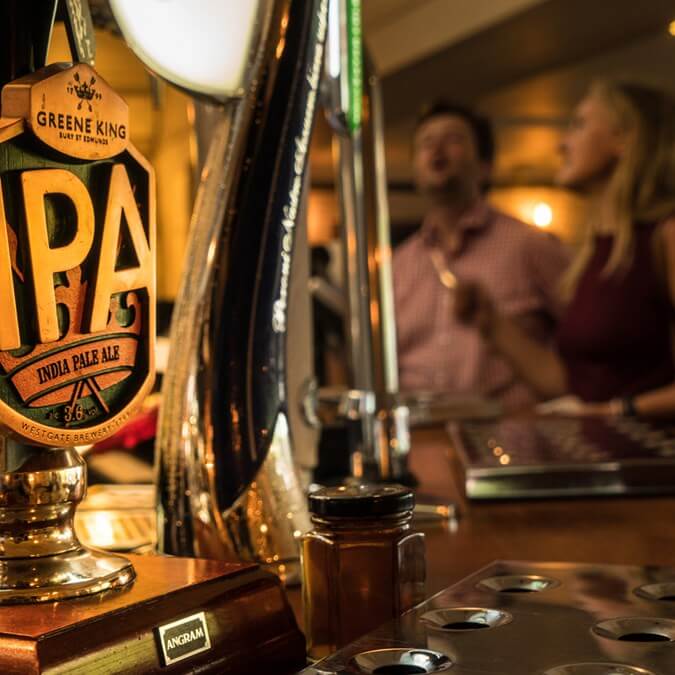 Self-described as a 'drinking and thinking hub', the Eagle pub is extremely popular among tourists and locals alike.
In fact, Brits will tell you that this is the spot where eminent scientists Crick and Watson claimed to have discovered DNA- or what they called The Secret of Life. The pub even has an ale called DNA in honor of the scientists.
Now, whether you're interested in the secret of life or not (talk about knowledgebombs!), there's no denying that The Eagle is one of the best pubs in Cambridge. It's especially reputed for its home-cooked pub grub and cask ales.
Before leaving, be sure to check the ceiling where American airmen and RAF used candles to burn their names in graffiti.
Entrance: Free
Hours: 11 a.m. to 11 p.m.
Address: Benet St, Cambridge CB2 3QN, United Kingdom
10. Take Selfies at the Mathematical Bridge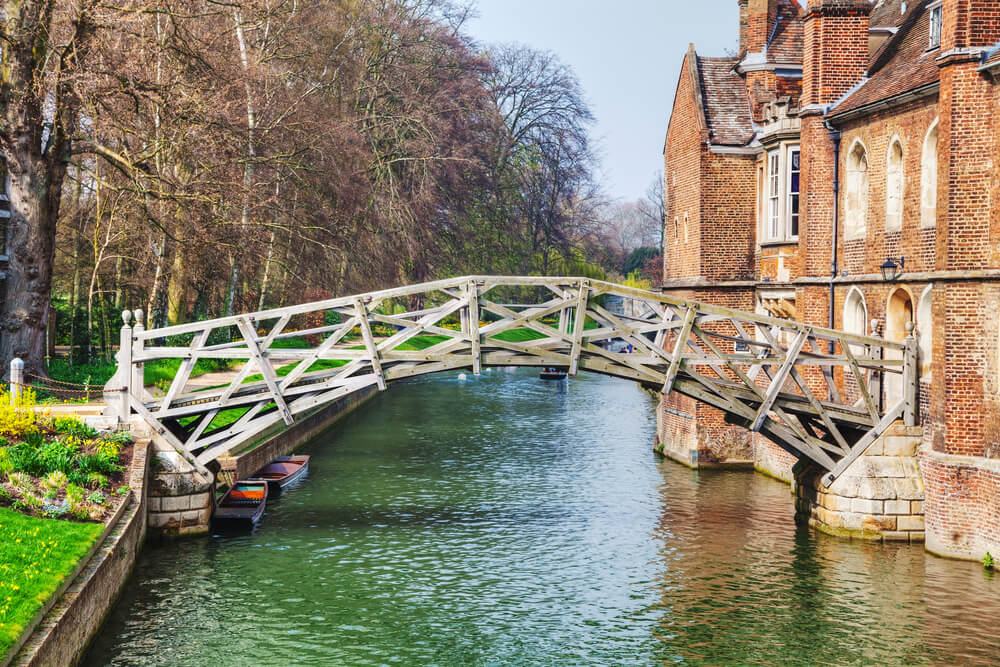 Well, this one is practically a prerequisite for anyone who's visiting the city!
Extremely easy to spot thanks to its unique geometrical structure, this landmark offers a unique background for selfies. It connects both sides of Queen's College and while the college is currently closed to visitors, you can still access the bridge from Silver Street's Porter Lodge.
Now, according to a rumor floating around Cambridge, the Mathematical Bridge was built without bolts and nuts, but rest assured that this is just an urban myth.
Not only is the bridge entirely safe to visit but it also happens to be one of the most popular landmarks in the city- so expect to see plenty of punters in peak season.
Entrance: $4.28
Hours: 10 a.m. to 4 p.m. (Monday to Sunday)
Address: Cambridge CB3 9ET, United Kingdom
Is This the Best Daypack EVER???
11. Take the Kids to the Museum of Archaeology and Anthropology
Not only is this one of the best things to Do in Cambridge with kids, but there's no entry charge so it's perfect for budget travelers as well!
Children and adults alike will no doubt appreciate the Captain James Cook exhibit which showcases a fascinating collection of pieces amassed during his journeys. You'll also find plenty of artifacts dug dating all the way back to Anglo-Saxon and Roman times.
Parents will be glad to learn that the museum does have a choice of children-oriented activities such as coloring stations where they can try their hand at painting the exhibits.
Because the museum is on the smallish side, you may only need one or two hours to complete your tour.
Entrance: Free
Hours: 10 a.m. to 5 p.m.
Address: Downing St., Cambridge CB2 3DZ, United Kingdom
12. Stroll through Cambridge University Botanic Garden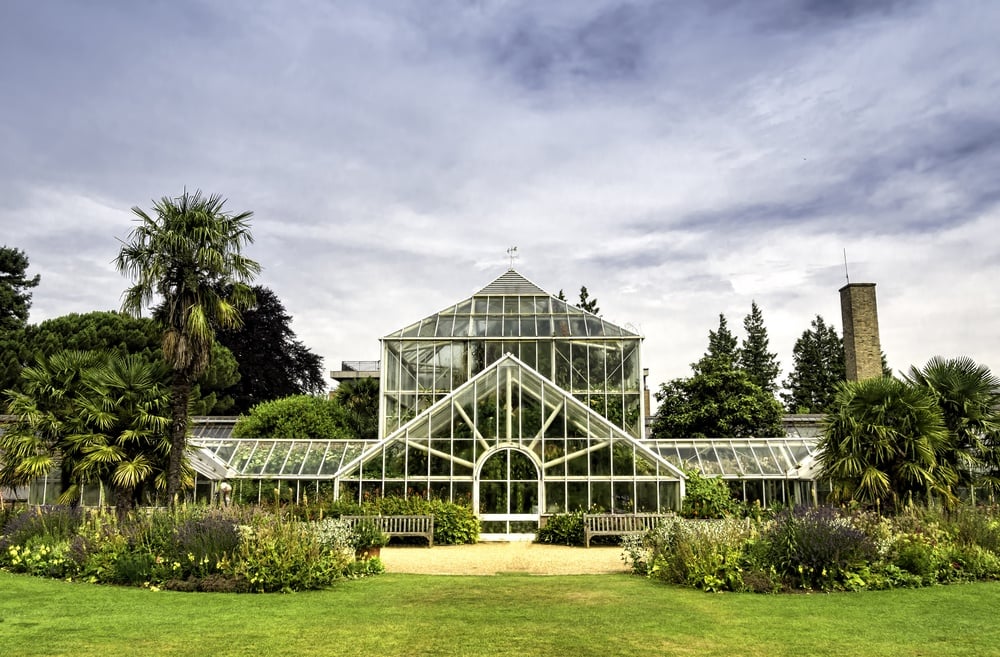 A lush oasis nestled near the Cambridge Railway Station, the Botanic Garden is especially reputed for its glasshouses designed to mimic various types of climates, including the Oceanic Islands and tropical rainforests. Yeah, you read that right. Tropical rainforests in England!
The garden even allows you to get up close and personal with carnivorous plants. The site also houses four different kinds of gardens, each dedicated to a specific project.
And if you get hungry after your walk, you can always fuel up with a quick snack from the on-site café.
I would recommend that you set aside 2 to 3 hours to properly take in everything the garden has to offer, especially if visiting in spring or summer.
Entrance: $9.50
Hours: 10 a.m. to 6 p.m.
Address: 1 Brookside, Cambridge CB2 1JE, United Kingdom
13. Have Afternoon Tea at Fitzbillies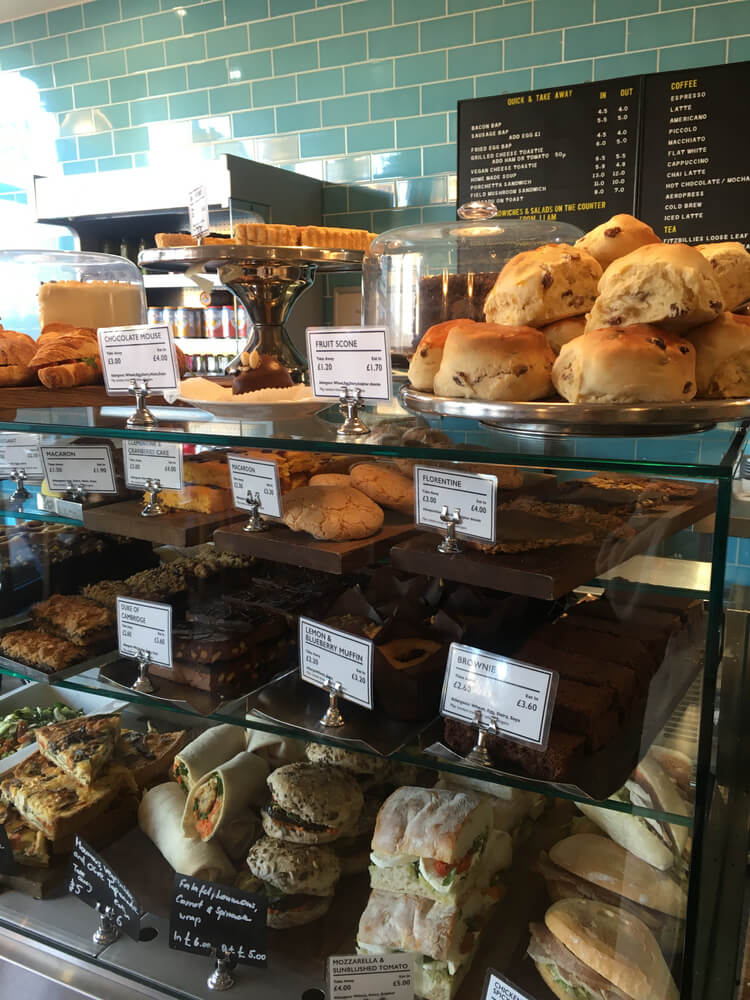 One of the most essential things to do in Cambridge, afternoon tea is a tradition that's firmly anchored in the local culture. As such, it would be borderline blasphemous to leave England without having at least one afternoon tea experience!
For me, the absolute best place to tuck into those scrumptious British treats is Fitzbillies.
There are two branches in Cambridge, but my favorite is the one located on Trumpington Street- mainly because it goes full out when it comes to afternoon tea: waiter service, delicate China, cake stands laden with finger sandwiches and baked goodies, the works!
If you're feeling particularly fancy, you can also opt for a flute of champagne. Gluten-free and vegan options are available.
Entrance: Free
Hours: 8 a.m. to 6 p.m.
Address: 51-52 Trumpington St, Cambridge CB2 1RG, United Kingdom
14. Sample European Wine at Cambridgeshire Wine School
Wine aficionados, this one is for you!
Now, England isn't exactly known for its wine, but the Cambridgeshire Wine School is perfect for those who would like to sample European concoctions while learning more about wine pairings and grape varieties.
Owing to their popularity, the evening tasting sessions are also ideal for connecting with travelers from all around the world.
Along with tasting sessions, the Cambridgeshire Wine School regularly hosts other events such as Cheese & Wine soirees, Wine Courses with Lunch, as well as Champagne tastings. If spirits are more your thing, you'll be glad to learn that the Wine School also offers Gin Tasting sessions.
Entrance: Depends on the activity
Hours: 9 a.m. to 9 p.m.
Address: The Venetian Wine Bar and Café, 21 Station Pl, Cambridge CB1 2FP, United Kingdom
Travel with peace of mind. Travel WITH a security belt.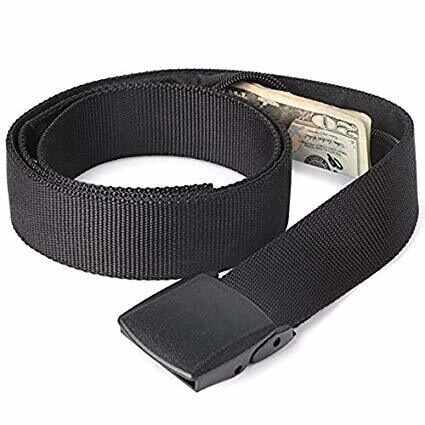 Get your cash stashed with this awesome Pacsafe money belt. It will keep your valuables safe no matter where you go.
It looks exactly like a normal belt except for a SECRET interior pocket perfectly designed to hide a wad of cash or a passport copy. Never get caught with your pants down again! (Unless you want to.)
Hide Yo' Money!
15. Relax at The Backs
If you're looking for romantic things to do in Cambridge, how about a champagne picnic by The Backs while watching the sunset over the shimmering river?
One of the most picturesque areas in the city, The Backs offers a fairy-tale-like setting, so it's not uncommon to see students setting up their easels in the afternoon. It's also a great place to enjoy an early-morning walk by the river.
A cool thing about this stretch of reclaimed land is that it's a common area that joins several colleges. When the weather's good, you can even spot cattle grazing peacefully behind King's College.
Entrance: Free
Hours: Open 24 hours
Address: Queen's Rd, Cambridge CB3 9AH, United Kingdom
If you've never heard of the words 'Dinky Doors', don't worry. Neither had I until I went to Cambridge!
Dinky Doors basically refer to miniature sculptures with doors that are usually hidden just out of plain sight. And while they only started to appear in 2019, they've quickly become an integral part of the city's culture!
Tourists and locals are always keeping their eyes peeled out for them so don't be surprised to see people peering down as they walk, cameras at the ready.
Dinky Doors perfectly represent the quirky and delightfully weird vibe that permeates Cambridge. As such, you'll find plenty of tours offering Dinky Door Hunts across the city- perfect for kids and adults!
Entrance: $9.31
Hours: Dependent on Tour
Address: 24 Trinity St, Cambridge CB2 1SU, UK
17. Marvel at the Majestic Wimpole Estate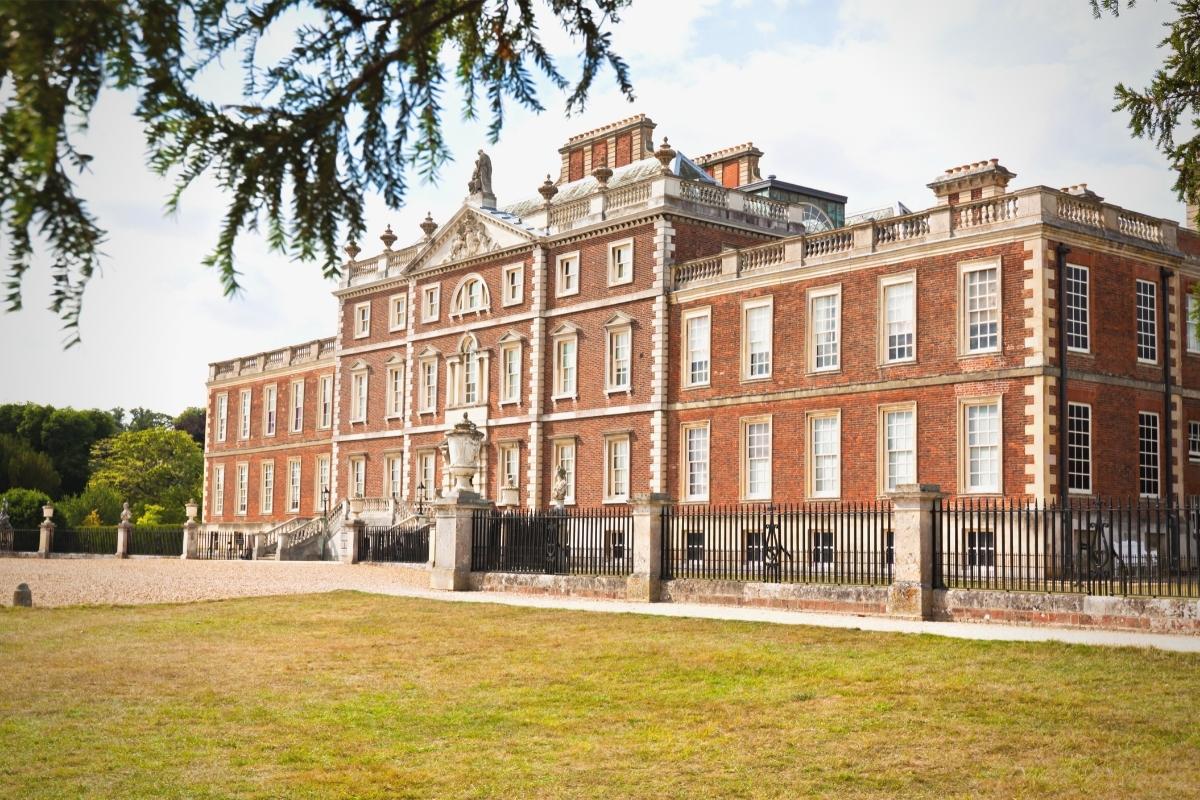 For a quiet afternoon, head over to Wimpole Estate, located just a quick 20-minute drive from Cambridge.
This working estate is home to Wimpole House, a National Trust property that also happens to be a working farm.
Now, be sure to allocate yourself enough time to properly tour both Wimpole Hall and the sprawling estate that surrounds it. After all, Wimpole House's palatial interior houses quite an impressive collection of artworks and historic books, so it'll take you a couple of hours to probably explore everything.
If you feel like stretching your legs after your visit, you can always hike the 13 miles back to Cambridge through Wimpole Way.  
Entrance: $22 (adults), $11 (children)
Hours: 9 a.m. to 6 p.m.
Address: Wimpole Estate, Arrington, Royston SG8 0BW, United Kingdom
18. Watch a Rowing Race
A day spent moseying down the river hits differently when you're lucky enough to catch a rowing race! Incidentally, this just so happens to be one of the most sought-after activities in Cambridge, especially on a hot summer's day.  
Most Cambridge colleges have their own rowing clubs and things can get ferociously competitive at times so expect plenty of exhilarating races down the river.
If you want to enjoy the races like a local, spread a blanket by the water's edge or take a seat at The Plough, a riverside pub where you can join in with the cheering.
These races are usually considered good practice for the annual Cambridge-Oxford boating competition which takes place on the River Thames.
Entrance: Free
Hours: N/A
Address: The River Cam, Cambridge
Forget boring accommodation… book yourself an EPIC STAY!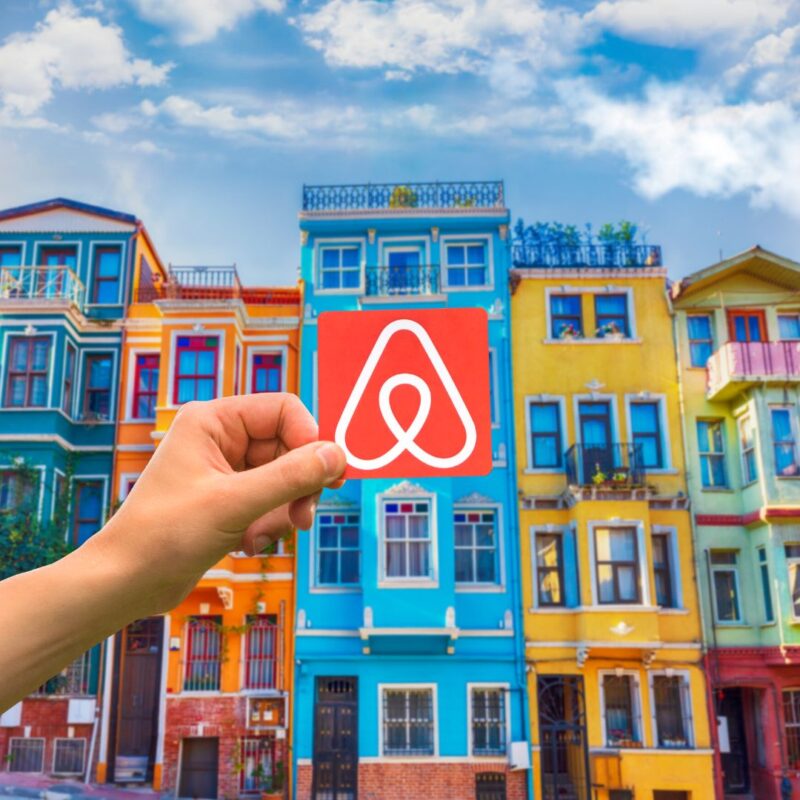 Why stay in a naff hotel when you can stay in a cosy, stylish local house instead? And for half the money too!
Stay somewhere EPIC and save your hard-earned dollars — from houses to barns to castles and caves, there is an Airbnb for every occasion!
Book an EPIC Stay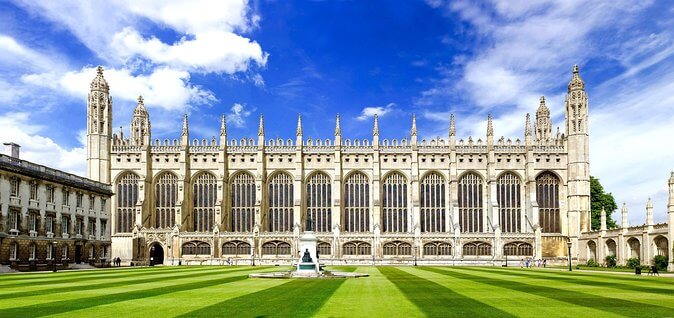 If you're traveling with a group, you can always book a walking tour to properly engage with the city's history.  
With this activity, you'll get to go off the beaten path and uncover all those hidden nooks and crannies in the city. The tour even includes stops at less-touristy venues like the Senate House.
The Green Badge guides will also narrate the city's extraordinary history from a whole new perspective and believe me when I say that their anecdotes are as funny as they're fascinating.
This activity is admittedly more expensive than most, but then again, the price is per group of 15 so you can always divide up the cost!
Entrance fee: $169.08
Hours: Dependent on tour
Address: Rose Cres, Cambridge CB2, UK
20. Hop on a Train to London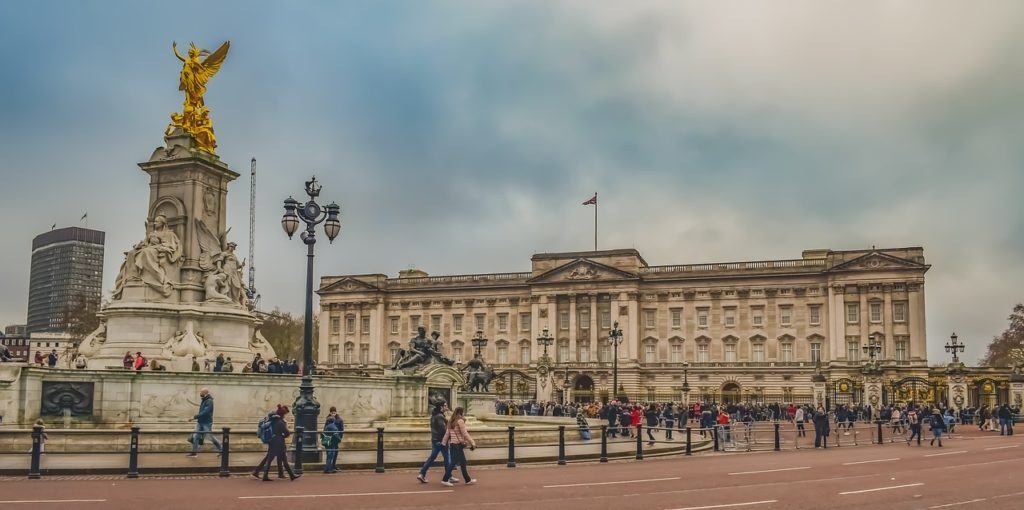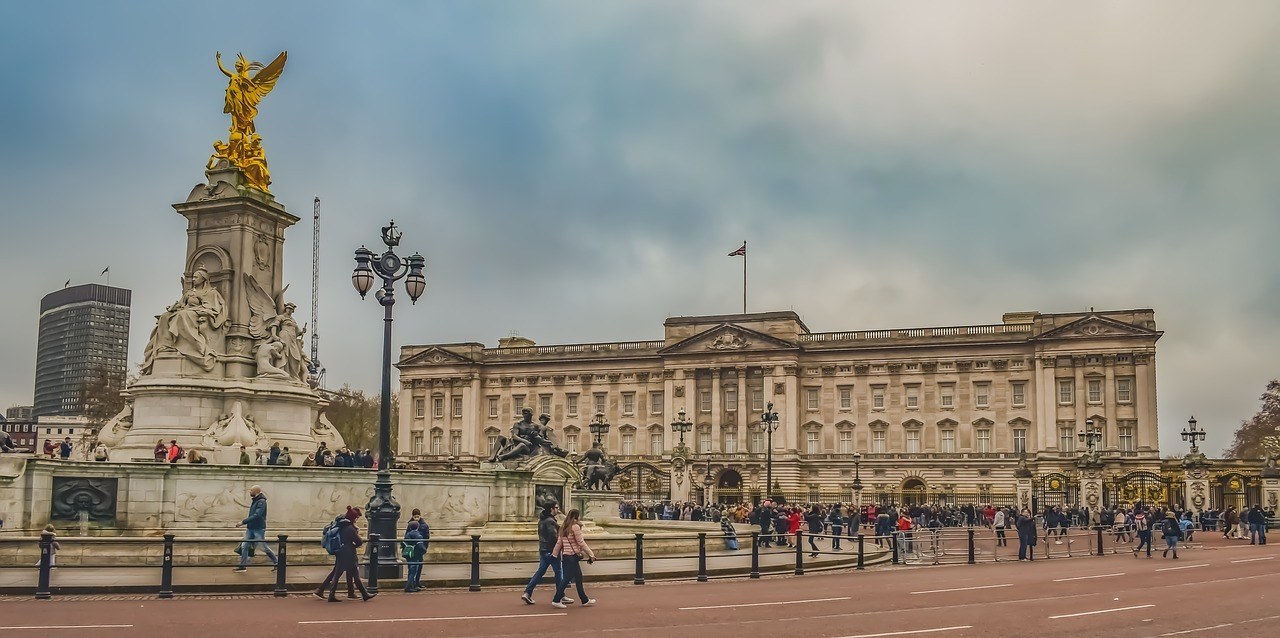 Are you looking for the best day trips from Cambridge? Well, how about jumping on a train to London which lies just over an hour away?
Now, London may be notoriously expensive, but there's still plenty to do on a budget. Some of the free tourist attractions include the Barbican Conservatory, the British Museum, and of course, the iconic Changing of the Guards in front of Buckingham Palace.
Alternatively, you can also consider taking a day trip to Audley's End, located half an hour from Cambridge. Not only does this manor house look like it's been plucked right off the set of Bridgerton, but you'll also find a team of actors who put on a play every day. 
Norfolk is also another popular day trip from Cambridge that's just under an hour away.
Entrance: As from $9 (Cambridge-Audley's End), $12 (Cambridge-London)
Hours: Dependent on train schedule
Address: N/A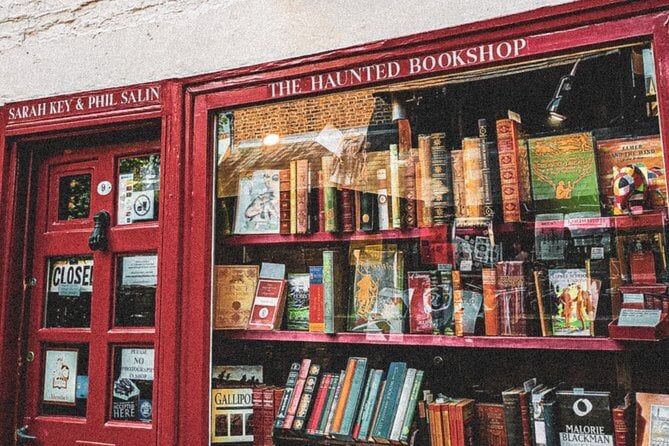 There's zero doubt that Cambridge is a super Instagrammable place. After all, the city is home to some of the most spectacular buildings in all of England!
In fact, one of the best things to do in Cambridge on a Sunday is just strolling around to marvel at the stunning architecture.
If this is your first time visiting the city and you're not quite sure where to start, you can consider booking a self-guided tour with a virtual guide who'll direct you towards the most picturesque spots.
With this tour, you'll even get to uncover hidden spots such as Saint Edward's Passage and Portugal Place, a charming neighborhood that somehow managed to stay off the tourist map. 
Entrance: $6.25
Hours: Dependent on tour
Address: King's Parade, Cambridge CB2 1ST, United Kingdom
Where to Stay in Cambridge
Whether you're visiting a loved one at university, backpacking your way through England, or simply visiting Cambridge for all its marvellous attractions, one thing for sure is: the city beautifully caters to just about every budget in terms of accommodation!
Having said that, do bear in mind that millions of travelers flock to Cambridge each year. To ensure that you enjoy the best rates, make sure you find where to stay in Cambridge in advance- especially if you'll be there during peak season.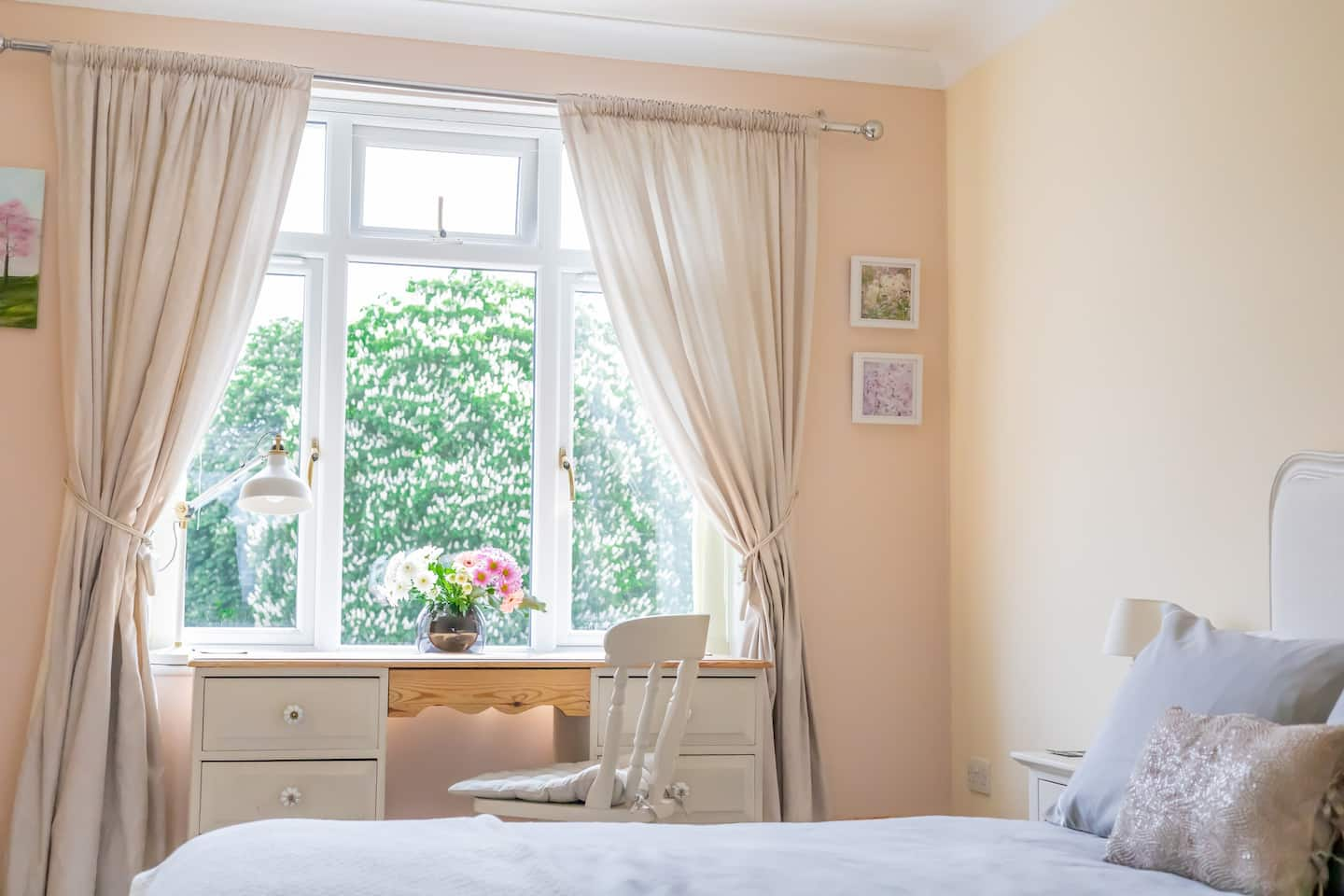 This one's my favorite place to stay in the city! With unblemished views of the River Cam and Stourbridge Common, this quaint apartment lies close to some of the best attractions in Cambridge. Budget travelers will be glad to learn that the space even comes with a well-equipped kitchen where they can put a quick meal together. Offering one-bedroom for two guests, this apartment boasts proximity to the Science Park and the Cambridge North train station.
Best Hostel in Cambridge – YHA Cambridge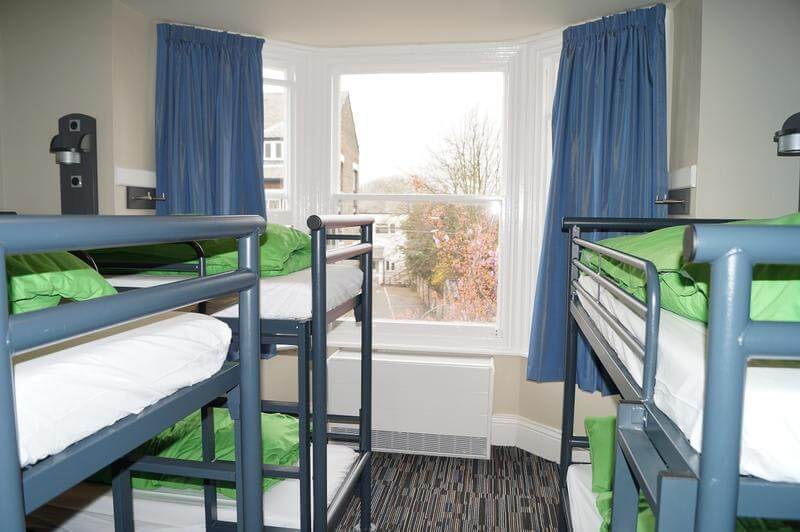 Okay, this literally is the only hostel in Cambridge, so book early! This modern hostel lies right at the heart of Cambridge, so you'll be just a quick walk from the city center. Guests will have a choice of private rooms boasting en-suite facilities or shared dorms with super-comfy beds. Boasting an on-site kitchen, bar, restaurant, and plenty of common spaces where you can socialize, YHA Cambridge lies close to the Fitzwilliam Museum and King's College.
Luxurious bedrooms, an excellent location, and free daily breakfast? Sign me up! With guest bedrooms that sleep between 2 to 4 guests, the Hilton Cambridge City Center features an on-site restaurant, fitness center, and a lounge bar offering Afternoon Tea. Best of all, this hotel places you just a quick walk from popular points of interest like the River Cam and the Mathematical Bridge.
Some Additional Tips for Visiting Cambridge
Before you go running off to Cambridge, I have a few final words of advice about visiting Cambridge to share with you…
Invest in travel insurance! You never know what may happen on the road.
Take Advantage of the Free Walking Tours. Cambridge is a super walkable city, and you'll find walking tours on just about every corner.
Check out the Visitor Information Center. Cambridge's Visitor Information Center offers plenty of sweet perks, including discounted tickets for various activities like punting. You really don't want to miss out on those deals.
Don't Skip the Parks. Travelers looking for the best free things to do in Cambridge will no doubt find their joy in the many free parks dotted around the city! And no, they're not just boring ol' parks either.
Try to Plan your Visit in the Fall. In my opinion, the best time to explore the city is in the Fall (October-November). Yes, it's a bit chilly, but you'll be treated to spectacular scenery and prices are significantly lower than in peak season.
Bring a good water bottle with you and avoid buying single-use plastic ones!
Don't forget your travel insurance for Cambridge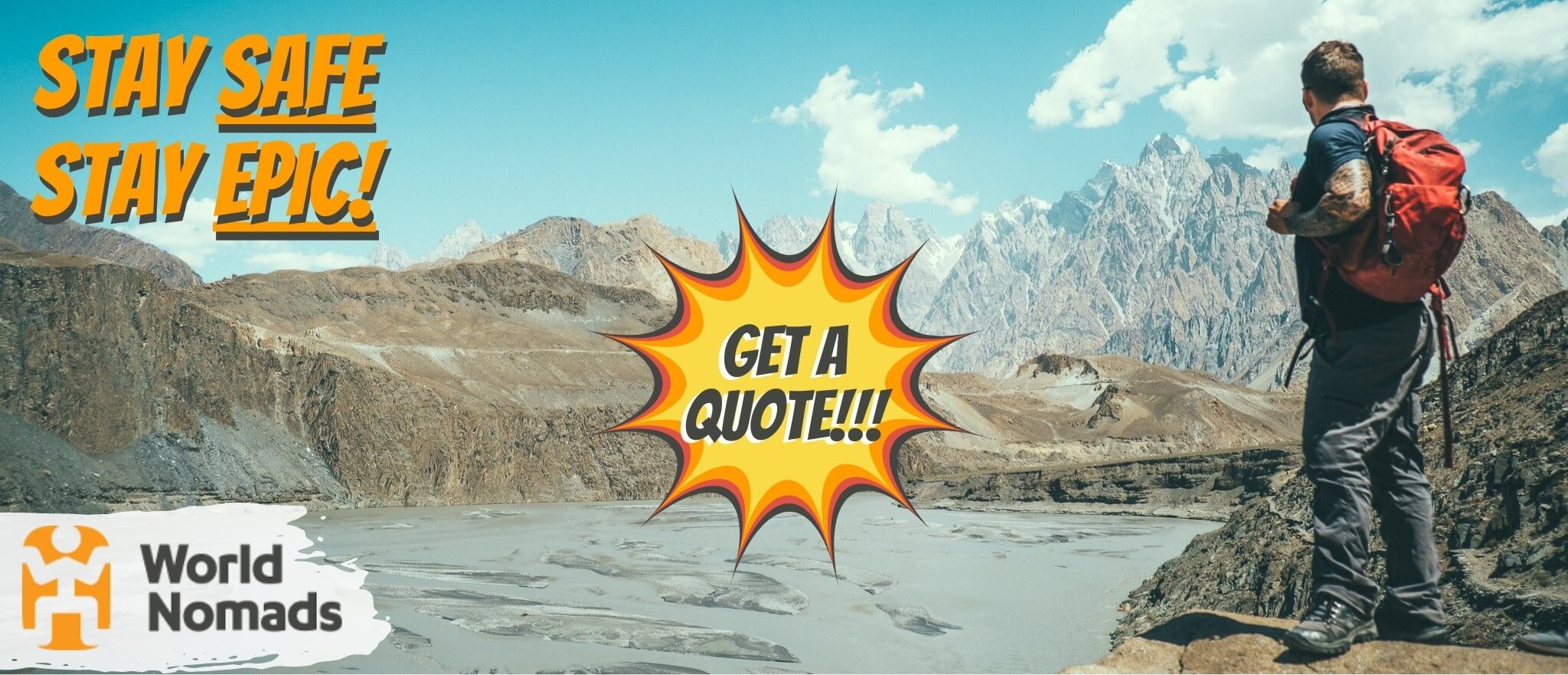 It's good to get lost sometimes, but it's also good not to get too lost. There are people that want you home in one piece.
There's one travel insurance provider The Broke Backpacker trusts for all his wildest shenanigans… World Nomads!
Click the button below to get a quote on your insurance or read our in-depth review of World Nomads' coverage. And then… let the shenanigans begin. 😉
Final Thoughts on Things to Do In Cambridge
A fun-filled life set against a backdrop of elite academies, all tied together with historical landmarks and quirky traditions: that's Cambridge in a nutshell for you!
It's easy to travel to Cambridge and there are tons of attractions to see. More importantly, you can easily head there with a near-empty wallet since it provides plenty of free stuff to do.
And if you visit in the low season, you'll get to enjoy amazing deals in terms of accommodation as well.
Whether you're just passing through or planning a longer stay, here's one thing you can be sure of: this is one city that will never, ever disappoint!
---
Bye for now, but not forever!
If you want MORE top-tier Broke Backpacker content like this, then sign up for our weekly newsletter below to get the latest and greatest!
And for transparency's sake, please know that some of the links in our content are affiliate links. That means that if you book your accommodation, buy your gear, or sort your insurance through our link, we earn a small commission (at no extra cost to you). That said, we only link to the gear we trust and never recommend services we don't believe are up to scratch. Again, thank you!