With stunning scenery, a history that goes back to the Middle Ages and a thriving arts scene, Cambridge has something to offer all travelers! In fact, it's hard to think of something Cambridge doesn't have! Whether you're in town for a specific event or just wanting to explore the city, you'll find that there's lots of fun to be had on a weekend in Cambridge!
Visitors often take a day trip to Cambridge from London because it's just an hour's train ride away. However, there's so much to see and do in the city that it's well worth spending an entire weekend in Cambridge!
We've searched high and low all around the city to find the best things to do in Cambridge, England. Whether you love English football or are looking forward to tasting the best of local cuisine, you'll find the perfect activities on our awesome guide to a weekend in Cambridge!

Unlock Our GREATEST Travel Secrets!
Sign up for our newsletter and get the best travel tips delivered right to your inbox.
Insider Tips for an AMAZING Weekend in Cambridge
Since you only have a weekend in Cambridge, it's important to maximize your time and not worry about where to stay or how to get around. That's why we've put together this guide to finding fuss-free accommodation and transport in Cambridge!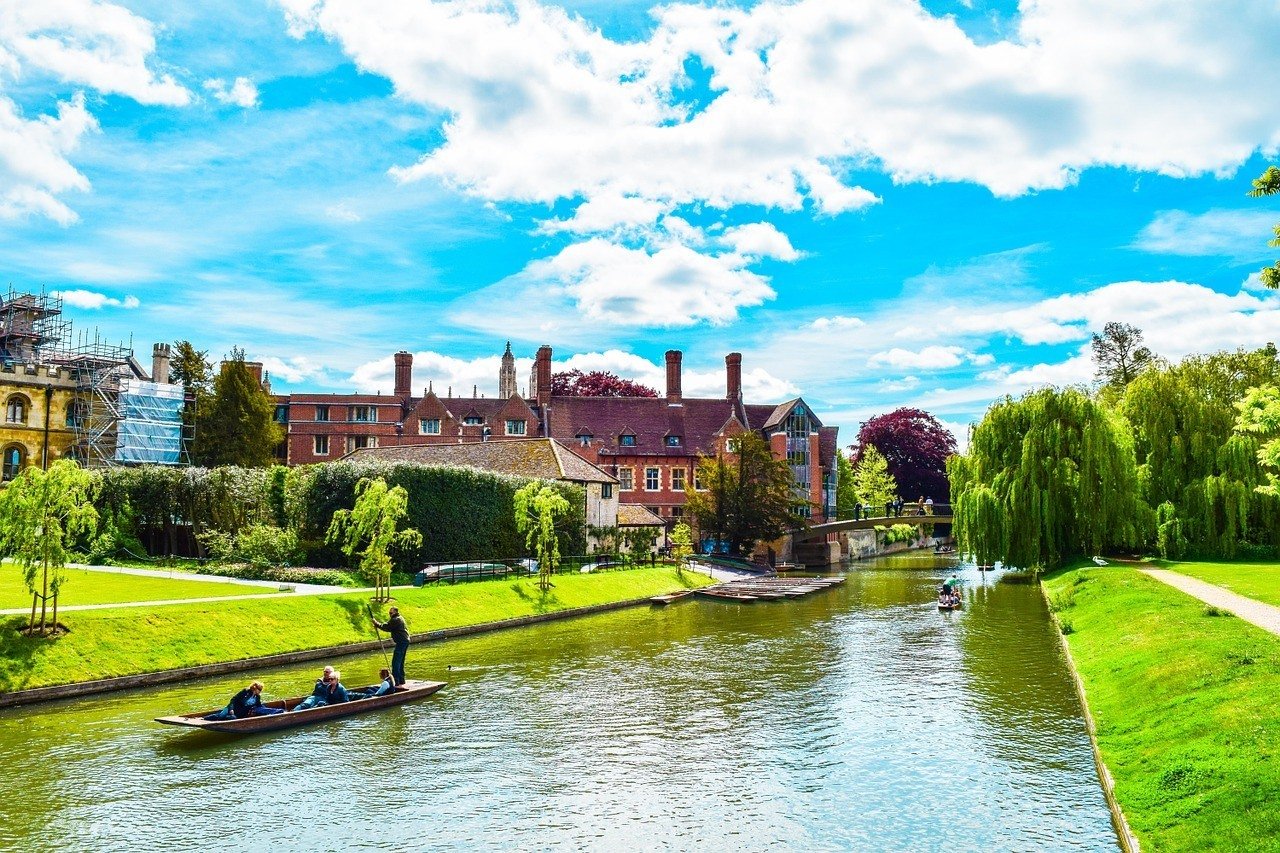 Know Where to Stay in Cambridge
With a population of just over 120 000 people, Cambridge is indeed a very small city! Nevertheless, since you only have a weekend in Cambridge, it's best that you choose central accommodation in Cambridge so that you don't waste your precious time commuting to the main attractions.
The city center of Cambridge is also the historic heart of the city. The area is built around the Cam River and has plenty of charming features, such as cobbled streets and olde England style houses. It's where the world-famous university is located, as well as most of the top things to do in Cambridge!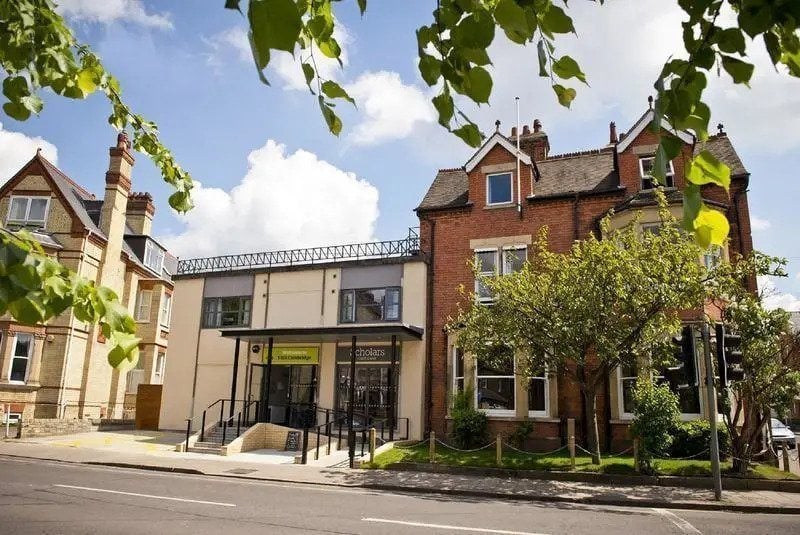 The hostel is just a 15-minute walk away from some of the best Cambridge attractions!
The in-house Scholars bar is perfect for socializing and relaxing!
Friendly staff and conveniences like security lockers will ensure you have a fuss-free stay!
Situated just next to a railway station, YHA Cambridge is easy to find and within walking distance to great sites! The rooms are impeccably clean and spacious, and you can look forward to free facilities like Wifi and 24-hour reception!
This centrally located comfortable bedroom is ideal for a first time visitors in Cambridge. Right in the middle of historic colleges, soak up the charming Cambridge culture and feel the magic of the city.
The double bedroom, on the second floor, are right next to a bathroom that you will share with hosts. The other shared rooms are the kitchen and the living room.
There are so many amazing Airbnbs in Cambridge.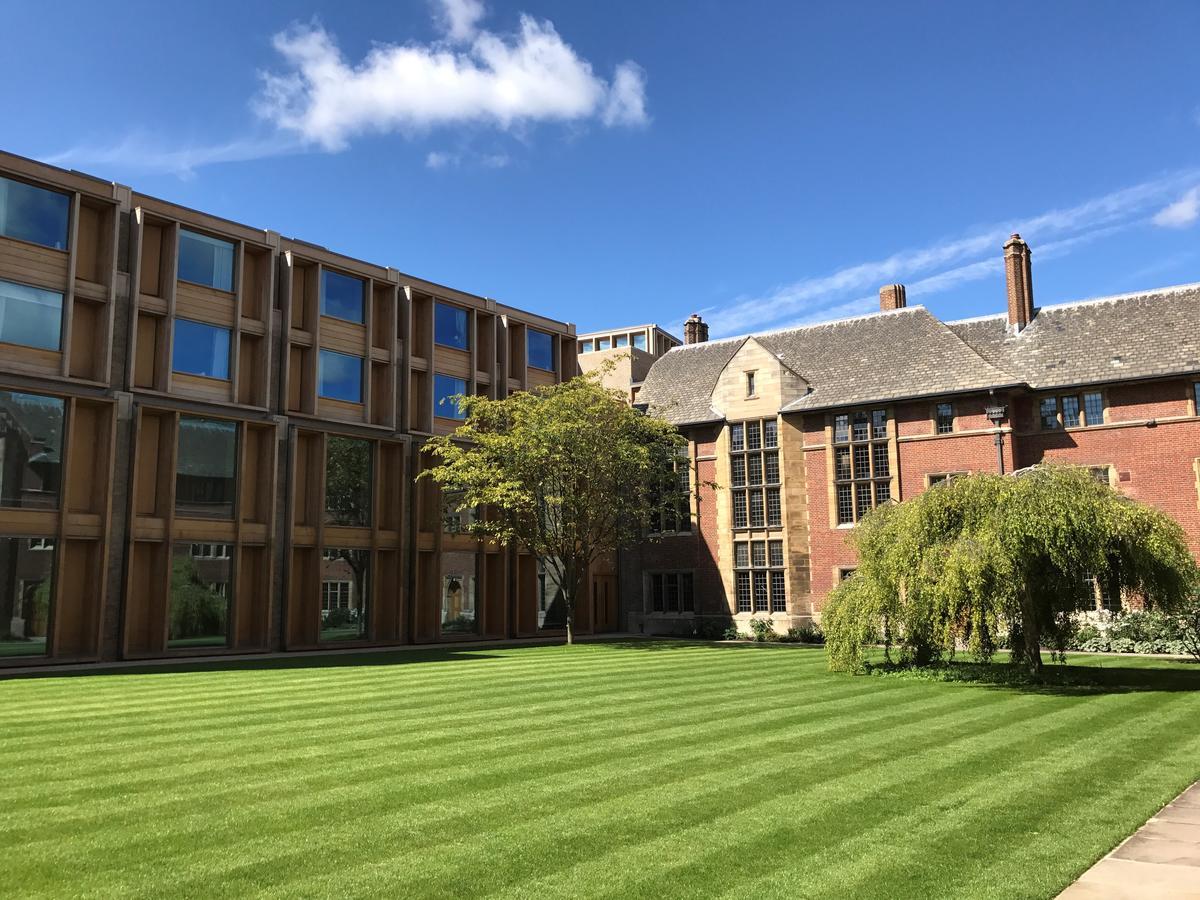 West Court is just a few minutes' walk away from the famous university colleges and museums!
Free continental breakfasts will help you stay under budget!
You can look forward to the helpful staff and sparkling facilities!
West Court – Jesus College is located in an ultra-modern building in the heart of Cambridge. Rooms are modern, clean and boast floor-to-ceiling windows. It's the perfect place to recharge before you head out for another round of sightseeing!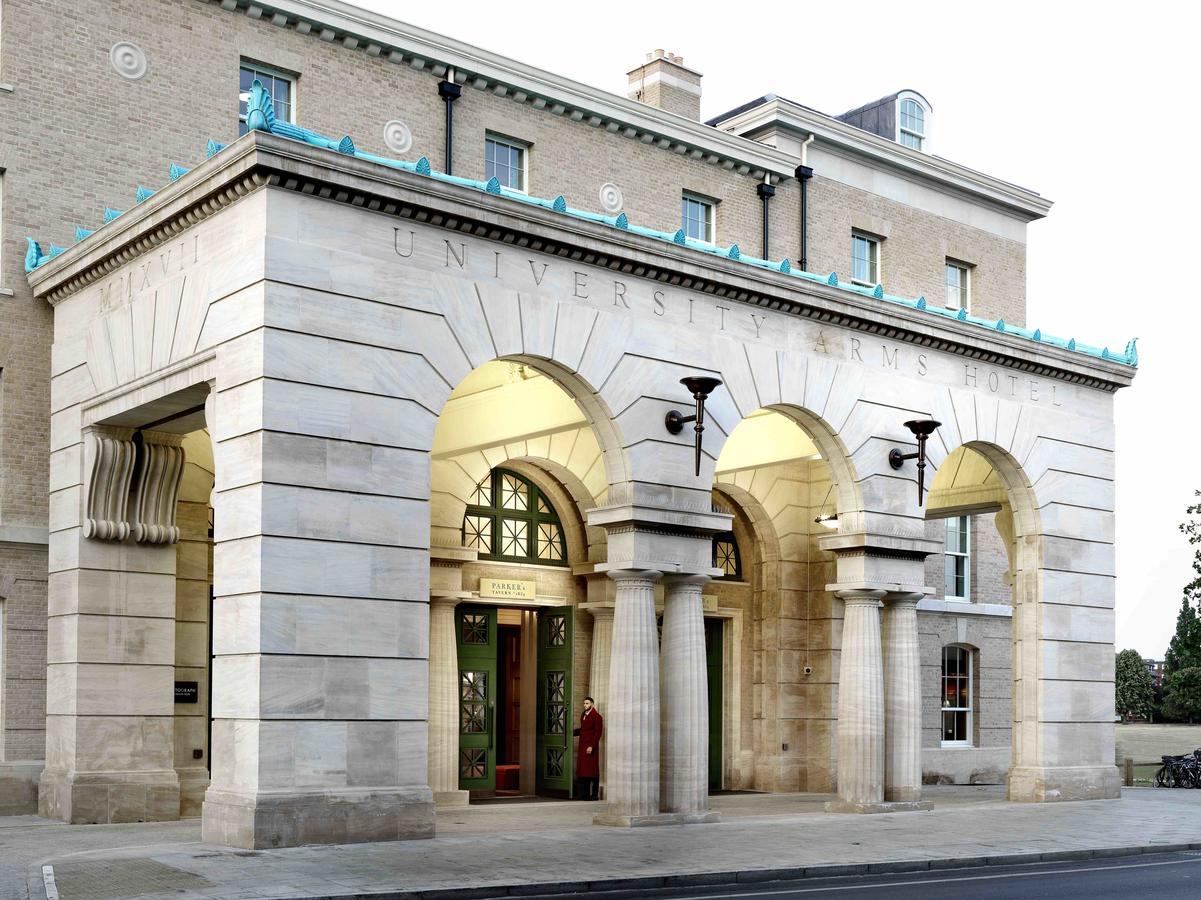 Just a two-minute walk from the Museum of Archaeology and Anthropology, University Arms is perfectly located!
There's an in-house bar, as well as a brasserie!
This faultless hotel has a 4-star rating!
Guests consistently praise University Arms for its clean facilities, delightful staff, and opulent decor! The spacious rooms are warm and boast views over Regent's Park, as well as Victorian-style bathrooms!
Know How to Get Around in Cambridge
Cambridge is quite compact and once you're in the city center, it's quite easy to get around.
The easiest and cheapest way to get around is walking. There are many pedestrian zones in shopping and historic districts that are not only safe, but very atmospheric!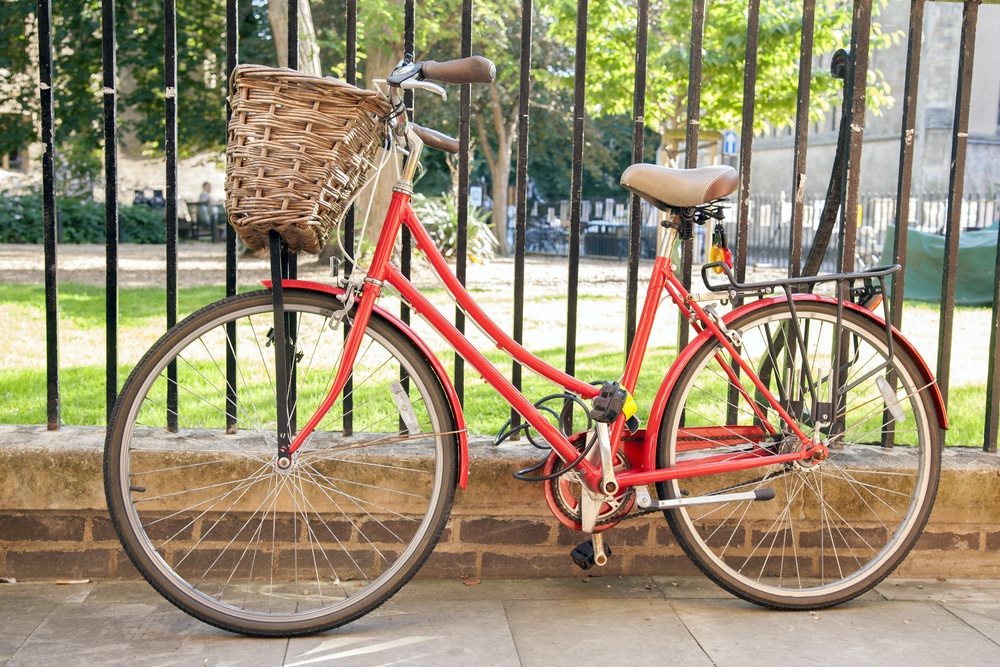 One of the most efficient ways to explore Cambridge is by bicycle and this is exactly what a lot of locals do! There are over 80 miles of routes dedicated to cyclists. If you're not an experienced cyclist, though, you may want to avoid these routes during peak hours as they can get busy! You can hire a bike in Cambridge easily within the city center. Try Station Cycles or City Cycle Hire. For shorter journeys, try OFO Bike Sharing.
If you need to take public transport, there are Citi Buses which run throughout the city. If you're traveling from the railway station to the city center, take Citi 1, Citi 3 or Citi 7. There are different kinds of tickets to suit the length of your stay so depending on how much you plan to use the bus, you can get a significant discount! You can get a printed map of bus routes at the Tourist Information Center or a digital copy online.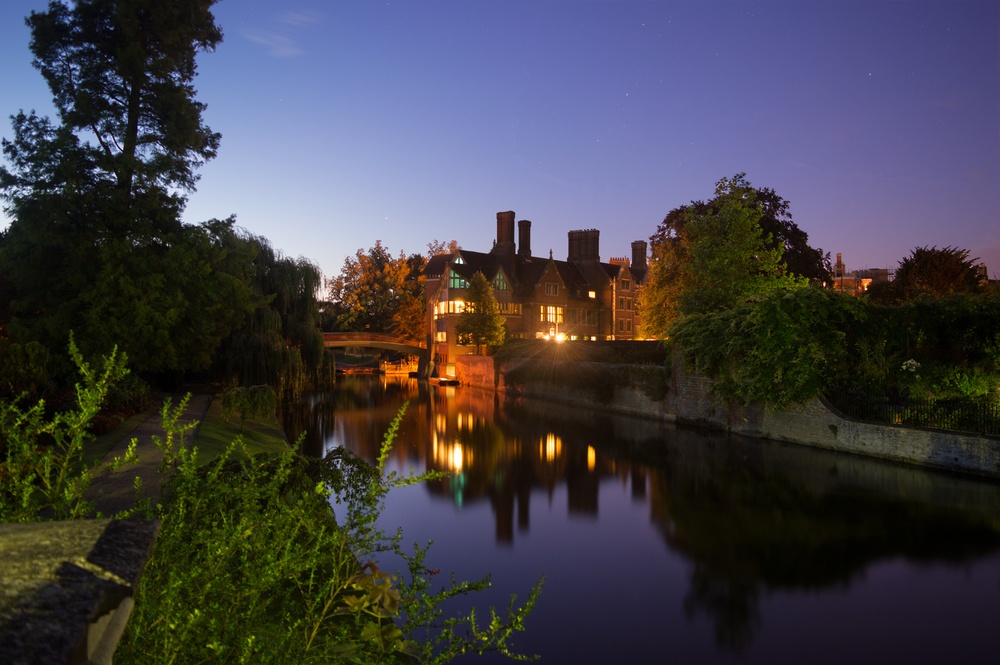 In all honesty, no-one comes to Cambridge exclusively for the nightlife but once you're there, it's worth checking out the nightlife. The city may lack the clubs of London or weekend vibe of Manchester, but it does has much more intimate and unique experiences on offer! Plus, there are weekly student nights which are great fun.
Market Passage
This shopping street is home to some of Cambridge's liveliest bars!
It's a great place to spend the night if you like sophisticated venues and prefer cocktails over beers!
The central location makes it easy to get to and safer to get home!
There are a number of bars along the street but two stand out. Ta Bouche is a sophisticated venue that's renowned for its amazing cocktails and bartenders that make bespoke cocktails just for you! Baroosh is another good option, with an intimate feel and a wide variety of drinks!
Traditional Pubs
For less dancing but a fair amount of drinking, an English pub sounds just right!
Pubs can be quite loud and vibey but they're best enjoyed with your own group of friends!
Some Cambridge pubs have been around for well over 100 years and offer a great experience of traditional English nightlife!
If you're in the mood for a night of socializing and hearty beers, then head to your nearest traditional pub! These establishments are more down-to-earth than bars but there's usually a great atmosphere and sometimes even live music! Try The Cambridge Brew House (particularly popular with sports fans) or The Flying Pig.
The Junction
This is the best venue you'll find in Cambridge for live music!
The UK's best DJs regularly stop by the Junction on their way to London!
It has a vibrant atmosphere that's unlike the student haunts you'll find in central Cambridge!
Entrance fees at the Junction are a bit on the pricier side but it's worth it, especially since it's the closest Cambridge's nightlife comes to resembling big cities like London! There's also a nice mixture of people, as opposed to the mostly student crowd you find at other clubs.
Whether it's dining out and enjoying the best local food or a hands-on cooking class, there are plenty of foodie dreams-come-true to enjoy in a day in Cambridge!
Chocolate Masterclass
This quick workshop is the perfect challenge for any foodie!
You'll learn about the entire process of making chocolate, from grinding beans to enjoying the final product!
There are so many things to taste, such as cocoa beans and truffles!
For foodies, one of the best things to do in Cambridge, UK, is to learn how to make your own chocolate! Food and Drink Events hosts a 2-hour workshop that will teach you everything you need to know about chocolate, including how cocoa beans are ground. The class finishes with some delicious truffles and decadent hot chocolate!
Cambridge Market
This historic marketplace has a large section dedicated to fresh local produce
On Sundays, there's a food market where you can enjoy the best local dishes for cheap
The vibrant atmosphere makes it a fun experience!
You'll find Cambridge Market on Market Hill. There's been a market on this site since the time of the Saxons and the tradition continues to this day! Cambridge Market is open daily but it's on Sundays that the true event happens. The food, arts and crafts market is every Sunday from 10:00 to 16:00. You'll find a variety of vendors, with an emphasis on organic, local produce.
The Anchor Pub
Experience English hospitality and traditional cuisine in a local pub!
You can look forward to hearty Sunday roasts, as well as cask-conditioned real ales!
This pub also offers stunning views of punters on the River Cam!
The English love their pubs for more than just drinks as you'll find at The Anchor Pub! The pub is in the heart of Cambridge, along the River Cam, making it the perfect stop after you've explored the river. The menu is designed around fresh, locally sourced ingredients. This is one of the most popular pubs in town so don't miss out!
Wondering what to do in Cambridge this weekend that will get your heart rate pumping? Don't worry, we've got some awesome ideas!
Coldham's Common Parkrun
Joining this park run is one of the most fun things to do in Cambridge!
It happens every Saturday, perfect for your weekend in Cambridge!
As an added bonus, this event is free!
Like many other cities around the world, Cambridge has embraced the concept of the park run. This is a great way of joining the local sporting community, and you can meet fellow runners at the post-walk coffee stop! The environment is very beautiful since the common is a Local Nature Reserve! The route is just over three miles so it's perfect for runners of any level!
Learn to Punt on the River Cam
Punting in Cambridge is a MUST! Most tourists just go on punting tours but it's even better when you're trying punting yourself!
Punting is a traditional method of transporting goods downriver that's now become a popular way of sightseeing!
Learning to punt is a unique experience that you won't find in many other countries!
Scudamore's Punting is one of the few punting companies that offer you a lesson in this traditional skill. After a 45-minute tour during which you can watch the professional punter, you'll have the chance to try it out yourself! It it tough and don't expect to become an expert at it, but still it is lots of fun to try!
Watch a Football Match
Abbey Stadium is the home stadium of the local team, Cambridge United!
Attending a football match is the ideal activity for any football lover!
Matches happen almost weekly so there should be one on during your weekend trip!
The rules of the beautiful game are said to have been invented in Cambridge, so where better to enjoy a good match? Abbey Stadium is just a 25-minute walk from the railway station (or you can take Citi 3). Cambridge United aren't in the English Premier League but they are a proper grass roots side and ticket prices are sensible. You can find tickets for matches on Cambridge United's website.
Small Pack Problems? 😉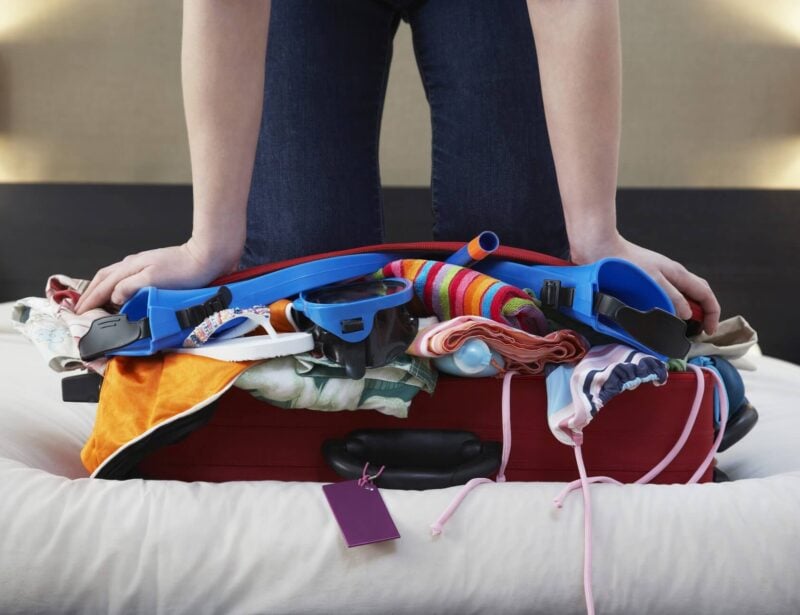 Wanna know how to pack like a pro? Well for a start you need the right gear….
These are packing cubes for the globetrotters and compression sacks for the real adventurers – these babies are a traveller's best kept secret. They organise yo' packing and minimise volume too so you can pack MORE.
Or, y'know… you can stick to just chucking it all in your backpack…
Get Yours Here
Read Our Review
Thanks to its beautiful venues and program of renowned artists, culture lovers will love Cambridge. We'll make sure that you know what to do in Cambridge, England, this weekend!
Attend a Performance at the Cambridge Corn Exchange
The Cambridge Corn Exchange is the largest multi-purpose venue in the area!
The center hosts well over 300 shows every year!
There's a huge variety of entertainment on offer so you can find something to suit your entire travel squad!
There's comedy, ballet, music, drama and so much more going on at the Cambridge Corn Exchange! It's one of the most popular performance venues in the whole of England. It attracts numerous well-known performers so whichever show you book, you can be sure that it will be a highlight of your Cambridge travel experiences!
Watch a Show at ADC Theater
ADC Theater is where stars like Emma Thompson and Stephen Fry first cut their teeth in the industry!
It hosts a full program of great shows from Monday to Saturday!
A theater show can be the highlight of your weekend trip!
ADC Theater is part of the University of Cambridge and is the oldest university playhouse in England! This legendary theater continues to offer a stage to up-and-coming actors, as well as drama students. During term time, the theater presents two shows a night so there may be as many as four shows happening during your weekend in Cambridge for you to choose from!
Listen to Music at Saffron Hall
Saffron Hall is a concert hall that has won multiple awards for its top-notch acoustics and design!
Each season, it hosts a brilliant lineup of the best musicians from around the world!
Attending a concert at Saffron Hall is a breathtaking experience that will linger in your memory long after you leave the city!
Saffron Hall has hosted a number of renowned orchestras, including the London Philharmonic Orchestra and the St Petersburg Philharmonic Orchestra! The concert hall is huge, with 740 plush royal blue seats and acoustics that make the large hall feel very intimate. The website has details of what's on.
Travel with peace of mind. Travel WITH a security belt.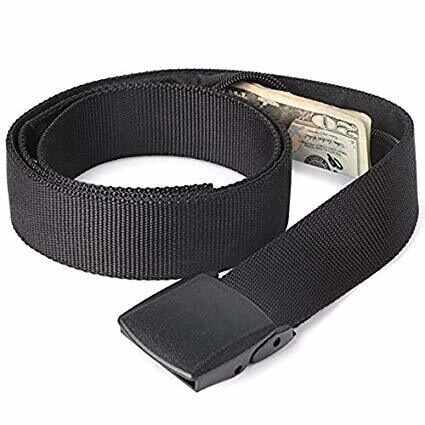 Stash your cash safely with this money belt. It will keep your valuables safely concealed, no matter where you go.
It looks exactly like a normal belt except for a SECRET interior pocket perfectly designed to hide a wad of cash, a passport photocopy or anything else you may wish to hide. Never get caught with your pants down again! (Unless you want to…)
Hide Yo' Money!
10 Other Awesome Things to do in Cambridge This Weekend
You may have come to Cambridge for a football match or a theater show but once you're in town, there are certain things that you just have to do! Our list of what to do in Cambridge, UK, will ensure you see the best of the city!
#1 – King's College and King's College Chapel
Some of the greatest minds in British (and world history) were educated at the historic Cambridge Universities. Exploring all the colleges is really an entire Cambridge day trip so don't expect to see all of them in just a weekend! You should just pick a few to visit and King's College is one of the best to choose!
King's College was founded in 1441 by Henry VI. It has a wonderful stretch of lawn at the back that leads to King's Bridge. From here, you get fantastic views of the Backs, the various college grounds along the river!
King's College Chapel is a gorgeous building! Check out the vaulted ceiling, the 16th-century stained glass windows, and the carved choir stalls.
#2 – Queens' College
Queens' College was founded by two fearsome medieval queens, Margaret of Anjou and Elizabeth Woodville, and has equally impressive medieval architecture!
The red gateway that leads to the First Court is a marvelous place to visit in Cambridge! This gateway dates from the 15th century and is truly magnificent.
The Mathematical Bridge is a much more recent addition to the college that you should also check out. It was built without nails, meaning it stays together thanks to precise mathematical calculations!
#3 – Cambridge University Botanic Garden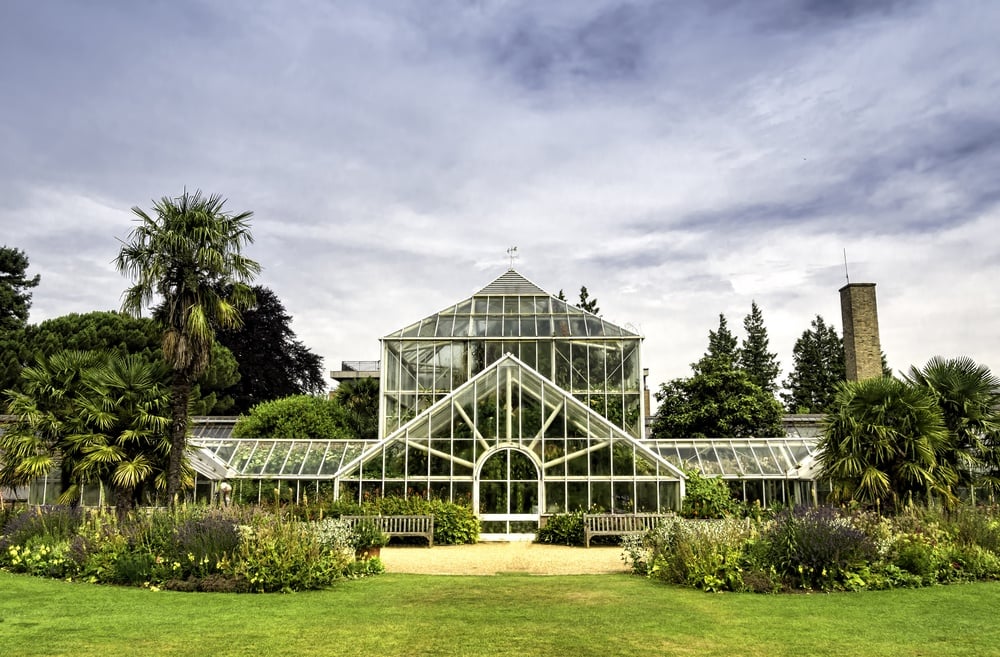 Covering over 40 acres, the Cambridge University Botanic Garden is one of the most impressive things to see in Cambridge!
In the years since its foundation in 1831, the garden has collected over 8000 species of plants from around the world! Wandering around and exploring these colorful beauties is a real joy! Stop by on a Sunday, when there's a free guided tour of the impressive landscape. This is absolutely one of the best free things to do in Cambridge!
However, that's not all the garden offers. There are regular events and workshops so look ahead on the website to see if there's a drawing workshop or a local apple tasting!
#4 – Trinity College
Trinity College is a must-see while you're visiting Cambridge University. This pretty school was founded in 1546 by Henry VIII and has an illustrious history!
Trinity College has more famous alumni than any other college at Cambridge. Here, you'll be following in the footsteps of Bertrand Russel, Isaac Newton, and Pandit Jawaharlal Nehru, amongst others!
Trinity Great Court is the largest court in Cambridge University. Just off it is Nevile's Court. Its pretty chapel is decorated with statues of distinguished soldiers. Also nearby is Wren's Library. This is a favorite with visitors due to the ancient bookcases and wooden carvings!
IN A RUSH? THIS IS OUR FAVORITE HOSTEL IN CAMBRIDGE!
#5 – The Backs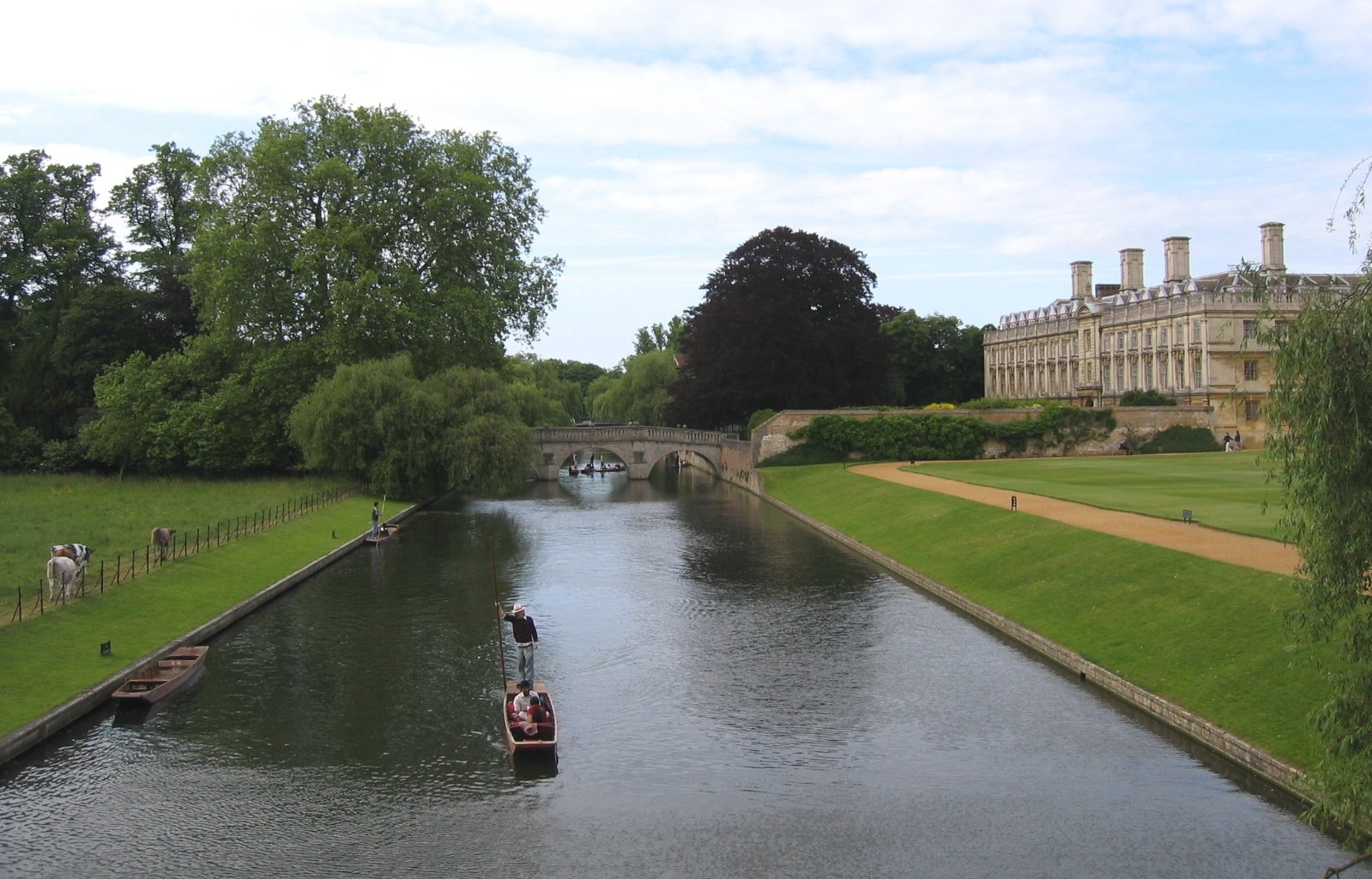 Cambridge's many colleges all boast beautiful gardens that face the River Cam. These are known as the Backs and are probably the most iconic sight in Cambridge! The river is amongst the best places to visit in Cambridge for some relaxation.
The main attraction of the Backs is the aesthetics so it's really just about how you admire the view! You can, of course, visit the Backs themselves, but you'll get better pictures from one of the bridges that cross the river. For a more indulgent experience, you can go on a punting trip down the river and enjoy the spectacular scenery — this is one of the most popular things to do in Cambridge!
#6 – Fitzwilliam Museum
The Fitzwilliam Museum is the most famous of Cambridge's many museums and deserves a visit! It has large collections of precious artworks.
Alongside impressive sets of English china and other pottery, you'll find antiquities from Greece, Rome, and Egypt! There's also a number of illuminated manuscripts from the ancient world.
The paintings gallery has works by English masters, such as Turner, as well as masterpieces by Rembrandt and Van Dyck!
It's best to see the museum's collection on the guided tour that runs every Saturday. Admission to the museum is free but there is a small charge for the tour.
#7 – St John's College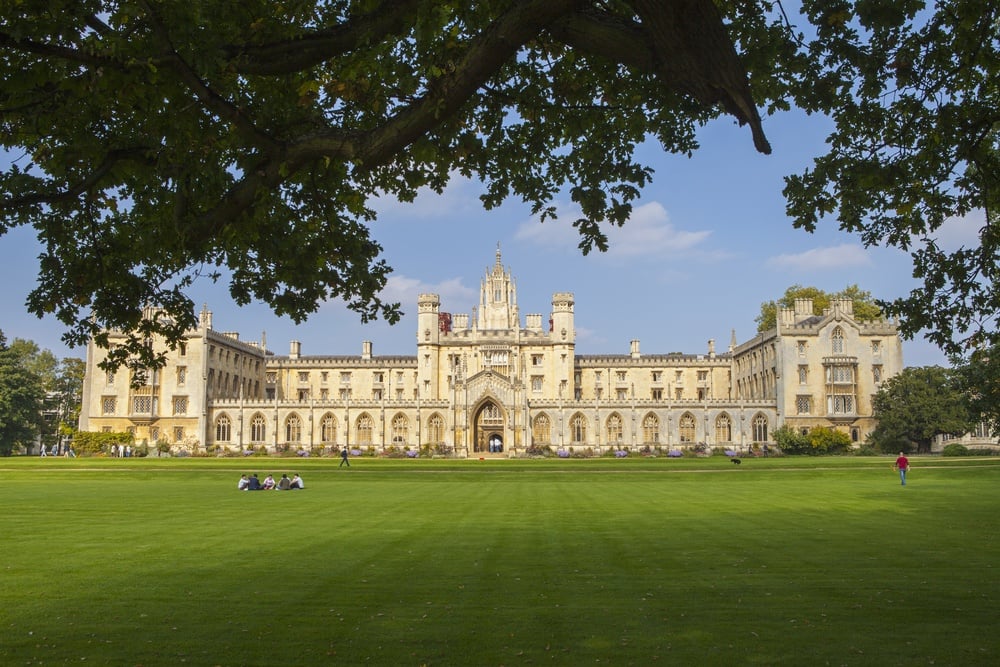 It's hard to decide which Cambridge college is the prettiest but St John's certainly deserves a mention! It was also the alma mater of greats like William Wordsworth.
It was founded in 1511 under the patronage of the king's mother and boasts majestic architecture, with towers, arches, and decorative windows! The First Court is one of the most gorgeous examples of Tudor architecture. The Hall is another beautiful room, thanks to its hammer-beam roof and wooden paneling!
You should also put the Combination Room on your itinerary to admire the plaster ceiling that depicts vines. Afterward, head to the pretty Bridge of Sighs.
#8 – St Mary the Great Church
St Mary's is one of the grandest places to visit in Cambridge so put it on your itinerary if you can. It's surrounded by two other pretty churches that are also worth a visit.
St Mary the Great was built in the 15th century and renovated in the 18th century. It has a gorgeous interior and, as a parish and university church, has historically been the venue for lectures given by great scholars!
The church's tower offers splendid views over Cambridge. Also, pop by the Round Church which is one of only four Norman churches left in England!
#9 – Have a cup of tea
What better way to spend a leisurely afternoon than by sitting in a local shop and sipping a good cup of chai. Like any proper English town, tea time is big in Cambridge and many people will take time out of their day to enjoy a cup. Some might even move onto a glass of bubbly or a beer while they're at it!
Take a break and enjoy some tea while visiting Cambridge. Taking a break, even on a holiday, is always a good thing.
#10 – Cambridge Museum of Technology
To learn more about England's famous Industrial Revolution, the Museum of Technology is one of the best Cambridge places to visit!
It's housed in a typical Victorian Pump House, the tallest building in town, which is worth exploring in its own right! There's a variety of steam engines, including a working steam machine that moved ashes along a narrow railway!
The collections relating to antique printing and telephone exchanges are also very fascinating!
Is This the Best Daypack EVER???
Are you wondering what to do in Cambridge when it comes to the weather, safety or accommodation? We've got all the answers!
Don't Forget Your Cambridge Travel Insurance
ALWAYS sort out your backpacker insurance before your trip. There's plenty to choose from in that department, but a good place to start is Safety Wing.
They offer month-to-month payments, no lock-in contracts, and require absolutely no itineraries: that's the exact kind of insurance long-term travellers and digital nomads need.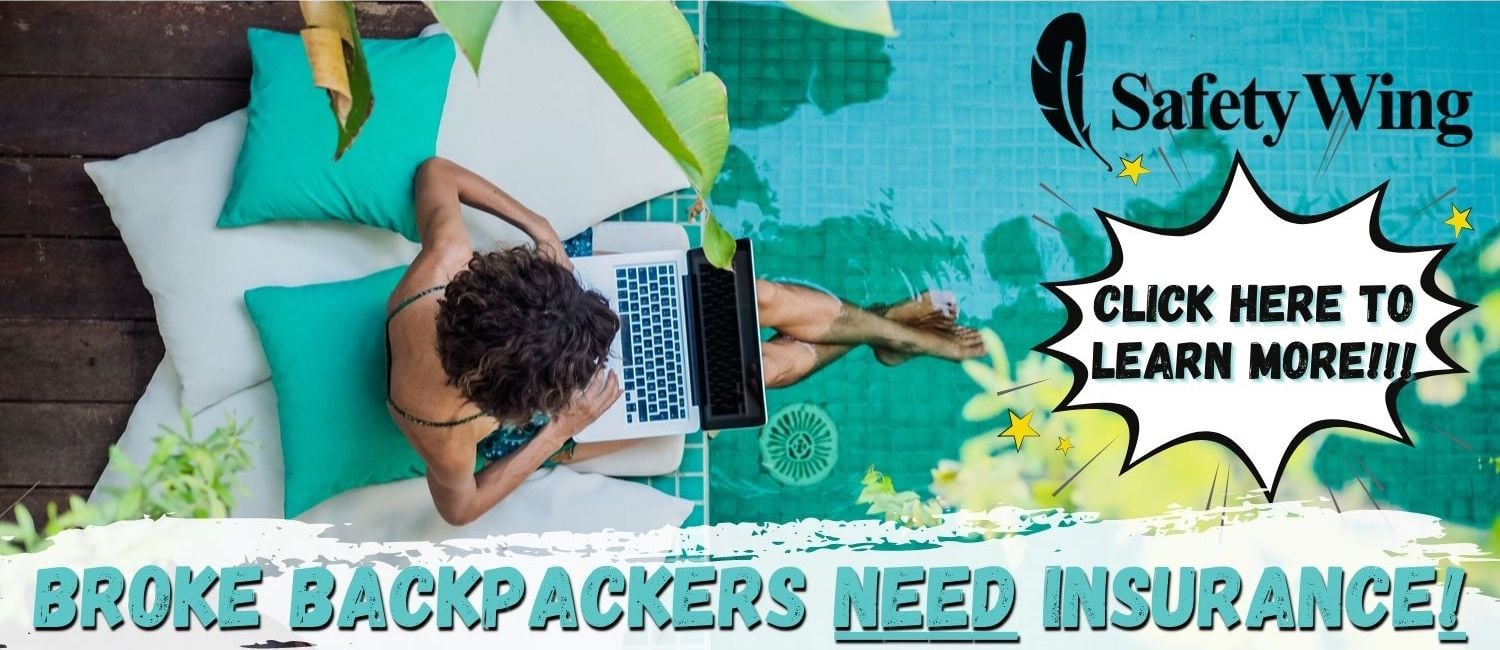 SafetyWing is cheap, easy, and admin-free: just sign up lickety-split so you can get back to it!
Click the button below to learn more about SafetyWing's setup or read our insider review for the full tasty scoop.
Final Thoughts on a Great Weekend in Cambridge
Cambridge may be small but that doesn't mean there aren't lots of places to explore in the city! Whether you're in Cambridge for the splendid architecture or the busy sports scene, there are so many fantastic things to do in this charming city!
Whatever you're doing in town, it's hard not to appreciate the stunning surroundings! With the tranquil River Cam, lush nature parks and gorgeous medieval buildings, Cambridge is an incredibly atmospheric city.
From punting on the river to making your own chocolate, not a moment of your time in Cambridge will go by without a smile! Just hold tight to our guide to a weekend in Cambridge!
---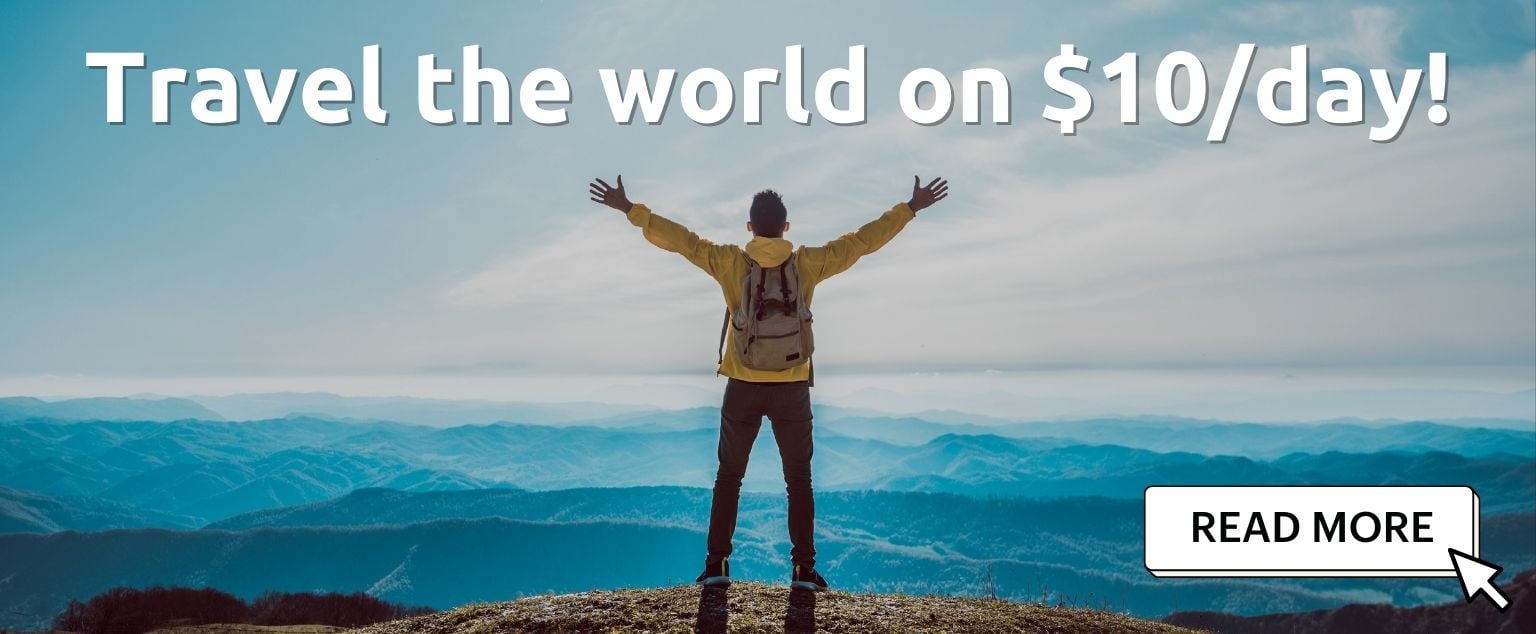 And for transparency's sake, please know that some of the links in our content are affiliate links. That means that if you book your accommodation, buy your gear, or sort your insurance through our link, we earn a small commission (at no extra cost to you). That said, we only link to the gear we trust and never recommend services we don't believe are up to scratch. Again, thank you!