What do you think of when we say Dallas, Texas? Perhaps it's long-horned bulls, cowboy hats, or a juicy steak? Well one thing is for sure about Texas is that everything is big, big, big! Whether you want to sink your teeth into the pork ribs at The Slow Bone or go Bacon Tasting at Knife, we're sure you'll leave Texas satisfied. Even if it's just with a glass or two of Skittle Sangria at The Common Table!
Now you've decide you're headed to Dallas, you likely still need to actually figure out where exactly to stay? Well look no further than our Airbnbs in Dallas guide. The list below is filled with the top rentals in Dallas that will make your stay in Dallas a piece of cake – a slice of Gooey Butter Cake from The Porch to be precise….
While we have you drooling, go ahead and grab a snack and buckle down and figure out which Airbnb in Dallas is right for you! Yeehaw!
Quick Answer: These are the Top 5 Airbnbs in Dallas
OVERALL BEST VALUE AIRBNB IN DALLAS
OVERALL BEST VALUE AIRBNB IN DALLAS
High-Rise Deluxe Apt w/ Great View
> $$
> 2 Guests
> Deluxe Balcony
> Free Underground Parking
BEST HOMESTAY IN DALLAS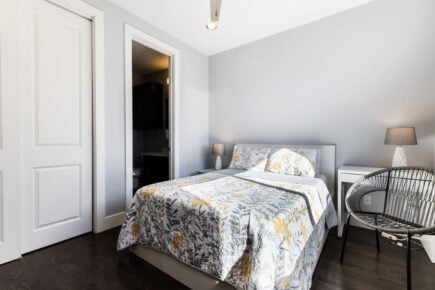 BEST HOMESTAY IN DALLAS
Charming Room in Central Dallas
> $$
> 2 Guests
> Spacious en-suite bathroom
> 2 Blocks from Brunch & Coffee Heaven
BEST AIRBNB FOR COUPLES IN DALLAS
BEST AIRBNB FOR COUPLES IN DALLAS
Divine Private Guesthouse
> $$
> 2 Guests
> Breakfast Included
> Close to Hiking Trail
BEST AIRBNB FOR FAMILIES IN DALLAS
BEST AIRBNB FOR FAMILIES IN DALLAS
Elegant Uptown Home
> $$$
> 8 Guests
> 2 Car Garage
> Complete Family Amenities
BEST LUXURY AIRBNB IN DALLAS
BEST LUXURY AIRBNB IN DALLAS
Ranked Best by Architecture Digest
> $$$$
> 8 Guests
> Beautiful Backyard
> Award-Winning Aesthetics

Unlock Our GREATEST Travel Secrets!
Sign up for our newsletter and get the best travel tips delivered right to your inbox.
What to expect from Airbnbs in Dallas?
First of all, congrats on choosing one of the best cities you could visit in Texas! Dallas doesn't just offer super cool attractions and things to do, you'll also find some of the best Airbnbs here. There are endless options when it comes to finding accommodation in the city, as well as choosing in which neighborhood you want to stay in. But don't worry , we're here to help. We've explained three of the most commonly found Airbnb properties in Dallas, so you can choose the perfect one for you.
Private Rooms
What probably doesn't come to your surprise: private rooms are some of the best Airbnb options you can find in Dallas. Compared to a hostel, they'll give you way more value for a similar amount of money. You can enjoy your own private space, and sometimes even an en-suite bathroom.
Private rooms can be found anywhere in the city, and they're mostly part of townhouses – meaning you'll be sharing common spaces with your host. This also means that you can get the absolute best insider tips on hidden gems in the city, since you're living with a local, and they know Dallas by heart.
If you're travelling on a budget but want some peace and privacy, private rooms are your go-to!
Entire Apartments/Studios
These are similar to the private room, the only difference is that you won't be sharing any common spaces, as you'll have an entire place to yourself. Most of the apartments that you find in Dallas are either part of a Complex (so more like a condo) or they belong to a townhouse, in which case you'll have a whole floor to yourself.
The best studios can be found in the Downtown area, however, you can expect a slightly higher price than a property a bit further from the city centre. Nevertheless, you'll be looking at an incredible value for your money, as most Airbnbs are super modern and equipped with high-quality amenities. If you decide for an apartment in a complex, you'll most likely get access to the buildings features such as gyms and swimming pools as well.
Townhouses
Traveling with a big group of friends or your family and you need lots of space to accommodate everyone? Booking a townhouse in Dallas is the right one for you! You can find pretty much any size you want, from a simple two-bedroom to enough space that fits up to 12 people at a time.
The bigger the place, the higher the bill at the end, however, if you split the costs with your mates, having a massive house to yourself is suddenly as affordable as a shared dorm in a hostel.
You won't find many houses in the city centre though, but if you go a little bit further out to the more quiet neighbourhoods, you'll have heaps of places to choose from. Plus, these areas are known to be more peaceful and safer as well – perfect if you're travelling with kids.
Why Stay in an Airbnb?
Local Experience: While many Dallas Airbnbs are managed by companies, they're still locally based. Get the best recommendations for the best hotspots in Dallas that you won't find in the guidebooks to make your trip truly special!
Unique Properties: As well as standard apartments and private rooms, this list alone includes boats, an Italian style palazzo, and even a windmill!
Privacy: Another great filter – choose an entire place to ensure you won't be disturbed during your trip.
Affordability: Airbnbs are considerably cheaper than an equivalent hotel – and you won't have any hidden charges from the minibar either! Perfect for those backpacking the USA on a tight budget.
Airbnb Experiences: It's not all about where to stay; looking for things to do in Dallas? There's no better way to do that than with Airbnb Experiences. We'll show you some of our favourites.
The 15 Top Airbnbs in Dallas
We won't let you wait any longer – here are our absolute favorite Airbnbs in Dallas. And if there are just too many awesome options, just go with the overall best! Speaking of…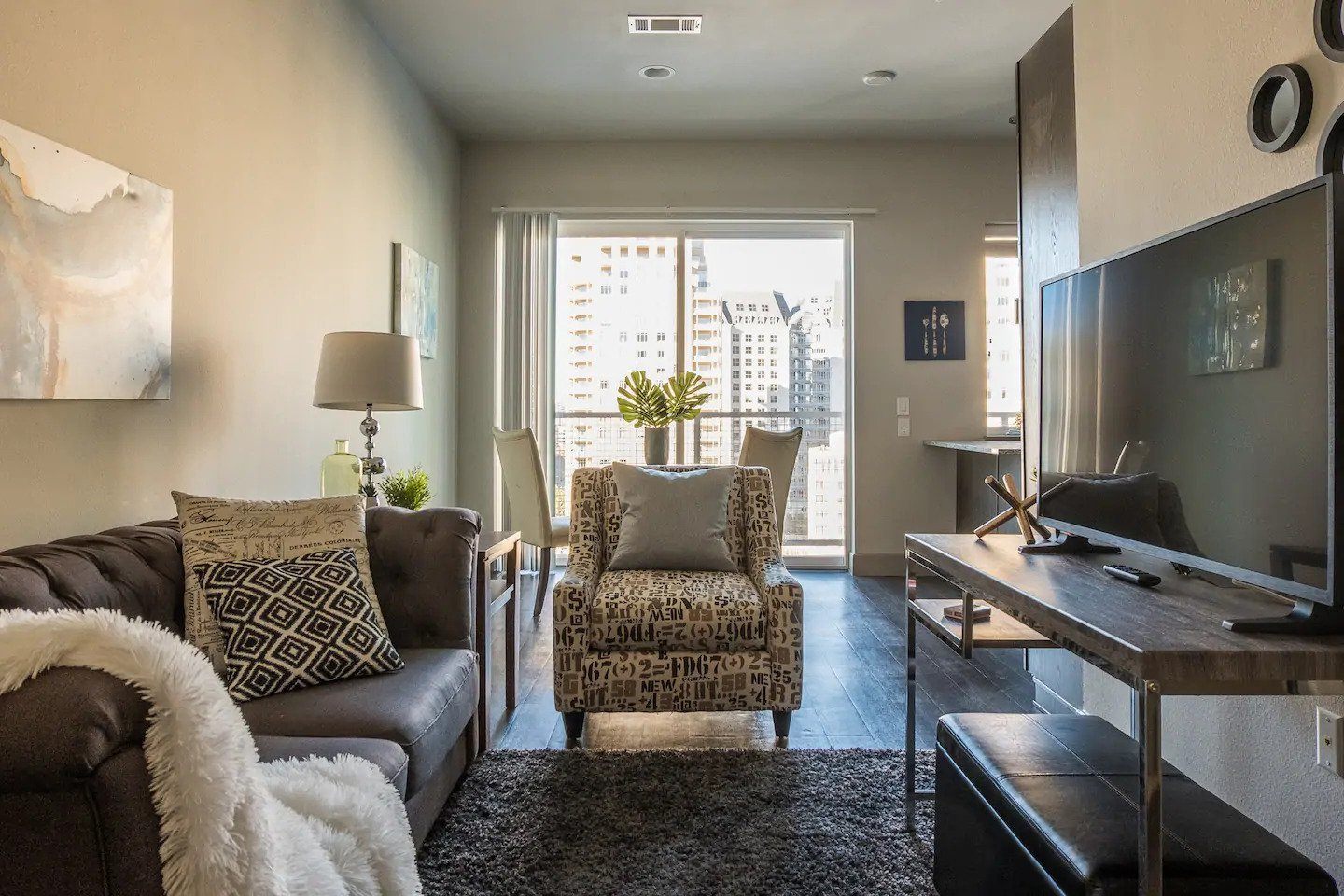 2 Guests
Free Underground Parking
In the heart of Uptown, you'll find this one bedroom and one bathroom a match made in Dallas heaven. The location of this Dallas Apartment puts you in the middle of Dallas' incredible entertainment scene with plenty of shopping and restaurants right next door. Plus, with snazzy granite countertops and stainless steel kitchen appliances, cooking is a joy in this kitchen! Also, there is an incredible balcony where you can soak up the incredible city views below from this high-rise building.
Lastly, there is free underground parking provided in this Dallas Airbnb. It's definitely one of the best Airbnbs in Dallas.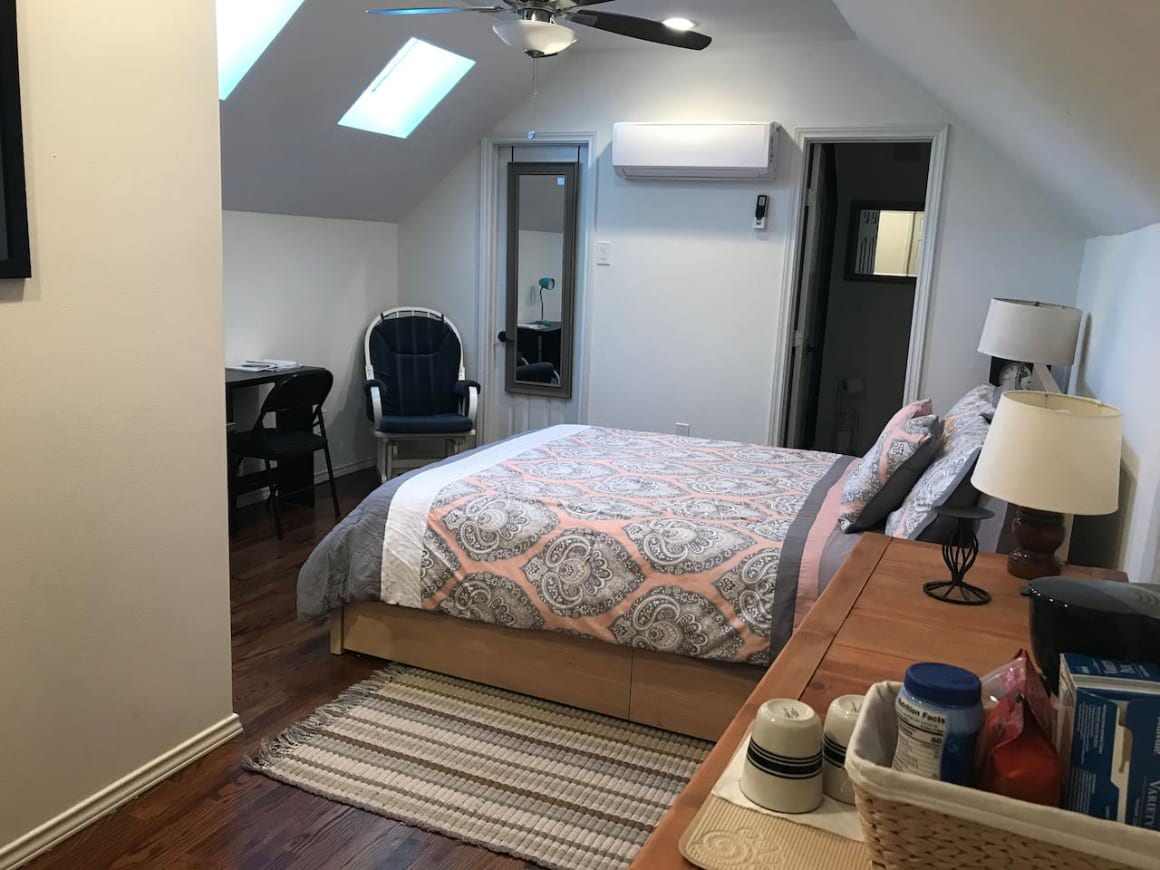 $
Private fridge & microwave
2 Guests
Invited to use common spaces
A cozy queen-size bed and private bathroom await you in this Old East Dallas homestay. Situated in the historic district of Dallas, this neighborhood is packed with plenty of charm. Inside the private room, itself is an en-suite bathroom with a gorgeous glass shower.
Additionally, there is also a mini-fridge, microwave, and coffee maker inside the room itself. Guests are also invited to use the living room, kitchen, study room, and washer and dryer as well. Coming in at basement prices, this Dallas Airbnb is a steal for the budget travelers out there!
$
Comfy Office Chair & Desk
2 Guests
Grill Island & Shady Yard
This Dallas homestay is quite the find for digital nomads. It is a one-bedroom with a private bathroom in a quaint and quiet neighborhood close to Downtown Dallas. Within walking distance to the Dallas Arts District, there are plenty of top-notch restaurants nearby. Craving Thai food anyone? Inside the room is a proper work desk with a nice, comfy office chair that is perfect for the work-grind, whether you are writing articles or coding a new website we're sure this spot is for you.
Additionally, guests are welcome to use all the shared common areas such as the kitchen, living room, and yard. Actually, the yard is quite the place to relax as well! With plenty of shade and a grill island to churn out a few burgers or maybe some fancy grilled vegetable kebabs, this Dallas Airbnb will go above and beyond your digital nomad needs making it one of the best Airbnbs in Dallas.
Is This the Best Travel Pack EVER???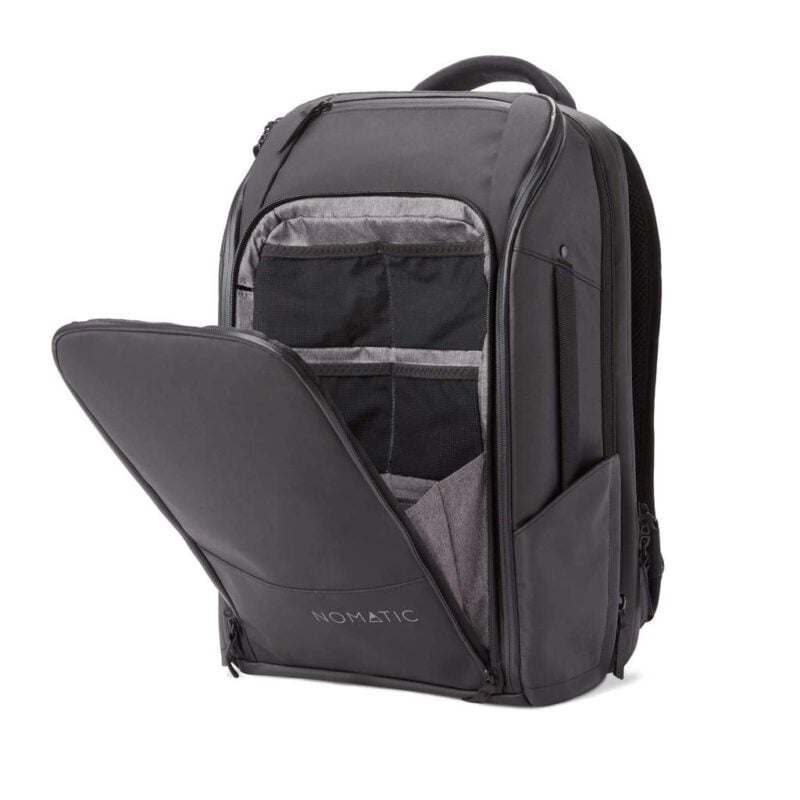 $$
Private Mini-Fridge & Keurig
2 Guests
Up to Hotel Standards
Some Airbnbs have so much to offer that it's hard to describe them. And this stunning home is one of them. Not only will you have your own private space and a separate entrance, you'll also be in one of the best locations in Dallas. Close to the Bishop Arts District, you'll be based in the hippest neighborhood and in walking distance to Downtown Dallas and lots of awesome attractions. The guesthouse suite is part of the host's property, but it's pretty much like living in a studio. Apart from the comfy bed, you can also find a desk (perfect for digital nomads) and a Smart TV in your room – perfect to stay in on a rainy day. The host has been praised for the cleanliness and amazing hospitality, so you can be sure that you're well looked after!
2 Guests
Star-Studded Historic Building
While Deep Ellum, Old East Dallas, and South Dallas all have some incredible bars, Uptown is where some of the most mind-blowing nightlife is at. From the relaxed beer garden at The Ginger Man to the hip and stylish The Tipsy Alchemist bar, to the sleek Happiest Hour bar with incredible city views from their large deck, Uptown sure has some downright delectable bars, pubs, and lounges.
This amazing Airbnb doesn't just offer you a great place to cure your hangover after a big night out, it also comes with a lot more bang than you'd expect! Just to list a few cool things that you'll have access to: a barbecue picnic area, a cyber lounge with Wi-Fi, a multi-level fitness center and a resort-style pool. If you're still not convinced, maybe the top location in the heart af Uptown – aka the heart of nightlife in Dallas – will change your mind!
2 Guests
Close to Hiking Trail
This one bedroom and one bathroom guest house combine privacy and plenty of coziness. This guest house has its own private entrance and a personal yard. It's located close to the Fair Park, where the huge Texas State Fair takes place, in a friendly neighborhood that actually has a trail leading directly to White Rock Lake Park!
Additionally, there is a fully equipped kitchen, that even has a small bar area with four bar stools. Wine glasses are stocked in the kitchen as the hosts sure know how nice a glass of wine tastes after a long day exploring or hiking!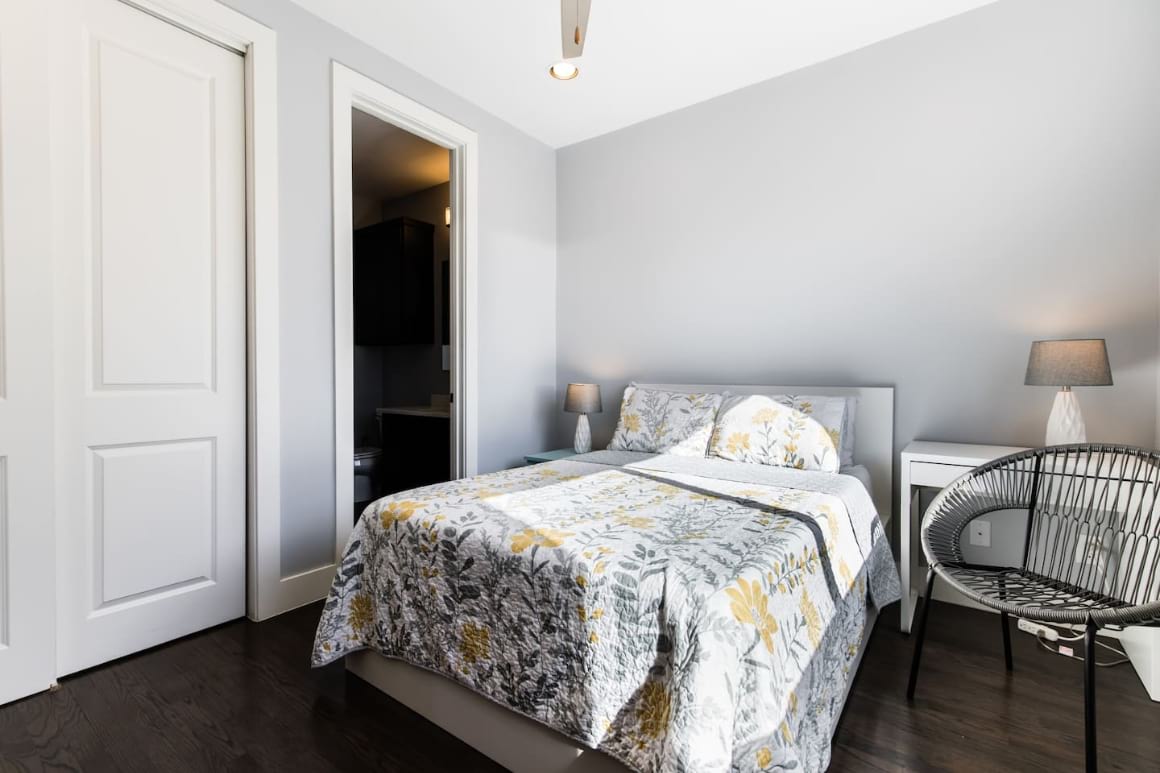 $$
Spacious en-suite bathroom
2 Guests
2 Blocks for Brunch & Coffee Heaven
This private room in a townhouse comes with a private bathroom and is absolutely charmingly designed. With a nice flat-screen TV smartly placed, you'll be able to enjoy watching TV in bed. This Dallas homestay is a beautiful and airy room that allows guests easy access to both Downtown and to Deep Ellum. Located just two blocks from the fabulous brunch spot of Ross and Hall, you'll love staying in this quiet neighborhood that still keeps you close to the action.
This Dallas Homestay is for a private room with a shared bathroom in the incredible Deep Ellum Neighborhood, just south of downtown Dallas. This historical cottage is bright and spacious and you're sure to love the social nature the hosts have with their guests. As they have more than one room they rent out at a time, the place is usually quite lively.
Guests are welcome to use the kitchen, as well as the washer and dryer, and to hang out in their beautiful backyard or on their charming front porch. We also love that the room itself has a huge "L-Shaped" sofa that is perfect for reading or napping!
$$$$
Floor-To-Ceiling Windows
4 Guests
Patio Dining Area
Expect incredible aesthetics in this two-bedroom and two-and-a-half bathroom home. This luxury Airbnb in Dallas could be yours if you're willing to splurge a little. With a full kitchen and a picture-perfect bathroom, you're sure to love this short-term rental in this Turtle Creek Oak Lawn home that is just minutes away from Uptown and Downtown Dallas.
Of course, all the bells and whistles come with this short-term rental like self-check-in, free parking, washer and dryer, and even an indoor fireplace. The patio dining area is especially delightful.
8 Guests
Award-Winning Aesthetics
This three-bedroom and one and a half custom home is absolutely phenomenal. It's masterfully designed and has even been awarded "Best by Architecture Digest," given its open-concept layout and magazine-worthy furnishings and finishes. The drool-worthy design features are out of this world! The gourmet kitchen looks right out of the cooking shows!
Moreover, this property is located in an upscale neighborhood in Old East Dallas. There is also a backyard perfect for unrolling your yoga mat on! Indulge yourself and book one of the best Airbnbs in Dallas.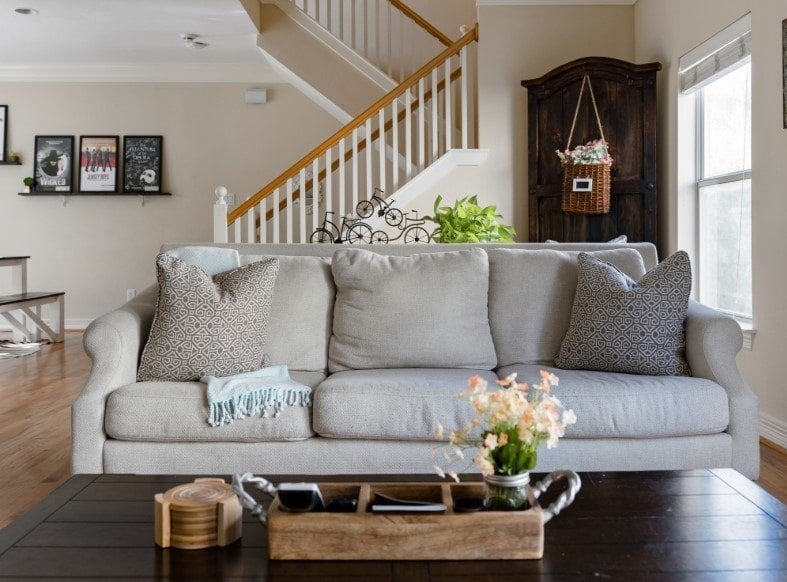 8 Guests
Complete Family Amenities
This spacious three bedroom and four bathroom home comes with a total of four beds which makes hosting a family of eight a piece of cake. Located close to parks such as Griggs Park and Simmons Park, it's also just a stone's throw away from a Whole Foods market and plenty of restaurants and shops. Your family will love this neighborhood as it's family-friendly and centrally located.
There is also a two-car garage for the carpooling families out there. Overall, this Dallas Airbnb is incredibly family-friendly. Family amenities include a pack n' play travel crib, high chair, a baby monitor, and even a baby bathtub!
$$$
Balcony w/ Skyline Views
8 Guests
Patio Dining Area
If you are looking for a Dallas Airbnb for you and your friends, look no further! This townhouse is close to great nightlife and top-notch restaurants. It's located in the Knox Henderson neighborhood which is within walking distance of Old East Dallas. Updown is just a short drive away!
This spacious three-bedroom and three-bathroom townhouse offer jaw-dropping views of the Dallas skyline with views from the big balcony. There is free parking, a well-designed and stocked kitchen, washer and dryer, as well as family amenities such as a high chair and crib should a friend bring a young one in tow!
$$
Private Living Room & Dining Room
2 Guests
Unique & Spacious Layout
This one-bedroom and one-bathroom Dallas apartment has a private entrance separating it from the other half of the duplex. It's a mini-apartment with a couch, TV, dining table, coffee maker, mini-fridge, and microwave. While it does not offer a fully equipped kitchen, for this affordable rate, it's still a great choice.
Of course, there are all the essentials right, from hot water to air-conditioning to heating, as well as a comfy double bed and lots of tasteful touches. Also, this Dallas Apartment isn't cramped by any means! There is a working desk area, living room area, dining area, in addition to a bathroom and bedroom. It's quite a smart design!
$$
Backyard & Back Patio Access
2 Guests
Privacy and Charm
This isn't just any old Dallas Airbnb. In fact, it's not even an apartment to be honest, it's a sweet guest house that's ready for you to call it your short-term rental "home!"
It's a bright and private guesthouse that is within easy walking distance of plenty of restaurants and shops. Also, there is a comfortable reading area, a 60'' TV, and a full bathroom. The rocking chairs on the front porch are dripping with charm. While there isn't it he, there is a mini-fridge and a microwave should you need to keep things cool or heat things up! Overall, this Dallas Airbnb is a total delight.
2 Guests
Dart Light Rail is 1000 ft from Apt
Located in a charming Deep Ellum neighborhood, this one bedroom and one bathroom Dallas apartment is incredibly located. It's just one thousand feet to the Dart Light Rail and is just a one-mile walk to Uptown. This short-term rental in Dallas is within walking distance to many entertainment venues and restaurants.
Given this budget-friendly price, it is important to note that there is no full kitchen to use. However, there is a small refrigerator and a microwave. This quiet space is filled with beautiful zen paintings, and ambient lighting to help you get your Mojo-on. Also, there is abundant free street parking.
What to Pack for your Dallas Airbnb
Pants, socks, underwear, soap?! Take it from us, packing for a hostel stay is not always quite as straightforward as it seems. Working out what to bring and what to leave at home is an art we have perfected over many years.
Check out our definitive Airbnb Packing list for our top packing tips!
Don't Forget Your Dallas Travel Insurance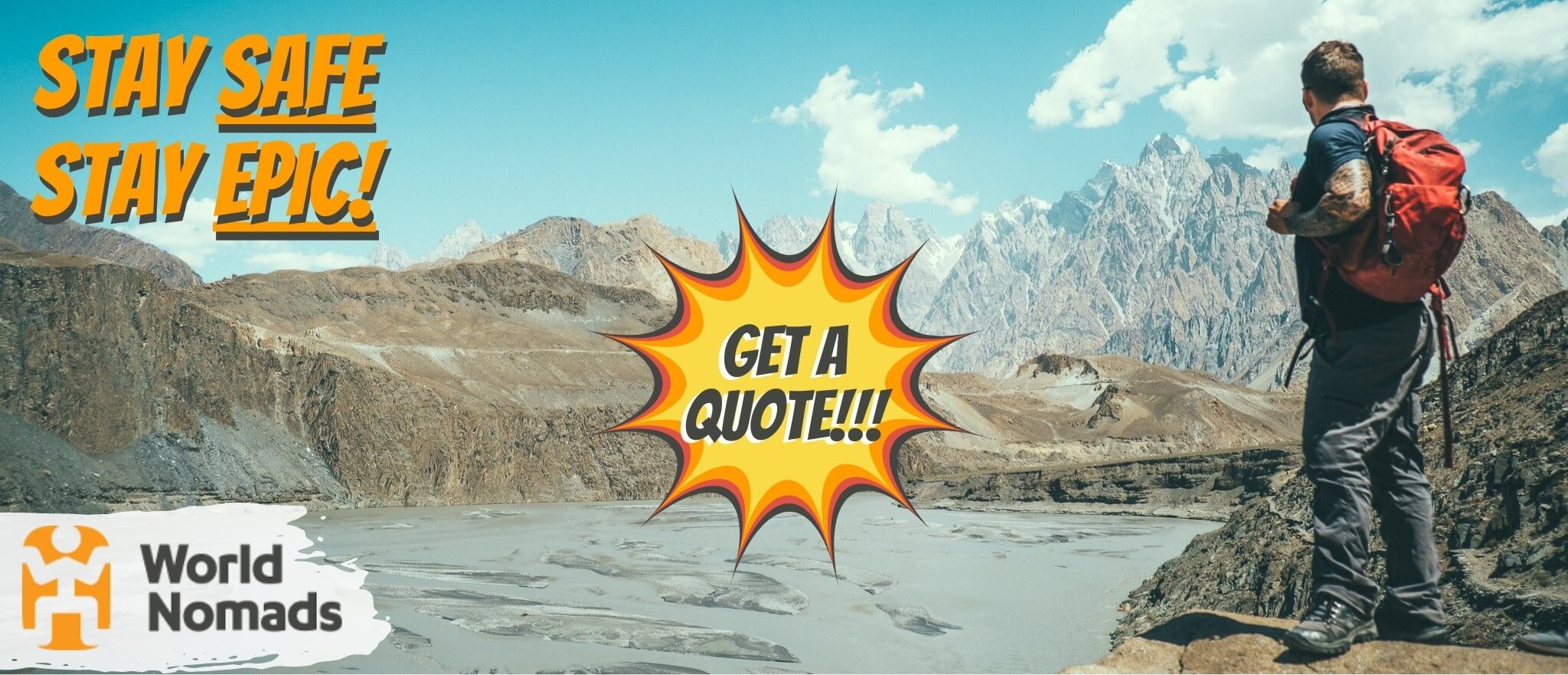 World Nomads' mission is to support and encourage travellers to explore their boundaries. They offer simple & flexible travel insurance, and safety advice to help you travel confidently.
They've been doing it since 2002 – protecting, connecting, and inspiring independent travellers just like you.
Get a quote below or read our in-depth review!
World Nomads provides travel insurance for travelers in over 100 countries. As an affiliate, we receive a fee when you get a quote from World Nomads using this link. We do not represent World Nomads. This is information only and not a recommendation to buy travel insurance.
Final Thoughts on Dallas Airbnbs
Are you thinking of going big in Dallas and splurging on the award-winning custom home? Or maybe going small with a tiny Dallas apartment perfect for solo travelers out there? We love all the top 15 Airbnb options we wrangled up for you. We hope you found the Airbnb in Dallas that made you giddy up and book.
If you're heading to Dallas, you never know what might happen. Lost luggage sucks but a travel health hiccup could sure be the worst. Head on over to our friends over at World Nomads to snag a quick quote from them and kiss your travel worries goodbye!
---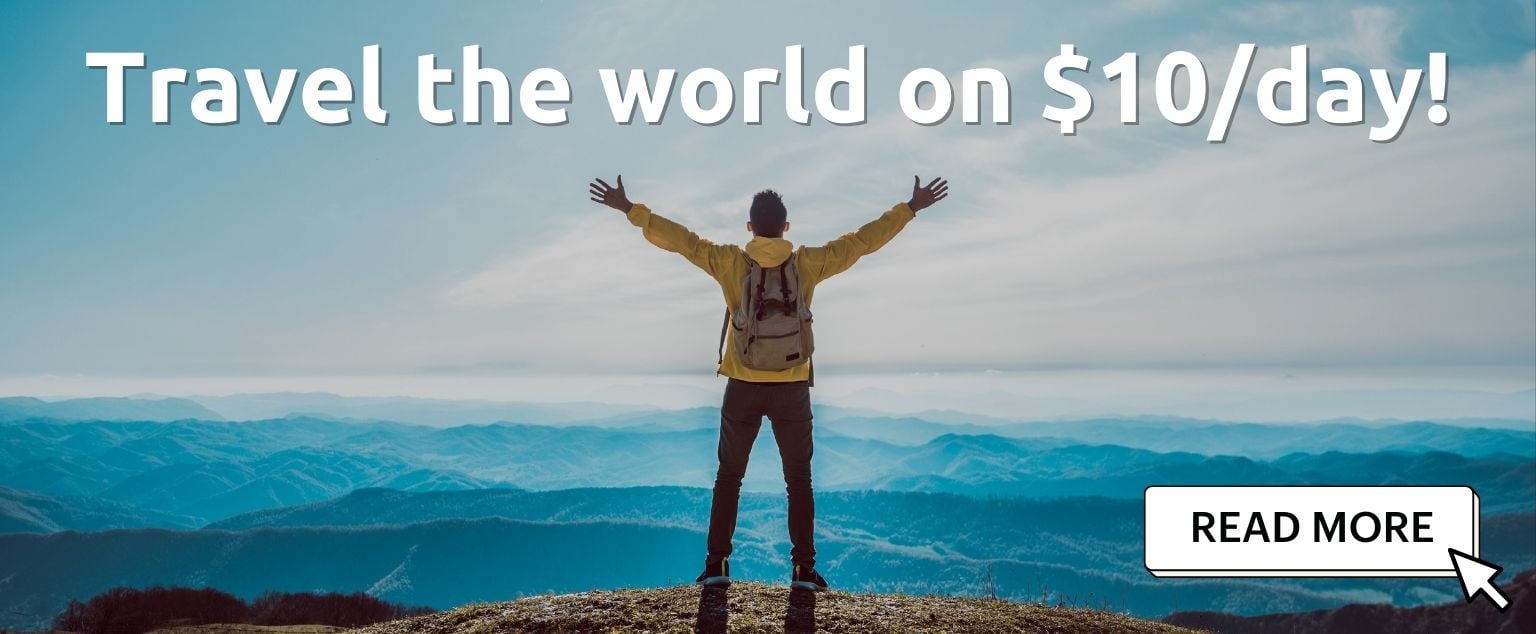 And for transparency's sake, please know that some of the links in our content are affiliate links. That means that if you book your accommodation, buy your gear, or sort your insurance through our link, we earn a small commission (at no extra cost to you). That said, we only link to the gear we trust and never recommend services we don't believe are up to scratch. Again, thank you!