What do you think of when we say Dallas, Texas? Perhaps it's long-horned bulls, cowboy hats, or a juicy steak? Well one thing is for sure about Texas is that everything is big, big, big! Whether you want to sink your teeth into the pork ribs at The Slow Bone or go Bacon Tasting at Knife, we're sure you'll leave Texas satisfied. Even if it's just with a glass or two of Skittle Sangria at The Common Table!
Now you've decide you're headed to Dallas, you likely still need to actually figure out where exactly to stay? Well look no further than our Airbnbs in Dallas guide. The list below is filled with the top rentals in Dallas that will make your stay in Dallas a piece of cake – a slice of Gooey Butter Cake from The Porch to be precise….
While we have you drooling, go ahead and grab a snack and buckle down and figure out which Airbnb in Dallas is right for you! Yeehaw!
In a Hurry? Here's Where to Stay in Dallas for One Night
Is this amazing Dallas Airbnb booked for your dates? We've got your back with our other favorite properties below!
Quick Answer: These are the Top 5 Airbnbs in Dallas
OVERALL BEST VALUE AIRBNB IN DALLAS

OVERALL BEST VALUE AIRBNB IN DALLAS

High-Rise Deluxe Apt w/ Great View

>

$$

>

2 guests

>

Deluxe Balcony

>

Free Underground Parking

>

$$

>

2 guests

>

Deluxe Balcony

>

Free Underground Parking

VIEW ON AIRBNB

BEST HOMESTAY IN DALLAS

BEST HOMESTAY IN DALLAS

Charming Room in Central Dallas

>

$$

>

2 guests

>

Spacious en-suite bathroom

>

2 Blocks from Brunch & Coffee Heaven

>

$$

>

2 guests

>

Spacious en-suite bathroom

>

2 Blocks from Brunch & Coffee Heaven

VIEW ON AIRBNB

BEST AIRBNB FOR COUPLES IN DALLAS

BEST AIRBNB FOR COUPLES IN DALLAS

Divine Private Guesthouse

>

$$

>

2 guests

>

Breakfast Included

>

Close to Hiking Trail

>

$$

>

2 guests

>

Breakfast Included

>

Close to Hiking Trail

VIEW ON AIRBNB

BEST AIRBNB FOR FAMILIES IN DALLAS

BEST AIRBNB FOR FAMILIES IN DALLAS

Elegant Uptown Home

>

$$$

>

8 guests

>

2 Car Garage

>

Complete Family Amenities

>

$$$

>

8 guests

>

2 Car Garage

>

Complete Family Amenities

VIEW ON AIRBNB

BEST LUXURY AIRBNB IN DALLAS

BEST LUXURY AIRBNB IN DALLAS

Ranked Best by Architecture Digest

>

$$$$

>

8 guests

>

Beautiful Backyard

>

Award-Winning Aesthetics

>

$$$$

>

8 guests

>

Beautiful Backyard

>

Award-Winning Aesthetics

VIEW ON AIRBNB
Why Stay in an Airbnb?
Local Experience
Travel is shifting dramatically away from the local experience – yes, even for backpackers. We're trapped in our hostels, coffee shops and party districts. Airbnb is breaking down that barrier for every echelon of traveler – think basement mattress to infinity-pool penthouse!
It's a great way to contribute to the local economy because the cash goes right to the owner and other locals employed for cleaning, maintenance and management. Staying in someone else's home – a unique place with character – feels more like fitting into the area rather than having the typical tourist hotel room.
Airbnb hosts are known for taking good care of their guests; if it's recommendations you want, you've got a pre-made friend to help you out!
Affordability
Airbnb has a huge selection of over 6 million unique properties for ANY budget, from single rooms or entire houses to yachts and even castles. This platform is made for travellers, so you will find yourself looking at decent and, especially, affordable places! In addition to this, most Airbnb hosts also provide household amenities like linens and towels.
If you choose, you can get a place with a dining table and kitchen, so besides saving money on the accommodation itself, you can also save money by cooking at home and eating in, rather than having to spend a lot at the nearest restaurant. Whether it's a luxurious mansion or kitchenette in even the tiniest of spaces, rentals usually have plates, mugs, glasses, bowls, cutlery, and coffee makers and microwaves.
Some hosts provide emergency toiletries like body wash, toothpaste and an unopened toothbrush that can sometimes be a lifesaver for a forgetful traveller.
Safety
Worried about the safety of Airbnb? They've created a system that keeps your communication, payments and the stay itself as secure as possible.
Every host and guest has to put invalid information about themselves when signing up. This way, every account can be protected and fake profiles are avoided completely. The platform provides an end-to-end encrypted chat option to get in touch with your host as well as account protection with multi-factor authentication.
The advanced payment system makes sure that your money goes straight to the host, so no worries about card scams or fraud. If you arrive at your place and it's not how it was advertised online, you can contact Airbnb and they will make sure you get a full refund of your stay within the first 24 hours. This way, you will always receive exactly what you paid for!
Not sure if the reviews are legit? Every guest is asked to write a fully honest review after the stay which cannot be changed or removed by the host. But be considerate during your stay because guests will receive a review as well! This ensures that everyone on Airbnb is behaving and interacting in the best way possible since no one wants a bad review to pop up on their profile.
And IF there's still something going wrong, you can always call the 24/7 emergency hotline!
The 15 Top Airbnbs in Dallas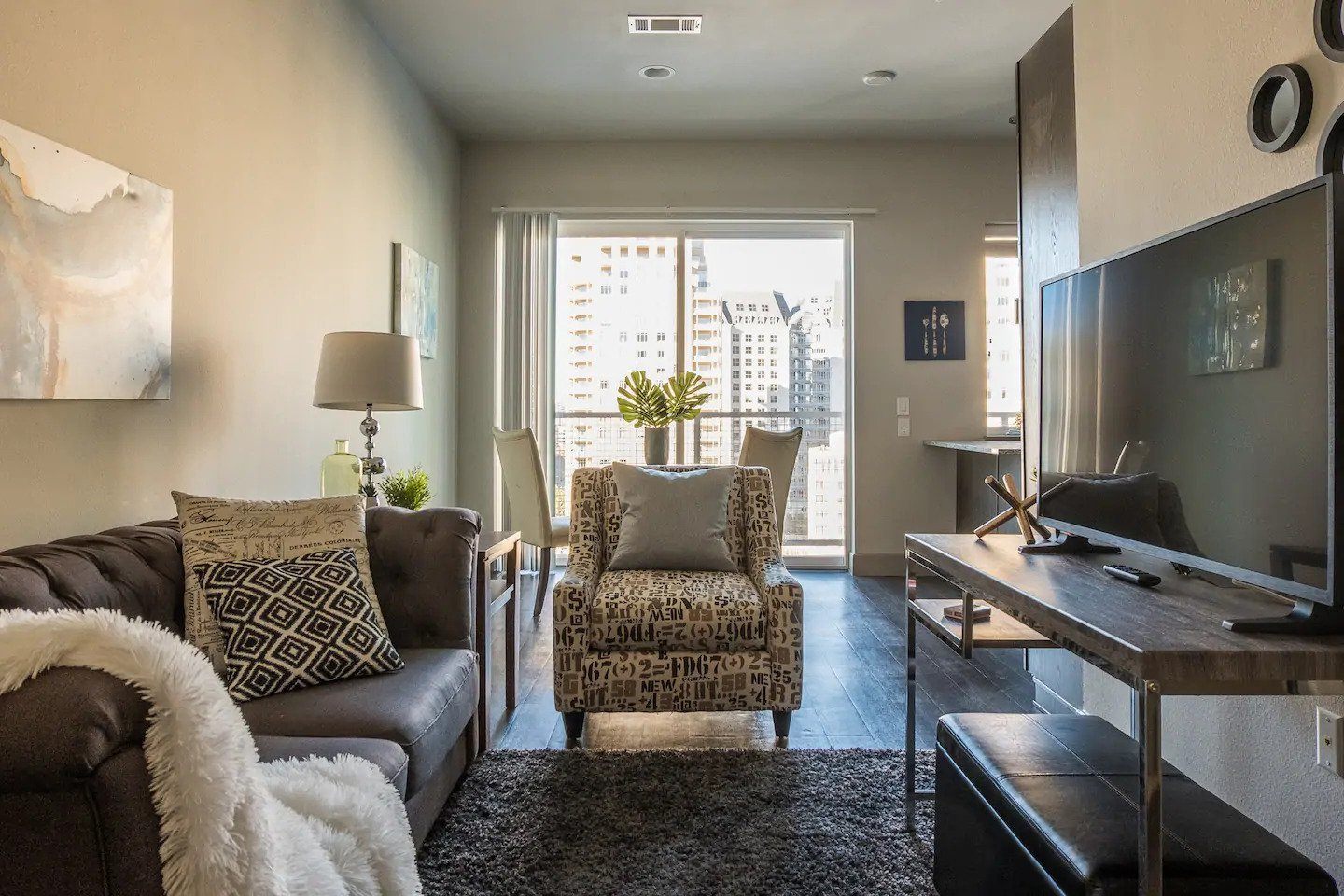 $$
2 Guests
Deluxe Balcony
Free Underground Parking
In the heart of Uptown, you'll find this one bedroom and one bathroom a match made in Dallas heaven. The location of this Dallas Apartment puts you in the middle of Dallas' incredible entertainment scene with plenty of shopping and restaurants right next door. Plus, with snazzy granite countertops and stainless steel kitchen appliances, cooking is a joy in this kitchen! Also, there is an incredible balcony where you can soak up the incredible city views below from this high-rise building.
Lastly, there is free underground parking provided in this Dallas Airbnb. It's definitely one of the best Airbnbs in Dallas.
$
2 Guests
Private fridge & microwave
Invited to use common spaces
A cozy queen-size bed and private bathroom awaits you in this Old East Dallas homestay. Situated in the historic district of Dallas, this neighborhood is packed with plenty of charm. Inside the private room itself is an en-suite bathroom with a gorgeous glass shower.
Additionally, there is also a mini-fridge, microwave, and coffee maker inside the room itself. Guests are also invited to use the living room, kitchen, study room, and the washer and dryer as well. Coming in at basement prices, this Dallas Airbnb is a steal for the budget travelers out there!
$
2 Guests
Comfy Office Chair & Desk
Grill Island & Shady Yard
This Dallas homestay is quite the find for digital nomads. It is a one-bedroom with a private bathroom in a quaint and quiet neighborhood close to Downtown Dallas. Within walking distance to the Dallas Arts District, there are plenty of top-notch restaurants nearby. Craving Thai food anyone? Inside the room is a proper work desk with a nice, comfy office chair that is perfect for the work-grind, whether you are writing articles or coding a new website we're sure this spot is for you.
Additionally, guests are welcome to use all the shared common areas such as the kitchen, living room, and yard. Actually, the yard is quite the place to relax as well! With plenty of shade and a grill island to churn out a few burgers or maybe some fancy grilled vegetable kebabs, this Dallas Airbnb will go above and beyond your digital nomad needs making it one of the best Airbnbs in Dallas.
$$
2 Guests
Private Mini-Fridge & Keurig
Up to Hotel Standards
Just a twenty-minute walk to the House of Blues, this Downtown Dallas Airbnb is perfect for solo travellers. As a private room and private bathroom rental, this Dallas homestay is set-up and styled like a hotel with a luxurious bed and even a mini-fridge and Keurig coffee maker inside the room. Offering solo travellers incredible cleanliness and privacy, you're sure to have a safe and enjoyable stay in this Airbnb in Dallas. You'll be just a short walk to downtown and close to public transportation.
$$
2 Guests
Pool & Gym Access
Star-Studded Historic Building
While Deep Ellum, Old East Dallas, and South Dallas all have some incredible bars, Uptown is where some of the most mind-blowing nightlife is at. From the relaxed beer garden at The Ginger Man, to the hip and stylish The Tipsy Alchemist bar, to the sleek Happiest Hour bar with incredible city views from their large deck, Uptown sure has some downright delectable bars, pubs, and lounges.
Staying at this elegant uptown studio Dallas apartment, with one bedroom and one bathroom puts you at the core of the nightlife scene. It's one of the best Airbnbs in Dallas out there. Apparently this building was the one time home to both Judy Garland AND to Dean Martin! Talk about cool. What's even cooler than a star-studded past, but gym and pool access too. This Dallas Airbnb is a triple treat!
$$
2 Guests
Breakfast Included
Close to Hiking Trail
This one bedroom and one bathroom guest house combines privacy and with plenty of coziness. This guest house has its own private entrance and a personal yard. It's located close to the Fair Park, where the huge Texas State Fair takes place, in a friendly neighborhood that actually has a trail leading directly to White Rock Lake Park!
Additionally, there is a fully equipped kitchen, that even has a small bar area with four bar stools. Wine glasses are stocked in the kitchen as the hosts sure know how nice a glass of wine tastes after a long day exploring or hiking!
$$
2 Guests
Spacious en-suite bathroom
2 Blocks from Brunch & Coffee Heaven
This private room in a townhouse comes with a private bathroom and is absolutely charmingly designed. With a nice flat-screen TV smartly placed, you'll be able to enjoy watching TV in bed. This Dallas homestay is a beautiful and airy room that allows guests easy access to both Downtown and to Deep Ellum. Located just two blocks from the fabulous brunch spot of Ross and Hall, you'll love staying in this quiet neighborhood that still keeps you close to the action.
$$
2 Guests
In-Room Couch & Desk
Big Backyard
This Dallas Homestay is for a private room with a shared bathroom in the incredible Deep Ellum Neighborhood, just south of downtown Dallas. This historical cottage is bright and spacious and you're sure to love the social nature the hosts have with their guests. As they have more than one room they rent out at a time, the place is usually quite lively.
Guests are welcome to use the kitchen, as well as the washer and dryer, and to hang out in their beautiful backyard or on their charming front porch. We also love that the room itself has a huge "L-Shaped" sofa that is perfect for reading or napping!
$$$$
4 Guests
Floor-To-Ceiling Windows
Patio Dining Area
Expect incredible aesthetics in this two-bedroom and two and a half bathroom home. This luxury Airbnb in Dallas could be yours if you're willing to splurge a little. With a full kitchen and a picture-perfect bathroom, you're sure to love this short term rental in this Turtle Creek Oak Lawn home that is just minutes way from Uptown and Downtown Dallas.
Of course, all the bells and whistles come with this short term rental like self-check-in, free parking, washer and dryer, and even an indoor fireplace. The patio dining area is especially delightful.
$$$$
8 Guests
Beautiful Backyard
Award-Winning Aesthetics
This three bedroom and one and a half custom home is absolutely phenomenal. It's masterfully designed and has even been awarded "Best by Architecture Digest," given its an open-concept layout and magazine-worthy furnishings and finishes. The drool-worthy design features are out of this world! The gourmet kitchen looks right out of the cooking shows!
Moreover, this property is located in an upscale neighborhood in Old East Dallas. There is also a backyard perfect for unrolling your yoga mat on! Indulge yourself and book one of the best Airbnbs in Dallas.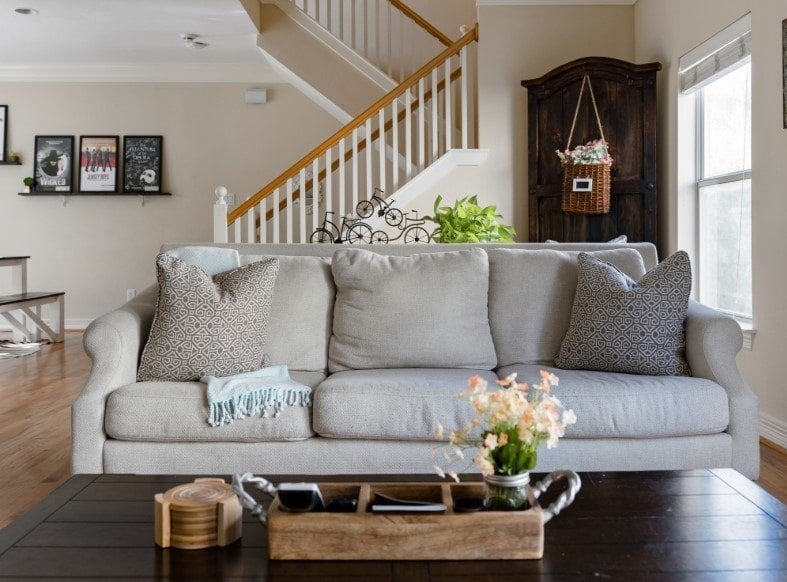 $$$
8 guests
2 Car Garage
Complete Family Amenities
This spacious three bedroom and four bathroom home comes with a total of four beds which makes hosting a family of eight a piece of cake. Located close to parks such as Griggs Park and Simmons Park, it's also just a stone's throw away from a Whole Foods market and plenty of restaurants and shops. Your family will love this neighborhood as it's family-friendly and centrally located.
There is also a two-car garage for the carpooling families out there. Overall, this Dallas Airbnb is incredibly family-friendly. Family amenities include a pack n' play travel crib, high chair, a baby monitor, and even a baby bathtub!
$$$
8 guests
Balcony w/ Skyline Views
Patio Dining Area
If you are looking for a Dallas Airbnb for you and your friends, look no further! This townhouse is close to great nightlife and top-notch restaurants. It's located in the Knox Henderson neighborhood which is within walking distance of Old East Dallas. Updown is just a short drive away!
This spacious three bedroom and three bathroom townhouse offers jaw-dropping views of the Dallas skyline with views from the big balcony. There is free parking, a well-designed and stocked kitchen, washer and dryer, as well as family amenities such as a high chair and crib should a friend bring a young one in tow!
$$
2 Guests
Private Living Room & Dining Room
Unique & Spacious Layout
This one bedroom and one bathroom Dallas apartment has a private entrance separating it from the other half of the duplex. It's a mini-apartment with a couch, TV, dining table, coffee maker, mini-fridge, and microwave. While it does not offer a fully equipped kitchen, for this affordable rate, it's still a great choice.
Of course, there are all the essentials right, from hot water to air-conditioning to heating, as well as a comfy double bed and lots of tasteful touches. Also, this Dallas Apartment isn't cramped by any means! There is a working desk area, living room area, dining area, in addition to a bathroom and bedroom. It's quite a smart design!
$$
2 Guests
Backyard & Back Patio Access
Privacy and Charm
This isn't just any old Dallas Airbnb. In fact, it's not even an apartment to be honest, it's a sweet guest house that's ready for you to call it your short term rental "home!"
It's a bright and private guesthouse that is within easy walking distance of plenty of restaurants and shops. Also, there is a comfortable reading area, a 60'' TV, and a full bathroom. The rocking chairs on the front porch are dripping with charm. While there isn't a it he, there is a mini-fridge and a microwave should you need to keep things cool or heat things up! Overall, this Dallas Airbnb is a total delight.
$
2 Guests
Washer & Dryer
Dart Light Rail is 1000 ft from Apt
Located in a charming Deep Ellum neighborhood, this one bedroom and one bathroom Dallas apartment is incredibly located. It's just one thousand feet to the Dart Light Rail and is just a one-mile walk to Uptown. This short term rental in Dallas is within walking distance to many entertainment venues and restaurants.
Given this budget-friendly price, it is important to note that there is no full kitchen to use. However, there is a small refrigerator and a microwave. This quiet space is filled with beautiful zen paintings, and ambient lighting to help you get your Mojo-on. Also, there is abundant free street parking.
What to Pack for your Dallas Airbnb
Our Broke Backpacker editors have put together a shortlist of their Airbnb essentials, which you can find here.
1. Active Roots Toiletry Bag: With this Active Root Toiletry bag, you're more than prepared for your next holiday – keep all your bathroom essentials organized in the different sized compartments. This kit is rather large and will fit all your washroom essentials no problem. The bag makes sure that your bathroom will be clean and tidy while you have everything handy and easy to find.
2. Travel Blow Dryer: Most accommodations only offer the basics when it comes to bathroom necessities, and a blow dryer is usually not on the list. Bringing your own on your travels can not only save you a lot of time, but in some cases, it can even save your hair. This Mini Blow Dryers is foldable, compact and travel-friendly, meaning that it'll fit in every bag without taking up too much space. It comes with different heat settings, so you'll be able to find the perfect one for you.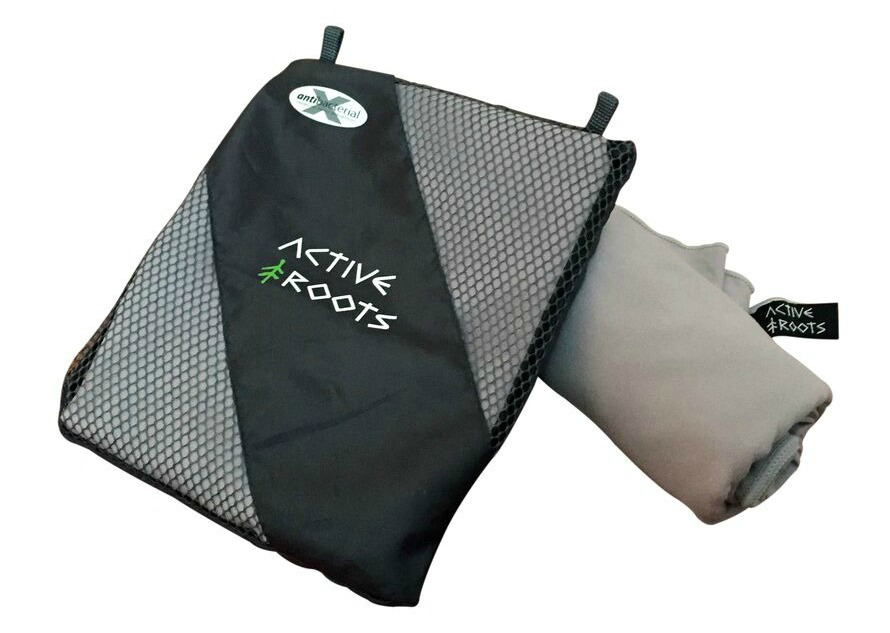 3. Active Roots Microfiber Towel: Most Airbnb's provide towels, but I always keep my own handy on my travels in case I can't get the linens cleaned during a long stay. The Active Roots Microfiber Towel doesn't just sound fancy, it kinda is fancy. The super comfy material is absorbent and quick-drying – perfect for after a shower or a quick jump into the water. Use it as a beach towel, picnic blanket or yoga towel too. Lightweight and compact, it'll hardly take up any space in your suitcase.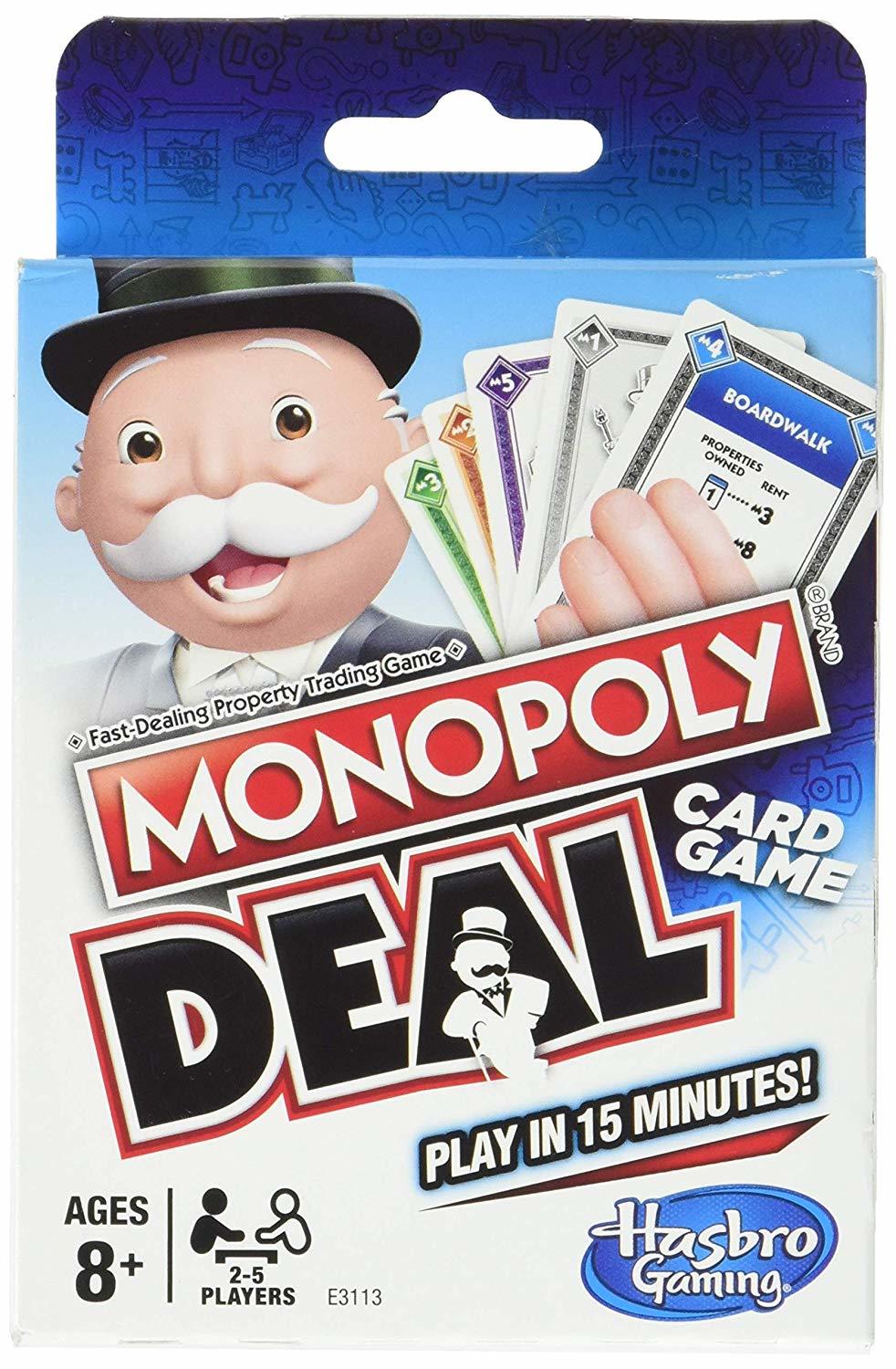 4. Monopoly Card Game: Growing up, who didn't love playing Monopoly with family and friends? Monopoly Deal is a Card game based on the original board game version. It's fast-paced and fun to play – perfect for young and old. Take this card game with you on your travels and you can be sure that even the most boring evening will turn into a fun night – plus, your travel buddies will love you (no promises though)!
5. Travel Journal: This travel journal is a good option to write down what you've experienced and remember each day of your travels. It also comes in handy when organizing and planning activities. A travel journal is perfect to put down the little things you see and capture in writing all those inspiring thoughts you'll have while roaming the planet!
6. Suitcase Locks: We like to have our baggage locked up whenever it's out of sight – at a holiday rental or in the cargo hold of a plane. Locking your zippers together reduces the threat of opportunistic theft. It's also a great way to store your valuable items if your Airbnb doesn't provide a safe.
Check out these other great resources
We have loads more information to help you plan your trip.
Final Thoughts on Dallas Airbnbs
Are you thinking of going big in Dallas and splurging on the award-winning custom home? Or maybe going small with a tiny Dallas apartment perfect for solo-travelers out there? We love all the top 15 Airbnb options we wrangled up for you. We hope you found the Airbnb in Dallas that made you giddy-up and book.
If you're heading to Dallas, you never know what might happen. Lost luggage sucks but a travel health hiccup could sure be the worst. Head on over to our friends over at World Nomads to snag a quick quote from them and kiss your travel worries goodbye!
And don't forget to sort your travel insurance before heading to Dallas! We've put together a roundup of the best travel insurance for backpackers – check it out here, or if you're low on time, get a quote from World Nomads, our favorite travel insurance provider.
Getting an estimate from World Nomads is simple – just click the button or image below, fill out the necessary info, and you're on your way!

---
Need More Inspiration?
Like this post? PIN ME!!!