Kentucky – the home of the Kentucky Derby, and producer of the vast majority of the world's bourbon. It is no surprise that Kentuckians love to staycation in their home state, or that passersby are lured into staying a night or 2.
Beyond delicious bourbon, Kentucky is well-known for it's food scene. In fact, Lexington is one of America's most exciting food cities. From the Burgoo to Bourbon Balls, and Louisville-style chilli, prepare for a foodie adventure.
The scenery isn't too shabby either, located between the Rockies and the Appalachians, the sheer variety of nature is worth writing home about.
Airbnbs in Kentucky will take you away from what you think you know, and give you a better insight into the Bluegrass State. By staying at a holiday rental in Kentucky you can be close to amazing food and nightlife, or down by the river.
Read on to see what these homes are all about, along with the best Airbnbs in Kentucky.
Quick Answer: These are the Top 5 Airbnbs in Kentucky
Overall Best Value Airbnb in Kentucky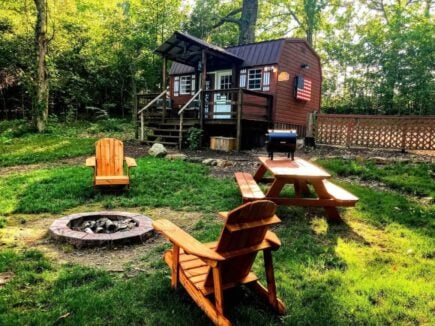 Overall Best Value Airbnb in Kentucky
Tiny House Retreat
> $
> 2 Guests
> Waterfront Home
> Great Location
Best Budget Airbnb in Kentucky
Best Budget Airbnb in Kentucky
Downtown Suite
> $
> 2 Guests
> Great Location
> Entire Townhouse
Best Airbnb for Couples in Kentucky
Best Airbnb for Couples in Kentucky
The Fireside Cabin
> $$
> 2 Guests
> Handcrafted
> 270 degree Views
Best Airbnb for Families in Kentucky
Best Airbnb for Families in Kentucky
The 502 House
> $$$
> 10 Guests
> Game Room
> Large Backyard
Over-the-Top Luxury Airbnb in Kentucky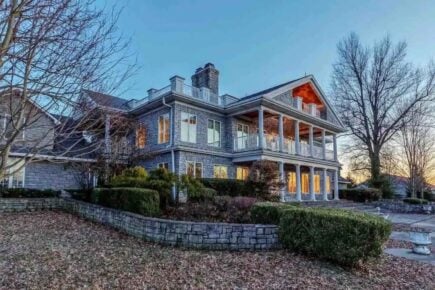 Over-the-Top Luxury Airbnb in Kentucky
Estate in Horse Country
> $$$$
> 12 Guests
> Beautiful Views
What to Expect from Airbnbs in Kentucky
Away from the major tourist cities on both coasts, Kentucky holds delightful secrets waiting to be uncovered. Whether you are in town for the Kentucky Derby, driving across country or getting away for the weekend, an Airbnb is the way to go.
Throughout the state, you'll find locals who have opened their homes for you, and are excited to show off their towns. There is a huge variety of homely apartments and cottages either close to town, or smack bang in the middle of it.
Walk out your door and be among Kentuckians, and away from the crowds. Try local cuisine and unheralded restaurants, or explore downtown on foot without needing to go far from your holiday home.
You'll also find Airbnbs deep in the state's underrated natural areas, including cabins located within national forests.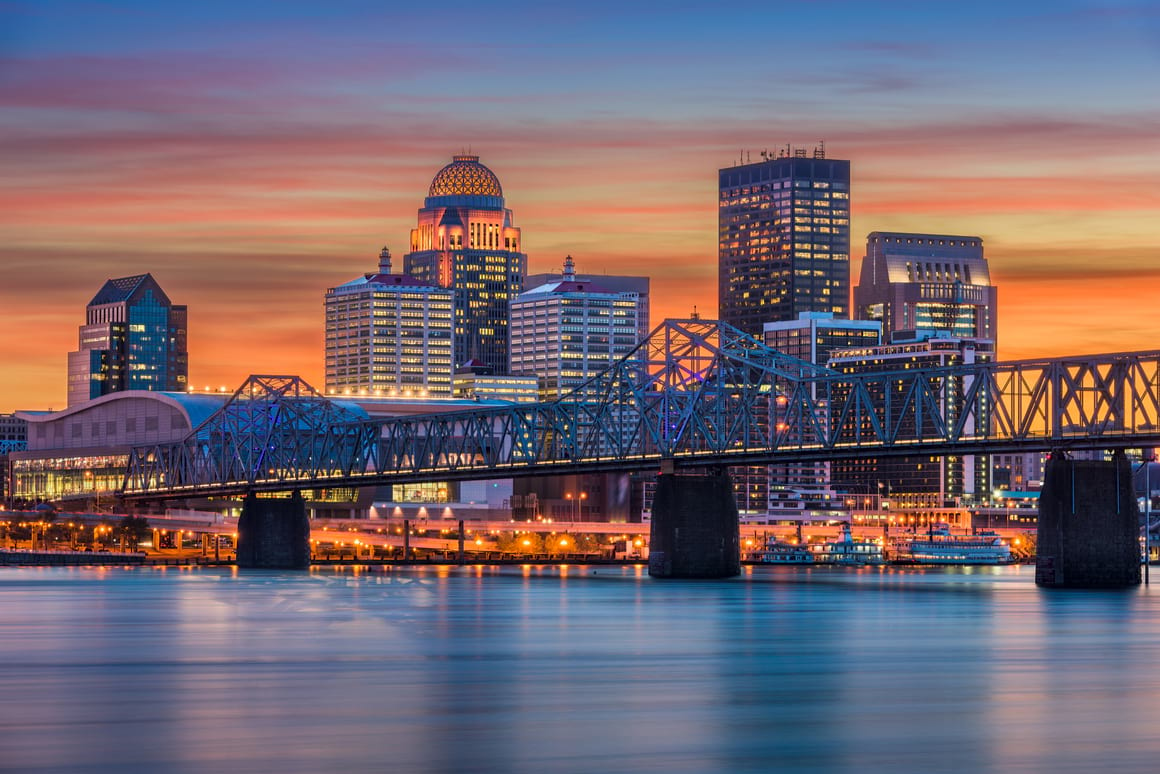 Cabins
Airbnbs are the best way to disconnect from the world and treat yourself to some time off, and Airbnb cabins are great for this, so it is no surprise there are an abundance of them in Kentucky. You will find them all over the state, but the biggest selection is along the eastern side of Kentucky, within the Cumberland Mountains.
The homes are built by locals, mostly for summer and winter vacations, so they are perfectly setup for a getaway. Often including a variety of board games, a fireplace and an outdoor fire pit, as well as a Jacuzzi.
Cabins in Kentucky can be a romantic getaway for couples and newlyweds, but you will also stumble upon larger lodging ideal for a retreat with friends.
Apartments
For those wanting to stick closer to civilization, an apartment will be a better option for you. Apartments can range from being an entire apartment in a high rise, to a sectioned off apartment in a larger home.
For those budget traveling, don't write off shared home apartments right away as they often feature their own private entrance and space. You will have your own place, and save a buck or two.
Apartments are most common around major cities and bigger towns, with many being located in downtown districts and popular neighborhoods.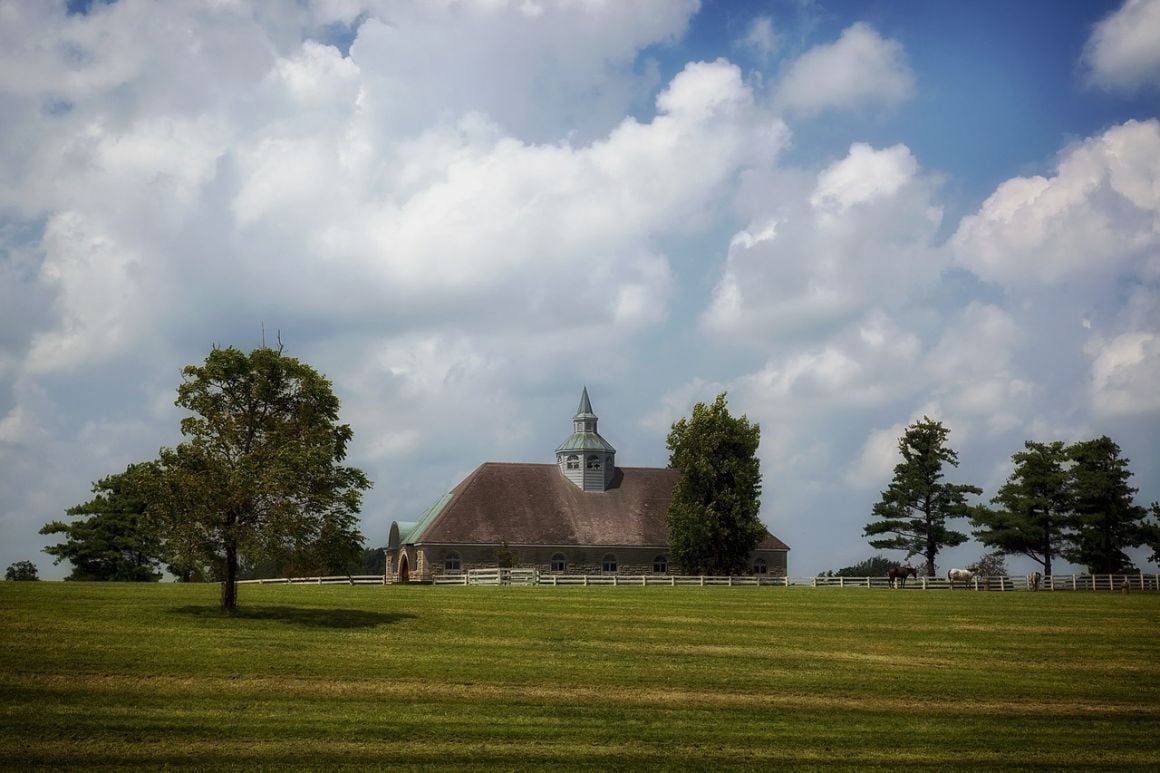 Tiny Homes
Have you been meaning to jump on the tiny home bandwagon? Well, you'll have many to choose from on your travels to Kentucky. Tiny homes dot the foothills of the Cumberland Mountains, as well as the center corridor of Kentucky, in and around historic towns.
These homes are, of course, best suited to couples looking for a getaway just by themselves. But, any tiny home worth its salt does a great job of maximizing space, so it's possible to find comfortable four-person layouts.
However, the best tiny homes in Kentucky will offer more than just a crafty floor plan, they'll come with great views out to nature, or maybe even be located on a lakefront. Enjoy the little extras like a fire pit and private outdoor space.
Why Stay in an Airbnb
Still not sold on the Airbnb life? Here are some more reasons why it's one of our favorite accommodation platforms.
Local Experience: Be in the best neighborhoods where you can walk outside and be among local life. You can tap into the knowledge of your hosts for tips and hidden gems.
Amentities: unlike hotels and B&Bs in Kentucky, Airbnbs have all the amenities that you would have at home such as a washing machine, self-catering facilities and sometimes even a garage for your car.
Unique Properties: Where else can you easily shack up in a cabin or tiny home for the weekend? You may even find a treehouse.
Privacy: Enjoy contactless check-in, private access and your own personal space. No more communal kitchens and shared bathrooms.
Affordability: Instead of a hotel that has no kitchen and living space, kick back in a spacious home complete with a backyard.
Airbnb Experiences: Skip commercial tours and explore Kentucky with those that grew up here. Our top Airbnb Experiences are listed below.
The 15 Top Airbnbs in Kentucky
Now that you're amped to explore the Bluegrass State, it's time to check out places to stay. Lucky for you, we've compiled a list of the best Airbnbs in Kentucky!
Overall Best Value Airbnb in Kentucky | Tiny House Retreat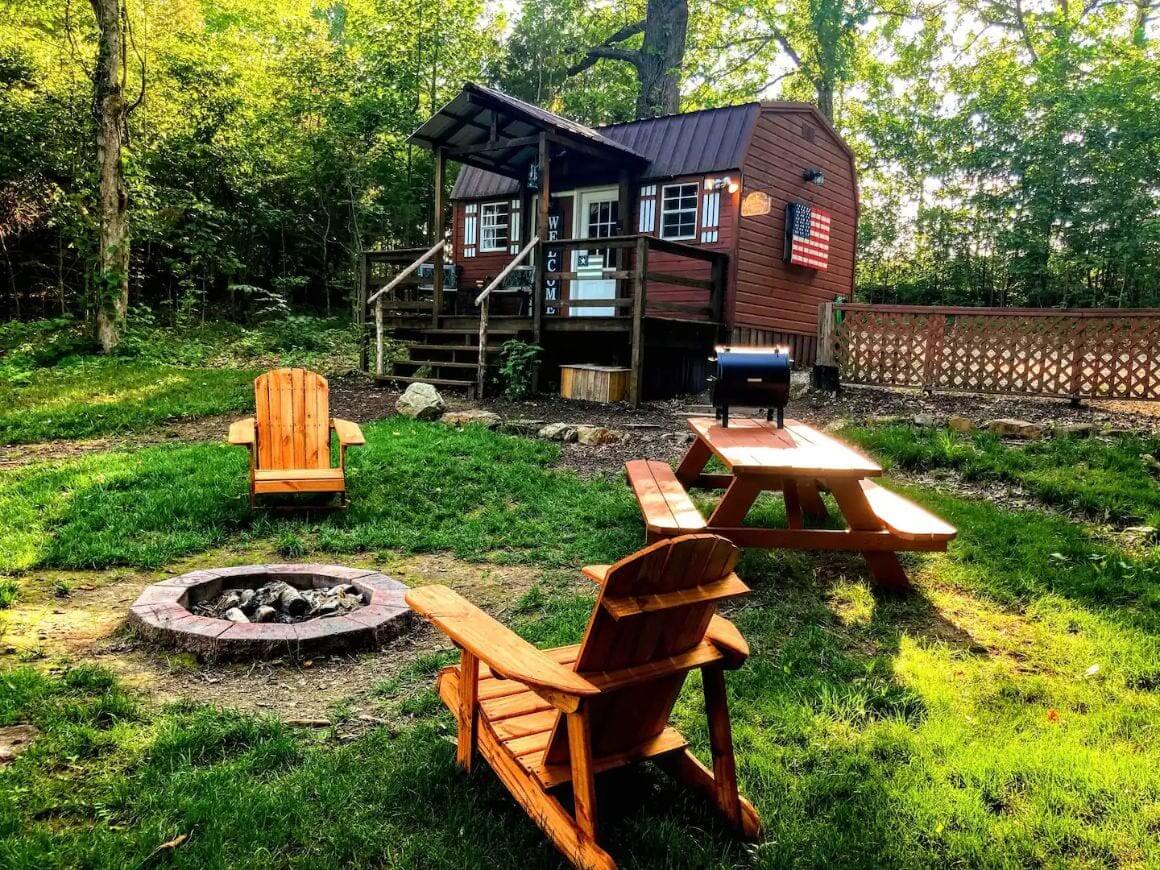 This tiny home has a wonderful waterfront view, at a price suited to all, even budget backpackers.
The rustic tiny cabin, sits nestled away in the woods where you can enjoy seclusion and privacy with your loved one, or simply get away for the weekend by yourself.
Each morning head out to the porch and watch the mist rise off the pond, and try to spot some frolicking deer. While the tiny home is of course, tiny, it still has a luxurious bed and a full kitchen.
There are over 20 acres to explore, so wander the hiking trails or throw out a line into the pond.
Best Budget Airbnb in Kentucky | Downtown Suite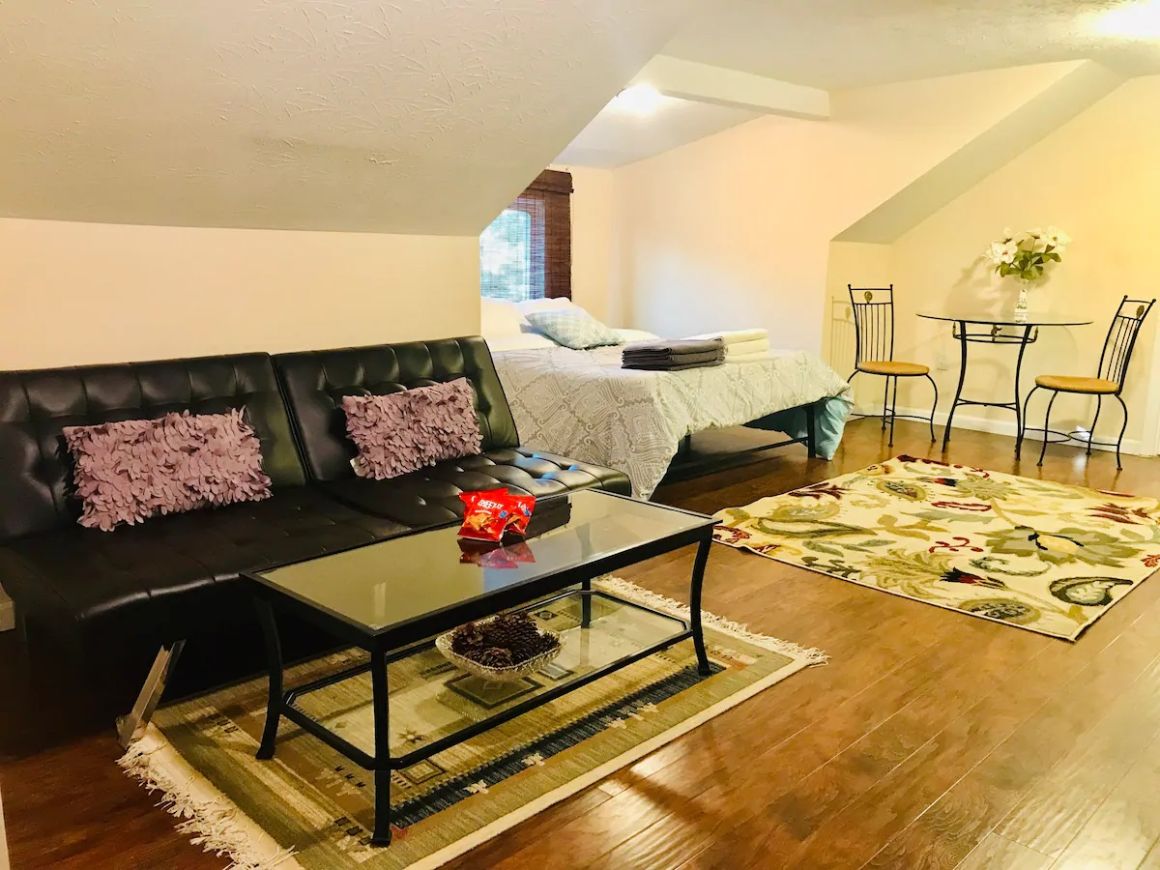 Without breaking the bank, you can stay in the heart of downtown Lexington. This Airbnb in Kentucky, is the perfect spot to explore the city and beyond.
You'll have the entire townhouse to yourself, and it is self check-in, so you don't have to worry about anyone else. Crash each night on the comfortable queen bed, and make an easy dinner in the kitchenette.
What you save in accommodation, you can use exploring downtown Lexington and the University of Kentucky campus, along with the many bars and restaurants that are pumping throughout the week. The best thing – it's all a ten minute walk away.
Perfect Airbnb for Solo Travelers | Entire Apartment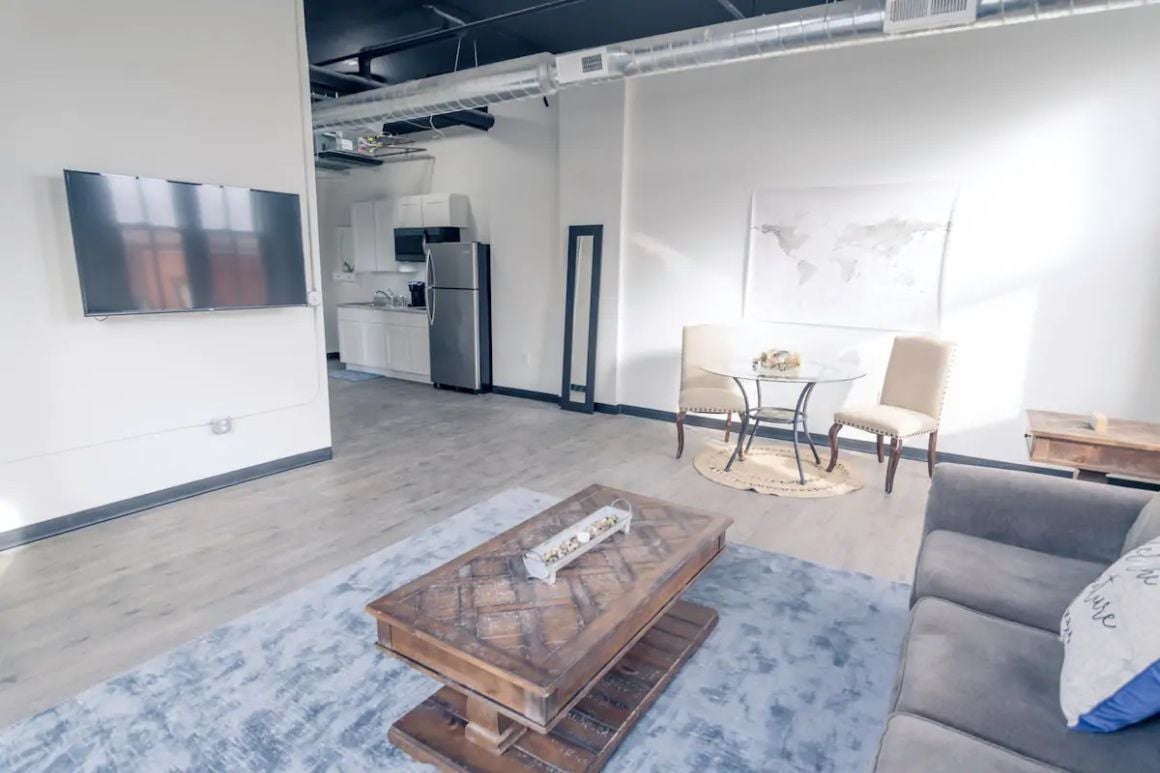 Ditch the endless crowds and busy hostels by checking in to this Airbnb in Kentucky. Located in downtown Louisville the all the best attractions are at your fingertips.
Instead of coming home each night to a loud dorm and trying to get some shut-eye, you can have an entire apartment to yourself.
Kick back each evening with the Smart TV, prepare a nice dinner, and enjoy the peace and quiet. The pull-out couch will be handy if anyone stops by for a visit.
Make up a nice cup of coffee in the morning on your Kuerig and go at your own pace. Especially knowing that 4th Street and the Waterfront Park are an easy walk away.
Is This the Best Backpack EVER???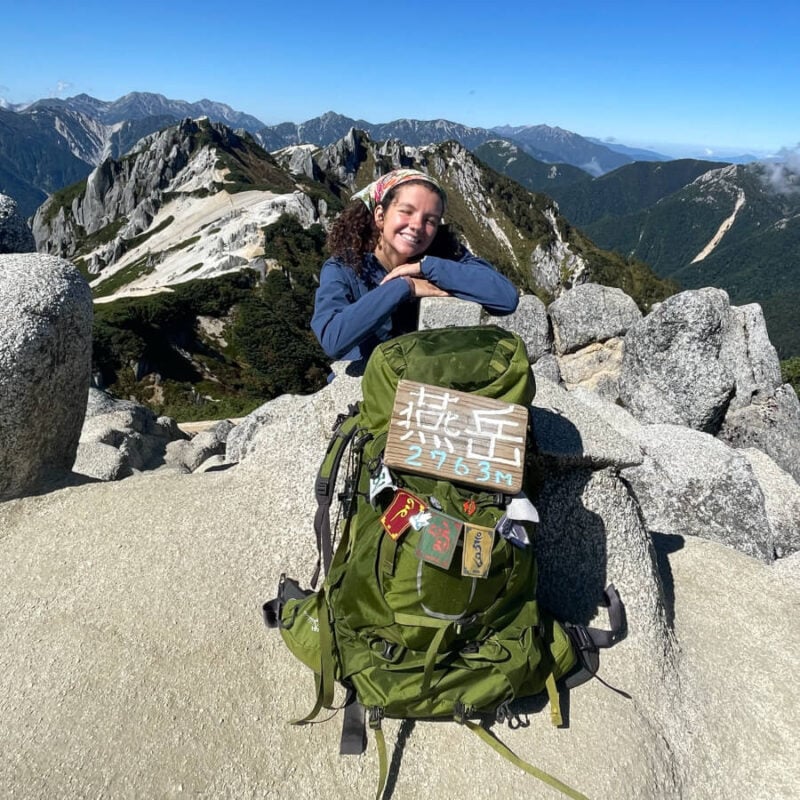 Grab your partner for a romantic getaway to Red River Gorge. At this Airbnb in Kentucky you will be moments away from the region's best day hikes, scenery and local entertainment.
Surrounded by natural beauty, enjoy the tremendous views from almost anywhere in the Fireside Cabin. This home was built by the hands of a third generation carpenter, combining both a timeless style and modern comforts.
In the winter months, walk along the heated floors or head to your own deck and admire the views.
Each evening gather around the fire pit for s'mores, and take a relaxing soak in the hot tub.
Best Airbnb in Kentucky for Families | The 502 House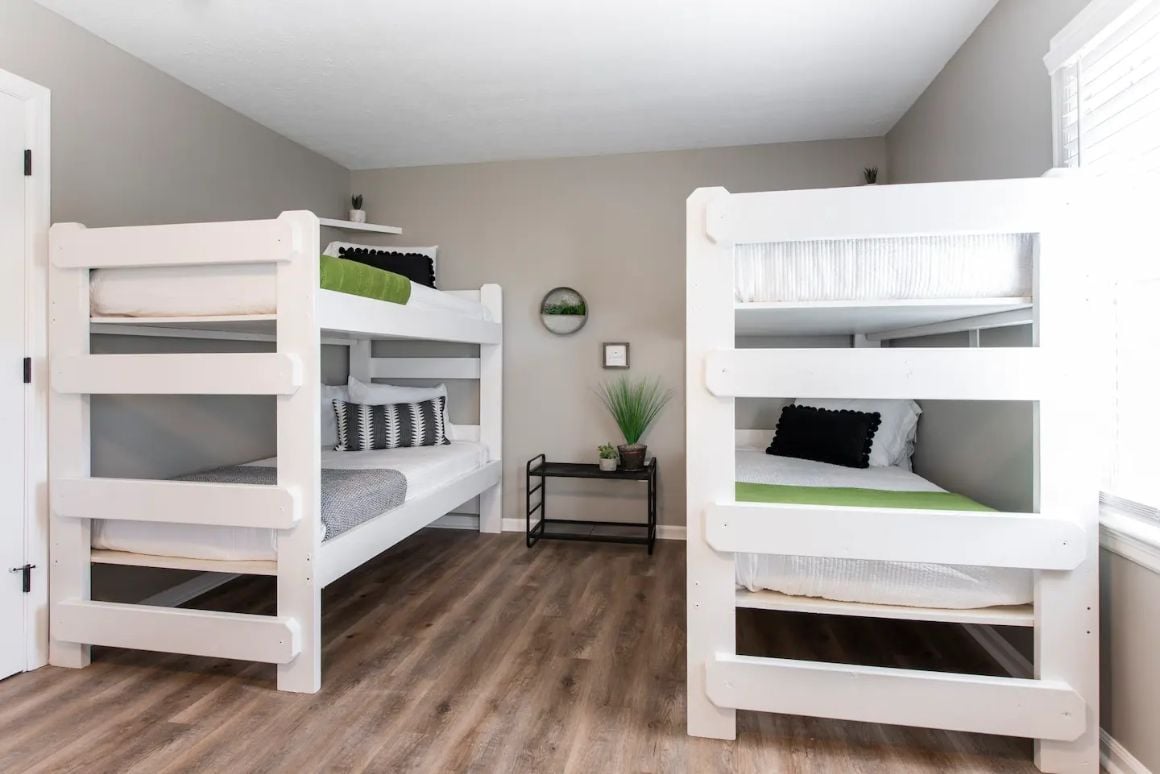 Pack your bags and grab the kids, it is time for a family vacation! At this Airbnb in Kentucky you will have all the room and amenities you need for an epic family adventure.
The spacious home is located on a 12-acre resort, usually for Airstream Glamping. There is a 2-acre pond for swimming, kayaking, canoeing, and paddle boarding.
You'll have all the trappings of home, including a full-sized kitchen and plenty of dining space for your daily meals. The kids will love the custom game room, and family time around the fire pit will be a regular highlight.
12 Guests
Luxurious Private Estate
Pool your cash together with your mates, and scrounge enough money together to stay at this luxury estate. Set adjacent to a gorgeous working winery, either enjoy the views or hop over for a tasting.
Next door to this Airbnb in Kentucky is a working horse farm. You will notice the horse theme throughout this estate, particularly in the artwork and contemporary pieces.
There are 5 bedrooms and 4.5 bathrooms, so you will find plenty of space to enjoy some privacy. But, the massive dining and living space will bring the group together every evening.
Aside from the winery, you have a simple drive to Keeneland and one of the many distilleries on the Bourbon Trail.
Best Cabin on Airbnb in Kentucky | Freedom Falls
8 Guests
Billiards & Hot Tub
Newly completed, this Airbnb in Kentucky combines the rustic charm of a cabin with 21st century luxury.
Located at the end of a valley, you can enjoy total privacy among your group. Take in nature without distractions and even spend time at your own private waterfall.
Movie night will be a hit thanks to the cabins strong WiFi and five TVs. Gather around the fireplace, cozy-up under the blankets and watch your favorite flicks.
During the day, take strolls around the 2-acre property, find views down to the stream and further along the valley. Situated along a scenic parkway, the drives from the home will be equally spectacular.
Best Apartment on Airbnb in Kentucky | Fashionable Flat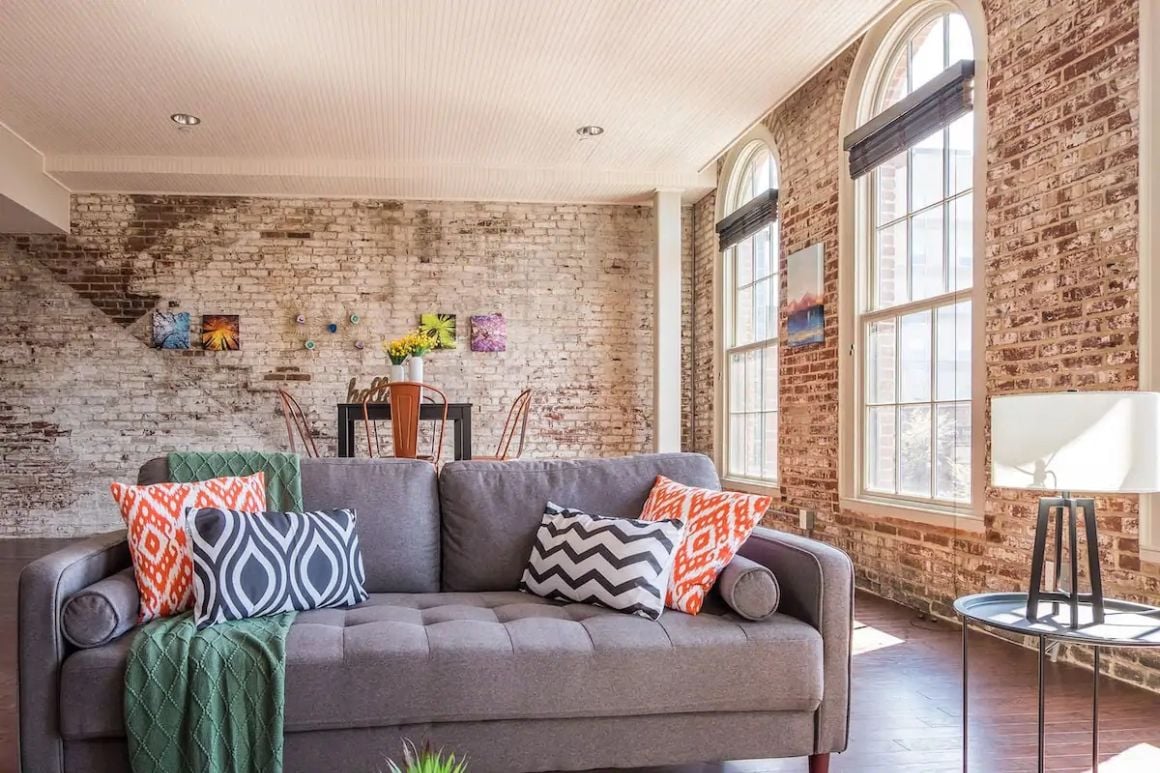 If the great location near to all the top things to do in Louisville doesn't win you over, surely the exposed brick walls will. With large windows facing downtown, you'll not only have a lovely view but also tons of natural light streaming into your living room.
Cook up a simple meal or tasty treats and relax in the fashionable apartment. The day can start whenever, because you are already surrounded by some of the best bars, restaurants and music venues in town.
Walk right onto Main Street, full of colorful buildings, museums and all the bare neccessities. Beyond the apartment you'll also be able to stroll to the Performing Arts Centre, Fourth St Live and public transport.
Best Tiny Home on Airbnb in Kentucky | Theodore Overlook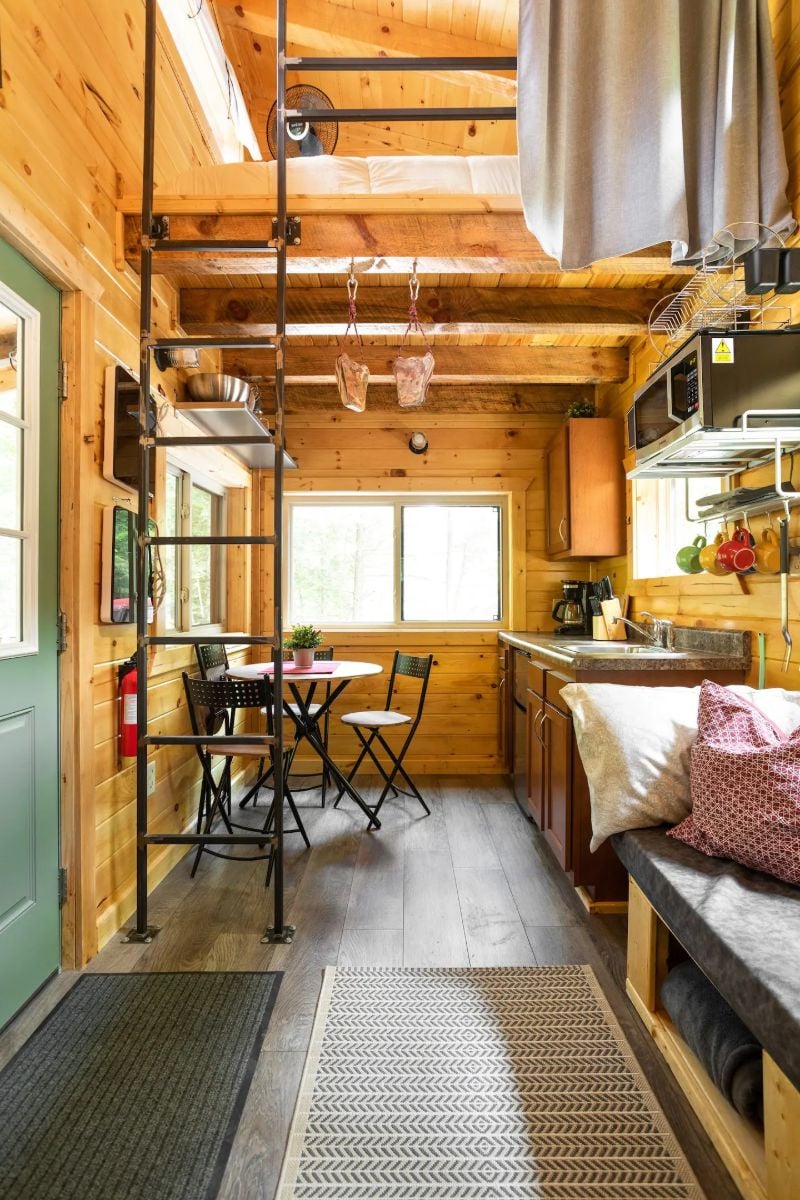 $$$
Inside the National Forest
4 Guests
Comfortable and Cozy
Spend your time away from home by heading to Red River Gorge. Or, more specifically, to the interior of the Daniel Boone National Forest.
The Theodore Overlook was named after Teddy Roosevelt, who created the US Forest Service. This tiny home honors his efforts and allows you to enjoy the fruit of his service.
It is rare to find private land within national forests, which makes this home even more unique, and the dense woods and the sounds of the streams flowing, take it to another level.
Like any good tiny home, it makes great use of the space it has. With a nice kitchen, full bathroom and two lofts, both with queen beds.
Sweat it out at the gym before heading outside and diving into the large pool with a view. Nurse a cocktail and overlook the lake.
At this well-designed townhouse, you will have multiple bedrooms, perfect for two couples or a small family. The living room and den, complete with a pool table, will be fun for hanging out and catching up.
The town of Hamburg is right down the road, giving you easy access to all the amenities you need. Along with restaurants, bars and live entertainment.
On-site you'll also find a clubhouse, which often holds events throughout the year.
11 Guests
Sunrise and Sunsets
Bring the kids, cousins and all your friends down to this roomy lakefront retreat. Enjoy an undisturbed view of both Lake Barkley and the open lands peninsula.
With long range views in multiple directions you'll be able to catch both the beautiful morning sunrise, and a breathtaking sunset.
When you aren't gawking at the postcard views, relax in a peaceful pocket of Kentucky. Gather around the fireplace and play games or simply take in the home's wonderful decor.
For adventures further afield, you are well situated for day trips to the Land Between the Lakes National Recreation Area, as well as the Woodlands Nature Center for insight into local wildlife and photography.
Best Airbnb for a Weekend in Kentucky | The Lion's Lair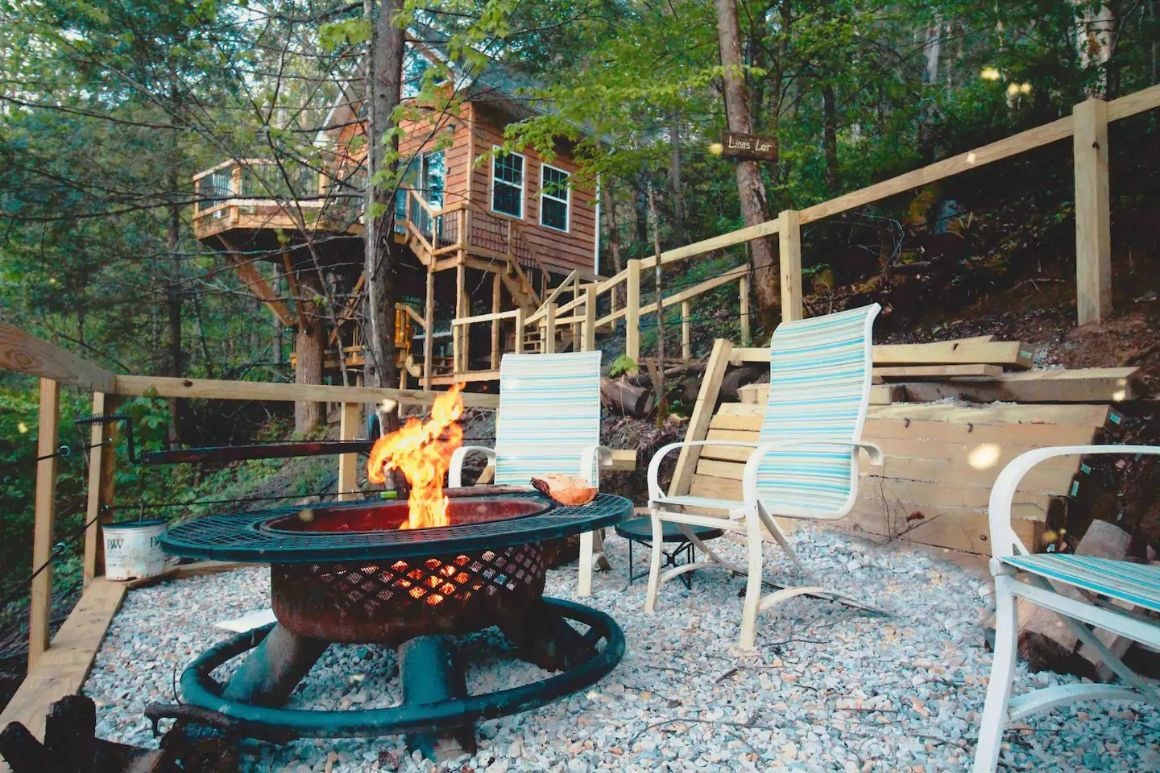 Enjoy a slice of your very own fairytale, at this treehouse Airbnb. From the expansive windows catch a sparkling sunset each evening, and head out for some stargazing.
Wake up each morning by wandering through the forests of Red River Gorge. Watch the sun slowly creep through the canopy and the dew rise back up into the sky.
Hear the sounds of the nearby creek and continue onto a variety of hiking trails. In the evening, gather around the fire pit and hear sounds of owls calling out in the distance.
Shut off from the world for 48 hours, and unwind.
Best Airbnb in Kentucky for a Group of Friends | CedarPalace Cabin
Feel the itch to gather with your friends and get out of town? Why not book yourself one of the largest log cabins in the Natural Bridge area.
The cabin comes with everything you need, including four king beds and a hot tub overlooking the valley. Walk away from the Airbnb at night, and watch it glow gloriously among the trees.
Each evening rack up the balls and play some billiard, or switch on your satellite TV and watch the big game. After a big day of hiking, hang in the spacious living area and put your feet up.
Wake to the calls of nature and the sun rolling through the forest. Enjoy the morning mountain views and take a stroll around the 2.5 acre wooded property.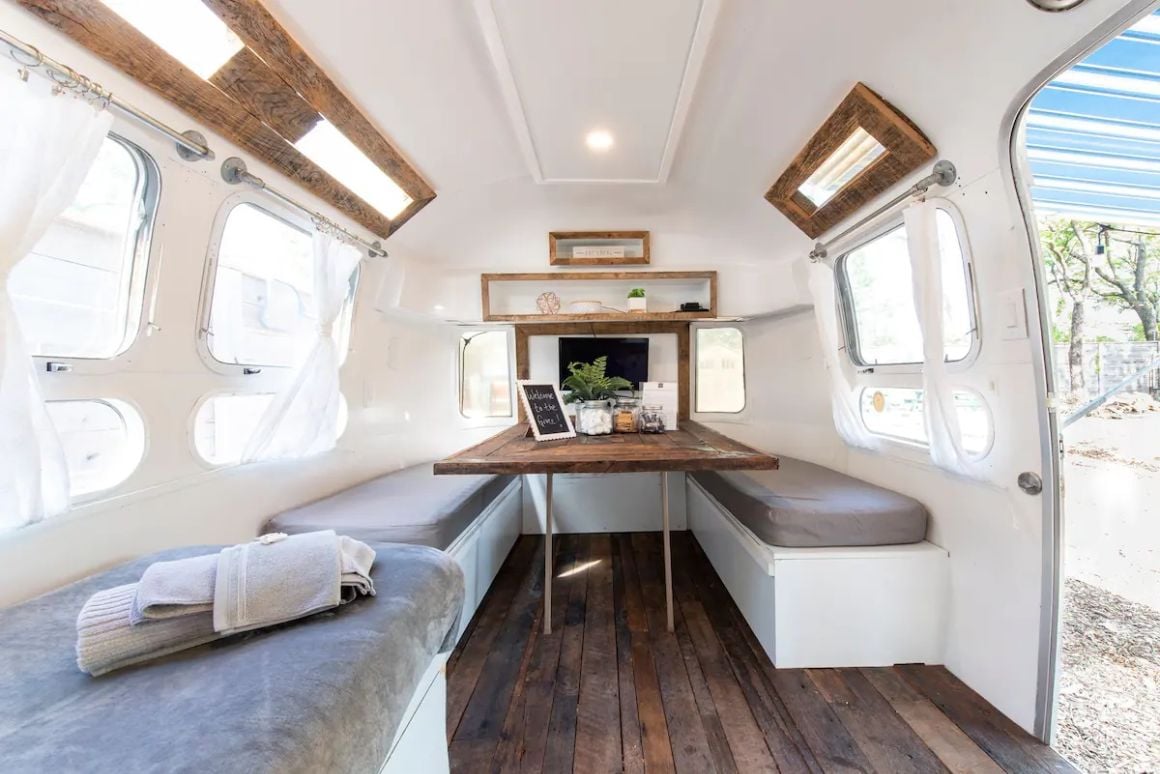 6 Guests
Glamping Experience
Have all the fun that comes with camping with none of the drawbacks. This Airstream has been completely remodelled and now features four beds.
The airstream has every amenity you need to have a great adventure by the beach, which is right outside your door.
With wood floors, a full kitchen and two burner stove, and beautiful decor, for a moment you might forget that you're in a camper.
Your own hammock is right by the water, along with a picnic table and awning. Take your meals outside, and enjoy the views.
As for the beach, walk around the edges or dive into the water. Try some fishing and kayaking, or head into downtown Louisville.
Best Airbnb Plus in Kentucky | Turquoise Suite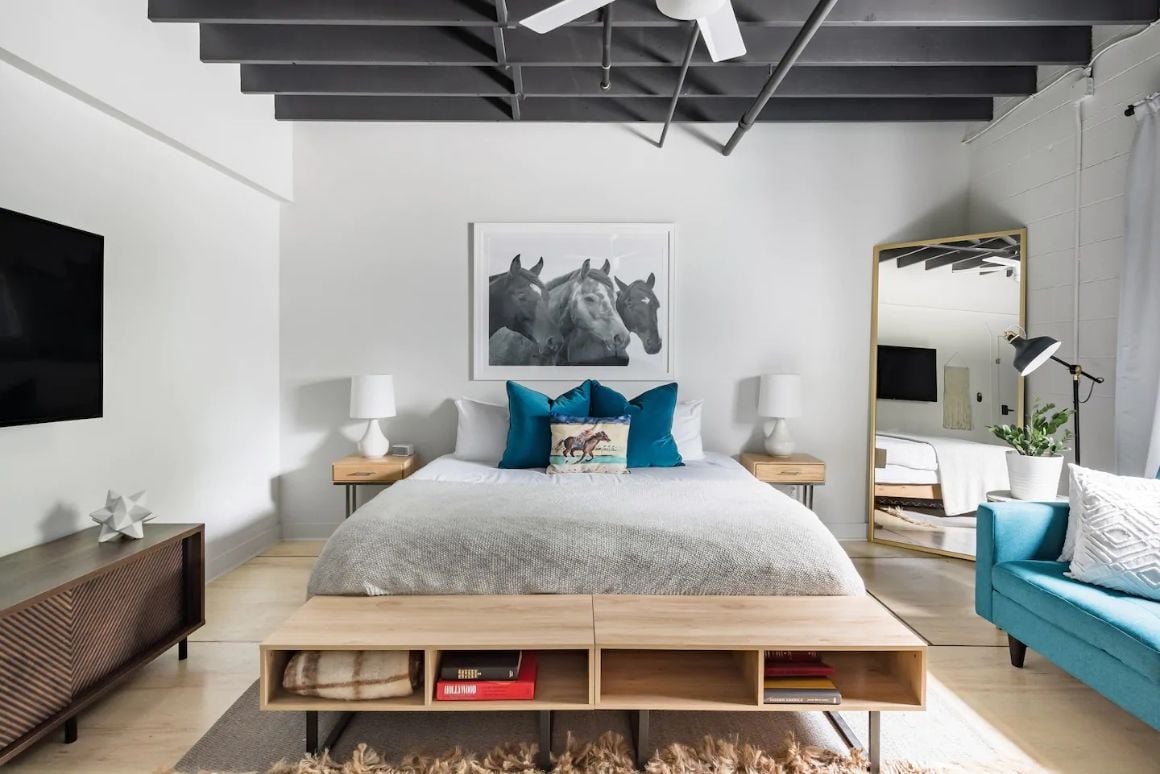 2 Guests
Complimentary Bikes
Part of the Airbnb Plus invite-only program, you can trust that this is one of the best homes in Kentucky. Which is certainly the case at this studio apartment.
Located on Market Street in the heart of the Nulu Arts District, you'll have plenty to see and do.
Nulu stands for New Louisville, which has grown into a green and sustainable community, with many restaurants offering organic and locally sourced ingredients.
When you aren't out using your complimentary bikes, enjoy the comfort of your own modern, private studio.
Top 5 Airbnb Experiences in Kentucky
Trade in overdone, commercial tours for a real Kentucky experience. Airbnb Experiences are created and led by locals for people just like you, who are looking for a unique insight into the state.
Experiences run from regular tours and sightseeing through major cities and historic towns, to mountain treks and paddles along rivers.
But perhaps the most interesting type of Airbnb Experiences are the class and skill sessions. These are the type of experiences that you don't expect, and they quietly take you by surprise.
Learn how to cook local cuisine, paint the Kentucky landscape or walk away with a new skill and a great memory.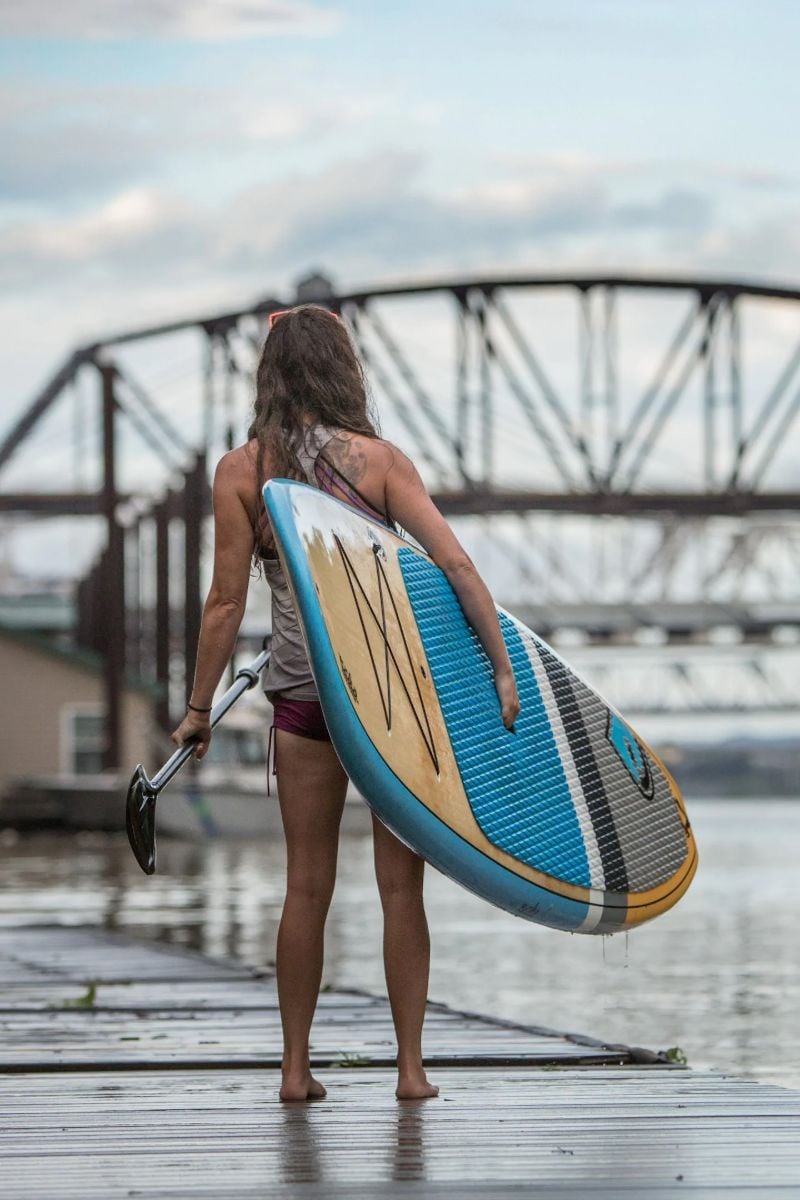 $40 p/p
90 Minutes
Up to 6 People
Equipment Included
Meet at the hosts' coffee shop, the Endless Summer Paddle & Coffee, and fuel up for the impending adventure. Learn about the Ohio River and what is in store for you.
After figuring out the basics, get out on the water for a group paddleboard lesson. Learn to stand, turn and stop before touring the river itself.
Paddle up under bridges and take in the awesome skyline views. Stop along the way for photo opportunities shot by the guides, which means you can leave your valuables on dry land.
$60 p/p
4 Hours
Up to 10 People
Drinks Included
Spend some time relaxing on the porch of a gorgeous, old-time house on Squirrel Oaks Farm. It is just 10 minutes away from the Lost River Cave, the first stop on the tour.
Ride on the zip lines and take a guide boat tour around the area. Once you have seen the sights and had a grand old time, head back to the farm.
On arrival, you'll be greeted with a mixology class. Create cocktails inspired by the farm, and unique aspects of Bowling Green. At the end, enjoy your tasty creations.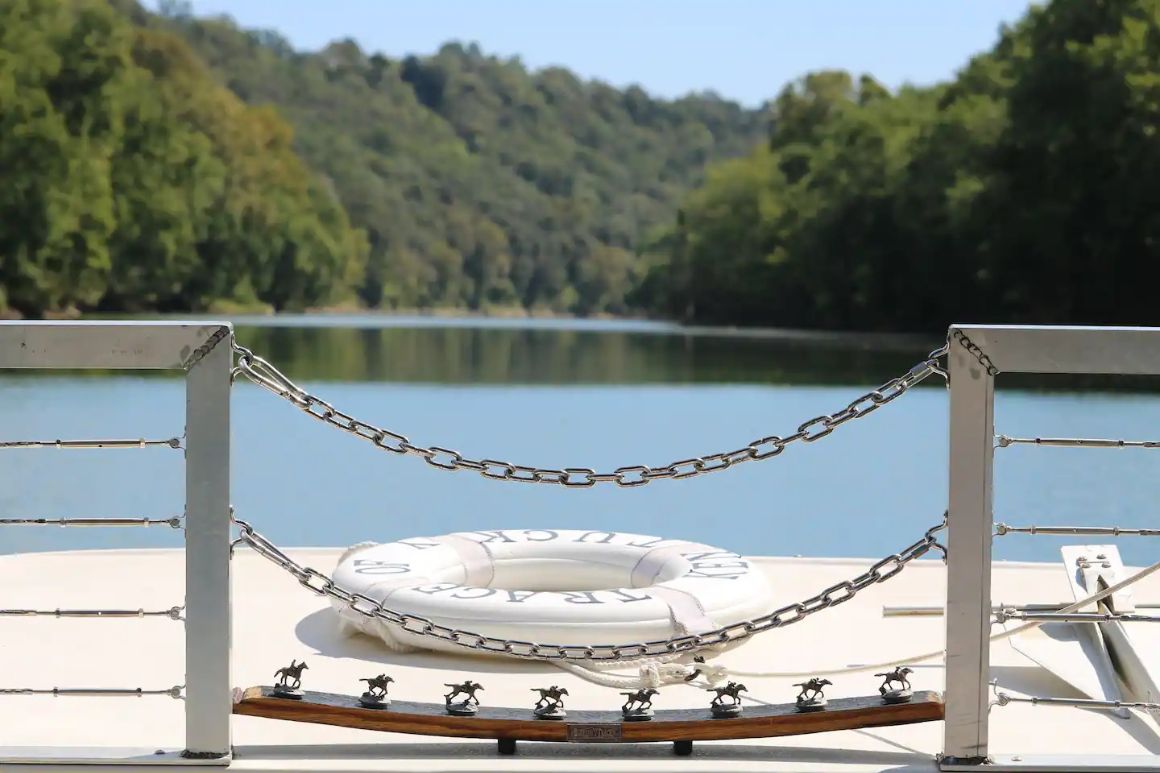 $24 p/p
60 Minutes
Up to 10 People
Basic Drinks Included
Gather at River View Park in downtown Frankfort. You'll know you've arrived when you see the colorful urban woods apartments.
Head along the Kentucky River for a historic bourbon boat tour. On board the Trace of Kentucky, your captain will point out some of Frankfort's most important landmarks.
You will see David Boon's grave, the joining site of the Three Original Counties, along with Frank's Ford, Buffalo Trace Distillery and Leestown.
Get a glimpse into Kentucky's famed bourbon history while floating along a calm river with beautiful scenery.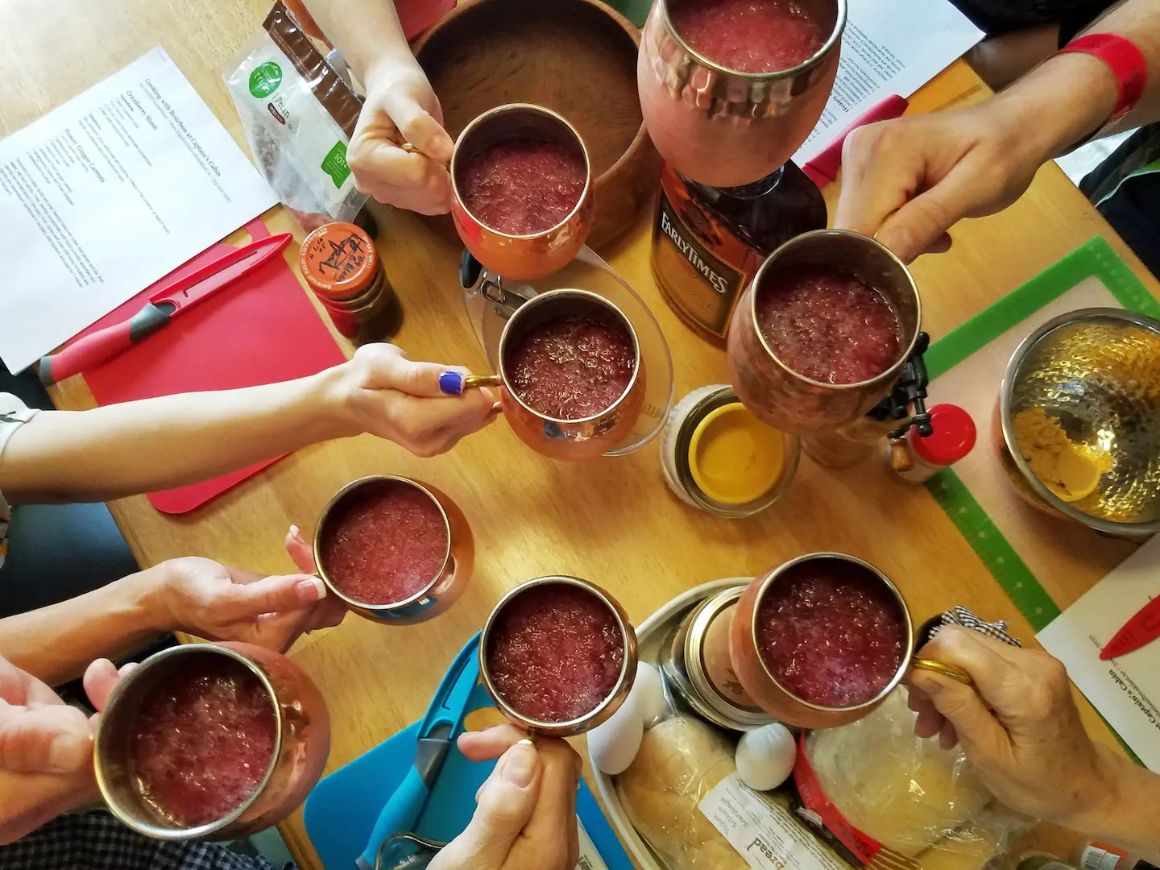 $65 p/p
2 Hours
Up to 6 People
Southern Cuisine
Mingle with other travelers or have the whole class to yourself as you learn the fun skill of cooking with bourbon. Grab a cocktail and enjoy a casual setting in the host's log home.
Slice, dice, stir and bake mouthwatering dishes using local bourbon, all the while hearing what living in Kentucky is all about. When you aren't cooking, have a tour of the 200 year old cabin.
Dishes you create include, bourbon-glazed salmon, bourbon burgers, and peach and bourbon chicken – there are plenty of vegetarian options also.
This evening is perfectly paired with completely the iconic Bourbon Trail in the early afternoon.
$160 p/p
2.5 Hours
Up to 4 People
Create Your Own Ring
Take this beginner silversmithing class in Springfield, Kentucky and walk away with a ring of your own creation.
Start the class by picking out your stone and setting. Get familiar with the torch, jeweler's saw and anvil.
Learn the necessary skills in this hands-on class, and even get the ring made down to size. Finish up by setting the stone and polishing your new piece of jewelery.
All rings are made with sterling silver, making this a class well worth doing!
Don't Forget Your Kentucky Travel Insurance
ALWAYS sort out your backpacker insurance before your trip. There's plenty to choose from in that department, but a good place to start is Safety Wing.
They offer month-to-month payments, no lock-in contracts, and require absolutely no itineraries: that's the exact kind of insurance long-term travellers and digital nomads need.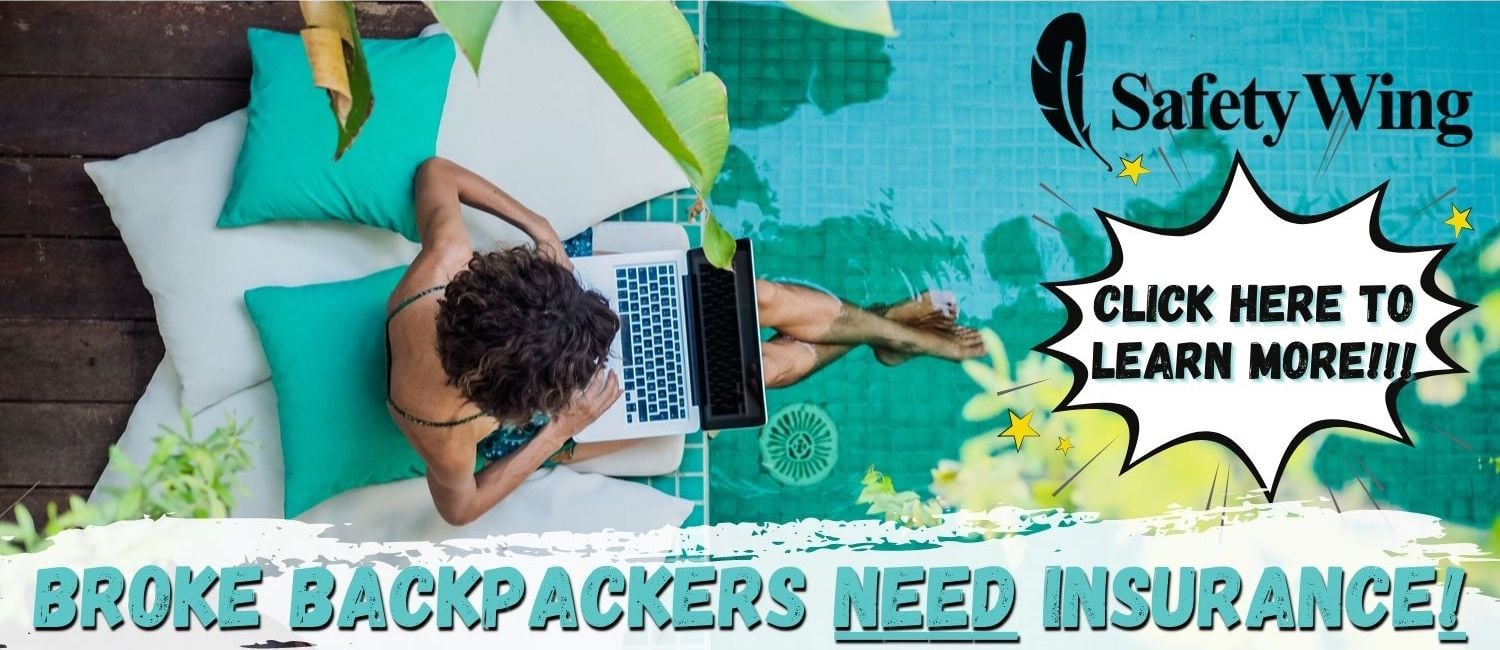 SafetyWing is cheap, easy, and admin-free: just sign up lickety-split so you can get back to it!
Click the button below to learn more about SafetyWing's setup or read our insider review for the full tasty scoop.
Final Thoughts on Kentucky Airbnbs
Well how about that! The best Airbnbs in Kentucky will give you a new perspective on the state.
For those passing through on a road trip out West, maybe you'll have to think about sticking around for a night or two. Whether you need a single room, or you're a big family, you can find apartments and spacious homes aplenty.
Airbnbs in Kentucky span from basic to downright luxurious, and have access to key parts of Lexington and Louisville, or you can find yourself in national forests with your very own waterfall.
There's no telling what you might get up to, but getting out of a hotel and into the real Kentucky is the first step.
---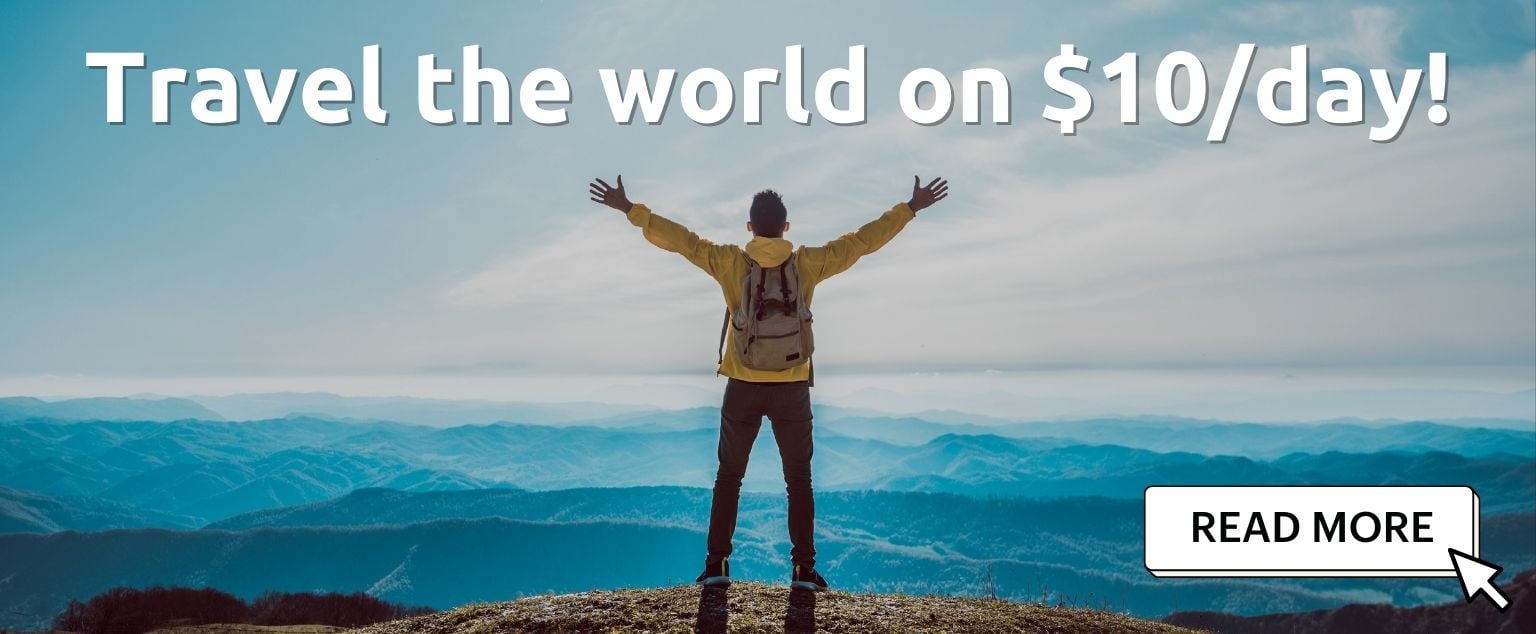 And for transparency's sake, please know that some of the links in our content are affiliate links. That means that if you book your accommodation, buy your gear, or sort your insurance through our link, we earn a small commission (at no extra cost to you). That said, we only link to the gear we trust and never recommend services we don't believe are up to scratch. Again, thank you!