Balmy evenings tinged with bourbon, Hot Browns, serene nature spots, and museums galore – that's basically Louisville in a nutshell for ya!
As Kentucky's largest city, Louisville is surprisingly admired for its weirdness – and that's not just me saying that: Keep Louisville Weird was once the city's catchphrase and to this day, you'll still find local merch brandishing this slogan.
When it comes to the best things to do in Louisville, you're never short of options. Families have it made, with an assortment of attractions that'll keep the little ones occupied while history buffs will be more than thrilled by the sheer number of museums and historical landmarks dotted throughout the city.
Backpackers will find heaps of budget-friendly activities while fans of the great outdoors will no doubt revel in the many sprawling parks.
With so much to see and do, it can be overwhelming to know what to add to your itinerary. So, to help you out, I've prepared this list of the unmissable things to do in Louisville for any type of traveler…

Unlock Our GREATEST Travel Secrets!
Sign up for our newsletter and get the best travel tips delivered right to your inbox.
The Top Things to Do in Louisville
Every city in Kentucky has its fair share of fun-filled activities! But if you're only here for a short time, then these are five of the unmissable attractions in Louisville to start your trip off right.
Top Things to do in Louisville Today
Top Things to do in Louisville Today
Hit the Bourbon Trail
Indulge in the most Louisville-like activity ever as you venture the Bourbon Trail. Explore three distilleries, chat with the owners, and learn more about the bourbon-making process before sampling some of the best brews in Louisville.
Indoor Activities for Adults in Louisville KY
Indoor Activities for Adults in Louisville KY
Check Out the Muhammad Ali Center
Spend a couple of hours at the Muhammad Ali Center dedicated to this legendary Louisville-born boxer. Take in the interactive features and find out more about the athlete through the exhibit dedicated to his history.
Best Day Trips from Louisville
Best Day Trips from Louisville
Head Over to Lexington
Enjoy a day trip to Lexington where you'll find an abundance of parks, rivers, and gorges. Learn about the city's history and view the Kentucky River Palisades from above by zip lining through the trees.
Fun Cheap Things to Do in Louisville
Fun Cheap Things to Do in Louisville
Be Wowed by the Conrad-Caldwell House
Step into the palatial interiors of the Conrad-Caldwell House to immerse yourself in a bygone era of opulence and refinery. Find out more about the former owners of the mansion and mosey around the lavish Edwardian-restored quarters.
Things to Do in Louisville with Kids
Things to Do in Louisville with Kids
Stroll Through Cherokee Park
Head to Cherokee Park where you can wander the Scenic Loop that traverses forested areas, rolling hills, and lush meadows. Enjoy a picnic at the Big Rock Picnic Area and have fun with the family at the park's Frisbee Hill.
Why don't I kick off with the most iconic Louisville activity ever? After all, this is bourbon country, y'all!
Bourbon has become practically synonymous with Louisville, with a whole entire district dedicated solely to Bourbonism – a term that was coined right there in the city. In fact, it's bourbon history has made it one of the top places in the USA to visit.
If you'd like to hit the Bourbon Trail (or at least part of it!), check out this activity for a behind-the-scenes peek of what happens at a distillery. Learn about the bourbon-making process and explore three distilleries, complete with tasting sessions.
Travelers who would like to get a few bottles to take back home can buy their favorite products on-site.
Your guide will also provide interesting titbits about the local culture – including why Kentuckians are so famously spirited!
Entrance fee: $375
Hours: Dependent on tour
Address: Bardstown, KY 40004, USA
2. Go Spelunking at the Mega Cavern
Are you looking for unique things to do in Louisville? Well, how about a stop by the Mega Cavern to experience spelunking like never before?
What is spelunking you may ask? Good question Skippy! Spelunking is the act of exploring a cave. And no, this ain't your traditional spelunking experience either since the Mega Cave is actually a former limestone mine that was turned into an artificial cave.
It definitely packs a punch though, with a wide array of thrill-inducing activities, including the only underground zip-lining course in the world. You'll also be able to patter around and learn about Louisville's mining past.
Whether you want to take an exciting tram ride through the massive halls, strut across an aerial rope, or e-bike through the cavern, rest assured that you'll be in a safe and controlled environment.
Entrance fee: Dependent on activity
Hours: 9 a.m. to 8 p.m. (Tuesday and Wednesday), 9.30 a.m. to 8 p.m. (All other days)
Address: 1841 Taylor Ave, Louisville, KY 40213, USA
Boasting classic home comforts, this charming Creole cottage has just about everything you need for a memorable stay in Germantown!
A quick drive from this Airbnb takes you to popular points of interest including the Slugger Museum Factory and the Kentucky Science Center.
After exploring the area, return to the cottage where you can rustle up a meal in the modern, well-equipped kitchen. With generously sized living and dining quarters, this space features a queen bed for 2 in the master bedroom. There's even a jacuzzi in the bathroom – perfect for soothing your muscles after all that sightseeing!
If you want to have friends over, they can snooze on the comfortable sofabed in the living room.
Entrance fee: $125/night
Hours: Check-in 3 p.m. to 10 p.m., Checkout at 11 a.m.
Address: Germantown, Louisville, Kentucky, USA
Visiting the Muhammad Ali Center is easily among the top things to do in Louisville – and for good reason!
Dedicated to the iconic Louisville-born professional boxer and activist, this cultural center has 6 levels, so be sure to set aside a good couple of hours to properly take everything in.
You'll find plenty to explore, including a bi-level theatre and a recreation of the boxing ring from Ali's training camp. There's also an exhibit dedicated to his history, interactive features, and even a walkway that connects the property to other downtown spots.
Given Ali's massive fandom, this venue gets really packed in peak season. As such, you can consider getting skip-the-line tickets for faster admission.
Entrance fee: $18
Hours: 12 p.m. to 5 p.m. (closed on Tuesdays)
Address: 144 N 6th St, Louisville, KY 40202, USA
5. Have a Hot Brown at the Brown Hotel
What's a Hot Brown, you ask? Well, it's nothing less than a legendary open-faced sandwich that perfectly embodies comfort food! Think lashings of delicate Mornay sauce, gooey cheese, and unparalleled heartiness.
No wonder this quickly became the most recognized dish in Louisville! And what better place to sample this exceptionally indulgent delicacy than at the very place that first invented it?
The Brown Hotel is something of an institution in the city and summer sees gaggles of eager tourists flocking there to try the Hot Brown, so be sure to reserve your table in advance.
If you're not able to get a reservation, rest assured that virtually every other Louisville restaurant has its own spin on the Hot Brown!
Entrance fee: Free
Hours: 5 p.m. to 10 p.m. (Monday to Saturday), 5 p.m. to 9 p.m. (Sunday)
Address: The Brown Hotel Lobby Bar and Grill, 335 W Broadway, Louisville, KY 40202, USA
6. Take the Kids to the Kentucky Science Center
If you're looking for fun things to do in Louisville with kids, you really don't want to miss a visit to the Kentucky Science Center.
And no, it's not another boring old visit to the museum either. The biggest of its kind in Kentucky, this venue offers loads of hands-on exhibits aimed at both adults and children.
Be sure to check out the amazing 4-story 3D movie theatre designed to provide a fully immersive experience as you enjoy full-length movies or documentaries.
Kids will no doubt relish exhibits like the MarkerPlace and Science in Play where they'll get to conduct their own experiments.
Depending on when you're visiting, you may even be privy to special events like Dino Day or Hocus Pocus.
Entrance fee: $28 (Exhibit + Movie Combo), free for children under 2
Hours: 9.30 a.m. to 5 p.m.
Address: 727 W Main St, Louisville, KY 40202, USA
Small Pack Problems? 😉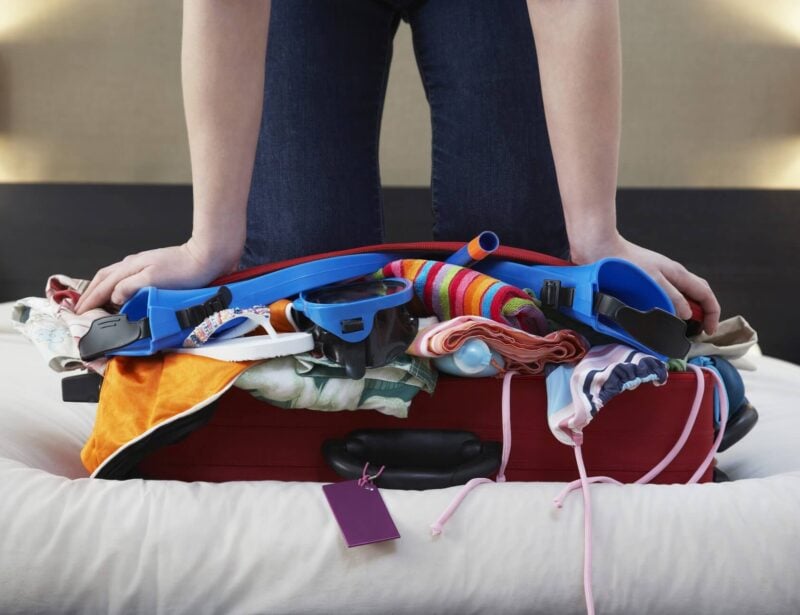 Wanna know how to pack like a pro? Well for a start you need the right gear….
These are packing cubes for the globetrotters and compression sacks for the real adventurers – these babies are a traveller's best kept secret. They organise yo' packing and minimise volume too so you can pack MORE.
Or, y'know… you can stick to just chucking it all in your backpack…
Get Yours Here
Read Our Review
7. Hike Through Cherokee Park
Looking for fun cheap things to do in Louisville? Then how about I go one better and offer you a
free thing to do in Louisville this weekend!
Here's a beautiful recreational hotspot that caters to hikers, joggers, or couples planning a romantic sunset picnic! Cherokee Park is especially known for its Scenic Loop that traverses rolling hills, lush meadows, and forested areas. Because this loop has separate lanes for cars, you can safely take the kids for a nature walk.
The loop attracts plenty of joggers in the afternoon, so your best bet would be to head there early morning if you want some alone time.
In addition to this hiking trail, Cherokee Park houses various other features, including Hogan's Fountain, Frisbee Hill, and Beargrass Creek. Don't hesitate to bring along a few snacks for an Al Fresco meal in the Big Rock Picnic Area. This is my favorite activity for USA backpackers visiting Louisville.
Entrance fee: Free
Hours: 6 a.m. to 11 p.m.
Address: 745 Cochran Hill Rd, Louisville, KY 40206, USA
8. Hop Aboard the Belle of Louisville
Wondering what to do in Louisville on a sun-drenched summer's day? Why don't you hop aboard the Belle of Louisville for a scenic cruise down the Ohio River?
One of the oldest functional steamboats in Kentucky, the Belle of Louisville offers different types of cruises so you can just kick back and admire the city from a whole new perspective!
For a unique experience, you can always opt for a Moonlight Cruise, perfect for chilling on the river, the balmy evening breeze fanning your breeze as you sip on a cocktail while watching the scenery go by.
History buffs may wish to consider the Harbor History cruise while foodies will no doubt enjoy a lunch picnic or dinner cruise.
Entrance fee: Dependent on cruise
Hours: 10 a.m. to 4 p.m. (Tuesday to Friday), 10 a.m. to 7 p.m. (Saturday), 10 a.m. to 12 p.m. (Sunday)
Address: 401 W River Rd, Louisville, KY 40202, USA
Get ready to be wowed by one of the most palatial places in Louisville! The mansion's Richardsonian Romanesque architecture is stunning enough on its own, but step inside and you'll be greeted by extravagant scenery that looks like it's been plucked straight off the set of The Crown.
I'm talking about ornate ceilings, Victorian furnishings, rich tapestries, the works!
As you mosey around the rooms, you'll be greeted by stained glass windows and massive archways. You'll also be able to uncover the many hidden gems scattered throughout.
Regular self-guided tours are available, but if you want to take things up a notch, I recommend the docent-led tour for a more immersive experience.
Entrance fee: $15 (regular tour), $20 (Docent-led tour)
Hours: Various time slots from 12 p.m. to 2.30 p.m.
Address: 1402 St James Ct, Louisville, KY 40208, USA
10. Relax at Waterfront Park
Here's yet another gorgeous park for a relaxing afternoon. I told you Louisville's full of those! One of the best outdoor attractions in Louisville, Waterfront Park offers a breath of fresh air as you leave the hustle and bustle of the city behind.
Whether you want to spread a blanket for a picnic lunch, enjoy a moment of quiet reflection by the banks of the Ohio River, or soak up some vitamin D with an afternoon stroll down the Promenade, this venue will definitely keep you entertained.
With splash pads for kids, sports fields, and even a Swing Garden, the park regularly hosts outdoor festivals and concerts, so keep an eye out for those!
Entrance fee: Free on non-festival days
Hours: 6 a.m. to 11 p.m.
Address: 129 River Rd, Louisville, KY 40202, USA
Is This the Best Daypack EVER???
One of Louisville's most historic areas, Old Louisville is absolutely bursting with character. For first-time visitors to Louisville, this activity is an excellent way to get to know the city as they stroll around this eclectic neighborhood dotted with ancient Victorian architecture.
You'll learn more about the wealth-laden titans who once used to live in Old Louisville while discovering a host of popular landmarks like Millionaires Row, Floral Terrace, Ormsby Avenue, St. James Court, and more.
Old Louisville is a pretty happening place so watch out for events like free concerts, street festivals, and outdoor art shows. In spring and summer, you can even attend the Kentucky Shakespeare Festival in Old Louisville's Central Park.
Entrance fee: $25
Hours: Various time slots from 9 a.m. to 3 p.m.
Address: 1300 S 4th St, Louisville, KY 40208, USA
12. Cheer on the Bats at Slugger Field
It won't take you long to realize that Louisville is as baseball crazy as it gets! I would absolutely recommend that you try to catch a baseball game during your stay.
Not only is this one of the unmissable things to do in Louisville but believe me when I say there's nothing quite like the thrill of joining in with the locals as they cheer on the Bats.
Sluger Field's concession stands are surprisingly diverse with stuffed pretzels and even steaks on the menu!
And if you'd like to prolong the fun, you can also head to the Louisville Slugger Museum & Factory after the game to see how those sturdy bats are made.
Entrance fee: Dependent on game
Hours: 9 a.m. to 5 p.m.
Address: Slugger Field Stadium, 401 E Main St, Louisville, KY 40202, USA
Travelers who have any kind of interest in American history will relish in a visit to the Frazier History Museum!
This place houses some cool artifacts, like President Roosevelt's 'Big Stick' as well as Geronimo's bow and arrows.
With this activity, you'll also be privy to various live performances centered around different events and people that contributed to the local history. Depending on when you're visiting, you can even attend programs like Underground Railroad Month and the annual Sporting Clay Tournament.
It wouldn't be a Louisville venue without a Bourbon-centered experience so after touring the museum, you can always check out the on-site Bourbon Trail Welcome Center, home to the Spirit of Kentucky exhibit.
Entrance fee: $15 (adults and kids 2-15), $14 (seniors 60+), free for members
Hours: 10 a.m. to 8 p.m.
Address: 829 W Main St, Louisville, KY 40202, USA
14. Cross the Iconic Big Four Bridge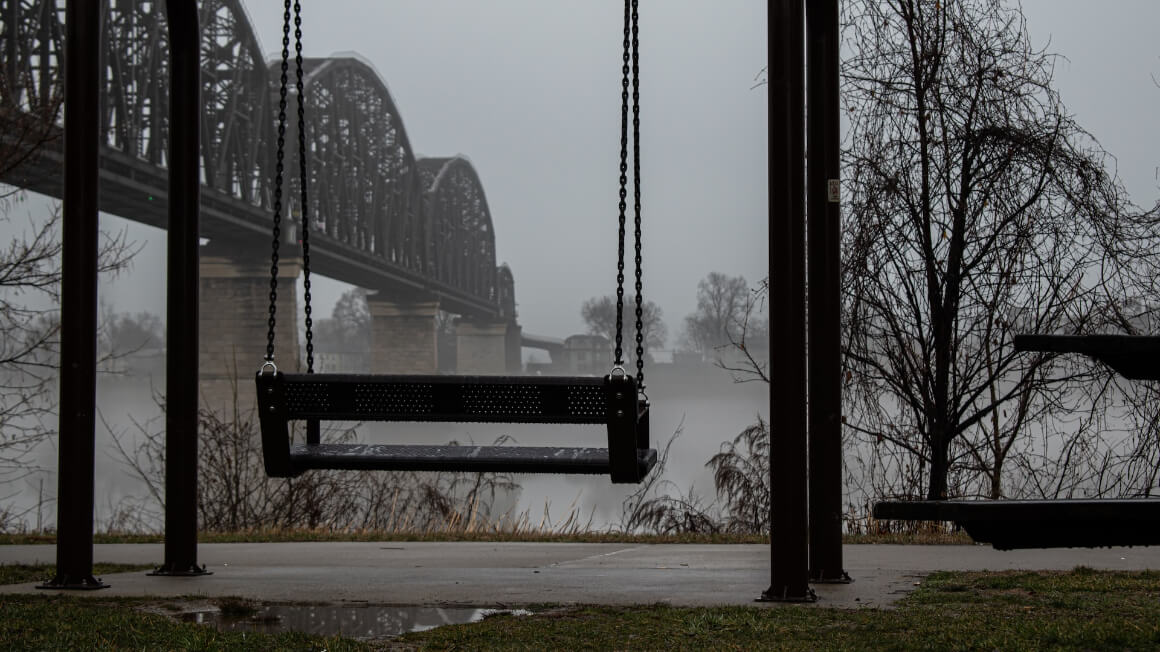 One of the city's most recognizable landmarks, Big Four Bridge serves as a pedestrian bridge that connects Waterfront Park to Indiana's Jeffersonville.
And yes, that means you can simply walk across the bridge to a whole other state – the ideal activity for travelers looking for outdoor things to do in Louisville!
At night, this place is quite a sight to behold as it's illuminated by brightly-hued decorative lights.
Because the bridge is a popular jogging spot among locals, it tends to be busier in the afternoon.
Despite the crowds, I would recommend a late-afternoon stroll on the bridge so you can watch the sun sink over the city skyline. Talk about an idyllic backdrop for those IG pictures!
Entrance fee: Free
Hours: Open 24 hours
Address: 1101 River Rd, Louisville, KY 40202, USA
Travel with peace of mind. Travel WITH a security belt.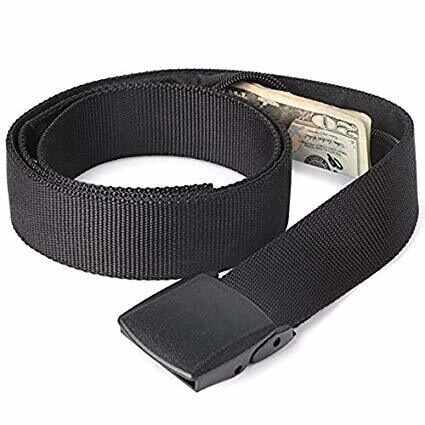 Stash your cash safely with this money belt. It will keep your valuables safely concealed, no matter where you go.
It looks exactly like a normal belt except for a SECRET interior pocket perfectly designed to hide a wad of cash, a passport photocopy or anything else you may wish to hide. Never get caught with your pants down again! (Unless you want to…)
Hide Yo' Money!
One of the (many) great things about Louisville is that it places you within driving distance of other cool cities.
In fact, Lexington lies just over an hour away. As Kentucky's second-largest city, I can assure you that this destination packs quite a punch!
Despite its size, Lexington has a small-town feel, with an abundance of natural sights, complete with parks, rivers, and gorges.
If you're feeling particularly daring, you can consider this guided zipline expedition for aerial views of the lush Kentucky River Palisades. Fly above spring-fed creeks and marvel at the limestone gorges while learning about Lexington's history.
You'll also tackle suspension bridges and floating staircases – basically everything you need for adrenaline-filled fun in Lexington!
Entrance fee: $101.54
Hours: 10 a.m. to 12.30 p.m.
Address: 8291 Old Richmond Rd, Lexington, KY 40515, USA
16. Catch a Trolley Ride
Louisville has more than its fair share of walkable neighborhoods. but if want to experience something different, you can always consider hopping on a Trolley De Ville to explore the city's many nooks and crannies.
This old-fashioned trolley will take you back to the Golden Age of travel as it rambles through some of the most popular attractions in Louisville, including the Big 4 Bridge and the Slugger Museum. Expect bells, brass rails, and all those delightful vintage accents!
You'll also go past must-see sites like the KFC Yum! Center, Whiskey Row, Ohio River Wharf, and Old Louisville.
An excellent way of covering more ground in less time, the narrated trolley rides are air-conditioned – perfect for summer!
Entrance fee: $12 – $24, depending on route
Hours: 9 a.m. to 5 p.m. (April through October)
Address: 140 N Fourth St, Louisville, KY 40202, USA
17. Visit the Cemetery
Weird place to hang out on vacation, I know! But Cave Hill Cemetery is one of the most historically charged places in Louisville. It's even part of the National Register of Historic Places and if you ask me, it's well worth a visit.
Visitors usually go there to pay their respects to the soldiers who fought during the American Civil War.
This site also serves as a final resting place for several famous people, including Muhammad Ali and Colonel Harlan Sanders.
Additionally, Cave Hill Cemetery is known for its architectural marvels such as the gothic C.W. Gheens Mausoleum.
After paying your respects, you can check out the cemetery's Arboretum with plenty of lush flora, peaceful paths, and even a lake.
Entrance fee: Free
Hours: 8 a.m. to 4.45 p.m.
Address: 701 Baxter Ave, Louisville, KY 40204, USA
18. Experience the Speed Art Museum
Here's a venue that should absolutely feature on your list of essential things to do in Louisville!
As the largest and oldest art museum in Kentucky, this place offers plenty – and I do mean plenty – to see. Expect just about every type of artwork, including Native American craftwork, Egyptian artifacts, European Impressionists, and so much more!
There's even a cinema and a café onsite.
A word to the wise, though: the Speed Art Museum is only open 3 days a week and it fills up quickly in summer. If visiting them, it's definitely a good idea to get your tickets before they sell out.
Budget travelers will be glad to learn that visitors can enjoy free admission on Sundays.
Entrance fee: $15 (adults), $10 (children 4-17), free for children under 4
Hours: 1 p.m. to 8 p.m. (Friday), 10 a.m. to 5 p.m. (Saturday and Sunday)
Address: 2035 S 3rd St, Louisville, KY 40208, USA
Okay, we've established that bourbon's practically free-flowing through the streets of Louisville! But what happens if you're more of a beer person yourself?
Well, a lesser-known fact is that Louisville also has quite an impressive beer scene that you can experience for yourself through this activity.
An experienced beer expert will accompany you around town to visit 3 craft beer establishments. The full Beer 101 will be provided, and you'll also enjoy tasting sessions at each brewery.
With this activity, you'll also get to amble about in Germantown, one of the most happening neighborhoods in Louisville. This area has an excellent bar scene, so you'll be spoilt for choice if you want to go on a bar crawl after the tour!
Entrance fee: $56.42
Hours: 3 p.m. to 5 p.m.
Address: 930 Mary St, Louisville, KY 40204, USA
20. Treat Yourself to an Evening at the Theatre
Travelers wondering what to do in Louisville at night can find their joy at the stunning Louisville Palace on Fourth Street.
A regal setting awaits inside with a jaw-dropping Spanish Baroque design and turrets. As you cross through the lobby, take a moment to admire the ornate ceiling which features over a hundred sculptures of various famous figures.
But more than its elegant setting, this place is highly acclaimed for its amazing performances that range from ballets to comedy shows and concerts. The Palace is also a venue for performances by the Louisville Orchestra and vintage movies like Casablanca.
The theatre is owned by Live Nation so you can always check the event calendar. This is one of the best things to do in Louisville at night.
Entrance fee: Dependent on show
Hours: Varies according to show
Address: 625 S 4th St, Louisville, KY 40202, USA
Where to Stay in Louisville
Now you have a pretty good idea of what to do in the city, it's time to start planning your accommodation. There are lots of affordable motels, Kentucky B&Bs, hotels, and vacation rentals in Louisville – and you don't have to splurge out on them, either.
Here are my recommendations for where to stay in Louisville.
A quaint retreat for couples or solo travelers, this Kentucky Airbnb is in a prime location in trendy Butchertown. You'll also be within walking distance of the NULU neighborhood, home to the best attractions in Louisville. Spend a day exploring nearby sights like the Rabbit Hole Distillery, the Muhammad Ali Center, and the Speed Art Museum, then return to the Airbnb where you can relax in the living room.
With a 24-hour front desk, this pet-friendly motel boasts Standard Rooms that can accommodate 2-4 guests. All rooms feature desks, armchairs, and video games. Select rooms add coffee makers, fridges, and microwaves – just about everything you need for a midnight snack! Guests can take advantage of the on-site vending machine as well as free coffee and tea during their stay. Red Roof Inn Louisville Fair and Expo offers proximity to some of the best attractions in Louisville.
If you're not watching your budget, this one's for you! Not only will you wake up to a complimentary American breakfast every day, but The Grady Hotel also offers gorgeously appointed rooms, a concierge service, bar, restaurant, and 24-hour front desk. If you're traveling with your pooch, the hotel even provides a pet basket and bowls for your furry friend!
Some Additional Tips for Visiting Louisville
I know you must be pretty eager to get out there and see those amazing sights for yourself but hold on to your bourbon for just a moment!
The last thing you want is to be completely unprepared for your trip, so sure to check out my handy travel tips to ensure that you have an absolutely epic time in Louisville!
Get a Main Ticket. An excellent way of saving money in Louisville is to get a Main Ticket from the city's official website. With this ticket, you'll be able to visit 7 Museum Row venues at a discounted price.
Invest in travel insurance! You never know what may happen on the road.
Soak Up the Free Art. Budget travelers looking for free artsy things to do in Louisville have it made! The KMAC Museum, the Alley Gallery, and the Filson Historical Society are just a few of the art venues that you can visit for free.
Bring a good water bottle with you and avoid buying single-use plastic ones!
Save Money by Skipping the Derby. Unless you're specifically going to Louisville for the Derby, I would recommend that you book your accommodation before or after this event to avoid the insane hotel rates.
Find cheap flights. Every once in a while, a killer deal pops up.
Wear Comfy Shoes. Downtown Louisville is a super walkable area, so be sure to grab your sturdiest shoes! When you get tired of walking, you can always grab a cab through zTrip, the city's primary operator.
Don't forget your travel insurance for Louisville
ALWAYS sort out your backpacker insurance before your trip. There's plenty to choose from in that department, but a good place to start is Safety Wing.
They offer month-to-month payments, no lock-in contracts, and require absolutely no itineraries: that's the exact kind of insurance long-term travellers and digital nomads need.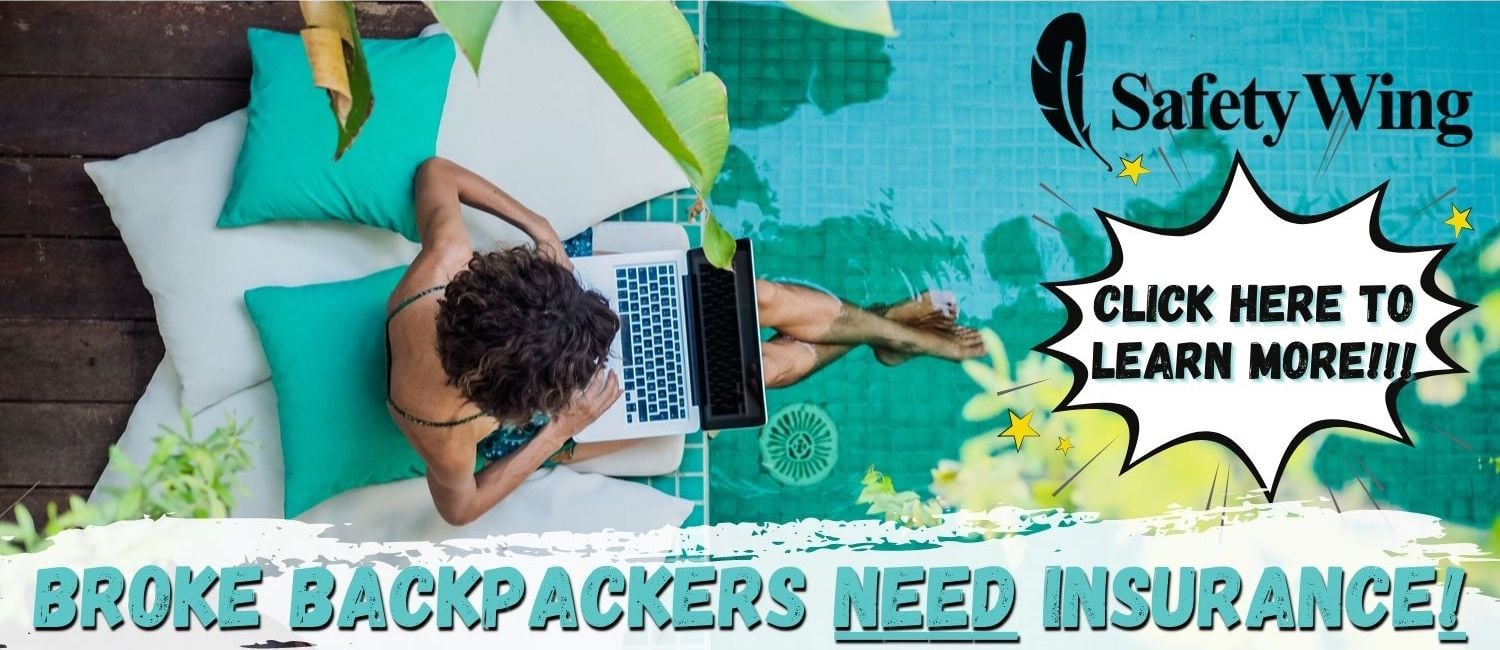 SafetyWing is cheap, easy, and admin-free: just sign up lickety-split so you can get back to it!
Click the button below to learn more about SafetyWing's setup or read our insider review for the full tasty scoop.
Final Thoughts on Things to do in Louisville
Brimming with Southern hospitality yet full of Midwestern surprises, Louisville is a delightful enigma that's bound to charm travelers from all walks of life!
Regardless of your budget, you'll always find fun things to do in Louisville, so rest assured that you won't need to save up for ages to afford your trip.
With a prominent arts-and-culture scene, family-friendly parks, excellent eats, and of course, the ever-present Bourbon trail, you'll never run out of attractions in Louisville. I hope this guide helps you craft the perfect itinerary for a banging time in the city.
---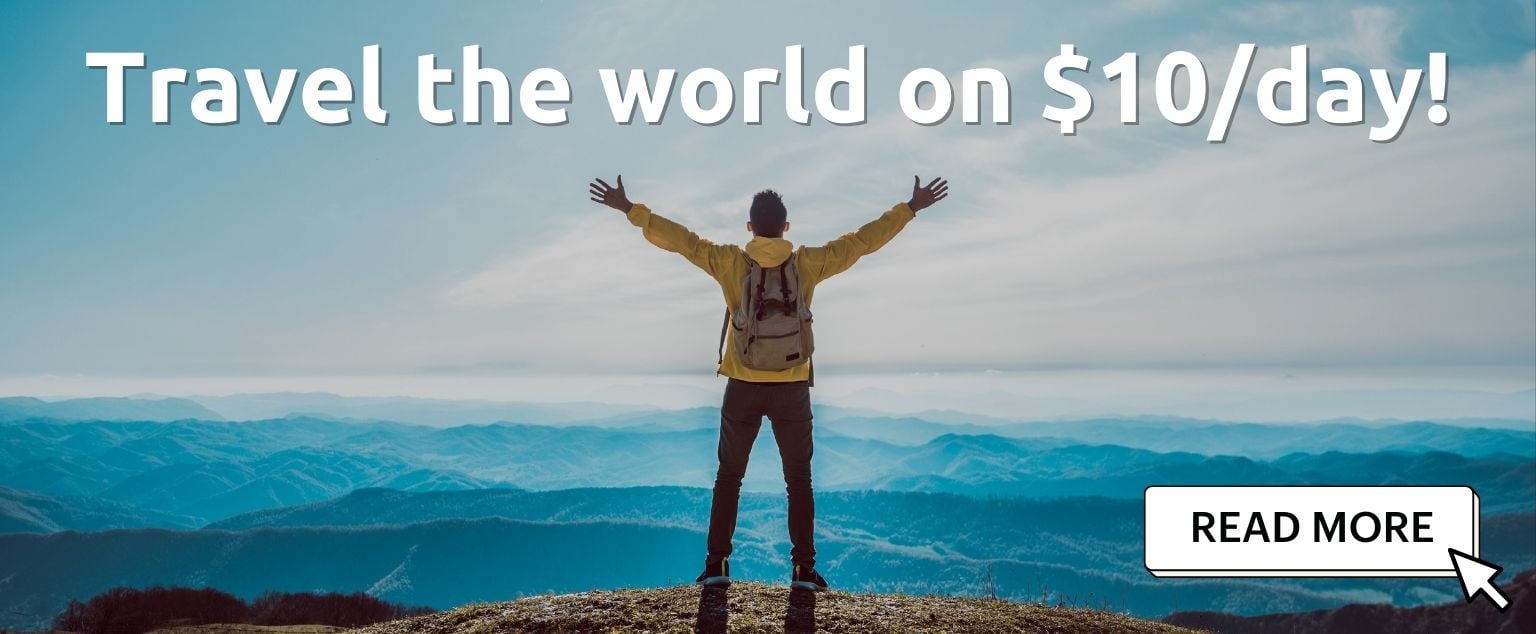 And for transparency's sake, please know that some of the links in our content are affiliate links. That means that if you book your accommodation, buy your gear, or sort your insurance through our link, we earn a small commission (at no extra cost to you). That said, we only link to the gear we trust and never recommend services we don't believe are up to scratch. Again, thank you!