It's crazy to think that one of the most technologically advanced cities in the world is also so deeply traditional. But that's exactly what you can expect when it comes to visiting Seoul. Ancient temples rub shoulders with brightly coloured glass skyscrapers, with bouncing bars and gourmet restaurants down below. It's also the perfect base for travelling in Korea – nowhere is far away on the excellent transport system which often begins and ends here!
You'd expect such a megacity to be quite expensive, but that's not always the case! However, if you're on a strict budget, you might not want to be blowing everything on fancy hotels. So, why not check out rentals in Seoul? It is a great way to find somewhere to stay that's got a bit more charm, character, and personality than your run of the mill hotel or hostel!
With that in mind, we've decided to help you out and put together this list of the 15 best Airbnbs in Seoul. We've taken into account different budgets, travel styles, and personalities. So, let's start planning your perfect vacation to the South Korean capital!
Is this amazing Seoul Airbnb booked for your dates? We've got your back with our other favorite properties below!
Quick Answer: These are the Top 5 Airbnbs in Seoul
OVERALL BEST VALUE AIRBNB IN SEOUL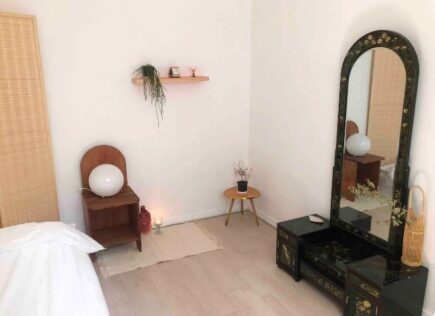 OVERALL BEST VALUE AIRBNB IN SEOUL
Itaewon Attractive House
> $$
> 4 Guests
> Fully equipped kitchen
> Complimentary Toiletries
BEST HOMESTAY IN SEOUL
BEST HOMESTAY IN SEOUL
Typical Traditional Korean House
> $$
> 2 Guests
> Complimentary Breakfast
> Attic and Courtyard
BEST AIRBNB FOR COUPLES IN SEOUL
BEST AIRBNB FOR COUPLES IN SEOUL
Gyeongbokgung Palace Central Seoul
> $$$
> 3 Guests
> Exclusive Courtyard
> Traditional Korean House
BEST AIRBNB FOR FAMILIES IN SEOUL
BEST AIRBNB FOR FAMILIES IN SEOUL
Itaewon Vintage Sunshine House
> $$$
> 6 Guests
> 5G High-speed Wi-Fi
> 100-inch screen and projector
BEST LUXURY AIRBNB IN SEOUL
BEST LUXURY AIRBNB IN SEOUL
Huge Family House with space for 28
> $$$$$
> 28 Guests
> Complimentary Breakfast
> Airport pick up service
Why stay in an Airbnb?
Local Experience
Airbnb gives travellers the unique opportunity to live "like a local." If you decide to book a shared home with your host, you get to look inside a local's daily life, learn about their culture and you might even be able to taste some traditional home-cooked meals.
There are few other ways short-term travellers can get into the homes and lives of locals, so this is a great way to create new connections. As an added bonus, you'll contribute to the local economy and build relationships.
Reach out to your host with questions about things to do or where to eat and they will be happy to help out and give you the best spots and tips. Don't be shy, Airbnb hosts are known for their caring and open hospitality.
And who knows? Next time you might be staying as a friend and not as a paying guest! (No promises though.)
Affordability
Travelling doesn't have to be expensive!
Whether you are a backpacker in Seoul or a business person, Airbnb gives you the opportunity to find affordable and unique places, experiences, and recently added to the list: restaurants. From 12-bedroom villas to the basic shared-room hostel, you will be able to find the right place for your needs among the six million Airbnb homes that have been listed worldwide.
If you're on a budget, just put the price range you are willing to pay for the night into the filter and the platform only shows you rentals that match your expectations. Some of the larger rentals charge per night instead of per person. This gives bigger travel groups the option of staying together at the same place while saving a lot of money. No more expensive single hotel rooms – just split the bill with your friends at the end of your trip and everyone will benefit
In addition to that, long term guests can also enjoy weekly and monthly discounts. But no matter how long you are planning to stay, you can always be sure you'll find the right and affordable place on Airbnb.
Safety
Are Airbnb reviews legit? Airbnb wants every guest to be safe so they created a world-class review system where tenants are encouraged to be honest about their experience because it stays invisible until the reviewing period has locked.
Guests are given the power to tell the truth and "make or break" the place they stayed at since the platform forbids the owner to change or remove the review. Every comment you can read on Airbnb is based on finished stays and experiences. Plus, some hosts often depend on the money they earn renting their property and one bad experience from any guest would devastate their income. It might be a bleak perspective, but hey, that's something of a guarantee you'll be cared for!
Airbnb also has a 24/7 emergency line with someone ready to assist you. In the worst case, Airbnb will provide a driver or make sure you find a safe place. If you choose this booking platform, you will always be in good hands, without any doubt.
Want to keep your money safe?
You should always have emergency cash hidden on you – pick up this awesome security belt with its hidden pocket before you travel, it's perfect for hiding money, a passport photocopy.
The Top 15 Airbnbs in Seoul
We've had you waiting long enough! Here are our absolute favorite Airbnbs in Seoul. Check them out!
Be sure to know where to stay in Seoul before you look for homes – there are many different areas and neighborhoods that are worth exploring!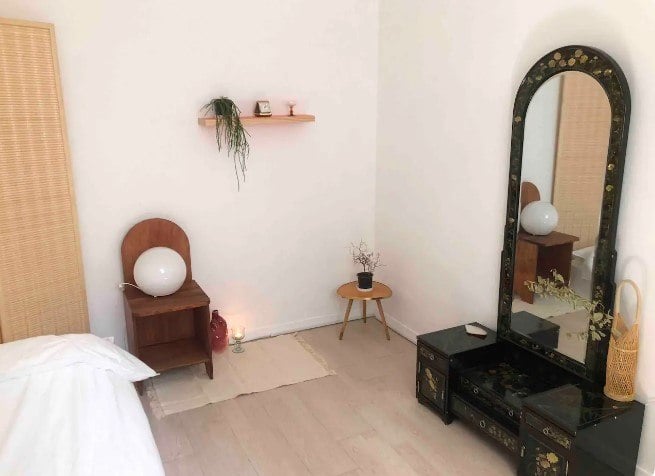 4 Guests
Complimentary Toiletries
Let's kick off our list of the best Airbnbs in Seoul with one of the best all-rounders in town: Itaewon Attractive House! And attractive it is! It may not be anything flashy, but the light colours and soothing atmosphere is ideal to come back to after a long day of sightseeing and exploring the city! The owners have also taken plenty of care to ensure that you're comfortable.
Not only is there a fully equipped kitchen for you to prepare your own meals and keep your costs down, but there are also complimentary toiletries to keep you clean and comfy!
For a capital city, you might be surprised at the amount of budget Seoul Airbnbs. However, how can you tell which ones are cheap and cheerful, and which ones are… well… just cheap?! This cosy bedroom in Itaewon has a lot going for it – it's in a great location and you can use the money you've saved at the nearby markets, restaurants, and shops! Also, since you'll be sharing the place with a local, they'll give you plenty of great recommendations on things to do in Seoul.
If you're travelling with your own car, you'll be pleased to know there's free parking!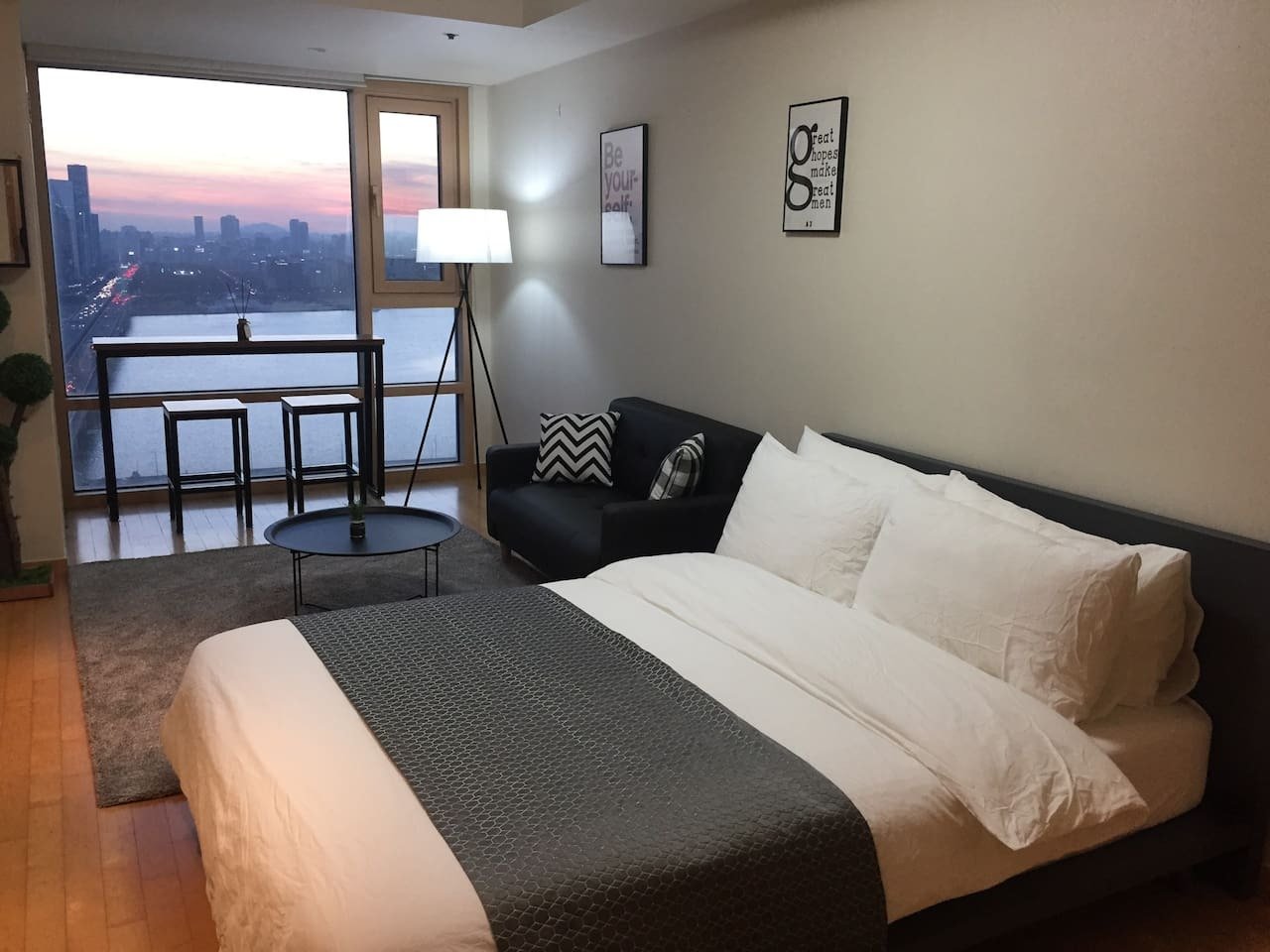 Digital nomads don't expect too much from where they're staying, but a reliable and quick Wi-Fi connection and a laptop-friendly workspace are non-negotiable. Thankfully, this place has both of those and much more! You have access to a perfectly equipped apartment located close to the main public transport options in Seoul.
The highlight of this cute place is definitely the view. Work on your laptop and get lost in your thoughts while looking over the river below you. It's a great spot for creative thoughts and efficient work!
When you're travelling solo, many people will point you in the direction of a Seoul hostel. However, we understand that's not for everyone. This cute room gives you the chance to have a comfy and private place to sleep during the night, while there'll be company from those who live in the shared house! As well as solo travellers, this is another good option for digital nomads, as there are plenty of spaces to work. You can also take advantage of a dining room and kitchen!
The Best Travel Backpack?!
Pssssst! Not picked the perfect travel backpack yet? The Broke Backpacker team has tried out over thirty backpacks this year! Our favourite carry on backpack is the Nomatic Travel Bag.
Read our full review!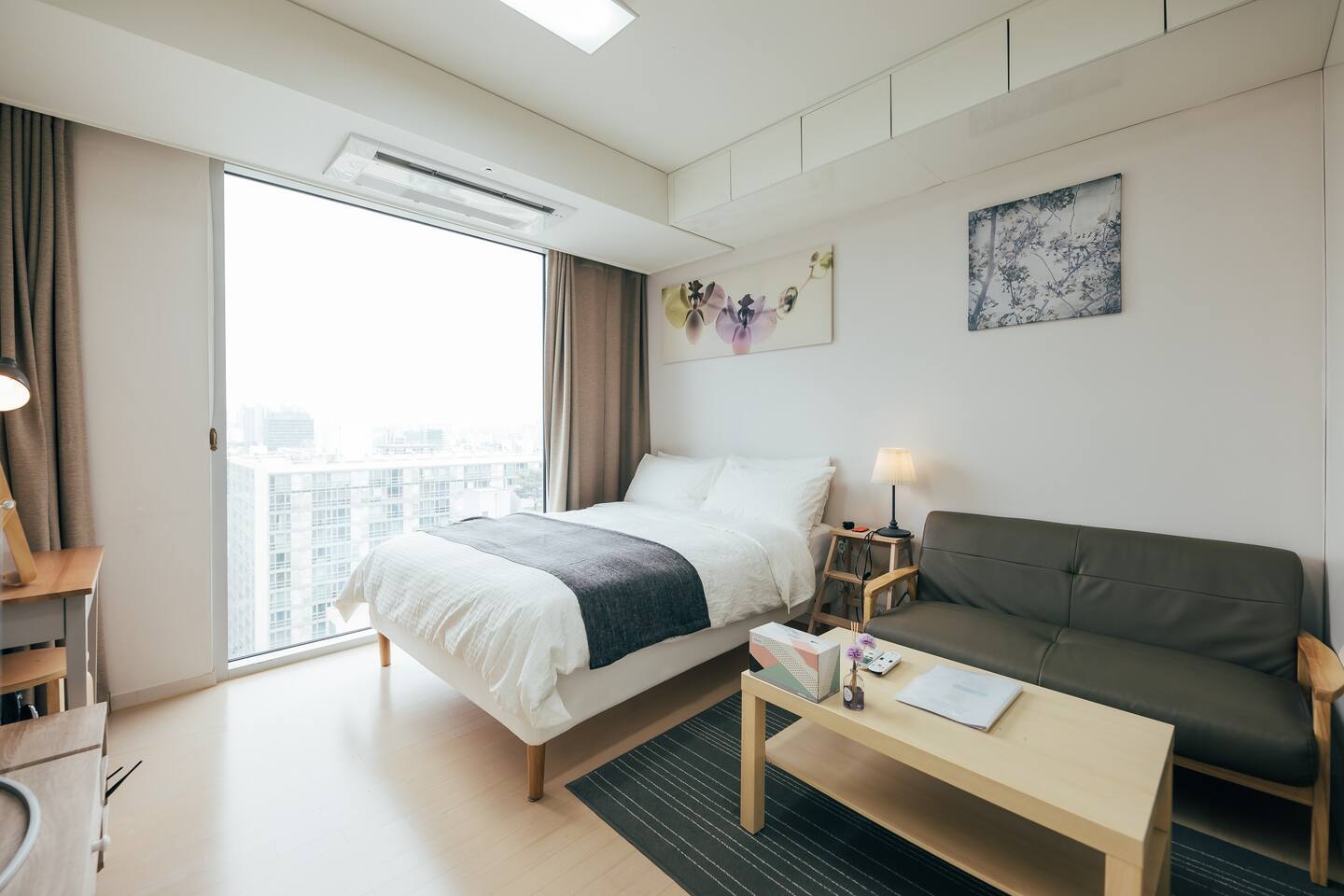 2 Guests
Separate luggage store
Unless you've been living under a rock for the past decade, you'll definitely have heard of the trendiest nightspot in Seoul – Gangnam! So, where better to stay on your travels than in that neighbourhood? This cool Seoul Airbnb is the perfect spot to cure your hangover. Watch TV, enjoy the view, but most importantly, have a great nights sleep! There's also a small kitchen you can use, which is fully equipped! if you need internet during your stay, you can ask the host for a portable pocket Wifi – no need to buy a sim card.
3 Guests
Traditional Korean House
Want something a little different and special when staying with your other half? Look no further than this Seoul Airbnb in the Gyeongbokgung District – one of five palaces in Downtown Seoul! More than just a regular apartment or home, this is a Hanok, a traditional Korean style home. This one is set around a courtyard which is a lovely place to chill out and relax! You probably won't have a better chance to stay in a Seoul Airbnb with a difference than this awesome Hanok!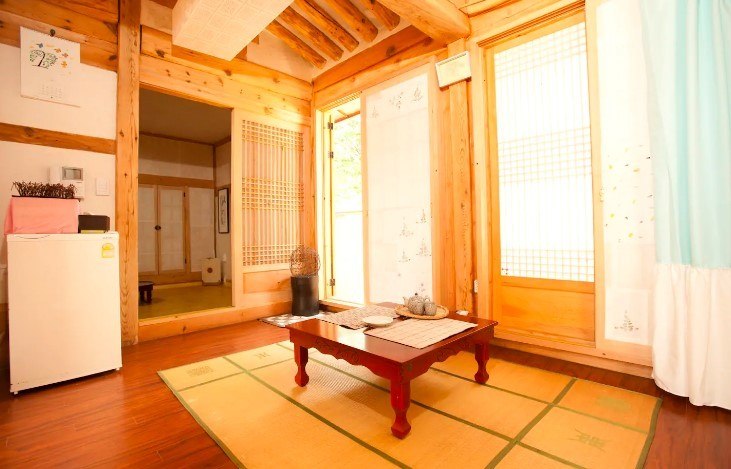 $$
Complimentary Breakfast
2 Guests
Attic and Courtyard
If you're looking to keep your costs down and have a traditional experience, then check out this awesome homestay in Seoul. You'll be staying with a local and sharing in their quiet courtyard and wooden verandah, which will keep you chilled and tranquil under the (hopefully) blue skies! Not only do you have access to the fully equipped kitchen, but you're also welcome to enjoy a complimentary breakfast, courtesy of your friendly host!
There are lots of homestays in Seoul, so we didn't want to just give you one option! Also, if your budget doesn't stretch to an entire Hanok but you want to experience a traditional Korean home, then this is the perfect alternative. Your friendly host is an art curator and you can tell – there are works from their collection scattered throughout the lovely home! And there are awesome views of both the city and the mountains from here. It really is an unforgettable experience!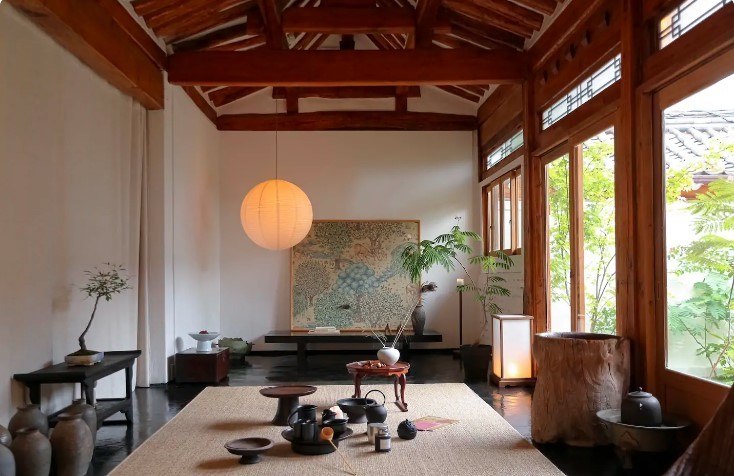 3 guests
Oriental lighting and modern furniture
For those with plenty of cash to splash during their stay in the Korean capital, a traditional Hanok house has to be on the itinerary. And if you're a couple or a small group of friends, this one will make your dreams come true! Although it's made up of the traditional Korean architecture, this one has a modern twist including a laptop-friendly workspace, Wi-Fi, and air conditioning. There's also a fully equipped kitchen, where you can prepare a meal before eating out in the garden!
$$$$$
Complimentary breakfast
28 Guests
Airport pick up service
Want to stay somewhere with all of your family and friends with one of the best views of the South Korean capital? Of course you do! That's why you need this family house with space for 28 – that's right 28 guests! There's a lovely garden where you can chill out to the sound of one of your many guests playing the piano, as you're served a complimentary breakfast! When you want to go out, it's good to know that so many of Seoul's favourite tourist attractions are easy to get to from this cool house too!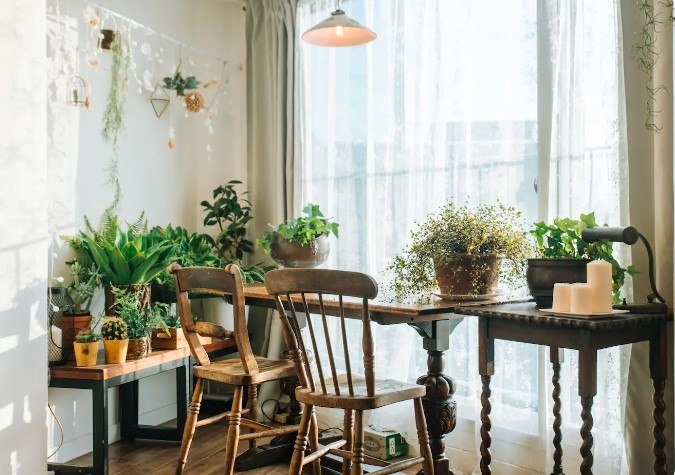 6 Guests
100-inch screen projector
If you have a family that's consists of fewer people than the house above (and let's face it, most people do), take a look at this cool Seoul Airbnb! It's in one of the coolest central districts – Itaewon, where there are hundreds of international restaurants. So, even the fussiest kids and teenagers will have no trouble finding something they want to eat! It's definitely worth finding somewhere that does takeaway though – that way you can bring your meal back to the flat. Why would you want to do that?
Well, to watch a movie on the 100-inch screen and projector, of course!
$$
Outdoor space with awesome views
5 Guests
120-inch beam projector
When you're staying with your mates, you want to make sure it's got a spot to chill and enjoy each other's company. Also, if you weren't impressed by the 100-inch projector in the listing above, this one goes one better. Or 20! A 120-inch beam projector means that your night in is sorted! If TV's not what you want to watch, head out to the balcony. At night, you'll see all the glittering lights of Seoul. This is especially magical over a few beers or bottles of wine!
3 Guests
Portable Wi-Fi included
One of the coolest areas in town is Myeongdong, so let's take a look at a couple of options there. First of all, there's this cool apartment with huge windows, giving awesome views of the city! There's Wi-Fi on offer in the apartment so you can plan your day out, however, what happens when you're out and about and can't use your data?
Well, your hosts have thought of that! With this apartment, you'll be able to take advantage of free usage of a portable Wi-Fi egg. So, you can check out the best restaurants in your area or the quickest way home when you're on the move!
2 Guests
Essentials included
There are some great places in Myeongdong, so we thought we'd spoil you for choice! For a couple on a budget, or a solo/business traveller, Seoul apartments don't come much better than this townhouse. The studio has a rooftop terrace which you're welcome to use, and there's even a charcoal BBQ available for an extra fee! Room darkening shades mean that if you're having any trouble getting to sleep, you can block out the bright lights of the big city outside!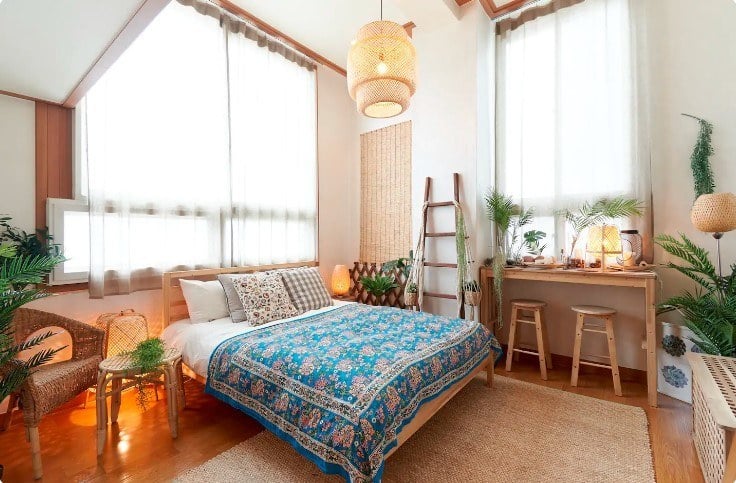 5 Guests
Complimentary Toiletries
Let's round off our list by checking out the Seoul Airbnbs near some of the best nightlife, restaurants, and bars in town. That's right, in Hongdae! This two-storey studio is perfect for a family or group of friends who want to experience one of Seoul's many beating hearts! Since there are so many restaurants on your doorstep, you'll hardly need to use that fully equipped kitchen! A lovely touch is that you've got complimentary toiletries whenever you need them, so you'll be able to feel fresh throughout your stay!
What to Pack for your South Korea Airbnb
Our Broke Backpacker editors have put together a shortlist of their Airbnb essentials, which you can find here.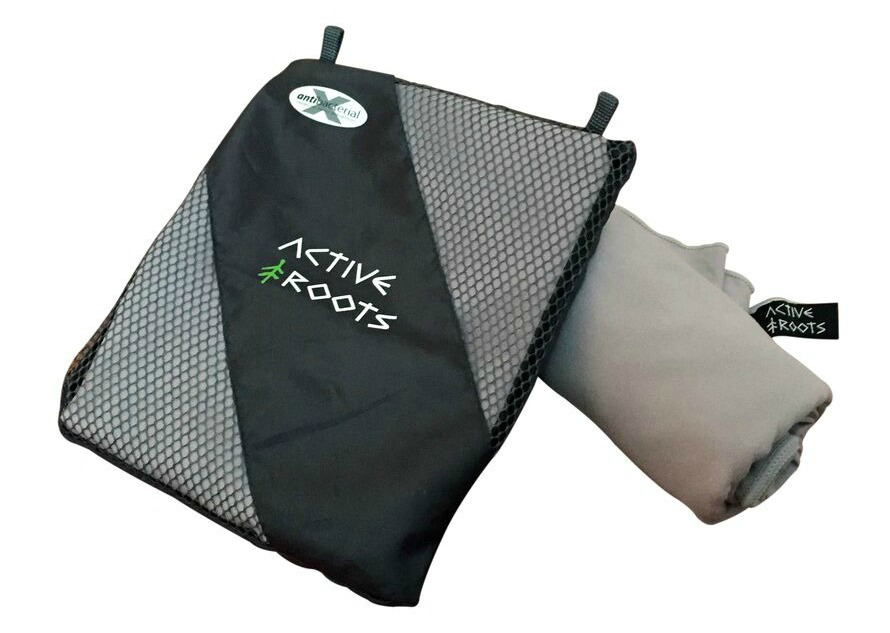 1. Active Roots Microfiber Towel: If you don't want to trust your Airbnb to provide clean towels, it's always smart to bring your own. Problem is, most towels take up a lot of space in your suitcase. The Active Roots Microfiber Towel is made of super-light material, which hardly takes up any space. Plus, it's incredibly comfortable and quick-drying. Great for a day around the pool or at the beach. The material is antibacterial, so it won't smell funny, even on long holidays.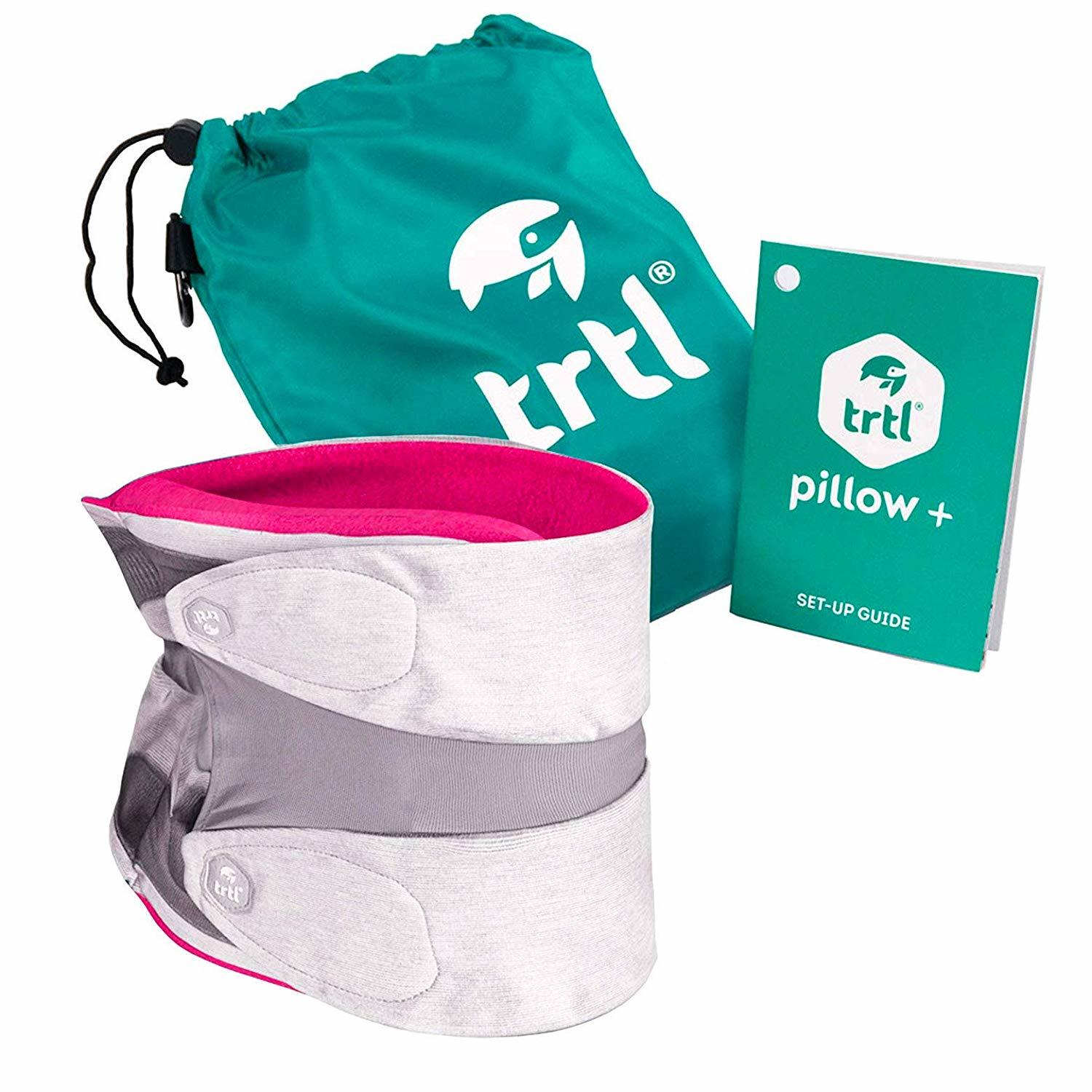 2. TRTL Travel Pillow: Being on a plane or bus for a long time, especially overnight, can be pure torture. Instead of arriving at your Airbnb with red eyes and a grumpy mood, you should have a look at this TRTL Travel Pillow – it actually fulfils all of its promises. The ergonomic design supports your neck and head in a comfortable and safe way. Getting some proper sleep, even while sitting upright, will be a massive relief on your next holiday.
3. Active Roots Toiletry Bag: To prevent the loss of your toothpaste in the depths of your bag, you should get a hold of the Active Roots Toiletry Bag. With large compartments, see-through and enclosed sections, you can have all of your stuff in the right spot, easy to find and accessible at all times.
4. Travel Journal: Write down your plans, thoughts, inspirations or experiences – the list doesn't stop here. Journaling while travelling is a great way to keep memories, calm down and reflect after a long day, or simply doodle around while waiting at the airport. Try it out yourself with this elegant Travel Journal.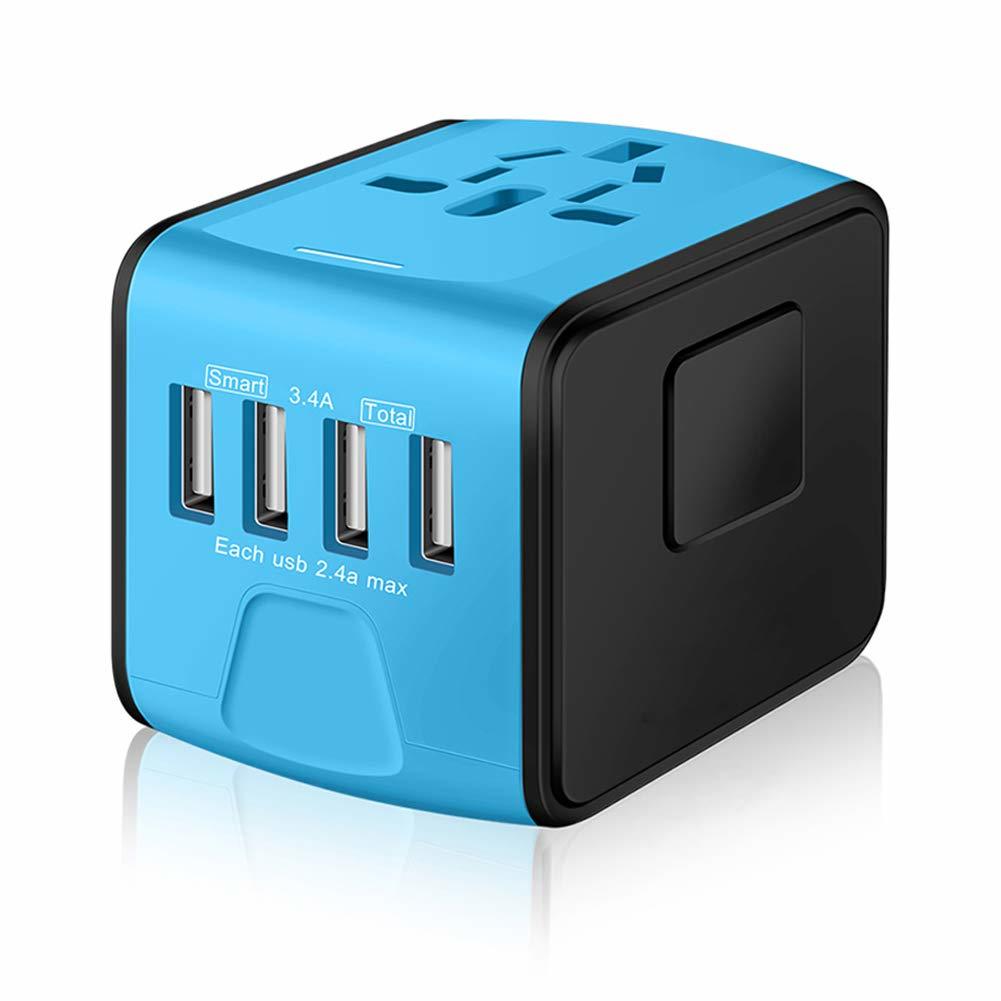 5. Universal Travel Adapter: Don't land in a new country without the right adapter to charge your devices. This can be a logistical nightmare as your phone runs out of juice but you still need to plot a course to your rental. This universal travel adapter covers 150 countries, and you'll always be able to charge your phone (and 4 more devices simultaneously), no matter where you are in the world.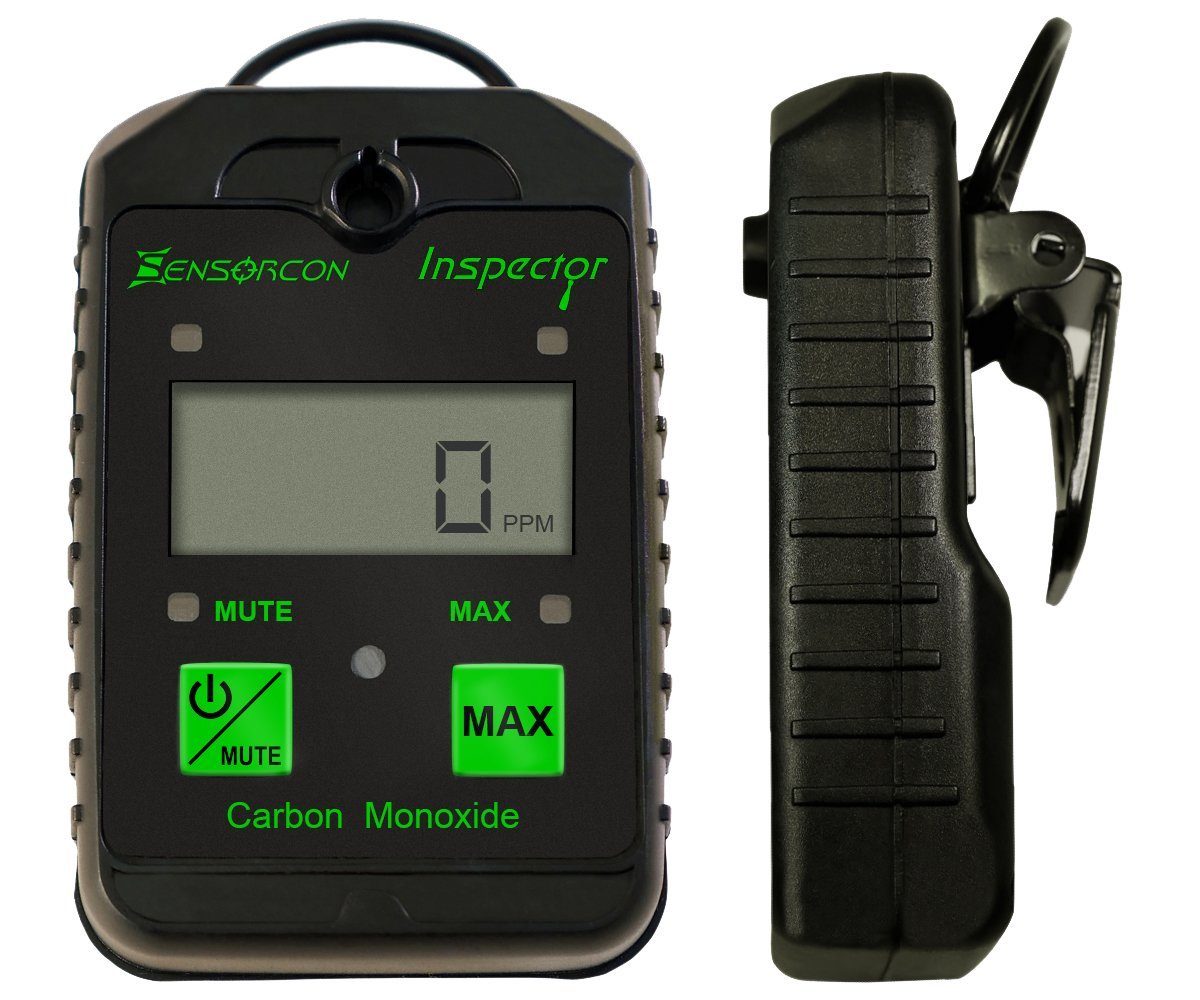 6. Carbon Monoxide Detector: Many homes already have CM detectors hardwired in, but regulation hasn't caught up to technology in some areas. Most accommodations are not obligated to install protections or monitors, which is why owning your own portable device comes in very handy. The waterproof and long-lasting monitor will send out visual and audible alarms, before the carbon monoxide reaches a dangerous level.
Final Thoughts on Seoul Airbnbs
So, that's all from our list of the best Airbnbs in Seoul! We think you'll agree that there's a lot of variety in between those temples and skyscrapers, no matter what your budget or travel style is!
Which was your favourite? Perhaps it was the special Seoul Bamboo house? One of the excellent Seoul homestays that offer a truly local experience? Or maybe it was staying in a traditional Korean Hanok. We just hope we haven't overloaded you with too many choices!
If that is the case, not to worry. Just take a deep breath and relax. Then, book our favourite Airbnb in Seoul – Itaewon Attractive House. It's the perfect blend of location, great value, and an all-round great place to stay!
Now that we've hopefully made planning your vacation a lot easier, there's just one thing for us to do. And that's to wish you an incredible vacation to Seoul! We hope you have a great time!
And don't forget to take out Travel Insurance for your trip! I have been using World Nomads for some time now and made a few claims over the years. They're easy to use, professional and relatively affordable. They may also let you buy or extend a policy once you've started your trip and are already abroad which is super handy.
If there's one insurance company I trust, it's World Nomads. To find out why I use World Nomads, check out my World Nomads Insurance review.
Getting an estimate from World Nomads is simple – just click the button or image below, fill out the necessary info, and you're on your way!

Yay for transparency! Some of the links in this post are affiliate links. This means that if you book your accommodation, buy a book or sort your insurance, I'll earn a small commission at no extra cost to you. I only link to stuff I've actually used and never endorse crap. Your support helps me keep the site going.