Seoul is a city of excess: it's a city turned up to eleven. My first time backpacking in Seoul was on a visa-run from Japan. Despite coming from the other East Asian land of efficient and highly-technical cities, I was unprepared for Seoul's modern wonders and efficiency.
I was on a mission to find a jimjilbang (bathhouse): a mission that took me through twisting, rainswept alleys decked with blinkering neon lights, and I found myself walking into the cyberpunk metropolis I'd always hoped to see.
When the sun came out the next day I climbed Mountain Namsan, trailing one of the ancient fortress walls of Seoul; that's when I got the scope of just how impressive the city of Seoul is.
Seoul is a city over 2000-years-old, but it's also a city that has evolved into a futuristic metropolis. One day, when we're doing the 'flying cars amongst shadowy skyscrapers' thing, I reckon Seoul will lead the charge.
If you're visiting Seoul on a budget then you have to be smart. South Korea isn't crushingly expensive, but you should prepare for the drawbacks of visiting a highly economized city.
Luckily, we're all about that frugal living and affordable travel.
In this travel guide for backpacking Seoul, you'll learn everything you need to know for your trip to Seoul: the ancient fortress city of piercing high-rises and technicolor lights.
Backpacking South Korea is not cheap and Seoul is no exception. However do note that Seoul is a booming metropolis which means that it has two sides; for every hole-in-the-wall kitchen, you'll also be met with a high-end shopping district.
Your budget for your trip to Seoul is going to vary. If you stick to Seoul's street food markets and cheap accommodation you can definitely survive on a backpacker budget.
To cover your food, accommodation, and public transport, plus entry to some of Seoul's tourist attractions, you're looking at a minimum of $60 upwards of $90 per day.
A little bit of controlled living is going to keep it cheaper but if you're 'going ham' shopping in Seoul, it's gonna spiral real quick!
Covering the basics isn't too hard:
You have countless options for accommodation in Seoul. There are hostels in Seoul guesthouses, and budget (or totally not-budget) hotels all in hot competition with each other. You'll have no problem finding cheap places to stay in Seoul.
Your food options are equally endless. If you're backpacking Seoul cheaply, you can subsist entirely on convenience store noodles and street food (and be damn happy too). But there are tons of fast-food joints and restaurants in Seoul, from the cheap to the ridiculously expensive.
The public transport in Seoul is seriously good. It's cheap and fast. Seoul has some good options for tourists to make it even easier and cheaper.
The way I tackle backpacking in Seoul is to think of it like Japan. Eat, drink, and sleep the way you would in Japan and your Seoul travel expenses stay under control… but if you visit Seoul with a Thailand mindset, you'll be sleeping under bridges in no time. Unless you like sleeping under bridges; I don't judge.
Backpacking Seoul Budget Breakdown
Backpacking Seoul Budget Tips
Seoul budget travel is easy peasy! You rough it for a few days, go stay a night at one of Seoul's jimjilbang when you need a shower, and, BOOM! You're recharged! Go climb a mountain, get sweaty; lather, rinse, repeat.
The comparisons between backpacking through Seoul and backpacking through Japan do not end. Though the countries are vastly different culturally, the style of dirtbag living is much the same. So what are you going to do in Seoul? Probably go sleep under a bridge.
Urban camping – Ok, so it doesn't have to be under a bridge… I just like saying that! But camping out tent or sans-tent will always be the easiest way to save cash. Generally, it's better with a great backpacking tent but if you've got a solid enough sleeping bag, the world is your tent!
Stay somewhere with a free breakfast – The best hostels in Seoul provide a free breakfast with your stay. Even if it's just toast and jam then you keep eating toast and jam until they respectfully ask you to stop! And then just skip lunch.
Eat local – Forget all of the fancy restaurants in Seoul or even the not-so-fancy ones. Stick to the street food and convenience stores.
Skip the Sim card – If you're only backpacking through Seoul briefly you can always skip out on purchasing a Sim. It's a futuristic metropolis: there's always free WiFi somewhere.
Use public transport efficiently – That could mean skipping the subway ride and walking or planning out your itinerary for Seoul by grabbing yourself the right travel card. Seoul is really big so plan accordingly.
Use a travel water bottle – The tap water is totally drinkable even if most Koreans prefer to filter it. Do whatever you prefer, but I would prefer if you didn't use plastic because it's shit. Also wasting money on water is dumb.
Why You Should Travel to Seoul with a Water Bottle
Plastic washes up on even the most pristine beaches… so do your part and keep the Big Blue beautiful
You aren't going to save the world overnight, but you might as well be part of the solution and not the problem. When you travel to some of the world's most remote places, you come to realise the full extent of the plastic problem. And I hope you become more inspired to continue being a responsible traveller.
Plus, now you won't be buying overpriced bottles of water from the supermarkets either! Travel with a filtered water bottle instead and never waste a cent nor a turtle's life again.
Where should you stay in Seoul? Well, that's a mildly overwhelming question; there are a lot of options. If you're looking for the cheapest accommodation in Seoul, then it will provide. But, if you have the budget, you can get yourself a damn swanky pad too.
For those backpacking around Seoul cheaply, then roughing it outside is always free and fun. If you have a backpacker stove to cook coffee and breakfast on, then that's even better!
Any of the 24-hour jimjilbang in Seoul will allow a night's stay too. This isn't a great option if you're travelling with a lot of luggage, but it's perfect if you've shown up in the middle of monsoon season without any accommodation booked (ahem).
Hostels are some of the best places to stay in Seoul. Luckily, there are heaps! There are also some great Airbnbs in Seoul.
I would recommend checking out our "where to Stay in Seoul guide" before choosing a hostel. There are lots of different neighbourhoods in Seoul with their own distinct vibes. Zero in on the best neighborhood in Seoul for your travel interests before you book a place.
Now, usually I don't talk about hotels but you've got some good options for budget hotels in Seoul. The rooms tend to be simple, clean, and private.
Even Seoul's cheap hotels are going to be more expensive than guesthouses but I still think the idea of looking out at a twinkling city from a highrise window appealing.
Lastly, have you thought about Airbnb? I mention it only because it's awesome. There are a ridiculous amount of Airbnb stays in Seoul and they're all extremely competitive with prices too.
You can find yourself something nicer than a hostel dorm for about the same price or something delicious and private for a bit more.
If I haven't tempted you with an Airbnb then it's probably going to be one of Seoul's guesthouses. We've got a nifty Hostels in Seoul Guide. I have also shared my top three choices below!
This is a damn good choice when it comes to Seoul's hostels: free breakfast (wooo), a free city map of Seoul, and free tea and coffee. So many freebies!
Not just that, but the location is awesome! It's right by the Han River and a short walk from Noeul and Haneul Park – a couple of the sweet parks in Seoul. Also, the subway station is around the corner with the lines running to most of Seoul's points of interest in less than 20 minutes.
The best part though? The vibe is super warm. The owners take you in and treat you like family and sometimes when you're on the road, that's all you're craving.
This is probably the best cheap stay in Seoul. It's on the low end of the spectrum with the guesthouse prices around Seoul and it has a kitchen; cooking meals means tightening up your budget for Seoul.
Kimchee is located in Sinchon. That's one of the cheaper districts in Seoul, home to a number of universities and their students. That means cheaper living and vibrant nightlife!
I love this hostel. The counterpart to Time Travelers Party Hostel in Hongdae (the best choice for the party people). Relax Guesthouse is for the chillers.
It's located in a residential area in Hongdae so it feels more like a home than a hostel. The common area is filled with books, manga (Japanese comics), and artwork so it has the vibes where you can find good workflow. There's also a chill garden space outside to sit in the sun and work.
Looking for somewhere uber-trendy to stay in Seoul? This artist's flat features vintage record players, Beatles memorabilia and traditional Korean furniture. Not only will interior fans be in their element, they'll have easy access to the city's best shopping area and transport links all over the city.
Ok, so I'll level with you: Seoul is a weird city to visit unprepared. It's such a labyrinth of oddities and there are so many different places to go within Seoul.
That's why I call it a city of excess. Getting lost in the city is so much fun (that's what I did), but you'll inevitably miss out on some really cool shit unless you plan a little bit.
It's way better to know what to do in Seoul in advance, at least partially, and where to go in Seoul before you get there. Something like a shortlist… maybe like 'Top 10 Things to Do in Seoul' list… oh, wait!
1. Get naked at a jimjilbang in Seoul
This is easily my number one, hands down. Jimjilbang are like Japanese onsen on steroids! I stayed at Siloam Spa and it was five floors of awesomeness with baths, spas, so many different types of sauna, a gym, cafeteria, movie room, and a sleeping quarters (yep, you can stay overnight).
There are so many bathhouses and saunas in Seoul (some bigger than Siloam), so if you're weird about getting naked around strangers, I reckon it's high time you faced that fear and got your good bits out!
2. The view from the N Seoul Tower
It also gets called Seoul Tower, or Namsan Tower depending on who you ask. The walk up Mount Namsan to reach the tower is excellent – not too hard but hard enough – and the view from the top is amazing.
For 10,000 won ($8.50) you can go to the observation deck for the panorama of Seoul and its surrounding mountains. (You can pre-purchase your ticket here.) Afterward, if you're outta juice, you can catch the Namsan Tower cable car back down (with more good views).
3. Hit up any of the markets in Seoul
Dude, I swear to god, I turn a corner in Seoul and there's a market. Throw a rock and you'll hit a line of street vendors selling cool shit (for the record, throwing rocks is bad etiquette in South Korea).
If you really want to do some shopping in Seoul, Namdaemun Market is massive with seriously good street food or Dongdaemun Market is also ridiculously huge and the go-to for textiles.
4. Tour the contemporary wonders of Seoul's architecture
Seoul's architecture is what gives the city such a unique feeling; the combination of ancient structures mixed with blisteringly modern ones.
Amongst the sprawl, there are some true architectural marvels and modern-day beasts well worth checking out. The Modern-Day Landmarks in Seoul section has more info.
5. Visit the Grand Palaces of Seoul
And on the ancient end of the architectural spectrum are the Five Grand Palaces of Seoul. You definitely don't need to visit them all unless you're hardcore into Korean history, but at the very least check out a couple.
Gyeongbokgung is the big mama palace but I reckon you should go to Dongwol (East Palace) and see Changdeokgung and Changgyeonggung (3000 and 1000 won entry fee respectively). They've got the pretty palace gardens plus Jongmyo Shrine, another of the culturally significant tourist spots in Seoul, is right nearby.
6. Seoul's theme parks are goddamn huge
Theme parks, fuck yeah! Sorry, that was my inner child speaking. Lotte World and Everland – which is both a day trip from Seoul – are the two go-to theme parks.
Lotte World is actually the biggest indoor theme park in the world and Everland has the steepest wooden rollercoaster in the world – adrenaline junkies, unite!
Buy your tickets here before you go.
7. Knowledge is power! The many, many museums in Seoul
There are over 100 museums around the city so if you're planning on seeing them all you may want to book long-term accommodation in Seoul.
Sure, you could visit an educational museum, but that's boring! How about Seoul's Trickeye Museum dedicated to augmented reality exhibits? Or the Alive Museum in Insadong, which is packed with trippy object and interactive art.
See here for availability.
8. The Korean Demilitarized Zone: Take a DMZ tour
What are your thoughts on North Korea? Yeah, me too; South Korea also agrees.
You'll need to sign on for an official DMZ tour, but seeing the border between the two countries is one of the more adventurous day trips from Seoul you can go on.
I find it funny that while North Korea is still doing its thing, South Korea has turned the border into a marketable commodity.
Check available tours here.
9. Neighbourhoods in Seoul: So many flavours
Every district in Seoul has its own distinct quality… it's like a K-Pop band! That's the cheeky one, that's the brash one, he's the sexy one, and there's the sleepy one!
Doing a round trip visit of the many different neighbourhoods in Seoul is a great way to see all sides of the city. I'll cover the different areas in the Best Neighbourhoods in Seoul section.
10. Take an excursion to the Suwon Hwaseong Fortress
Fun fact: the city of Hwaseong was home to what is essentially the South Korean version of the Zodiac Killer.
On a lighter note, the Hwaseong Fortress is a stunning structure (with its own sordid history) and one of the only ones in Korea that's still left fully intact; it's actually a UNESCO world heritage site.
Free Things to Do in Seoul
I get it, budget travel in Seoul is tricky. But it's really not! There is plenty to do in Seoul cheaply, and even more to do for free.
I was honestly one smiley dude just walking around the city and observing that unique brand of highly-organised chaos that Asian metropolises always seem to possess. But if you're looking for some more structured free things to do in Seoul, here you go:
Museums – Yes, I know I just mentioned this in the list above, but not all of Seoul's museums are created equal… some are free! Some good options for free museums in Seoul include The National Museum of Korea, The National Folk Museum of Korea, and The War Memorial of Korea.
Parks – The parks in Seoul are awesome. I know this probably sounds mildly inappropriate but watching large huddles of elderly Korean men squabble, play chess, and gossip among each other is strangely heart-warming. Grab yourself some street food and go chill.
Walking – It's a big-ass city so pick a direction and start trekking. In all seriousness, my favourite of Seoul's walking tours would have to be its snaking fortress walls. Walking along Seoul's fortress walls is a really cool thing to do at night (Naksan Park, especially). Extra bonus points if you take a hot date. Cheonggyecheon Stream is another great walk – especially at night when it reflects the city's lights.
Hikes – If you want to take your walking to the next level then take a day trip from Seoul and go hiking. There are actually eight mountains surrounding Seoul so you're not short on options (the city of excess). Bukhansan National Park is the most popular (with good reason) but they're all fucking spectacular so why not just climb them all… make a day of it! There's granite too for anyone curious about rock climbing in Seoul.
Piano stairs – I found a set at Euljiro 1-ga but I think there are more around at other subway stations too. They're stairs that look like a piano and play the corresponding notes when you step on them. Oh, you think that's a bloody stupid thing to recommend? Tell that to the 20 FREE minutes I spent jumping up and down them!
Unique Things to Do in Seoul
There are a few other wonderful Korean-brand oddities around the city that I wanted to mention but couldn't fit in anywhere in this Seoul travel guide. This list is for anyone looking for some of the more unusual things to do in Seoul:
Poopoo Land – Ok, I can't not mention this one. But don't worry it's not another of Seoul's theme parks dedicated to feces… it's a three-floor museum dedicated to feces! It's wonderful, it's wacky and it's got some pretty hilarious poo-related photo-ops. Or I'm still just a big kid and nobody cares.
Bukchon Hanok Village – When I was talking about the merging of contemporary and ancient worlds, this is what I meant. Bukchon Hanok Village, close to Gyeongbokgung Palace, preserves the traditional Korean culture from 600-years-ago: the architecture (a hanok is the traditional Korean house), the clothes, and even the food. Plus, a traditional Korean village backdropped by the futurism of the modern Seoul architecture is a stunning set piece.
Yongma Land – So, this is another of Seoul's theme parks but it's a bit different. It's an old abandoned park from the 80s which means that it's creepy, nostalgic, and weird. Think sepia photos of someone riding a dilapidated merry-go-round by themselves: proper serial-killer vibes! For the record, there is a 5000 won entry fee for the abandoned amusement park… yeah.
Seodaemun Prison History Hall – Continuing the theme of creepy shit, the original Seodaemun Prison was used by the Japanese to imprison members of the Korean independence movement. I don't know if you know much about East Asian history but that was a… dark period… to say the least. If you're interested in a much more morbid side of Seoul and Korean history then it's worth checking out the Seodaemun Prison History Hall for some of its recreations.
Modern-Day Landmarks in Seoul
Right, so about those famous buildings in Seoul… they're awesome. During the day they're all stoic and grand but, once night comes, they get their pretty lights on and are all like heyyyyyy."
Here is a list of my favourite of Seoul's famous buildings:
Best Neighbourhoods in Seoul
For the record, dong – as in Myeongdong – means neighbourhood. That means typing 'how many dongs are in Seoul' into Google is a perfectly valid question…
Anyway, without further ado, here's the list of my favourite dongs in Seoul:
Ok, so you're visiting Seoul and you only have three days… what to do? You're not going to be able to scour the whole city in that time but three days is enough to see the standards of Seoul's tourist attractions plus some of its quirkier sides.
If you have the time, I'm always a supporter of the walk until you get lost method of discovery. But not all of us are blessed with a complete lack of other life commitments. In that case, here is a 'Backpacking Seoul 3-Day Itinerary' for the city of excess.
Day 1 in Seoul – Sightseeing
The first day of this Seoul travel guide is going to be all about Seoul's architecture. We'll be making a fan-shape – east to west – covering a decent distance. Walk or use Seoul's public transport; the choice is yours.
First up is a visit to Dongdaemun Design Plaza. There's plenty in and around the plaza to check out. Just wandering around the Dongdaemun History & Culture Park will give you a sense of how intricately designed the building is.
Fanning west is Seoul's older structures. At the East Palace Complex, you'll find Changdeokgung and Changgyeonggung Palace alongside Jongmyo Shrine. They aren't the biggest of the Grand Palaces but I'm a sucker for the pretty gardens.
Nearby is Bukchon Hanok Village with all the traditional Korean vibes. It's a good place to wander around and I'd say do rooftop parkour but I'm pretty sure that's not allowed.
It's also a good place to eat since you're almost definitely hungry by now. There are bakeries and teahouses all around but if you can hunt down a restaurant serving Samgyetang, you'll find a more authentic lunch.
As you continue west you'll pass Gyeongbokgung Palace (if you're not palace-d out). If you're passing the main gate (Gwanghwamun) at 2 P.M., you can see the changing of the guard ceremony – it's totally free and their hats are dope!
Next up is Ewha Woman's University, another modern-day point of interest in Seoul. You're free to wander the premises and it's well worth it to see the unique architecture.
To finish off your day you're going to climb a mountain… oh boy! If you're pooped, the Namsan Tower Cable Car is available but either way, you're heading up Namsan Mountain to N Seoul Tower. What better finish to sightseeing in Seoul than with the nighttime skyline from the top of the top.
Day 2 in Seoul – Adventures
Today is going to be about some of the weirder activities to do in Seoul.
For Day 2 in this Seoul travel guide, you're heading to Tapgol Park for breakfast. There are a few ancient 'national treasures' here, but the real attraction is the people-watching, including the elderly folks that congregate under the pagoda every day… they're so cute!
Pretty much next door to the park is the Alive Museum which features a wide range of object, interactive, and trick art. You can easily get lost in here for a bit.
(Pssst, hey, Poopoo Land is just around the corner from here. I can't straight-faced tell you to go to somewhere called Poopoo Land but it is nearby… just saying.)
You're close to Myeongdong so after all of the sensory stimulation, it's time to go eat. There's a ridiculous amount of shopping in Myeongdong if that's your style, but I'm specifically sending you to find some of the glorious street food… there are heaps!
After filling your belly you're heading to the Trickeye Museum for installations based around optical illusions and augmented reality. It's some real proper sci-fi shit!
And now that leaves you in the Hongdae area which is perfect because come nightfall there is lots to do: Hongdae, and Sinchon-dong especially, has some of the more eclectic nightlife in Seoul.
In the area, you'll find live and DJ music, clubs and bars, and happenings in the street including street performances! Noraebang (karaoke) or multi-bang (karaoke PLUS video games) are pretty classic things to do in Seoul at night (intoxicated, of course).
Whatever devilish shenanigans you get up too, try not to wreck yourself because I've saved the best for last.
Day 3 in Seoul – Best Day
Today is my favourite day of this Seoul itinerary. If I was writing a 5-day itinerary for backpacking Seoul for myself, this is how I would spend every day.
You're going to Bukhansan National Park. It's easily accessible from Seoul so you can visit in a day and return. Take the subway line 3 to Gupabal Station, Exit 1 and then ride the 704 bus to the park's entrance.
This is the quickest access to the park's highest peak Baegundae (836m). There are heaps of trails around, and shrines and temples too, but, like, why wouldn't you climb Baegundae?
It's an absolutely magnificent structure and granite is so so beautiful (speaking of, Bukhansan National Park has some of the best rock climbing in Korea too).
So, after a day outing, head back to the city. You're tired; your muscles are sore; it's late… how are you going to spend your final night?
You knew this was coming. With a jimjilbang! Store your stuff at the hostel or bring it with you because you'll be spending the night.
I can vouch for Siloam Spa being top-notch (and not too busy nor touristy) but there are heaps and heaps of other spas. Dragon Hill Spa easily takes the crown as the biggest and most famous.
That's it: that's your backpacking Seoul adventure. You can finish your time in Seoul the only way I know how: totally naked and surrounded by a bunch of naked strangers!
Seoul budget travel is not too tricky. It's a tourist-friendly city and a safe one at that. But, it still helps to know what you're getting yourself into because it's also a full-power city.
Backpacking Seoul on a budget means you're going to want to know where to eat, how you're going to get there, and, most importantly, where the cheapest liquor is!
Best Time of Year to Visit Seoul
The weather can be seriously crazy. I showed up during July and my first experience of backpacking in Seoul was getting drowned in a monsoon. Luckily, my jimjilbang even had a dryer – they have everything!
Summer is peak season and I honestly don't know why. It's hot, humid, and it rains a lot. Unless you really like massive crowds of tourists, I'd avoid it.
Spring or Autumn makes for a much more pleasant visit to Seoul: the weather is so much nicer. You're either going to have a backdrop of flowers and cherry blossoms in Spring or crimson red leaves in Autumn. Both are gorgeous.
Winter is cold (obviously) but also beautiful. A cyberpunk city with ancient palaces blanketed in snow. Plus, you'll be able to find way cheaper accommodation in Seoul during the winter months.
Getting in and out of Seoul
You'll almost definitely arrive at Incheon Airport in Seoul. That's ok because Incheon is a great airport! (One of my favourites to sleep in so far.)
Getting from Incheon Airport to Seoul is breezy. There are two trains: the Airport Railroad Express (AREX) and the All-Stop Train.
The Express (9000+500 won deposit) is about twice the price of the All-Stop and roughly 15-minutes quicker so it's your choice. The added bonus with the Express train is that the seats are pre-assigned so you (hopefully) won't have to stand.
There are also buses that run from Incheon Airport to Seoul. They're more expensive and take longer but you're also guaranteed a seat and they're comfortable. You've got a standard and deluxe bus option here too.
At its cheapest, with the All-Stop train, you can get from Incheon airport to Seoul for about $3.50 and that's pretty damn good!
When it comes to leaving Seoul for anywhere else in South Korea, you'll probably be catching a train or bus. The public transport in South Korea is excellent – modern and efficient. If you want more info on getting around South Korea, you can check out our backpacking guide for South Korea.
If you're departing Seoul by train you'll need to make your way to either Seoul Station or Yongsan Station: the two major thoroughfares for long-distance trains. But if you're leaving by bus, the Express Bus Terminal Station is the way to go.
Lastly, if you're planning on hitchhiking around South Korea, I'd advise using a train or bus to leave the city limits first. Seoul is a seriously big-ass city with a seriously confusing network of roads. It's the typical bane of any hitcher.
How to get around Seoul
The public transport in Seoul is top-notch; it's cheap and it's efficient. The downside is that it can get busy as hell so if you're not good with cramped spaces (and rubbing your bum on strangers) you may want to avoid evening peak-hour (4.30ish P.M. to 8ish P.M.).
Your main method of getting around Seoul is either the subway or buses. The subway runs you 1300 won ($1.10) per 10 km and the buses cost about the same per ride unless you're heading into the suburbs.
The subway is very foreigner-friendly with Romanised signs and platform announcements in English however the buses are more hit and miss.
The taxis in Seoul are also pretty cheap, at least compared to most other places I've visited. They're not as cheap as the public transport but they're still a very valid option. You're looking for the regular taxis which are blue, yellow, orange, or white and it's better to pre-prepare your destination in writing for your driver – English is rare!
Something super-duper important to mention is the topic of navigation apps in Seoul. Google Maps sucks big time. There is an actual reason for this – it's not just general sucking – but one way or another you can't rely on it.
Naver Map is the go-to in Korea; it's essentially the Korean version of Google Maps. Maps.Me also works and still as reliable as ever. Honestly, I just have a bit of a crush on Maps.Me – it's such a damn good app!
Now, of course, as you'd expect, there are cashless transport cards… except you have a few choices in Seoul. Actually, you have a lot of choices… it kinda did my head in, so I'm going to explain them as best as I can below.
Seoul Travel Cards
Just be aware that there are a few other options but these are the ones that you're most likely to utilise. Like I said: there are a lot of travel cards for Seoul.
Safety in Seoul
Overall, you're good. South Korea is a pretty damn safe country. Pretty on point with its neighbour Japan. I wouldn't stress too much about safety while backpacking in Seoul.
That said, it's a damn busy city so keep your wits about you. Don't get too messy and listen to your gut.
Your main concern is going to be pickpockets. You're not going to have street rats bumping into you at every turn but they are around, particularly around the tourist spots in Seoul.
Don't be a dope and keep your stuff protected. The best way to keep your cash safe is with a money belt – an indispensable backpacking tool.
If you're hitting the nightlife in Seoul watch out for pissheads and don't leave your drinks unattended. Ladies, take care of yourself and each other. I hate that I have to, but that always bears mentioning.
Overall, you're looking at the big-city standard rules of engagement. If you've travelled before, you'll be fine – no worries!
Travel Insurance for Seoul
Even in countries as safe as South Korea, things can go wrongs. It could be a bad bit of bibimbap or it could just be a bad human – either way, protect youself!
Always consider insurance before you travel.
Members of The Broke Backpacker team have been using World Nomads for some time now and made a few claims over the years. They're an easy to use and professional provider that the team swears by.
If there's one insurance company The Broke Backpacker trusts to cover them while roaming the planet's furthest reaches, it's World Nomads.
ALWAYS sort out your backpacker insurance before your trip. There's plenty to choose from in that department, but a good place to start is Safety Wing.
They offer month-to-month payments, no lock-in contracts, and require absolutely no itineraries: that's the exact kind of insurance long-term travellers and digital nomads need.
SafetyWing is cheap, easy, and admin-free: just sign up lickety-split so you can get back to it!
Click the button below to learn more about SafetyWing's setup or read our insider review for the full tasty scoop.
Seoul Accommodation Travel Hacks
Some of us like bridges and some of us like comfy mattresses – we are freedom! Seriously though, even the cheapest guesthouse in Seoul isn't quite as good as free.
Have a look at these accommodation hacks; dropping the sleeping costs is the best way to budget your travel in Seoul.
Couchsurf! – Couchsurfing is a great way to save cash on accommodation in Seoul and chances are you'll meet an awesome local human too. Getting shown a local's perspective of a place always changes your perception.
The problem with Couchsurfing is that there are heaps of surfers and not many hosts. Treat it like a job interview: show your best side and plan your travel to Seoul in advance. Check out our guide on Couchsurfing for tips on how to get around.
Tap into your backpacker network – If you've been travelling for a while then you quite possibly have someone in your six-degrees that can put you up while you're backpacking in Seoul. Reach out to friends and friends-of-friends and see if anyone in your network is happy to offer a couch in exchange for washing their car or demolishing their DIY sweat lodge (or something… I dunno, I've done some weird shit for a bed). Us travellers tend to take care of each other so never be afraid to just ask for help.
Camping – Find yourself a peaceful site on the outskirts of town or a secret spot in town. If you're prepared, you can sleep anywhere!
Places to Eat in Seoul
Korean food is so, so good! Seriously, if you just go up to any of Seoul's street food vendors and point and smile you'll be extremely pleased with the results. For the record, 'ju-se-yo' means 'please' and 'kam-sa-ham-ni-da' means 'thank you'.
As for actual places to eat in Seoul, the street food markets are just ahhhhh but also not the kind of ahhhhh that leaves you churning in bed for the next four days (looking at you, India).
Namdaemun Market – Both the oldest and largest market in Seoul. Find the food alley and then hellllooo food coma.
Myeongdong – This place is full-on but you're guaranteed to find a good feed. Find Myeongdong's street food alley and you're sweet
Gwangjang Market – Another mammoth market which, naturally, brings out the mouth-watering goods.
What food are you looking for? Well, I'm still a strong supporter of the point and trust method but I can recommend buchimgae. They're basically savoury pancakes. Anything that looks like a pancake: eat it!
Kimchi is also a necessity to eat when you're in Korea. Just go out and find it and you'll understand why.
Bibimbap is a traditional Korean hearty meal. It's a rice bowl covered with veggies, egg, and mince. When your significant other dumps you in Korea, you're brought a big-ass dish of bibimbap – not casserole.
Sikhye is a sweet rice drink and it's so goddamn tasty! It's what I spent my remaining few-thousand won on before boarding my flight.
The last thing to mention regarding cheap food in Seoul is the convenience store. If you've ever experienced the joy of a Japanese konbini then you understand. The Korean convenience stores (GS25, Emart24, 7-11, etc.) have heaps of cheap food and heaps of cheap booze too.
Nightlife in Seoul
Getting anywhere from slightly tipsy to absolutely plastered is extremely doable in Seoul. The drinks are cheap and the bars are extremely plentiful. Not just that, but Seoul bars also super varied so you'll find something that suits your fancy.
Much like the bars, the club scene in Seoul is massive. They are flashy and will drain your wallet if you're not careful, but somehow seeing the ludicrous level of peacocking makes for a fun night. Gangnam (yes, like the song) is the district with the most exclusive clubs in Seoul.
Sinchon-dong, on the other hand, offers a cheaper night out for the uni students. The drinks are cheaper and the music is more underground… plus, there are street performers! Definitely more my scene.
Korea also has karaoke and it's every bit as ridiculous as you hoped. For the record, it's called noraebang and I hope you've been brushing up on your BTS. Or you can take it to the next-level with multi-bang, which has karaoke PLUS movies PLUS video games PLUS snacks! Now that's DEFINITELY more my scene!
If you're looking for things to do in Seoul at night that don't exclusively revolve around getting messy in dark spaces then I'm going to recommend visiting N Seoul Tower. The Seoul nighttime skyline is dazzling.
Booze is cheap in Seoul but it is insanely cheap at the convenience stores. Kick-ons at 4 A.M. in a 7-11 is a pretty common affair in Seoul: munchies and drinks.
However, drugs are a lot scarcer. I personally have never acquired drugs in Korea and, much like Japan, the penalties for being caught are extremely strict. Can you find them? Yeah, of course. Will you find them on a short trip to Seoul? Probably not.
Books to Read while Backpacking Seoul
If you find yourself with a free day while backpacking in Seoul or just one of those 'stay in the hostel' days then maybe read a book: no company required! Go find yourself a nice park and chill out. It's a free thing you can do in Seoul too.
Make Money Online while Backpacking Seoul
Backpacking in Seoul long-term? Keen to make some cash when you are not exploring the city?
Teaching English online is a great way to earn a consistent income—from anywhere in the world with a good internet connection. Depending on your qualifications (or your motivation to obtain qualifications like a TEFL certificate) you can teach English remotely from your laptop, save some cash for your next adventure, and make a positive impact on the world by improving another person's language skills! It's a win-win! Check out this detailed article for everything you need to know to start teaching English online.
In addition to giving you the qualifications to teach English online, TEFL courses open up a huge range of opportunities and you can find teaching work all over the world. To find out more about TEFL courses and how you can teach English around the world, read my in-depth report on teaching English abroad.
Broke Backpacker readers get a 35% discount on TEFL courses with MyTEFL (simply enter the code BACKPKR), to find out more, please read my in-depth report on teaching English abroad.
Getting a TEFL with Global Work and Travel is also a viable option. You can do the course either online or in Icheon where you'll stay in shared accommodation with other TEFLers. They'll also assist you with the VISA process and getting a job on completion of the course with options in Seoul. There isn't much they don't help you with so you can't really go wrong!
Whether you are keen to teach English online or looking to take your teaching game a step further by finding a job teaching English in a foreign country, getting your TEFL certificate is absolutely a step in the right direction.
Being Responsible while Backpacking Seoul
Reduce your plastic footprint: Perhaps the best thing you can do for our planet is to make sure you do NOT add to the plastic problem all over the world. Don't buy one-use water bottles, the plastic ends up in landfill or in the ocean. Instead, pack a tough travel water bottle.
Go and watch A Plastic Ocean on Netflix – it'll change how you view the plastic problem in the world; you need to understand what we are up against. If you think it doesn't matter, get off my fucking site.
Don't pick up single-use plastic bags, you're a backpacker – take your daypack if you need to go to the shop or run errands.
Bear in mind, that many animal products in countries you travel through will not be ethically farmed and won't be of the highest quality. I'm a carnivore but when I'm on the road, I only eat chicken. Mass-farming of cows etc leads to the rainforest being cut down – which is obviously a huge problem.
Need more guidance? – Check out our post on how to be a responsible backpacker.
Backpacking around Seoul will bring you ample opportunities to participate in debauchery, and it is very important to have fun, let loose, and get a bit wild at times. Most trips I have been on across the world have included at least a few mornings where I wake up knowing I went too far.
But there are some things that will put you in the category of a straight up jackass if you do them. Being super loud and obnoxious in a tiny hostel at 3 AM is a classic rookie mistake.
Everyone in the hostel will hate you when you wake them up. Show your fellow travellers respect whilst backpacking in Seoul and anywhere else for that matter!
Final Thoughts on Backpacking Seoul
Seoul is a city-city. It's a big damn city: confusing, noisy, bright, and loud… but backpacking in Seoul isn't as overwhelming as you might think. There's is an underlying structure to the chaos, and the pieces fit together neatly.
I have a soft spot in my heart for Seoul. It's a bit of a childhood fantasy for me. When I close my eyes and imagine a cyber-punkish world… a neon weathered city of the future… it looks like Seoul. Only with more flying cars and cyborgs!
If you're just passing through (Incheon airport is a pretty major international hub), take the time to explore Seoul. In the city of excess, you'll find your niche.
But if you have more time, backpacking Seoul is an adventure into the subdued intensity of Korea. And Korea is pretty spectacular. Hell, don't stop at Seoul. Keep going, a Korean adventure awaits!
---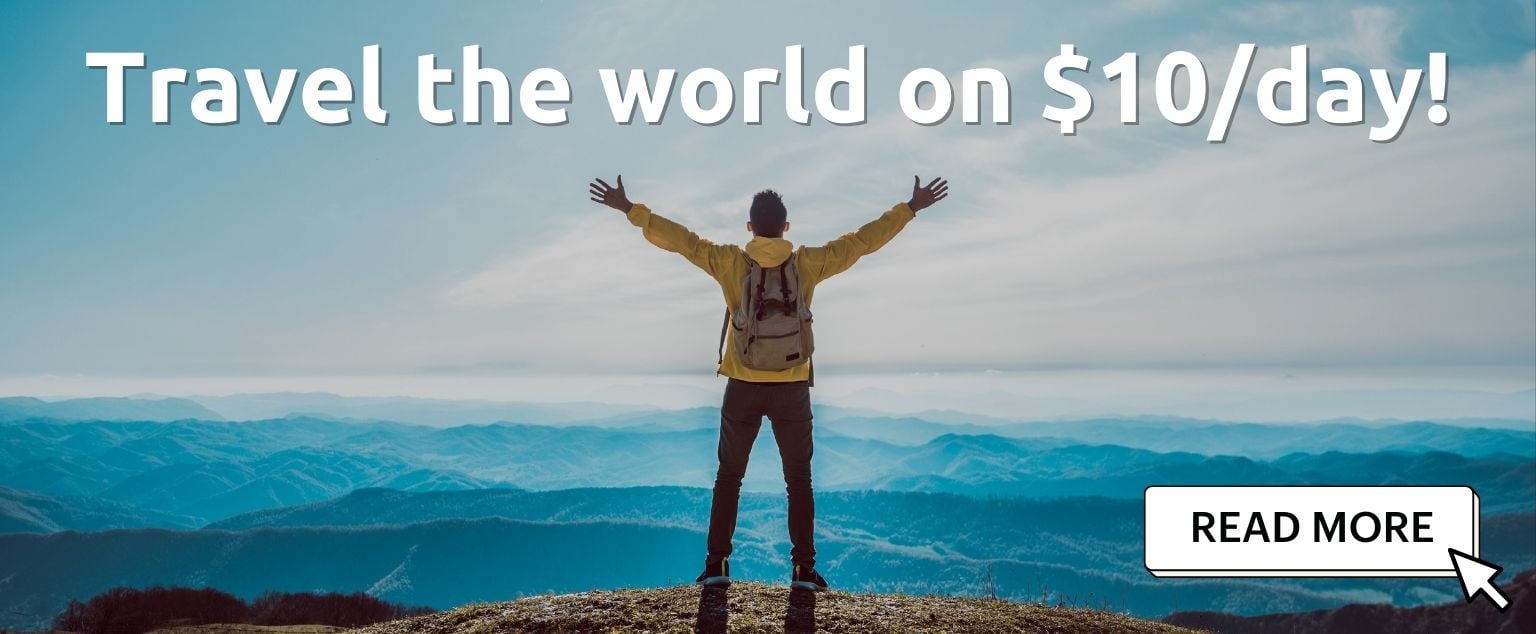 And for transparency's sake, please know that some of the links in our content are affiliate links. That means that if you book your accommodation, buy your gear, or sort your insurance through our link, we earn a small commission (at no extra cost to you). That said, we only link to the gear we trust and never recommend services we don't believe are up to scratch. Again, thank you!